Neutral DIY fall centerpiece in today's topic that we are sharing. For those of us that are budget-conscious, we are sharing a quick and easy centerpiece. A centerpiece for the fall dinner table that can be made in less than an hour's time. With the rising cost of food and materials, many of us have cut back on expenses. Keeping this in mind, we created a centerpiece with two rules. First, we wanted a neutral theme centerpiece. And second, we wanted to use items that we already had on hand. None of the items we used were purchased specifically for this centerpiece. As we assembled this centerpiece, we used only items that we had in our craft drawer. Materials that we either previously used and are in good shape or from prior years.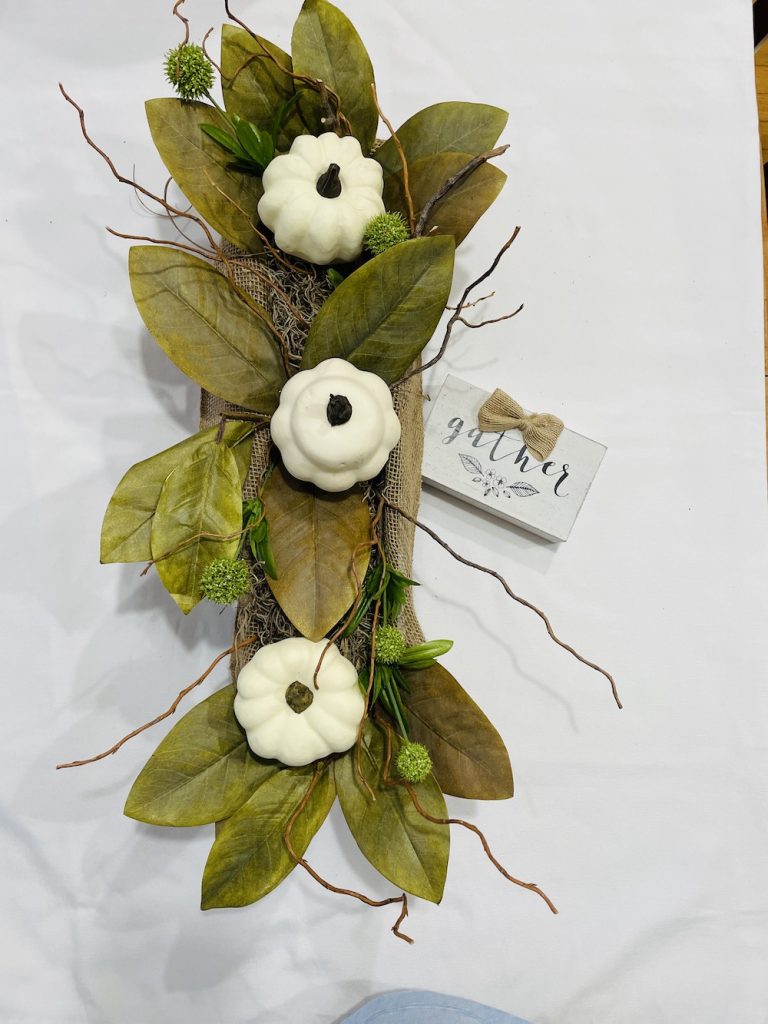 Step by Step Instructions – Neutral DIY Fall Centerpiece
The first item we obtained was a dark wood container in a rectangular shape. A small window box that was given to us a couple of years ago. The window box measures about 3 ¾ inches tall by 19 inches wide and a depth of 4 ½ inches. The perfect size for our table.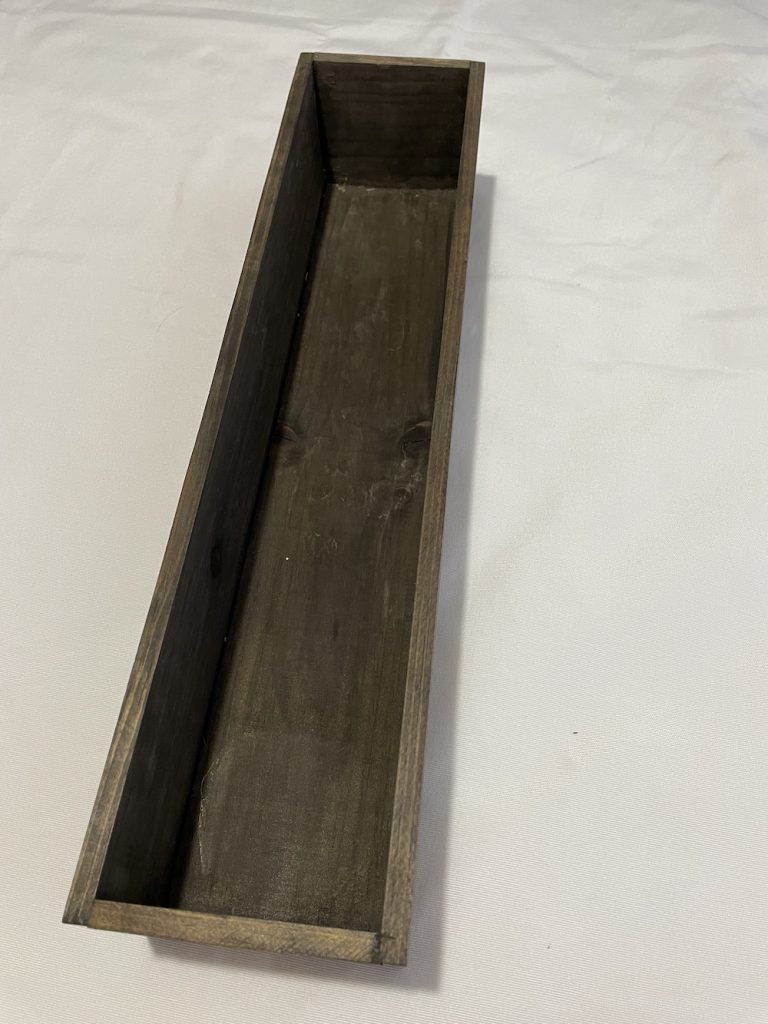 This is the container that we used for our fall centerpiece. As you can see, it is stained with a dark chocolate finish. Great for the use we had in mind.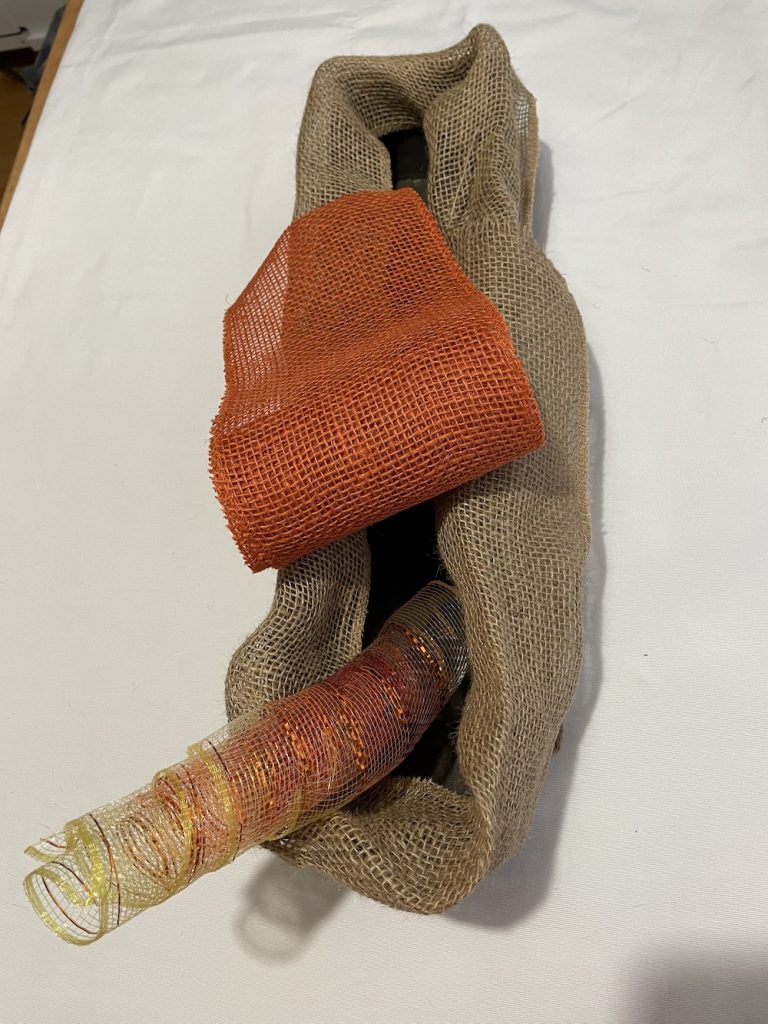 Clean the container inside and out. Wrap brown burlap ribbon around the edge of the container base. For this size of the container, we used a strip of burlap that was about 50 inches long. Secure the burlap ribbon. There are two ways to do this. Add hot glue to the burlap ribbon and the container. Or cut a large enough piece of ribbon to tie a bow to the front of the centerpiece.
The burlap-wrapped base is photographed above with the edge wrapped in burlap and two other ribbons. We dropped an orange burlap ribbon and a metallic fall mesh ribbon from the dollar store inside the base. These are both leftover pieces of ribbon. Substitute the burlap ribbon for the color of ribbon that you want for your centerpiece. The two ribbons are merely suggestions for substituting other ribbons.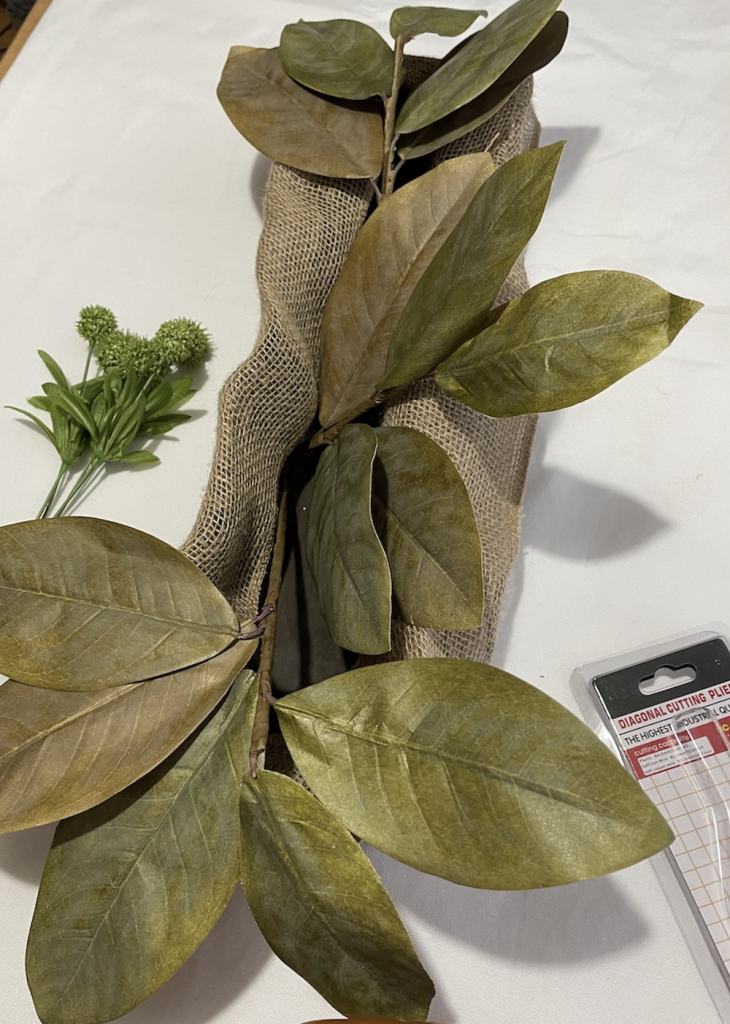 Insert a base layer of magnolia leaves. These are larger leaves that cover a larger area of the base container. As you can see, the leaves are a good size. Perfect for our centerpiece.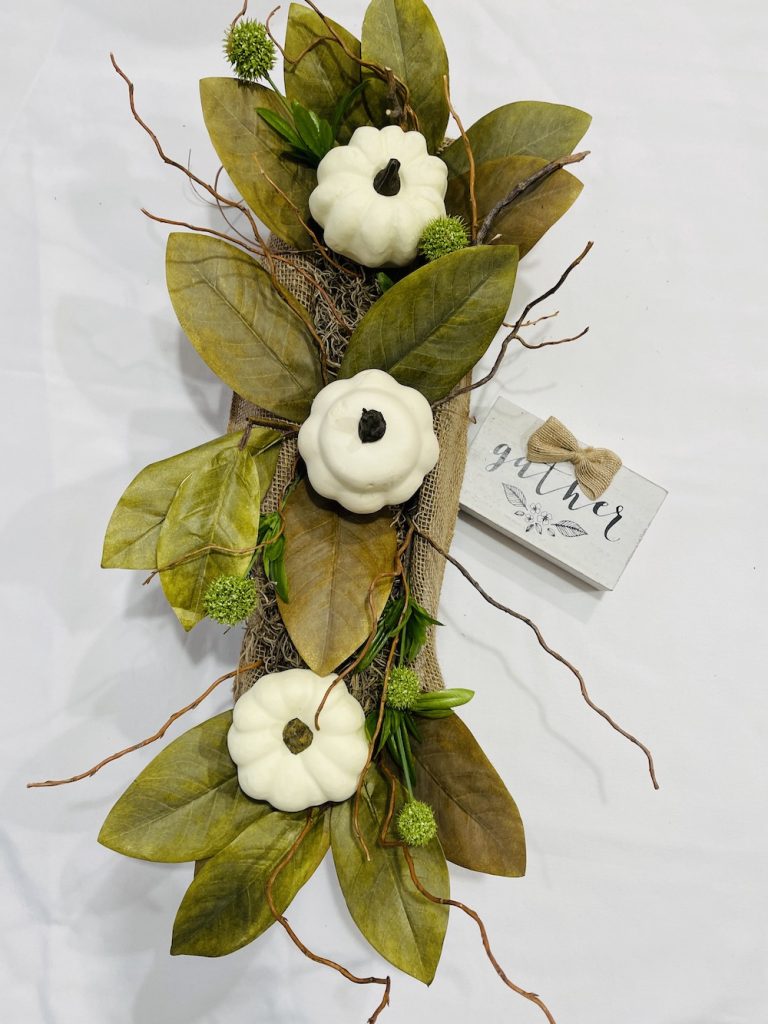 Spread a bag of Spanish Moss after laying the magnolia leaves down. Use whatever moss you have on hand as a substitute for the Spanish moss. Or even substitute crinkle cut shred tissue paper as a filler.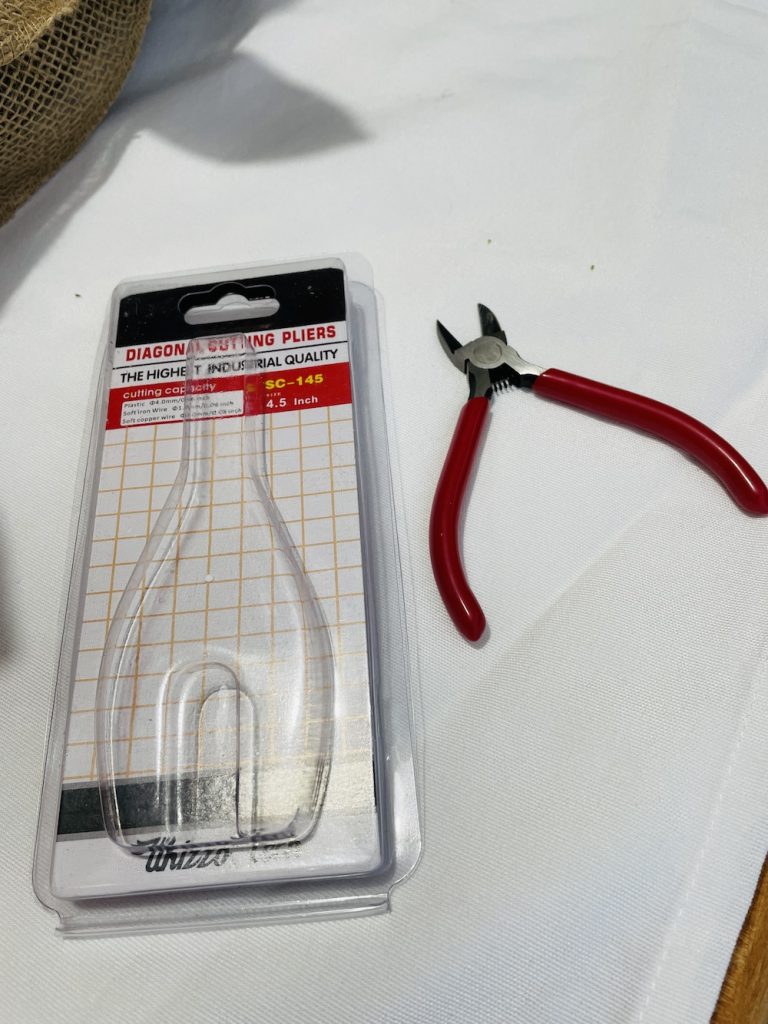 Take a Break to Examine – Neutral DIY Fall Centerpiece
Continue spreading the moss across the inside of the entire container base. Insert some wood stems. We used leftover natural curly willow stems. Include faux greenery to fill in any bare spaces. Trim any faux greenery stems that are too long. Shorten the stems so that they are a better fit inside the container base. Using diagonal cutting wire pliers, we cut the stems without any effort (see image above). We highly recommend these pilers. Carefully add three white pumpkins to take a quick look at the centerpiece. Take a quick break to examine the direction you are going in before finishing up. If you need to make any adjustment to the centerpiece, now is the time to do it.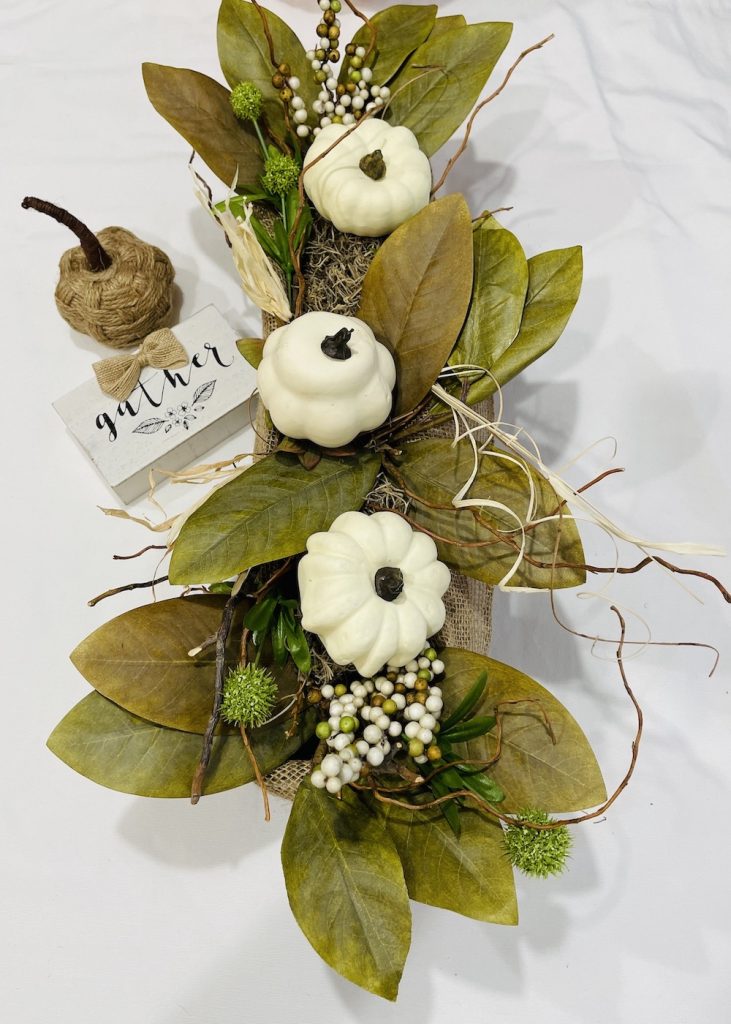 After taking a look at the centerpiece, we added some faux green, white, and gold berry clusters. The berry colors look great against the faux green foliage and white pumpkins. This was our finished neutral centerpiece. And every bit of the materials were either reused and repurposed. So, the cost of this centerpiece was basically our time. Finish assembling this centerpiece in less than one hour.
Below is our finished neutral DIY fall centerpiece. What do you think?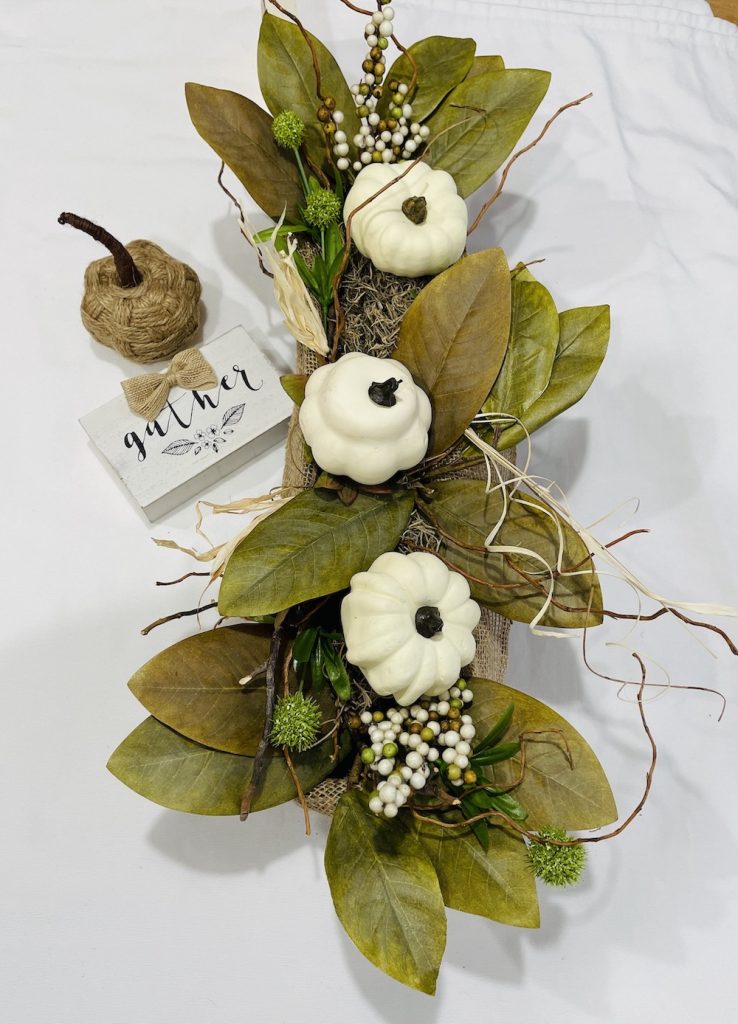 Substitute white pumpkins with orange pumpkins, gourds, apples, pine cones, or wheat. Give your centerpiece an Autumn appearance with any of these items. Replace the magnolia leaves with other faux greenery as well. Use faux maple leaves that are orange, yellow, and red for a more festive appearance.
This ends our post for a neutral DIY fall centerpiece for the dinner table. We hope that we inspired you to create a centerpiece for your home that welcomes the autumn season. And that you found a few tips to help you with your centerpiece.
Enjoy our other fall decor related posts for additional ideas.
Reach out to us with any questions. We are always ready to help you out. Thank you for stopping by our blog.
Mary
Pin this for Later: