Snuggle weather has arrived and now is the perfect time to look at some fall bedroom decor ideas. Decorate your bedroom with warm autumn accents inspired by the beautiful outdoors. As a resource for you, we gathered a few ideas to help you give your bedroom an update. Take a look at these amazing bedrooms.
Celebrate the Season – Fall Bedroom Decor Ideas
Beginning with the month of September, many of us search for ways to bring a little of the outdoors inside. Create a cozy bedroom with pumpkins, the number one go-to decor accent. There are other accents to use. These include seasonal pillows, scented candles, fall wall art, and cozy flannel bedding. All of these ideas are simple, easy updates for a bedroom refresh. And now onto our ideas, that we are sure you'll love.
Toss In Lots of Throw Pillows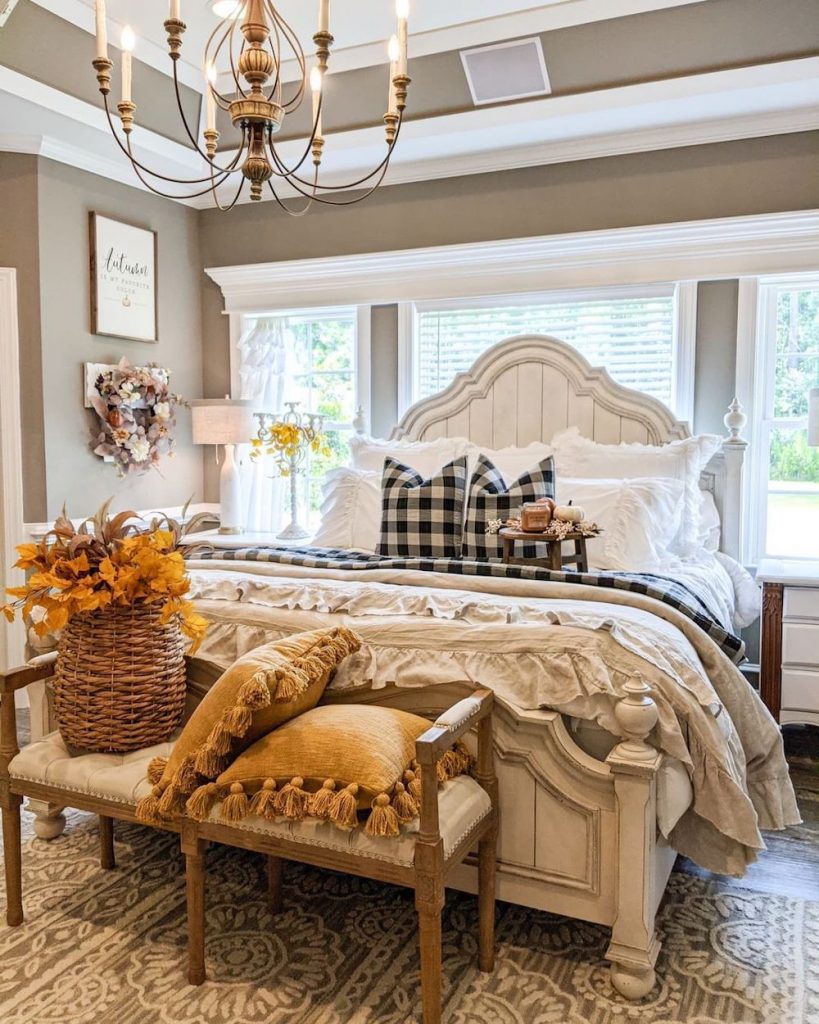 Pillows are a great update to any room. Best of all, toss pillows are an inexpensive way to freshen a room. In this inspirational bedroom, the bed has buffalo plaid pillows in black and white. On the end of the bed bench, rests a set of tasseled pillows in a solid mustard color. Total comfort with tons of coziness!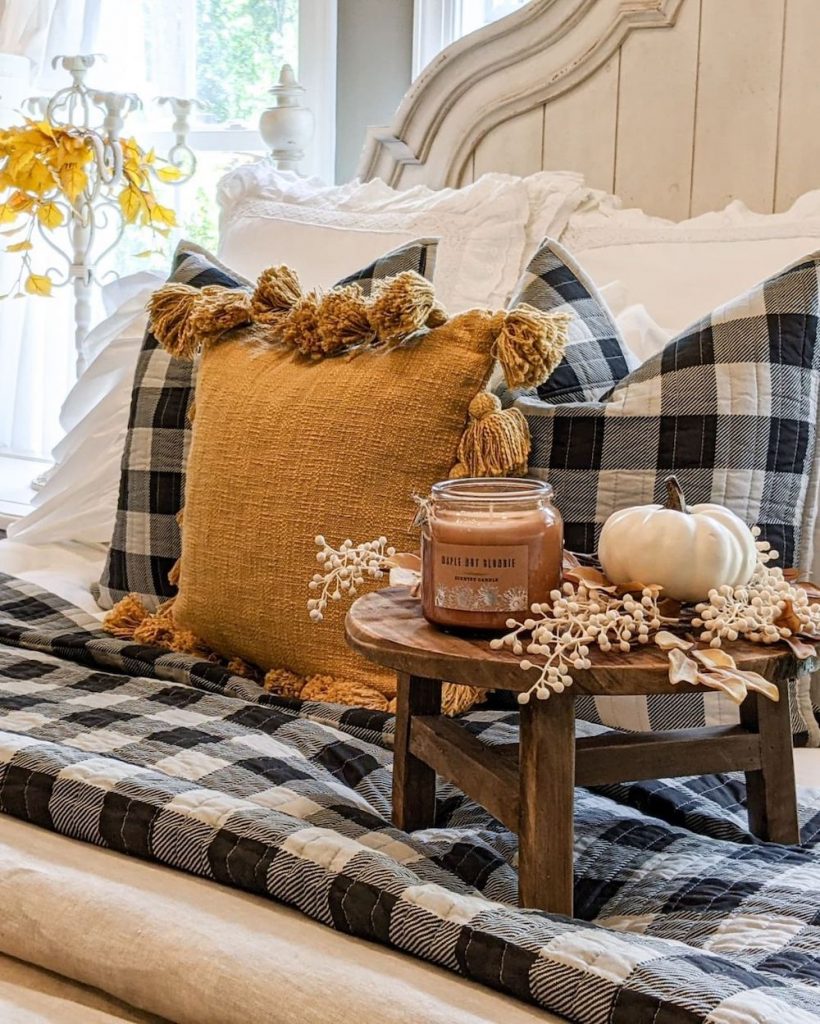 Drape a Throw Across the Bed – Fall Bedroom Decor Ideas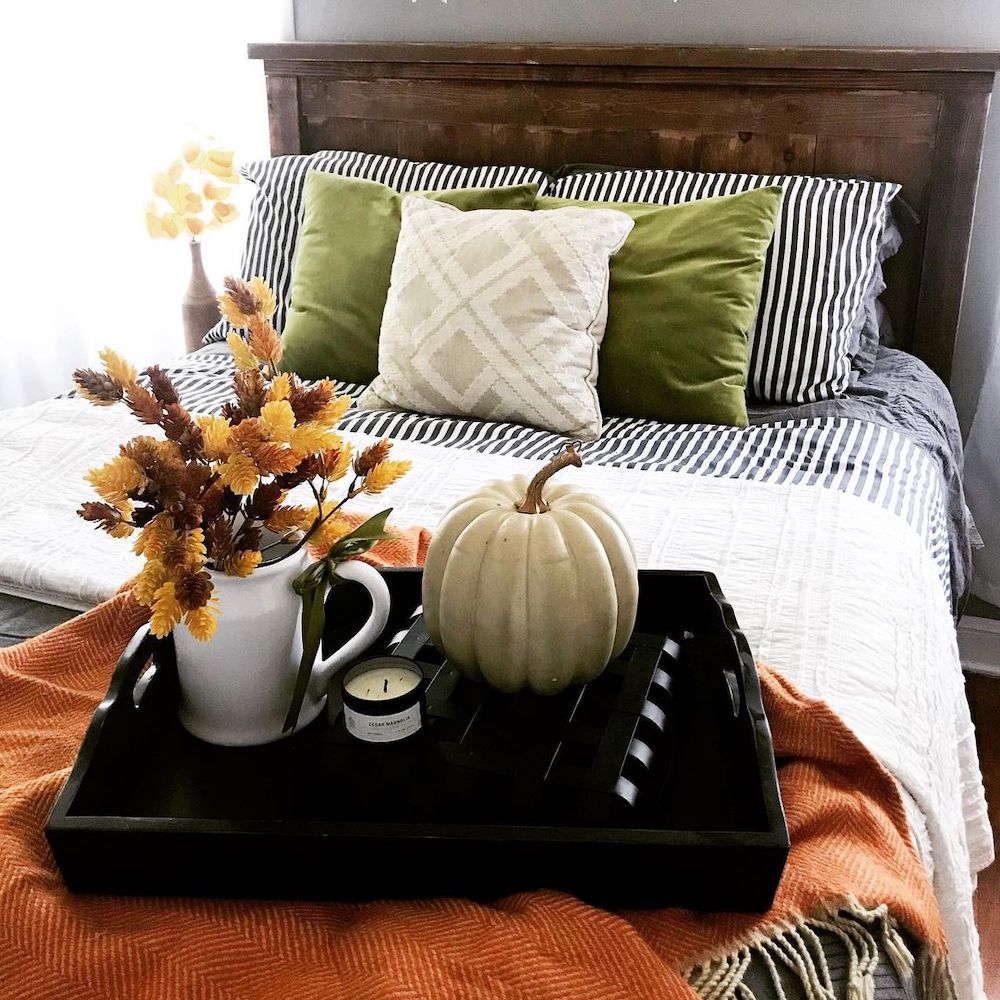 Keep a pretty orange throw nearby for those chilly nights. Always have on hand a couple of extra throws when lying in bed or lounging.
Style a Vase Full of Dried Flowers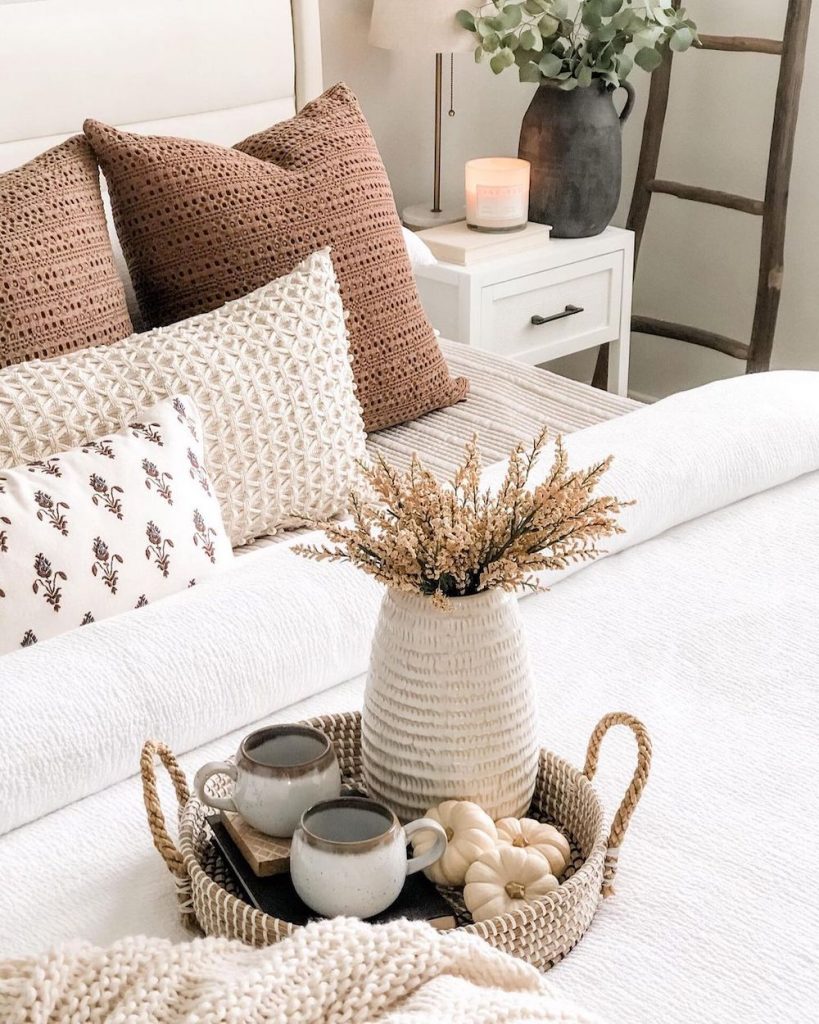 Using a wicker tray, fill a vase full of dried flowers this fall. There are numerous beautiful vases available in creamy creams and blacks.
Adorn Your Wall with a Wreath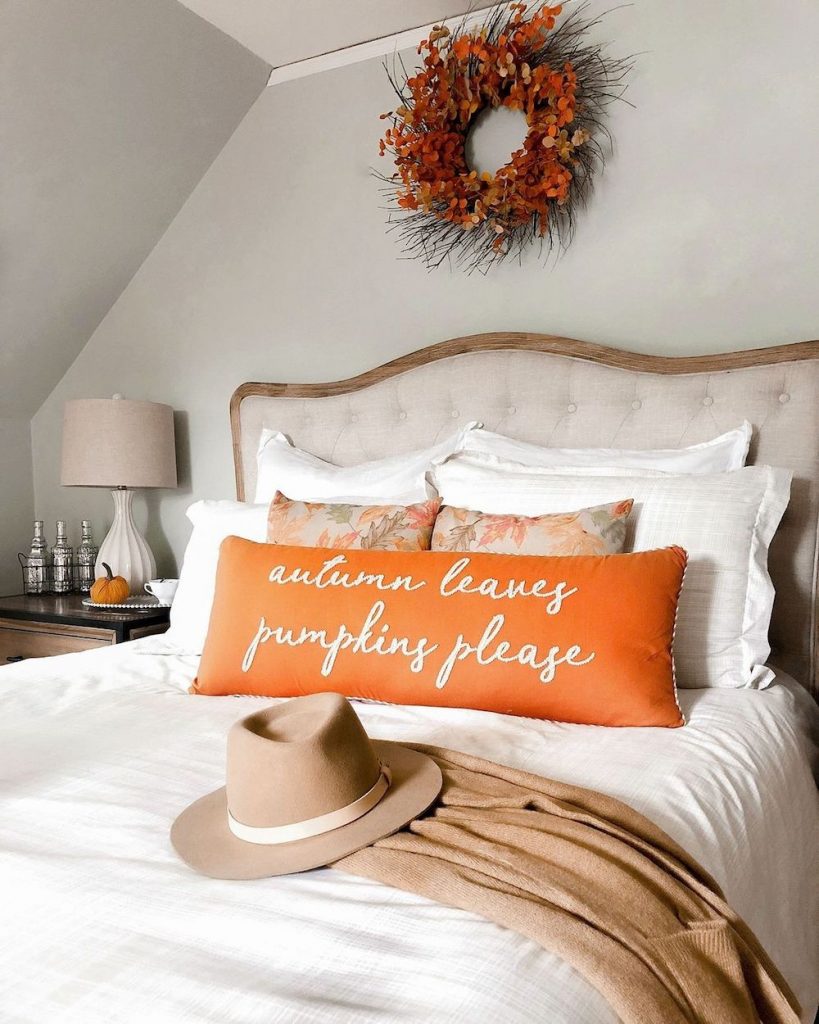 Add a wreath with fall foliage above your bed. This wreath has such pretty copper and orange foliage for a pop of color.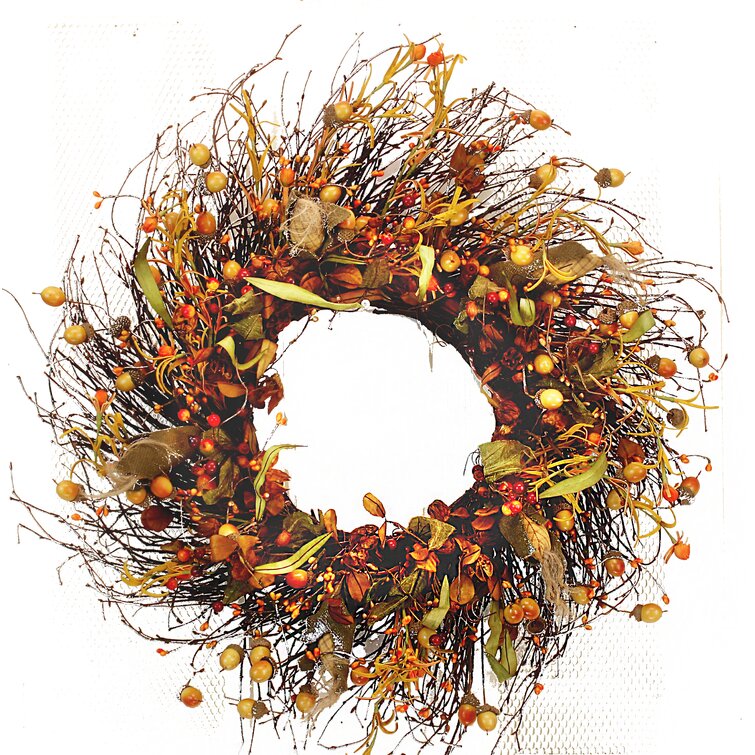 Spread Some Wall Art Around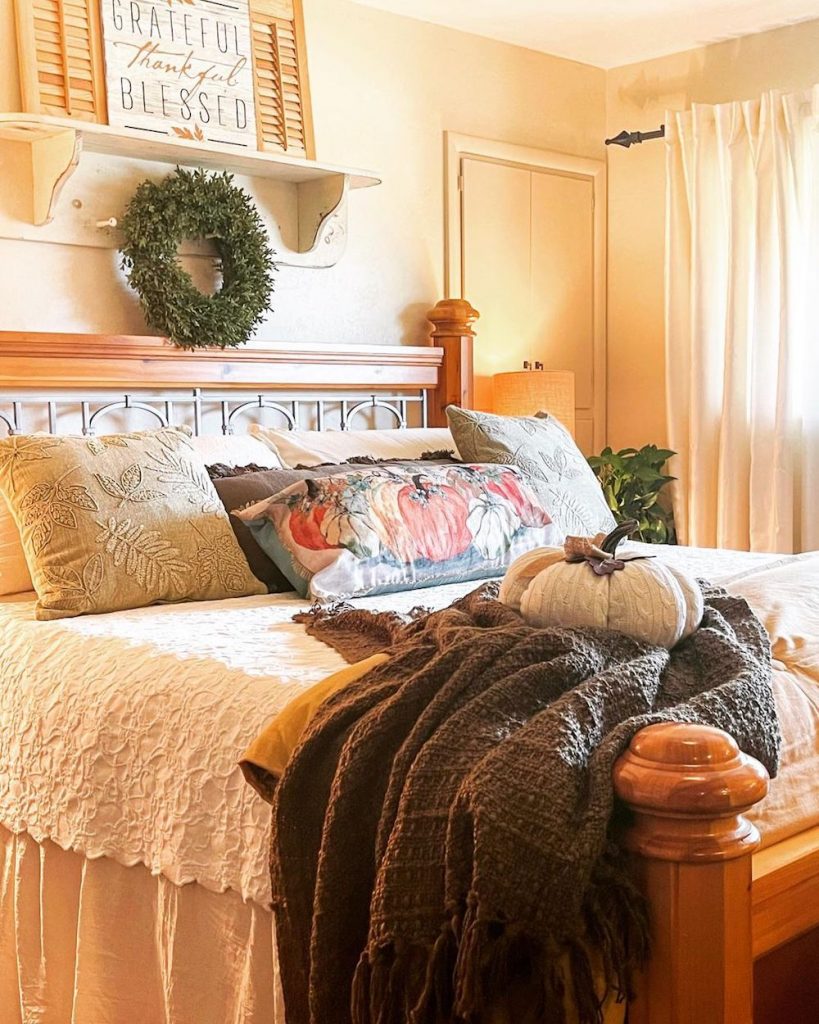 Wall art is a great way to display a greeting or message. There are many fall greetings that can be hung or displayed on a wall.
Snuggle into Bed with Soft Bedding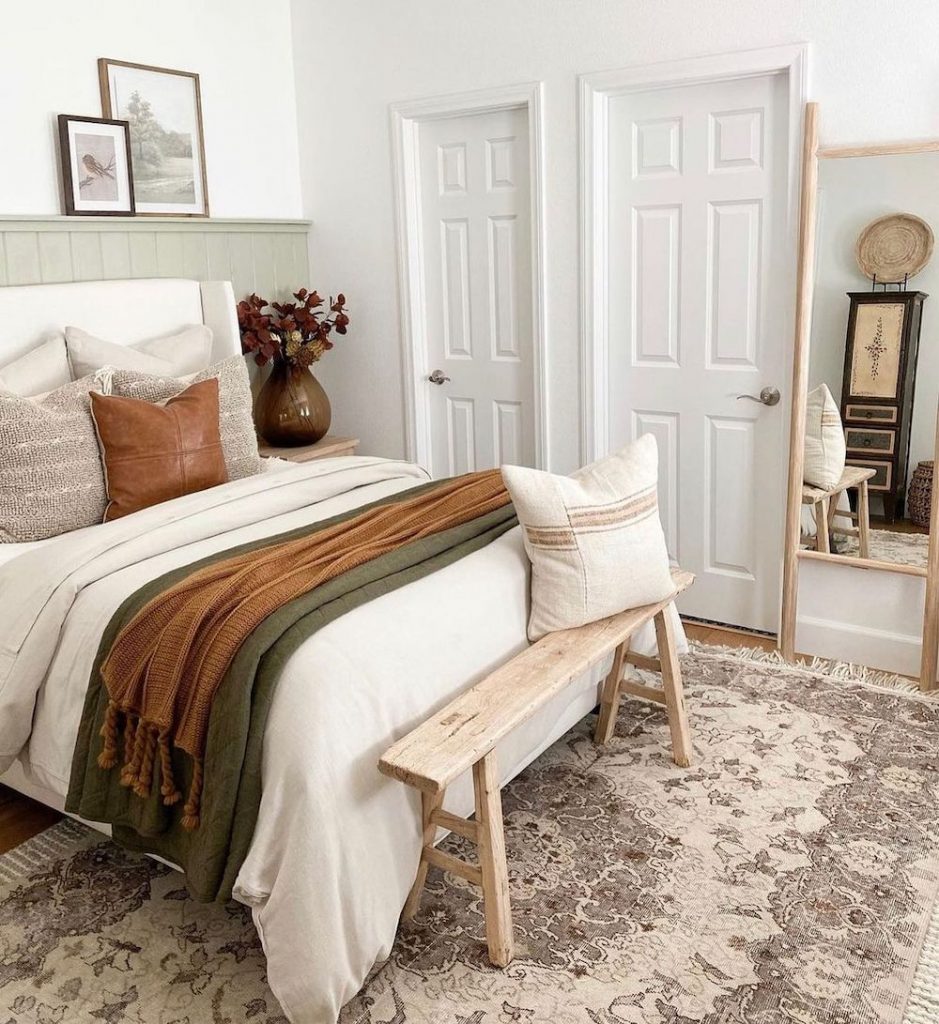 Make your bed with flannel sheets and warm blankets for a cozy, comfy bed. Sink in comfort never felt so good with warm bedding.
Celebrate the Pumpkin Season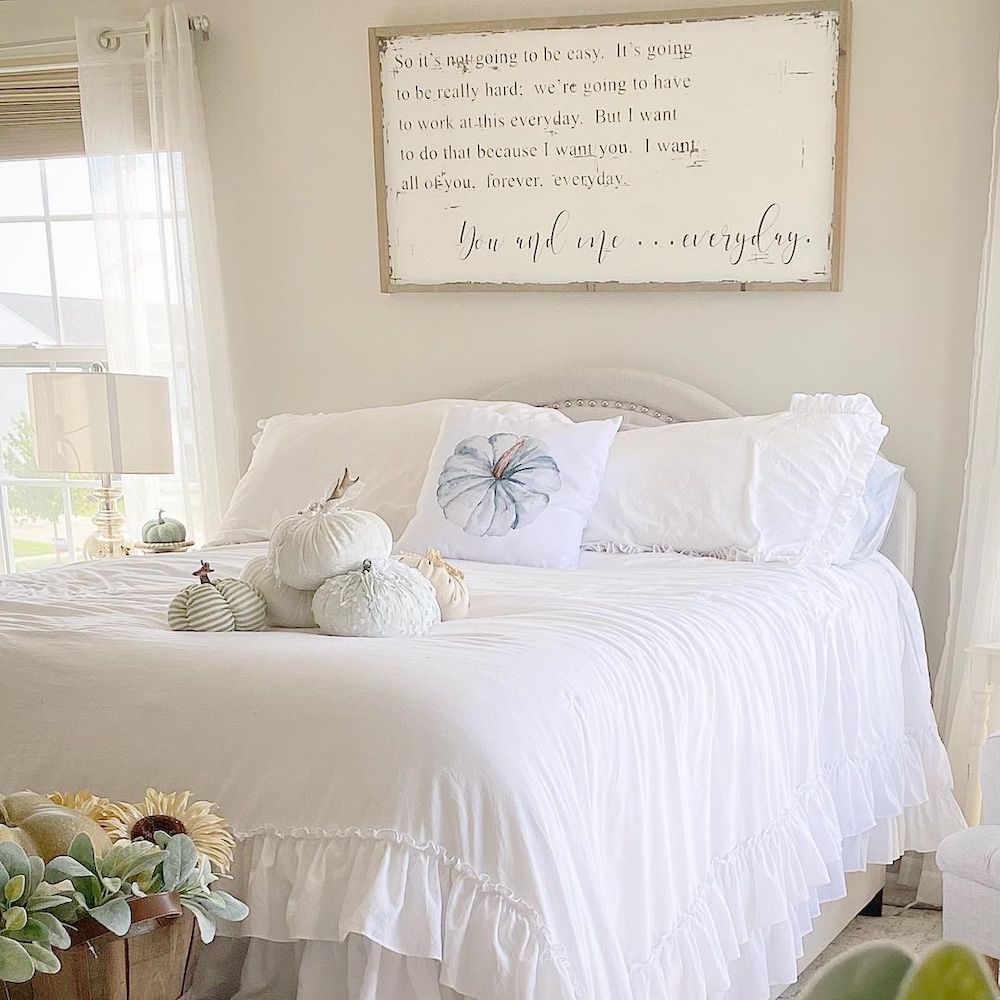 Create a pile of pumpkins. Drop another one on the nightstand. Pumpkins are the go-to accent for the fall season.
Give it Some Fragrance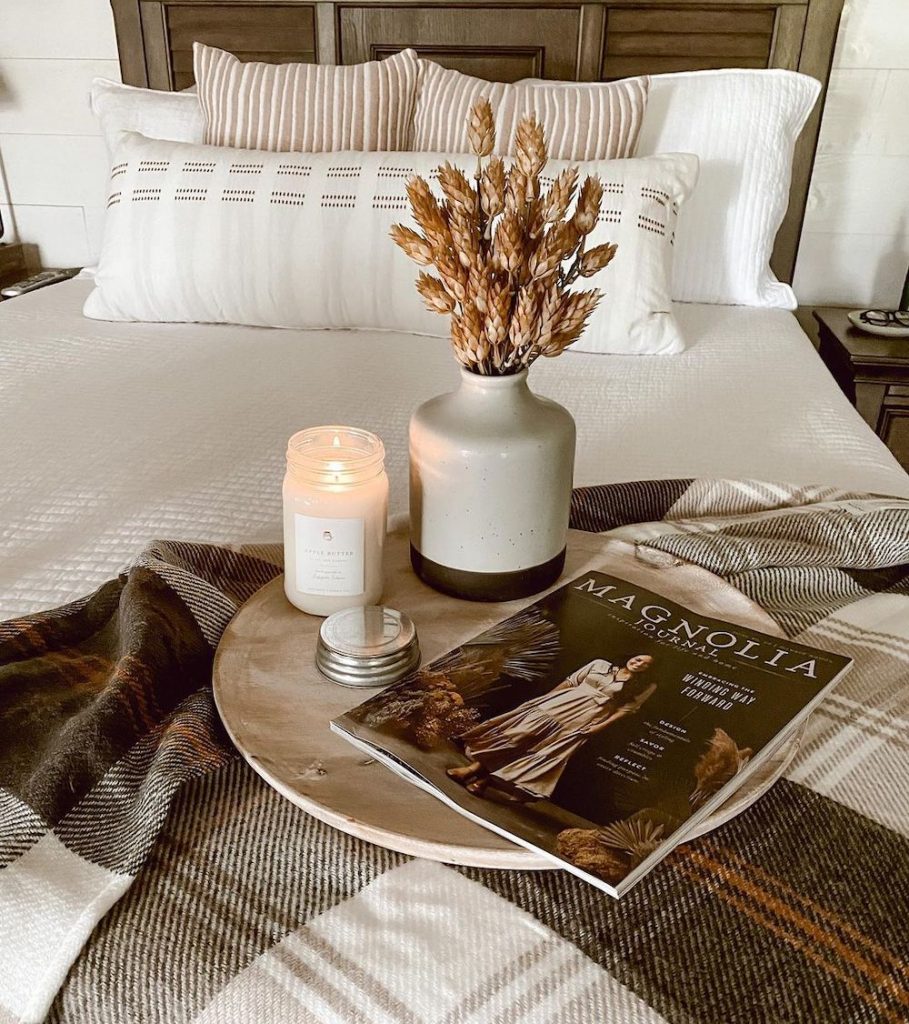 Keep a scented candle handy to fill the bedroom with fall fragrance. Or add some scented fall floral arrangements.
Bring Out the Plaids – Fall Bedroom Decor Ideas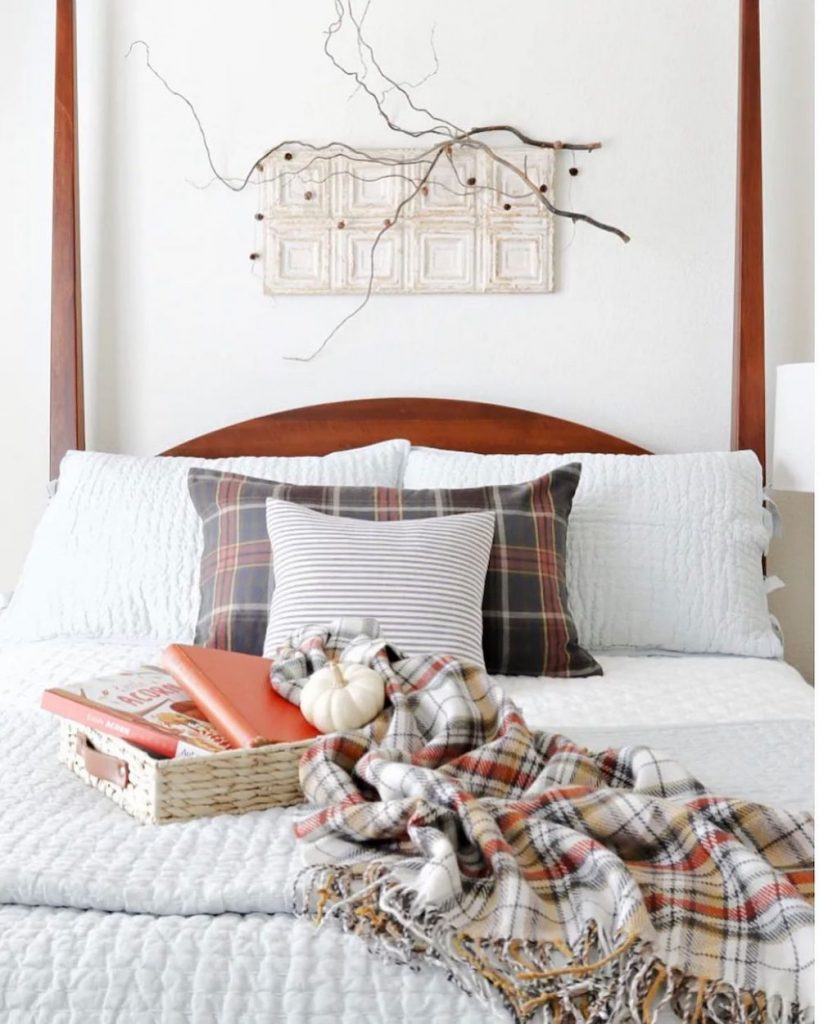 Groom your bedroom with plaid covered pillows and a cozy throw. Plaids in warm orange tones over neutral bedding add a tasteful blend of colors.
Create a Tray Vignette – Fall Bedroom Decor Ideas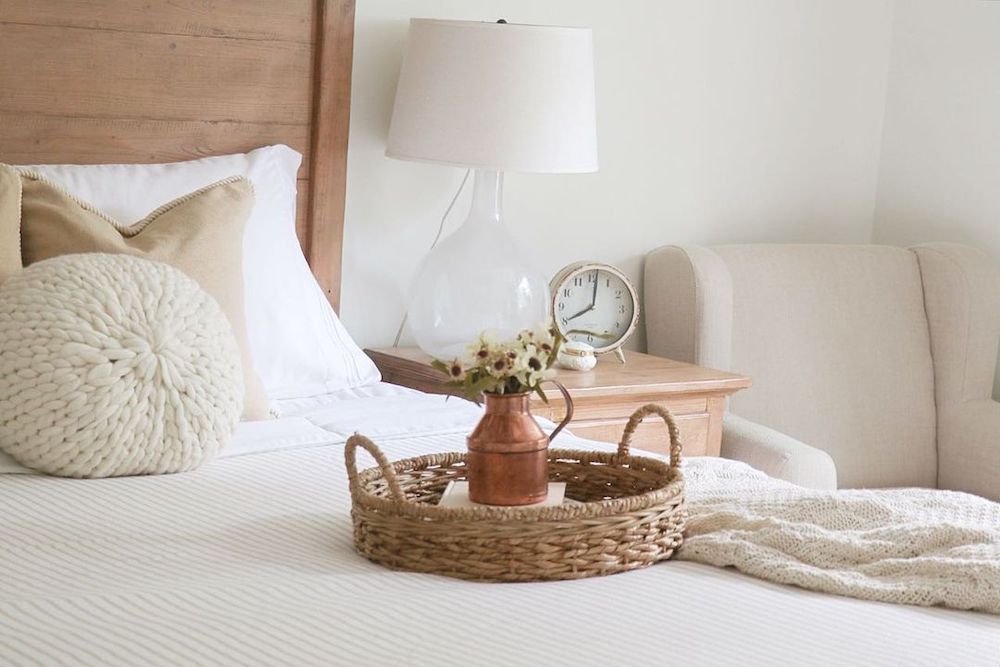 Add a wicker tray then style a fall vignette inside. In this lovely fall vignette, a bundle of fresh flowers fills a small copper pitcher.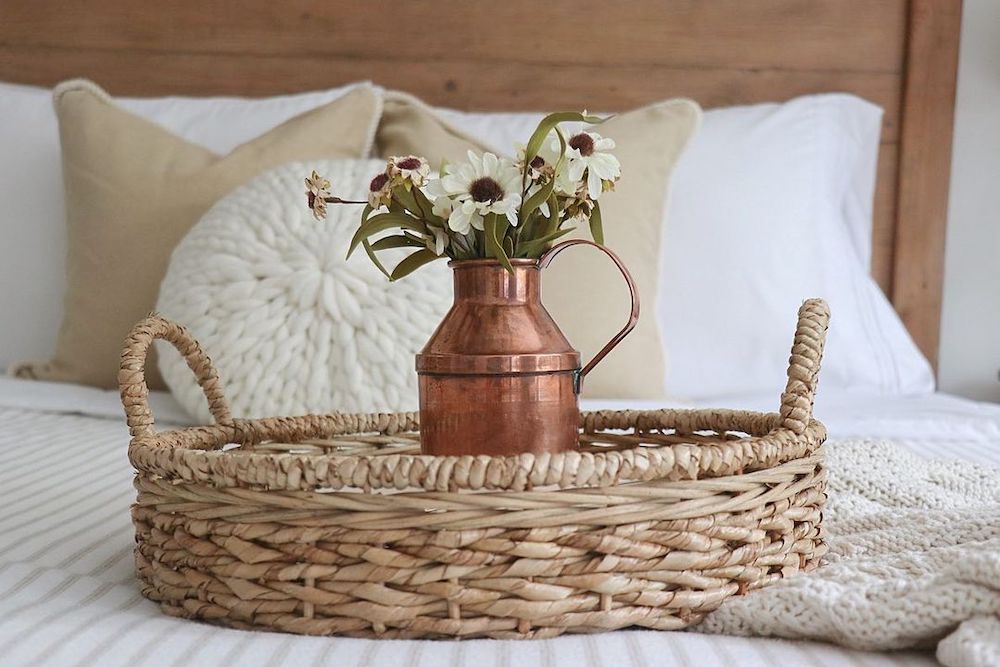 Add a Cute Tray Sign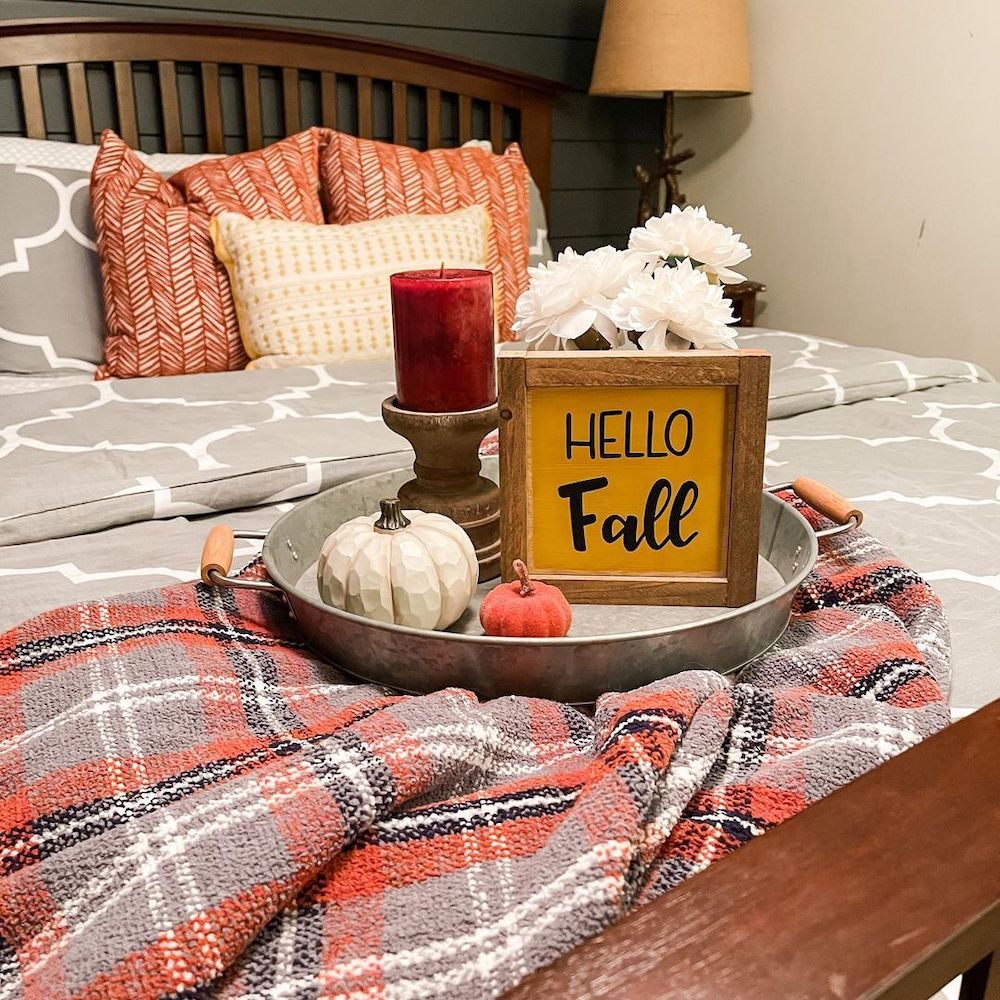 Fill a tray with a cute sign. There are many greetings including Hello Pumpkin or It's Fall Y'all.
Display Your Favorite Wall Hanging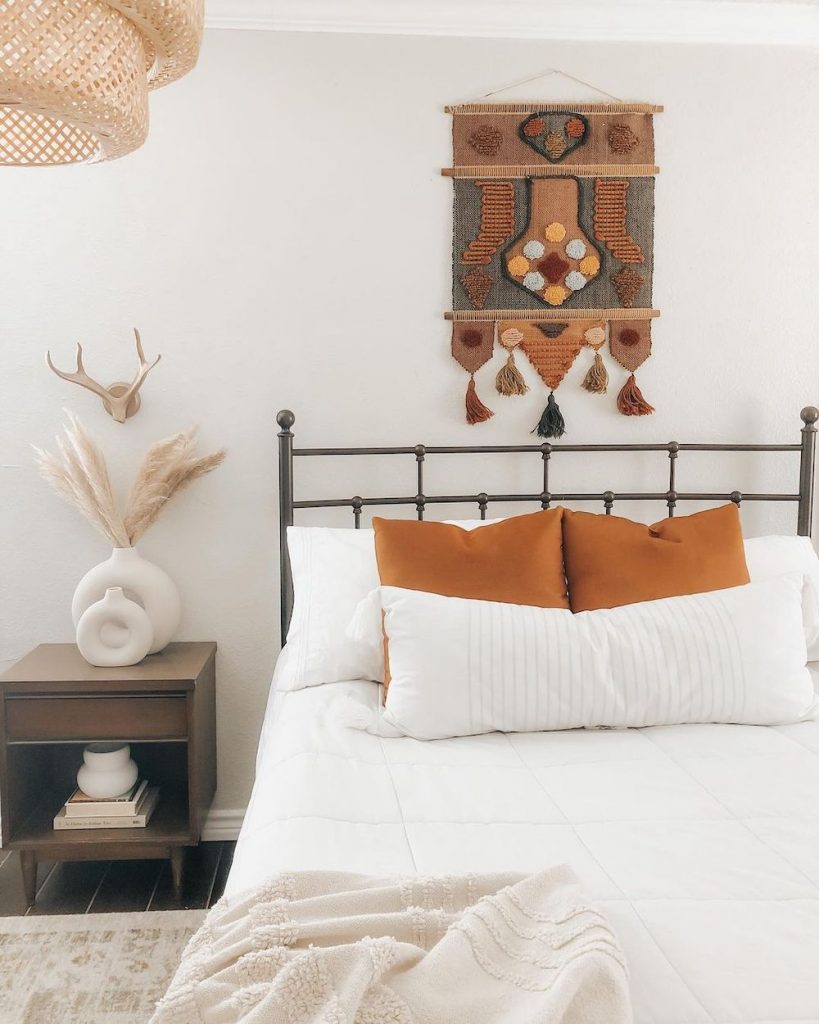 Put your best wall hanging over your bed this fall.
Get it Ready to Snuggle – Fall Bedroom Decor Ideas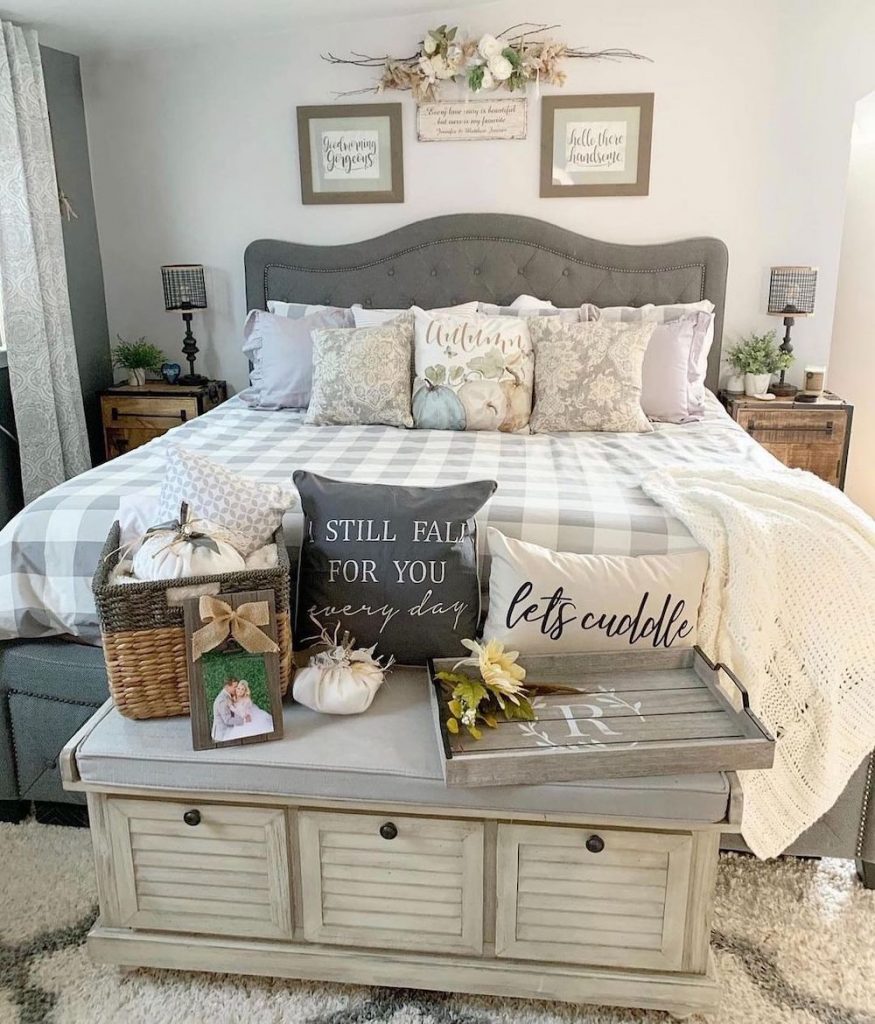 Prepare your bedroom with snuggle decor. From pillows to wall art to throws, spread the cuddle message throughout the bedroom.
This ends our list of fall bedroom decor ideas. We hope these bedrooms inspire you to decorate your bedrooms.
For additional fall decor inspiration, be sure to check out our other posts.
Reach out to us with any questions. We are always ready to help you out. Thank you for stopping by our blog.
Mary
Pin this for Later: