Best Coastal Entryway Decor Ideas for your beach home. Searching for some inspirational decor ideas for a Summer or coastal entryway? The entryway of any home sees the most amount of traffic into the home. This happens when either your family or visiting house guests arrive. The entryway is also the first impression that house guests have of your home.
A home's entryway can be styled to add character and personality to the home. An entryway typically offers the house guest a glimpse of the home's overall decor style. It is the gateway to the remainder of the house. If you love the coastal and seaside home style, we have some styling decor ideas that you'll love.
Today we are sharing the best coastal entryway decor ideas for you to pick up a few styling tips and tricks. Take a look at these decor ideas that we know you will love!
Blend Farmhouse with Coastal – Best Coastal Entryway Decor Ideas 
A Farmhouse console table easily blends with the coastal elements. Palm fronds and the open woven wicker baskets provide the coastal elements. Simple and refined styling.
Add Drama to the Entryway  
A stunning console table sets the mood and entryway display. Beautifully curated for a Summer home.
Mix Rustic with Coastal 
A serene, thoughtfully designed look. Having handy storage near an entryway is important to maintaining a tidy home. An umbrella stand and baskets are easily accessible for dropping in any essentials as you enter the home.
Add a Whimsical Touch – Best Coastal Entryway Decor Ideas
Add seashore birds such as Sandpipers to your coastal entryway for an amusing touch.
Drape Sea Glass Beads – Best Coastal Entryway Decor Ideas 
Display a piece of coral along with a strand of sea glass beads. All against the backdrop of a distressed, natural-colored console table. We love this!
Style a Rustic Timber Console 
Mix timbers with different finishes for an amazing look. A rustic timer console against white walls and white washed flooring creates a warm, inviting entryway. The oversized clamshell blends right in the beach house decor.
Create a Relaxed Coastal Setting
Hang a photo of an amusing beach scene over a simple design console. Then finish with a little green for an organic and natural beach-themed setting.
Expand Your Storage Space – Best Coastal Entryway Decor Ideas
Expand your storage space by adding wicker baskets. Baskets allow you to tidy up a home at a moment's notice. These two handled baskets blend very well with the console. Add a few sand-colored accessories in varying rounded shapes for added interest.
Begin with a Blue Console Table 
Start with a Coastal Blue console table. Then adorn with coral and seashells. Topped off with a Seashell framed mirror. Simply styled for the coastal home. Love this!
Display a Blue Wall Art Piece 
Blue wall art is a quick and easy way to refresh a room. A simple white lamp on a console table with shutter-like details creates an Island feel.
Stop, Drop and Greet Space 
This interior inspirational design was created as a place to stop, drop, and greet guests upon arrival. A handy little single shelf is ideal to stow items away and out of sight.
Decorate a Built-in Console Table – Best Coastal Entryway Decor Ideas
Create a natural decorative styling on a built-in console table. Blend a rustic framed art piece with woven textiles for a natural look.
Natural Elements Styling – Best Coastal Entryway Decor Ideas 
A one-of-a-kind driftwood table. Add a little blue and a little greenery for a picture-perfect entryway.
Keep it Circular 
Go round with a variety of objects to style a console table. A round metal mirror, a round clear glass vase, and two round barrel-shaped rattan ottomans. Continue the pattern with the round-edged console table.
Arched Regal Shaped Mirror – Best Coastal Entryway Decor Ideas
Place an arched regal-shaped mirror over a console table. Add a piece of driftwood with a rattan basket for additional storage. A beautiful space.
Coastal Blue Entryway 
Decorate your console table with blues and a little greenery.
Mix in Seashore Accents 
Seagulls, coral, hydrangeas, and wicker are all commonly seen at the seashore. A pinwheel blue and white rug add visual interest to the seashore-styled console.
Personalize Your Decor 
Make the entryway space about you and your family. It's the perfect spot in your home to tell your guests something about yourself.
Connect a Long Entryway with a Runner 
Although the two console tables and decor are similar, it is the runner that connects the two spaces. Coastal style from the striped rug flooring to the wall decor, paint, and accessories.
Feeling a Little Palm Obsessed? – Best Coastal Entryway Decor Ideas
An entryway should be a reflection of you. Display what makes you happy. In this entryway, the designer shares her passion for palm trees tucked inside timber frames.
Reclaim Wood for X Beams 
Go with gorgeous ceiling details. Not only are the furnishes, walls, and floors important, the ceiling details create a dramatic setting.
Dream of Island Living  
A mostly white interior signals the lure of Island living. The sea glass blue vases filled with fresh greenery on top of the timber console table. And whitewash flooring all calls us to that magical place, the ocean.
Grow a Fiddle Leaf Fig Tree 
This curated console table is actually in the dining room. However, we included this in our list because this curated space could fit perfectly in a foyer or entryway. We love the neutral colors with the greenery or Fiddle Leaf Fig Tree.
Create a Neutral Palette Styled Entryway  
Create a neutral vignette on a console table. Followed by simple table accents and a whitewash mirror. We love the calming effect of this gorgeous entryway.
Light Up the Rattan Wicker Lamps – Best Coastal Entryway Decor Ideas 
Light up your beach home with pineapple-shaped lamps and rattan wicker shades. Coastal Home Love creates a beautiful style console table. Use coffee table books as a way to elevate small objects.
Add Warm Earthy Tones  
Include a small piece of driftwood on a white chest. And a rattan wicker basket nearby for a quick storage solution. Soothing colors for a simple and cheerful decor style.
Blend Light Blue Accessories with Neutral Tones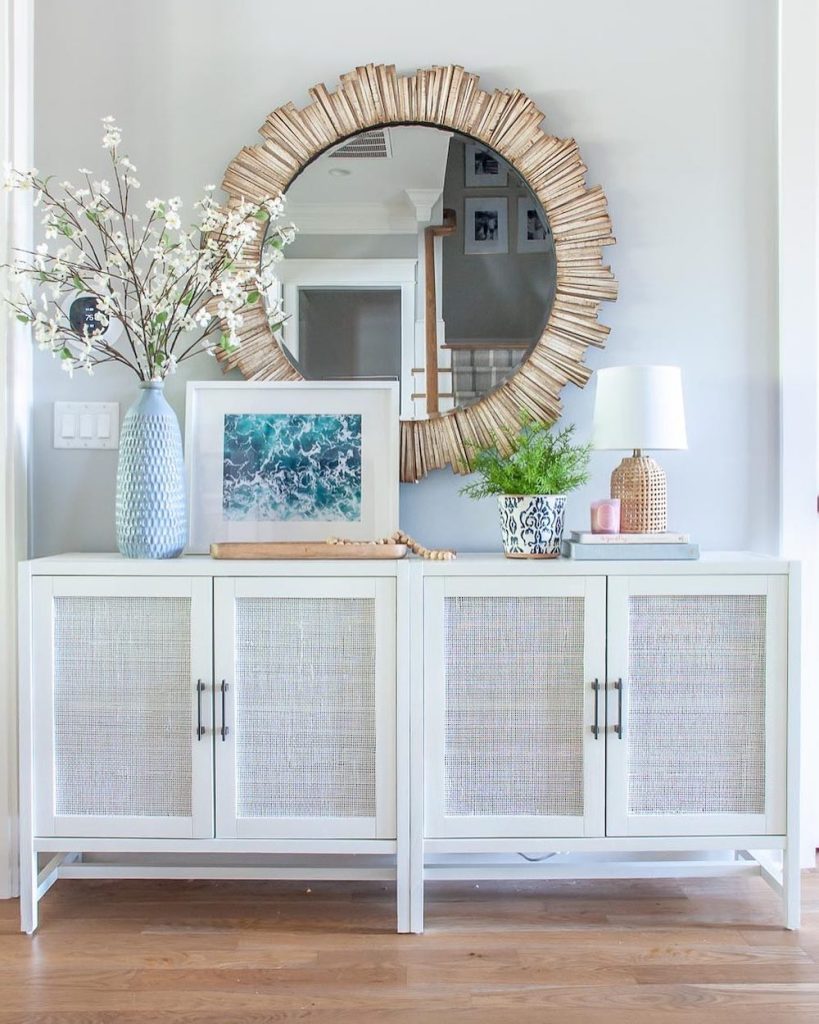 Use a couple of light blue accessories in your entryway. Blue is the color of the sky and the ocean. The color blue and coastal goes together.
Simulate the Ocean Waves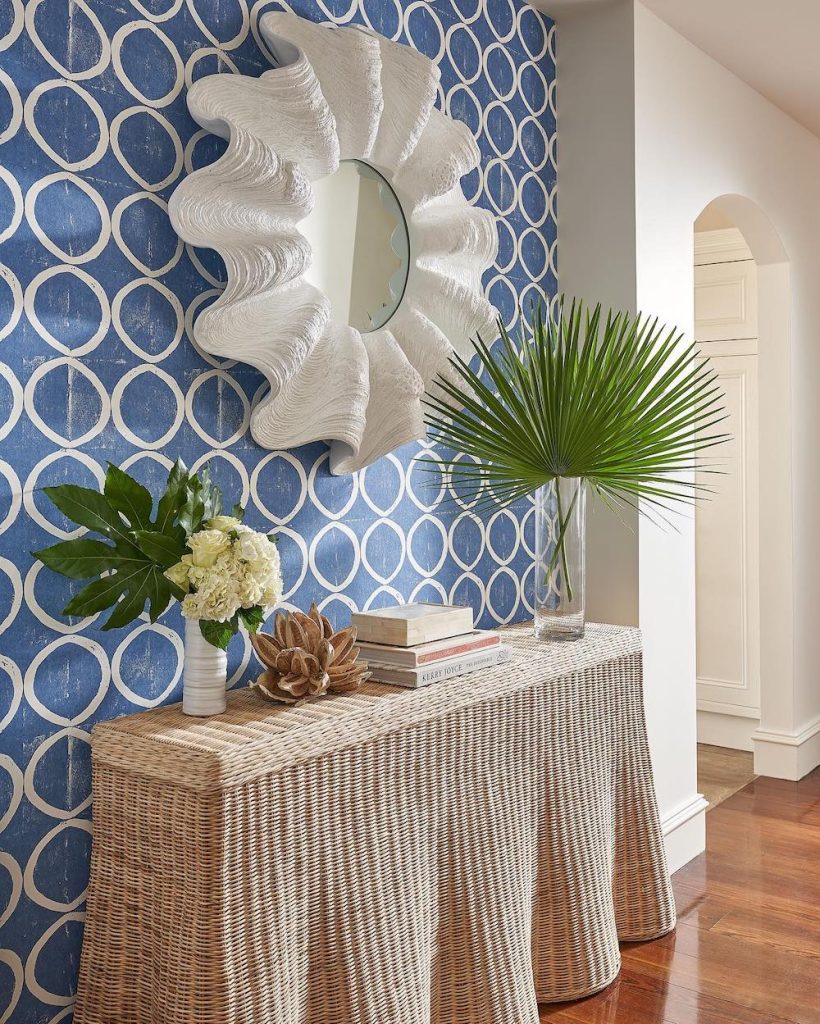 Give your foyer furnishings that imitate the ocean waves. A ruffled rattan console table and the unforgettable mirror with seashell-like ruffles and texture brings the ocean feel right to your front door. Amazing style!
This is the end of our list of best coastal entryway decor ideas. So which is your favorite decor idea? We hope that you've found a decor idea or two that inspires you. As an additional resource, check out our 12 Ways to Add Coastal Decor to your Home post.
Enjoy our other coastal decor-related posts for additional ideas.
Most Inspiring Coastal Living Rooms
Inspiring Coastal Bookshelf Decor Ideas
Coastal Table Lamps We Love
White Sofas for Beach Homes
Rattan Mirrors for the Coastal Home
Rattan Coffee Tables
Reach out to us with any questions. We are always ready to help you out. Thank you for dropping by and taking a look at Finding Sea Turtles blog.
Mary
Pin this for Later: