Coffee table book styling ideas for coastal homes. Books are a great accessory for styling vignettes. Whether you style a vignette on a coffee table or other areas of the home, books provide height to the vignette. Coffee table books tend to be heavier and larger in size than others. Larger books such as coffee table books act as a platform for decorative objects. As well as allowing for a wider area that can support bigger decorative objects. You can create a single stack of books or several stacks of books to elevate decorative objects. The tabletop surface size will dictate how many stacks of books there is room for.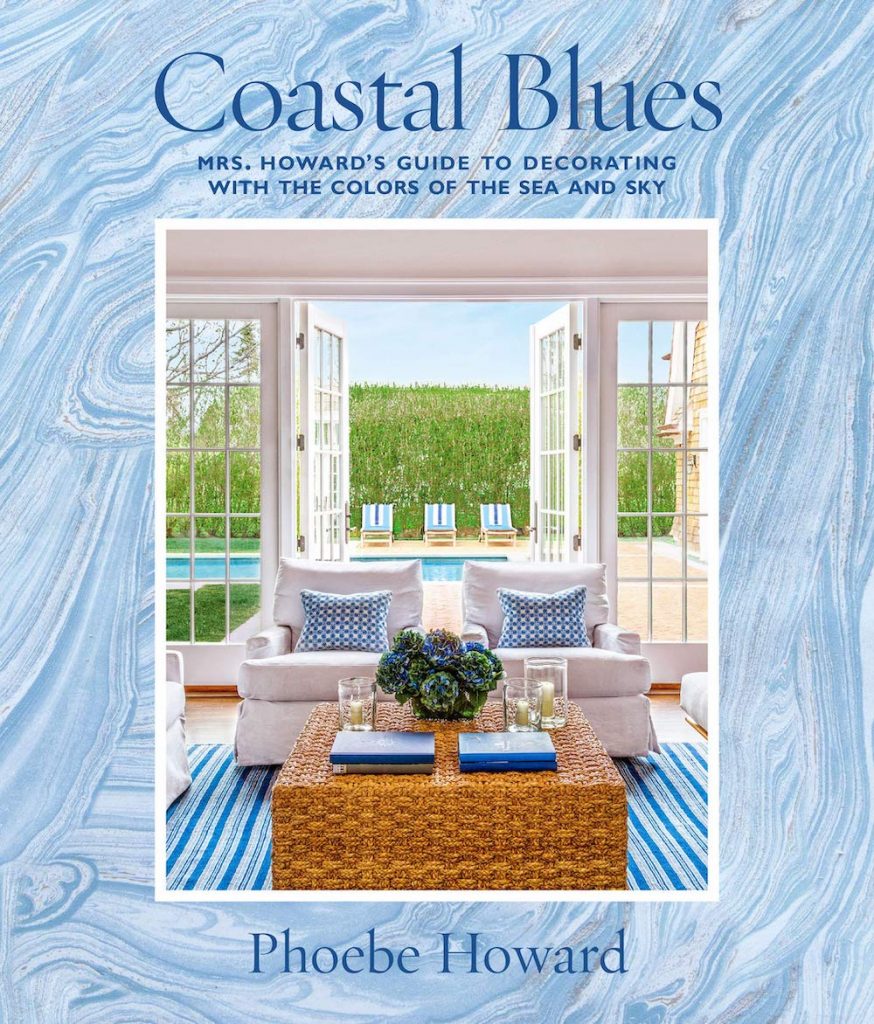 As far as which decorative objects to place on books, consider fragrant candles, vases of flowers, plants, or decorative bowls. In a coastal-styled home, you'll frequently see coral pieces displayed above book stacks. Coffee table books can be placed inside a tray or directly on the table surface. Although, using a tray helps the area look tidy and put together. Trays give the vignette a more finished or completed appearance.
Select Your Books – Coffee Table Book Styling Ideas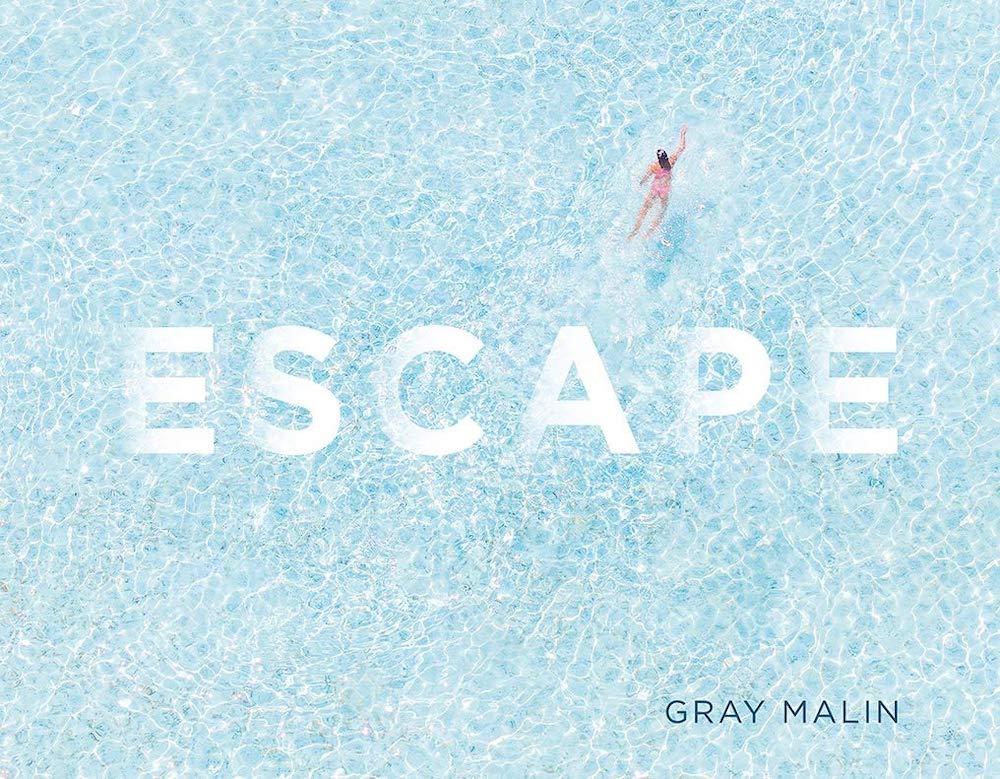 In today's topic, we are sharing coffee table book styling ideas. There are numerous ways you can select coffee table books. As you piece together a set of coffee table books, consider where and how you'll display the books. Take note of any limitations such as those on a bookshelf.
How do you select the right books? Books can be selected according to size, color, topic, or other factors. For a small space vignette such as a bookshelf, select books according to their size. Also, consider the color of books when creating a vignette. The outer paper cover of the book can be removed. You may want to display the book without the paper cover if the cover and spine are more appealing. And to maintain a certain color scheme within the entire room.
Alternatively, you can select books based on the book topic. Select coffee table books that you are interested in. Some popular book topics for coffee table books include decorating, fashion, gardening, travel, and sports. And there are many more topics to choose from.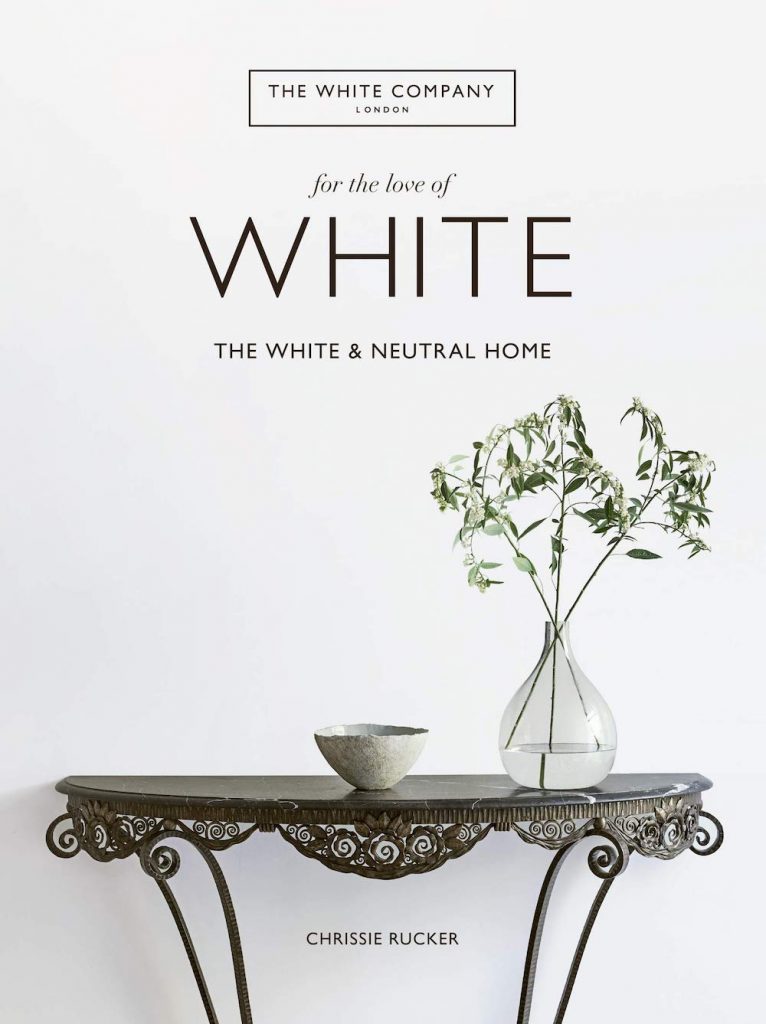 From time to time, refresh your coffee table books. Refresh books to coincide with certain events such as the Olympics or sporting events. And don't forget to refresh books from one season to another. Holidays are a great opportunity to change up your vignette books, too. Your book selections do not have to be permanent by any means.
And now we begin our most inspiring ideas for coffee table book styling ideas for coastal homes. Take a look.
Style Your Home – Coffee Table Book Styling Ideas
Style Books in a Tray on an Ottoman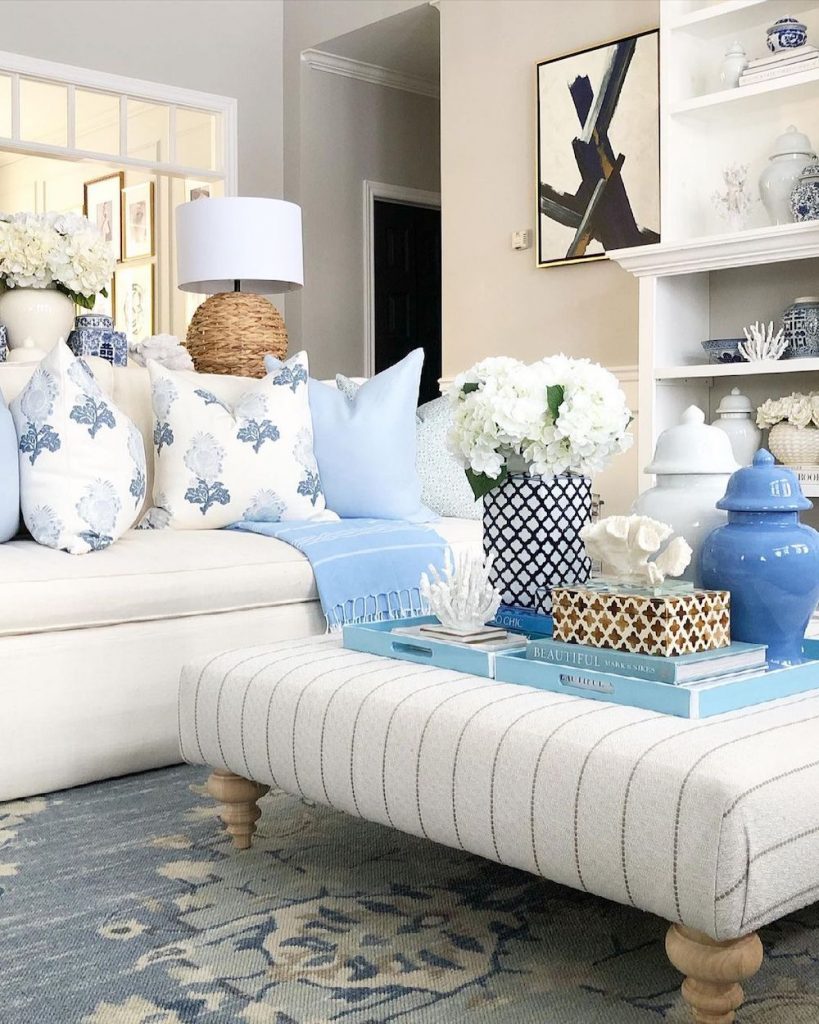 Make it a double. Use two blue trays with a stack of coastal books to elevate coral or special decorative objects. Add decorative ginger jars or vases of fresh flowers to provide height to the vignette.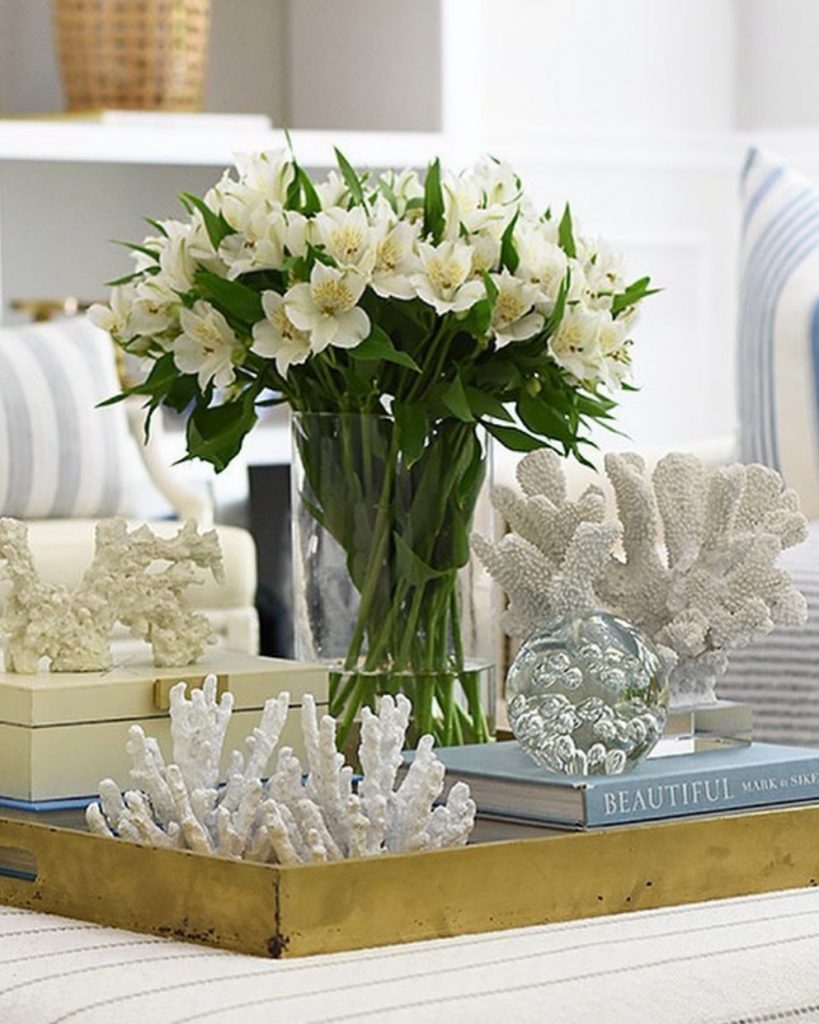 Style Your Book Stack on a Tabletop – Coffee Table Book Styling Ideas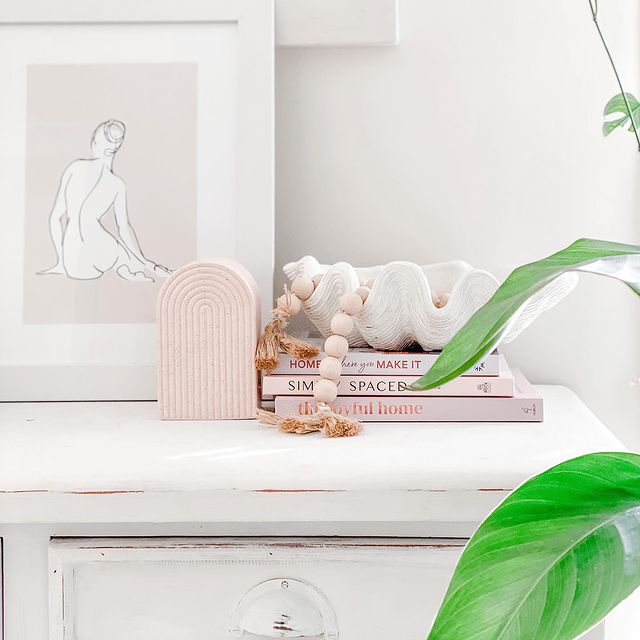 Stack your pretty pale pink books high to elevate a clamshell. Drape a set of pink wooden beads across the elevated clamshell.
Keep Them Close By on the Nightstand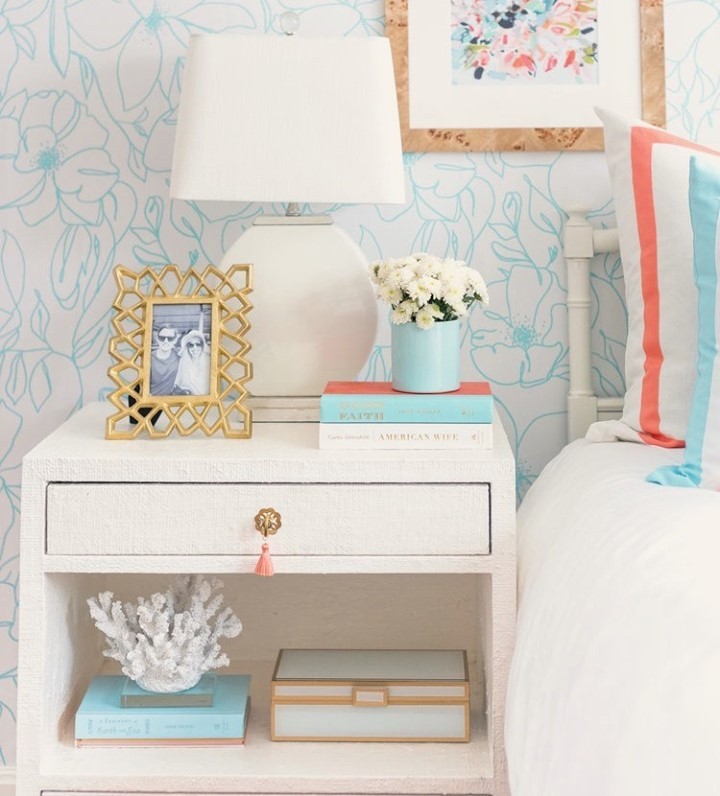 For a quick reference, keep your coffee table books on your nightstand. Select coffee table books with outer book covers that enhance your decor colors. As an example, this cream, turquoise, and coral-colored bedroom. Coffee table books complement the cream and turquoise colors.
Stand Them on Bookshelves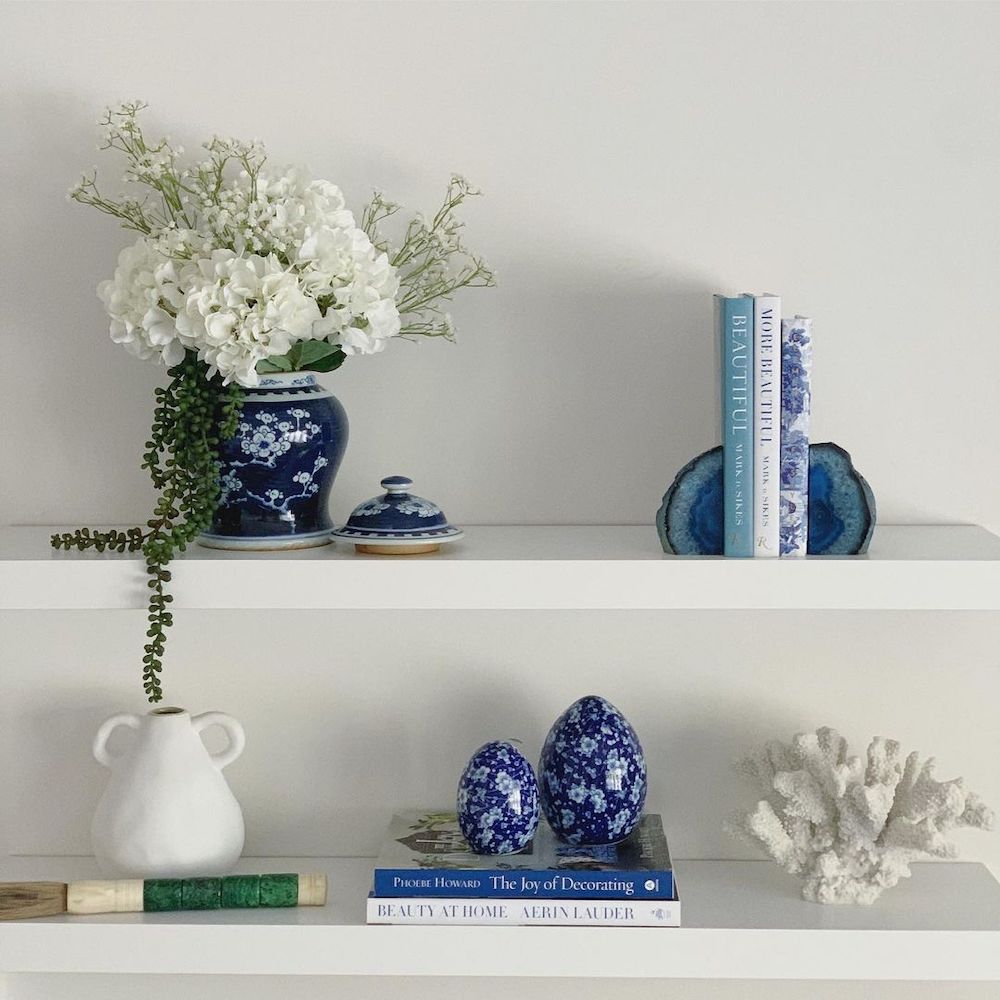 Add agate bookends to a set of books. Or stack them so that they can be used as a perch for decorative objects. Use your decor books to make your home stand out.
Stack Them On Open Shelving – Coffee Table Book Styling Ideas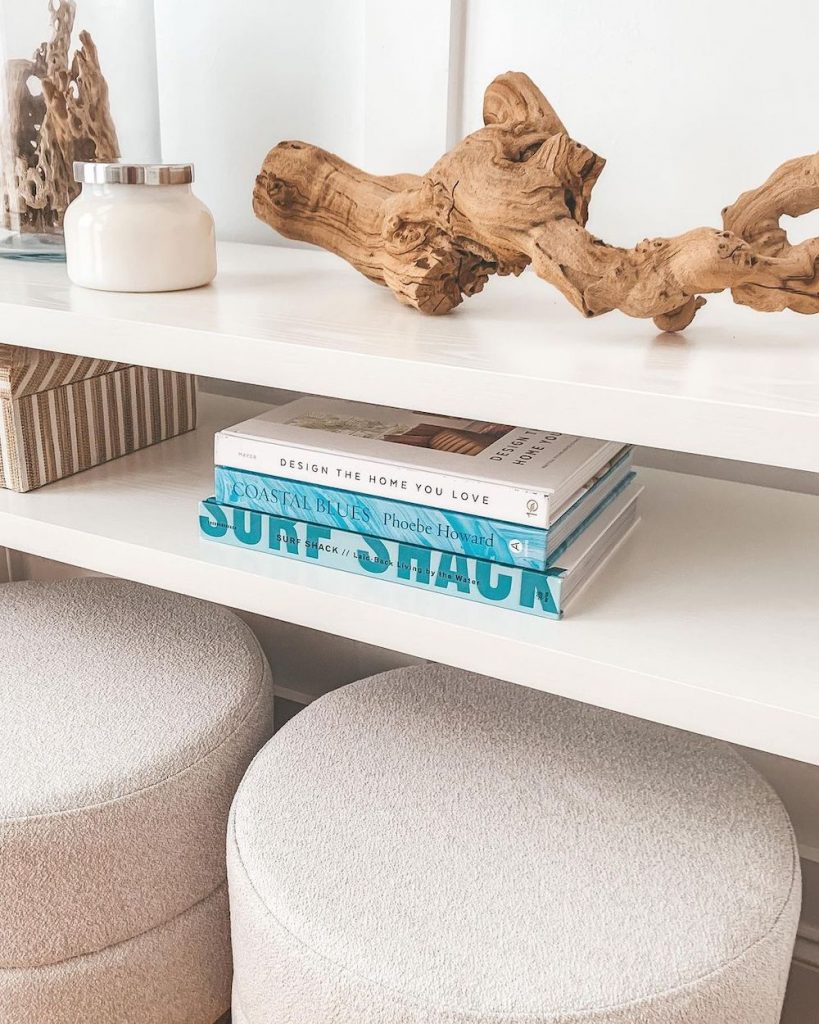 Place your design books within easy reach. Perfect for an open shelf system. And right below a fragrant candle and gorgeous piece of driftwood.
Lay Them on a Mantel Shelf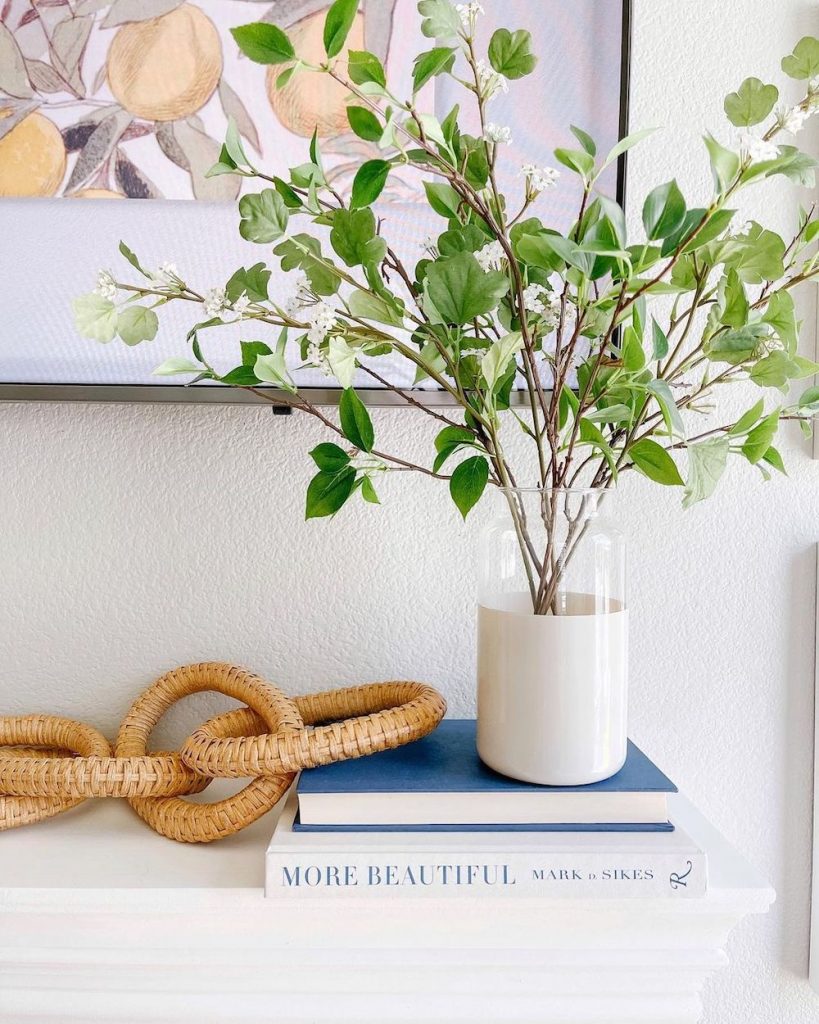 Set home decor books on the mantelshelf as a platform for a vase of fresh greenery. Rattan links make a great addition to this vignette.
Set Coffee Table Books on a Bench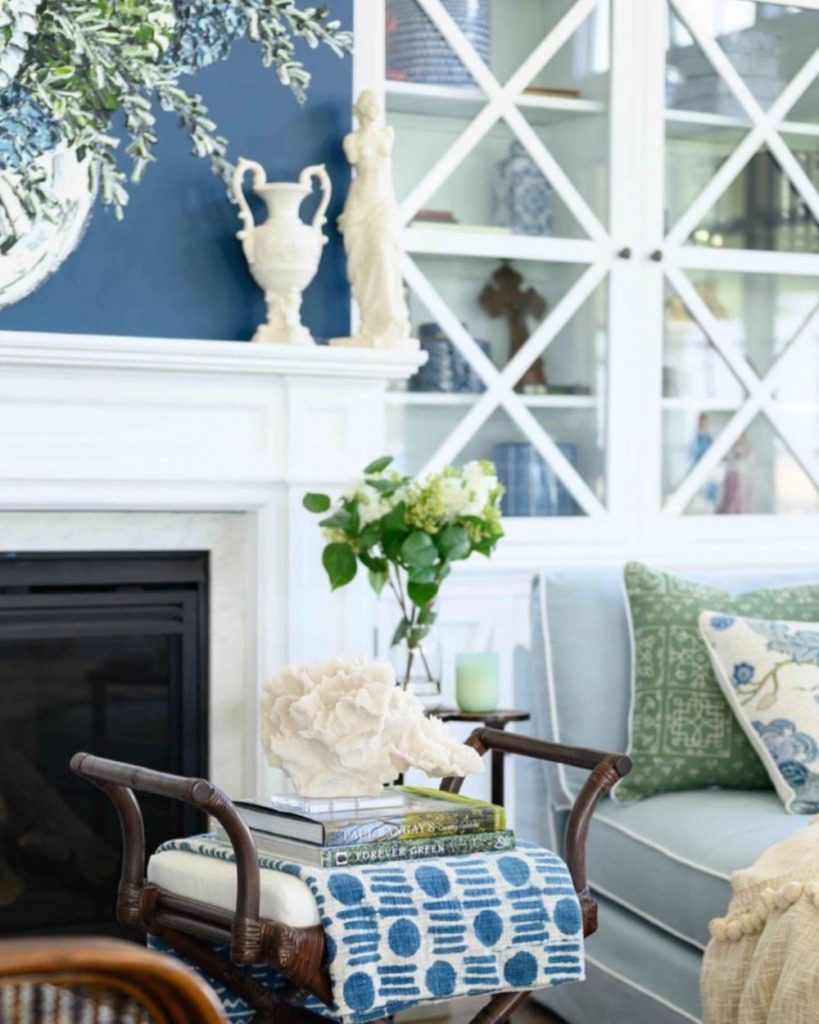 Rather than using a tabletop surface, place decor books on a bench. In this setting, a piece of coral rests on the books.
Stack a Group of Books on Your Home Office Desk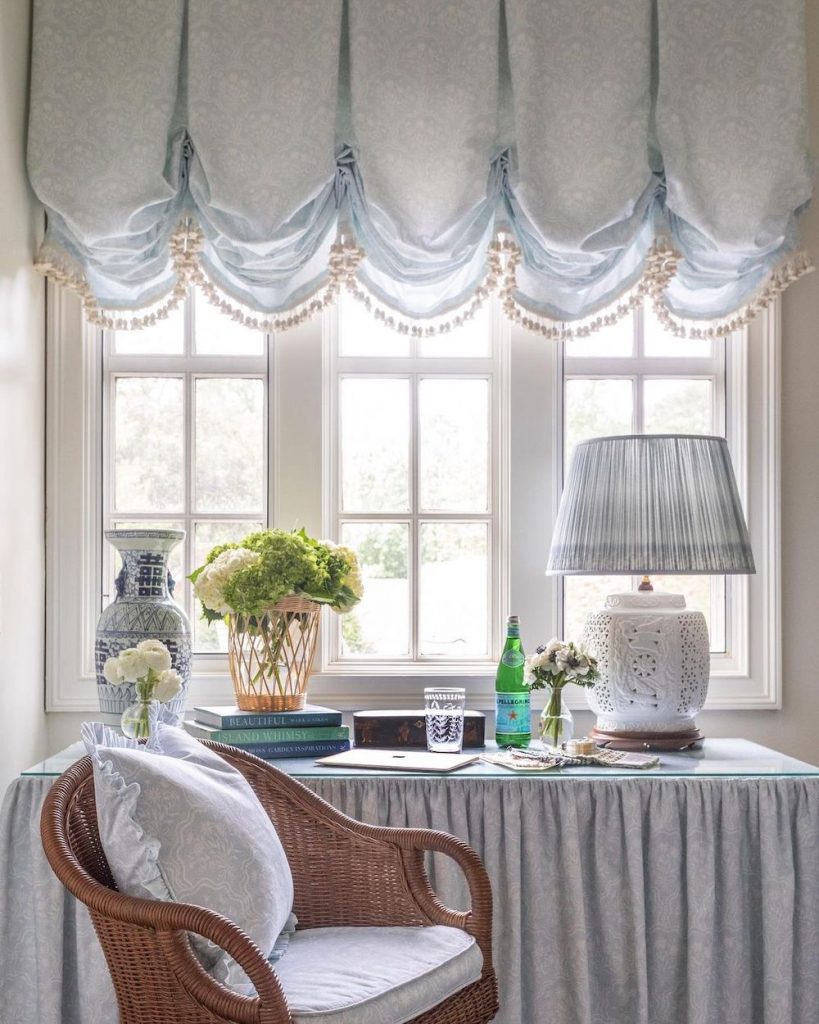 In this lovely home office, the decor books support a vase full of fresh hydrangeas. Beautifully decorated office in soft blue and white colors. This home office is the quintessential room with a view.
Use on a Sideboard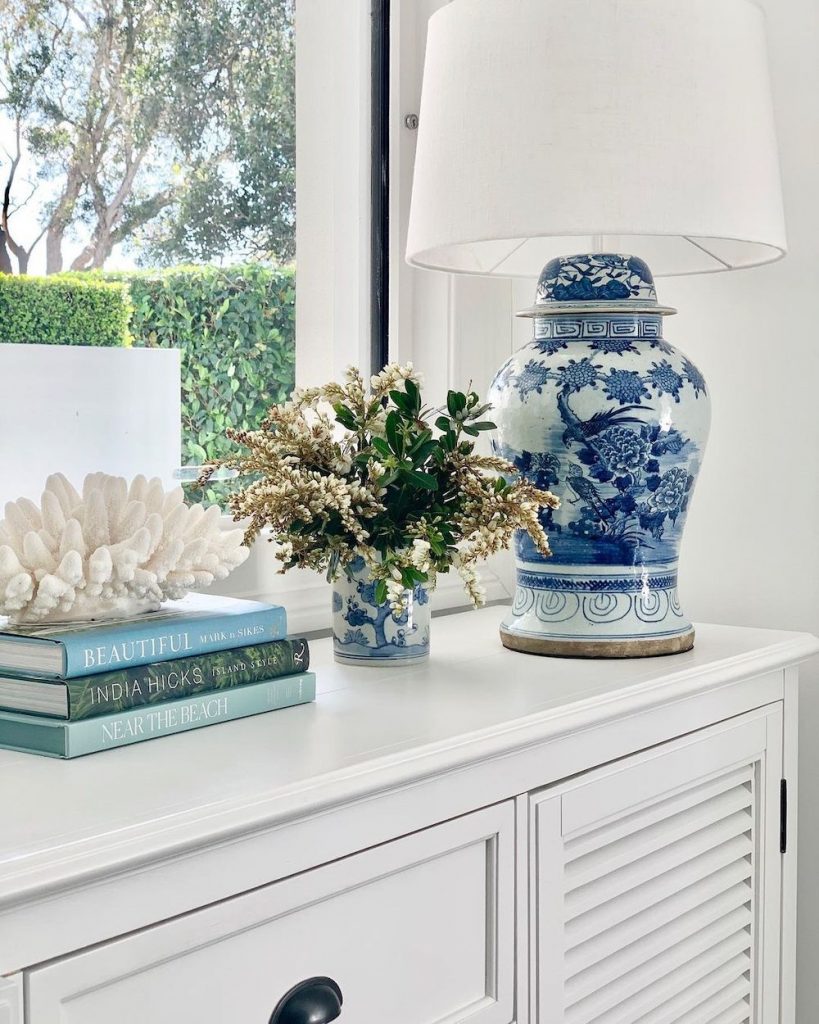 Place your books on the sideboard to prop up your favorite coral piece.
Store Books on a Storage Unit – Coffee Table Book Styling Ideas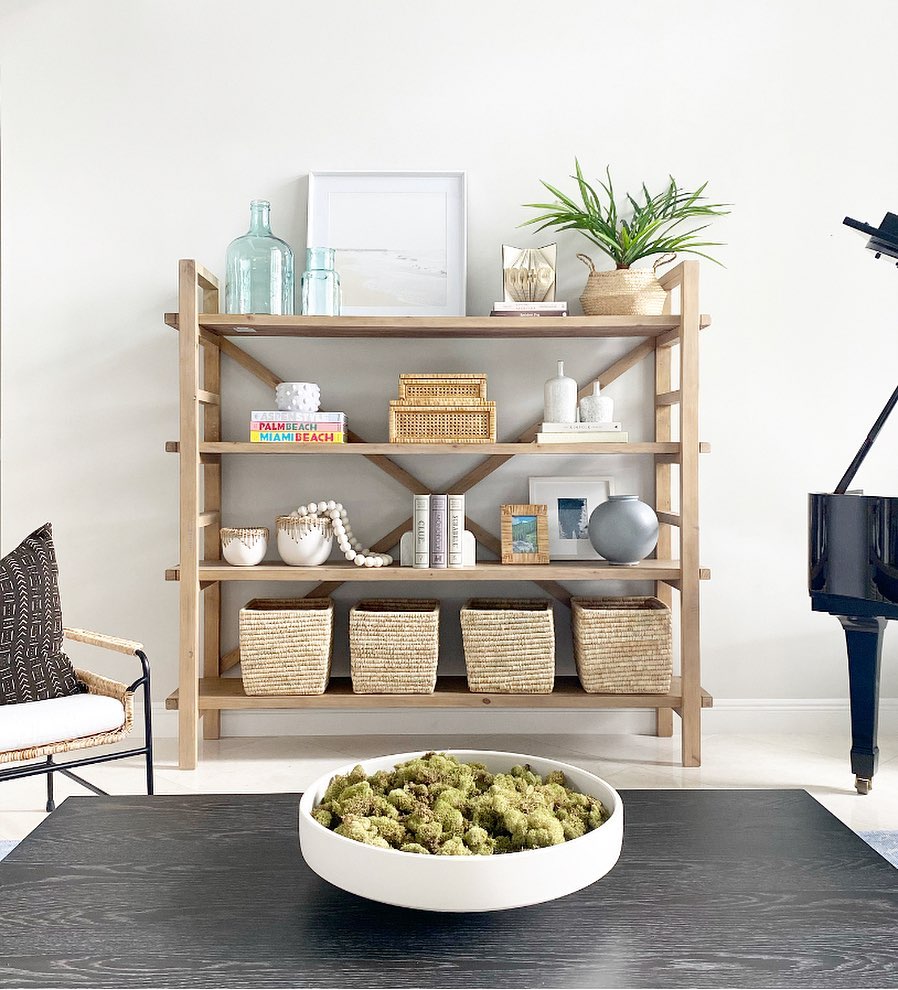 Add home decor books to a storage unit. Perfect to use as decorative objects, as reference material, and support for other decorative objects.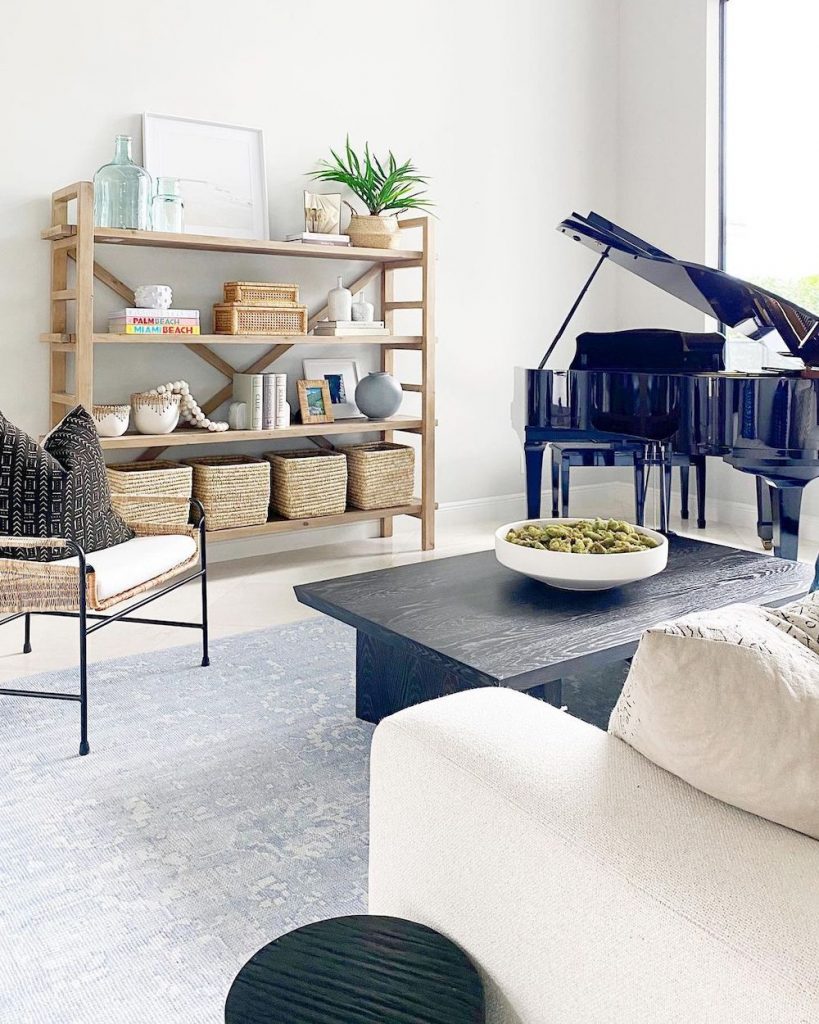 Decorate the Ceiling Shelf in a Guest Room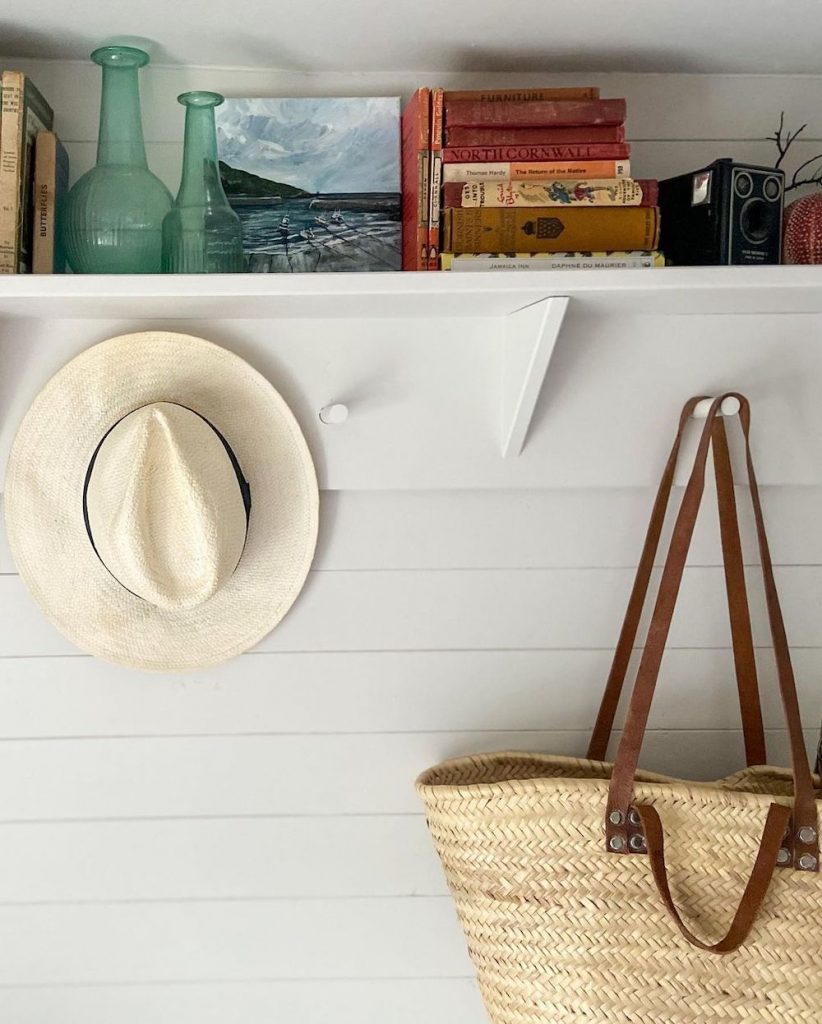 When space is at a premium, every inch of a room counts. In this guest room, a ceiling storage shelf was added. The ceiling shelf provides extra storage and decorative items. Clever idea! Guests can help themselves to a good read while staying over. The designer painted the entire room the same color (Farrow & Ball Ammonite). The room appears more spacious when using the same paint color on the bookshelf and throughout the room.
Rest on a Coffee Table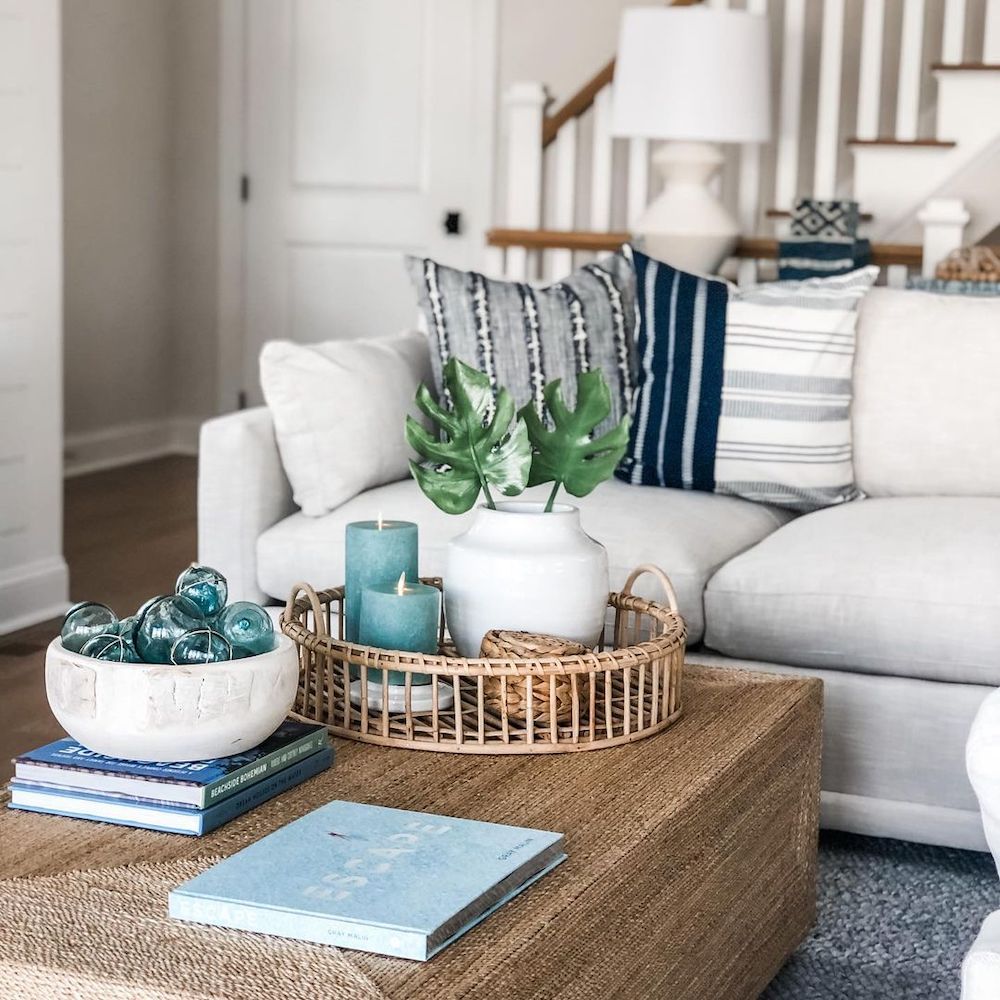 Keep coastal books on a coffee table for guests to take a peek.
Stack Decor Books on a Bookshelf
Use decor books as bookends for other decor books, of course. Especially when you have great books for reference.
Create a Tabletop Vignette – Coffee Table Book Styling Ideas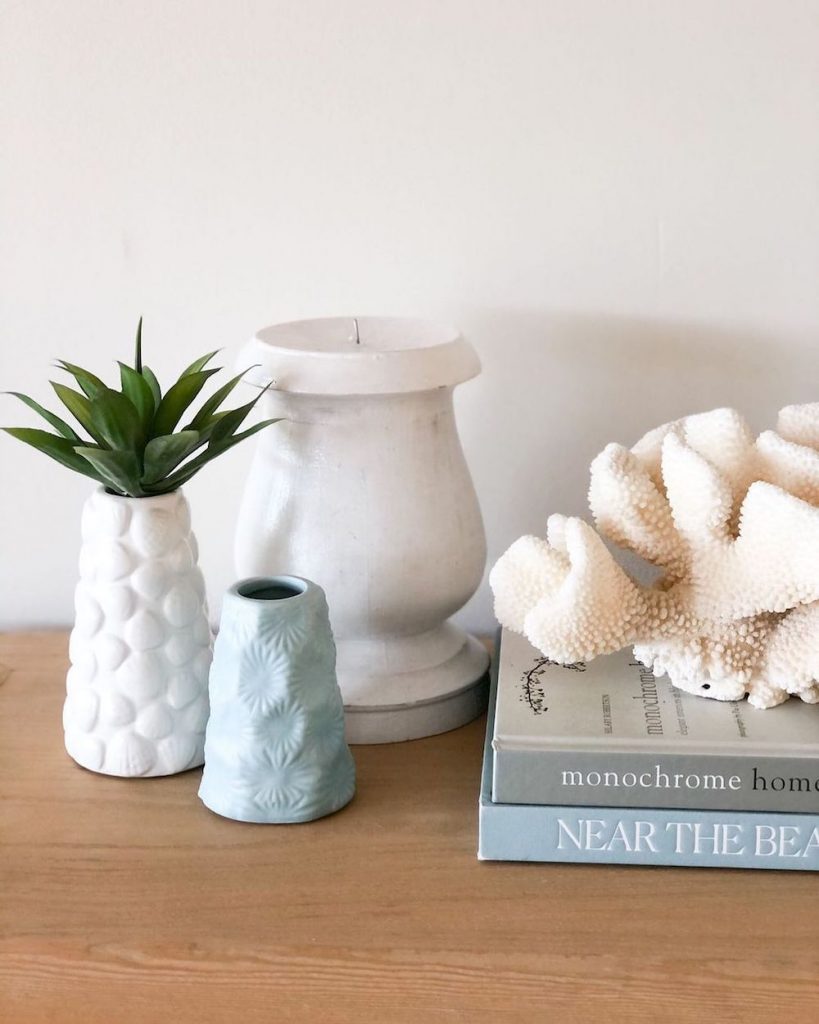 Display coastal vases, a candle, and coffee table books for a coral sideboard vignette.
Coordinate Coffee Table Books in Similar Colors on a Coffee Table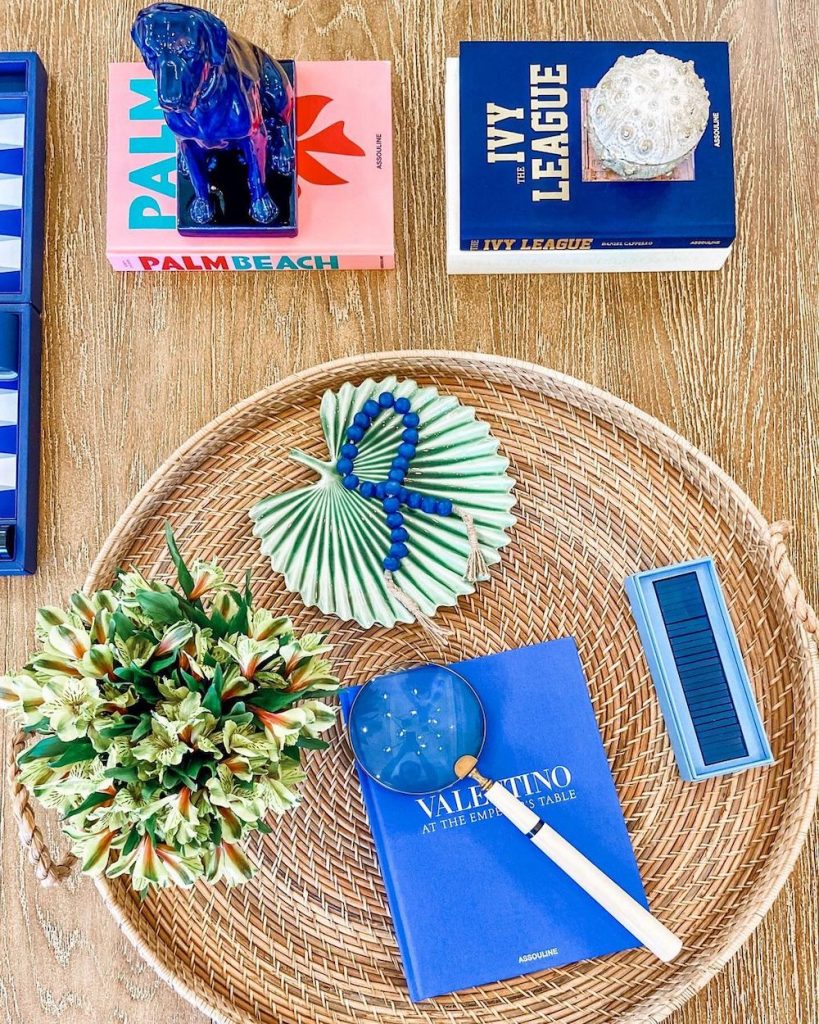 Make it vibrant. If you have favorite colors such as vibrant blues, display those on a tabletop surface. ⠀
For additional vignette inspiration, take a look at our vignette styling post. The title is the best coastal tray styling ideas to design a vignette.
In Conclusion – Coffee Table Book Styling Ideas for the Coastal Home
This ends our list of the most inspiring coffee table book styling ideas. Use coffee table books as a platform to create a vignette with varying heights. Integrate decorative objects of different materials for visual interest. Add a personal touch to the vignette by using family photos or special objects. There are numerous objects to use when styling a vignette.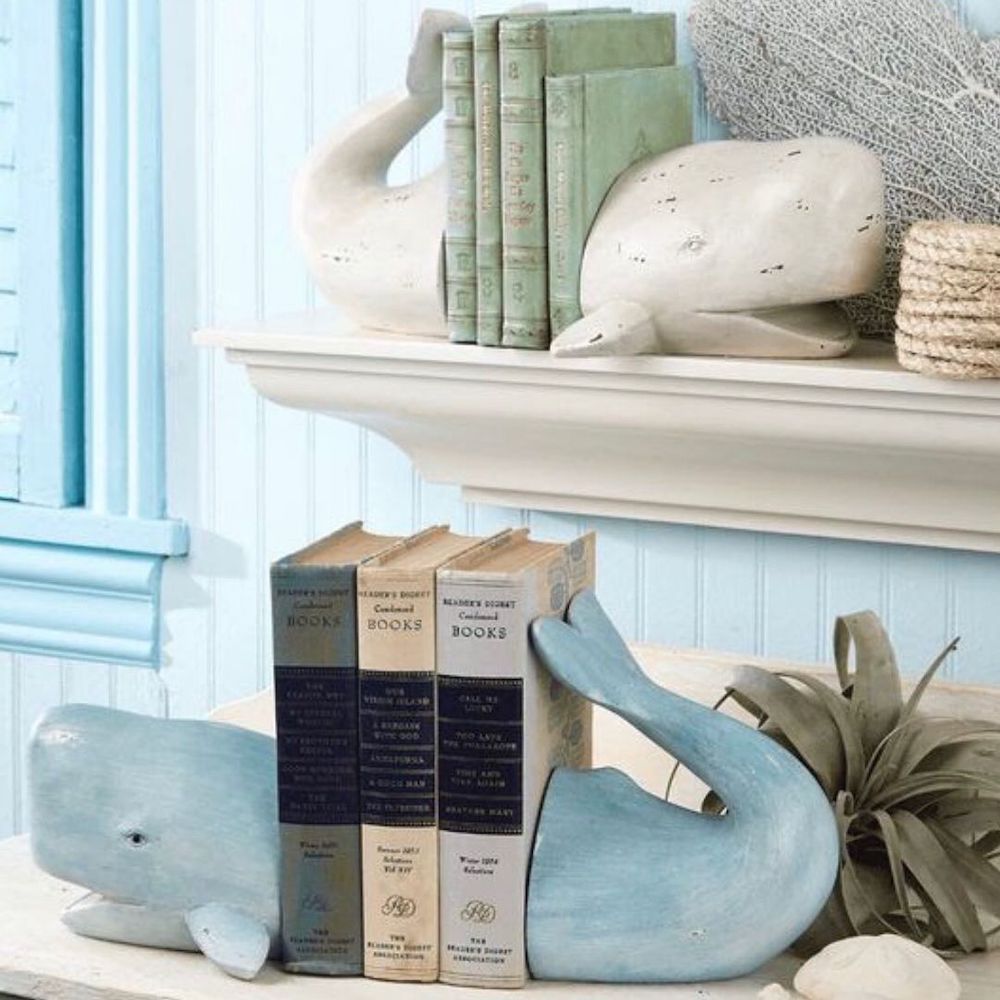 We hope that our selection of 15 coffee table book styling ideas for a coastal home inspires you. Create a beautiful vignette using coffee table books. Let us know how you style your coffee table books. For additional coastal decor resources, check out our coastal decor post with helpful tips. Take a look at our 12 Ways to Add Coastal Decor to your Home post. And for additional coastal inspiration, take a look at some of our other posts.
Enjoy our other decor related posts for additional ideas.
Reach out to us with any questions. We are always ready to help you out. Thank you for stopping by our blog.
Mary
Pin this for Later: