Coffee table styling ideas are today's coastal topic on our blog. These are ideas on how to style a coffee table with other furniture and the surrounding space. We'll show you a variety of coffee tables styled with sofas, loveseats, and side chairs. Most of these settings are coastal but every one of these living areas easily fit into a coastal, summer, or beach-styled home.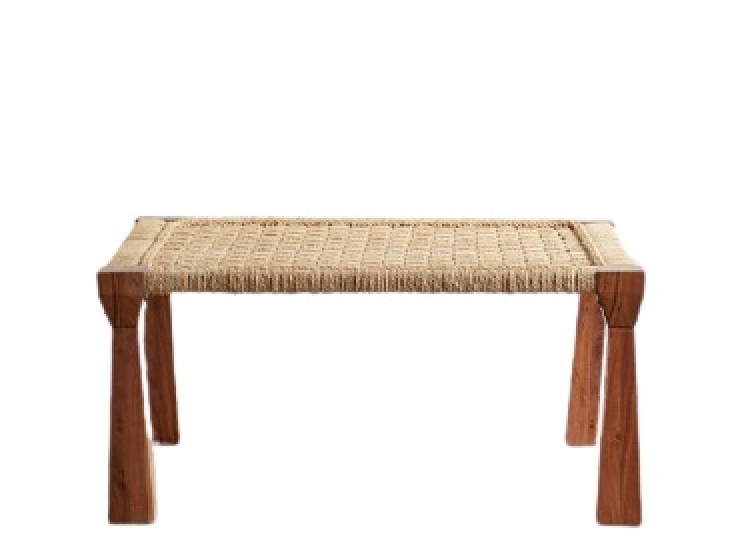 Show Your Style – Coffee Table Styling Ideas
As you style around your coffee table, remember that the coffee table is the centerpiece of the room. And the coffee table is a great place to show your personality when styling it. However, styling around the coffee table allows plenty of room between the furniture pieces. As a rule of thumb, allow between 14 to 18 inches from the coffee table to the sofa or set of chairs. Allow 30 to 36 inches between a sofa and chairs or ottomans. Keep in mind that guests should be able to maneuver around the room effortlessly. Without fear of bumping into furniture.
One way to show your personal style is seen in the inspirational image above. Soft blues and creamy whites are used in this coastal living room. Isn't this stunning?
Look at Our Ideas to Inspire You – Coffee Table Styling Ideas
Create a comfortable living space at home with these coastal ideas. Take a look.
Style it Coastal Chic – Coffee Table Styling Ideas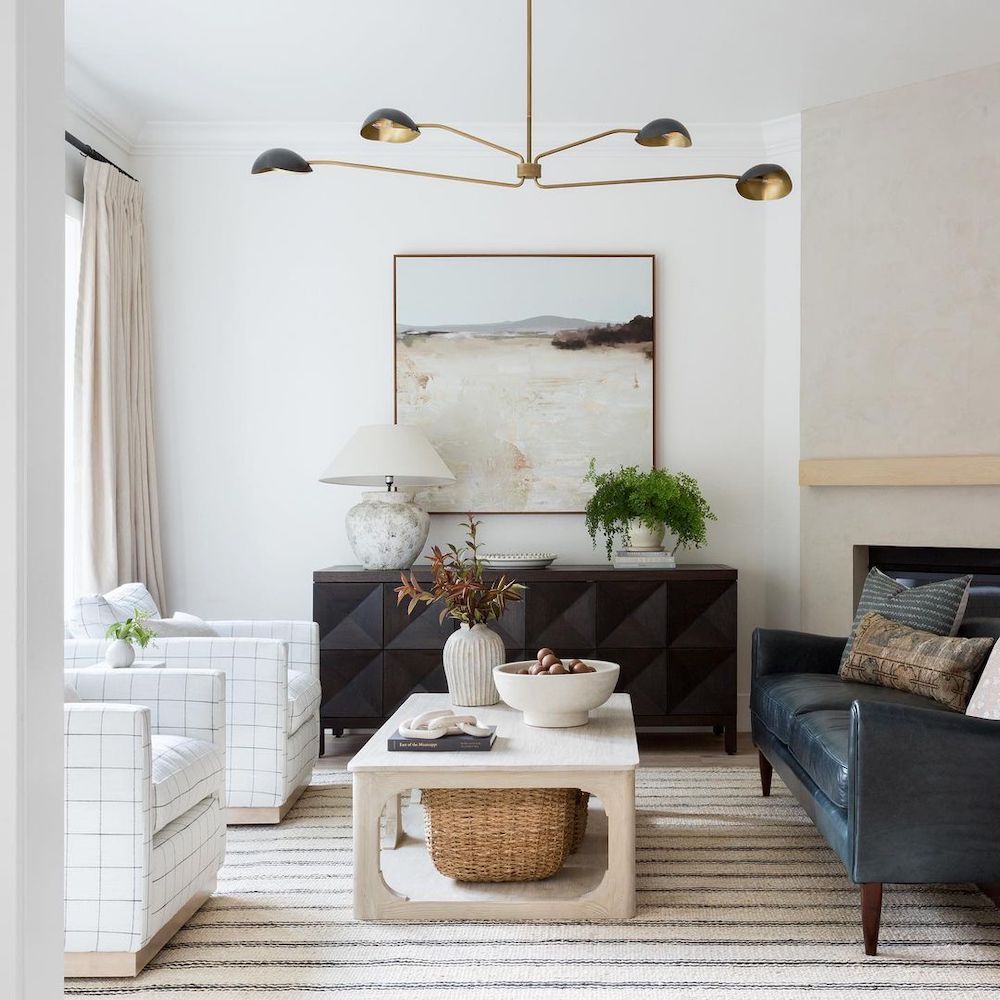 For a refined and livable look, mix the dark-stained furniture with the lighter-colored furniture pieces. Blend the two distinctly different stains while using lighter wall paint colors. The cream-colored coffee table is a great place to start the mixing of the two finishes. Add some cream-colored accessories such as vases, bowls, and lamps. If you've invested in quality furniture with a darker stain finish, incorporate them into newer or light-colored furnishings. It can be a balancing act but try until you've achieved the look you want. And by the way, as you can see in the example above. You won't be disappointed with the outcome!
Give it a Coastal Casual Elegance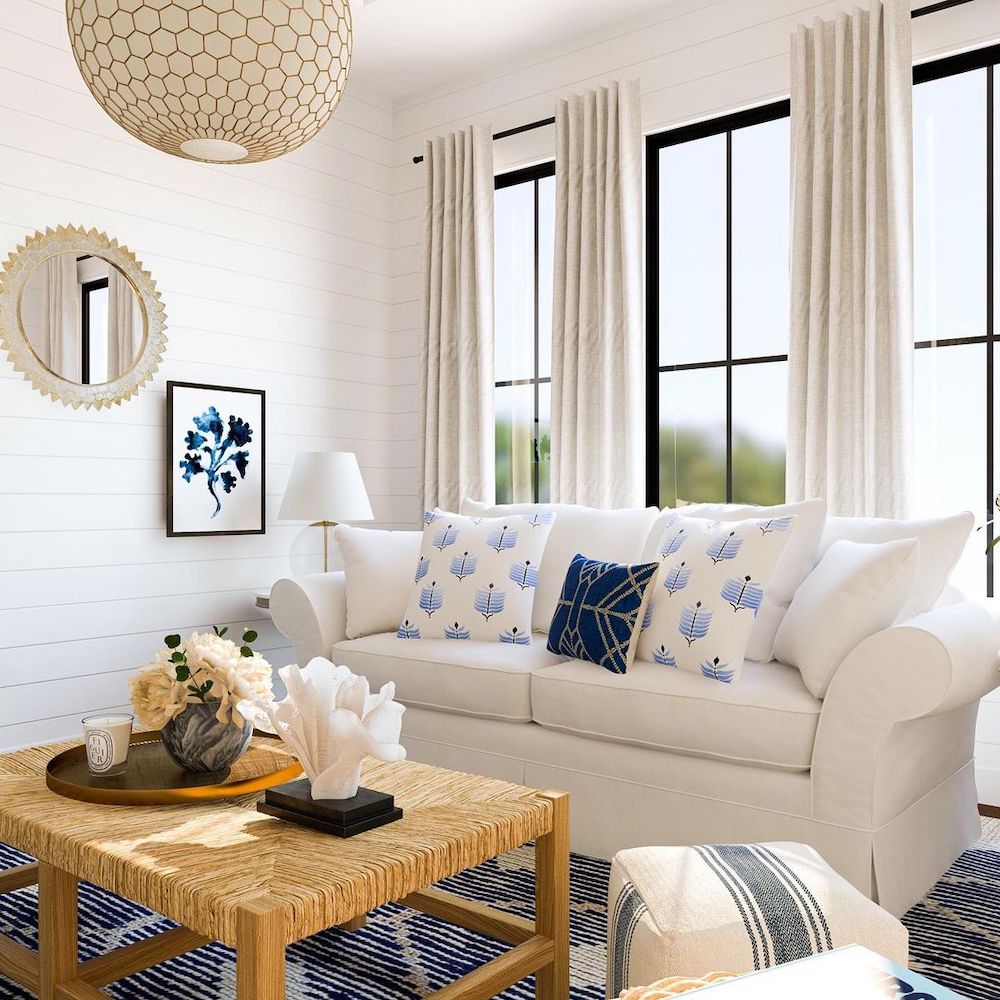 Start with a rattan coffee table. The wood frame gives the table its sturdiness. Wrap natural rattan over the coffee table top for a casual look. White-colored walls, curtains, sofa, and side chairs enhance the coffee table's natural style. Of course, the lighting globe is the finishing touch for this living room. Beautifully decorated space.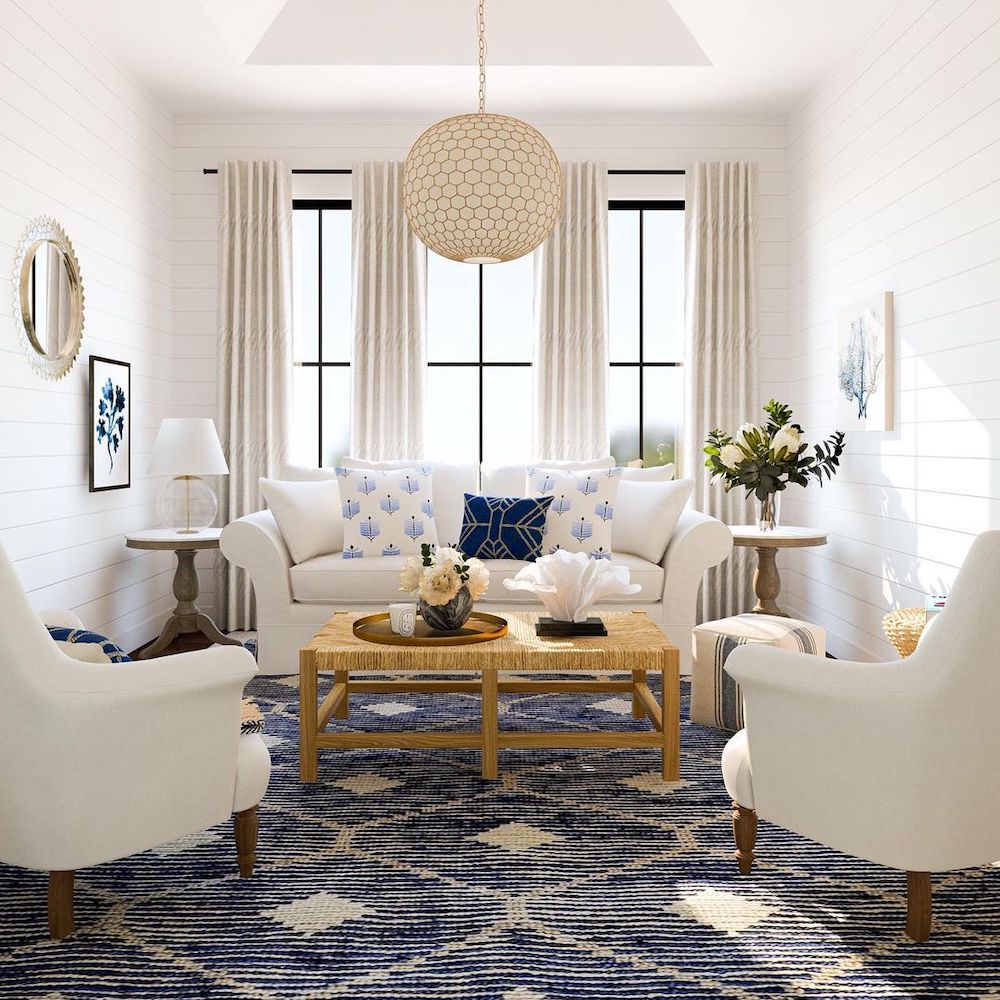 Style it with BM Woodlawn Blue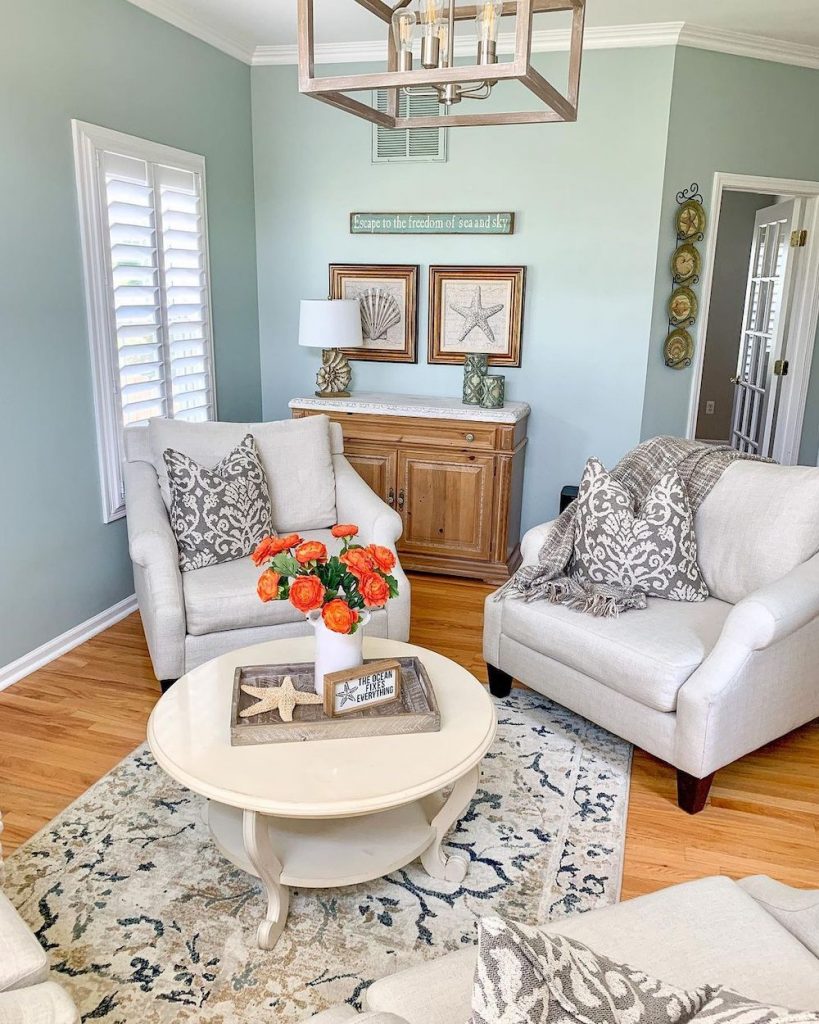 Begin with a round cream coffee table with a lower storage shelf. This lovely sitting area looks so comfortable with the four upholstered chairs. All with a backdrop of Woodlawn Blue painted walls by Benjamin Moore. We love all of the seashells and starfish accessories. By the way, as ChristineStarfish points out, the Ocean Fixes Everything. Isn't this so true?
Go with an Asian Influence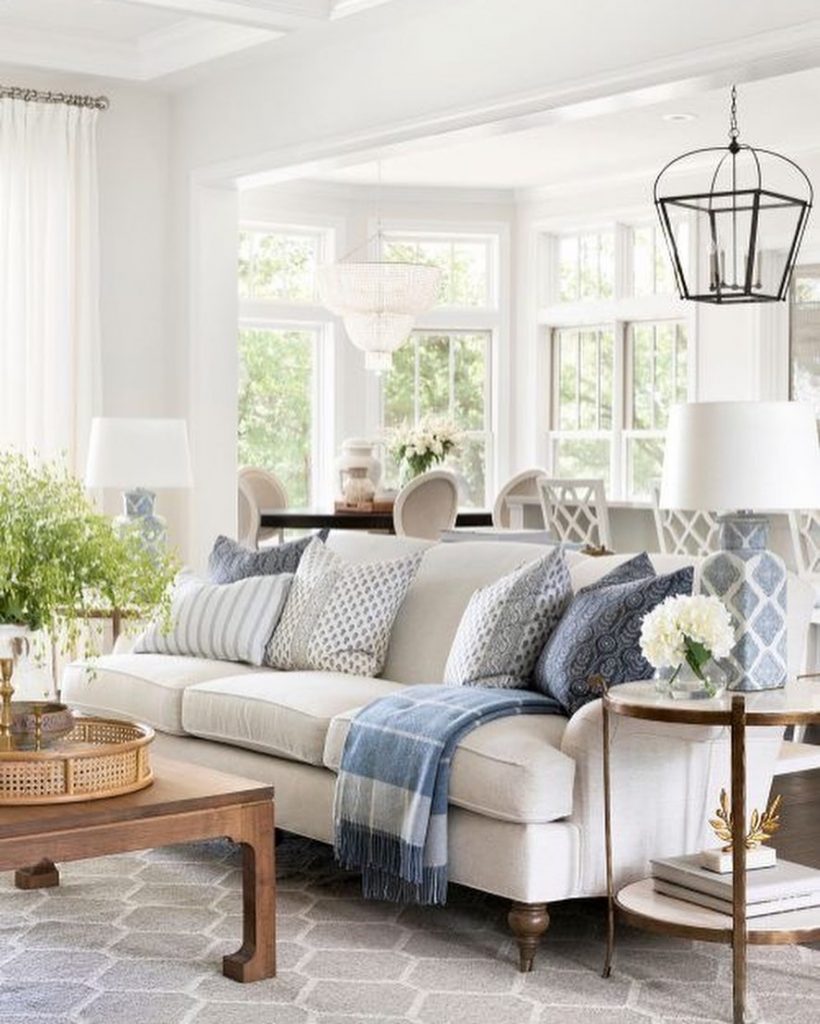 Begin with a Chinese Ming-style coffee table and Chow legs. Add a brown round cane and rattan wicker tray to the coffee table. Add a beige sofa over a beige and white area rug. Finish off with blue and white accessories such as a few toss pillows, vases, a throw, and a lamp. And of course, adding any greenery makes the space even more inviting.
Make it a Double – Coffee Table Styling Ideas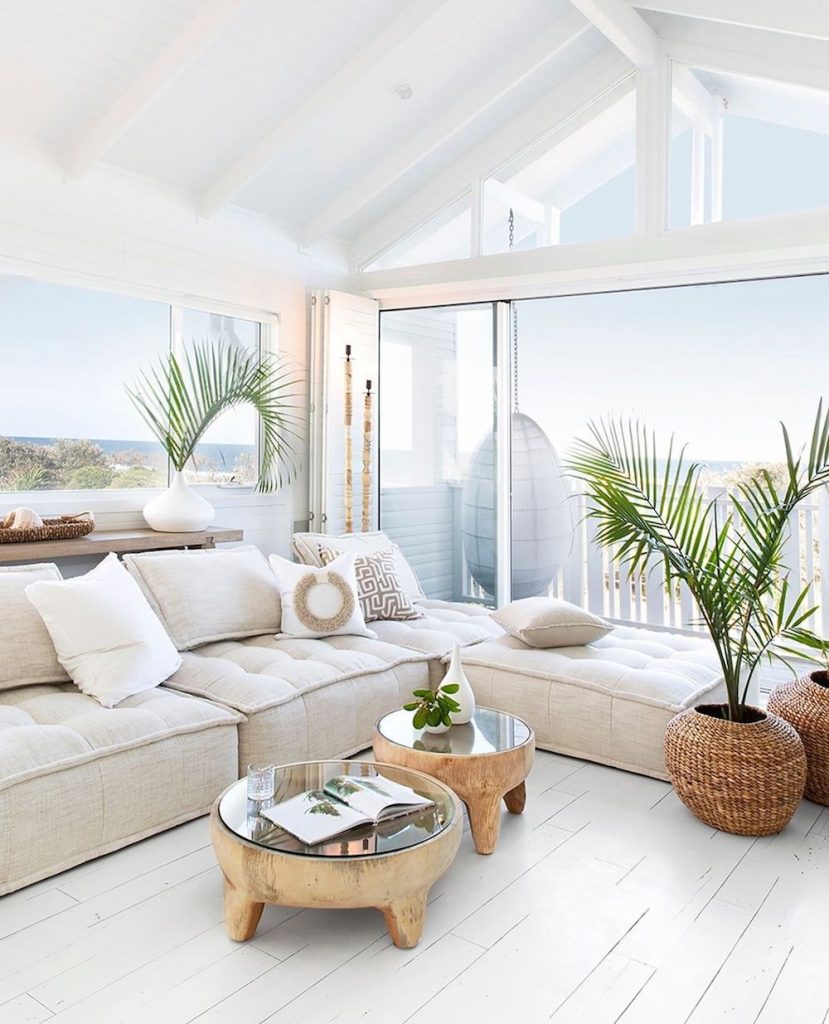 Mix it up with an Inkolo Coffee Table and an Inkolo Side Table. Place two tables side by side for a larger sofa setting. In this instance, a mirrored coffee table with a matching mirrored side table accommodates the oversized sofa in this home. With a living area like this, the only thing left to do is unwind and enjoy the view.
Keep it Light & Serene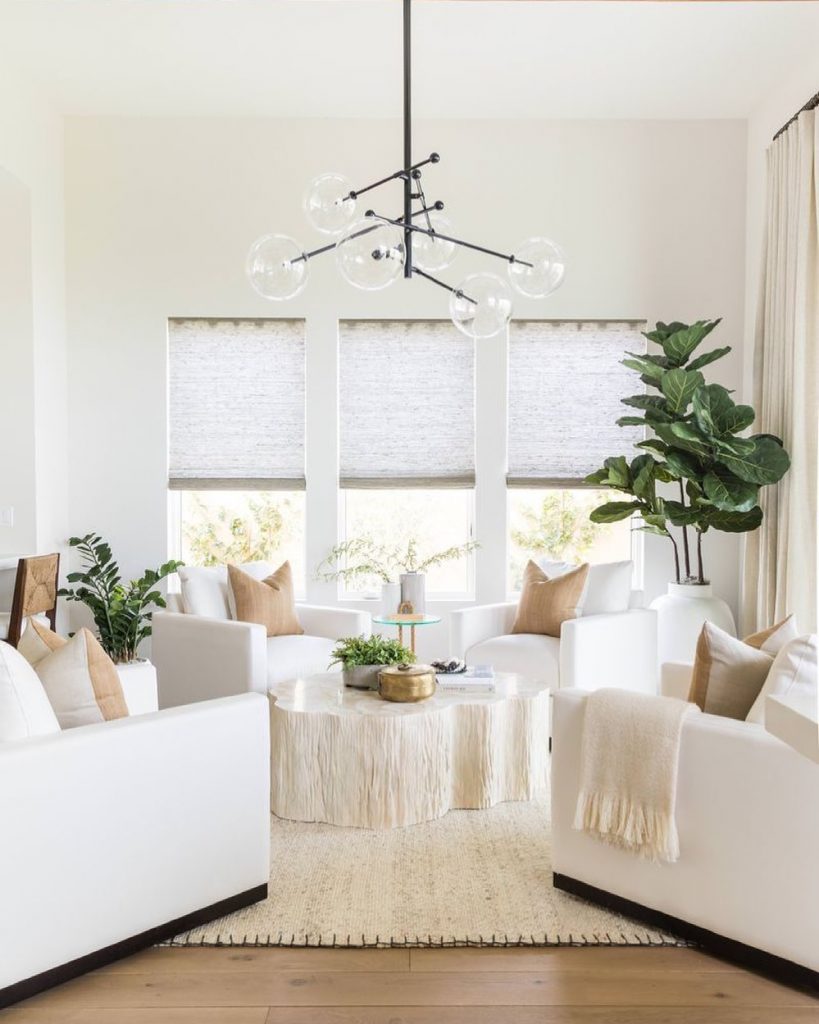 As an alternative to darker furniture, go for whites and cream-colored furniture pieces. Bring a natural style to your space with a tree stump table. Use the elements of the outdoors by bringing them inside.
Give it Stripes for a Nautical Flavor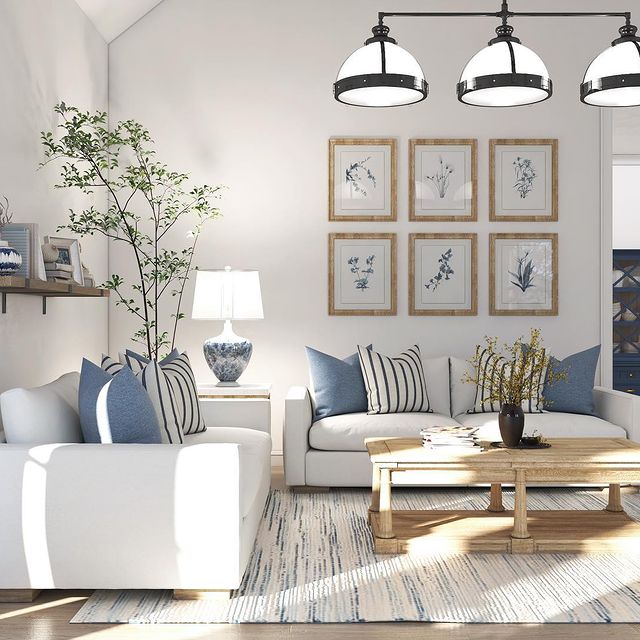 Bring in the coffee table in a natural finish. Add a white sofa, loveseat, two geometric covered poufs, and some toss pillows. The blue stripes, nautical pendants, and blues all come together for a nautical decor style.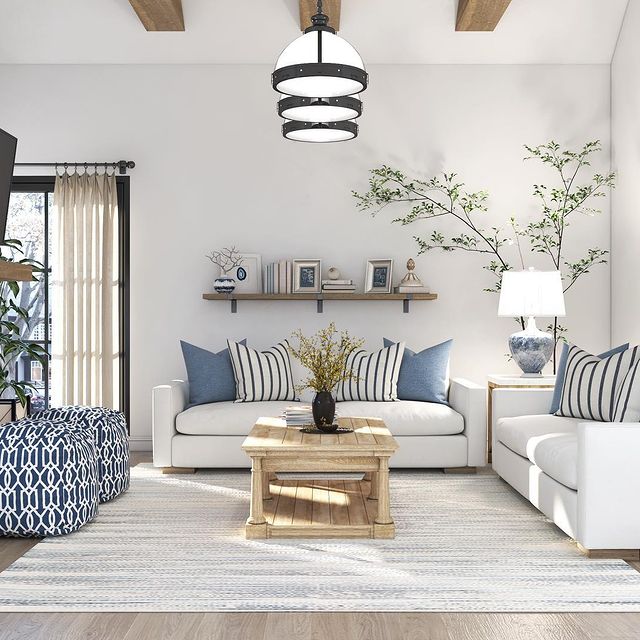 Make Your Space Inspire You Everyday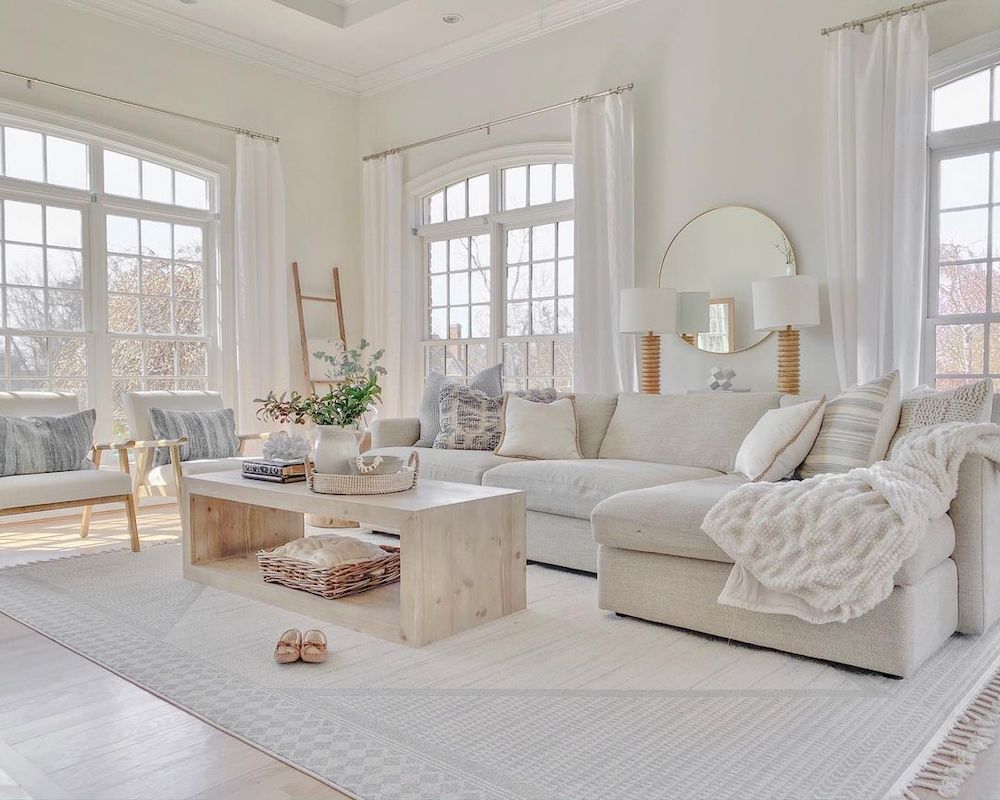 A cream-colored coffee table with a white rattan tray filled with white accessories. From top to bottom, make your decor style inspire you every single day. The white sofa with a chaise and two side chairs blend beautifully with the surrounding accessories. Subtle touches of color and textured fabrics throughout this room give it an inviting feel. Well done.
Give it a Pop of Pink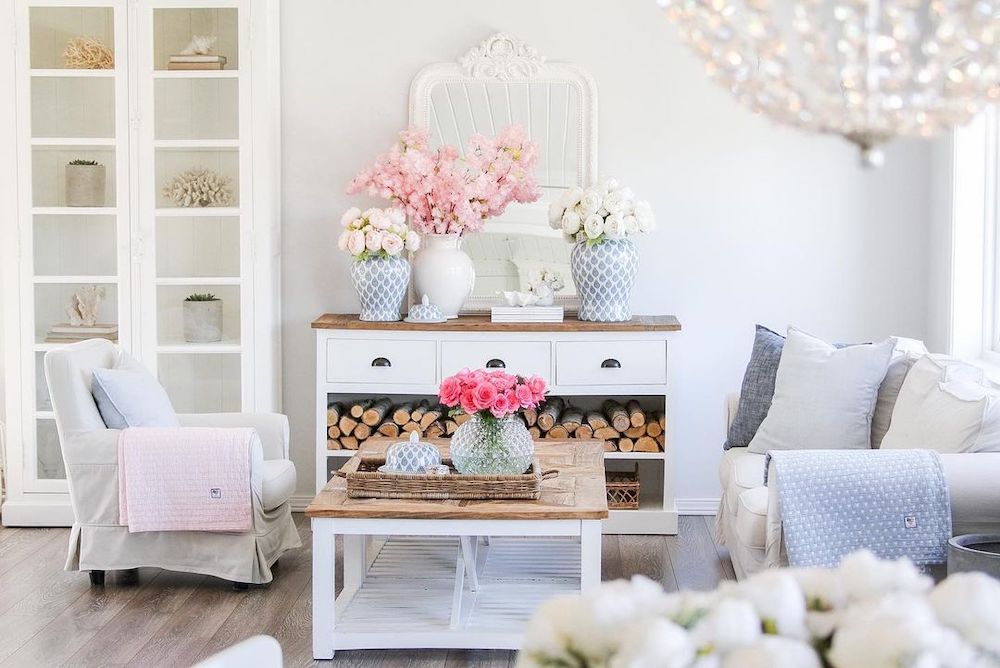 Start with a natural-colored wood-finished tabletop and the lower part finished in white. Set a natural rattan wicker tray on the table. Fill the glass vase with pink roses. Complete the rattan tray styling with other similar decorative objects.
Add pops of pale pink throughout the room. Another easy and smart way to add pink to your decor is with flowers! Gather a bouquet of the palest of pink roses for your vases. For the side chair, drape a light pink quilted throw. To illuminate it all, hang a pink glass chandelier. Lovely colors for a gorgeous room!
Give Yourself Extra Storage – Coffee Table Styling Ideas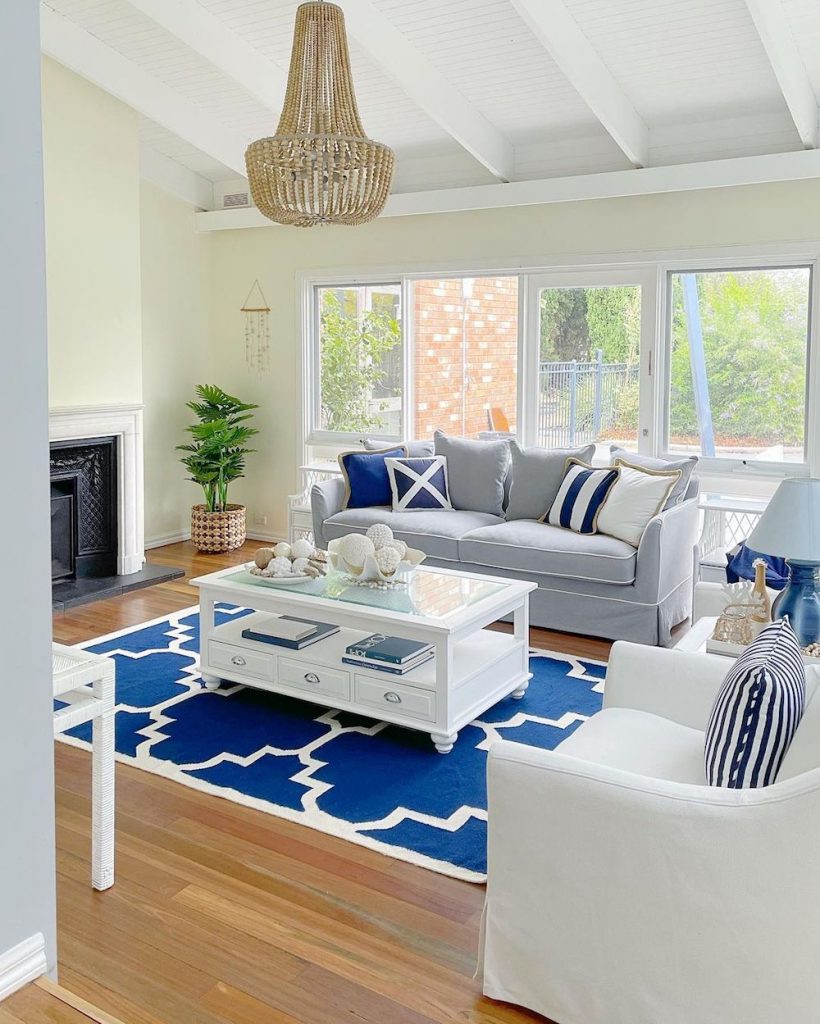 Style it with an open shelf and extra storage shelving. The white coffee table provides the perfect spot for decorating with coastal objects. An open shelf and three drawers below add some storage to the room. Add a gray with white piping sofa. Then go bold with navy and royal blue toss pillows and area rug.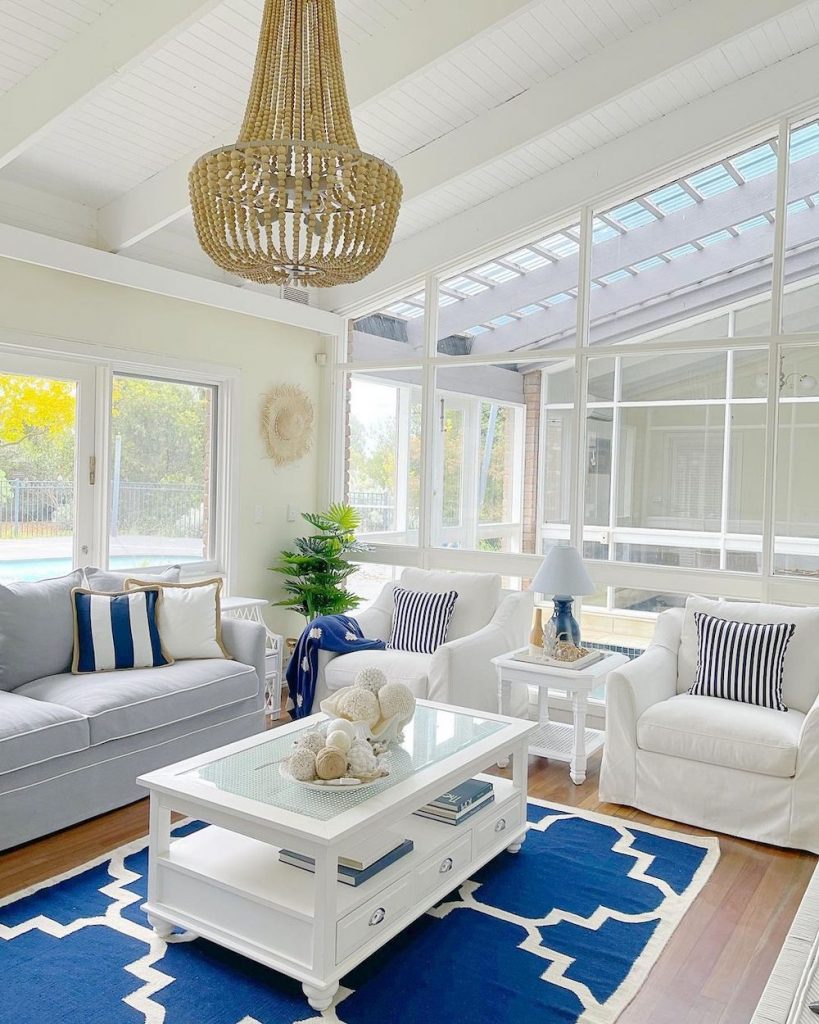 Keep it Green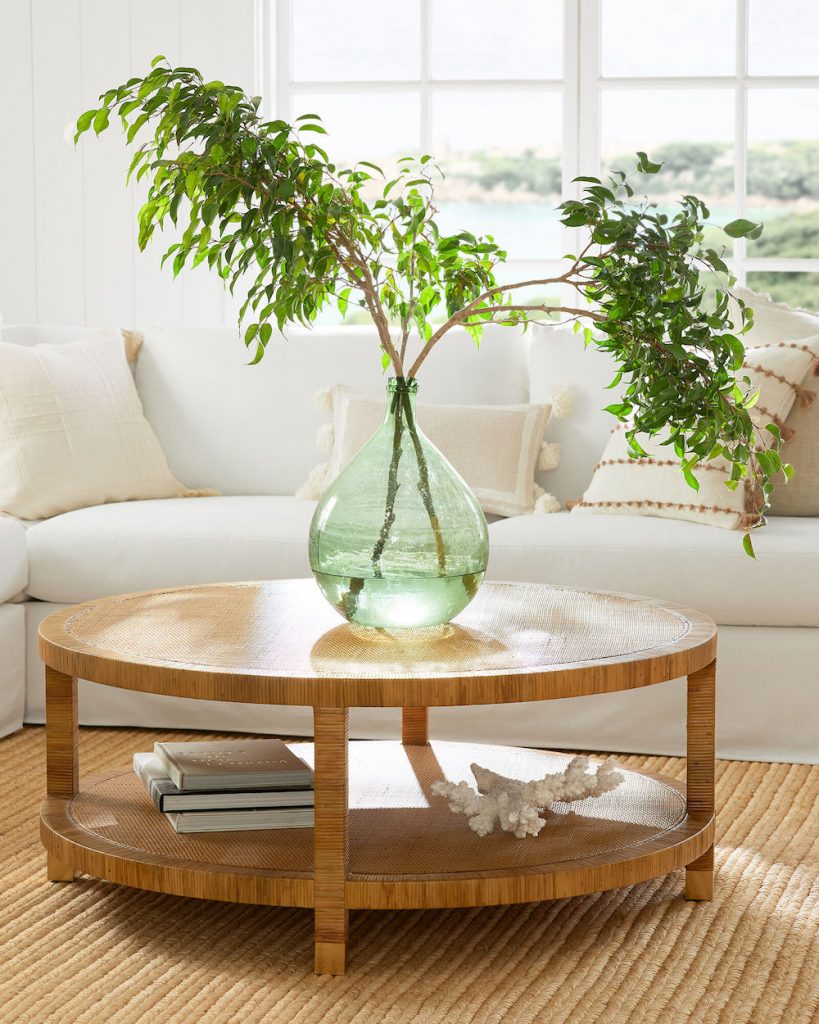 Style it with two Benjamina Ficus tree branches. Benjamina Ficus is also known as weeping fig. Use tan accent color with a cream-colored sofa to set this space up.
Start with a Square Surface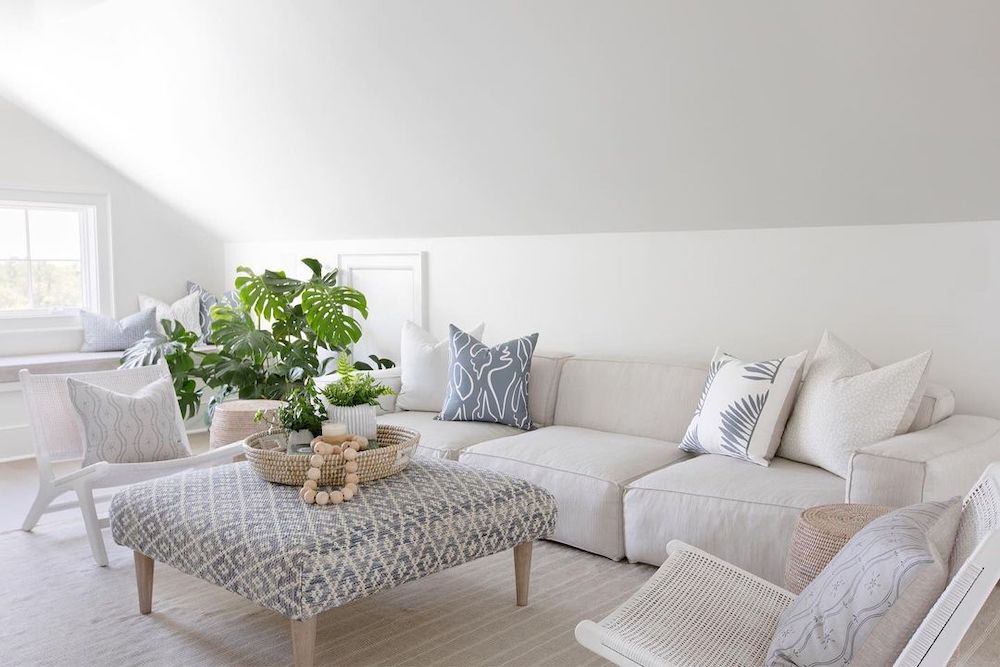 Add a gray diamond fabric covered upholstered coffee table. Use a round wicker tray filled with a strand of wooden beads, a candle, and some greenery. The overall decor of gray, white, and beige blend nicely together. Creating a neutral aesthetic space. For a pop of green, add a couple of stunning Monstera plants.
Style it High Enough to Crawl Underneath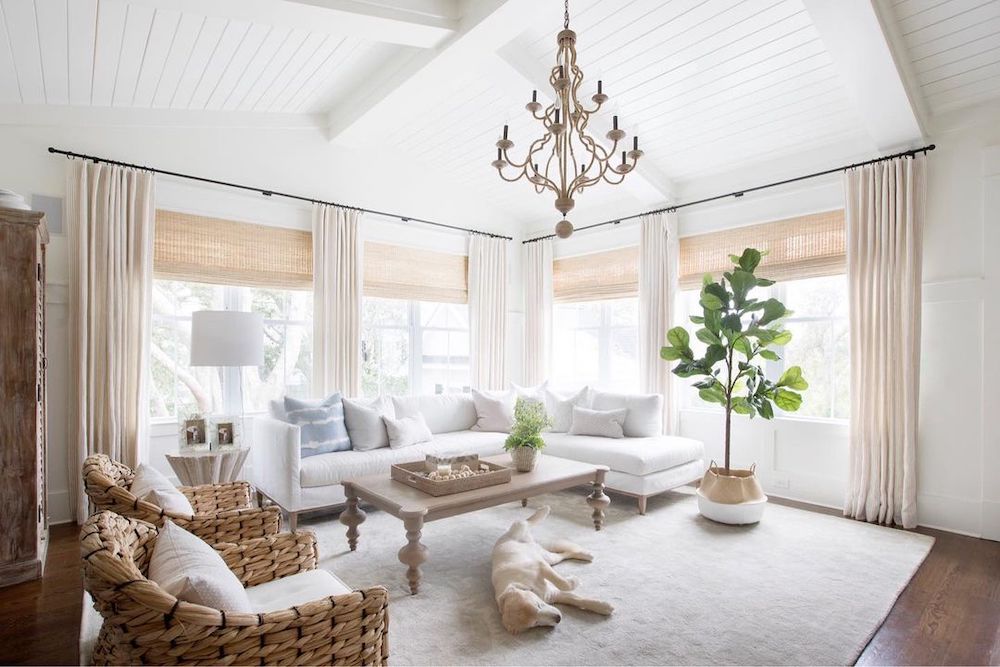 Make it worthy of a good snooze. With a fair amount of clearance below, this beige rectangular coffee table is perfectly sized for the sofa. Topped off with a square wicker tray then filled with a string of wooden beads and a candle. For an organic look, grow a fiddle leaf tree in a belly basket with handles.
Be Bold with Navy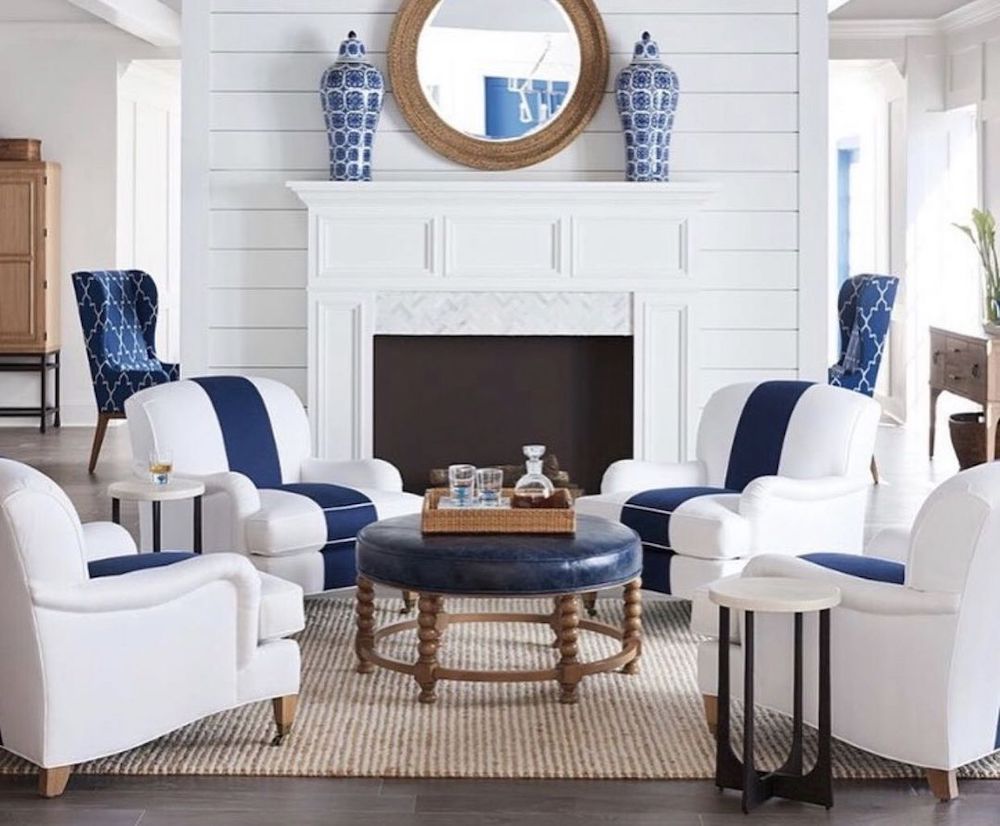 Add a round navy leather-covered table. For some bold color, add a large single navy stripe to the center of each chair. On the mantle, display two matching navy ginger jars to continue the color scheme. Style it bold and beautiful.
Begin with an Arching Table – Coffee Table Styling Ideas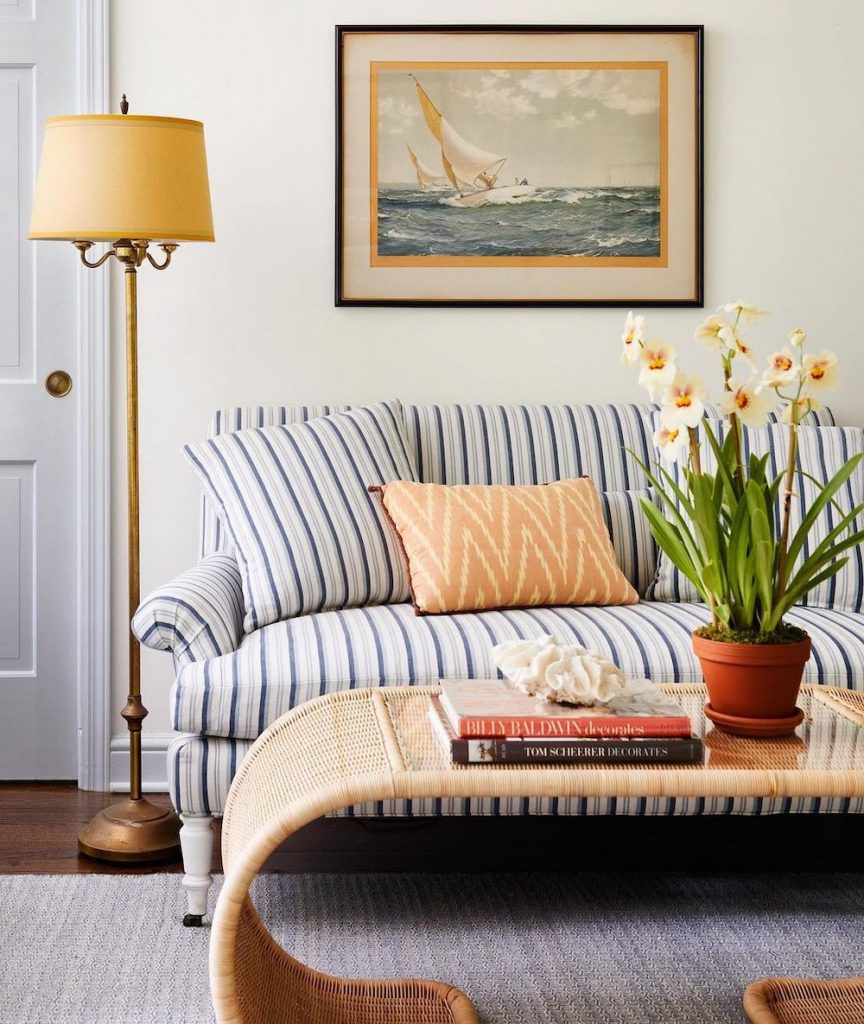 Using a rattan arching table with a glass-covered top, add a potted pale yellow orchid plant. Include in your vignette a small stack of books with a piece of coral for visual interest. The striped sofa adds a nautical feel to the room. Hang wall art with a sailboat scene. We love the hints of yellow-hued touches, from the wall art mat to the toss pillow and pale yellow orchid.
Color it Blue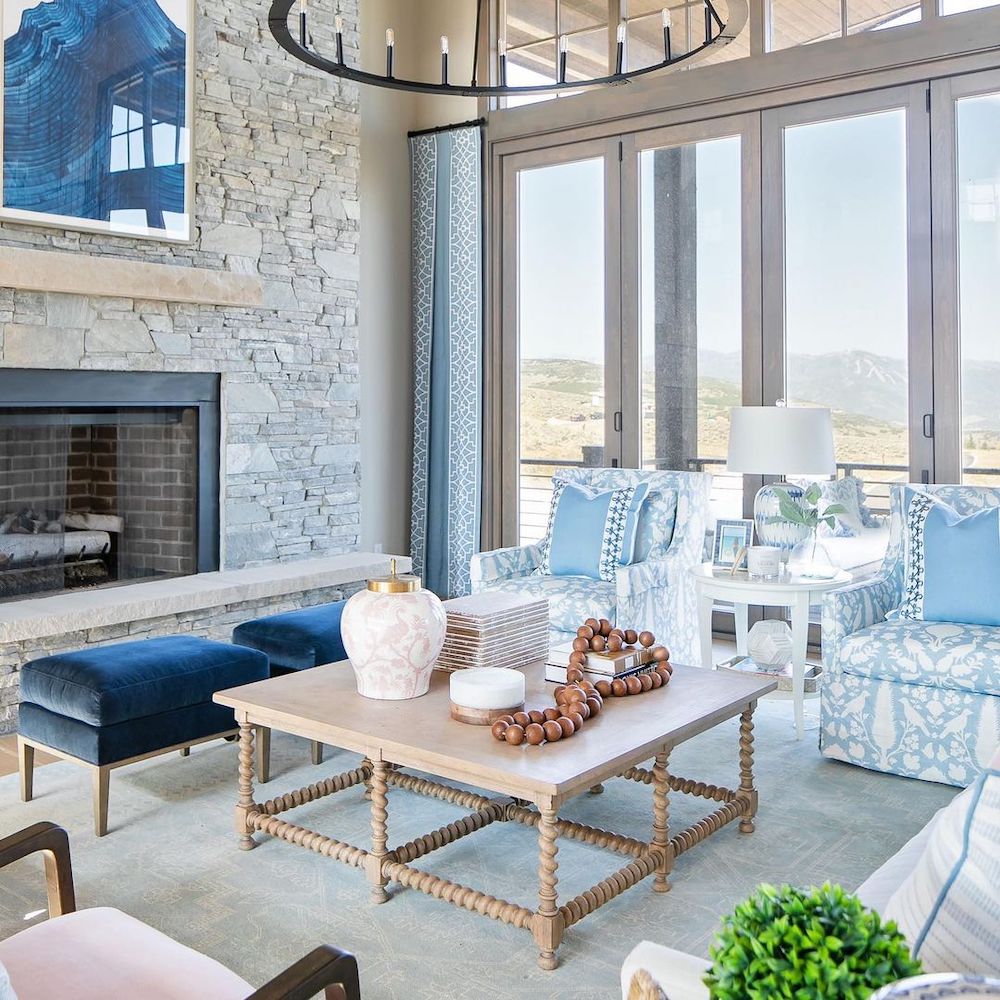 Although this home is in the mountains, this room easily transitions to a coastal setting. The square brown coffee table is expertly placed between the sofas and stools. A string of wooden beads, a small stack of books, a candle, and a ginger jar adorn the generously sized coffee table. A lovely setting for a mountain or beach home.
Buy Yourself Some Extra Storage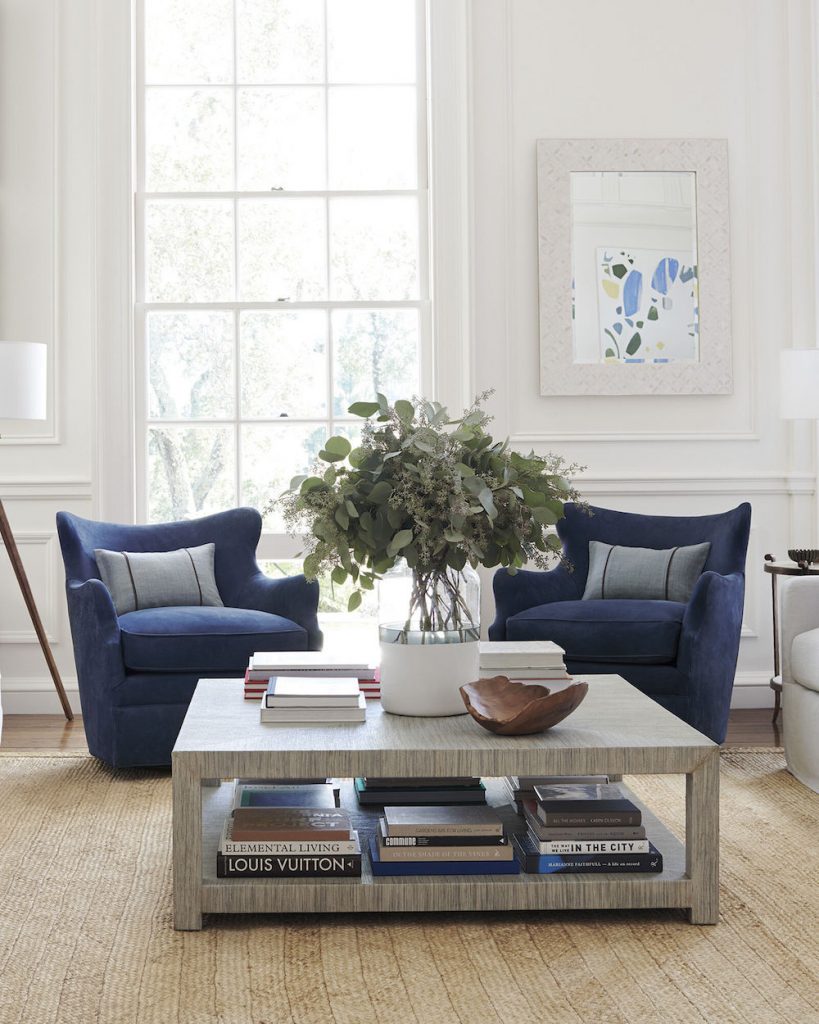 Stack them underneath and on the top of the raffia-wrapped parsons-style coffee table. For the avid reader, this square table can keep your mini library in order. Add a flower-filled vase next to the stacks of books.
Use a Crate as a Coffee Table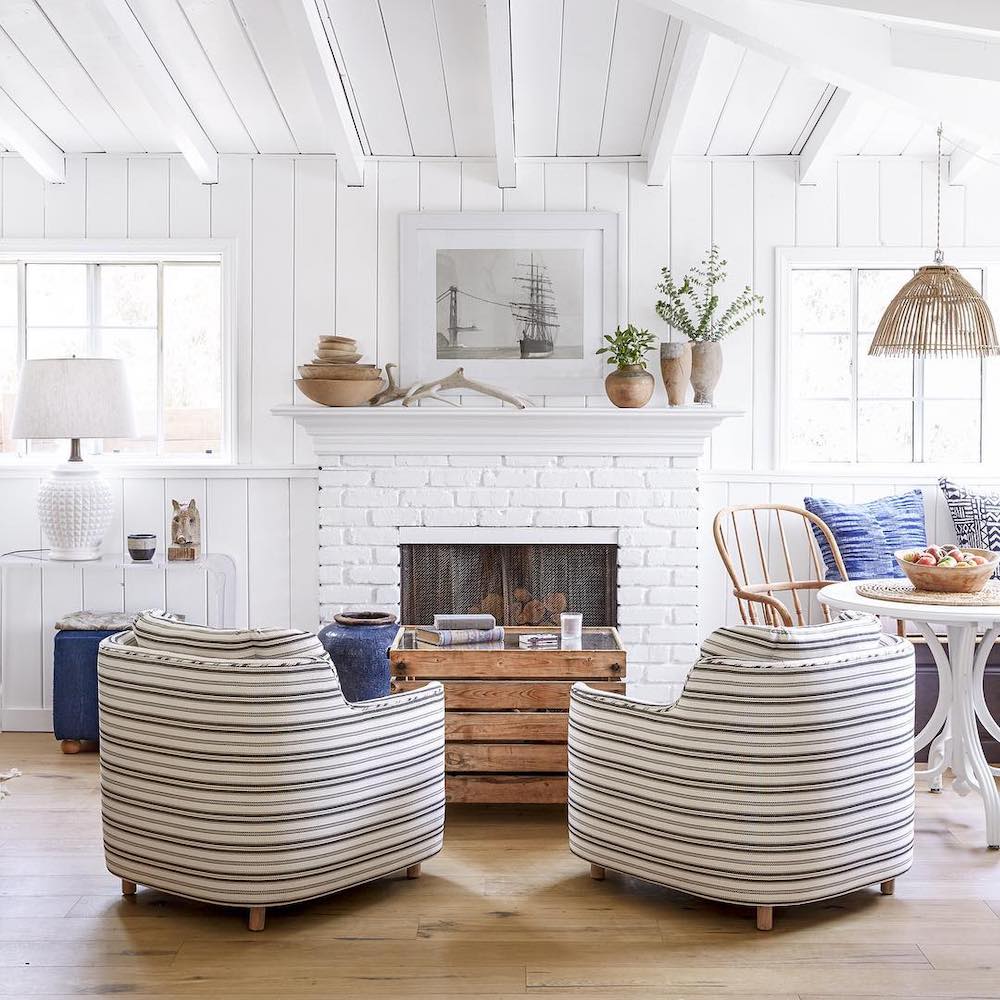 Improvise with a storage crate. As an alternative to the standard coffee table, utilize a crate to keep essentials nearby. Add a set of club chairs wrapped in striped fabric. And on the mantel, add a piece of driftwood, wooden bowls, plants, and hang your favorite coastal wall art above.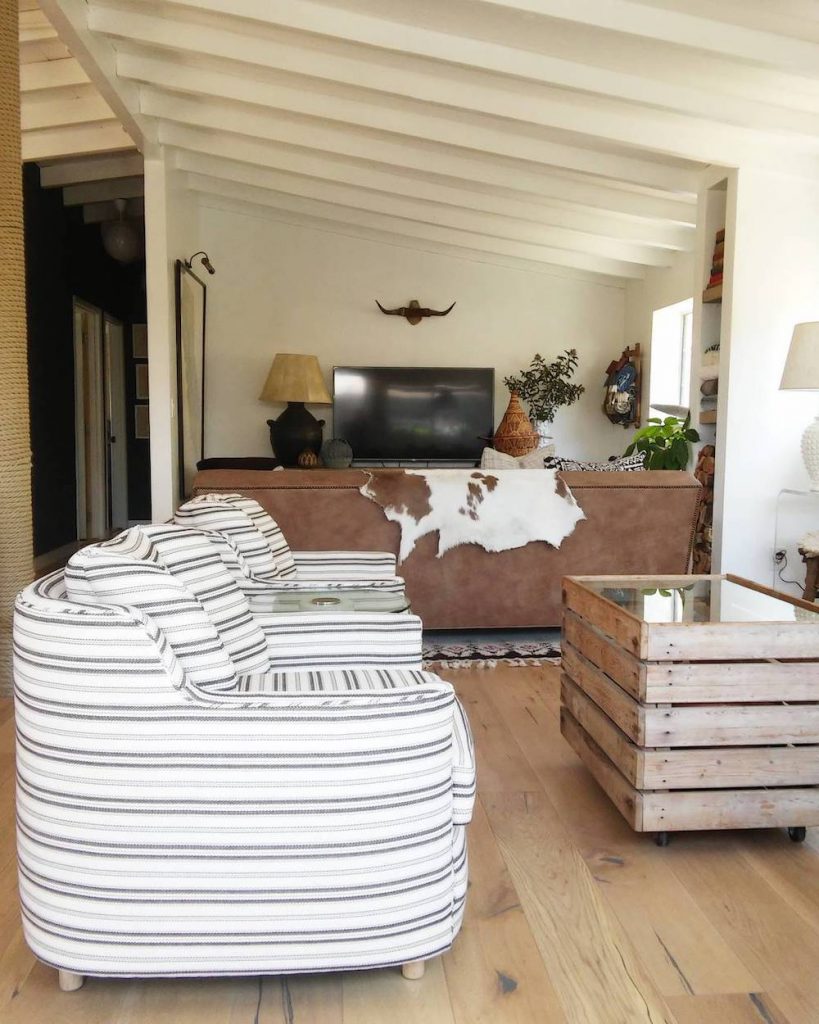 Lighten Up the Room – Coffee Table Styling Ideas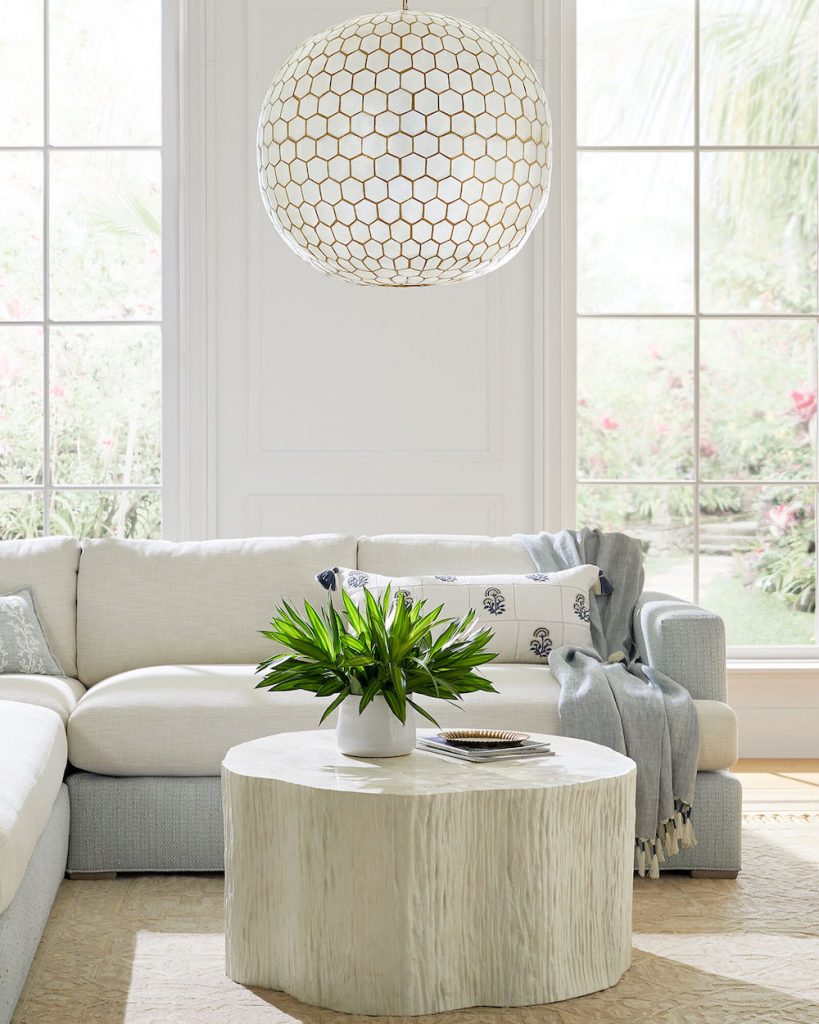 For a different look, opt for a light-colored coffee table. This coffee table lightens and brings a natural style to the room. Designed to resemble a tree stump, the table brings an outdoor element inside. There is no denying that replicating nature indoors creates a peaceful and tranquil feeling. Authentic details with incredible function. We love this!
If you are in search of a coffee table for a coastal home, we have included a list of our favorite coffee tables. You'll find our best coffee tables right below. Take a look at these beautifully designed coffee tables for the home.

More than ever, it is easier to buy furniture online. Luckily online furniture stores ship right to your front door. No need to cart heavy boxes into your home or rent a van from a home improvement store. Online furniture stores make it incredibly easy to furnish your home by shipping your order directly to your front door.
In Closing – Coffee Table Styling Ideas
This ends our list of styling ideas with your coffee table. As you've seen, there are many ways to style a room with a coffee table. We know that you'll love thinking of new ways to style around your table at home.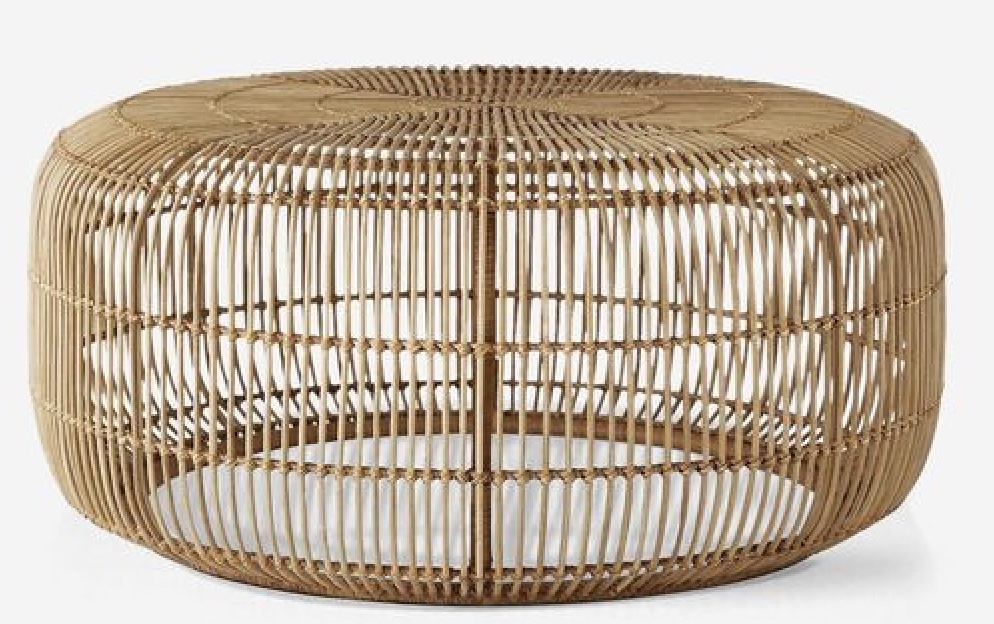 We hope that our 19 coffee table styling ideas help inspire you. If you try any of these styling ideas, we would love to hear from you, our readers. Let us know how you make out with your styling projects. For additional coastal decor resources, check out our coastal decor post with helpful tips. Look at our 12 Ways to Add Coastal Decor to your Home post. And for additional coastal inspiration, take a look at some of our other posts.
Enjoy our other decor related posts for additional ideas.
Reach out to us with any questions. We are always ready to help you out. Thank you for stopping by our blog.
Mary
Pin this for Later: