Papasan chairs are large round bowl-shaped chairs. These chairs have an adjustable angle while resting on an upright frame. Made from rattan, bamboo, or wood the frame is traditionally styled. The inner cushion is usually constructed from velveteen material and cotton-filled. In a traditional styled Papasan chair, the cushion is removable from the frame. Lounge in a Papasan chair comfortably measuring about 35 to 60 inches wide! Sink into this 35-inch deep chair that you'll find surprisingly comfortable to rest in.
In today's post, we are sharing the best 14 Papasan accent chairs for a relaxing experience. Over the years, these accent chairs have been known by many names. Including a grandfather, saddle cheek, saucer, moon, bowl, and bucket chair. Sourced from the Southeastern Asian region of the Philippines, the chair was introduced to the western US. Used extensively in the Philippines, and Japan for centuries, these chairs found their way to the US. After the American World War II military servicemen finished their tours in the East, the members returned to their homes with these chairs in hand.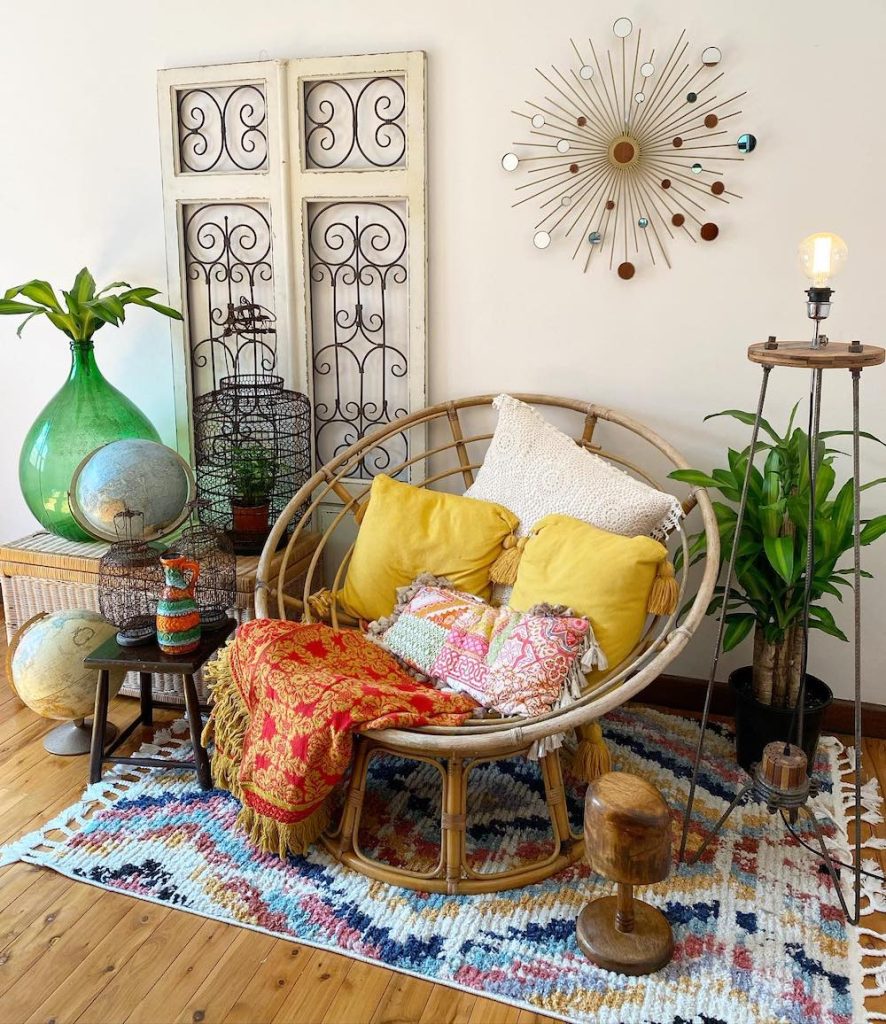 Although found in Japanese homes for many centuries, each home had only a single chair. Reserved for the father or elder family male of the household. The name of the chair itself evolved into Papasan as named by returning service members. Papa is English for father. And the San refers to the important status and respect shown to the elder male family member.
Double the Fun with a Mamasan
Although the Papasan chair is roomy and perfect for lounging, it is a single-person chair. Later an expanded version came along. Double your pleasure with the Mamasan chair. Introduced in the 1950s, the Mamasan chair was a double seating version of the Papasan chair. Sometimes known as the double Papasan chair. The Mamasan chair allowed not only the father but the mother of the family to sit with the father.
It wasn't until the '70s that the chairs took off in popularity. And of course, the timing couldn't be better to re-introduce this accent chair to the US at this pivotal moment. Young adults at the time loved the bamboo and rattan bases with nest-like seats. Ideal for the eclectic or bohemian lifestyle with a minimalist decor style. Find these iconic chairs made from a variety of materials today. Constructed from plastic and metal. But the basic design is always rounded with cup-like seats.
Sink In Comfort – Papasan Chairs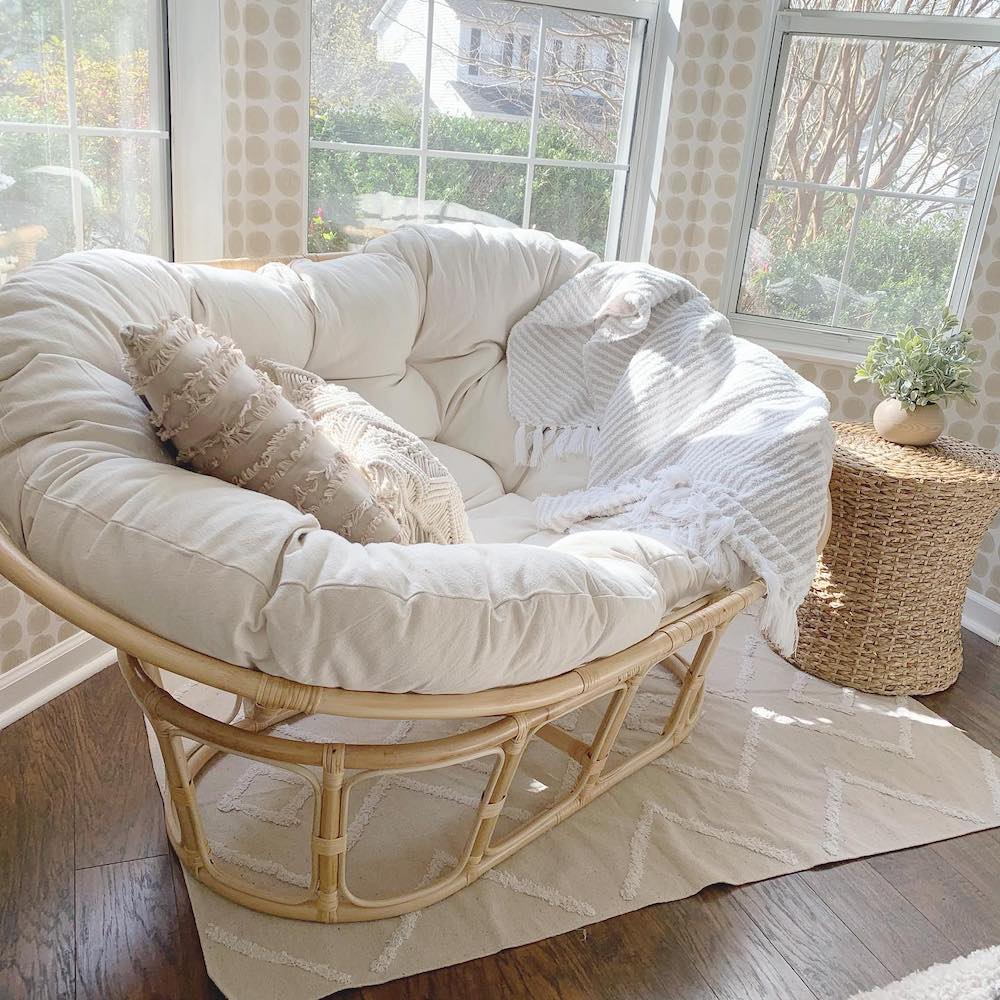 Today, you'll find many variations of Papasan chairs. Not only the traditional style of chairs but Papasan chairs with an updated look. Using different styles and different materials for this chair provides visual interest. Bring your Mamasan chair to a sunny window such as this image above shows. Cuddle inside with the sun streaming indoors. Styled with neutral accessories. Create a cozy space to lounge in comfort.
Use the Papasan Chairs Throughout the Home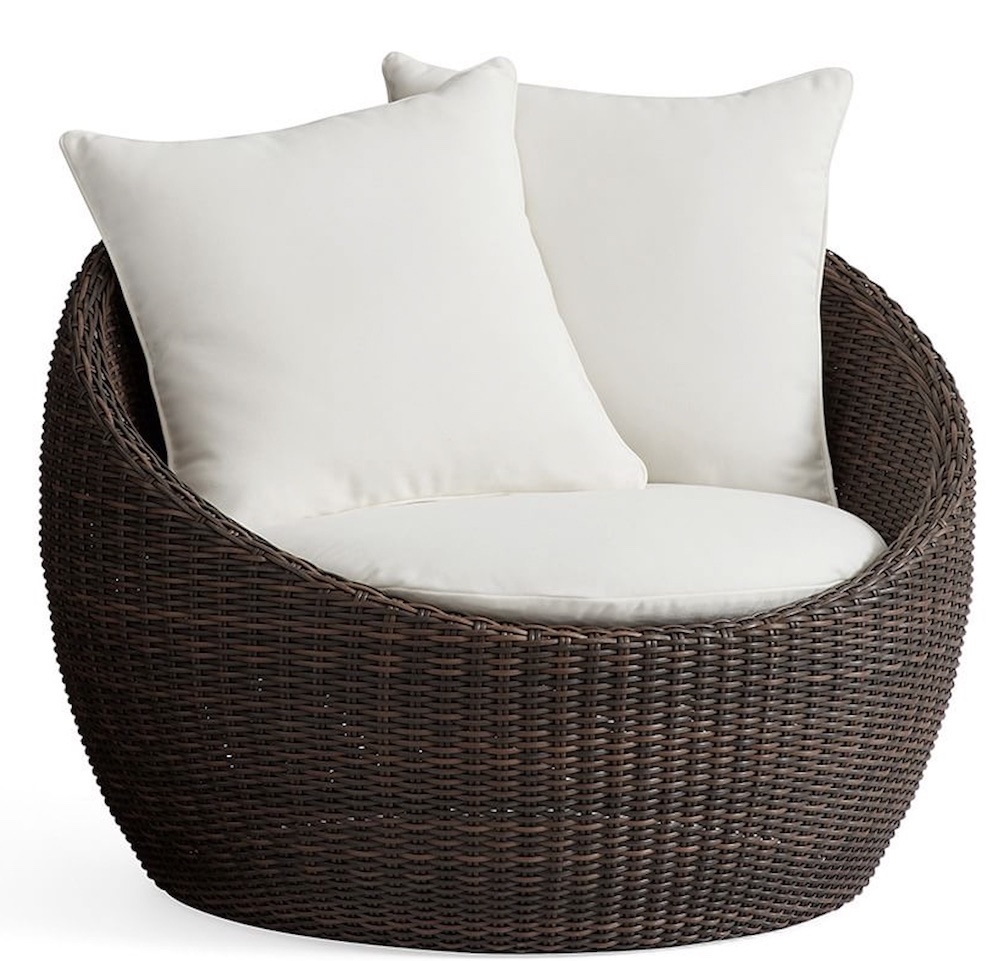 So, where is the right place to add this lounging chair? Actually, in several places. Add one to a living room or family room. Create a reading nook next to a bookshelf. Style one in the bedroom corner for a cozy lounging space. Use them as a single accent piece. Group a set of these chairs to create a conversational space for your house guests.
Now on to our list of favorite Papasan chairs. Take a look. Be sure to drop us a comment below in the comment section. Let us know all about your decor style at home.

This ends our list of Papasan chairs for your home interiors. Style your home with the perfect Papasan chair. Be sure to take a look at our other posts for accent chair inspiration. Tell us about your home decor projects in the comments below. We always love hearing from our readers.
Enjoy our other accent chair posts for additional ideas.
Hanging Chairs
Egg Chairs
Boucle chairs
Parsons chairs
Wingback chairs
Accent chairs
Rattan chairs
Reach out to us with any questions. We are always ready to help you out. Thank you for dropping by and taking a look at our blog.
Mary
Pin this for Later: