Today's post includes the most inspiring coastal living rooms. If you love the coastal beach house look, you'll love these inspirational living rooms. We have rounded up a list of living rooms that will inspire you in your quest to decorate your home. Our selection of coastal living rooms include several styles. The classic beach house with more traditional colors and styles. The beach house glam style has living rooms with a little shimmer in their decor. And the boho beach house mixes the beach style with the earthy laid back style of bohemian.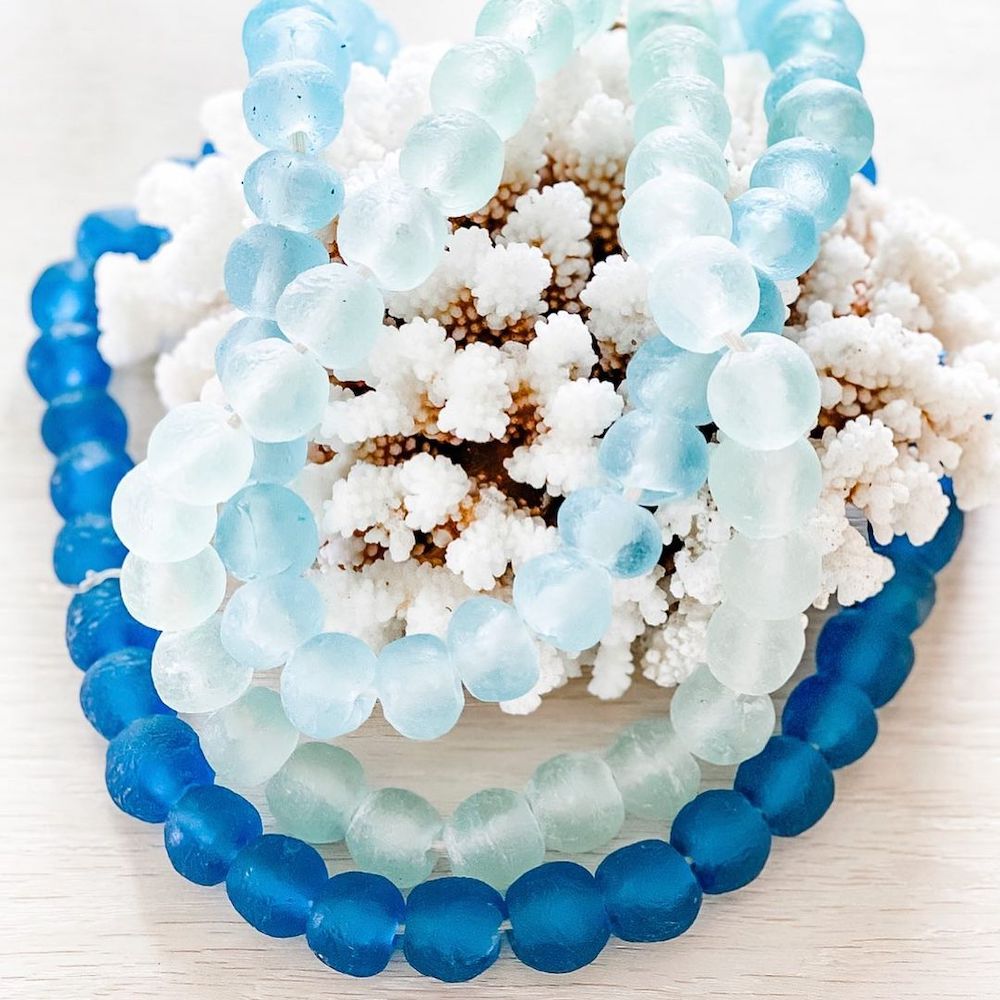 Take a look at our list of the most inspiring coastal living rooms. We are certain that these living rooms will help you get a head start in selecting the right furnishings for your home.     
Hamptons Style – Most Inspiring Coastal Living Rooms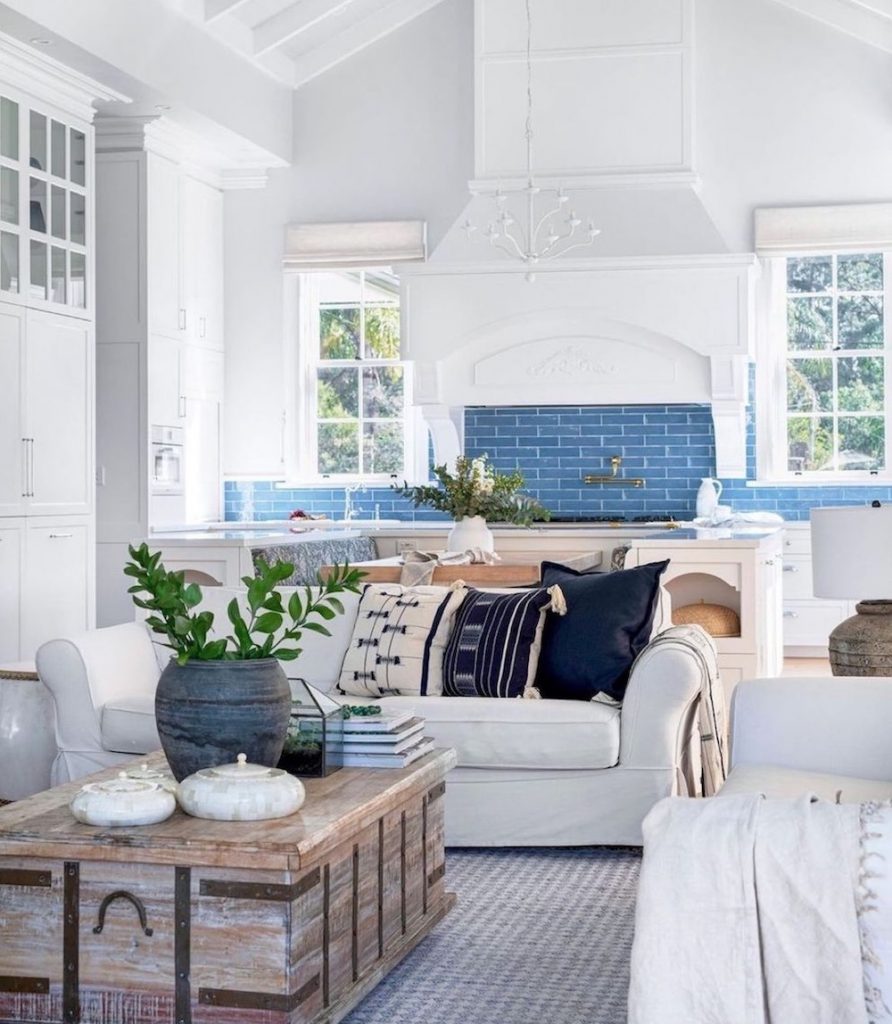 Spacious rooms with high ceilings, this Hamptons Style living room includes crisp white walls and ceilings. Touches of driftwood colored basket and coffee table. Sofa pillows in white, navy, with beige accents. We love the small accent pieces. 
2. Sophisticated Beach Cottage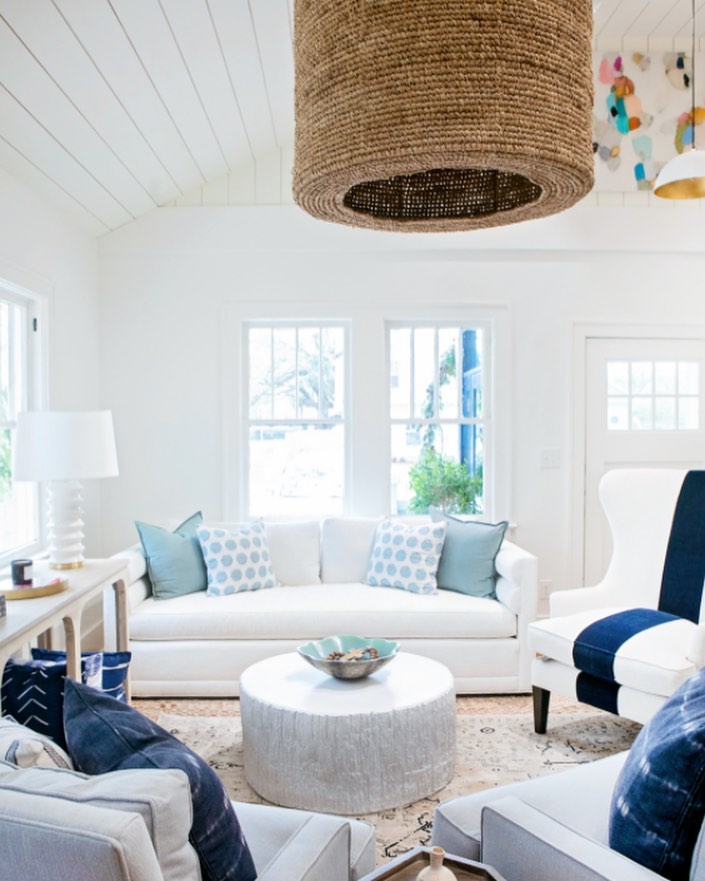 Painted in white, the living room has a beautiful tongue and groove ceiling. As you step into this home, you immediately notice the ceiling and the gorgeous rattan ceiling pendant. Pops of deep navy adorn the chairs and console table. A striking combination of color for a soothing, tranquil space.
3. Casual Beach House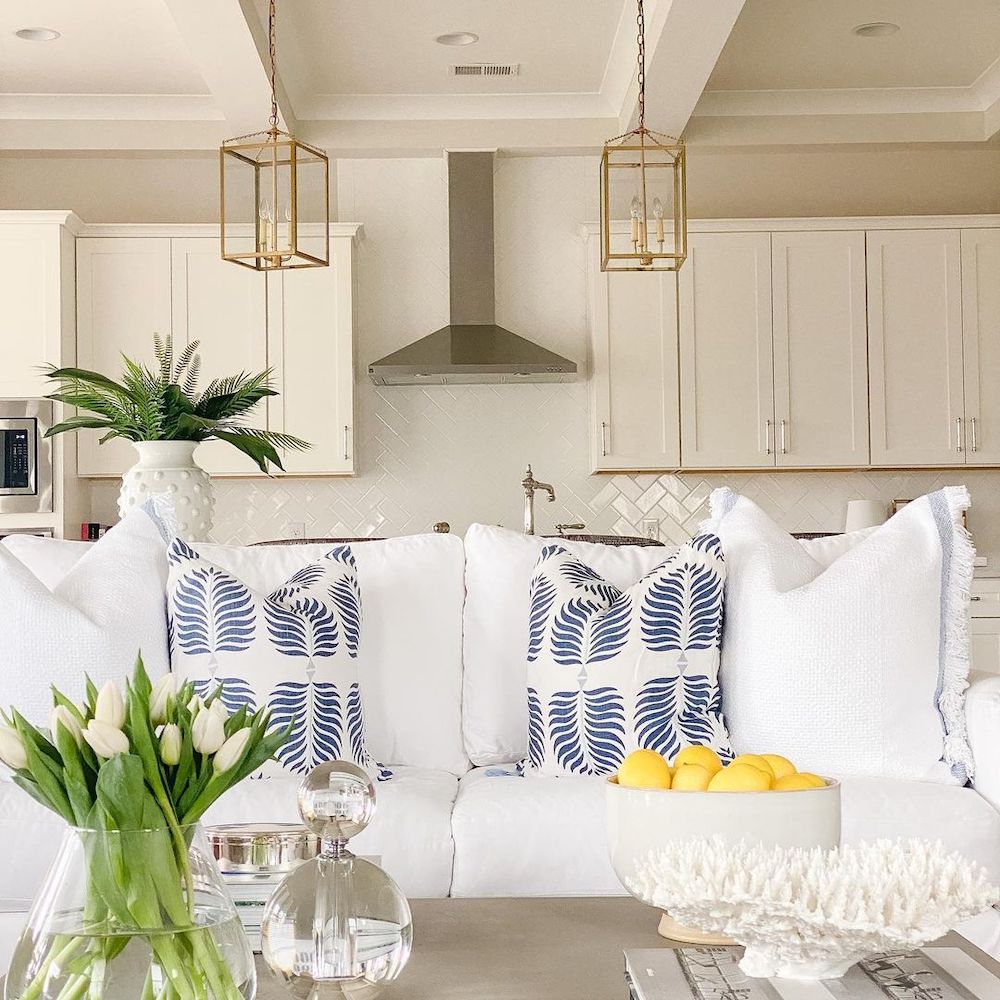 As seen in the background, the kitchen cabinets and walls are painted beige. This sets the stage for a casual relaxing space, a pillow filled sofa with a bowl full of lemons. A comfortable space for a brunch gathering.  
4. Display Contemporary Art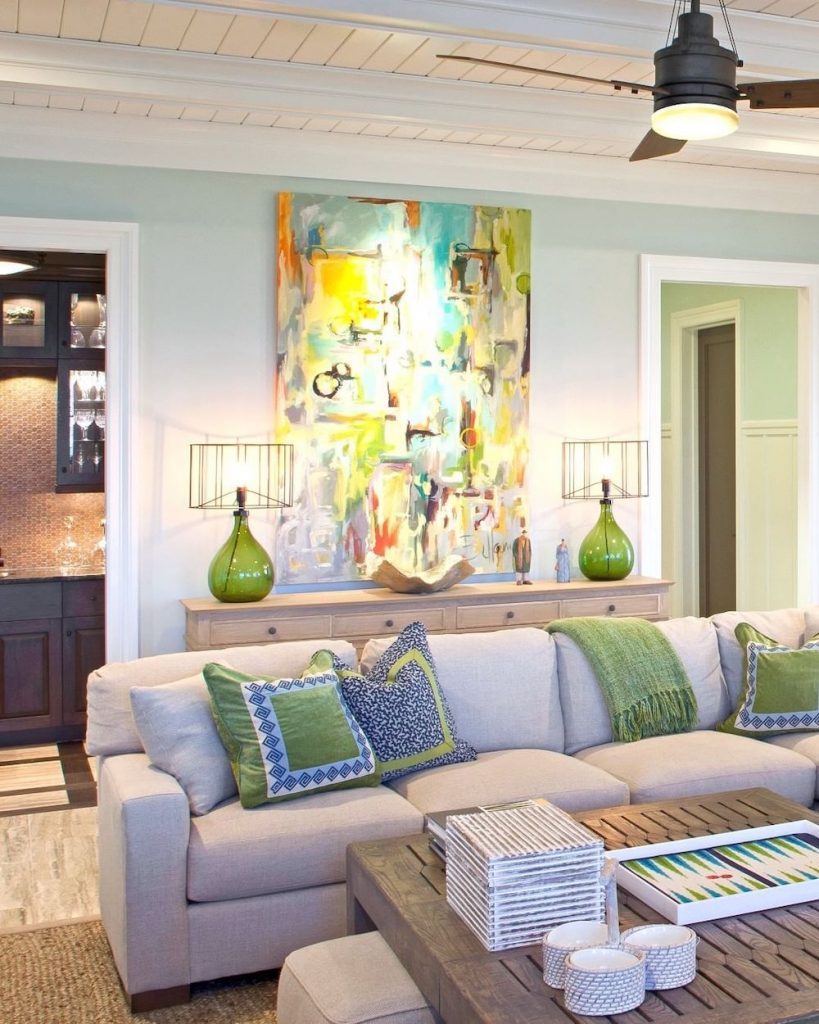 What a great way to get your walls noticed! Beige colored furnishings with Gumdrop Green accessories. We love the art in this room along with the unexpected Gumdrop Green colored pillows, lamps, and throw. The entire room comes right together. 
5. Add Coral and Shell Wall Art – Most Inspiring Coastal Living Rooms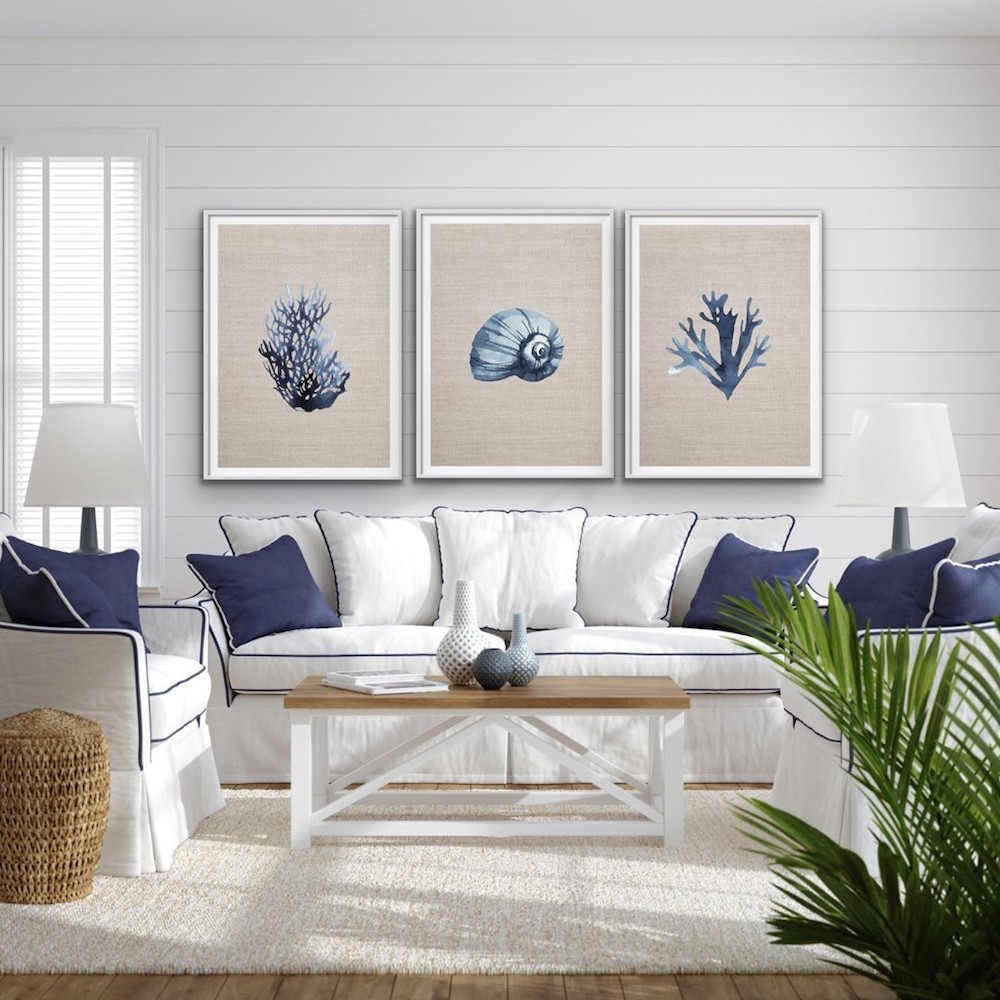 Crisp white paint with touches of navy and warm earth wood tones make this living room stand out. The palm plant adds a little greenery to the room. 
6. Install a Coffered Ceiling over Tongue and Groove Boards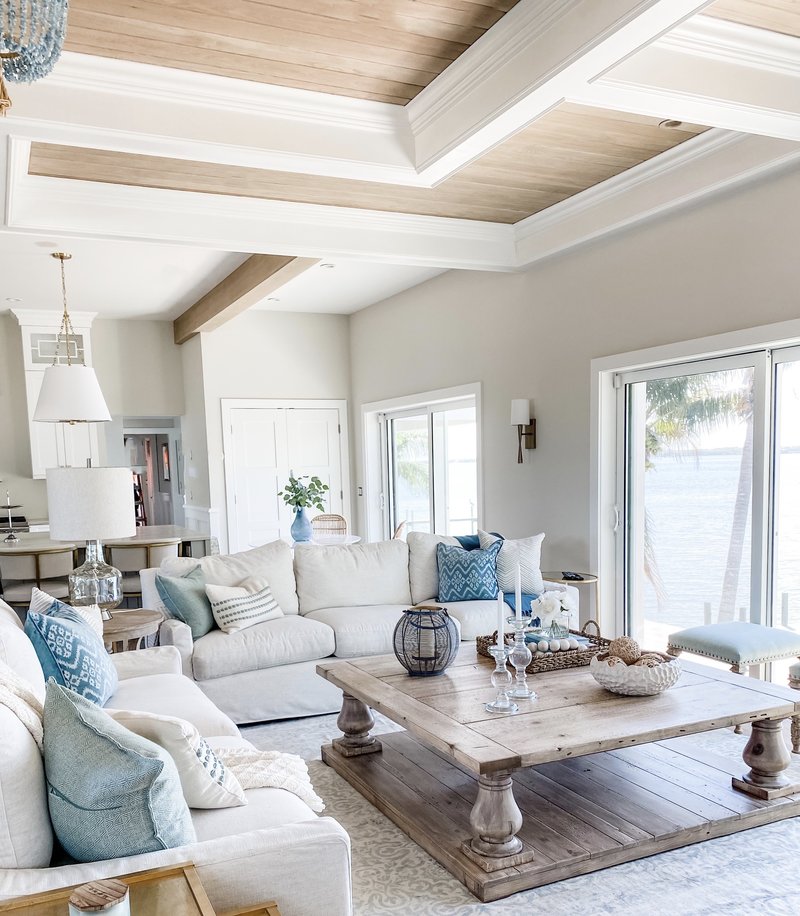 Get your ceilings noticed, with a coffered ceiling over tongue and groove boards. A classic architectural design that adds depth and dimension to your beach living space.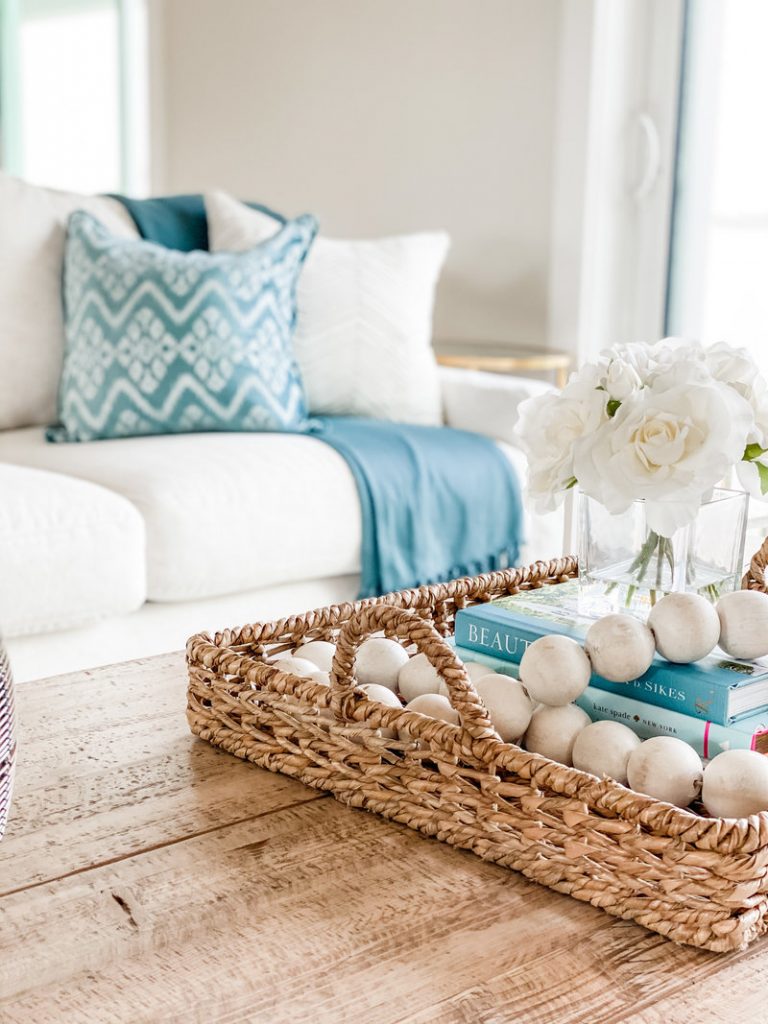 Designed by the award winning Ally Whalen Design. Simply jaw dropping!    
7. Paint the Ceiling Aegean Teal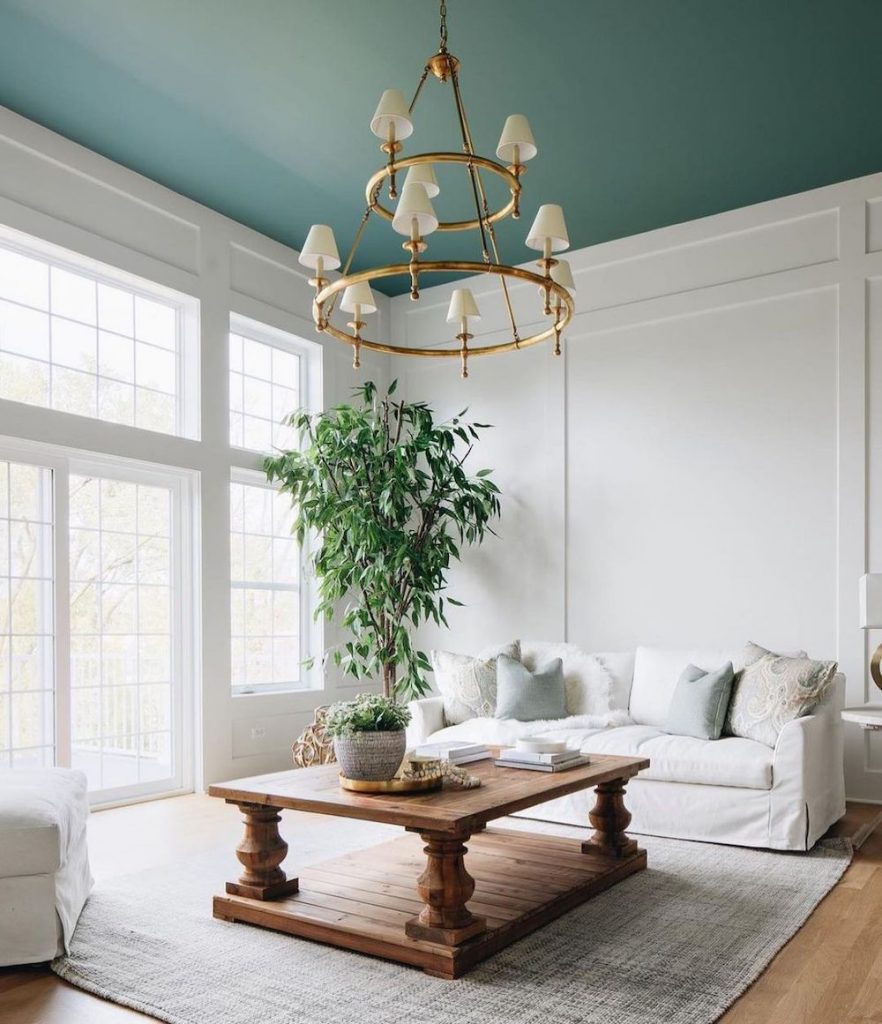 Paint your ceiling in Benjamin Moore's Aegean Teal for a stunning room. Add the large windows with Sunlight and enjoy the view inside and out. 
8. Bring the Coral to the Living Room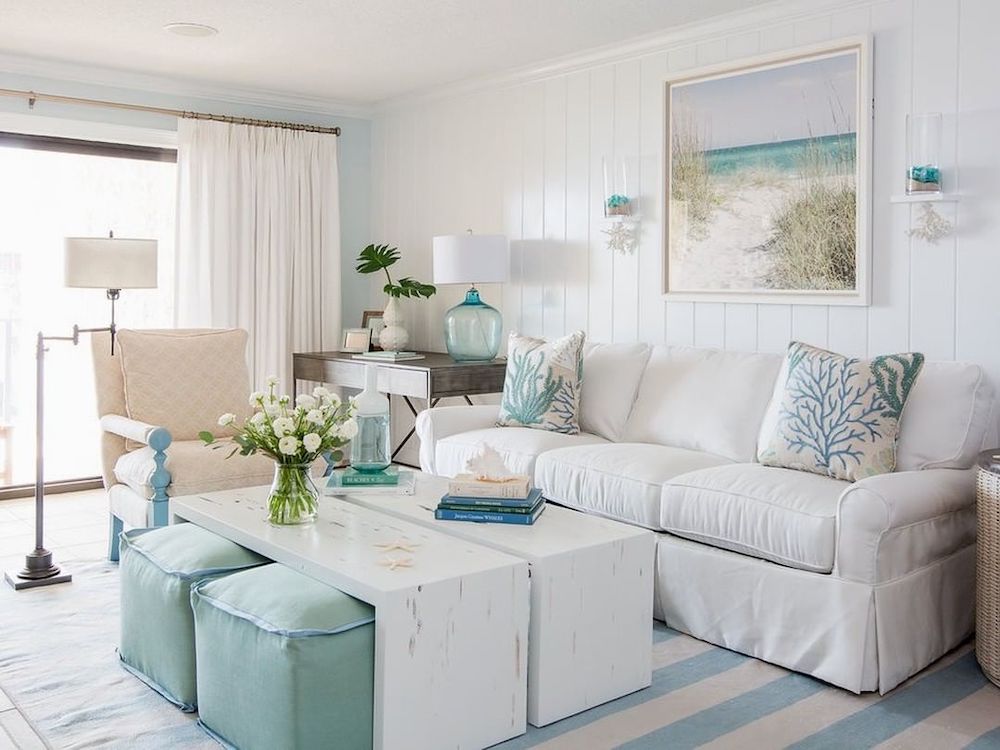 Spread the light blue coral on the sofa. A beach home with blue and white rug makes this a cozy and inviting home space. 
9. Install a Planked Wood Ceiling with a Rustic Finished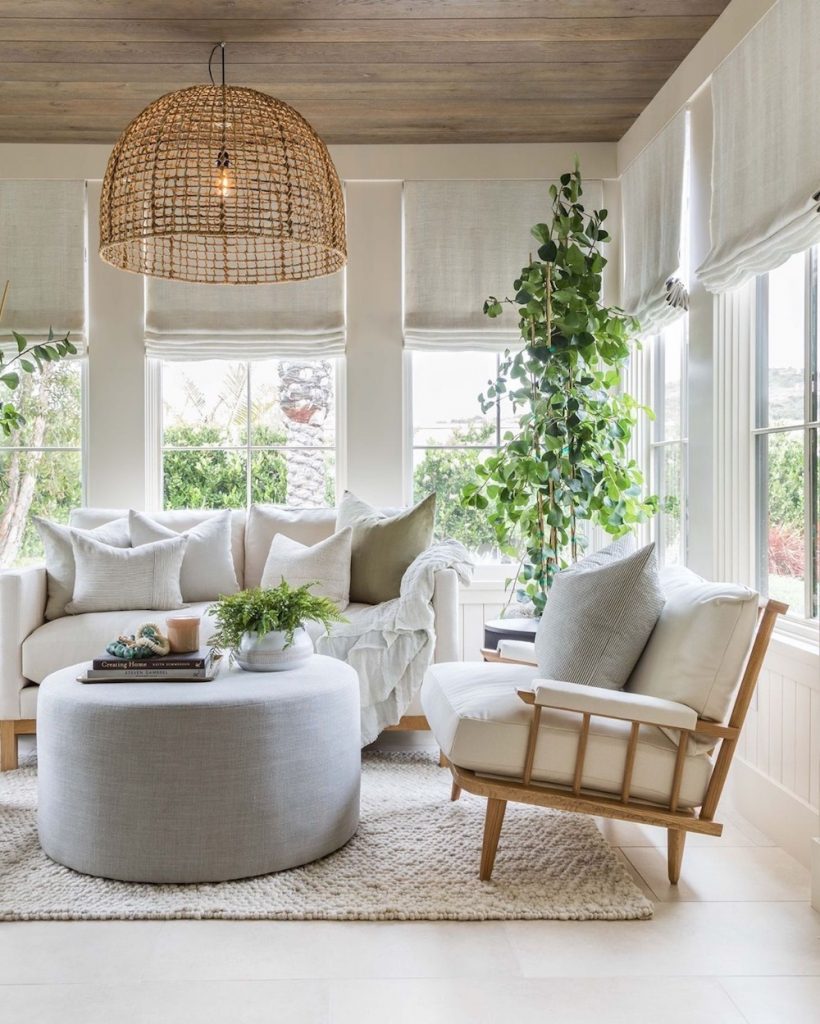 Cover the pillows and loveseats in neutral colors. Install a planked wooden ceiling with a rustic finish. We love the large windows that brighten the room. Add a few beautiful green to crank up the coziness of the room.  
10. Add Cool and Calmness – Most Inspiring Coastal Living Rooms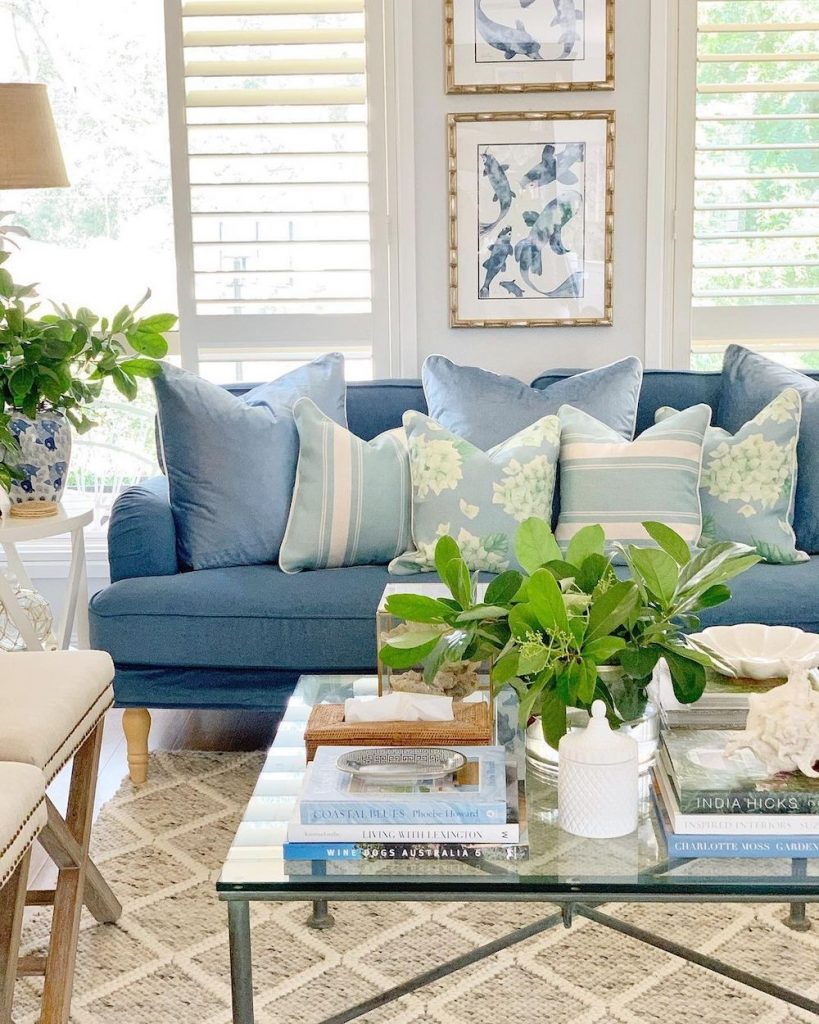 Love the blues and greens of this living room. A serene display of Coastal Home Love while keeping cool among the blues and greens. Beautifully blended colors and textures for the Summer home.  
11. Use Layers of Shimmering Silver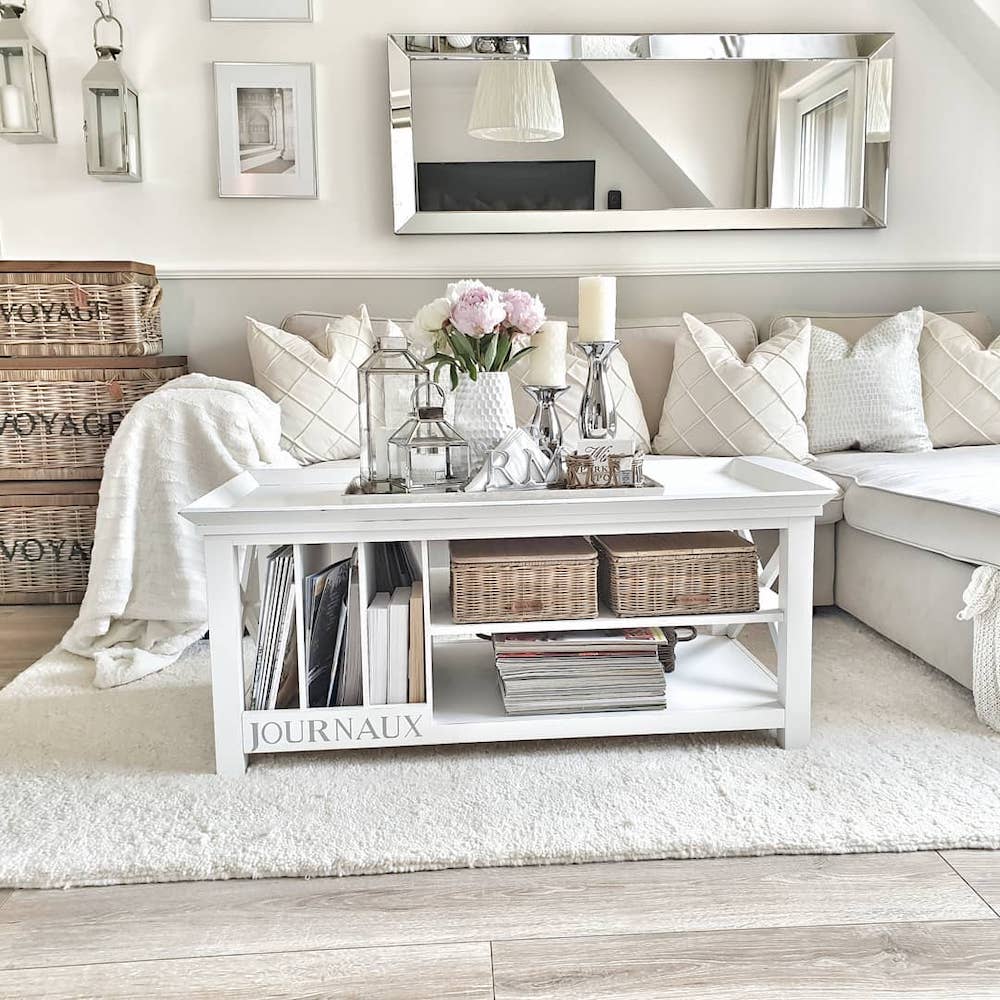 Blend soft white and off white colors with silver frames, lanterns, and other accessories. After a long day at work, unwind in this relaxing Summer home styled living room.
12. Mix in Coastal Blue Striped Textiles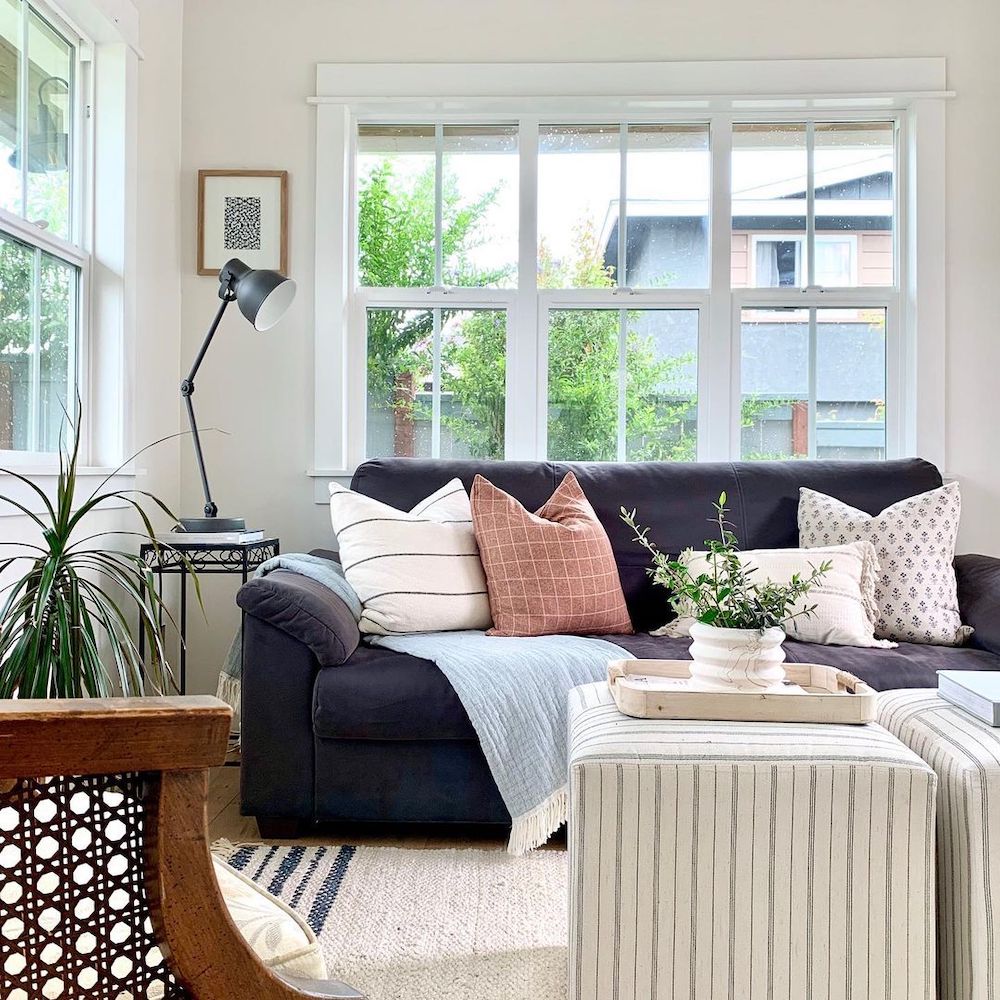 A room that is Beach house ready. We love this! Striped pillows, ottomans, and rug for a nautical inspired design.  
13. Add Soothing Gray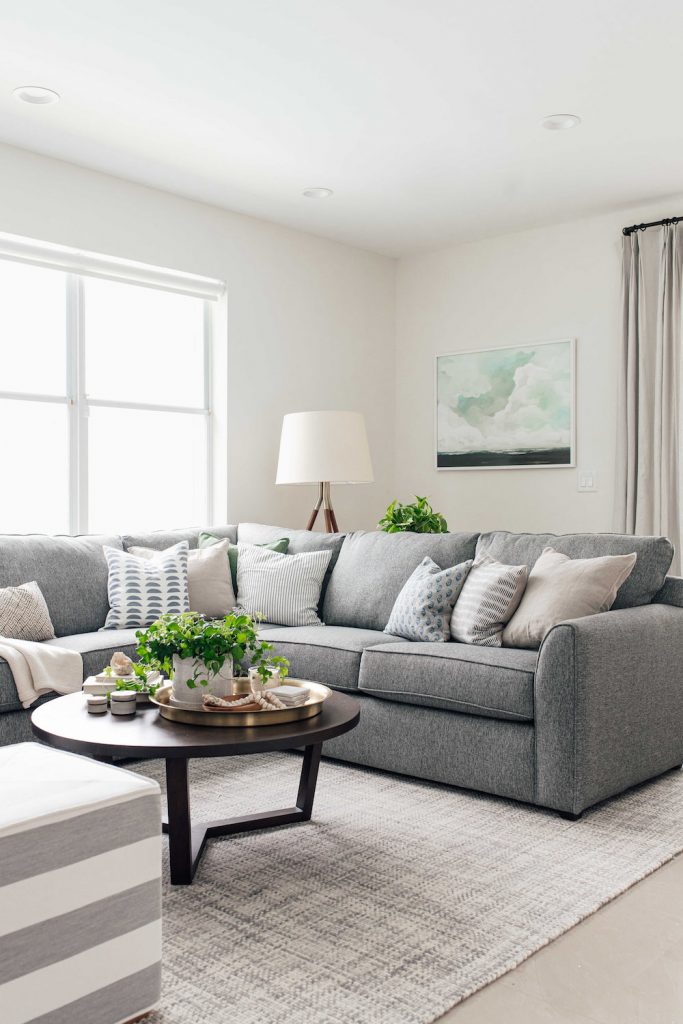 Soft gray scheme with muted beige and blue colored pillows. Give this room a decor punch of green with ivy plants. 
14. Neutral Woven Textiles in Sand Colors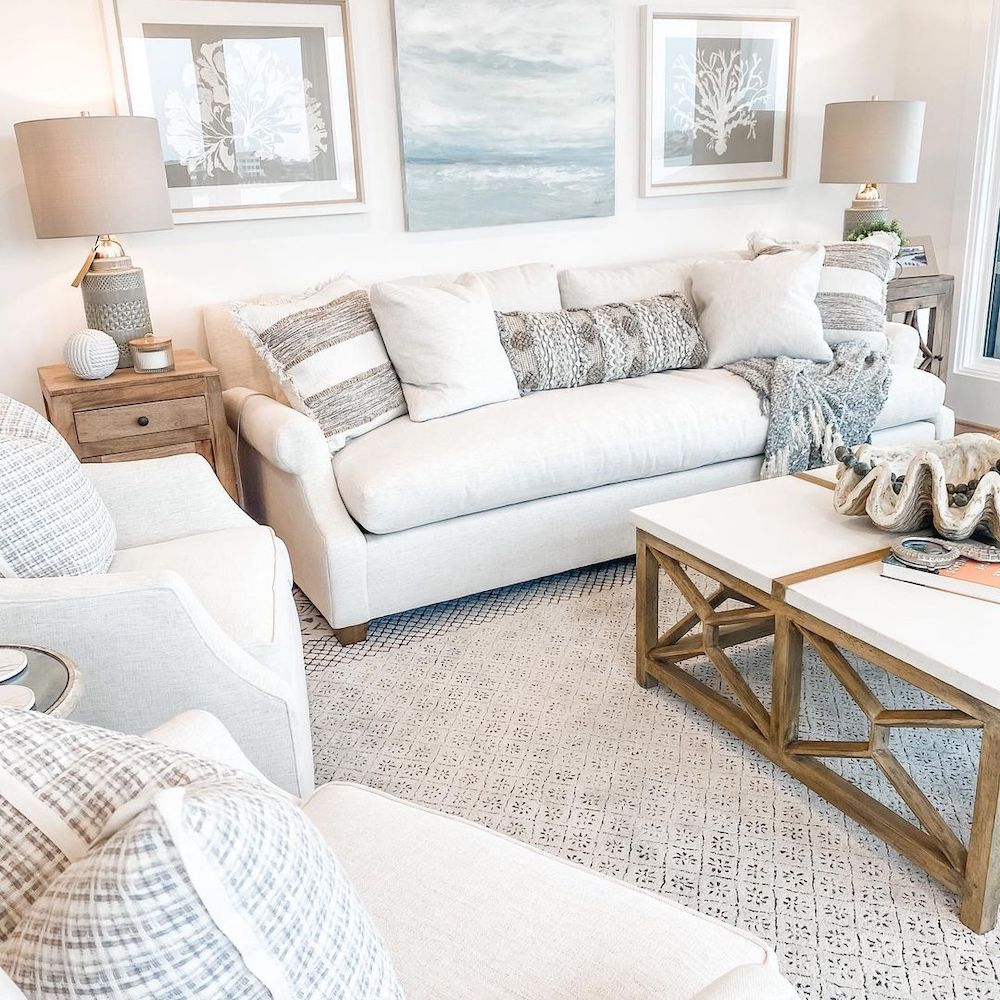 Use neutral beige woven fabrics. Color the room in neutral hues of beige, sand, and putty. 
15. Pillows that Stand Out – Most Inspiring Coastal Living Rooms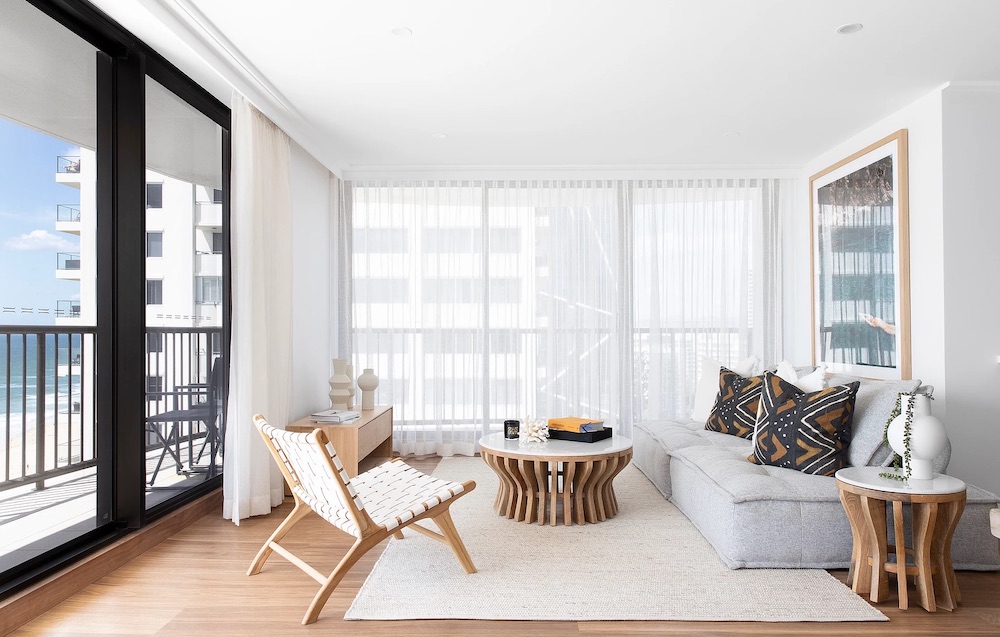 Use bold pillows that are a standout. These amazing pillows add strong visual interest with their unique pattern and colors. Displayed against lighter neutral colors, your eyes are immediately drawn to the pillows.   
16. Create Drama with Bold Ocean Life Art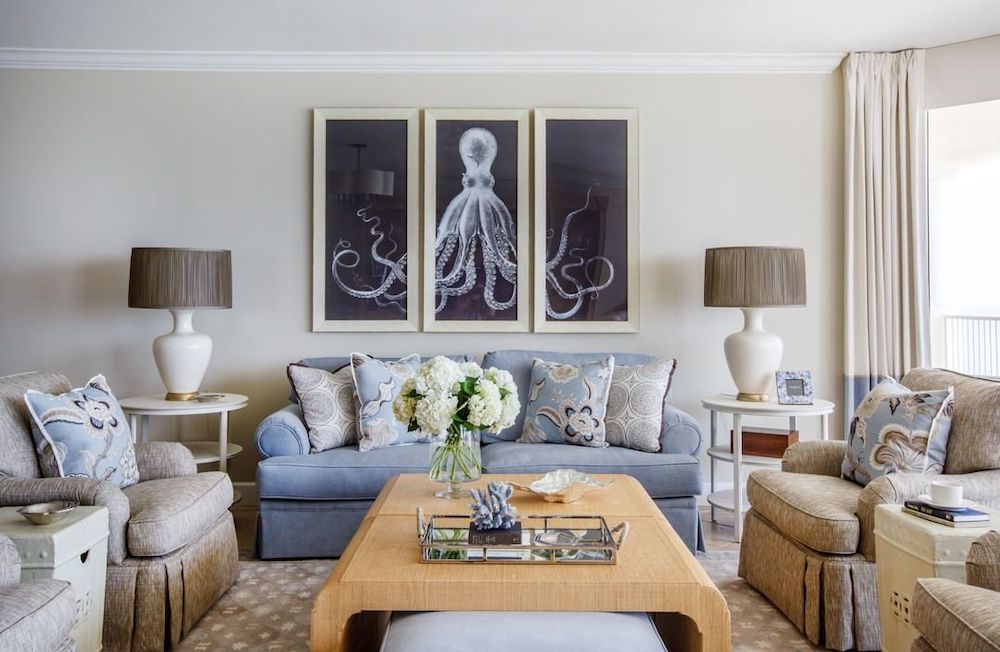 Dramatic ocean life art such as an octopus adds curiosity to the coastal living room. Known to be highly intelligent, the octopus is easily one of the most  recognizable forms of animal ocean life. And in this coastal setting, the octopus commands the space. 
17. Frond Power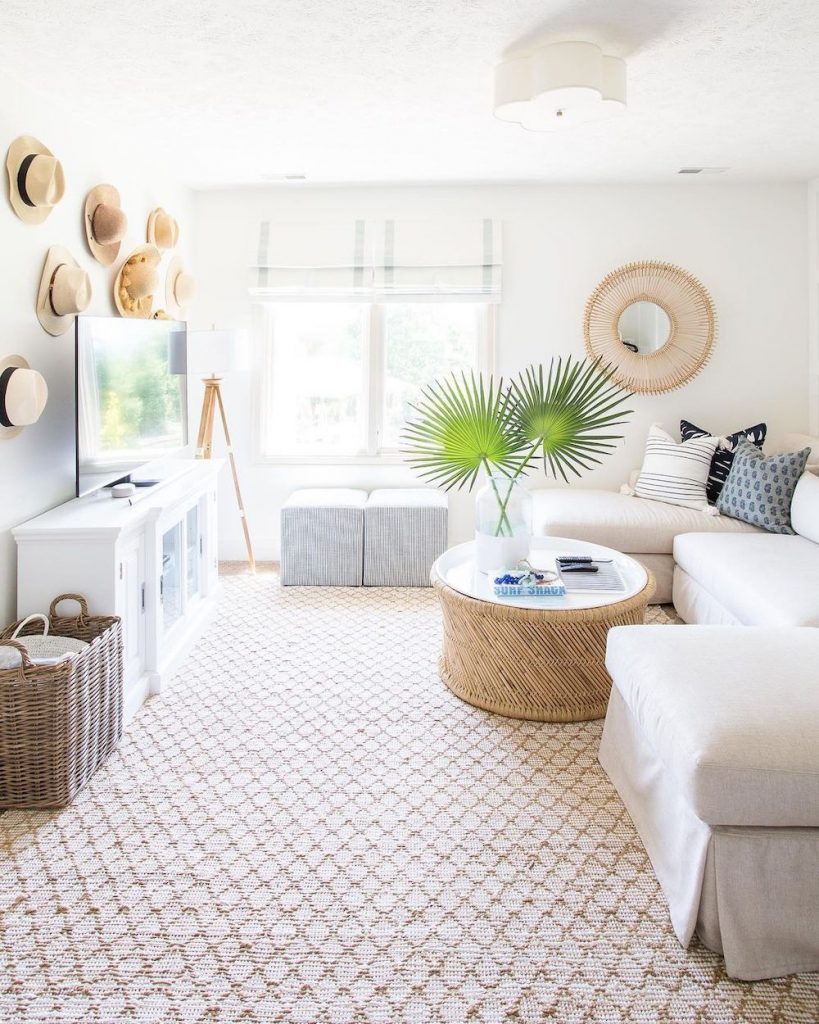 Powered by the palm frond, the nearly white decorated room lights up. The pop of green brightens this amazing coastal room.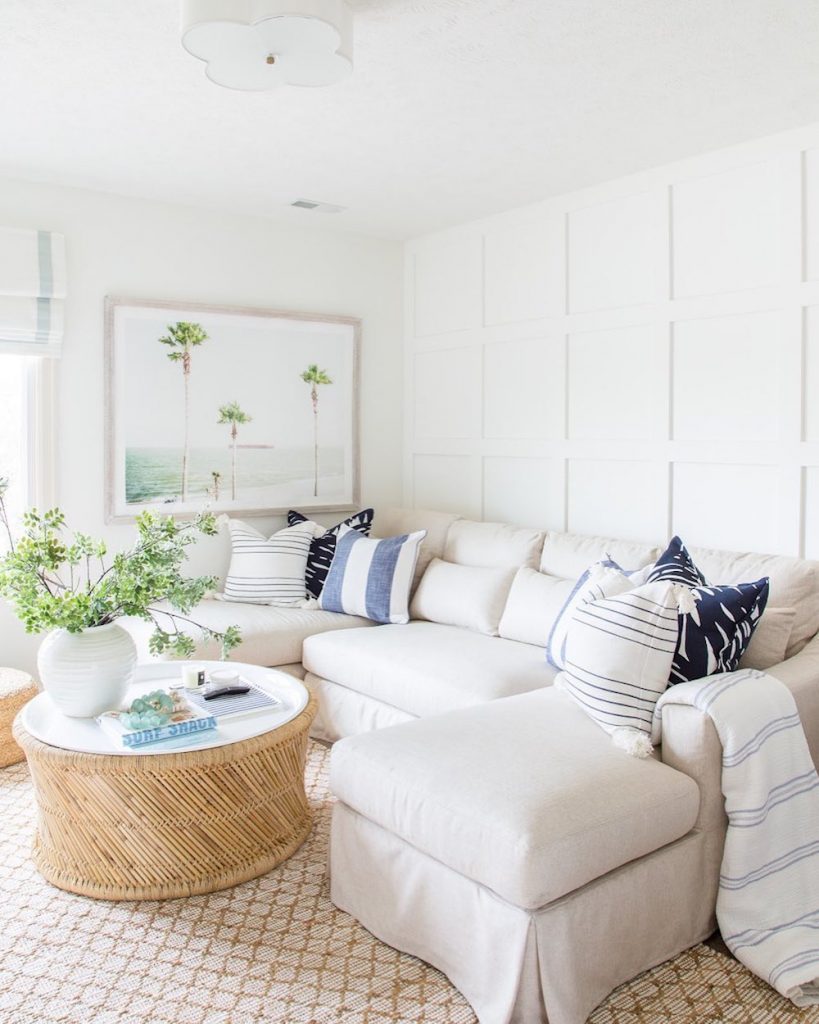 In this photo, the palm tree artwork becomes the focal point. Especially true at the end of a long Winter season. 
18. Bring the Tropics Indoors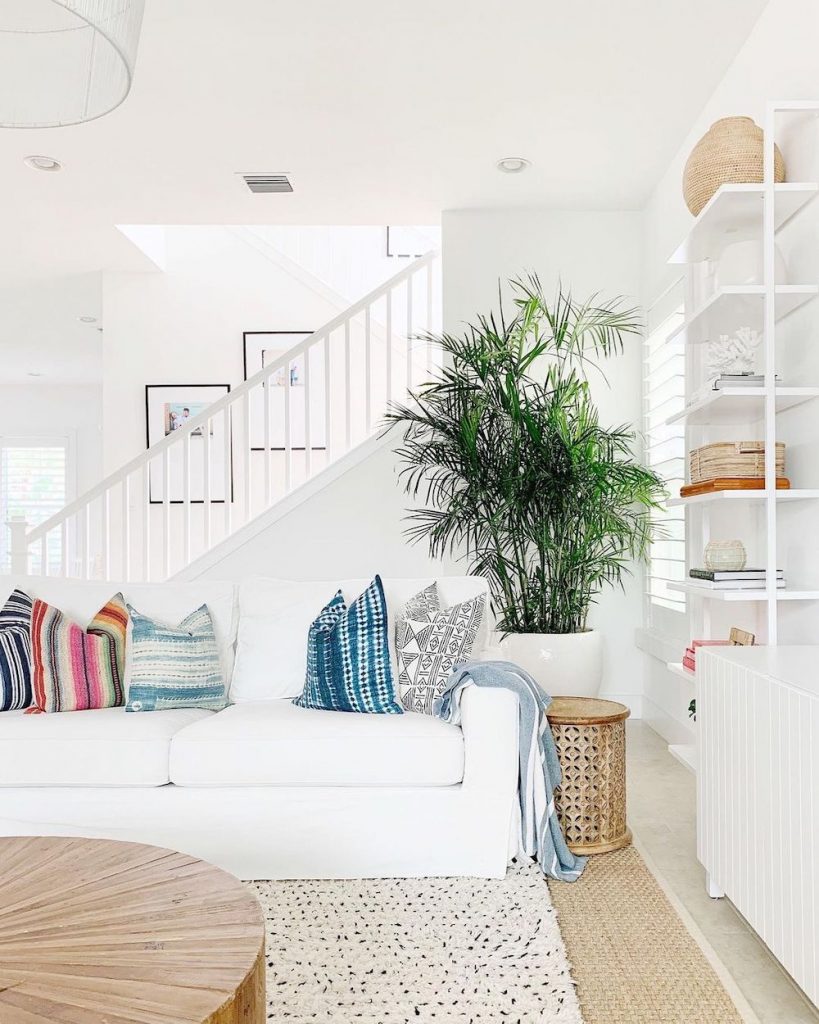 Bring the outdoors inside with a Parlor Palm. In the mostly white and neutral colored room, the greenery stands out. The variations of striped pillows and throw create a welcoming and inviting space for relaxation.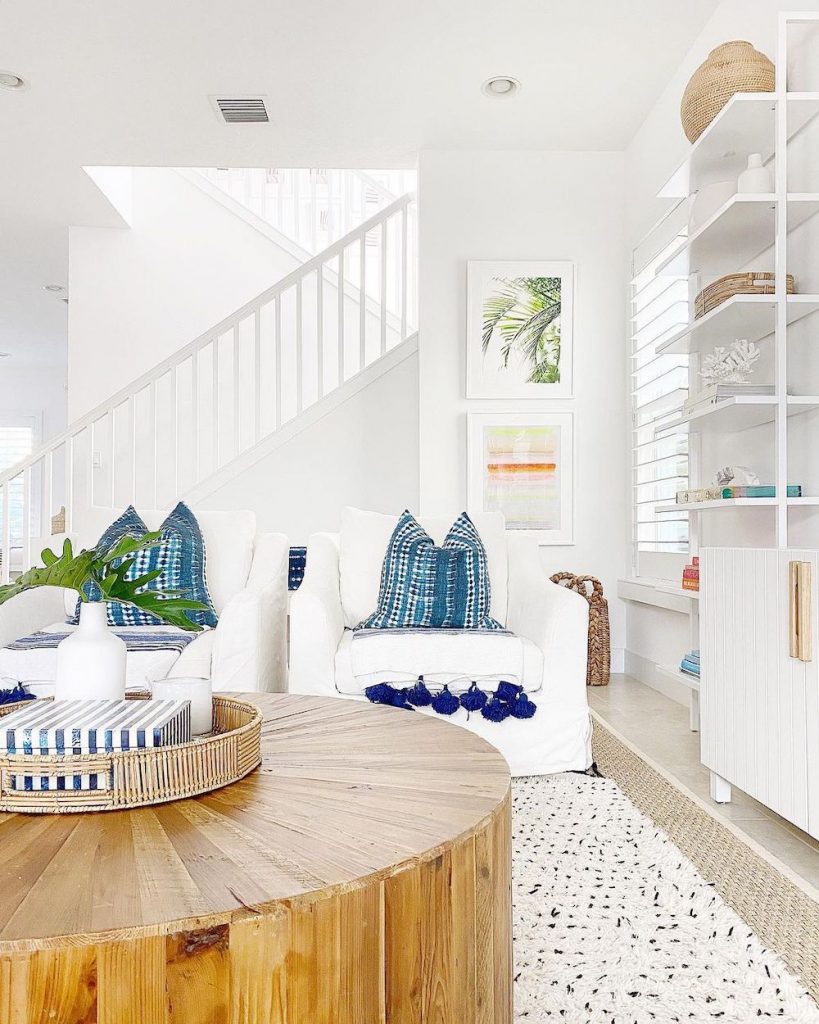 Rattan tray corrals the vase, candle, and decorative box. 
19. Ramp Up Your Whimsical Side – Most Inspiring Coastal Living Rooms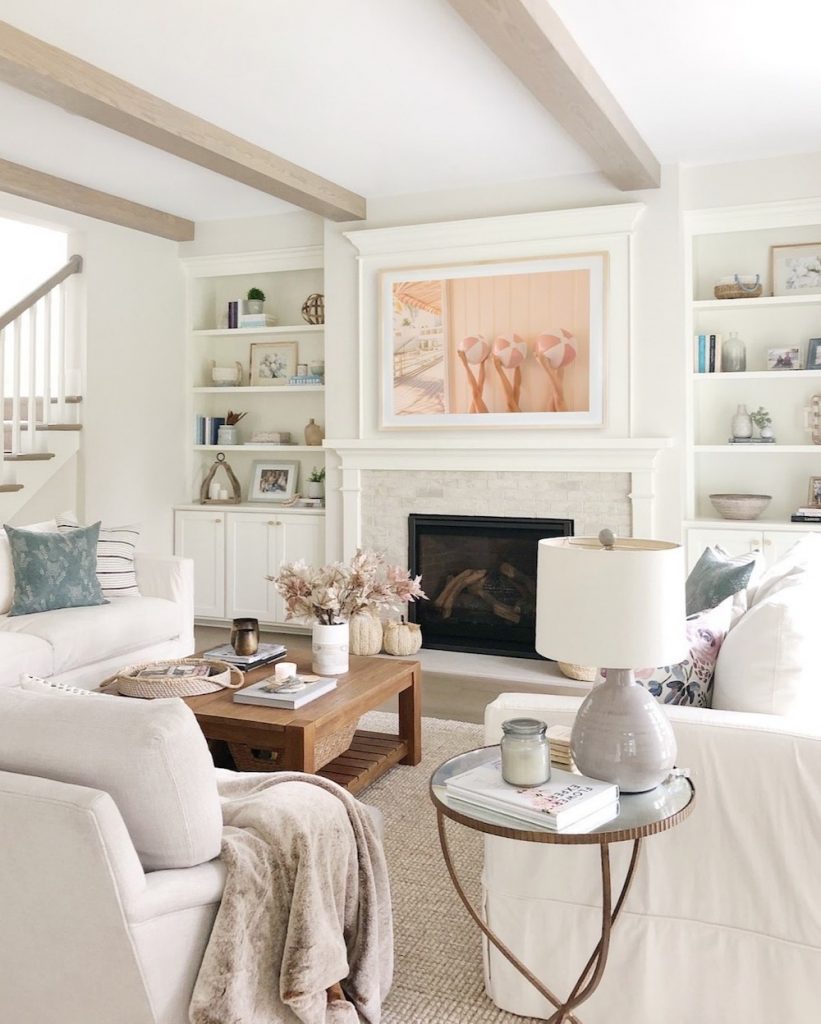 Crank up your fun side with a beach ball and a Gray Malin Photograph. There is no better way to remind us all of the more important things in life. 
20. Extend a Olive Branch in a Bouquet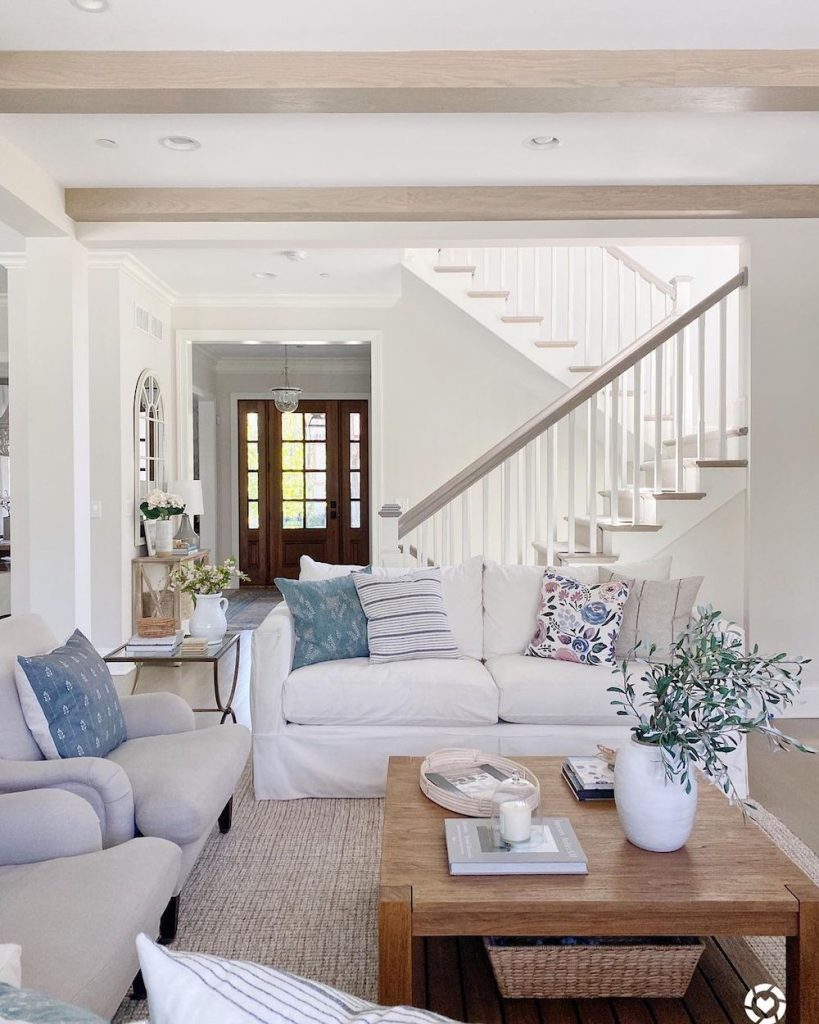 Add a fresh olive branch bouquet to your Coastal home. 
21. Open Your Doors to the Ocean View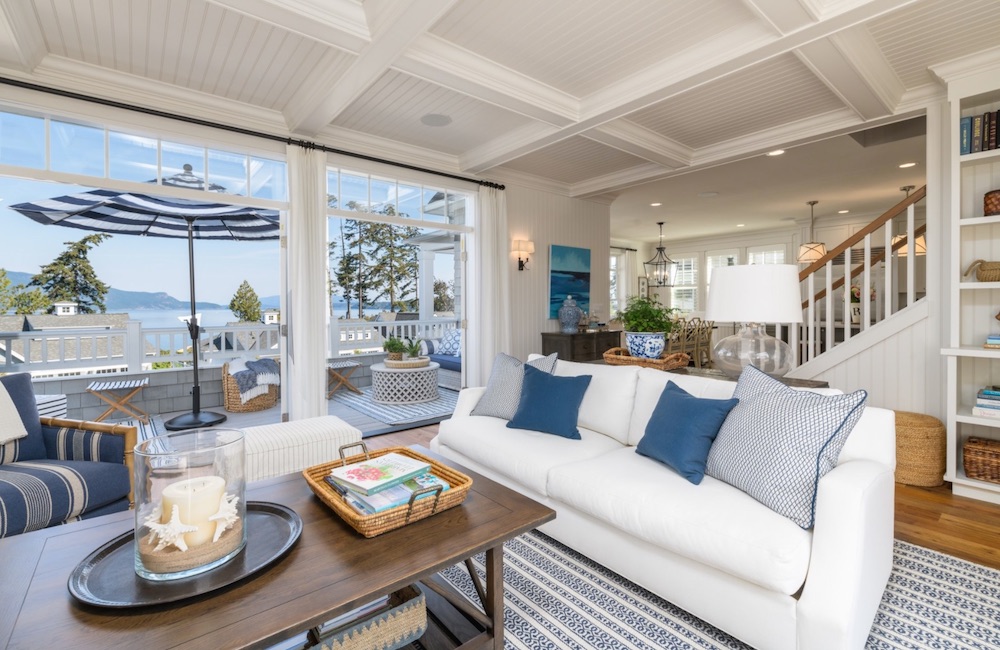 Fidalgo Island ocean views are a welcomed sight. Open patio doors and let the ocean air and views consume the room. 
22. Fill a Vase full of White Anemones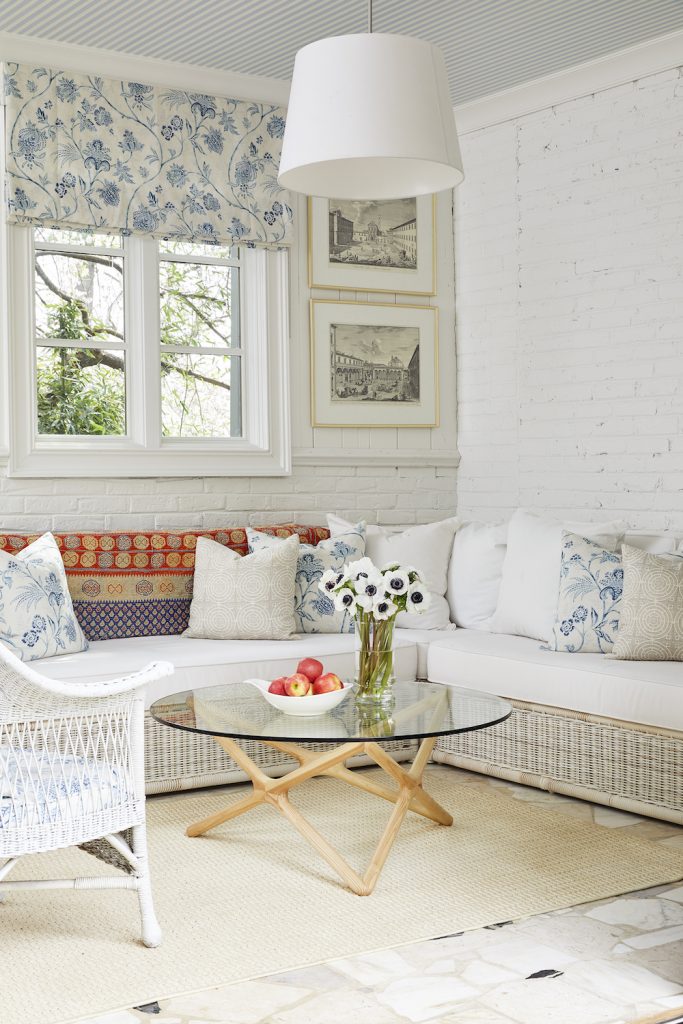 Bring a bouquet of fresh Anemones to your space. White wicker sofa and furnishings with red and blue accents.   
23. Rustic Beams Over Tongue and Groove Ceiling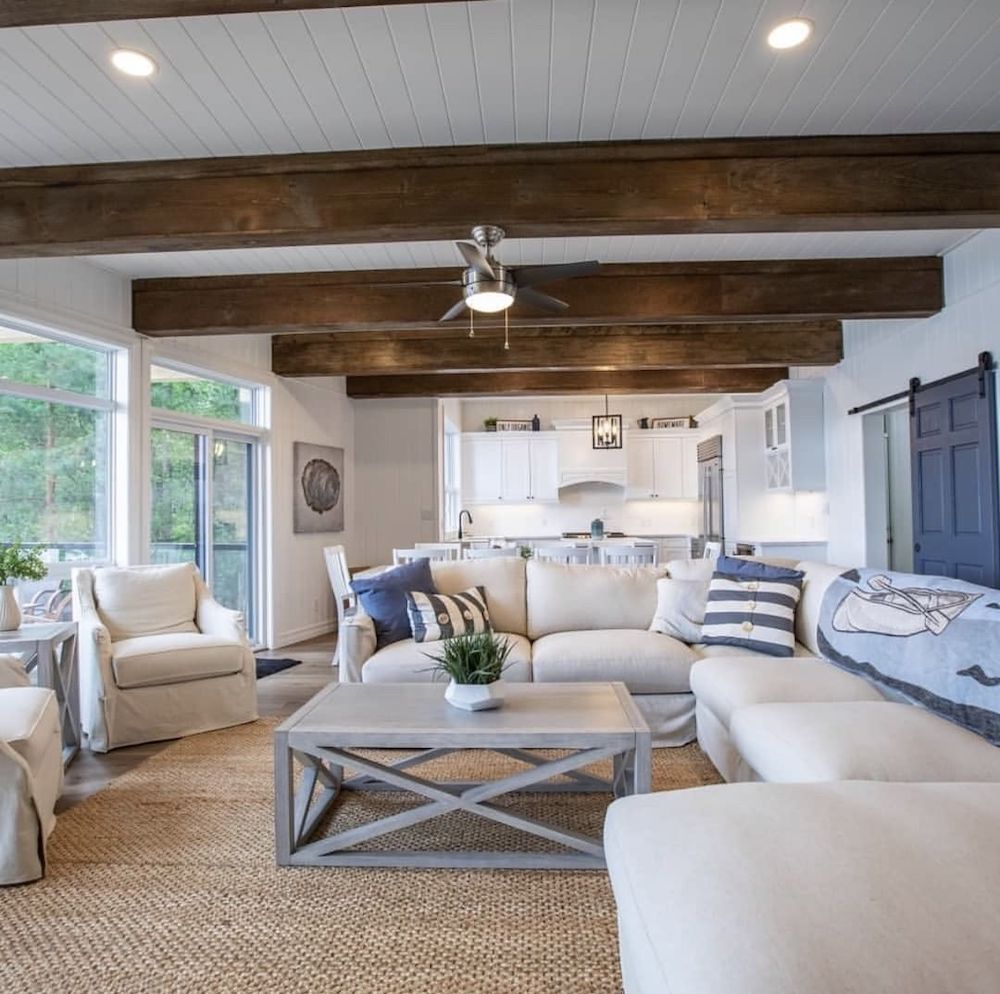 Create a lakeside retreat with exposed rustic ceiling beams and blue barn doors.  
24. Create a Color Combination for All Seasons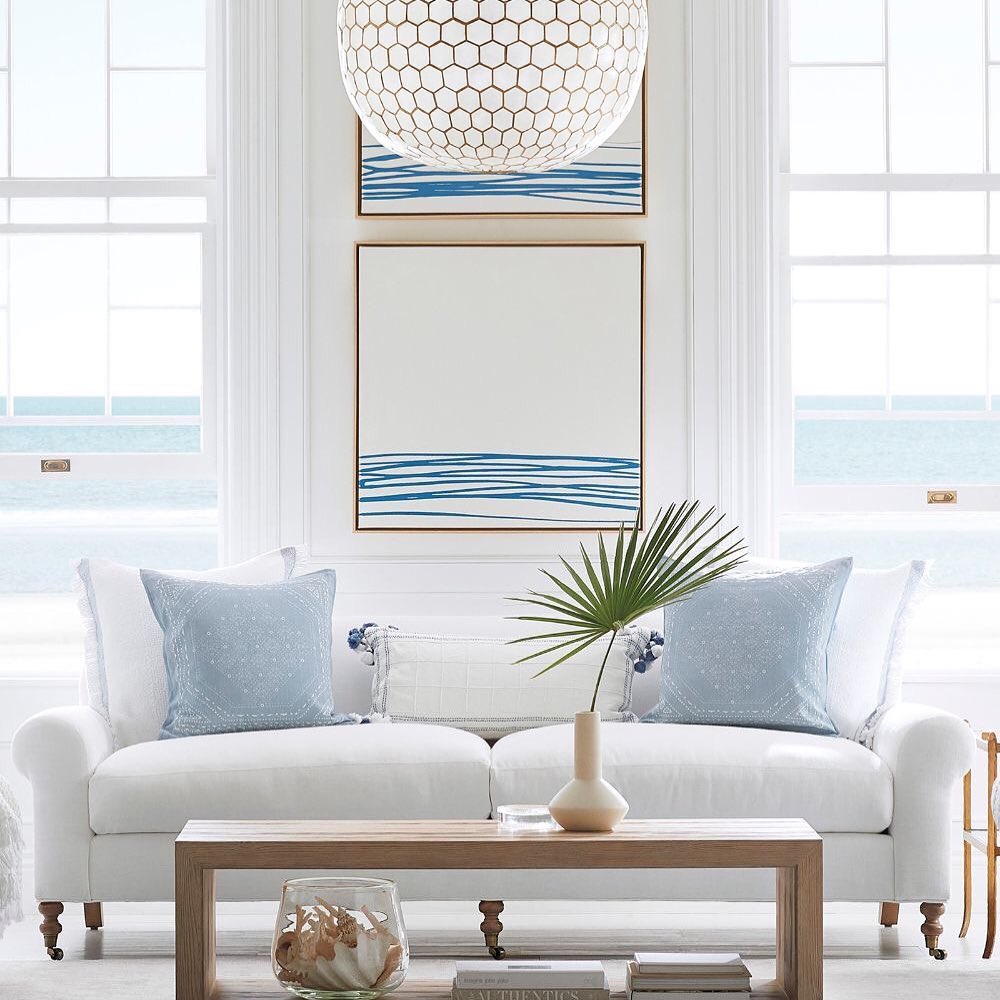 At Serena and Lily, they believe that these are classic color combinations for all seasons. Blues, whites with sandy colored hues. What do you think? 
25. Nautical Inspired – Most Inspiring Coastal Living Rooms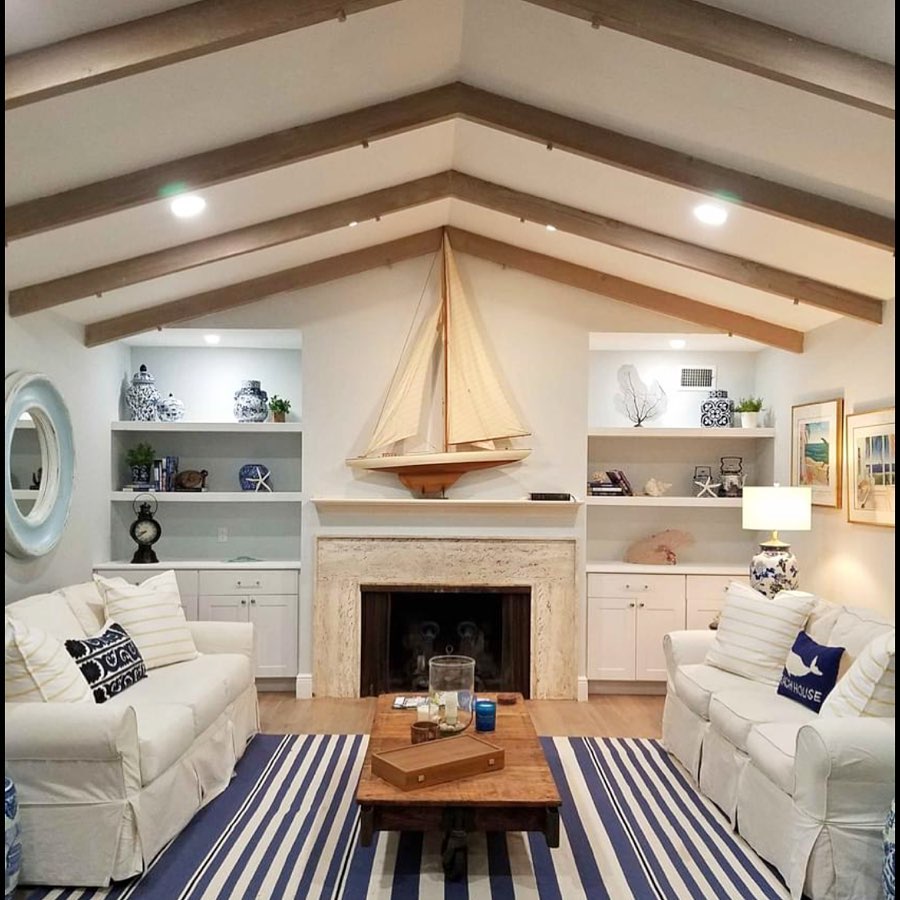 Transform your living room with nautical and ocean life inspired decor. Sailboats are always a welcome sight to see in a coastal setting. 
26. Make it a Royal Blue – Most Inspiring Coastal Living Rooms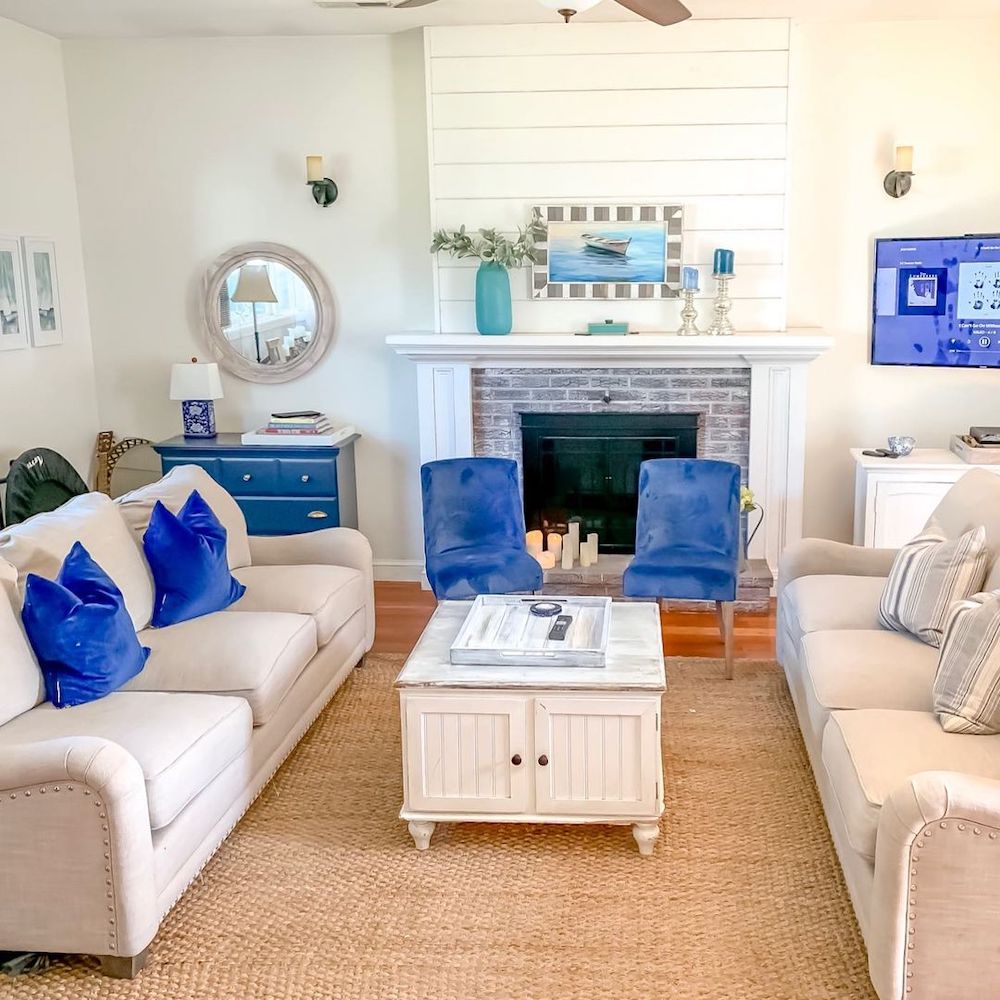 Add royal blue for a brighter decor. 
 27.  Go for the Airy and Light Bohemian Look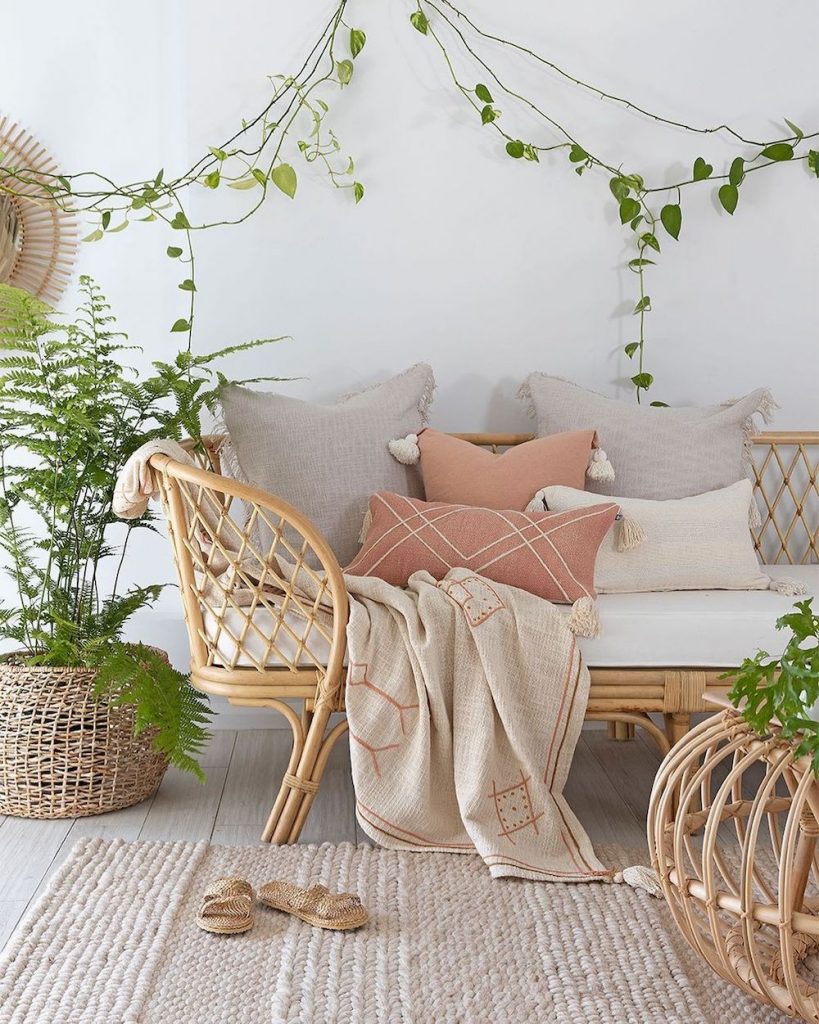 Sofa draped in white tassel throws and coverings. Blush colored pillows rest on top of this sofa. All creating a relaxed, minimalist design. 
28. Nautical Stripes – Most Inspiring Coastal Living Rooms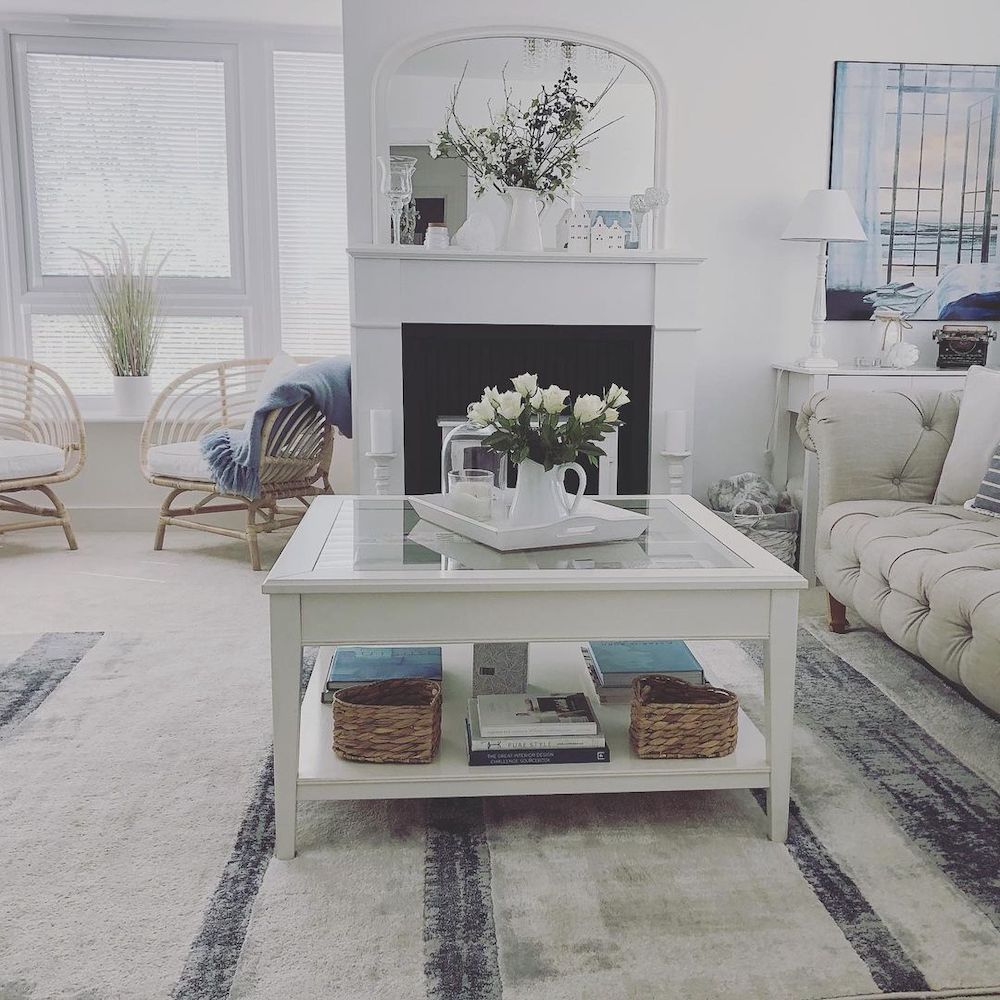 Create a white to beige background like an artist's canvas. Then sprinkle some soft blue accents.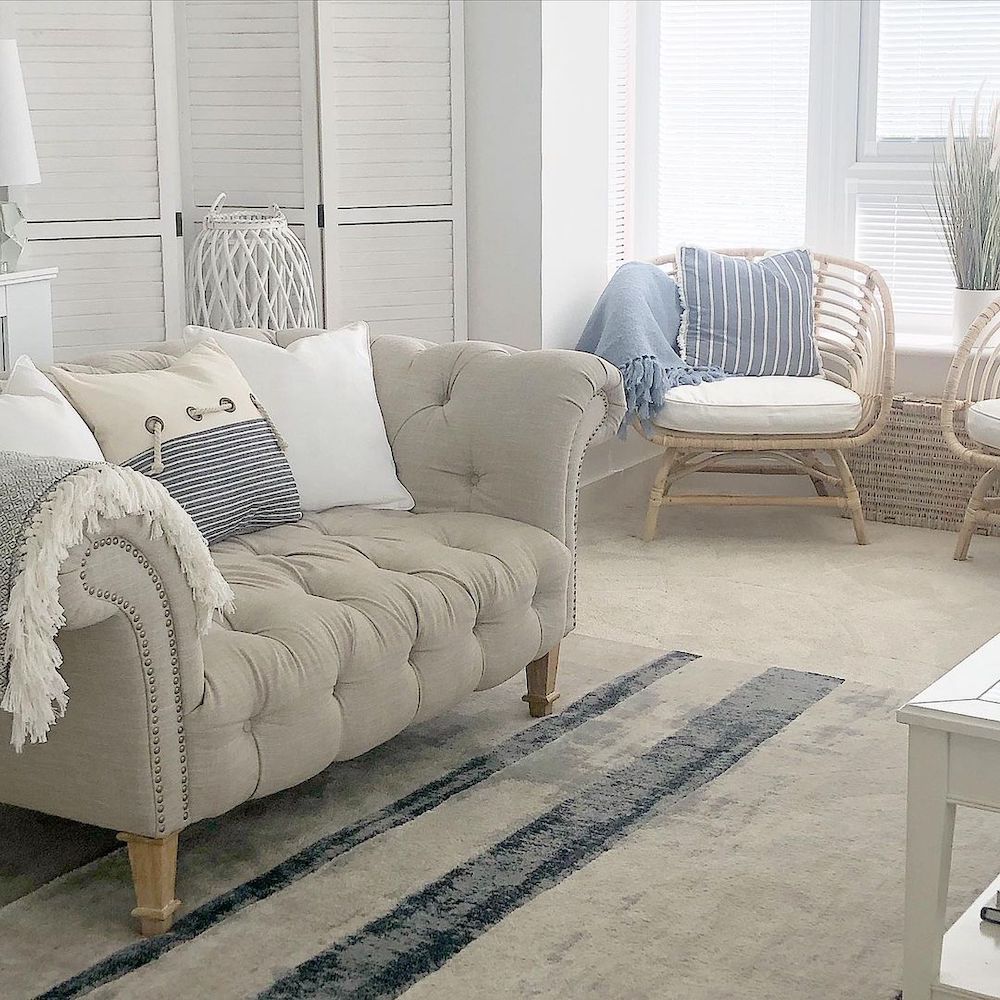 Followed by adding a few rope and wicker details. And then you've transform your living to a coastal retreat for all to enjoy!   
29. Surf Ranch – Most Inspiring Coastal Living Rooms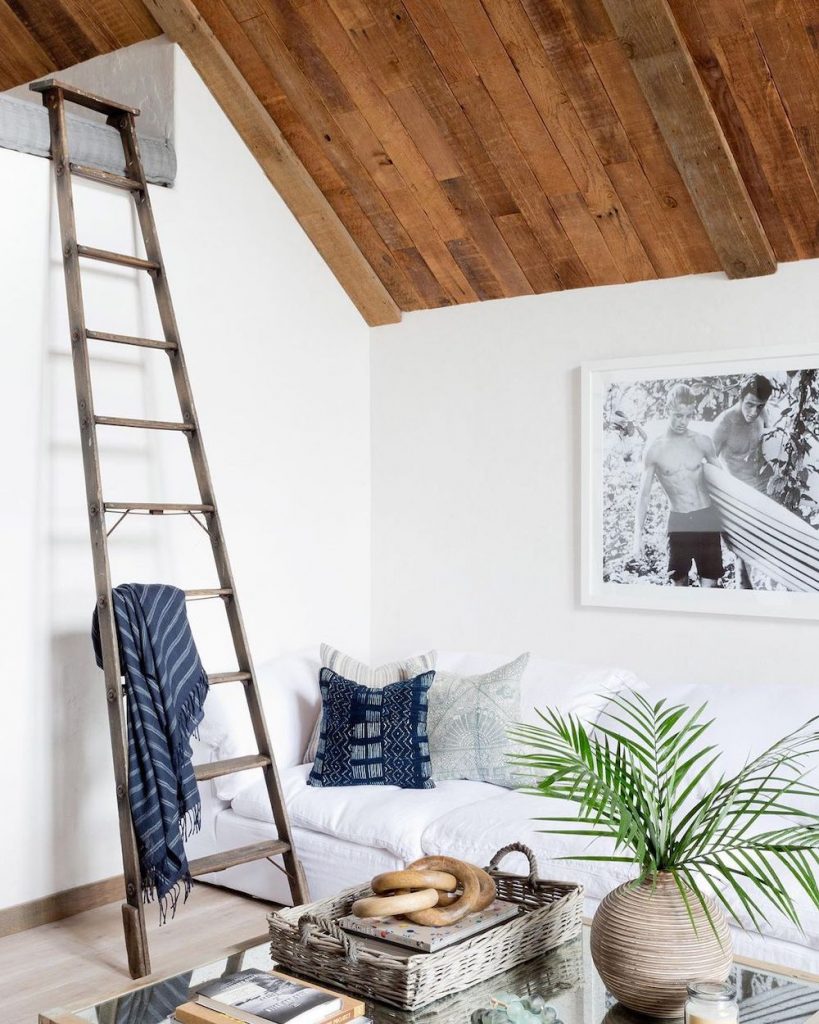 Loft style ceilings made from rustic wood planks and wooden beams. Add a few fronds and black and white photograph for a happy day experience.  
30. Modern Organic Beach House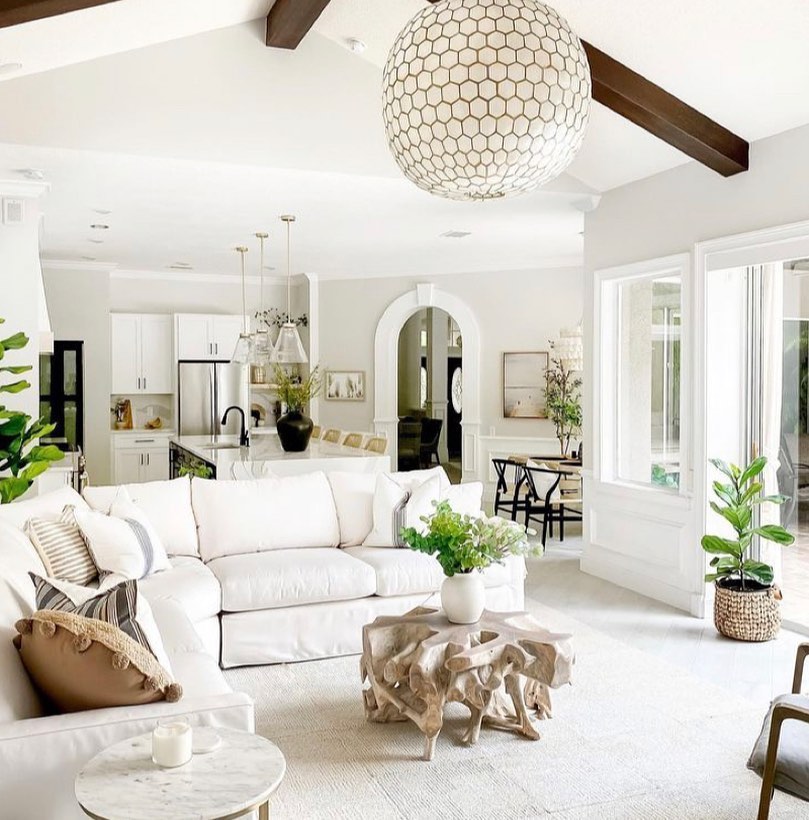 Neutral colored decor with warm earth tones. Bright greenery from the house plants. Clean, modern, and organic. Can't get any better than this!
This concludes our list of most inspiring coastal living room ideas. It is our hope that you've found a few ideas to incorporate into your home. As an additional source, we included a few additional tips below. 
If you have views of the ocean, seaside, lake, or marina – don't compete with those views. Ocean views are better than any decor   

Include oceanic plant and animal life images or sculpture such as seaweed, fish, octopus, sea turtles (our personal favorite!), and shells   

Use warm earthy tones such as driftwood, rattan, bamboo, and greenery. Driftwood colored wooden objects such as boards, frames, or candleholders. Rattan baskets or lanterns. Green plants either live or faux plants  
For more tips, check out our 12 Ways to Add Coastal Decor to your Home post.  
Enjoy our other coastal decor related posts for additional ideas. 
21 Inspiring Coastal Bookshelf Decor Ideas for Your Home  
31 Coastal Table Lamps We Love
Coastal White Sofas for Beach Homes
Rattan Mirrors for the Coastal Home
Rattan Coffee Tables   
Reach out to us with any questions. We are always ready to help you out. Thank you for dropping by and taking a look at Finding Sea Turtles blog. 
Mary