Coastal blue and green interiors to style your home now. Love the look of coastal blue interiors but thought of mixing in another color? Well, consider combining blue with green for a cool color combination. Today, you'll discover the power of color with this dynamic combination of cool colors.
For today's post, we are sharing blue and green coastal home interiors. These are inspirational ideas to style your home with blue and green furnishings. These ideas were designed with coastal homes in mind. Our picks of coastal blue and green spaces are incredibly designed spaces by talented designers. If your current home space is decorated in blues and whites, you can easily add green accents. As you'll soon see, mixing greens with blues and whites feels like a natural transformation. It's almost as if they belong side by side.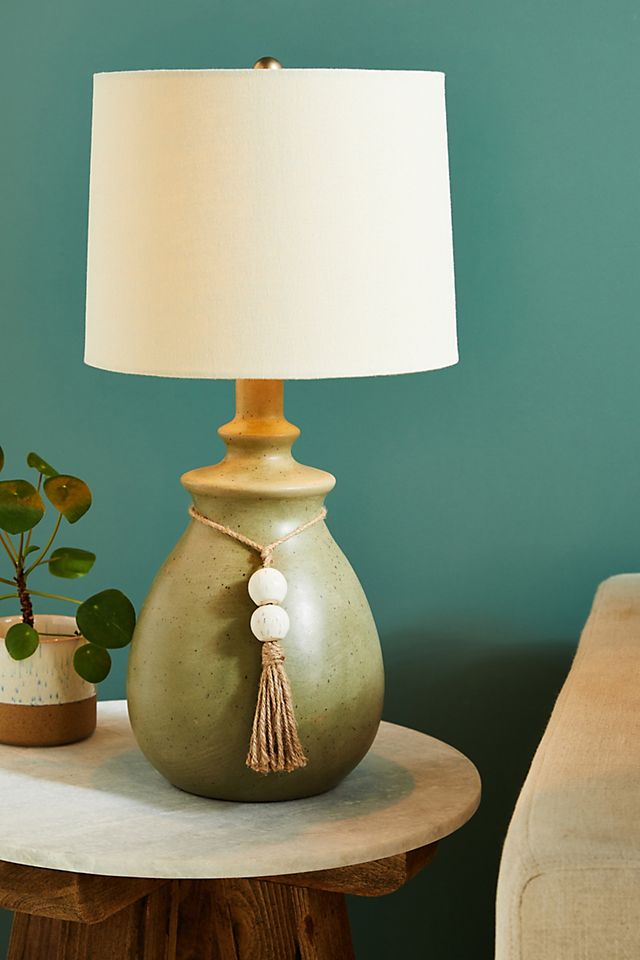 Not sure whether to style with a blue and green decor? Then consider adding a few green accent pieces. Adding books, lamps, and decorative objects in green hues to a blue decor is an easy way to refresh your look. If you find that the look doesn't suit your decor style, then simply remove the accent pieces. But we're sure that you'll love these color combinations.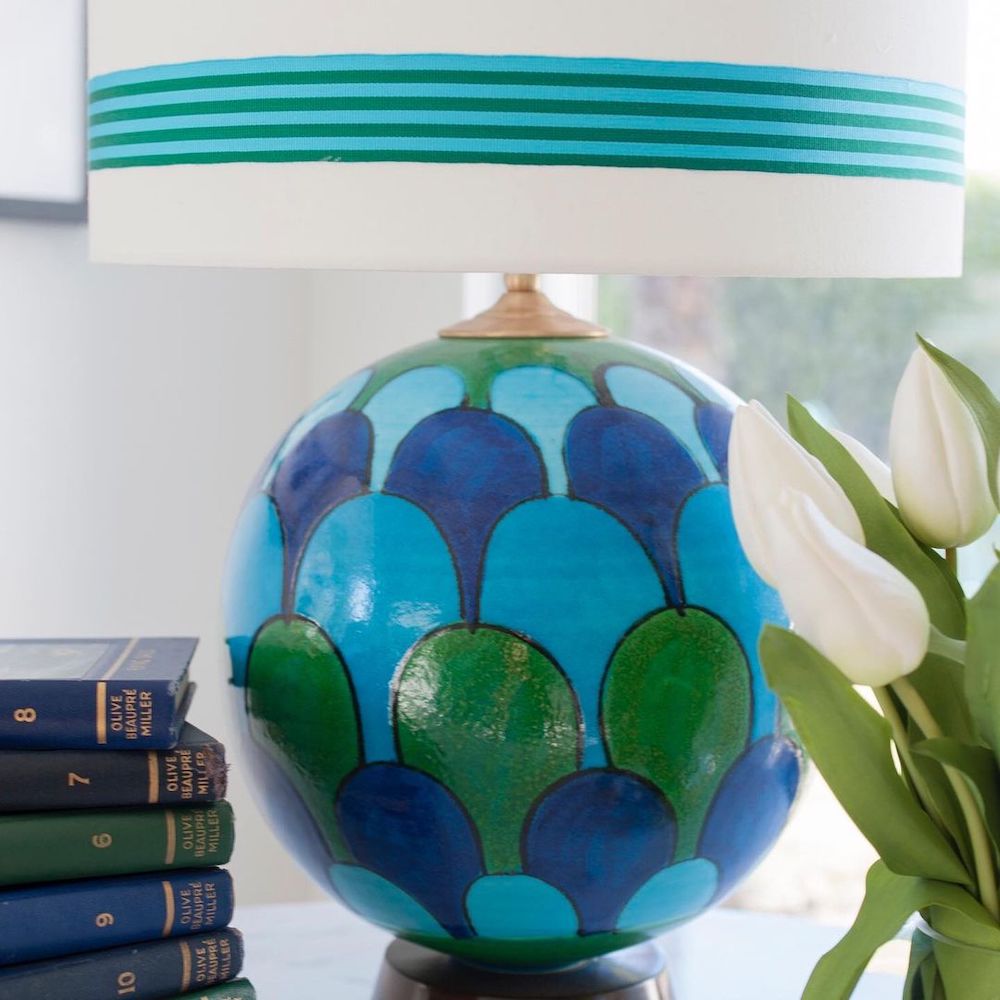 And now we begin our most inspiring ideas for coastal blue and green interiors at home. Take a look.
Style Your Home with Coastal Blue and Green Interiors
Embellish a Dinner Table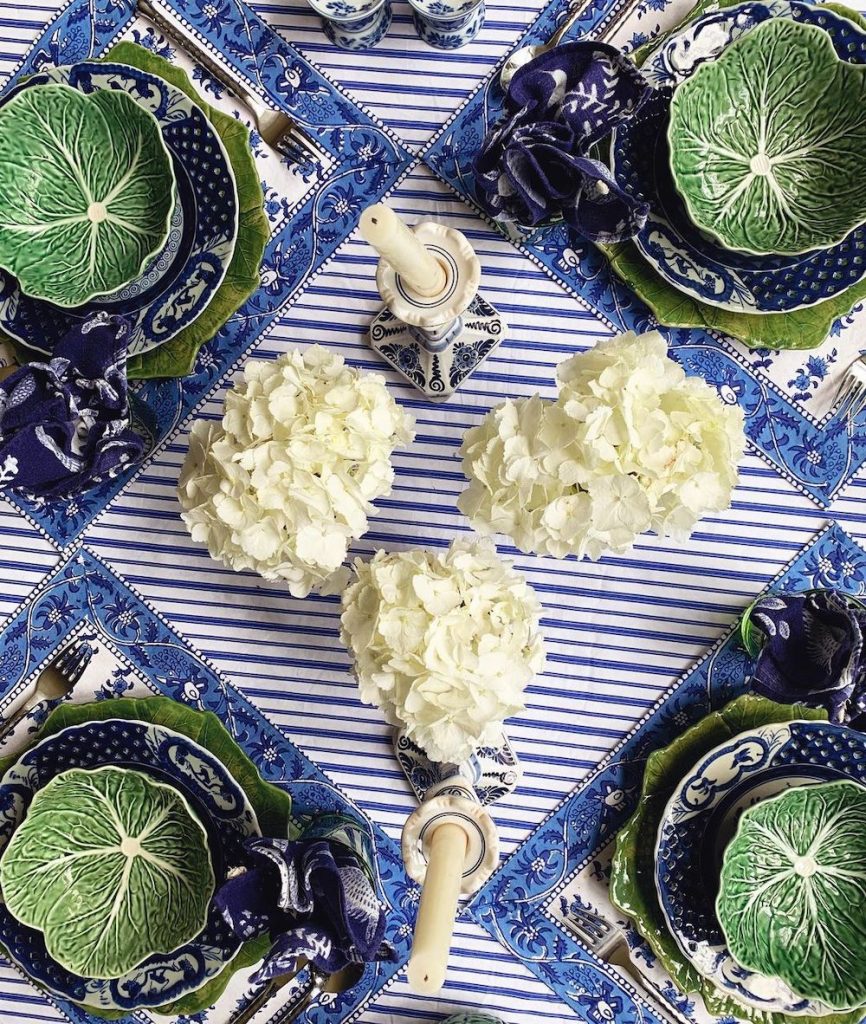 Mix green leafy salad plates with blue white dinner plates and table linens. For the centerpiece, add a bouquet of fresh limelight hydrangeas.
Make Your Entryway Standout – Coastal Blue and Green Interiors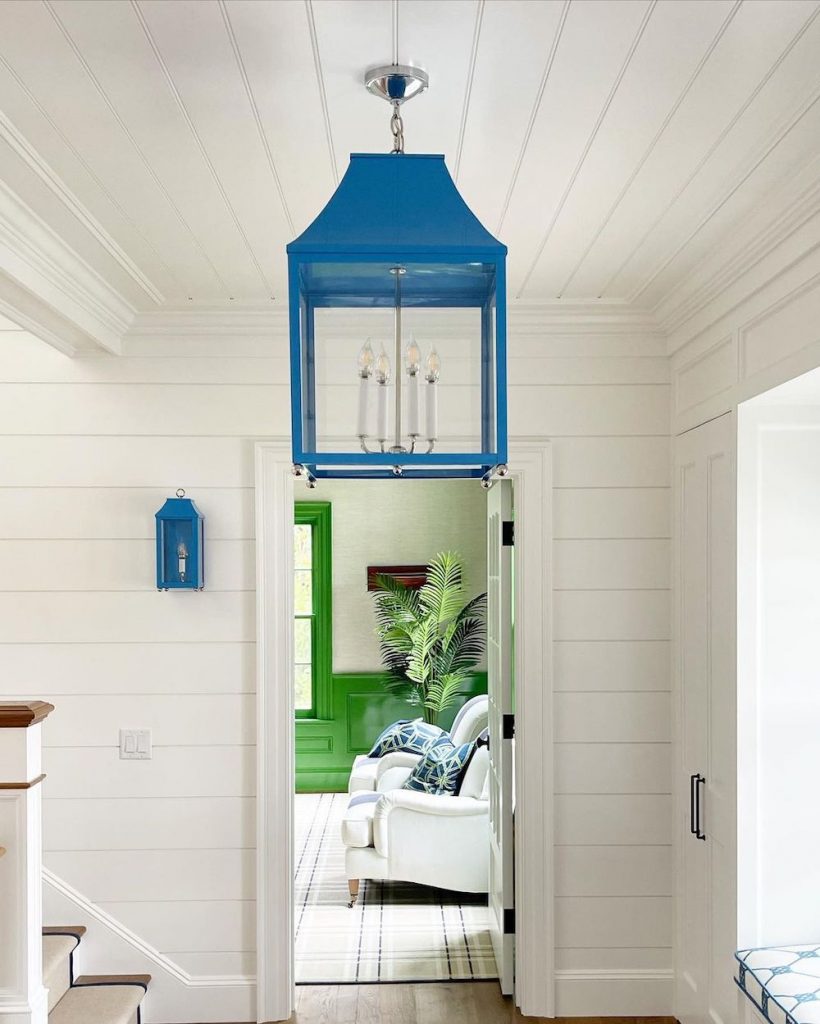 Give the entryway cerulean blue light fixtures with a bright green molding interior. Display a few blue and green toss pillows.
Keep it Cozy – Coastal Blue and Green Interiors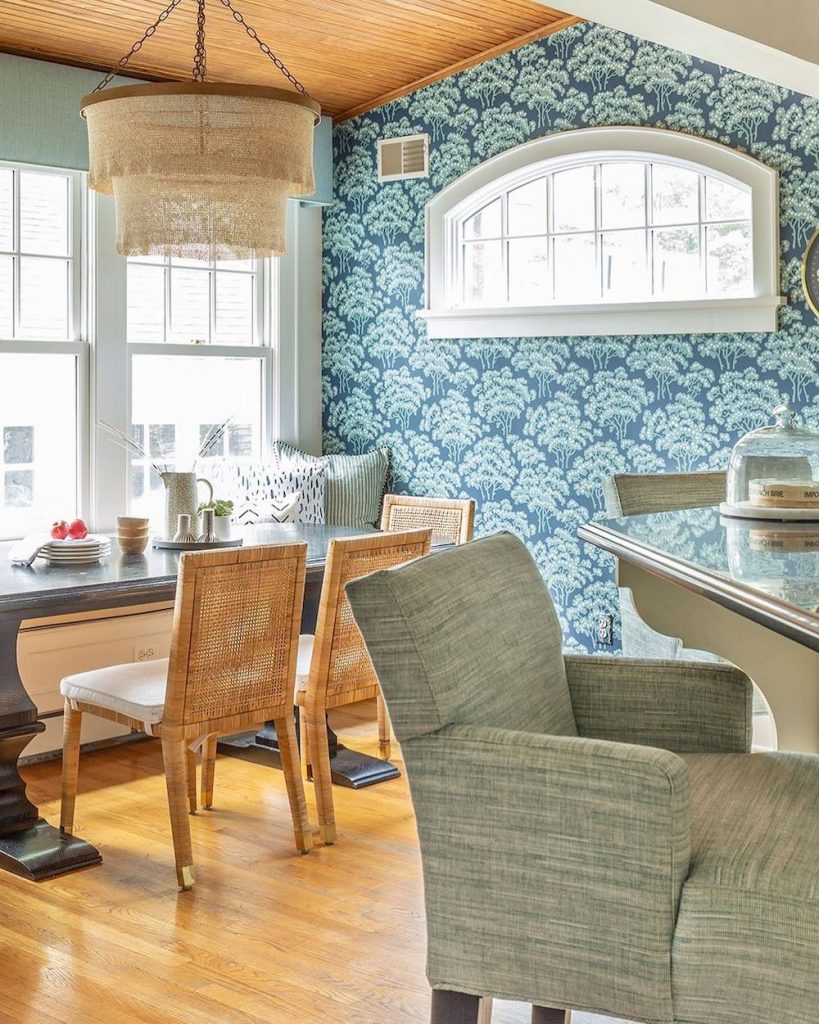 Cover an accent wall with blue and green wallpaper. Give your breakfast nook a color boost.
Paint the Walls and Ceiling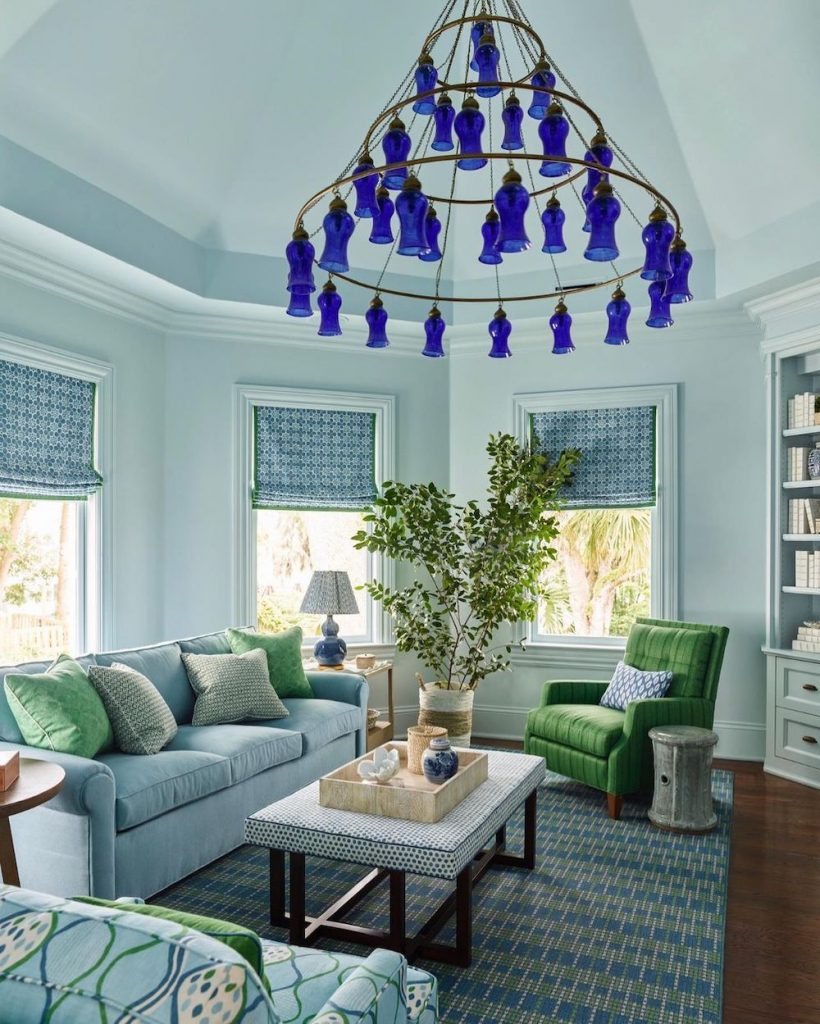 Use baby blue paint throughout the room. Follow up with green accents such as pillows or decorative objects in the sitting room. This includes plant greenery. Isn't that chandelier gorgeous? The perfect spot to spend a quiet afternoon.
Make it Dreamy – Coastal Blue and Green Interiors
Sleep every night in a stylish bedroom decorated in peaceful blues with a touch of green.
Give it an Airy Feeling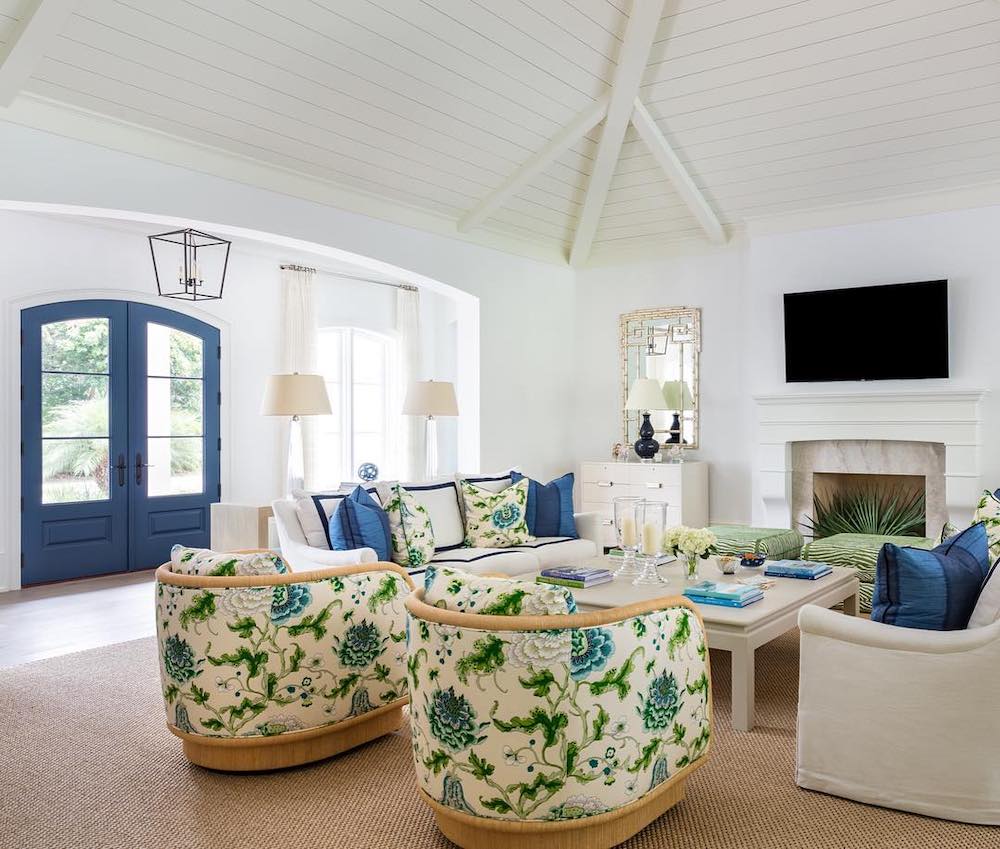 Punctuate the room with stunning blue doors. Add a set of matching green ottomans and toss pillows with green accents.
Take Your Cues From the Home's Details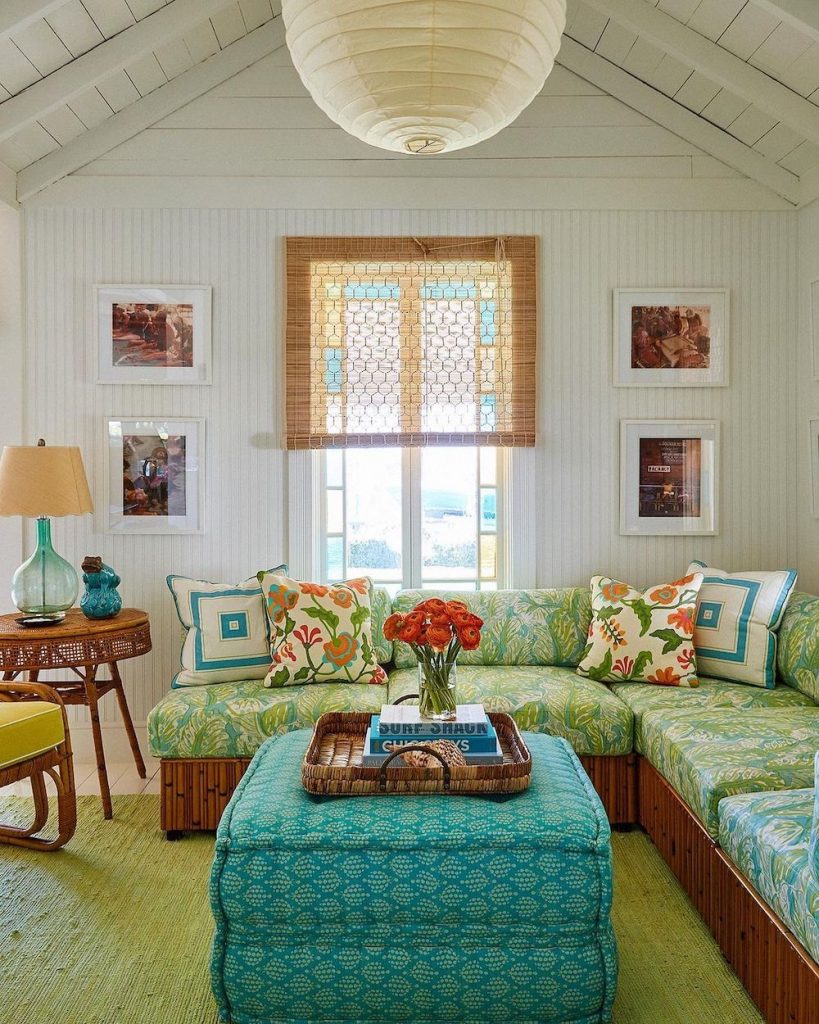 Select fabrics and flooring that accentuate the home's original details such as the stained glass windows. The sofa fabric covered with green monstera foliage over a blue background is gorgeous. Blue ottoman supports a tray with coffee table books including Surf Shack.
Hang a Blue Beaded Chandelier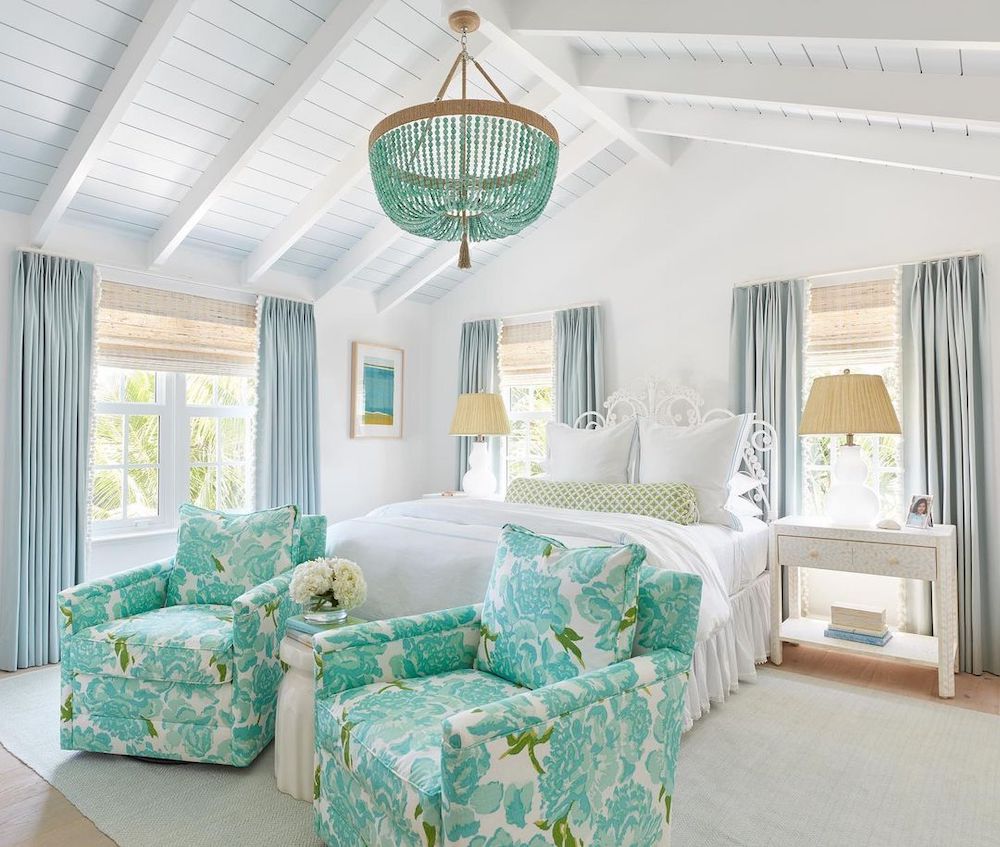 Bring in a set of blue floral chairs for the bedroom sitting area. Add a green trellis fabric-covered bolster to the bed. And for a finishing touch, add a blue beaded chandelier to this bedroom.
Style it a Contemporary Beach Bungalow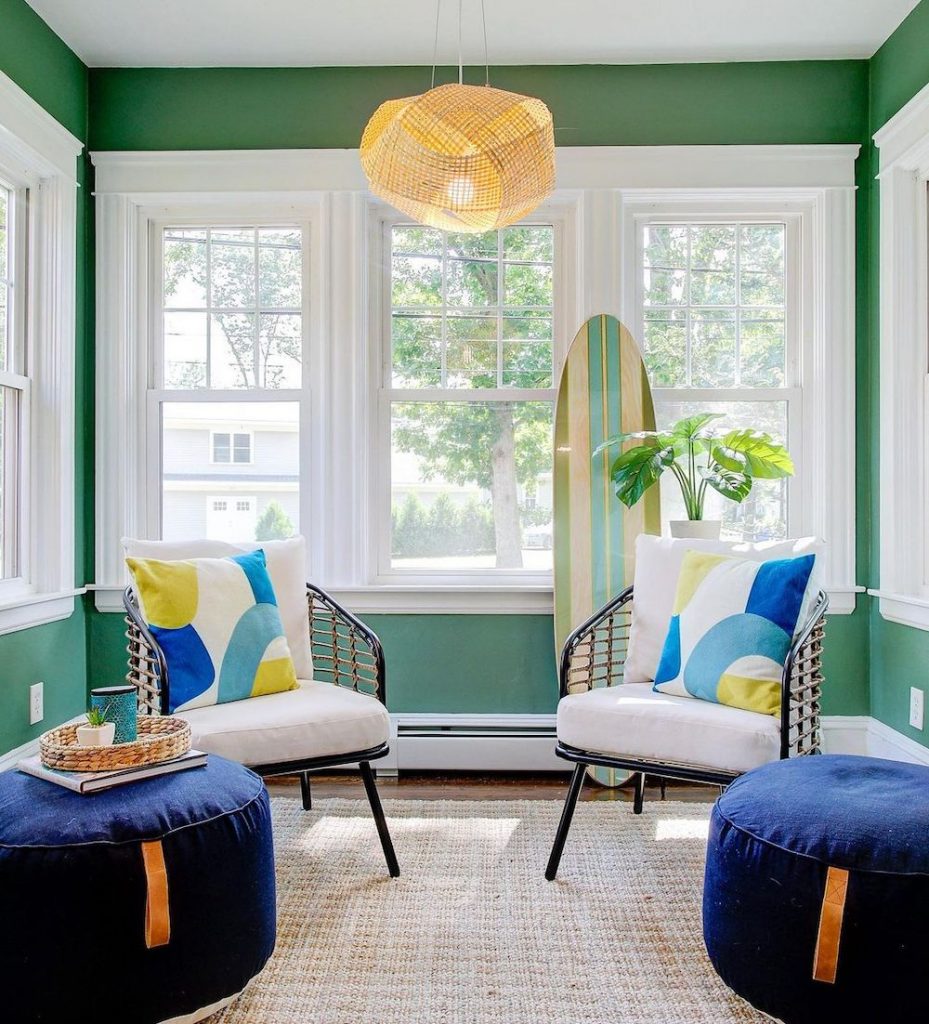 Paint the walls green. Add a cool rattan pendant. A set of rattan chairs with matching blue ottomans, all perfectly sized for this spectacular sun-filled room. A happy monstera plant sits right by the window for a little organic greenery.
Play with Vibrant Patterns – Coastal Blue and Green Interiors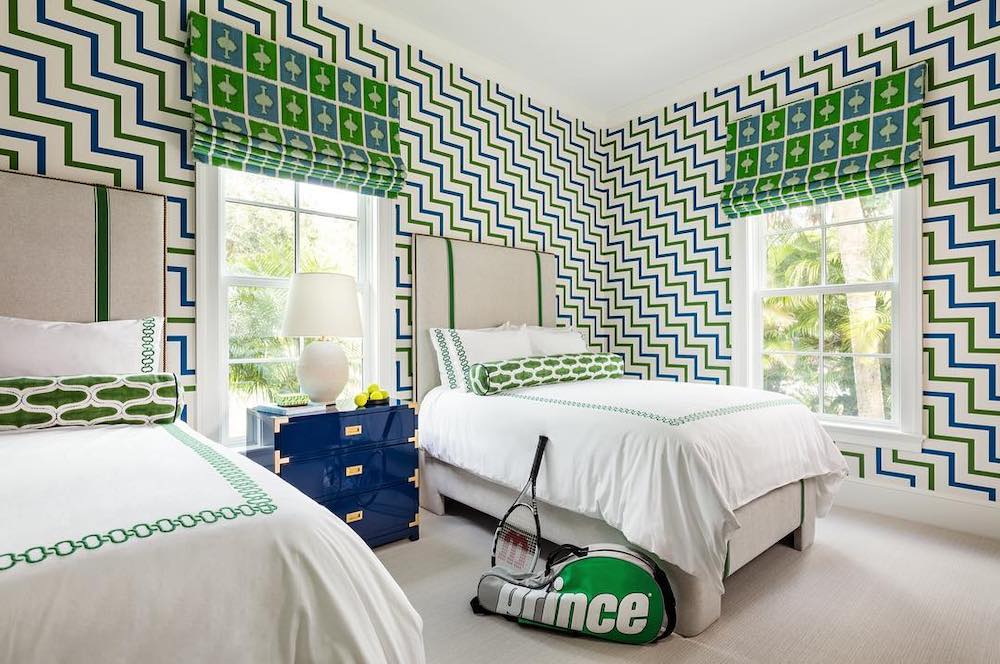 Style it with geometric blue and green wallpaper patterns. The shared nightstand in blue makes a great accent piece.
Add a Little Bamboo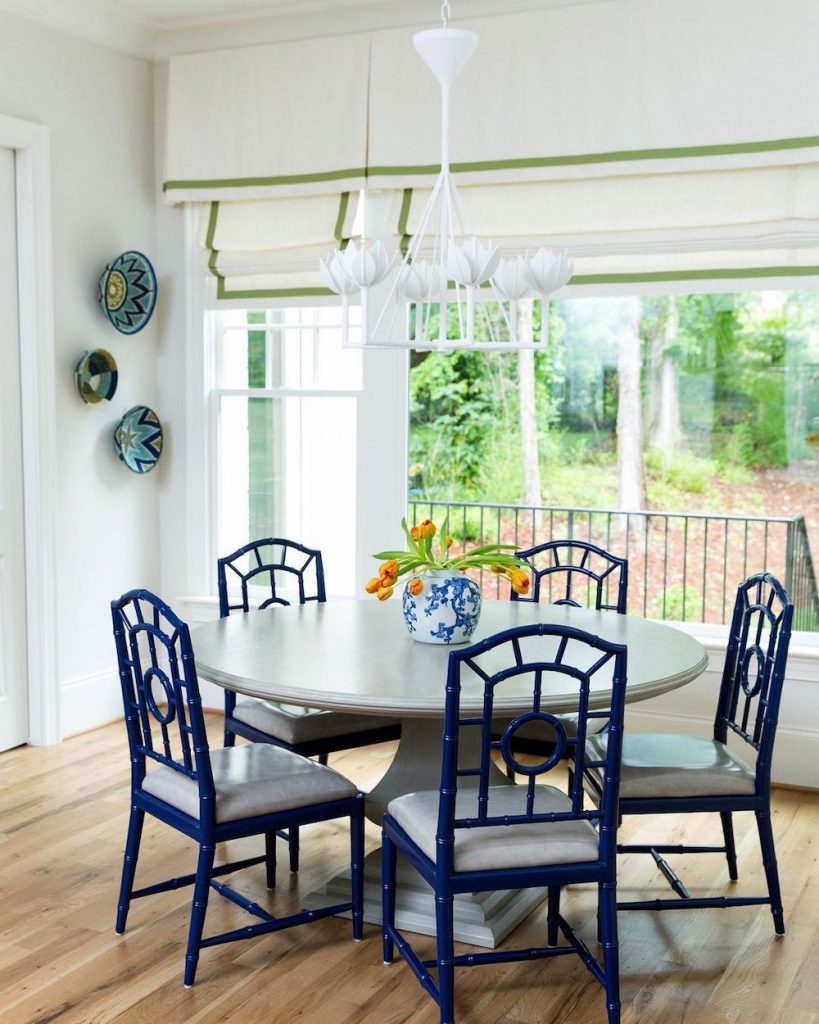 Use bamboo detailed dining chairs around the table. Add green detail to the window curtains.
Perfect a Play Room Space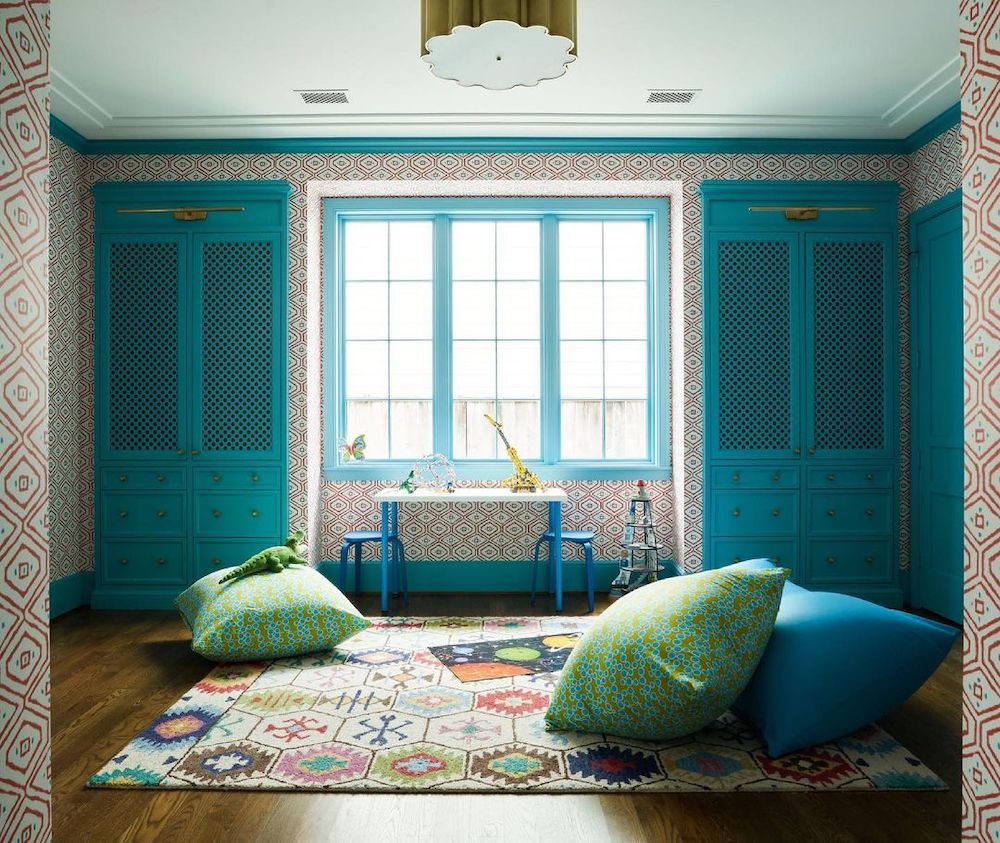 Give the molding and storage cabinets a kid-friendly blue paint.
Keep it Cool – Coastal Blue and Green Interiors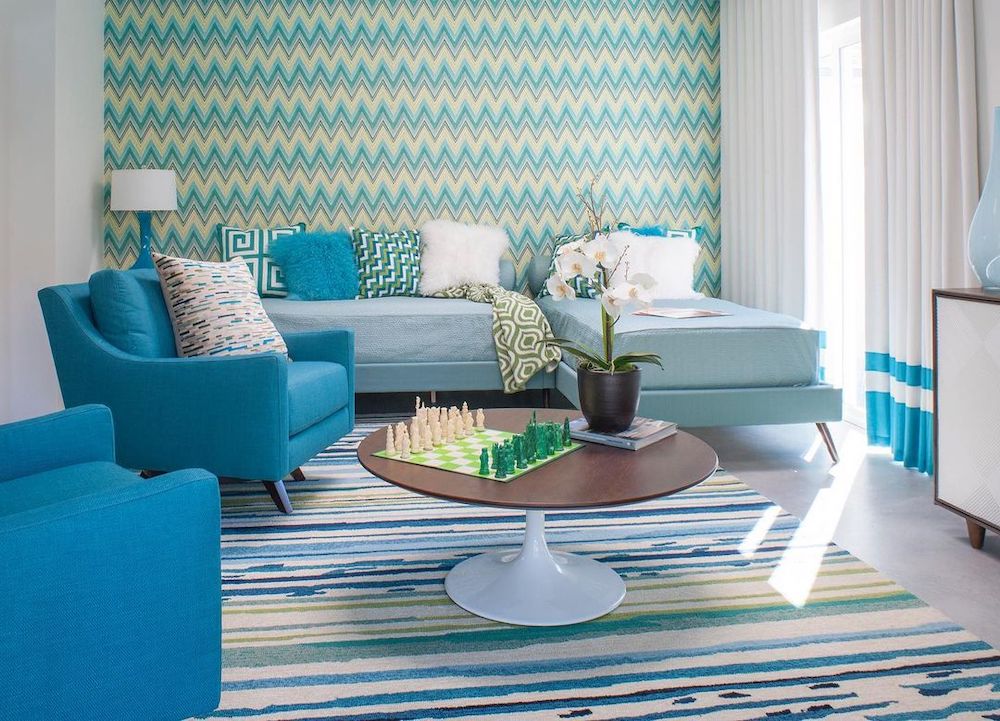 Mix a variety of blue shades with green for a cool decor style.
Go Pale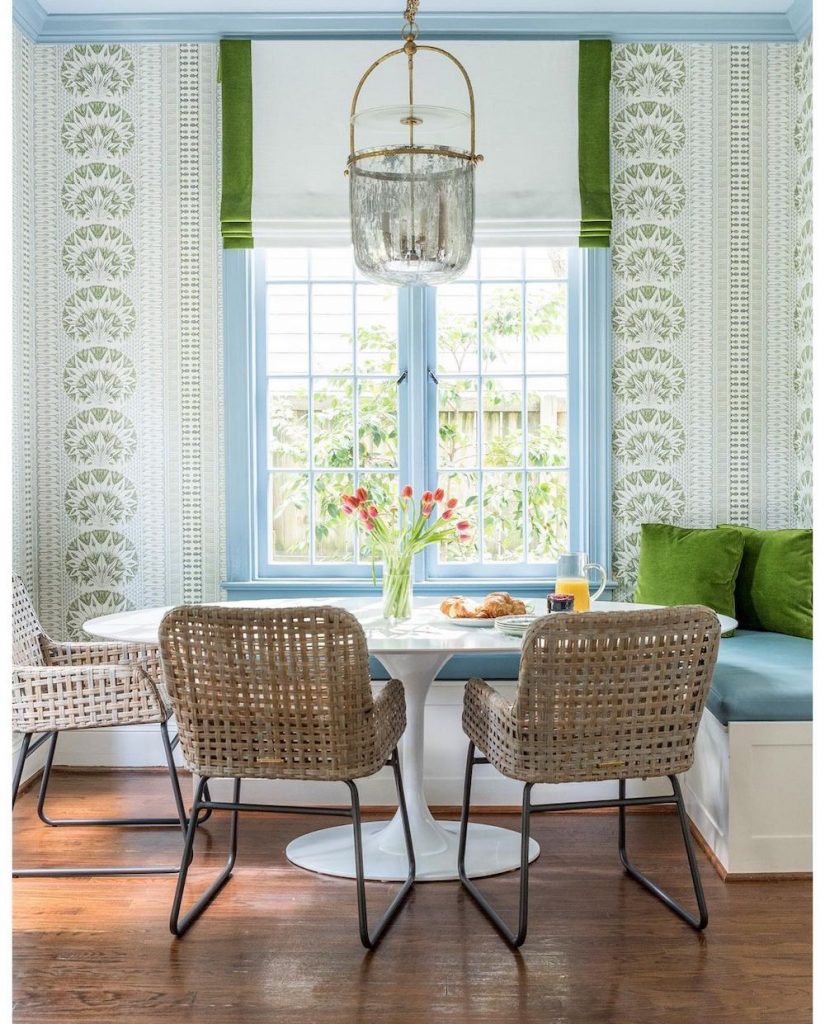 Use a pale blue to cover the banquette cushions and paint the window molding. Cover the walls in a light green wallpaper. Create a light, airy, and fresh brunch dinner setting.
Go Bold – Coastal Blue and Green Interiors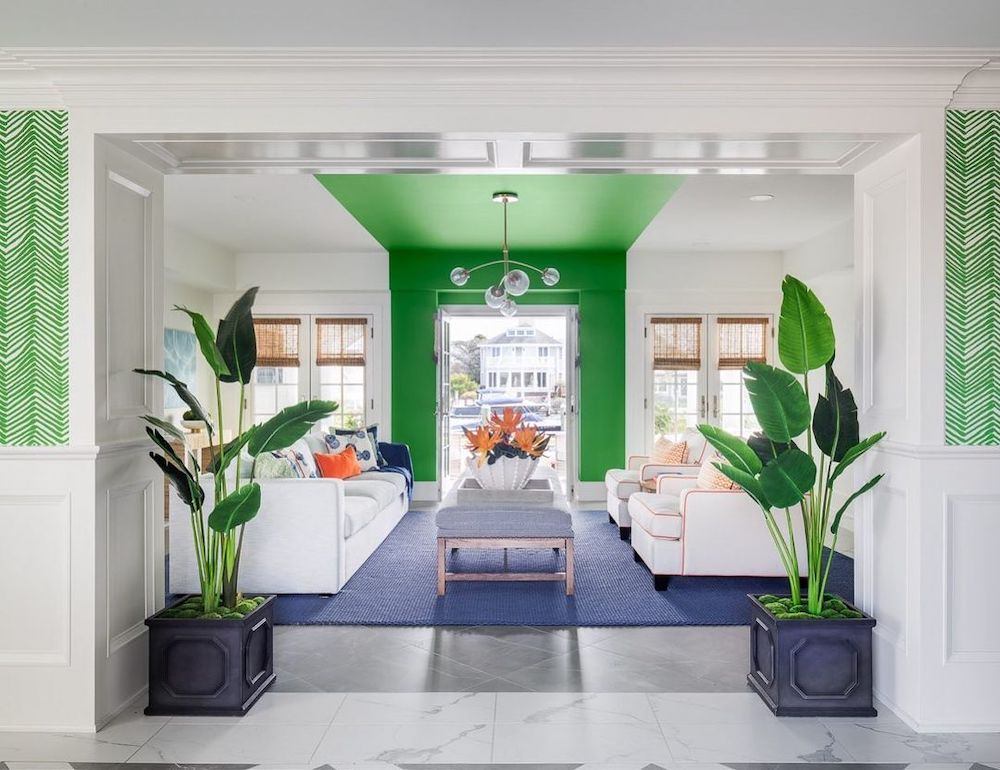 Make a statement with a bold green wall to ceiling stripe. Against the white furnishing and navy rugs, the green adds a summer living style to this room. ⁠⁠
Work Around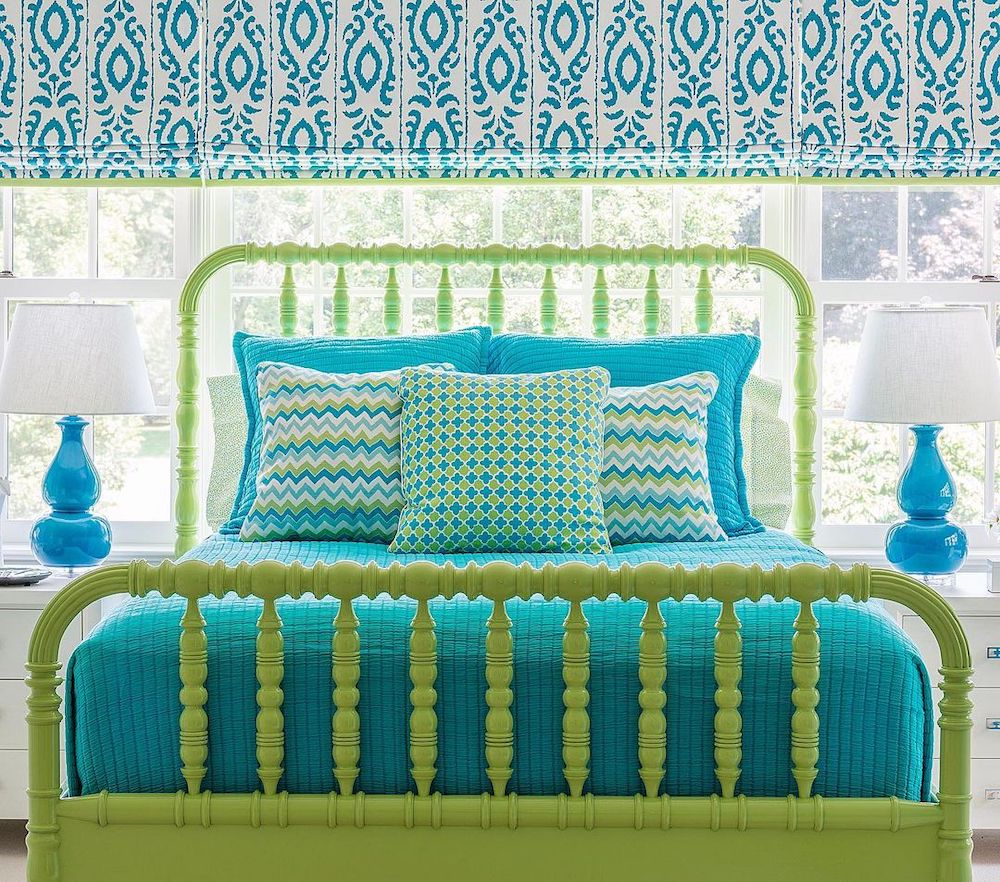 Mix in greens with blue patterned fabrics and textures. In a sun-filled room with a lime green colored bed, a relaxed guest room setting.
Make Them Green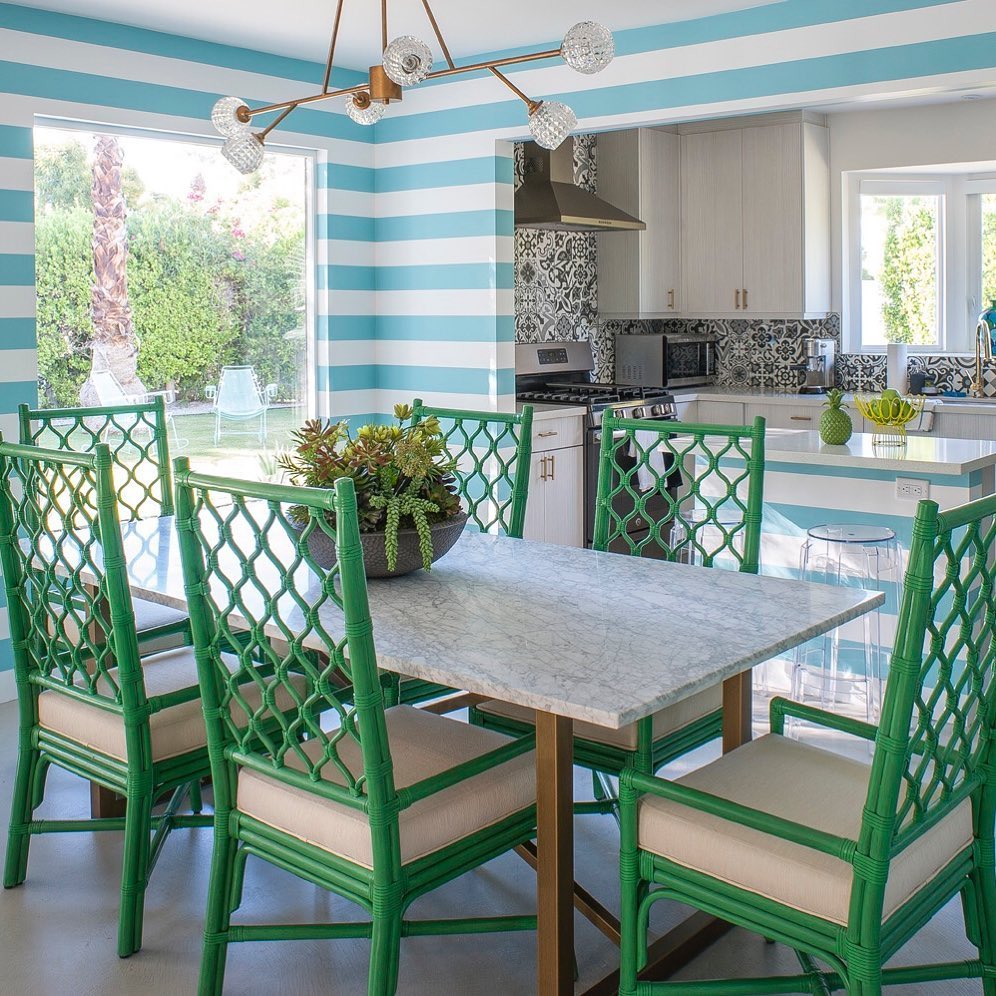 Go green with bamboo dining chairs. All with a backdrop of turquoise and white striped wall covering.
Mix it Up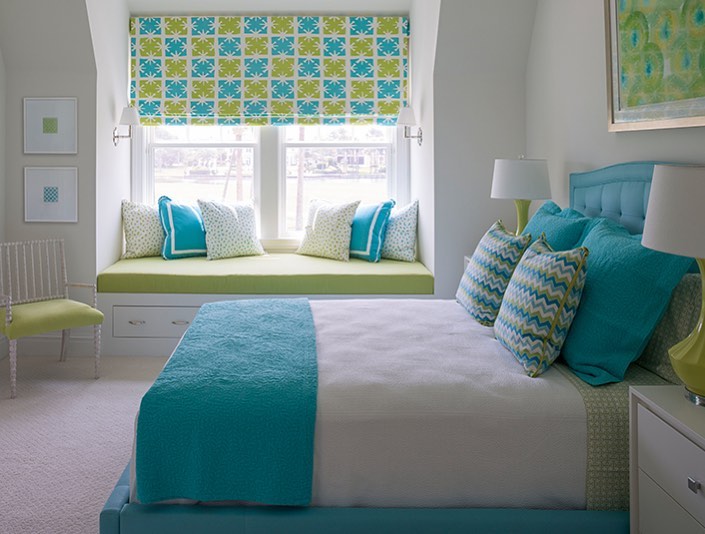 Blend the green and blue with a variety of fabrics.
Paint the Sky Blue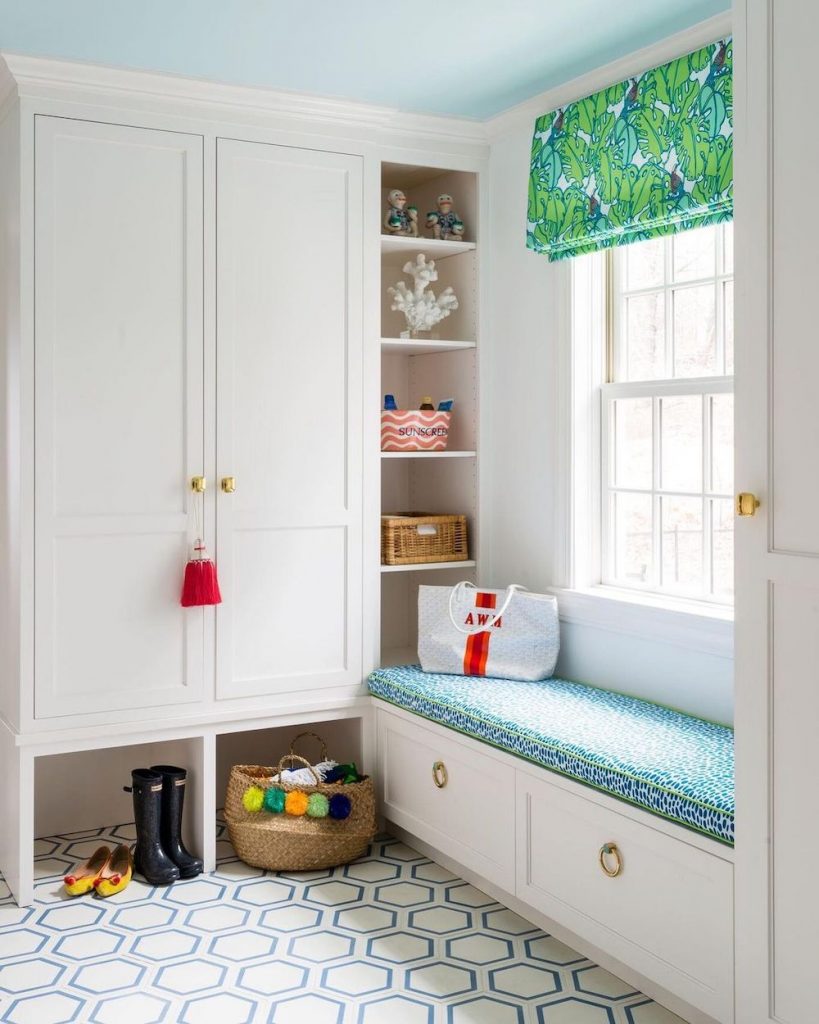 A small but mighty mudroom that keeps you organized and ready for any sudden changes in weather. We love the sky blue ceiling and blue hexagon pattern flooring. Of course, the monstera fabric print window treatment makes this room even more special.
Style it in Soft Blues – Coastal Blue and Green Interiors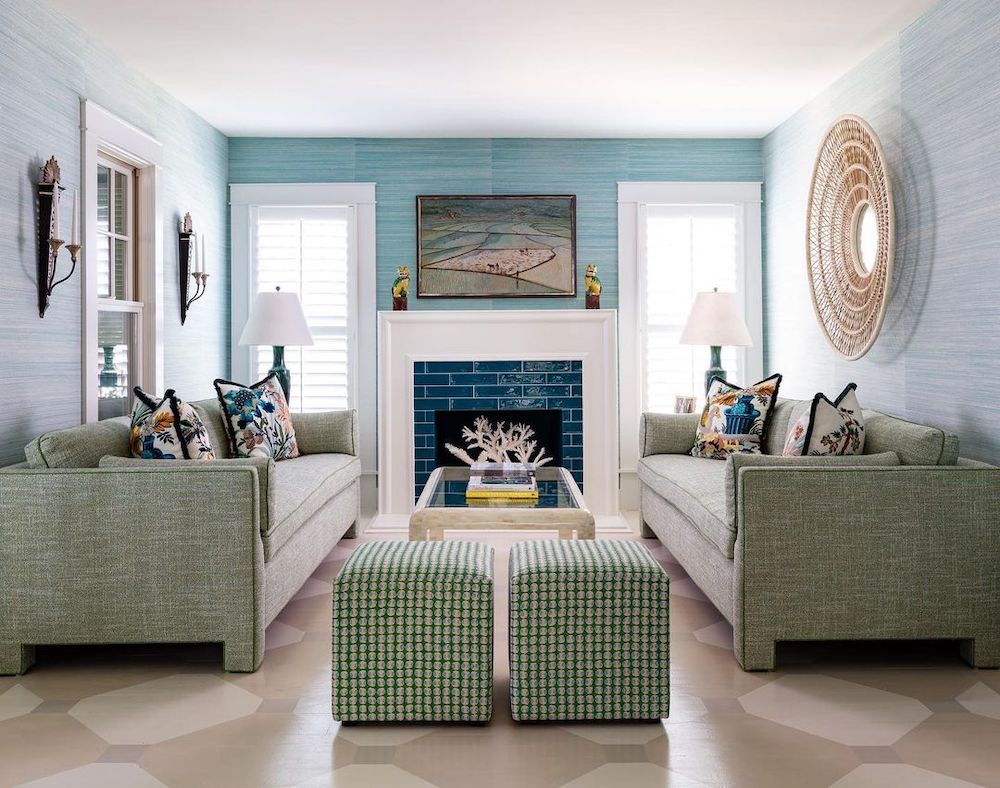 Walls covered in soft blue with a glazed blue fireplace surround add to the tranquil feel of this living room. For extra seating, add two ottomans covered in an oval pattern fabric. And a geometric rattan mirror provides an extra layer of texture to the space.
Show Off Your Best Wall Art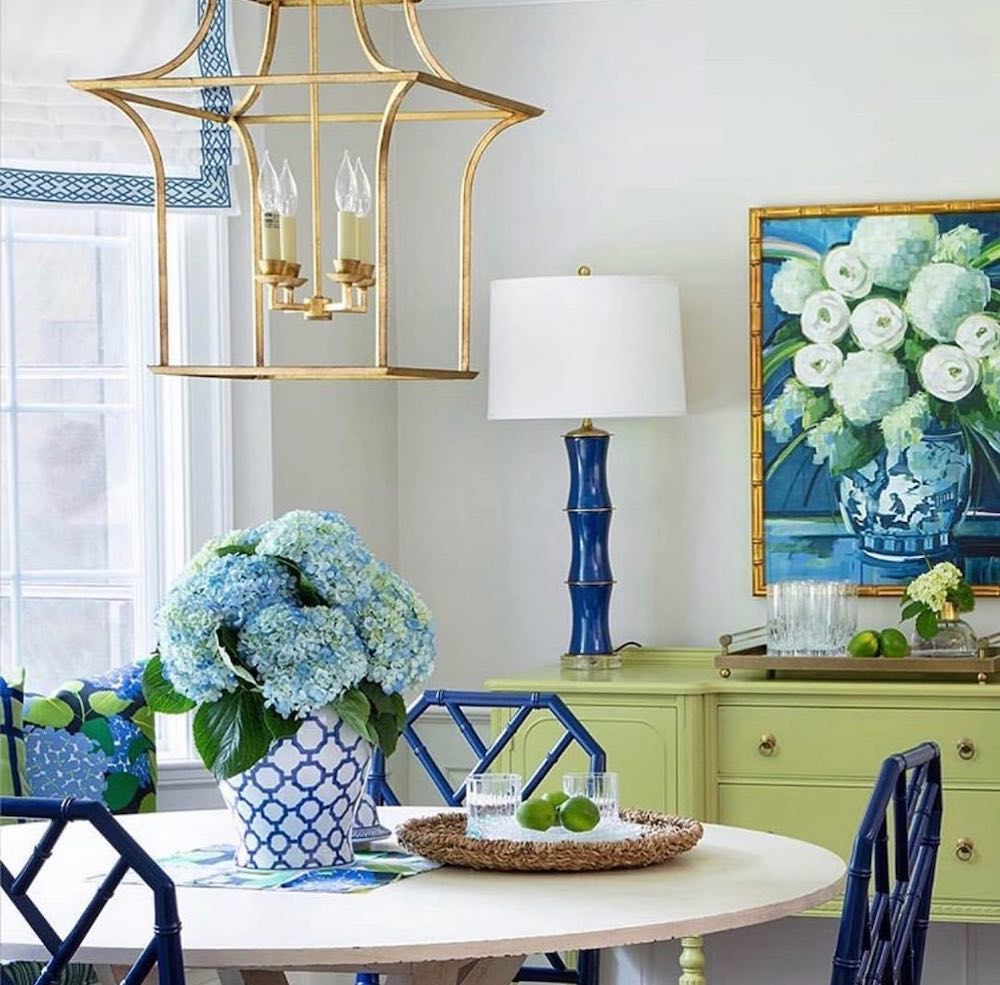 Restore a sideboard in a fun lime green color. Add a set of navy blue lamps, bamboo-inspired dining chairs, and blue-trimmed curtains. Fresh limes add a touch of extra green color. Then top it all off with a gorgeous piece of wall art framed in a bamboo pattern.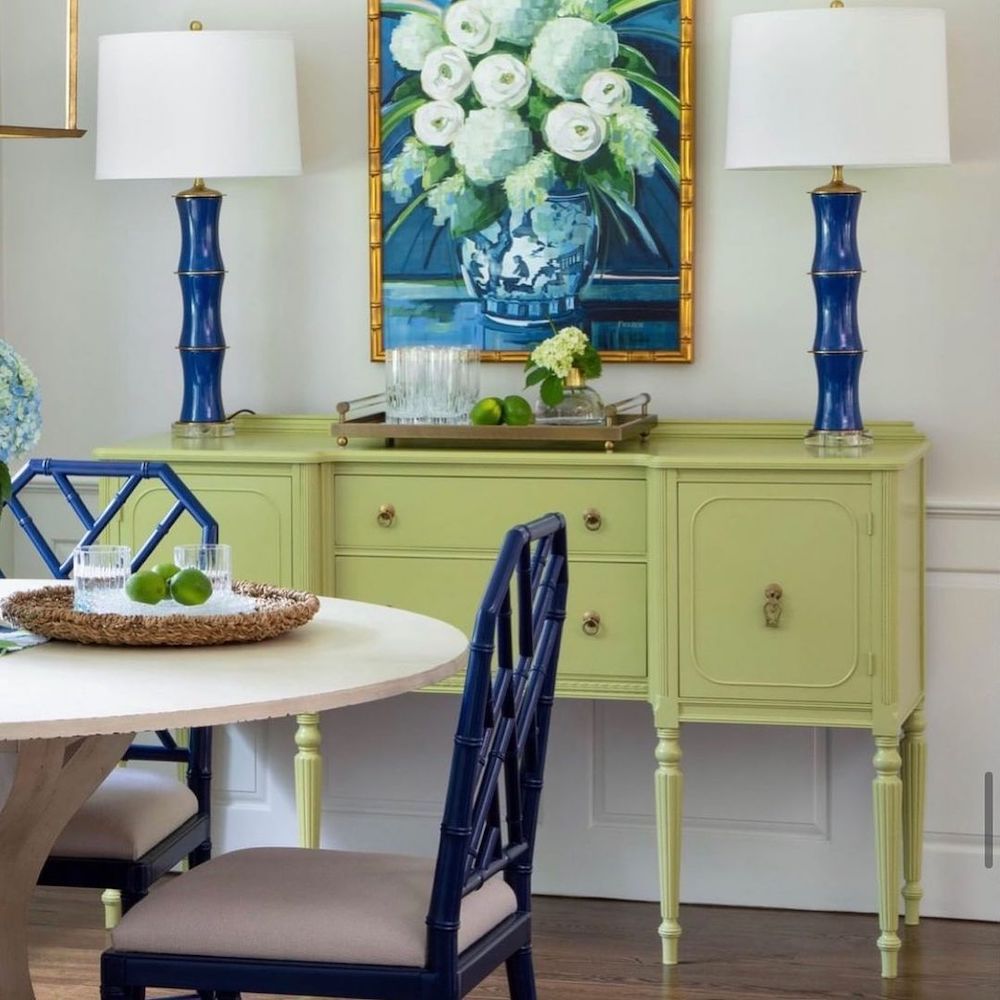 Style it Retro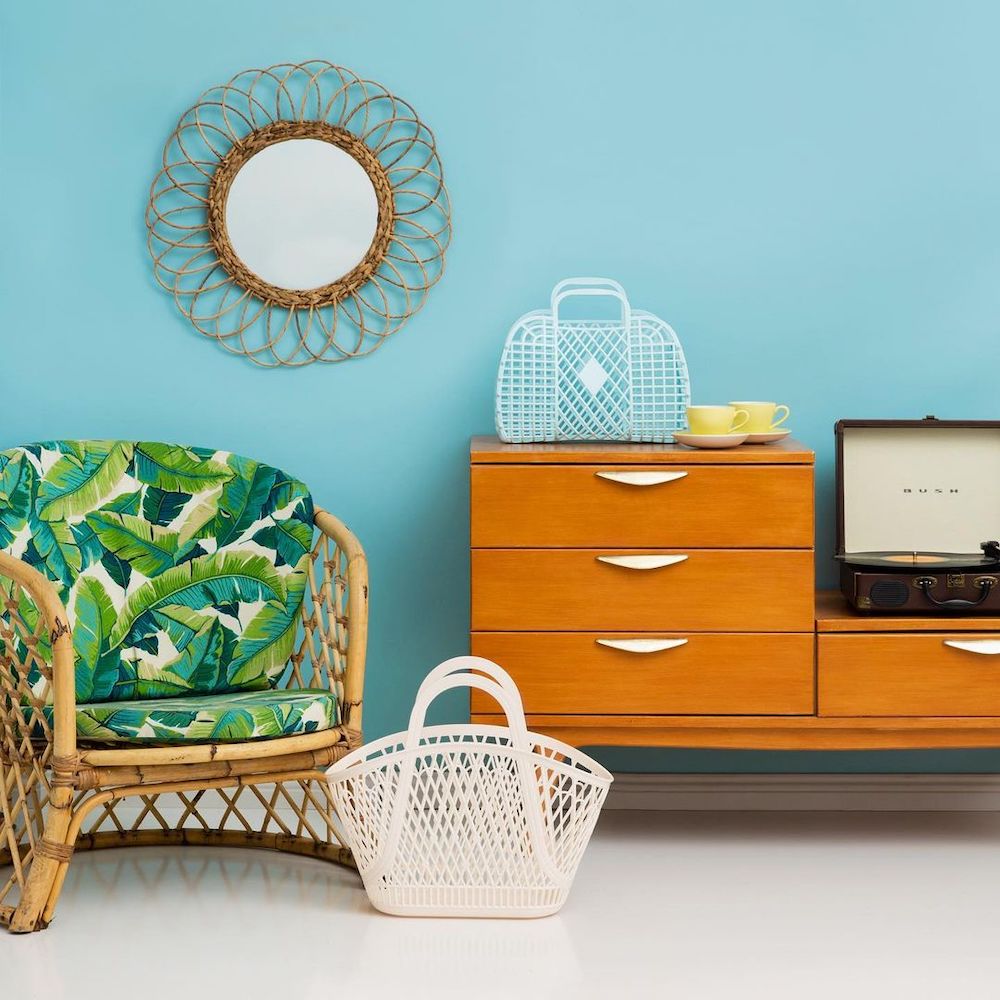 Against a blue background, cover a rattan chair in green foliage pattern fabric.
Add Striking Blue Colors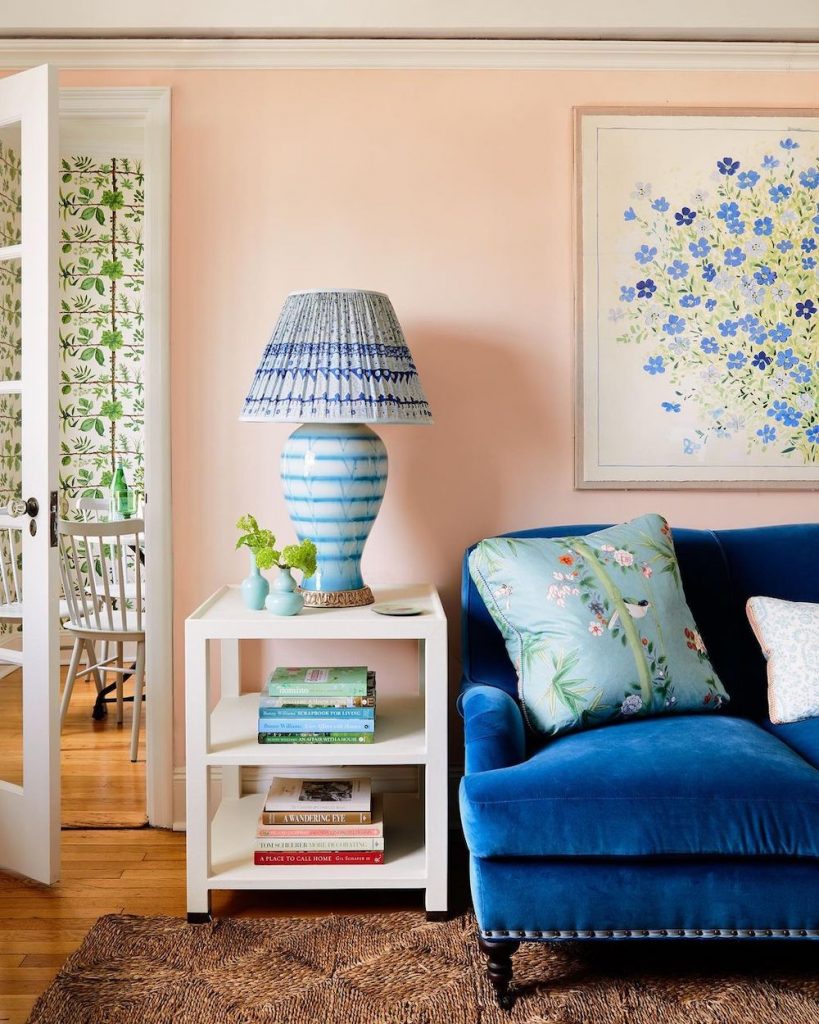 Upholster your sofa in a velvety blue fabric. Use green accents throughout the room. In the adjoining kitchen room, add a green trellis wall covering to continue the vibrant color design.
Give Yourself a Green Space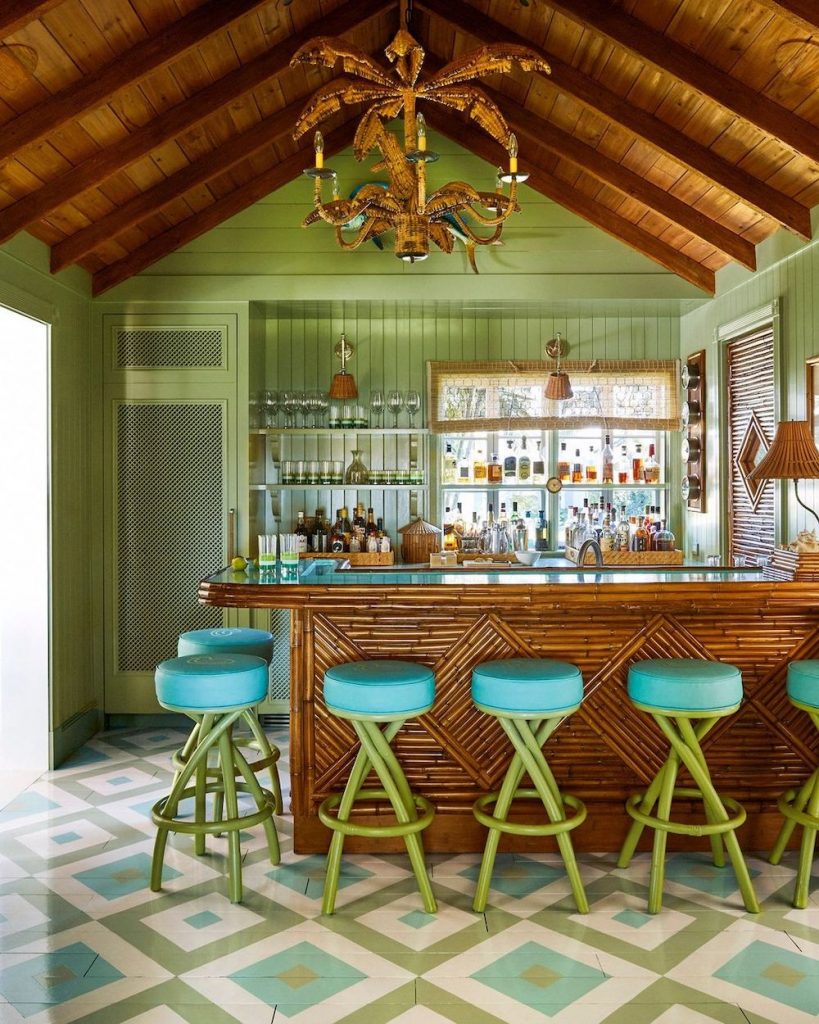 Go green with your walls against the warm wood tones of the ceiling and rafters. Cover your floor with a geometrical green and blue pattern. Add blue fabric to the bar stools for a cool look.
Go for a Retro Look – Coastal Blue and Green Interiors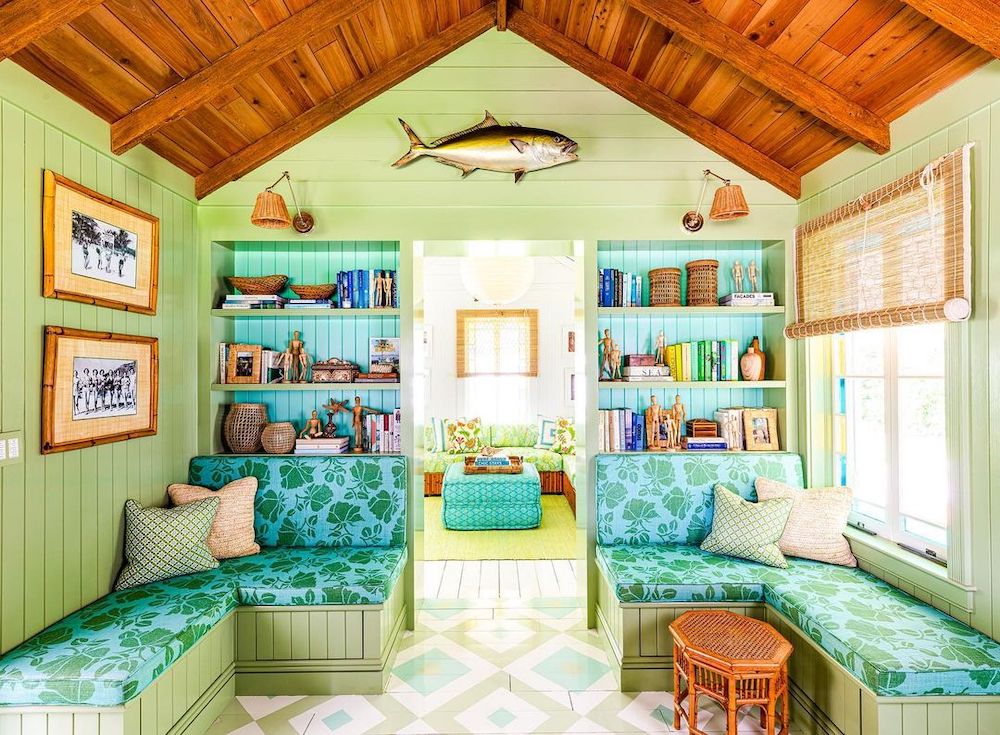 For a vintage style, add green paint to your walls. Paint the insides of the bookcases an aqua color. Add foliage-covered cushions to the double banquette seats.
Style a Vignette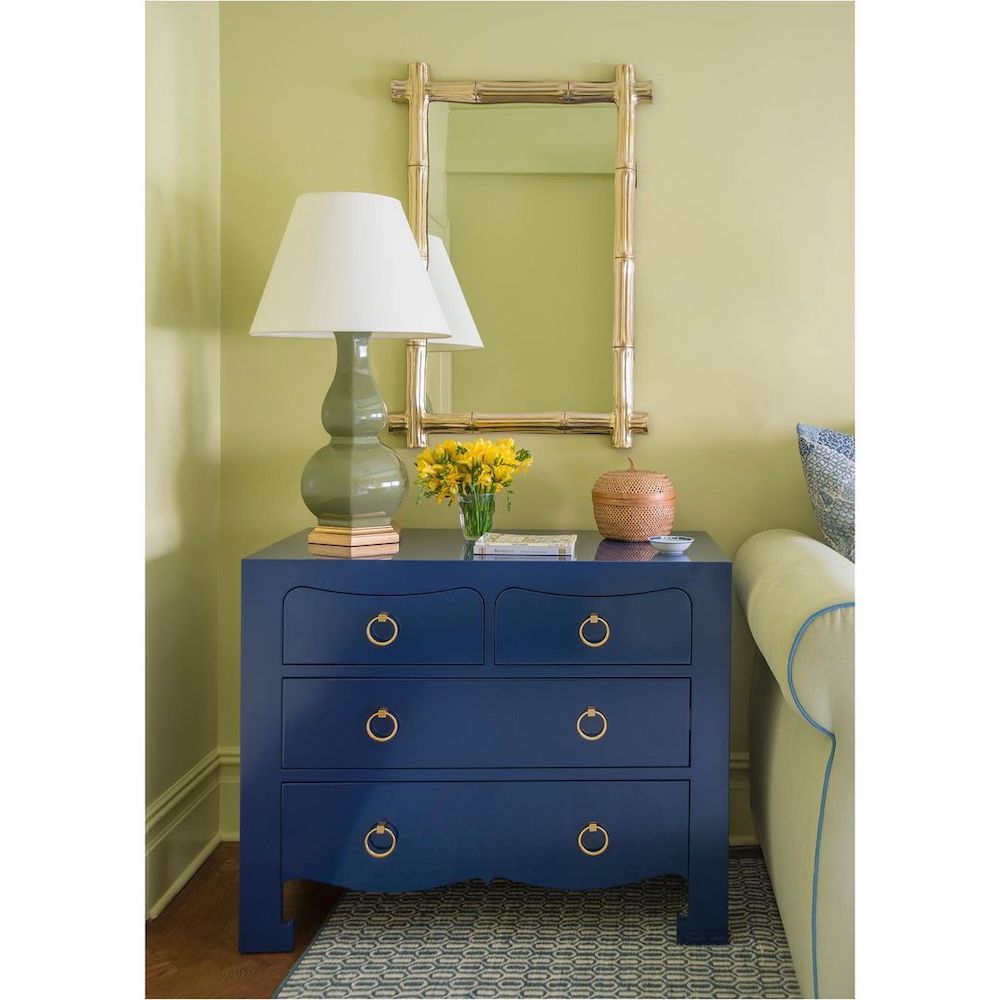 Match your upholstery and wall color. In this instance, celery green paint and fabric with blue accents. The bold navy blue dresser provides the pop of color in this room against the greenery.
Create a Green Grasscloth Accent Wall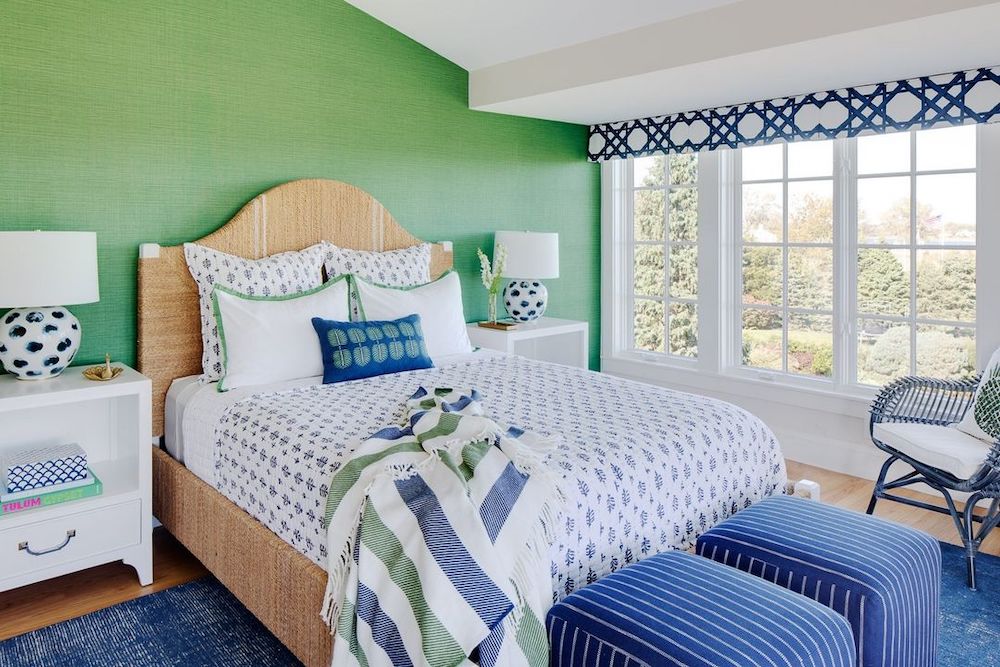 After covering your wall in grasscloth, add blue and white patterned details throughout the room. From the bed linens to the lighting, toss pillows, ottomans, and window treatments cover in blue and white prints.
Brighten Your Family Room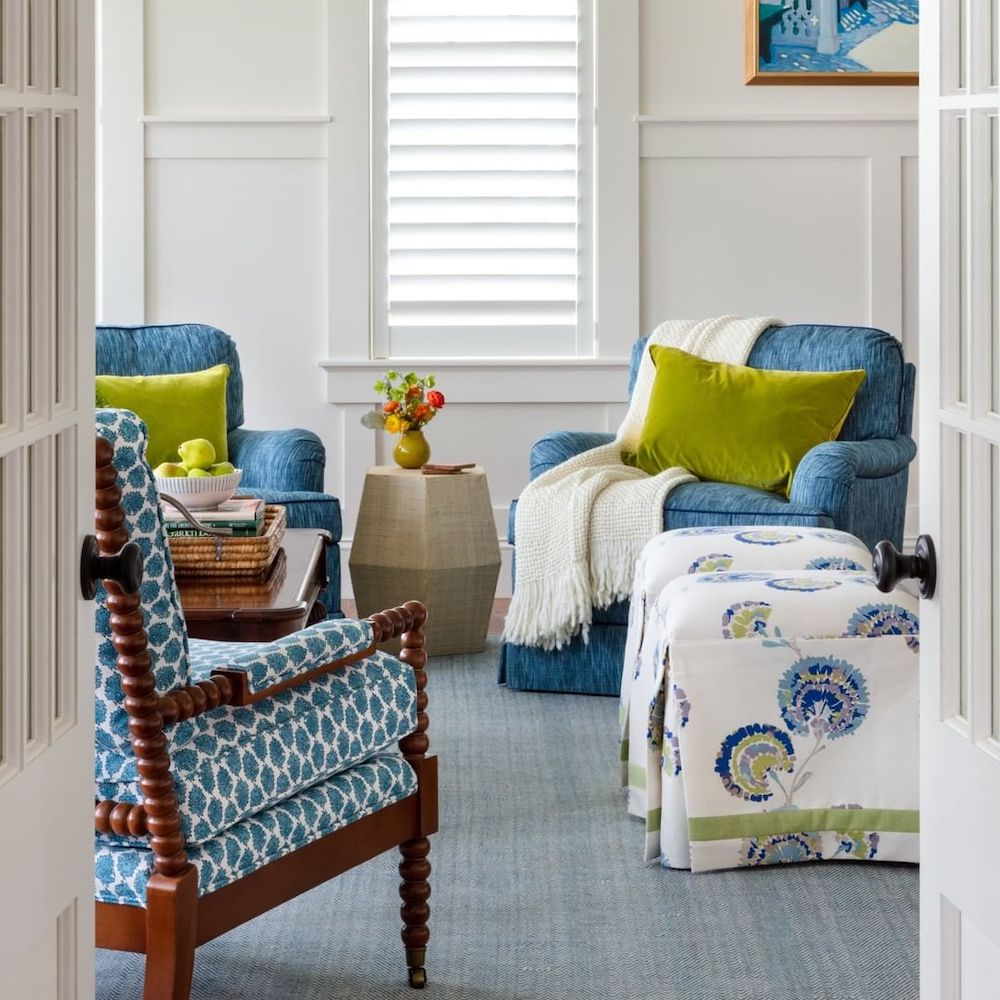 Give your side chairs a solid blue fabric covering and add light green toss pillows. Fill a bowl with fresh green Bartlett pears. ⠀⠀⠀⠀
Make it a Blue Green Vignette – Coastal Blue and Green Interiors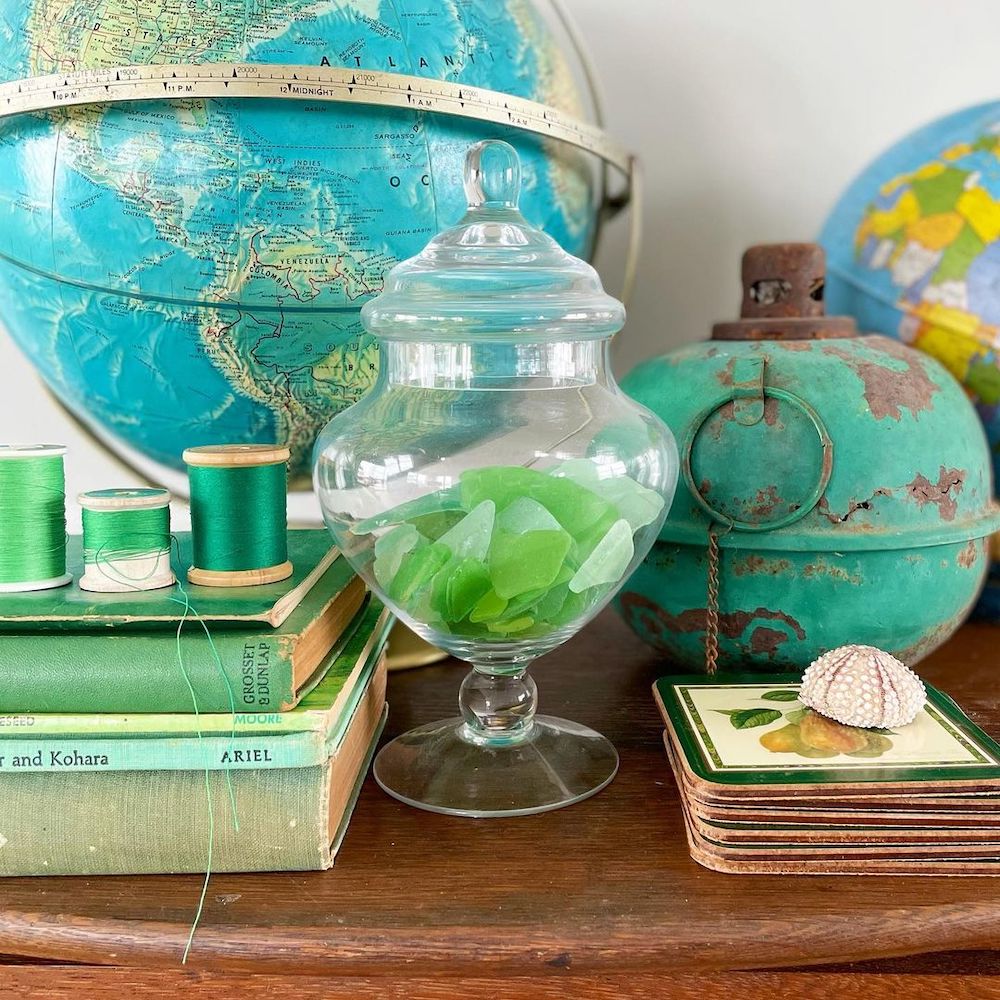 Stack a set of green books next to an apothecary jar of green sea glass and vintage globes.
Keep Your Cabana Cool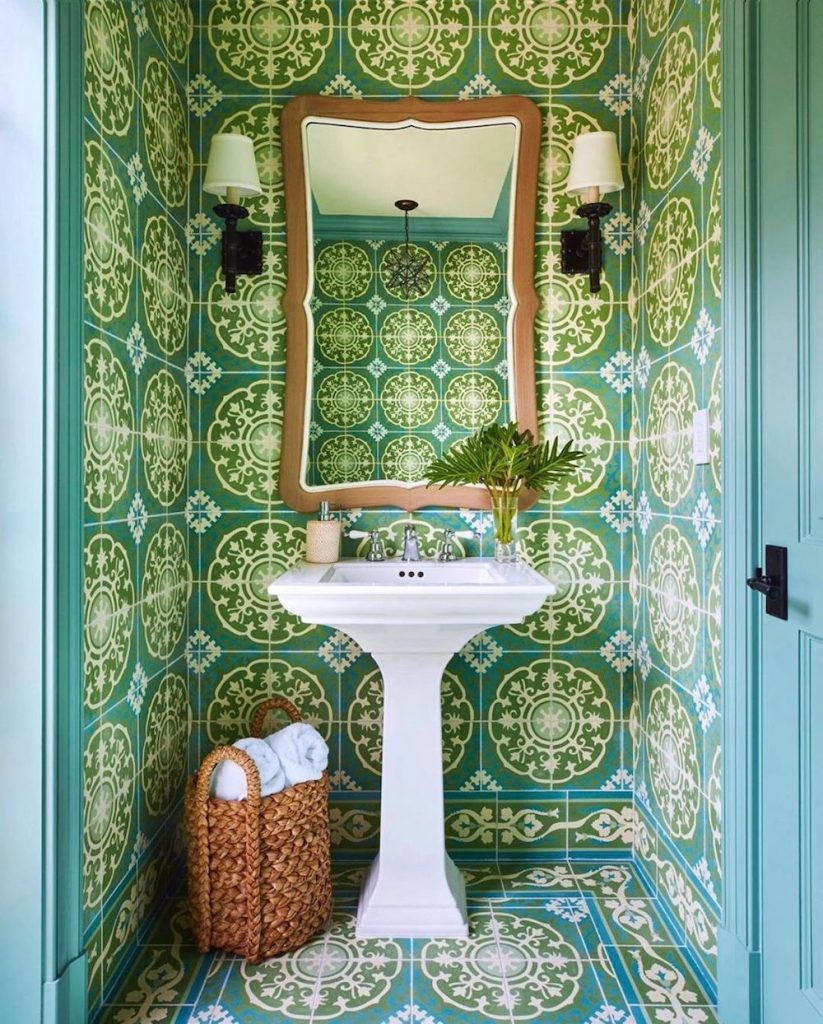 Style it with a medallion pattern wallpaper. Use a striking green and blue medallion print for your cabana bathroom walls. A fun wall covering that gives this bathroom a tropical feel.
Style it Beach Cottage Perfect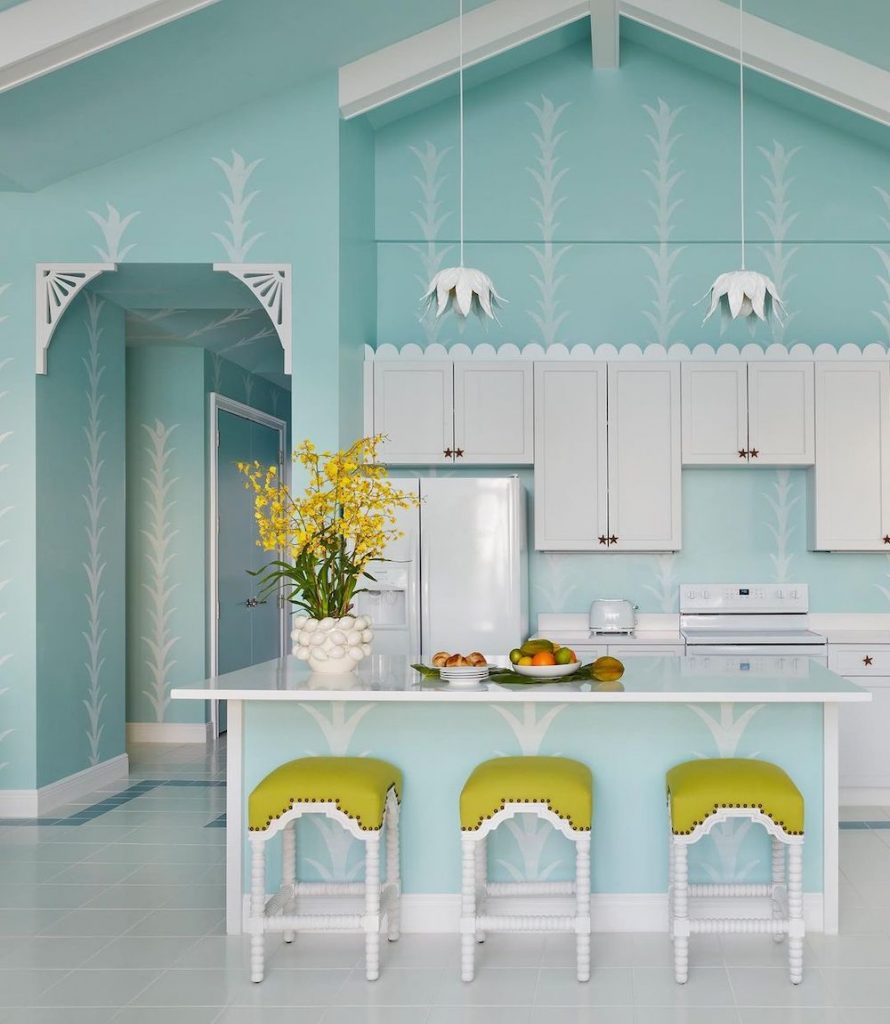 Create the perfect family getaway by the beach. Use light blue and white decor for the cottage kitchen and dining area. Then add lime green covered bar stools for a pop of color.
Design it with Vibrant Hues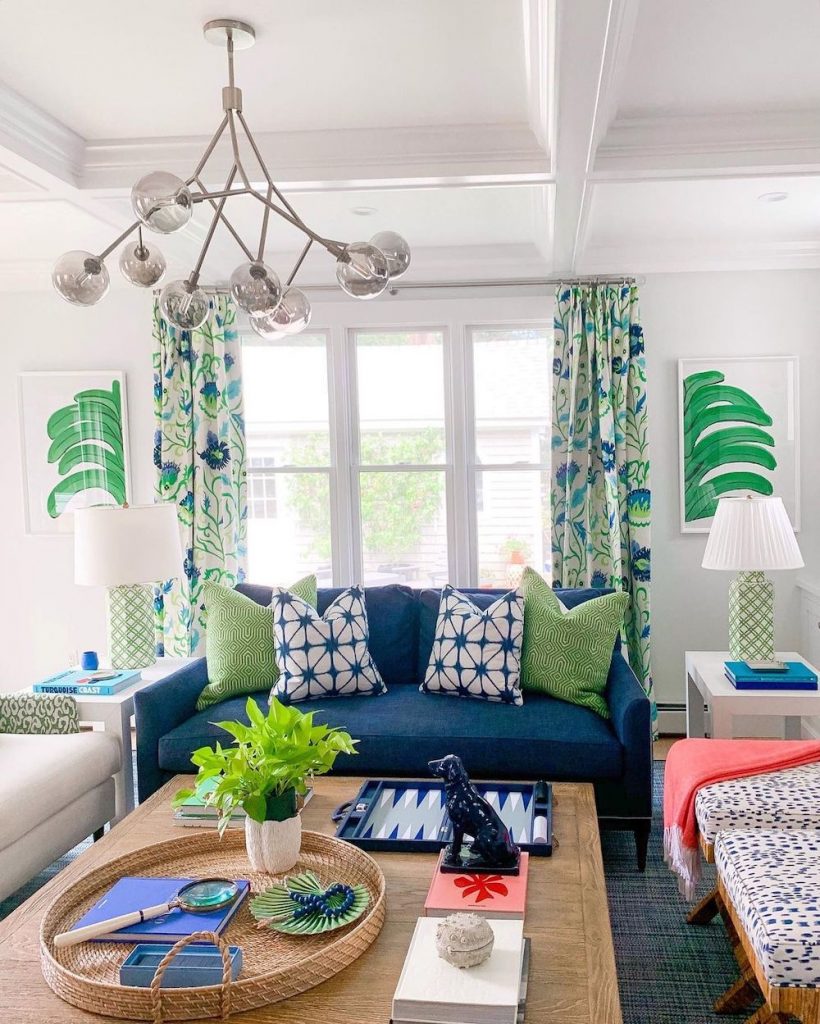 Begin with a navy sofa. Followed by toss pillow sets in geometric patterns of navy and green. Continue the pattern with the table lamps. Design window treatments using floral and greenery fabrics. Use accents in various shades of blues to ramp up the visual interest. Last but certainly not least, add organic greenery such as live plants. Lack a green thumb and feel growing plants are a challenge? As an alternative to live plants, hang wall art depicting your favorite indoor plant. Or use faux indoor plants.
Live Vibrantly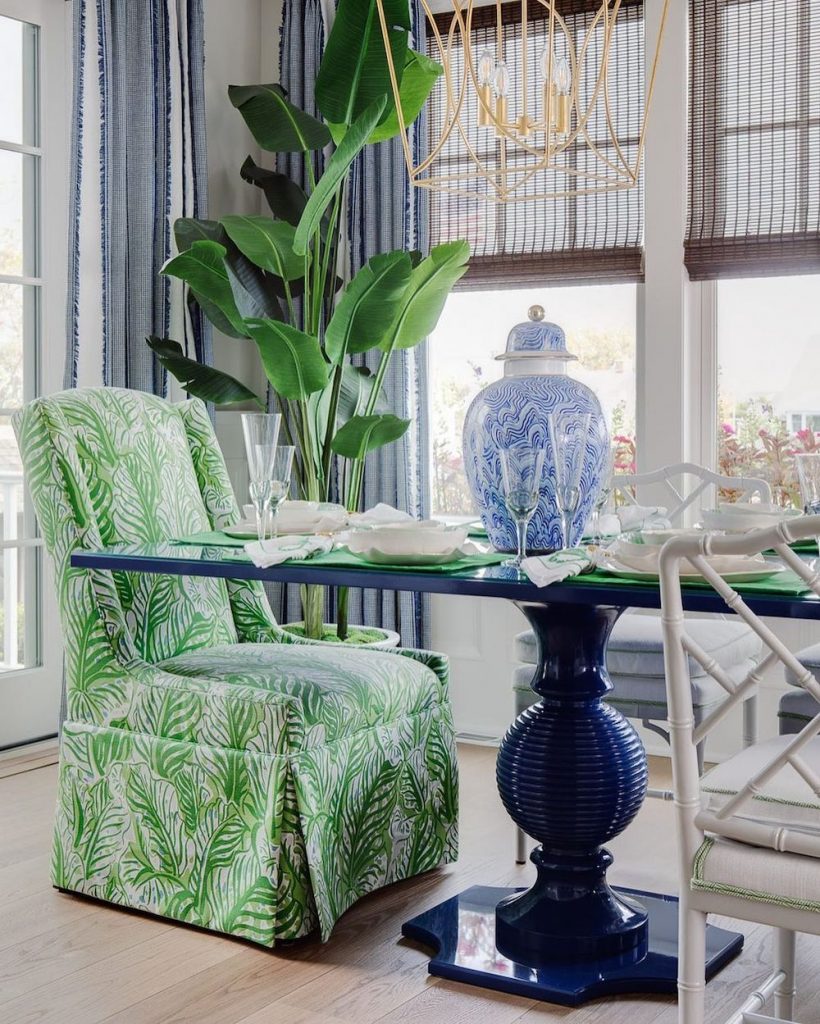 Start with an amazing blue lacquered dinner table. Surround the table with white bamboo chairs and green frond skirted fabric chairs. Add blue window treatments and a blue ginger jar as a table centerpiece. Simply amazing blue and green decor!
In Closing – Coastal Blue and Green Interiors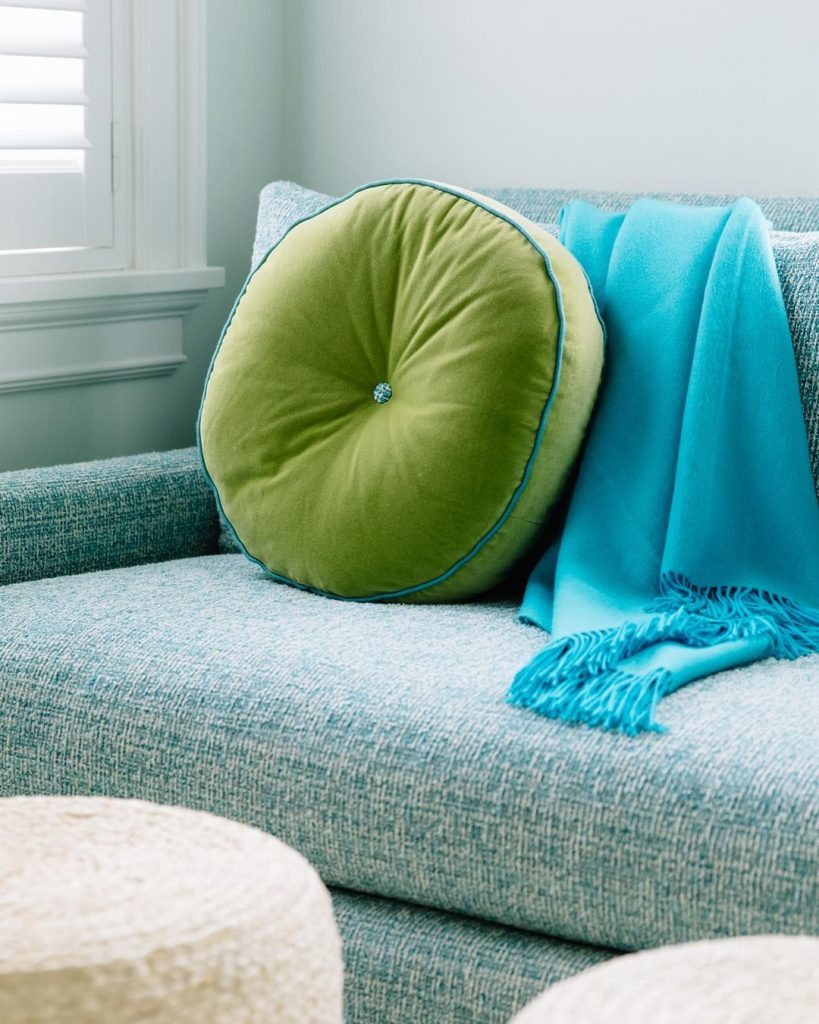 This ends our list of the most inspiring coastal blue and green interiors for a summer home. There are so many amazing ways to add coastal blues and greens to your home. Style your space by covering your walls in blue or green paint, wallpaper, and fabrics. Mix solids with geometric and floral patterns for a vibrant coastal home.
More Styling Ideas for the Coastal Home
For inspiration on places to style a vignette in a coastal home, be sure to take a look at our ideas post. The title is the perfect place to style a coastal vignette in a beach home. In this post, we share 18 places to create a vignette in your coastal home.
And for ideas on coastal tray styling inspiration for designing a vignette, read our post. The title is the best coastal tray styling ideas for a vignette. In this post, we shared the 27 ways to style a vignette using a tray as a base. Perfect for personalizing summertime memories using family photos.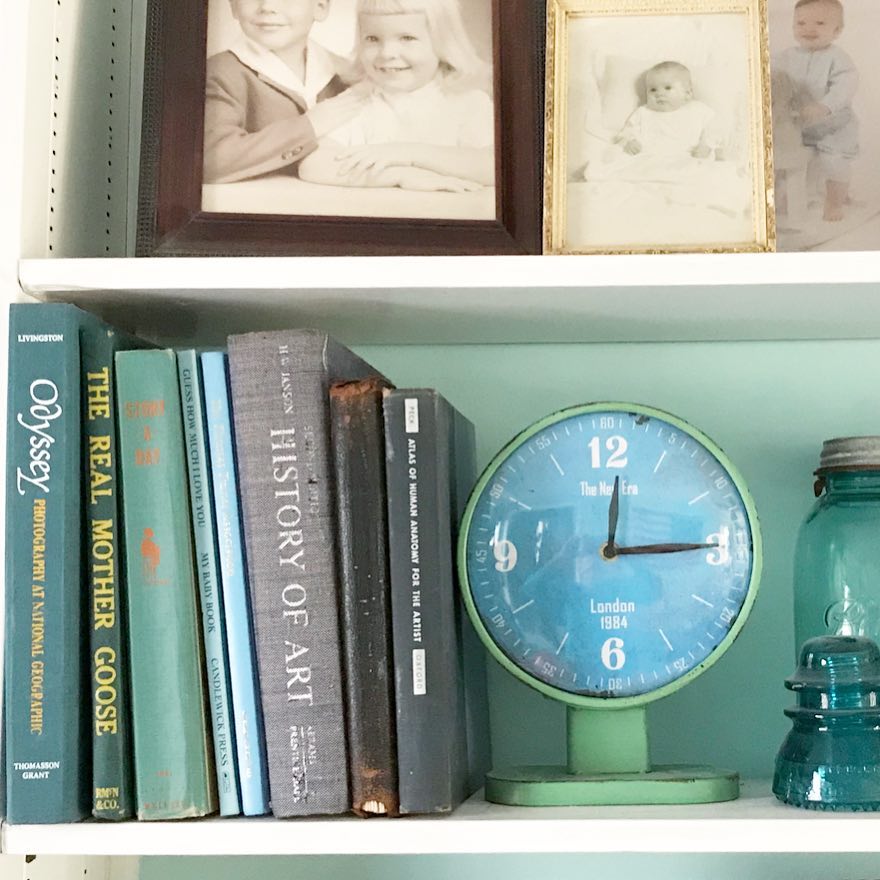 We hope our list of 33 inspiring coastal blue and green interiors to style your home give you some actionable ideas. Blue and green decors easily transition to a coastal home since they are both cool colors. Blues remind us of the massiveness of the sky and ocean. And greens remind us of nature, plants, and the earth. All that is good. If you try these blue and green styling ideas, let us know how you styled your space. We would love to hear from you, our readers, about your home decor projects.
Love the casual look of coastal decorating? Be sure to check out our coastal decor post filled with helpful tips. Appropriately named 12 Ways to Add Coastal Decor to your Home. And for additional coastal ideas, we included links to some of our other posts below.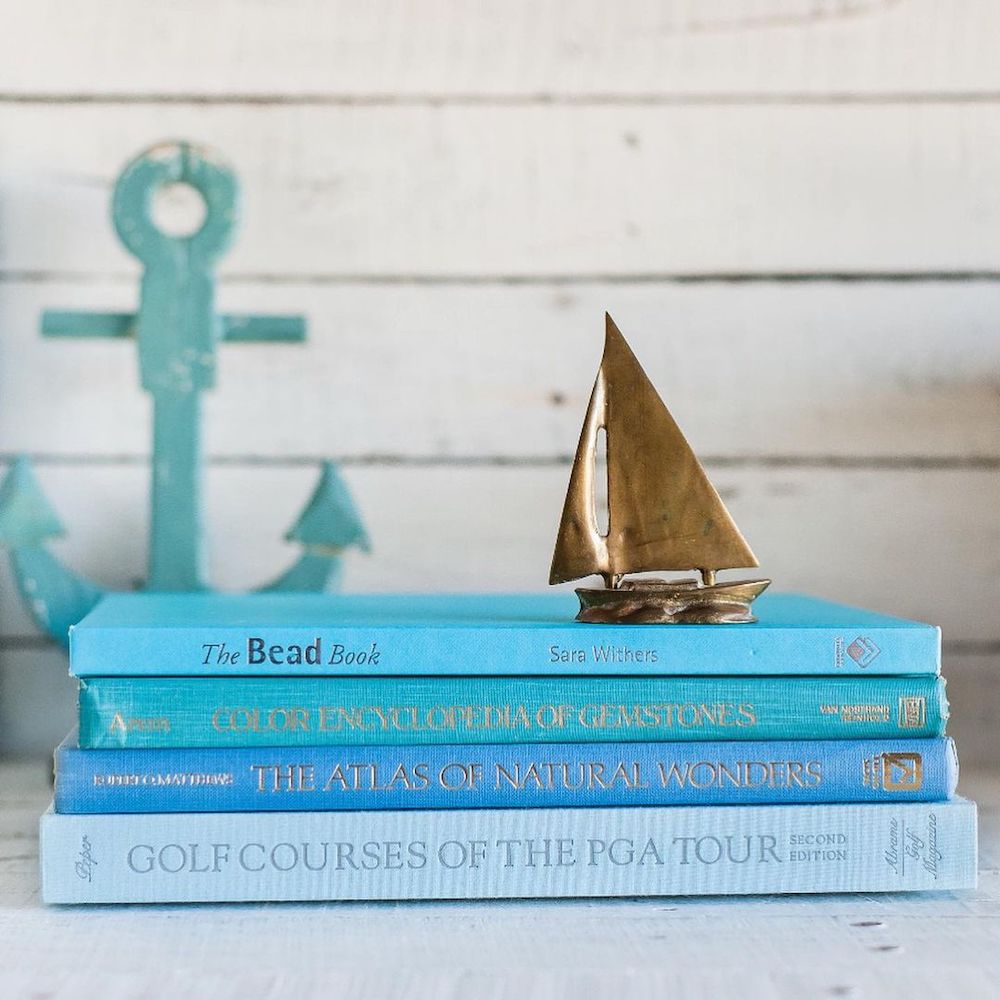 Enjoy our other decor related posts for additional ideas.
Reach out to us with any questions. We are always ready to help you out. Thank you for stopping by our blog.
Mary
Pin this for Later: