Coastal tray styling ideas to design the perfect vignette. For today's post, we are sharing ideas on how to create the perfect vignette on a tray. As many of you already know, a vignette tells a story about you, your interests, your family, and your home. The vignette is a design story that you create using objects for a particular design style. Vignettes can be created throughout the home. Most often, you'll see vignettes on the coffee table, bookcase shelf, console table, and other areas of the home.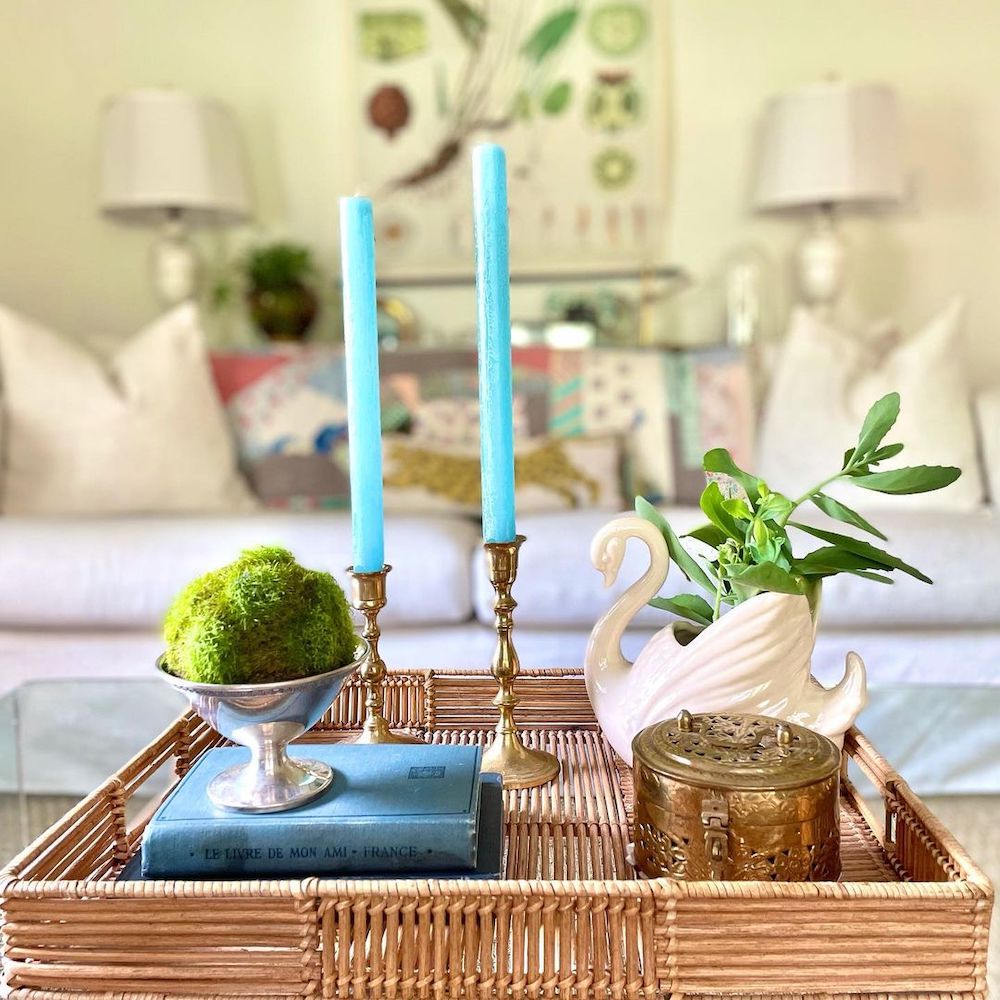 For this post, we are sharing vignettes styling ideas designed on a tray for a coastal setting. Vignette tray styling is popular due to its ease in object arranging. As you'll soon see, trays can be easily refreshed and changed at any time. And once you style your vignette, if you feel it isn't quite right you can rearrange it. Change the vignette again and again until it feels right. Objects are simply laid near or next to each other to create a story or setting.
Coastal Tray Styling Ideas for a Vignette
Before getting started on building your tray vignette, gather the objects you'll need. The very first thing you need to decide on is the tray. The tray size will dictate how small or large your vignette will be. Just as the tray size will limit how many objects can fit inside the tray. Consider the table or shelf surface that the tray will rest on. Either the texture or color of the styling tray should contrast with the table or shelf you are using. The tray may blend in with the table surface if they are made from the same materials and colors.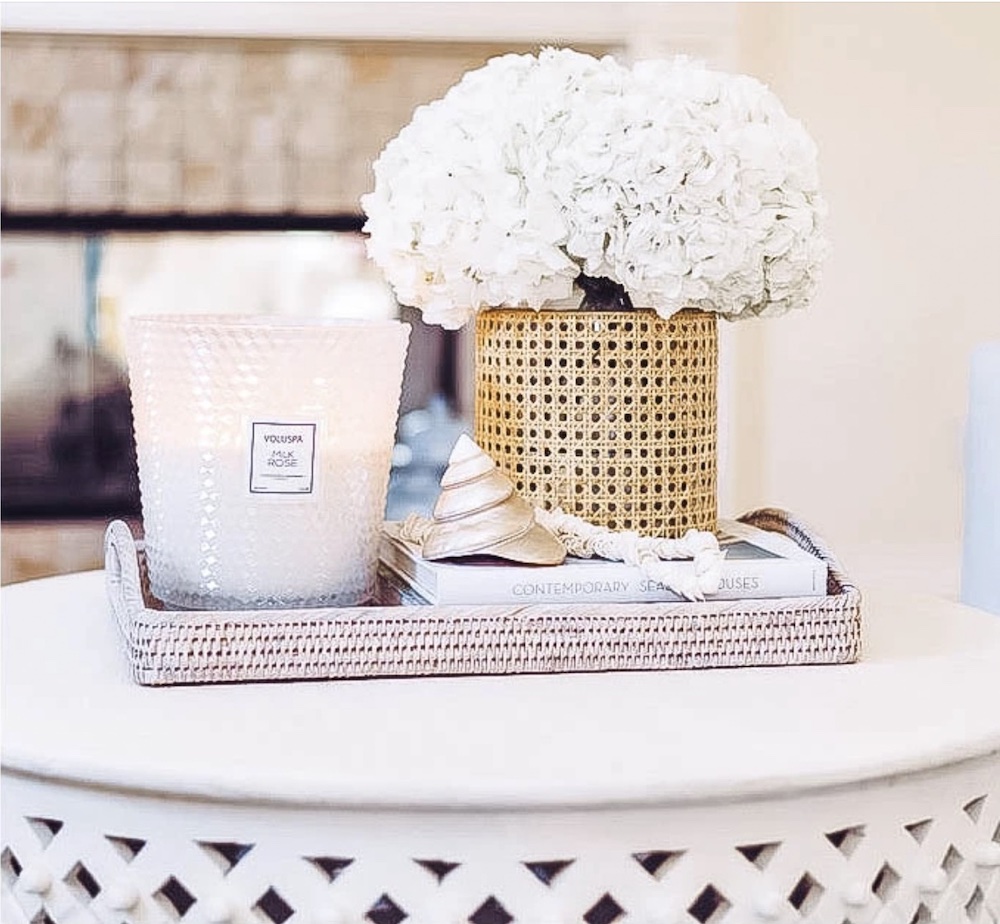 Use objects that have a variety of heights to create visual interest. Mix in objects with different textures but similar colors. Style the tray with a mix of shorter and taller objects. For example, a vase, candleholder, lamp, and planter will provide height to the vignette. Stack a set of books to elevate smaller objects if necessary. In a coastal setting, take advantage of seashells, coral, or other sea life.
And now we begin our styling ideas to design the perfect vignette at home. Take a look.
Bring the Limelights Indoors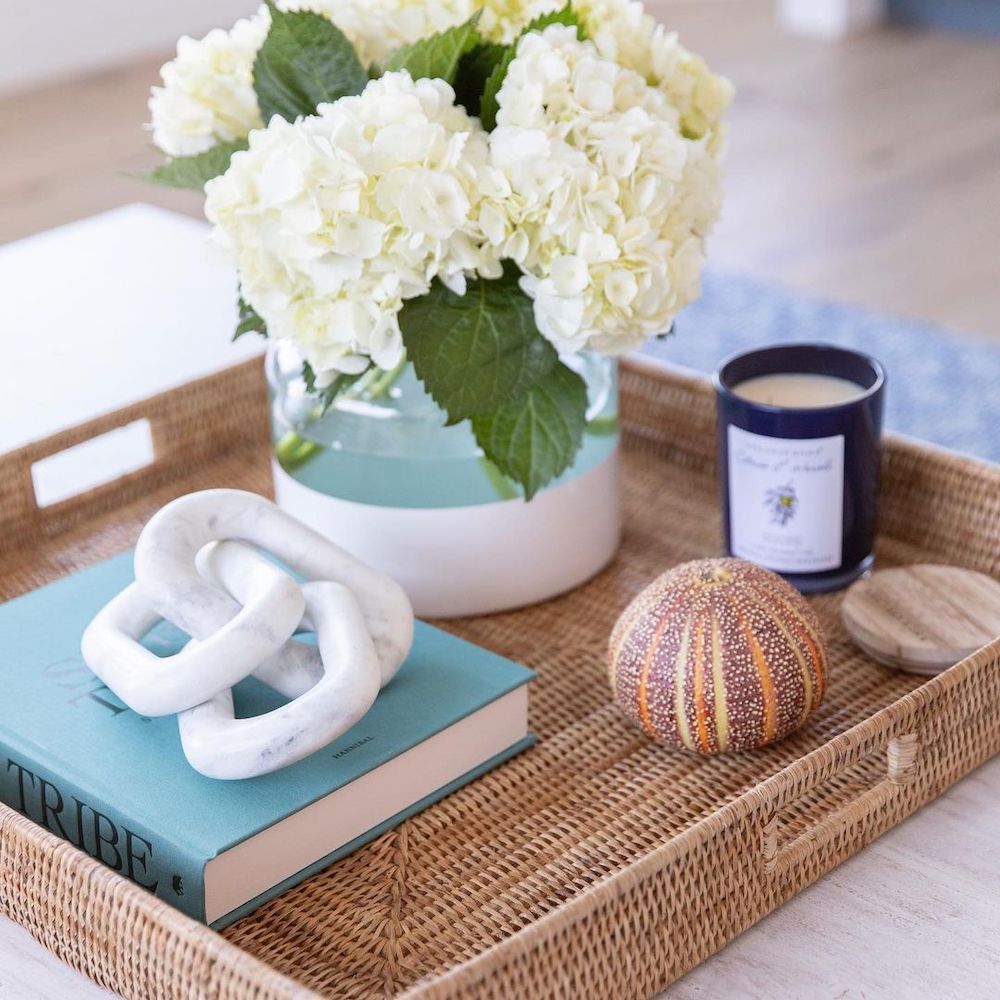 Tucked inside a square rattan tray, is a vase full of fresh Limelight Hydrangeas – a coastal favorite. The Surf Tribe book elevates the marble chain links. A single candle adds fragrance to the room when fresh flowers are not used.
Style the Tray with Small Objects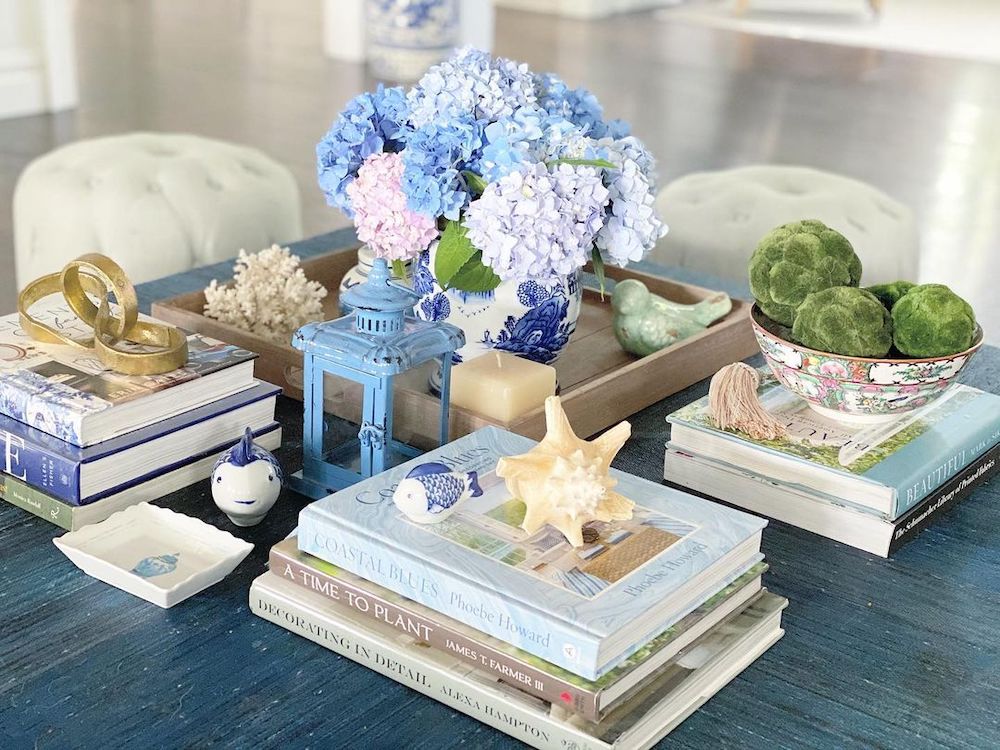 Accessorize the tray with small objects. Avoid overcrowding the tray. If the table is a generous size, decorate around the tray. In this case, the surrounding area has room to display three stacks of books. Top off each stack with a seashell, gold links, or tassel.
Grow a Houseplant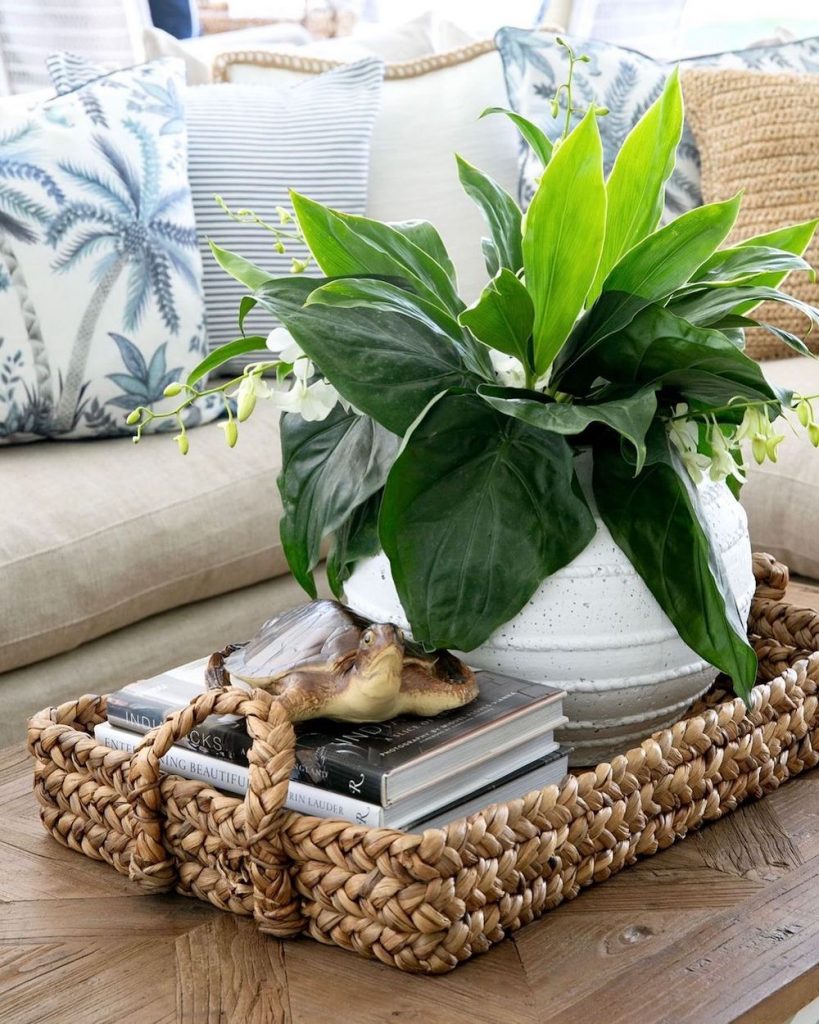 Keep a small houseplant inside the water hyacinth tray. A small stack of books elevates the happy little turtle. Both the turtle and tray add warm, natural, and organic tones to the tray.
Light Up the Tray – Coastal Tray Styling Ideas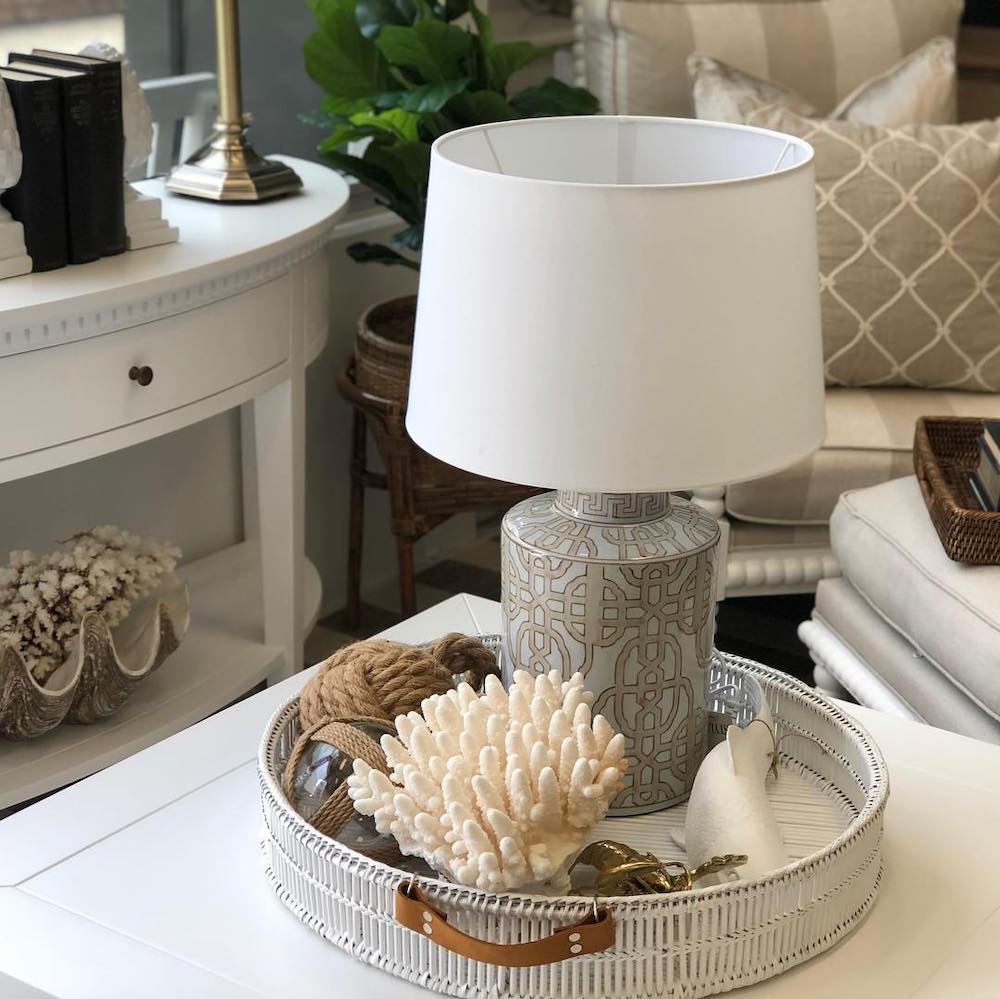 Add a light source to your tray. We love the round white rattan tray with side leather straps. Adorn with objects such as the rope door stopper, miniature whale, and glass floats.
Make it a Mini Tray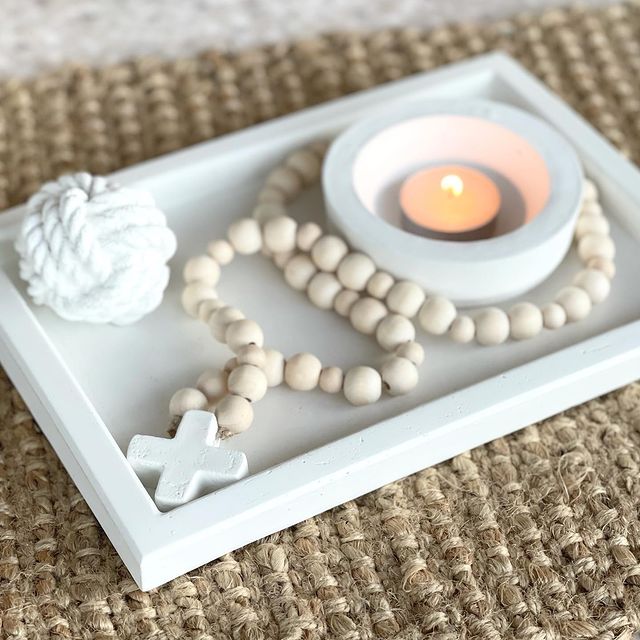 In an all-white decor style, display a candle, wooden beads, and a white rope door stopper.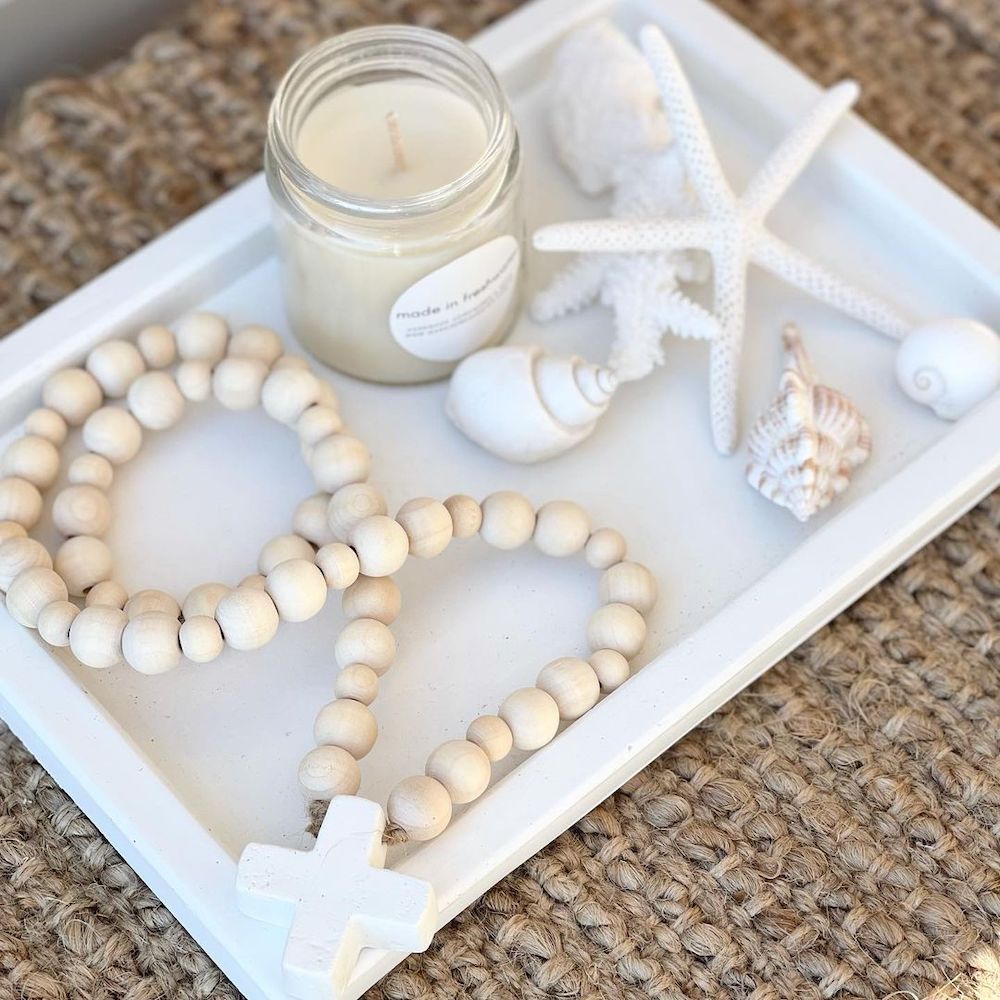 Layer Your Trays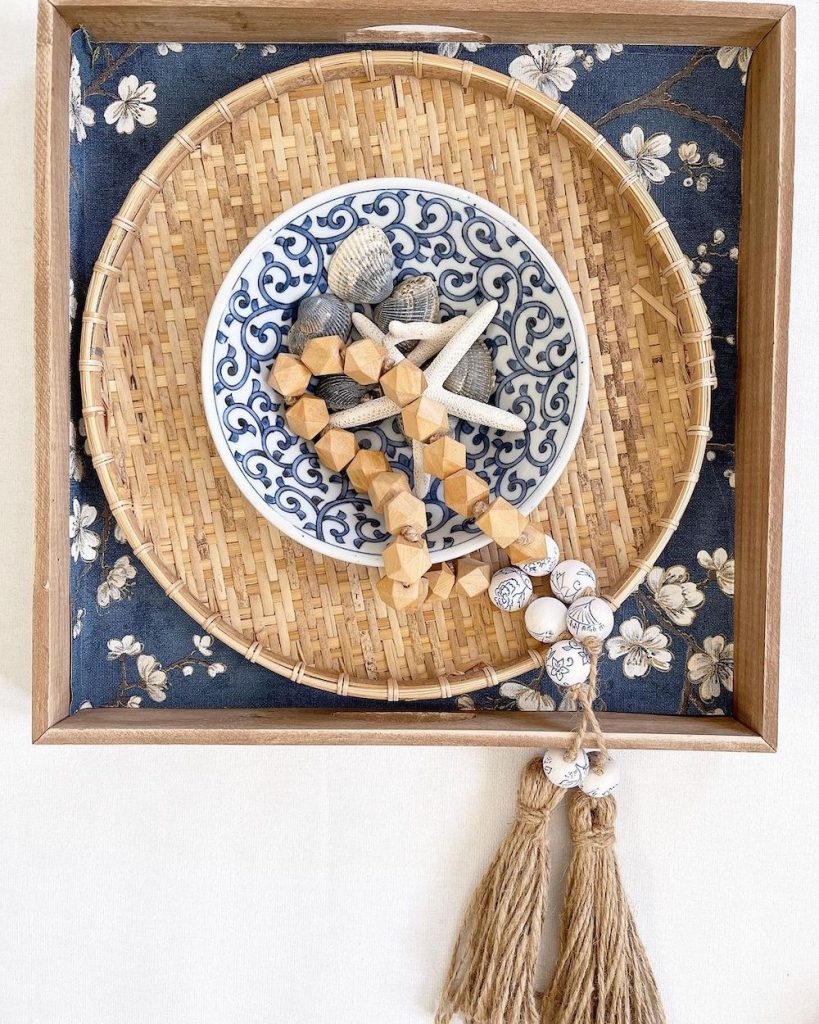 Start with a small vine-like bowl to contain blue-gray shells and a white finger starfish. Go from a round tray to a square tray. The colors and textures both create great visual interest. Draping wooden beads from the bowl to the trays add an organic texture to the vignette.
Make it Oval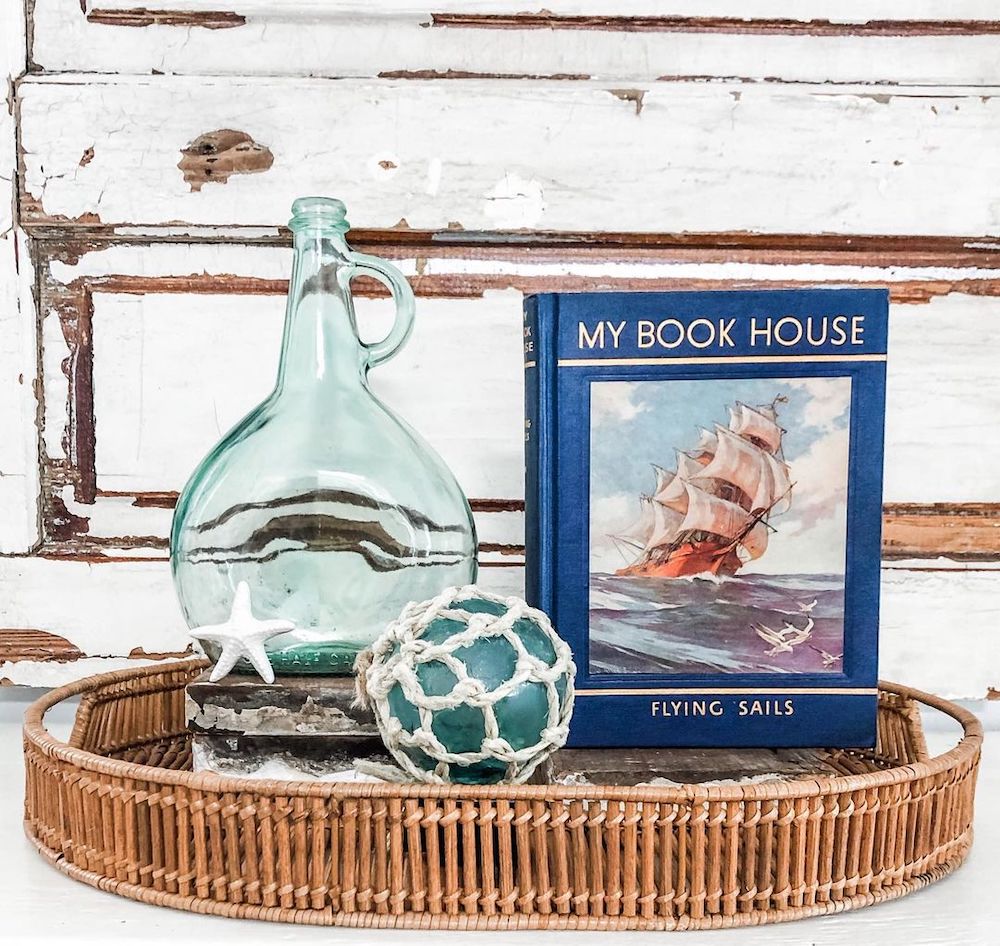 Add your favorite beach read to the oval tray.
Style it in Turquoise – Coastal Tray Styling Ideas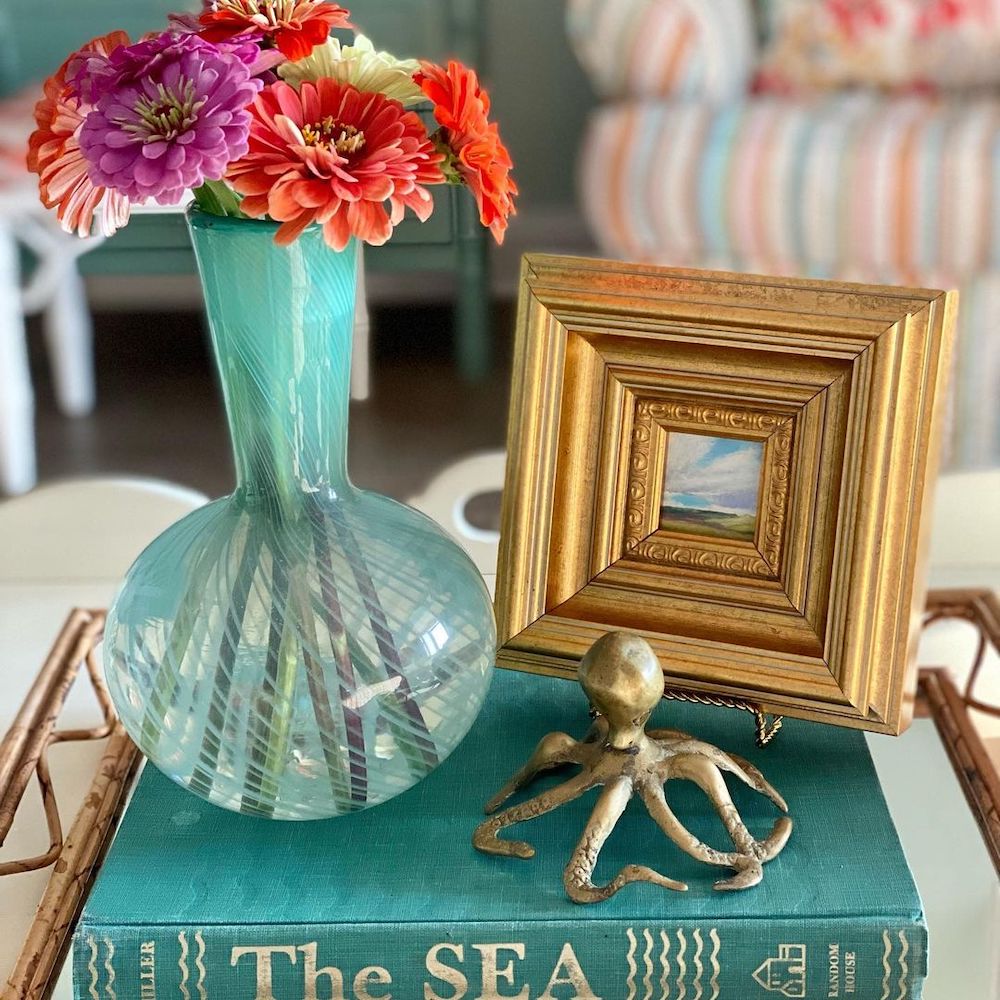 Always balance your colors. In this setting, we love the cool color of turquoise against the brass color objects. A happy octopus and lovely art piece make this vignette. Love this!
Set a Grand Stage for Your Coral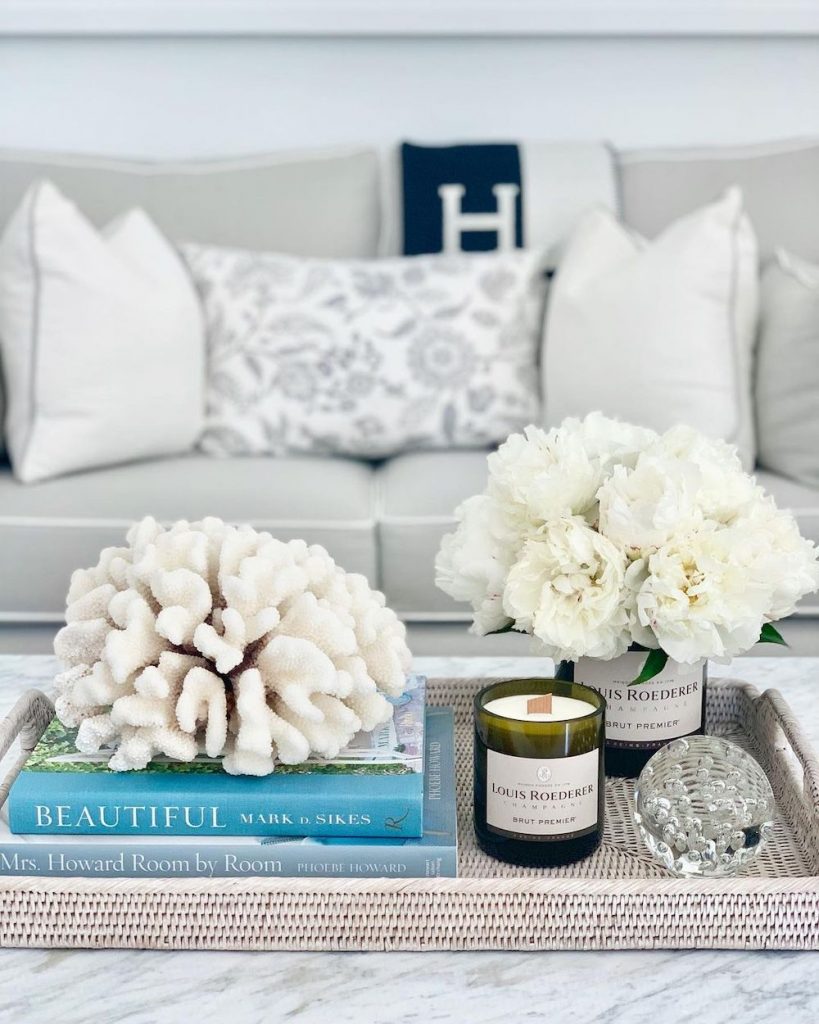 Stack a set of great coffee table books that will elevate your prized coral. There are many coffee table books to select from. In this styling vignette, the designer used three books. The top book in the stack is Beautiful: All American Decorating and Timeless Style by Mark D. Sikes. The other two books are Black and White, and Mrs. Howard, Room by Room by Phoebe Howard.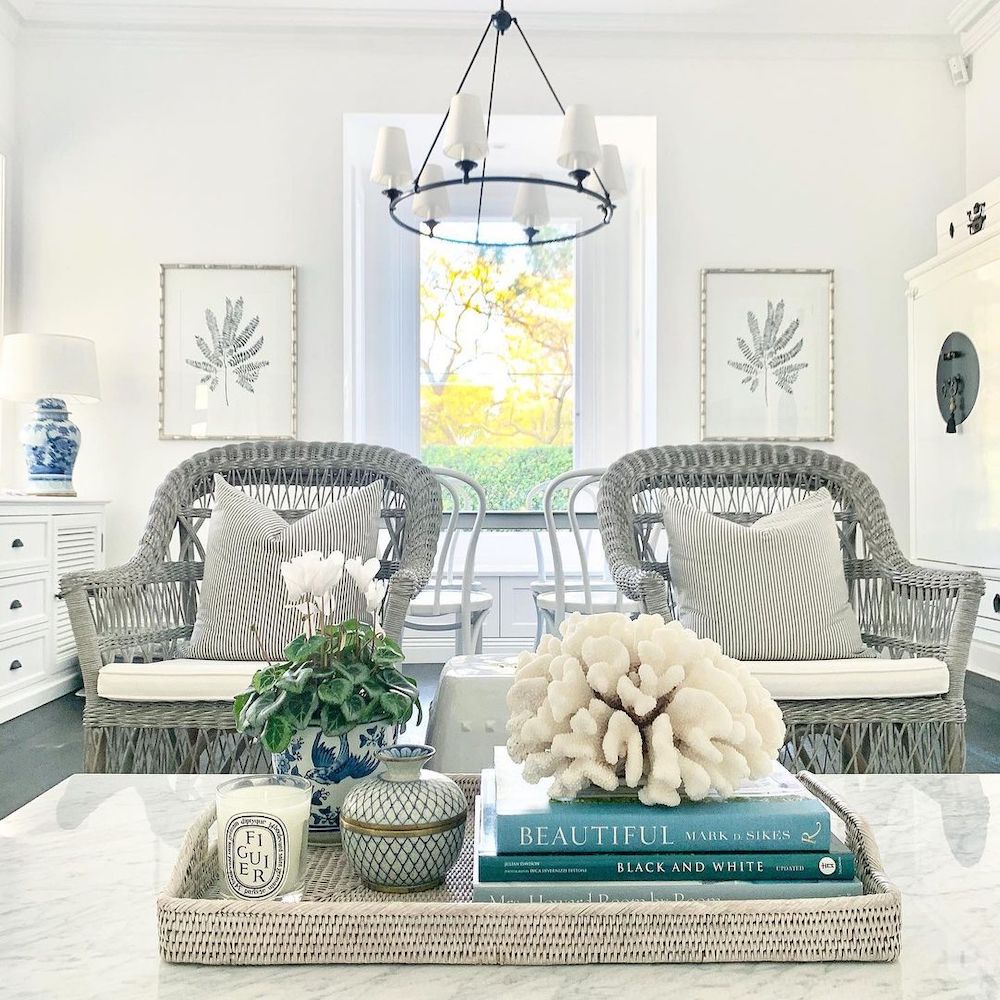 Bring the Tropics Inside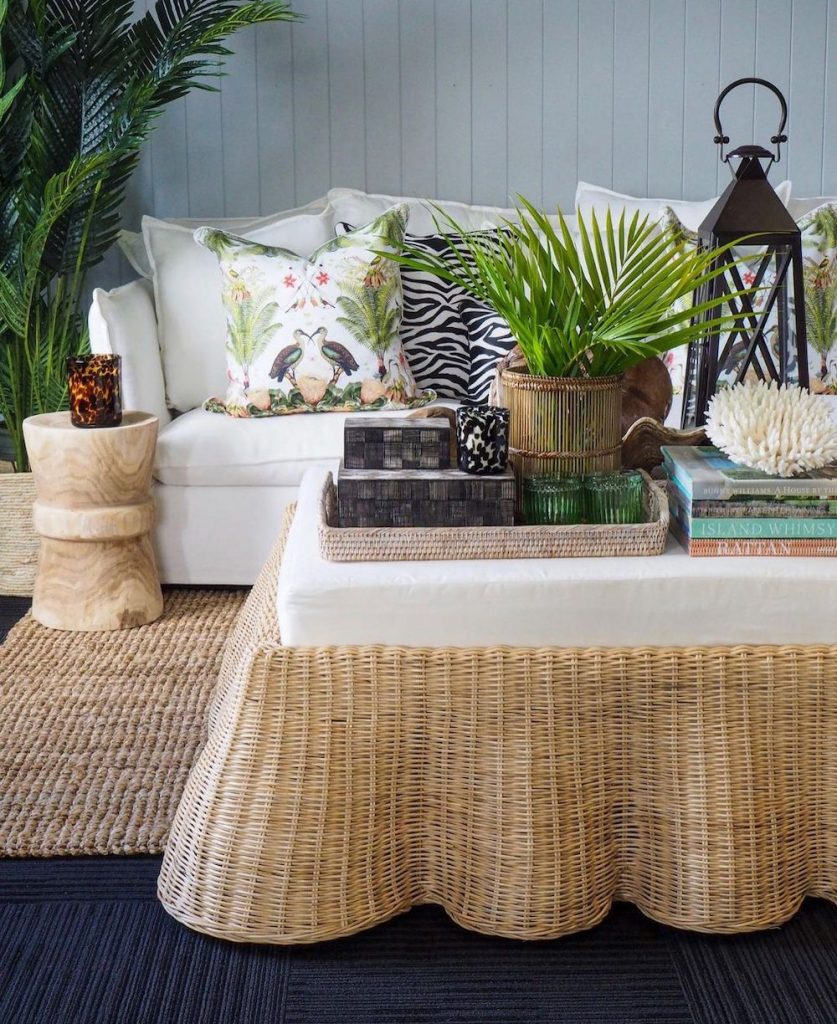 Style your tray with the tropics in mind. Add a small palm plant inside a rattan planter to the tray. Place two decorative boxes with a set of beautiful green votive candles.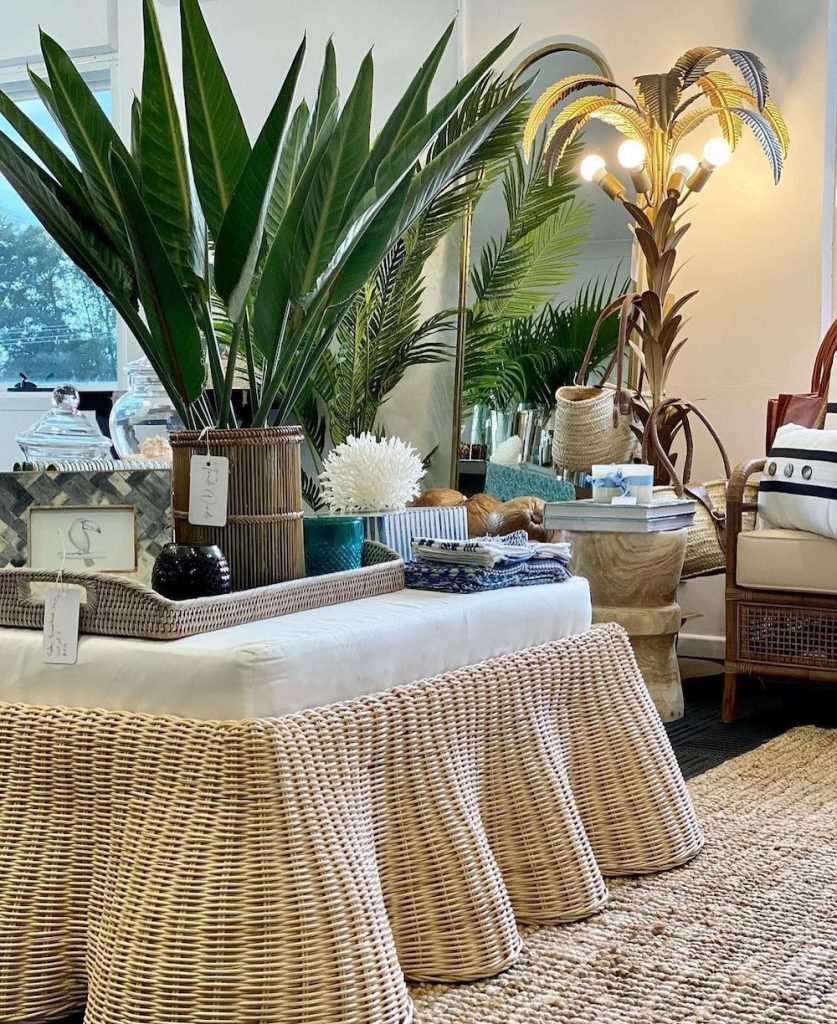 Display Your Favorite Ginger Jars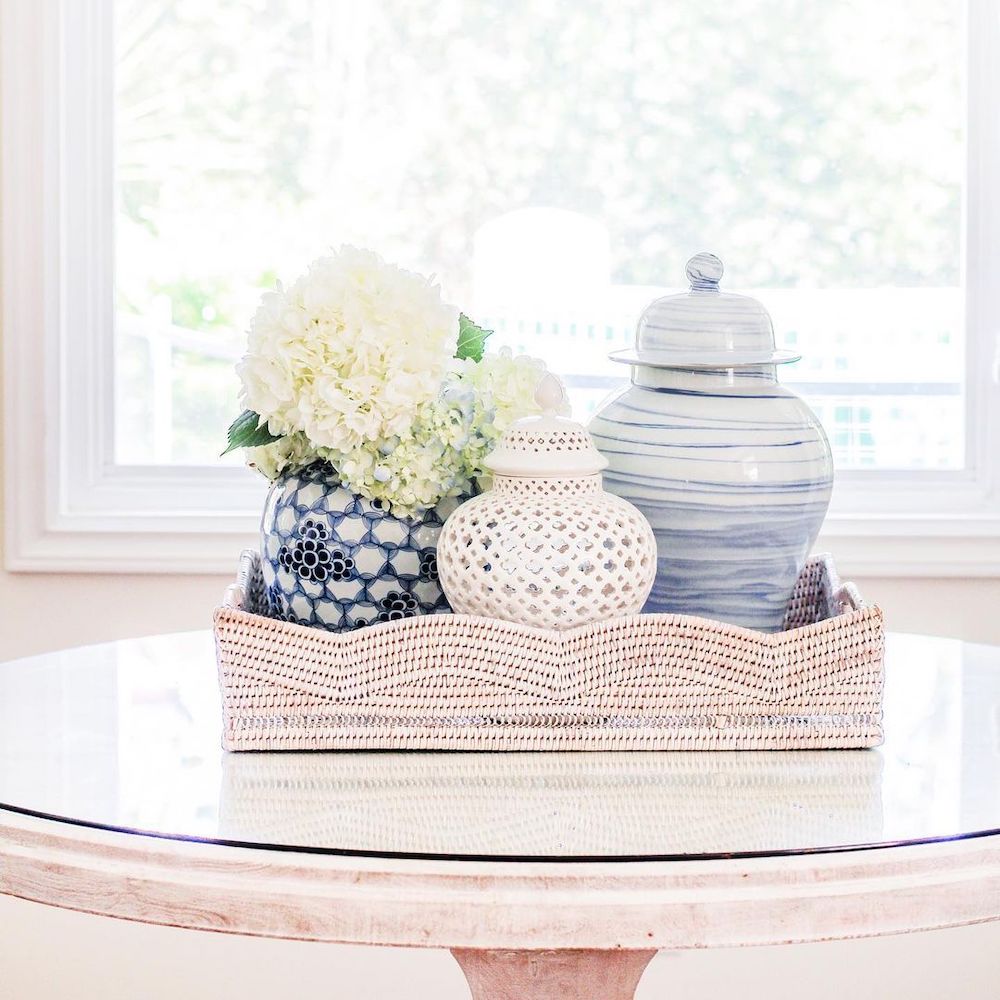 Show off your mini collection of ginger jars inside the tray. Fill one jar with beautiful fresh hydrangeas.
Make it a Double – Coastal Tray Styling Ideas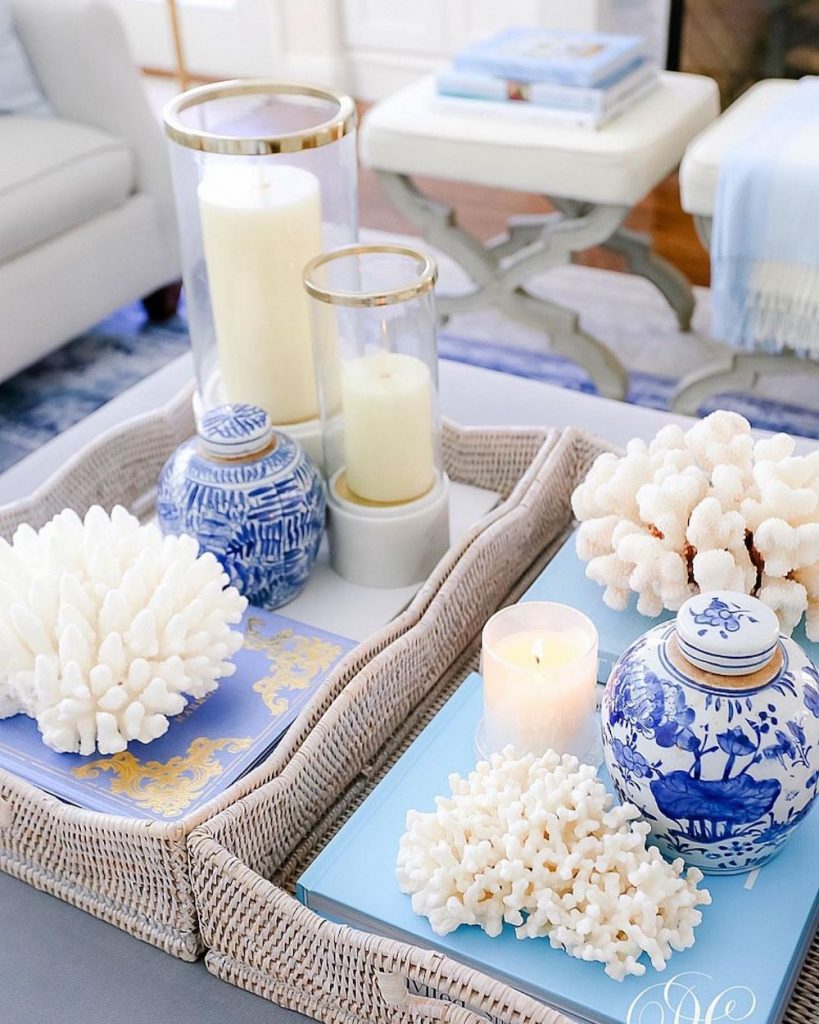 If you are lucky enough to have a large coffee table or ottoman, add two trays instead of one. Give yourself twice the space to create a coastal vignette.
Style it with an Anchor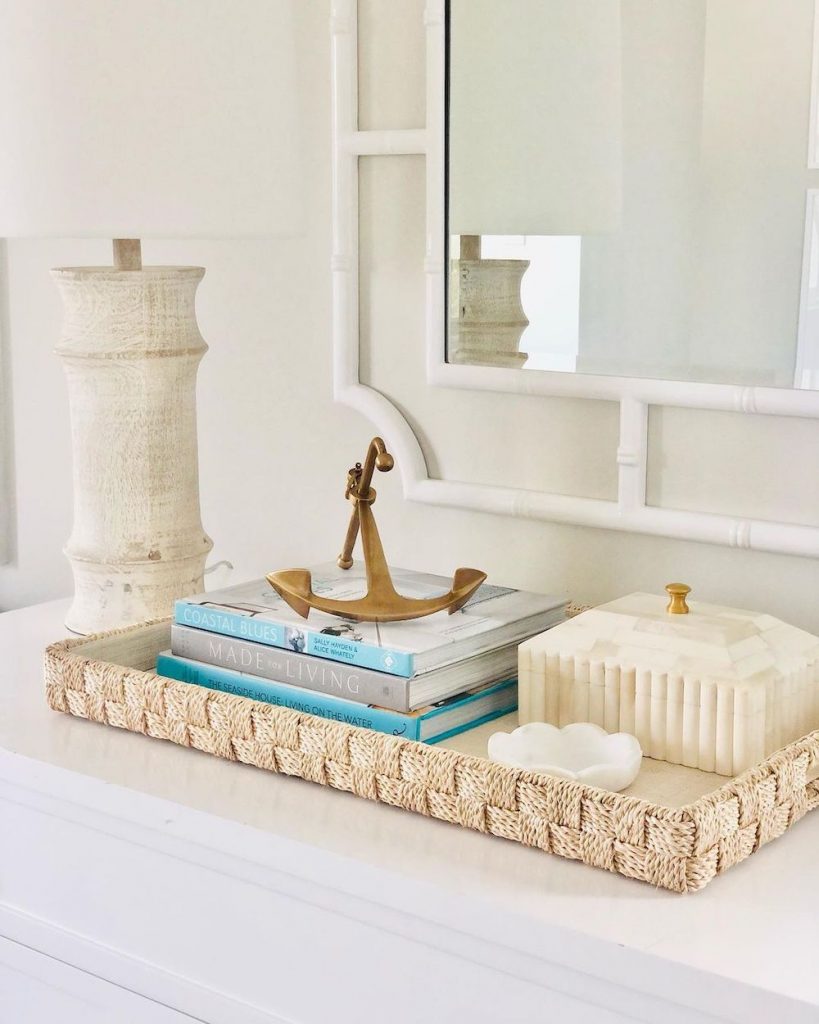 Using cream, white, and light blue colors, create a neutral tray vignette.
Drape Wooden Beads Over Books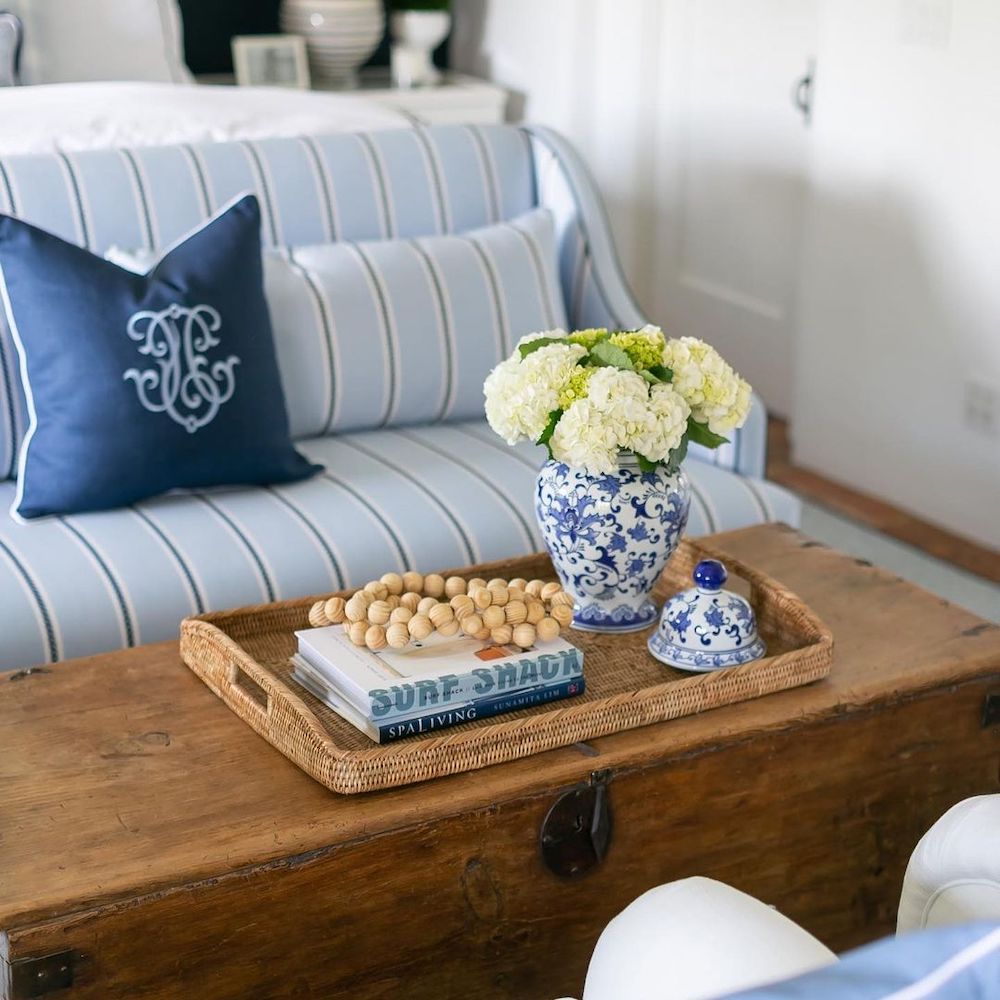 Casually lay a set of wooden beads over your coffee table books. Books include Surf Shack Laid Back Living by the Water and Spa Living.
Show Your Love of the Ocean with a Sailboat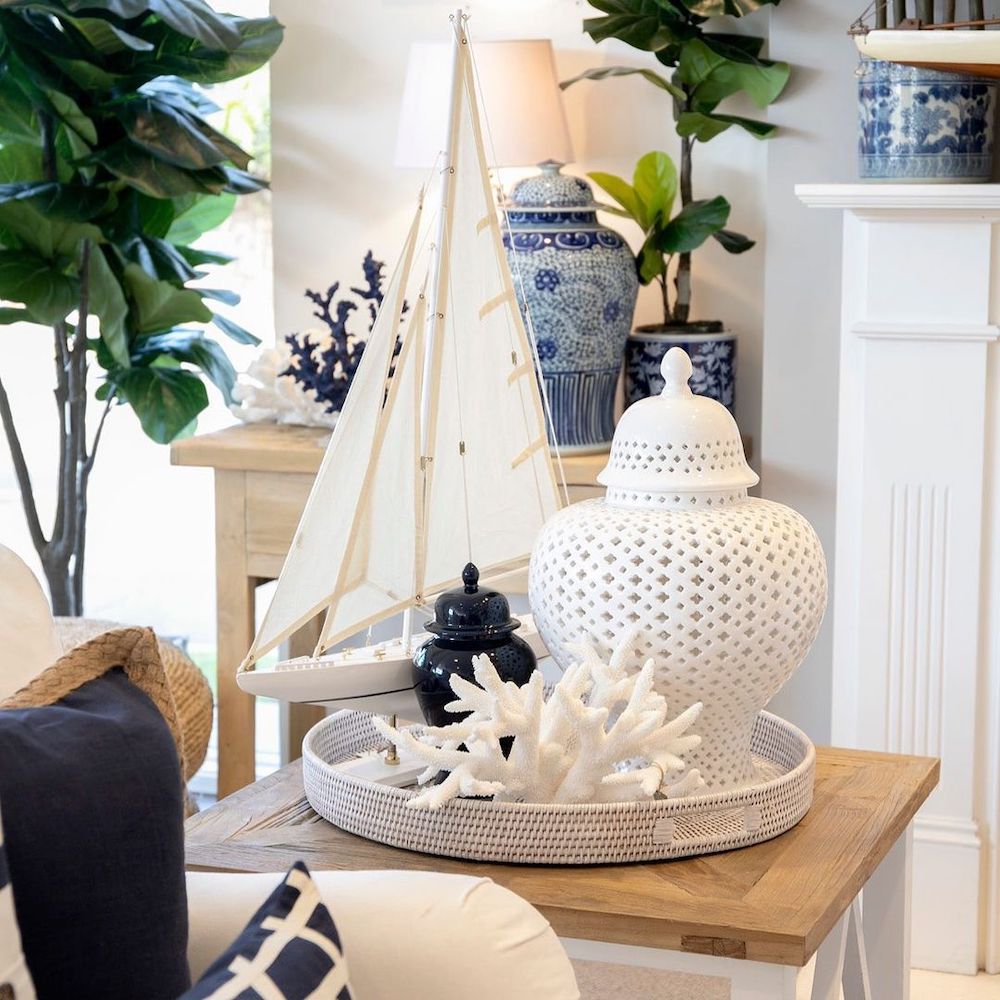 For the added height to styling this tray vignette, the designer placed a white sailboat in the back. Followed by two ginger jars and their prized coral piece.
Mix Blue with Green – Coastal Tray Styling Ideas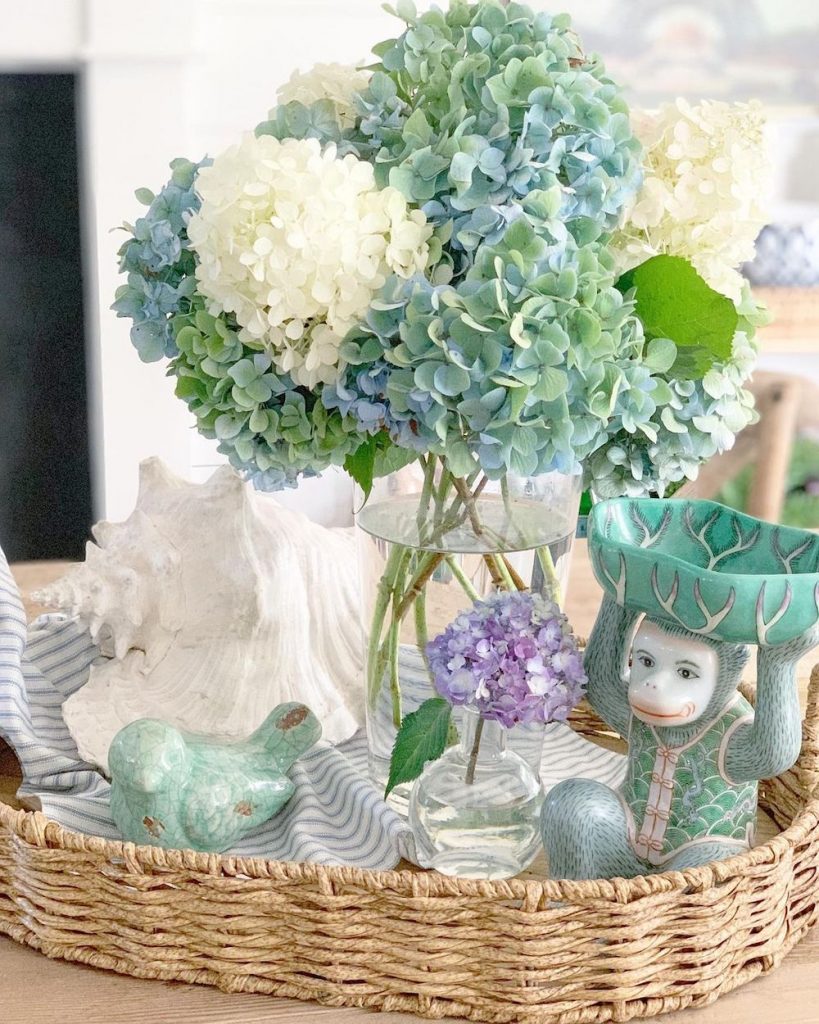 For a winning combination, mix your blue-green accessories. Needless to say, the blue-green monkey is a perfect catchall for this vignette. A stylish and handsome blue-green monkey!
Change it with the Seasons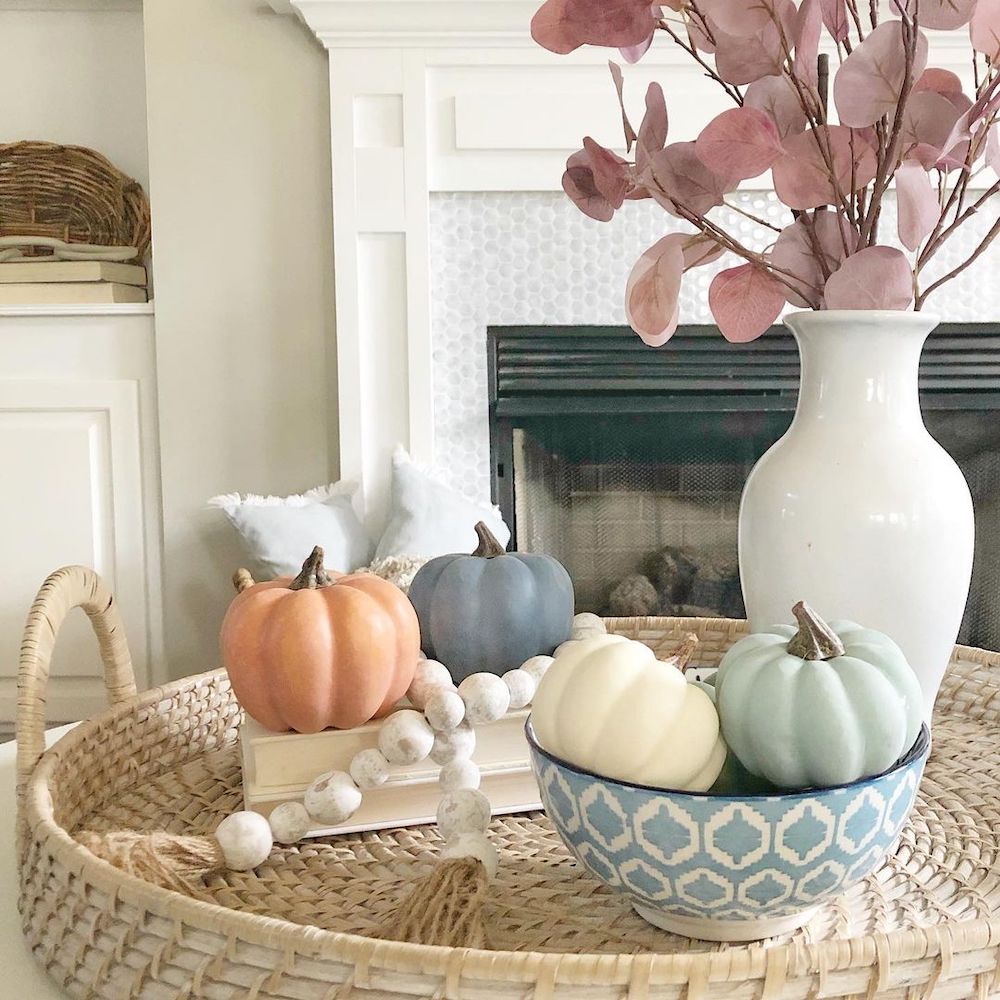 Harvest the mini pumpkins for your Fall tray styling.
Calm the Soul – Coastal Tray Styling Ideas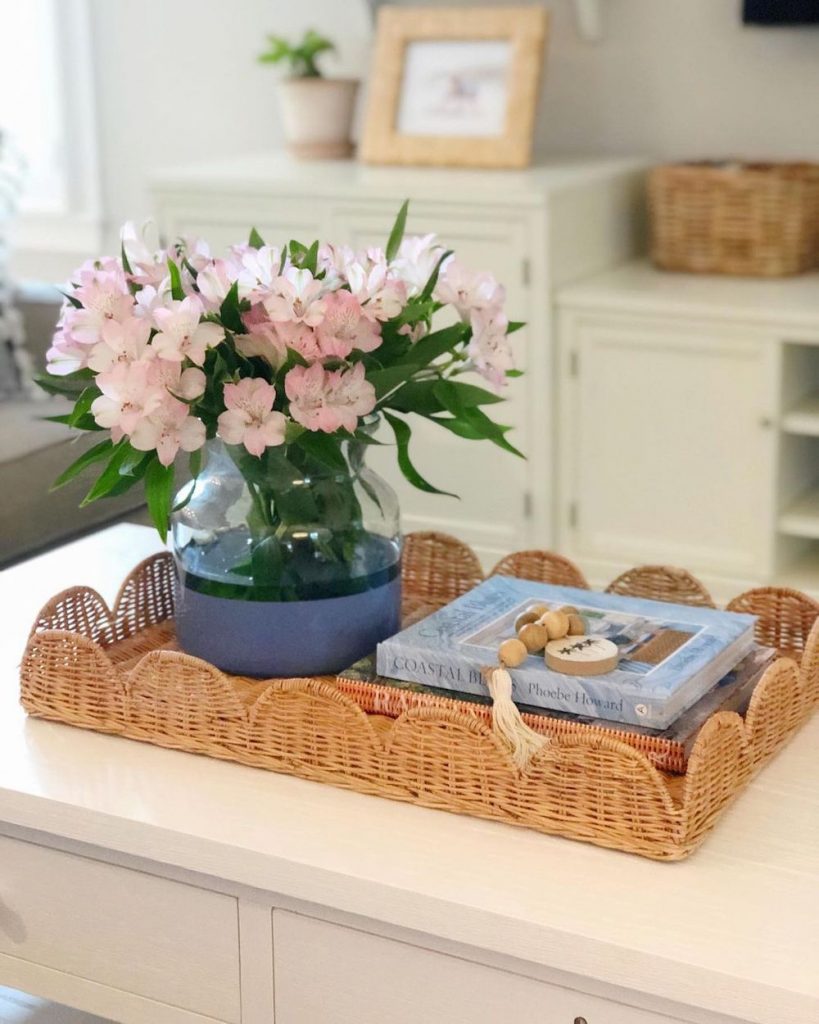 Give it a scalloped edge to create a soothing decor style. Warm textures with cool breezy blues make for a well-curated tray.
Give it a Soft Candlelight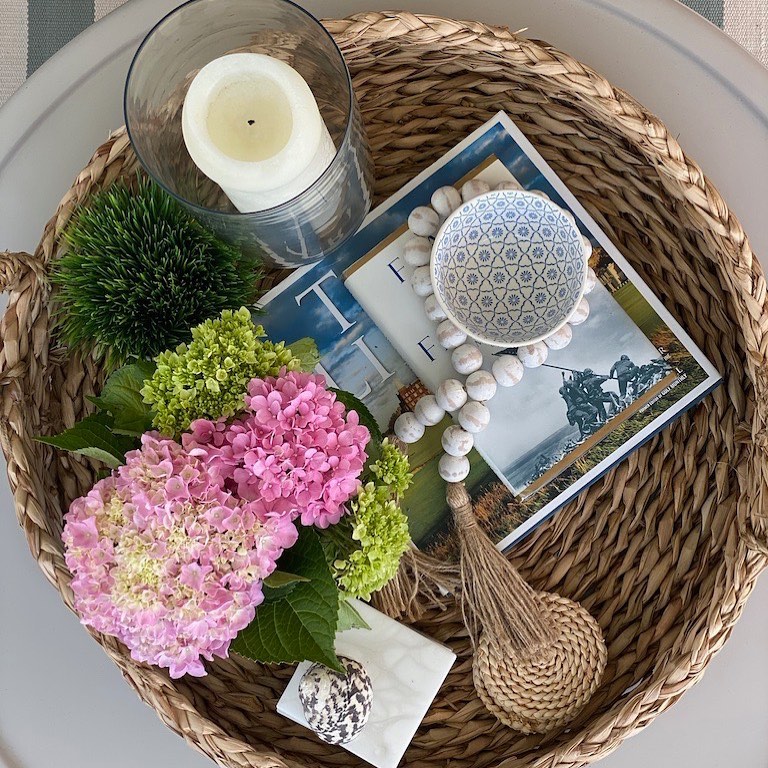 Grow fresh greenery. Place a light source such as a candle or small lamp next to the fresh greenery. Drape a set of wooden beads.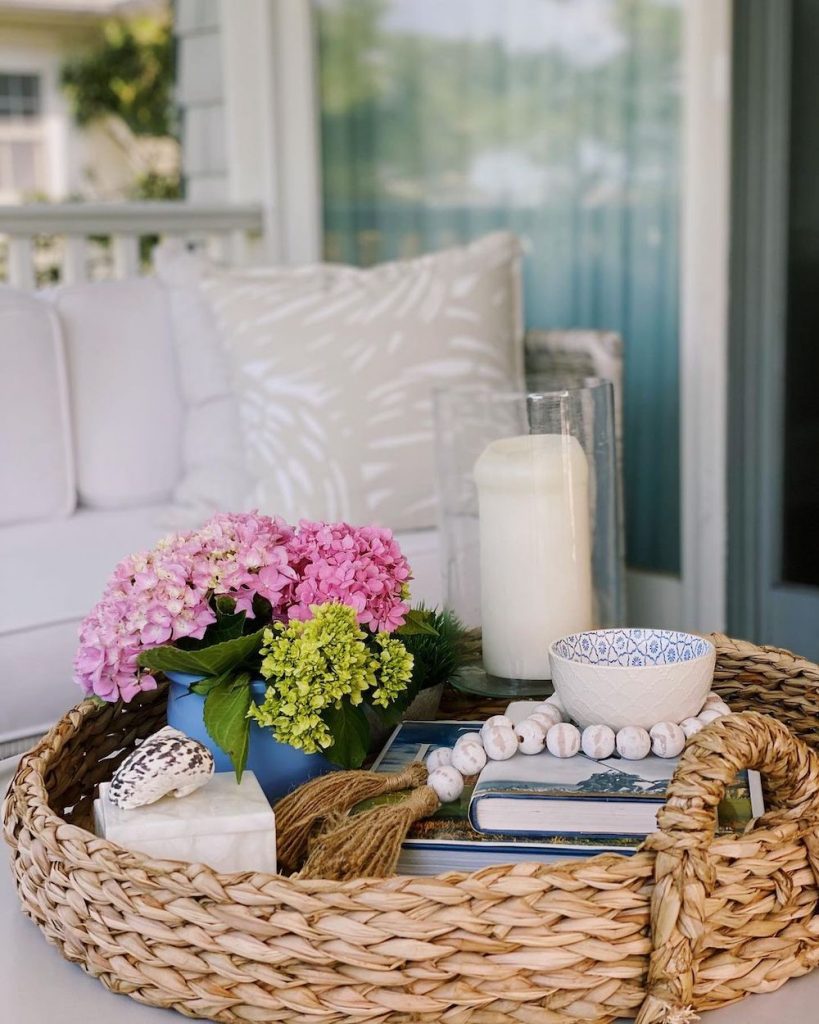 Embellish your table with fresh flowers.
Add Pink to Your Space – Coastal Tray Styling Ideas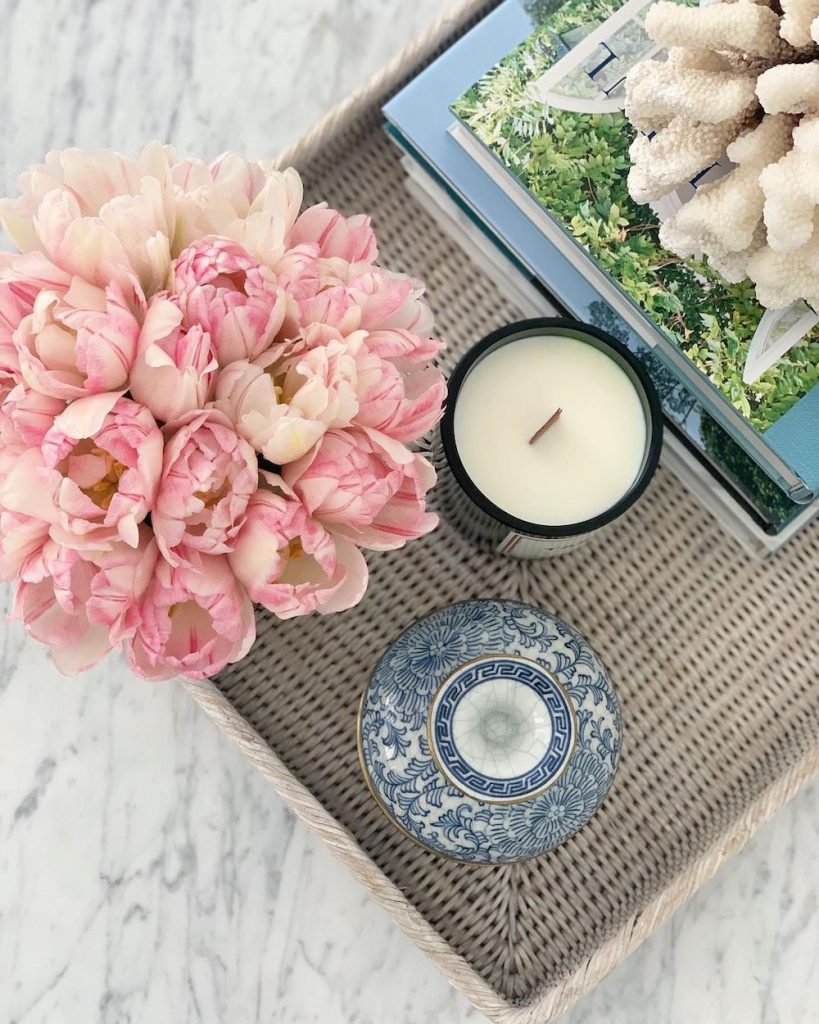 If you love pink, then add pink to your tray design. Although blue and white are more commonly used in coastal settings, pink is popular too. Take a look at our post titled Coastal Pink Styling Ideas for ways to use pink in your coastal home.
Fill it with Your Favorite Beach Reads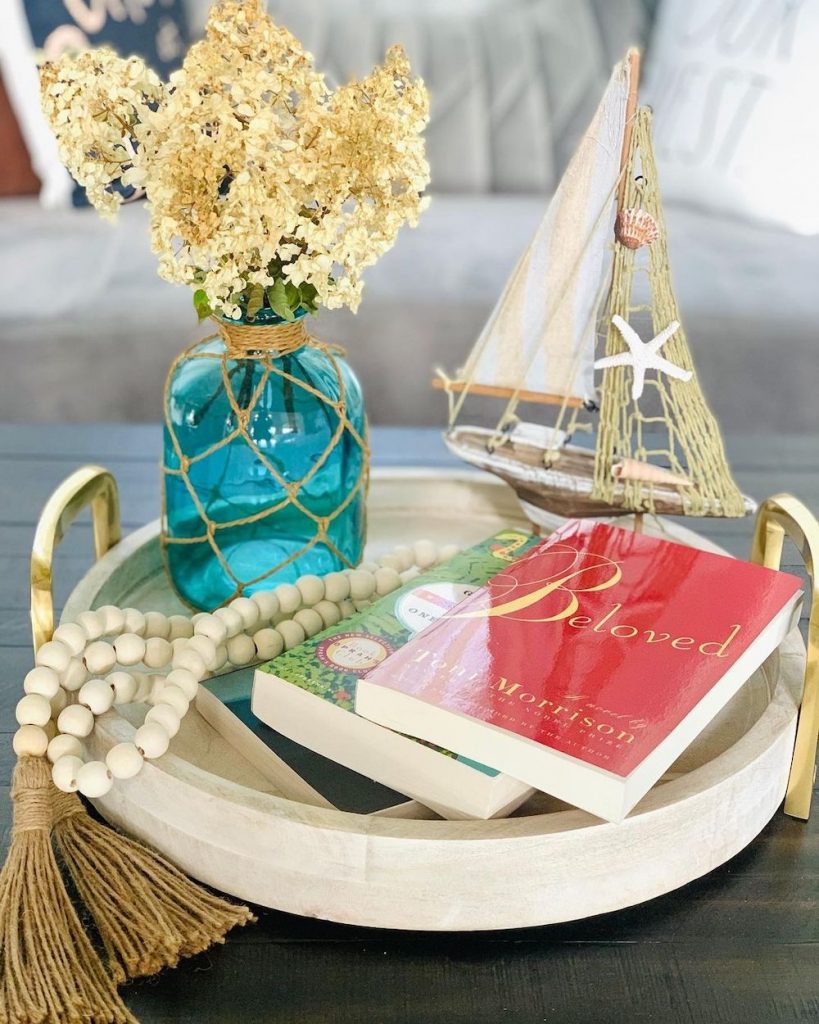 Keep your beach reads in a central location and within reach. A tray provides a handy spot to gather items used regularly. They are useful for helping maintain order. And help keep your home tidy.
Drop a Nautical Door Stop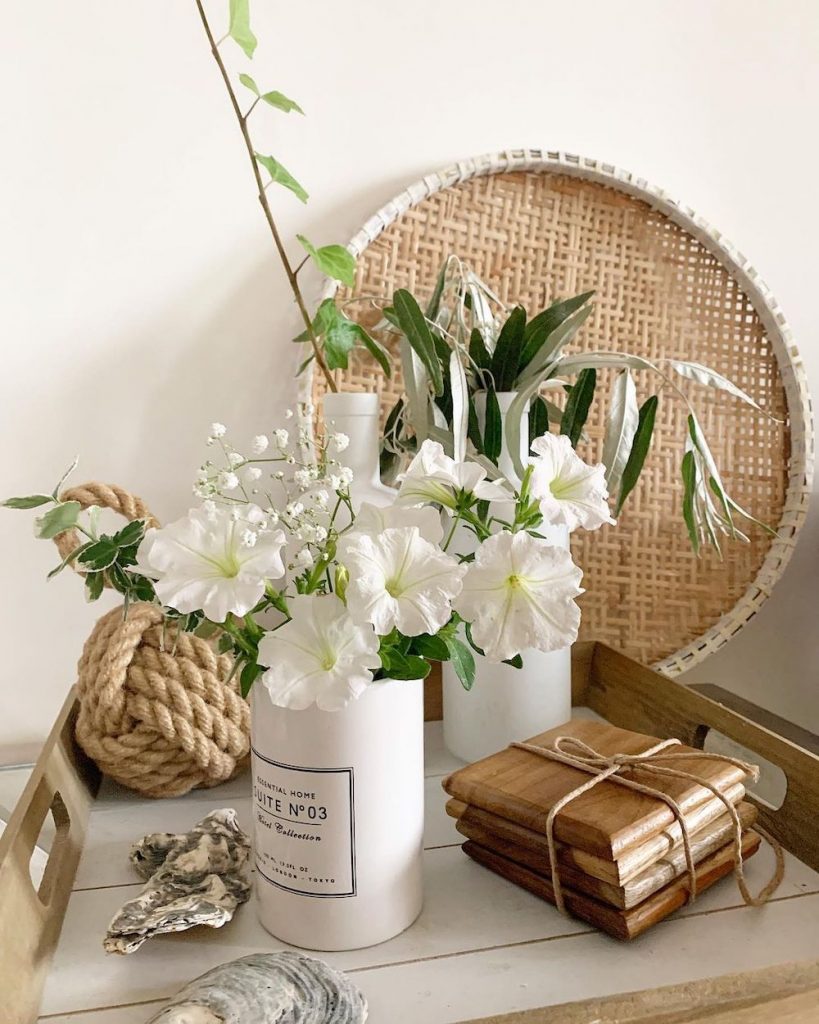 For added warm tones, add a nautical doorstop to the tray. Objects made from warm earthy tones bring an organic feel to the tray space.
Make it Chinoiserie Chic – Coastal Tray Styling Ideas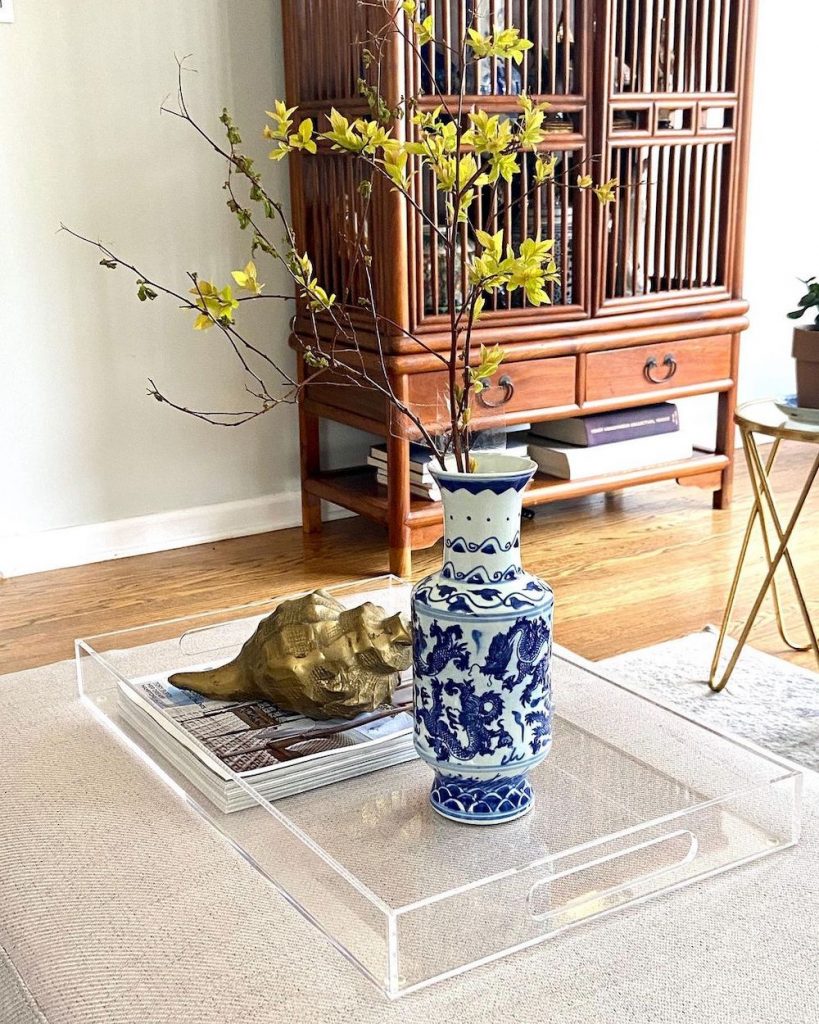 Fill your favorite chinoiserie vase with fresh flowers next to a brass seashell.
Show Your Love of Blue and White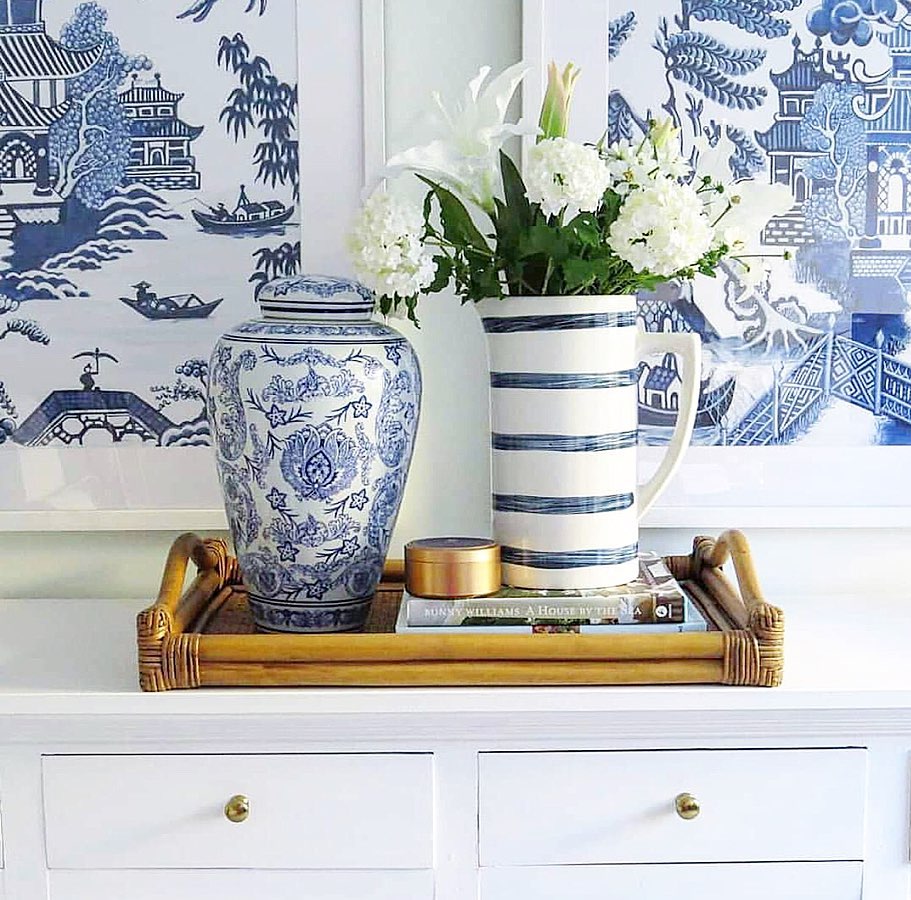 Style it with a white and blue striped pitcher filled with fresh white flowers.
Fill a Vase with your Seashell Beach Finds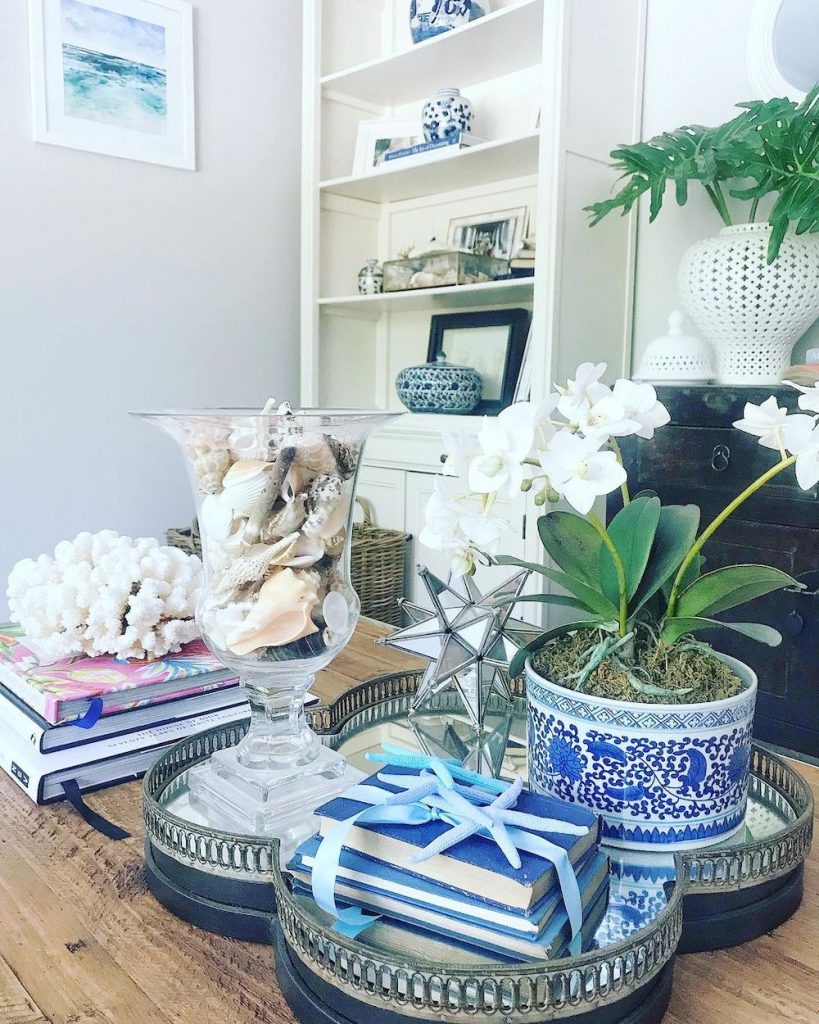 Invoke beach vibes with the decor in soft blues. Display your seashell beach finds in a trophy-shaped vase for all to admire and even envy.
Dazzle Them with Pearl Seashells – Coastal Tray Styling Ideas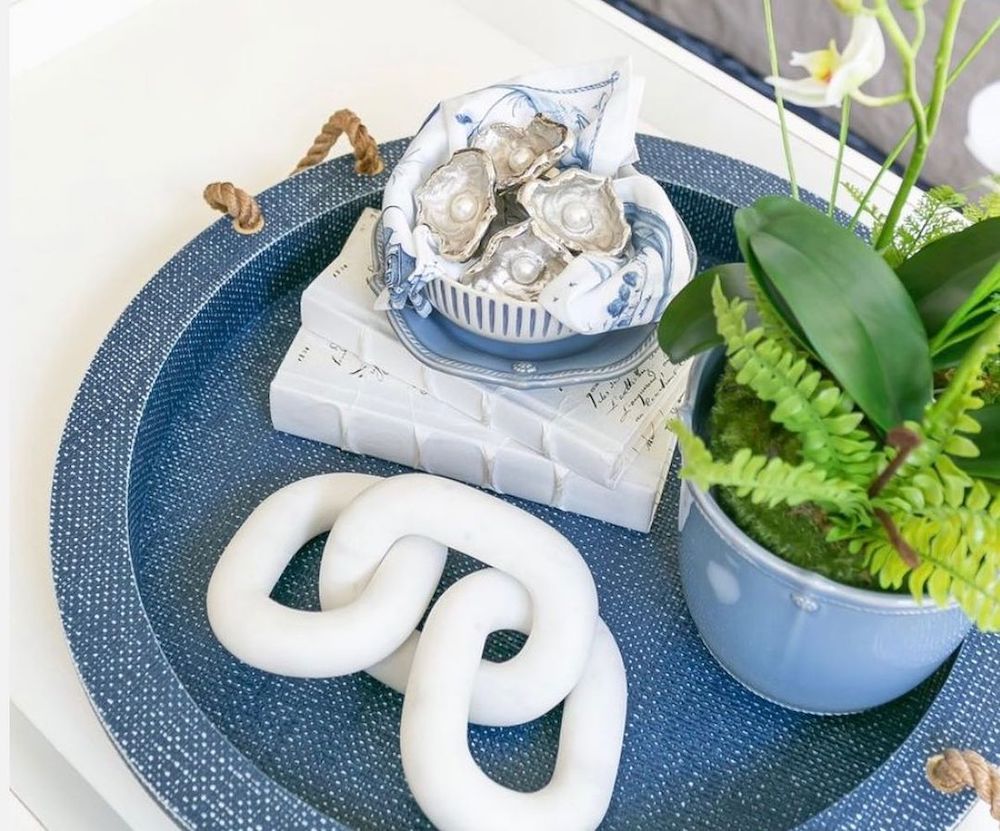 Create an elevated space to display your prized pearl seashells. Invoke a maritime feel with blue and white colors. The orchid and fern add a little greenery to the vignette.
Fill Your Vase with Dried Flowers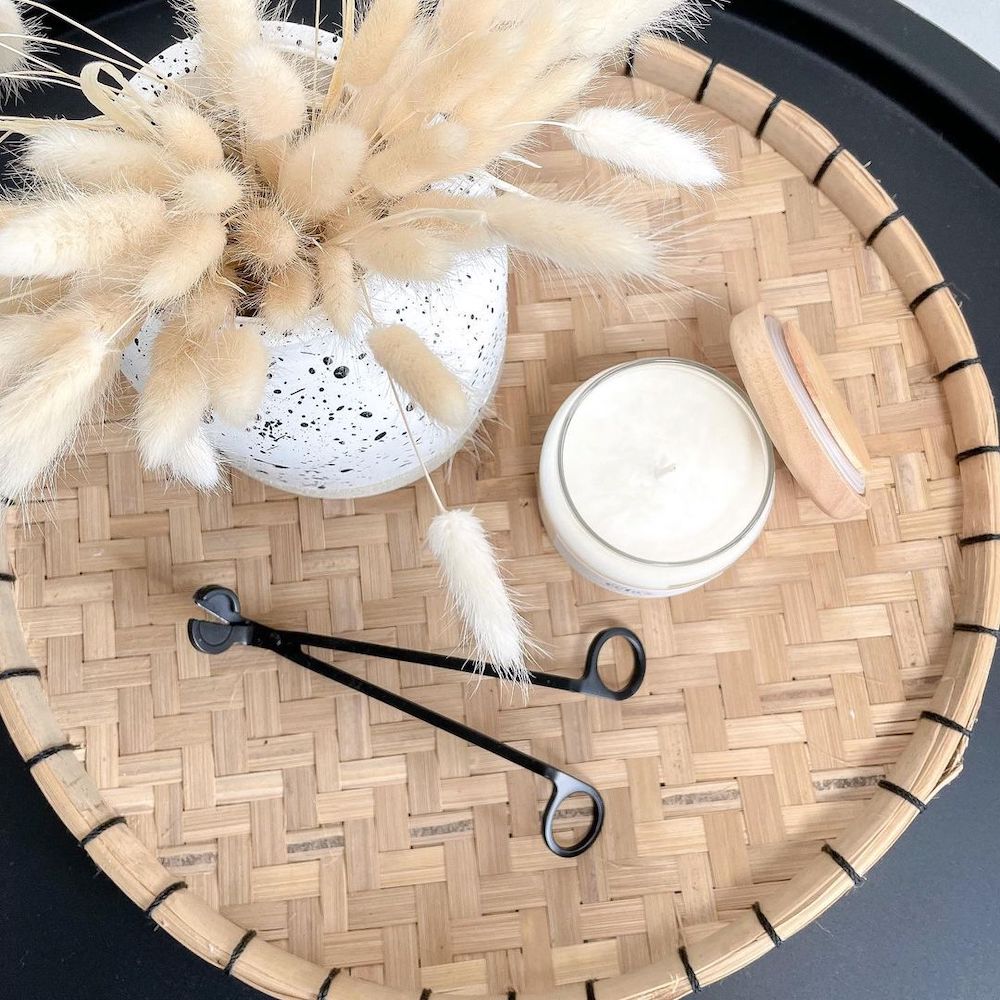 For contrast, use neutral-colored trays and objects with black accents. A perfect combination for adding to a black table or background.
In Closing – Coastal Tray Styling Ideas
This ends our list of inspirational ideas for styling a tray. Transform your tray by staging it with objects of different colors, textures, and heights. Above all, it is the perfect spot to personalize your Summertime memories such as pictures and mementos. Enjoy your time creating the perfect vignette for a coastal setting.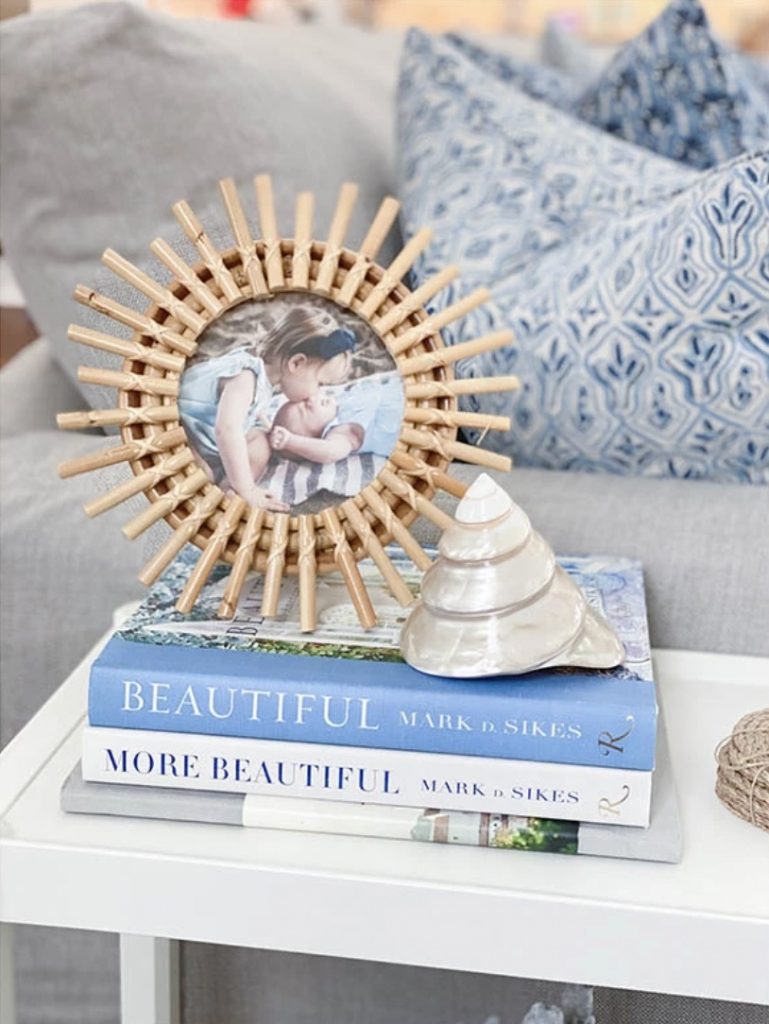 We hope that our 27 coastal tray styling ideas have inspired you to create your own. If you try these tray styling ideas, we would love to hear from you. Let us know how you make out with your home decor projects.
Love coastal decorating? Be sure to check out our coastal decor post filled with helpful tips. Appropriately named 12 Ways to Add Coastal Decor to your Home. And for additional coastal ideas, we included links to some of our other posts below.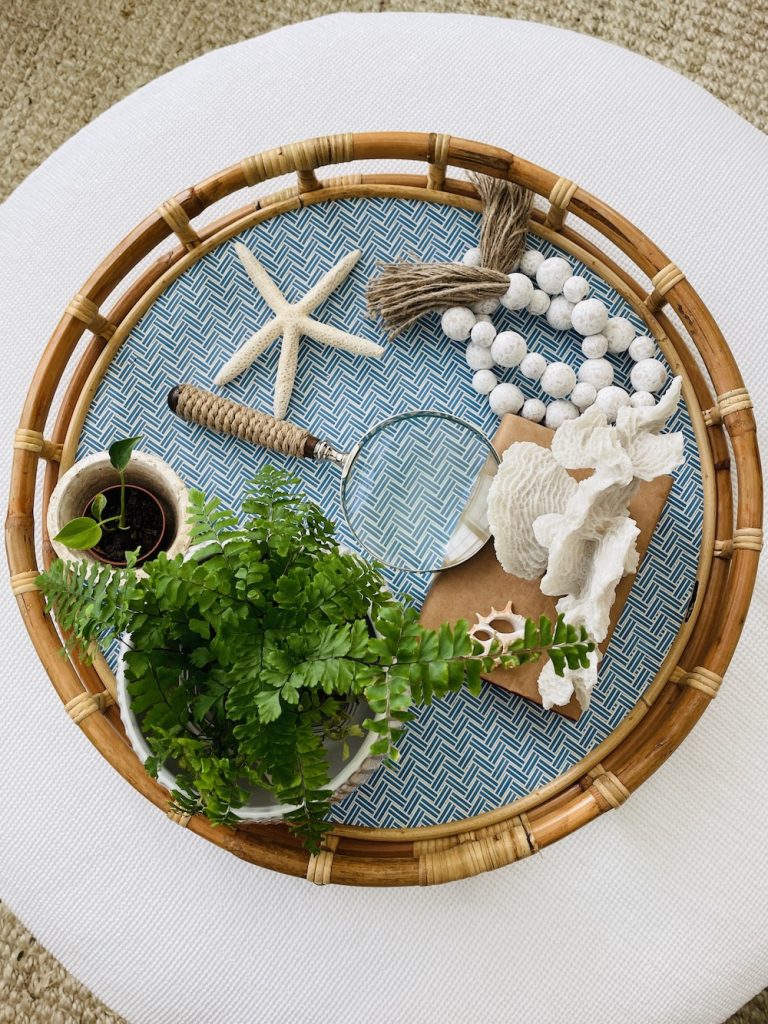 Enjoy our other decor related posts for additional ideas.
Reach out to us with any questions. We are always ready to help you out. Thank you for stopping by our blog.
Mary
Pin this for Later: