Christmas bottlebrush tree decor ideas for an amazing holiday style. Bottlebrush trees are more popular than ever. These trees are easy to style. And they create a lasting impression on everyone who sees them. Available in a wide range of colors, styles, and sizes, the trees are much sought after. In fact, you'll even find posts with DIY steps to create your own trees. Whether you design your own trees or use store-bought trees, there are many ways to style this evergreen. In today's post, we are sharing inspirational ideas for using these mini trees.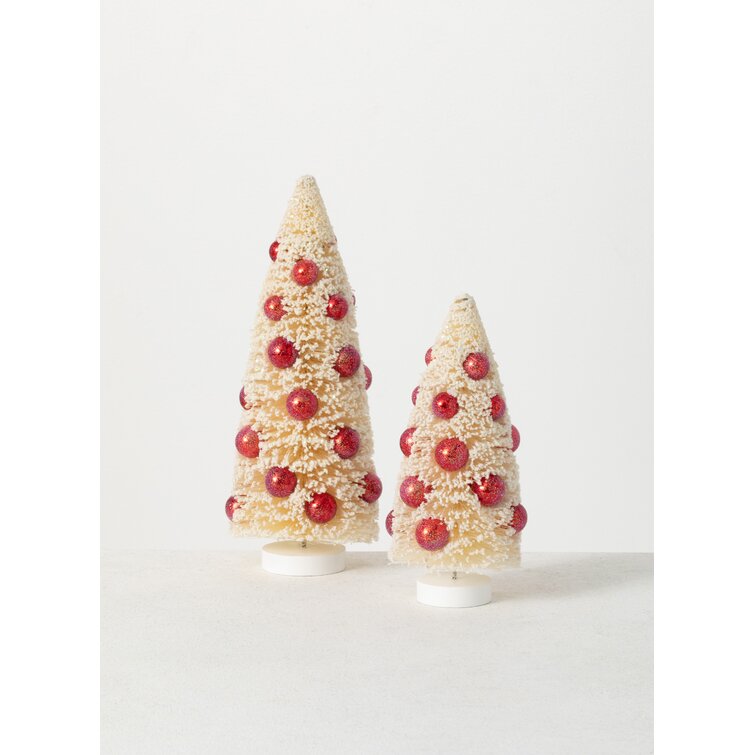 As you'll soon see, these evergreens can be used throughout the house. Perfect for a mantel shelf, bookshelves, a centerpiece, and many other ways. You can use these trees on any surface that you want to decorate. Because they are available in various sizes, you can add them to a wreath, centerpiece, or even your Christmas tree.
Decorate for the Holidays – Christmas Bottlebrush Tree Decor
We believe that the best thing about bottlebrush trees is that they easily transition into many decor settings and places. You can find trees in groups or as single trees. Single trees can be grouped to create a woods or natural setting. Many of these trees are covered in snow, glitter, or both. Snow and glitter give a glistening effect to the trees and the surrounding decorations. This creates a truly magical effect on your home.
Luckily, these tree decorations can be used in every room of the home. Use them in a retro, vintage, or farmhouse setting. Decorate with these trees in a modern, glam, or boho setting. There are many ways and places that these trees can be displayed and decorated in. Take a look at our picks of the best use of these miniature trees to brighten any home. We're sure you'll agree that these trees are beautiful.
Style a Centerpiece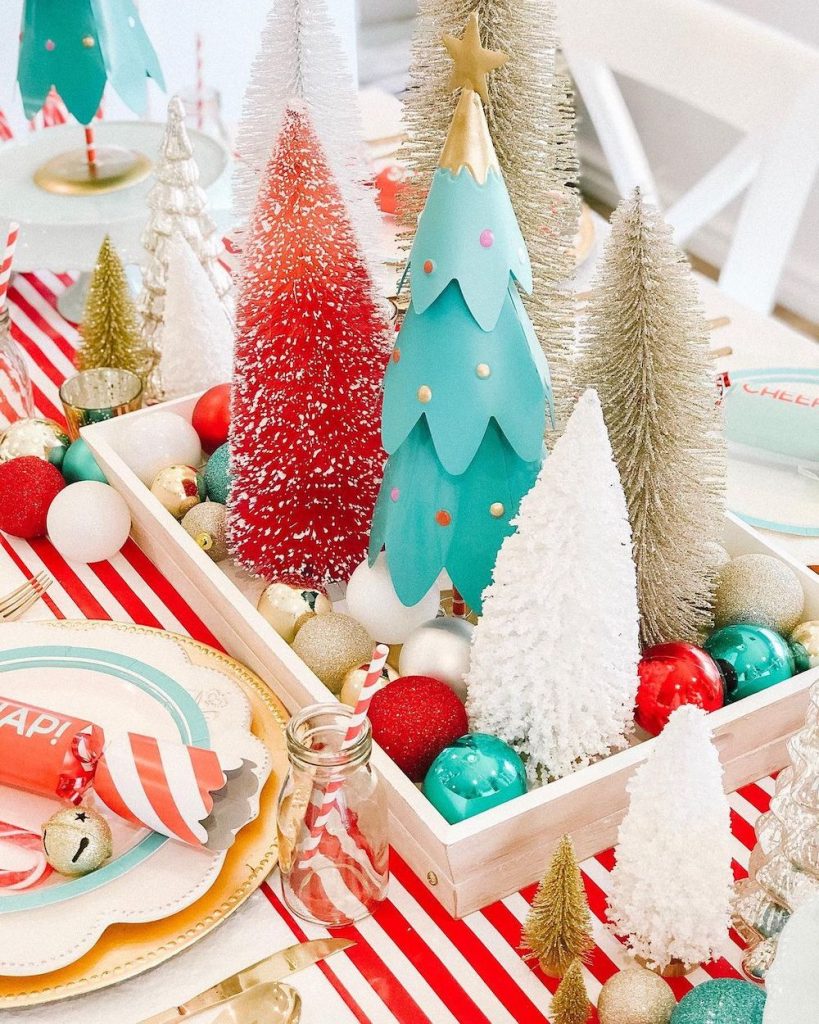 Design a table centerpiece using these miniature trees with glass ornaments.
Give Your Mantel Warmth – Christmas Bottlebrush Tree Decor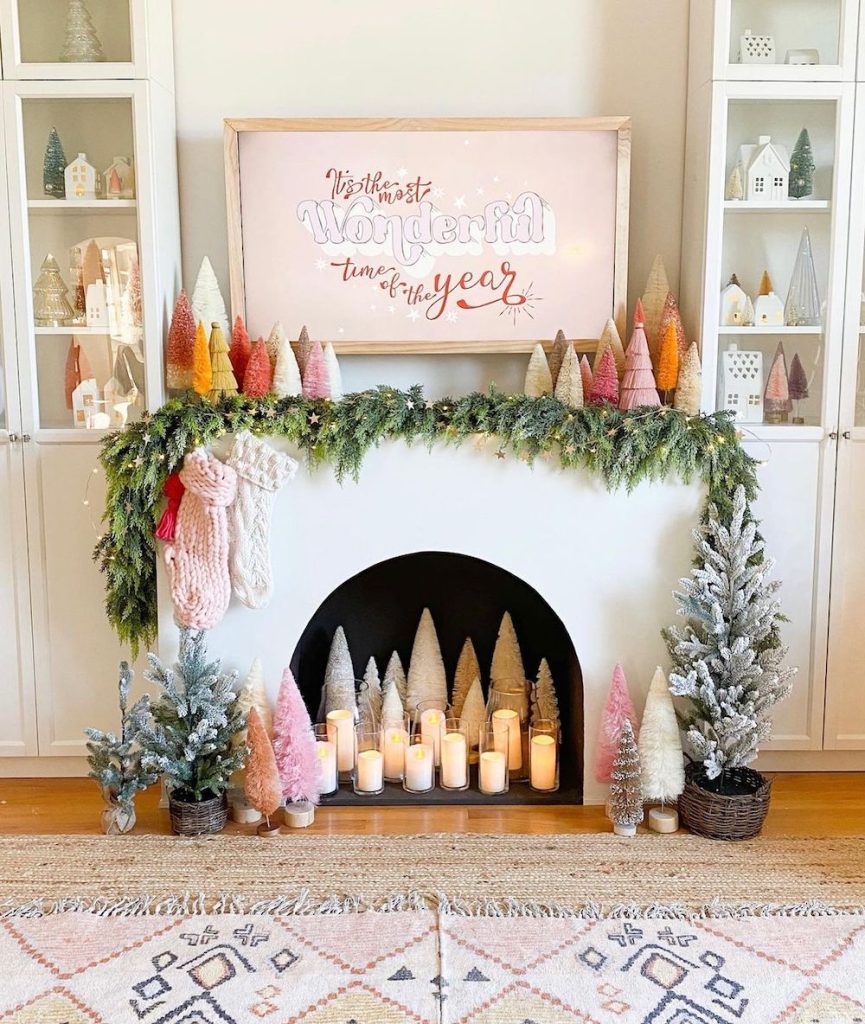 Fill your mantel and mantel shelf with miniature trees.
Create a Forest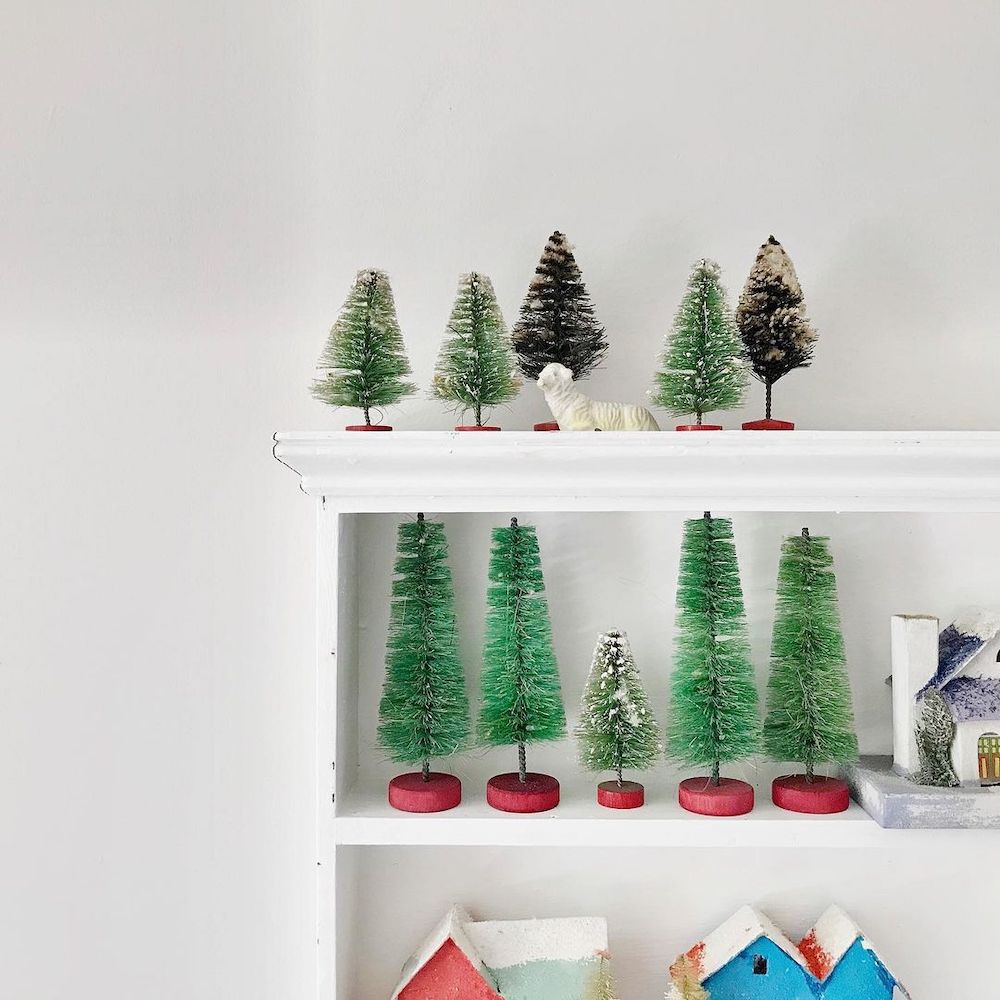 Style a forest on your bookshelves. Sprinkle in some farm animals.
Adorn Your Sheet Music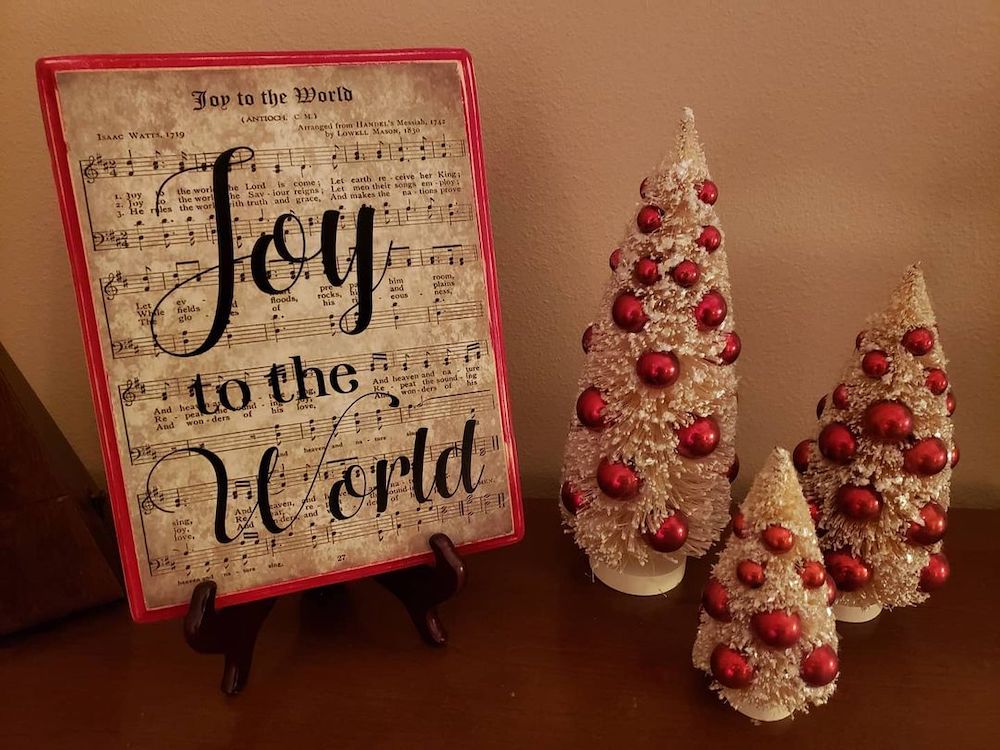 Decorate your holiday sheet music for a festive look.
Have Santa Make an Appearance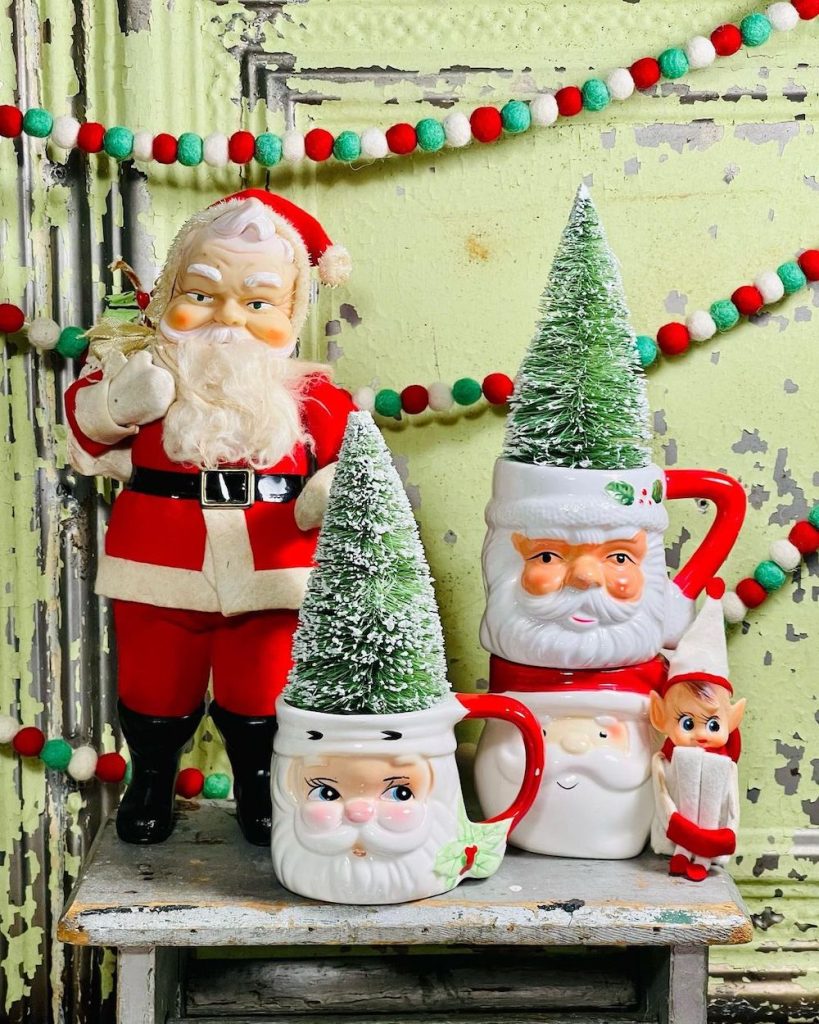 Tuck your trees in a Santa drinking cup. A great way to add a little whimsy to your decorations.
Keep your Elf Company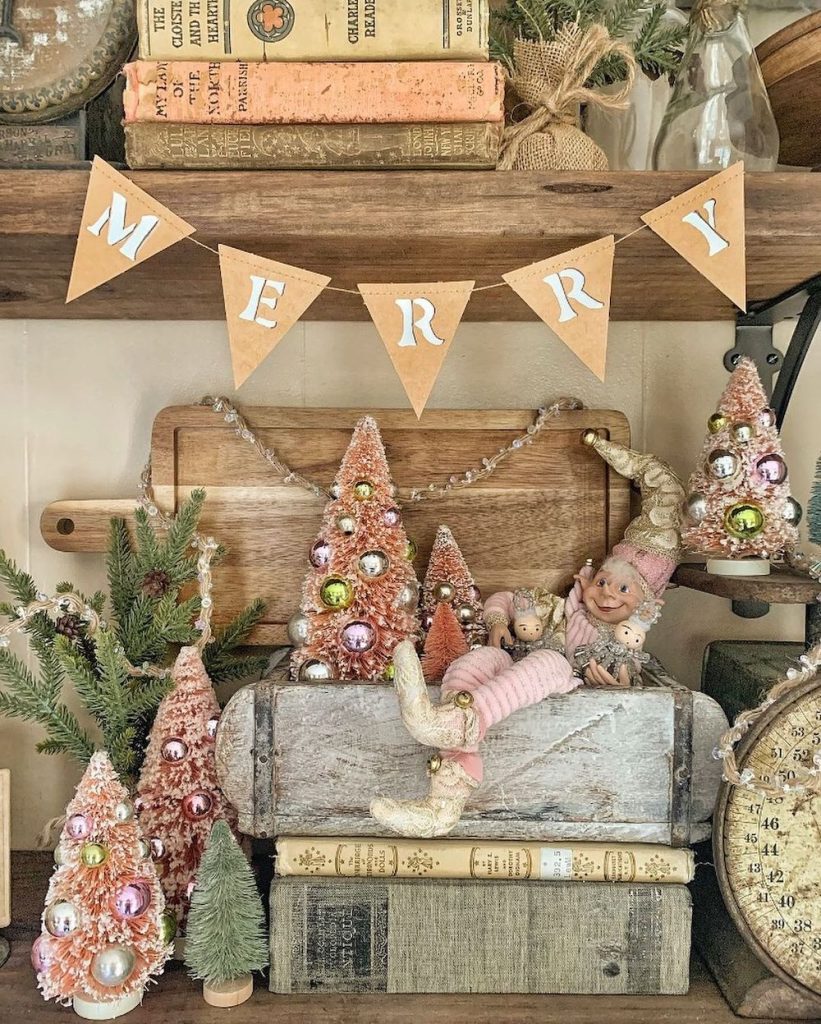 Set a few trees next to your elf.
Slip One on a Bed Tray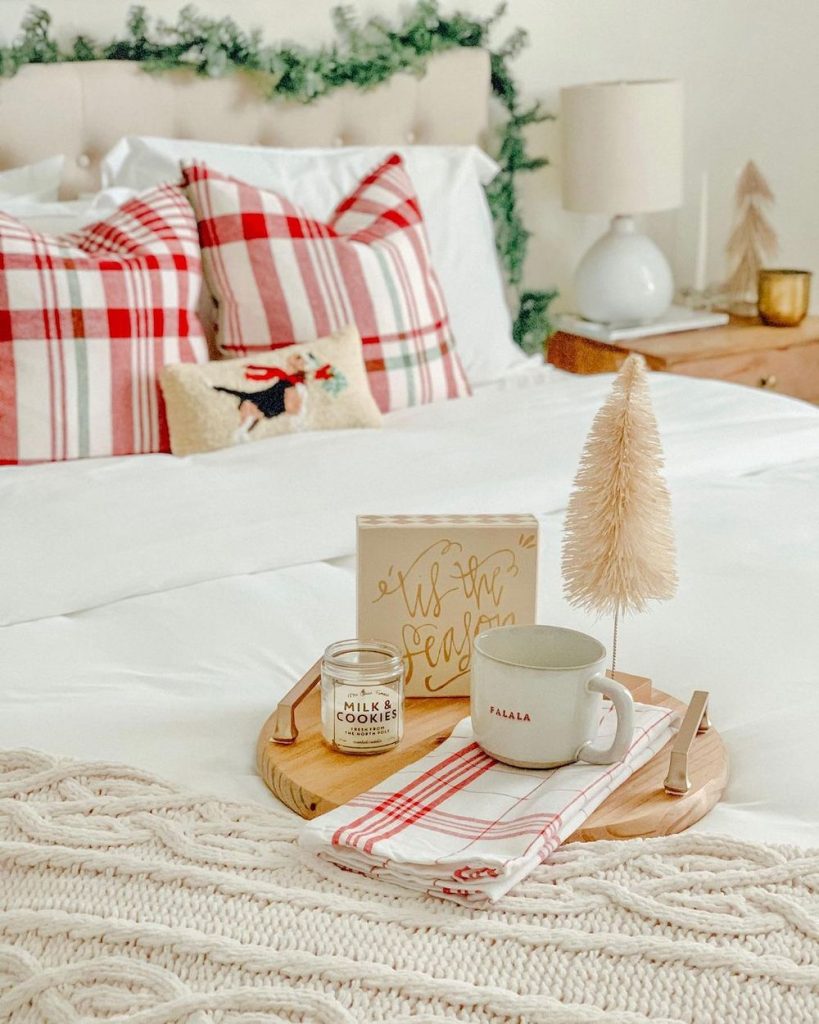 Add one to your bed tray with a fragrant candle and cup of cocoa. After all, it is the season.
Tuck it into a Santa Box – Christmas Bottlebrush Tree Decor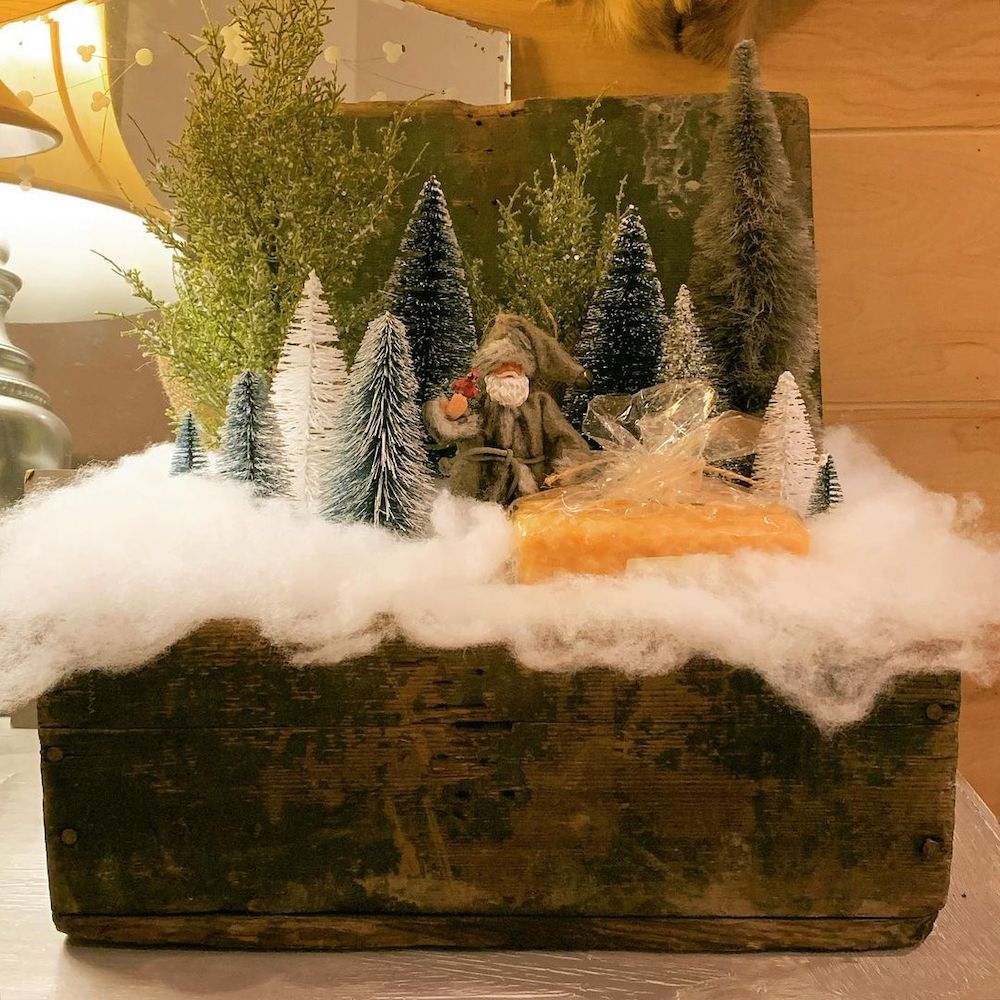 Create a Santa box with a grove of trees. So, exciting.
Style a Pink Vignette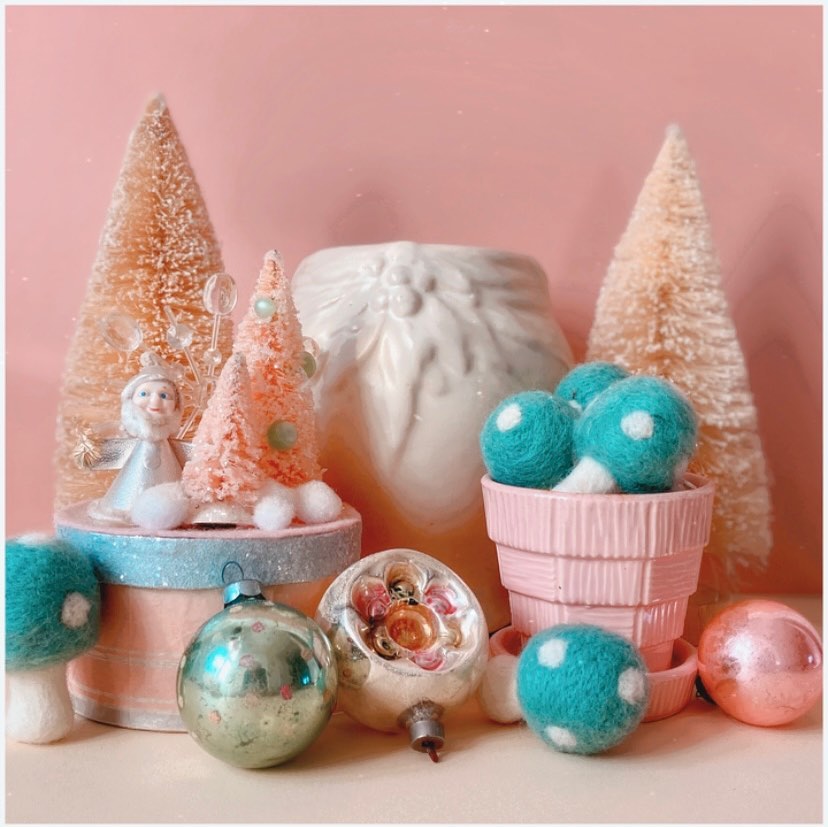 Make it a pink with aqua accents vignette with holiday trees.
Keep it Under the Cloche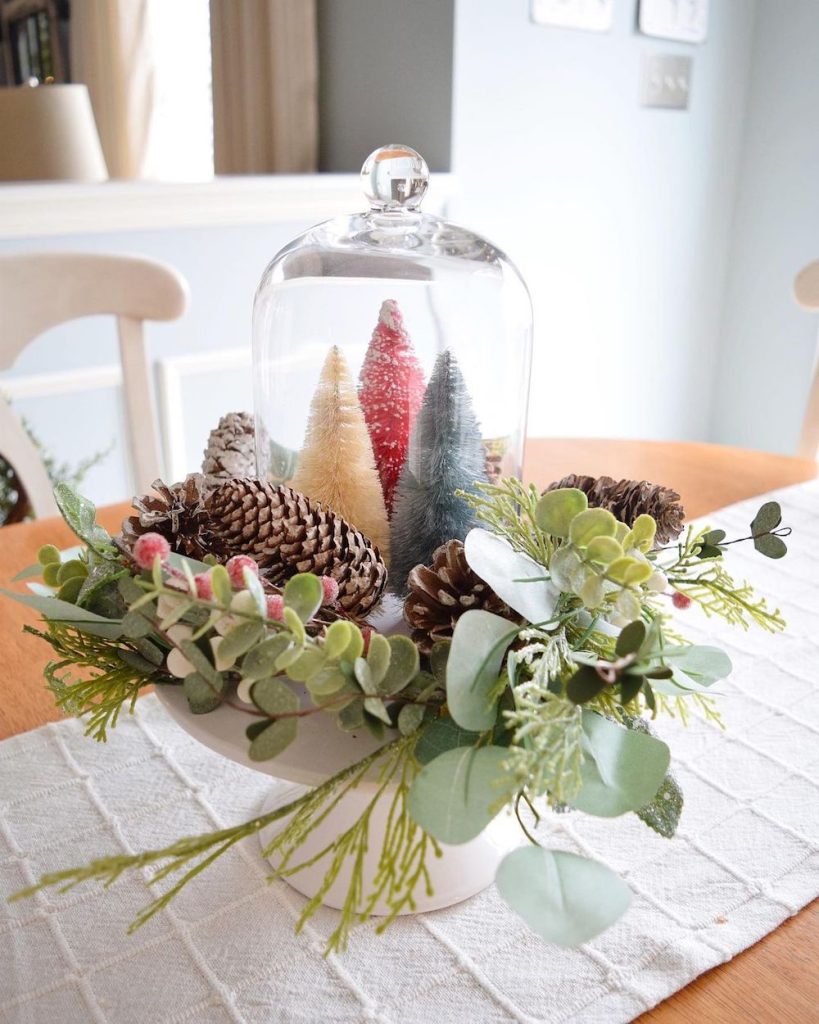 Tuck it under a cloche for the most perfect centerpiece. Then surround it with greenery and pine cones.
Design it Pink with Green – Christmas Bottlebrush Tree Decor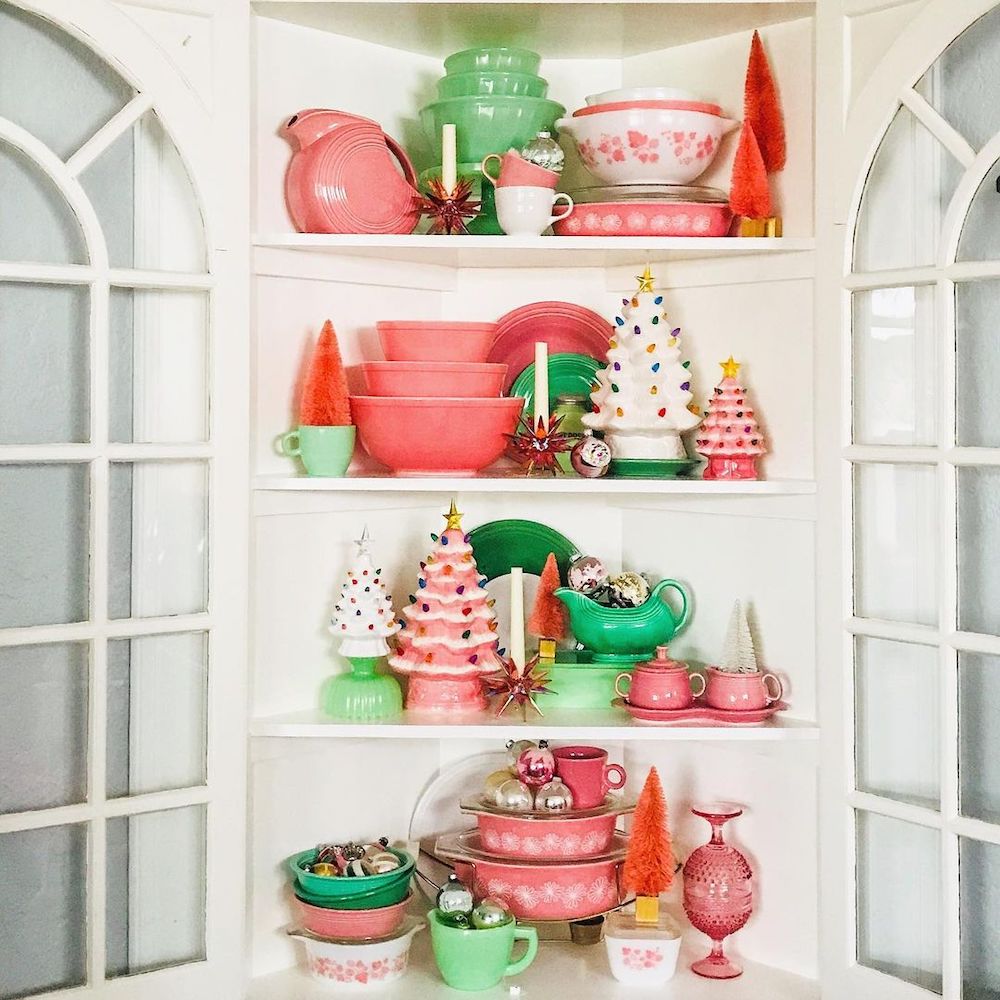 Keep those cupboards filled with holiday serveware and holiday decorations. This corner cupboard is a great spot to add a little cheer.
Make that Nutcracker Stand Out – Christmas Bottlebrush Tree Decor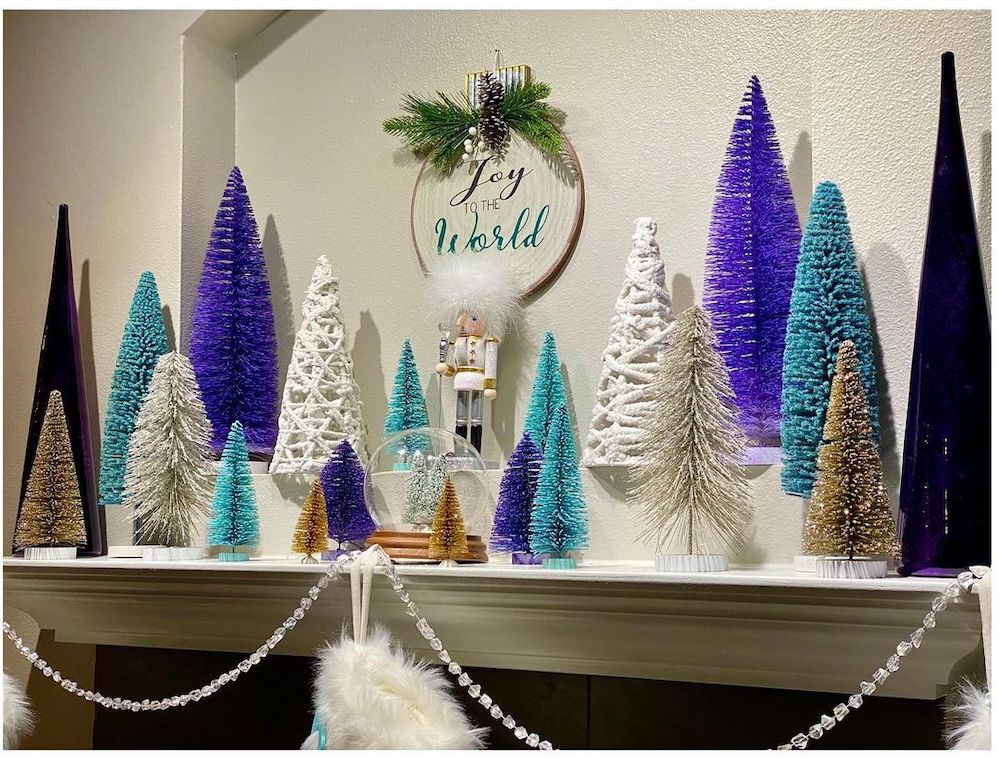 Surround your favorite nutcracker with these gorgeous holiday trees. In this image, the designer used aqua, purple, gold, and frosted trees for a striking display.
Coral Them in a Dough Bowl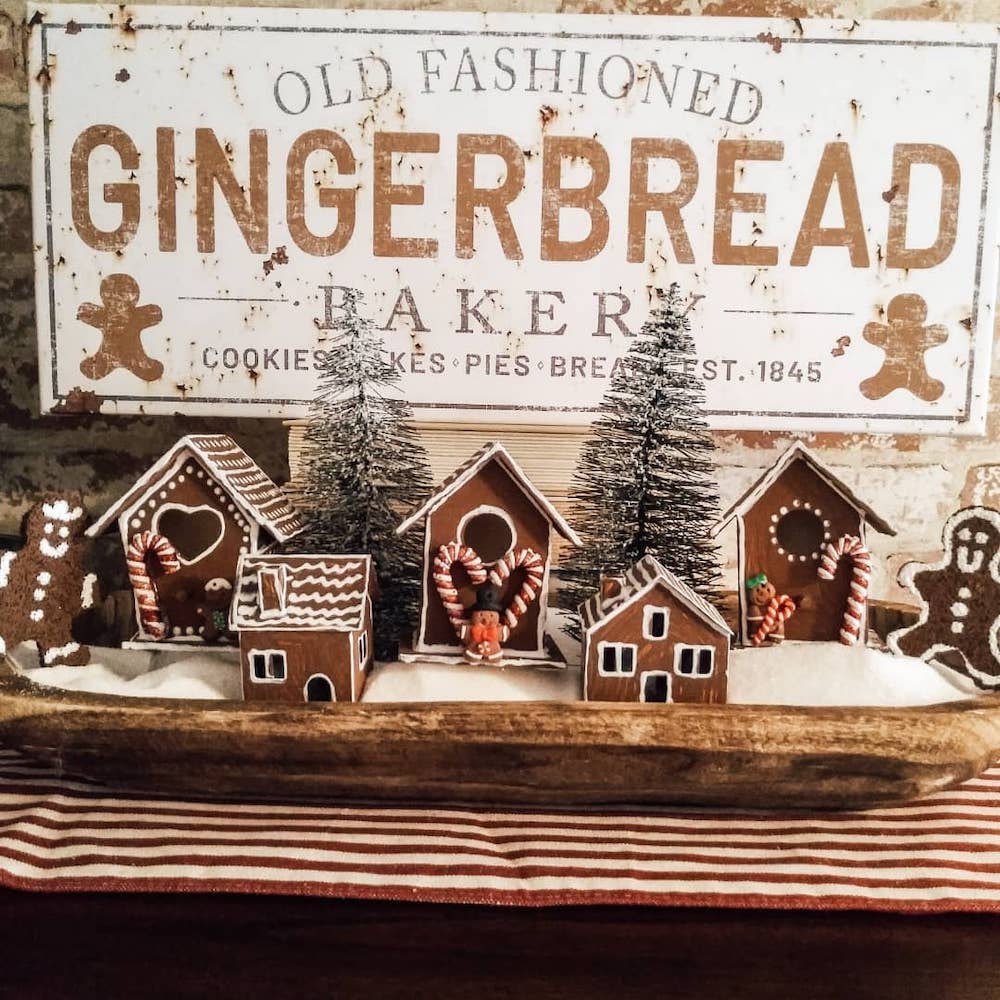 Using a wood dough bowl, style a gingerbread village. Use these beautiful trees between the houses.
Make it Merry and Bright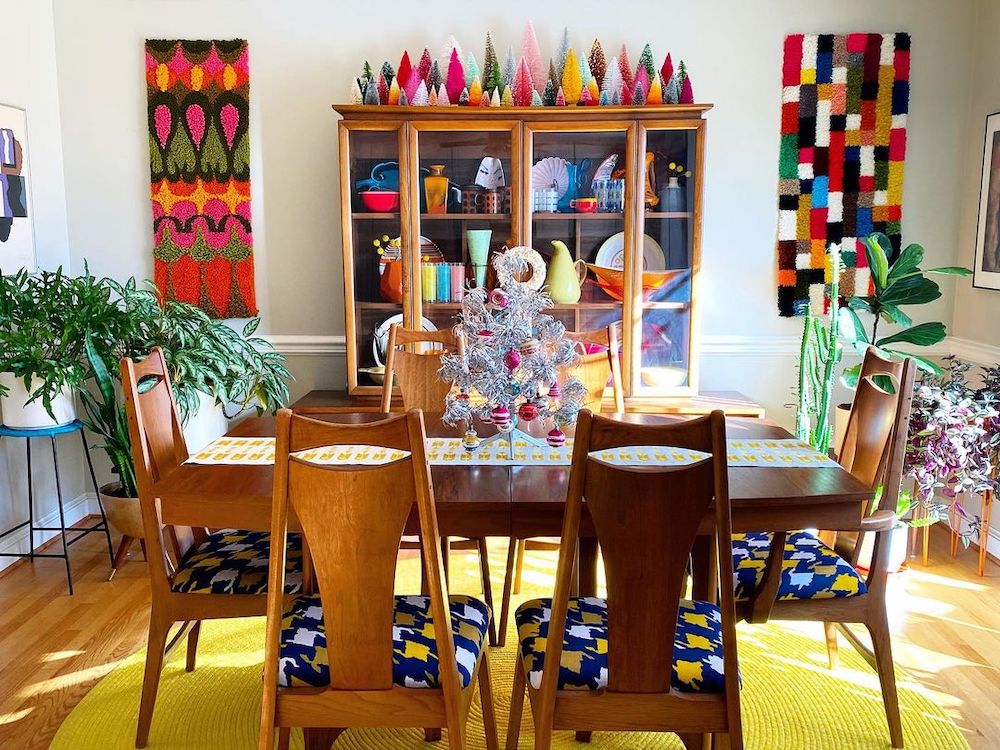 Continue the merry and bright theme throughout the room. A great spot to add holiday trees over the china cabinet where all can see them.
Be Inspired by the Forest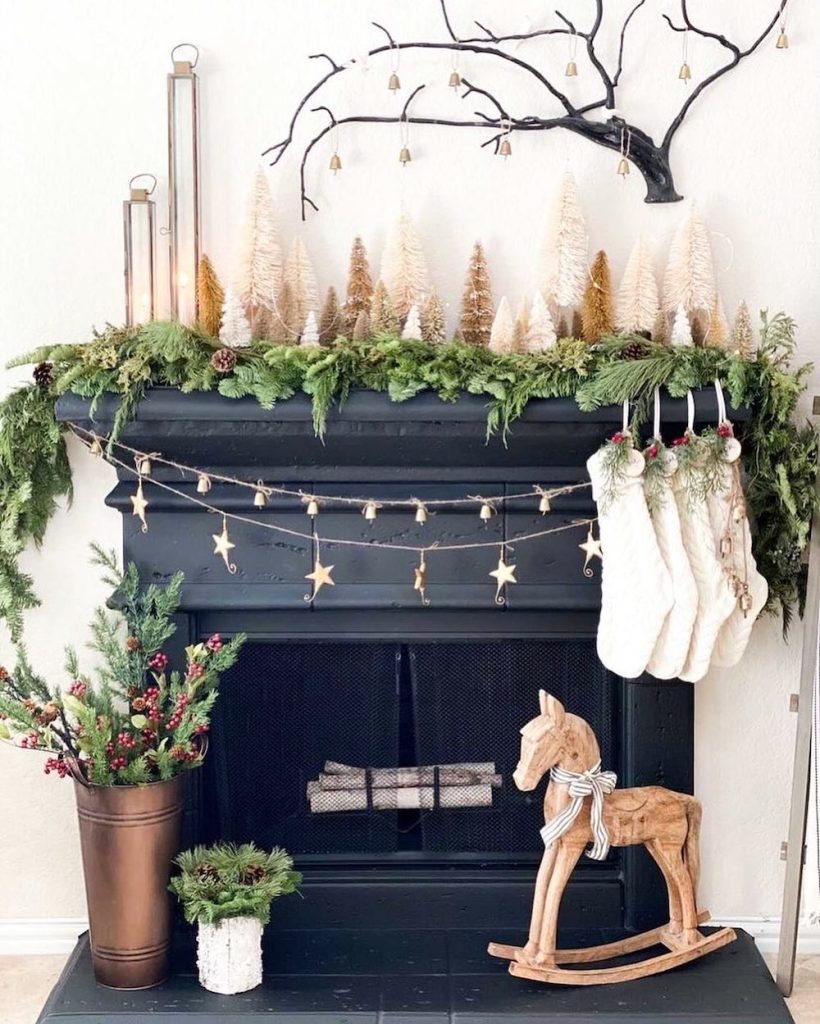 Design a forest like setting across your mantel. Start with lush evergreens as a base. Then add trees about 3 deep. And don't forget to string up some interest garland strands.
Build Holiday Villages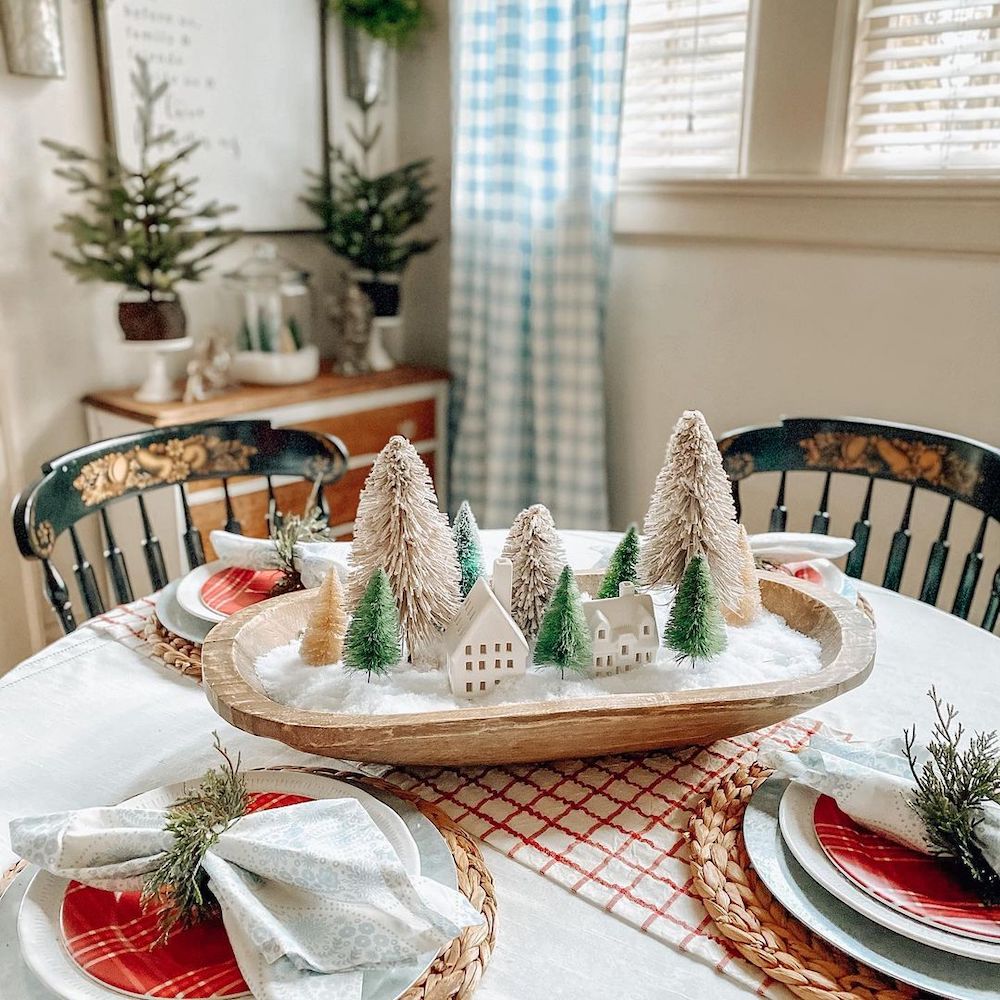 There are many ways to create a holiday village. In the image above, a small snowy village was styled in a wooden dough bowl. So cute! This makes a great centerpiece for the dinner table. In the design below, a tablescape was created using a series of clear glass jars. Each one holds a snowy village scene. Wonder if each guests gets to take one of these home?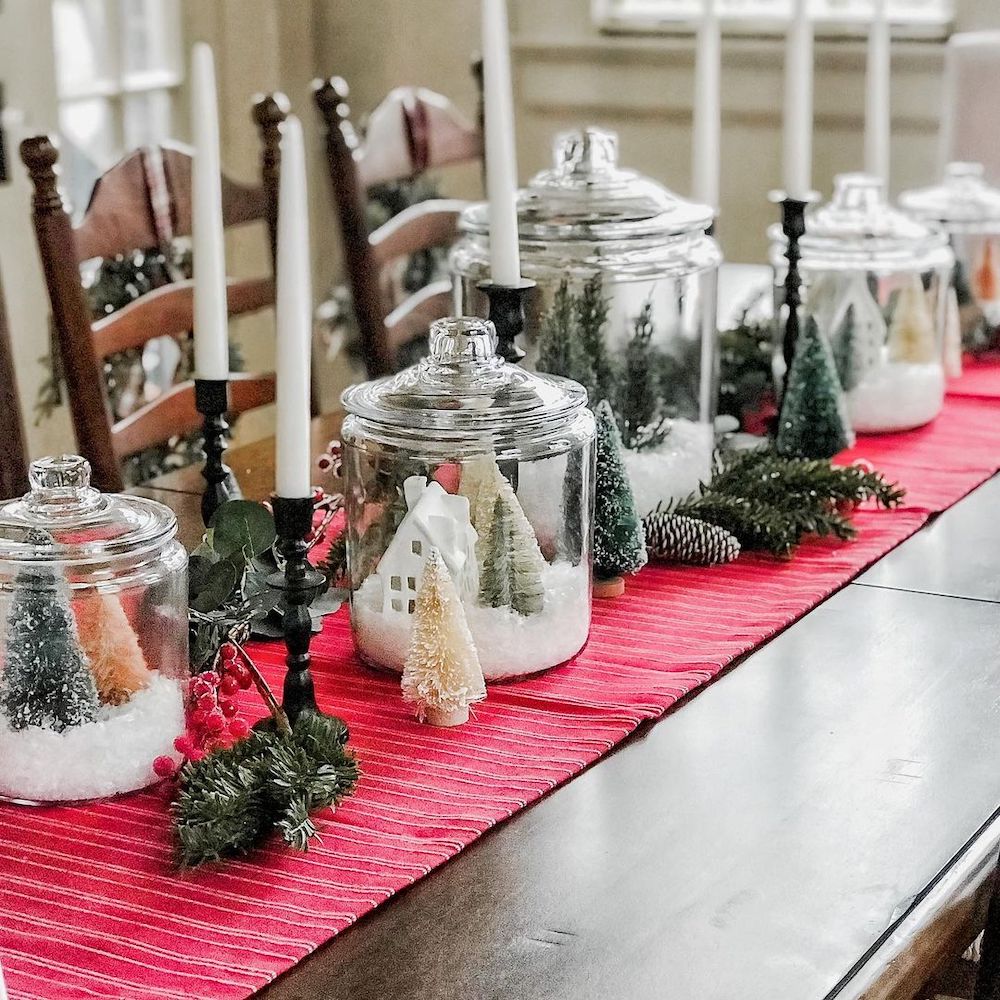 Grow them on a Sideboard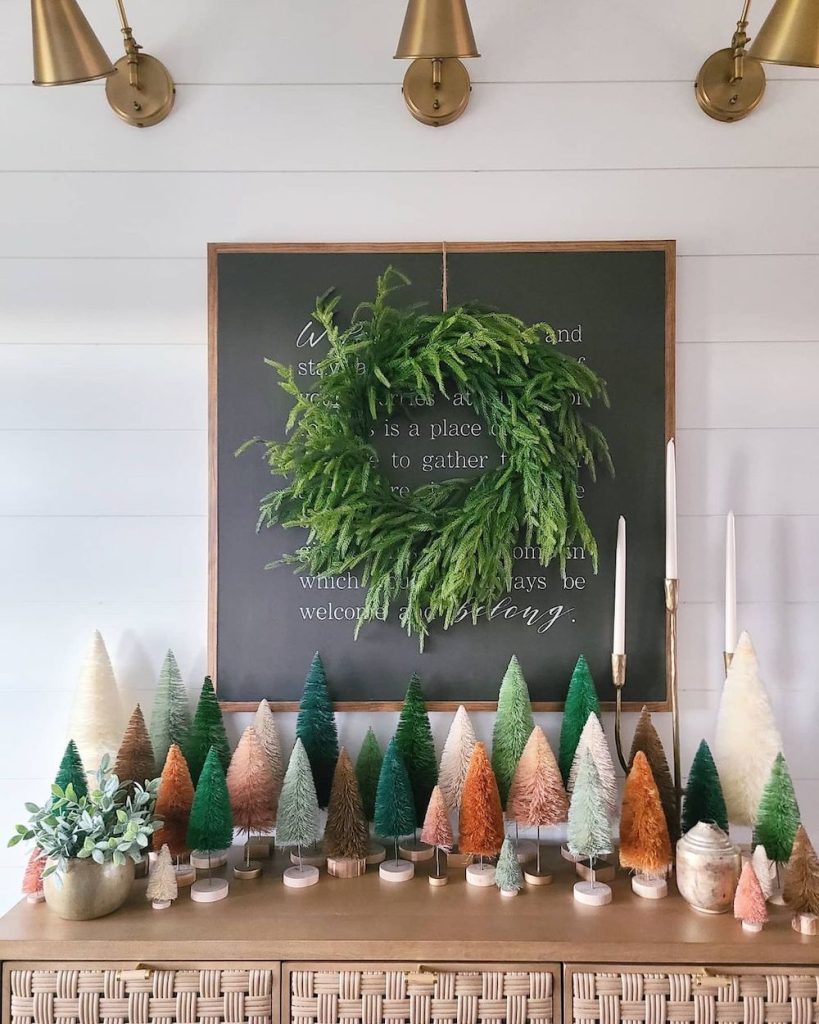 Grow a grove on a sideboard. Great color choices for the dining room.
Curate it Colorful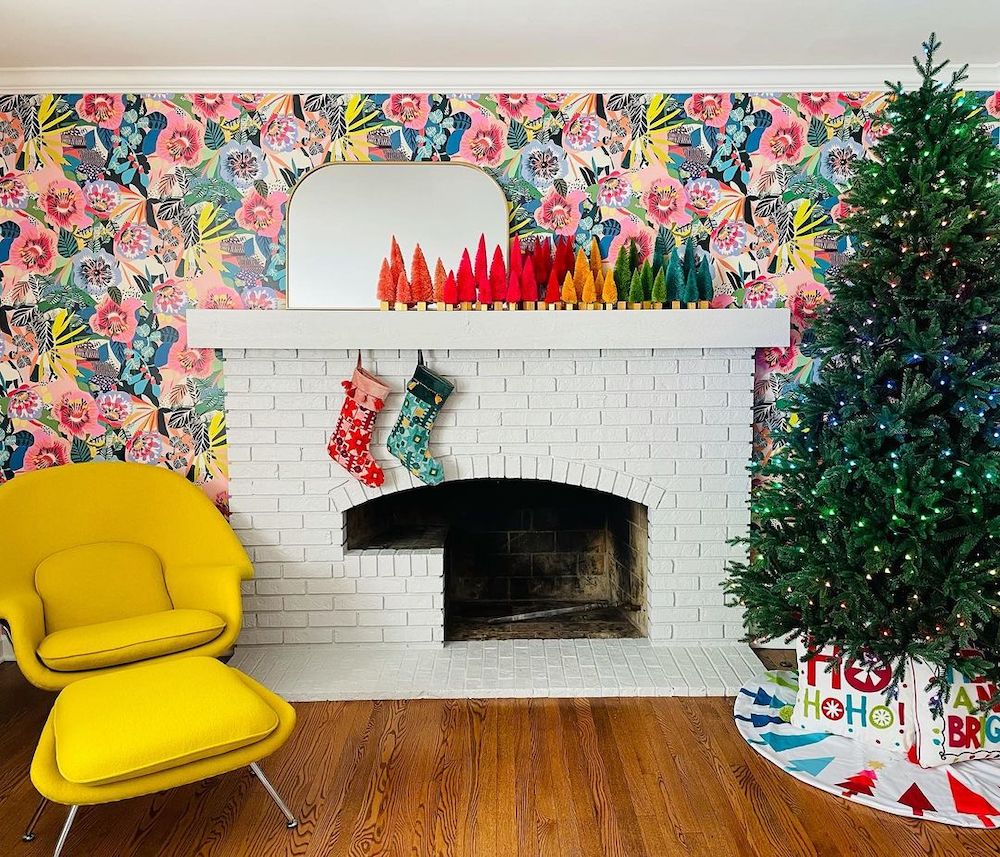 Style your brightest and most colorful trees on the mantel shelf.
Make them Glass Toppers – Christmas Bottlebrush Tree Decor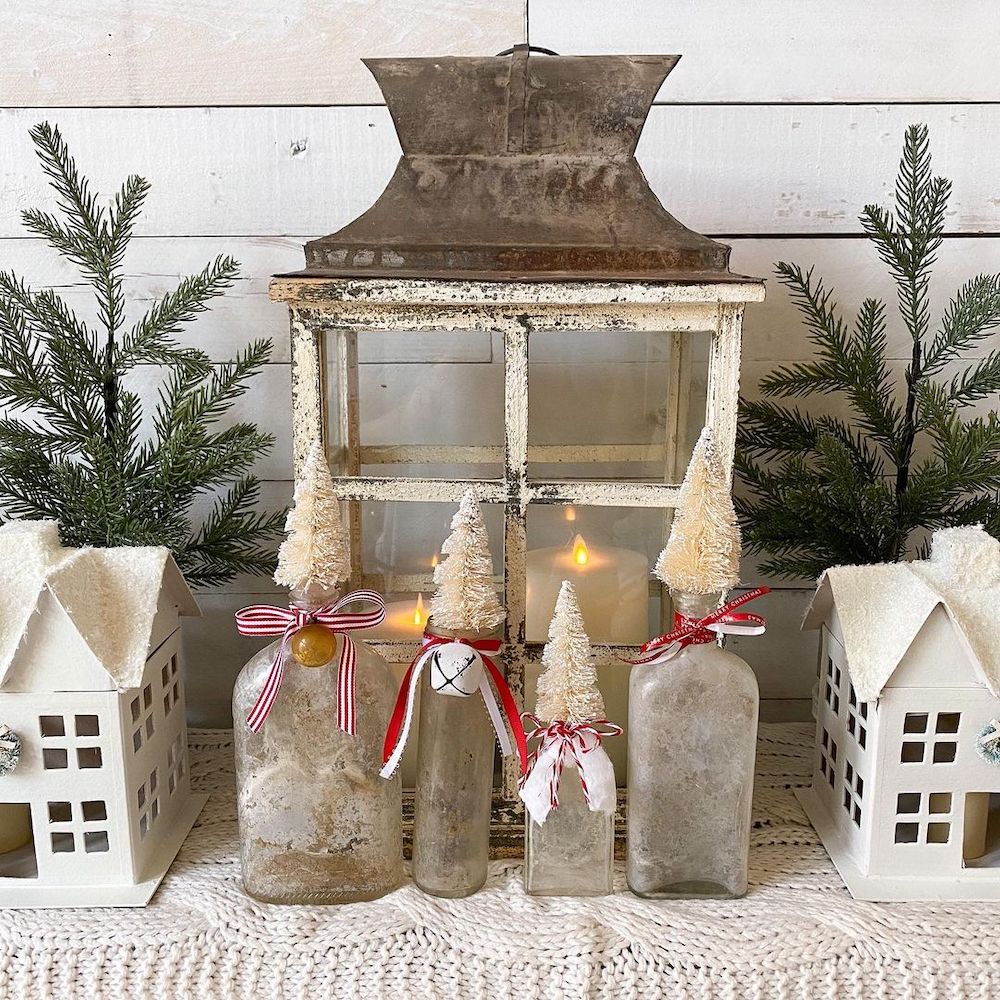 Style them as toppers for your glass jar collection. Then finish them off with a brightly colored red and white ribbon.
Create an Advent Centerpiece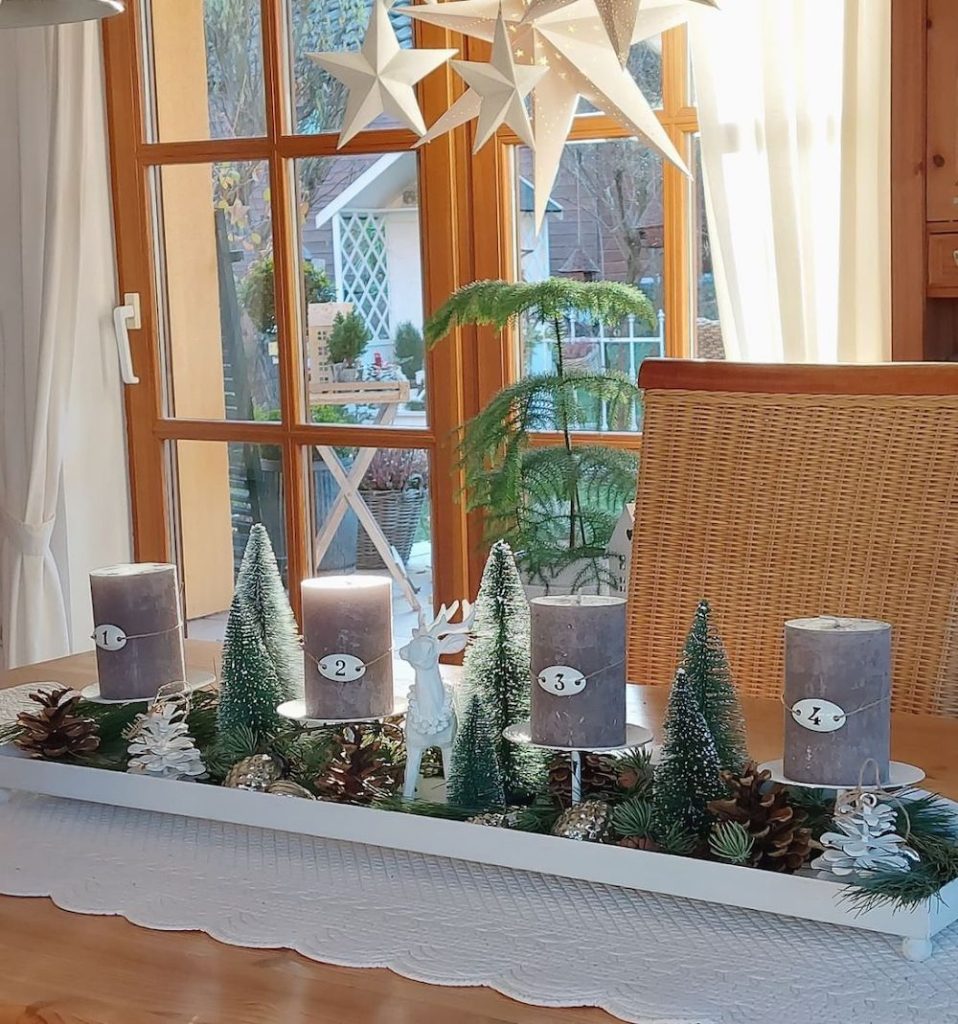 Style an Advent centerpiece using your holiday trees. So pretty and a great woodland setting.
Here are a few holiday trees for decorating your home:

In Conclusion – Christmas Bottlebrush Tree Decor
This ends our list of beautiful Christmas bottlebrush tree decor ideas. Use decorative trees throughout the home this holiday season. So easy to style whatever your decor style is. These mini trees fit every decor style.  
For additional Christmas decor inspiration, be sure to check out our other posts.
Reach out to us with any questions. We are always ready to help you out. Thank you for stopping by our blog.
Wishing you a blessed Christmas this year!
Mary
Pin this for Later: