Christmas mantel decor ideas for a cozy and festive fireplace. Wondering what to do this Christmas year for your fireplace? Or for a faux mantel piece? In today's post, we are sharing styling ideas for the fireplace. And there is no doubt that these are the absolute best mantel styling ideas for the upcoming holiday season.
Ramp Up the Coziness – Christmas Mantel Decor Ideas
Stay cozy throughout the Christmas season this year in a stylishly decorated mantel. There are so many ways to decorate your fireplace for the Christmas season. If you want to change things up a bit, consider these ideas for styling your fireplace mantel. Take a look at our picks of the best and festive fireplaces to style for your home.
Decorate in Traditional Colors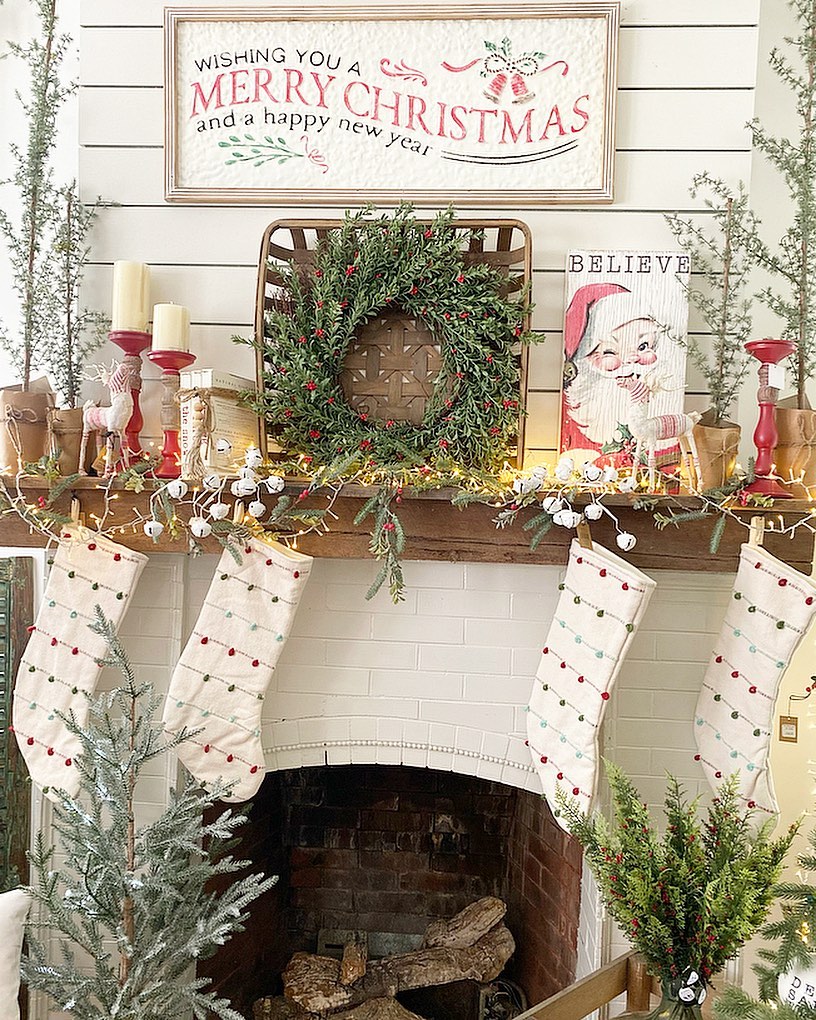 Use the traditional colors of red, green, and white to style your mantel. In this design, you'll find touches of red. Red in the candlesticks, Santa wall art, berries in the wreath, and throughout the entire design.
Go For Pops of Color – Christmas Mantel Decor Ideas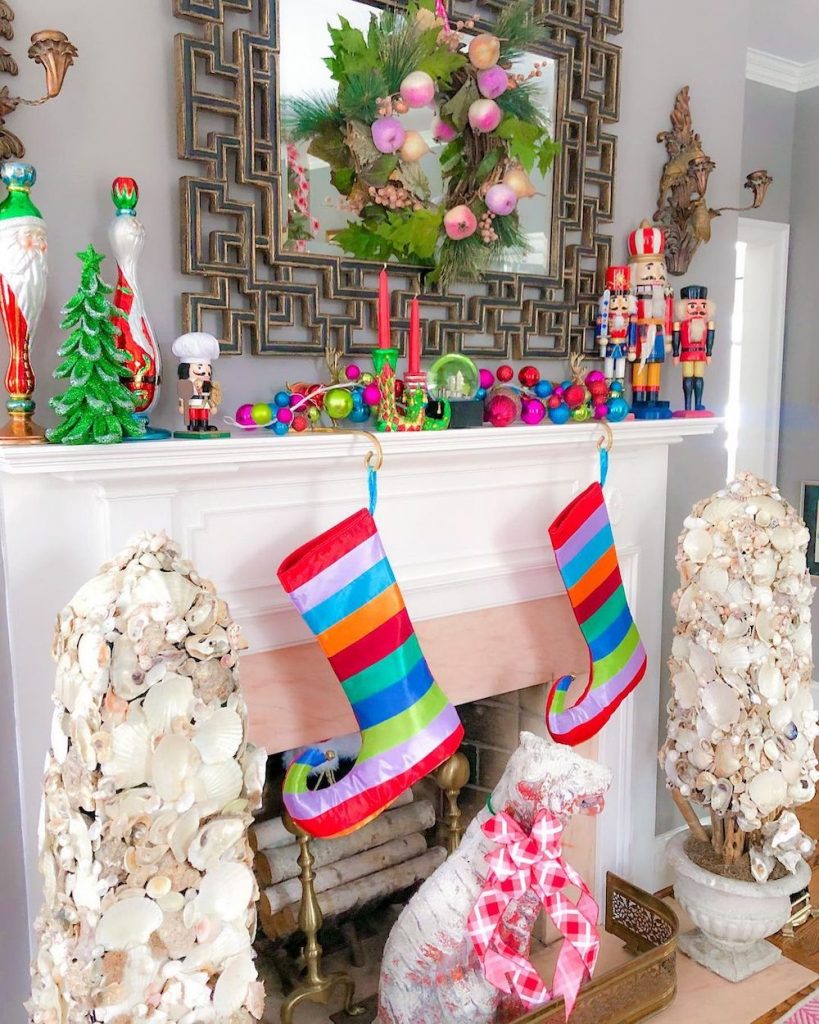 Give your mantel pops of continuous color with this design. Styled in fuchsia, aqua, lavender, and vivid oranges.
Give it the Flocked Look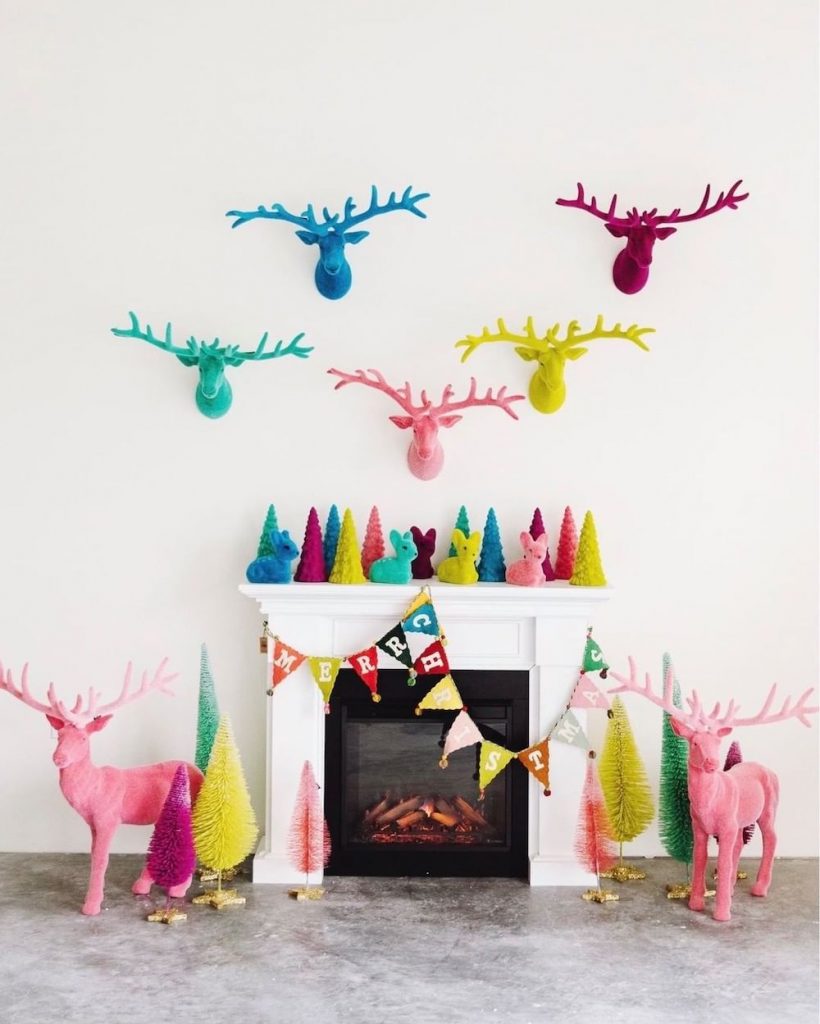 Style it with the warmth of flocked reindeer. In this design, the flocked reindeer were given a more updated look by using bright colors.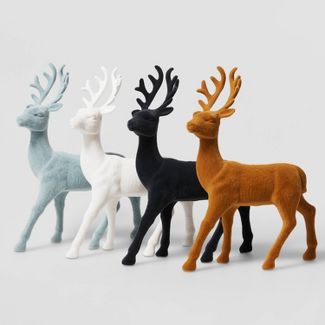 Add Wall Art with Joyous Messages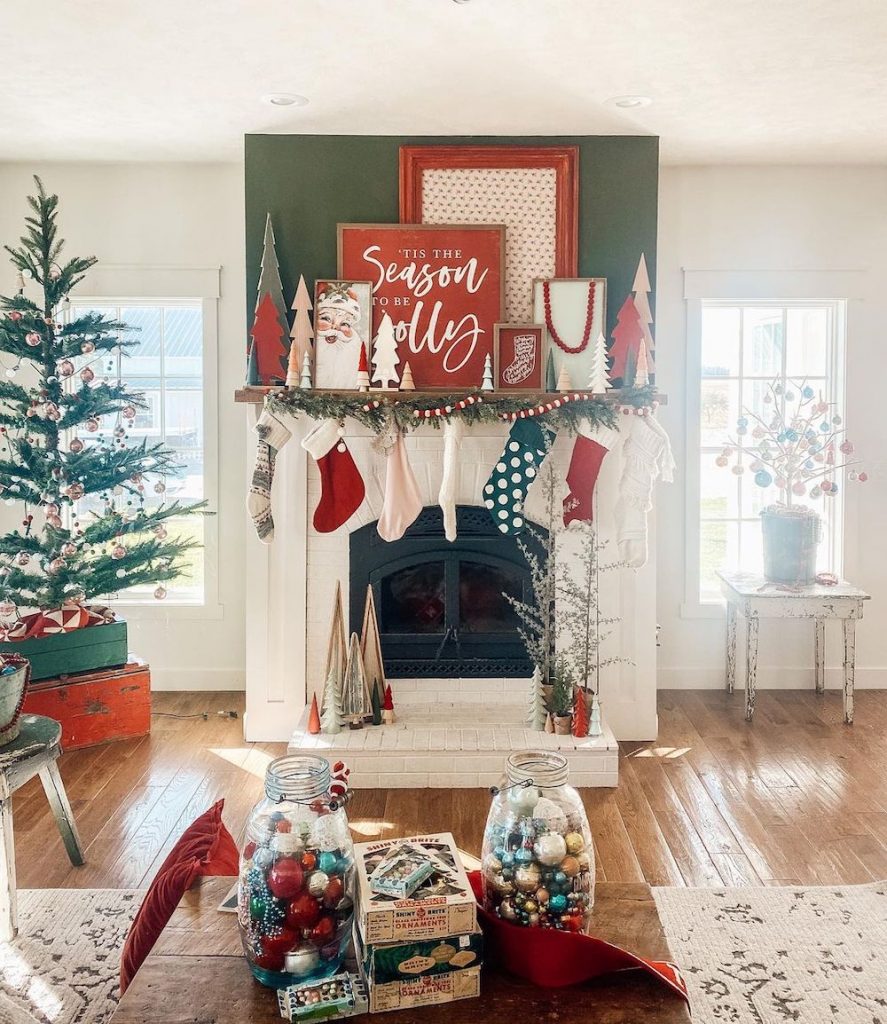 Display your favorite holiday wall art on your mantel. After all, it is the season to be jolly!
Pack it with Greenery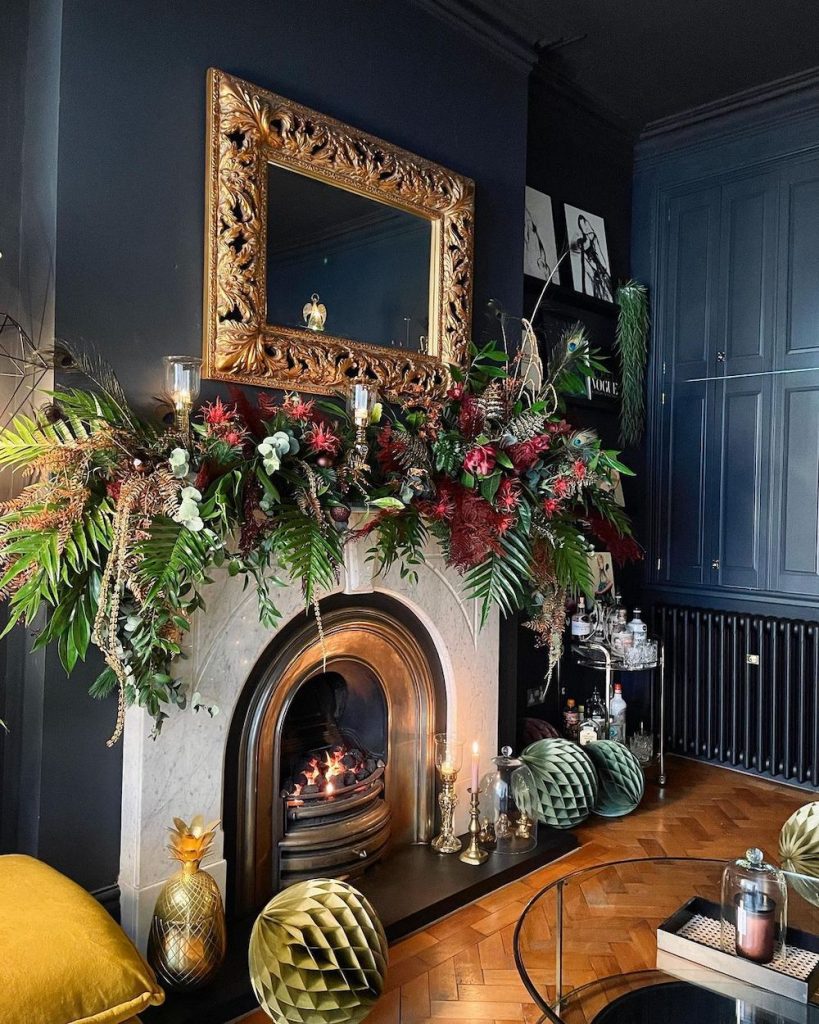 Jam it tight with boughs of greenery. In this display, the designer added tropical greenery with touches of red to brighten the mantel.
Brighten the Mantel with Mirrors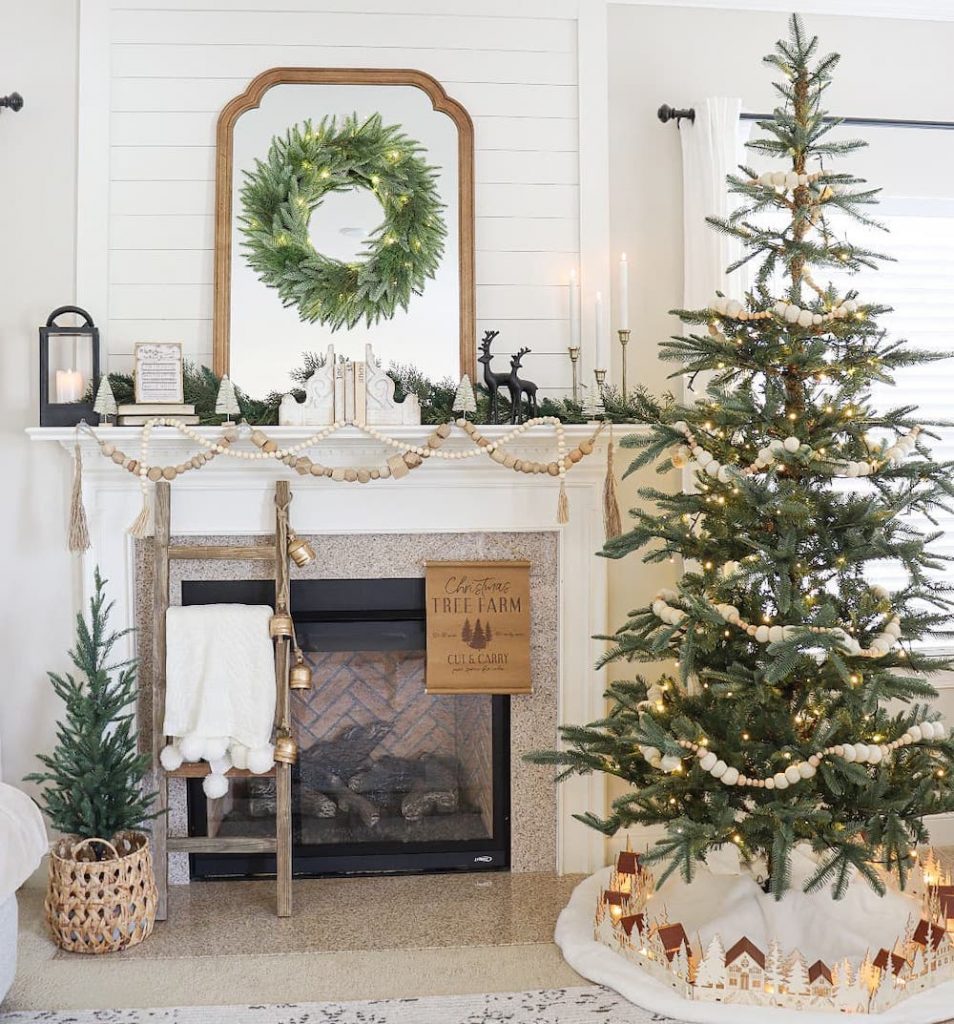 Mirrors have a way of brightening up a room. As the image above shows, a wreath was hung in front of the mirror for added warmth.
Use Wooden Objects for Warmth – Christmas Mantel Decor Ideas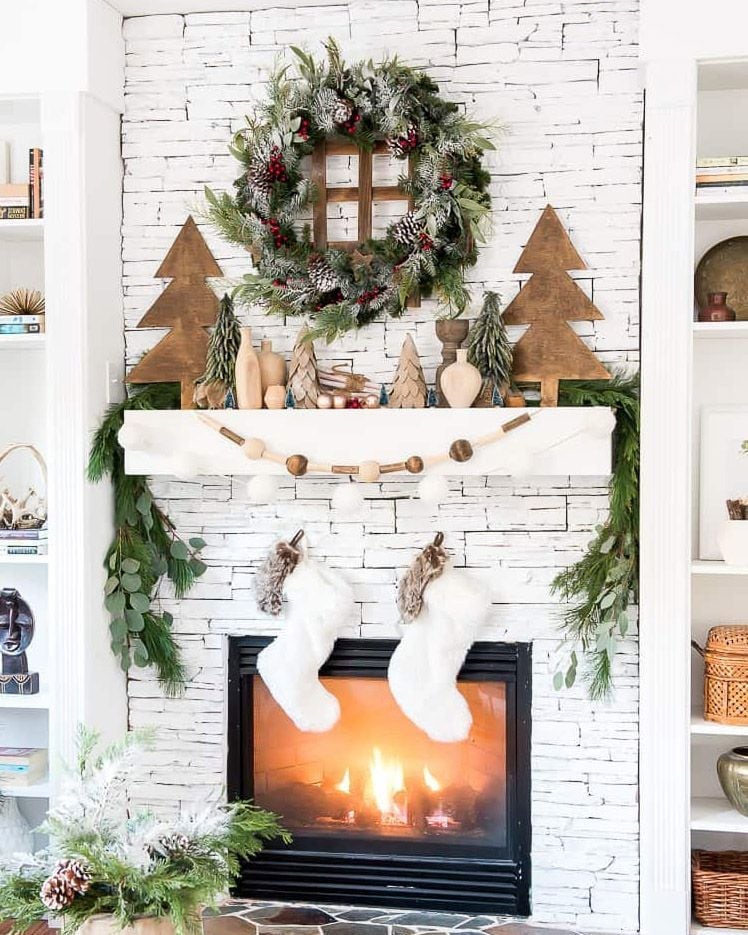 Wooden objects give warmth to a space. In this inspirational idea, the wooden trees, garland, and accessories exude warmth and coziness.
Replicate a Christmas Tree Lot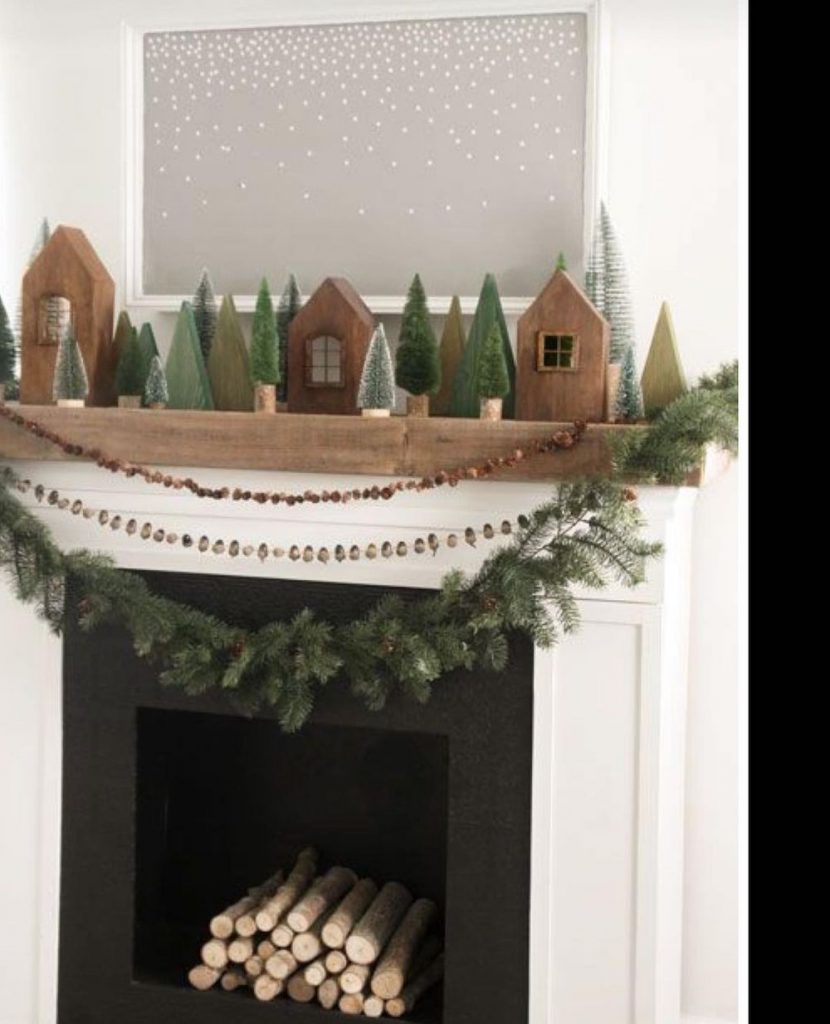 The mantel above reminds me of a Christmas tree lot. A few wooden sheds surrounded by a variety of Christmas trees. Flocked and natural trees for sale.
Style it Green, White, and Gold
Decorate with green, white, and champagne gold. In this design above, these three colors stand out against the black brick fireplace.
Make a Ski Lodge Mantel – Christmas Mantel Decor Ideas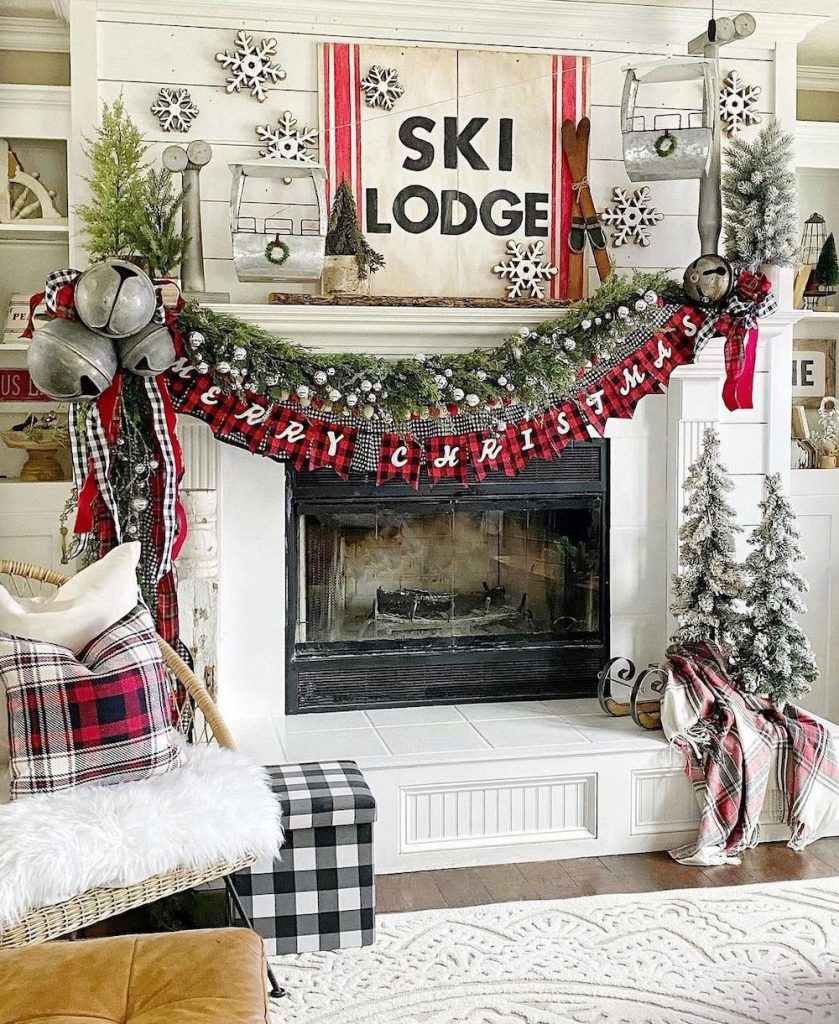 Create a miniature ski lift scene right out of a ski resort. Cute, don't you think? This mantel display includes a pair of skis against the wall with snowflakes.
Ramp Up the Coziness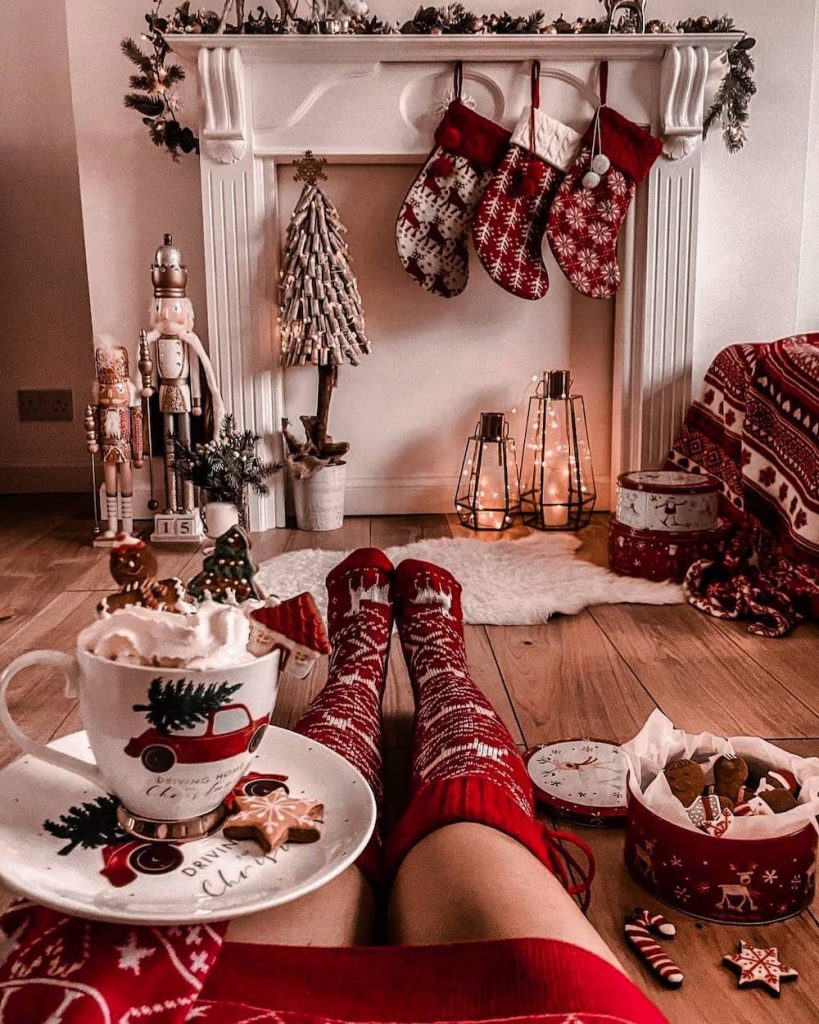 There is nothing better than ramping up the coziness by the fireplace. And of course, having a copy of hot chocolate. Keep it toasty next to that faux fireplace.
Believe in the Power of Green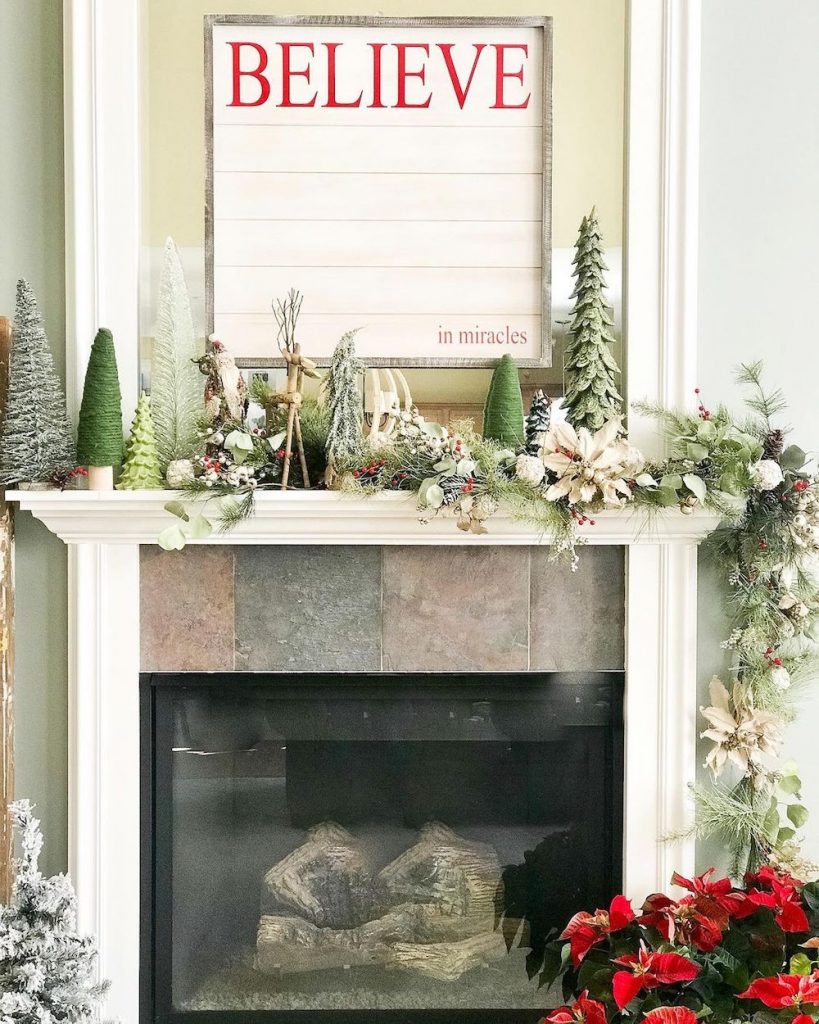 Go green with paint and accessories in this scene. Green trees, greenery, and a green Santa give this space some much love and character.
Make it a Double – Christmas Mantel Decor Ideas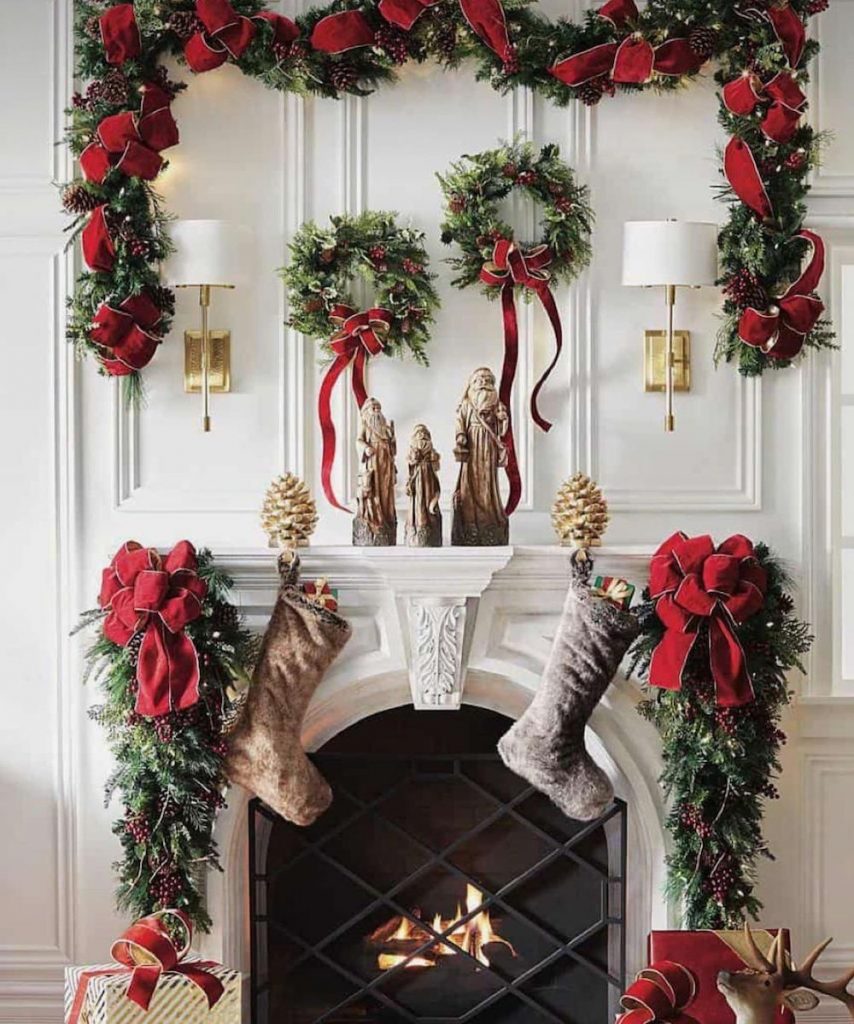 Hang garland and a set of smaller wreaths over the fireplace. Bows made from gold trim red ribbon give this mantel a festive look.
Light Up the Room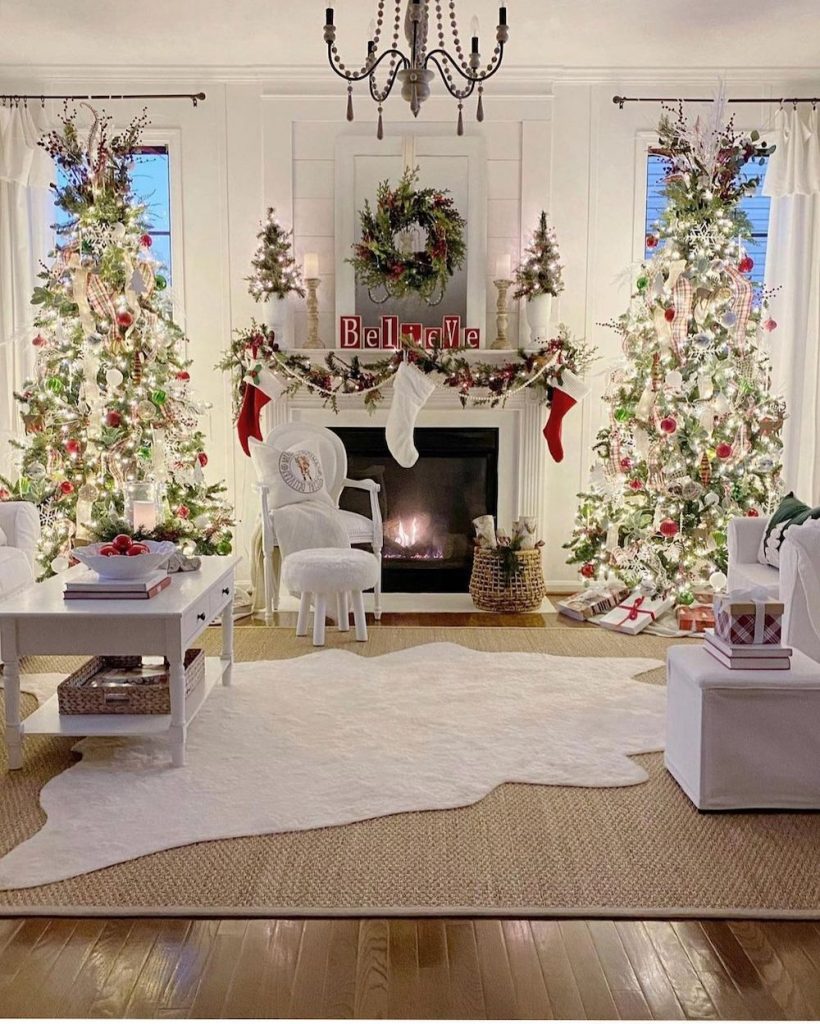 Light up the garland, miniature trees, and wreath with miniature lights. White interior with pops of red throughout the room.
Add Greenery with Touches of Black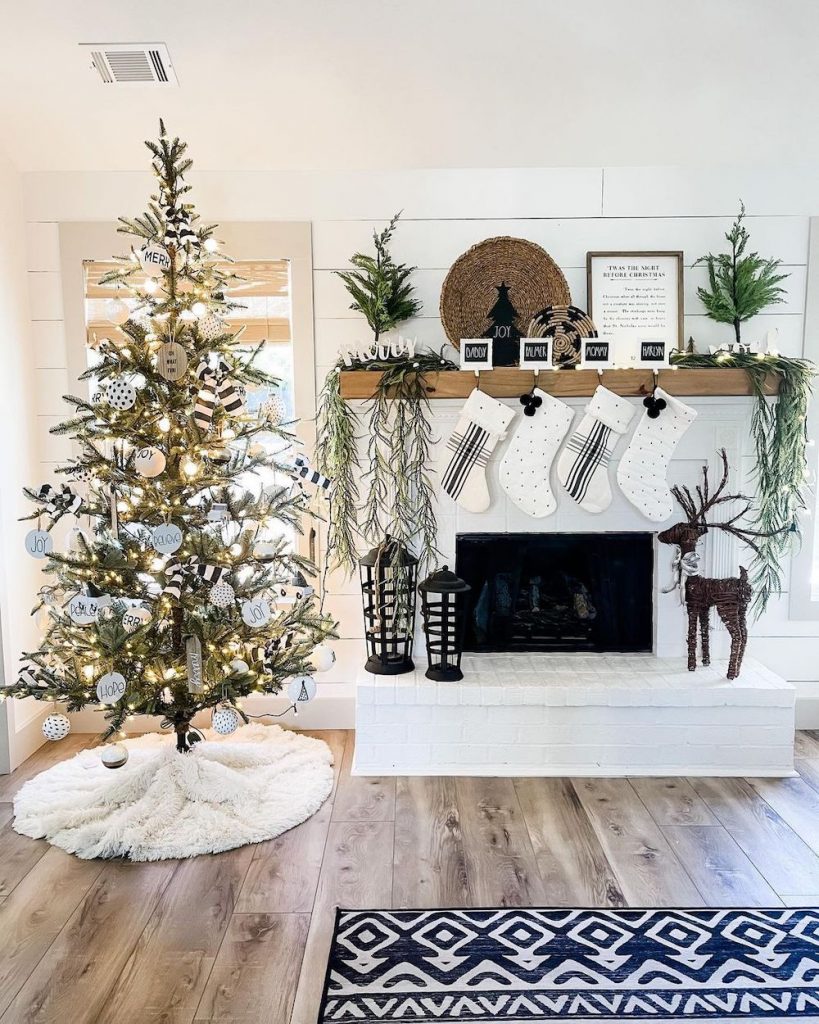 Drape green boughs over the mantel and place a set of miniature trees at each end. Then use black accessories for a dramatic look.
Jingle Bells Over the Mantel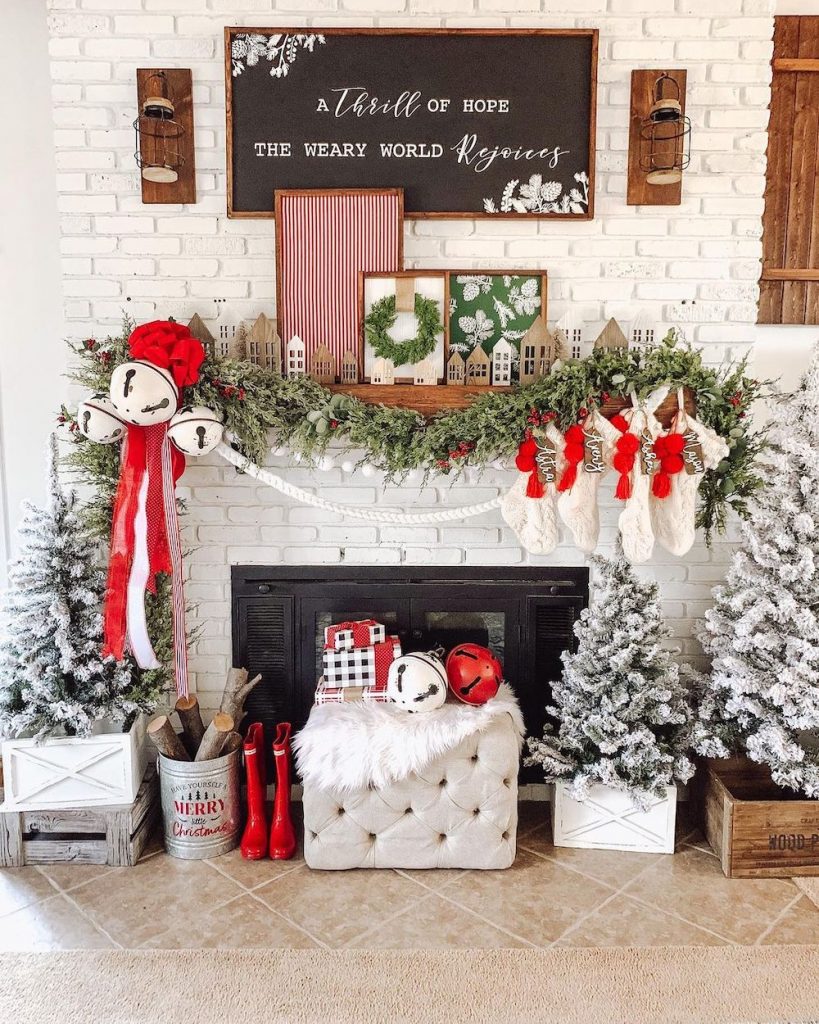 Hang a grouping of festive, giant bells. Celebrate the season with large bells in white and red. Looks so beautiful next to the flocked trees.
Celebrate the Snow Season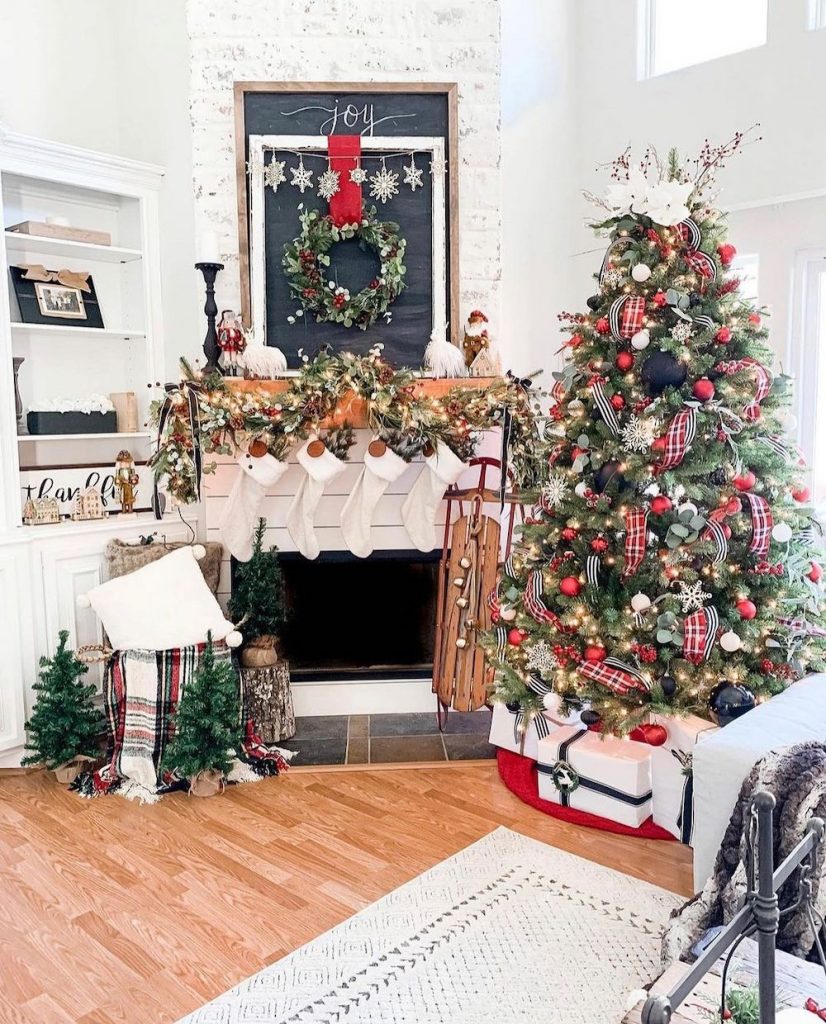 Welcome the snow season with accessories for a classic snow run. Hang snowflakes, bring the flexible flyer metal runner sled by the fireplace and leave a cozy plaid throw nearby. Use all things for a sled ride to decorate your mantel with. And you'll be prepared for the next snowfall.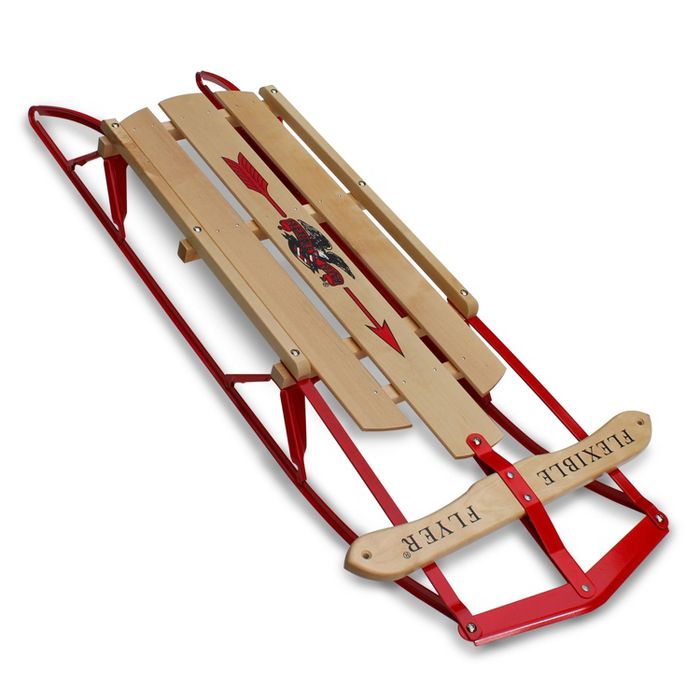 Decorate with Neutrals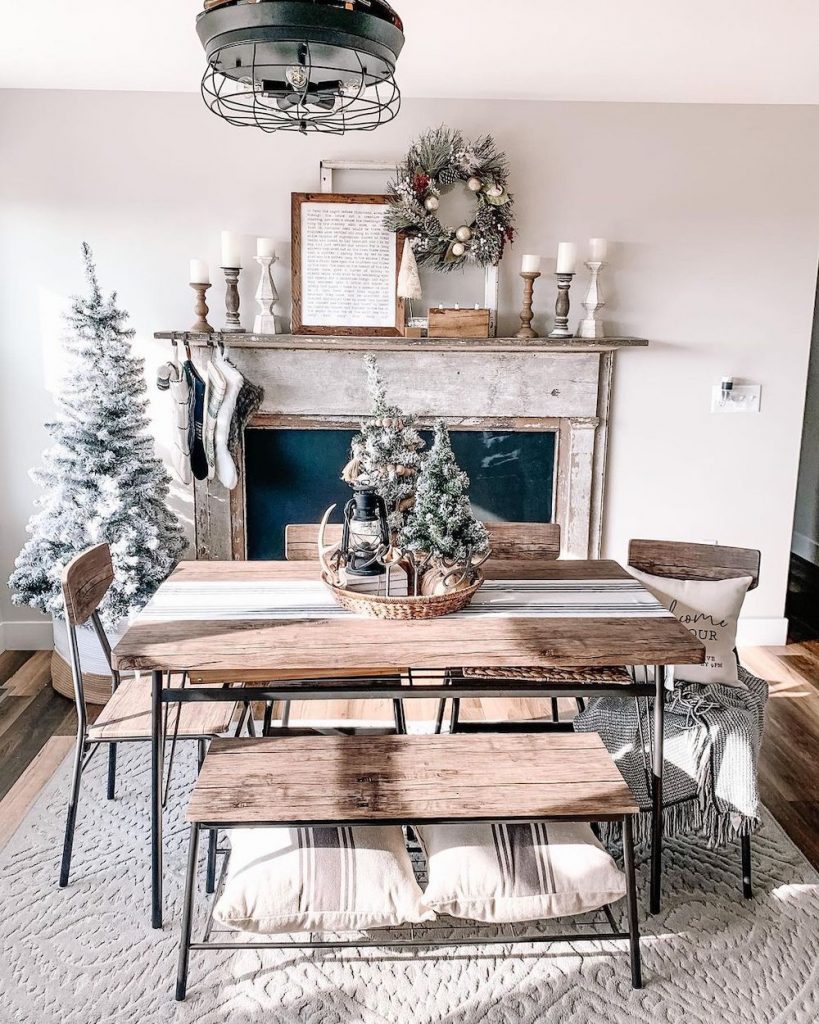 Against a grey backdrop, hang a flocked wreath. Continue the flocked them with tabletop trees and another Christmas tree next to the fireplace. Group candleholders with white pillars on the mantel shelf.
Weave Candy Cane Ribbon Across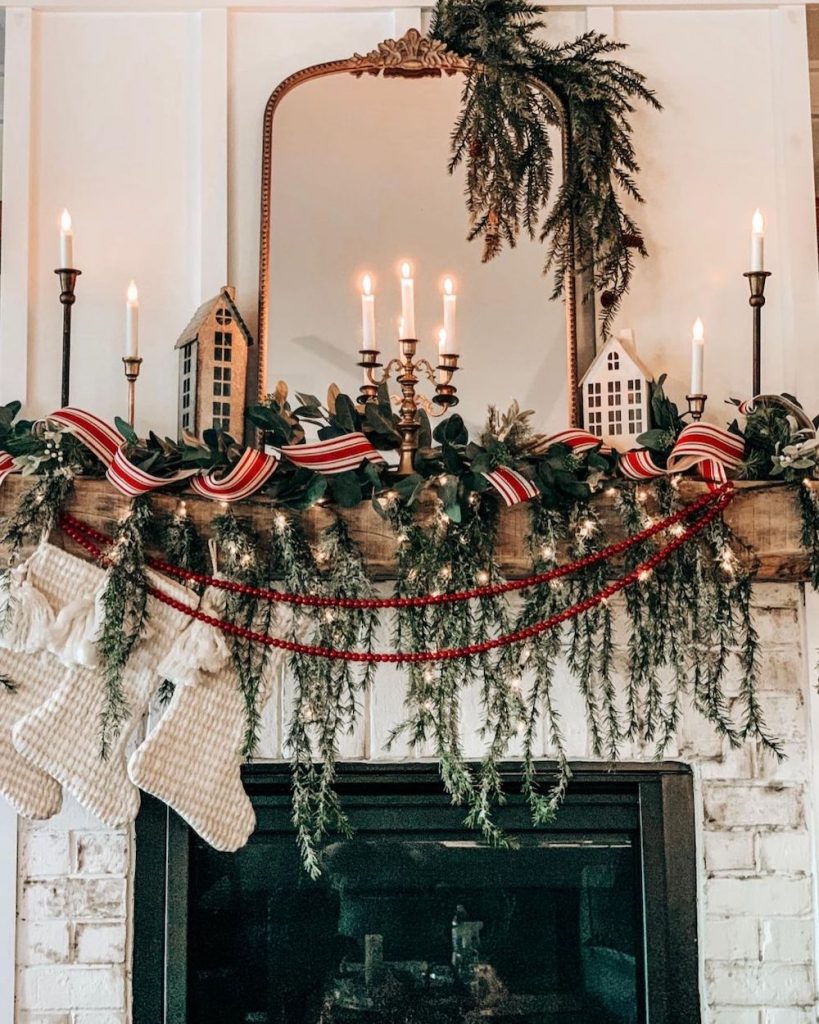 Use greenery such as rosemary, boxwood, magnolia, and evergreen branches around the houses to cover the mantel. Then weave a red candy cane ribbon and red beaded garland for a pop of color. So beautiful.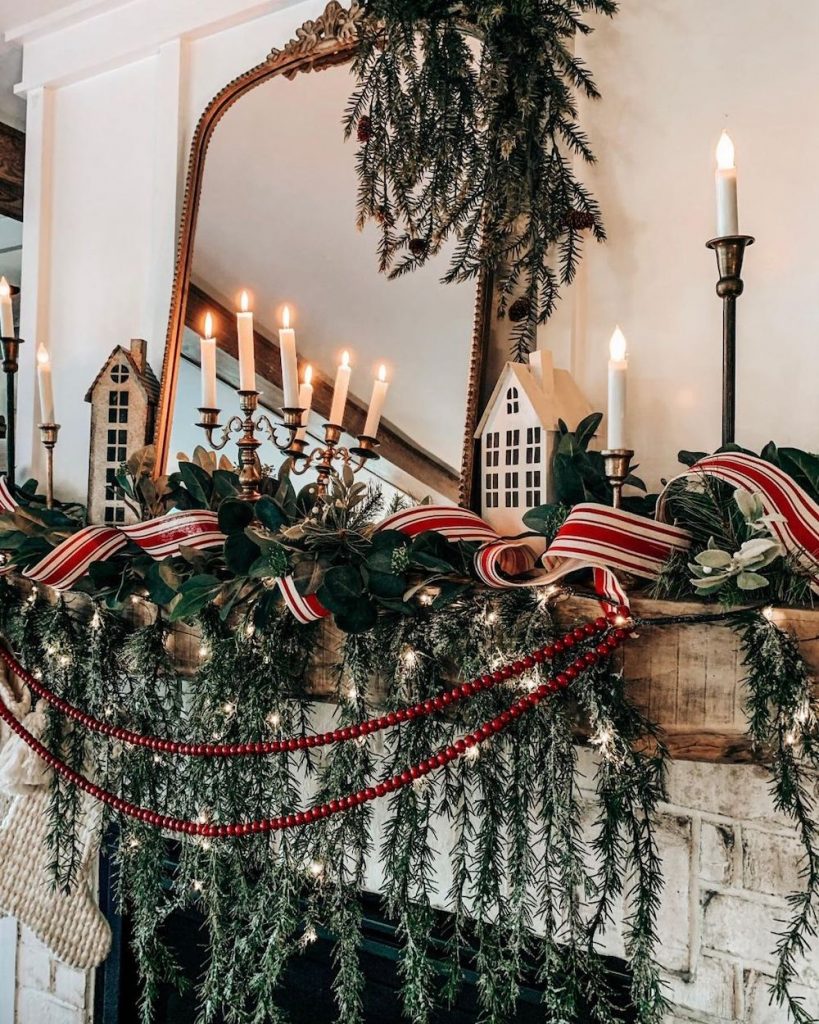 Style it in Creamy White – Christmas Mantel Decor Ideas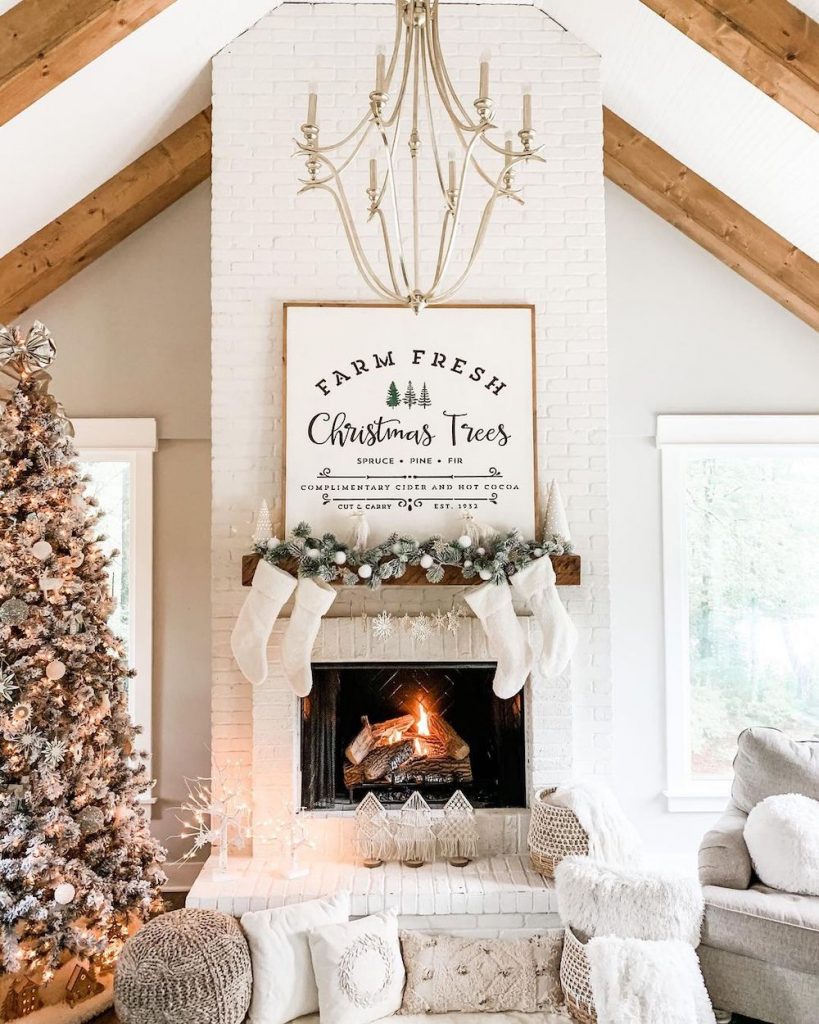 Display creamy white wall art over the mantel shelf. Then add a few embellishments such as bottle brush trees and flocked green garland.
Hang White Quilted Stockings – Christmas Mantel Decor Ideas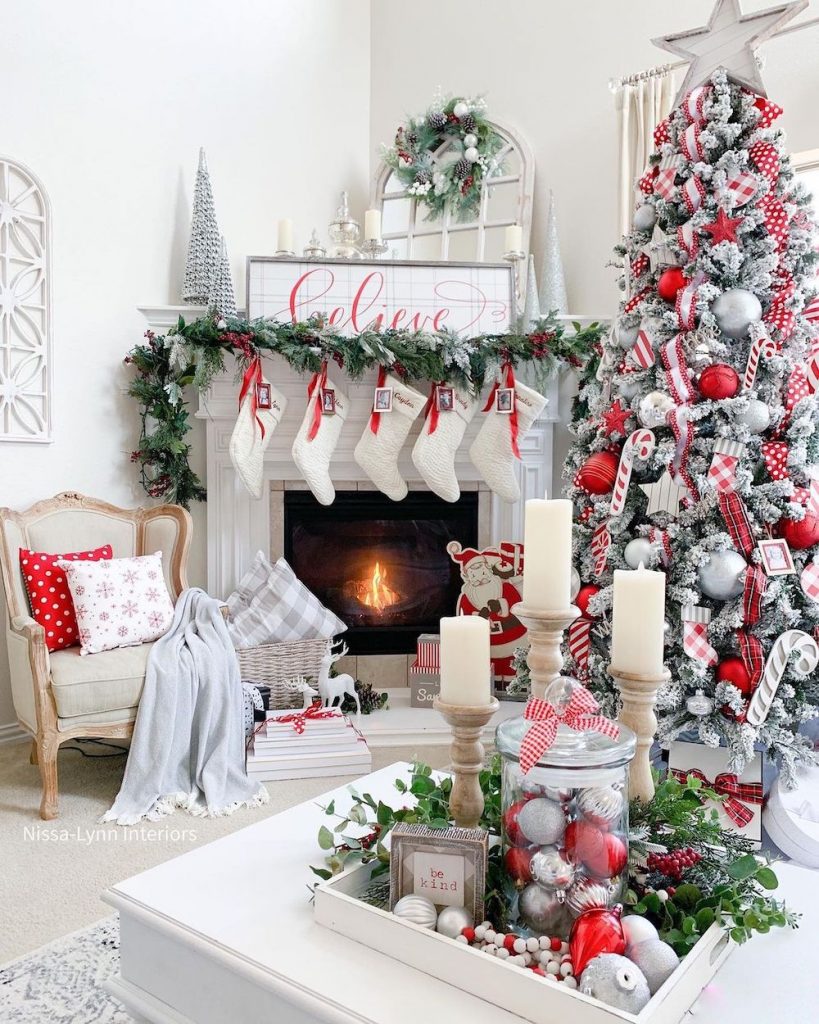 Give your Christmas stockings a place they'll love! Use white, silver, and red for a festive mantel style.
Put Santa on Stage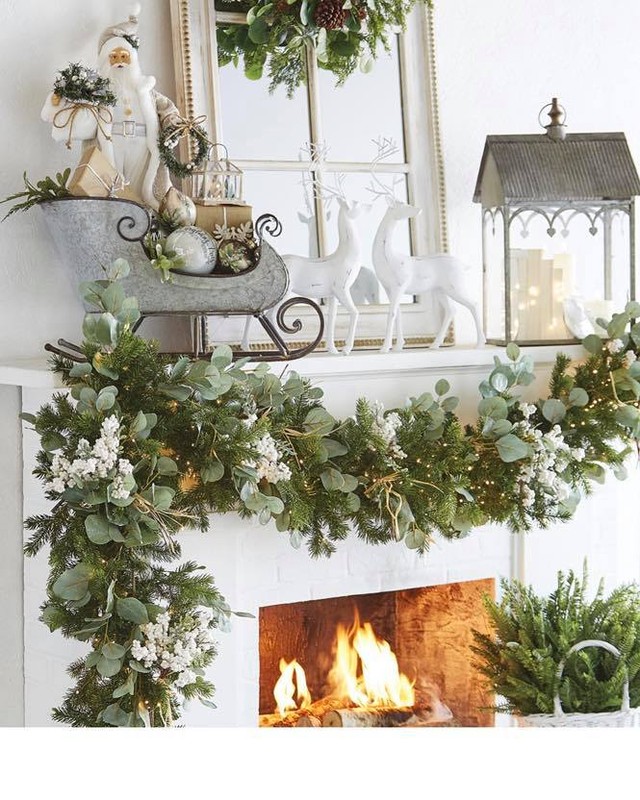 In this design, Santa stands inside his sled with his reindeer nearby. Behind Santa is a pretty framed mirror which adds even more gleam to the room.
Save the Date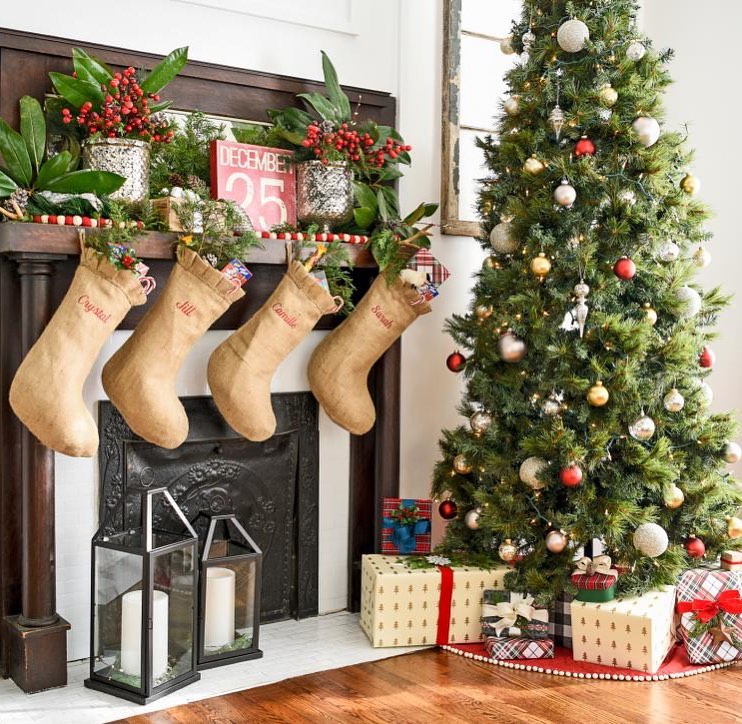 Remind everyone of the big date ahead of time. The date that we celebrate the birth of our Savior. We love the red and white wooden beads that run along the mantel shelf.
Style it in Beige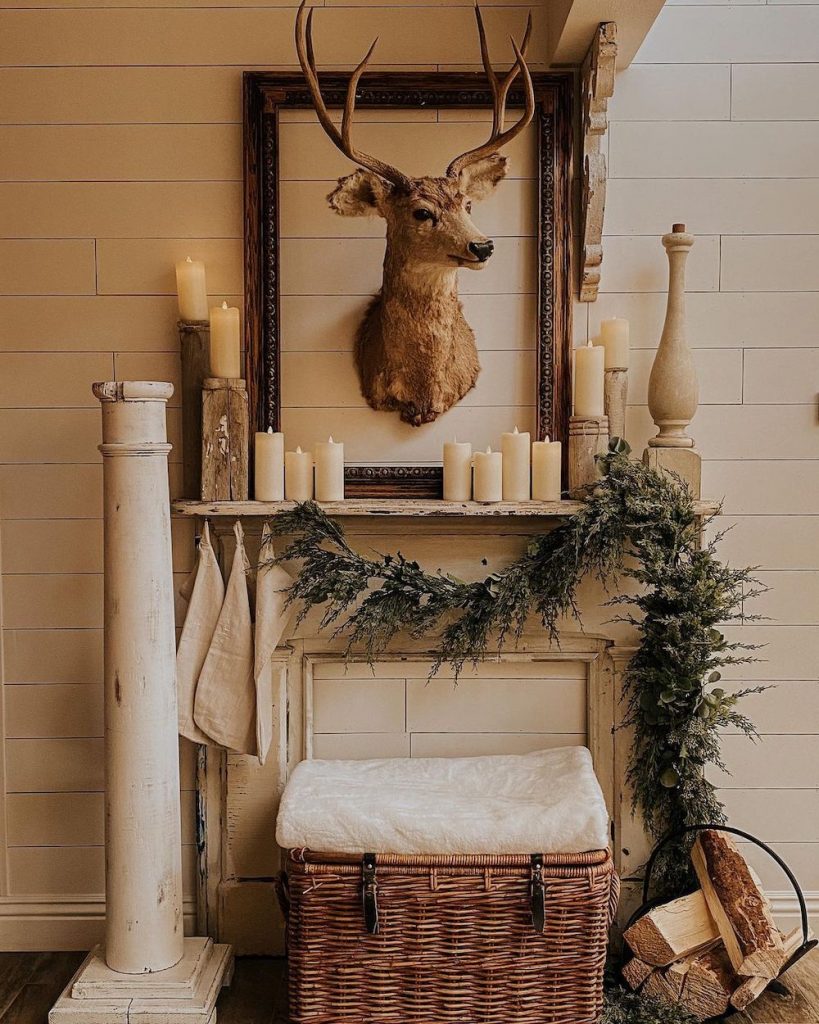 Decorate your mantel to reflect a hunting lodge theme. Use architectural details in beige for vintage-style decor.
Use Gold Accessories – Christmas Mantel Decor Ideas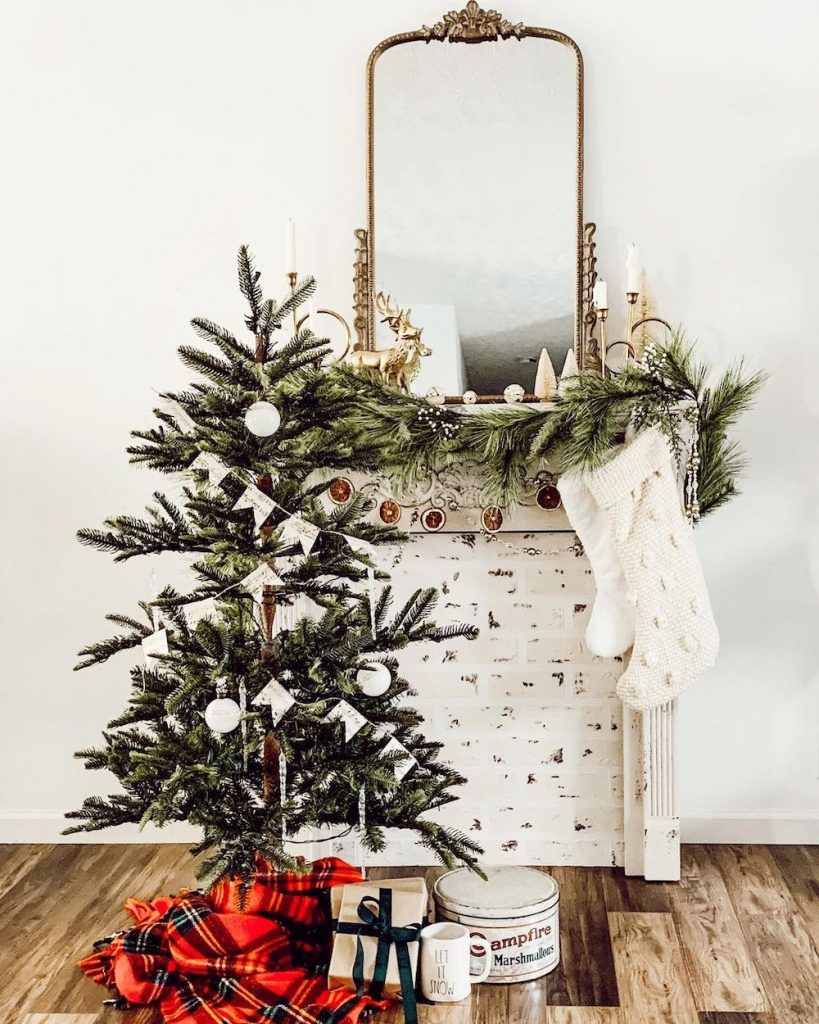 Style your shelf with gold accessories. Start with a gleaming primrose mirror then add candlesticks, reindeer, and assorted holiday objects. Hang a little greenery and add a cute Christmas tree.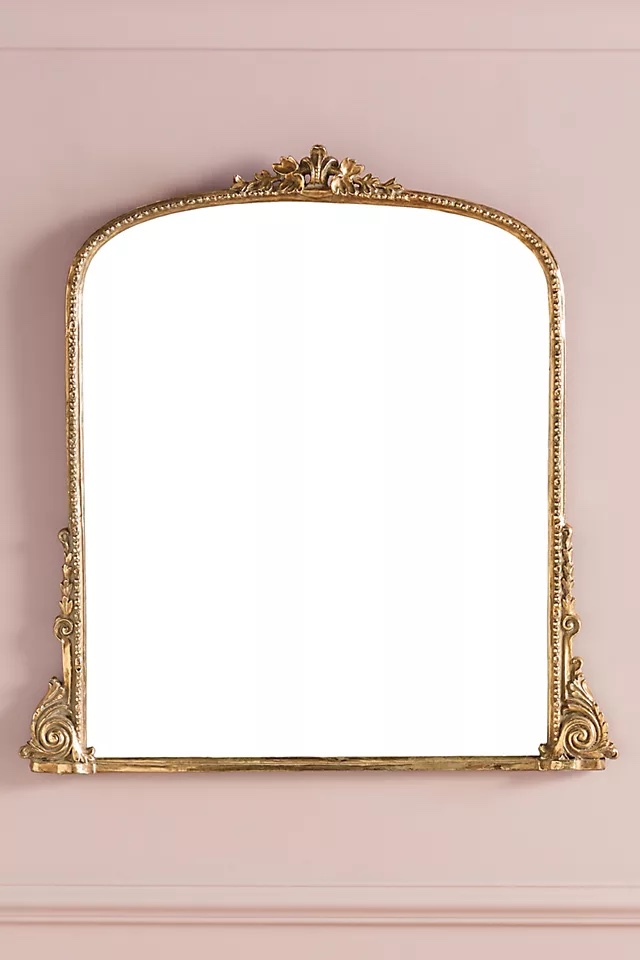 Style it Pretty Pink – Christmas Mantel Decor Ideas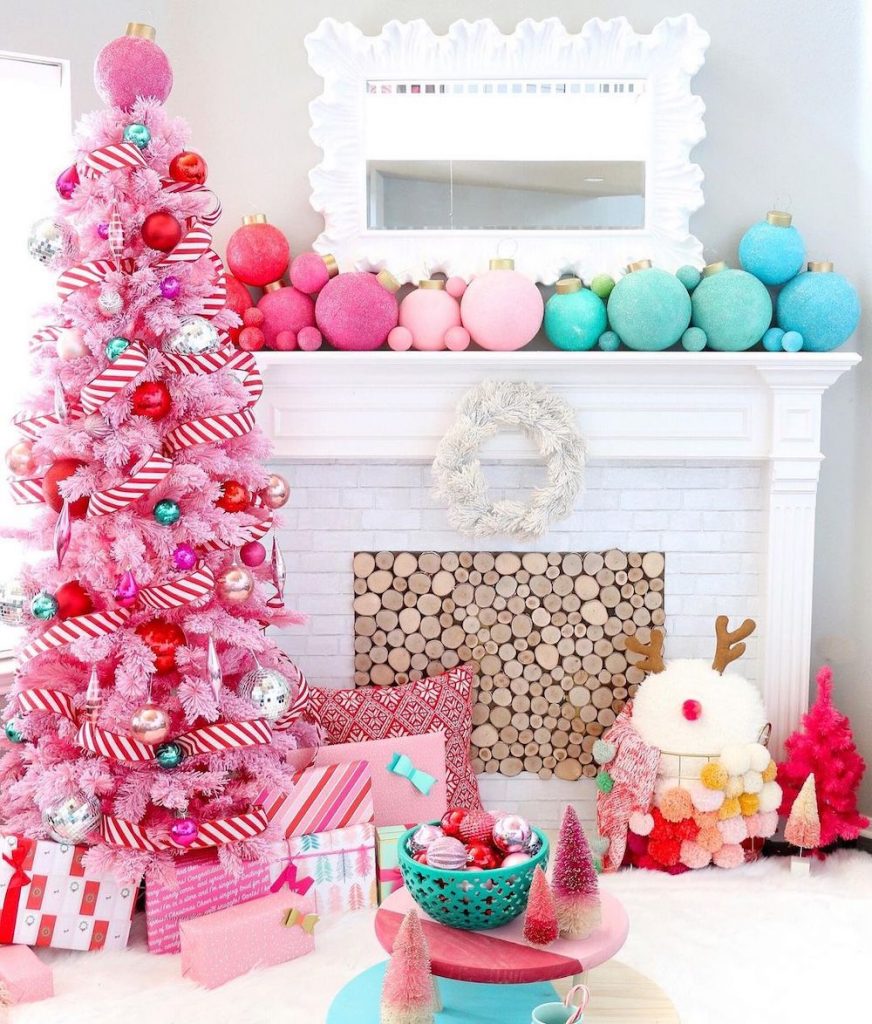 Make it a pink Christmas this year. And maybe add a little turquoise and blue for contrast. A girl's dream came true.
Create a Christmas Tree Village
Design a Christmas tree village on the mantel shelf. Add small tabletop Christmas trees at each end. And use a hoop wreath as the centerpiece.
Go Rustic – Christmas Mantel Decor Ideas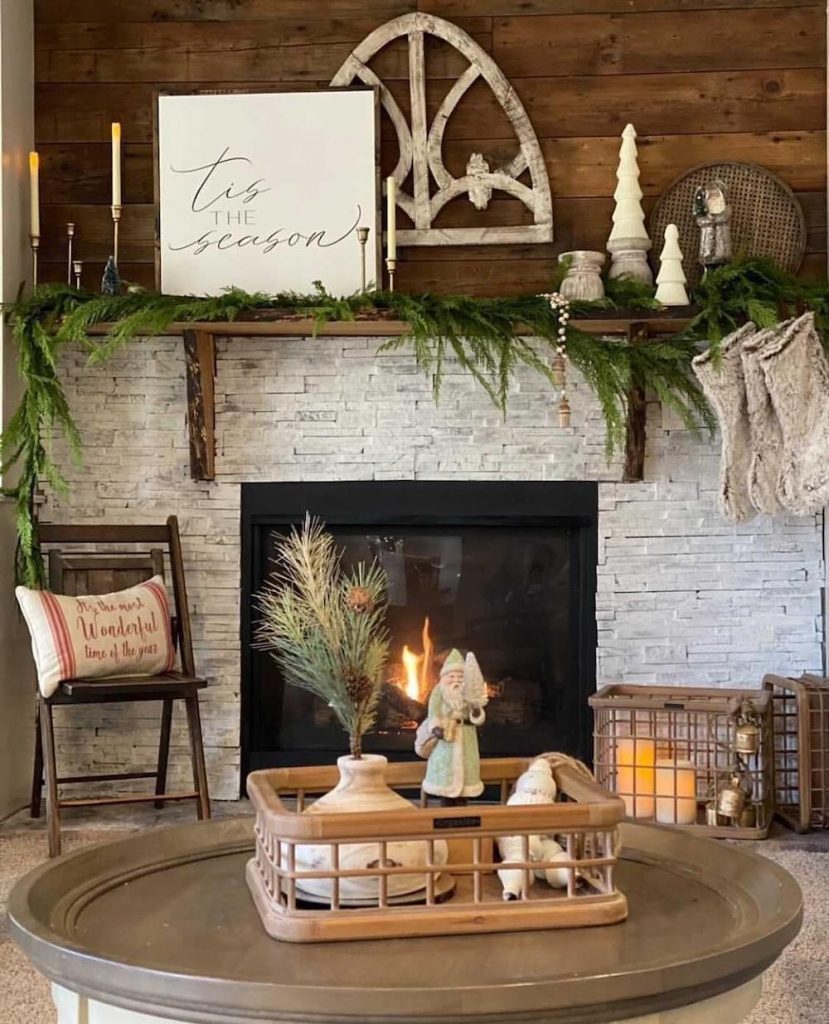 Style with rustic, weathered framed objects. Against a dark background, display white candles and other accessories.
Design it with a Warm Glow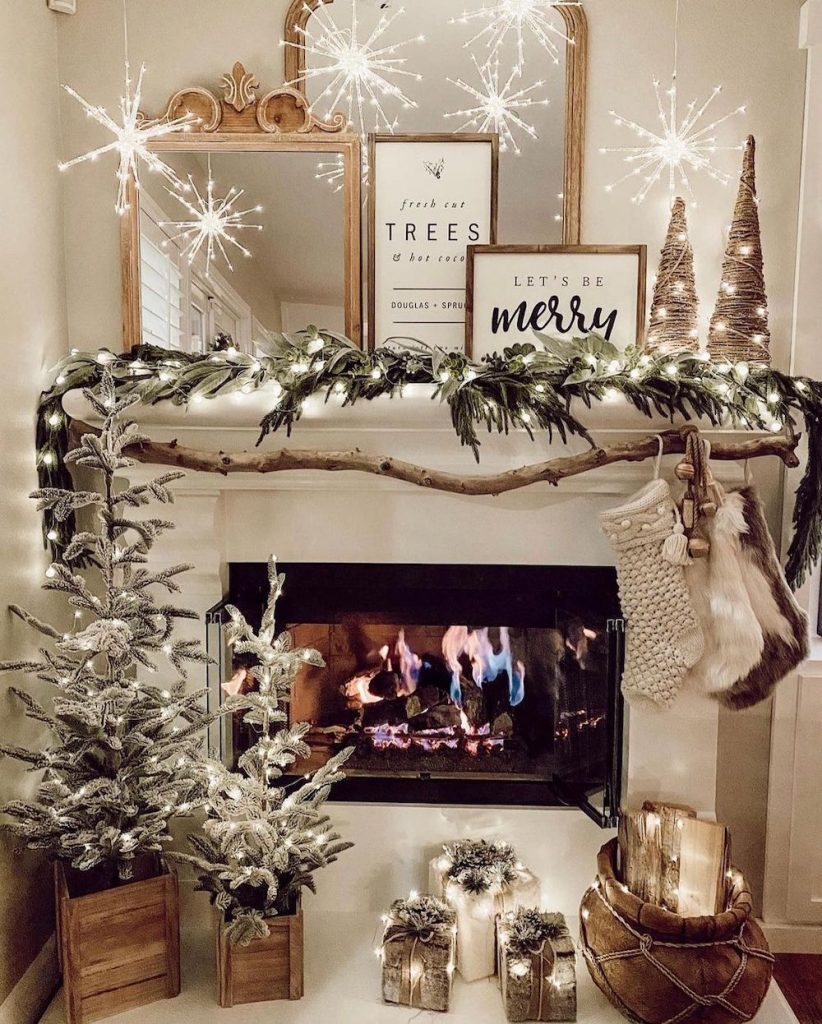 Design it a magical Christmas that they'll remember for years to come. Use a set of natural wooden frames with wall art greetings and Christmas trees. A natural and cozy fireplace we'd all love to relax by.
Show Off Your Reindeer
A leaping reindeer always gives off a good holiday vibe. And the gleaming mantel clock and candlesticks add to the anticipation of the Christmas mood.
Display Your Collection of Bottle Brush Trees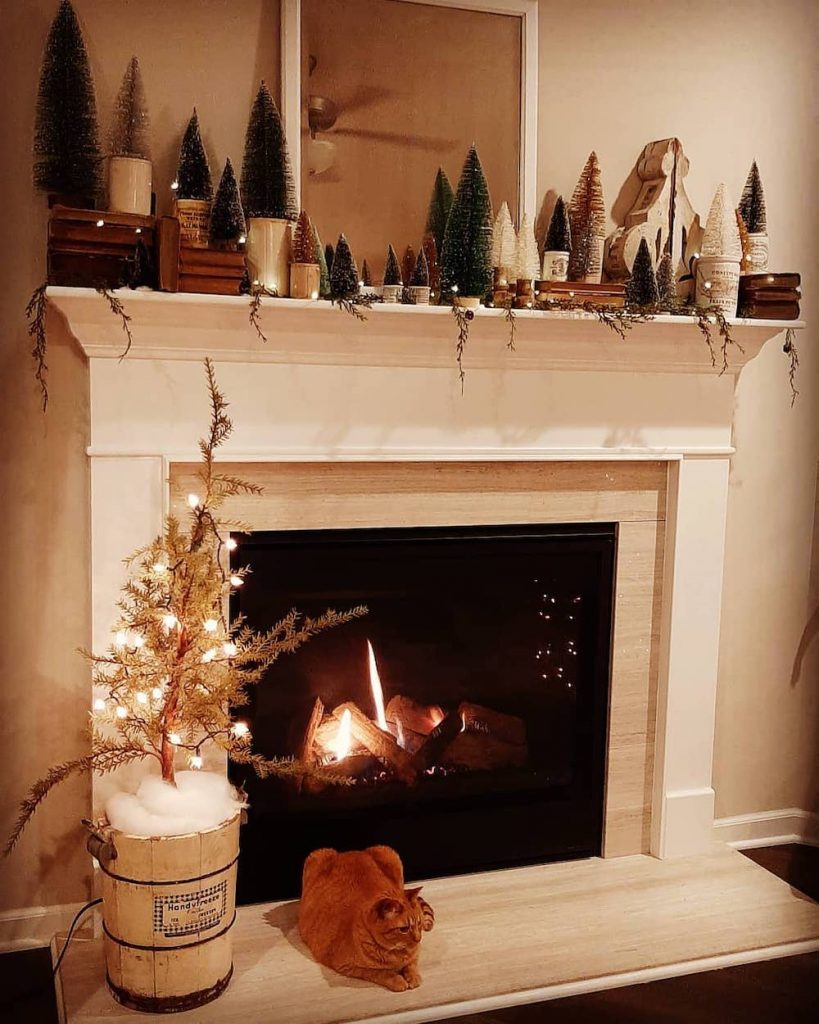 Stay cozy and warm near the fireplace. Display your collection of bottle brush Christmas trees on the mantel. And use vintage books to elevate the trees so that they are of different heights.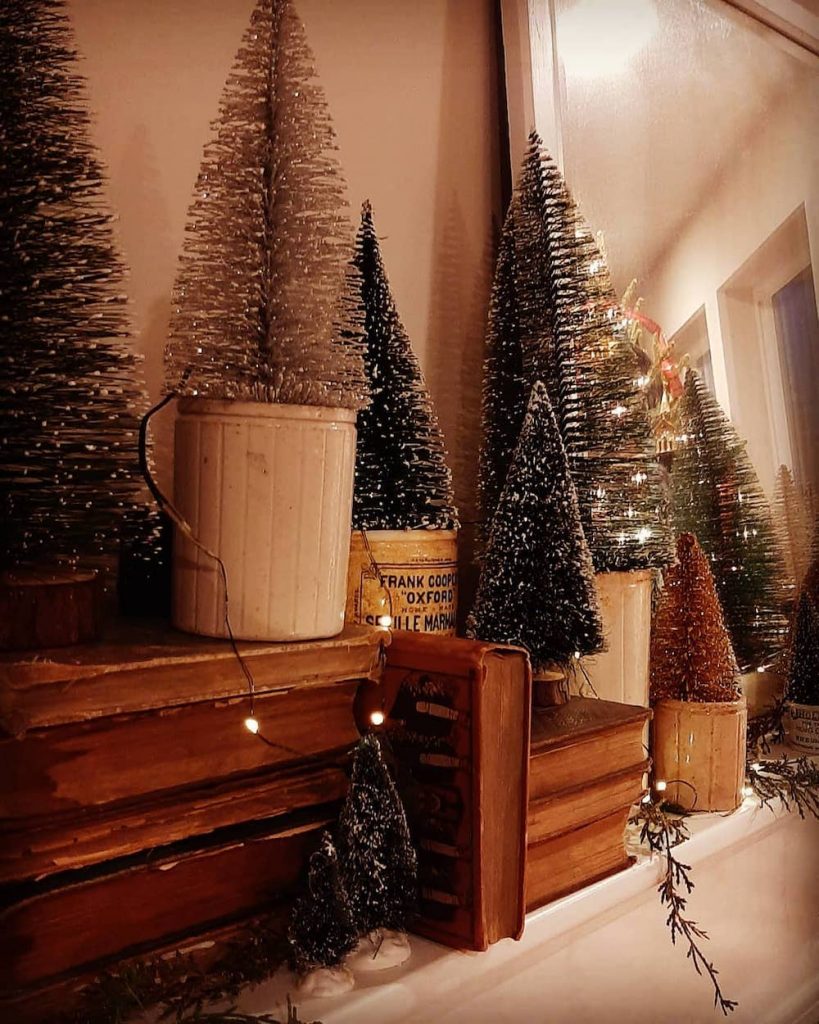 Show Off Your Paper Stars – Christmas Mantel Decor Ideas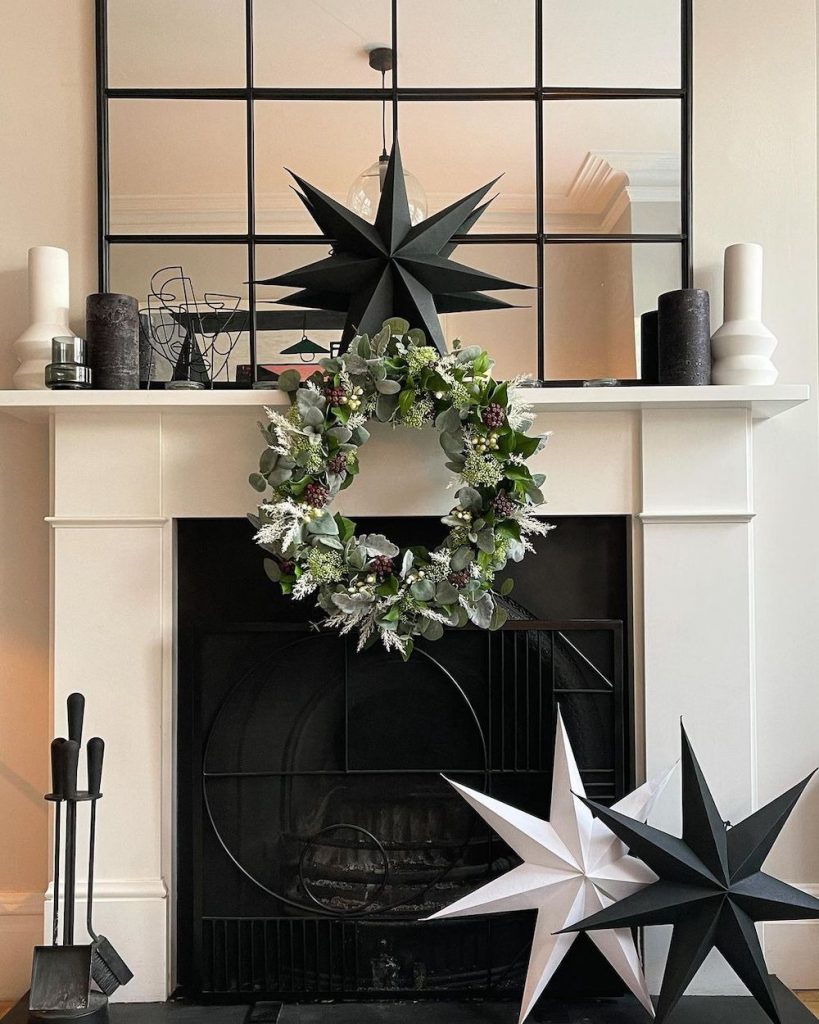 Style your paper stars next to the fireplace and on the mantelshelf. An updated look using black and white colors. The industrial mirror on the shelf gives the space an updated look.
Weave an Asymmetrical Garland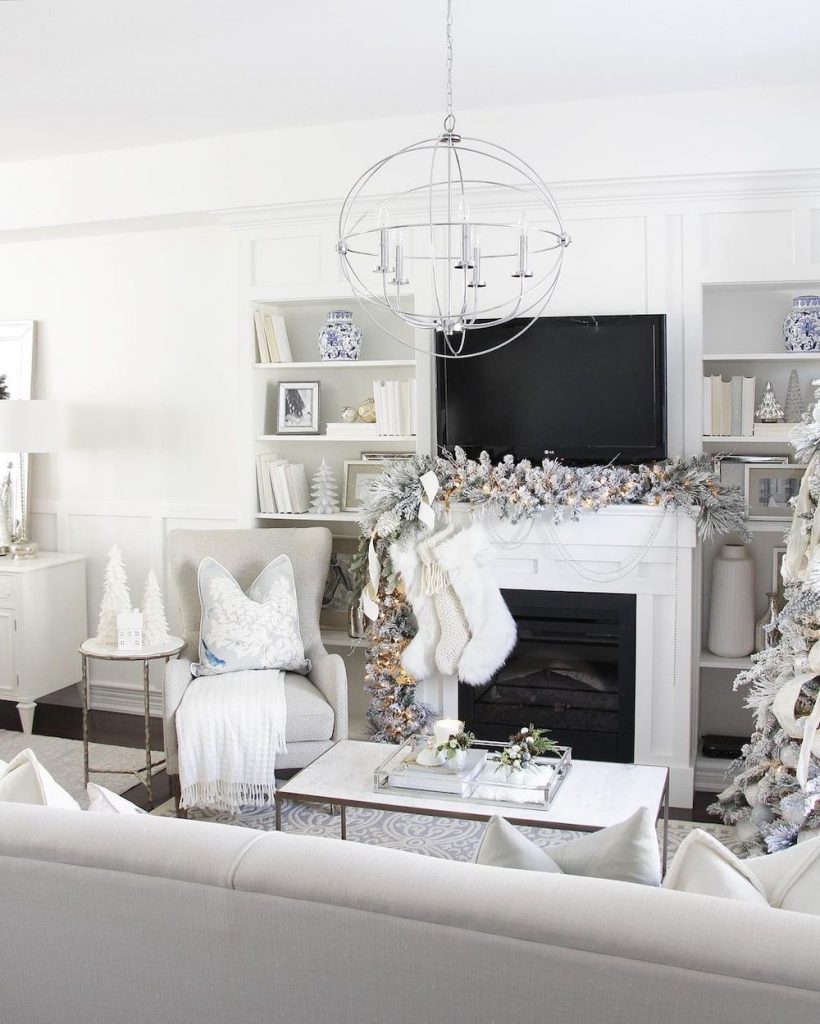 In this design, the designer only draped garland on one side of the mantel. This gives the mantel an asymmetrical look then balances the other side using a white beaded garland. Pretty!
Go for a Vintage Style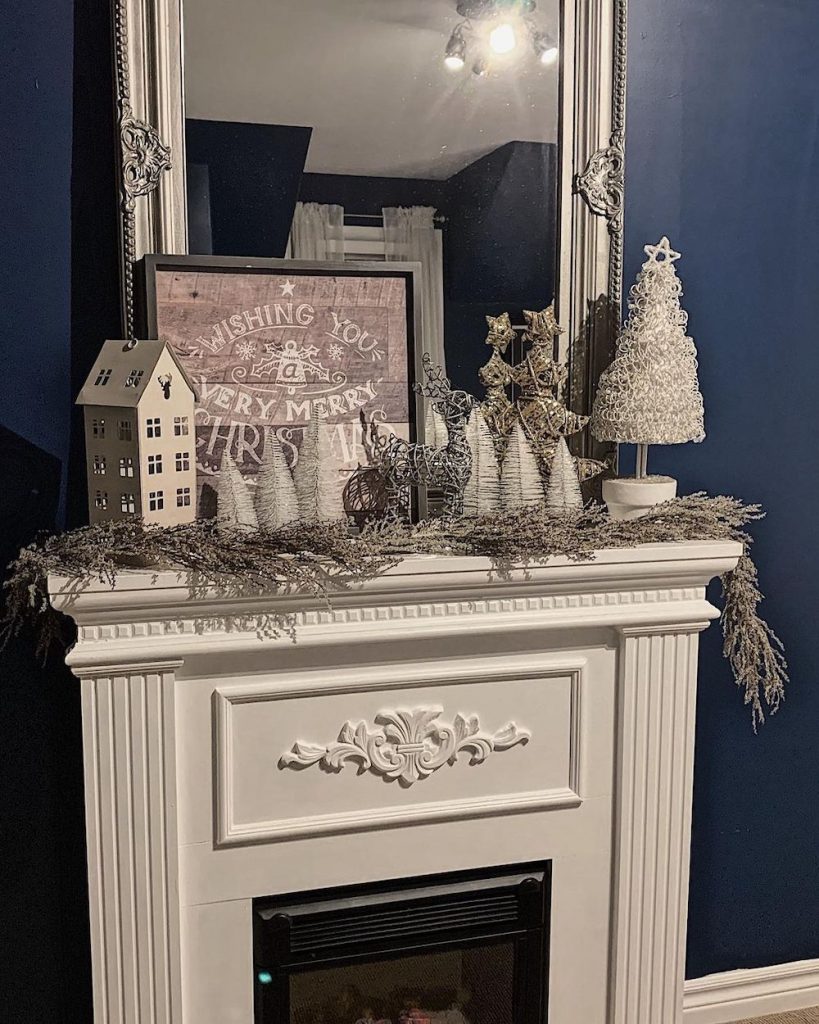 Style it with a vintage twist. Use bottle brush trees, a distressed wall art piece, and a miniature white house. The silver mirror helps lighten the mantel space.
Cover Your Mantel in Fresh Greenery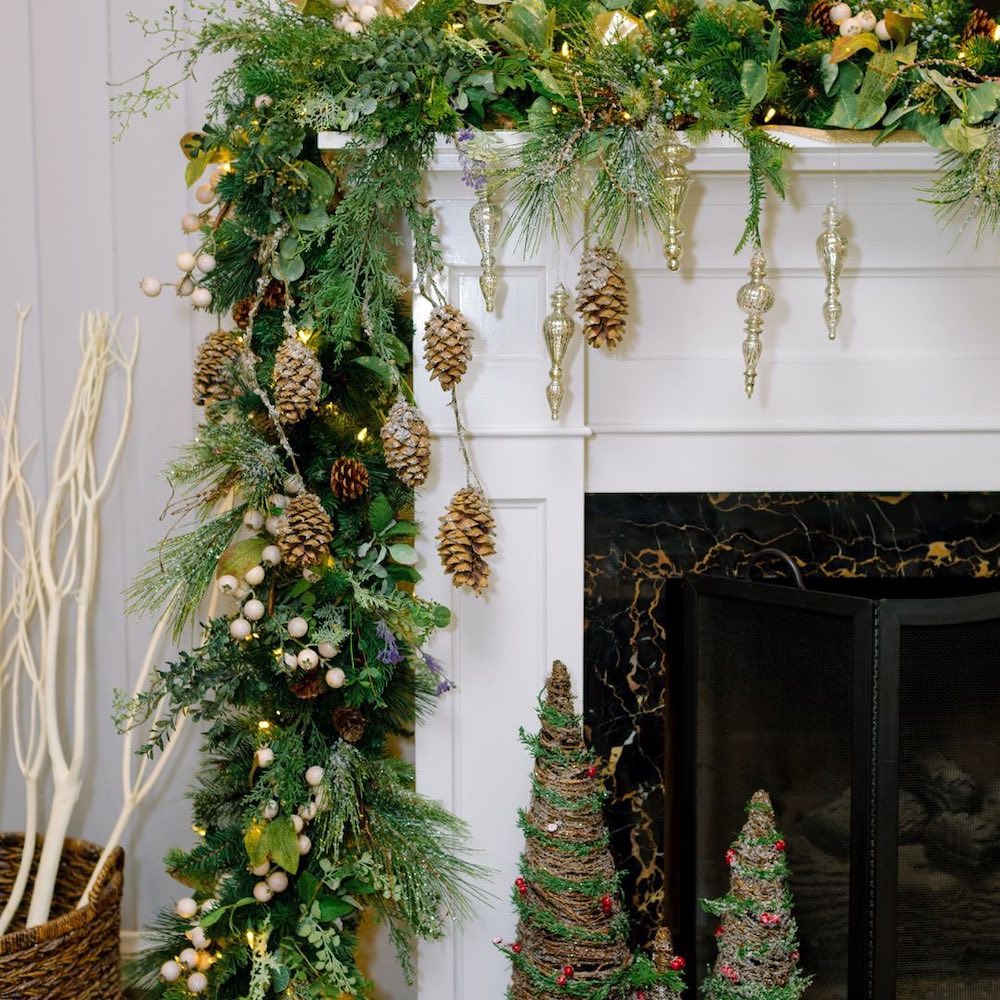 Layer loads of greenery over the mantel to give it a full appearance. Add some gleaming icicle ornaments to the mantel with fairy lights for a magical look.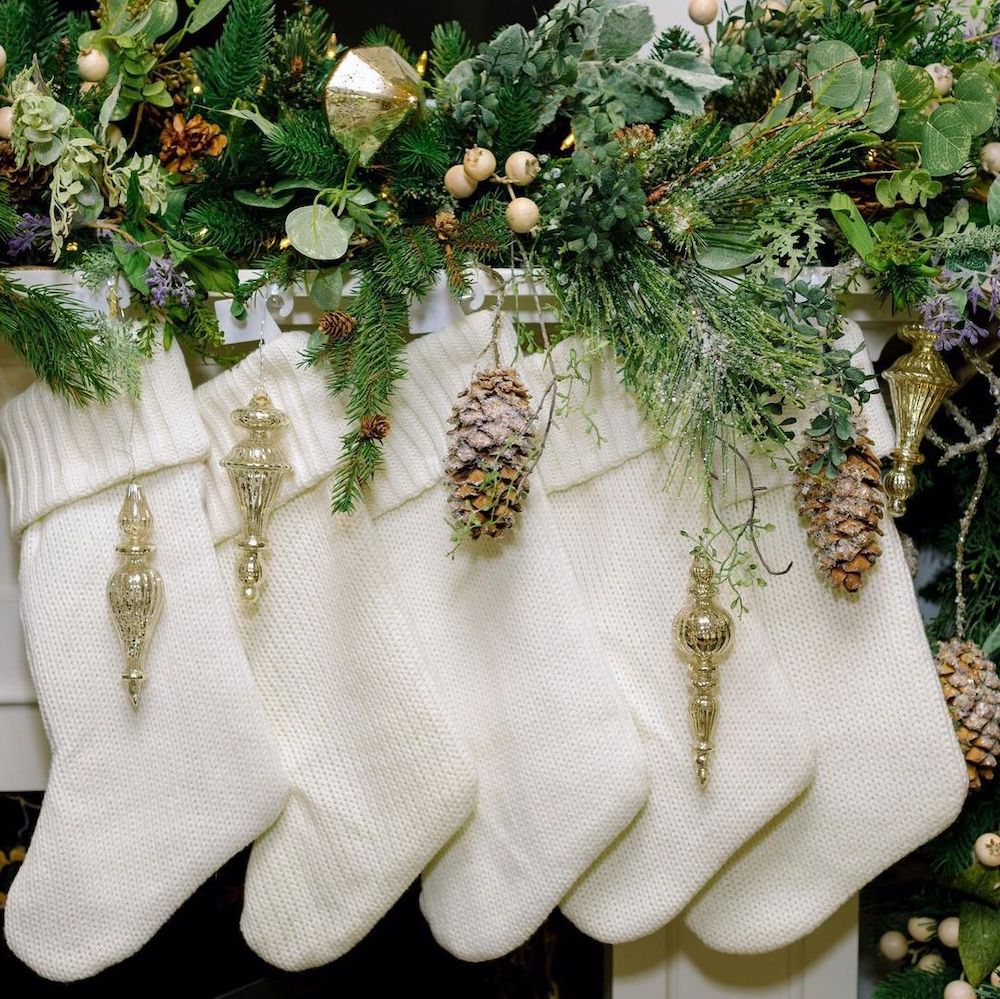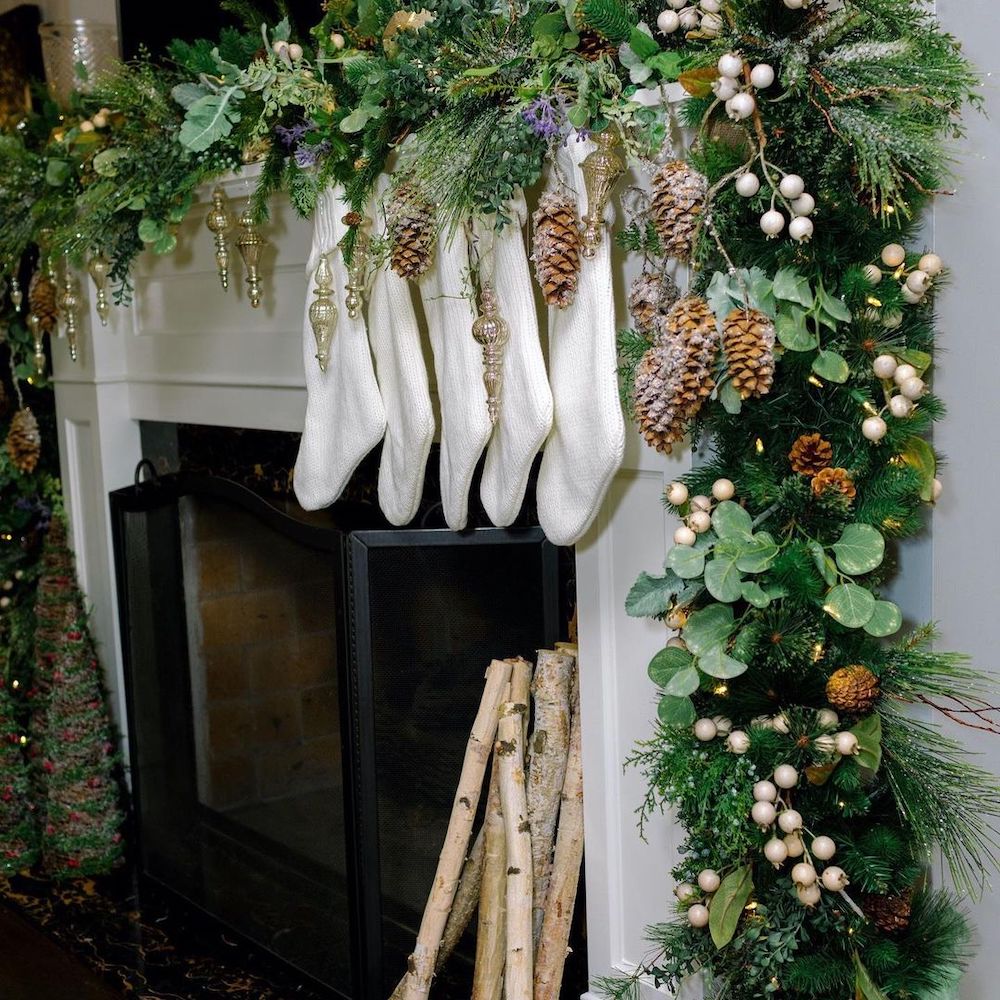 Style it Like a Parisian Apartment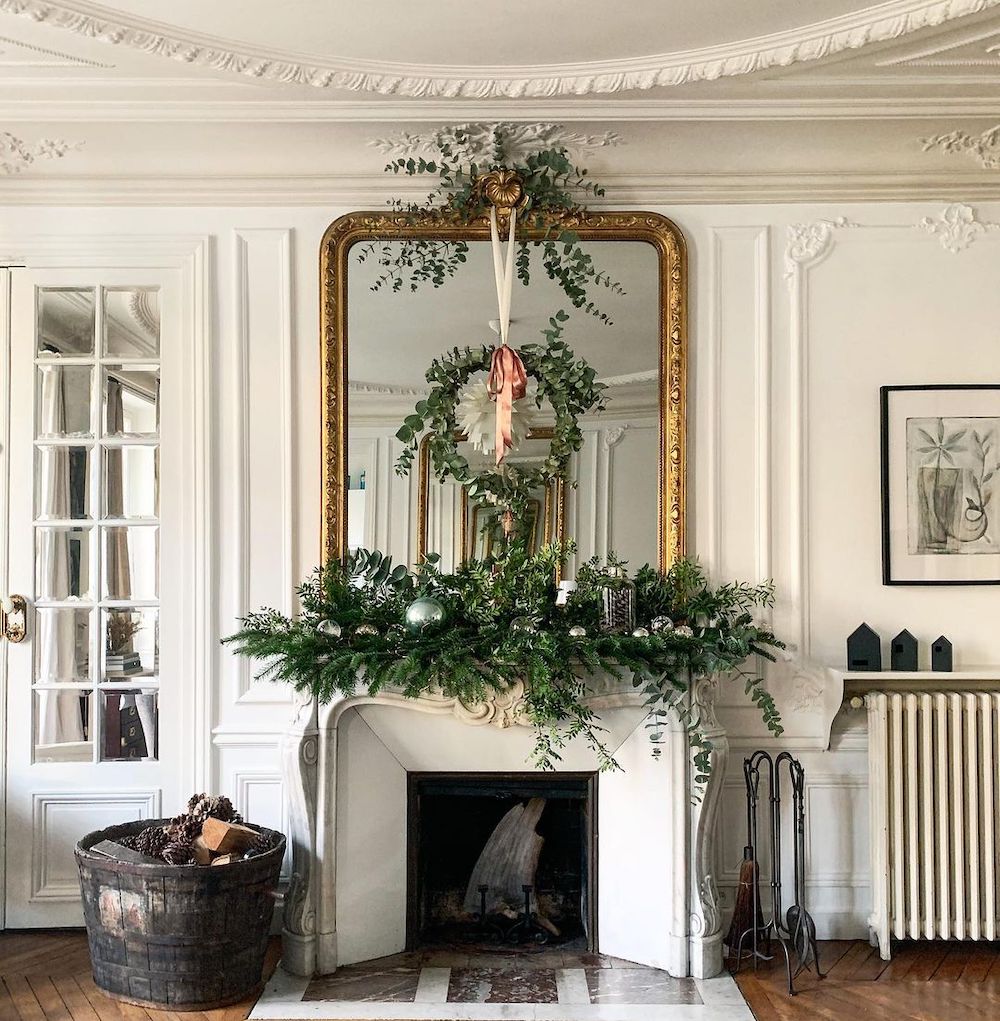 Give it the Parisian treatment. Style your mantel as the Parisians do. Layer greenery and add a few holiday objects. And a wreath that hangs from above the classic mirror.
String a Paper Garland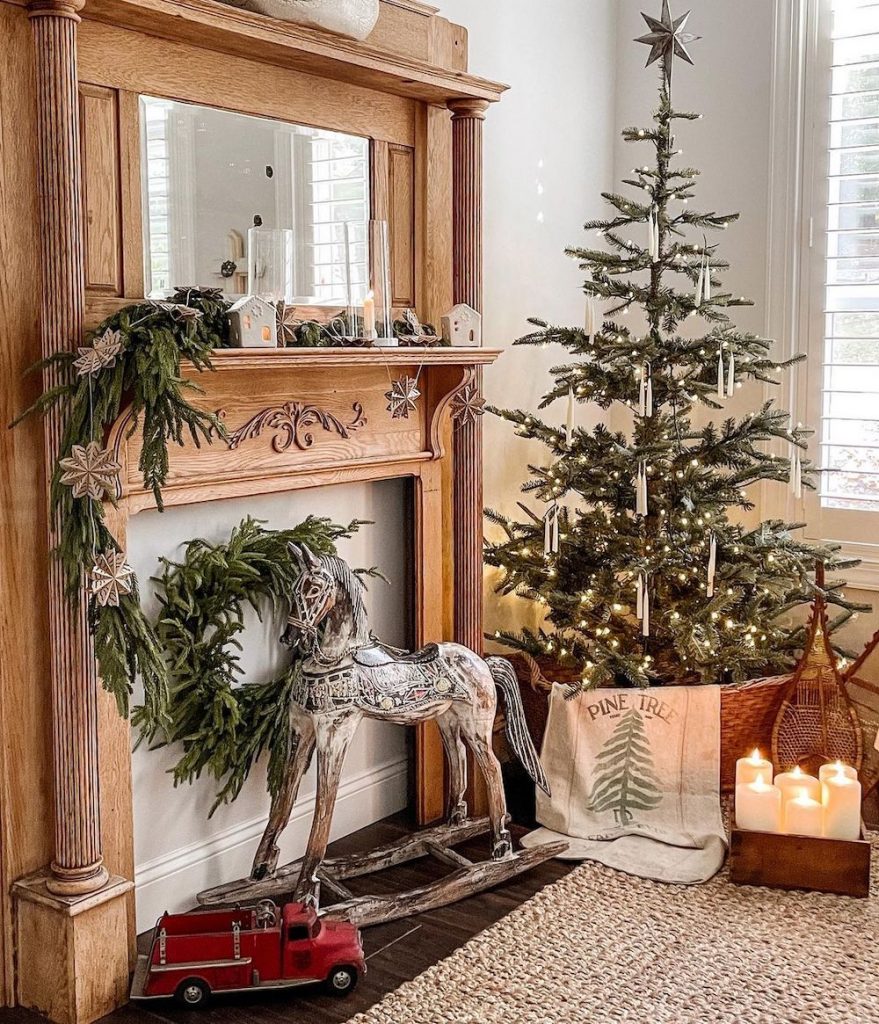 Hang a string of paper snowflakes across the mantel. In this vintage-inspired mantel setting, the rocking horse and vintage fire truck remind you of Christmas pasts.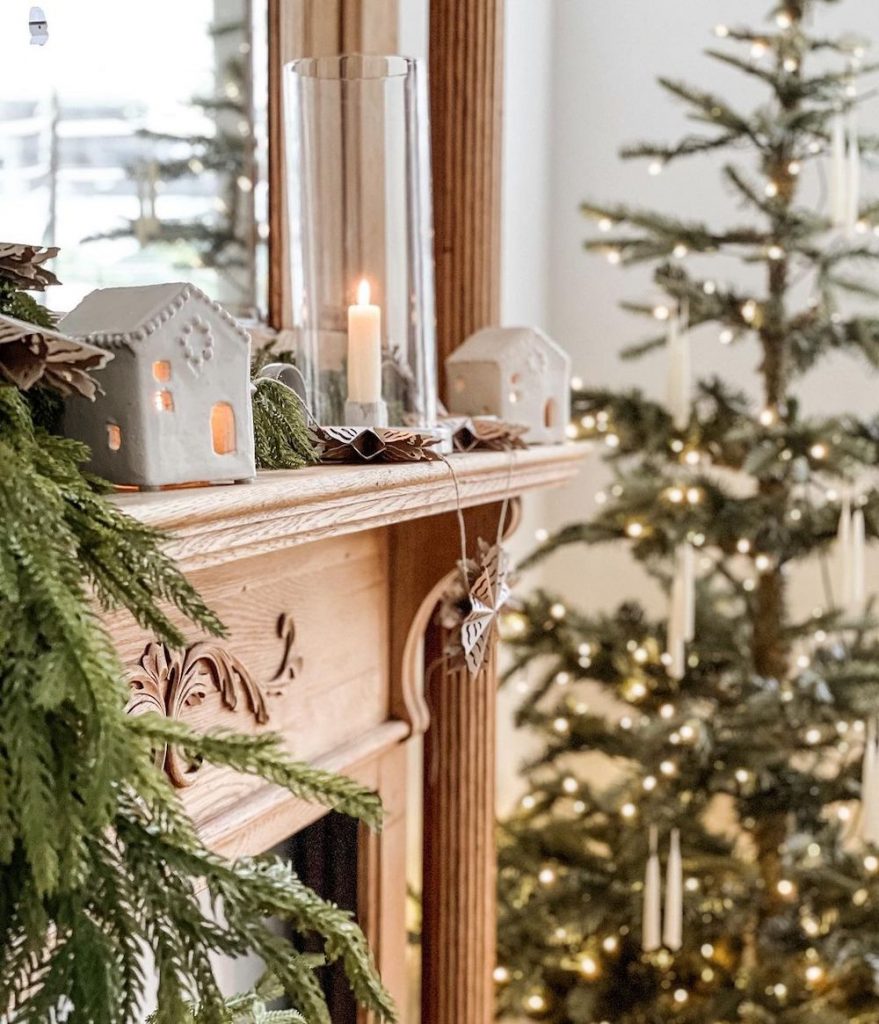 Pack it with Faux Trees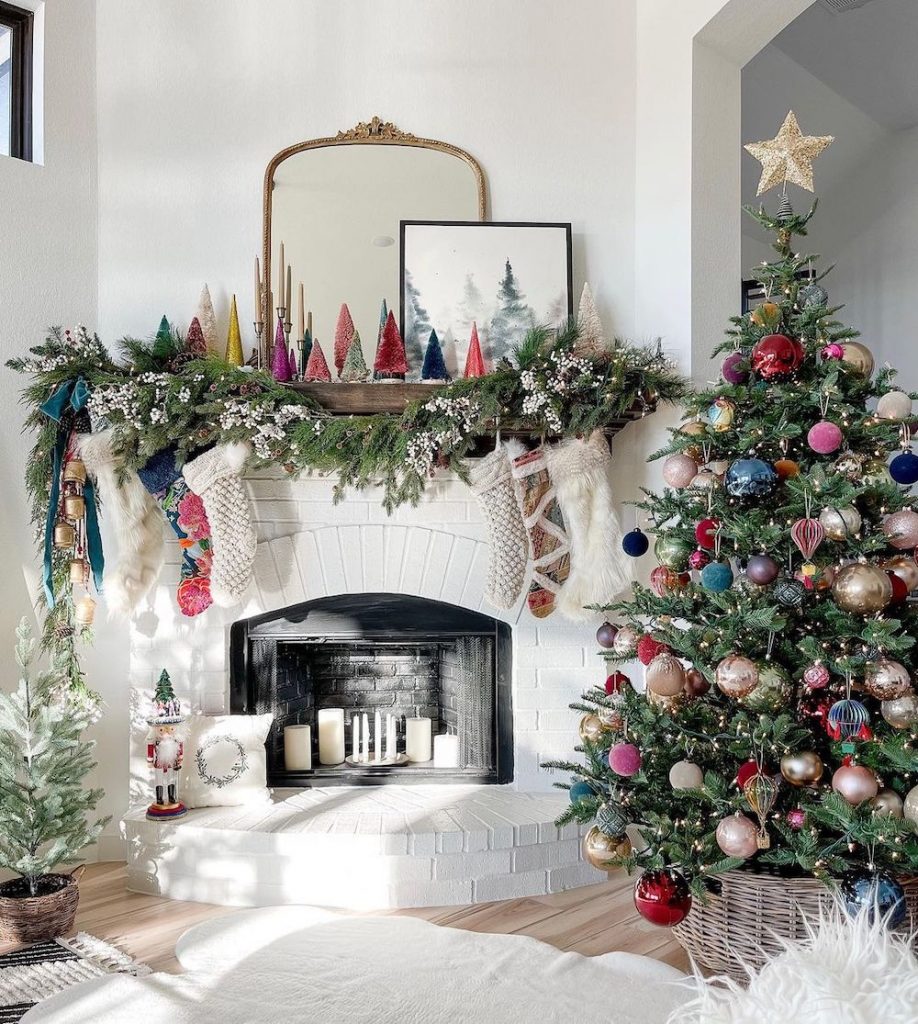 Mix up your faux trees with different styles. Hang different styled stockings on the shelf.
Style it Classic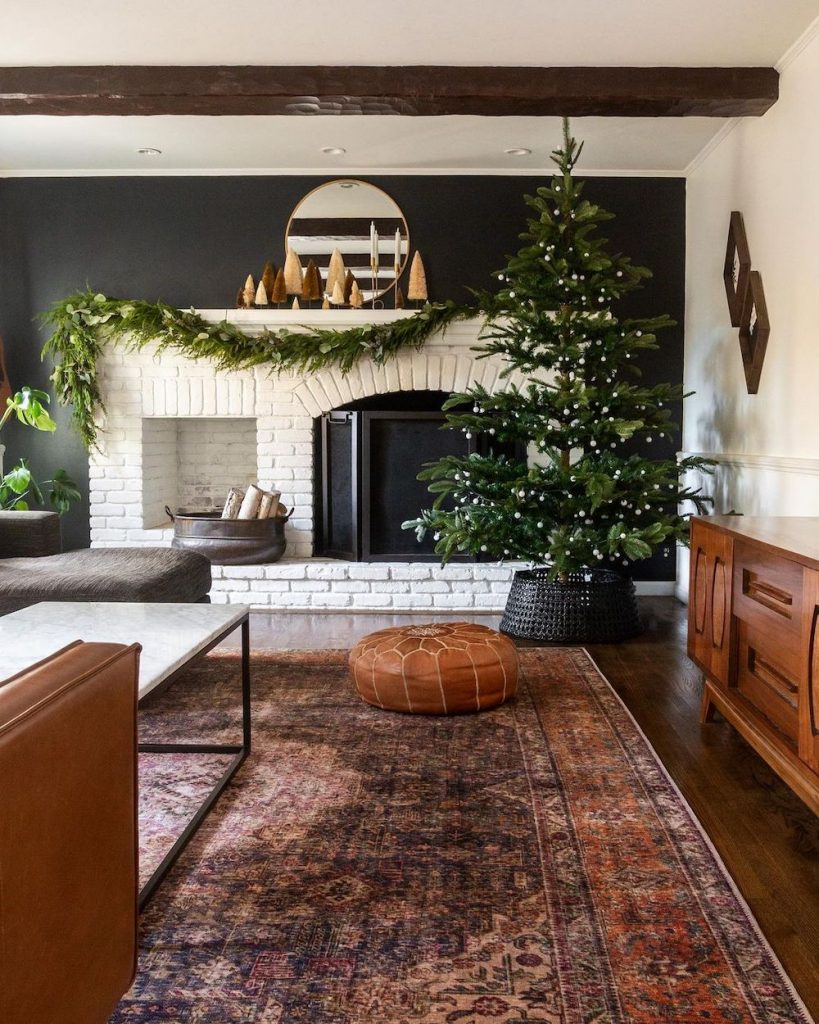 Give your mantel and fireplace a classic look. The white brick fireplace is the perfect place to decorate for the season.
Tag Those Stockings – Christmas Mantel Decor Ideas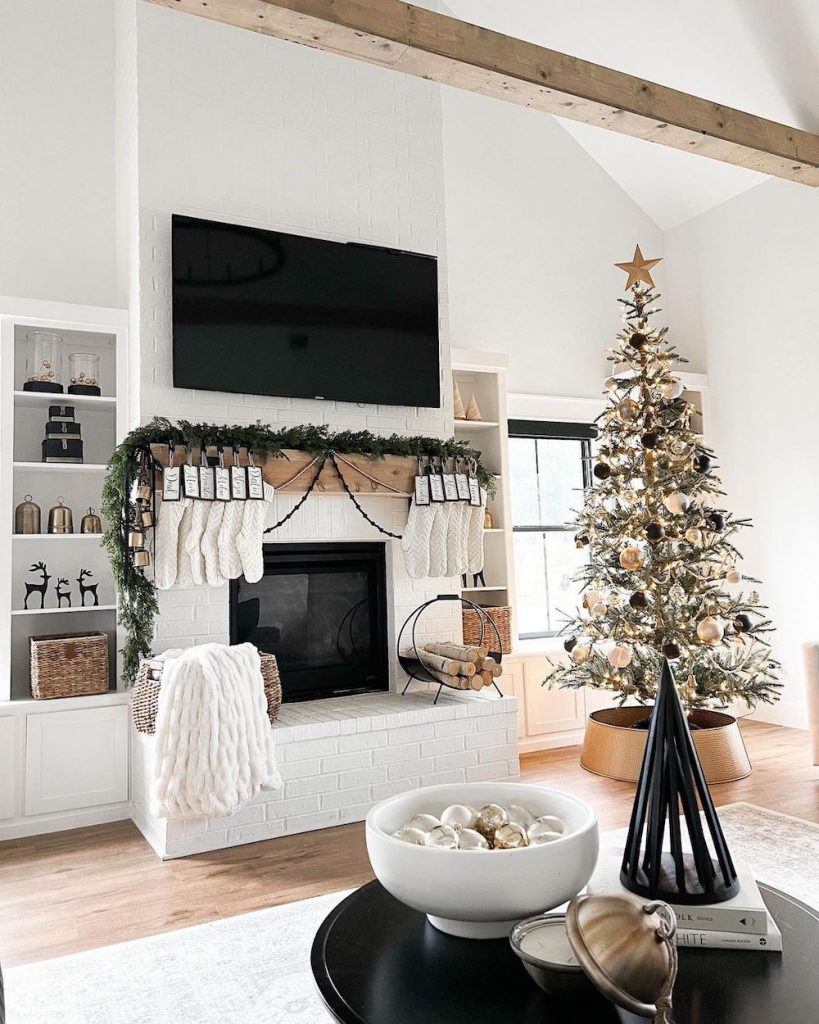 Carefully hang those stockings by the fire. Tag those stockings from the mantel shelf.
Style it Sweet – Christmas Mantel Decor Ideas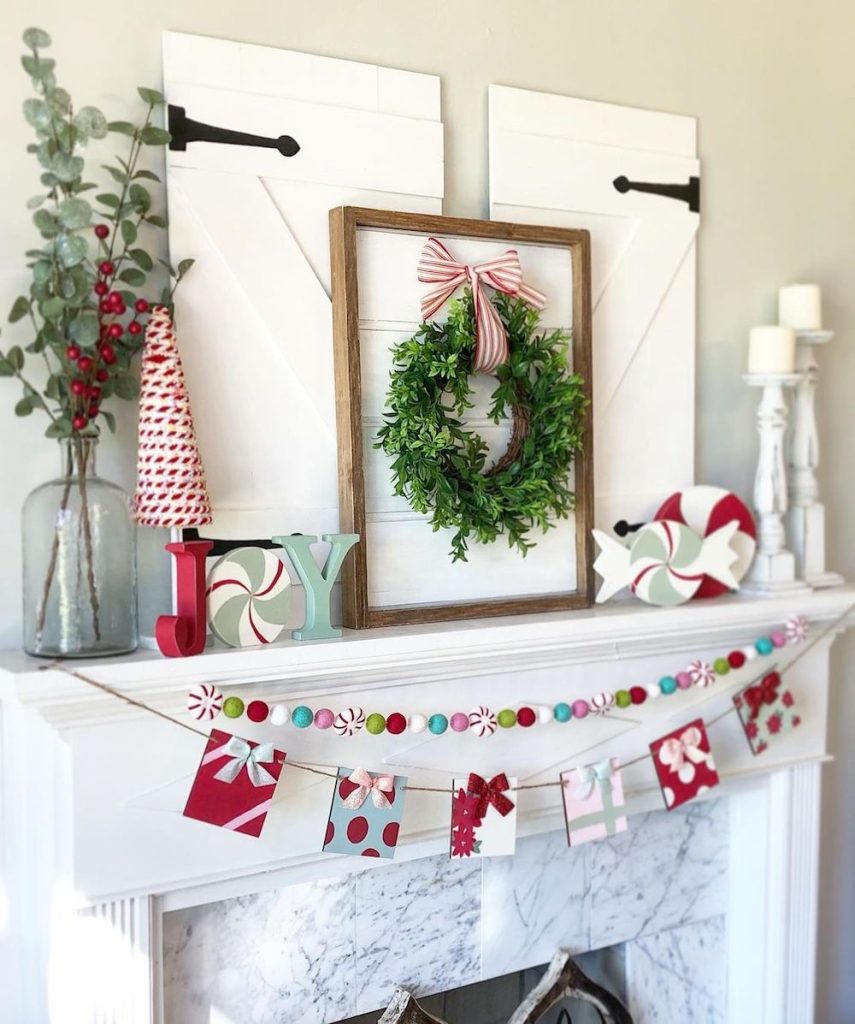 Make it sweet with Christmas candy. Let holiday candy be your inspiration for your mantel this year.
Light Those Trees Up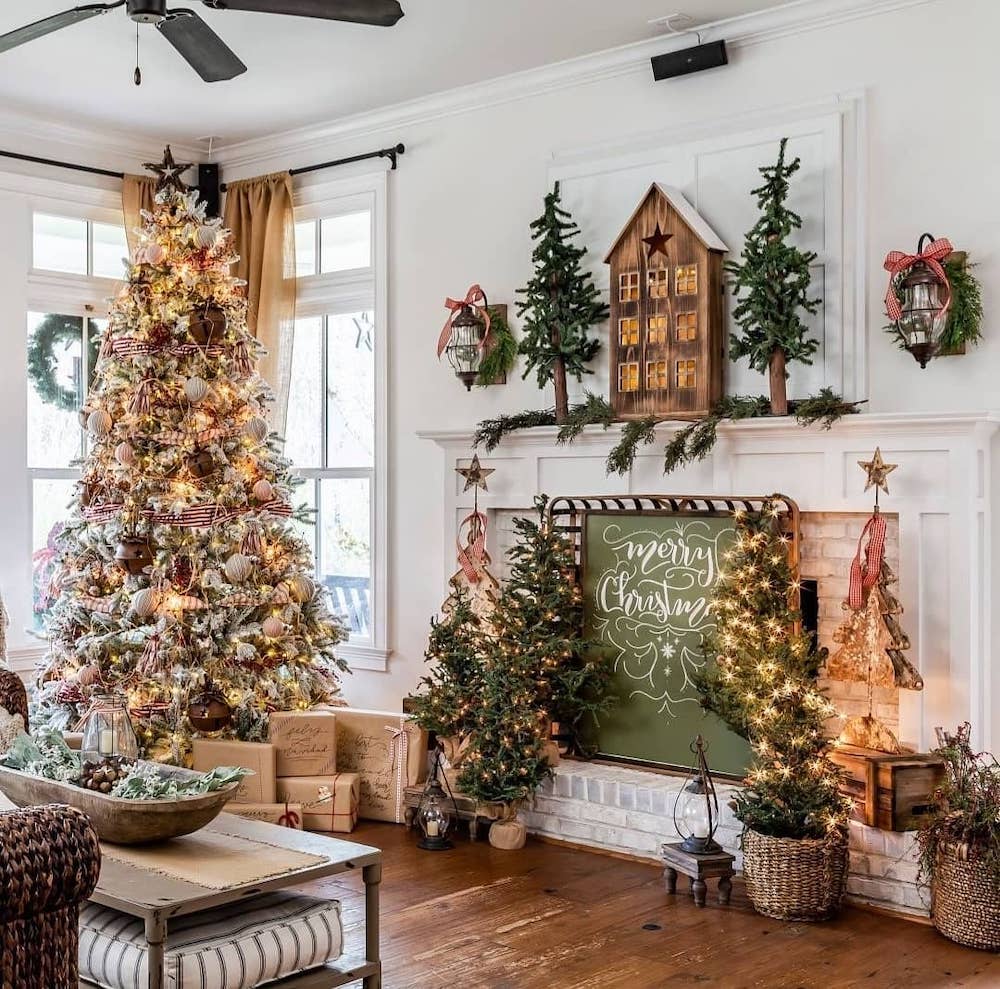 String lights around every tree to light up the mantel.
Give it Red Trees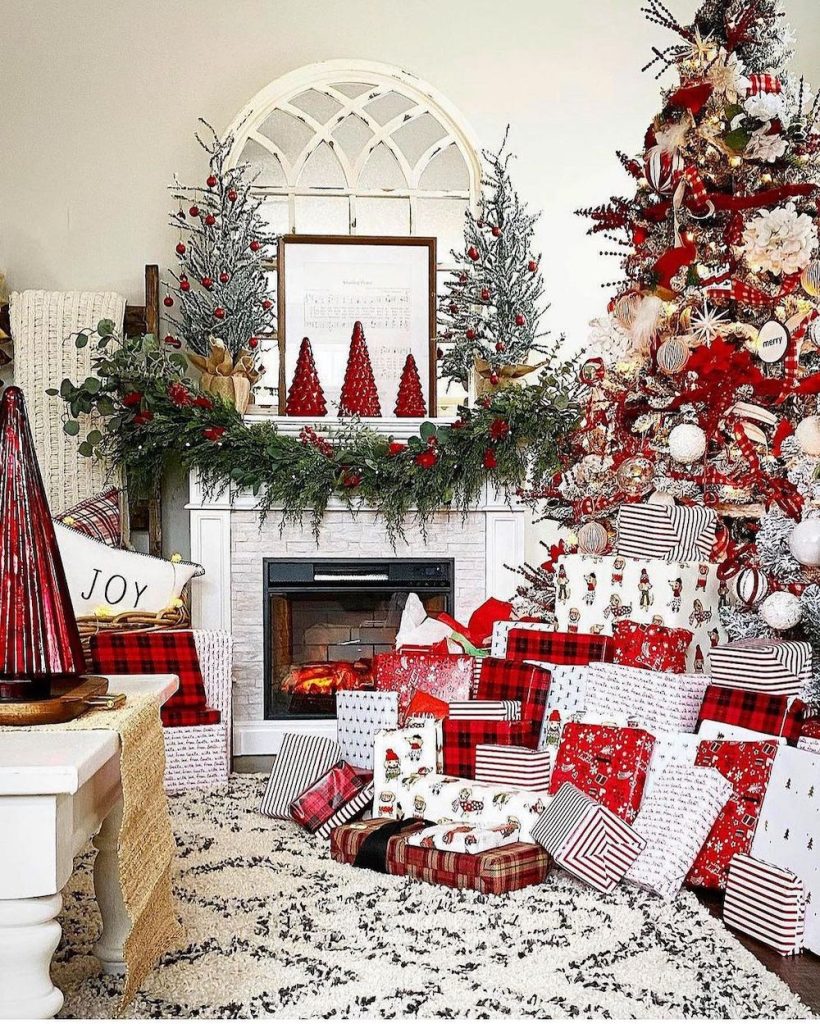 Style it with bright red holiday trees.
Make it Bright and Merry – Christmas Mantel Decor Ideas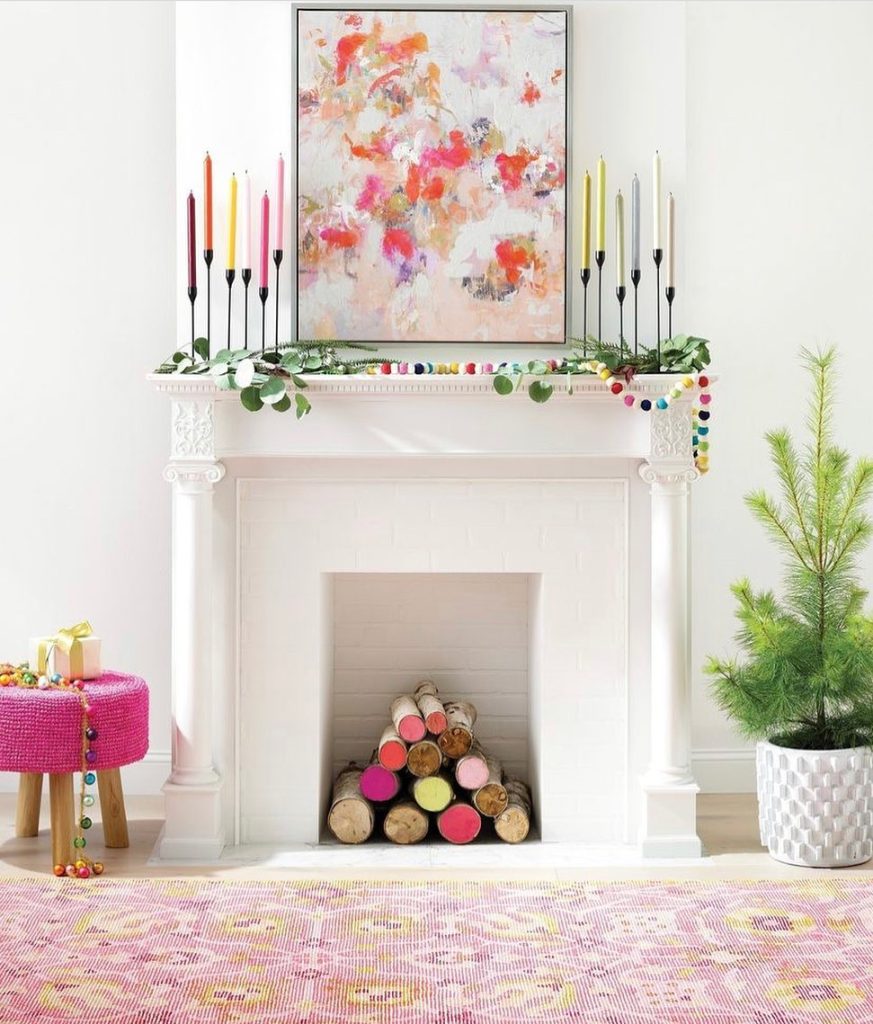 Style it bright and colorful. Use a strand of felt garland in jewel colors. Or a garland of miniature ornaments.
Ring Those Sleigh Bells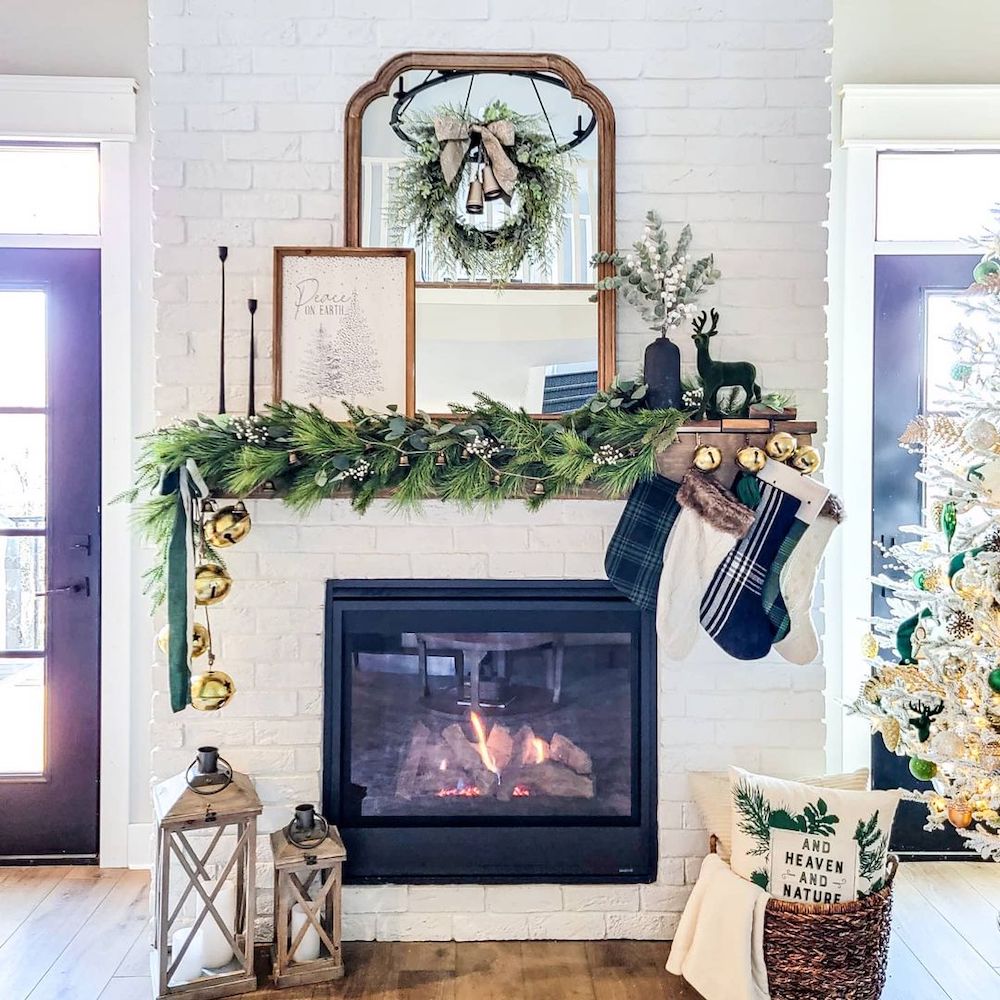 Hang bells over the mantel shelf. In this mantel design, bells are hung on the wreath, and to each side of the mantel shelf. So pretty!
Easy Styling – Christmas Mantel Decor Ideas
Our list of Christmas mantel decor ideas has ended. We hope our list inspires you to create the best ever mantel this holiday season.
For Christmas decor inspiration, be sure to check out our other posts.
Reach out to us with any questions. We are always ready to help you out. Thank you for stopping by our blog.
Wishing you a blessed Christmas this year!
Mary
Pin this for Later: