Christmas laundry room decor ideas for a better laundering experience. Is that possible? Well with the right holiday decor, it certainly can be. Even adding a couple of decorative items can make all the difference. Uplift your spirits this holiday while doing the not-so-exciting laundry chores. Add holiday decorations for a festive holiday.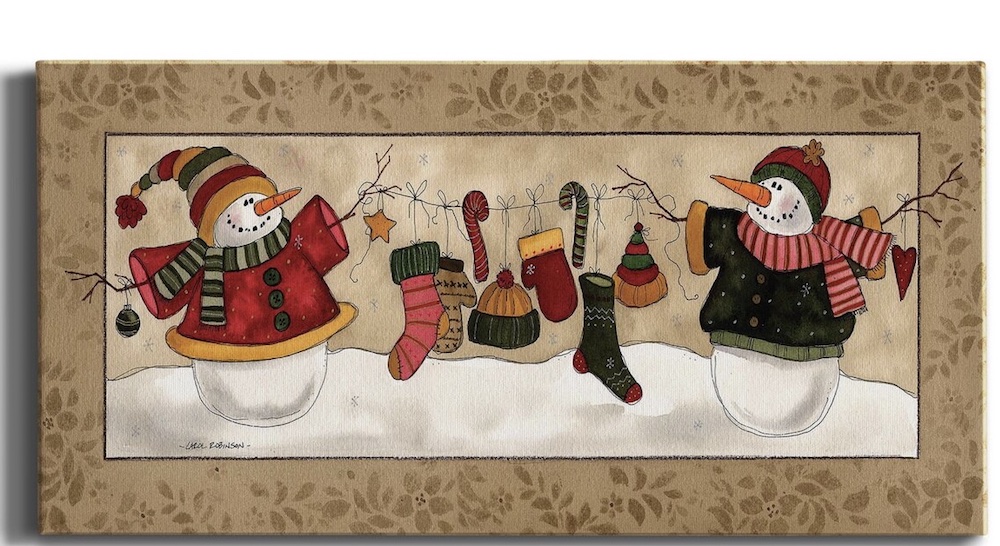 Show your laundry room a little love this holiday season. No need to stop with your home holiday decorations when you reach the laundry room. Keep the festive spirit alive in your laundry room. Adding a couple of holiday accessories can uplift your spirits. While many of us frown at the thought of laundry chores instead transform your laundry room into a merry place. Hang a festive textual holiday wall art. Or pile your laundry into holiday laundry bags with a bit of cheer.  
Here are a few festive laundry room decor accessories to consider when styling a laundry room:   

Make it Merry – Christmas Laundry Room Decor
Accessorize your laundry room with a few holiday decorations. Items such as wreaths, textual wall art, or a string of holiday laundry go a long way in adding the right festive touch. As you'll soon see, there are so many ways to add cheerful holiday decorations in the laundry room. 
For inspirational ideas to decorate your laundry room, take a look at these incredible rooms. Ideas that can make you not mind doing a little laundry over the holiday season.
Hang a Pretty Wreath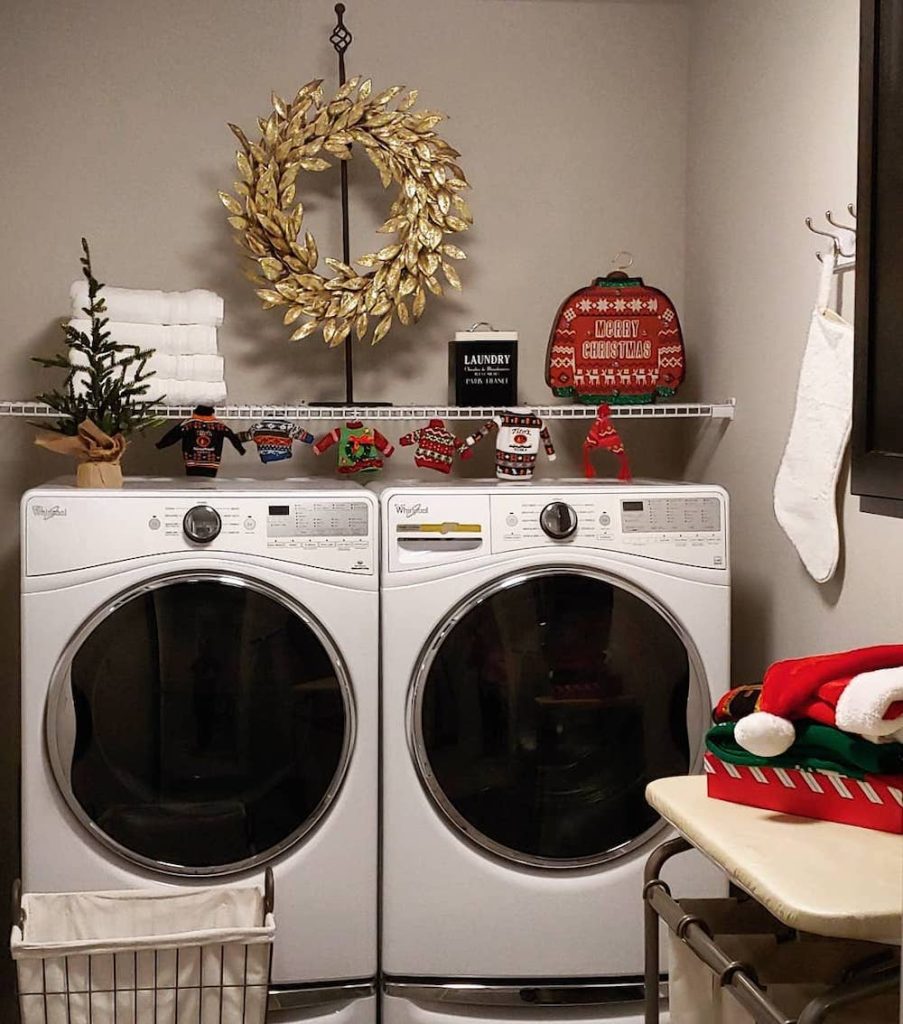 Display a pretty wreath in your laundry room. Faux holiday trees, stockings, and other accessories can really make a difference.  
Hang Holiday Stockings  – Christmas Laundry Room Decor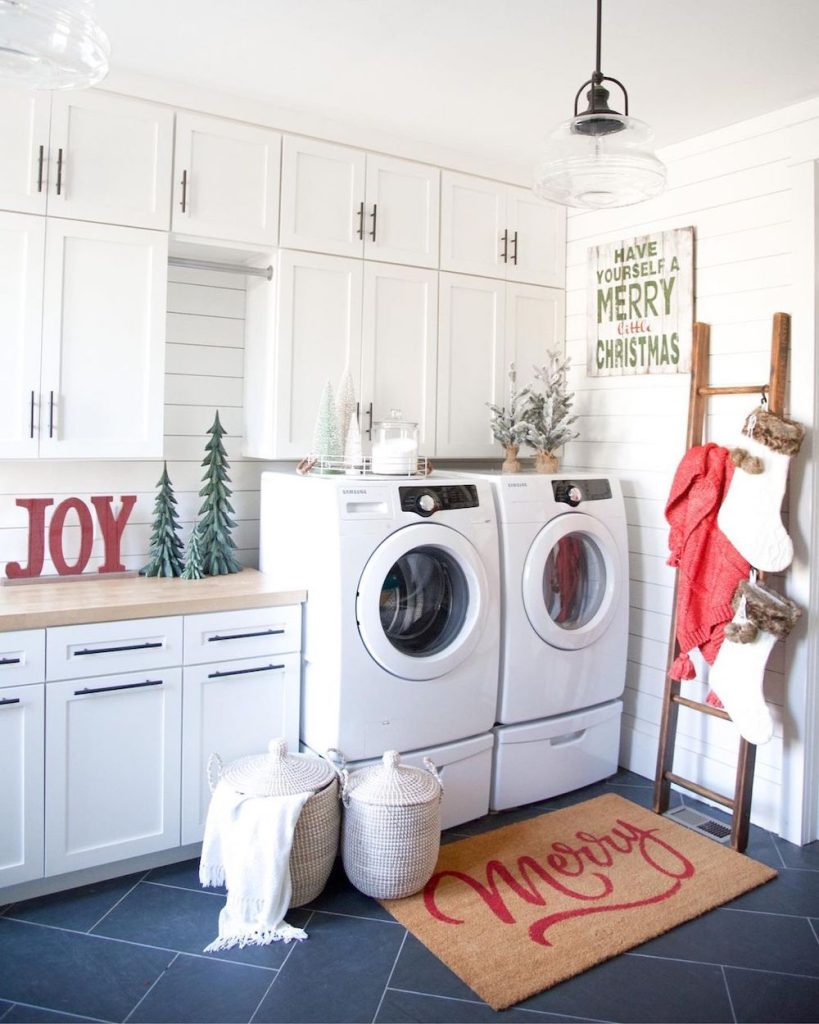 There is no need for a chimney when you have a ladder to hang those stockings on. Add a red throw and a pretty festive doormat for even more holiday style.
Give Some Garland – Christmas Laundry Room Decor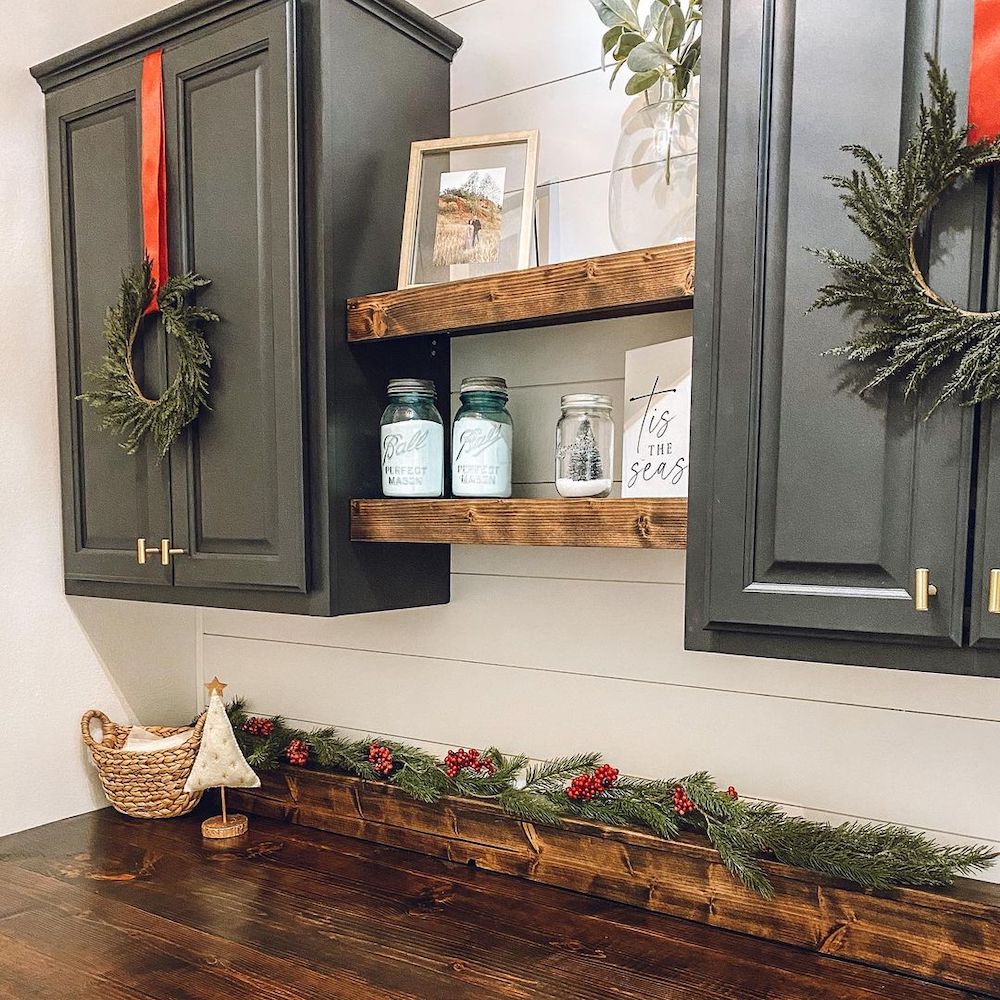 Stretch a piece of faux garland across the countertop of the laundry room. Add some touches of the Christmas season, after all, 'Tis the Season.
Light Up Your Tree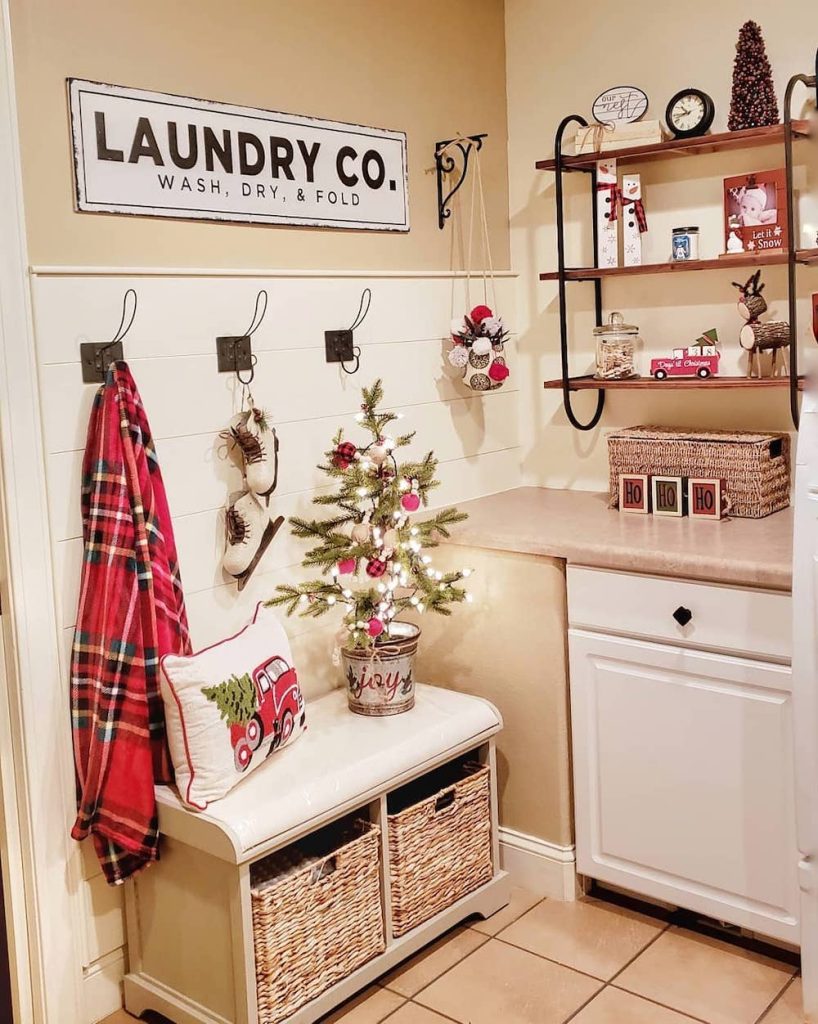 Keep a red plaid throw for those chilly days. Light up a faux tree and add other accessories such as picture frames.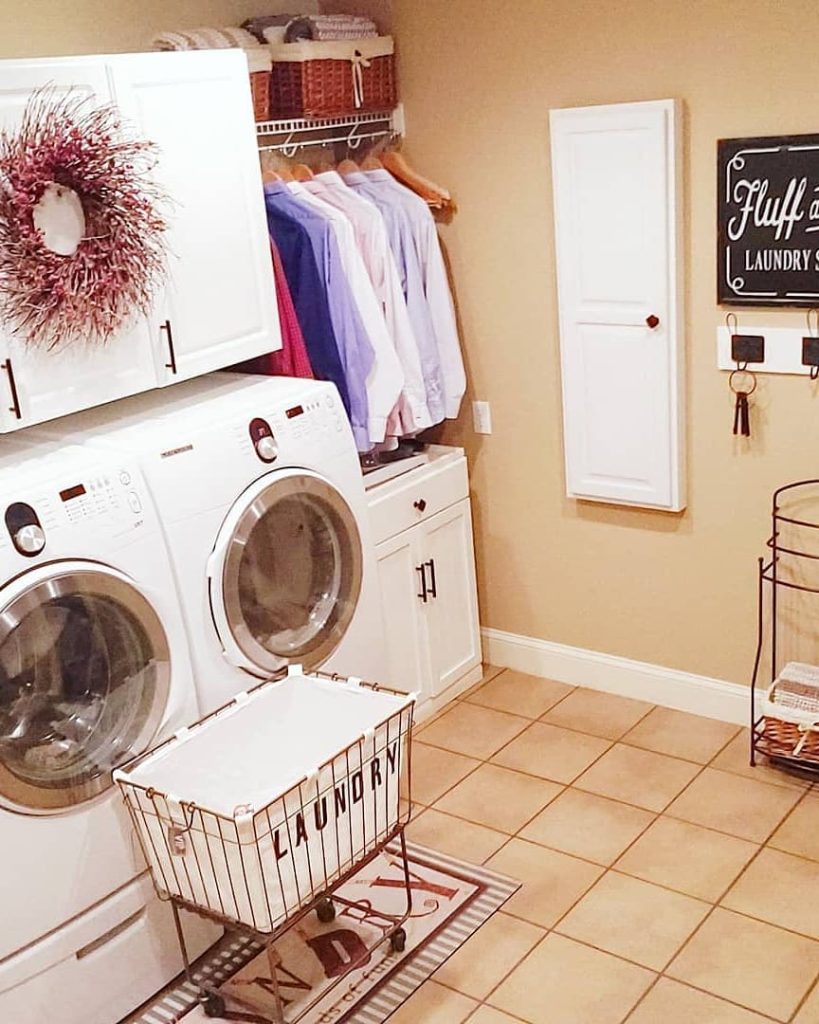 Display Holiday Accessories on Shelves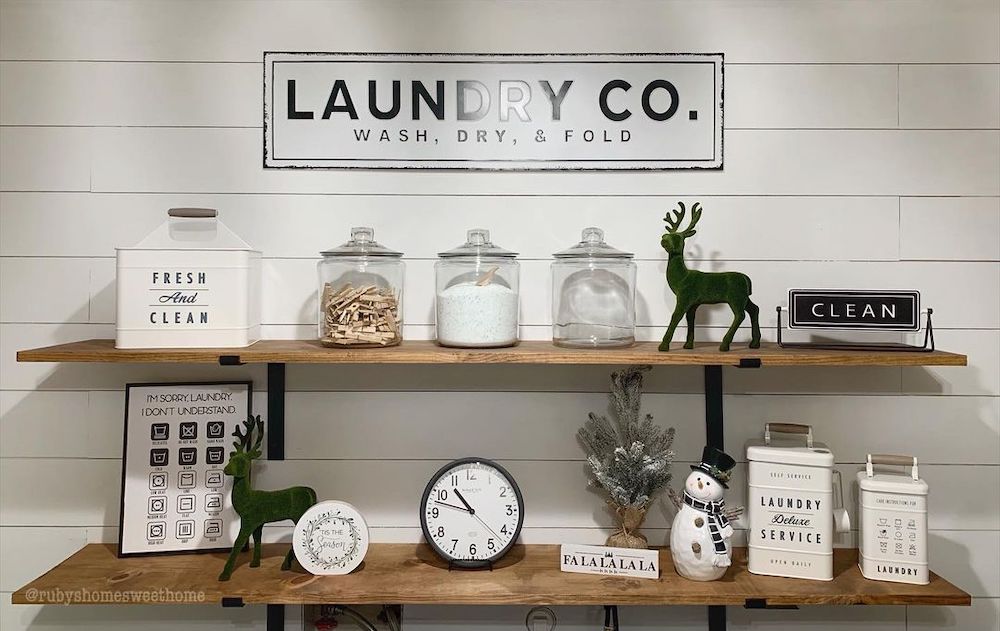 Ruby keeps her laundry shelves tidy and adds a few holiday accessories. Accessories such as reindeer, a flocked holiday tree, and a snowman all make this room bright.
Add Greenery with Red Berries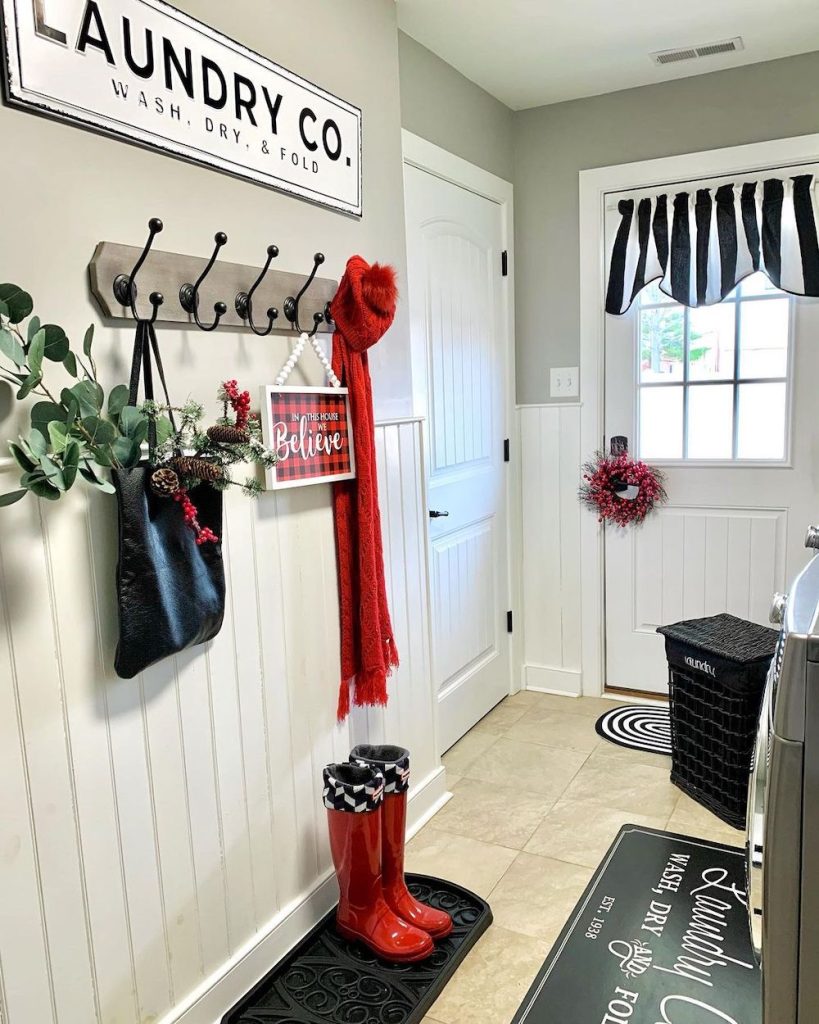 Bring out the faux greenery and berries. Add additional pops of color by hanging a red hat, scarf, and rain boots.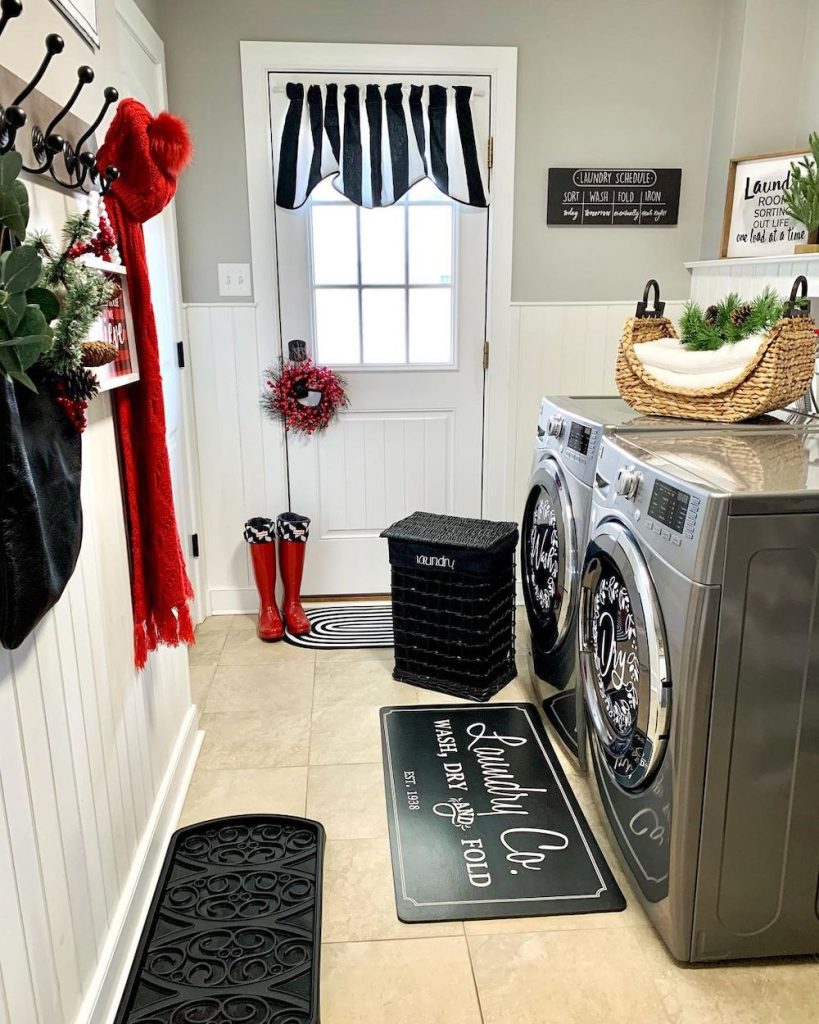 Make a Merry Farmhouse Christmas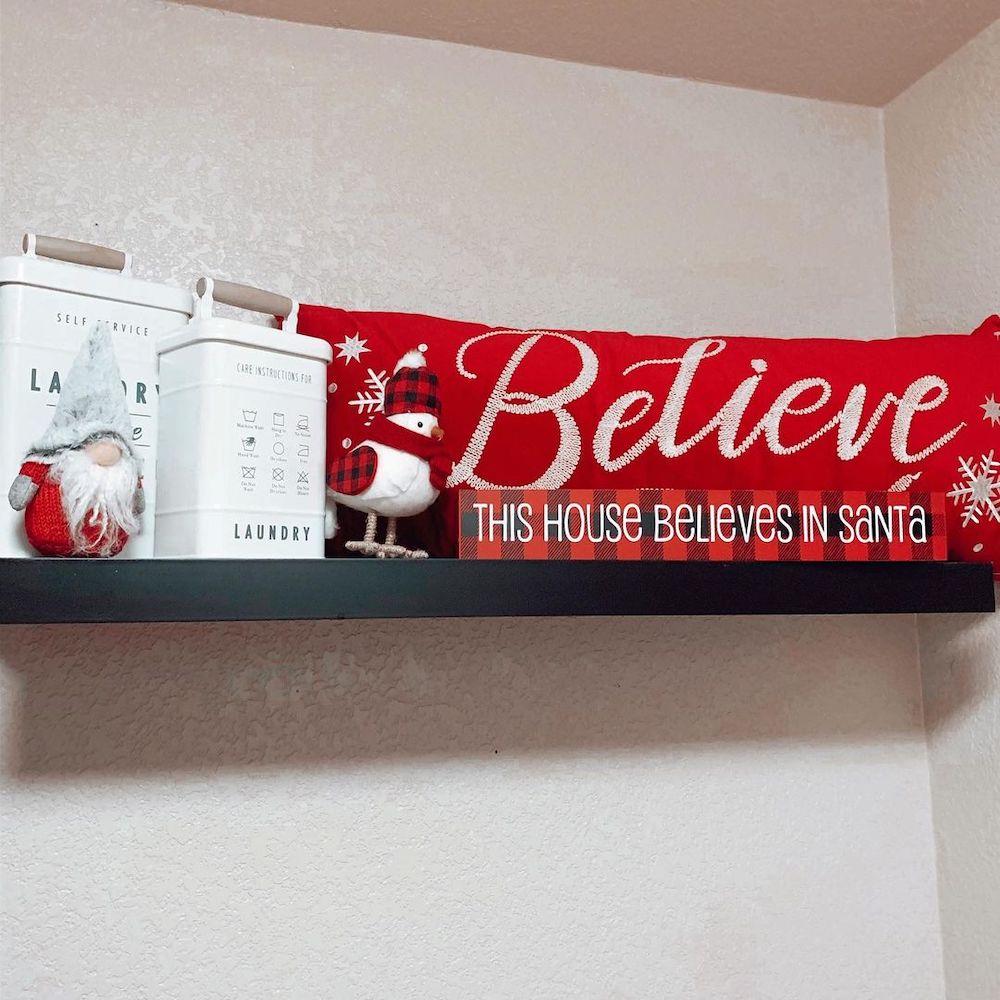 Display holiday accents on your laundry room shelf. And style a tray with holiday accessories along with a red and black buffalo plaid covered tree. Love this look!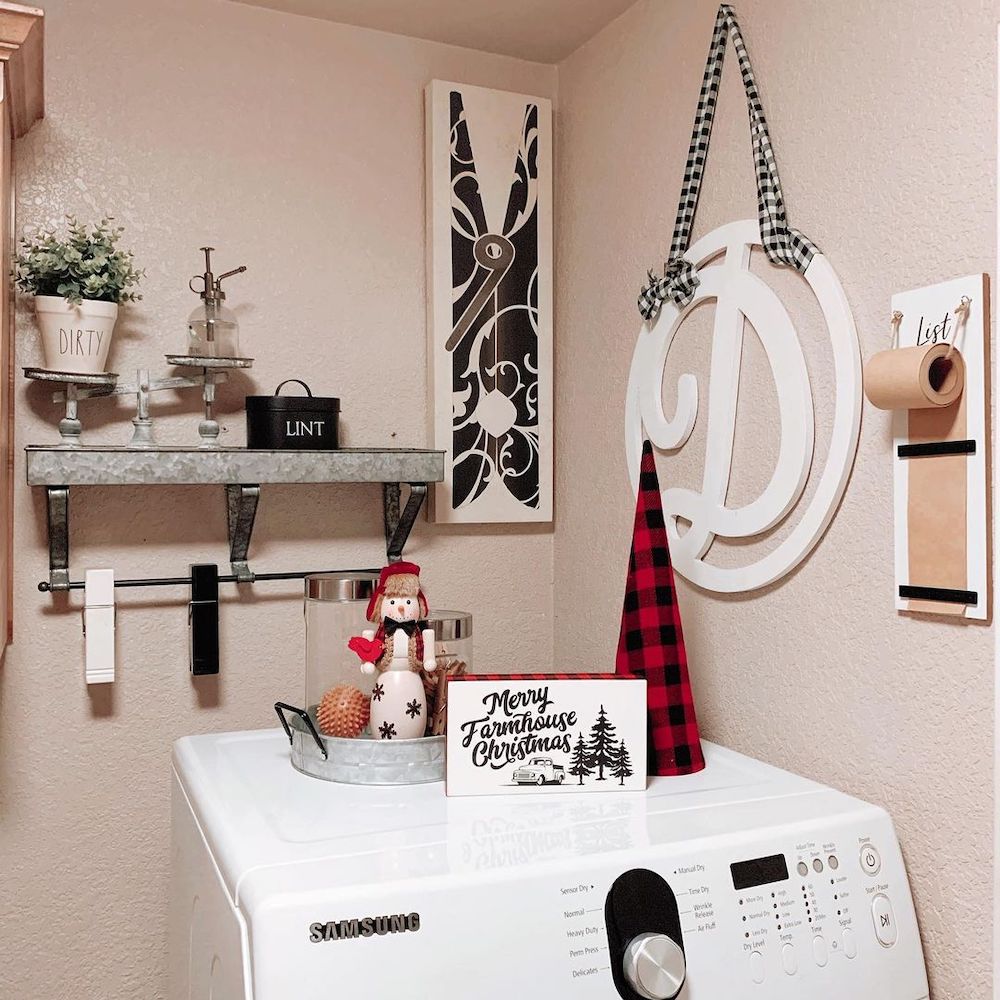 Drape Holiday PJs Over the Laundry Basket  – Christmas Laundry Room Decor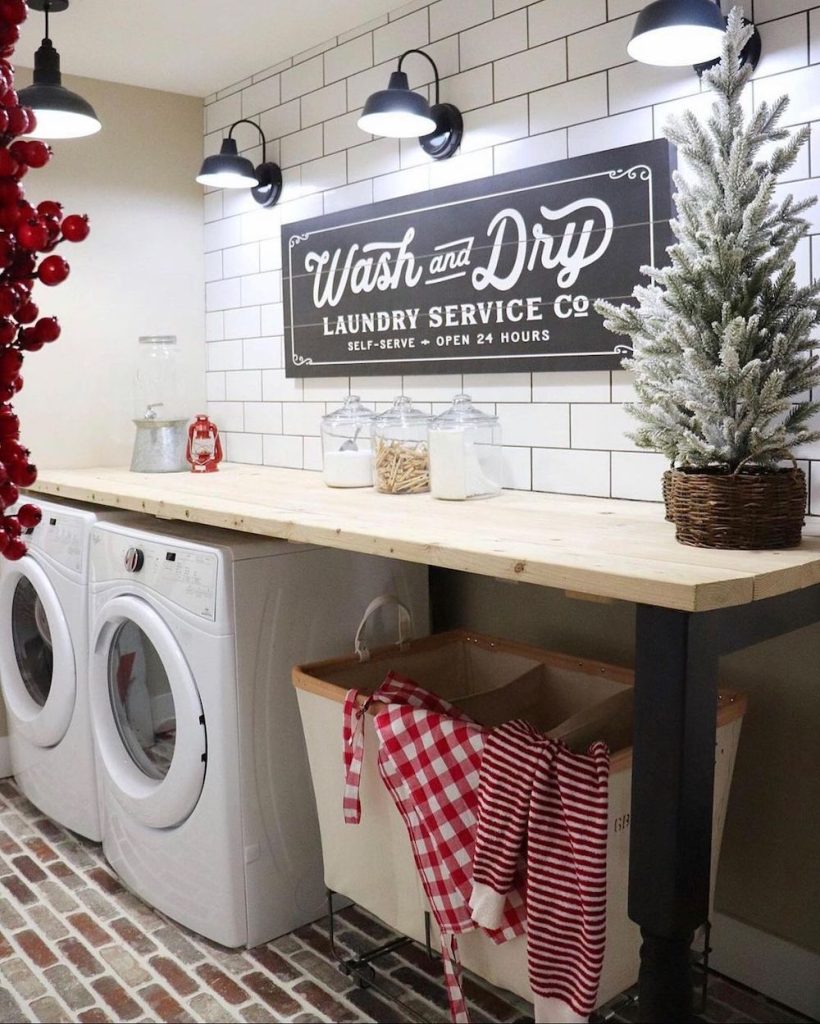 Use everyday items to give the room pops of color. In this case, the designer draped red striped pjs and a plaid apron over the laundry basket. Even the small red lantern in the corner gives this space a festive look.  
Use Bottlebrush Trees – Christmas Laundry Room Decor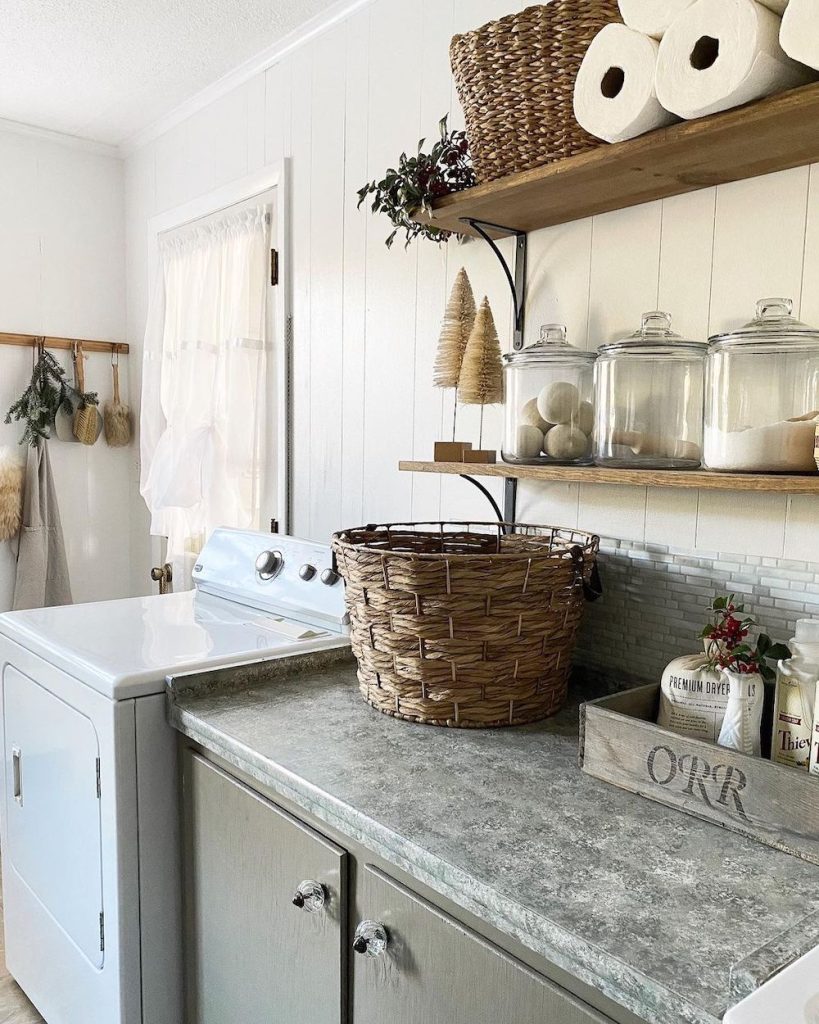 In keeping with the neutral decor style, display a set of neutral bottlebrush trees. Fill a small vase with a sprig of holly and red berries. Simple touches of holiday decorations.  
Hang a String of Laundry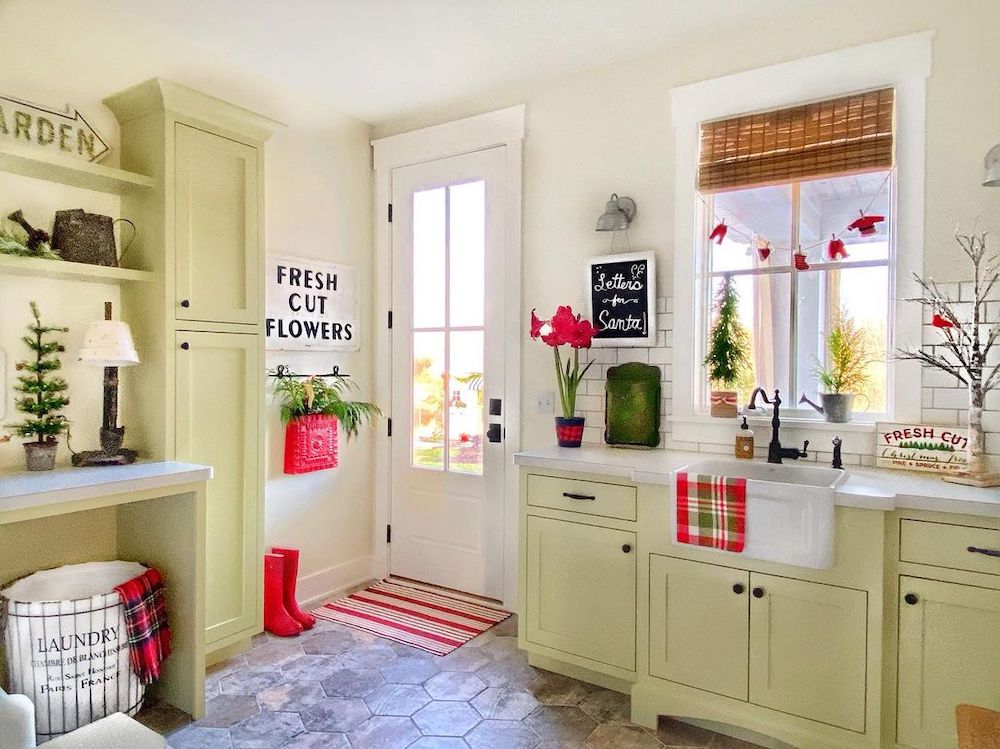 Create a clothesline across a window to simulate an outdoor clothesline. Add a variety of faux holiday trees throughout the room. And pops of red color as well. The doormat, red rainboots, and plaid throw all add to a great decor style.    
Display Your Favorite Santa Picture – Christmas Laundry Room Decor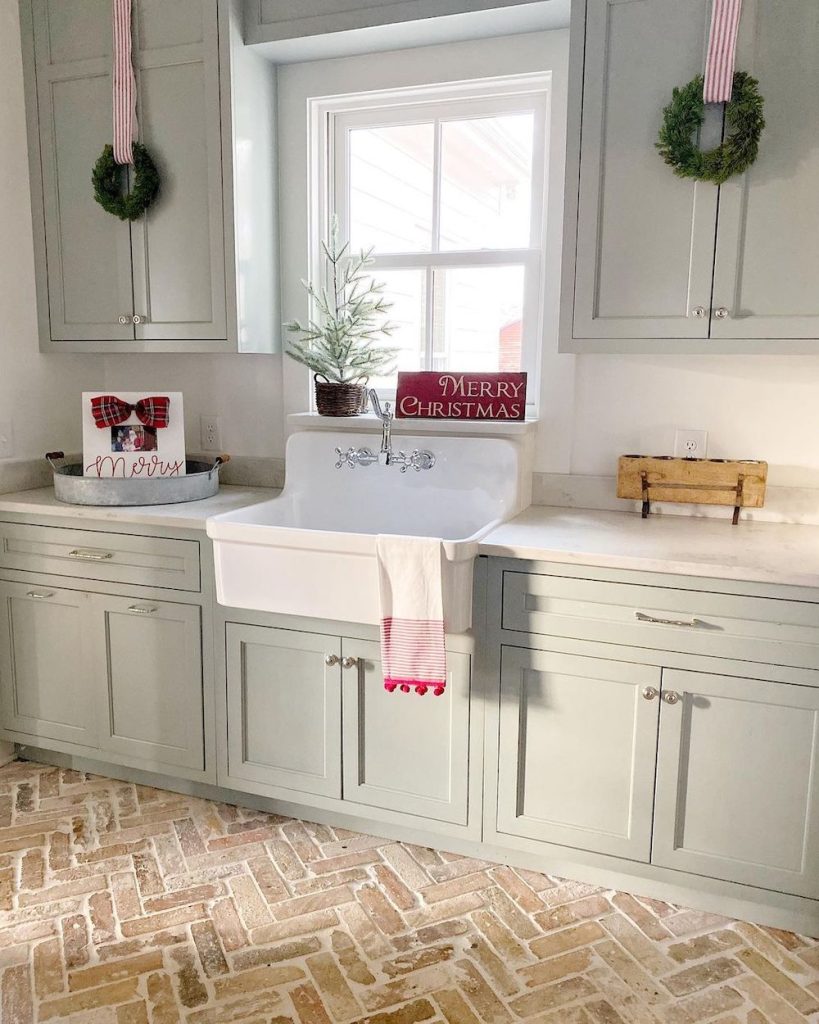 Show off your favorite pictures of Santa with your children. In this laundry room, the Santa picture frame sits inside a galvanized tray. Add a faux treen in the window sill with a festive greeting. Easy, simple decorating for the holidays.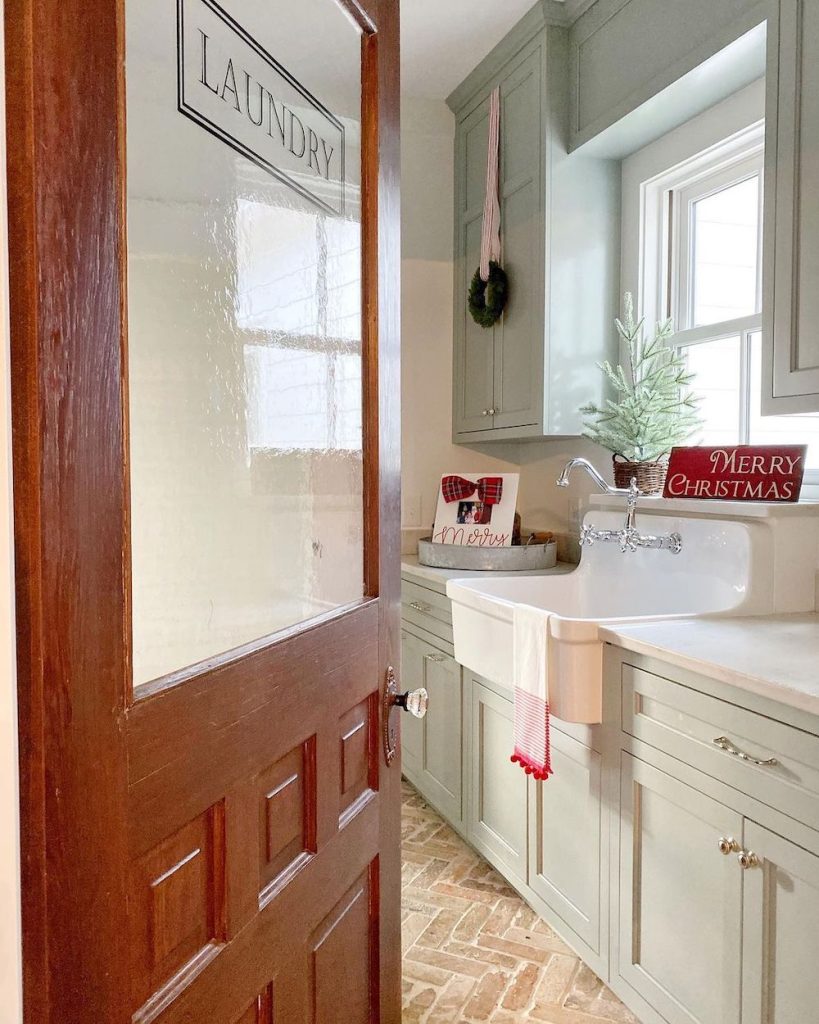 Go Whimsical with Gnome Santas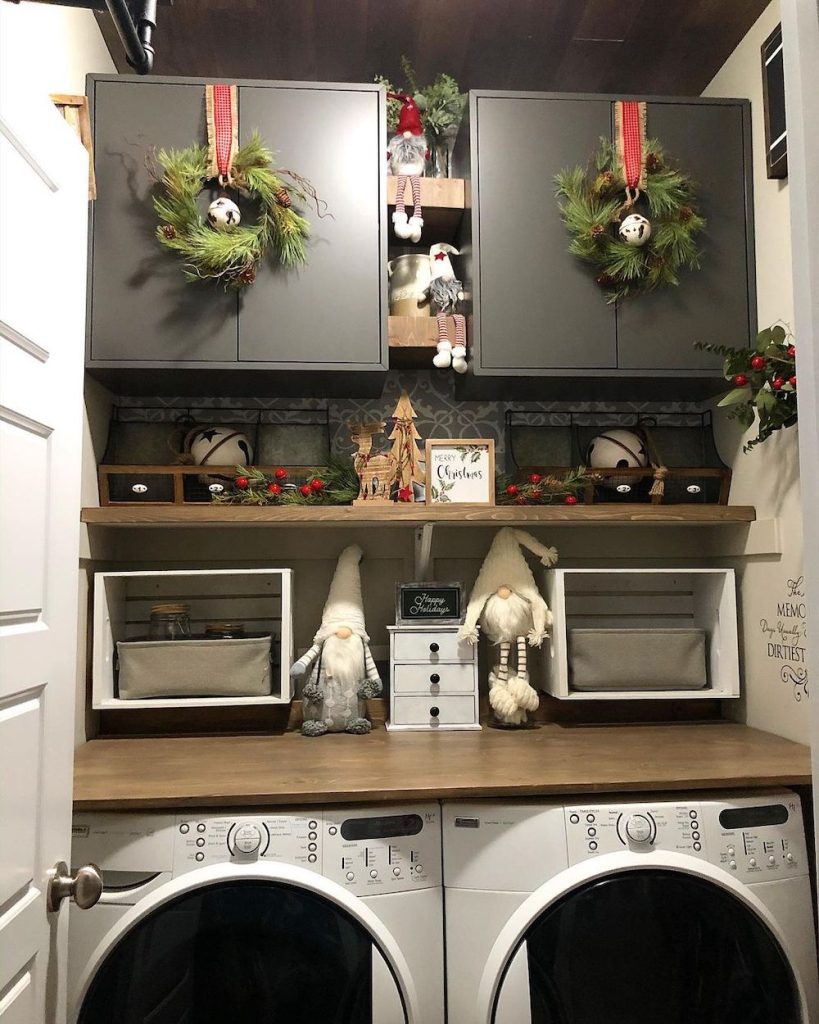 Bring out those gnome santas and display on your laundry shelves. And of course, add a makeshift clothesline with Santas clothes hanging on them. Cute, don't you think?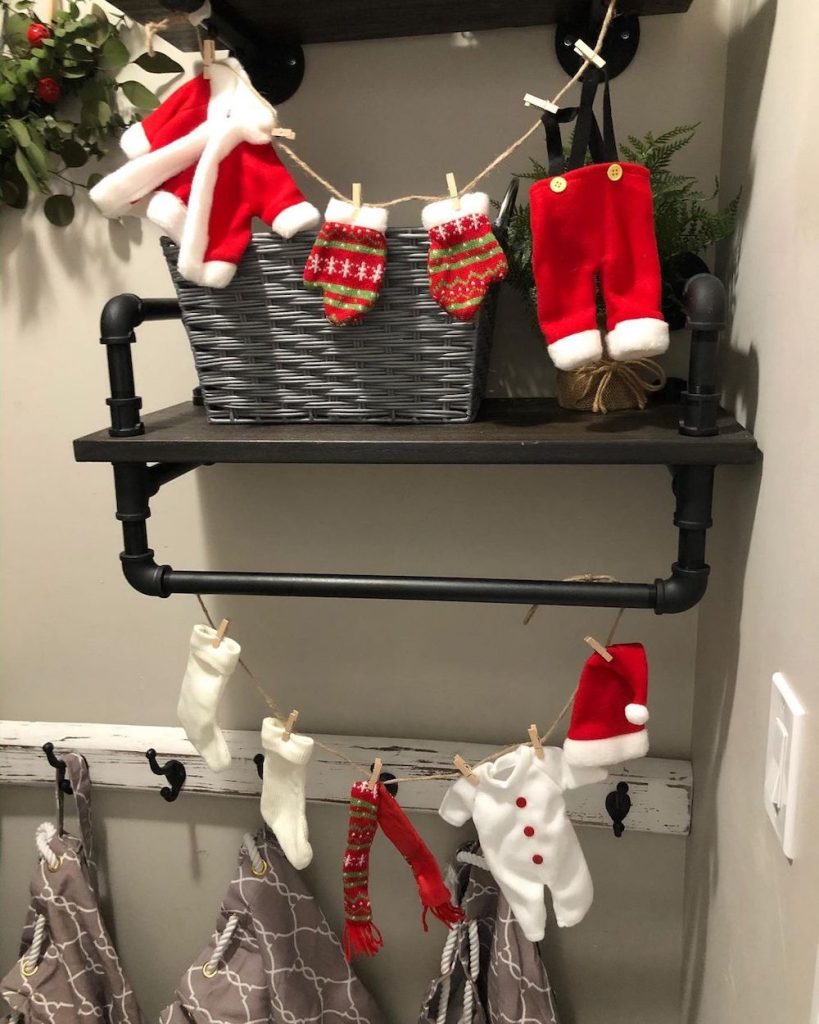 In Conclusion
This ends our list of Christmas laundry room decor ideas. Create a festive laundry space where you'll never mind doing the weekly laundry. We hope you are inspired by our list of ideas. Style your best laundry room this holiday season with one of these ideas.
For additional Christmas decor inspiration, be sure to check out our other posts.
Reach out to us with any questions. We are always ready to help you out. Thank you for stopping by our blog.
Wishing you a blessed Christmas this year!
Mary
Pin this for Later: