Christmas dining room ideas to style a festive table this holiday season. Welcome your guests to dinner this holiday season in style. As you begin unpacking last year's dinner table decorations, consider these ideas. Give your space that warm and inviting feeling this holiday season. In today's post, we are sharing the most festive dining rooms for inspiration that can easily be used in your home. And most of all, we know that you'll love these ideas.
Style the Table – Christmas Dining Room Ideas
Design a warm and welcoming dining room for your house guests to enjoy their Christmas meal on. With the right accessories, your table will have lasting memories of the holiday celebrations. Take a look at our selection of beautiful dining room ideas for your Christmas dinner. These picks were selected by us as the best dining room ideas that make your family want to return to your home year after year.
Set Out the Flared Candleholders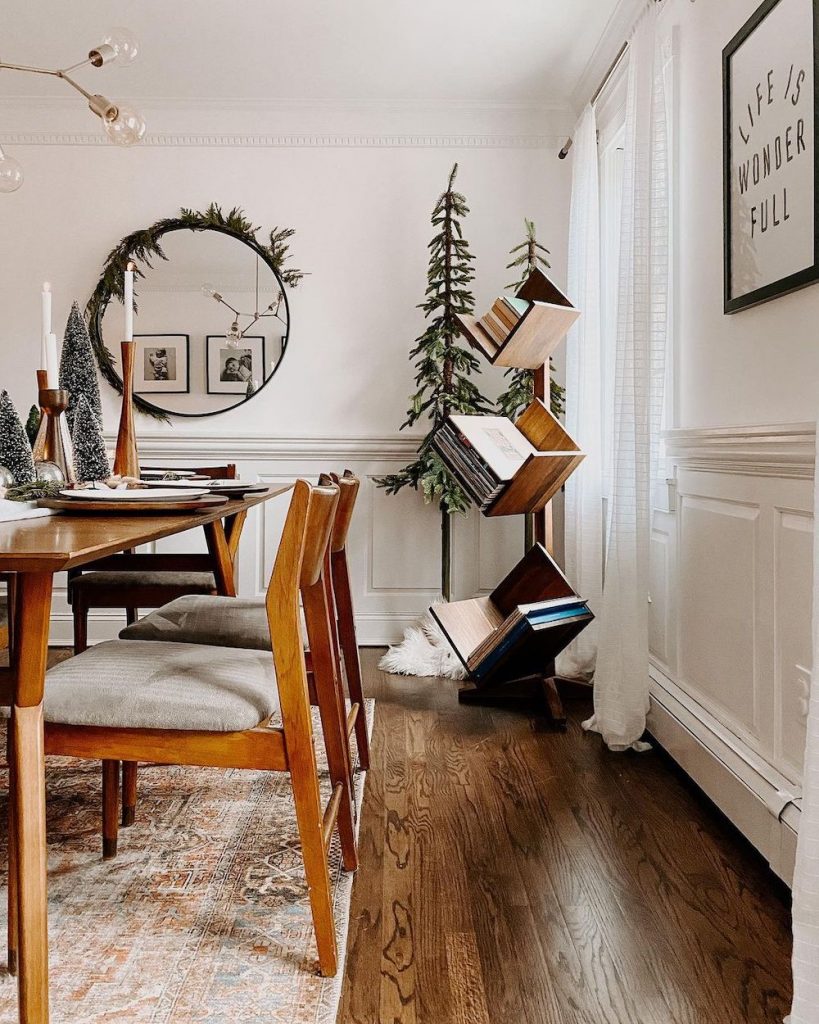 Set the table with flared candleholders in a variety of sizes. Add a few bottlebrush trees and round glass ornaments.
Hang a Few Paper Stars – Christmas Dining Room Ideas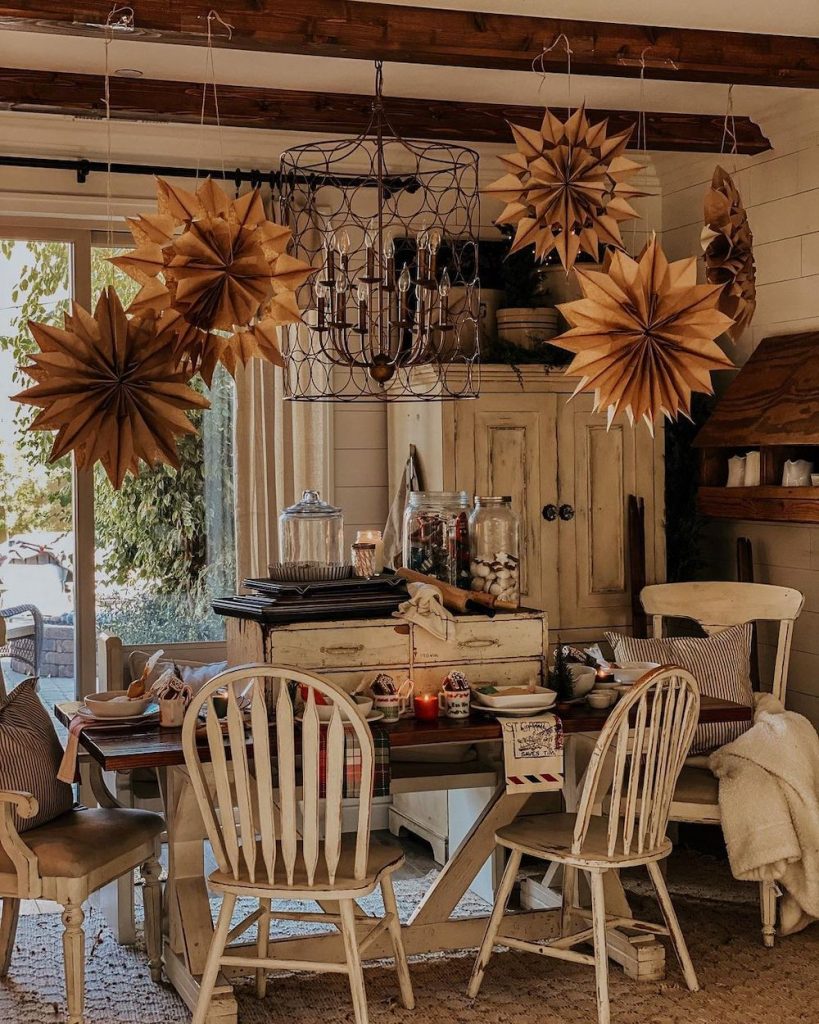 Don't overlook your ceiling and light fixture when decorating your dining room. In this example, the designer hung a group of paper stars from the ceiling.
Keep it Cozy with a Throw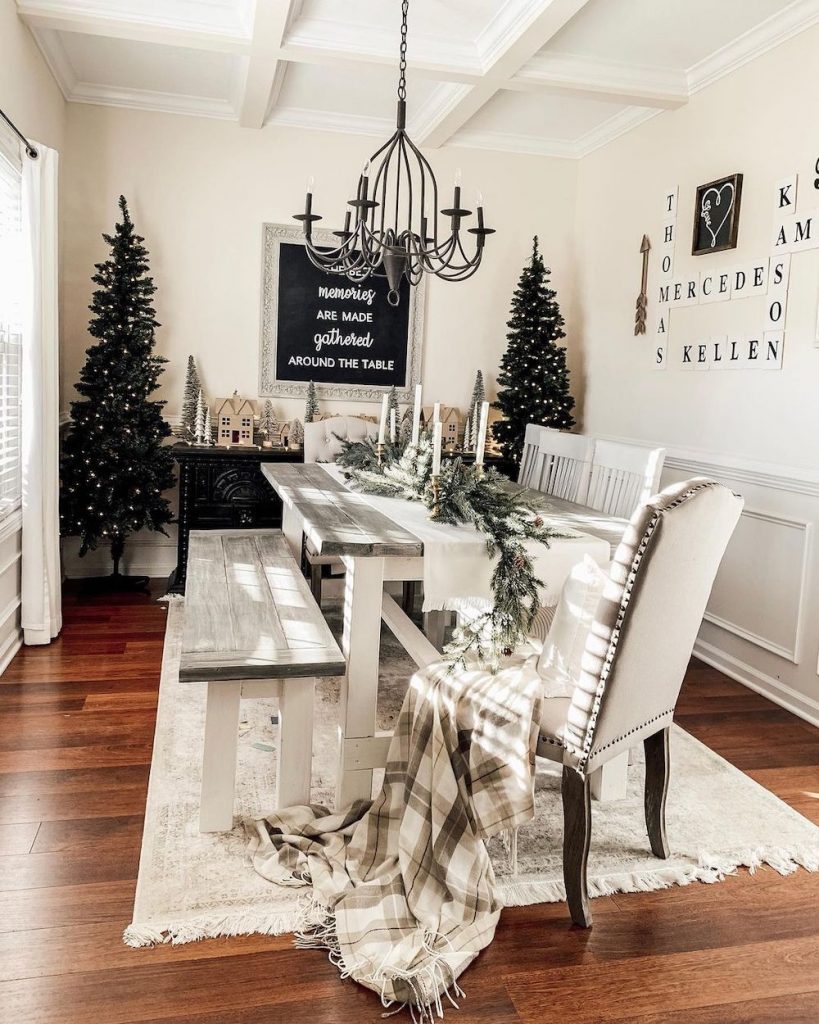 Always have extra throws handy for those cool Winter evenings.
Style a Grove of Trees – Christmas Dining Room Ideas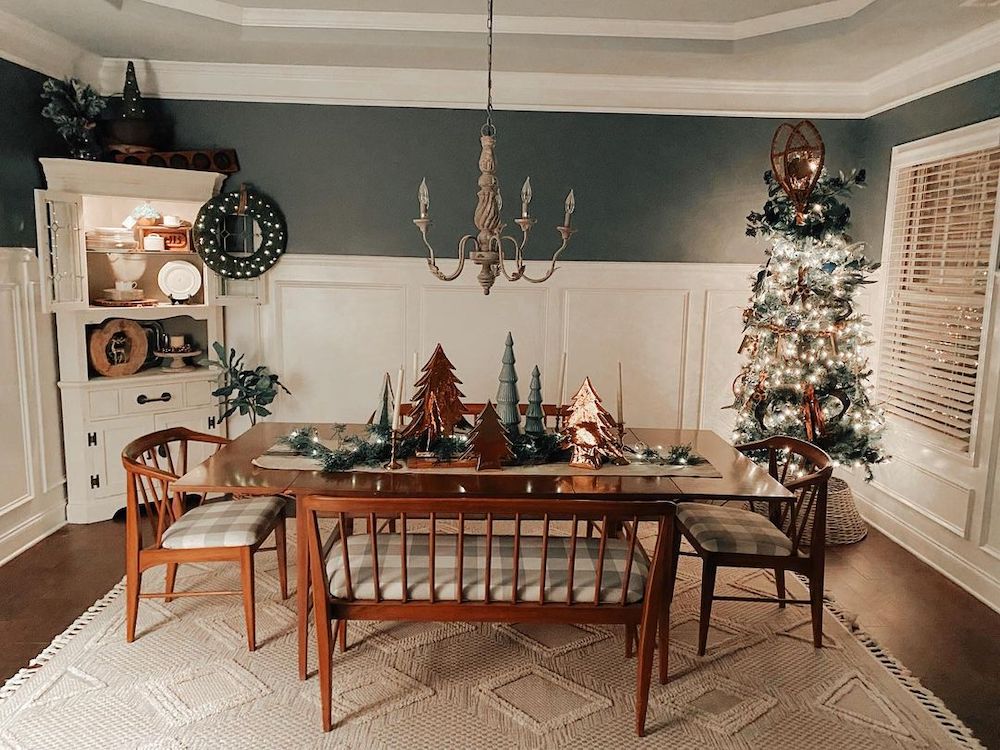 Holiday trees of every kind are a big hit during the Christmas season. Add trees on the dinner table, a free-standing tree, and above the corner hutch.
Add Ruby Red Decorations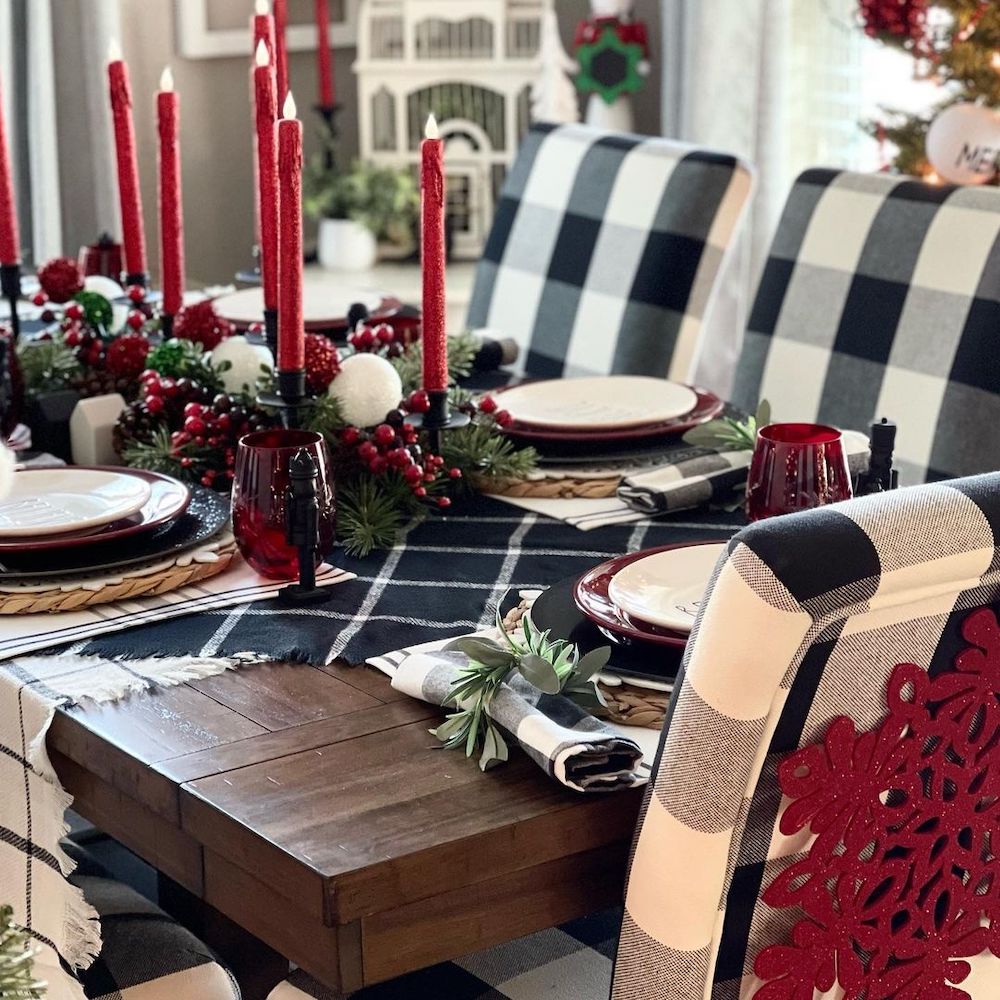 Use ruby red accessories. From the snowflake hung behind the chairs to glassware and candle centerpiece, this festive red brightens the room.
Make it a Country Dinner Table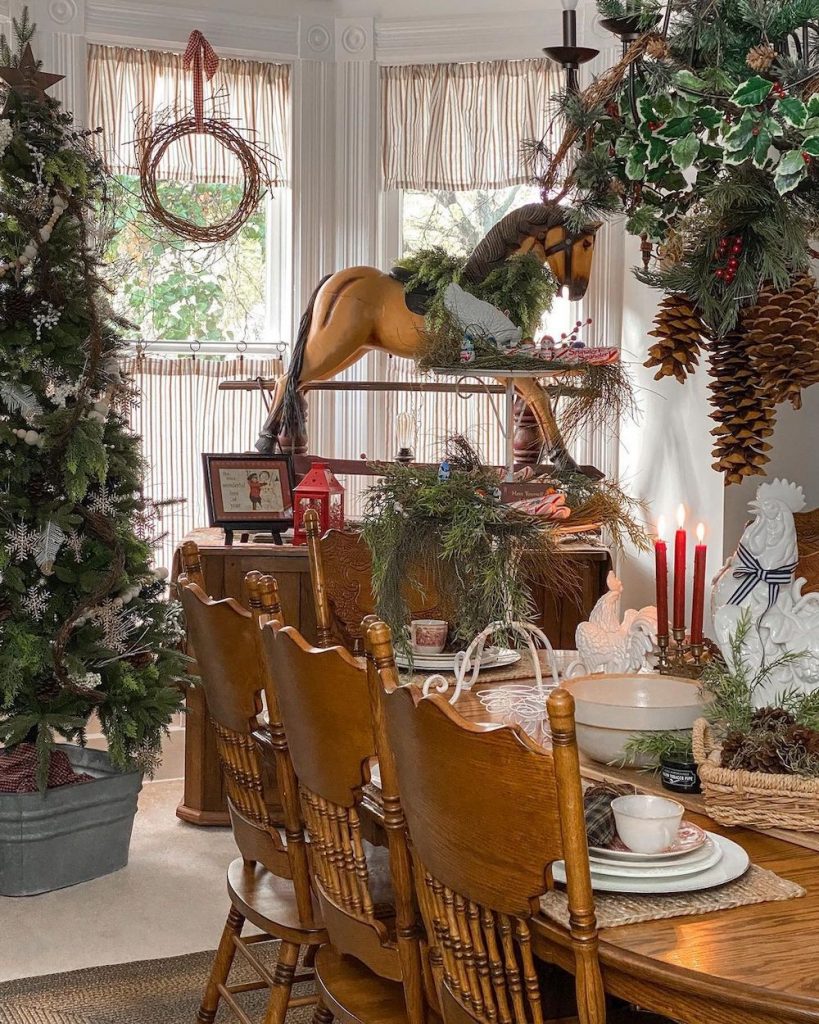 Style it a country look. Display your best-prized rooster on the table. And the rocking horse in the background is styled for the big celebration on Christmas Day.
Fill a White Pitcher with Greenery – Christmas Dining Room Ideas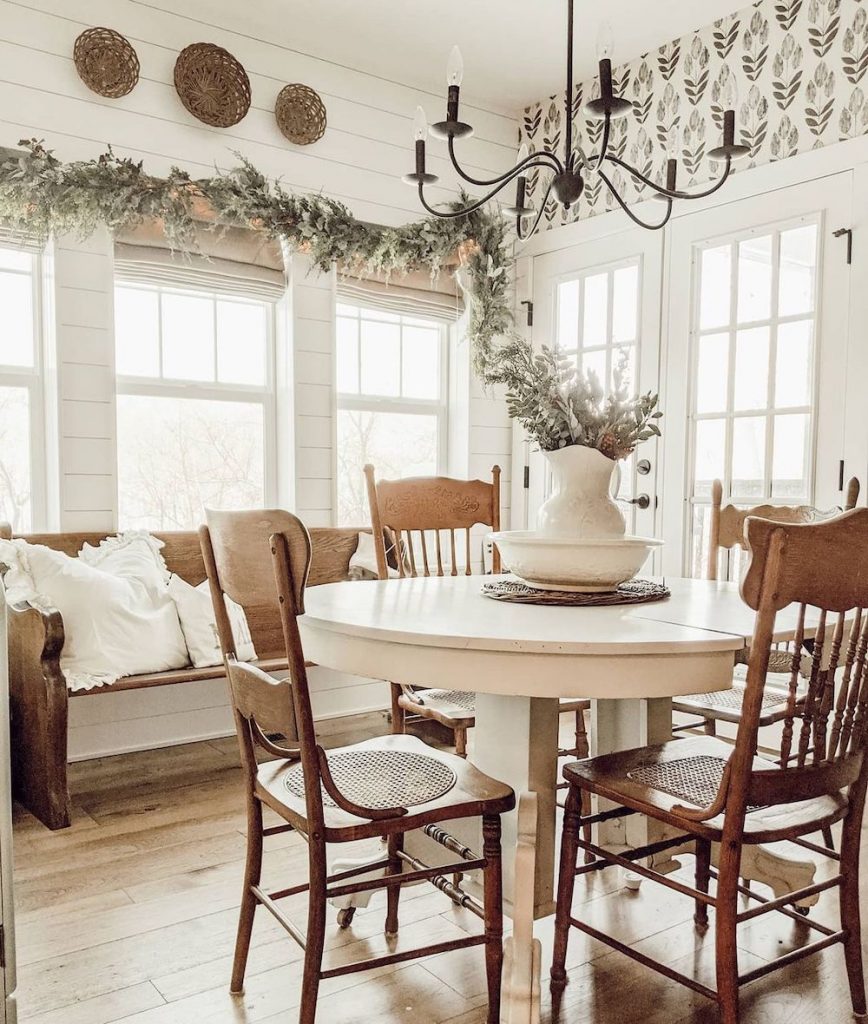 Use your white pitcher and bowl for a bouquet of greenery.
Go Green with Trees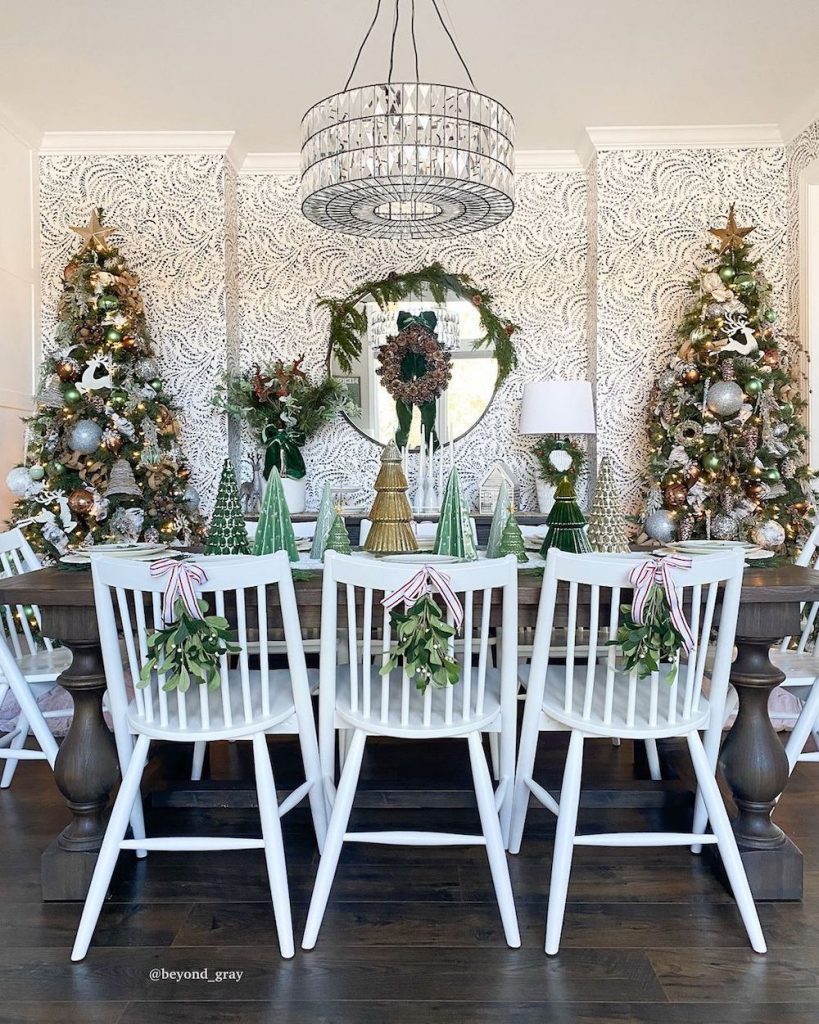 Keep it green with these glass green trees on the table. The two holidays trees continue the decor style.
Contain it Inside a Wood Tray – Christmas Dining Room Ideas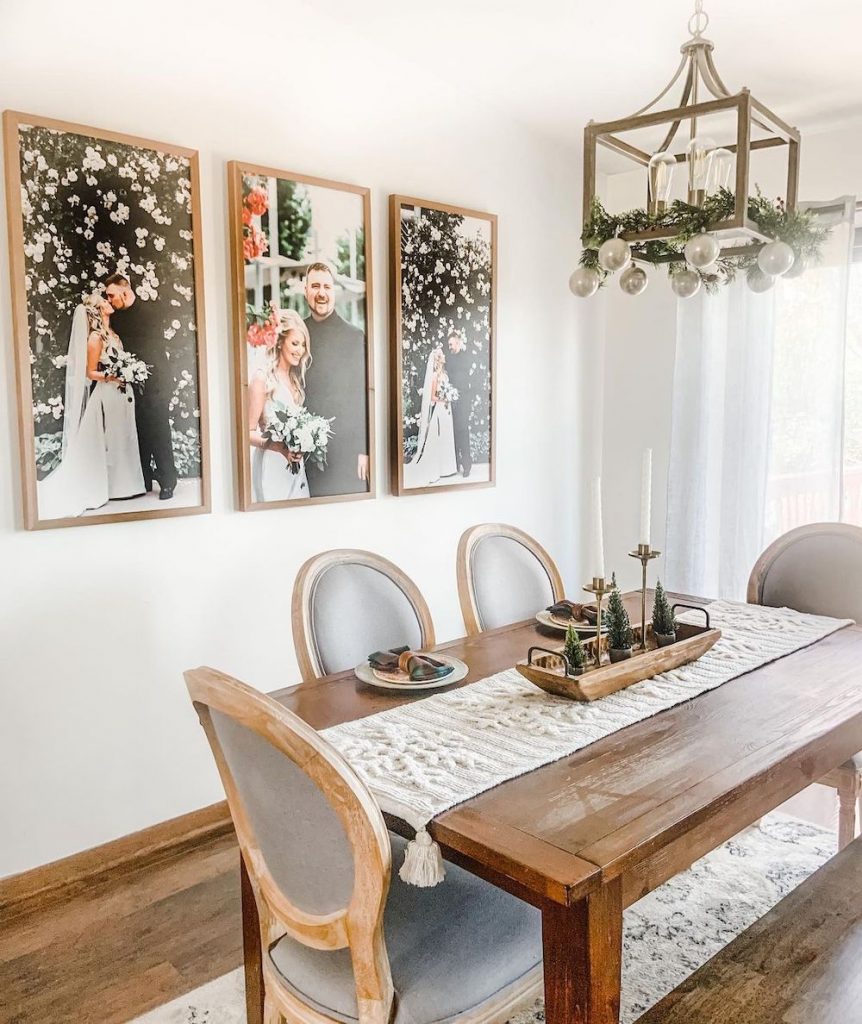 Tuck miniature holiday trees with candlesticks inside a wood tray. This presents a very tidy dining table setting.
Mix Pine Cones and Round Glass Ornaments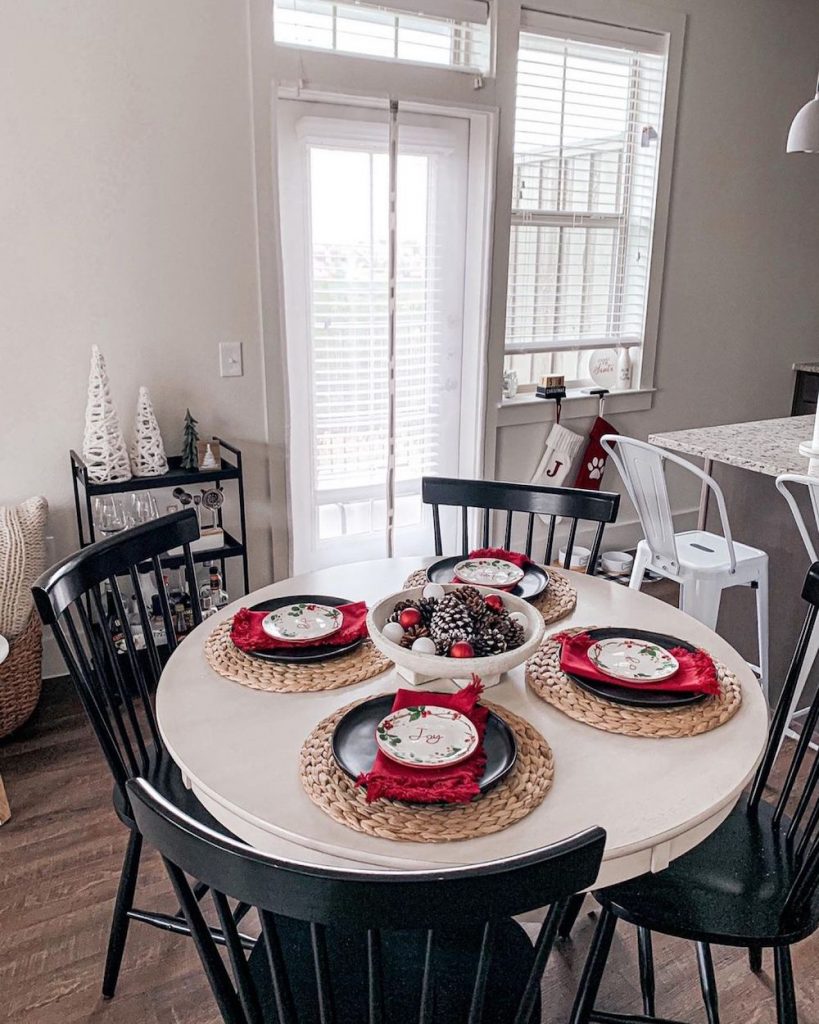 In a white ceramic bowl, mix white-tipped pine cones and round glass ornaments. Easy styling and festive.
Make it Merry and Bright Blue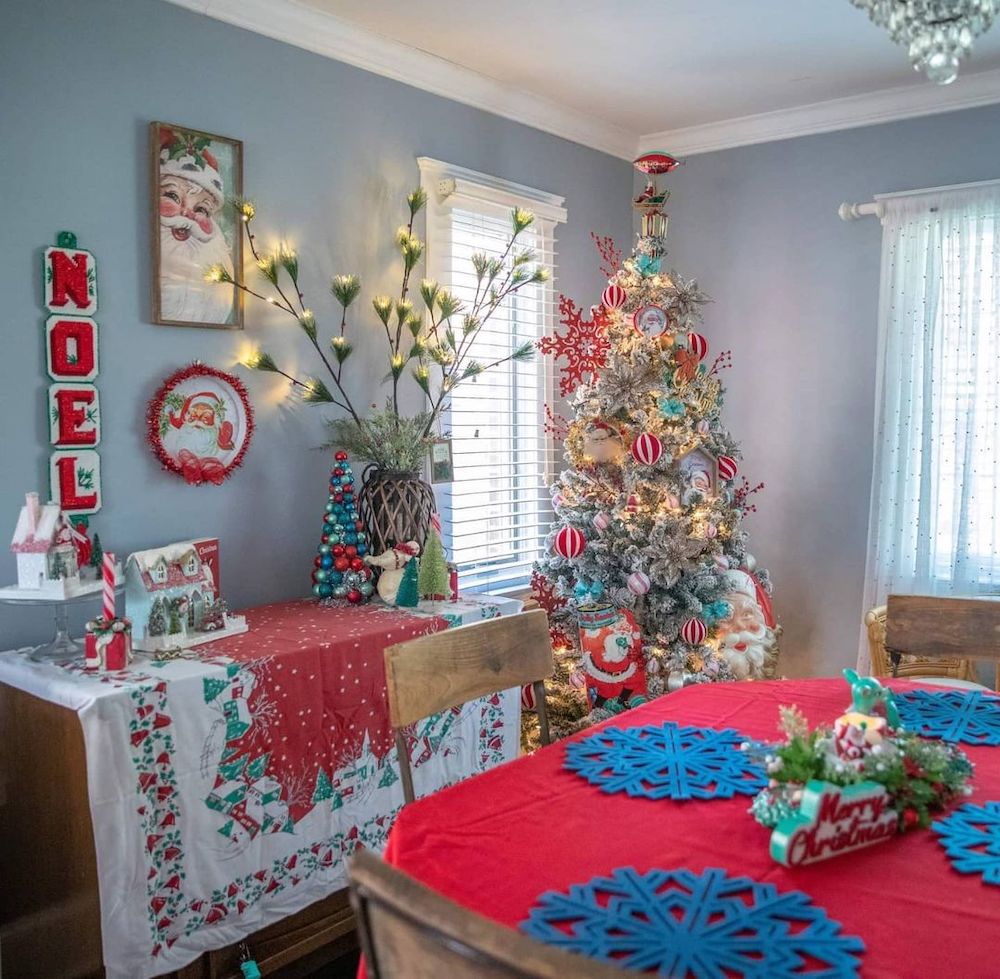 Set the table with bright blue snowflake placemats. Surround table with bright merry colors.
Round Up a Herd of Reindeer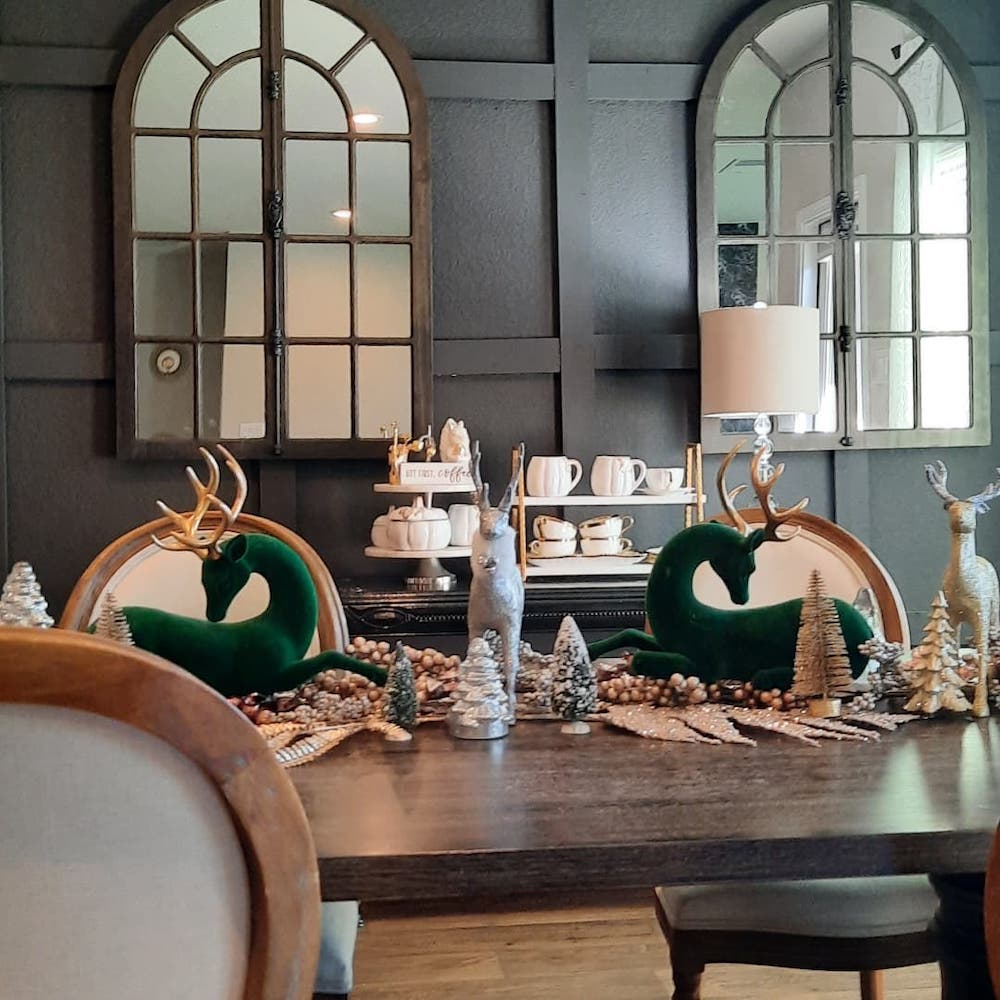 Reindeer in every size and style always brings elegance and style to the table. Style a herd of reindeer around the room.
Use Black Accents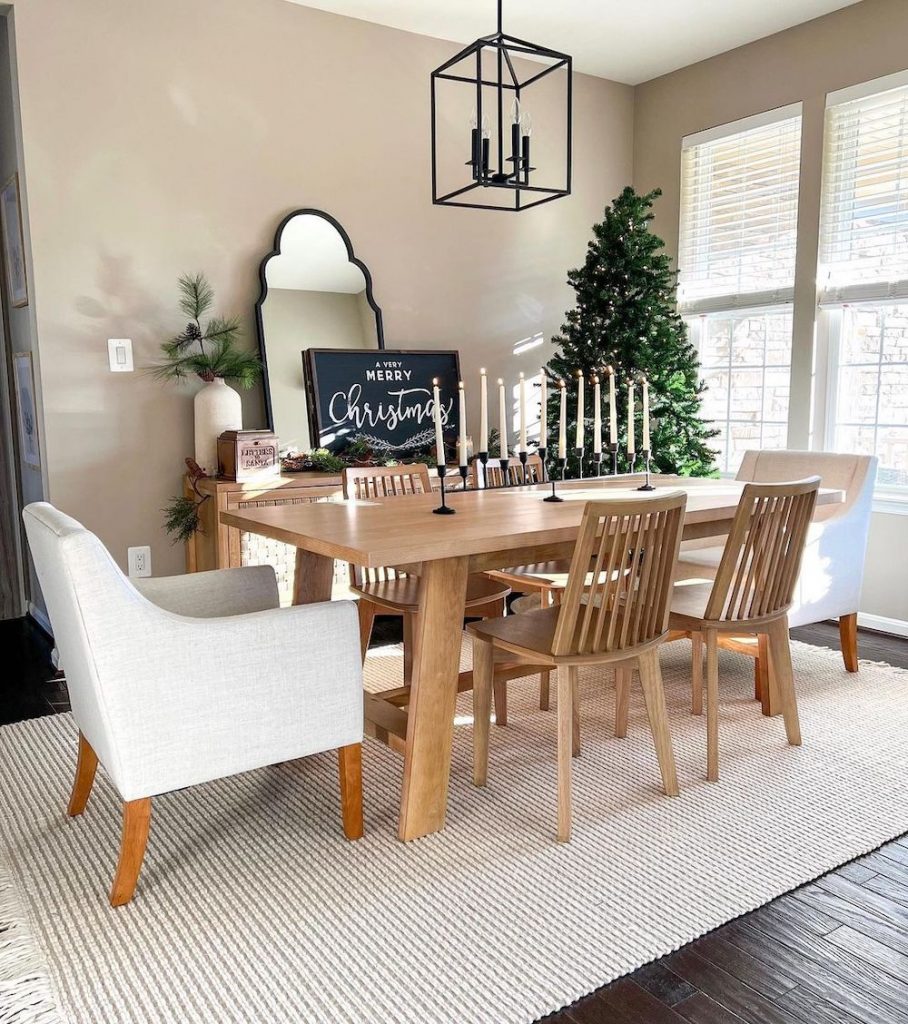 Incorporate black accents into your dinner table. In this setting, the candlestick centerpiece, Christmas signage, mirror, and light fixture add elegance to the table.
Give the Table a Single Tree
Adorn your table with a single tree.
Blend Candlesticks with Votives for a Bright Table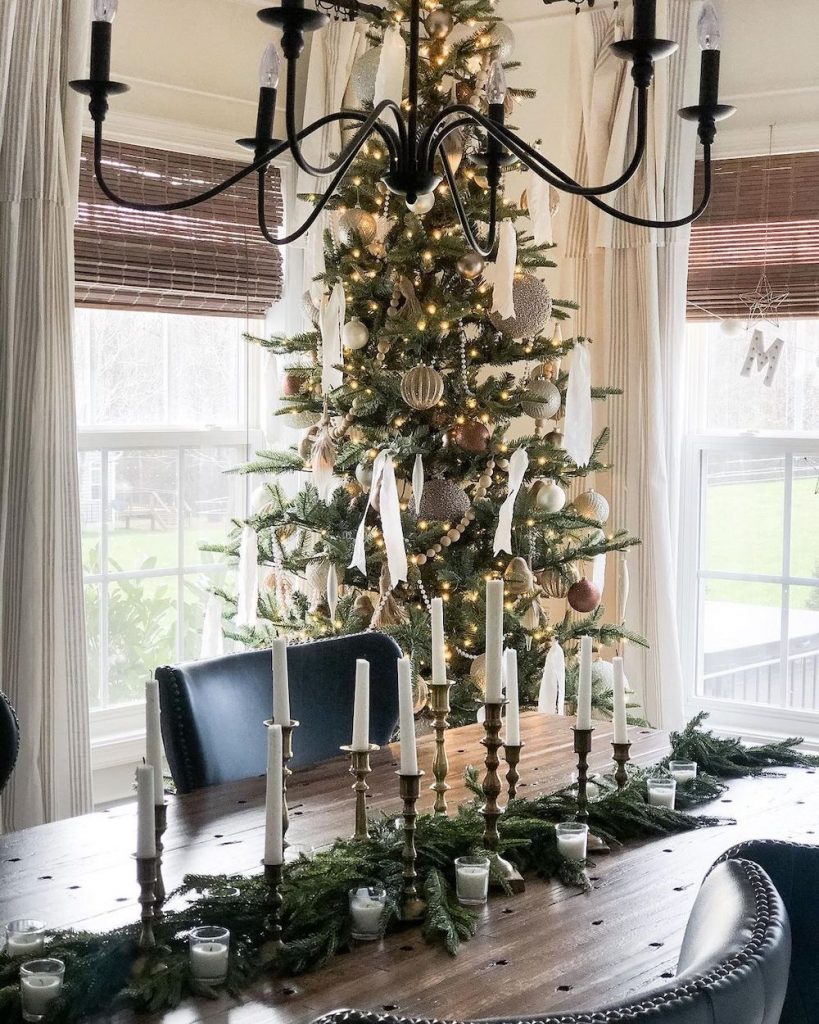 An easy and elegant table setting. Candlelight makes the room so magical.
Style it with Dried Orange Slices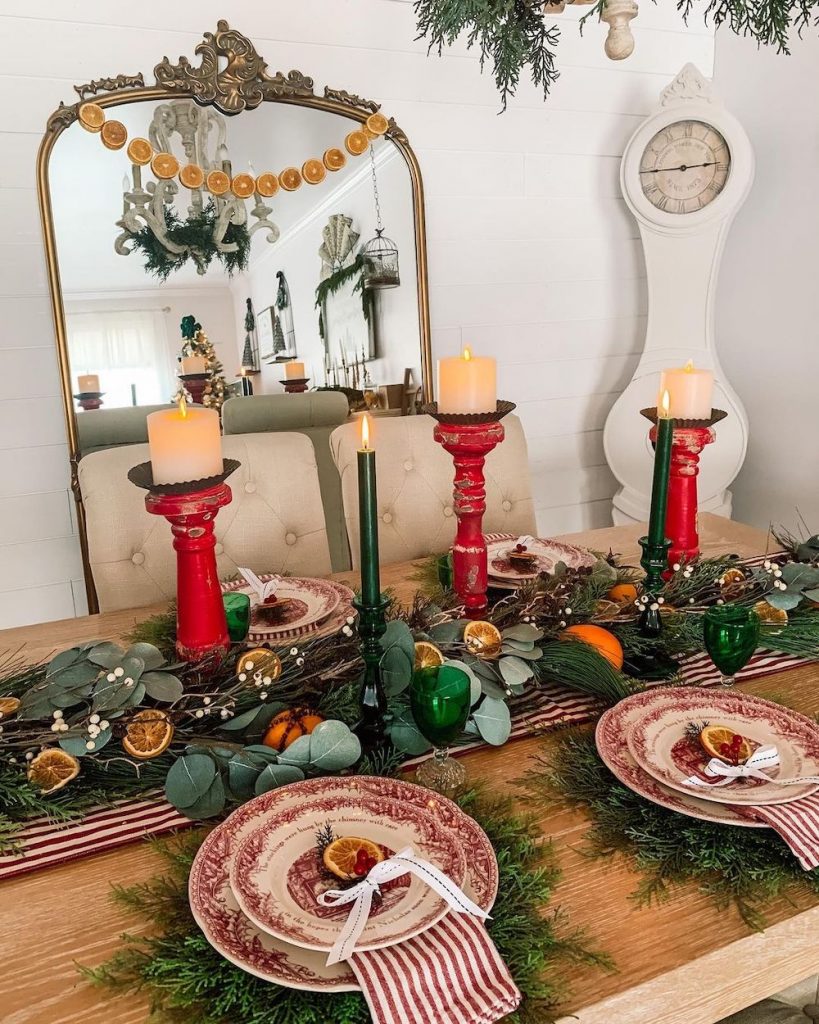 String dried orange slices across the mirror. Add them to the centerpiece. So festive and adds color to the table.
Rest Your Skis Nearby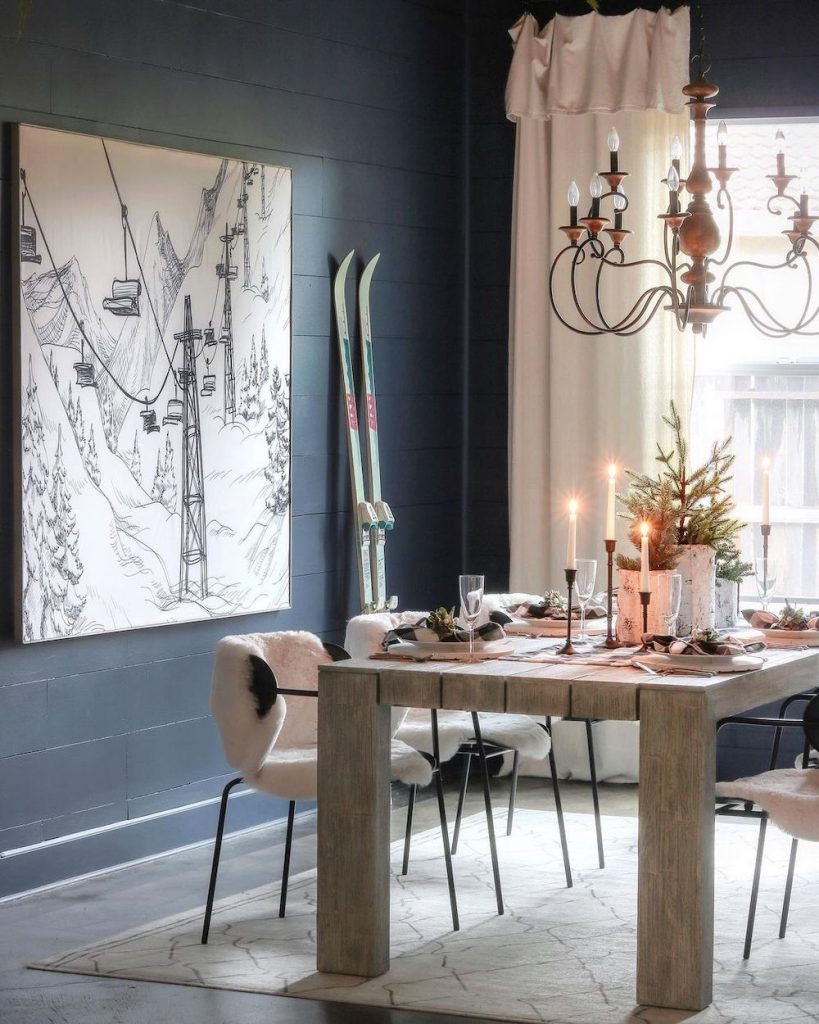 If you love the slopes, bring that look indoors. Rest a set of skis near the table. Who doesn't love skiing in the Winter time?
Build a Holiday Village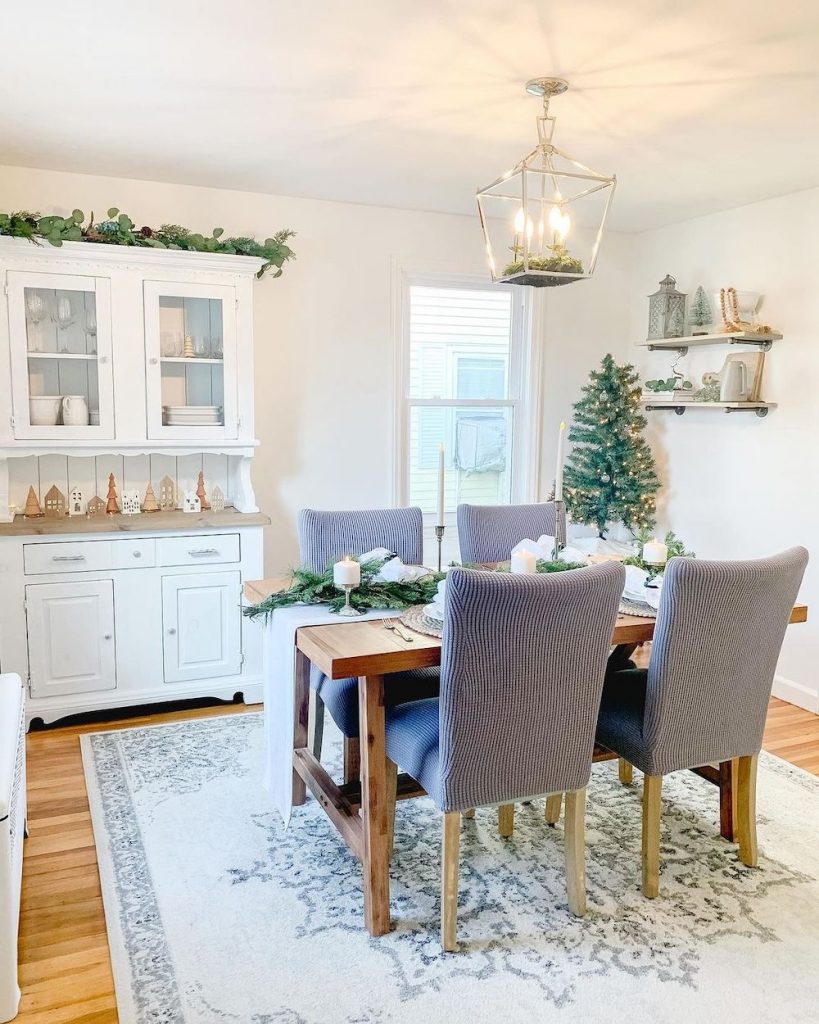 Get your tools out and build a village for a decorative touch.
Light Up the Room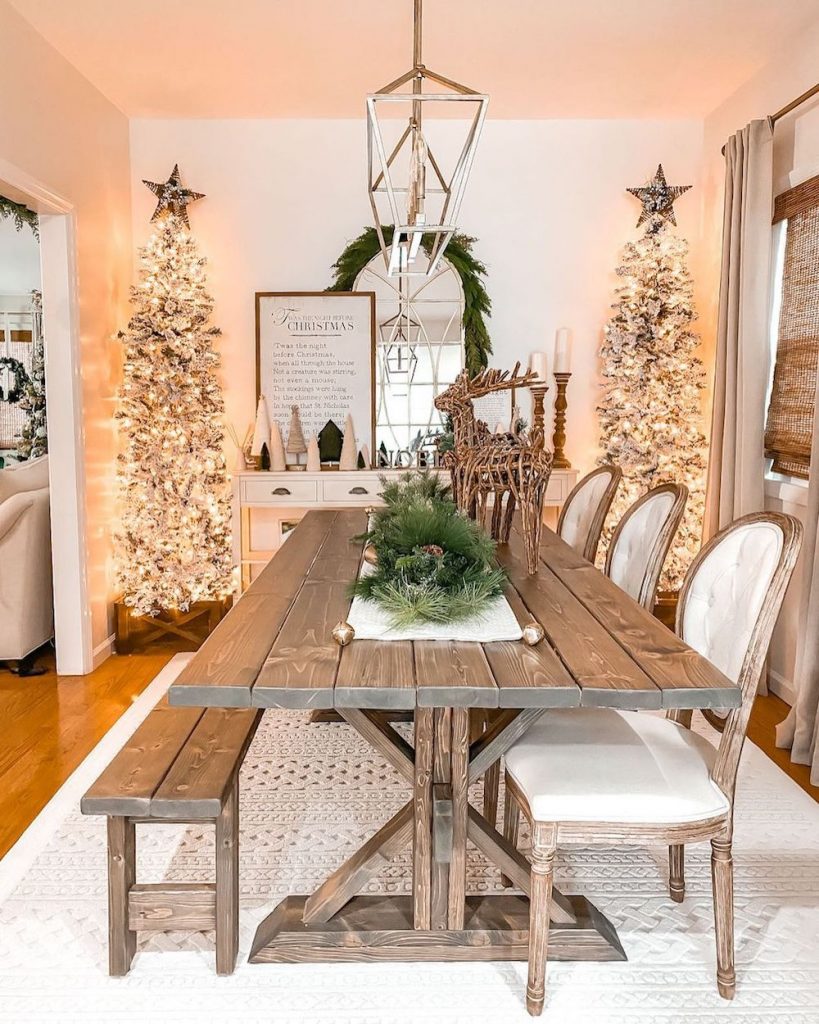 Double your lights with two-holiday trees instead of one.
Float Your Evergreens and Votives – Christmas Dining Room Ideas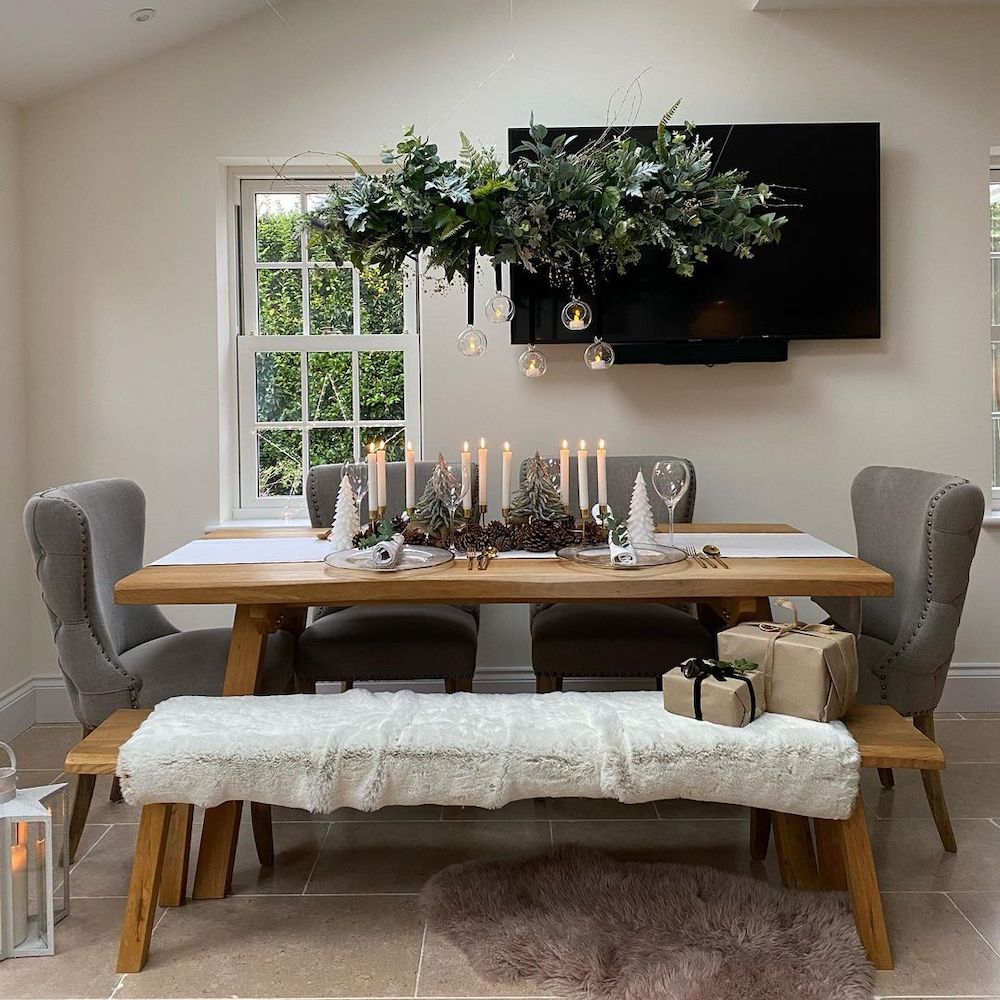 Add a light source above your table. Then decorate with fresh evergreens and votive candles.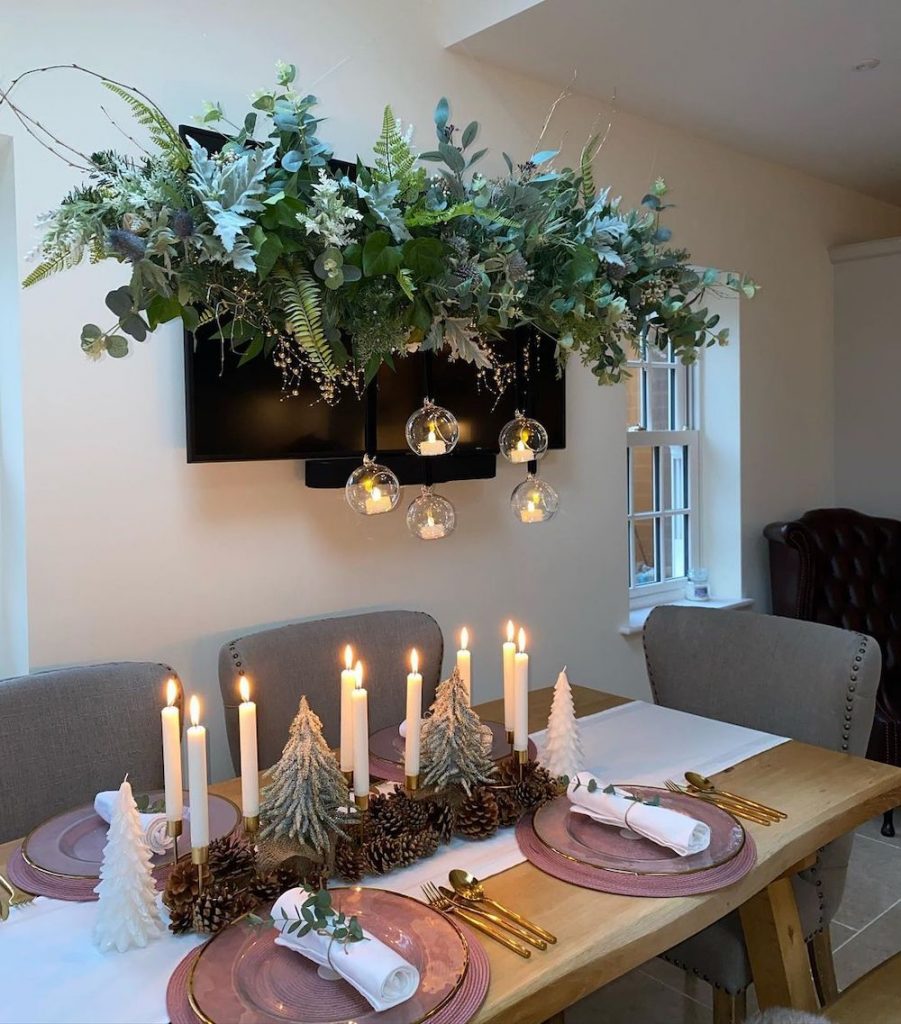 Scatter Round Glass Ornaments Around Trees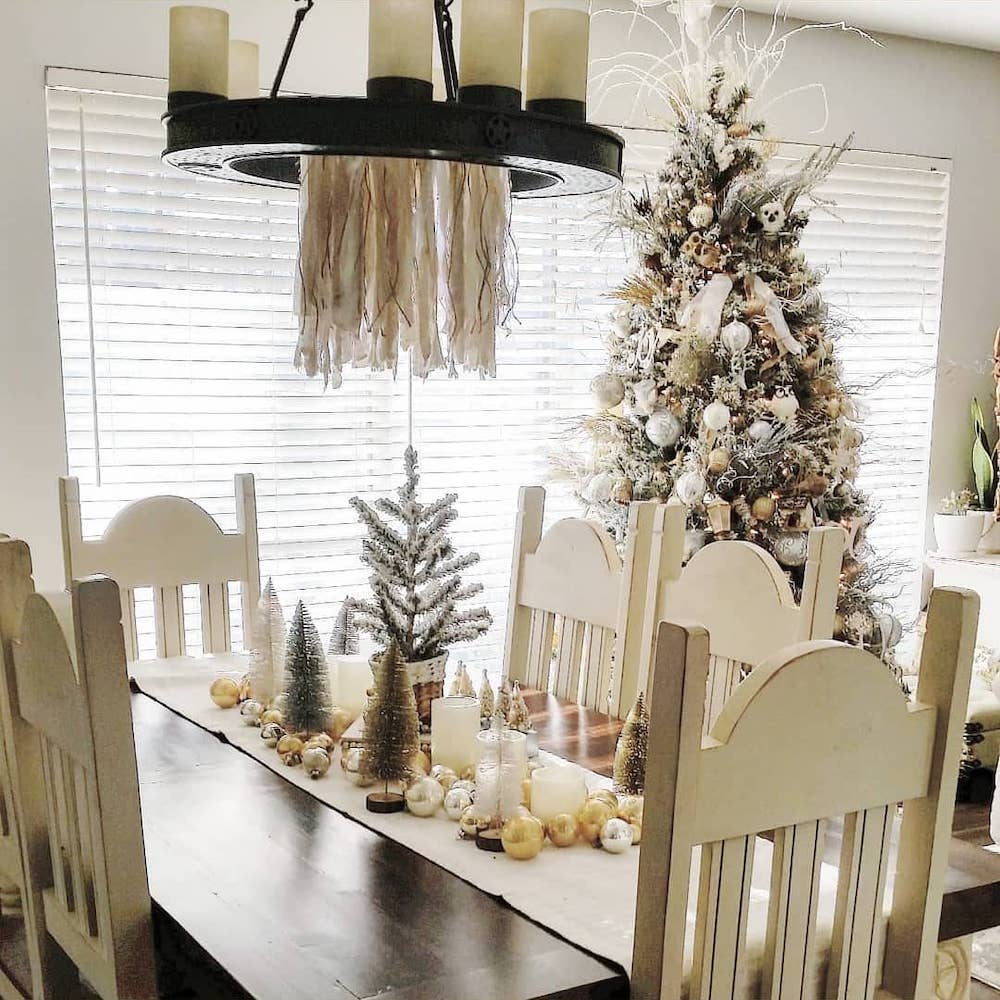 Decorate with bottlebrush trees and pillars. Then scatter a variety of round glass ornaments around the trees.
Crate it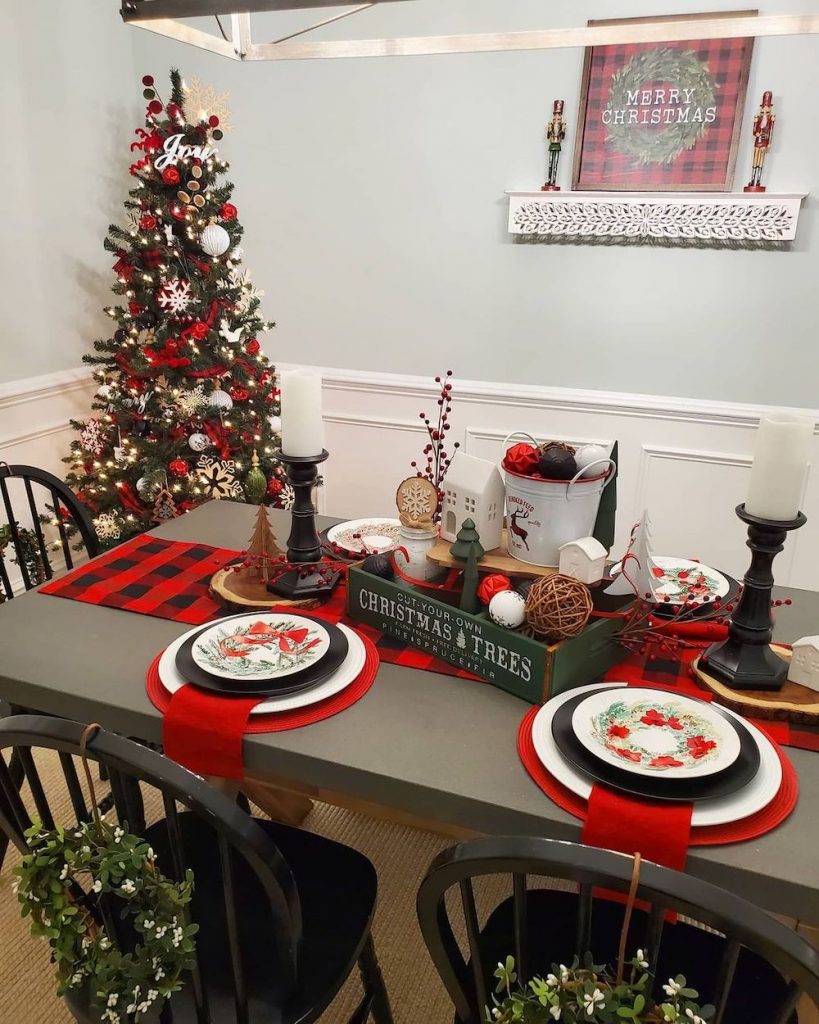 Contain it inside a holiday crate. Bundle up some Christmas accessories and style them inside a crate.
Scroll it – Christmas Dining Room Ideas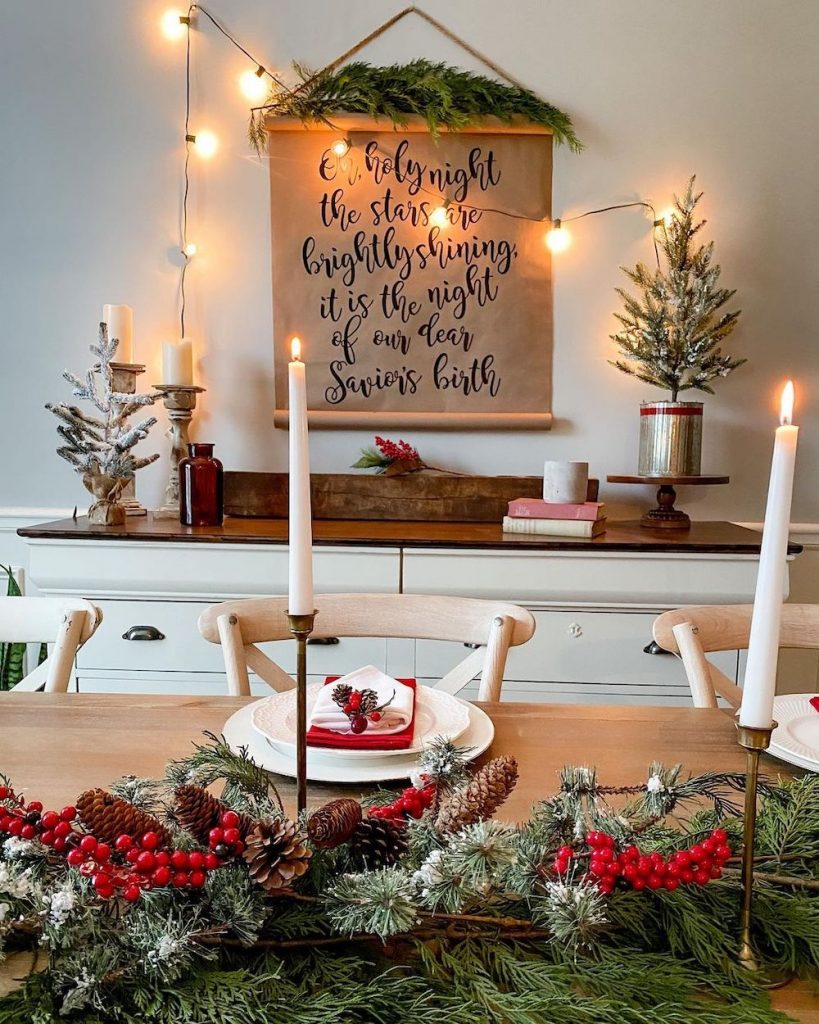 Hang a scroll on the wall. A scroll that delivers the good news of the birth of Christ.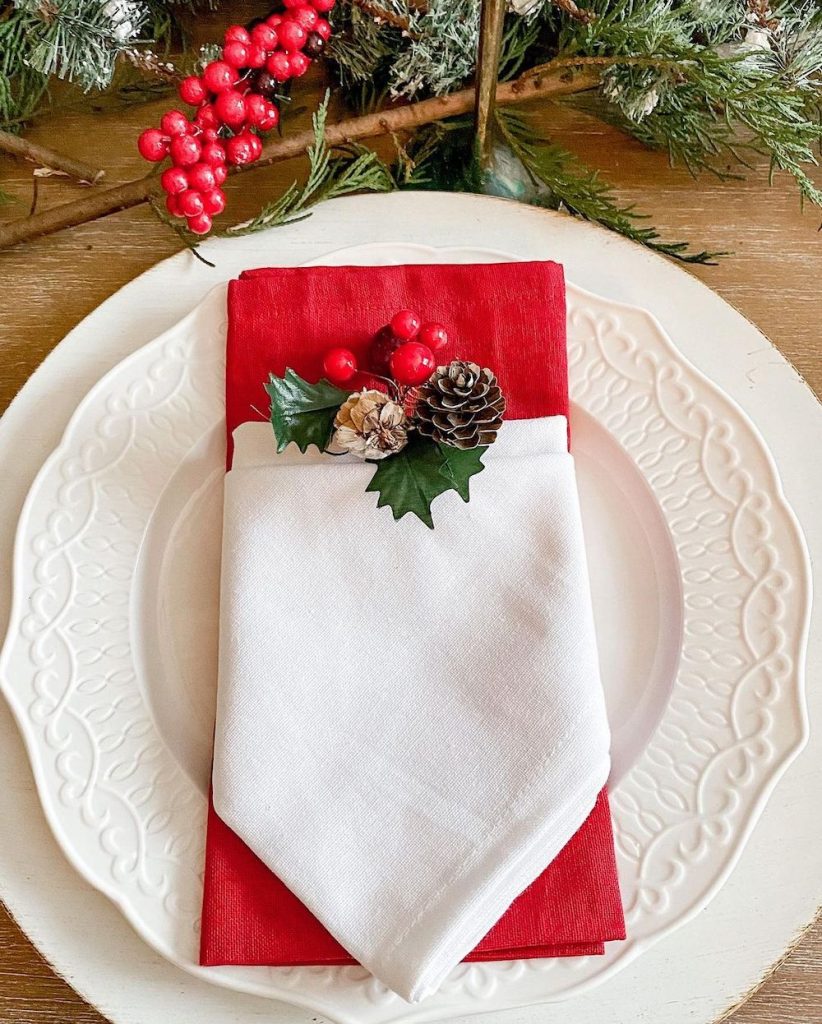 Decorate it Rose – Christmas Dining Room Ideas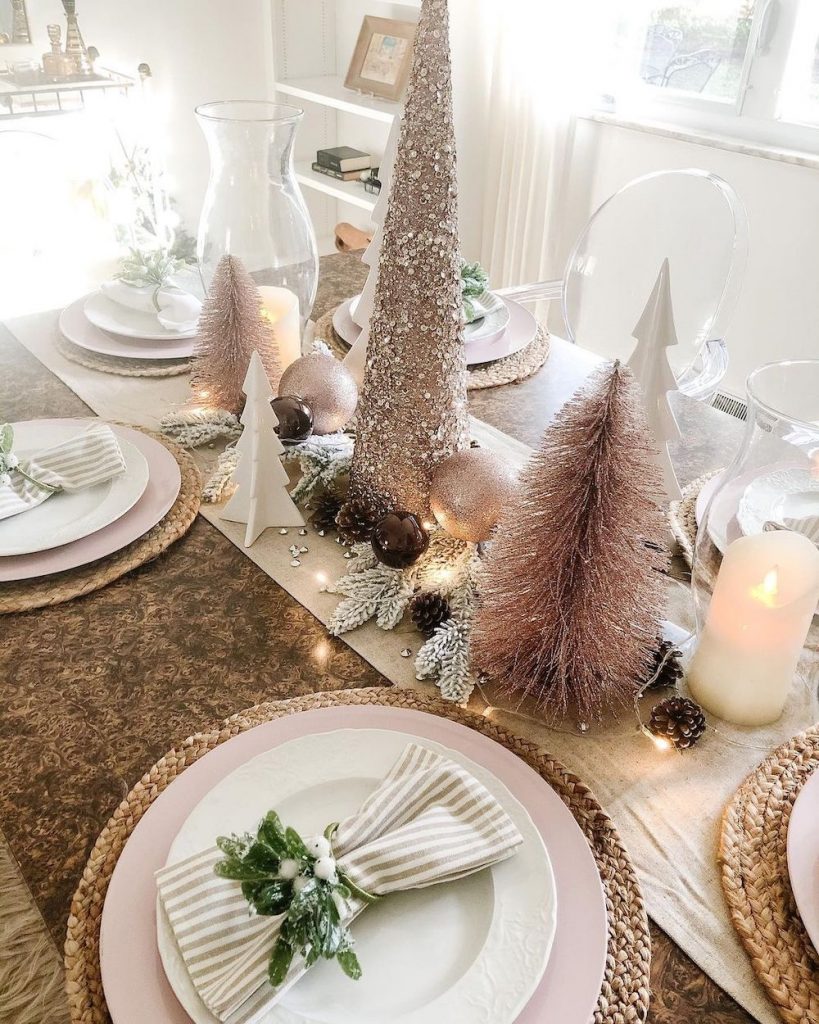 Make a rose-colored decor.
Hang Moravian Stars – Christmas Dining Room Ideas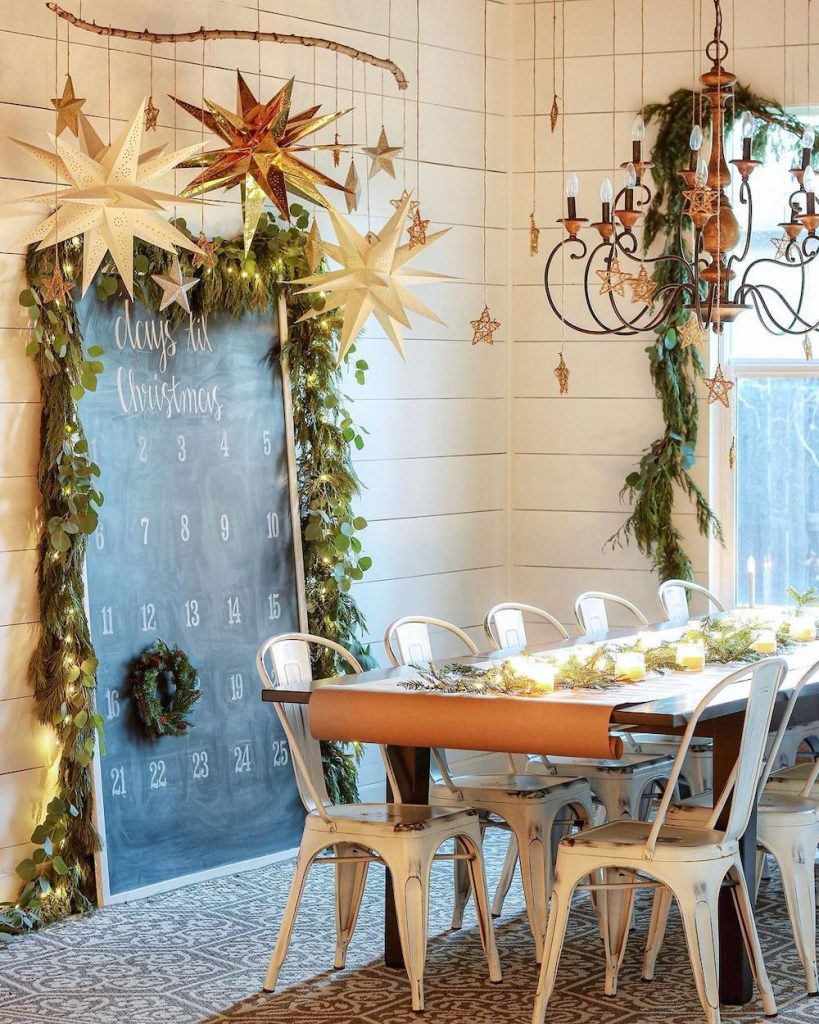 Dangle Moravian stars and willow stars from the ceiling. Beautiful and magical.
Decorate a Stick Tree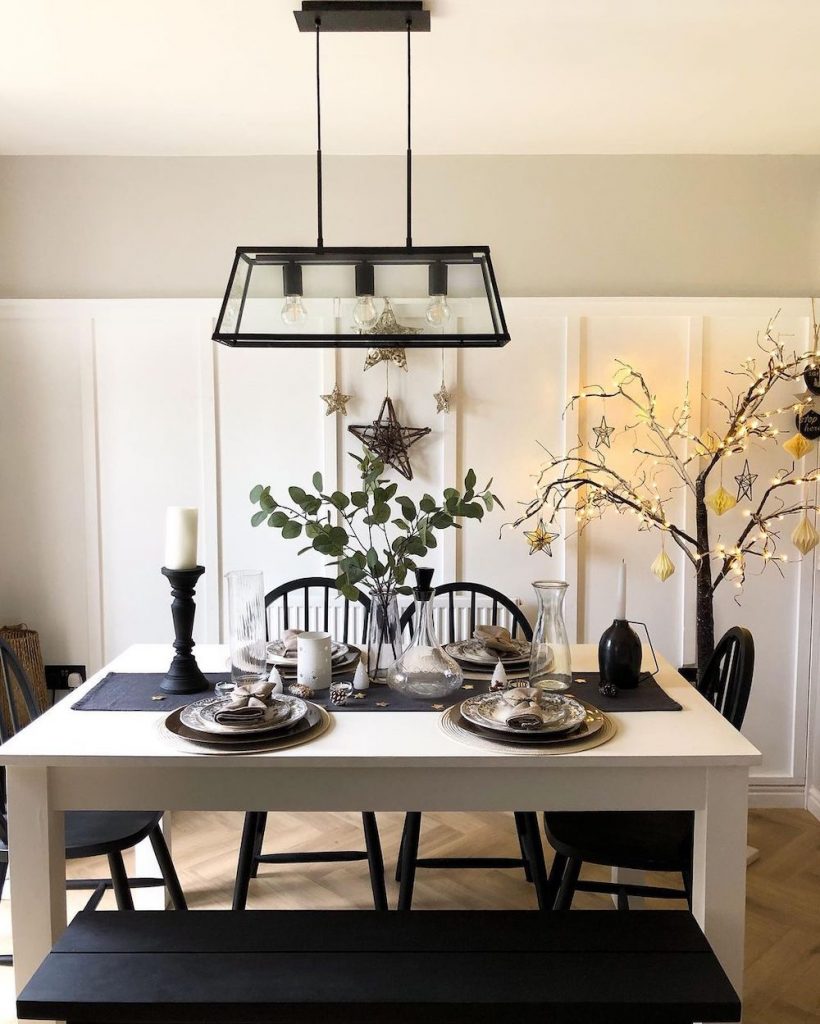 Add ornaments to a stick tree.
Set the Candelabras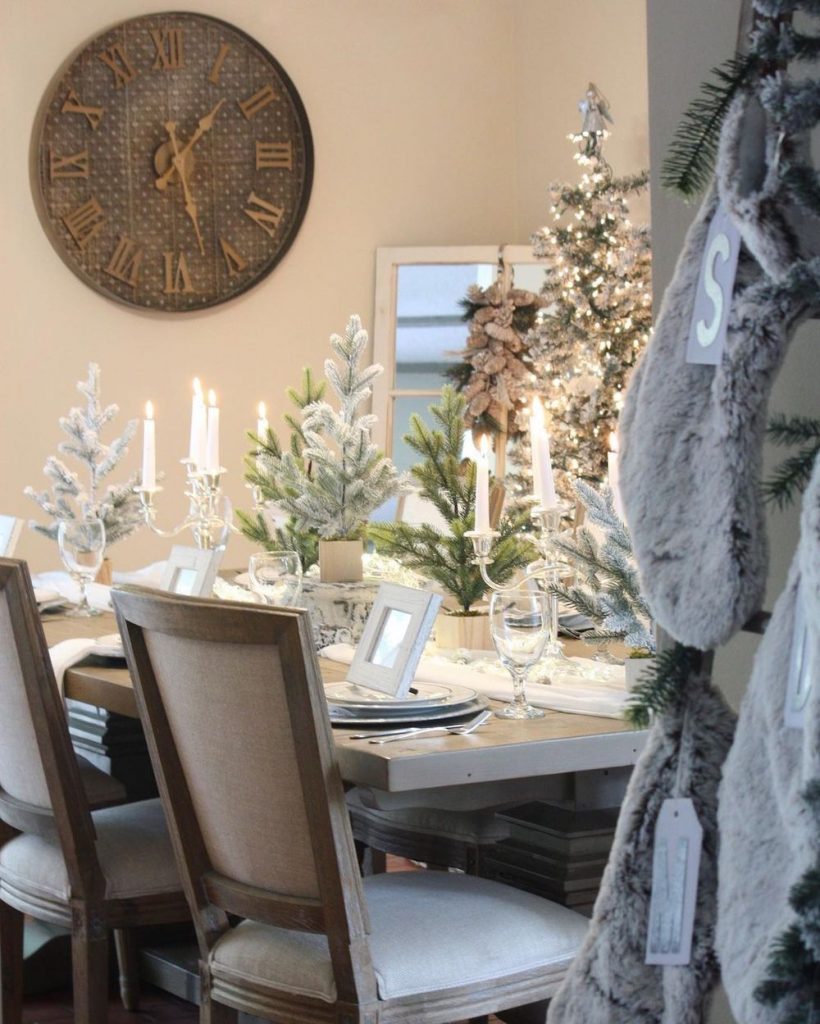 Add a set of candelabras to the table.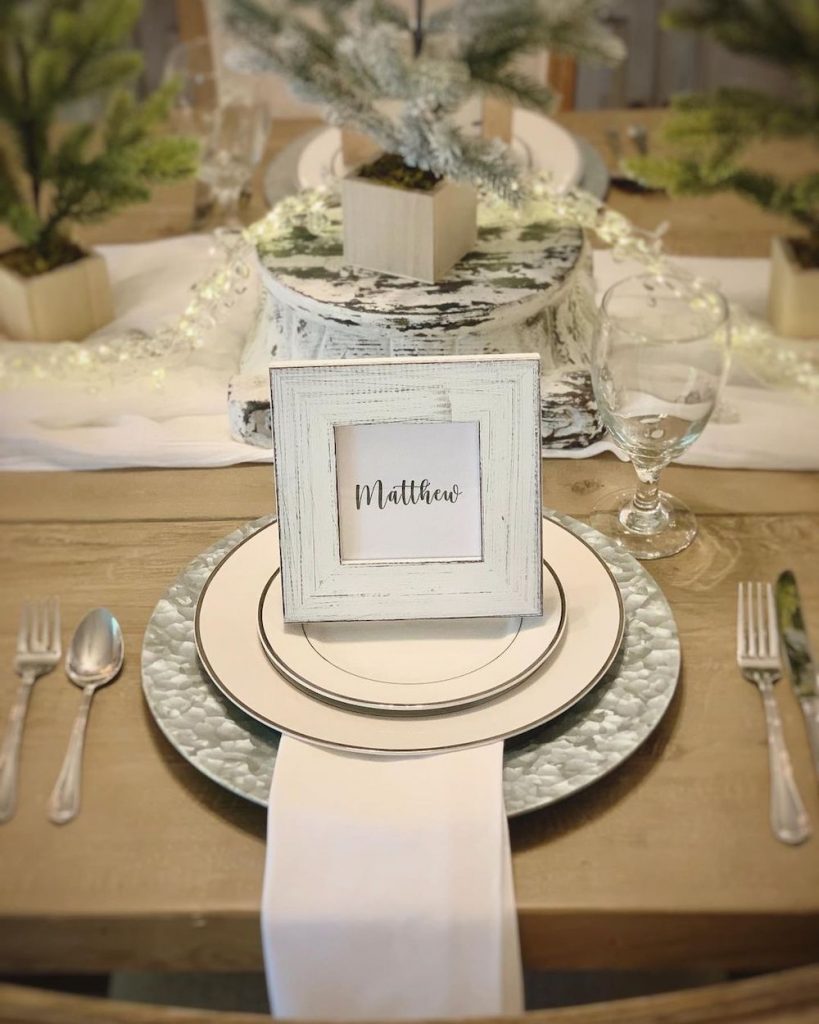 Display a Cozy Cottage – Christmas Dining Room Ideas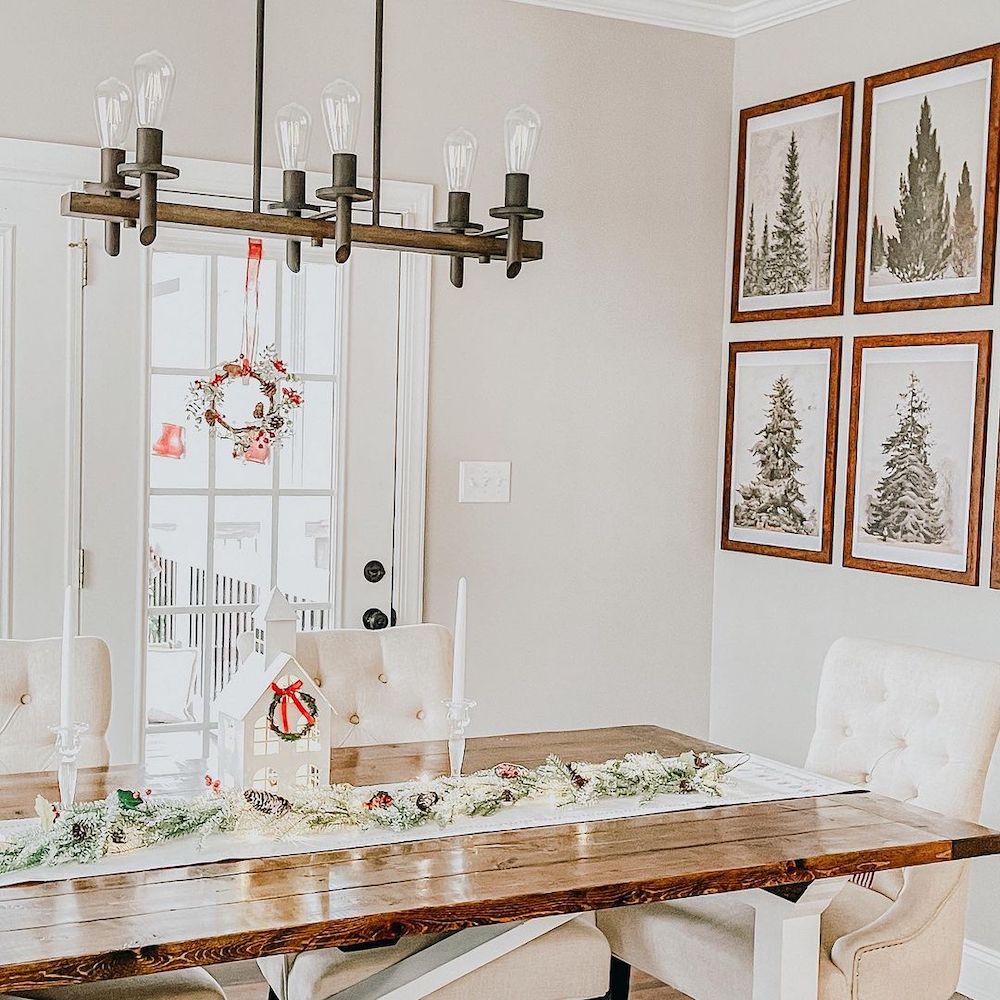 Add a cozy cottage with garland to the dinner table.
Bring Out the Textual Wall Art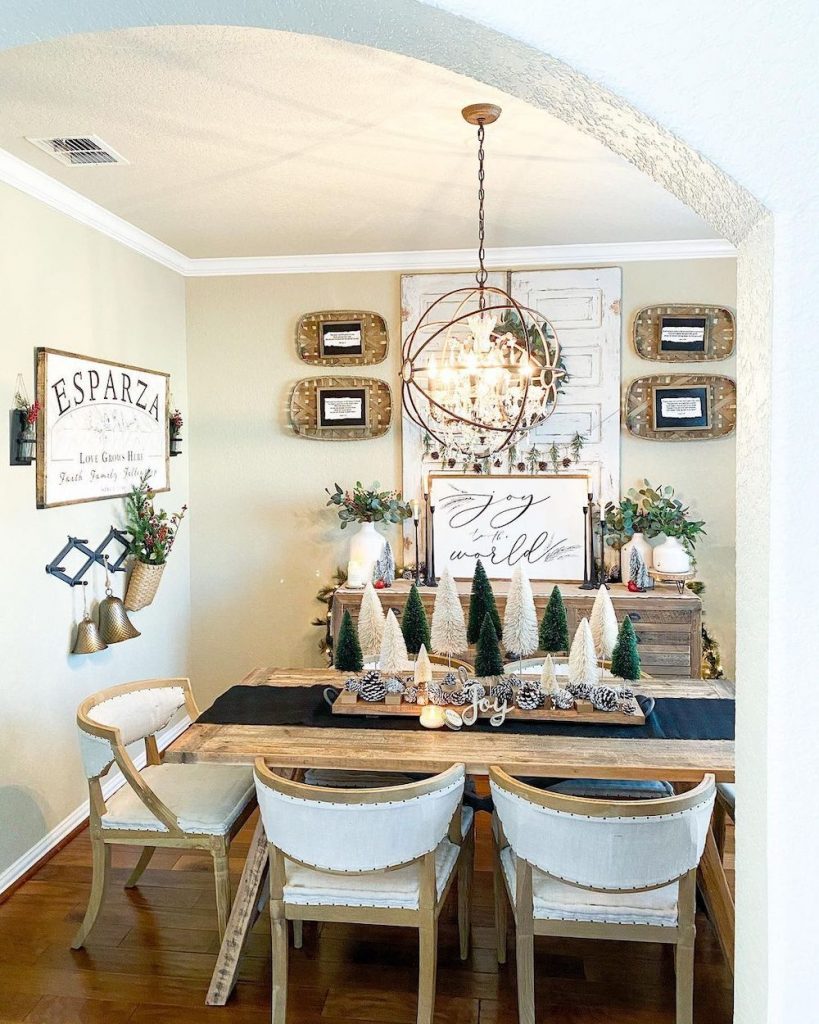 Display your holiday textual wall art in the dining room.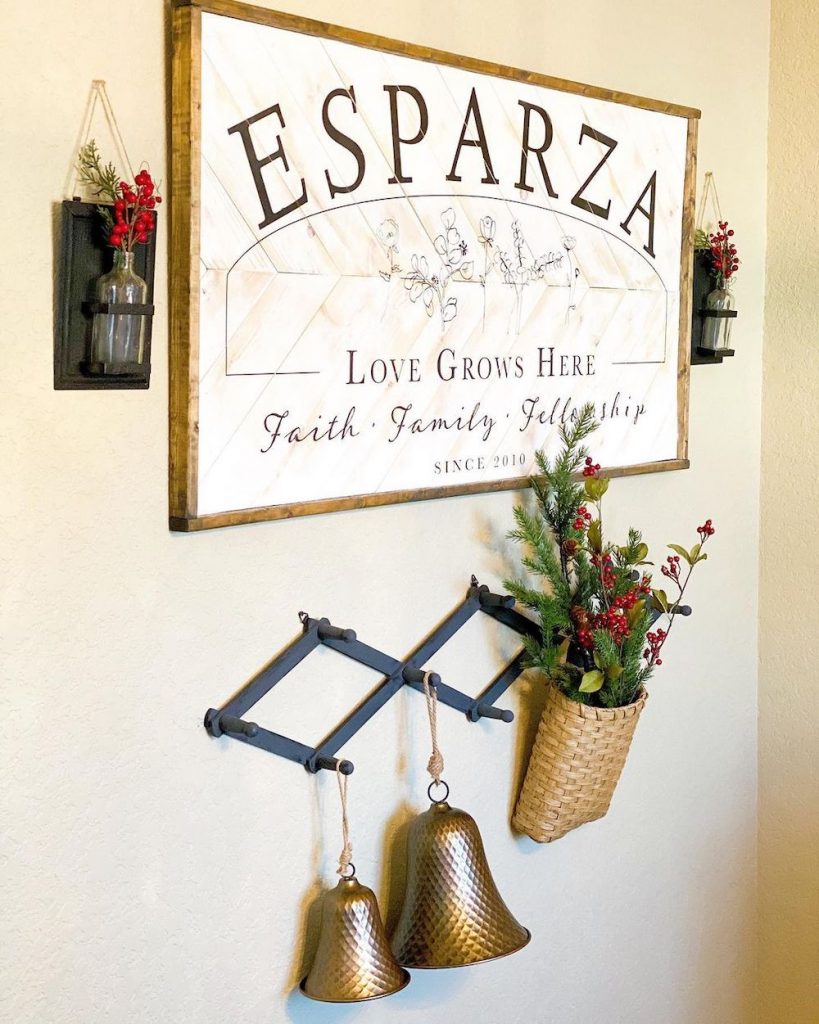 Add Greenery with Red Accents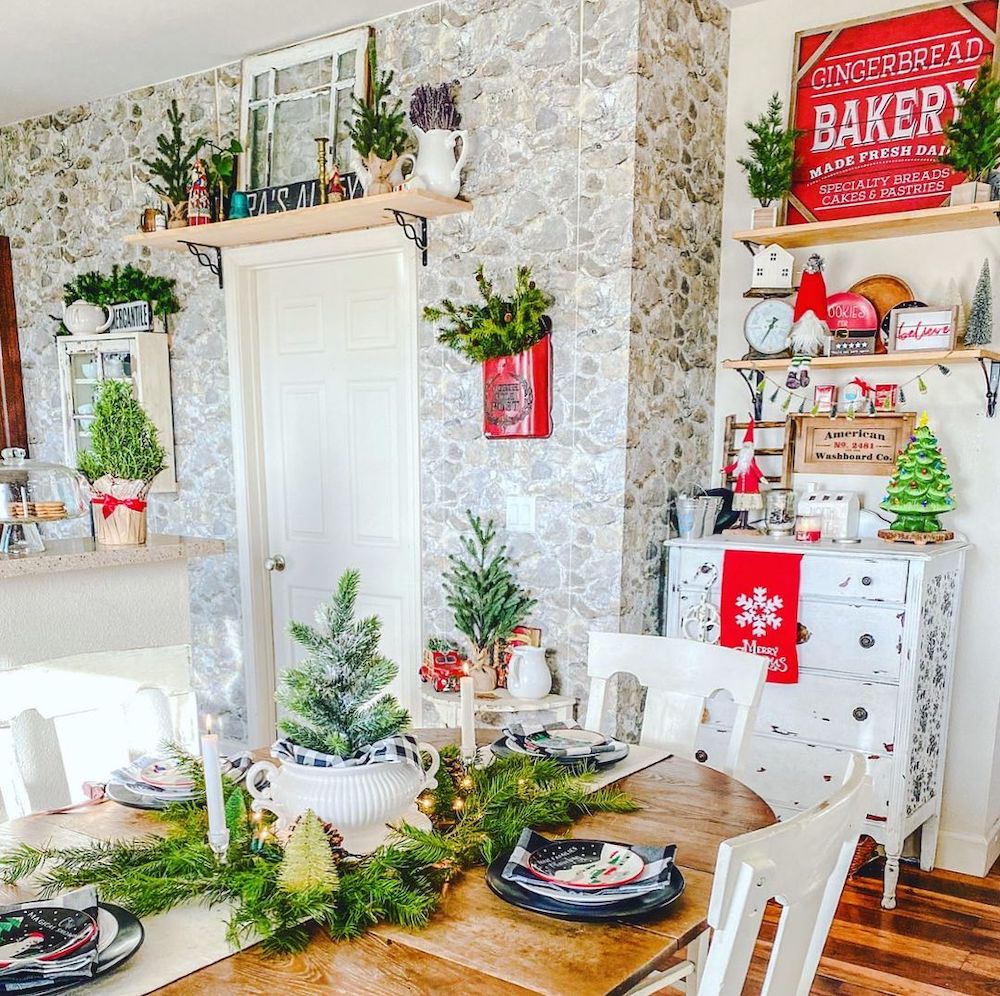 Decorate with greenery throughout the home. Then follow with bright red accessories for a traditional green and red Christmas style.
Go for a Retro Look – Christmas Dining Room Ideas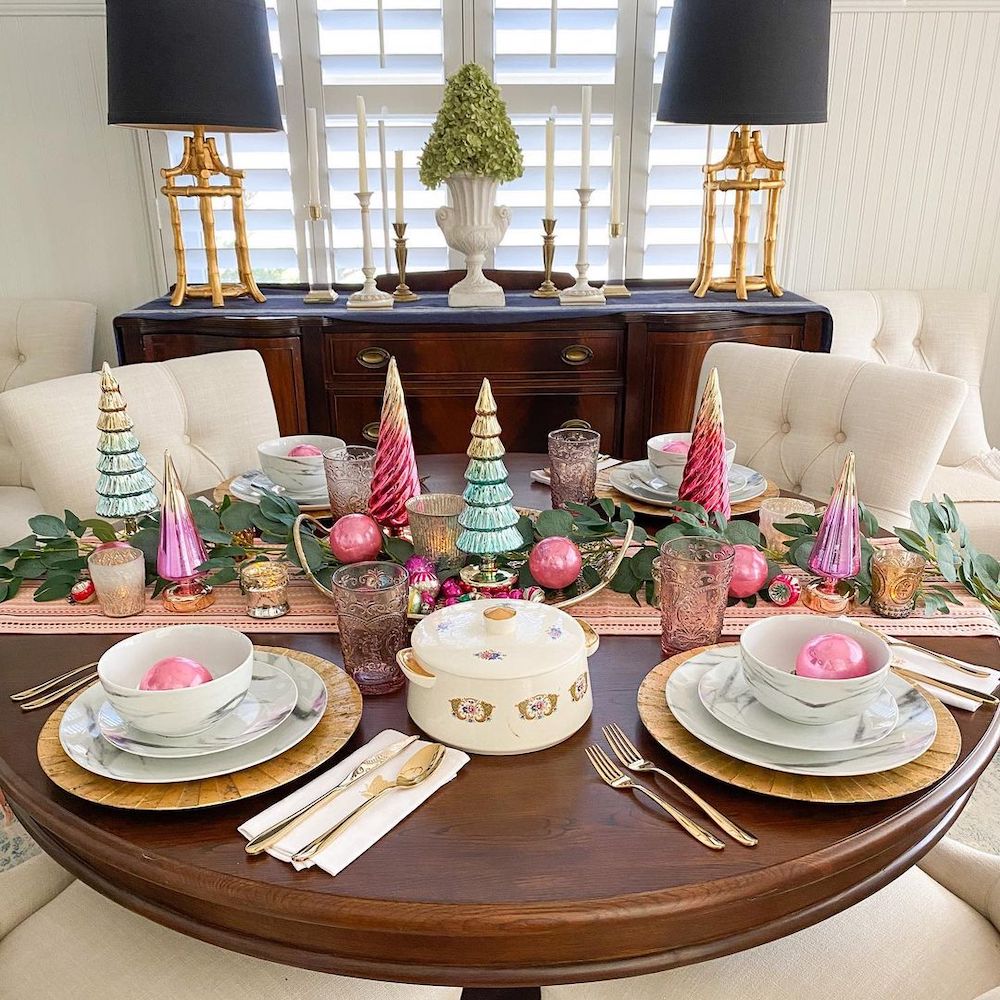 Style it retro with these glass trees and ornaments. In beautiful rose, purple, and green tones. A fresh look for the dinner table.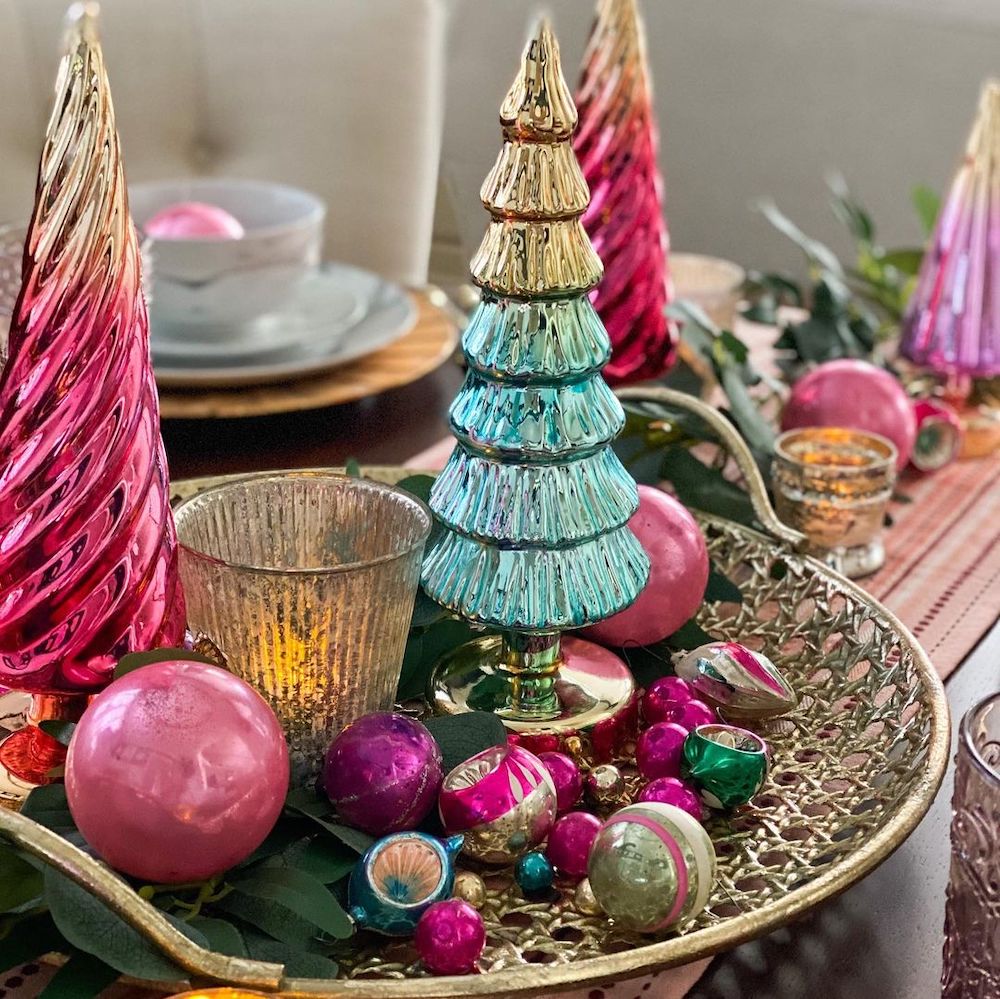 Style it in Gold – Christmas Dining Room Ideas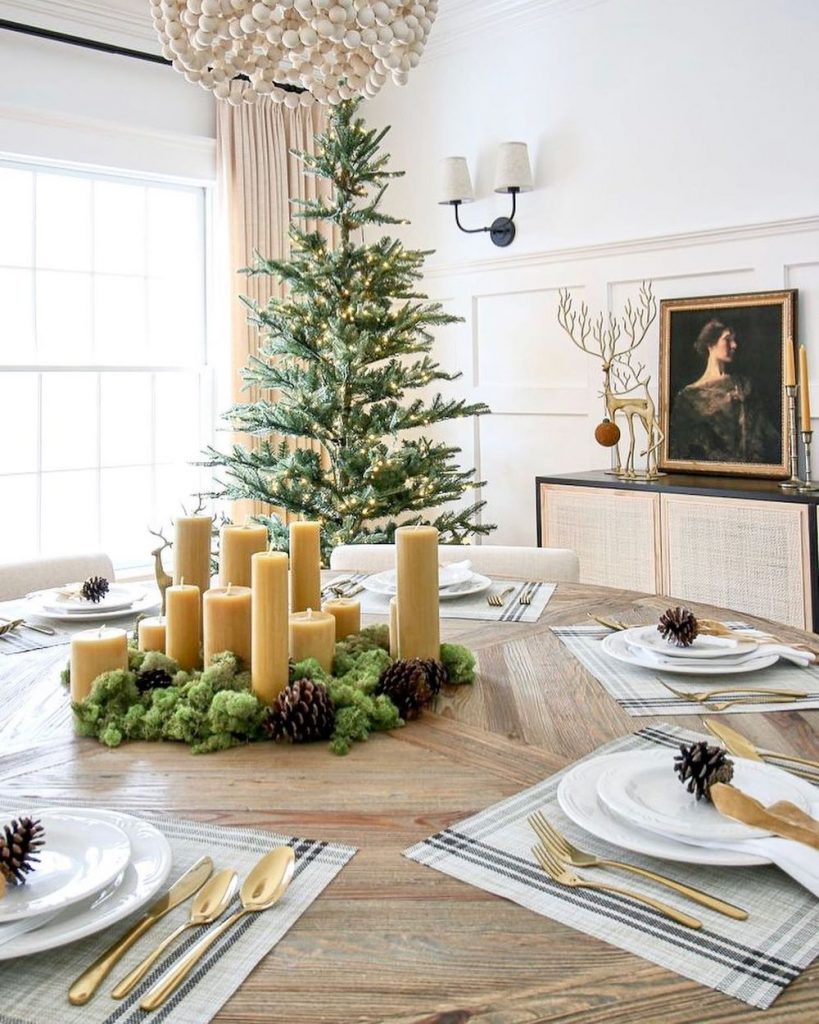 Gold accessories are always appropriate for any holiday celebration. Silverware, candles, and reindeer of gold bring warmth to the room.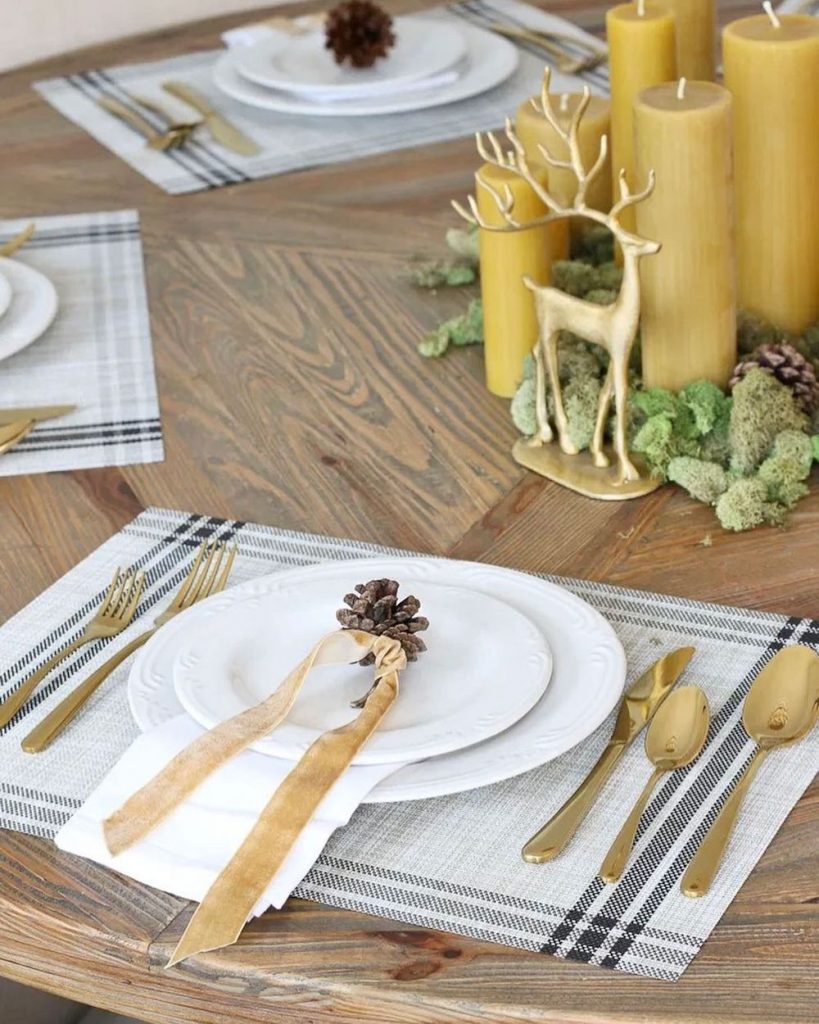 Fill a Bowl of Oranges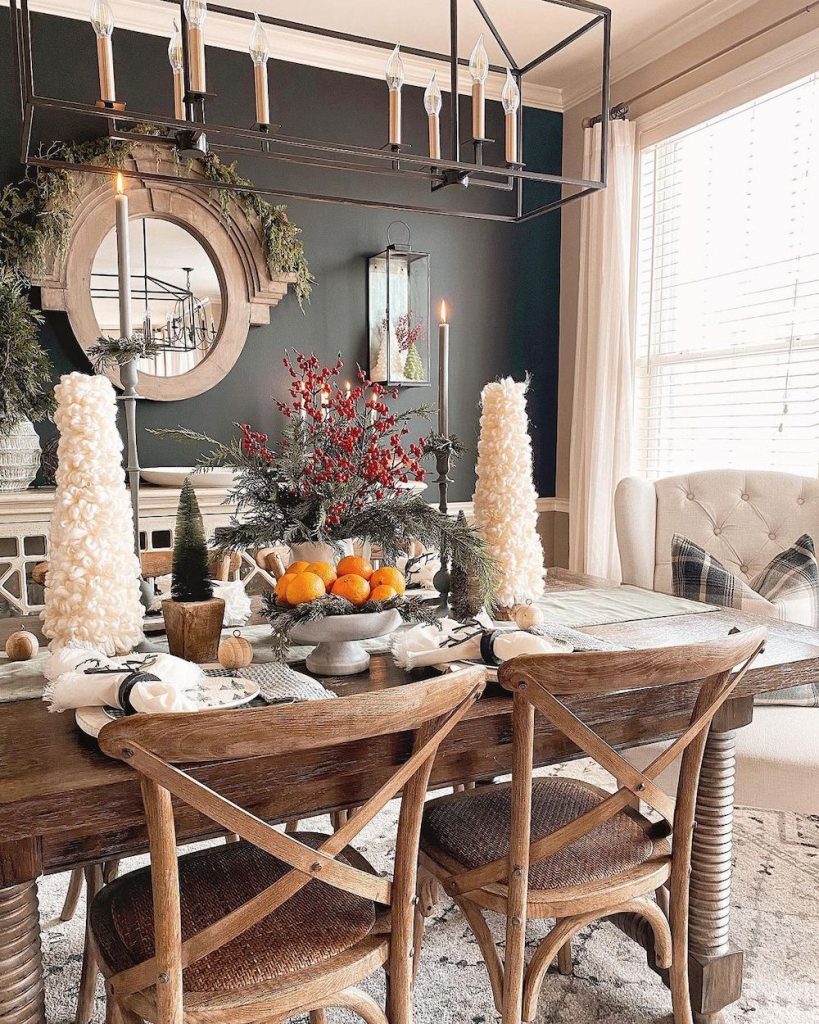 Add a simple bowl of oranges to the dinner table. A little pop of color goes a long way.
Make it a Gnome Holiday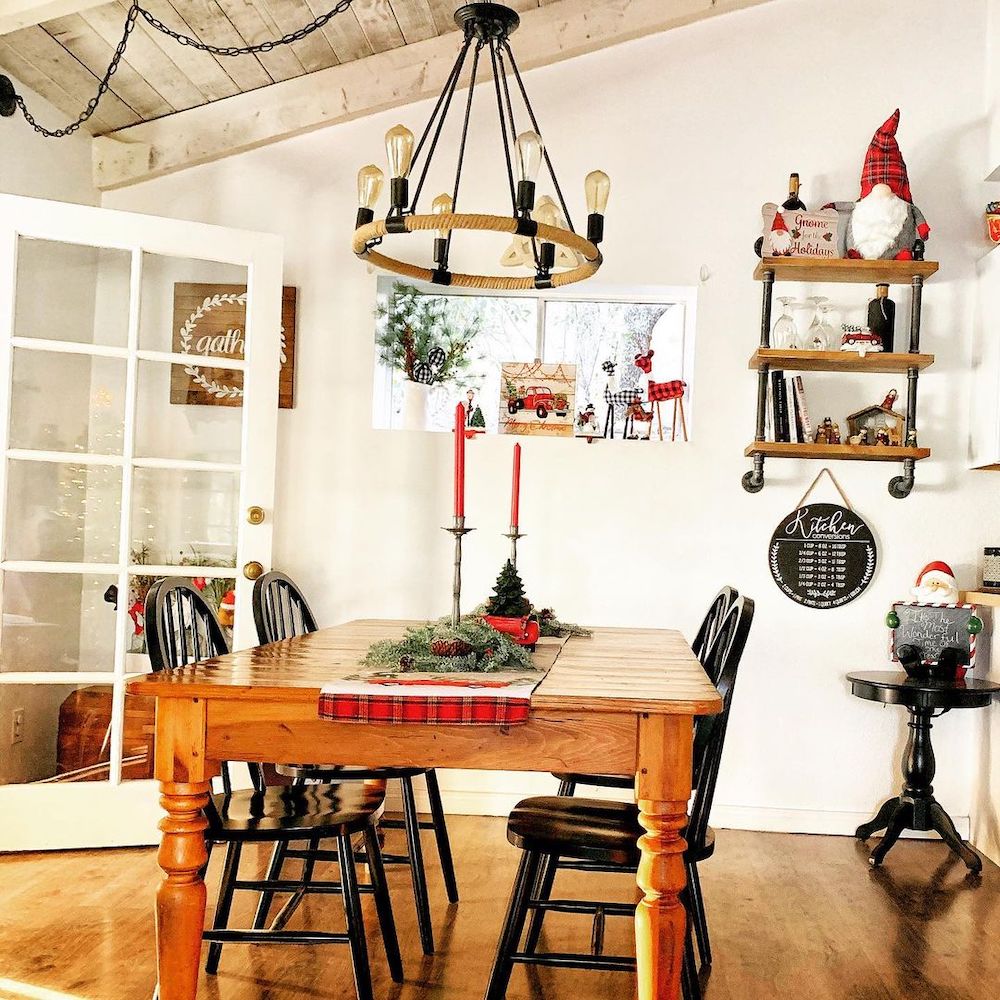 Display your holiday gnome this season.
Create a DIY Table Runner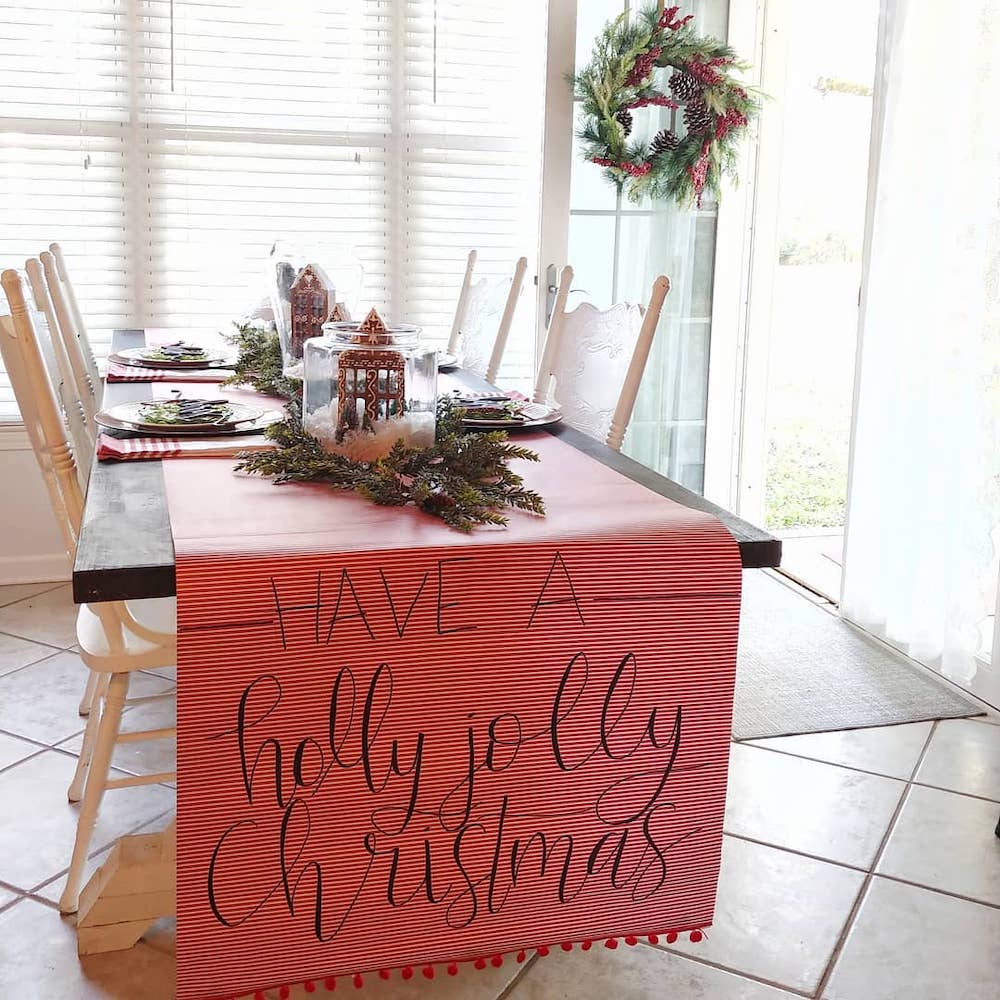 Set the table with a DIY table runner you created. Brilliant idea for a festive table.
Design a Table Centerpiece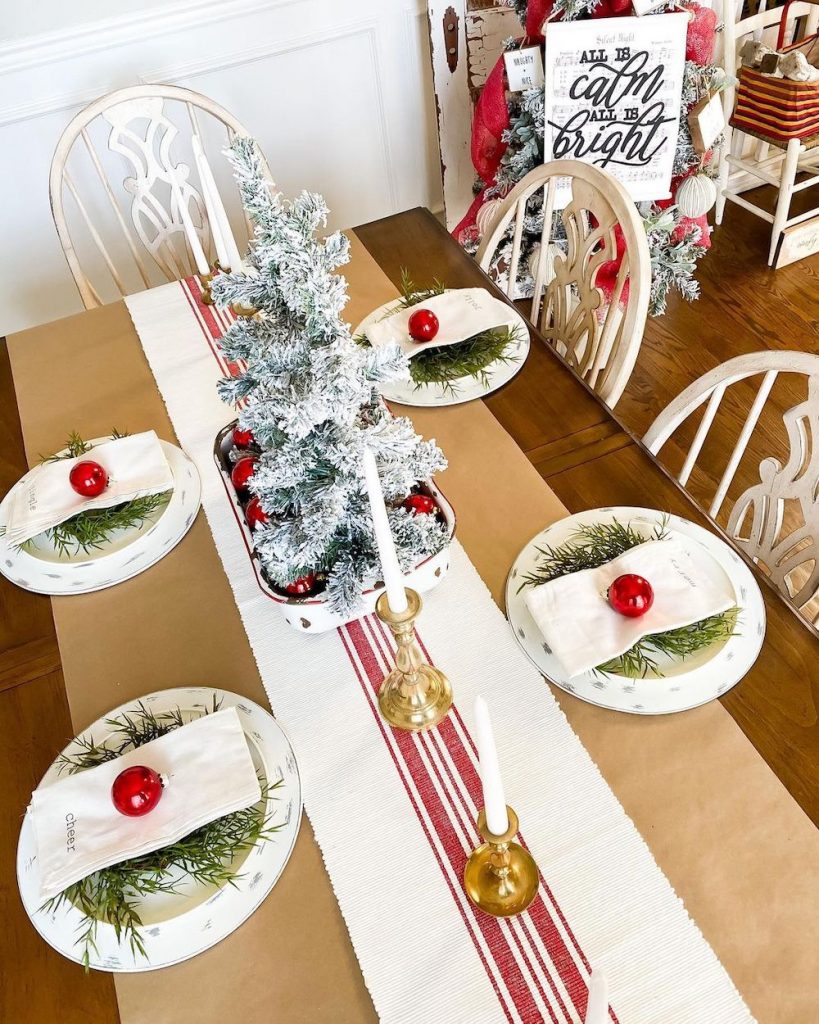 Use an enamel container to create a table centerpiece. Perfect holiday colors for the big celebration.
Create a Stunning Table Runner with Garland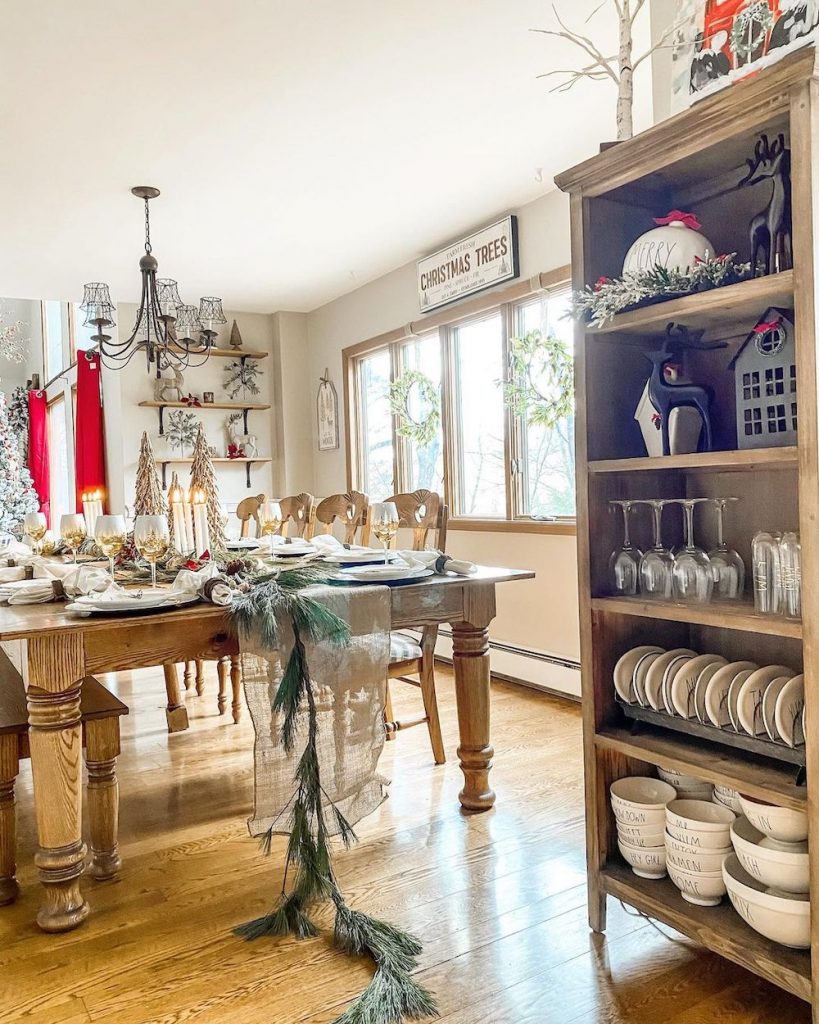 Drape greenery over a table runner for a stunning display.
Make it White with Red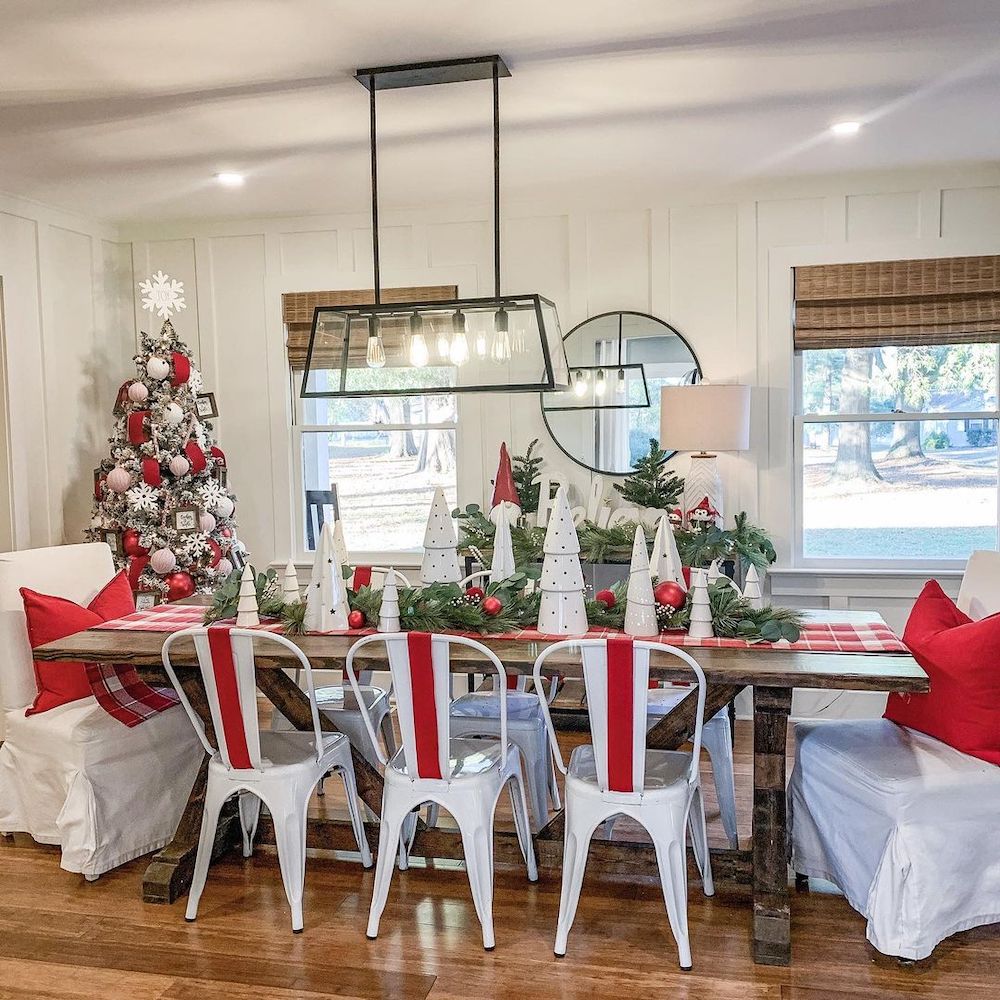 Style a white dining room with red accessories. Those white metal trees look stunning across the dinner table.
In Conclusion …
This ends our list of dining room decorating ideas for the holiday season. We hope our ideas inspire you to style your best ever holiday table this holiday season.
For additional Christmas decor inspiration, be sure to check out our other posts.
Reach out to us with any questions. We are always ready to help you out. Thank you for stopping by our blog.
Wishing you a blessed Christmas this year!
Mary
Pin this for Later: