In need of some fall kitchen decor ideas this season? Some people add minimal decorations to their kitchens. Perhaps they add a single pumpkin or a fall welcome sign. But if you are interested in adding more celebratory accents around the kitchen then stick around. We'll show you some great decor ideas that bring the autumn colors indoors. In today's post, we are sharing fall kitchen decor ideas that are easy updates.
Quick Autumn Accents – Fall Kitchen Decor Ideas
Our list includes ideas that anyone can easily add to their kitchen. Easy updates that create a cozy, loving kitchen for family and friends to gather. Take a look at our ideas.
Add Wheat Stems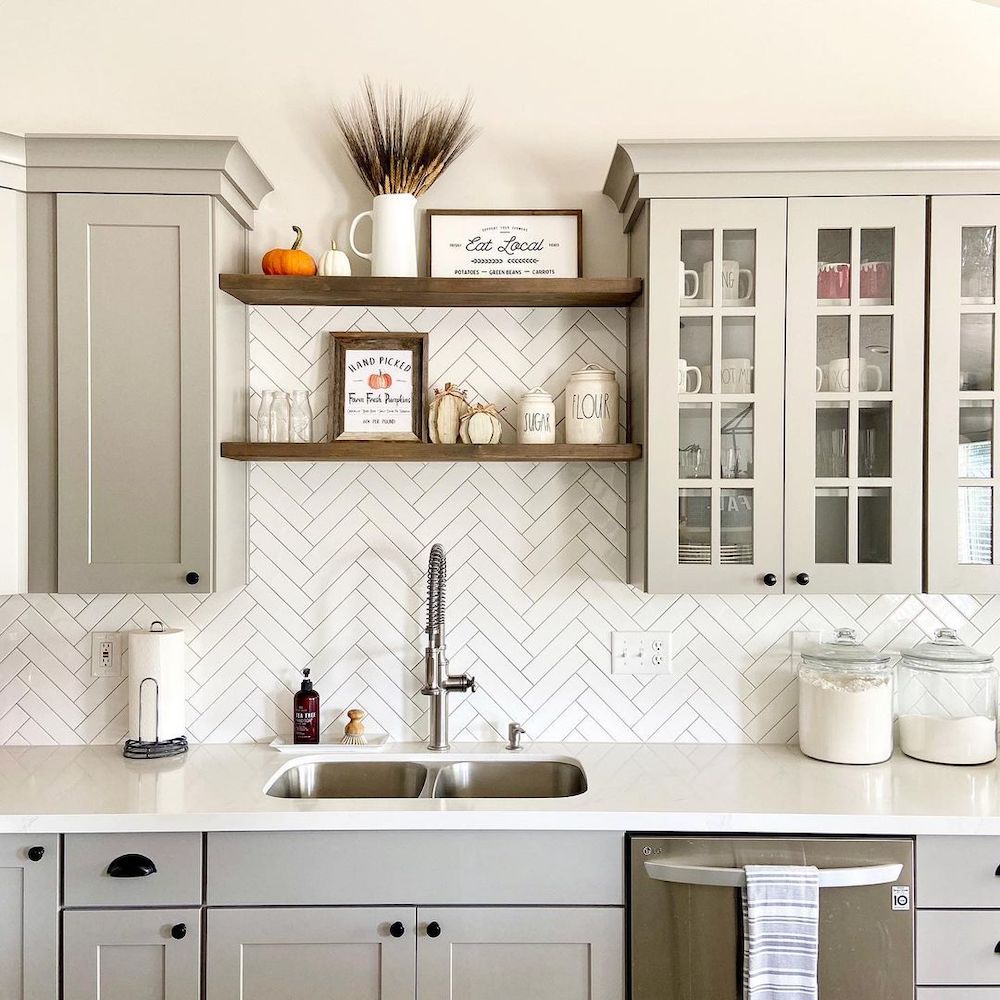 For a harvest-style decor, add some dried wheat stems to a pitcher or vase. Then follow up with a couple of pumpkins and a couple of cute, small signs.
Hang Faux Bittersweet Wreaths – Fall Kitchen Decor Ideas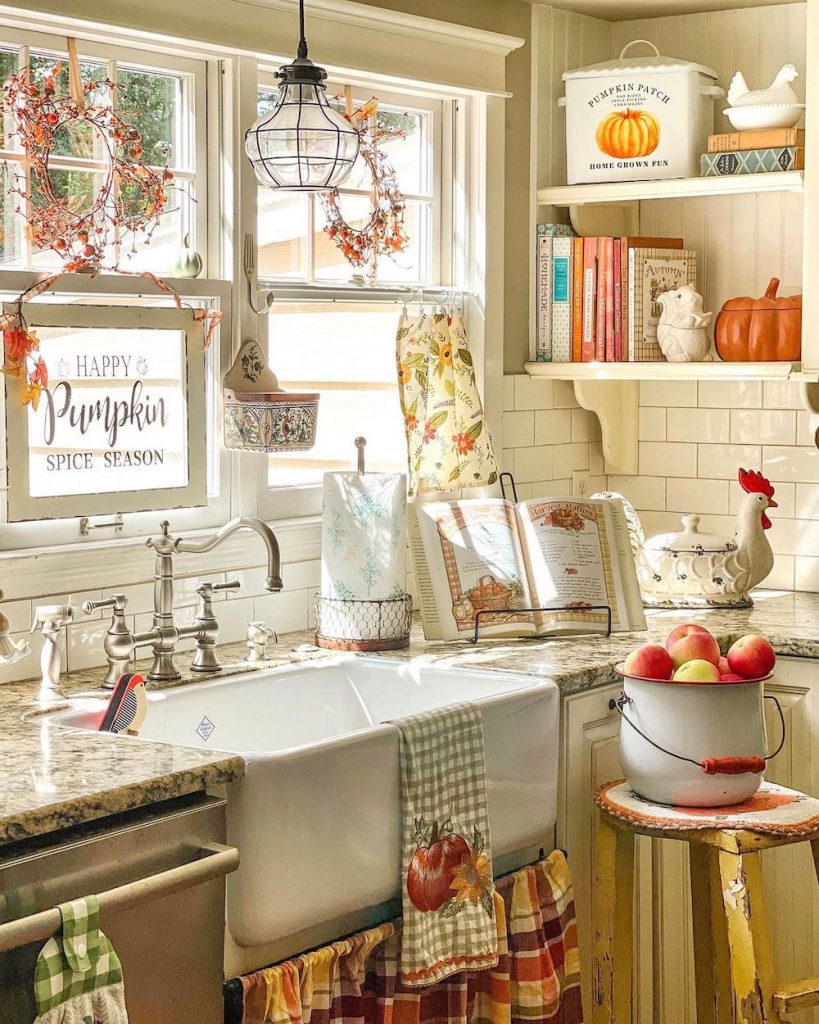 In front of your kitchen windows, hang a set of faux bittersweet wreaths. In this kitchen, the designer also uses apple and pumpkin accessories for a beautiful farmhouse decor style.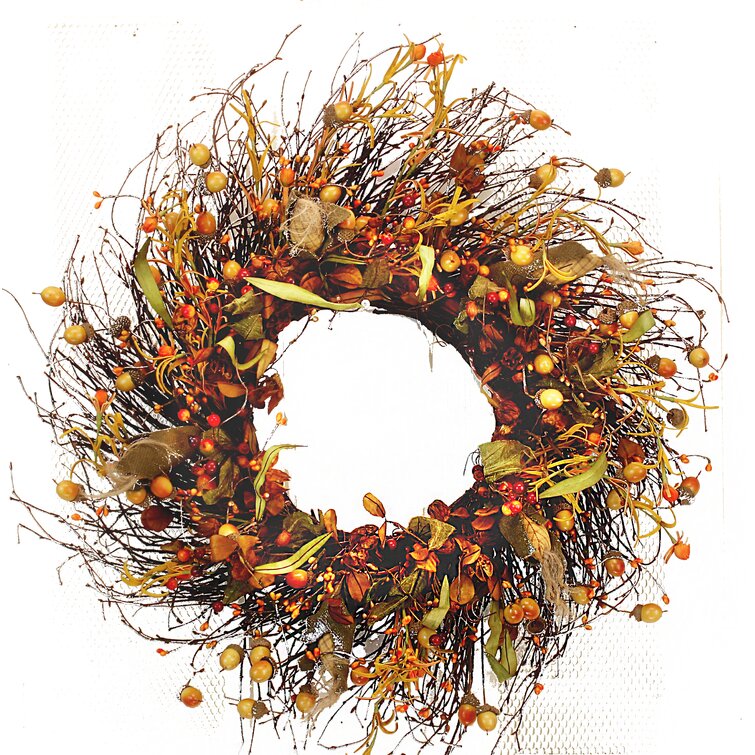 Go Green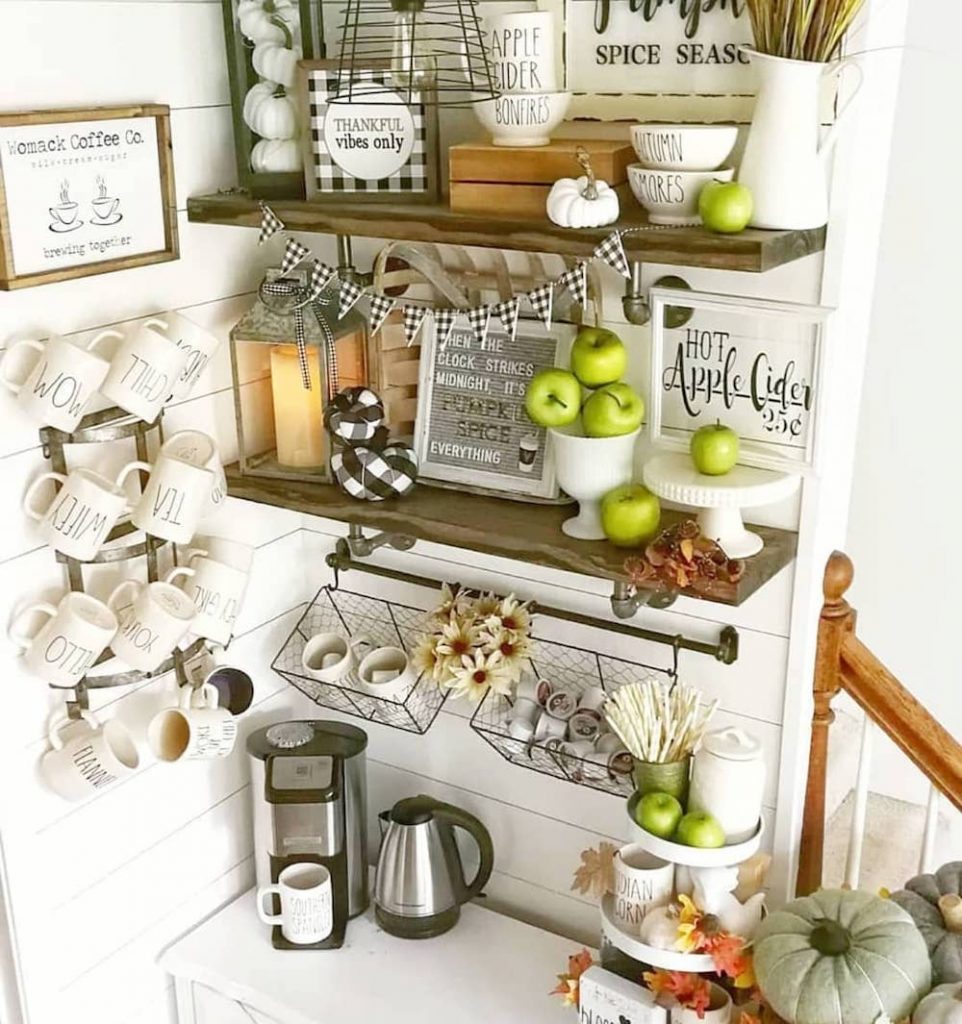 Use green and black as your accent colors. In this easy styling decor, the designer adds Granny Smith apples with black and white gingham accessories. Cute, don't you think so?
Adorn Your Stove with a Garland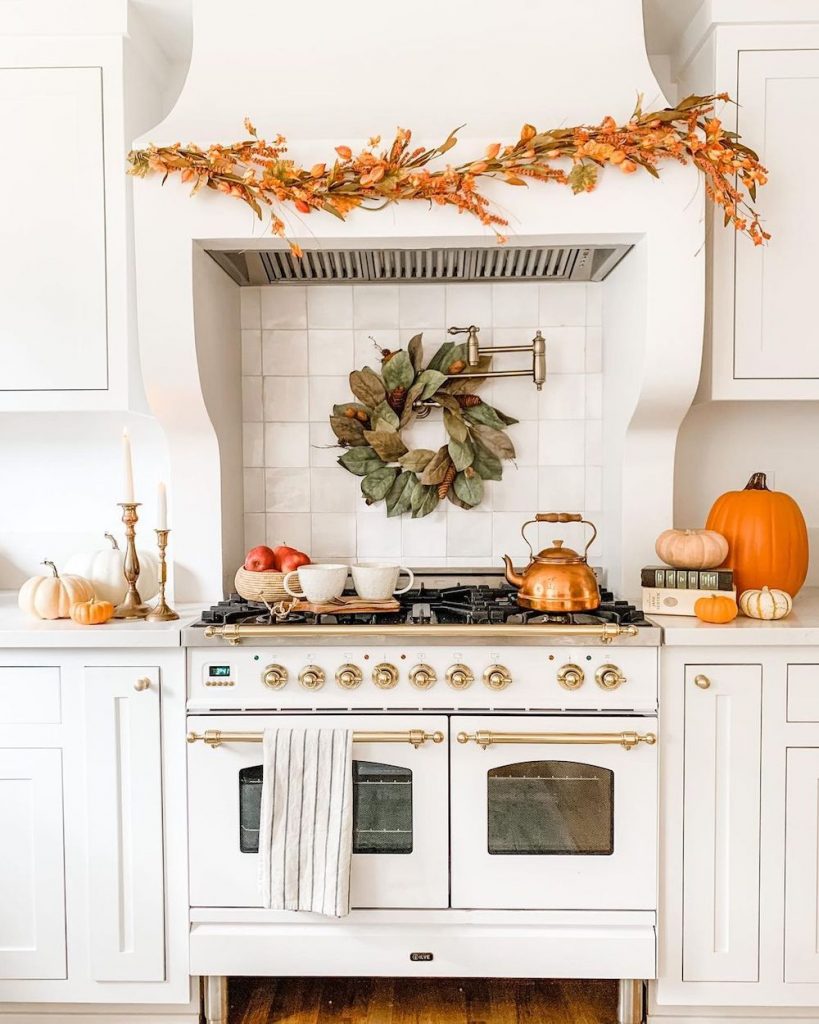 Display a garland of autumn leaves over your stove. Add a few pumpkins to the counters. We love the use of copper and brass metals in this kitchen.
Layer Your Decor – Fall Kitchen Decor Ideas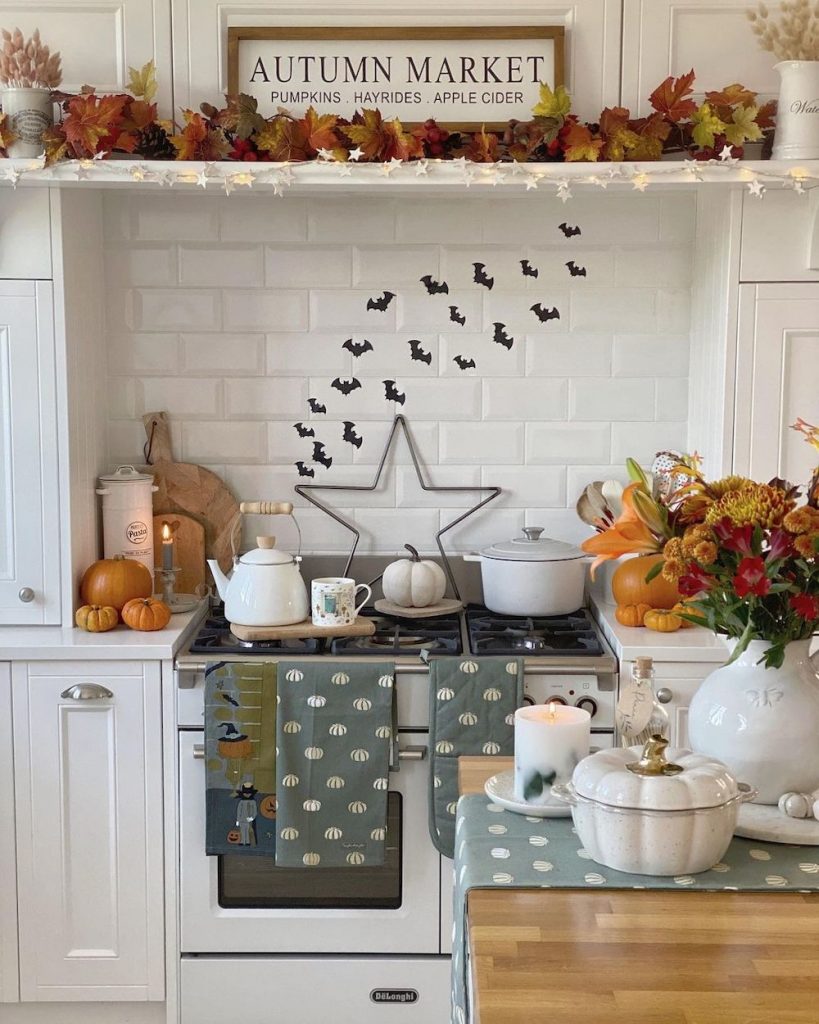 Fall wall art always looks great in any room. In this design, the designer layers fall garland and a string of lights in front of the wall art. This creates depth and visual interest since your eyes are drawn to the signage and decor.
Stack them High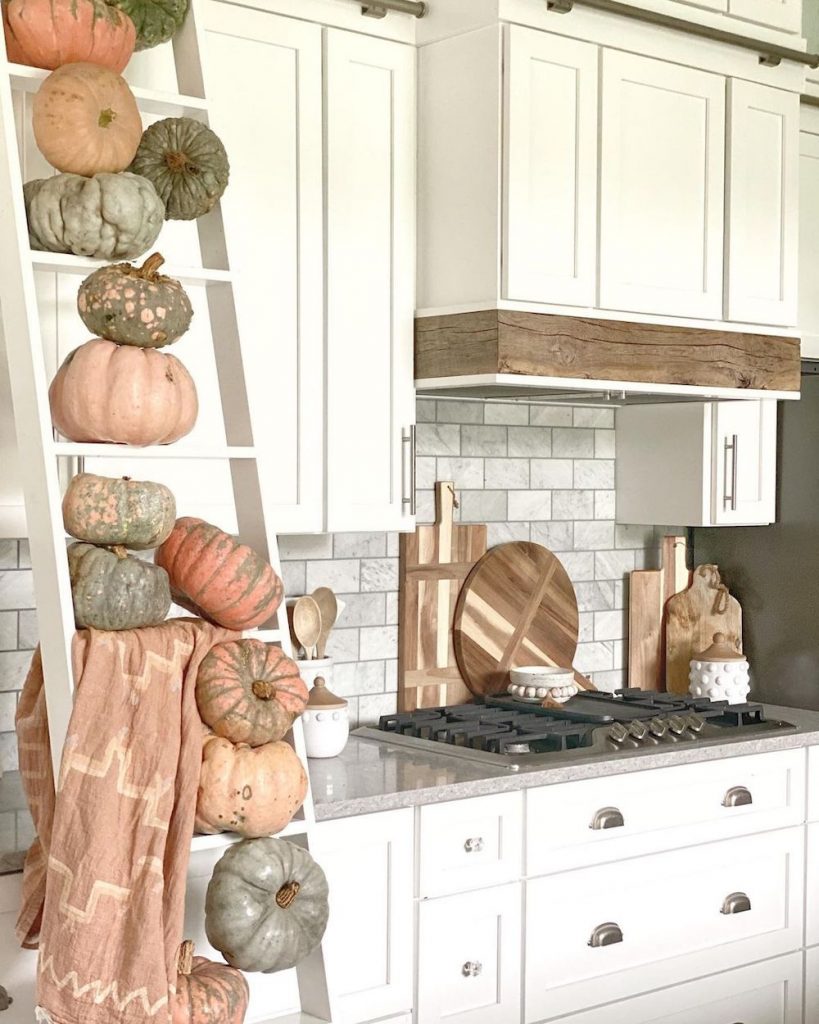 Tuck your pumpkins on a ladder for vertical and visual interest. We love the colors selected for this ladder.
Fill a Vase with Maple Leaved Branches
Nothing says fall like maple leaves. And what a better way to display branches of leaves than in an interesting vase.
Keep it Neutral – Fall Kitchen Decor Ideas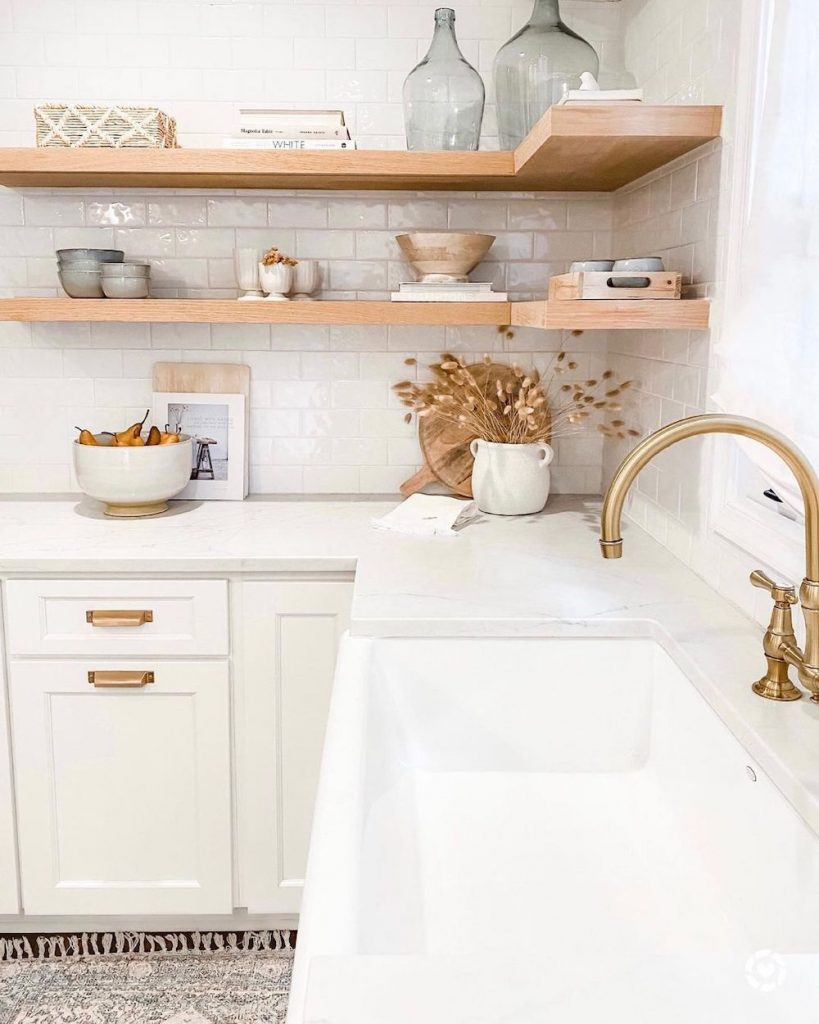 Fill a fruit bowl of pears. Then add some bunny tails in another vase. Simple, quick, and oh so easy to decorate.
Light a Fragrant Candle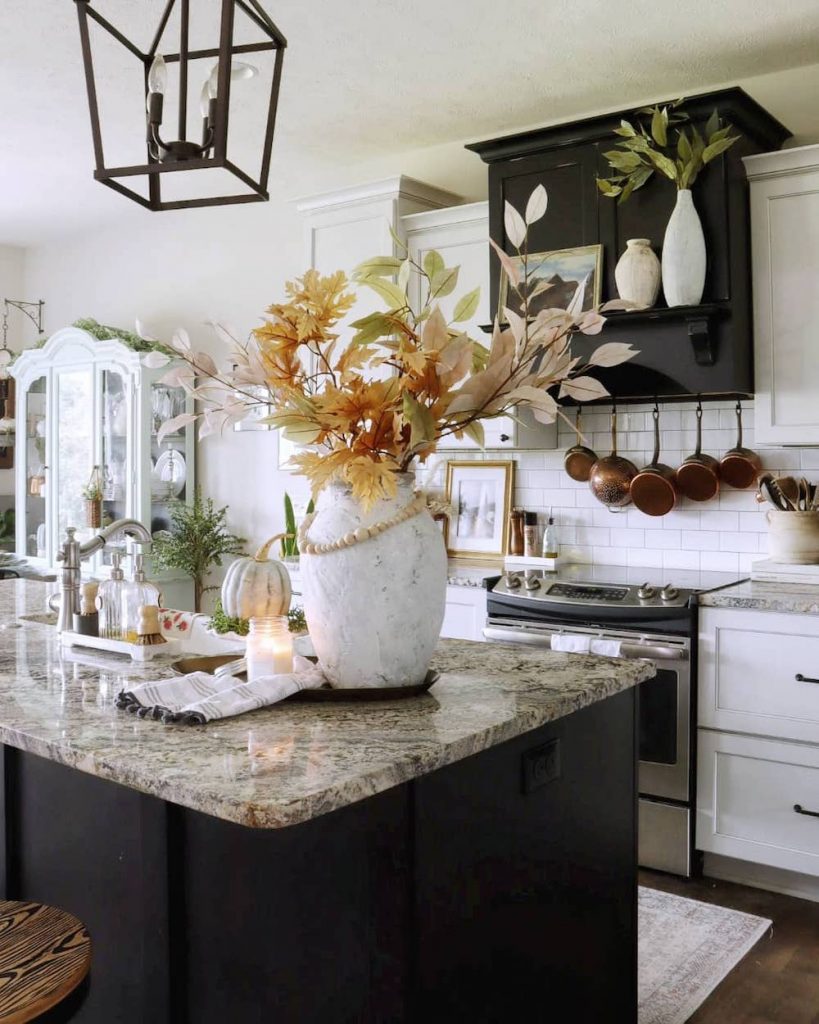 Add fall fragrance to the kitchen with a fragrant candle. To the side, fill a white vase with branches of fall foliage.
Give it a Wreath – Fall Kitchen Decor Ideas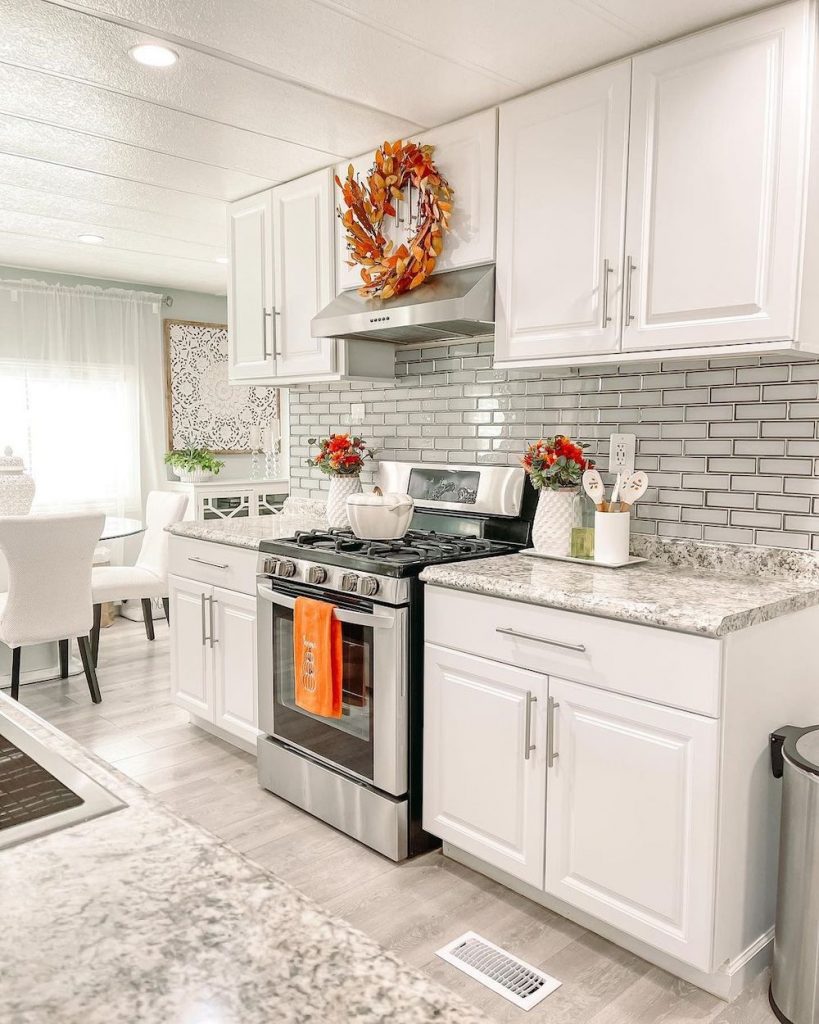 Hang up a wreath in the kitchen. This fall wreath adds a pop of color over the stove. Pretty and perfect decor!
Show Your Walls Some Love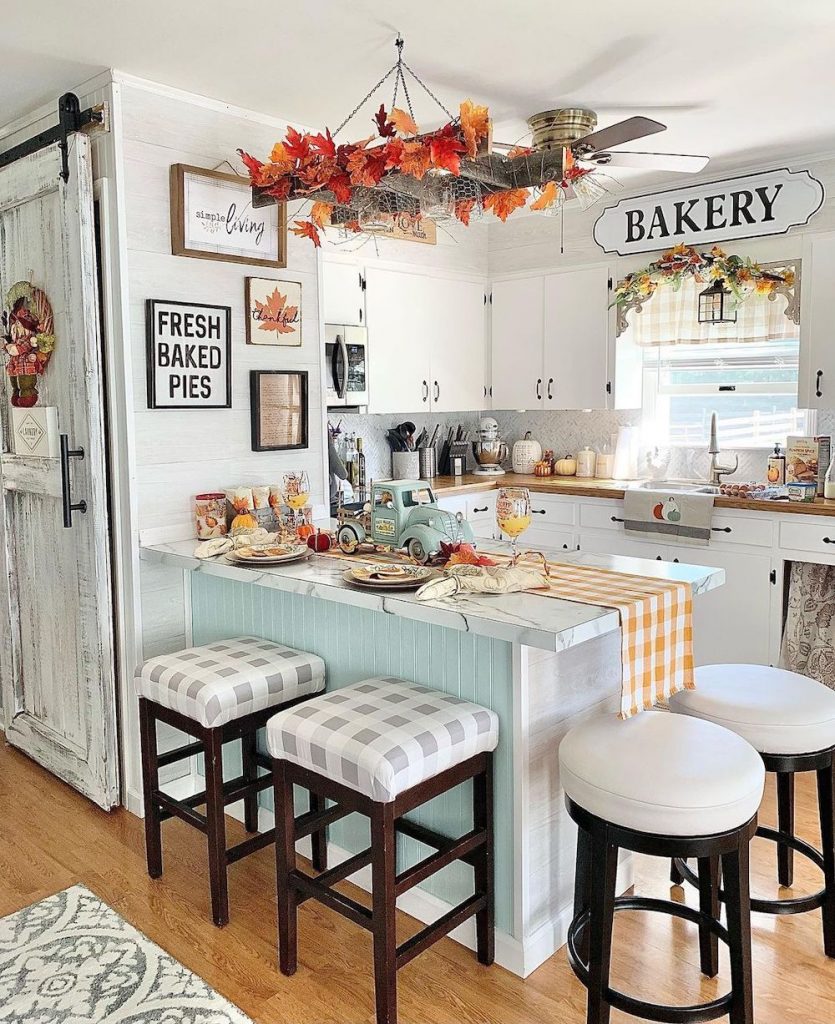 Your kitchen walls deserve a little decor too. Add a few fall wall art pieces to brighten the kitchen.
Add a Little Glimmer to Your Kitchen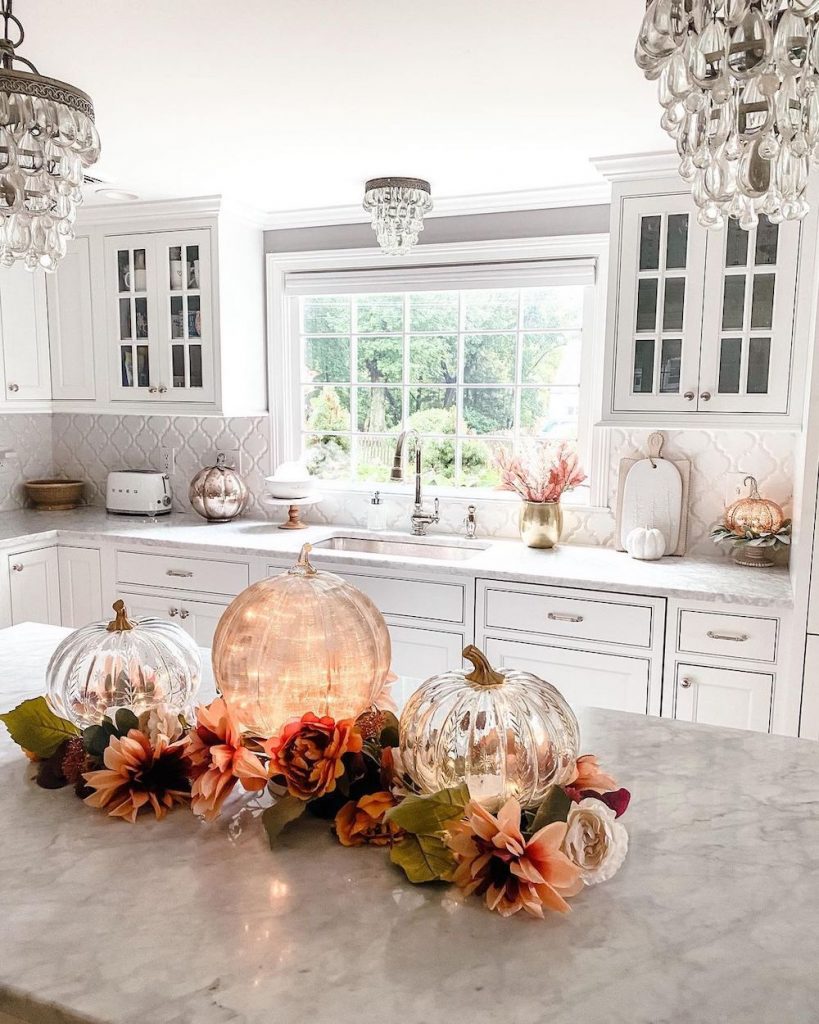 These glass pumpkins really shine. Add a different type of glass on your kitchen counters such as mercury glass.
Style it in Dried Grass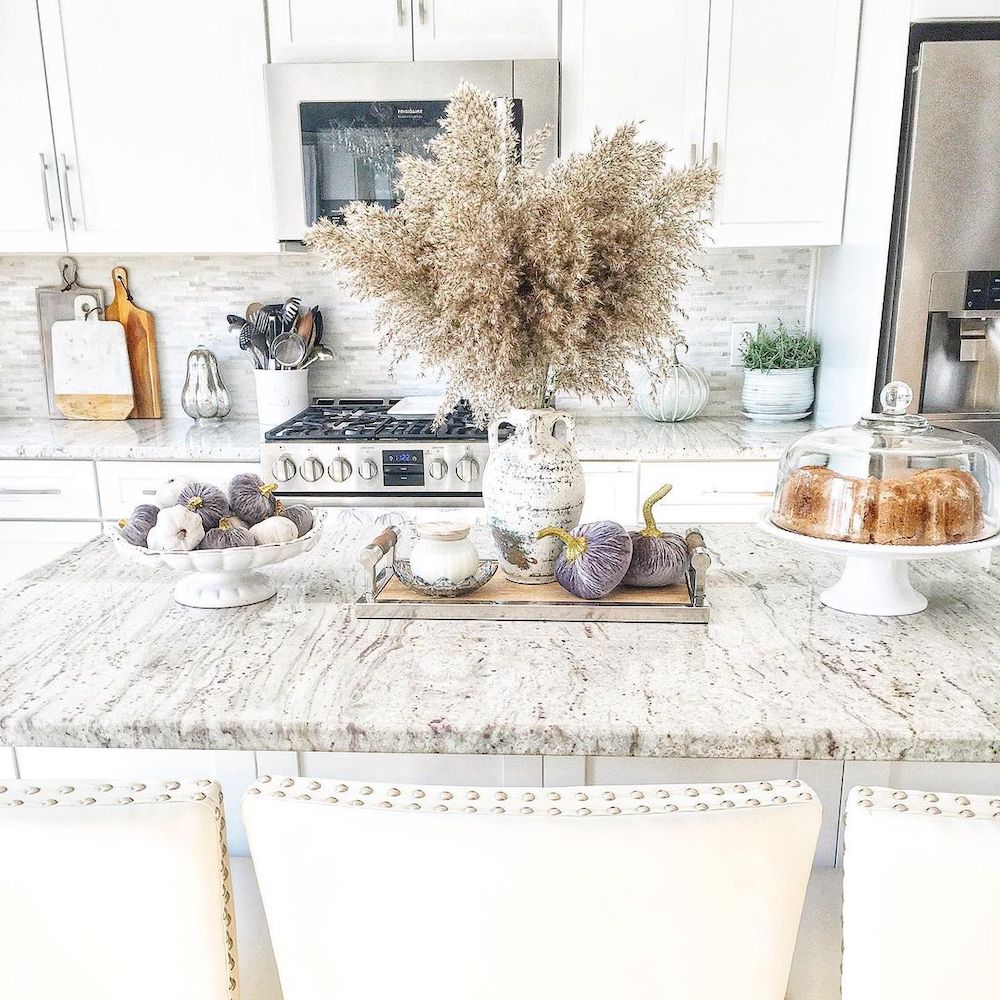 In this design, the stylish add a vase full of dried grass for the center counter. And a cluster of muted purple and white pumpkins for a little punch of color.
Elevate Your Pumpkins – Fall Kitchen Decor Ideas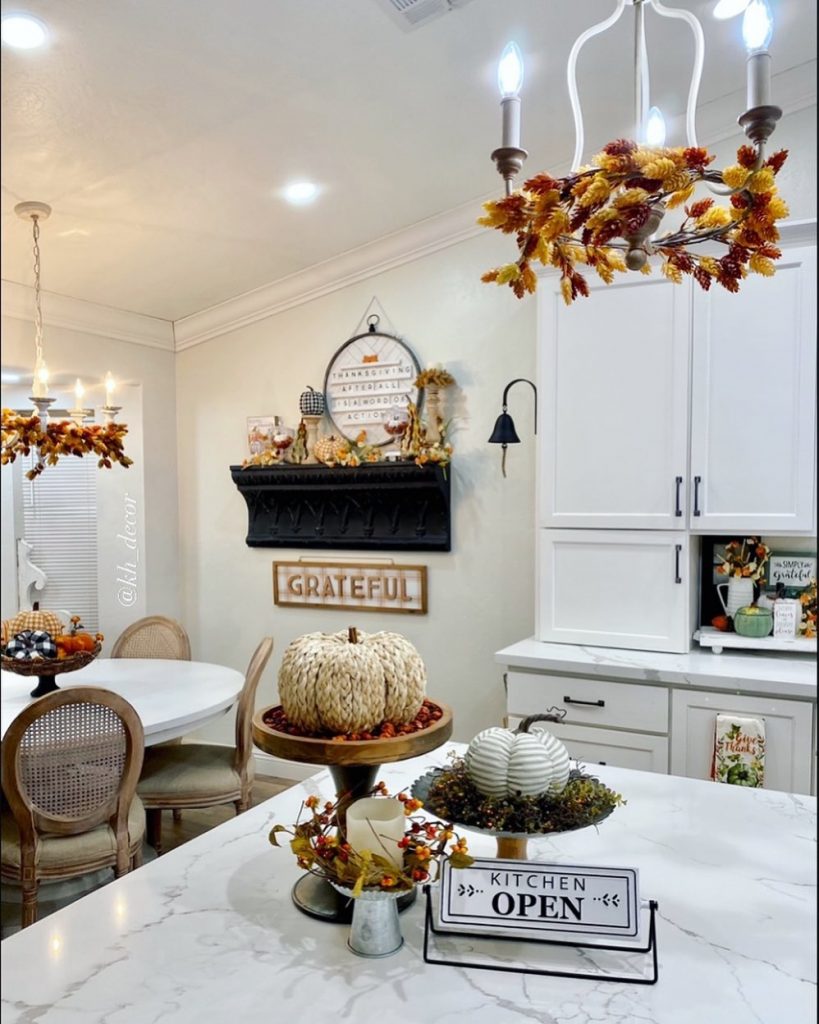 Use pedestal or footed serveware to elevate your pumpkins and decor. Using pedestals with various heights gives instant interest to the space. The three pedestals are all decorated differently. Well done.
This ends our list of fall kitchen decor ideas. We hope our kitchen ideas inspire you to decorate your kitchen this fall.
For additional fall decor inspiration, be sure to check out our other posts.
Reach out to us with any questions. We are always ready to help you out. Thank you for stopping by our blog.
Mary
Pin this for Later: