Fall farmhouse entryway ideas that transform your home into an inviting space. Refresh your entryway with decorative fall-related touches this season. The sight of fall leaves, pumpkins, gourds, apples, and cozy blankets evokes fond fall memories. Relive those memories with some fall decor for your entryway. In today's post, we share fall styling ideas for a farmhouse foyer or entryway.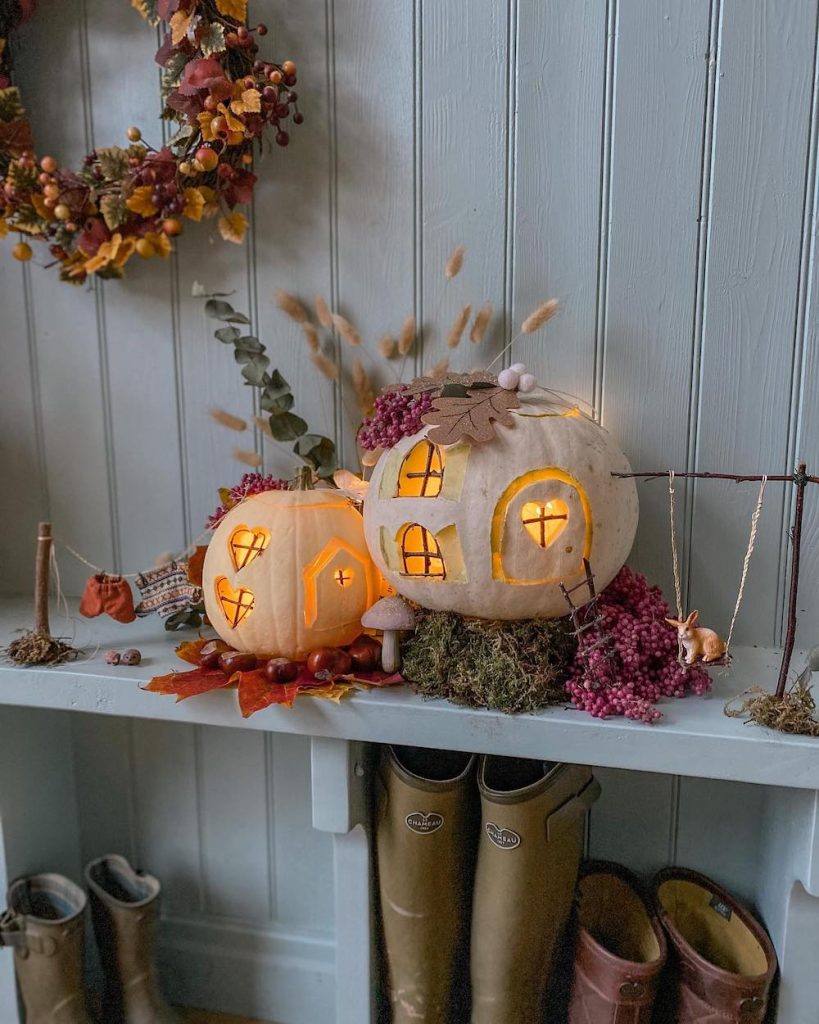 Keep your entryway looking its best with fall-inspired decorations. Style it warm and always cozy this Fall season. Simple decorative touches that exude a warm feeling.
Getting Started – Fall Farmhouse Entryway Ideas
There are many ways to decorate an entryway. For example, start with the furnishings when decorating an entryway with Farmhouse style. Decorate an entryway using a console table, bench, dresser, chest, or without these if you have limited space. Add wall art such as a mirror, wall art, or both if you have the space. Wall art can be displayed in two ways. Hang the wall art on the wall. The second way to display is to set the wall art on a table surface while leaning against the wall. Use a wall-mounted coat hanger to store your accessories for a functional approach to decorating your entryway.
Next, place a few fall objects on the tabletop surface, floor, or coat rack shelf if you use one. Stack a few books to elevate smaller objects such as miniature pumpkins, acorns, or gourds. Fill a vase with muted warm colors of faux floral or foliage stems. Decorative objects should be presented at varying heights to add visual impact. Give the space a lighting source. Place a candle, lantern, or small lamp to add lighting to the evening area.

Remember to keep it simple by using a minimal number of fall objects. Create an asymmetrical display of pumpkins, lanterns, and planters when possible. Use plant stands or planters to elevate your festive display. Use a dramatic color to emphasize the fall display. 

One of the easiest ways to decorate is by adding a DIY centerpiece. And for the fall season, use centerpieces made from pumpkin accessories, bundles of wheat, or sunflowers. Add a harvest bushel basket full of pumpkins, gourds, or apples reminiscent of the harvest season. Hang a festive hat or scarf to celebrate the season. Use warm wood tones, textured materials, or fragrant scented candles. 
Decorate for Free with These Tips
For those on a tight budget or limited resources, decorate using natural materials such as pinecones, acorns, and faux foliage stems. Dried hydrangeas are another excellent source for adding a floral display. Pinecones and acrons can be found in the woods, public parks, or backyards. Repurpose a set of natural baskets. Add a throw or toss pillow inside the basket for a cozy feel. Use items you have on hand or borrow from family and friends. Take a nature walk to collect pinecones and acorns, and use these free items to decorate with this fall. 
Styling Tips – Fall Farmhouse Entryway Ideas
And now we begin our list of fall entryways with farmhouse styling perfect for the home. Take advantage of these tips for creating a fall decor look you love. Take a look.
Hang your Hat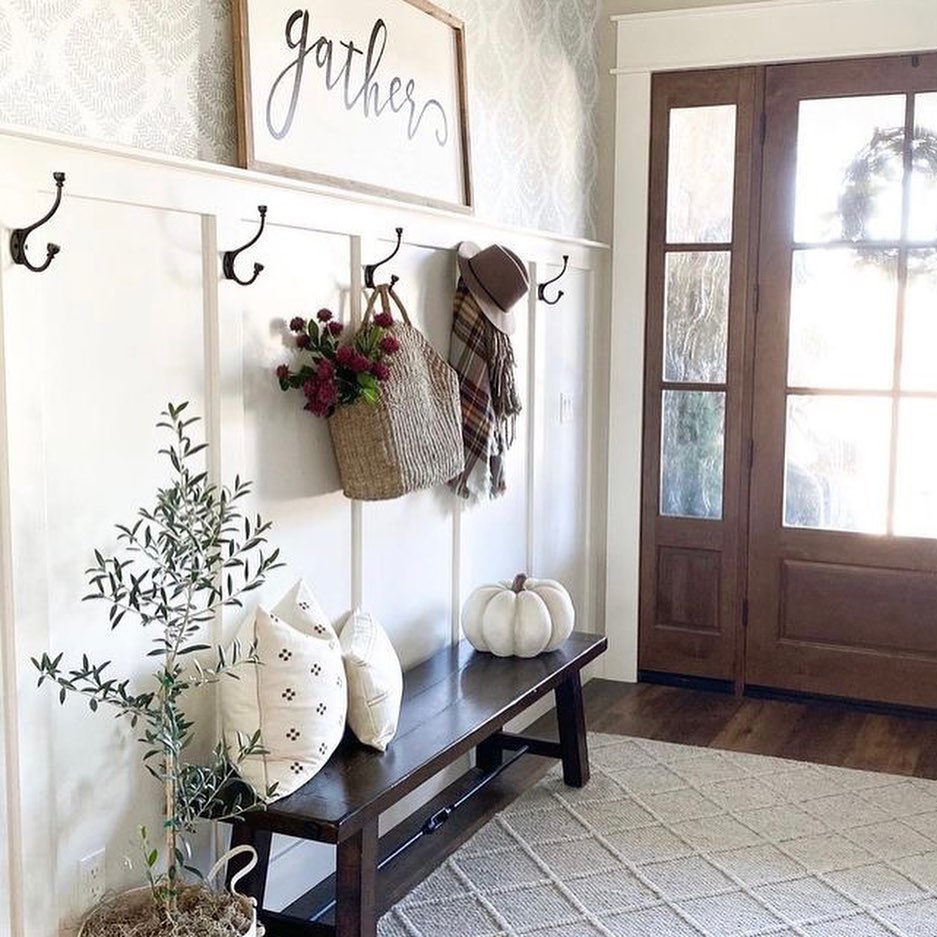 Style a foyer with a place to hang your hat, coat, or scarf when temperatures drop. The off-white pumpkin and faux fall flowers create an accessible, casual entryway.
Spread Some Orange Around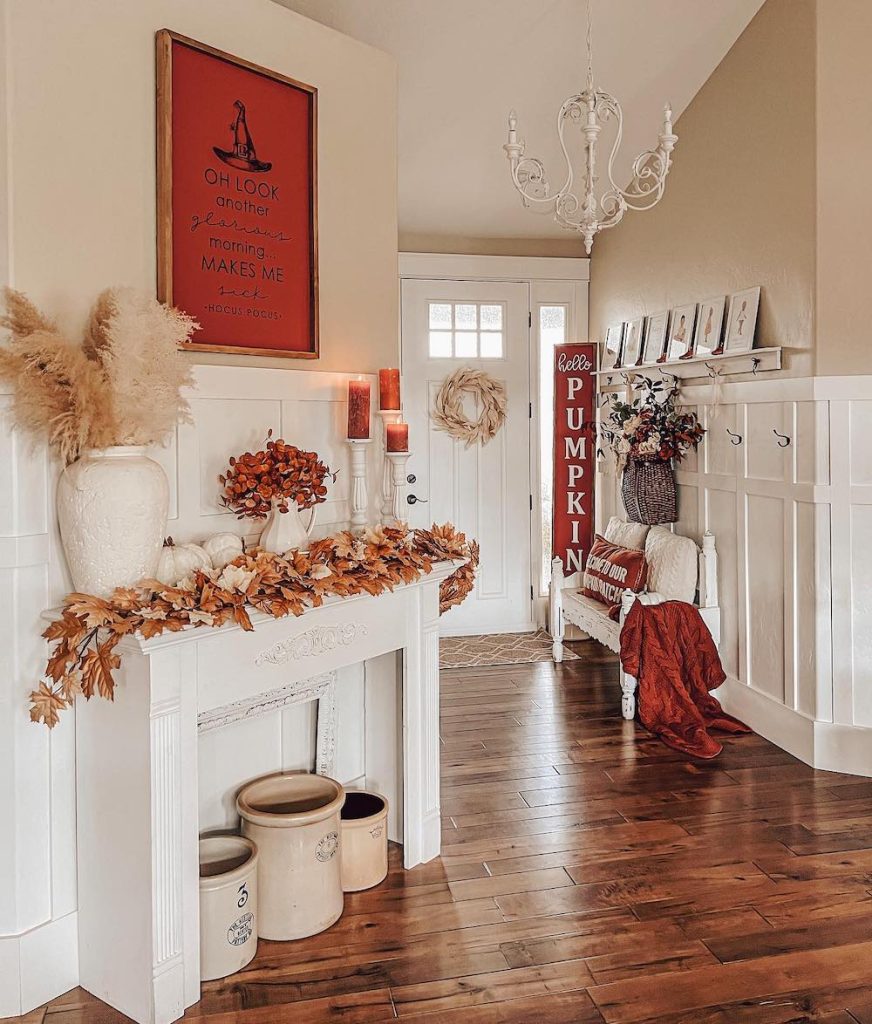 Drop orange accents throughout the foyer. Orange candles, foliage, pillows, and throws add to this amazing entryway.  
Install a Corbel Shelf – Fall Farmhouse Entryway Ideas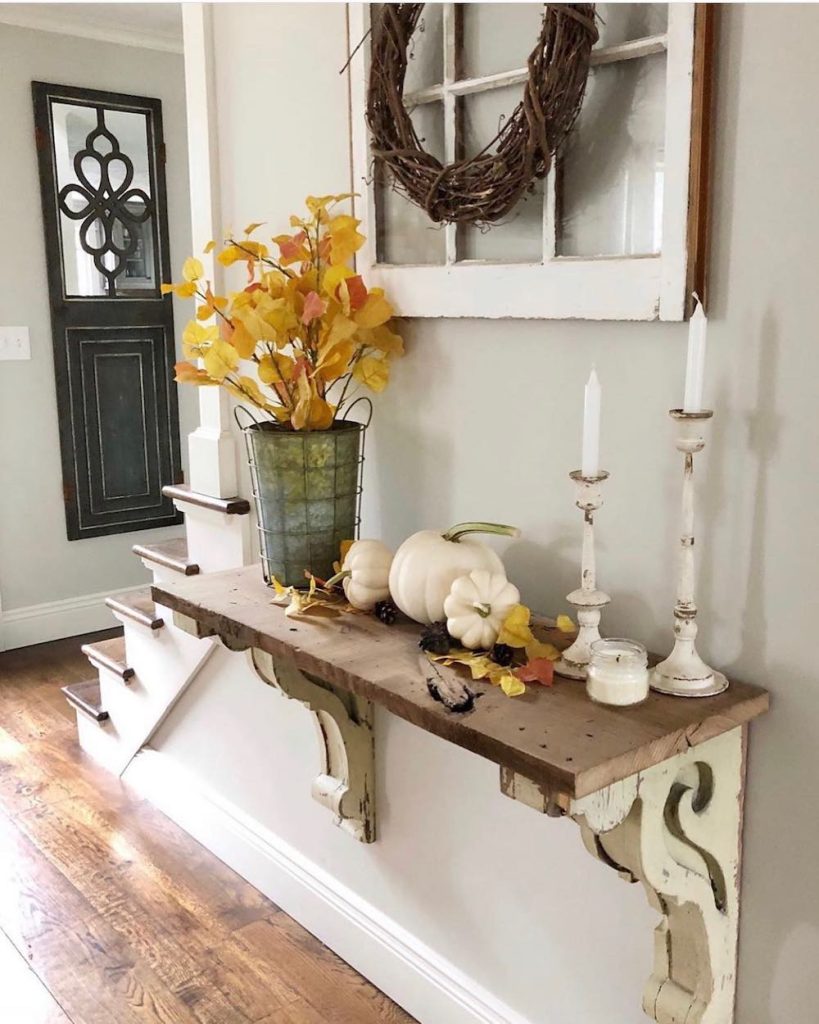 Attach a corbel shelf in the entryway. This is an excellent solution for small-space living. The rustic top of the shelf and metal floral container add beauty.
Add Texture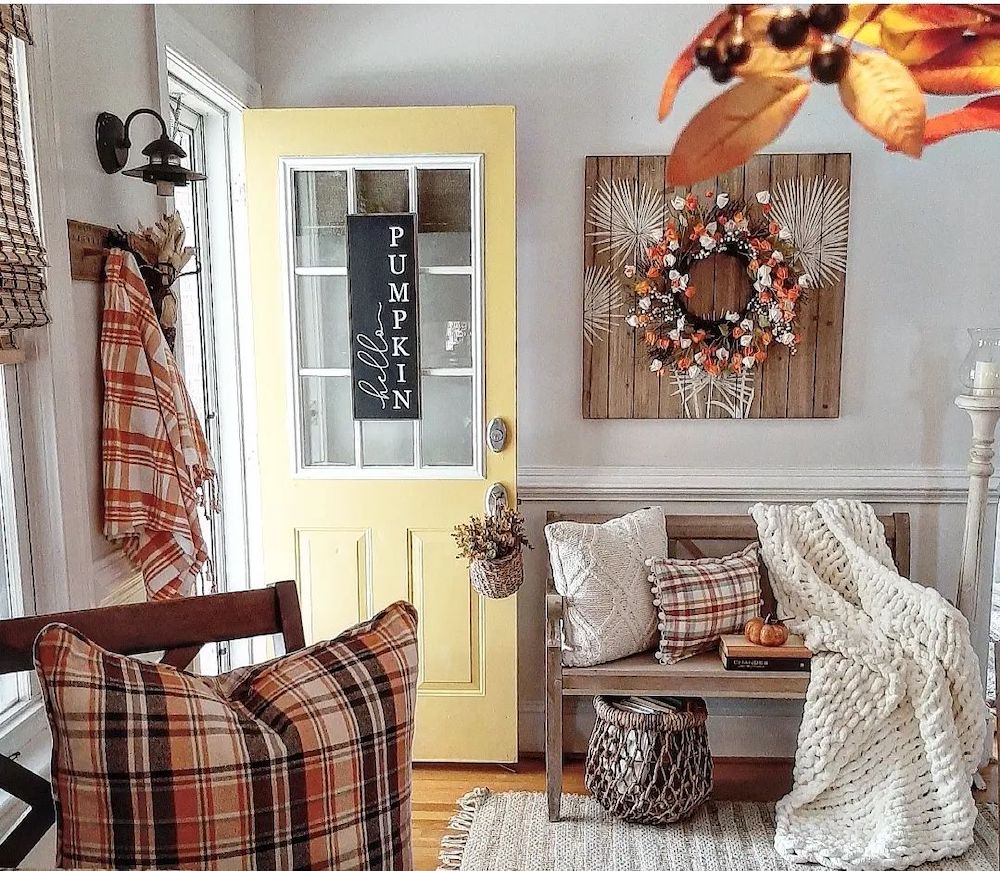 Style it with texture in mind. Keep extra toss pillows in plaids and creams. Use fabrics loaded with texture. Add a nice bulky throw for those drafty nights.
Go for Rich Moody Tones on Your Console Table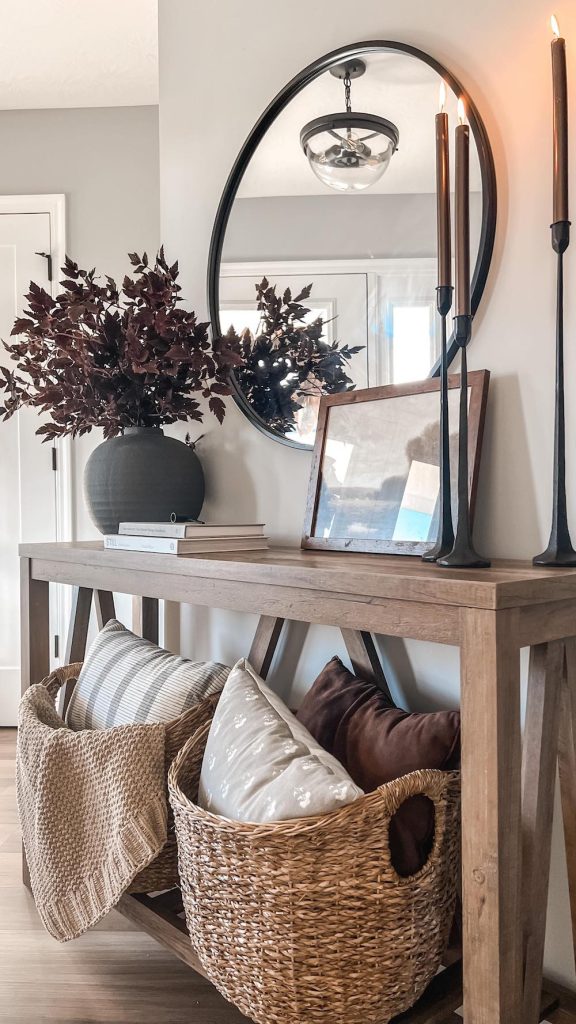 Fill a vase with gorgeous purple stems for a dramatic look. The beautiful bronze-colored candles set this entryway on fire!
Start with a Storage Chest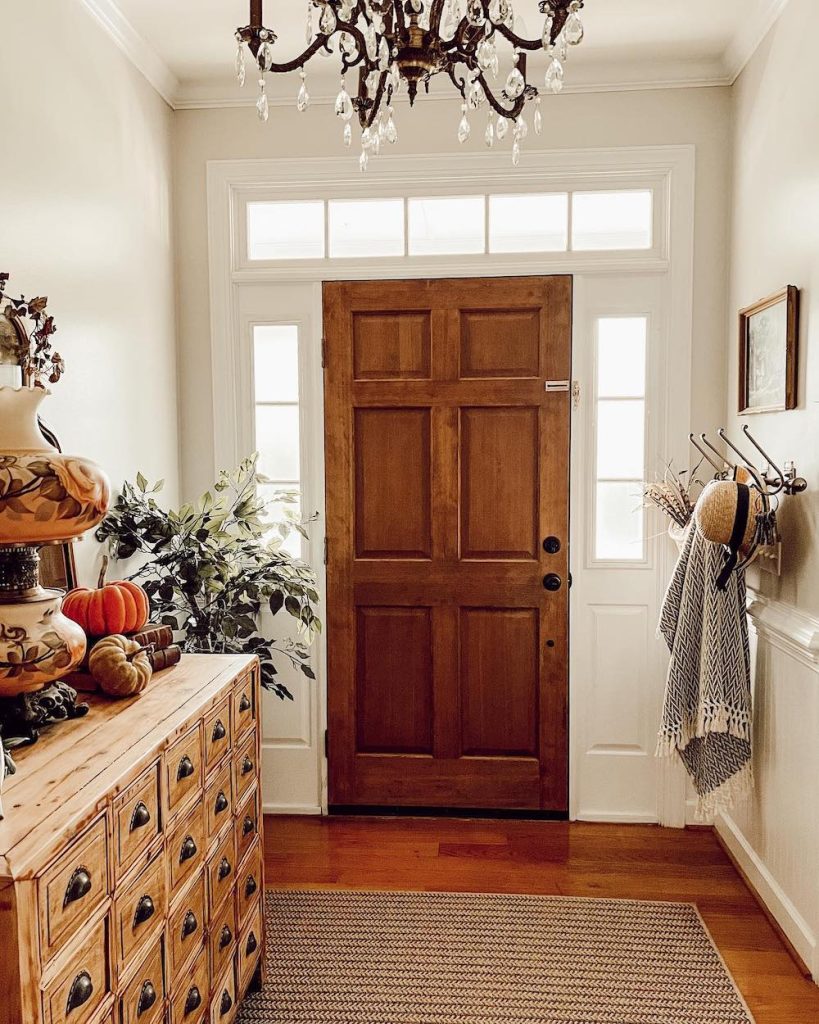 Use a storage chest as your base. Add a light source, some texture pumpkins, and a wrap for those chilly evenings.
Make it Organic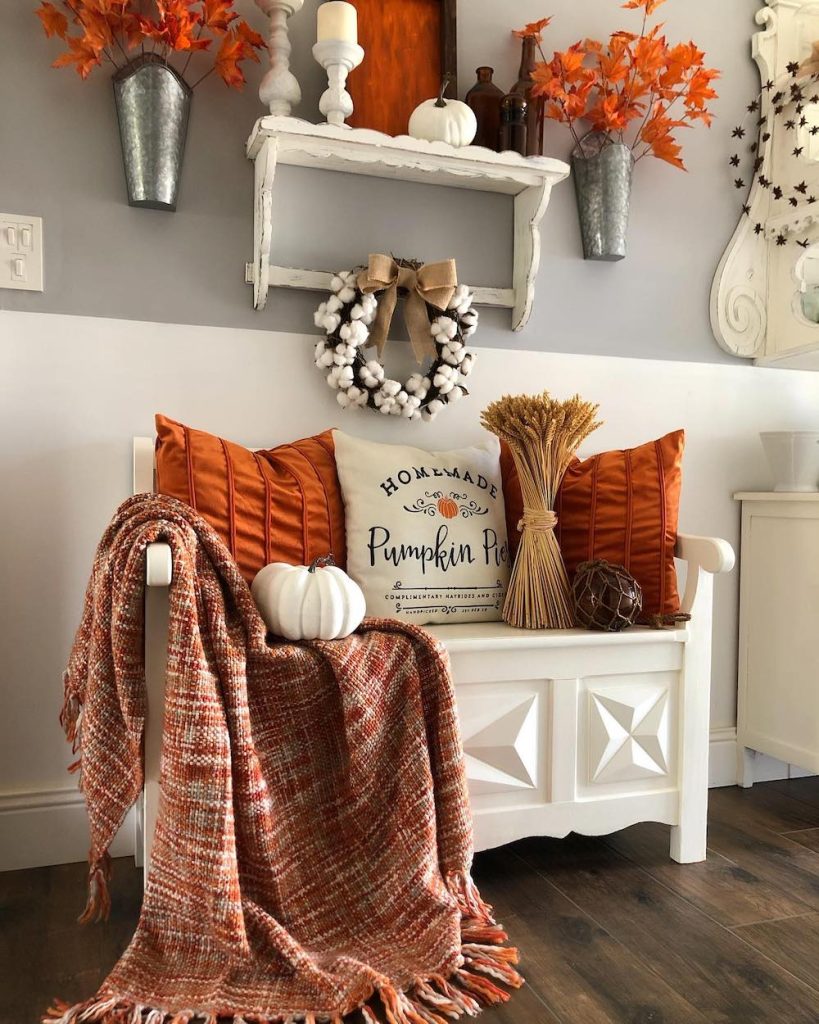 Add a bundle of wheat. Hang a cotton ball wreath to celebrate the harvest season.
Wrap Foliage Garland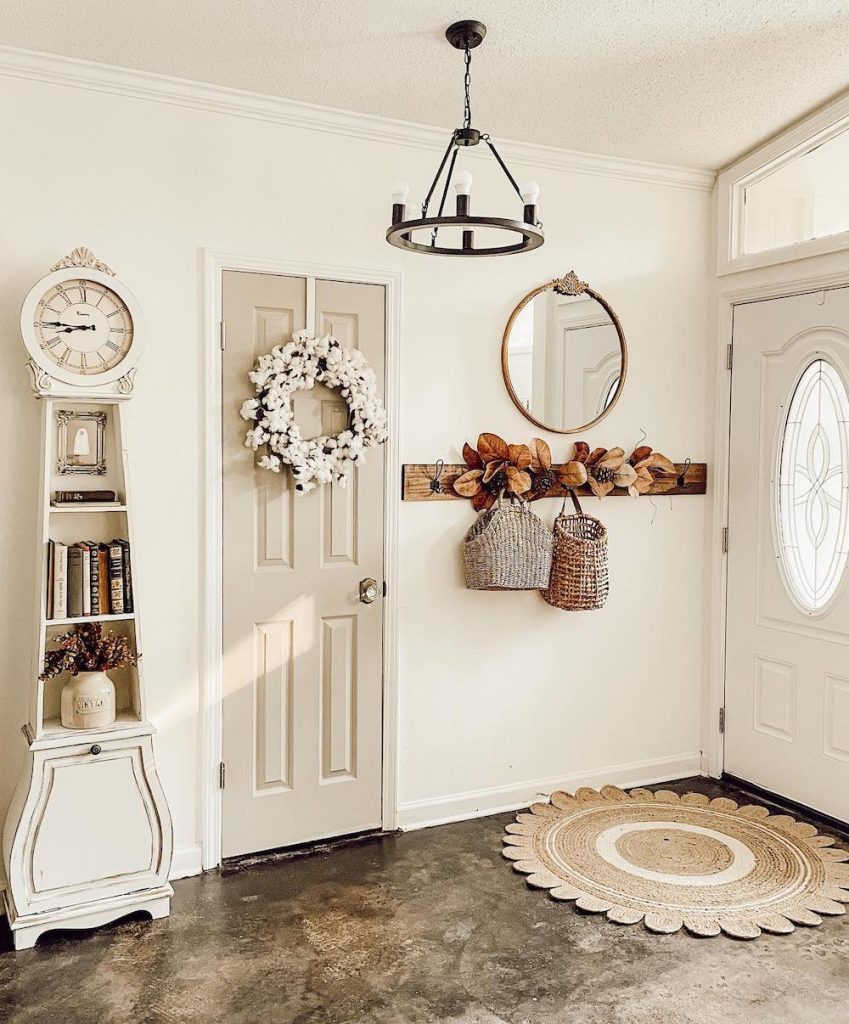 Weave a fall foliage garland over the coat hooks for a festive look.  
Use Textual Wall Art – Fall Farmhouse Entryway Ideas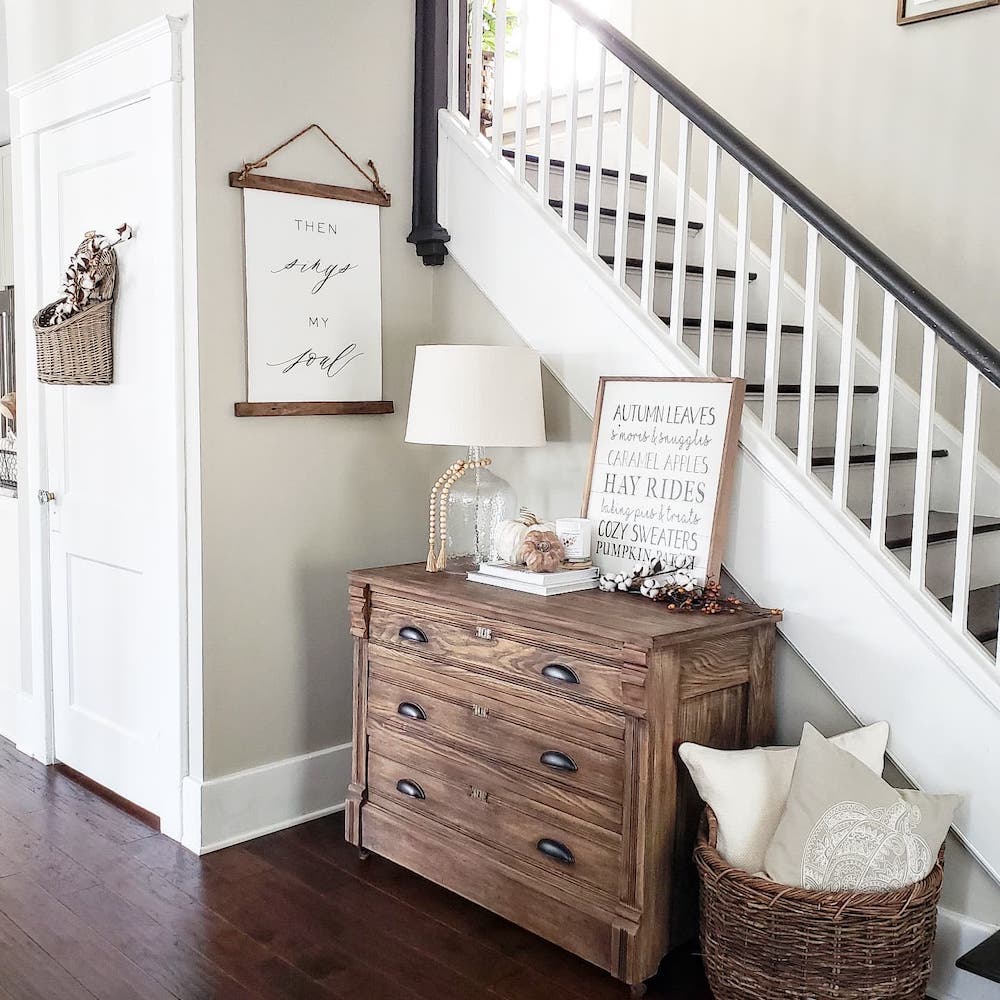 Display textual wall art that reminds everyone of the many fall family activities. Hayrides, apple orchard picking, and many activities to celebrate the fall harvest season.
Create a Harvest Basket of Pumpkins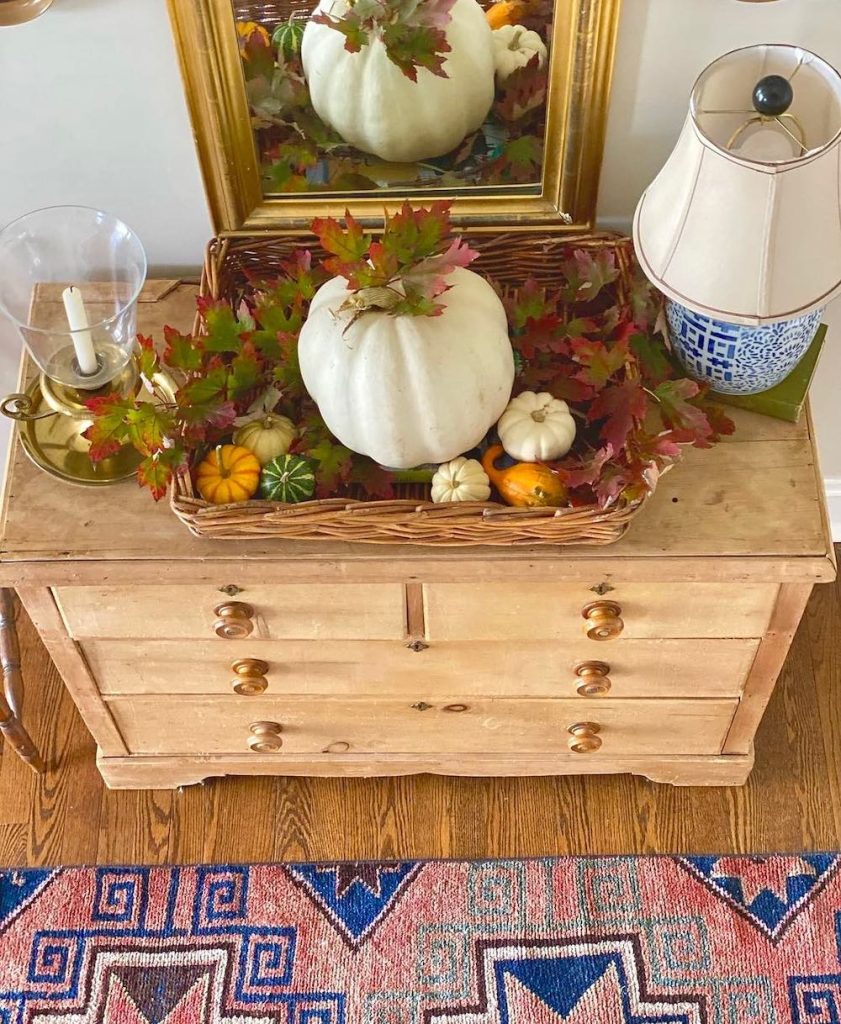 Style a harvest basket full of fresh pumpkins from the pumpkin patch. Add a few gourds and fall foliage for a dramatic effect.
Style a Farmhouse Mantel in the Entryway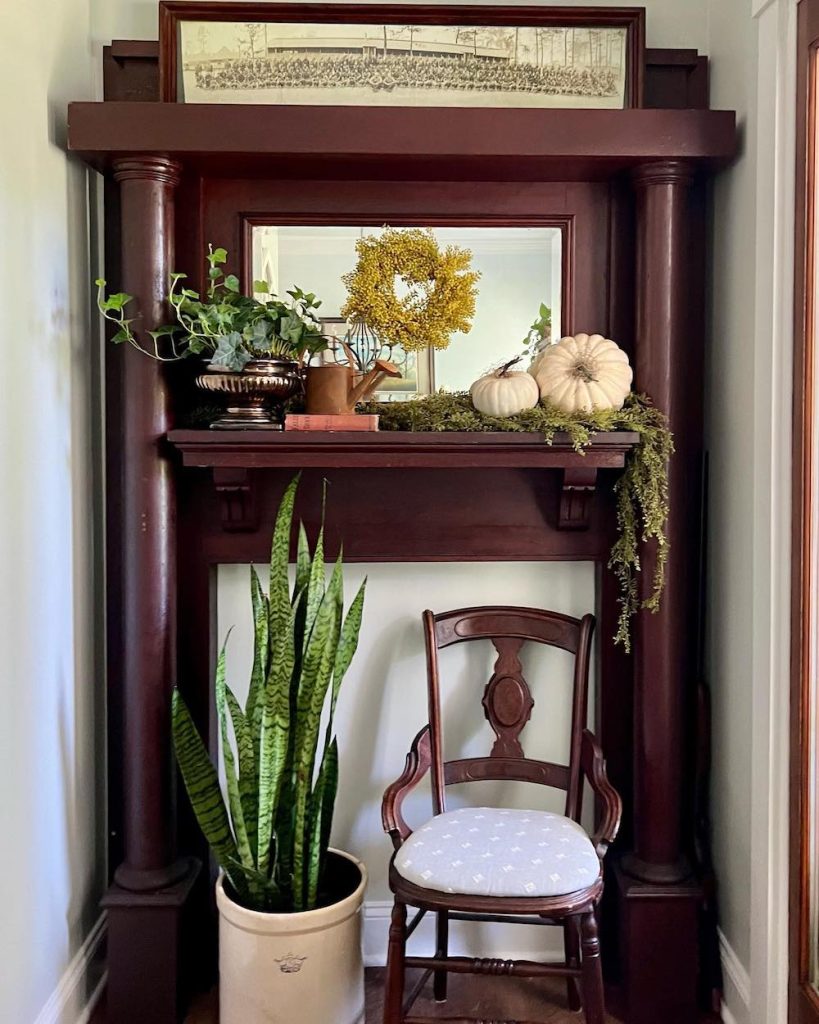 Repurpose your home's original mantel. Move it to the entryway and decorate it seasonally. The mantel shelf is perfect for styling seasonal vignettes. In the image above, the Scenicway Farmhouse uses greenery on the mantel in three ways. The first is a lovely golden-yellow wreath. Next is a potted houseplant of English Ivy. Third is the mossy fern green bed in which the pumpkins are displayed. A cock pottery on the floor houses a snake plant.
Keep it Simple – Fall Farmhouse Entryway Ideas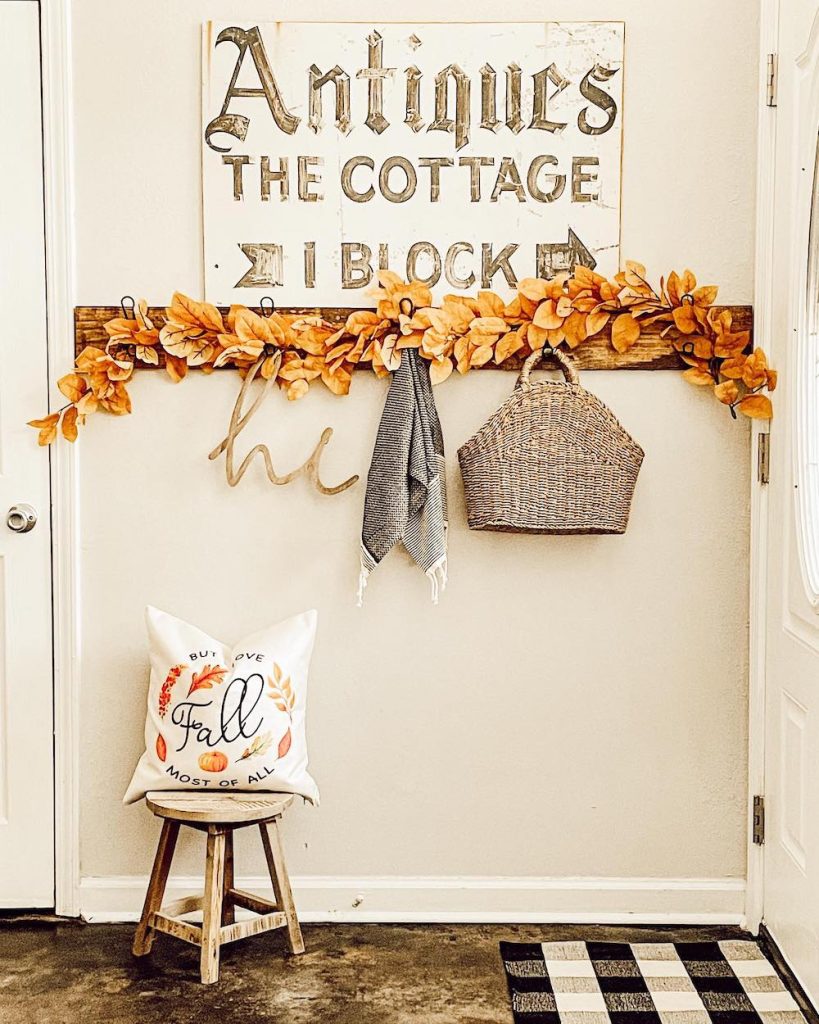 Fall foliage makes a huge impact. Have your foliage underscore your vintage wall sign.
Layer it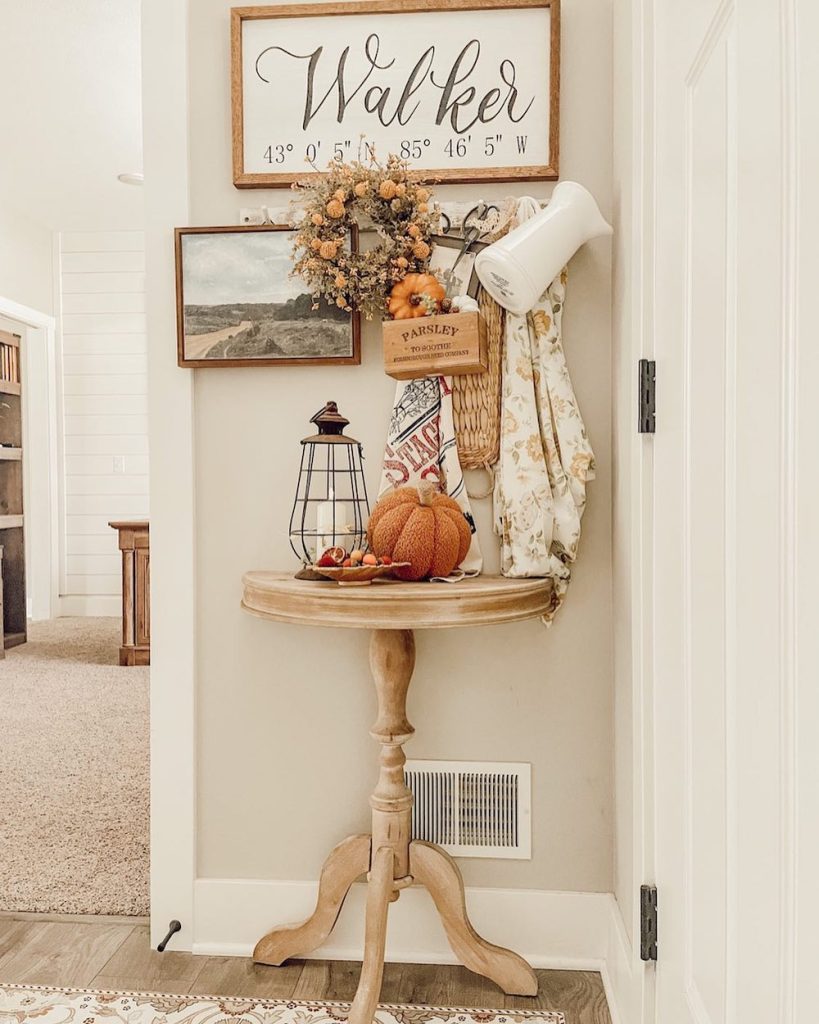 The perfect little spot for layered fall decor. Start with a small, rounded table and a coat rack. Add wall art, a basket, scarves, a small box, and a cute fall wreath to the coat rack. For the tabletop, add a lighting source such as this candle and some seasonal decor such as the pumpkin and potpourri. All wall art and objects are perfectly sized to scale on this wall. Gave your walls a powerful display of fall.
Download a Pheasant Image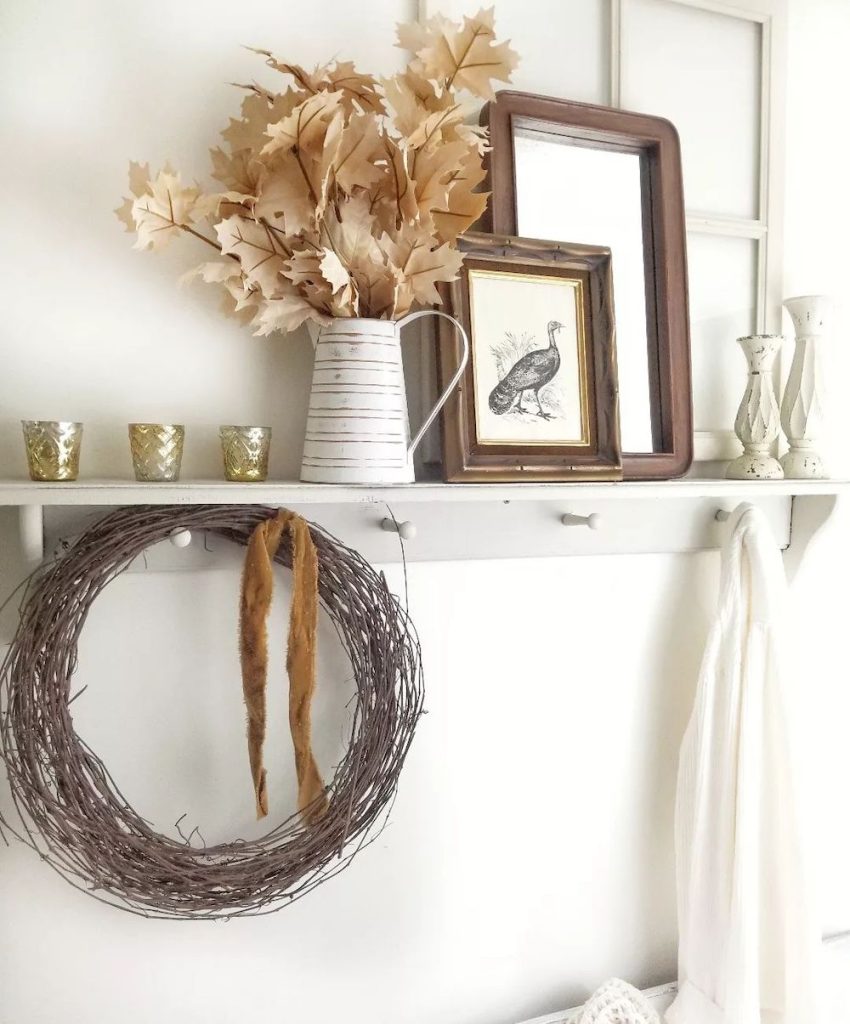 Create a piece of wall art by downloading a fall image. In this instance, the pheasant was downloaded and framed—a great little piece for this coat rack.
Grow a Faux Maple Tree Indoors – Fall Farmhouse Entryway Ideas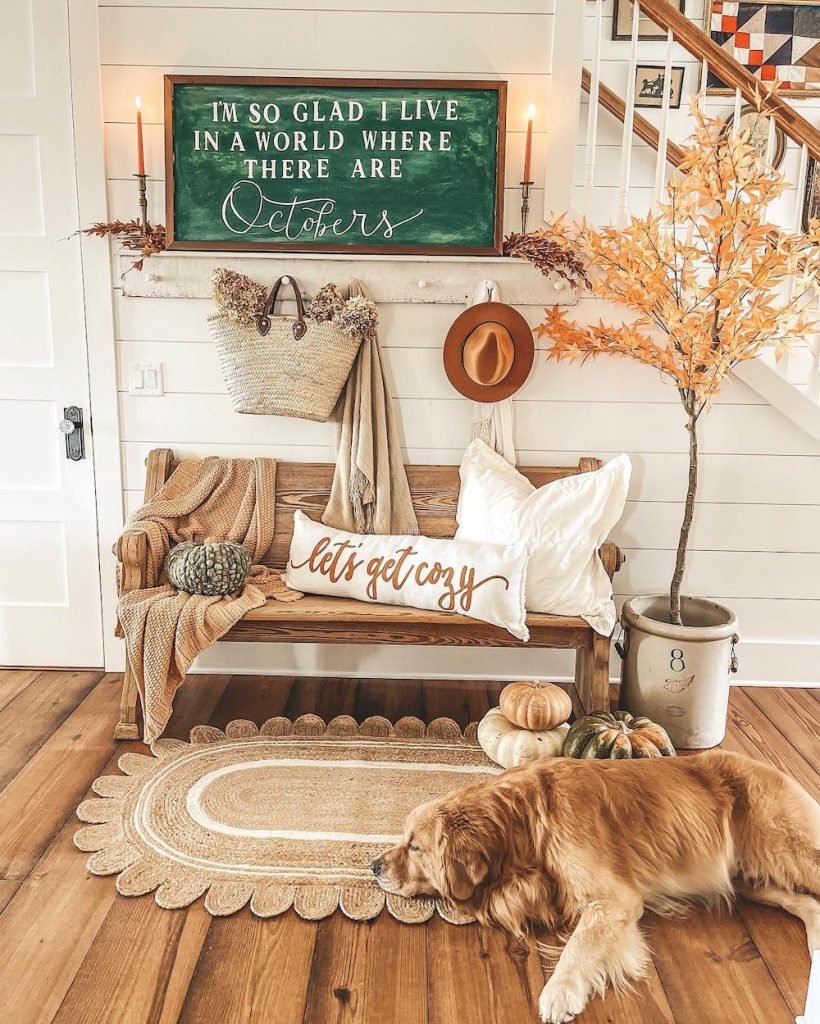 Bring the outdoors inside with this faux maple tree. Get cozy on this naturally finished bench. Drape a few throws, and add some toss pillows to the bench. Then, finish off the space with some beautiful pumpkins.
Blend White Objects with Natural Hues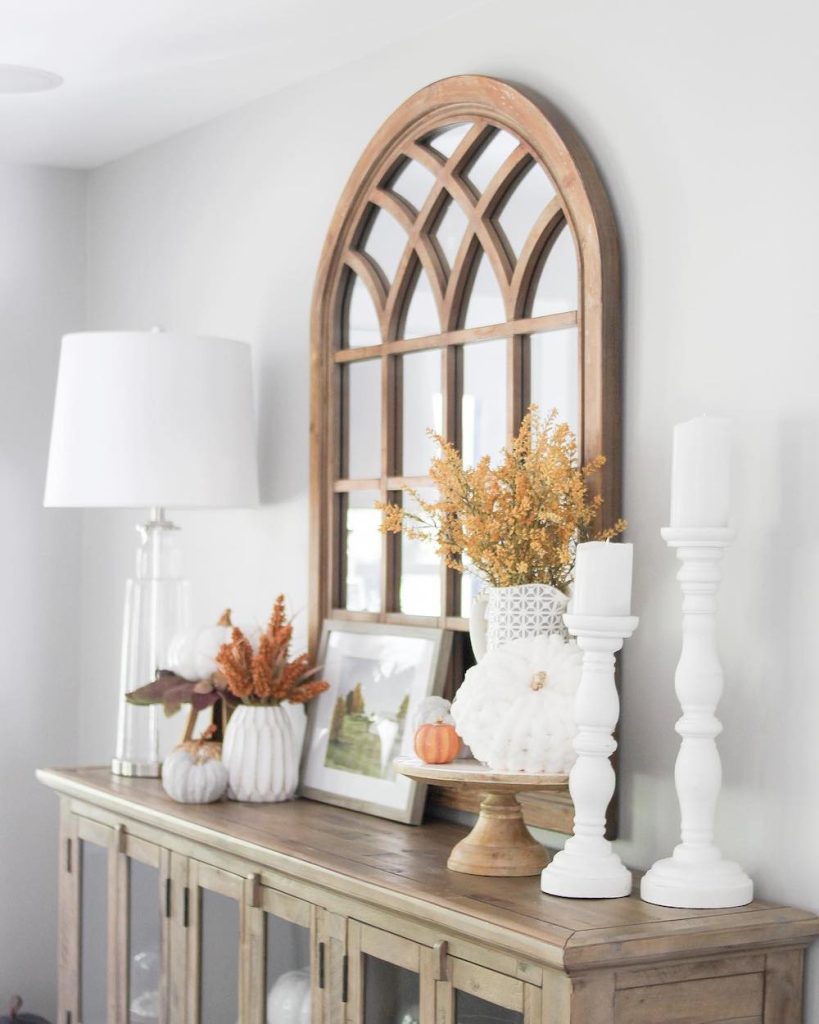 Mix white objects with natural finished wood furnishings. Fill vases and a pitcher with fall-like florals for added color to the cabinet.
Embrace the Season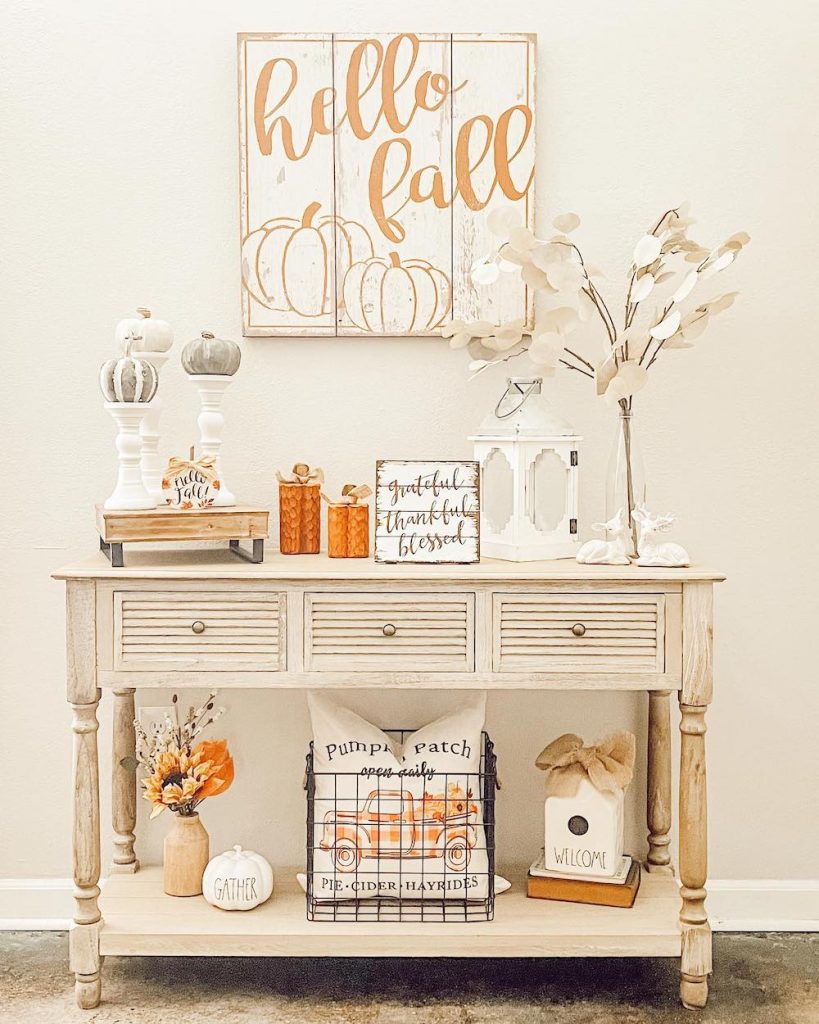 Keep it neutral with these cream-colored accessories. Bring in the orange floral arrangement and add a few cream pumpkins.
Go with a Built-in Bench – Fall Farmhouse Entryway Ideas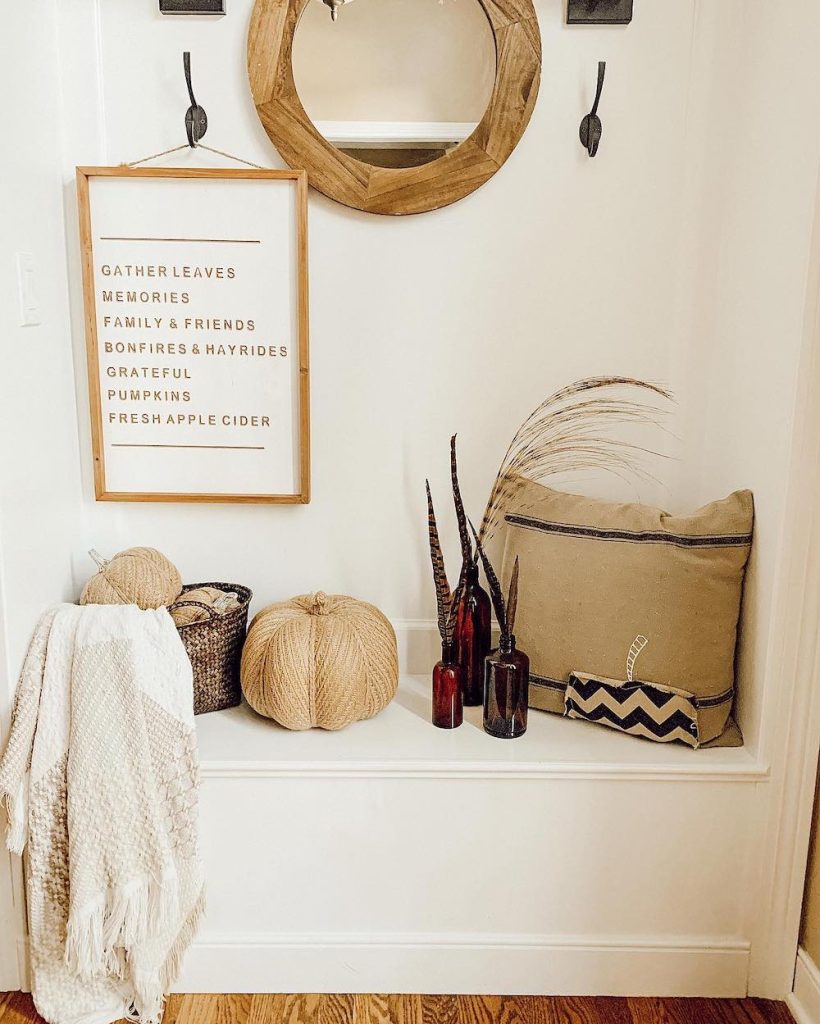 In this built-in bench, add a variety of textured objects. Keep a throw and pillow handy for the upcoming chilly weather. Group a set of amber glass vases with a few pheasant feathers. Gather all these together for a fall-seasoned entryway.
Style it With Bronze Hues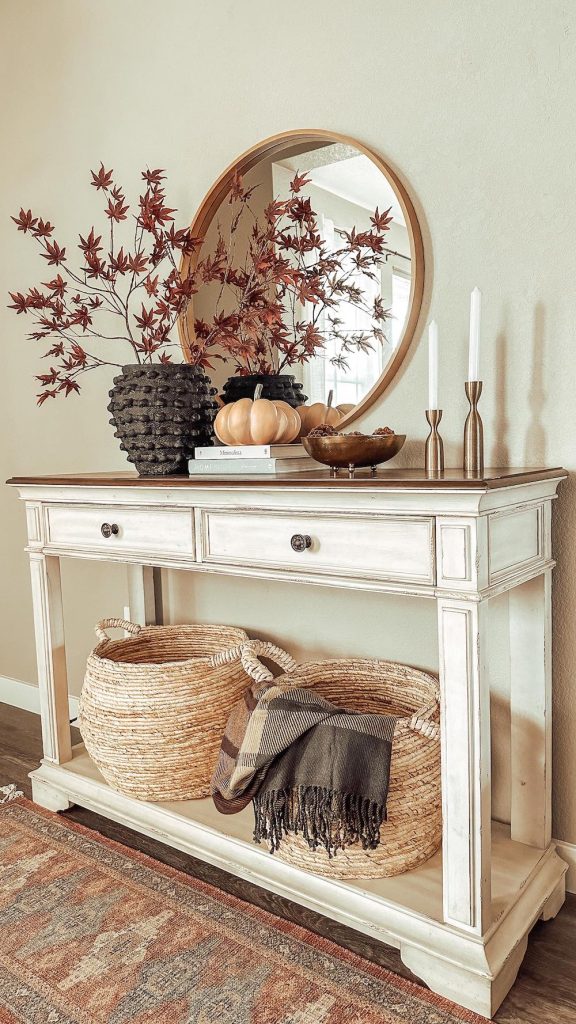 Create a stunning display in the entryway with a few bronze accents. Start with a console table and round mirror. On the lower shelf, add a couple of baskets for cozy throws. Fill a vase with a faux maple branch. Drop pine cones in a bronze bowl and add a set of bronze candleholders.
Hang a Thankful Textual Sign – Fall Farmhouse Entryway Ideas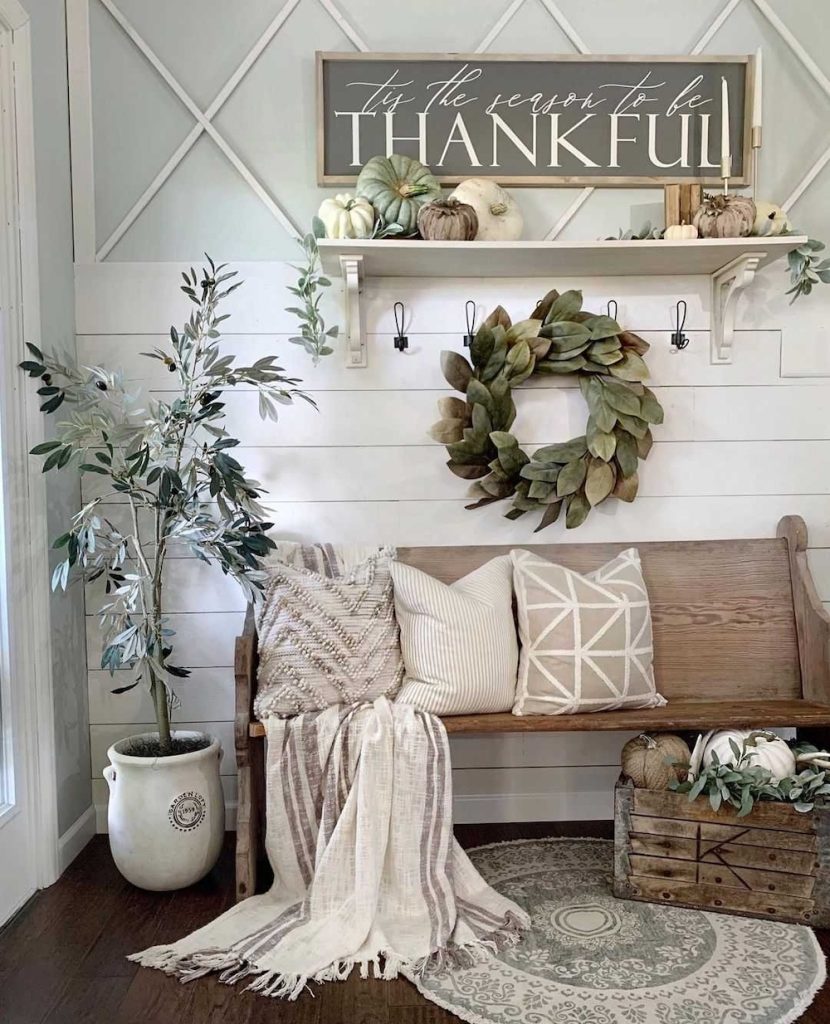 Display a thankful wall art. We love the pumpkin display on the top shelf. A light source – the lone candle and a small stack of books complete the festive shelf display. Style it cozy.
Go Back to Basics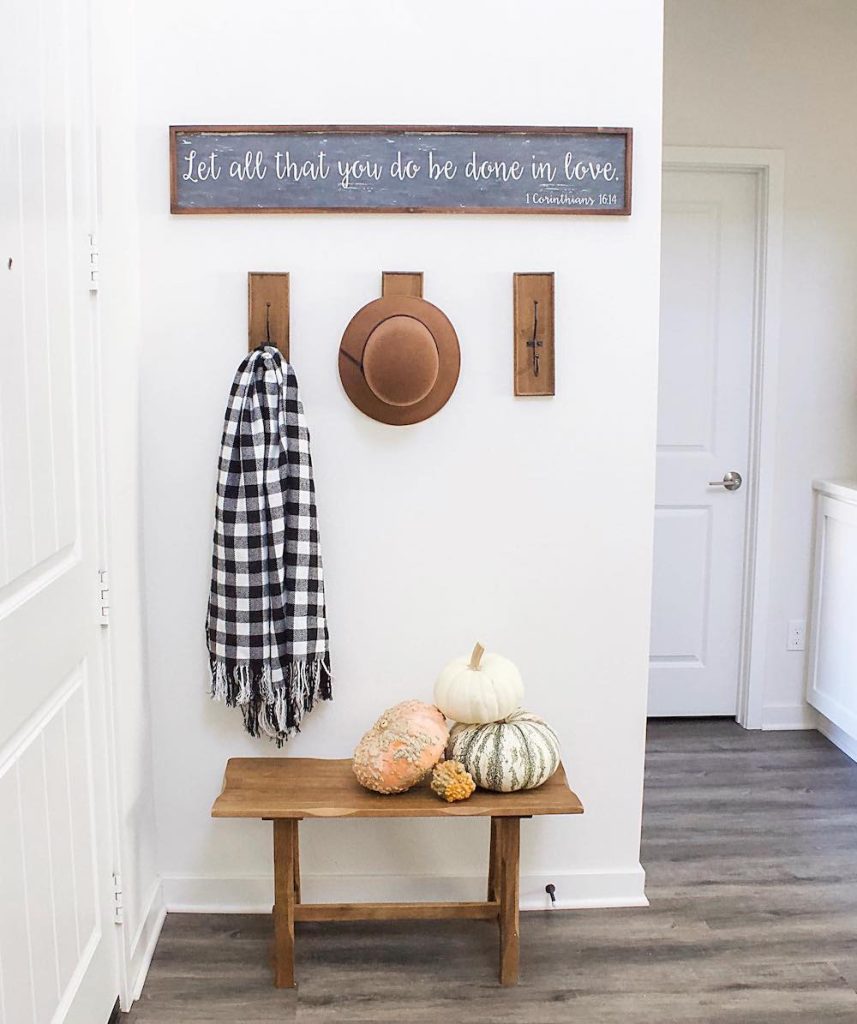 Style your entryway in three parts—a piece of wall art, a coat rack, and a small bench. Hang a hat and buffalo plaid scarf on the coat rack. On the bench, mix different pumpkins for a visual impact.
Celebrate the Annual Apple Orchard Trip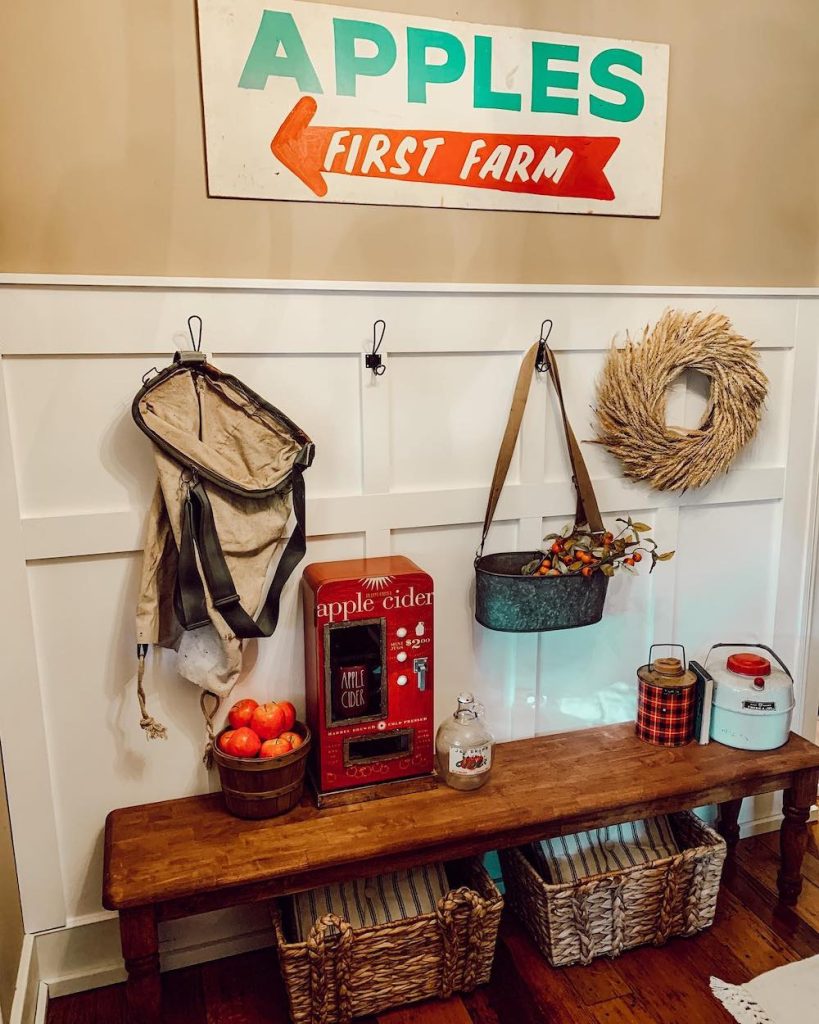 Display an apple orchard directional sign. Fill a basket of fresh apples and an apple cider jug on the bench. Celebrate the weekend apple-picking visit during the harvest season.
Add Fiery Orange Fall Foliage – Fall Farmhouse Entryway Ideas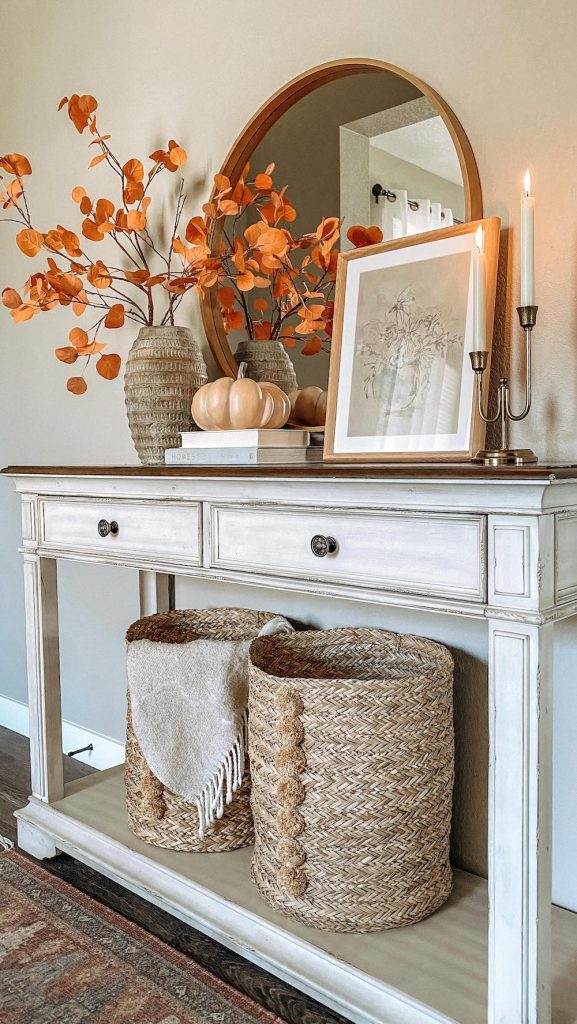 Use faux foliage in fiery orange colors to add pops of autumn color. Add a neutral-colored pumpkin, and you are done—a great color combination for fall decorating.
This is the end of our fall decorative styling ideas for a farmhouse entryway. We hope you found a few fall-ish styling ideas to help with your home decor projects. Keep your home always looking its best this fall season and year around.
Be sure to share with us which entryways are your favorites. Let us know what you think.
Please take a look at our other posts for home decor inspiration. Drop us a line below in the comment section. Let us know all about your home decor projects for your house.
Enjoy our other fall home decor-related posts for additional ideas.
Decorate your home with these great fall ideas. Check out our other posts for the interior and exterior of your home. Try these posts for additional decorating ideas this season.
Farmhouse Kitchen
Vignette with Farmhouse style
Front Porch Farmhouse ideas
Fall Bedroom Ideas
Reach out to us with any questions. We love hearing from our readers. Thank you for dropping by and taking a look at our blog.
Mary
Pin this for Later: