Fall vignette styling ideas that will inspire you to decorate your home this Fall season. Autumn is one of the most beautiful seasons of the year and of course, our personal favorite. The Fall season is a popular time for many. The perfect opportunity to decorate your home in glorious Autumn tones. Image colors of burnt oranges, muted yellows, brownish reds, and faded greens. These tones transform a home into a cozy and inviting space. And of course, no Autumn decor would be complete without lots of pumpkins.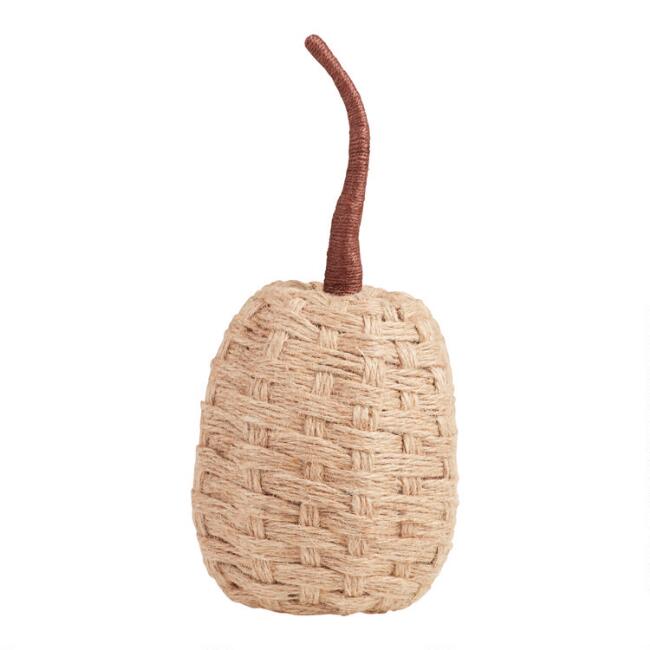 In today's post, we are sharing 23 styling ideas to create a fall vignette in your home. One of the most frequently used objects you'll see throughout many of these vignettes is pumpkins. Pumpkins are made from fabric, rattan, resin, and even fresh pumpkins. Displayed alongside candles, books, florals, wreaths, and many other accessories.
Best Ideas – Fall Vignette Styling Ideas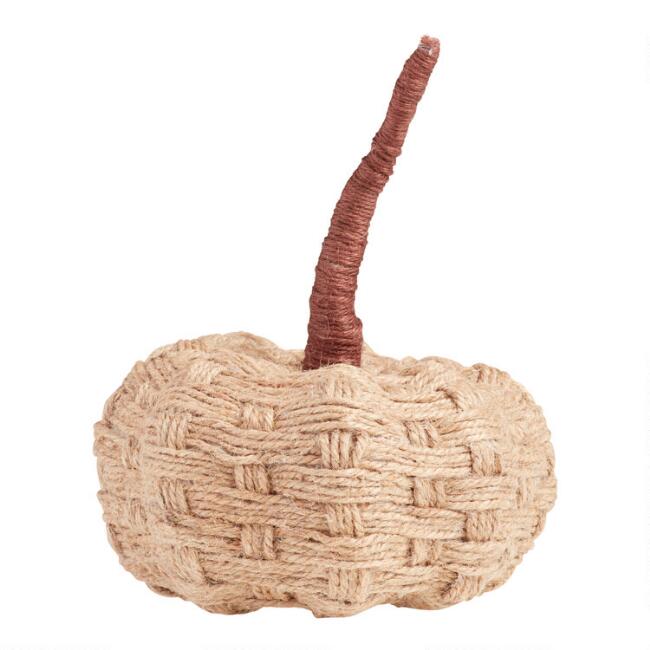 We've selected 23 vignettes with the best inspiration so that you can create your own vignette at home. Take a look. Be sure to share your autumn vignettes with us as well. We always love hearing from our readers.
Style it with a Masked Gnome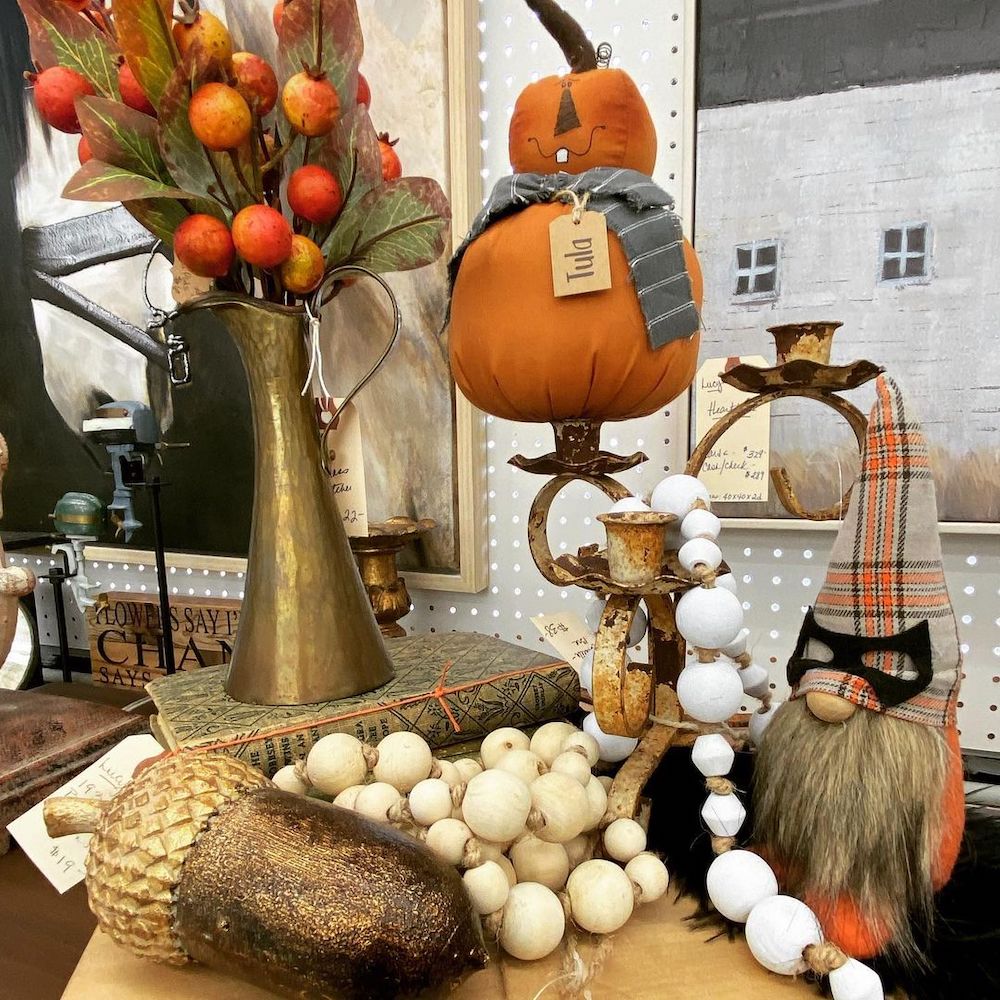 Go for the comic in you. Add a whimsical character such as a masked gnome to add whimsy to your vignette. We especially love the use of this rustic and antique candelabrum in the vignette. The candelabrum elevates the Tula pumpkin man and wooden beads. It provides height to the vignette just as the stack of books elevates the brass pitcher vase. The blending of colors and textures works so well in this vignette.
Give it an Elevated Look – Fall Vignette Styling Ideas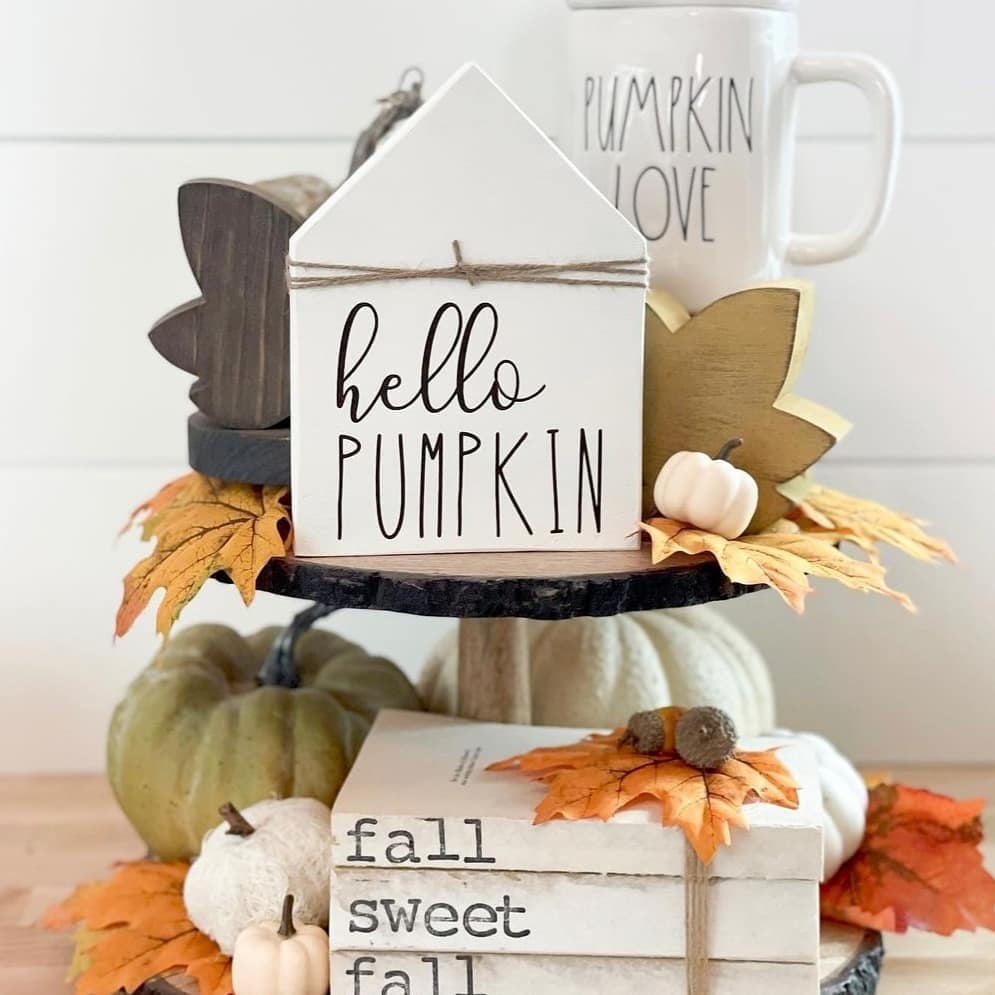 Create a vignette on a tiered tray. Refresh your space with a vertical Fall look to Wow your guests. Tiered trays offer a way to elevate the vignette when you don't have books or other taller objects.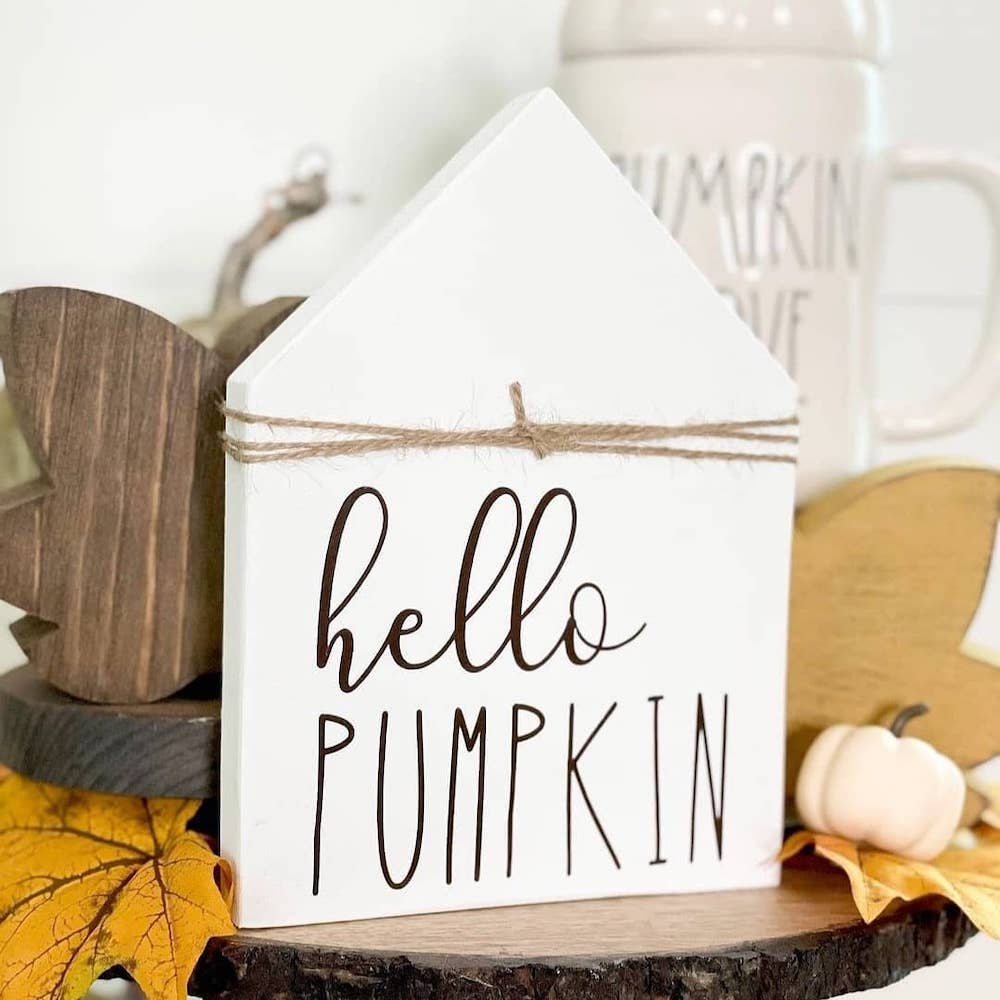 Recreate a Fall Kitchen Scene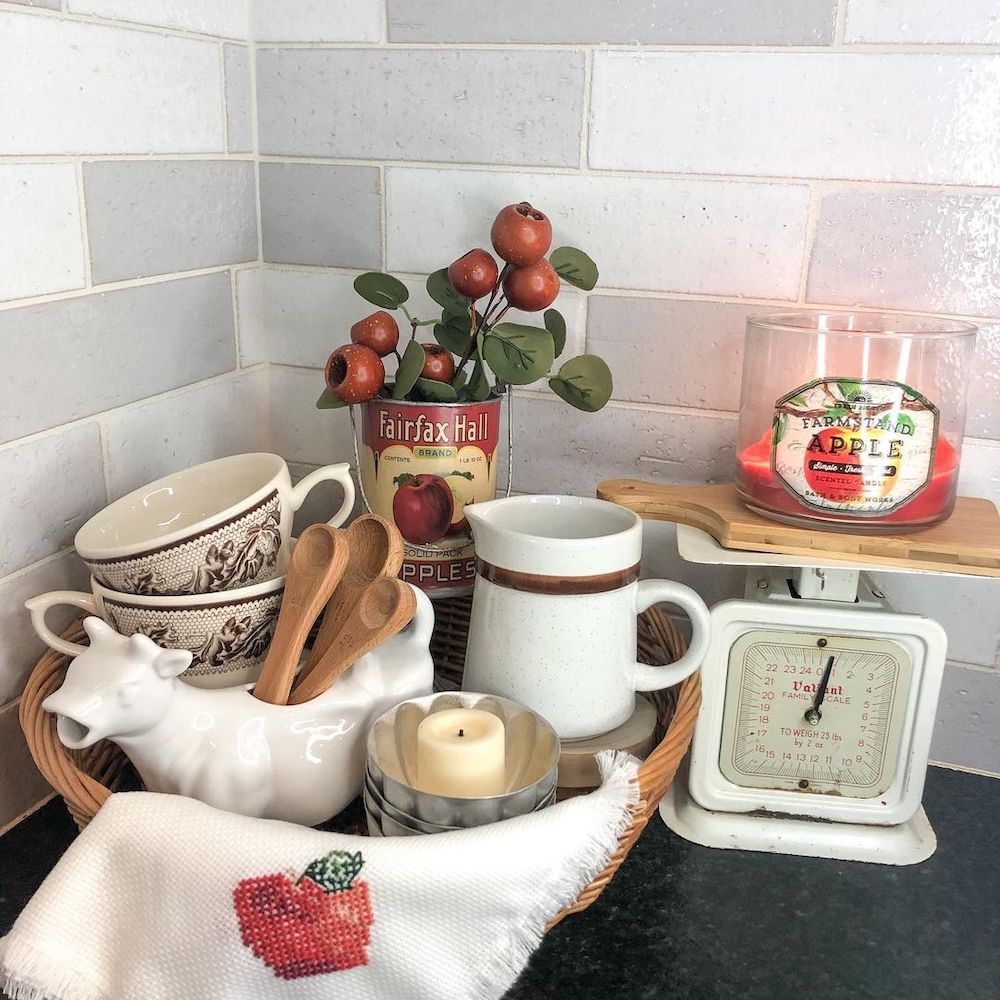 This time of year, many fall kitchens consume the delightful smell of fresh homemade apple pies. In this lovely vignette, the designer created a scene to celebrate the family kitchen where these delicious homemade pies are baked. Cooler weather means fresh apple pies follow shortly.
Celebrate the Harvest Season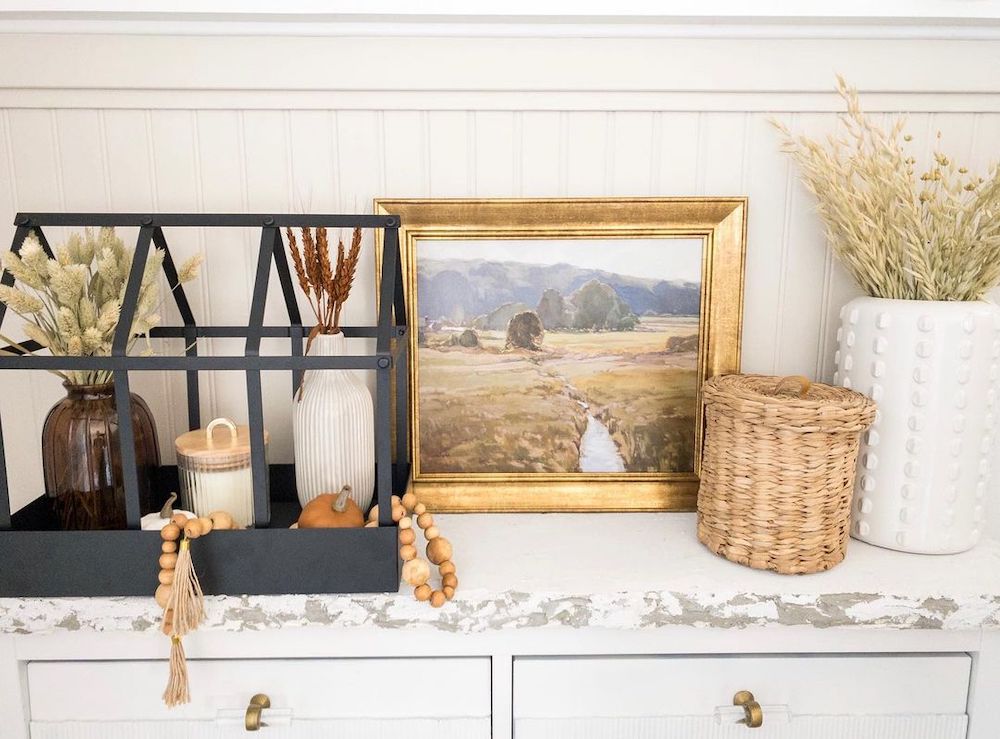 Remember in years past, how rural Americans celebrated the harvest season with county fairs? In this vignette, we celebrate the wheat and pumpkin harvest. Looks like it was a successful harvest year!
Stack Them Tall – Fall Vignette Styling Ideas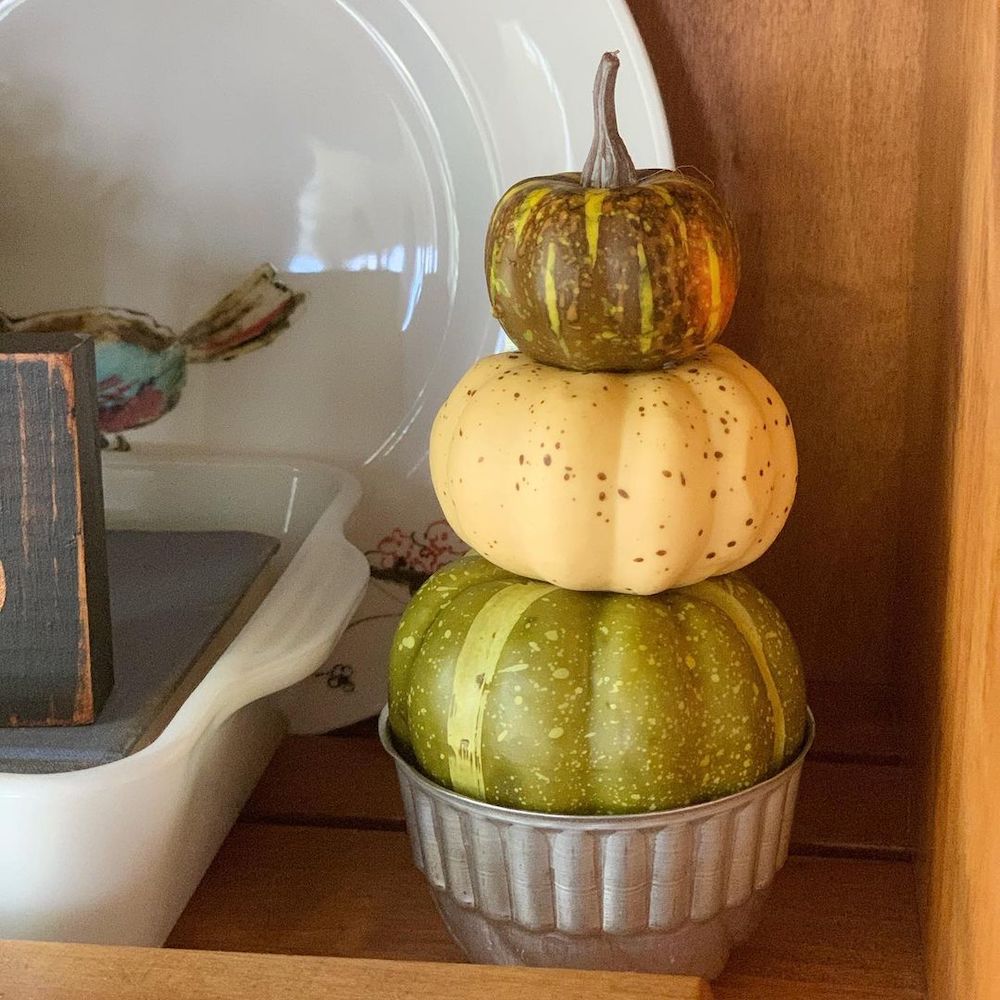 Show off your best pumpkins this season. Stack your best pumpkins to create a small vignette.
Fill Your Vase – Fall Vignette Styling Ideas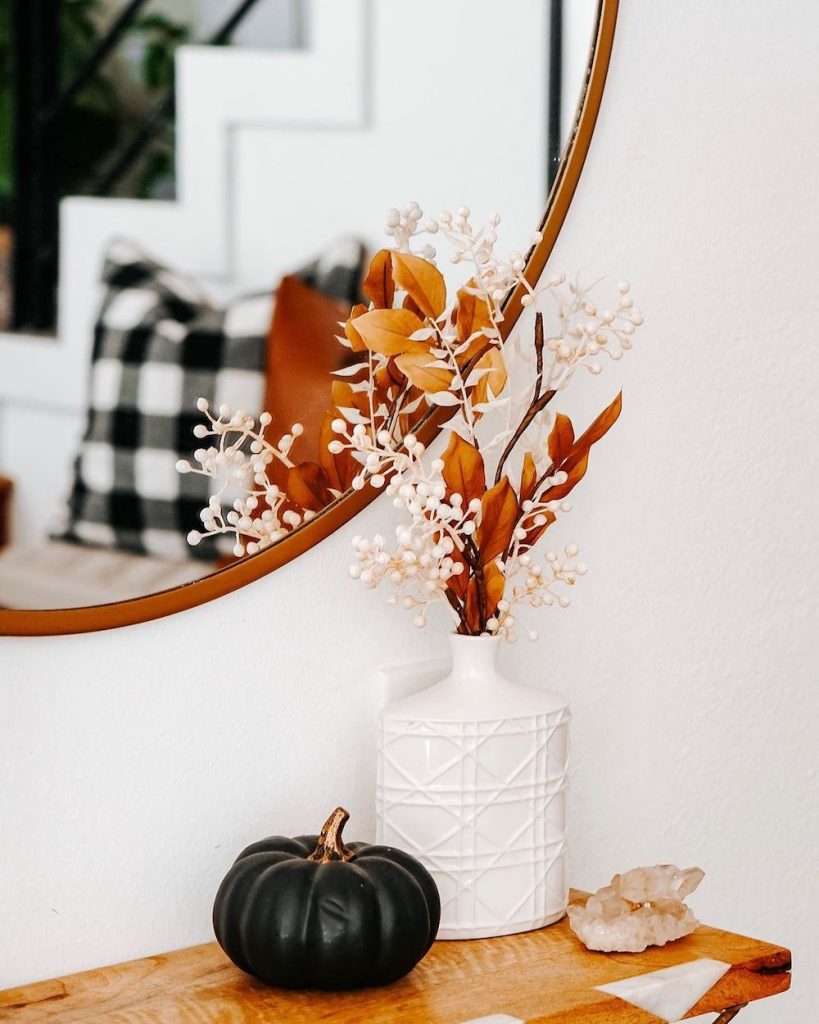 Make a Fall arrangement using crisp garden foliage. Then drop a small pumpkin next to the floral arrangement. The warm copper tones pick up the shades from the pillows as reflected in the mirror. Perfect photograph.
Style the Cupboard in Cream and Burnt Orange
Use your cupboard to display your favorite pumpkin tureen and other pumpkin decorations. The contrast of the creamy white against the brown warm wood tones and burnt orange colors are great fall colors. This vignette gives this space a memorable lasting impression.
Signal the Season – Fall Vignette Styling Ideas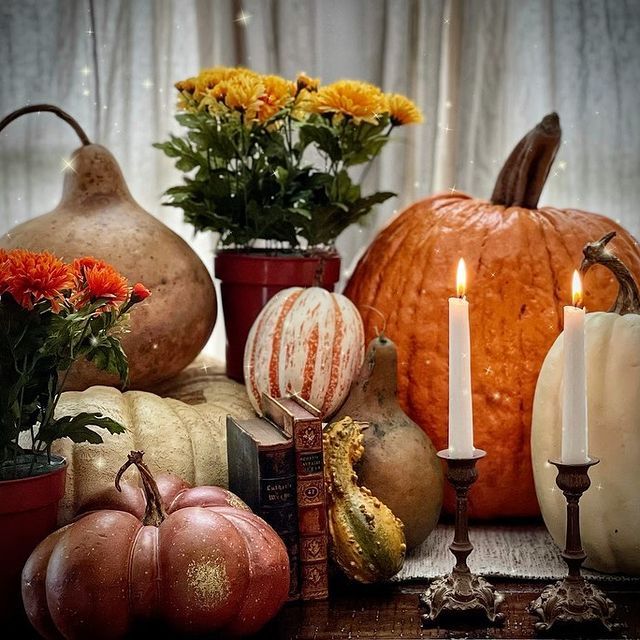 As the cooler temperatures arrive, we tend to spend more time indoors. More time indoors leads to spending more time reading. In this splendid Fall vignette, we see two of the most popular garden products for the season. Chrysanthemums and pumpkins, of course. Tuck between those pumpkins is a set of books for reading over the coming Fall season.
Create a Virtual Vintage Hunt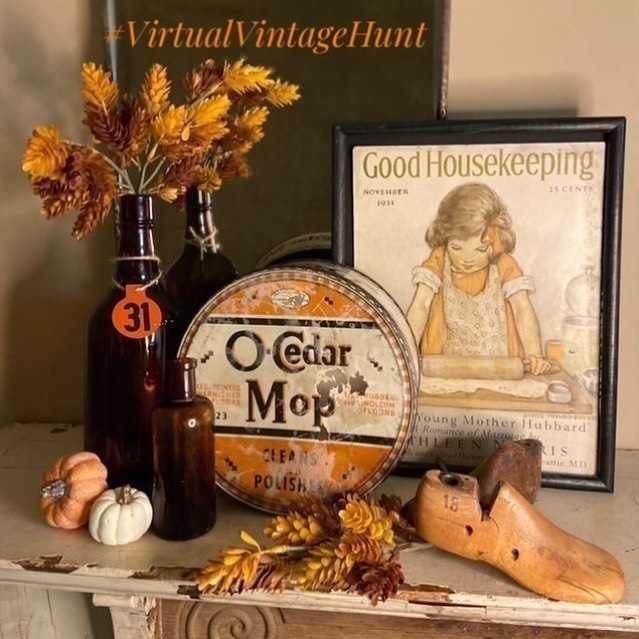 In the November issue of Good Housekeeping magazine, the cover depicts a young girl baker rolling out dough. Wonder if she is preparing a pie crust? What a cute antique fall vignette! Add a couple of mini pumpkins and some dried garden stems that remind us of the glorious Fall harvest season.
Stay Home and Cuddle – Fall Vignette Styling Ideas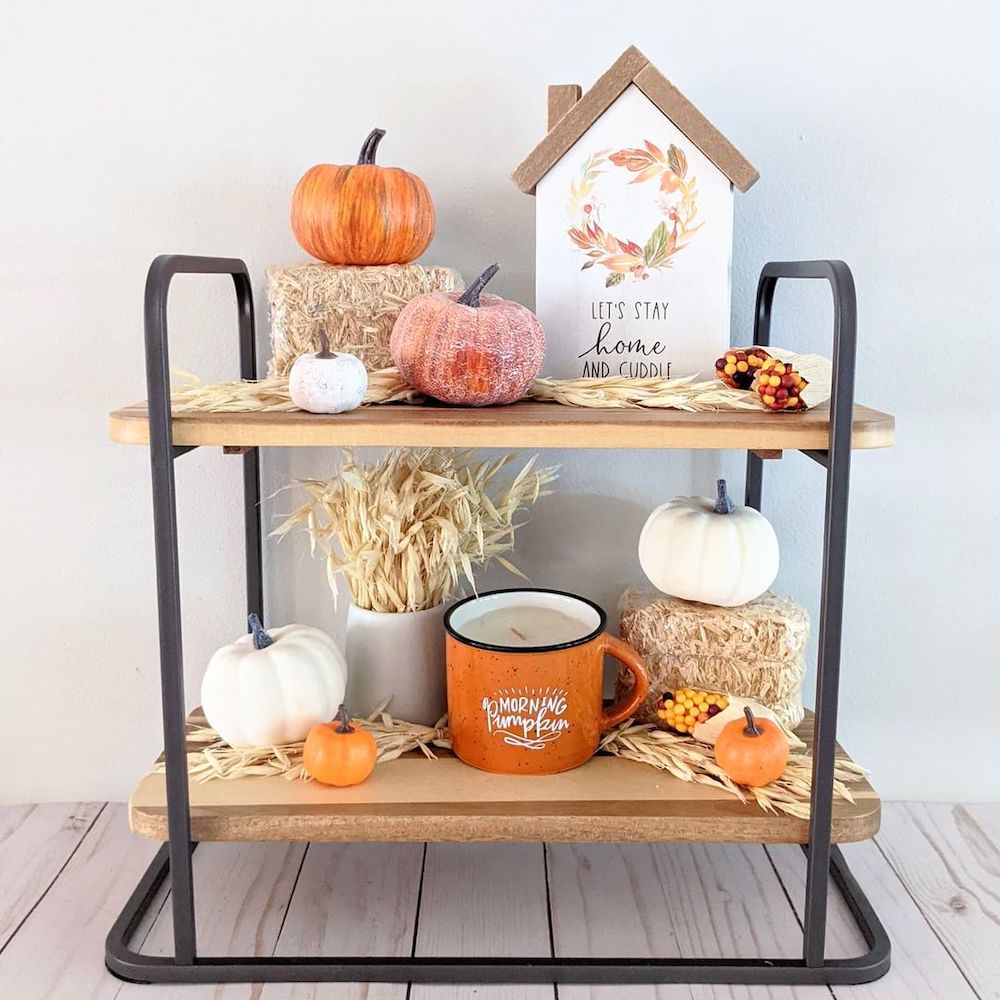 In this two-tier stand, create a vignette using mini bales of hay, mini pumpkins, a candle, and an adorable sign. All are sized appropriately to scale for this space.
Display Your Best 4 Minute Edison Amberol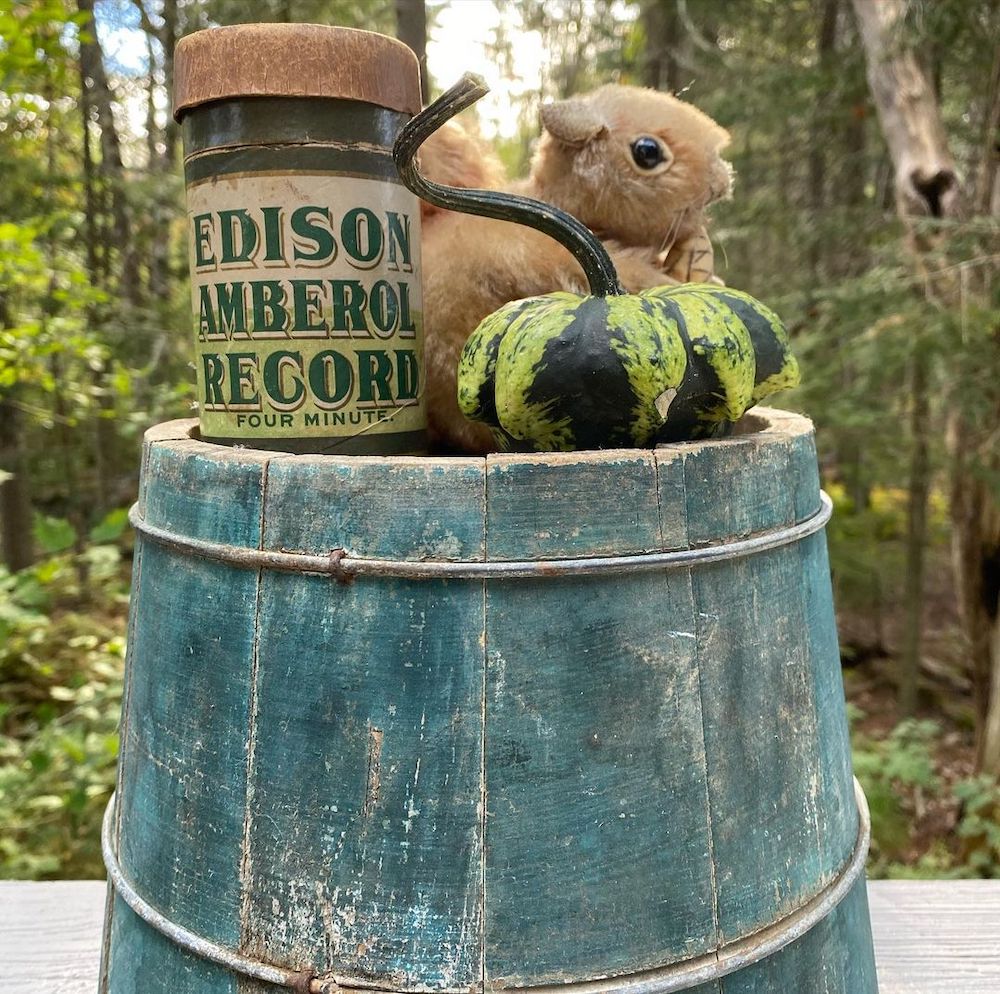 Go cute with your vignette. This is a simple and endearing display. Group together with an Edison Amberol Record, mini pumpkin, and a cute little squirrel on a rustic green barrel. An amazing decor for a fun and festive fall display.
Style it Vintage – Fall Vignette Styling Ideas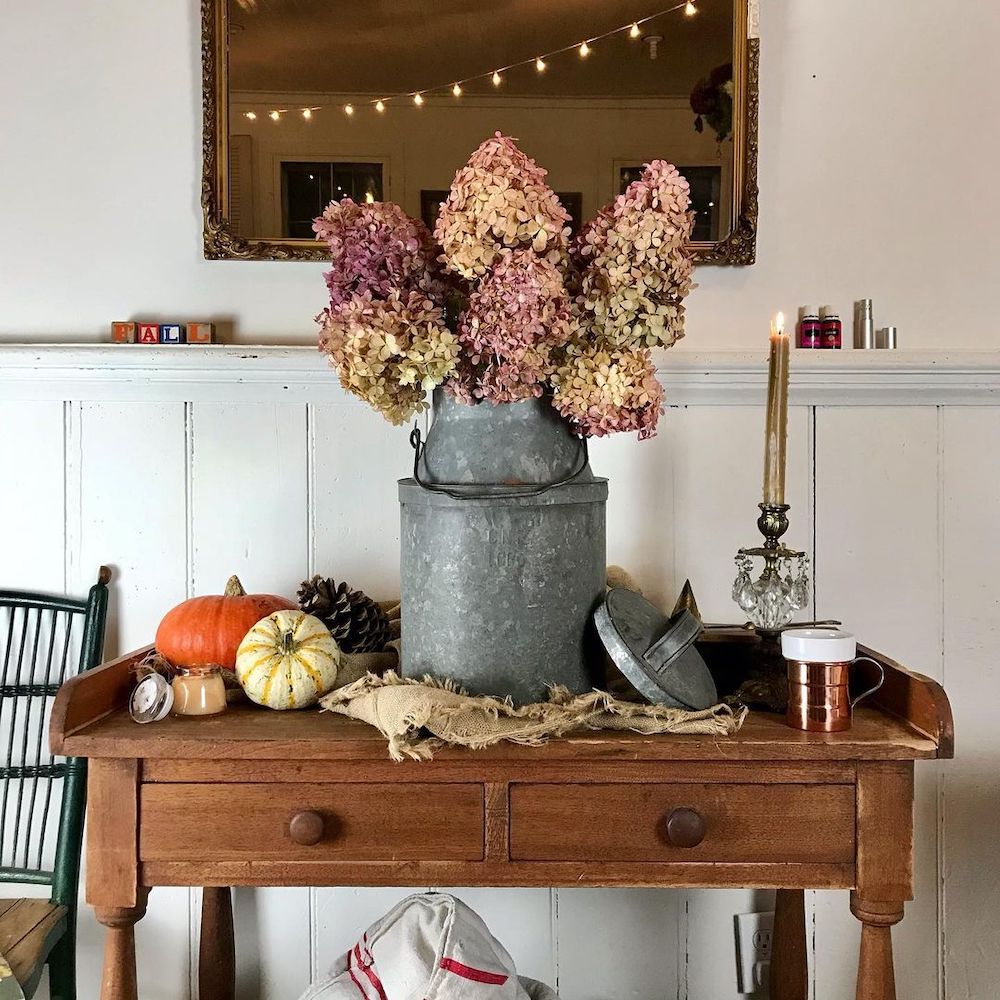 Go with a vintage decor style. Fill a vintage milk can full of dried hydrangeas for a festive fall celebration. These hydrangeas remind me of Limelight Hydrangeas at the end of their blooming season. Add a couple of pumpkins and a vintage candle holder. A beautiful display for a guest room or entryway.
Decorate an Open Shelf – Fall Vignette Styling Ideas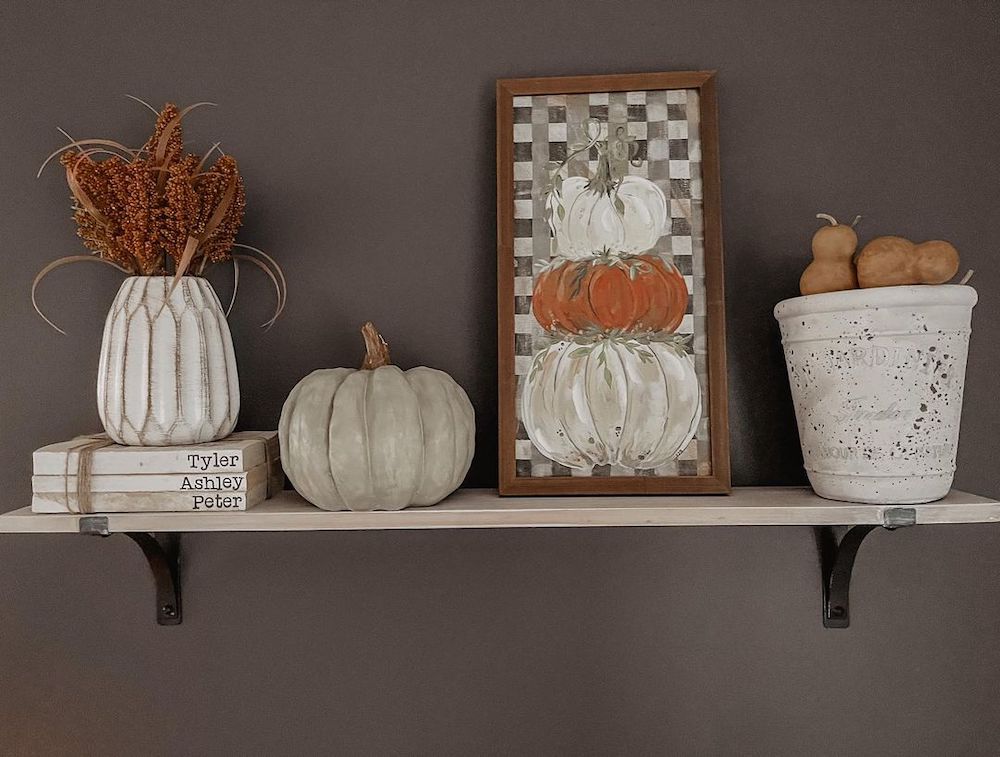 For a neutral color style, add vases, planters, and pumpkins in a putty color. Even the wall artwork has muted neutral colors.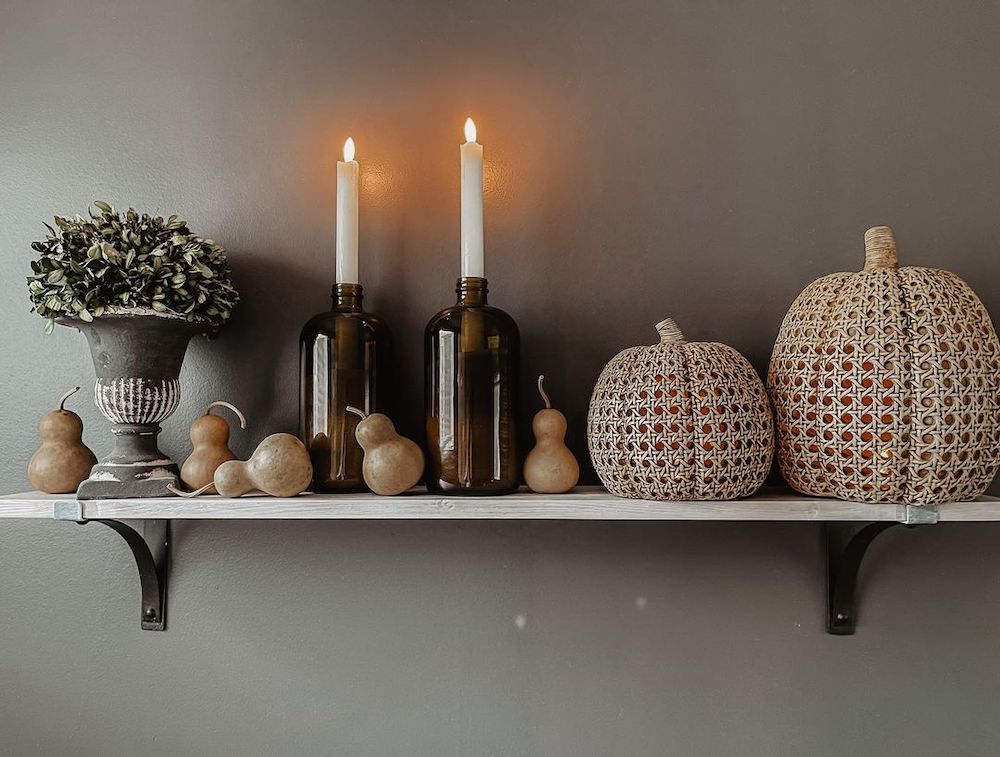 On this shelf, the designer uses beige objects. Pears and pumpkins bring lightness to the shelf against a gray background.
Add a Neon Light
Shout your greeting using neon lights. Perfect lighting for the evenings.
Heat up Your Fall Kitchen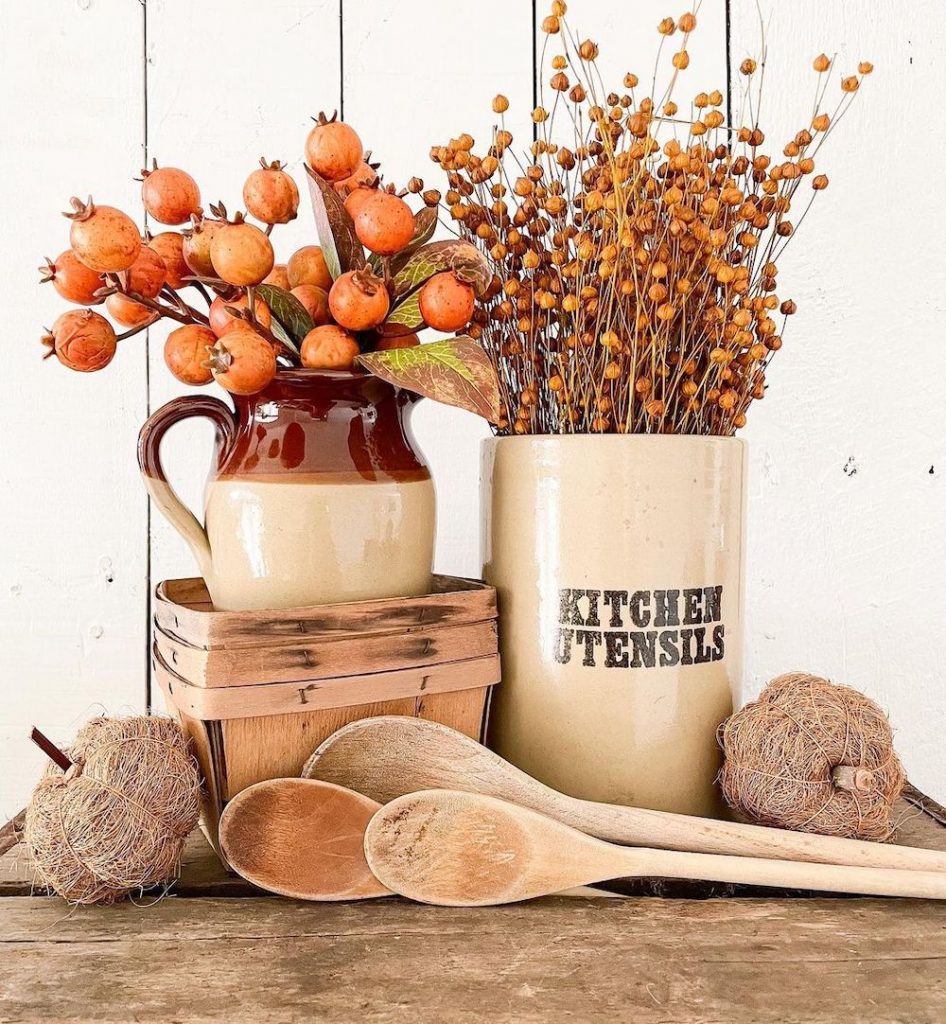 In this cozy vignette, the kitchen crockery and wooden spoons bring to mind warm evening meals. Warm meals for those cooler days and nights ahead. Cute woven pumpkins for this vignette.
Brighten Up Your Fireplace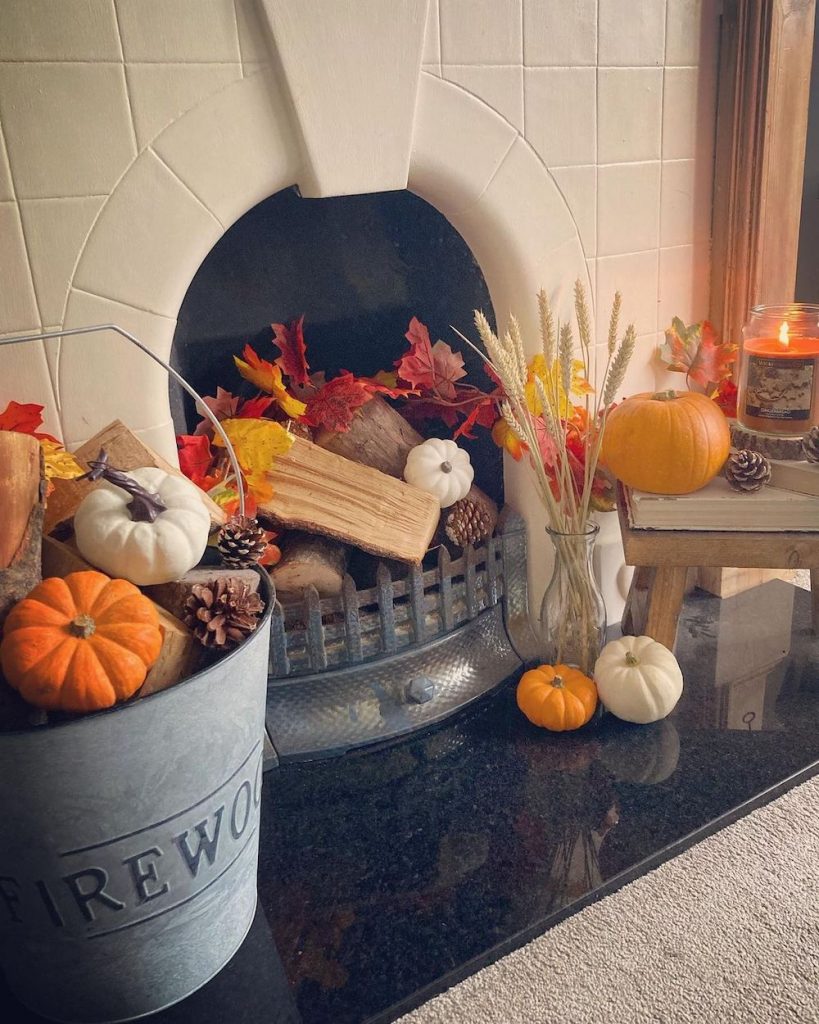 Create a vignette in your fireplace with fresh firewood, leaves, pine cones, and a few pumpkins. Coziness at its finest!
Style a Tabletop Vignette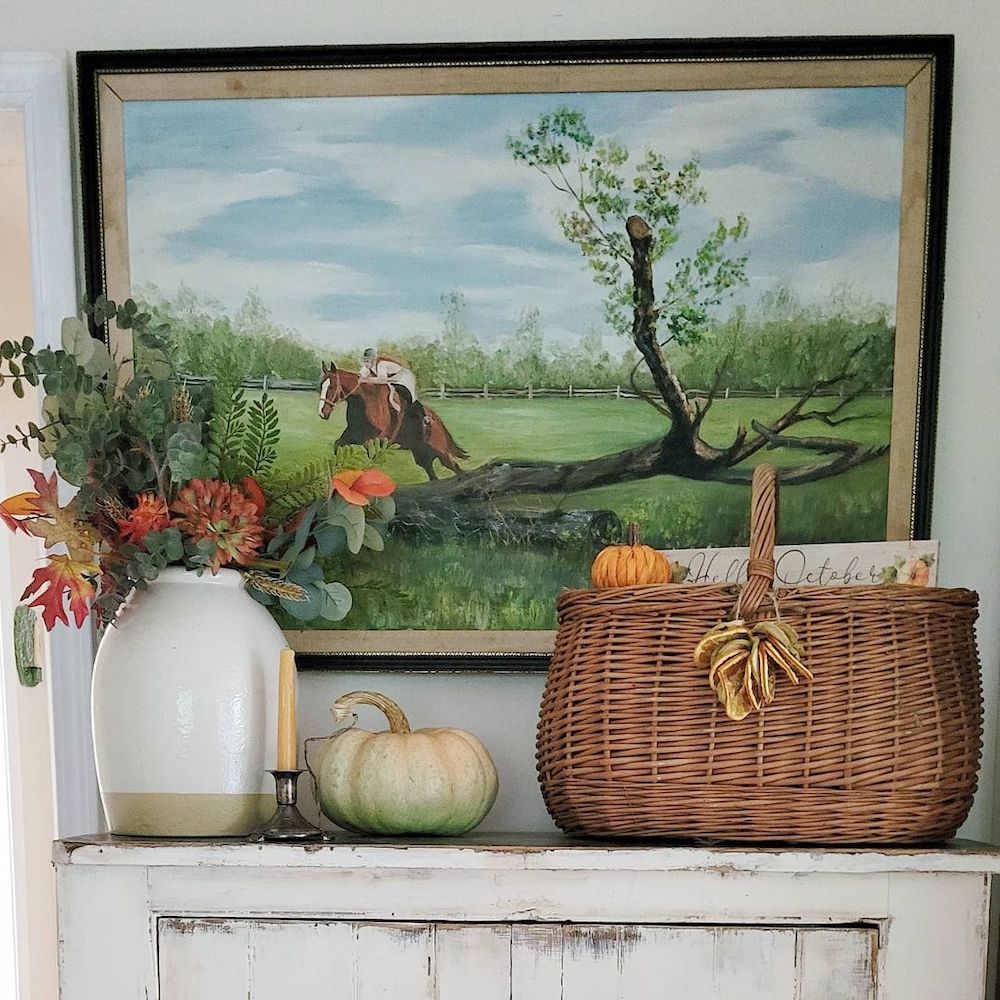 Fill your basket full of pumpkins. Add a vase of autumn flowers and foliage along with a candlestick. Hello October! Displayed over a country cupboard.
Decorate a Wood Tray – Fall Vignette Styling Ideas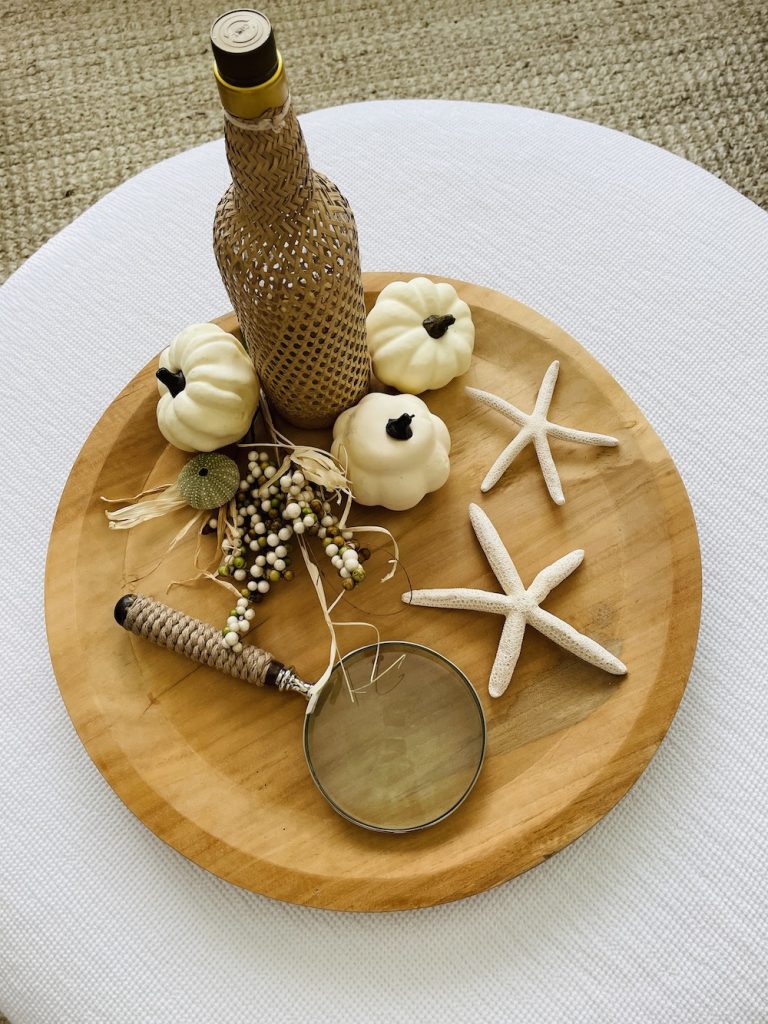 Mix neutral-colored pumpkins with rattan accessories. Add finger starfish for a coastal theme. Simple and perfect for the Fall season.
Make it a Neutral French Blue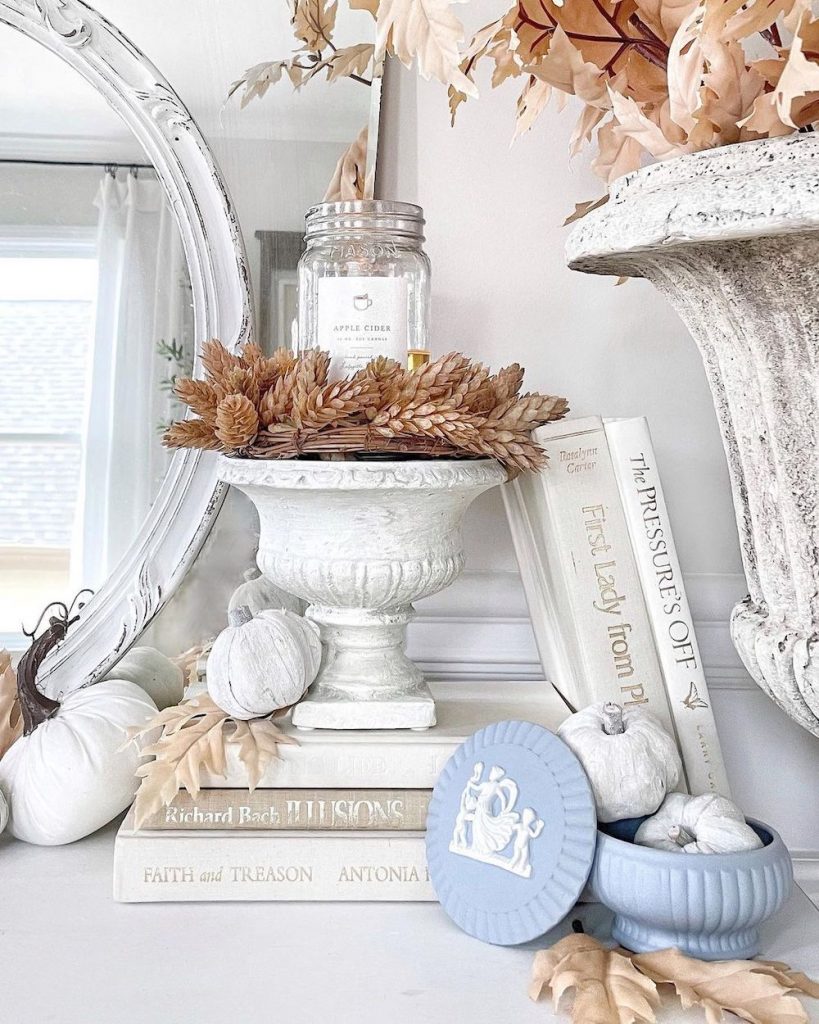 Begin with a wreath topped urn over a set of books. Drizzle the scene with white and cream mini pumpkins. Scatter neutral-colored foliage leaves around the vignette for a realistic Autumn feel.
Give it Some Fragrance – Fall Vignette Styling Ideas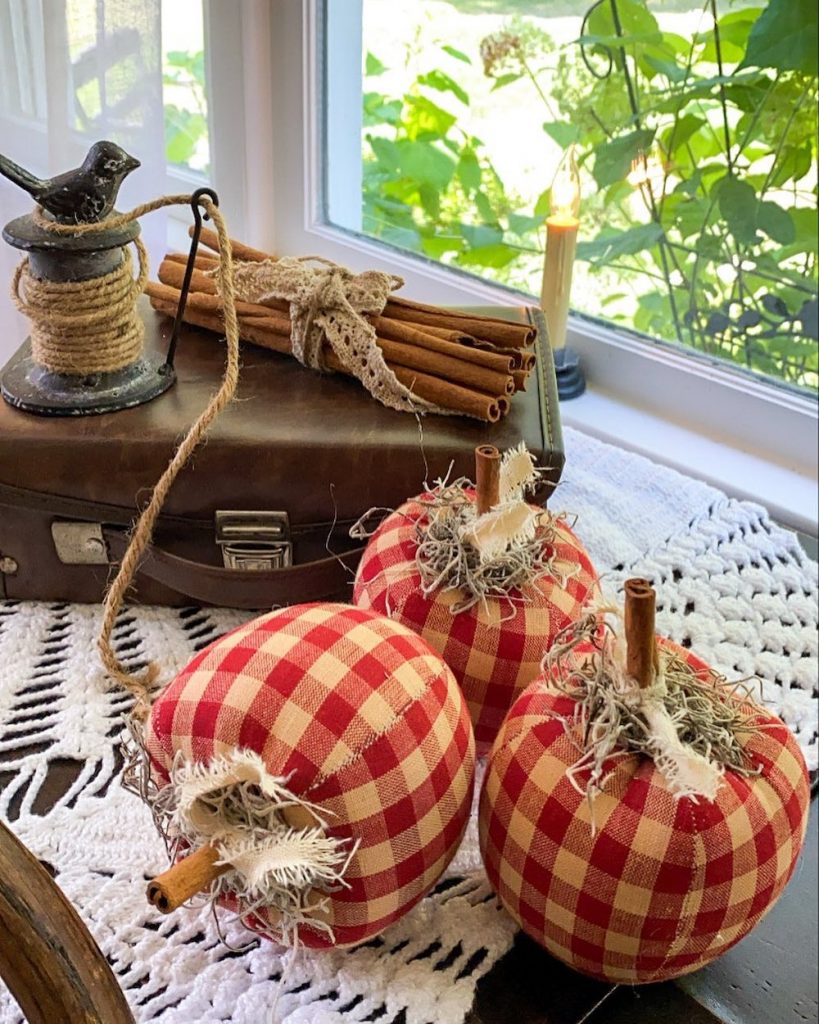 The aroma of apples and cinnamon baking in the oven reminds us of fresh-baked pies. In this vignette, the lace-wrapped cinnamon sticks lay next to a bird topped spool of jute. All in keeping with the vintage country style. A perfect Autumn scene.
Design a Home Sweet Home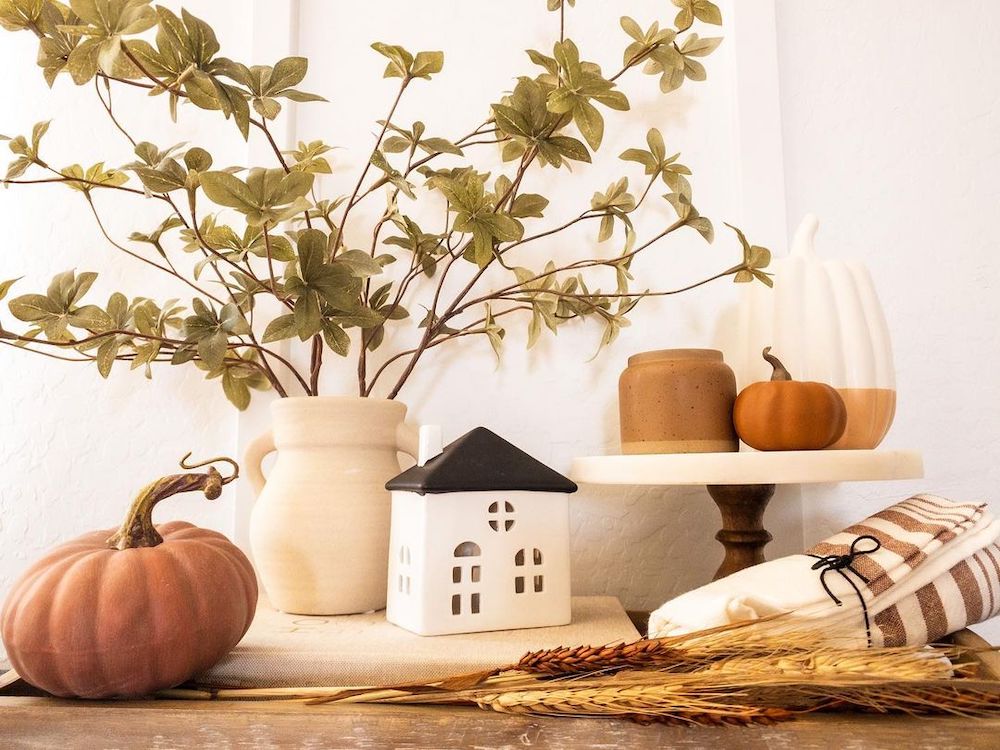 Mix objects of muted orange, creams, and earthy, wood tones. In this beautifully styled vignette, the designer created a Home Sweet Home vignette. A vase full of greenery, a simple house, pumpkins, and a nice cake stand to elevate the pumpkin trio. Cozy, feel-good vibes all around. Home Grown Hattons knows how to style it right.
Is it the Pick of the Patch or Pumpkin Season?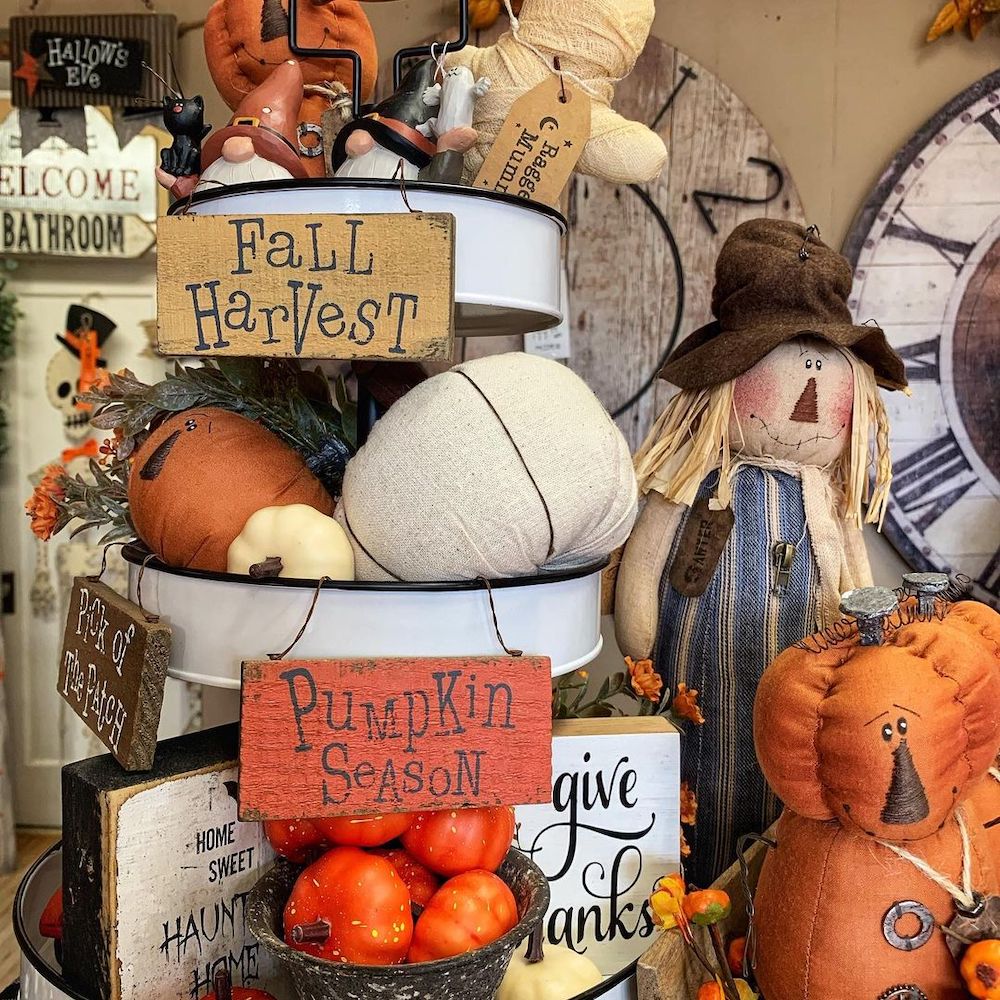 Using a three-tier enamel stand, load it up with pumpkins, gourds, and every kind of character that you can imagine. Overflowing with a ragged mummy, scarecrow, and pumpkin people while signage hangs over the edges. This time of year, make it whimsical.
Keep it Simple – Fall Vignette Styling Ideas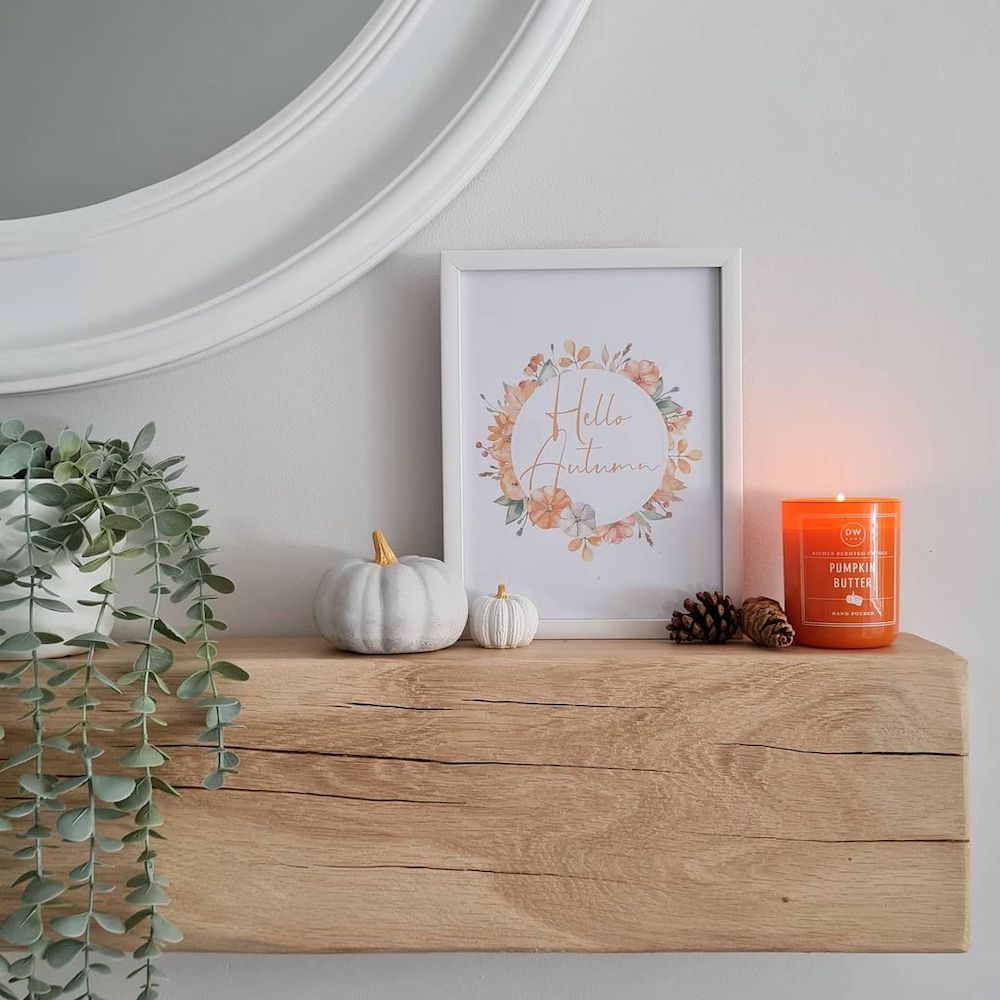 Display a greeting such as Hello Autumn. Then proceed with a couple of pumpkins, pinecones, and a fragrant candle. So quick and easy to style in minutes.

Be sure to check out our other post for additional Fall decor ideas.
In Conclusion – Fall Vignette Styling Ideas
This ends our list of 23 Fall vignette styling ideas for your home. Use any of these ideas to style a tabletop, bookshelves, or countertop. And of course, add these ideas to your living room, guest room, or family room. We hope that you discovered some new ways to style your home this Fall season. For additional inspiration, take a look at some of our other posts.
Enjoy our other fall season related posts for additional ideas.
Tips for styling a fall vignette
Fall wreaths to welcome guests
Fall wall decor to bring Autumn into your home
Autumn decor DIY ideas
Reach out to us with any questions. We are always ready to help you out.
Thank you for stopping by our blog.
Mary
Pin this for Later: