Autumn decor DIY ideas. Searching for some home decor ideas to welcome the Autumn season? Transform any home this season with beautiful Autumn accessories and colors. 
Autumn decor DIY ideas that can easily update your home. We love the relaxed, easy going modern Farmhouse style. A style of neutrals with subtle Autumn colors. The modern Farmhouse look brings that comfortable feel to your home. A place to kick off your shoes. Then unwind after a busy day with the kids. And from a hectic work day schedule. Simply cozy and comfortable decor for those chilly evenings. We'll show you some simple and easy ways to make that transition in a snap!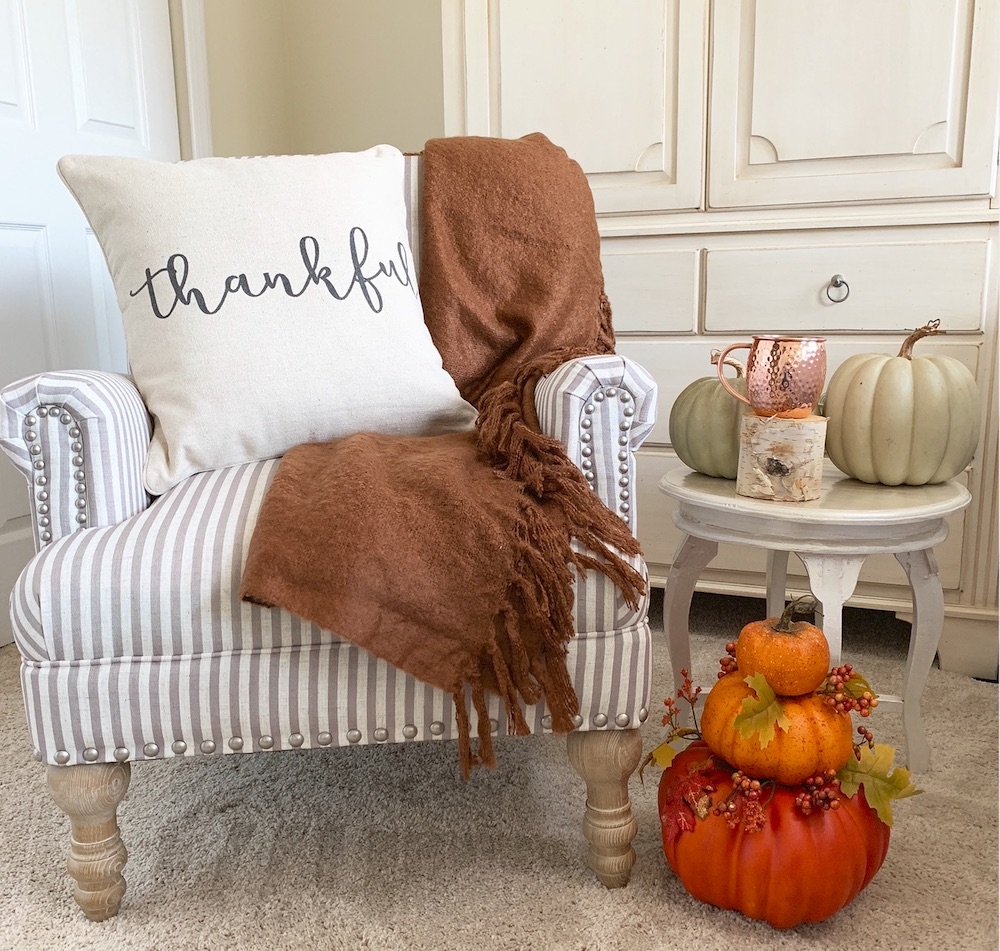 COZY ACCENT CHAIR – AUTUMN DECOR DIY  
Autumn decor DIY ideas for a quick transition leading to the Fall holidays. Get ready for the season with easy decor ideas. Simple and the kids can help as well. Take a look. And let us know what you think.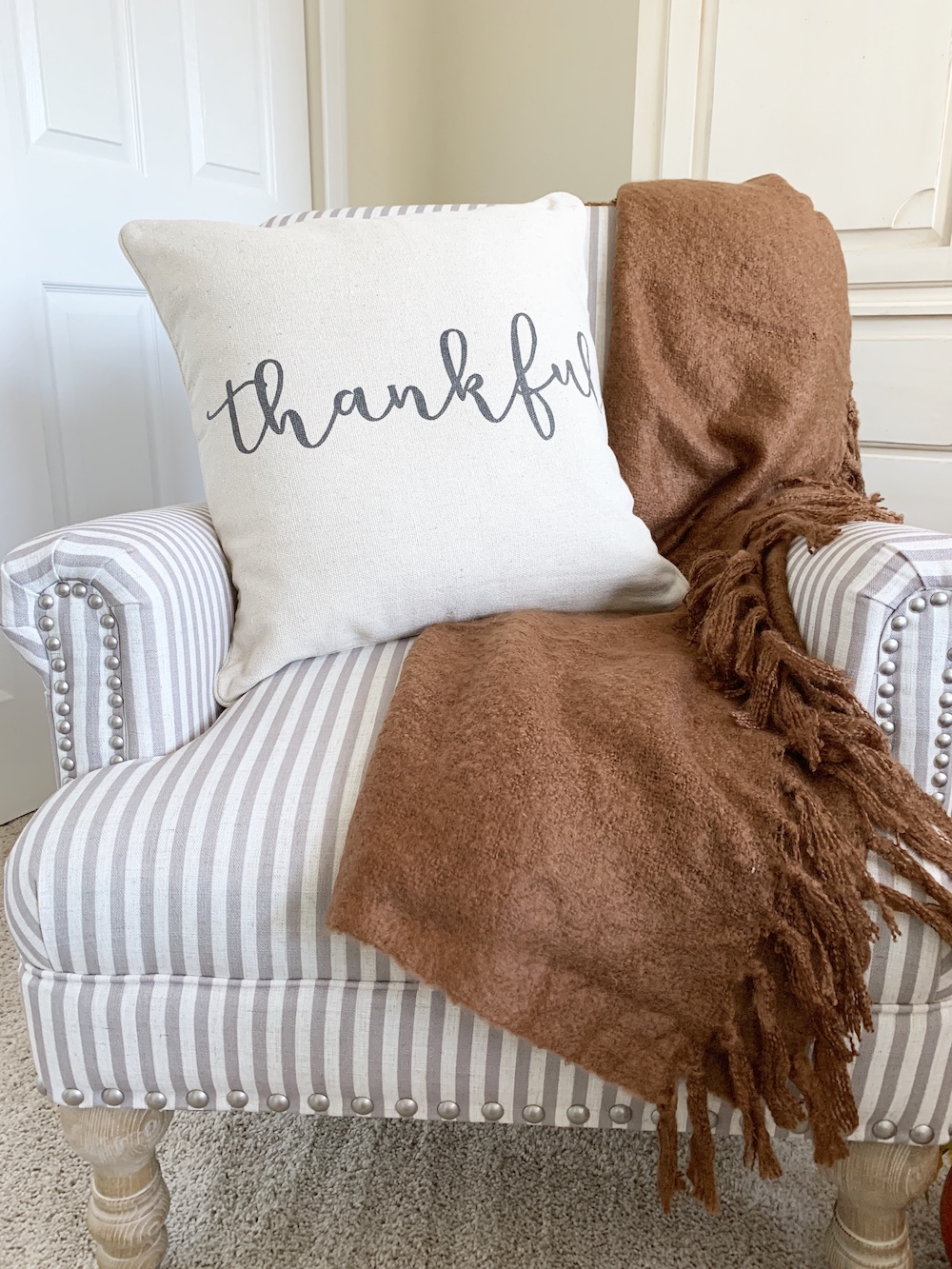 With this set up, you'll be ready for the Autumn season. A comfy cozy accent chair. Light beige with gray stripes. Silver nailhead trim along the edge and around the chair arms. Chair legs are a distressed white natural finish. Comfortable and the perfect size for a bedroom chair. Snuggle up and stay warm in this chair. Brown mohair throw with linen "thankful" pillow. 
Chilly nights are no longer bothersome in this great looking accent chair. 
ROUND SIDE WHITE TABLE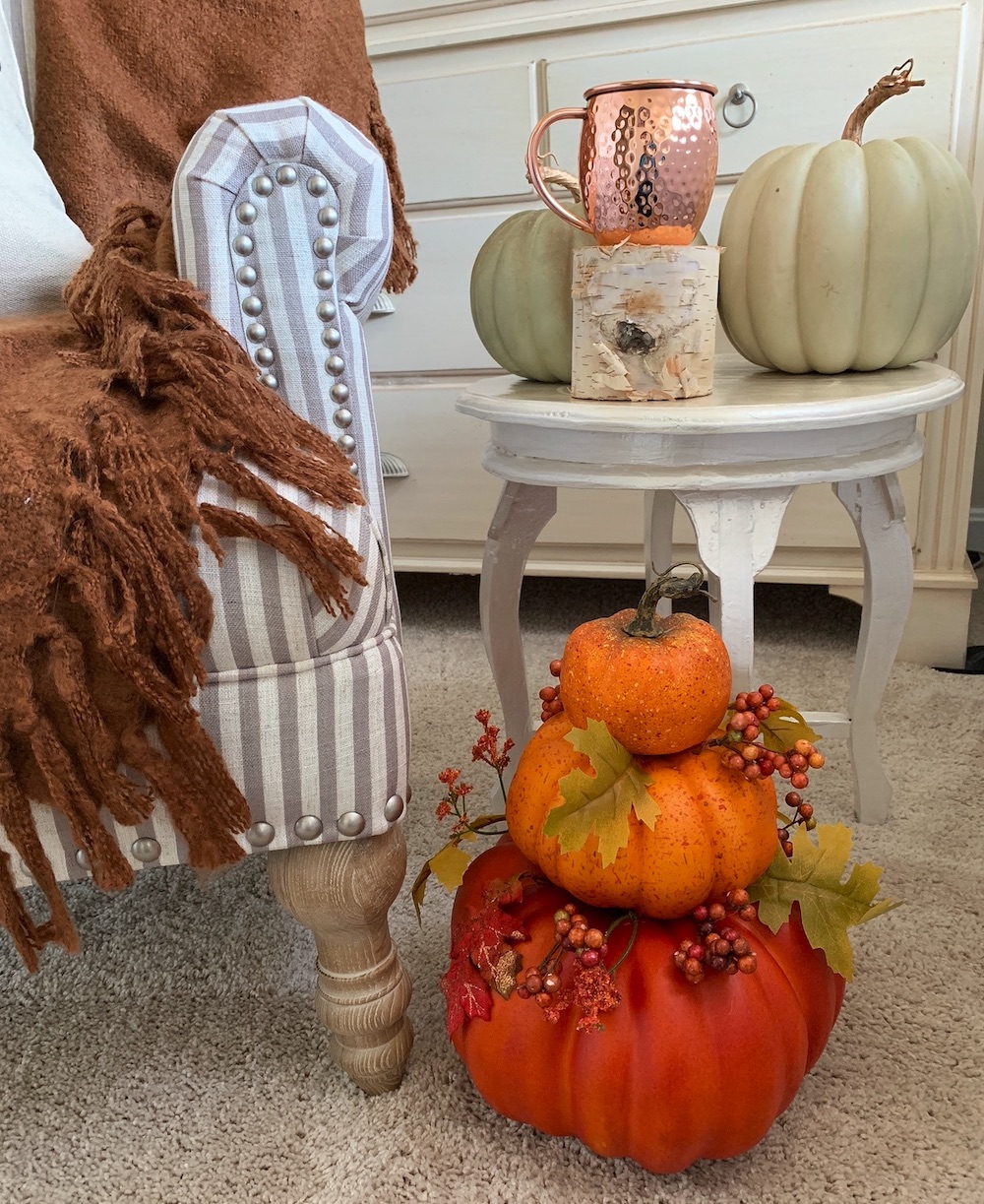 Side round white table perfect for setting a mug of hot cocoa. On the other hand, it will come in hand for holding a favorite book or personal computer. Two green pumpkins rest on top of the table. Birch log used as a coaster. But most importantly, a place for your favorite beverage. Such as a Mule copper mug to hold your favorite drink.     
A stacked trio of three bright orange pumpkins rest on the floor. Stacked faux pumpkins have orange berries and vines wrapped around. Great accent piece. 
Hammered Moscow Mule Mug full of the season's warm cocoa for us. Great cocoa to take the chill away. As a result of this cozy area, you'll never feel the cold chill at home again.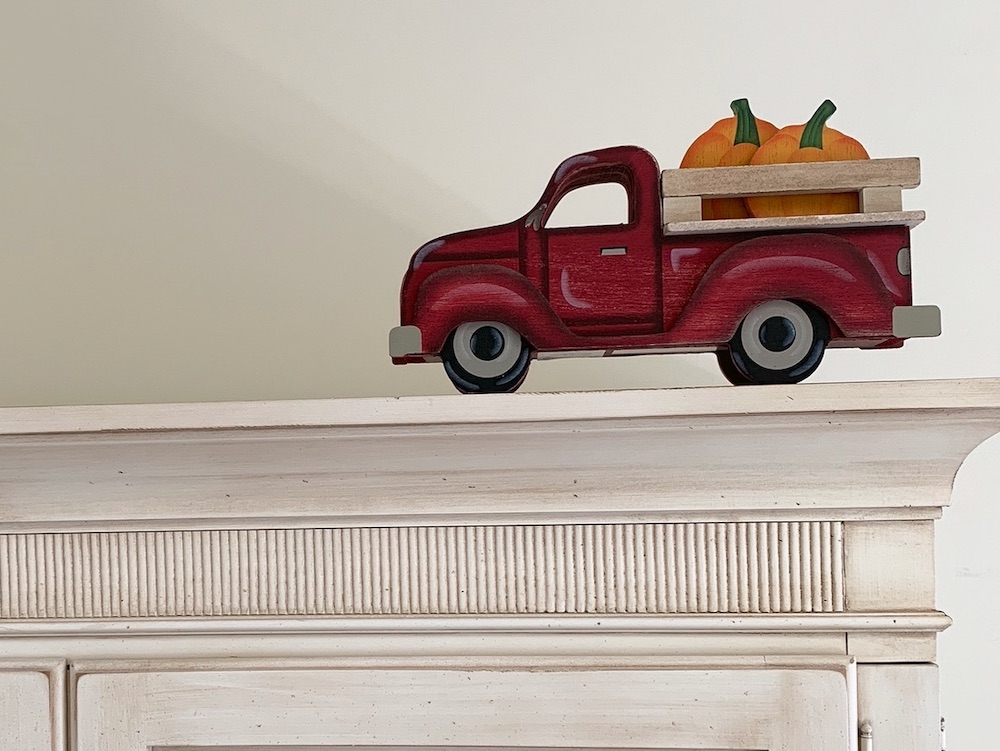 Way above the armoire top is a bright red vintage truck. The red vintage truck transports pumpkins. On its way to deliver pumpkins to market? Or perhaps returning from the farmers' market? Maybe making a home delivery with its lovely pumpkins? Gives your house guests something to ponder. So either way, a great little Autumn touch for our cozy sitting area.  
ANTIQUE SECRETARY – AUTUMN DECOR DIY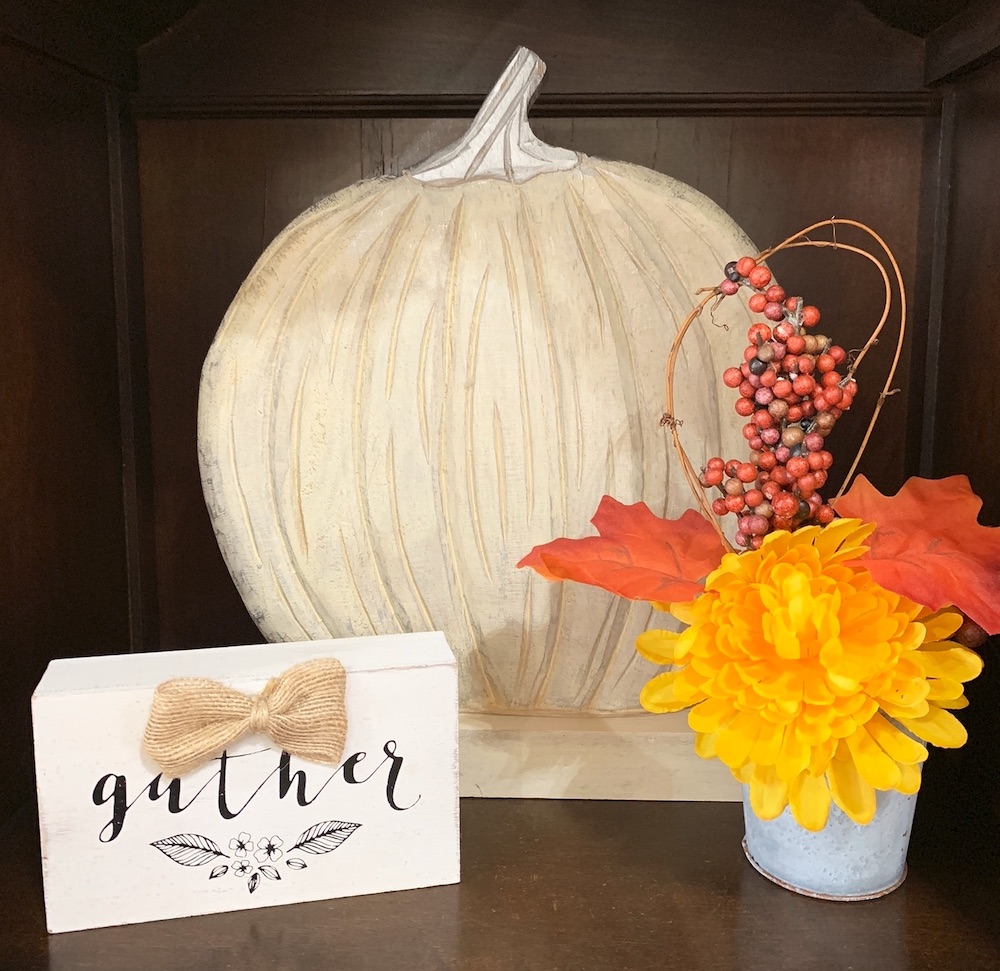 Tucked inside an antique secretary is a mini vignette. In the background, a creamy white wooden pumpkin. Against the darker wood, the white pumpkin lightens the area. Next to the wooden pumpkin is a small galvanized container. The container is filled with a bright yellow mum with orange maple leaves. Brown red berries attached to a vine brings the floral piece to life. 
Finally, a simple message displays the sentiment of the season. Gather signage with burlap bow. Simple Autumn vignette. In short, less is more.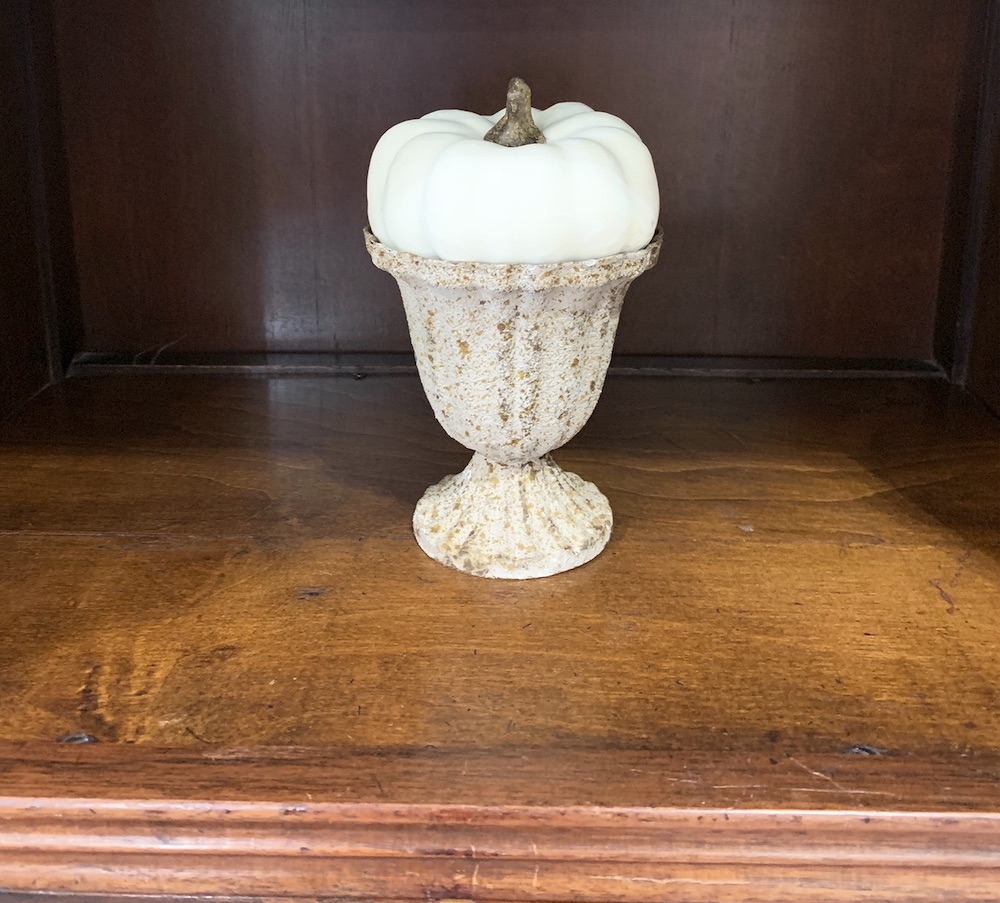 Rustic container filled with a miniature faux white pumpkin. Small touch with big impact. White stands out against the darker wood cabinet. We love the use of the antique secretary and the rustic container. In other words, they both aged gracefully.  
AUTUMN TABLE TOP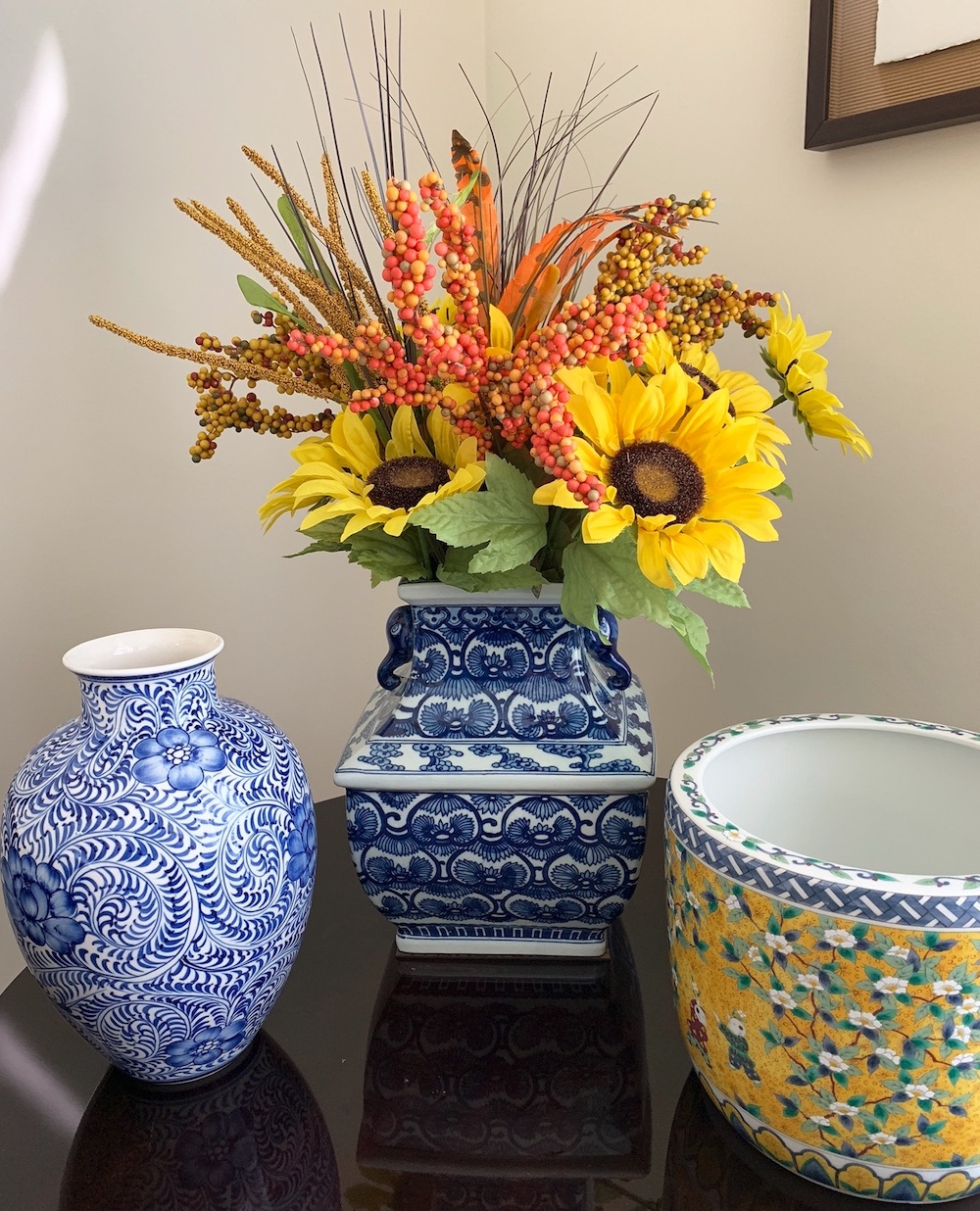 Trio of vases. Center vase has bright sunny yellow sunflowers. Accented by faux orange-yellow and yellow-brown berries. Feathers and cinnamon fern-like blooms add height to the Fall arrangement. Festive Fall decor. Perfect for the Autumn season that'll carry you into the Thanksgiving season. Personally, we love the look of the blue and white vases. Rather than store them away for the Autumn season, we prefer to incorporate them into our Autumn decor. Above all, we recommend using the decor that you have and love.     
Natural wood finished carved candle holders. White candles atop the candle holders. Faux pumpkin and three gourds rest at the base of the candle holders. Freshly fallen maple leaves lay around the gourds. All on top of a Buffalo plaid runner in pale gray and white. In other words, replicate your leaf covered yard with this display.  
Rustic Galvanized Tray – Autumn Decor DIY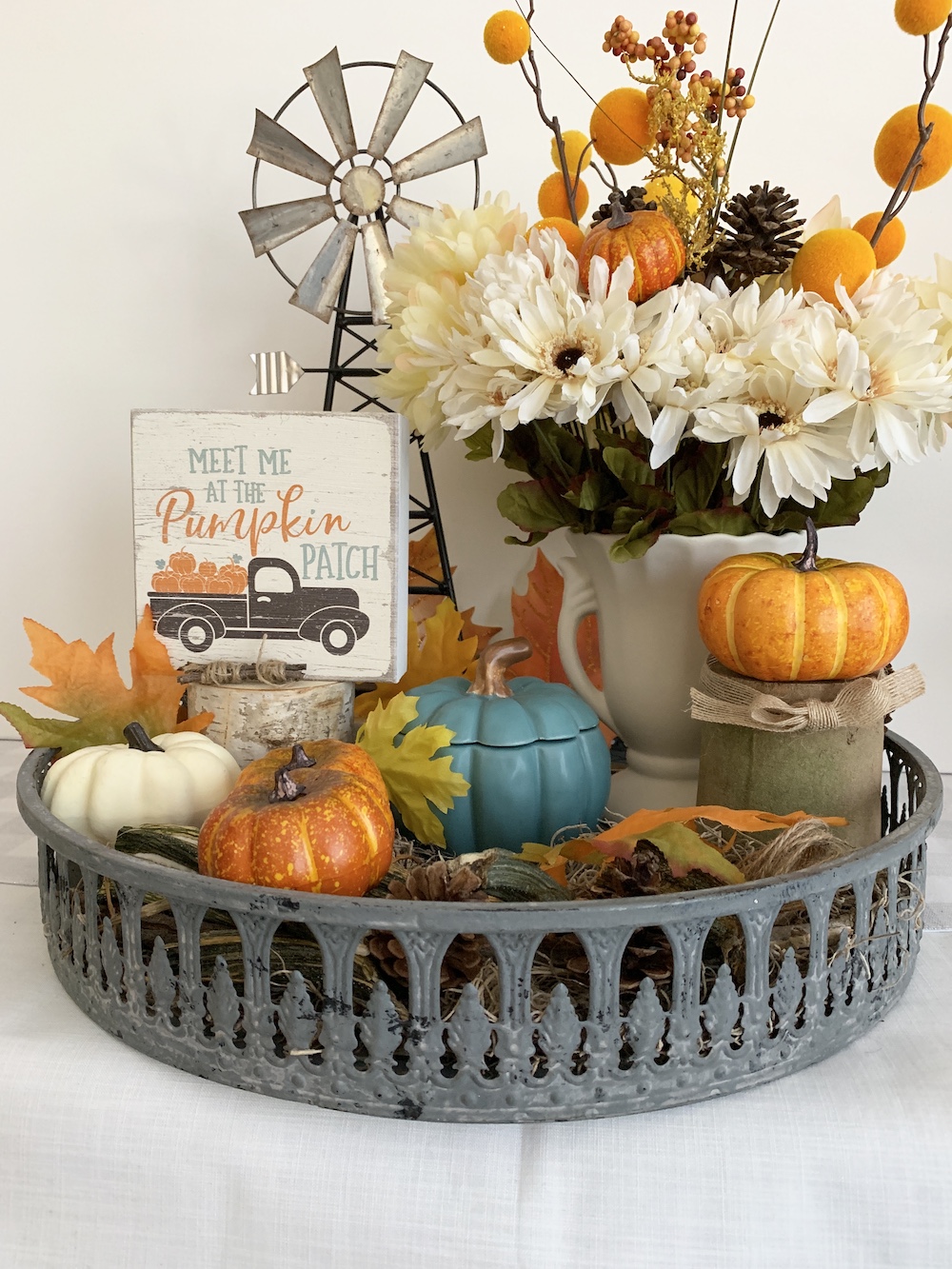 Metal rustic tray corrals the pumpkin display. First, a galvanize windmill rests in the left back area. Second, creamy white vase filled with white mums, faux pumpkins, and pine cones. Third, a Meet Me at the Pumpkin Patch sign with black vintage truck reminds one of the great Fall activities. And last, pine cones, pumpkins, and fallen maple leaves add the finishing touch to this Autumn tray display.
These are our Autumn Decor DIY ideas. Many are easy decor updates. And items such as the pics, faux pumpkins, and leaves can be picked up at the Dollar store. We are also a big fan of the reuse and repurpose items that we have on hand from previous projects. So, save money by reusing last year's Autumn decor when possible.     
Interested in Autumn decor? If you found this helpful . . .
You may also enjoy some of our other Autumn decor related posts. 
3 Easy DIY Thanksgiving Centerpiece Ideas 
Thanksgiving Centerpiece for the Thanksgiving Table
25 Affordable Thanksgiving Decorations for a Festive Home
26 Farmhouse Fall Wall Decor to Welcome Autumn
If you have any questions, feel free to reach out to us. We always are ready to help you out. Thank you for dropping by.
Mary