Bamboo Mirrors have a polished and stylish look. Strong and lightweight, these accent mirrors are ideal for all types of rooms. Available in different sizes and shapes. The beauty of mirrors is that they can transform a space. Mirrors brighten rooms with low lighting by reflecting natural light. Make rooms appear more spacious by their reflection. Use mirrors as part of a feature wall. Hang a mirror in an entryway for a quick appearance check as you leave home.
You may be wondering if designers still decorate with mirrors. Yes, they do! Mirrors are not only functional, but they are stylish. Mirrors have the ability to change how others see your home. We share bamboo mirrors and more in today's post.
History of Bamboo – Bamboo Mirrors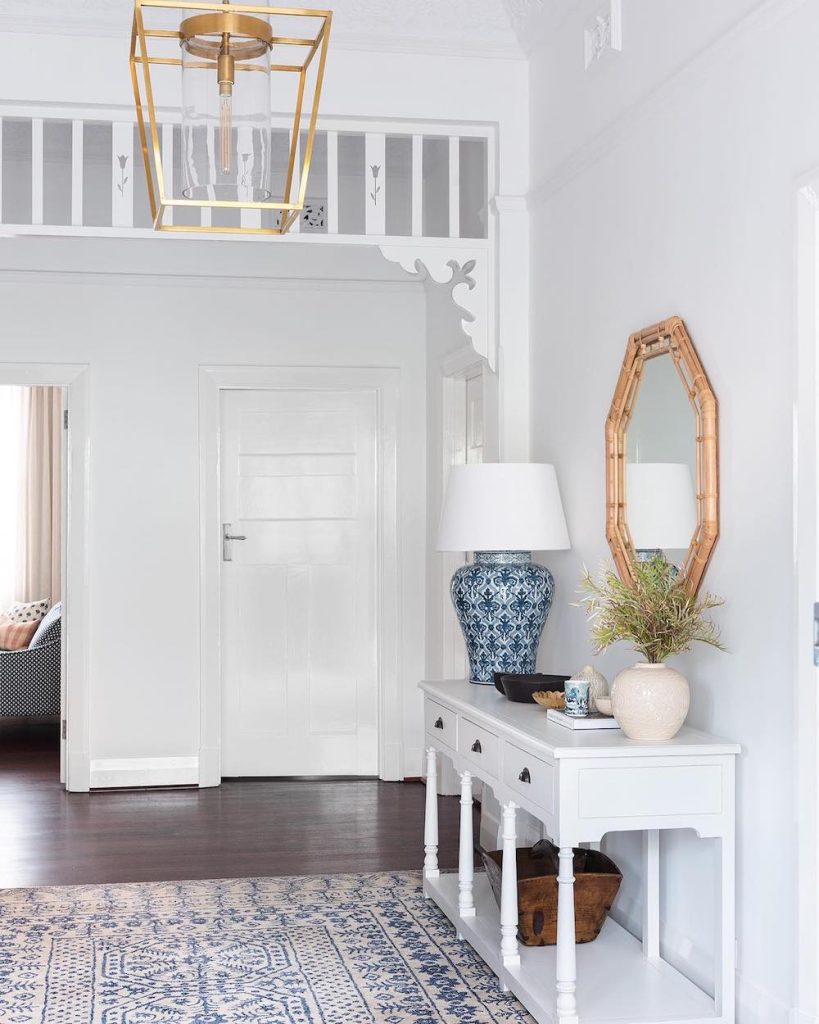 On trend, Bamboo mirrors are used in furnishing today's homes. An eco-friendly, sustainable material, bamboo is known for its low maintenance. Two huge reasons that it is as popular as ever.
Bamboo style furnishings originated from the Chinoiserie – a French term period. The time period was the 17th and 18th century. This was Europe's understanding of the Far East Asian culture. Fascinated by the Far East and China, they embraced Asian furnishings and decor styles. Faux bamboo mirrors were popular during this Asian creative expansion throughout Europe.
From the Chinoiserie period until today, the fondness and popularity of bamboo furnishings continue. There are periods throughout history, such as the 1930s and 1940s Hollywood Regency era, where bamboo was in vogue and high demand. The Chinoiserie style today has evolved. The same popular types can be found but with newer modern metal finishes. Thus, becoming all the more desirable with these modern finishes.
Trending Bamboo Furnishings Today – Bamboo Mirrors
Today, bamboo-made furniture has a strong following not only for the beauty of bamboo but for the environmental and sustainable qualities of the material. Bamboo and other sustainable materials, such as rattan, have increased demand due to their eco-friendly production.
Bamboo material is ideal for furniture production if, once it is harvested, it is properly sealed and treated. The lifespan of bamboo can be as long as 50 years. Known for its strength and flexibility, it can support much weight. Resistant to damage from a knife, especially on bamboo cutting boards.
A stable material, bamboo is typically laminated or compressed. As a result of this process, bamboo is less likely to warp or deform. Wood does not have this advantage.

Bamboo-styled furniture is called wicker. Wicker is the process of weaving, wrapping, or attaching a material to a frame. These materials include bamboo, rattan, cane, reed, seagrass, and other organic materials. The wicker method of weaving sustainable organic material over a frame for indoor use typically involves sustainable materials.

Both rattan and cane are from the rattan plant. Grows in the forest floors of Southeast Asia, the rattan plant is a natural vine. Rattan material is from the center of the rattan plant. Cane, conversely, is the thinner outer strip of the rattan plant. Bamboo is native to tropical and sub-tropical climates in Asia and South America. You can also find bamboo in Australia, Africa, and the southern US. Bamboo has a hollow center. The cane material is solid. Split into thin strips for applications, Bambloo is lighter and more flexible than cane. The thin bamboo strips are perfect for weaving. Cane is more suitable for projects requiring a solid piece of cane.
Bamboo Care Instructions – Bamboo Mirror
Keep these cleaning instructions in a handy place. Regular dusting and cleaning always help keep your furnishings looking their best. Wash bamboo furniture once or twice a year.
Dust bamboo with a soft dry cloth or a vacuum cleaner.
Mix a few drops of organic soap with ¾ a gallon of water.
Wash your bamboo furniture pieces with a clean soft dry cloth.
As you wash your bamboo pieces, take note of any damages the bamboo has sustained.
Following these cleaning instructions can help maintain your bamboo furniture for many years.
Disadvantages of Bamboo Materials
Bamboo must be manufactured before it is considered solid. Exported from many countries, bamboo imports have no international standards concerning quality. During the manufacturing process, toxic chemicals can seep from the bamboo. Always purchase bamboo from a reputable company. This will ensure proper manufacturing and sealing procedures where followed.
Bamboo Compatible Decor Styles
You may wonder what decor styles can blend with bamboo. Many types blend beautifully with bamboo or Chinoiserie style. Use traditional furniture with bamboo for an authentic look. Modern Coastal looks equally fantastic with bamboo furnishings—pair bamboo with a Boho-styled home. Stay trendy with bamboo and mid-century modern decor styles. Bamboo looks equally fabulous among many decor styles. What changes are the finishes of the bamboo? Hang mirrors in neutral or natural finishes in a coastal or boho decor style. Select a metallic or high gloss finished mirror when outfitting a traditional home decor style.
Bamboo Versus Other Materials – Bamboo Mirrors
There are many reasons to choose bamboo over other materials when purchasing. Bamboo is a durable and lightweight material. A renewable, sustainable material that is easy to clean and maintain. Ideal for furniture construction. Bamboo has a rapid growth pattern, so it replenishes itself. Bamboo stems reach maturity between 2 to 5 years, unlike wood materials, which take 10 to 20 years.
Used for centuries, bamboo is an attractive alternative for furnishings constructed from wood. Bamboo fibers are more robust than wood fibers and hold up in several climate conditions. Blends easily with other decor styles, from traditional to bohemian-styled homes. Versatile and beautiful for your home.
Consider the cost of bamboo versus rattan. Rattan and cane are both derived from the rattan plant. However, rattan and cane cost 3 times the amount of bamboo. Bamboo is easily the most cost-effective of the three materials.
Our Picks of Bamboo Mirrors – Bamboo Mirrors
Now we begin our picks of mirrors for your home. Look at our selection of the best bamboo mirrors. Perfect for your office or home.
Be sure to share with us which mirrors are your favorites. Let us know what you think.
Take a look at our other posts for home decor inspiration. Drop us a line below in the comment section. Let us know all about your favorite home decor projects for your house.
Enjoy our other home decor-related posts for additional ideas.
Decorate your home with these great ideas. Check out our other posts for the interior and exterior of your home. Try these posts for additional decorating ideas this season.
Coastal Mirrors
Full Lenth Mirrors
Neutral Mirrors
Rattan Mirrors
Acrylic Console Tables
Blue curved sofas
Stone End Tables
Reach out to us with any questions. We love hearing from our readers. Thank you for dropping by and taking a look at our blog.
Mary
Pin this for Later: