White wicker sofa ideas create a calming and serene atmosphere. Style wicker sofas with a white finish in a single-use or group setting. Always attractive in many home decor styles. Furnish your outdoor setting or indoor space with the iconic wicker sofa. Whether you prefer a traditional style or a contemporary style sofa, a sofa is the perfect place to entertain guests. Remember wicker is easy to style with and maintain. Rattan wicker furnishings blend in with more formal furniture as well. Don't feel as if you need to furnish an entire room only with rattan furniture. Mix it up with more formal furniture pieces. In today's post, we are sharing white wicker sofas for indoor and outdoor spaces.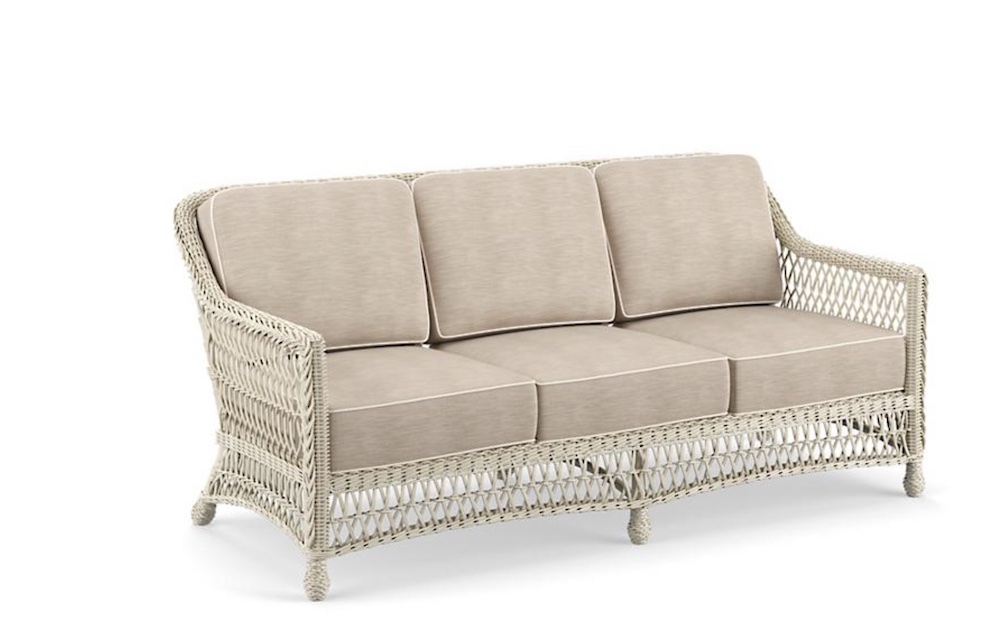 Rattan versus Wicker
Some people confuse rattan with wicker. Rattan is a material used to make furniture. On the other hand, wicker is the process of wrapping material such as rattan on a furniture frame. Rattan the material grows in tropical lands of Australia, Asia, and Africa. Local farmers harvest the rattan and then prepare it for furniture making and home accessories manufacturing.
Expand Your Outdoor Space – White Wicker Sofa Ideas
Extend your outdoor living space with a wicker sofa for your home. Wicker sofas are perfect in sunrooms, patios, terraces, porches, entryways, or living rooms. Available in a variety of sizes and styles.
Go White This Year – White Wicker Sofa Ideas
We now begin our list of ideas for your white wicker sofa. Use these pro tips to make your selection of a white wicker sofa the right one. Take a look.
Style it in a Streaming Natural Light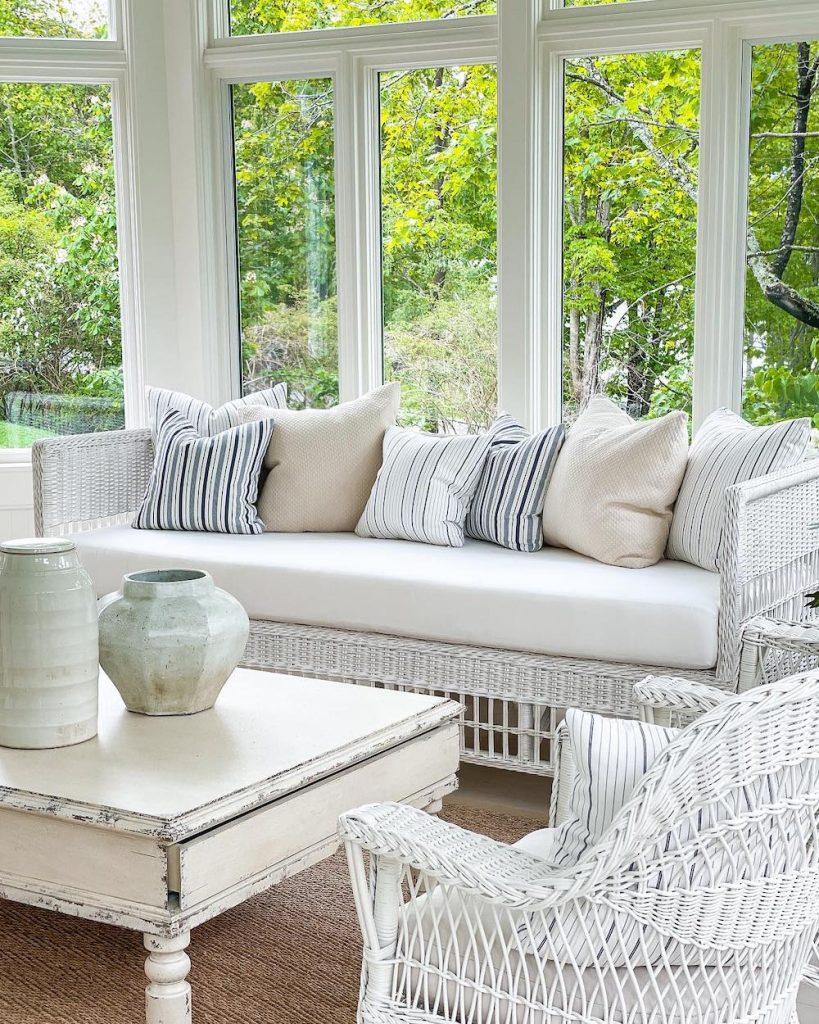 Place your sofa in a sunroom full of bright, natural light streaming indoors. A great spot to curl up and read your favorite beach reads.
Give it an Oceanfront View – White Wicker Sofa Ideas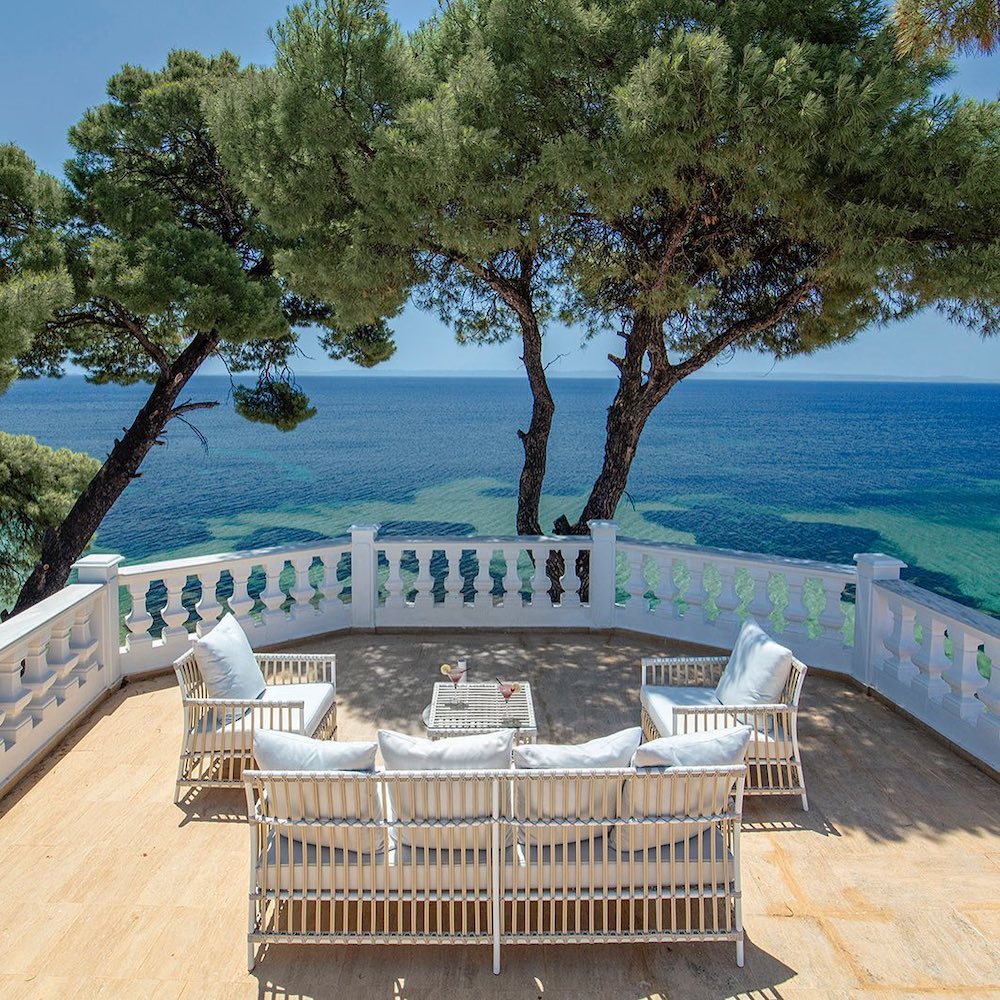 Set it down on a patio with an oceanfront view. Soak up the sun for a little Vitamin D while you eat your brunch.
Take a Break – White Wicker Sofa Ideas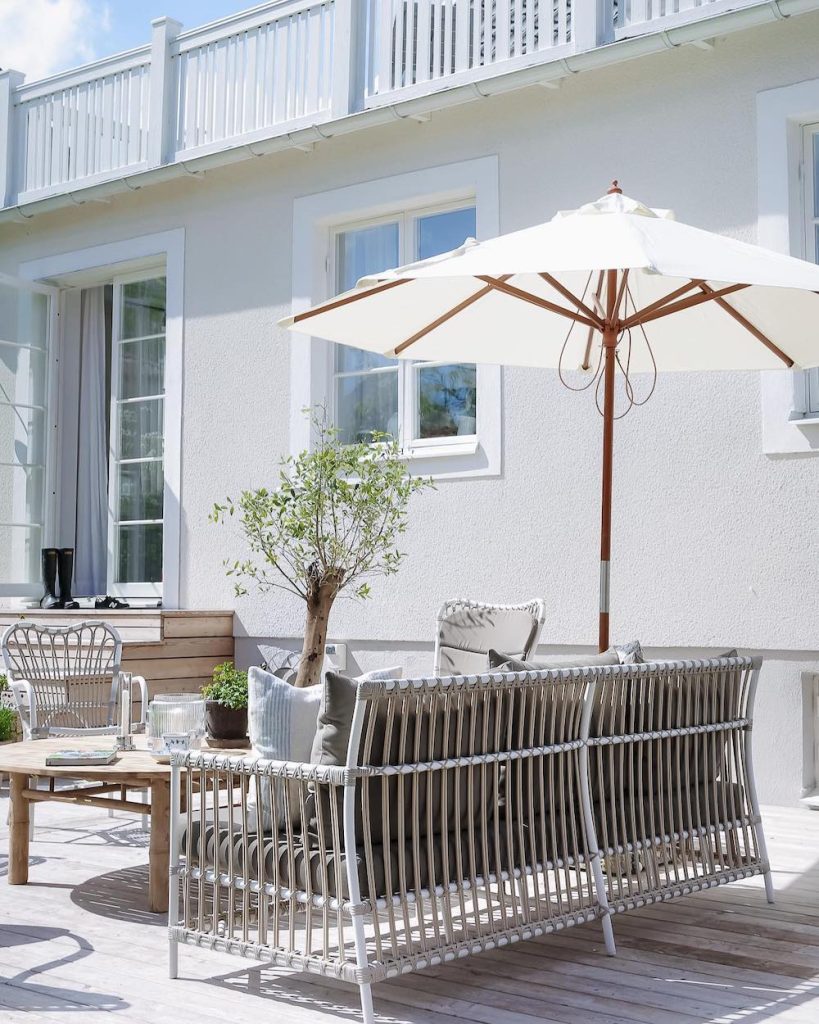 Make it a break room. Sit down and relax after a morning of gardening. Drink an ice-cold glass of water while you recline on the sofa.
Tuck it into a Secret Garden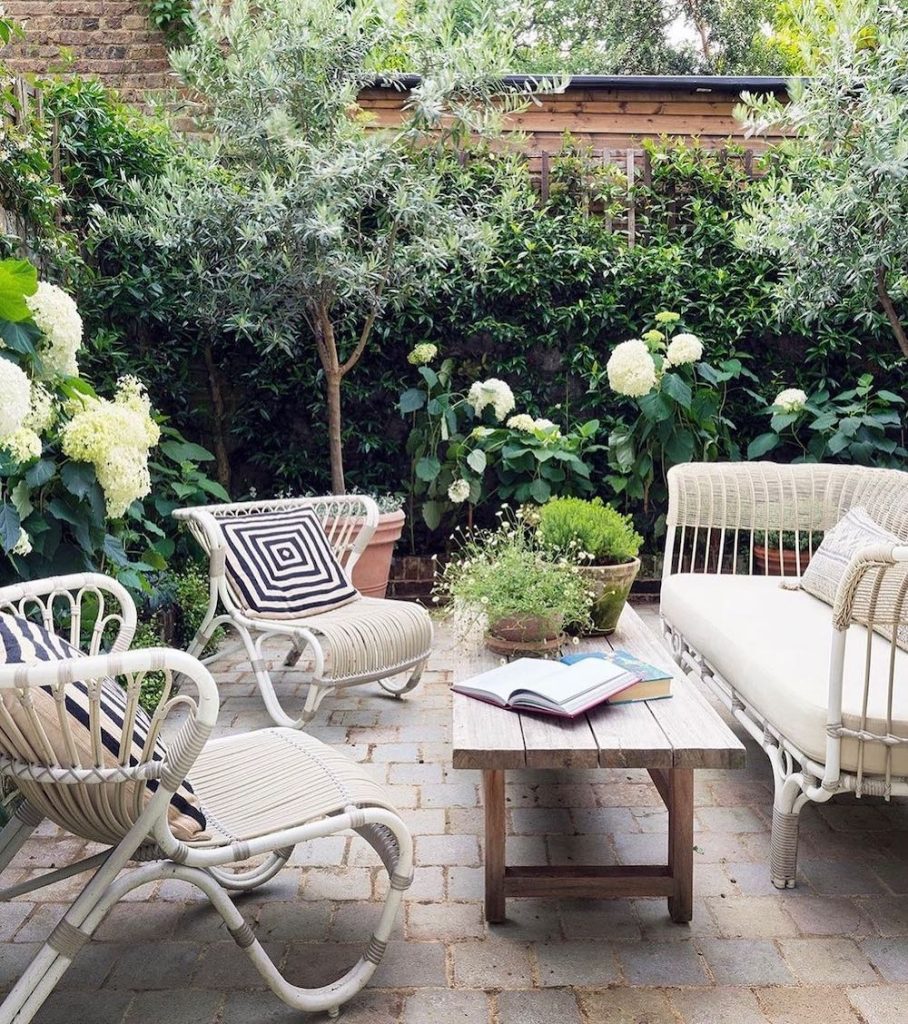 Spoil yourself and create a secret garden to rest and relax in. A tranquil and private setting surrounded by fragrant and sweet-smelling hydrangeas and olive trees.
Keep it Close By – White Wicker Sofa Ideas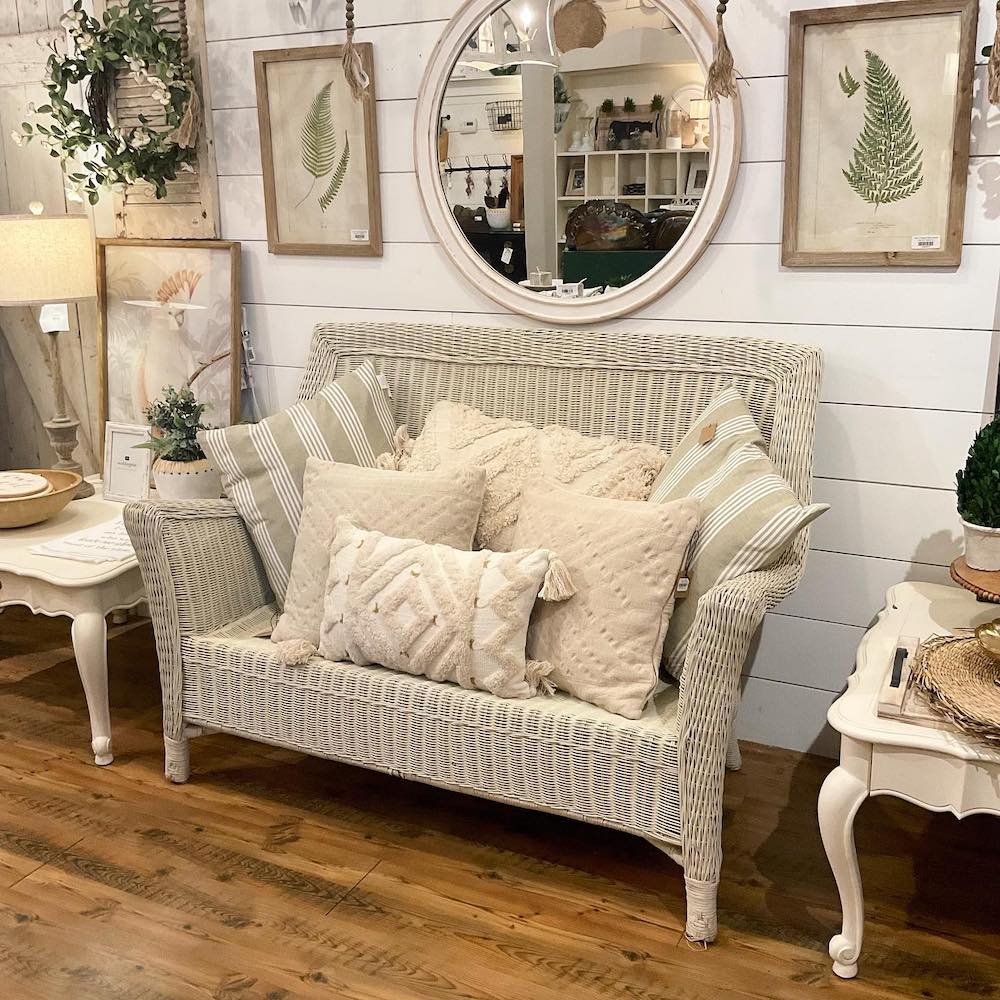 Pile on the pillows for a comfy setting. Style your sofa close by for those days when you need a quick break. Surround your sofa with things that mean the most to you.
Create a Tropical Oasis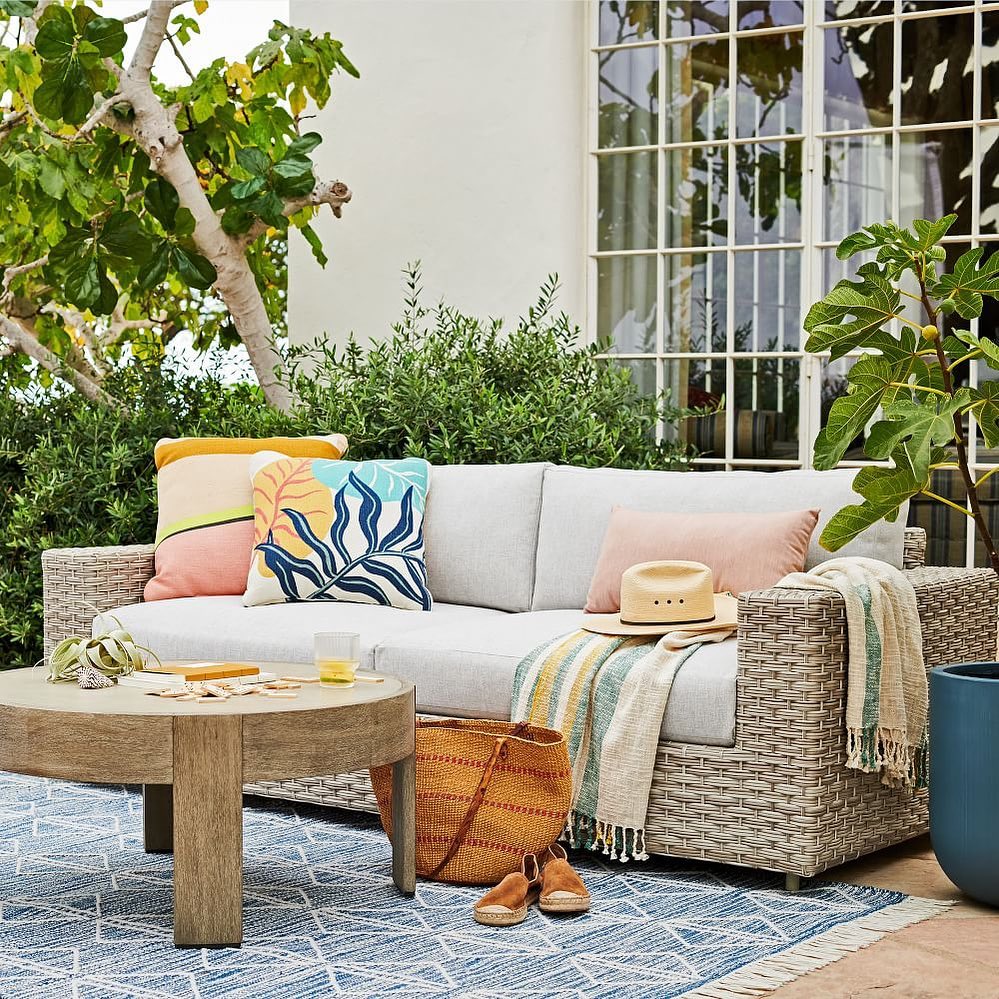 Design a tropical oasis on your backyard patio. Grow a fig tree and surround your patio with lush tropical plants. Then after work or school, sip on a cool refreshment.
Play Lawn Games – White Wicker Sofa Ideas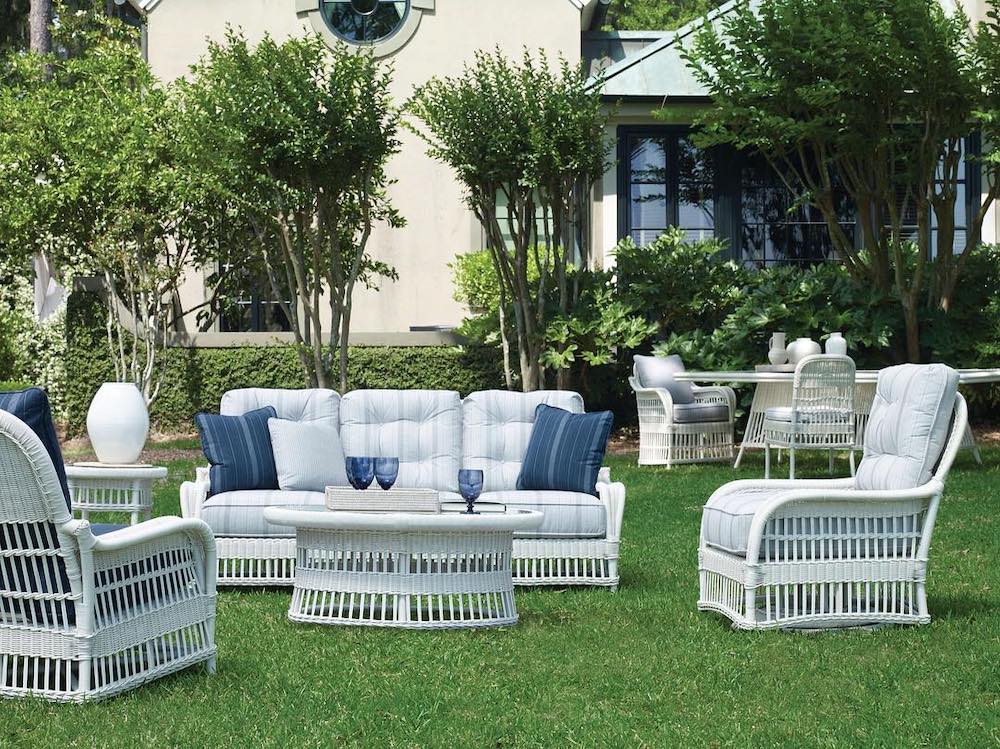 Set up a spectator area to view summertime lawn games. Host your family and friends for weekend gatherings over the hot summer days.
Go for a Nautical Style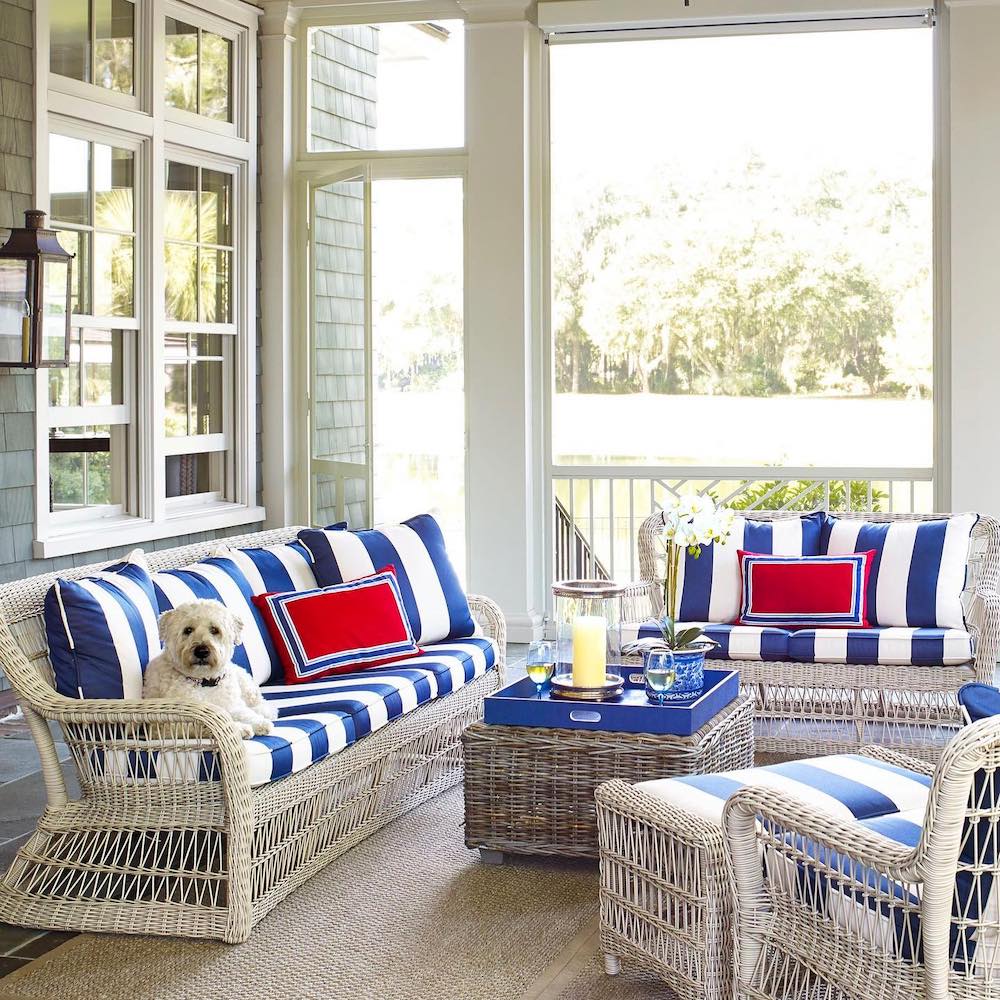 Style it in red, white, and blue for a patriotic and nautical celebration. In fact, it looks like one guest arrived early. And he's ready for the festivities to begin.
Design a Deck Space for Entertaining – White Wicker Sofa Ideas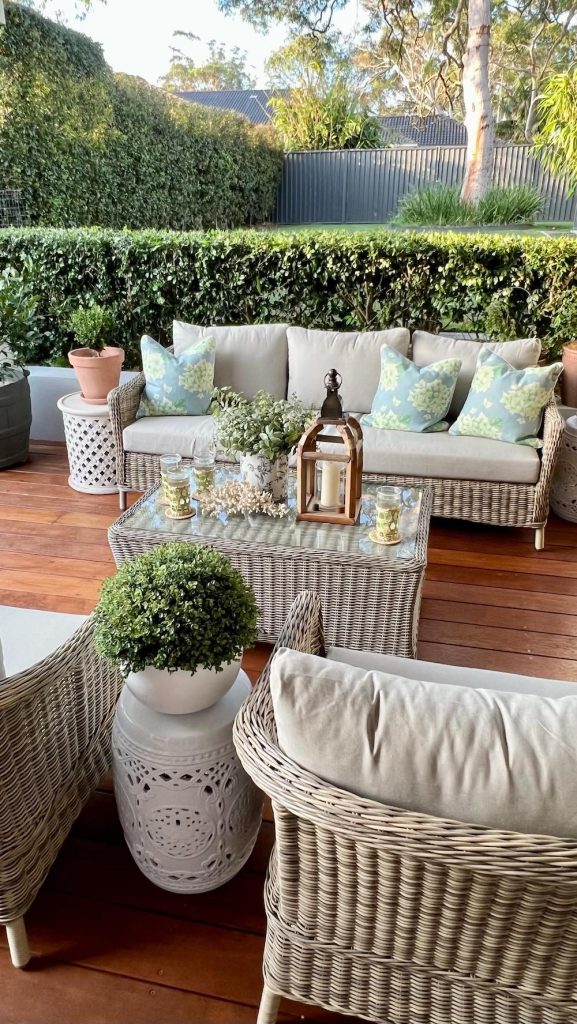 Add some green and blue decor to the deck furnishings. Ready to entertain guests.
Create a Cozy Lounge Area for Visitors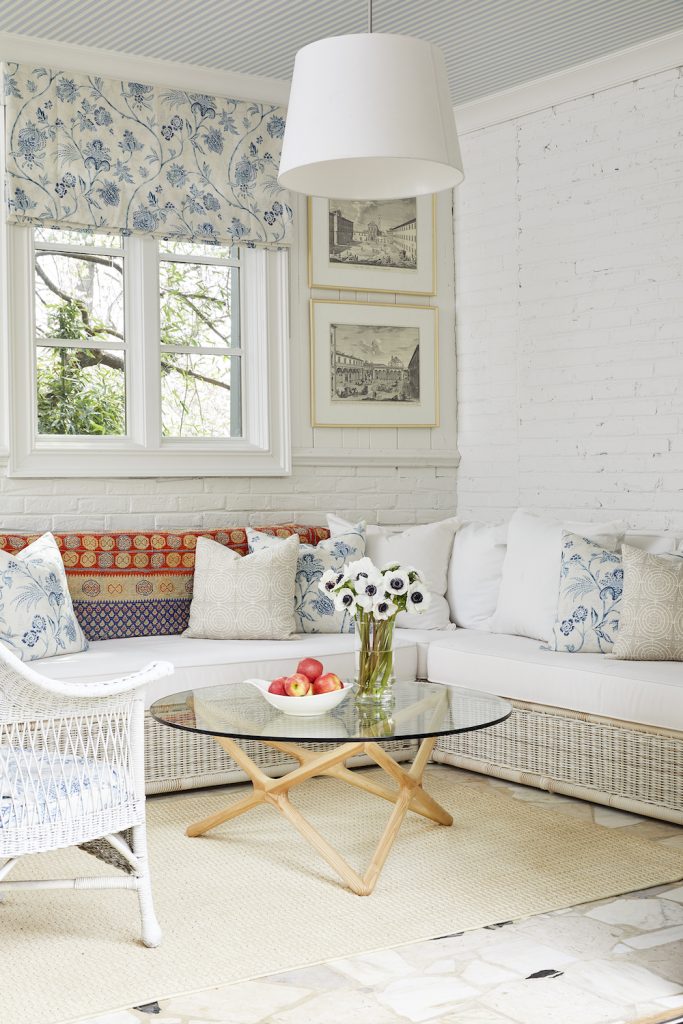 Make a cozy retreat with neutral colors and subtle colors.
Make it a Trio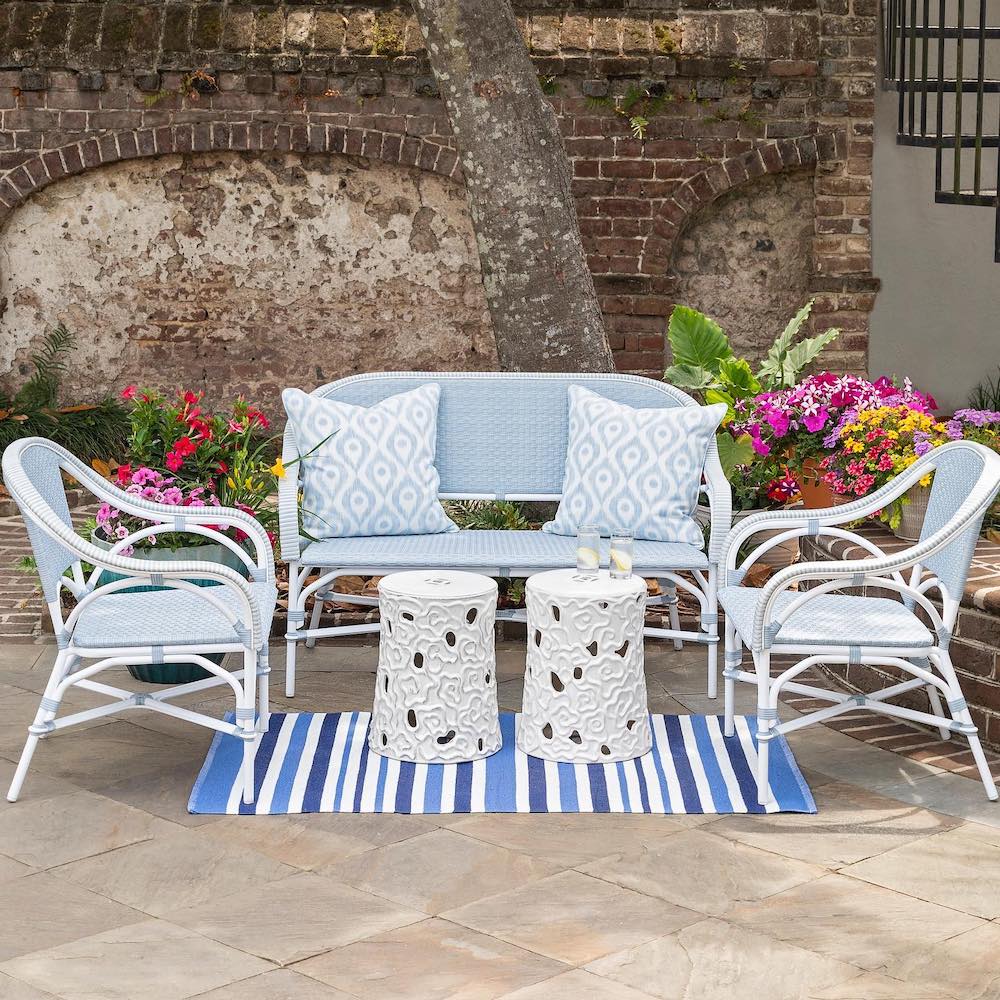 Create a garden sitting area with a sofa and two side chairs. Add two garden stools for serving refreshments and you are all set for the afternoon. Your house guests will love it!
Take a Side Room and Mix it Up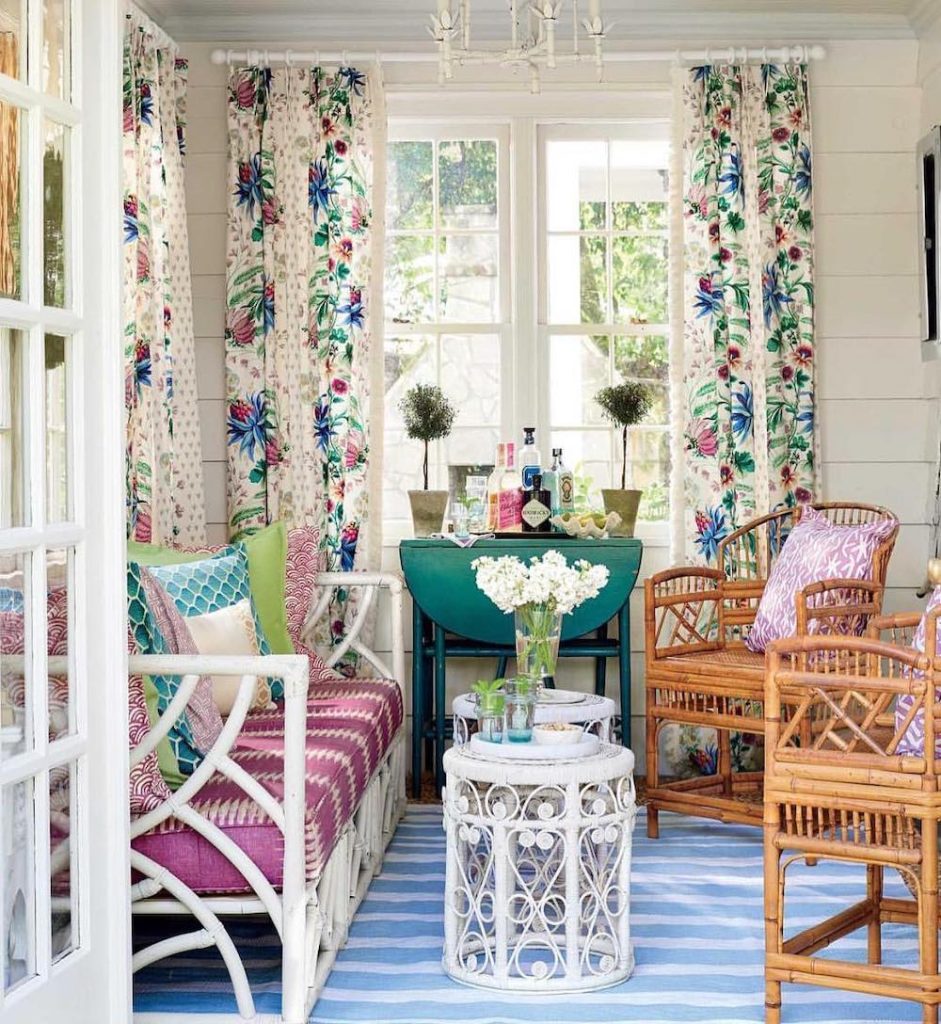 Set up a side room and blend different finishes and colors. Start with a white wicker sofa then add two side wicker chairs in a honey finish. By the window, add a green leaf drop table to store your bar cart essentials on. Add lime, rose, and blue accessories for a colorful entertaining room.
This ends our list of white wicker sofa ideas for your home. Extend your living areas to your outdoor areas by using wicker furniture. Hang out on your terrace or patio and enjoy morning and evening family meals there. Create a calming and serene outdoor living space with a wicker sofa.
If you'd like to decorate with a wicker sofa in white take a look at these beauties below. Take a look at these beautiful sofas in white wicker for your home or office.
Select any of these sofas to decorate your home with. Each piece makes for a wonderful serene space at home. Be sure to share with us which ones are your favorite. We love to know what you think.
Be sure to take a look at our other posts for patio and garden inspiration. Drop us a line below in the comment section. Let us know all about your favorite home decor projects for your house.
Enjoy our other home decor-related posts for additional ideas.
Decorate your home with these great ideas for your home indoors and outdoors this season. Try these posts for additional decorating ideas this Summer season.
Deck Boxes
Polywood Benches
Adirondack Chairs
Acapulco Chairs
Outdoor Patio Umbrellas
Outdoor Chaise Lounge
Wood-Burning Fire Pits
Reach out to us with any questions. We are always ready to help you out. Thank you for dropping by and taking a look at our blog.
Mary
Pin this for Later: