In search of some inspirational coastal bookshelf decor ideas? Take a look at our list of decor ideas for the coastal-themed home. We've compiled a list of ideas to decorate shelves in cabinets, floating, or built-in shelves. These ideas will help you decorate bookshelves for coastal theme decor.
There are many ways to add coastal coolness to your home. As you'll see, these ideas add a crisp ocean seaside vibe to your home. Take a look. And be sure to let us know what you think.
1. Free Standing Cabinet
A friendly greeting of hello rests on the top shelf. Mixed in with the white cups and plates are light blue Mason jars, bowls, and beads. Just a Girl and her Blog top the cabinet with a brown tobacco basket.
2. Asian Coastal Inspired – Coastal Bookshelf Decor Ideas
Start with an Asian-inspired bookcase painted in brown. Followed by white decorative objects such as a vase and hobnail jar. This is exactly what Kathy of Up to Date Interiors includes on her bookcase. Shells are scattered throughout the bookcase. A sand-colored clam shell rests on the top shelf. Coral pieces on the second shelf act as a bookend. And an off-white sea urchin sits on a candlestick on the third shelf. The final touch is the straw hat hung on the corner.
3. Warm Colored Textures
Display warm-colored textures like this bookcase. Warm colors such as those of driftwood, seagrass basket, rattan lantern, brown box, and wood sculptures. City Farmhouse adds a few green plants. All for well-balanced shelf decor.
4. Green Decor and Plants
Start with the white bookshelves. Followed by seagrass baskets and warm wooden bowls. Nina Hendrick then added green plants with a couple of white-colored objects. A clean well-organized space.
5. Open Shelf Stand
Add lots of white dishes on this open shelf stand. Pure Salt Interiors added white and blueish glass bottles in various sizes. On the third shelf, two seagrass baskets provide out-of-site storage.
6. Grasscloth Wallpaper – Coastal Bookshelf Decor Ideas
Use a built-in shelf with a back wall covered in grasscloth wallpaper in beige, cream, and brown. Pure Salt Interiors adds a couple of seashells and green plants. Casual, clean-looking decor.
7. Packing Paper Wrapped Books
Add warm browns with white and clear glass objects. The white framed seashell botanical colors print is flanked by warm brown tones. Packing paper-wrapped books and a woven rattan glass jug instantly warms up the setting. On the second shelf, a white plate and coral stand out. Styled by Starfish Cottage.
8. Ginger Jars
Blue and white ginger jars and vases rest on the top of the bookcase. The top shelf displays a black-framed blue fan coral. Designed by Starfish Cottage.
9. Sandpiper Artwork
In the bookcase, we love all the various blues. On the left rests a beautiful blue ginger jar, pale blue books, and blue plates. Next to the ginger jar is a picture of a Sandpiper. Display by Southern Curls and Pearls.
10. Marble Subway Tile Back Wall
Use built-in bookshelves with marble subway tile as a background. Subway tile gives depth to this space. Baskets and wooden boards add contrast. Green-colored glass bottles add nice warm earthy tones. Styled by Andrea of Life on Cedar Lane.
11. Tongue and Groove Back Wall – Coastal Bookshelf Decor Ideas
Add a couple of warm tan tones to these built-in bookshelves. Display either clear glass or white objects against the gorgeous tongue and groove wallboards. Perfectly designed by Ally of Maloney Interiors.
12. Rope Wrapped Glass Fishing Floats
Display beautiful rope-wrapped glass fishing floats on bookshelves. Dedicate a single shelf to a cluster of white coral. Add warm-colored storage baskets and plants for a little greenery. Lovely nautical style by Kim from Sand and Sisal.
13. Display Family Photos At the Beach
Personalize your shelf space with family photos or mementos as Coastal Cass has. Add lighting such as the five votive candlewood trays on the second shelf. Followed by greenish glass bottles, a pretty putty-colored vase, a rattan basket, and some plant greenery. The driftwood and white coral add the finishing touches. Well done!
14. Fossilized Shark Jaw – Coastal Bookshelf Decor Ideas
Arrange a fossilized shark jaw and rope wrapped glass fishing float on the top shelf for all to admire. Display a collection of blueish glass bottles, jars, and a single sphere. White rattan lantern fits in beautifully with this creative workspace. Styled by Emily from the Wicker House.
15. Seascape Artwork
Exhibit your white dishes and clear glass pitcher, bottles, and jar. Fill in between the dishes and glass items with wood and rattan objects. Add small-framed seascape pictures along with a few small leaf plants. And then you've created A Burst of Beautiful as styled by Alicia.
16. Whale Sculpture – Coastal Bookshelf Decor Ideas
Start with a painting of wildlife or ocean life. Build from that painting to include other ocean life such as a beautiful deep turquoise-colored whale. Drop a seashell or starfish on shelves to expand on the coastal theme. Add a grouping of white pillar candles or a group of navy books. All beautifully designed ocean life themed bookshelves by Norma from Paint Me Pink. Light blue cabinets with white interior topped off with a rattan double-handled tray basket. The finishing piece is the blue fish-shaped glass fishing float hung on the cabinet door. We love the bird and ocean life theme!
17. Cream Colored Storage Bins
Using an open storage bookcase, Sarah at Life on Virginia Street added neutral-colored storage bins. Both curtains and throw are white with blue strips opposite a navy-painted wall. A vase full of hydrangeas offers the finishing touch to this nautical-inspired comfortable office space.
18. Ship Captain – Coastal Bookshelf Decor Ideas
Install tongue and groove boards beneath the built-in bookshelves. The bookcases have a warm wood countertop. Add clear glass jugs and cloche with rope. Follow up with a Ship Captain's photo in the center of the bookshelves. Then finish the coastal look with a few green plants.
19. Starfish Decor
Display distressed white picture frames on shelves in the built-in bookshelves. This decor idea is from Christy of the Confessions of a Serial DIY blog. Included in these bookcases are starfish, light blue glass objects, and white wicker baskets.
20. Model Sailboat
Exhibit various shells and starfish on your bookshelves. This beautifully styled coastal decor bookcase is from Christy of Confessions of a Serial DIY. A DIY bookcase painted in a distressed finish of chalk paint using Behr's Serene Breeze. We love this DIY bookcase!
21. Framed Ocean Message – Coastal Bookshelf Decor Ideas
Decorate with white, off-whites, and distressed white objects. Add some seagrass baskets for extra storage. This decor idea is from Laura of The Turquoise Home. Our favorite is of course the wood-framed note "I want to eat cake by the Ocean"!
22. Give Some Blue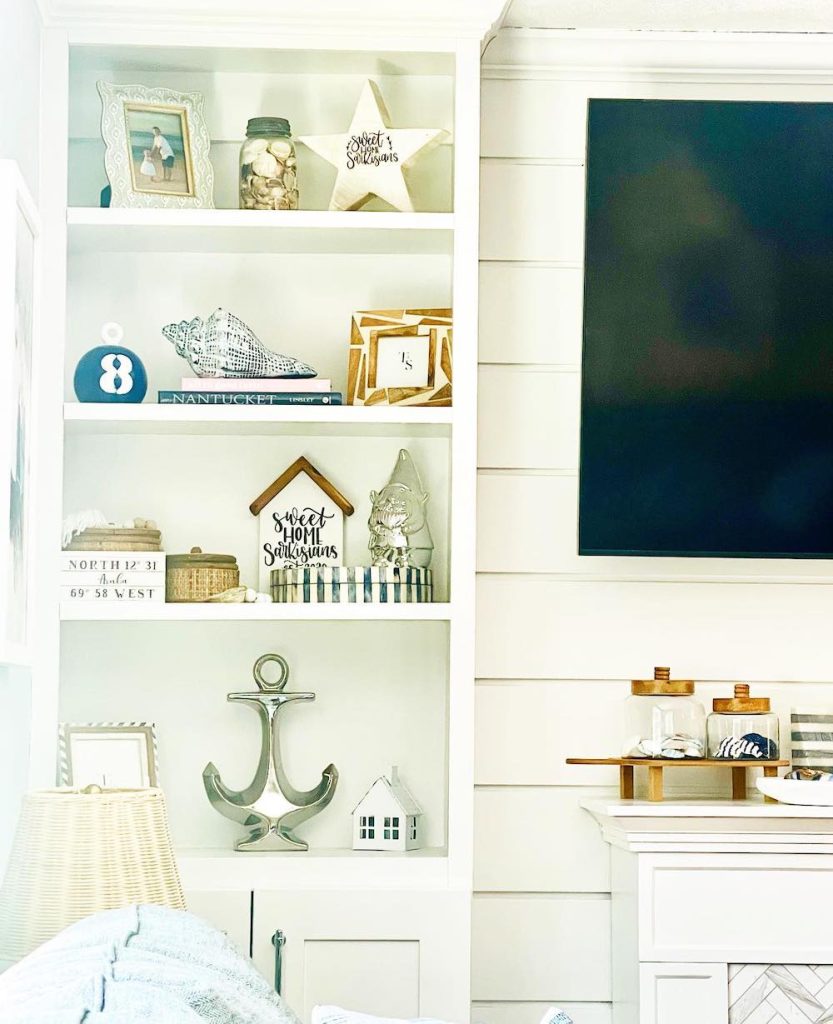 Build a bookshelf style using soft blue colors. In the image above, the designer added a single book wrapped in a blue jacket. The decorative box also provides a touch of soft blue color.
And this ends our list of coastal bookshelf decor ideas for your home. We hope these ideas help you style your bookshelves with a coastal theme. As a quick wrap-up, we've listed some tips to keep in mind as you begin to style your home. Add any of these items for a coastal style you'll love.
Display glass bottles, jars, or glass fishing floats in beach-like blues, greens or clear colors

Add images or miniature models of boats, sailboats, ships, and a Ship Captain

Include oceanic plant and animal life images or sculpture such as seaweed, fish, octopus, sea turtles (our personal favorite!), or shells

Incorporate warm earthy tones such as driftwood, rattan, bamboo, and greenery. Driftwood colored wooden objects such as boards, frames, or candleholders. Rattan baskets or lanterns. Green plants either live or faux plants

Work into the decor white, cream, or sand colored seashells, vases, trays, and other objects

Cover books in blues, greens, white, sandy tones or in packing paper for a cohesive look

Paint background of bookshelves white, off-white, or blue

As an alternative to painting the back side of bookshelves, cover the backside in wallpaper or fabric such as seagrass
For more tips, check out our 12 Ways to Add Coastal Decor to your Home post.
Enjoy our other coastal decor related posts for additional ideas.
31 Coastal Table Lamps We Love
End Tables with Coastal Style
Coastal White Sofas for Beach Homes
Rattan Mirrors for the Coastal Home
Rattan Coffee Tables
Reach out to us with any questions. We are always ready to help you out. Thank you for dropping by and taking a look at Finding Sea Turtles blog.
Mary
Pin this for Later: