Coastal wallpaper styling ideas for a beach house. Interested in wallpaper ideas to use in a coastal home? We have a few that we know you'll love. Wallpaper is more popular than ever. With wallpaper, you can make the statement you want. It adds instant personality to space. Cover with wallpaper an accent wall or an entire room. A wall with wallpaper adds warmth to any room and can even add a little whimsy. More than anything, wallpaper gives you the option to get as creative as you like.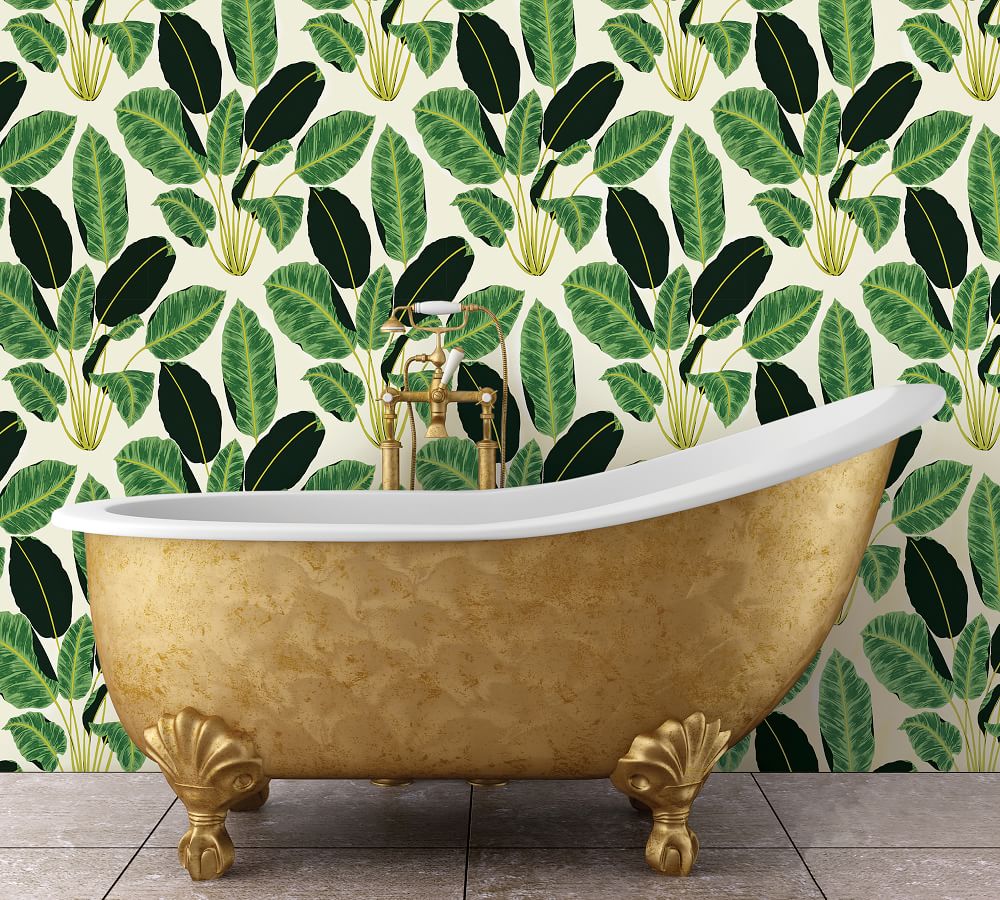 In today's topic, we are sharing coastal wallpaper styling ideas. Today's post shares ideas on how to style your home using wallpaper. Wallpaper allows you to go in many different directions. Go bold and bright for a tropical decor style. Or if vintage-inspired wall covering is more appealing then style your space with a vintage style wallpaper. The assortment of wallpapers is massive. Select from a variety of colors, patterns, and motifs.
Choose Removable – Coastal Wallpaper Styling Ideas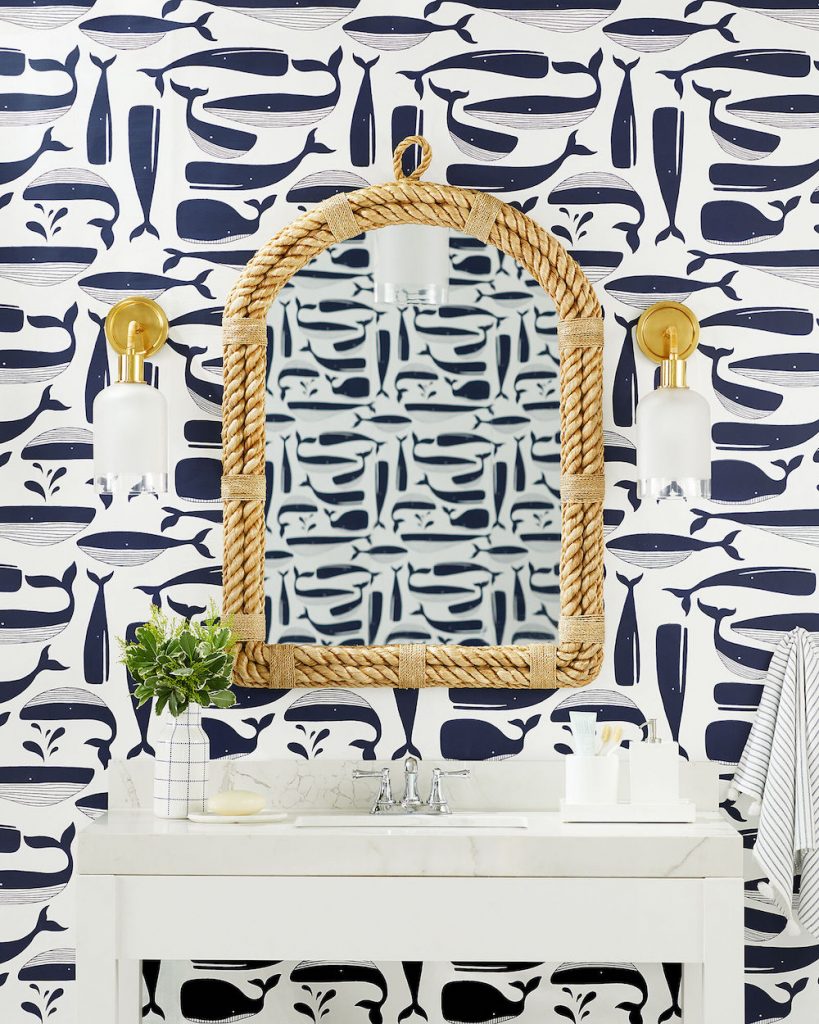 Another great thing about wallpaper is that many wallpapers are removable. So, those that are renting or living in a temporary space can enjoy decorating their home with wallpaper. Removable wallpaper eliminates the extra work that is required with more traditional wallpapers.
Onto our styling ideas for a coastal home.
Take a Look at Inspirational Ways to Decorate
Create a comfortable living space at home with these coastal styling ideas. Take a look.
Bring the Faraway Tropics Home – Coastal Wallpaper Styling Ideas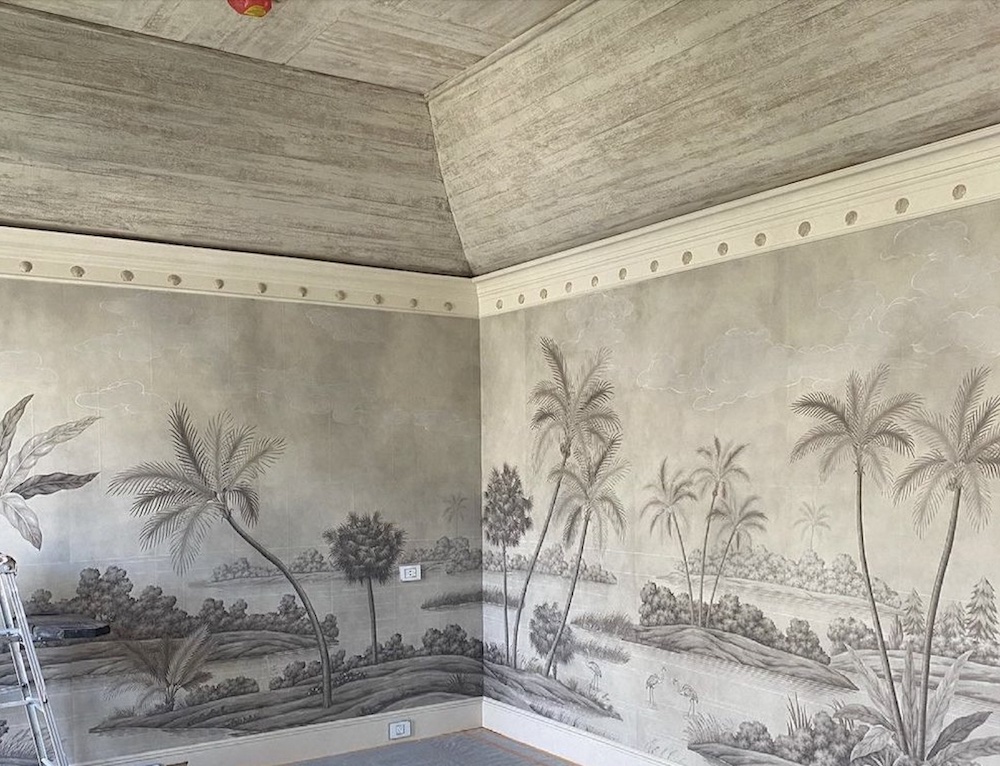 Give your guest room the look of a faraway tropical island. Complete with palm trees and sandpipers.
Fill the Background with Palm Trees – Coastal Wallpaper Styling Ideas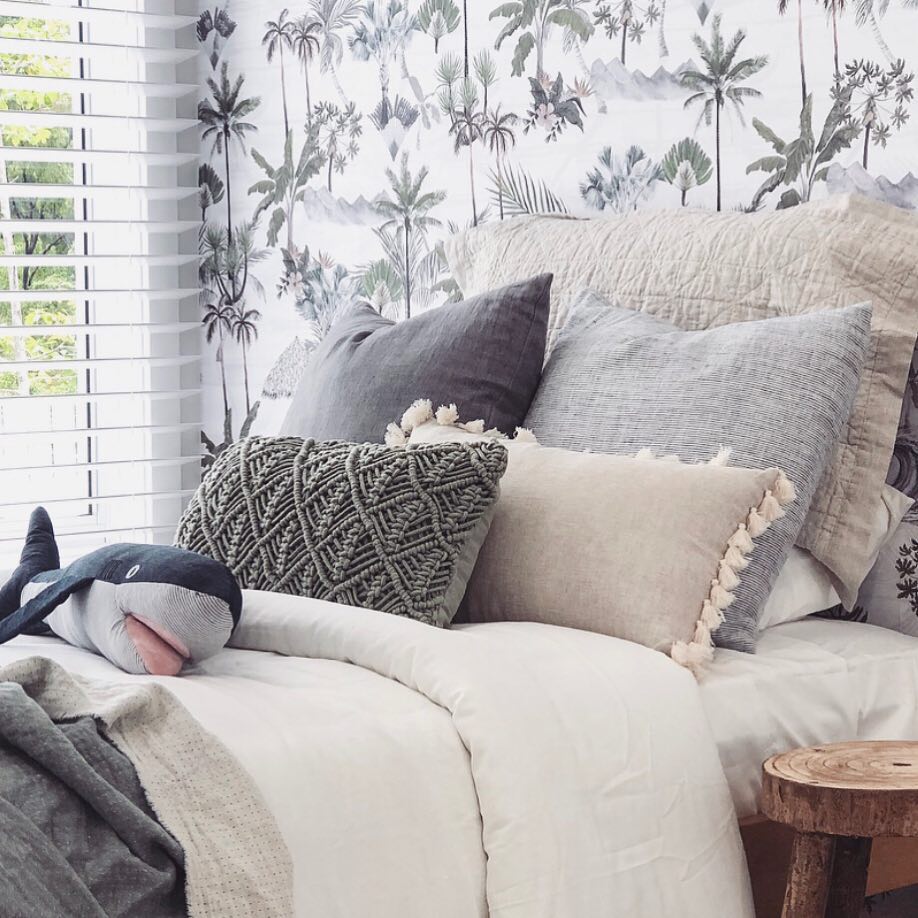 Sleep below the palm trees in the mural. And with the shark in bed! You can almost feel the gentle breeze flow by.
Give it an Aquarium Vibe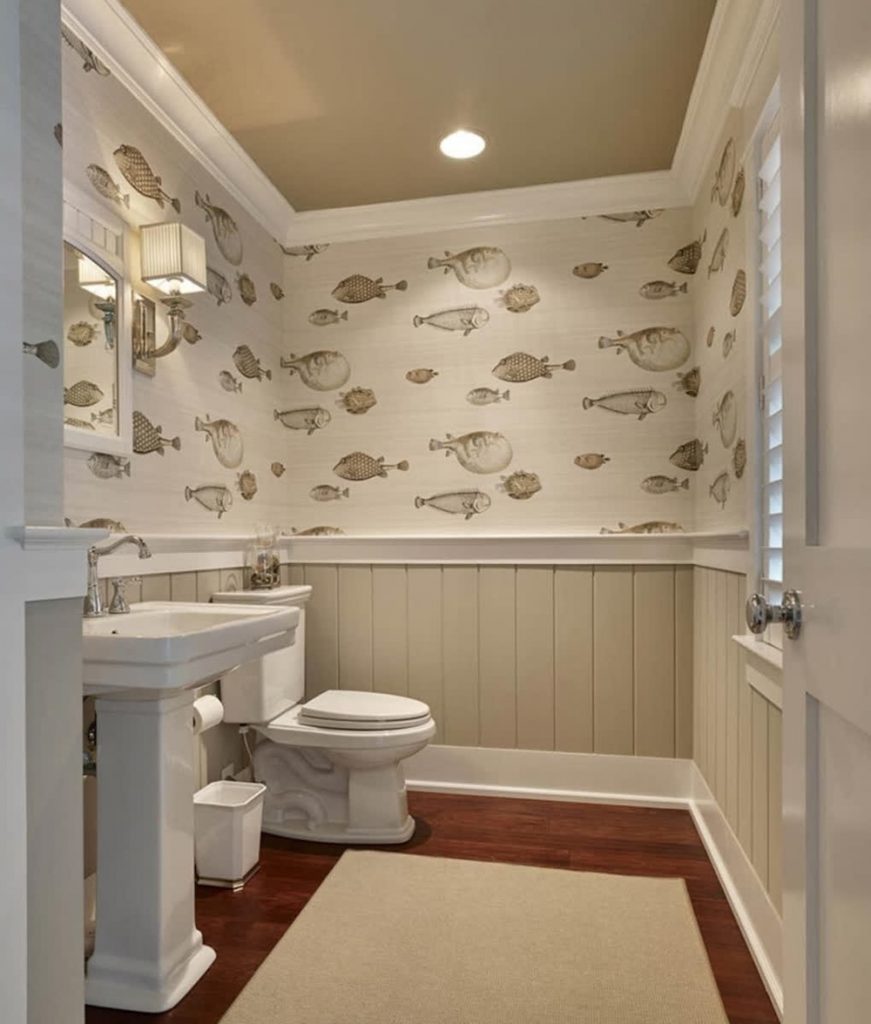 Experience the feeling of being in an aquarium or next to a fish tank. As you watch the pufferfish swim by, relax in this coastal bathroom.
Bring a Hamptons Inspired Style
Style your room with wallpaper that is Hamptons-inspired. Cover the walls and ceiling for this beautiful and stunning design.
Cover it with Grasscloth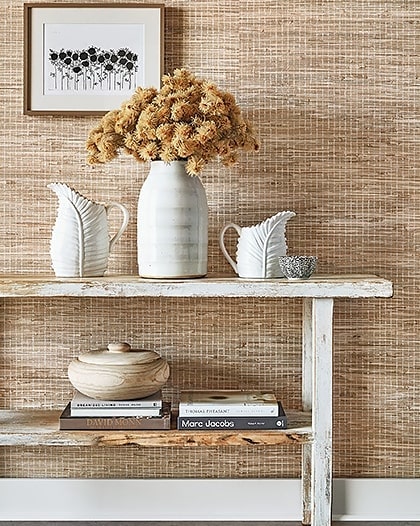 Bring the summer warmth of grasscloth to your space. This wall covering not only adds warm tan tones but texture as well.
Style it a Creamy Neutral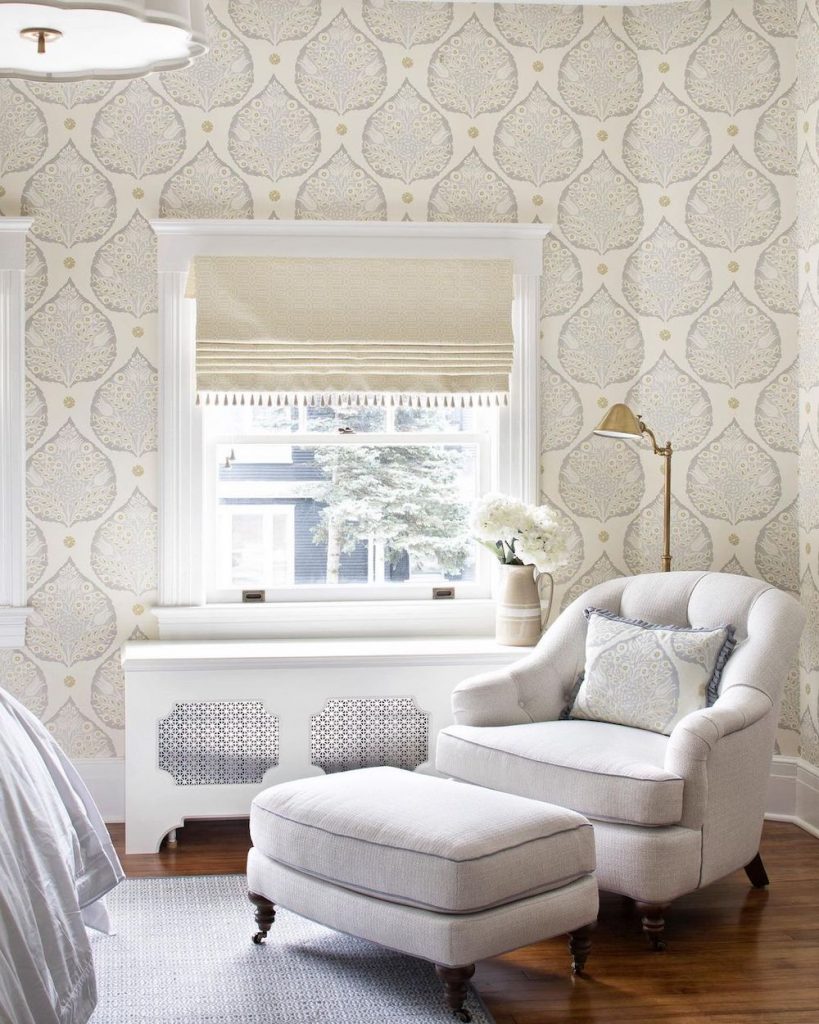 For a sitting area to relax in, give your walls a creamy neutral color. Make your space a tranquil spot to unwind at the end of the day.
Create Visual Interest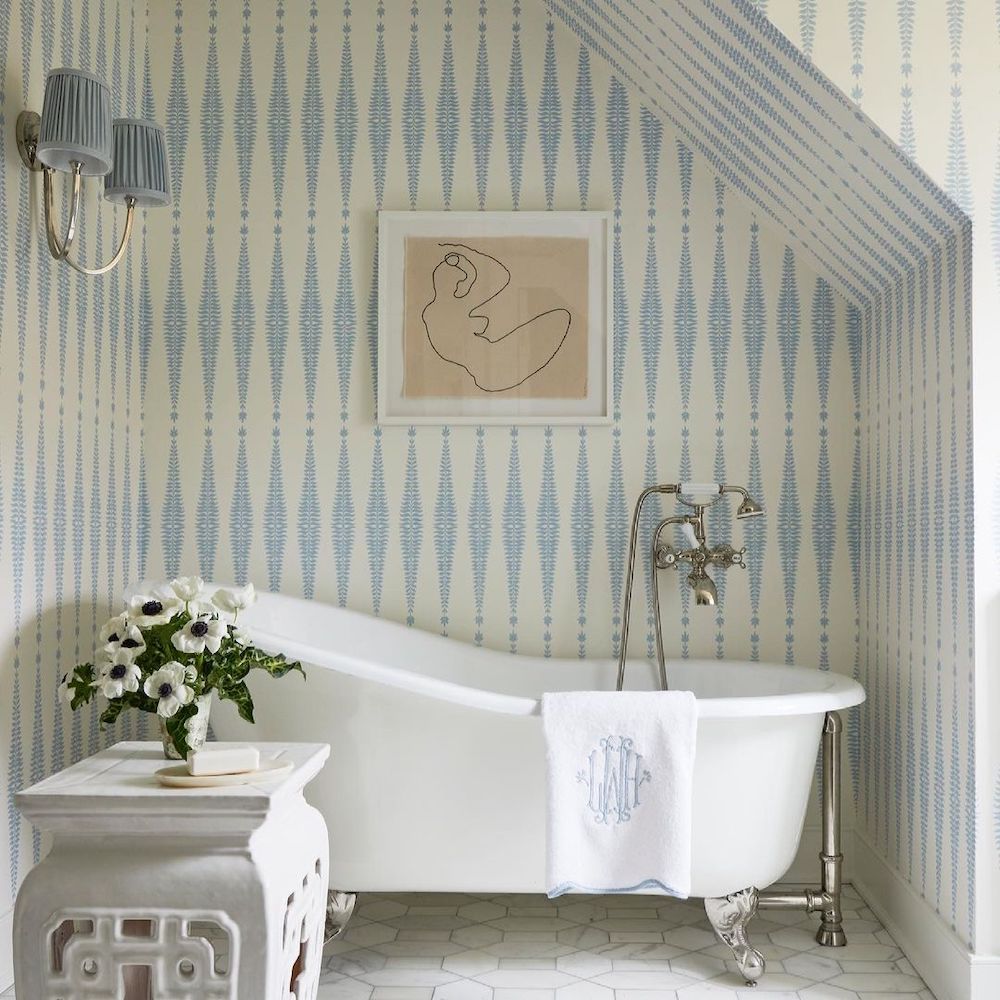 While you soak in a tub, give yourself a bathroom space with visual interest. Daydream of the days to come at the beach.
Show Your Love of the Tropics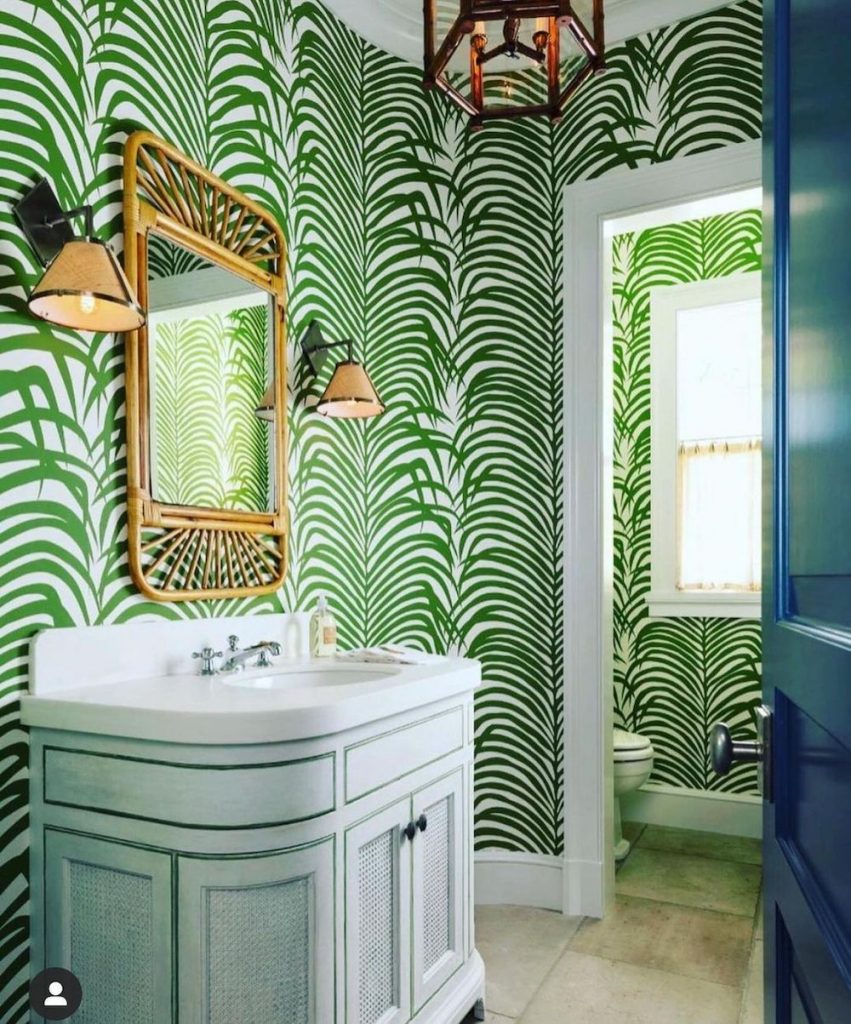 There is nothing like the look of fronds. Cover your walls in palm frond paper. Add a cute rattan mirror to show your love of the tropical decor.
Color it in Ocean Blue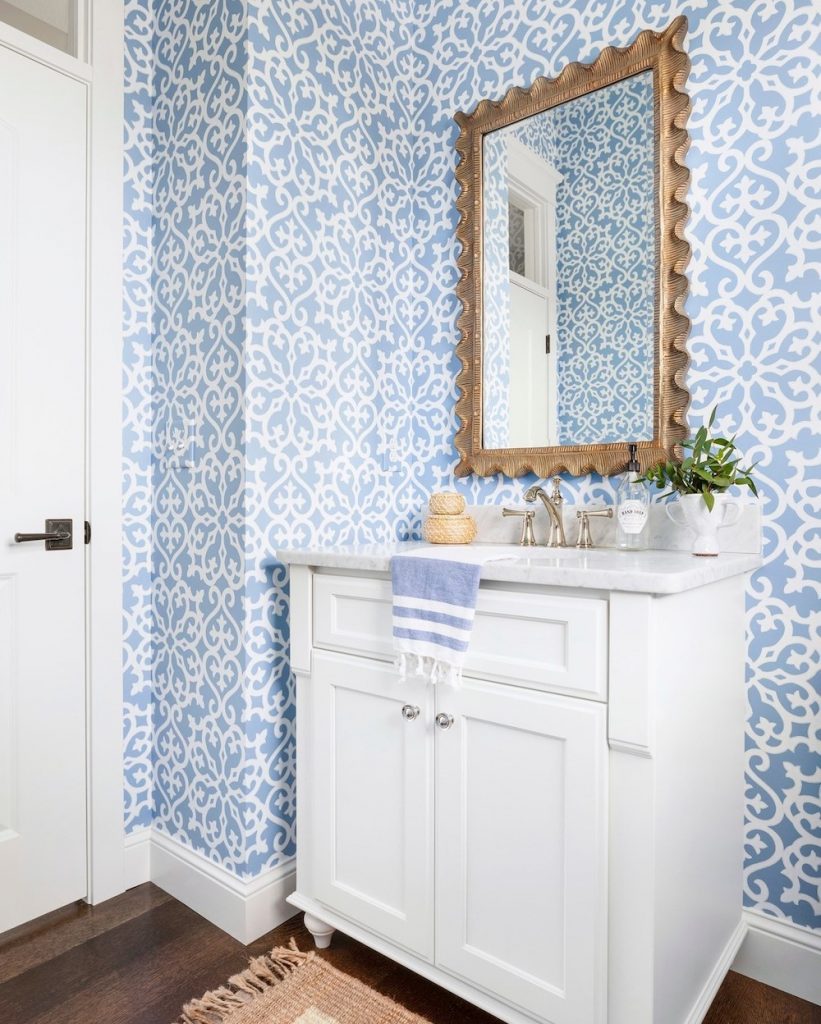 Bring the Ocean Blue color to your bathroom with this wallpaper.
Welcome Guests with Pink Pineapples – Coastal Wallpaper Styling Ideas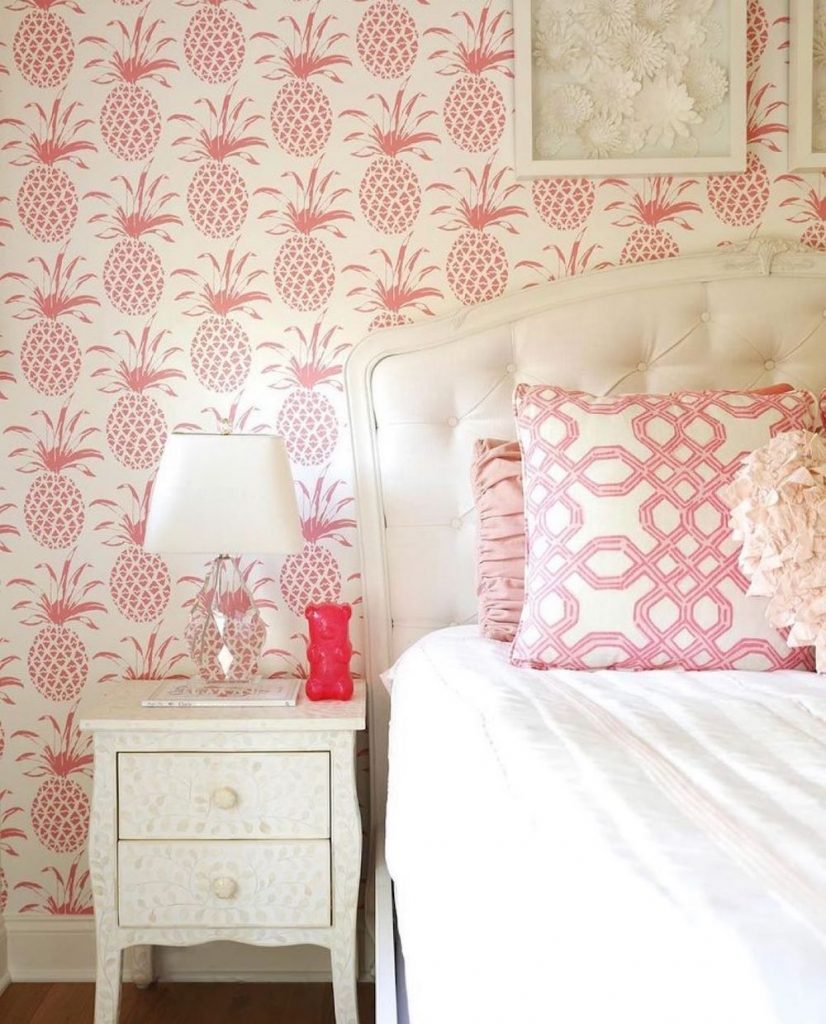 Although this is a young girls' room, the pineapples are the traditional welcome sign. This wallpaper would look just as fabulous in an entryway or living room.
Show Your Patriotic Side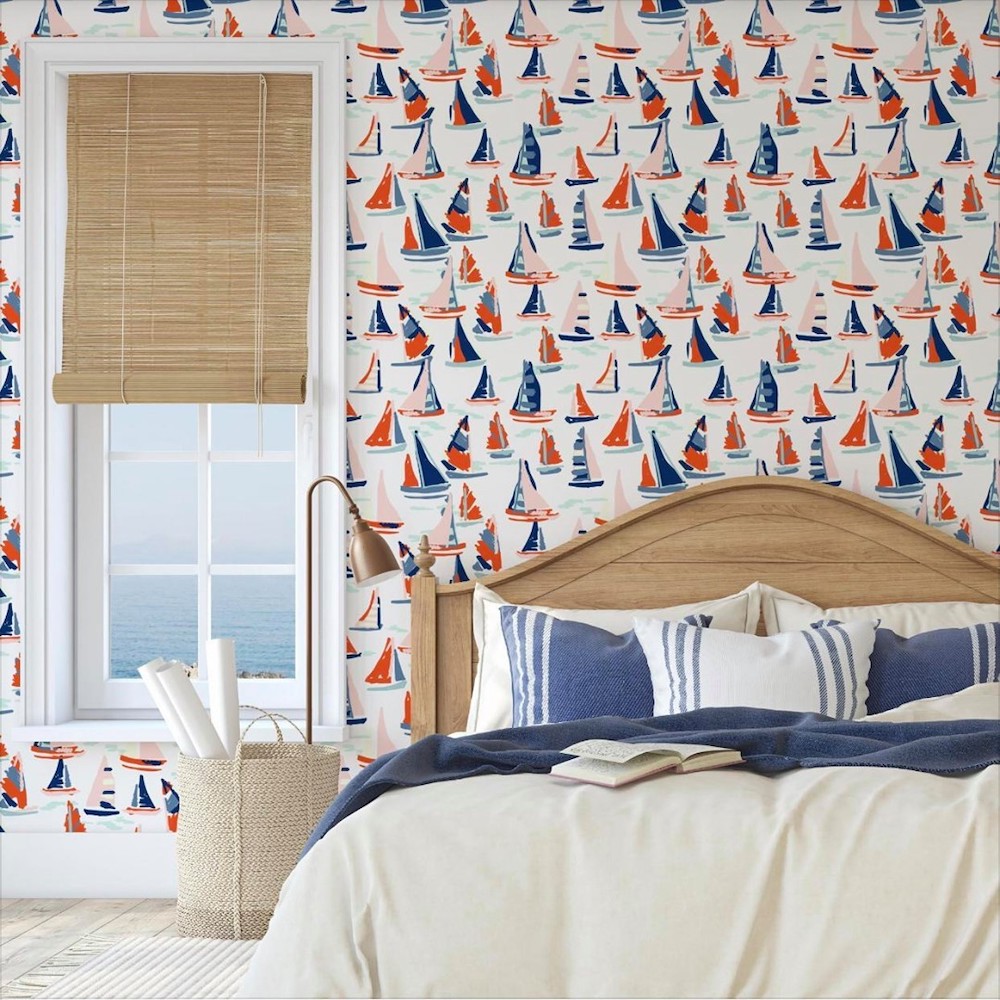 Go with red, white, and blue sailboats for your wall covering. Perfect choice for a coastal living space or bedroom.
Style it Baby Blue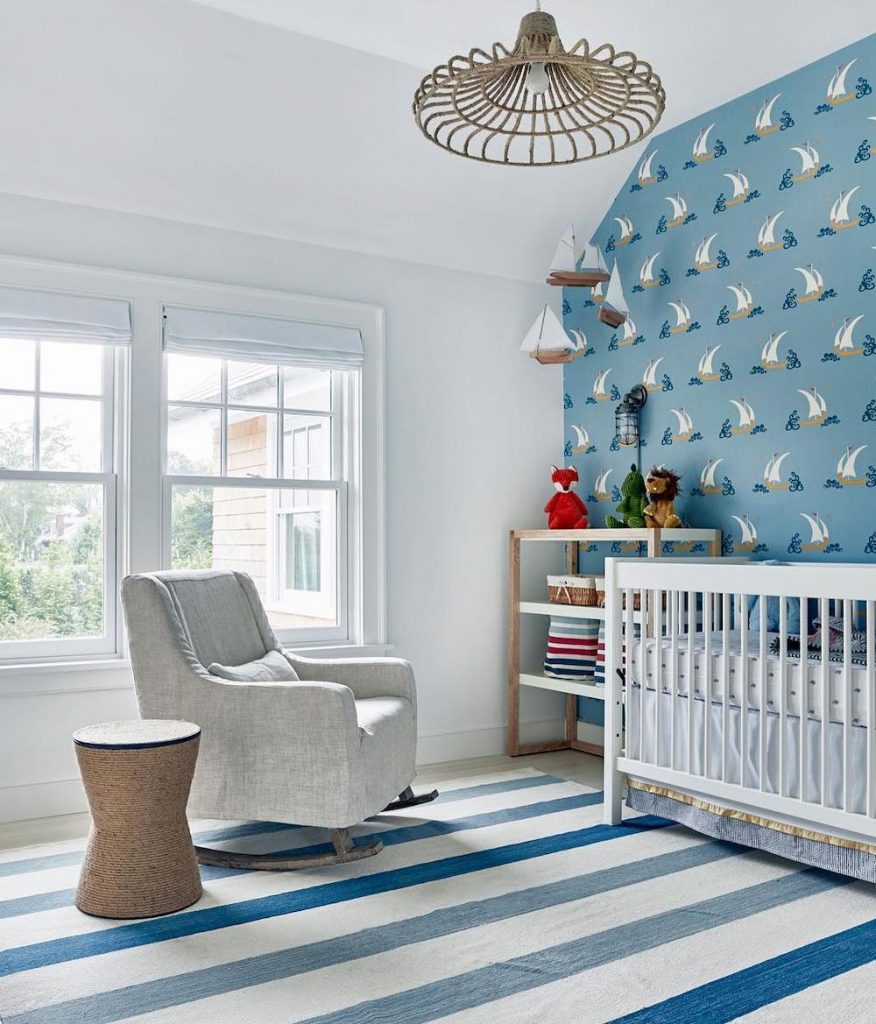 Bring the sailboats home with this nautical wall covering. With a calming blue color background, the nursery is ready for occupancy. Love the rattan lighting and sailboat nursery mobile.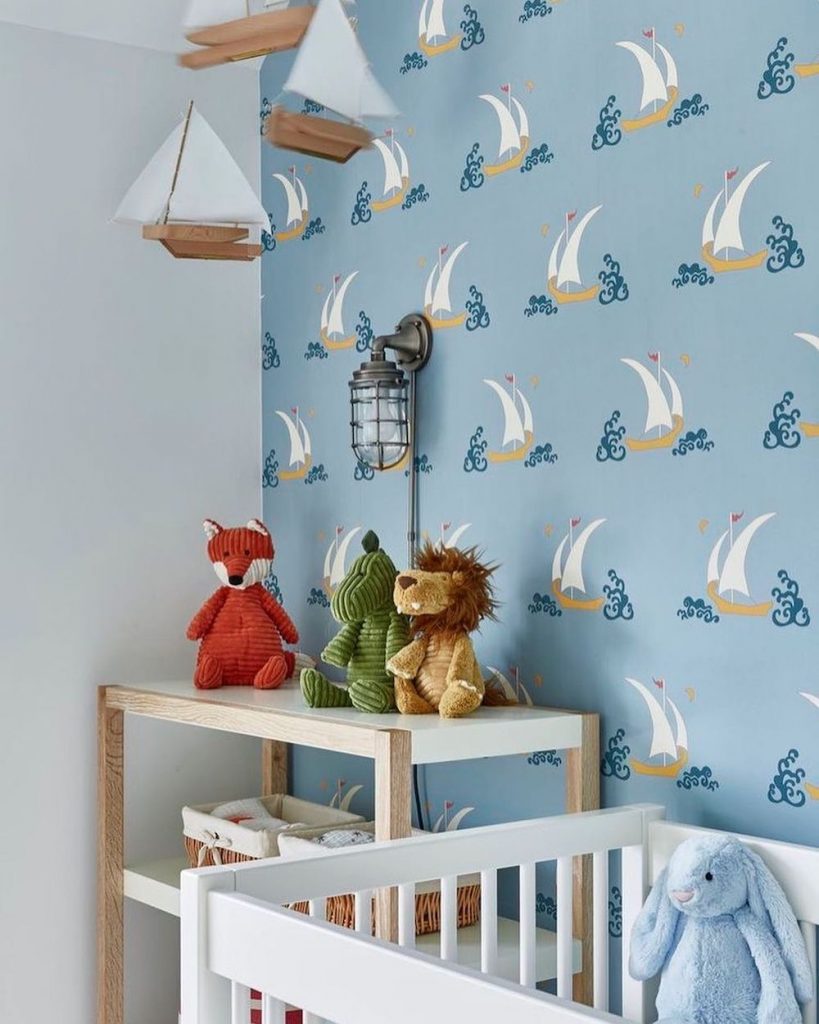 For a more authentic nautical look, add a cage-covered light fixture.
Ride the Waves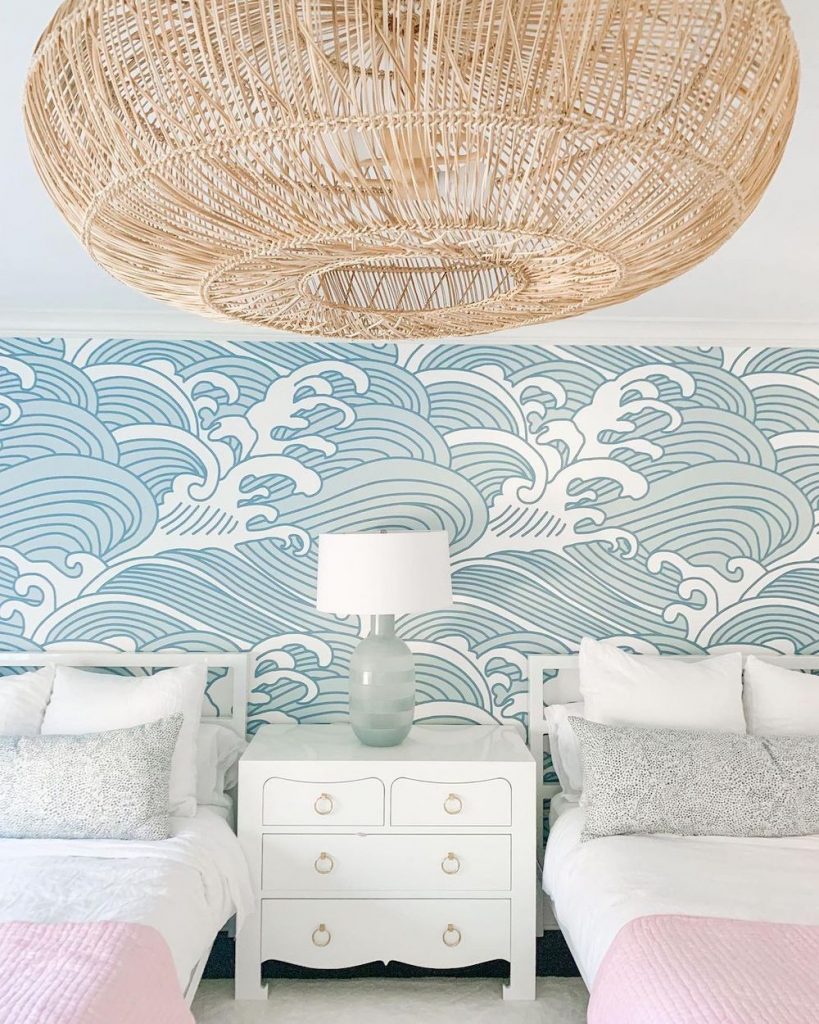 Add wallpaper with the look of rolling ocean waves.
Style it with Wild Waves – Coastal Wallpaper Styling Ideas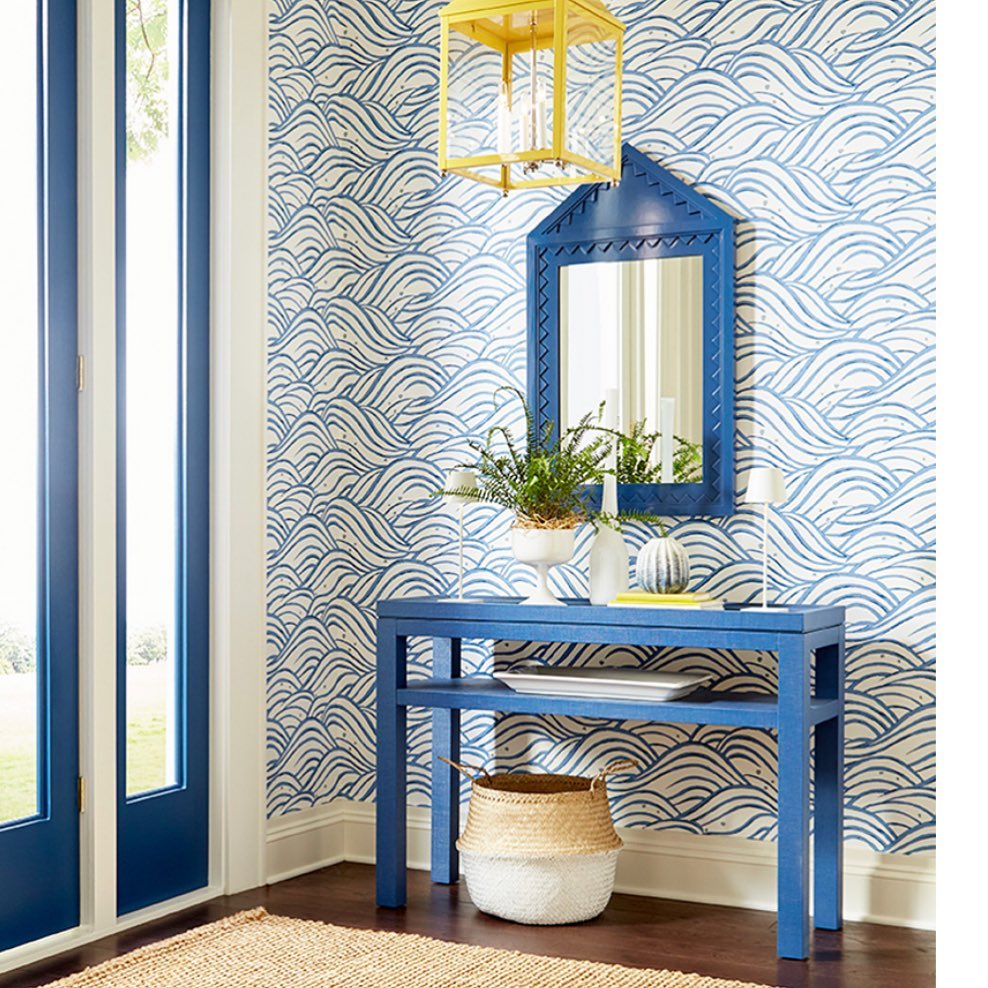 Combine the colors of blue and white with rattan for a coastal decor style.
Color Your Palm Fronds Navy – Coastal Wallpaper Styling Ideas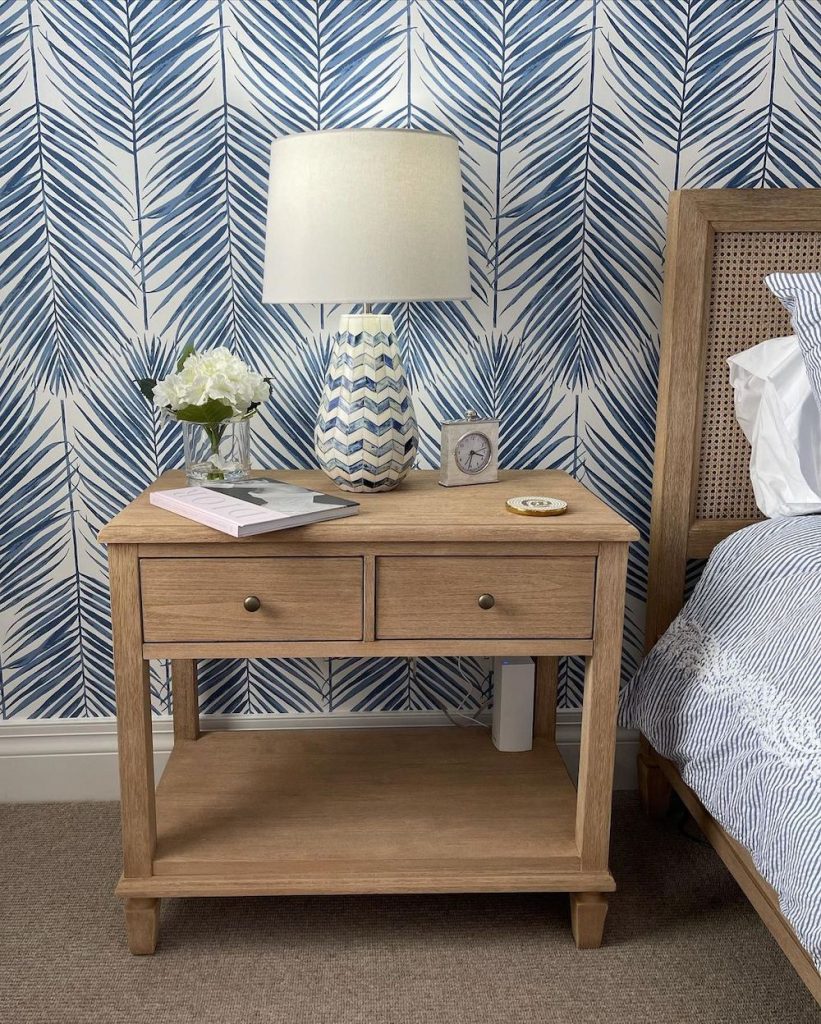 Replace green frond wallpaper with navy for a nautical look.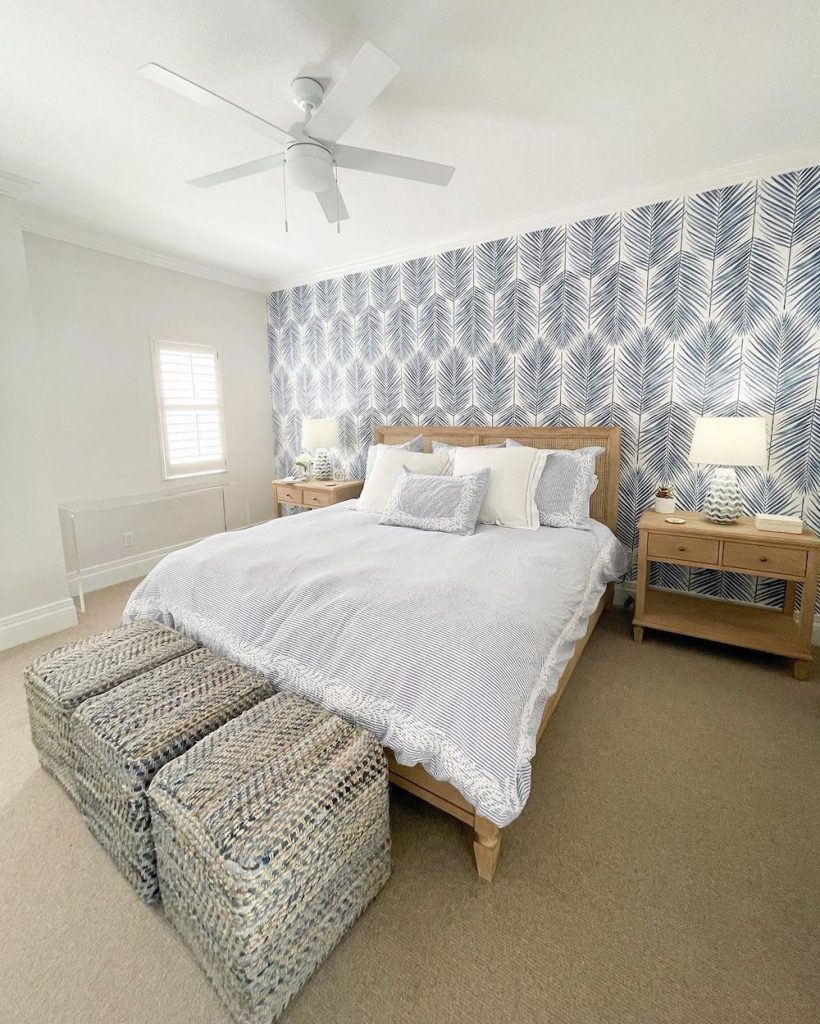 Make it Standout – Coastal Wallpaper Styling Ideas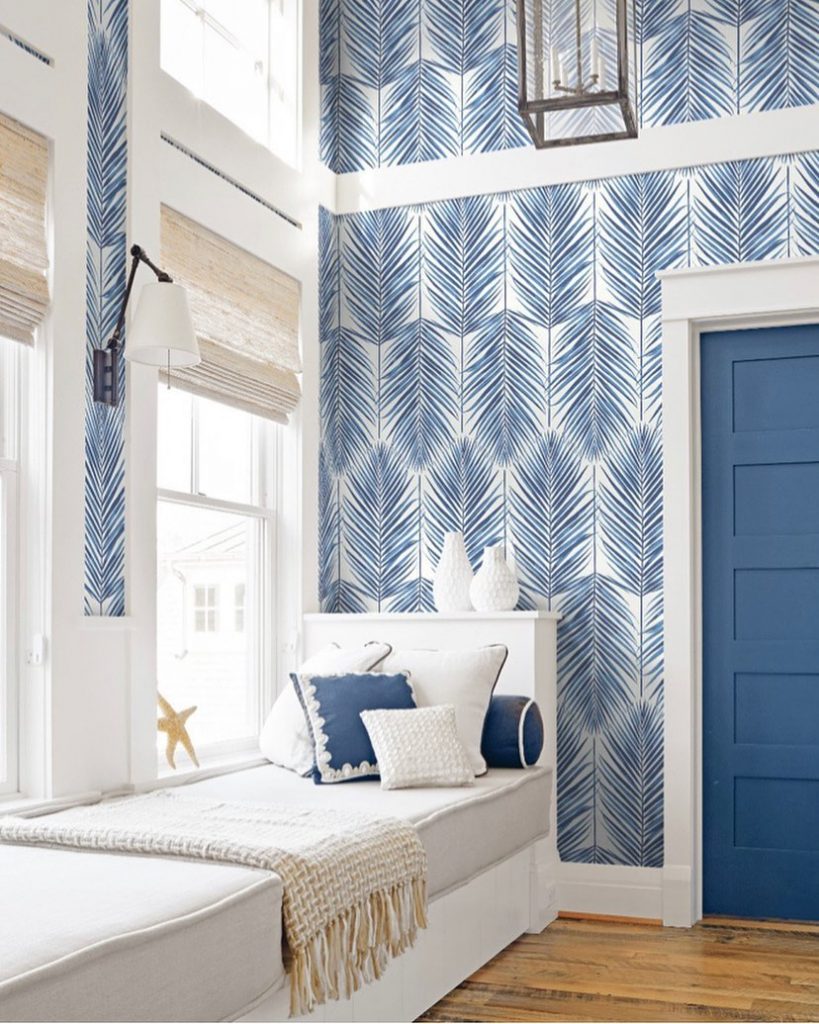 Although this is the same wallpaper as the previous styling idea, we included it to show the two rooms. This wallpaper design is perfect for large rooms and rooms with higher walls.
Give Your Space Some Drama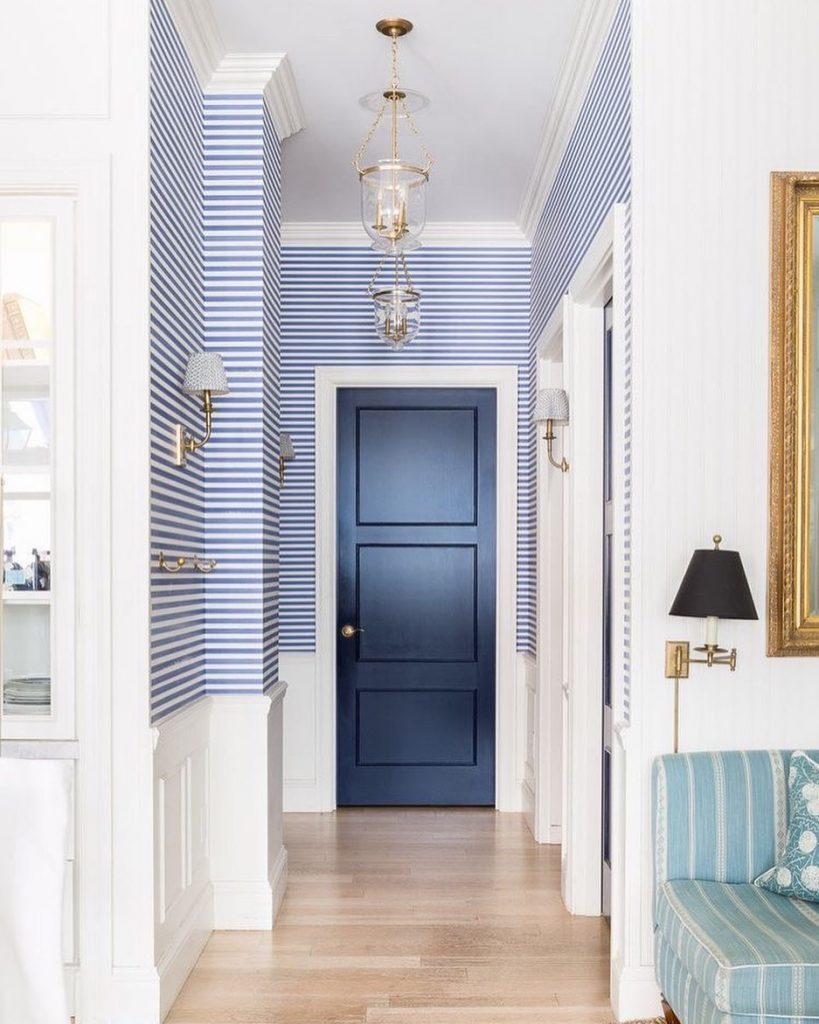 Create an entryway with a little drama.
Design Your Own Oasis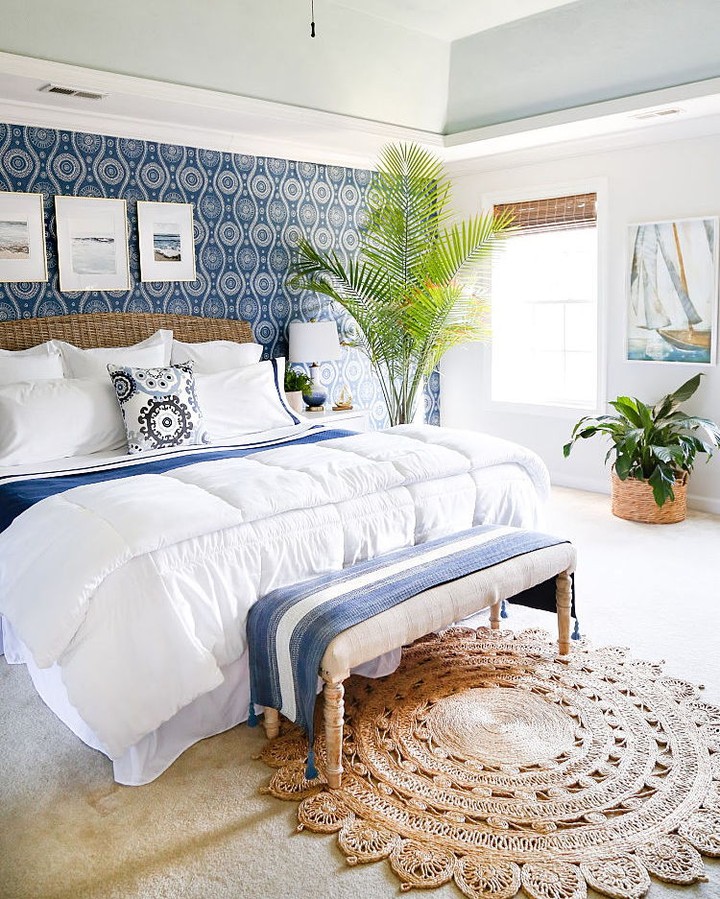 Decorate your own oasis such as this by Sand and Sisal. Blue and white styling with rattan accents and beautiful plants.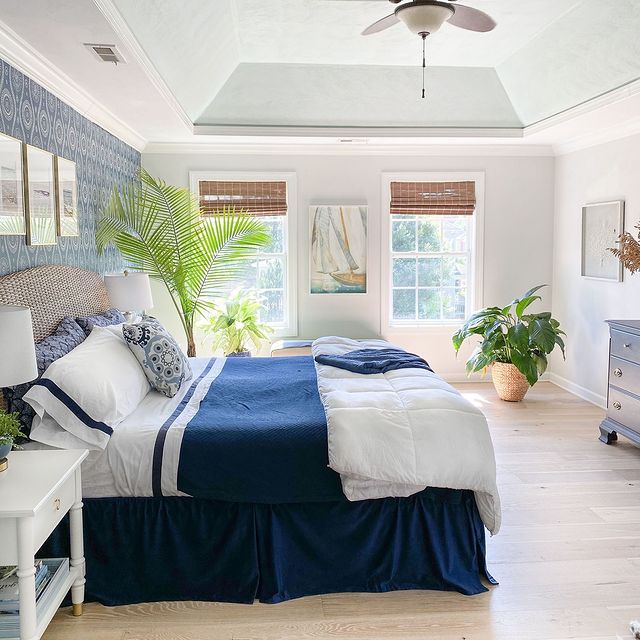 Extent Your Palms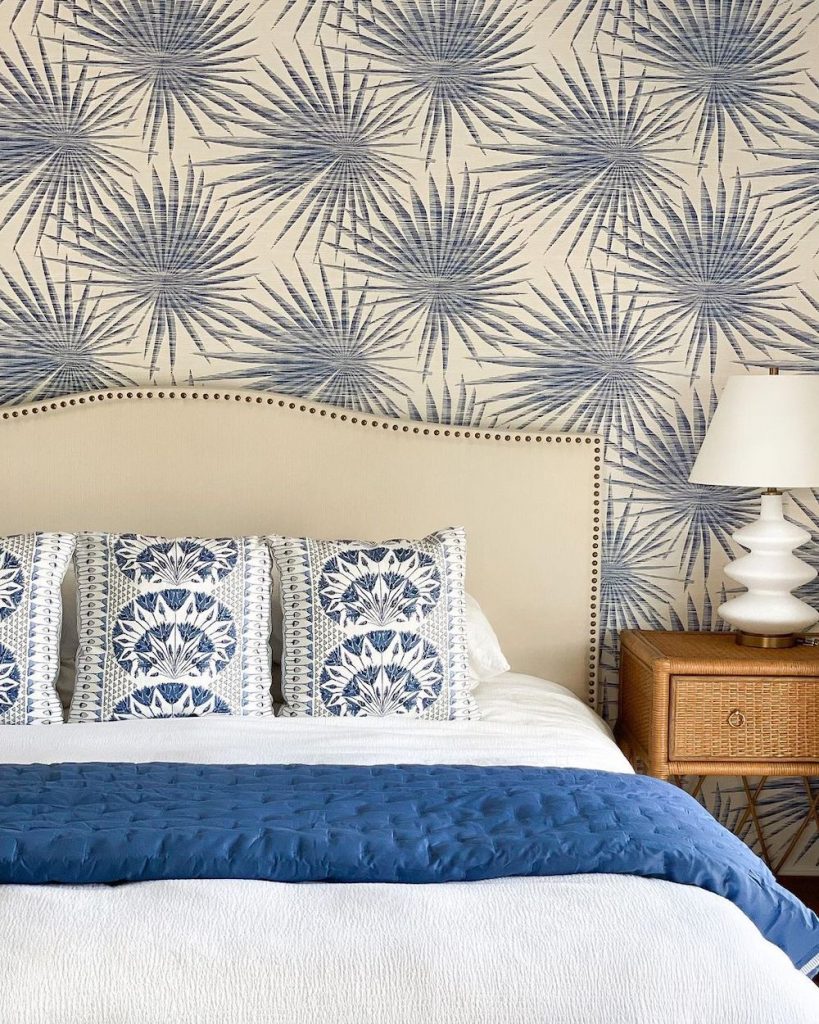 Wake up every morning to the look of blue palms. In this space, we love the combined colors of blue and beige. The beige lamps blend well with the rattan nightstands and creamy beige bed.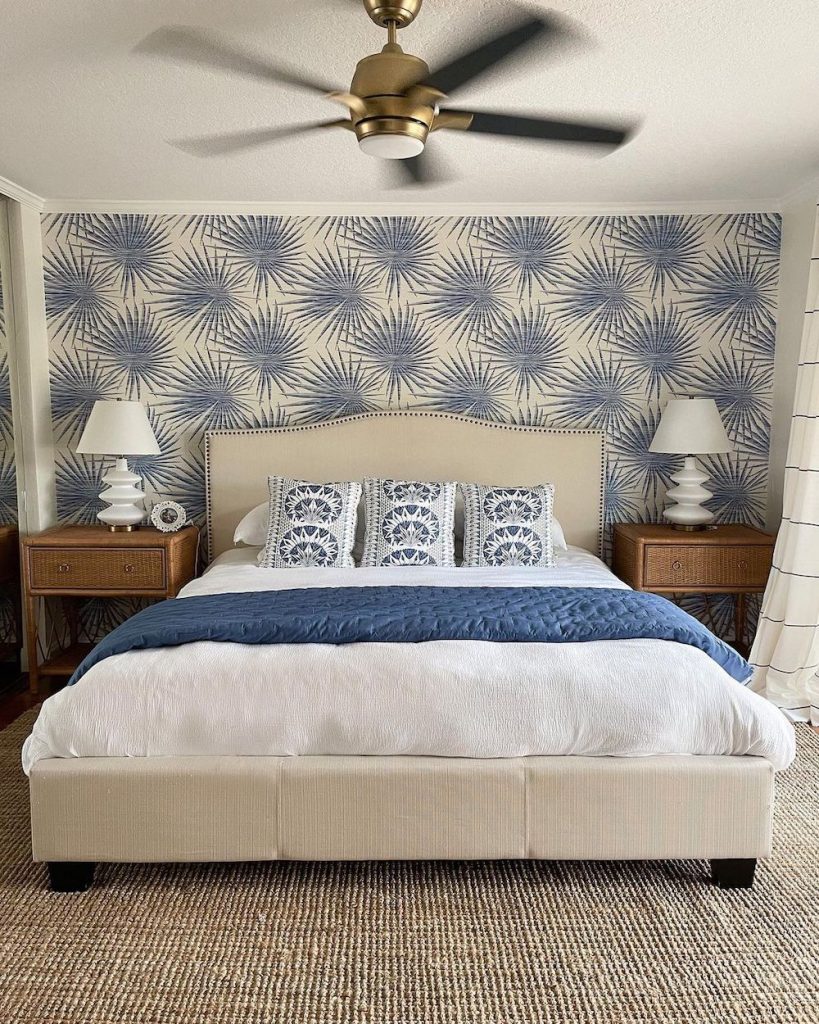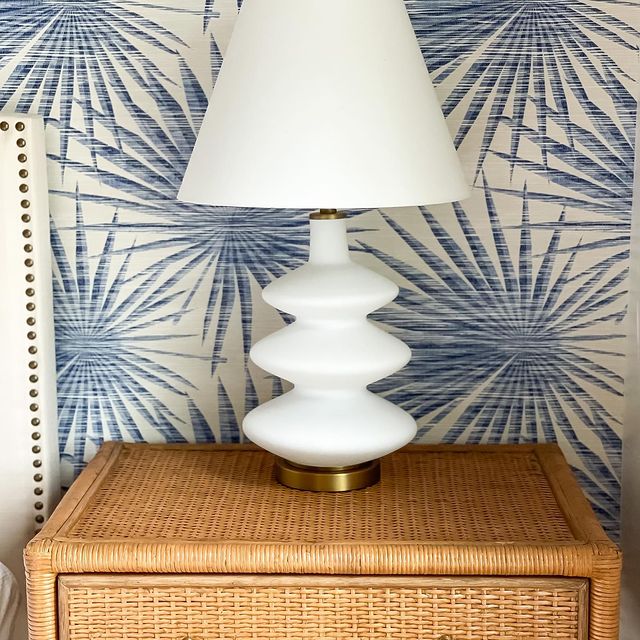 Show Your Coastal Stripes – Coastal Wallpaper Styling Ideas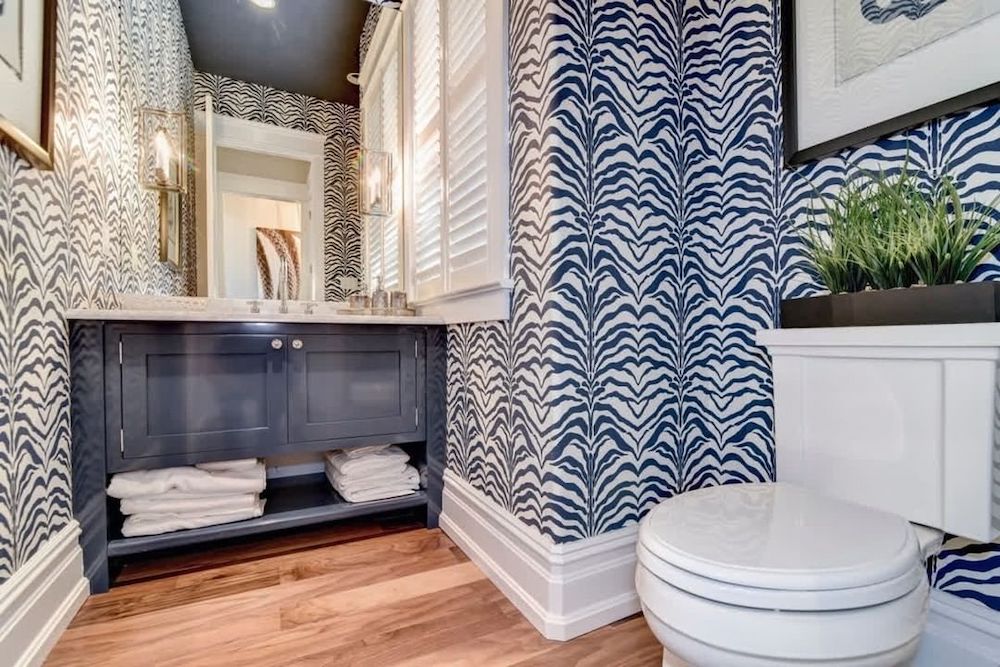 Cover your walls with a zebra print.
Be Bold with Your Walls – Coastal Wallpaper Styling Ideas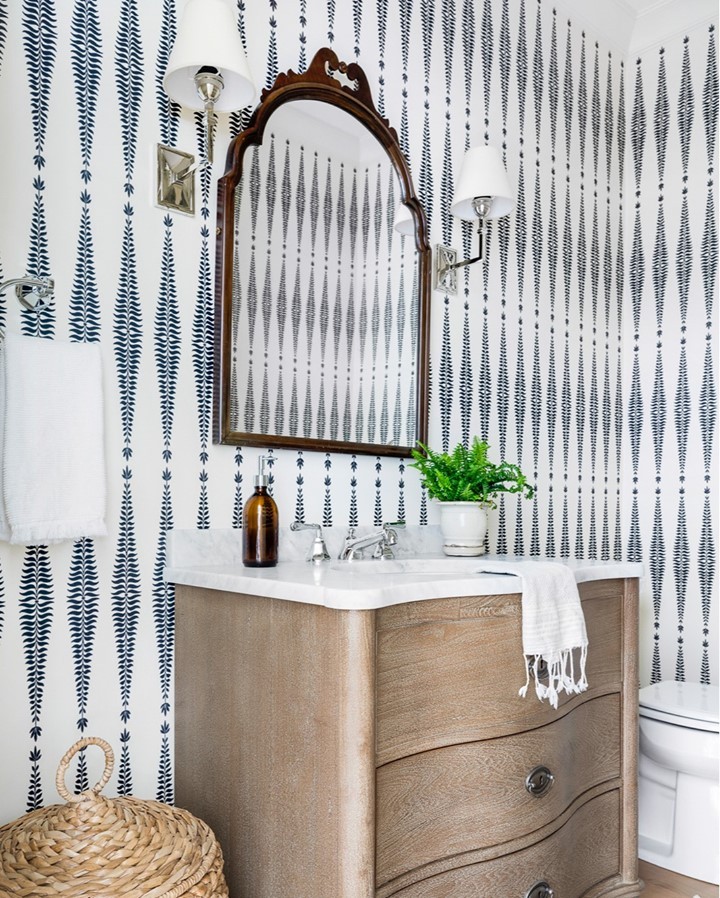 Have your wallpaper make a bold statement. Perfect for a powder room.
Go With the Flow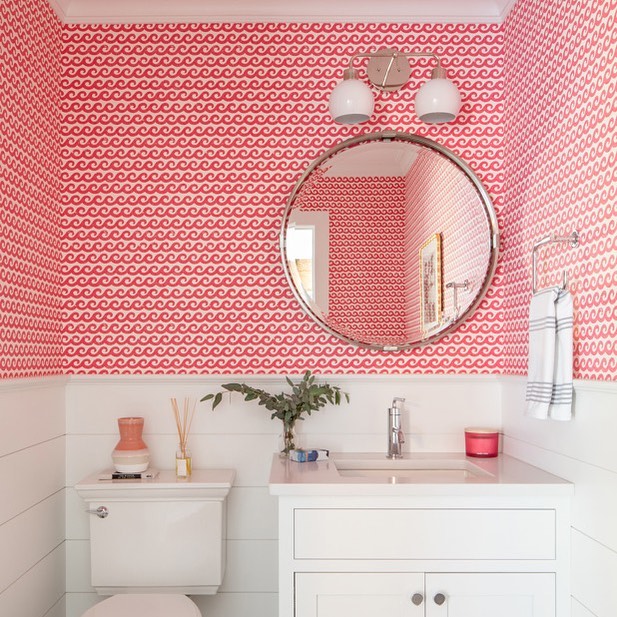 Cover the upper part of the walls in a wave pattern. Install shiplap at the lower part of the bathroom walls. Use a round porthole-like mirror. The combined style gives this space a nautical look.
Color it Tropical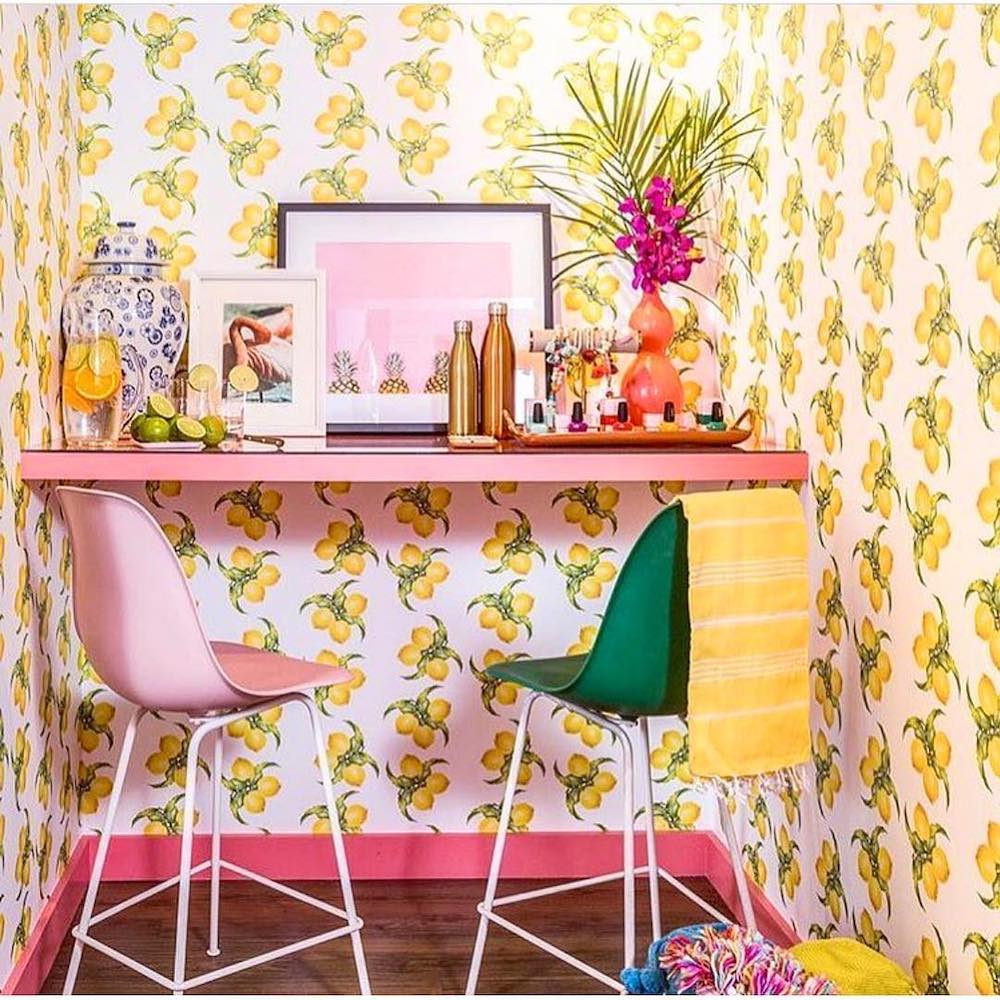 Design a tropical paradise in your home. This styling bar is the perfect place for a manicure and cocktail. The lemon wallpaper is a standout. Add bright-colored accessories and furnishings to complete the look.
Give it a Polished Look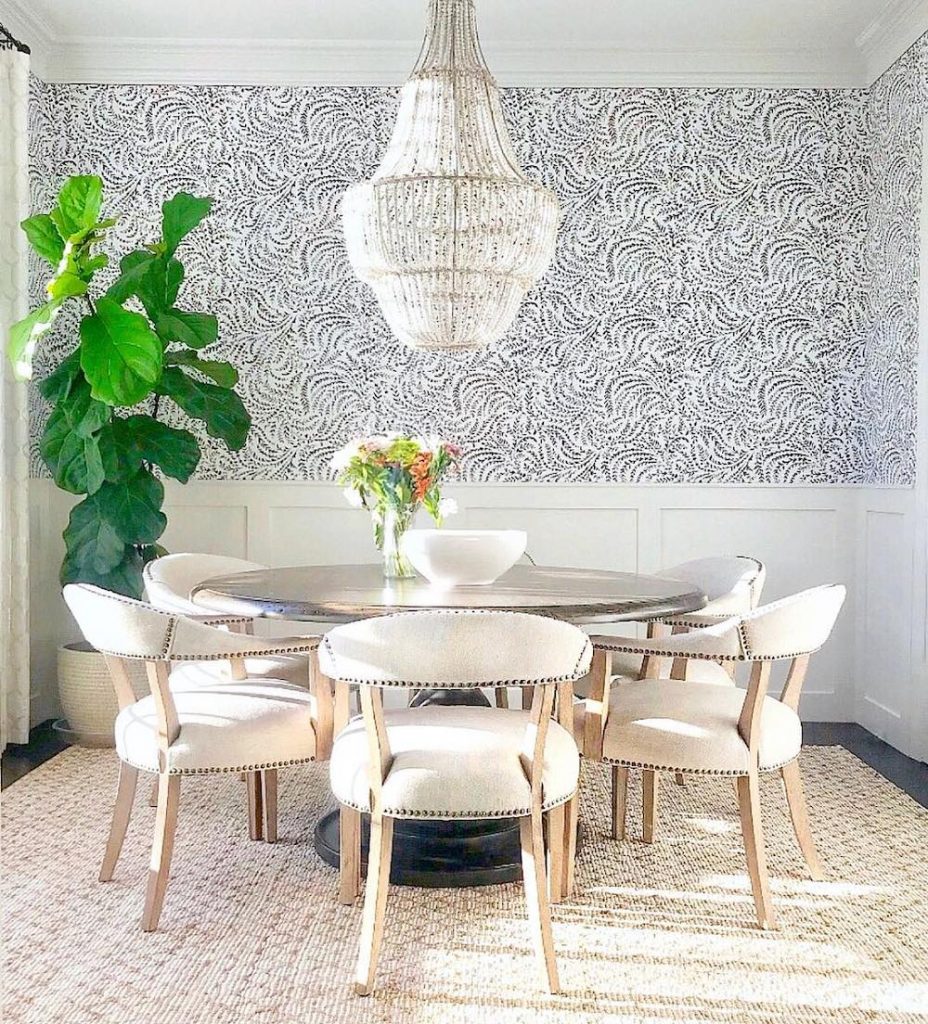 Add a wallpaper with a frond design. The cream and beige blend combine well with the wallpaper.
Splash with Flamingos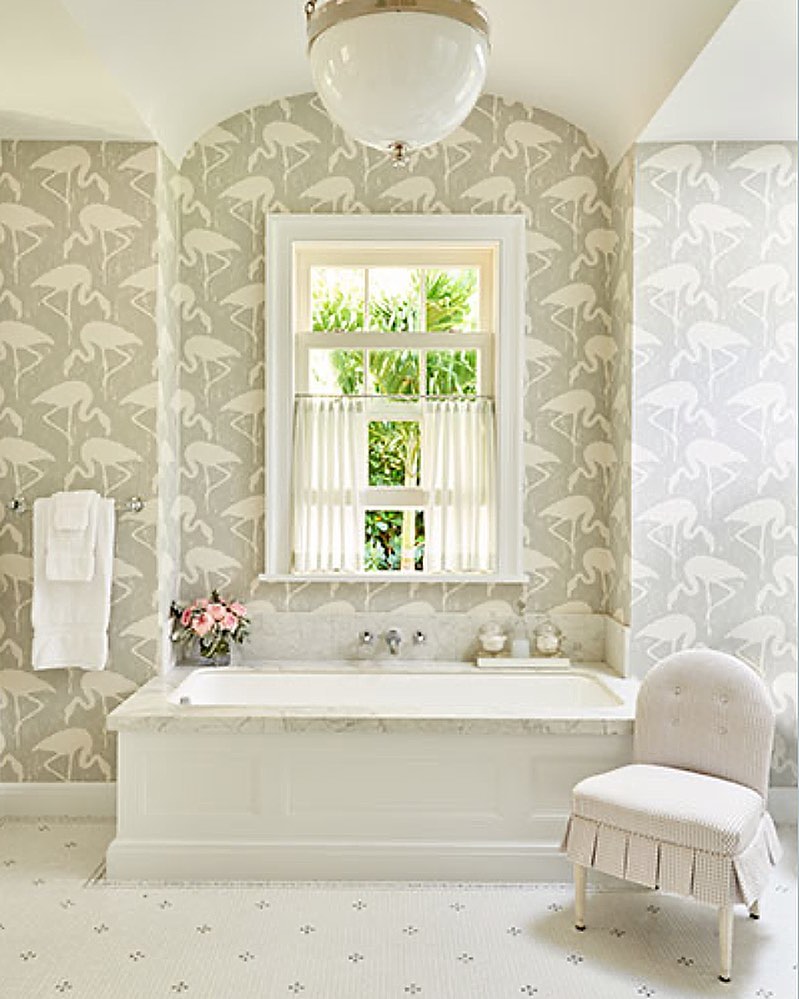 Stay cool in the water while surrounded by flamingos.
As a way to help you out, we have included a list of some of our favorite wallpapers with coastal designs. You'll find the great wallpapers right below. Take a look at these beautifully designed wallpapers for the home or office.
More than ever, it is easier to buy wallpaper online. Luckily there are many online stores that ship wallpaper right to your front door. No need to drive to the store for a wallpaper order. Many online stores make it incredibly easy to furnish your home by shipping your order directly to your front door.
In Closing – Coastal Wallpaper Styling Ideas
This ends our list of inspirational ideas with wallpaper. There are many ways to style your home using wallpaper as you can see. And we know that you'll enjoy thinking of new ways to style your home with coastal wallpaper.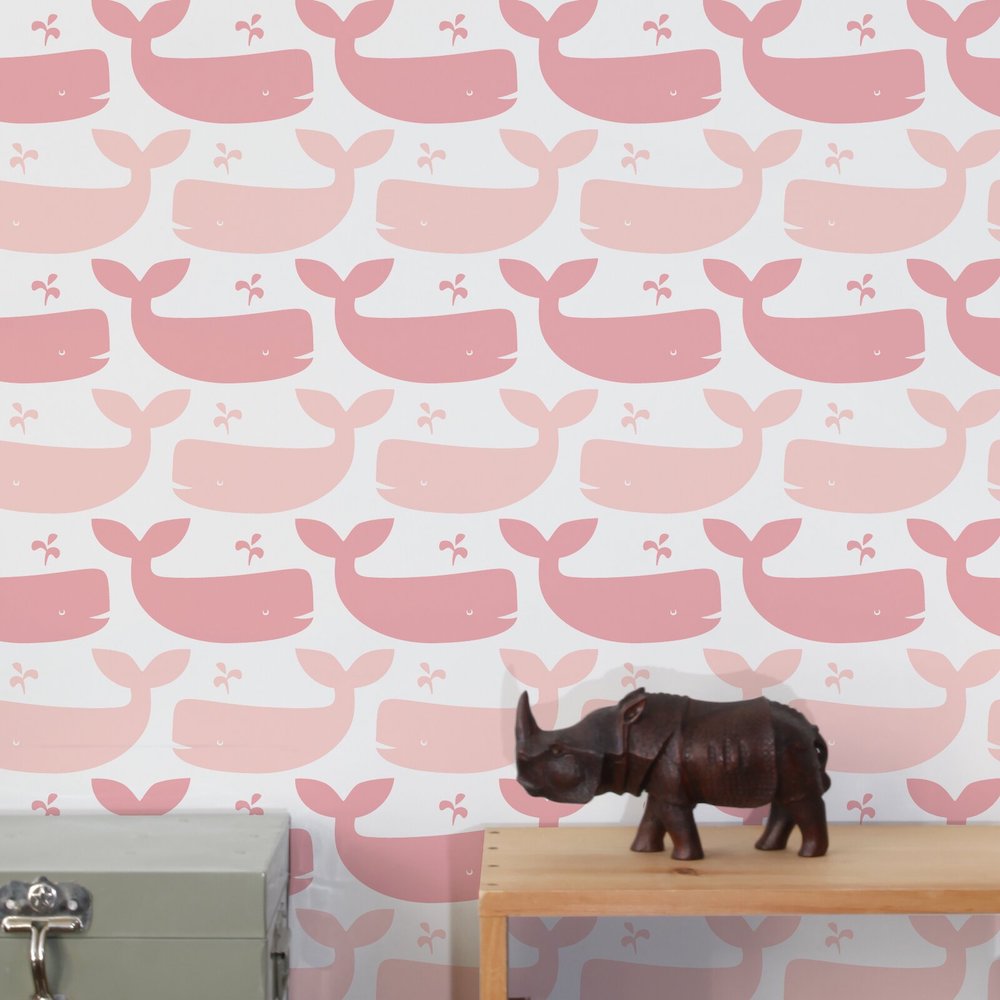 We hope that our 25 coastal wallpaper styling ideas inspire you. If you try any of these styling ideas, we would love to hear from you. Let us know how you make out with your wallpaper projects. For additional coastal decor resources, check out our coastal decor post with helpful tips. Look at our 12 Ways to Add Coastal Decor to your Home post. And for additional coastal inspiration, take a look at some of our other posts.
Enjoy our other decor related posts for additional ideas.
Reach out to us with any questions. We are always ready to help you out. Thank you for stopping by our blog.
Mary
Pin this for Later: