Farmhouse pedestal dining tables with a round table surface as a space-saving solution. A pedestal dining table is a table with a single or central structure leg that supports the table's surface. As an alternative to a four-legged dining table consider a farmhouse-style pedestal table for your home. In a pedestal-designed table, the central support structure is usually a single column or pillar. Frequently, the pillar or column is decorated with many ornate details. However, in keeping with a farmhouse style, the pedestal will not be as ornate as other traditionally styled tables are.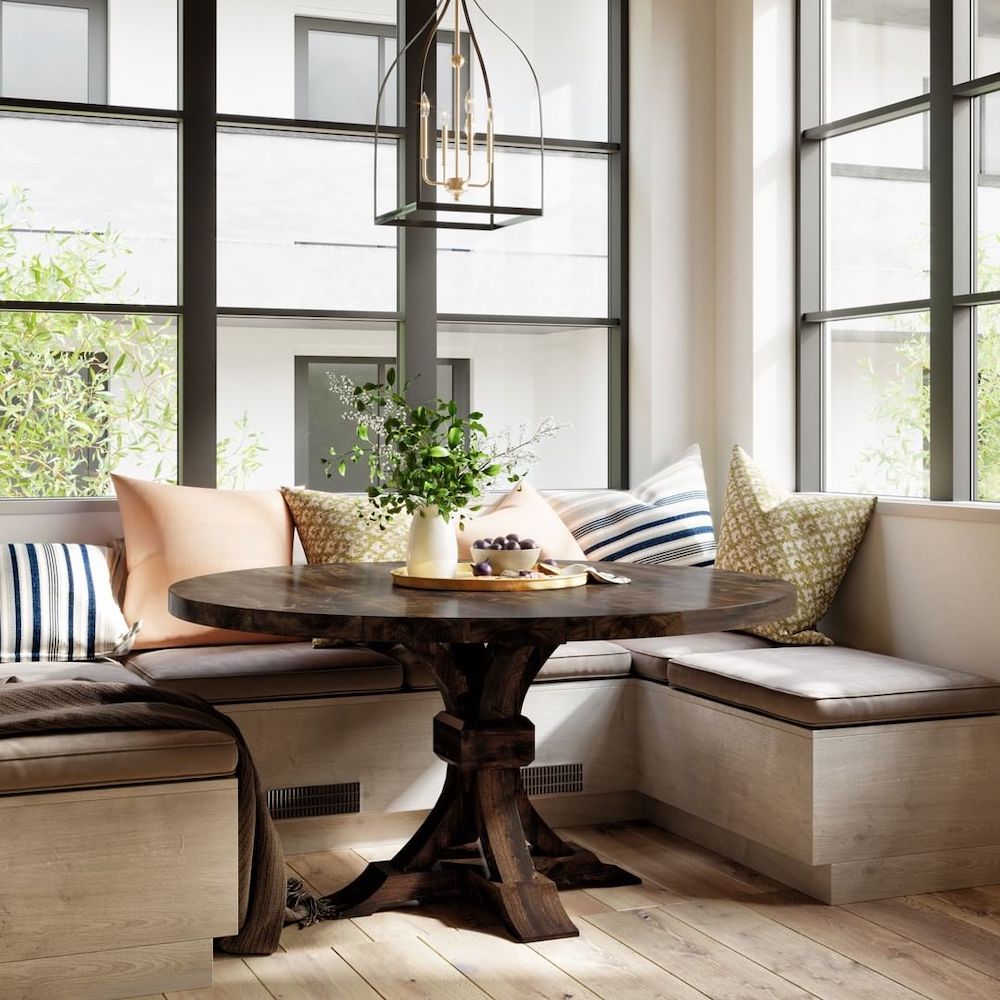 In today's post, we are sharing farmhouse pedestal dining tables that have a circular tabletop surface. These types of tables are perfect for smaller spaces such as a breakfast nook or even an eat-in kitchen area. Since round pedestal tables have only a single support structure and not four table legs, you can fit more people at a table. A pedestal table is great for large gatherings or family meals.
One point to remember is that a table supported by a single pedestal has its main support in the center. Larger pedestals can support larger table surfaces up to a certain point. The table edges of a larger pedestal table will not be as stable as the center of the dining table.
A smaller round table provides more stability than larger pedestal tables. This is because the tabletop surface is smaller and requires less support. Likewise, smaller tables do not need as large of a pedestal as a large table. The pedestal will always be in proportion to the size of the table surface.
Style it Your Way – Farmhouse Pedestal Dining Tables
These gorgeous tables can be used in dining rooms with a variety of decorative styles. In this post, we are sharing pedestal tables for a dining room styled in a rustic farmhouse style. However, you can find another pedestal table that is suitable for other decor styles such as coastal, glam, traditional, and modern styles. Each of those styles will have different finishes which are suitable for that particular decor style.
Good to Know – Farmhouse Pedestal Dining Table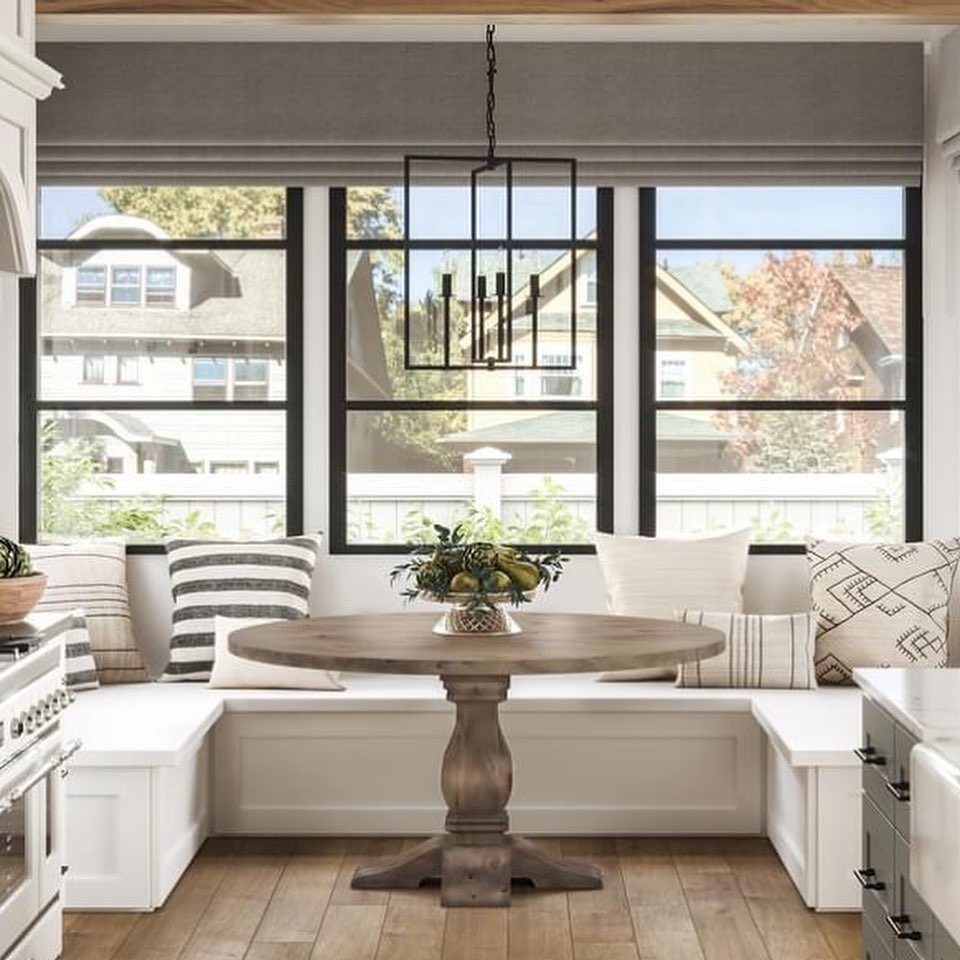 Newer pedestal tables are actually very stable. Again the table center has the most support. You might find that over time these tables can become wobbly or unstable. This is due to bolts and screws becoming loose where the pedestal is attached to the tabletop surface. After everyday use, this table can become wobbly for many reasons. Remember to not drag a table across the floor. Dragging a table across the floor causes the pedestal to become loose. Whenever moving a table, make sure to use a minimum of two people. Even when moving the table a few feet from its original place.
Decorating a round pedestal table is easy. Use either a wooden or basket tray, houseplant, or a fresh floral arrangement. These are only a few of the possibilities for decorating a round table.
Keep it Looking Good – Farmhouse Pedestal Dining Tables
We searched numerous online resources for some amazing farmhouse tables for your dining room. We found some fantastic tables. Here is our list of round tables for hosting cozy dinner parties. Take a look. Drop us a comment below in the comment section. Let us know about your home decor projects.
This ends our list of pedestal tables for the home. Give your home a cozy dining table for family gatherings with a farmhouse-style pedestal table. Be sure to take a look at our other posts for home decor inspiration. Tell us about your home decor projects in the comments below. We always love hearing from our readers.
Enjoy our other dining home decor posts for additional ideas.
Are you interested in a different type of table for your home? Try these posts for additional dining room ideas.

Round Pedestal dining tables
Coastal dining tables
White Tulip tables
Breakfast Nook dining sets
Coastal dining room ideas
Reach out to us with any questions. We are always ready to help you out. Thank you for dropping by and taking a look at our blog.
Mary
Pin this for Later: