Coat racks with shelf – perfect for a modern farmhouse decor style. Entryway storage can keep your entrance looking its best. Use various storage options to keep your entryway always clean and tidy. From coat racks to console tables with storage bins and umbrella stands, every storage unit plays a vital role in maintaining order within the home. There are various storage options to get organized and stay organized. Maintain a clutter-free entrance that guests see when they enter your home. In today's post, we share coat racks with shelves with a modern farmhouse style for the foyer and throughout the home.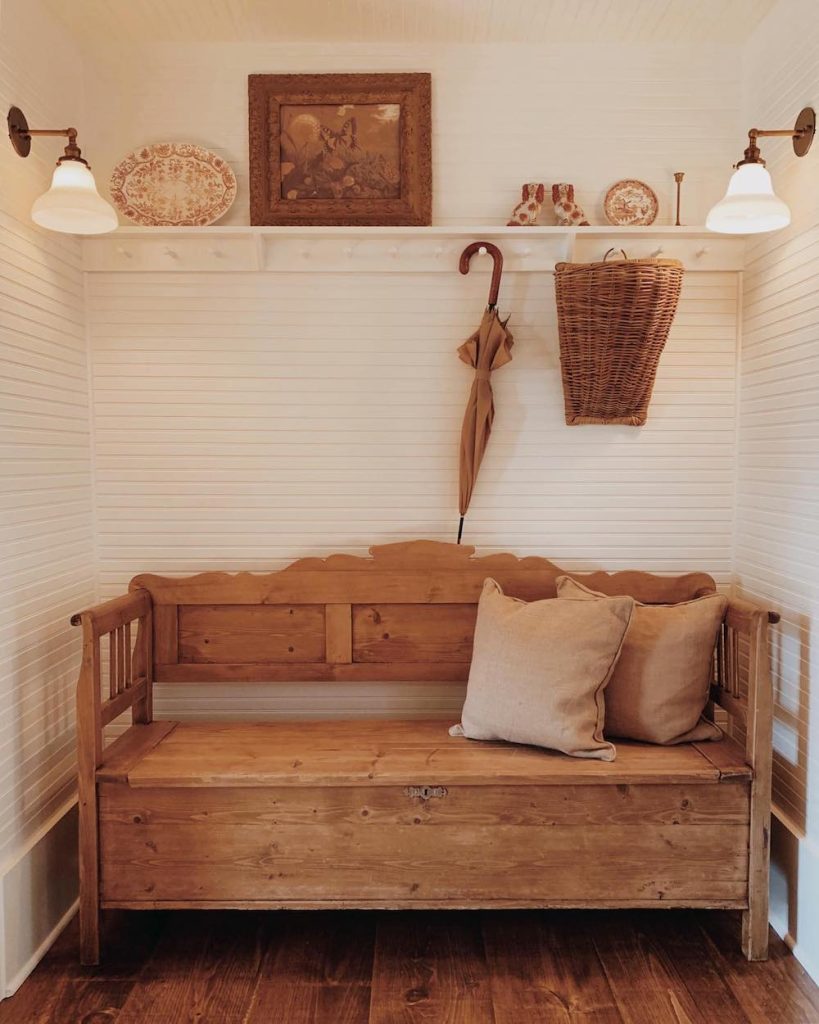 Stay organized with the help of storage baskets, umbrella stands, console tables, coat racks, and more. Create extra storage space with the help of a console table that features either drawers or open shelves. Keep baskets or bins on the open shelves to store tossed pillows, throws, and other accessories. The entryway is where your guest makes their first impression of your home. Be sure to style it and refresh it regularly as the seasons change.
Stay Organized – Coat Rack with Shelf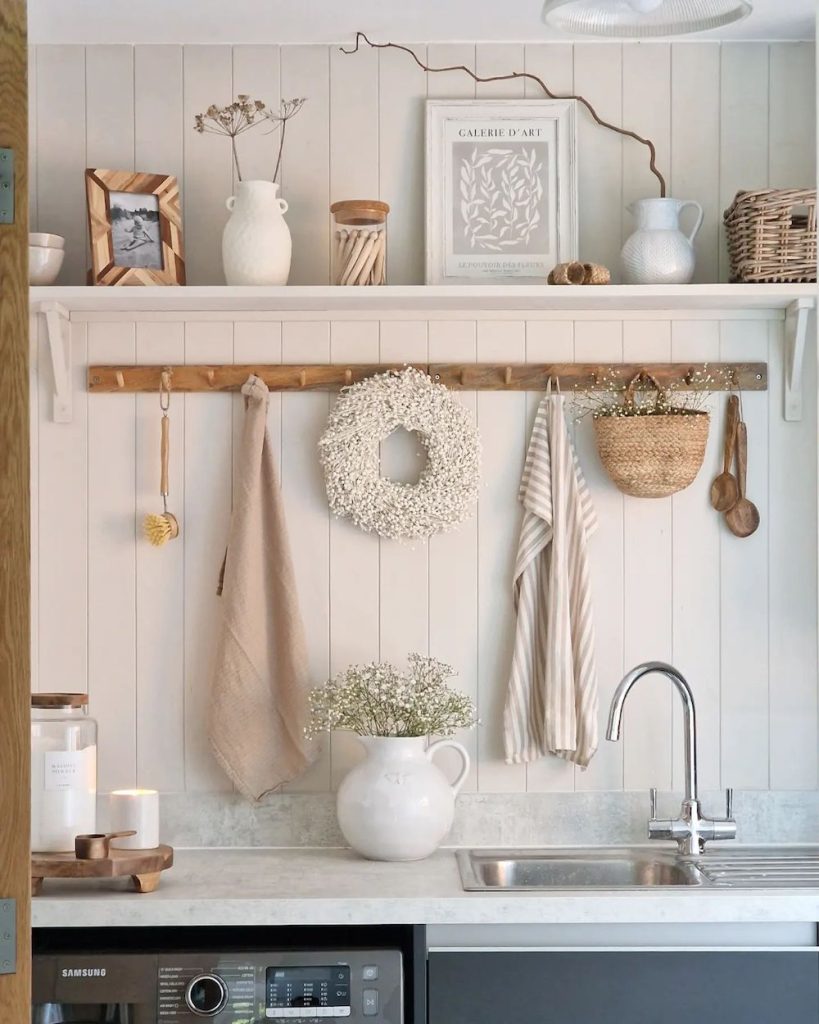 Coat racks are frequently used in a foyer or entryway. However, they are just as valuable for other areas of the home. Keep on in the mudroom, bathroom, or laundry room. Coat racks help keep you organized. 
Install a Coat Rack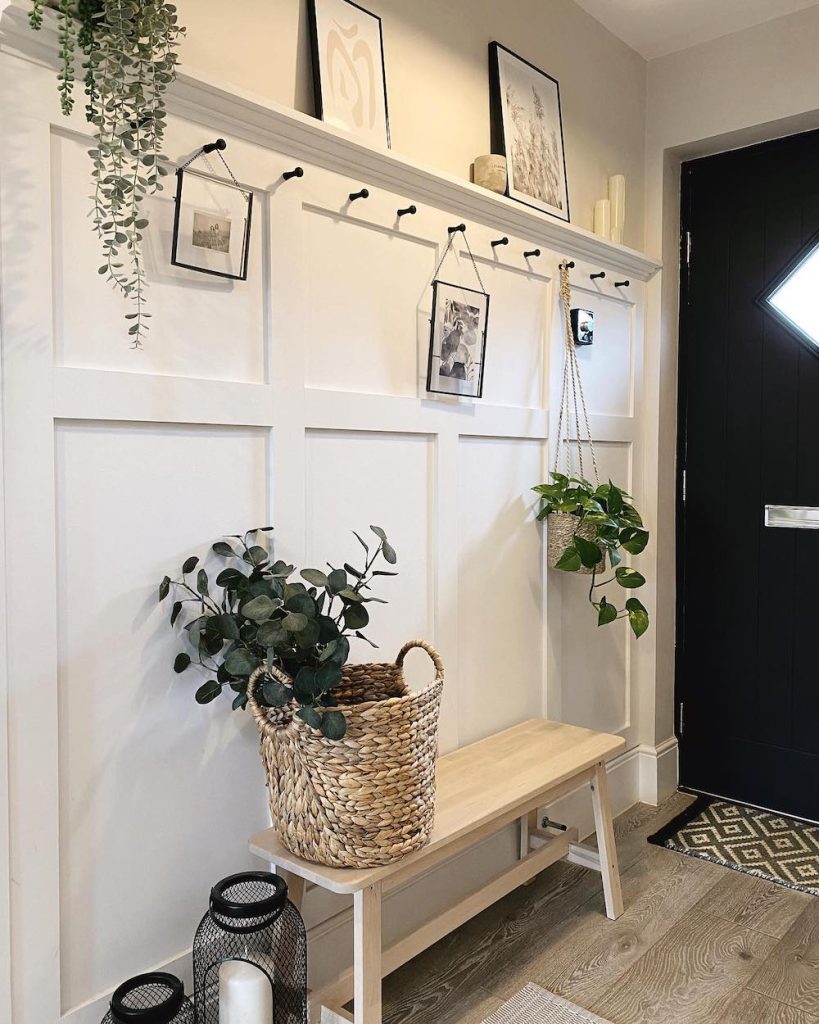 Create grid paneling for your entryway with pegs and a top shelf for extra storage and decoration as seen in this inspirational image by Scarlett_at_home. However, if you lack time or are on a smaller budget, simply hang a row of hooks or pegs with a small shelf above.
Instructions to Hang a Coat Rack
Hang a coat rack on gypsum drywall with a wood stud directly behind it. Installing a coat rack with a wood stud behind it provides solid stability. Before installing a coat rack, locate the wood studs behind the drywall. Once you've located the wood stud, with a pencil, make a light mark indicating where the stud is. In newer homes, wood studs are 16 or 24 inches apart in the center. So, from the center of one stud to the center of the next stud to the right, the distance is 16 or 24 inches apart. The space between the two 16-inch studs is 14 ½ inches – that is the space between the two studs. 
In older homes, the distance between two studs varies. Each set of studs can be different, with no consistency between the studs. So, it is best to use a stud finder to locate the studs along a wall.
Our Picks for Coat Racks with Shelf
Now, we are ready to show you our picks for coat racks with shelves for the entryway, foyer, mudroom, and home. Look at the selection of our favorite coat racks with a shelf — the right accessory to keep your home tidy. Widget 
Be sure to share with us which are your favorites. Let us know what you think. 
Take a look at our other posts for home decor inspiration. Drop us a line below in the comment section. Let us know all about your favorite home decor projects for your house.
Enjoy our other home decor-related posts for additional ideas.
Decorate your home with these great ideas. Check out our other posts for the interior and exterior of your home. Try these posts for additional decorating ideas this season.

Floor Lamps
Farmhouse Table Lamps
Picture lights
Reading Lamps
Reach out to us with any questions. We love hearing from our readers. Thank you for dropping by and taking a look at our blog.
Mary