Inspirational quote wood books to add Farmhouse style to your bookcases. These wood books with inspirational quotes are the perfect touch for a vignette, tabletop, or bookshelf. Many of these wood books have a white-washed finish and black printed quotes—an ideal addition to your farmhouse decor style. In today's post, we share 9 inspirational quote wood books in a Farmhouse style.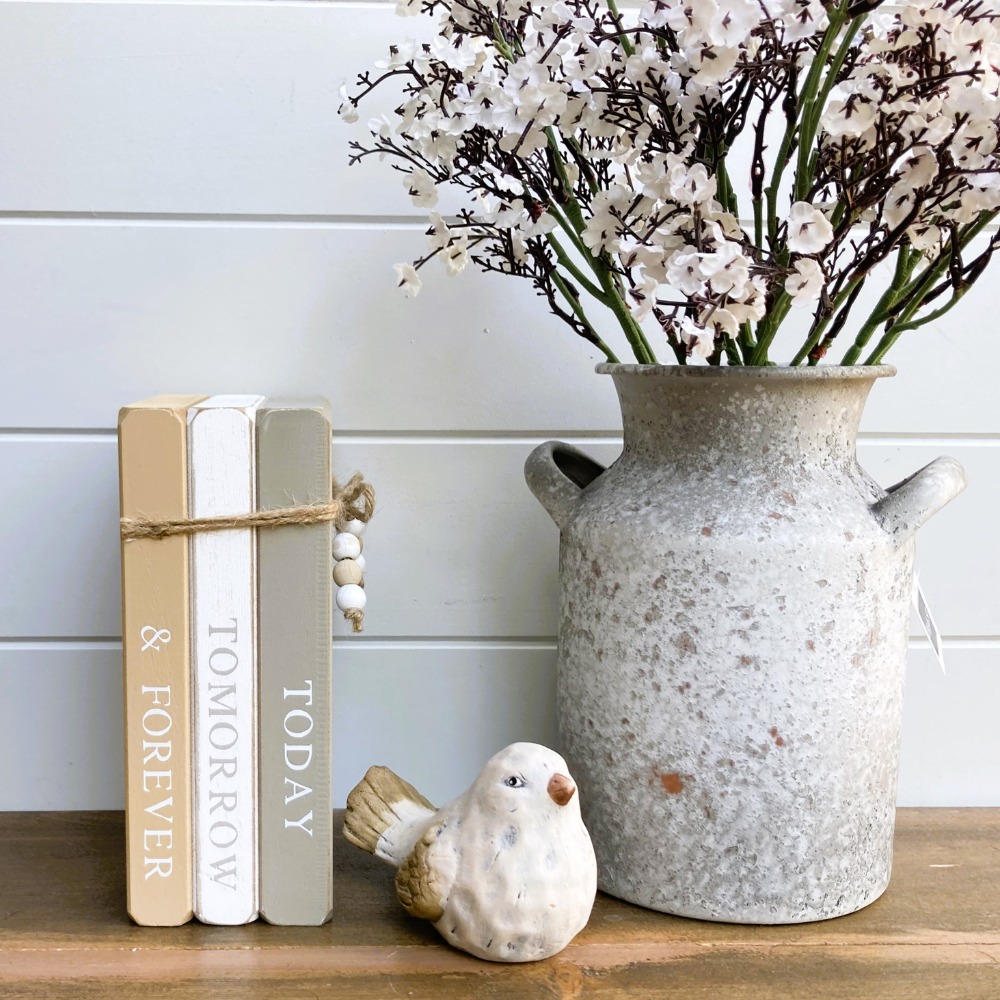 Inspire the ones your love with wood books that have inspirational messages. Ideal for a bookshelf, family room, bedroom, or entryway. Simply telling those around you they are loved is powerful and essential for a family to grow. Bring a cozy feeling to your home with farmhouse-inspired wood books.
Style with Decorative Books – Inspirational Quote Wood Books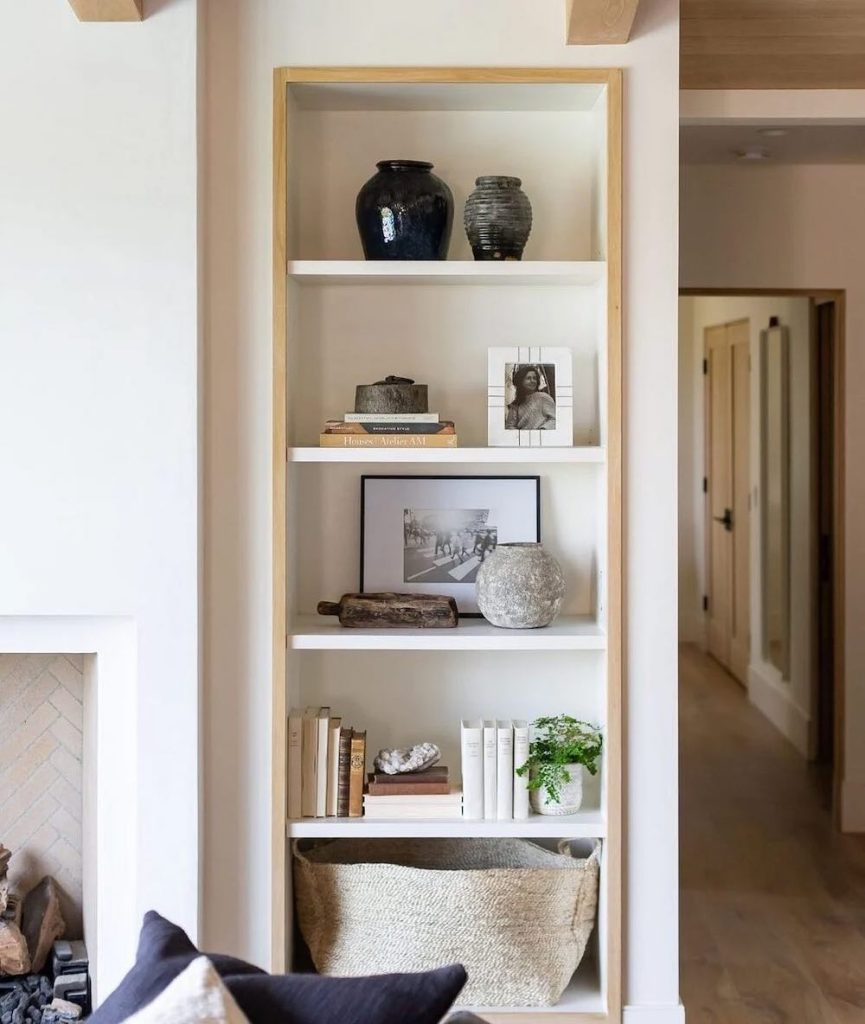 Create a platform to elevate an object with a stack of books. Books make all the difference, whether designing a vignette or styling a bookshelf. Display books in a variety of ways. Line books vertically. Stack books horizontally and top off with an interesting object. Create visual interest by tying the entire design together by color or theme. 
Sort books by size, color, or topic when decorating with books. Organize by color for an eye-catching display. Grouping books by topic, such as Christmas or Halloween, creates a dramatic presentation. Stacking books horizontally give height to your show. As you decorate, use objects of varying sizes. Again this provides curiosity and interest to the collection.
Book Stack Decor – Inspirational Quote Wood Books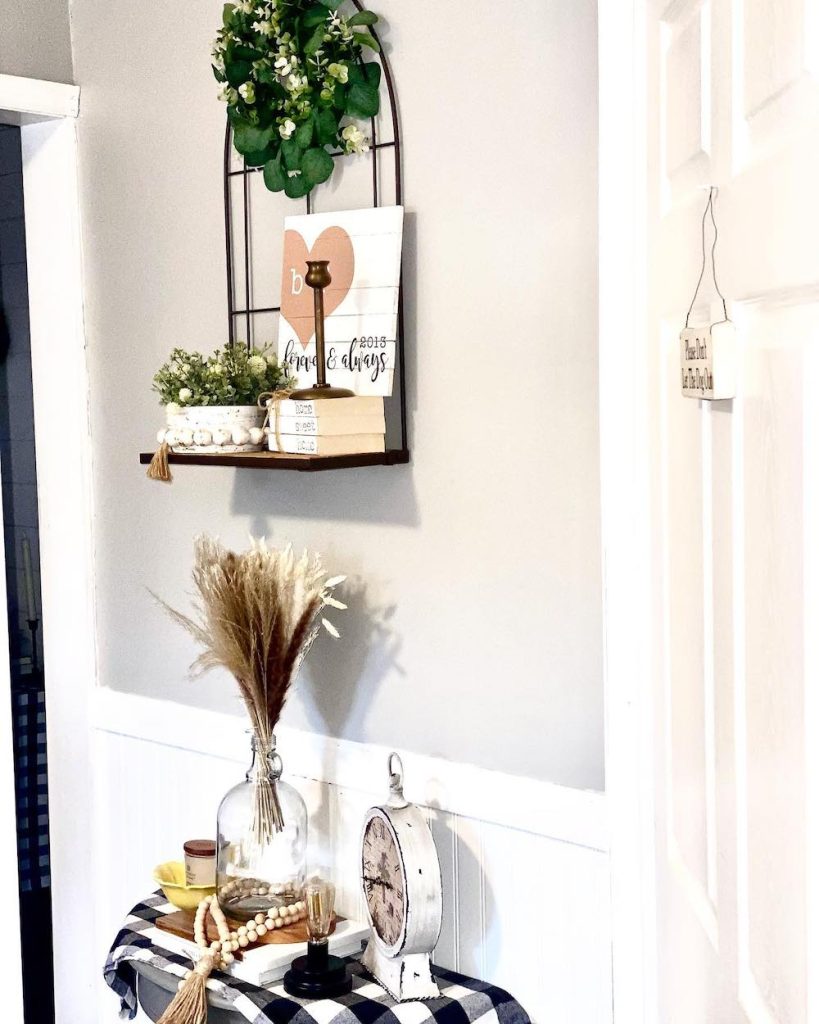 Once you've placed your books down, consider what objects you'd like to display. Many things can be propped on a stack of decorative books. Here are a few ideas. Personalize it with family photos or keepsakes. Add a small vase of fresh flowers or a houseplant for an organic touch.
Continue the theme by adding objects that represent that theme. For example, add a pretty shell or decorative fish if you design a coastal or beach theme. Many decorative sealife objects exist, such as turtles, octopuses, seahorses, and fish. Another example is if you create a Halloween-themed vignette, add creepy insects on the book stack. Display a skull or skeleton. The possibilities are many.  
Our Picks for Inspirational Quote Decorative Books
We move on to selecting inspirational quote decorative books with farmhouse style. Look at our selection of decorative books. A perfect accessory for a tabletop, bookshelf, or entryway.
Be sure to share with us which decorative books are your favorites. Let us know what you think.
Take a look at our other posts for home decor inspiration. Drop us a line below in the comment section. Let us know all about your favorite home decor projects for your house.
Enjoy our other home decor-related posts for additional ideas.
Decorate your home with these great ideas. Check out our other posts for the interior and exterior of your home. Try these posts for additional decorating ideas this season.

Armoires
Farmhouse sofas
Tables for a Farmhouse
Farmhouse lamps
Reach out to us with any questions. We love hearing from our readers. Thank you for dropping by and taking a look at our blog.
Mary