Fall textual wall art that covers your walls this season. Add celebratory art to your home with fall textual wall art. In today's post, we share textual wall art to welcome the fall season. These textual wall art pieces are perfect for an entryway, hallway, dining room, or living room. Best of all, they look equally stunning in a modern farmhouse, traditional, or coastal-styled decor.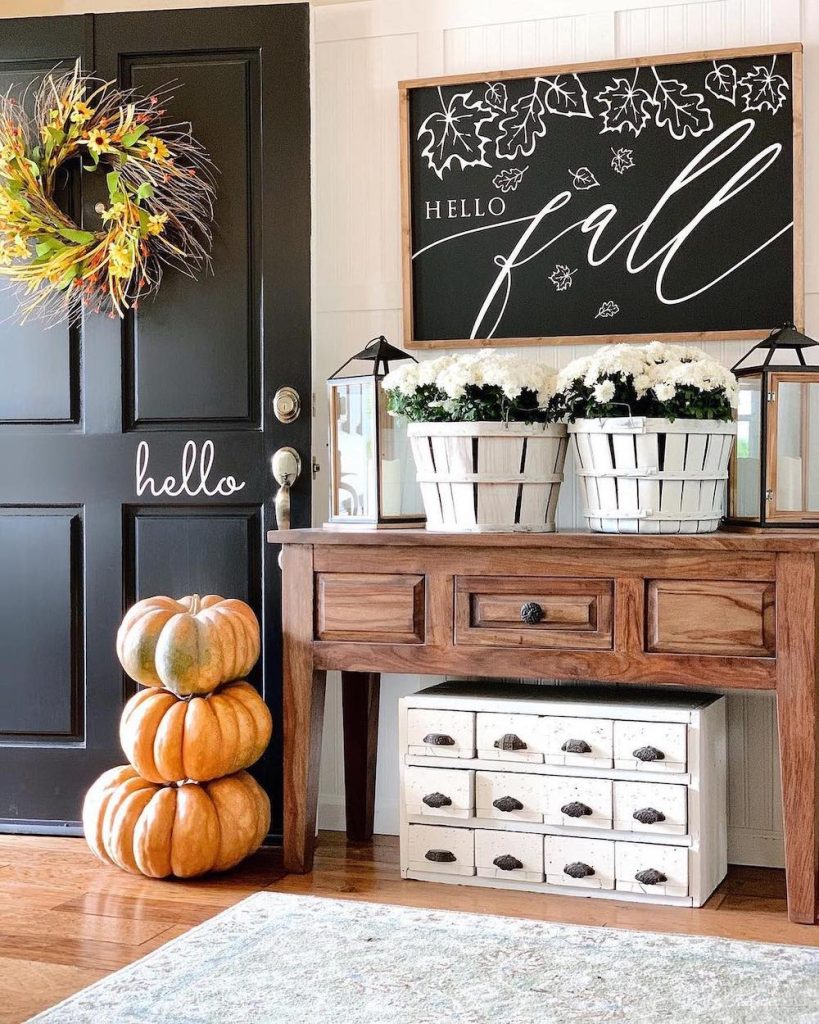 Cover your walls with fall greetings that will make your guests feel welcome. Then, celebrate the fall harvest season with a refreshed entryway. Not sure how to get started? Then, please take a look at our wall art decorating tips.
Wall Art Decorating Tips – Fall Textual Wall Art
Decorate your room with wall art by following these tips:
Start with a theme. In this case, the theme is the fall season.
Select a color hue. Will you stick to a neutral color scheme? Use color to add drama to a room. Some popular fall colors include orange, yellows, brown, and darker reds.
Mix it up. Display vintage posters, textual art, photos, and paintings in groups. Wall art is not limited to images on canvas. Add a mirror to brighten the area.
Give your walls a gallery look. Discover ways to display multiple pieces of art.
Go frameless or mix frame styles. When assembling a gallery art wall, it is acceptable to mix frame styles. You can have all the frames match, but it isn't necessary.
Make it funny. Add humor to your wall art. What better way to uplift your spirits?
Add a sculpture or vase full of flowers. Not every wall needs wall art. Instead, display a great selection of sculptures or flower-filled vases.
Consider the space you'd like to add wall art. A small wall surface may not support an extra large piece of wall art. Think about scale and space.
Hang the artwork so that the artwork's center is about 57 inches from the floor. This rule of thumb is considered the average person's eye level. However, in some rooms, 57 inches may appear too high. You may want to adjust this height in a dining room or office where you spend more time sitting than standing.
Additional Tips for Decorating with Wall Art
Stay away from sunlight. Artwork can be damaged by direct sunlight. UV rays are harmful and can permanently disfigure artwork. Faded, cracked, or warped artwork is often the result of art being exposed to direct sunlight. Display artwork on an inner wall. Another option is to display art in a room with window drapes that can be drawn closed to prevent the sun from entering. 
Use a wall-mounted picture light to light up artwork instead of natural lighting. Picture lights spread light evenly across the artwork piece. They are designed to accentuate and highlight wall art. Using a picture light makes the artwork the room's focal point. Give your space ambiance with a picture light. 
Recognize that not every wall needs to have wall art. It is perfectly fine to leave a few walls without wall art. 
Cover only 60%, at the most, of your walls with wall art. Leave the remaining 40% of wall space blank. This includes walls with a single piece of wall art and those with a gallery art wall. 
Landscapes are the most prevalent type of wall art. These scenic images remind you of a place you might have visited previously. 
Use large wall art in smaller spaces to make the space appear larger than it is. Rooms appear roomier, spacious, and stylish with large wall art. 
Create a harmonious visual balance throughout the home by using accessories, including wall art, whether displaying wall art in every room or having a bare wall. Each room is different in terms of lighting, space, and style.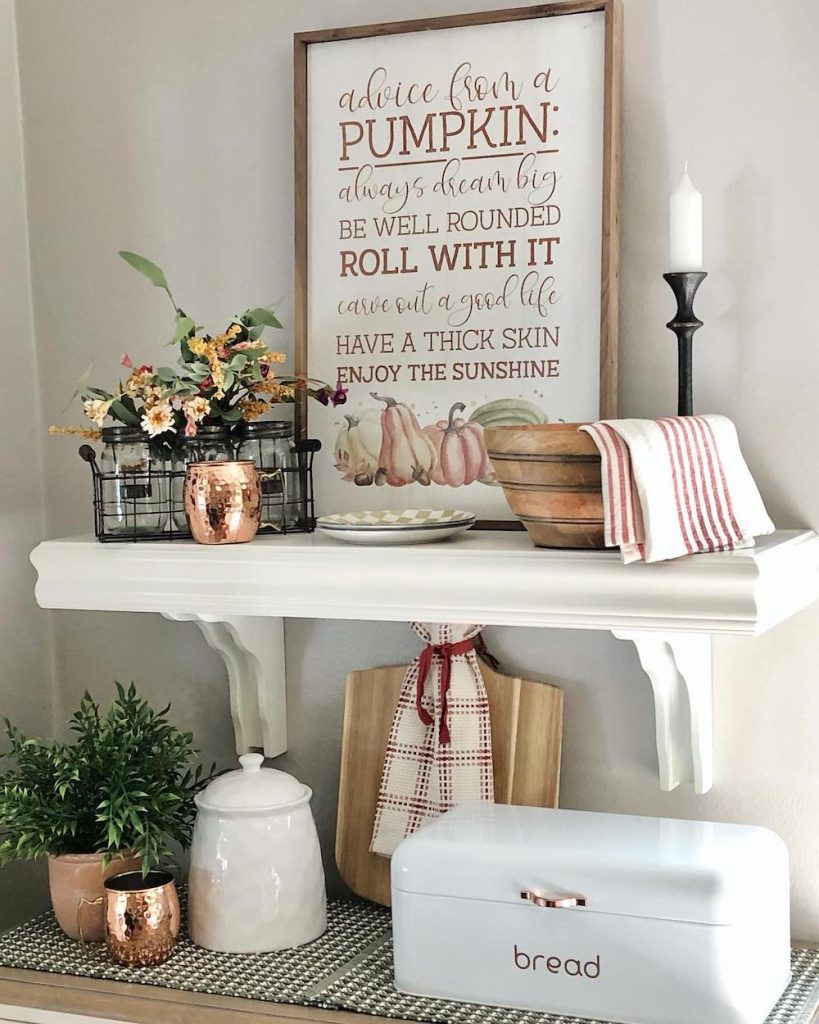 Our Picks for Fall Textual Wall Art
We move on to selecting fall textual wall art for a farmhouse style. Look at our selection of the wall art for the fall season. Perfect for decorating an entryway wall or as a tabletop decor.
Be sure to share with us which textual wall art is your favorite. Let us know what you think.
Please take a look at our other posts for home decor inspiration. Drop us a line below in the comment section. Let us know all about your favorite home decor projects for your house.
Enjoy our other home decor-related posts for additional ideas.
Decorate your home with these great ideas. Check out our other posts for the interior and exterior of your home. Try these posts for additional decorating ideas this season.

Armoires
Farmhouse sofas
Tables for a Farmhouse
Farmhouse lamps
Reach out to us with any questions. We love hearing from our readers. Thank you for dropping by and taking a look at our blog.
Mary
Pin this for Later: