Farmhouse Armoires are great storage problem solvers. Armoires are functional and provide a fair amount of storage. Even more important, they help keep you organized. From storing bed linens or personal clothing and accessories, for keeping a television out of sight, armoires help keep the home tidy.
An armoire is a practical solution for storage in older homes where storage space is always limited. Or for larger families that have outgrown their home. And with the availability of today's many styles you never have to sacrifice style or settle for a piece that is just so-so. The armoires of today are available in many sizes, styles, stains, and wood finishes. In fact, there are armoires for every budget. So, if you are searching for a Modern Farmhouse, Rustic, Country, or Cabin aesthetic style decor, take a look at our selection. You'll find many armoires with distressed neutral finishes, and are a versatile furniture piece.
Bring an armoire home to help maintain organization. With an abundance of style and utility, we've rounded up 18 Farmhouse Armoires with Country appeal. And we are sure that fans of Farmhouse, country, and rustic design will surely approve of.
Take a look at our selection and be sure to let us know which ones are your favorites!
Carnes Armoire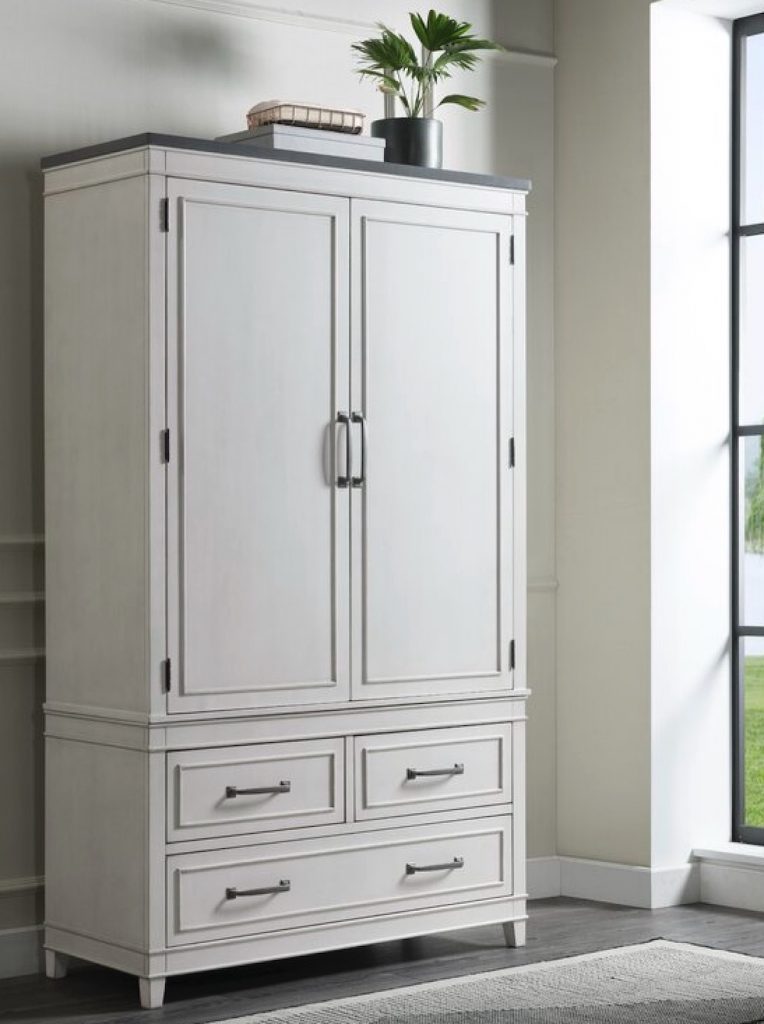 Inspired by American farmhouses, the Carnes Armoire is made from pine and poplar woods. Followed by a white finish with 2 adjustable shelves and hanging rod. Three drawers provide additional storage. Ideal for bed linen storage in a guest room or for additional bedding storage. The armoire measures 78 inches tall by 47 inches wide and 19 inches diameter.
2. Marion Armoire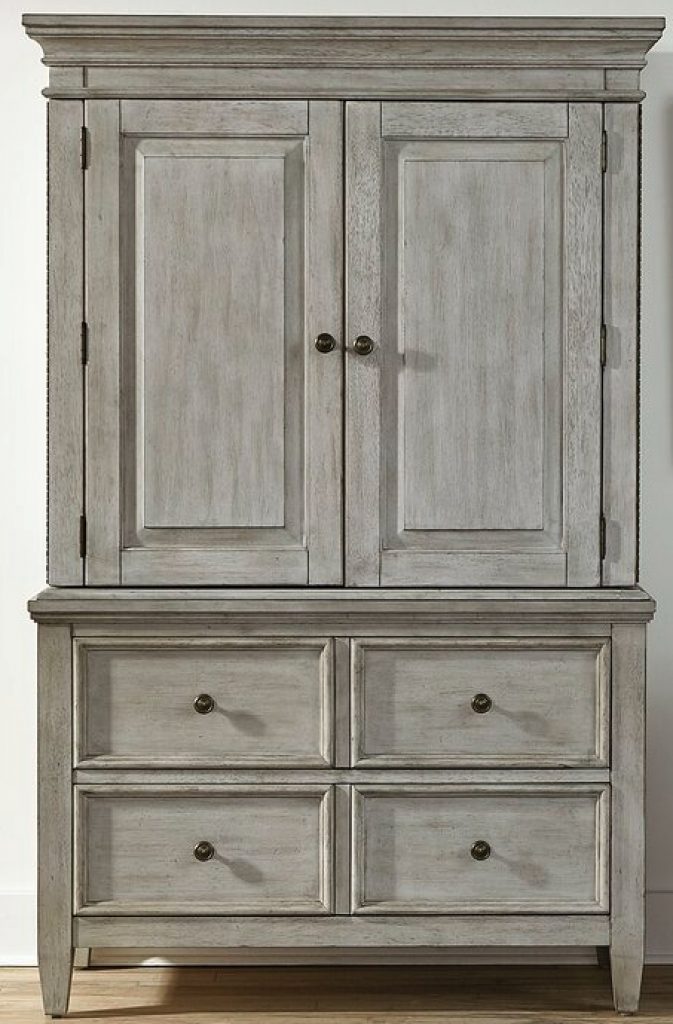 With a vintage inspired design, the Marion Armoire is crafted from rubber wood and stained with an Antique White finish. Along with the distressed finish, the Marion has classic Farmhouse details. The armoire measures about 72 inches high by 46 inches wide and 21 inches in diameter.
3. Pippa Four Door Armoire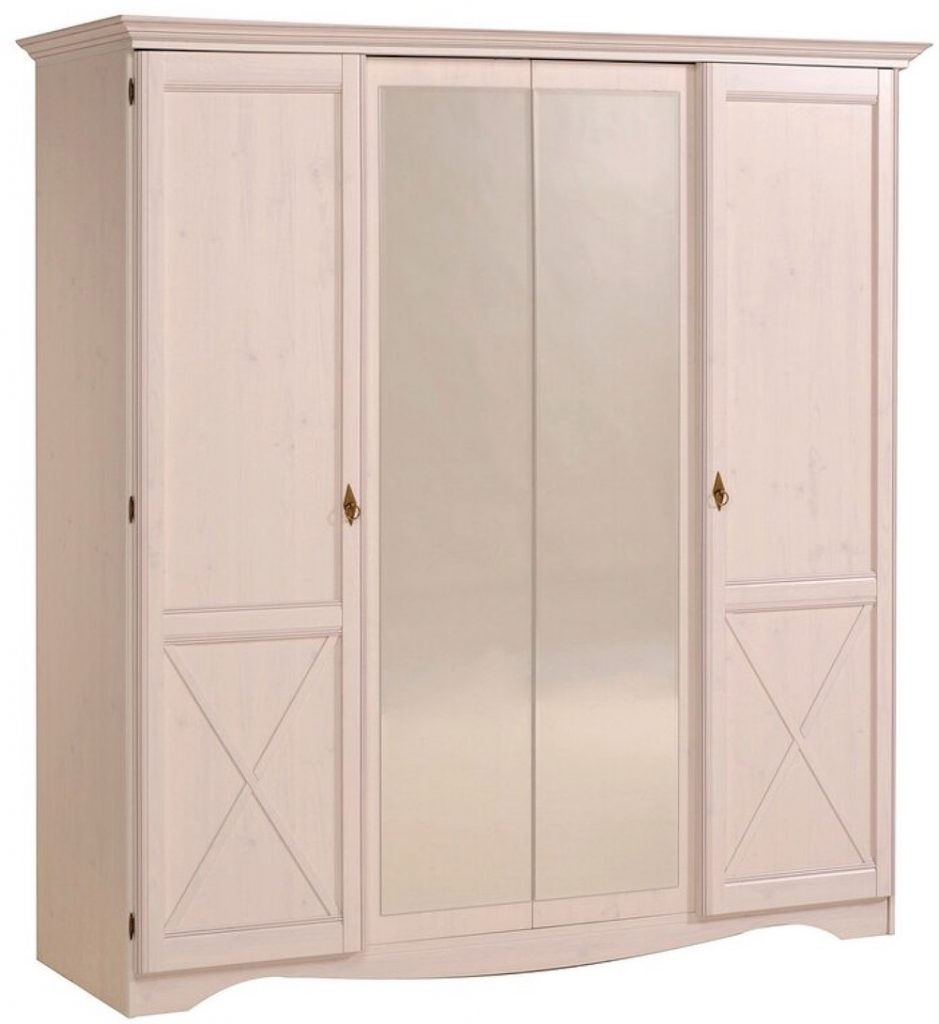 A colonial country inspired armoire, the Pippa is made from premium veneer of Memphis pine with white-washed wood grain. The Pippa has four doors with a generous amount of storage. This piece measures 80.7 inches in height by 76.4 inches wide and 26 inches in diameter. The interior has a clothes rod with several shelves for handy storage.
4. Sturbridge Armoire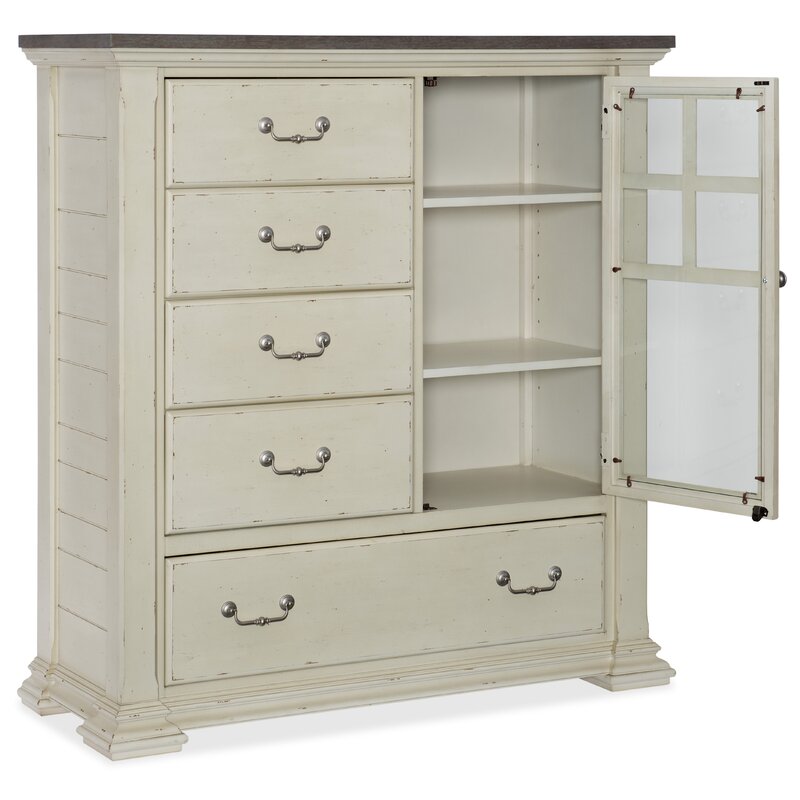 With many Country inspired details, the Sturbridge Armoire is made of oak and poplar. The finish is a cream color. This piece measures 54.5 inches high by 50.75 inches wide with a diameter of 19.5. The country cupboard-like armoire has generous storage with 5 drawers.
5. Toulouse Armoire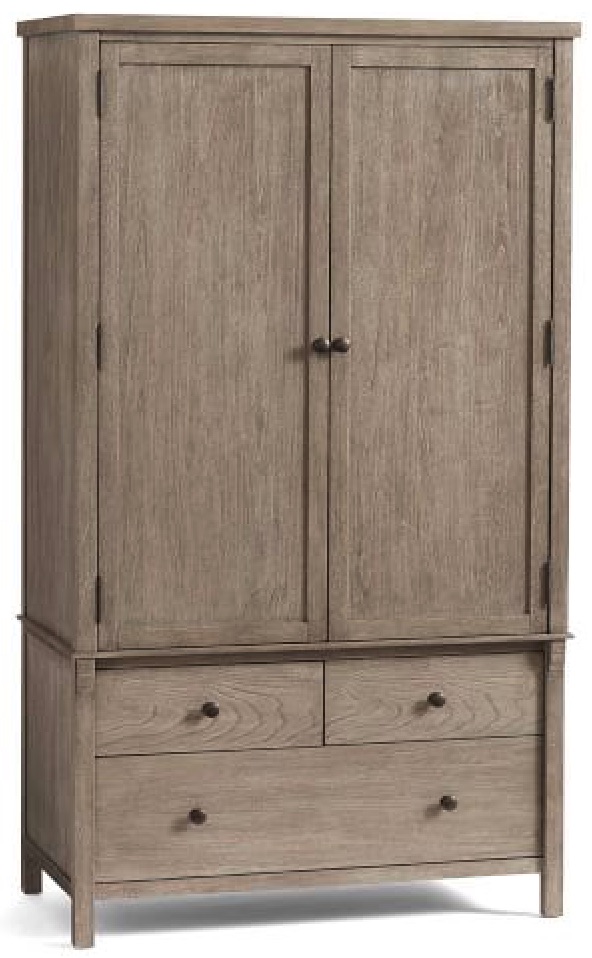 The vintage inspired Toulouse Armoire features a stained gray wash finish with antique finish pulls. The armoire measures 70 inches high by 40 inches wide and 21.5 inches deep.
6. Luna Armoire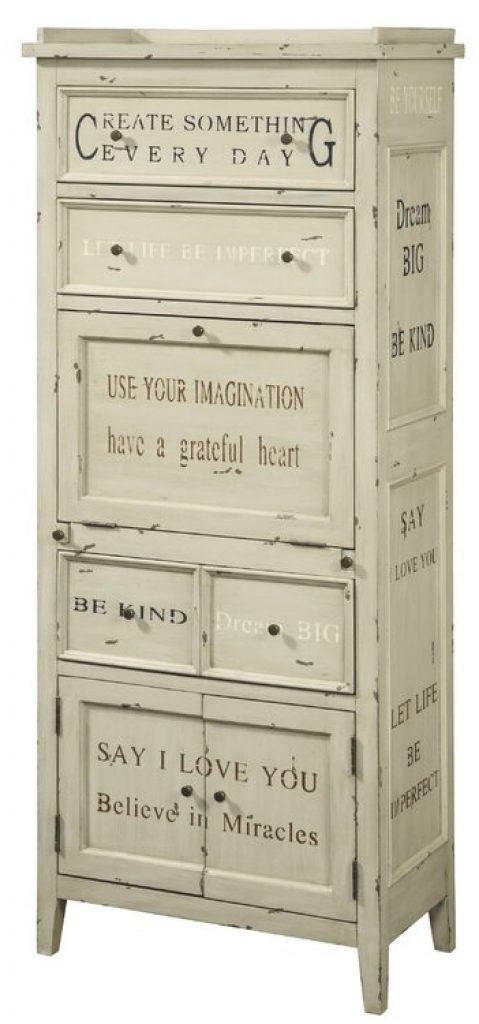 For inspirational messages, the Luna Armoire has distressed weathered cream finish. The farmhouse inspired armoire measures 64 inches in height by 27 inches wide and 15 inches in depth.
7. Montana Armoire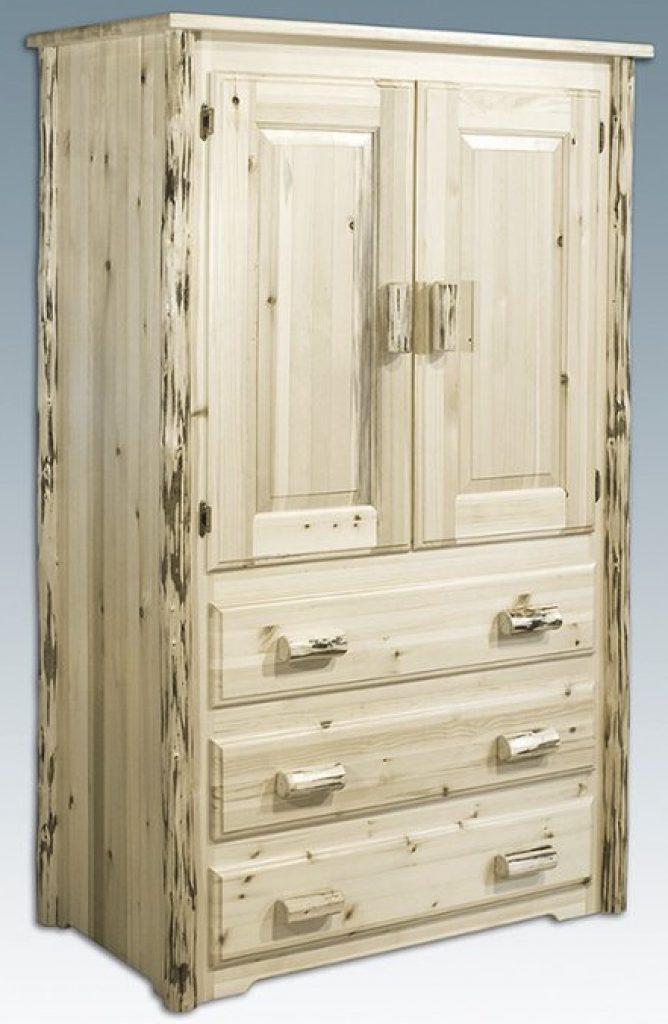 Inspired by rustic cabin style, the Montana Armoire has a clear lacquer finish. Crafted of solid pine wood, the Montana measures 72 inches high by 42 inches wide and 24 inches diameter. The armoire includes 3 drawers with 2 cabinet doors for easy access to the storage contents. even the name Montana is cool sounding! Don't you think?
8. Jaelyn Armoire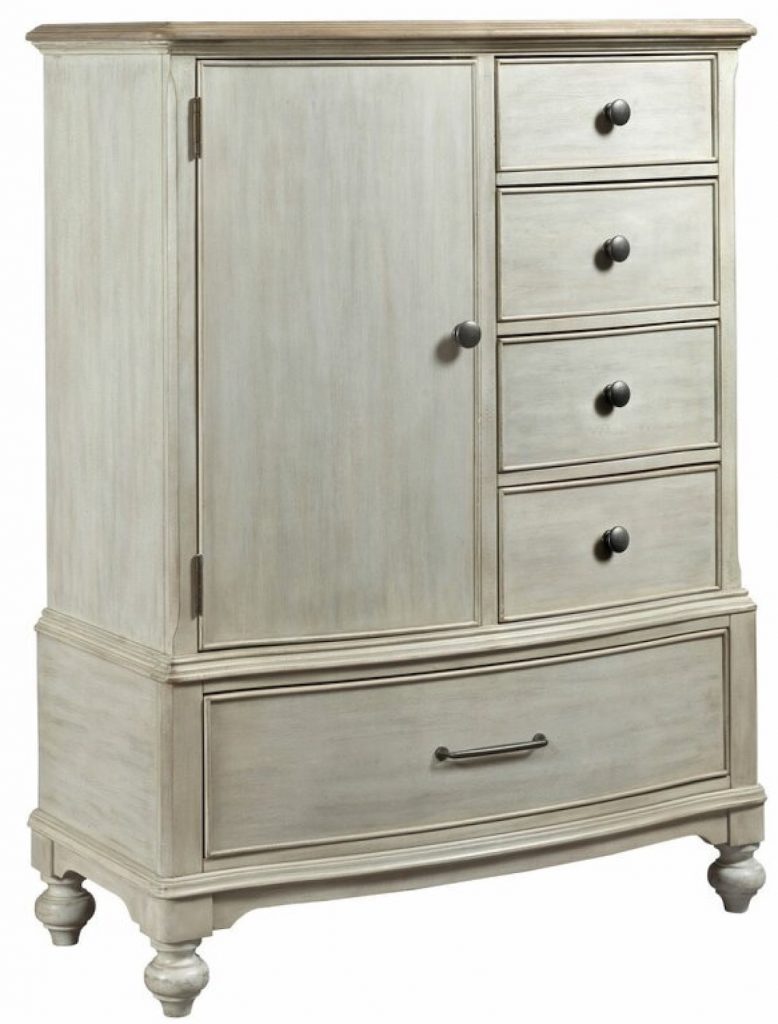 Crafted from birch and oak, the Jaelyn Armoire has a Sun Washed finish. The Jaelyn measures 54 inches tall with 40 inches wide by 20 inches deep. This piece includes a left side cabinet door with 4 right side drawers and a larger bottom drawer. An abundance of storage.
9. Bowyer Armoire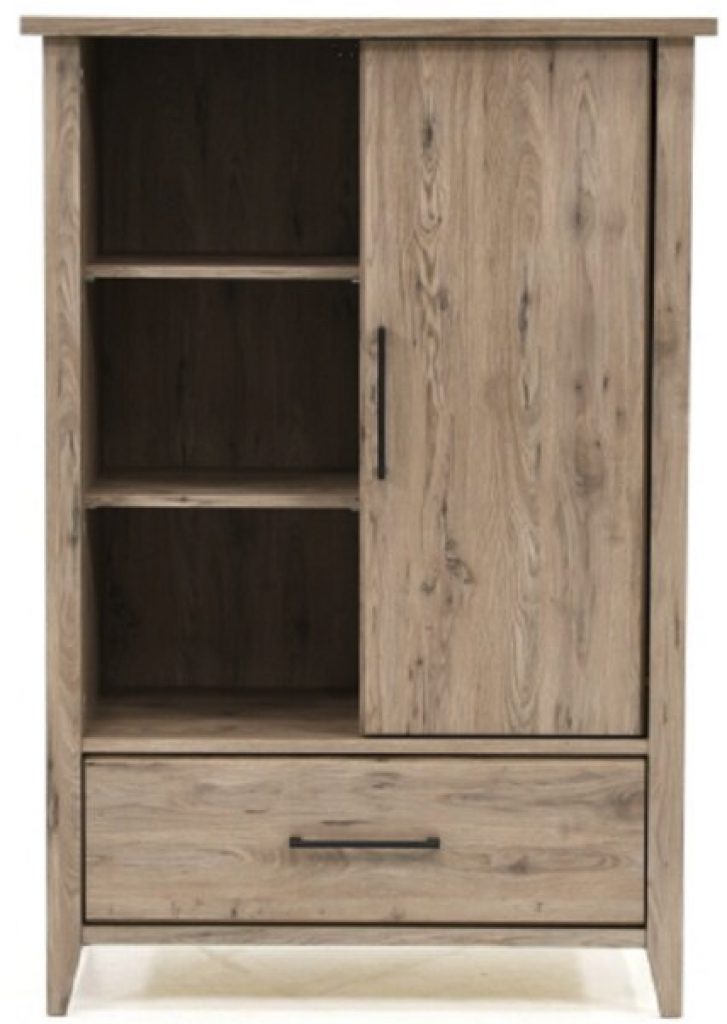 Farmhouse inspired style, the Bowyer Armoire has a Laurel Oak finish. The armoire measures 54 inches in height by 36 inches wide and 18 inches in diameter. The sliding door adds that barn door farm look to this piece.
10. Reichel Armoire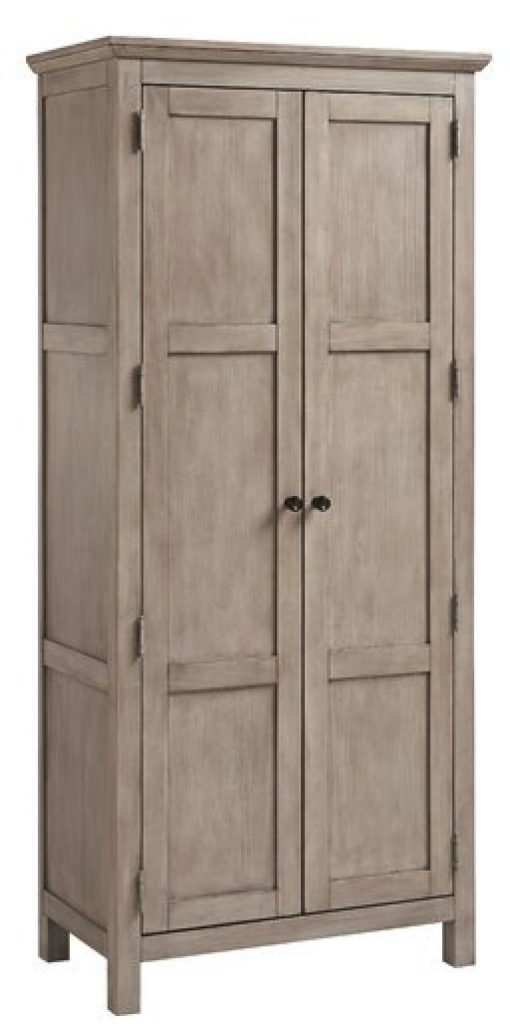 With country style details, the Reichel Armoire is made from poplar wood. The finish is a warm gray color. Measuring 75 inches in height by 34 inches wide and 18 inches in diameter, the Reichel offers plenty of storage.
11. Centreville Armoire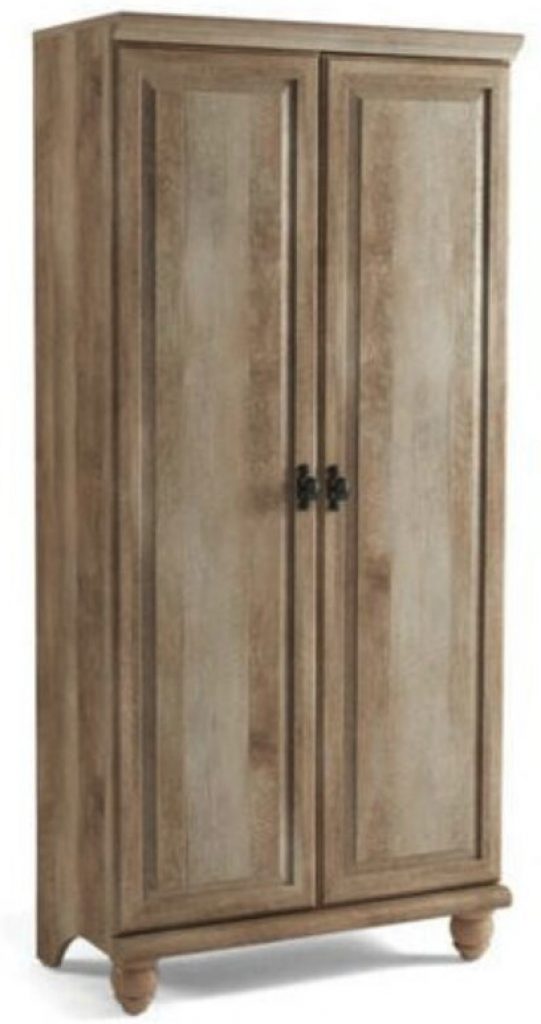 With warm earth tones, the Centreville Armoire measures 68 inches in height by 16.62 inches wide and a diameter of 31.12 inches. The Centreville has a weathered finish with full-length framed panel doors. Interior of the armoire has four adjustable and a single fixed shelf. This piece rests on solid wood raised feet. There is never any need to sacrifice style for function, the Centreville has it all!
12. Dodds Carolina Shutter Armoire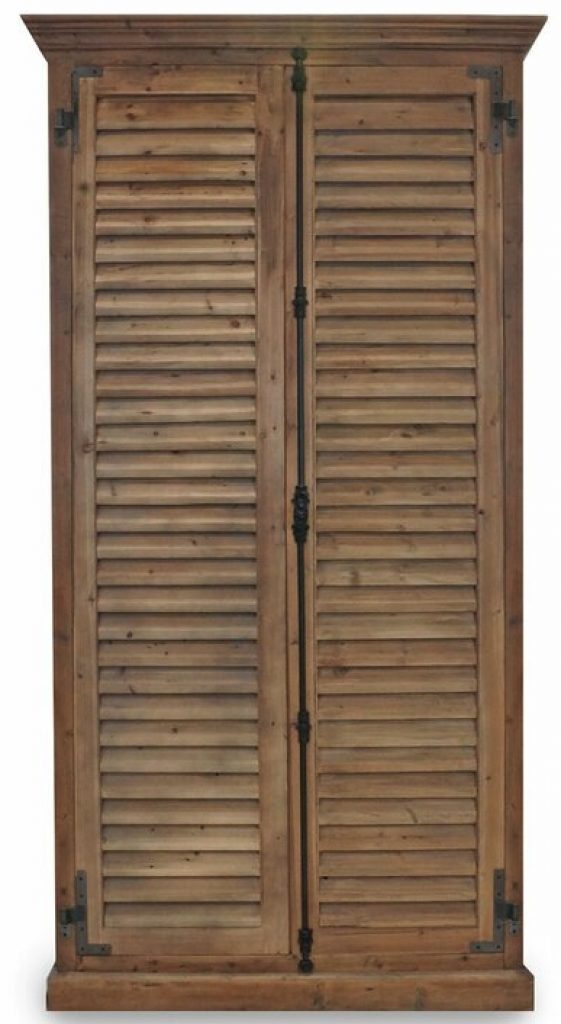 Old World inspired details, the Dodds Carolina Shutter Armoire is made from pine wood – reclaimed pine. With a finish in warm brown, the Dodds Armoire measures 91 inches in height! And has a width of 44 inches with 25 inches in diameter. So practical with Old World design.
13. Palmer Storage Cabinet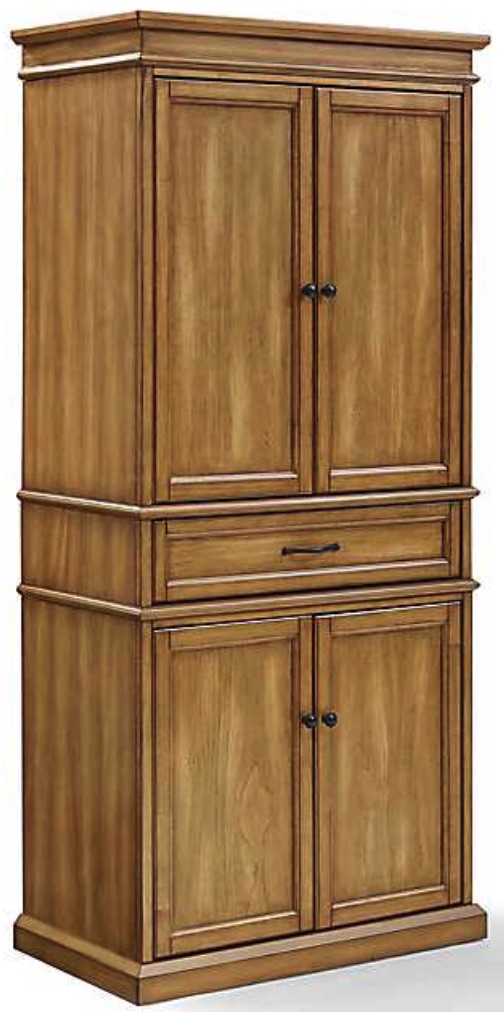 Farmhouse style inspired, the Palmer Storage Cabinet is crafted from solid hardwood with a veneer frame. The stain is a natural finish. The Palmer measures 72 inches high by 33 inches wide and 19 inches deep. This armoire has four doors with two adjustable shelves and one open shelf and single drawer. To top it all off, the Palmer has black metal pull handles. A pure blending of style and utility.
14. Distressed Wood Delmar Cabinet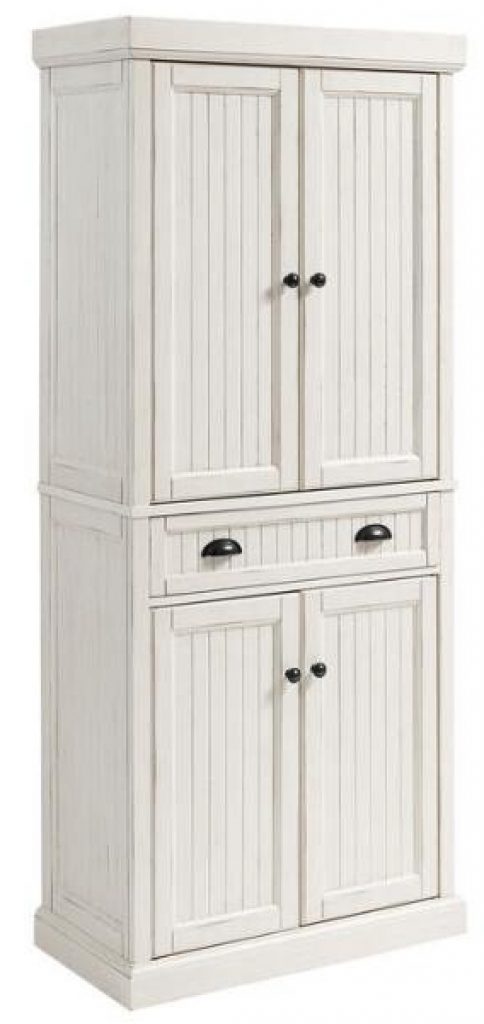 With a Country Farm inspired design, the Distressed Wood Delmar Cabinet is crafted of poplar wood and birch veneer. In a distressed white finish and gunmetal hardware finish, the Delmar has a single drawer with double cabinets above and below. The grooved bead board paneling gives this a weathered look. The Delmar measures 72 inches in height by 30 inches wide and 16 inches in diameter.
15. Lakeville Armoire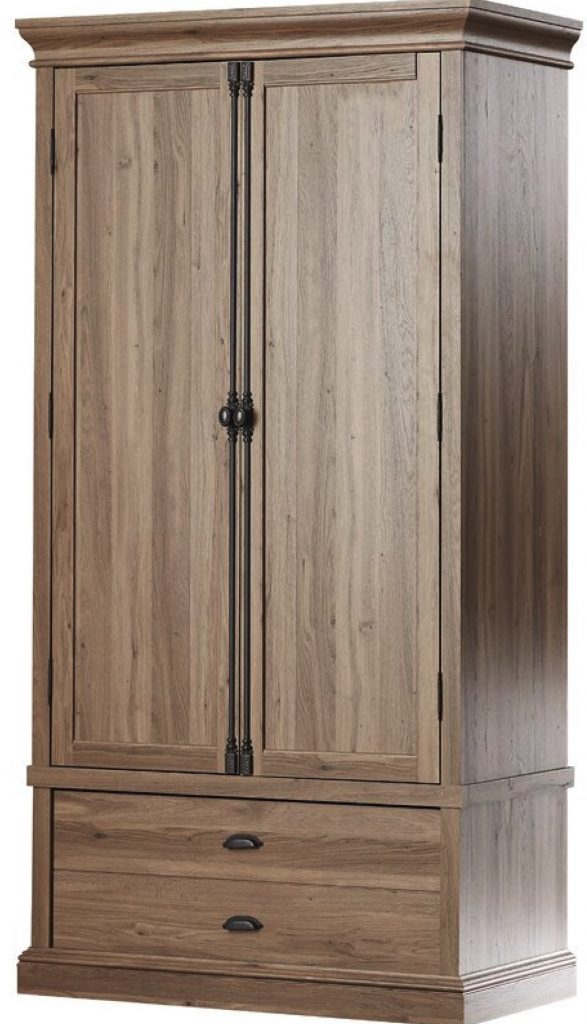 With a cottage inspired design, the Lakeville Armoire has a warm Salt Oak finish. Lakeville Armoire measures 78.9 inches tall by 40.9 inches wide and 21.4 inches in diameter. This piece includes a single drawer, adjustable shelves, and a garment rod for those times when you need a little extra storage space.
16. White Home Bayou Armoire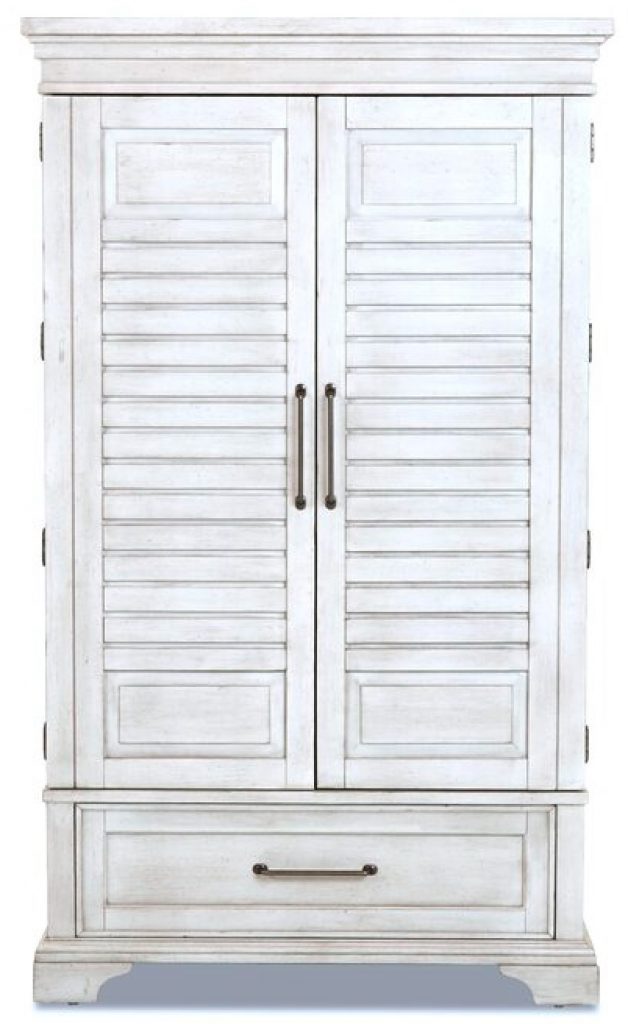 Inspired by the homes along the countryside, the White Home Bayou Armoire is crafted from rubber wood. The Bayou Armoire has a white finish, neutral for use with many decors. This piece measures 78 inches tall by 46 inches wide and 21 inches deep.
17. Clairmont Armoire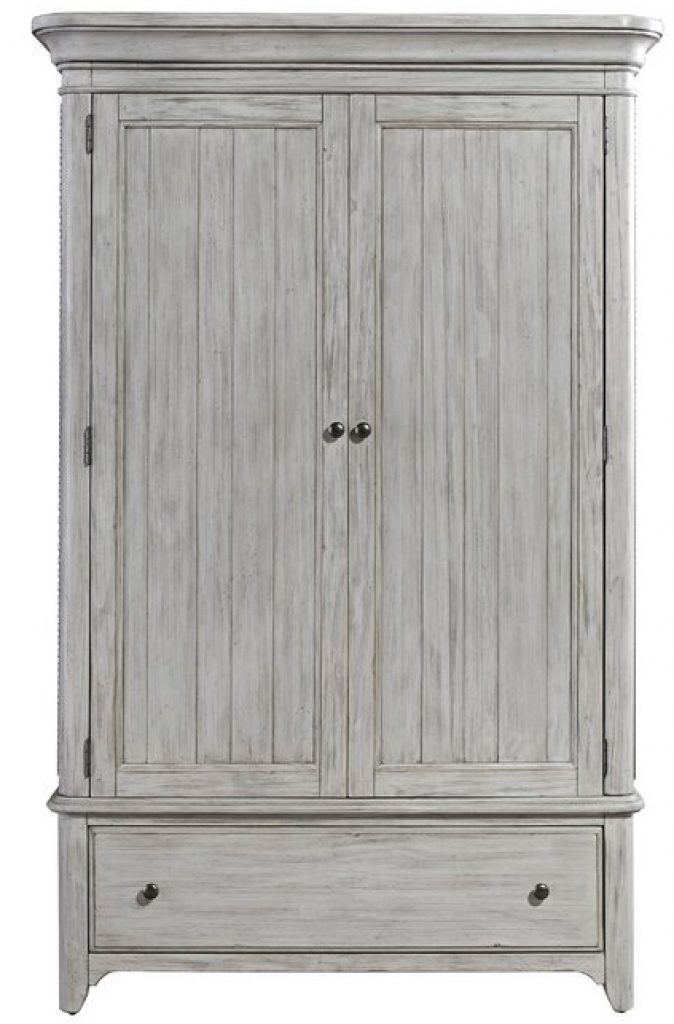 Rustic and countryside appealing, the Clairmont Armoire is crafted from pine wood with a distressed white finish and gray undertones. The Clairmont measures 78 inches tall by 50 inches wide and 21 inches in diameter. So reminiscent of the style of American Farmhouses.
18. Iredale Armoire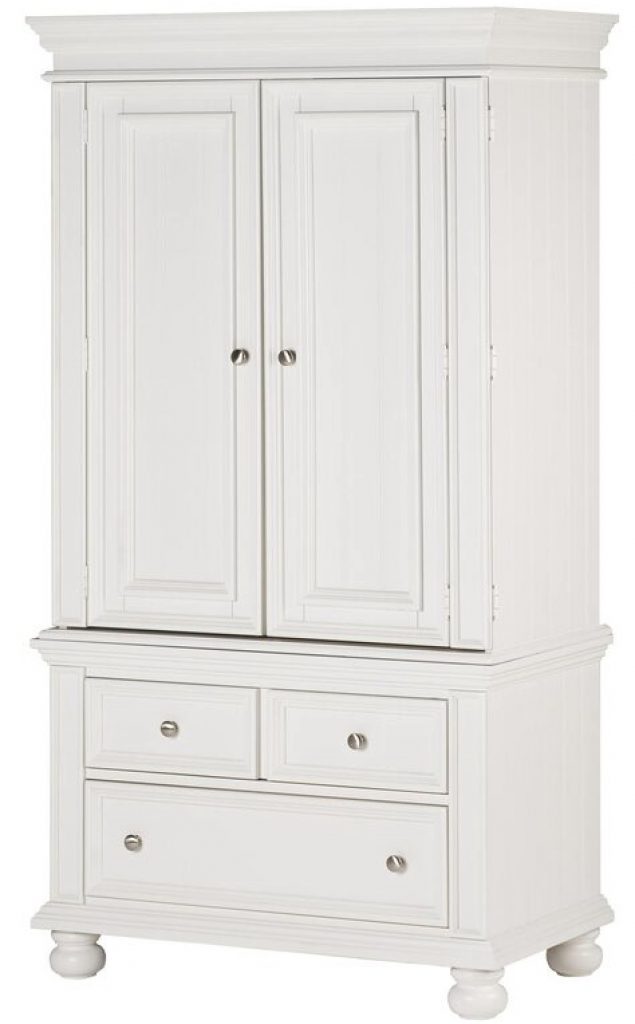 Country cottage inspired details, the Iredale Armoire is constructed out of rubberwood with an off-white finish. The Iredale measures 76 inches tall by 40 inches wide and 22 inches in diameter. This country styled piece has an adjustable shelf, two shelves and two drawers for ample storage.
This completes our list of Farmhouse armoires with Country Appeal. So tell us, which ones were your favorites? Let us know in the comments below.
Interested in Interior Decor? If you found this helpful . . .
You May Also Enjoy some of our other Interior Decor related posts.
12 Affordable Farmhouse Coffee Tables
33 Simple Farmhouse Table Lamps
21 Farmhouse Nightstands for Nighttime Necessities
9 Affordable Farmhouse Tiered Stands
And if you have any questions, feel free to reach out to us. We are always ready to help you out. Thank you for stopping by our blog.
Mary