For those that love the French Country style, you'll love these French Country Armoires. Not only do these armoires have fabulous style, they also provide a generous amount of storage for the home. An easy refined look yet rustic and country styling.
Neutral colors lend themselves to many country decor styles. And that is the beauty of neutral hues. The timeless casual look of French Country decor is why this decor style has been so popular for many years.
As a result of our search, we've found 10 French Country Armoires that perfectly display this timeless casual French Country style you love. With this in mind, take a look at these French style beauties. And let us know which are your favorites.
Treport Armoire
With a white distressed finish, the Treport Armoire is generously sized. In this case, this armoire is more on the taller side, it measures 82 inches tall by 48 inches wide and 22 inches in diameter. A beautiful blended European style armoire made from oak and poplar. Another key point is that the armoire has a total of 4 adjustable shelves. We can certainly use extra storage throughout our homes.
2. Campania Armoire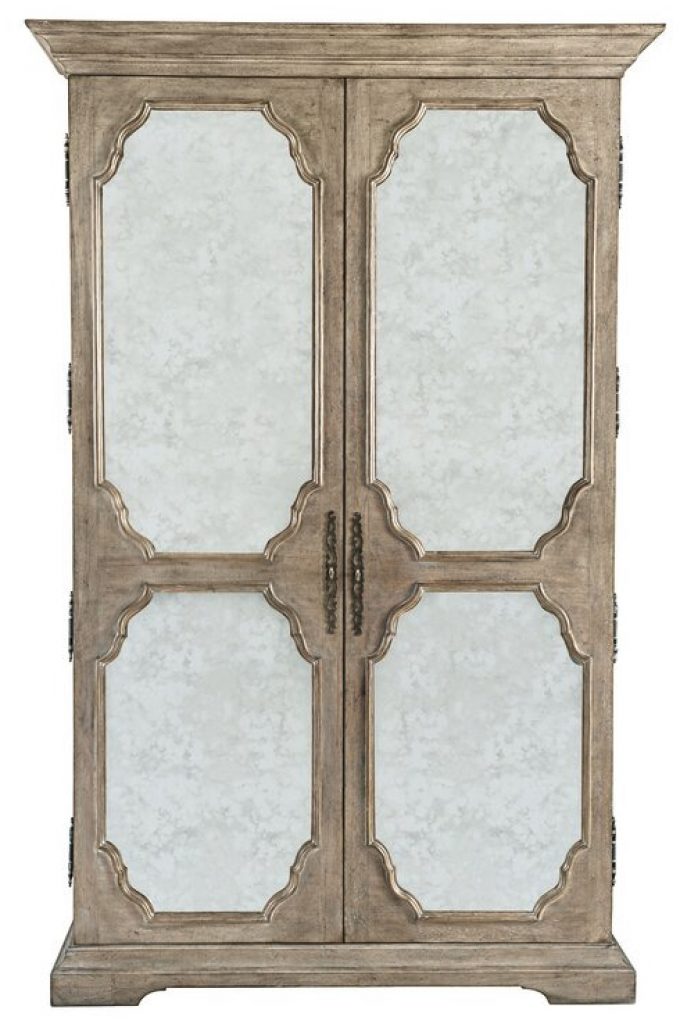 Generously sized, the Campania Armoire is made from oak wood. In the classic style of warm wood tones, the armoire finish is weathered sand. The roomy armoire measures 85 inches tall by 54 inches wide with a diameter of 23 inches. Another key point is the interior clothing storage extras such as the clothing rod, 3 shelves, and 2 drawers. Another storage solution for the home with a classic design of antiqued mirror glass door fronts. Truly beautiful!
3. CiaoBella Wardrobe Armoire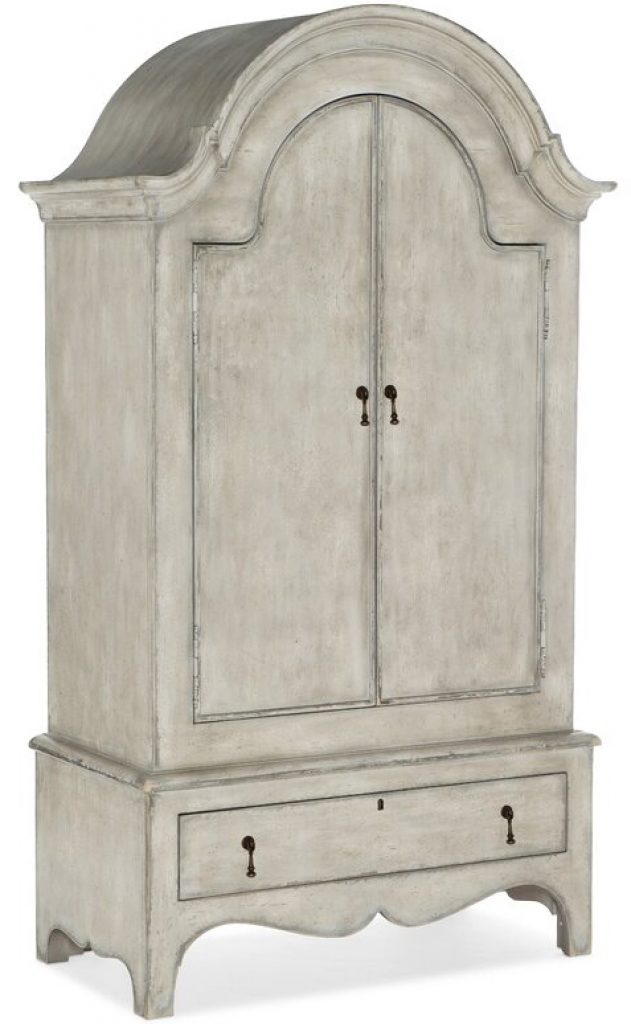 Inspired by French and Italian countryside Farmhouses, the CiaoBella Wardrobe is made from poplar wood. The first thing you notice about this armoire is the lovely muted gray finish. For this reason, the beautifully aged finish makes this armoire a standout. As an added feature, the furniture piece includes a single clothing rod, 3 shelves, and 2 drawers for storage. The piece measures 80.5 inches in height by 44.5 inches wide and 22.5 inches in diameter. A perfect illustration of French vintage style.
4. Andy Armoire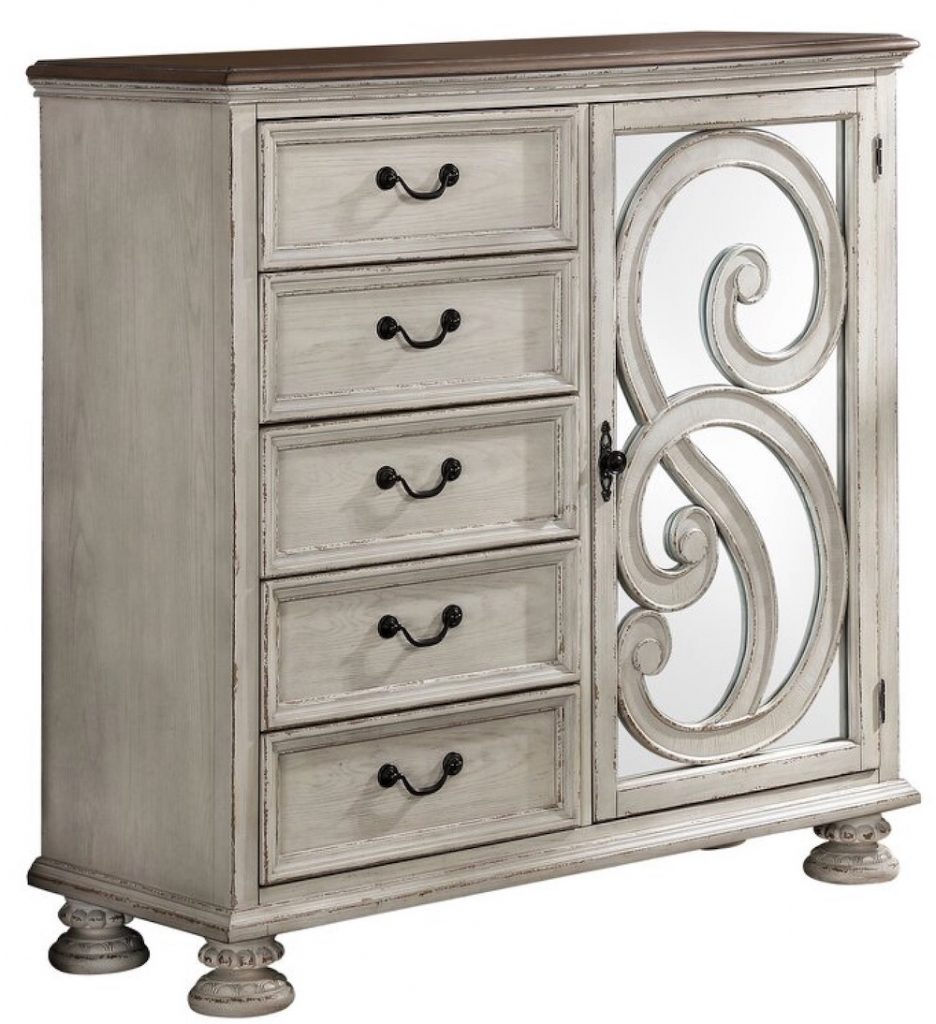 French vintage inspired design, the Andy Armoire has a white finish. The interior storage space includes 5 spacious drawers. With exterior measurements of 48.5 inches high by 48 inches wide and 18 inches in diameter.
5. Archless Treport Armoire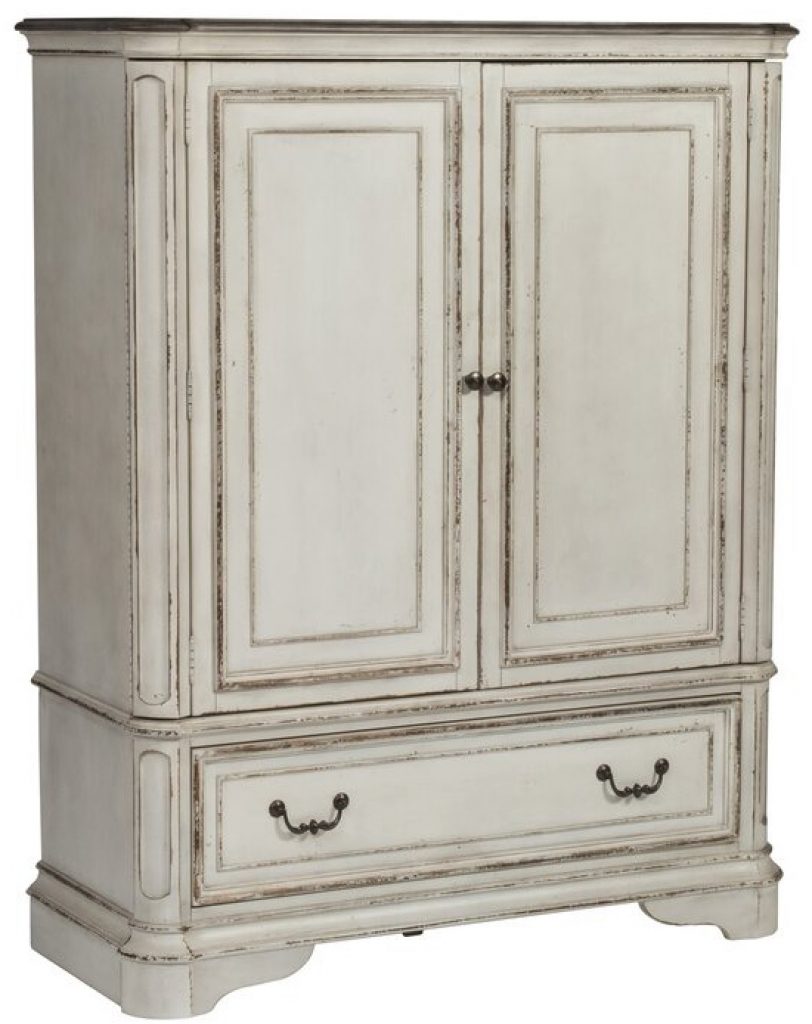 An antique designed armoire, the archless Treport Armoire has a warm antique off-white distressed finish. Important to realize is that this particular armoire measures 60 inches tall by 48 inches wide and 20 inches diameter. therefore, it is one of the smaller armoires of the group. Finally, the armoire interior has 3 handy shelves and 2 drawers.
6. Modern Armoire with Carved Silver Leaf Overlay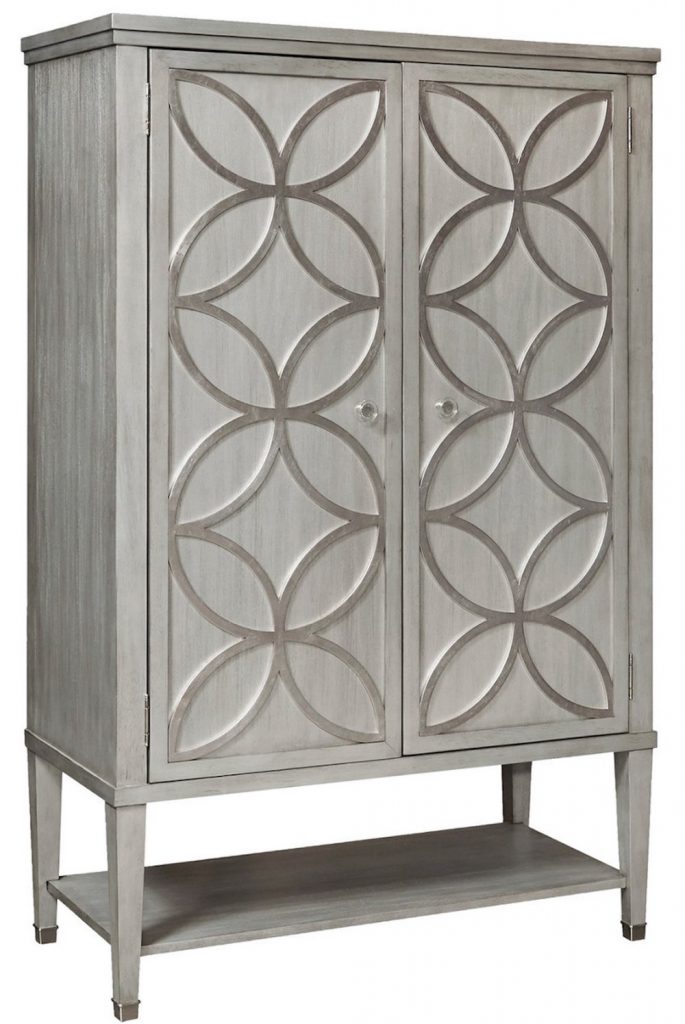 The first thing to remember about the Modern Armoire with Silver Leaf Overlay, is it's a metallic silver finish. Another point is the furniture piece is constructed from primavera veneer. The 2 door Armoire has a carved silver-leaf overlay and nickel door pulls. The Modern Armoire is beautiful but don't overlook the size. Measuring about 68 inches in height by 42 inches wide and 20 inches in diameter which makes it more moderately sized.
7. Casa Florentina Louis XVI Armoire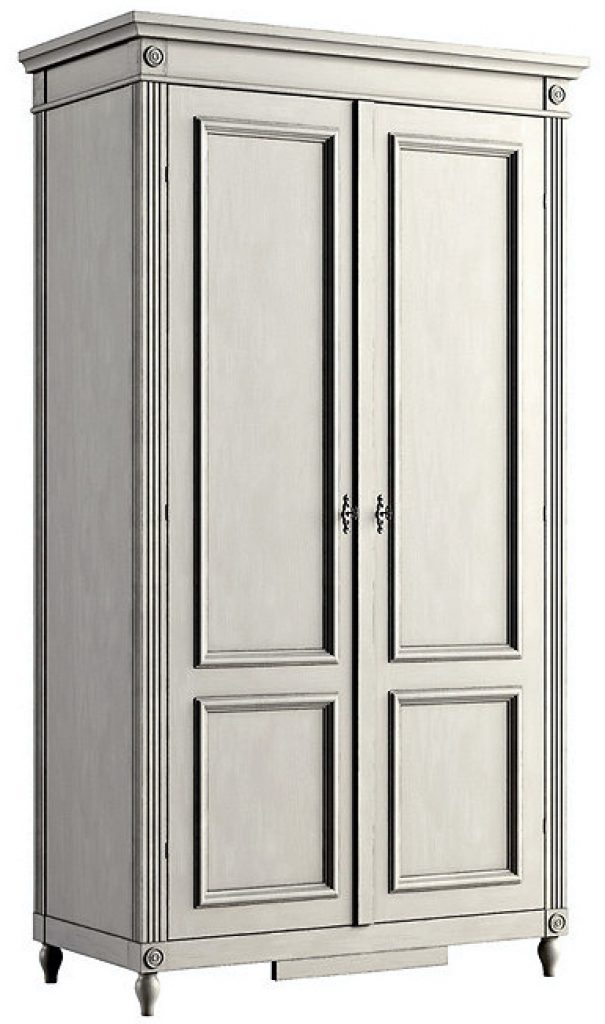 For an armoire with Old world inspired design, the Casa Florentina Louis XVI Armoire delivers the regal look to your home. With its stately style and distressed off-white over gray finish, the armoire makes a statement. The Louis XVI Armoire measures 77 ¾ inches in height by 43 inches wide and 21 ½ inches in diameter. A few of the more notable details include fluted side rails, medallion accents with classic bulb feet.
8. Liberty Furniture Armoire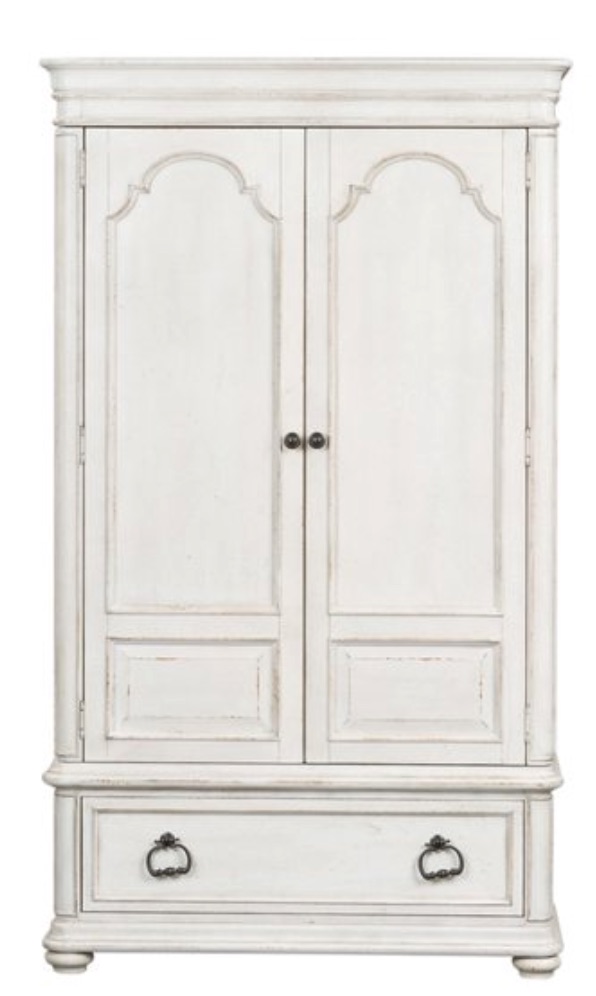 With attention to French details, the Liberty Furniture Armoire was inspired with Parisian markets in mind. A distressed white finish and in this case, the vintage appeal of the armoire is well suited for a variety of decors. These decor styles include vintage, French Country (of course), Farmhouse, and boho decor interiors. As with most armoires, there are numerous uses that not only include clothing storage but for concealing a television as well. Well sized at 80 inches tall by 46 inches wide and 22 inches in diameter for a wide range of uses.
9. Casa Florentina Brandisi Armoire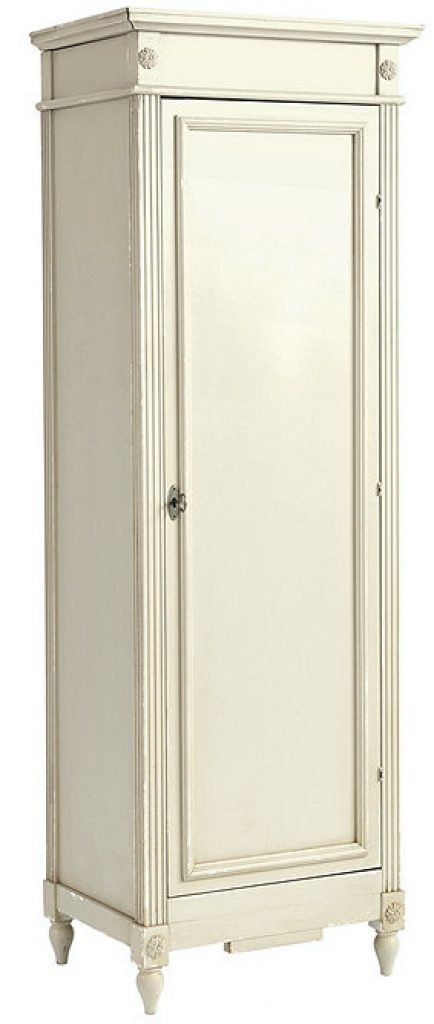 For use in small living spaces, the Casa Florentina Brandisi Armoire has a distressed cream over gray finish. As a small space armoire that conveniently measures 72 1/4 inches by 24 ½ inches wide and 18 ¼ inches in diameter. The well suited small space furniture piece includes two adjustable shelves and a lower bottom drawer. Lastly, the design details include fluted side rails, crown molding with medallion accents.
10. Evolur Aurora Armoire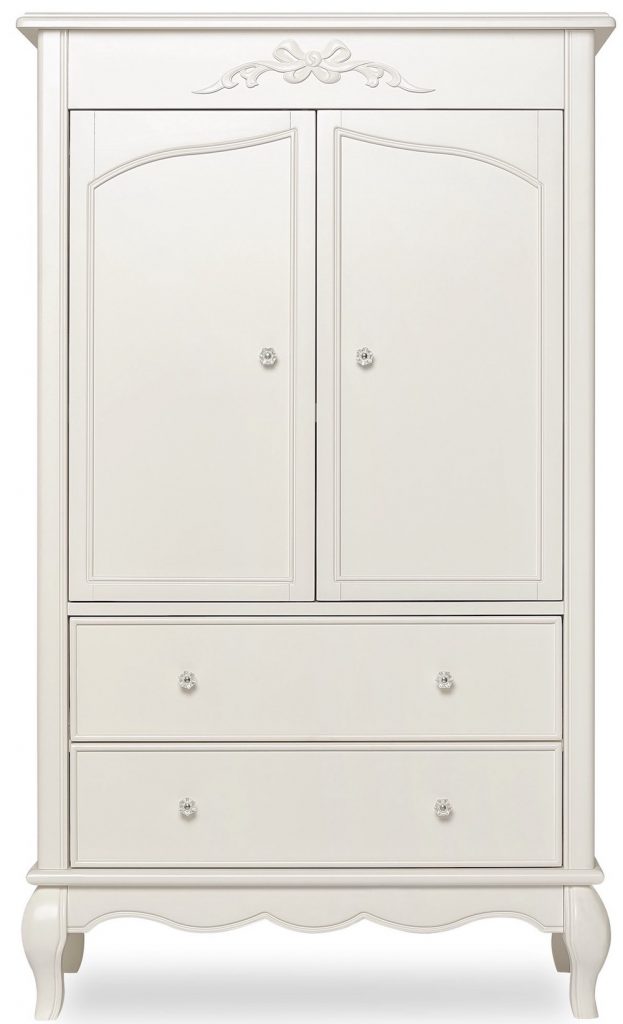 And of course for the little one in your life, the Evolur Aurora Armoire is sized perfectly for the nursery room. Styled for French Country or Country Farmhouse decors, this particular Evolur Aurora has an Ivory Lace finish. For other finish options offered, check their website. As an incredibly roomy storage option, the cute armoire measures 68 inches tall by 40 inches wide and 19 inches in diameter. Incredibly stylish and functional, the armoire provides additional storage space for easy organization.
From the look of muted wood tones to the graceful curved wood panels, these armoires are standouts in any home. And as expected, these French Country Armoires provide plenty of storage room. Storage for clothing, both bed and bath linens, and of course for tucking away those unsightly televisions. So, which are your favorite armoires? We love all of them, it is hard to pick just one! Tell us in the comments below what your thoughts are.
Searching for additional inspiration? Take a look at our other Country and Farmhouse style decor posts.
Interested in home interior decor? If you found this helpful . . .
You may enjoy our other interior decor related posts.
12 Charming French Country Sofas
21 Farmhouse Nightstands for Nighttime Necessities
12 Affordable Farmhouse Coffee Tables
33 Simple Farmhouse Table Lamps
Reach out to us with any questions you have. We are ready to help you out. Thank you for stopping by our blog.
Mary