If you love the French Country style, you'll love these French Country Sofas and Settees. Transform your home to look like the many beautiful chateaus in the south of France.
All these sofas and settees are in neutral colors. These seating options bring true French country style to the home. The beauty of neutral colors is that they lend themselves to many country decor styles. Either continue the neutral color theme throughout the home or change it up a bit. Add a few bold colors to give it an entirely different look. So many ways to style these sofas.
We've rounded up 12 affordable French Country sofas and settees that fit into many design styles. Take a look at these beauties and let us know which are your favorites.
Trivette Rolled Arms Sofa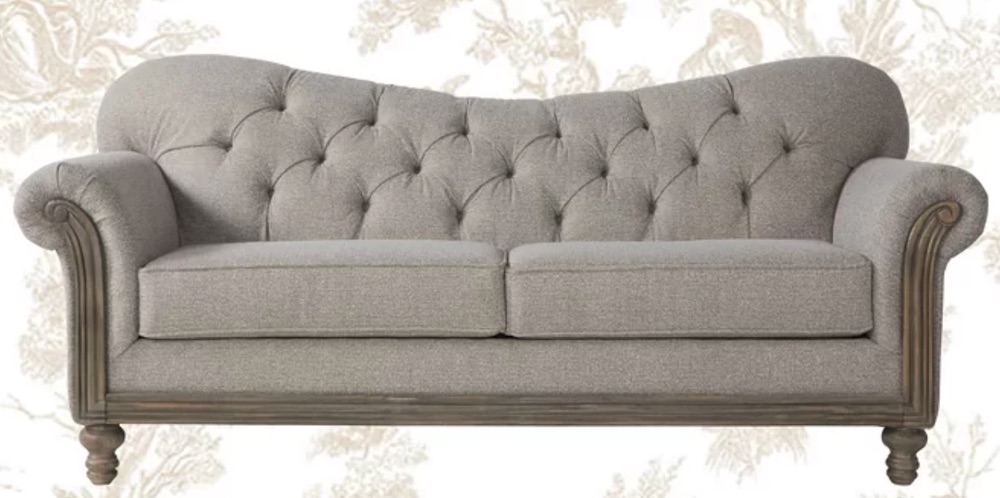 This sofa, the Trivette Rolled Arms sofa has beige fabric covering. It is 88 inches long and 38 inches high and in diameter. Love that curved back side.
2. Fincham Loveseat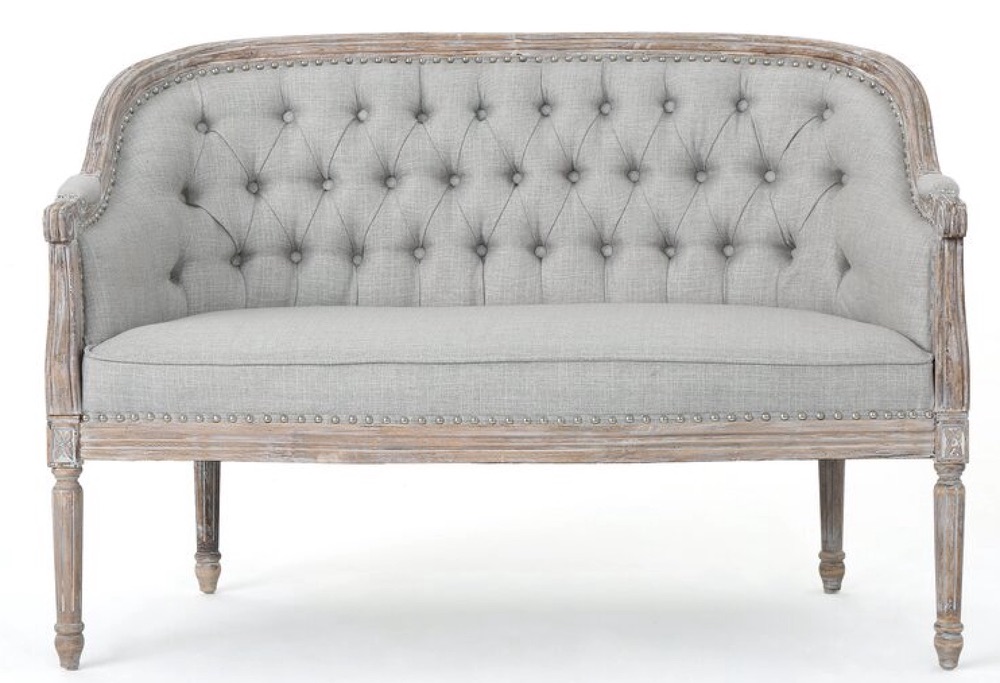 Perfect for a small space area, the Fincham Loveseat has light gray fabric. The length of the sofa is 49.5 inches long. Great and stylish small space living.
3. Lambdin Wooden Sofa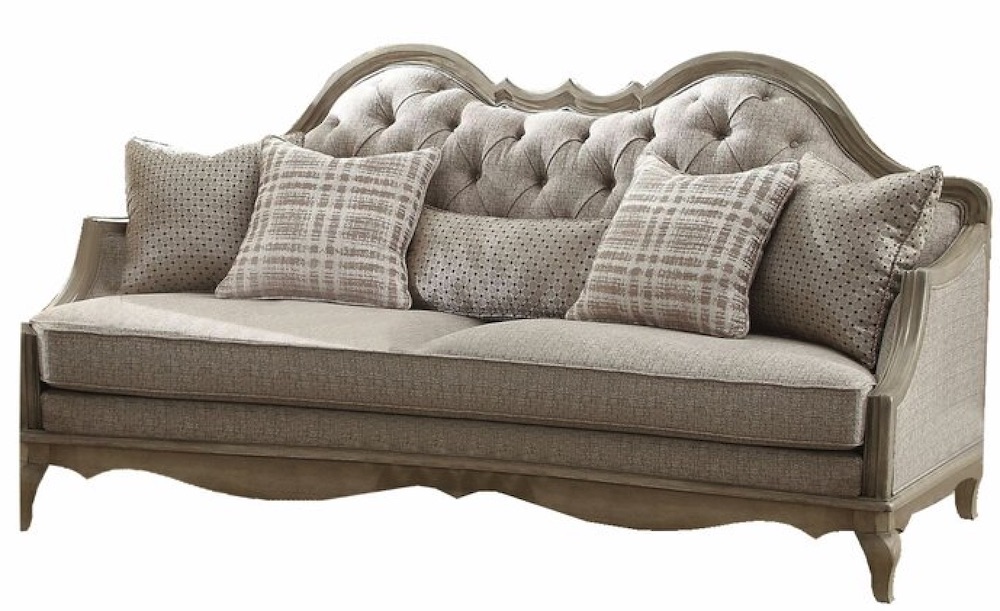 A nice roomy sofa, the Lambdin Wooden Sofa has beige fabric. Leg trim stain is gray. Beautifully curated and very country style. The Lambdin sofa is 86 inches long.
4. Taglieri Standard Loveseat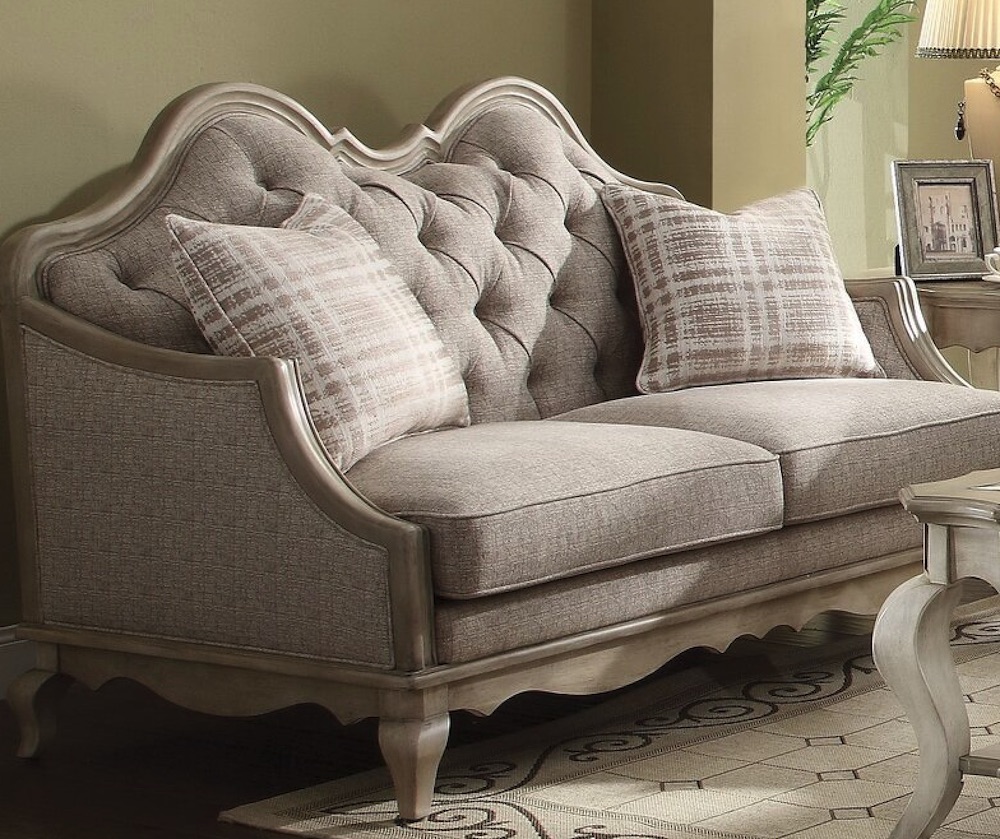 Button tufted style, the Taglieri Standard Loveseat has beige fabric with a stain leg color of antique taupe. An excellent selection for a small room or small space living. This sofa is 62.25 inches long.
5. Jalissa Chesterfield Rolled Arms Settee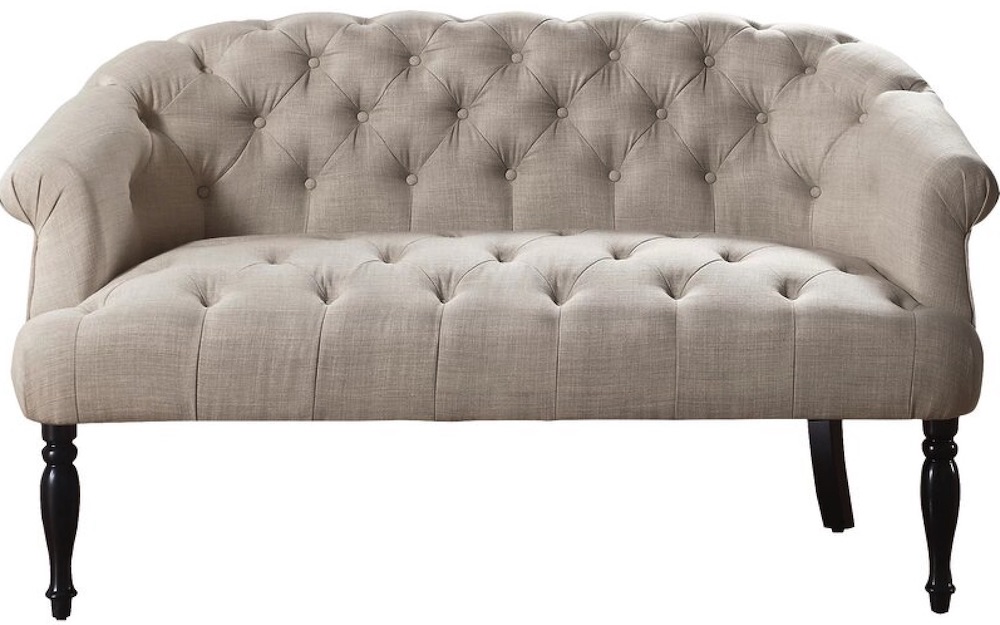 An iconic style, the Jalissa Chesterfield Rolled Arms Settee has a fabric color of wheat. A perfect length of 57 inches for an entryway, hallway, or mudroom area.
6. Larrick Fabric Tufted Standard Sofa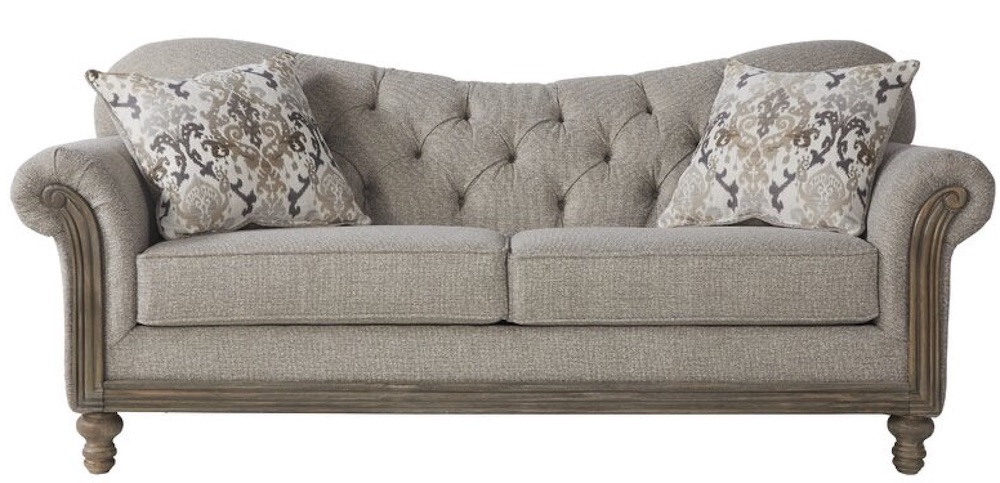 Button tufting design, the Larrick Fabric Tufted Standard Sofa has sandstone oyster fabric. Leg stain is a distressed brown. The Larrick is nicely sized at 88 inches long.
7. Bartlett Loveseat
Classic styling, the Bartlett Loveseat has a linen blend fabric in light beige color. The total length of the Bartlett is 47.25 inches.
8. Wessels Tufting Rolled Arm Settee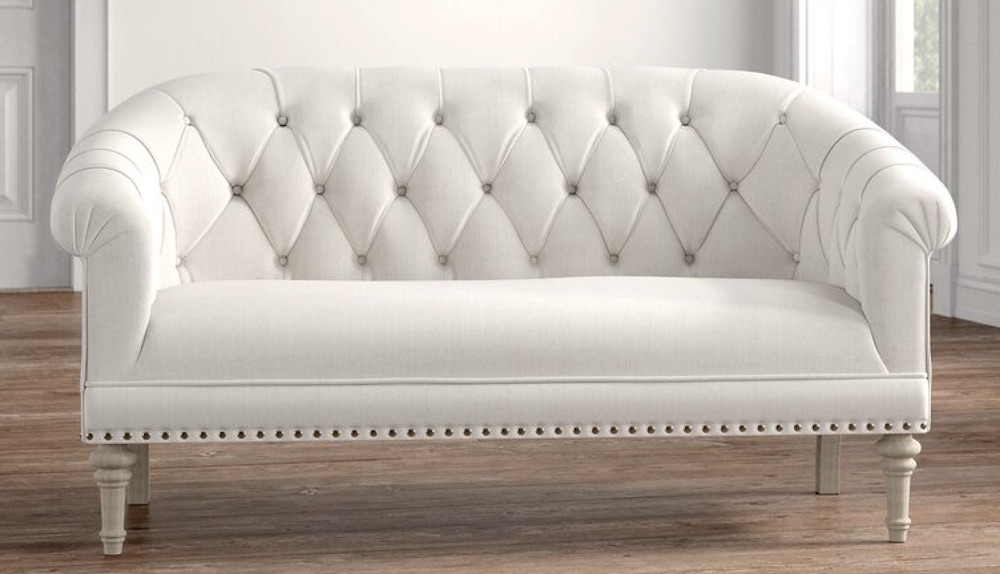 A white fabric color, the Wessels Cotton Rolled Arm Settee is 64.25 inches long. A lovely settee for a small space.
9. Robles Rolled Arm Loveseat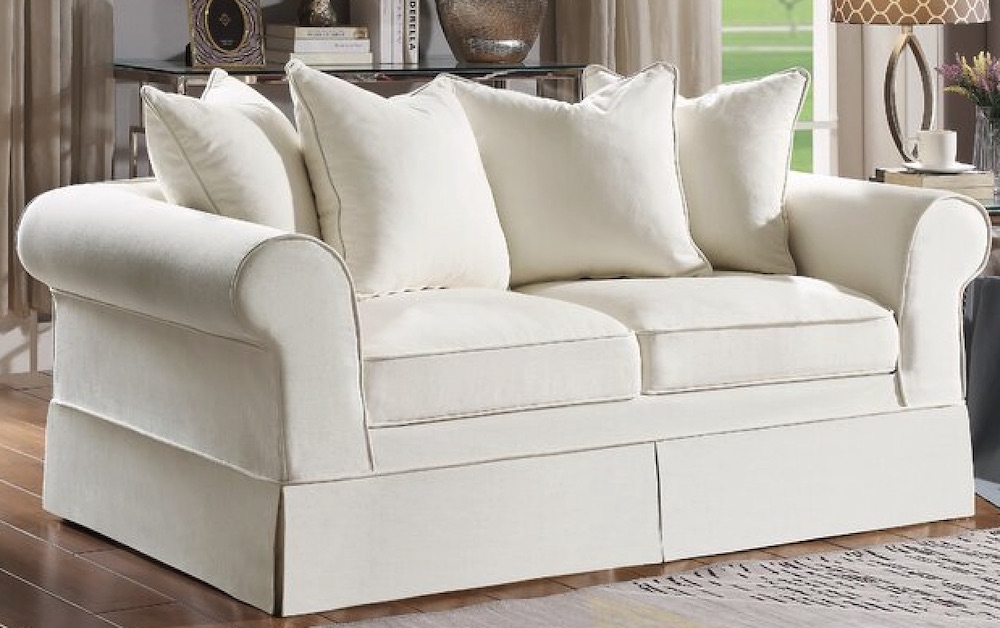 For an elegant yet relaxed look, the Robles Rolled Arm Loveseat has white fabric. And a total length of 67 inches long.
10. Fermata Flared Arm Settee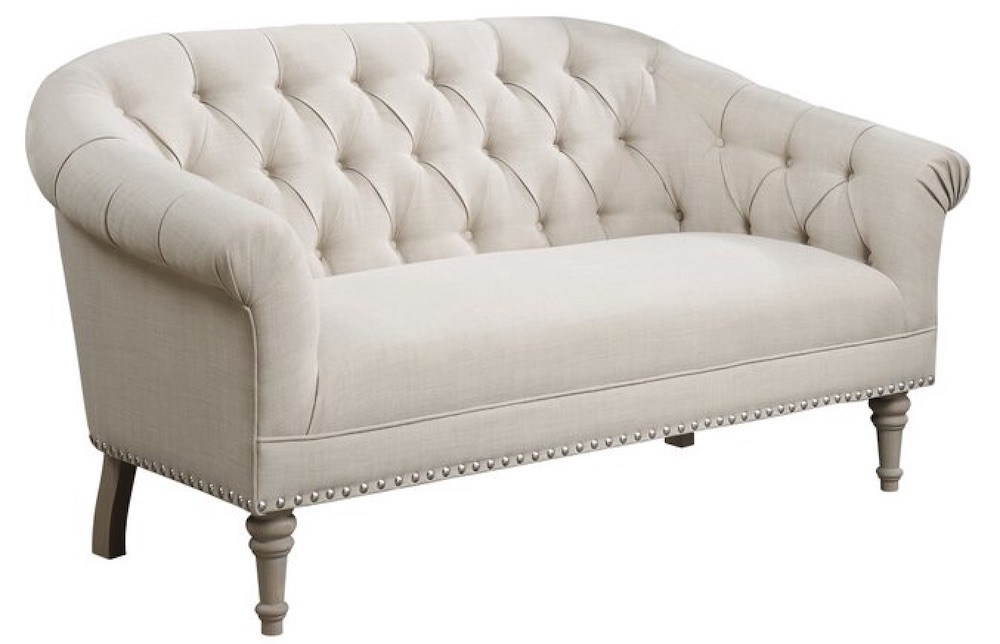 A French country classic style, the Fermata Flared Arm Settee has natural colored fabric. The leg stain is gray and so traditional. 100 percent linen in a cream hue. Length of the Fermata Settee is 64.25 inches.
11. Bellevue Rolled Arm Sofa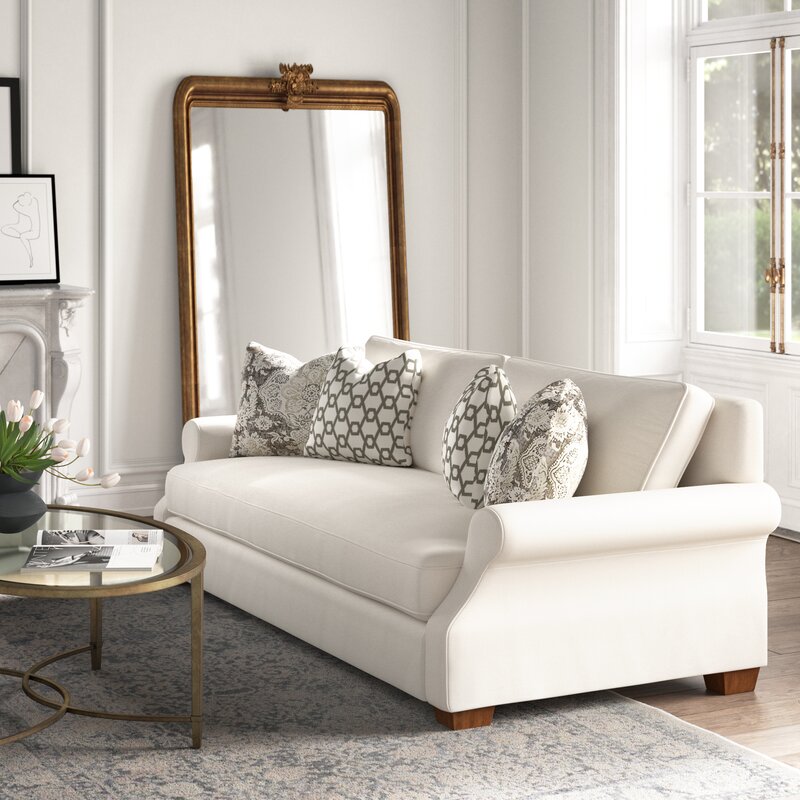 A casual and clean look, the Bellevue Rolled Arm Sofa has Bevin natural fabric. With a generous length of 90 inches long, the Bellevue fills a room beautifully.
12. Janay Recessed Arm Sofa
Rounded arms with button tufting, the Janay Recessed arm sofa has beige fabric. And for a total length of 76 inches. A nice sized French country styled sofa.
From neutral linen fabrics to muted wood tones, these sofas and settees lead the way to French country decor in any home. And if you need additional inspiration for Country Farmhouse style, take a look at our other decor posts.
Interested in Interior Decor? If you found this helpful . . .
You May Also Enjoy some of our other Interior Decor related posts.
12 Affordable Farmhouse Coffee Tables
9 Affordable Farmhouse Tiered Stands
33 Simple Farmhouse Table Lamps
21 Farmhouse Nightstands for Nighttime Necessities
And if you have any questions, feel free to reach out to us. We are always ready to help you out. Thank you for stopping by our blog.
Mary