Love the relaxed, easygoing style of Farmhouse tiered stands?
The good news is with Farmhouse Tiered Stands, it is easy to get that Farmhouse style. Farmhouse tiered stands can create that beautiful natural, earthy rustic look. Or if you like, you can create a warm, modern and sophisticated farmhouse look. Available for every budget, these 9 affordable farmhouse tiered stands can help you get the look. We can see why these farmhouse tiered stands continue to be so popular.
Get the farmhouse look with classic Farmhouse tiered stands that are quick and easy to style. Farmhouse tiered stands are a great way to decorate. The stands make decorating so simple. You can update your home by simply restyling your Farmhouse tiered stand.
When is it a good time to update your home's look? Whenever it suits your schedule. Everything is contained in the evolving decorative piece – the Farmhouse tiered stand. 
Change your Farmhouse tiered stand from season to season. Change your Farmhouse tiered stand to celebrate family events or gatherings. Events like birthdays, anniversaries, welcoming a new baby or even your new pet. Include your favorite photos or special family items to the stand.  
We've found 9 Farmhouse Tiered Stands that delivers Farmhouse style and decor. Take a look at these gorgeous and affordable farmhouse tiered stands. Be sure to let us know what you think! 
1. 
Edin Wood Farmhouse Tiered Stand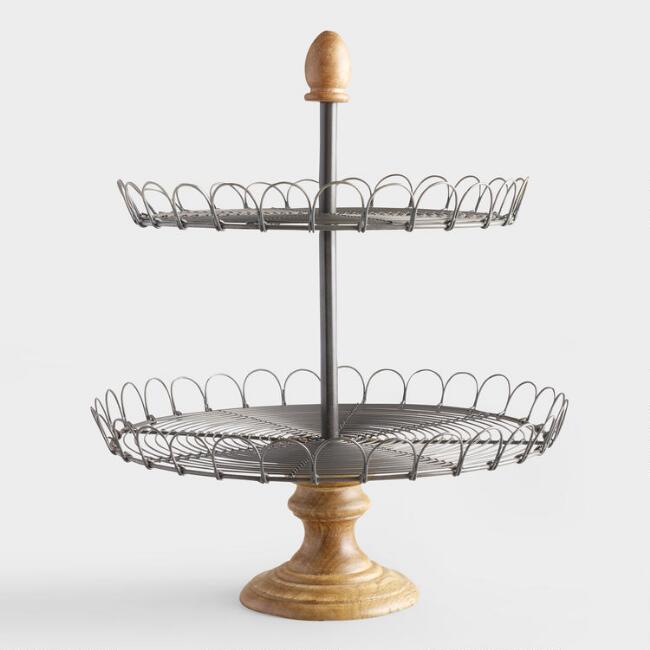 The Edin Wood 2-Tier Stand has a beautiful wood finial with wood base. Each tier is made of wire metal and a scalloped wire edge. The scalloped wire edge gives this rustic 2-tier stand a very stylish Farmhouse look. Don't you just love the scalloped wire edge? It reminds me of the tiered stands you frequently see in French pastry shops. A perfect Farmhouse tiered stand to decorate with fruit or baked goods. 
2. 
Classic Metal 3-Tier Stand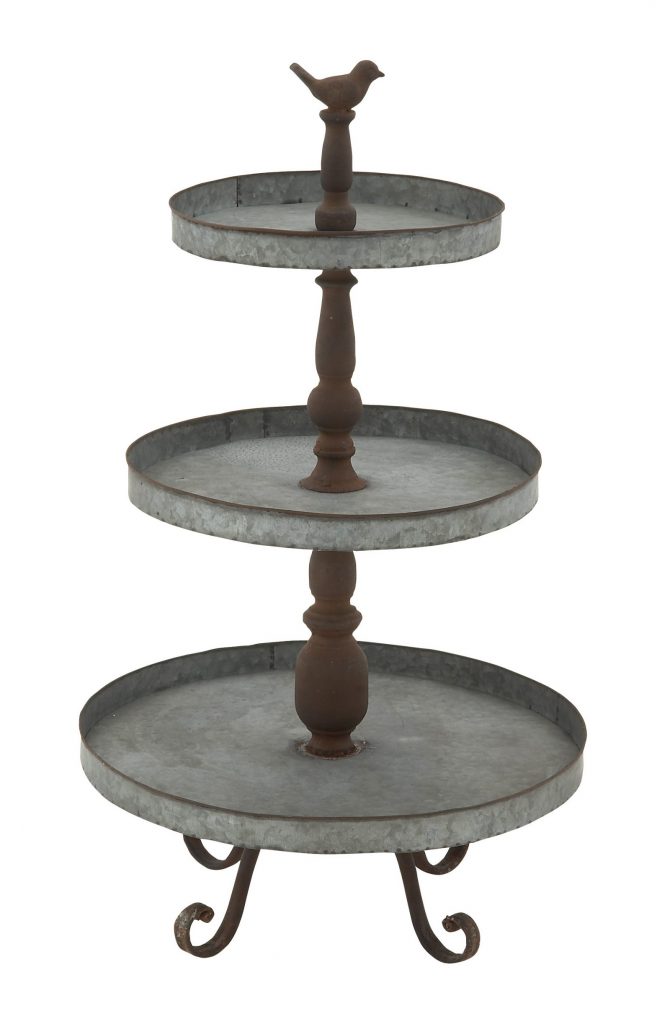 A Classic Metal 3-Tier Stand has a sweet small bird as its finial. We especially love the base of this stand. Four scrolled legs where the 3-tier stand rests. The three tiers are made of metal giving this stand its classic Farmhouse style. Perfect for a Farmhouse kitchen counter, table, or dining room.
3. 
3R Studios Decorative 3-Tier Metal Rooster Tray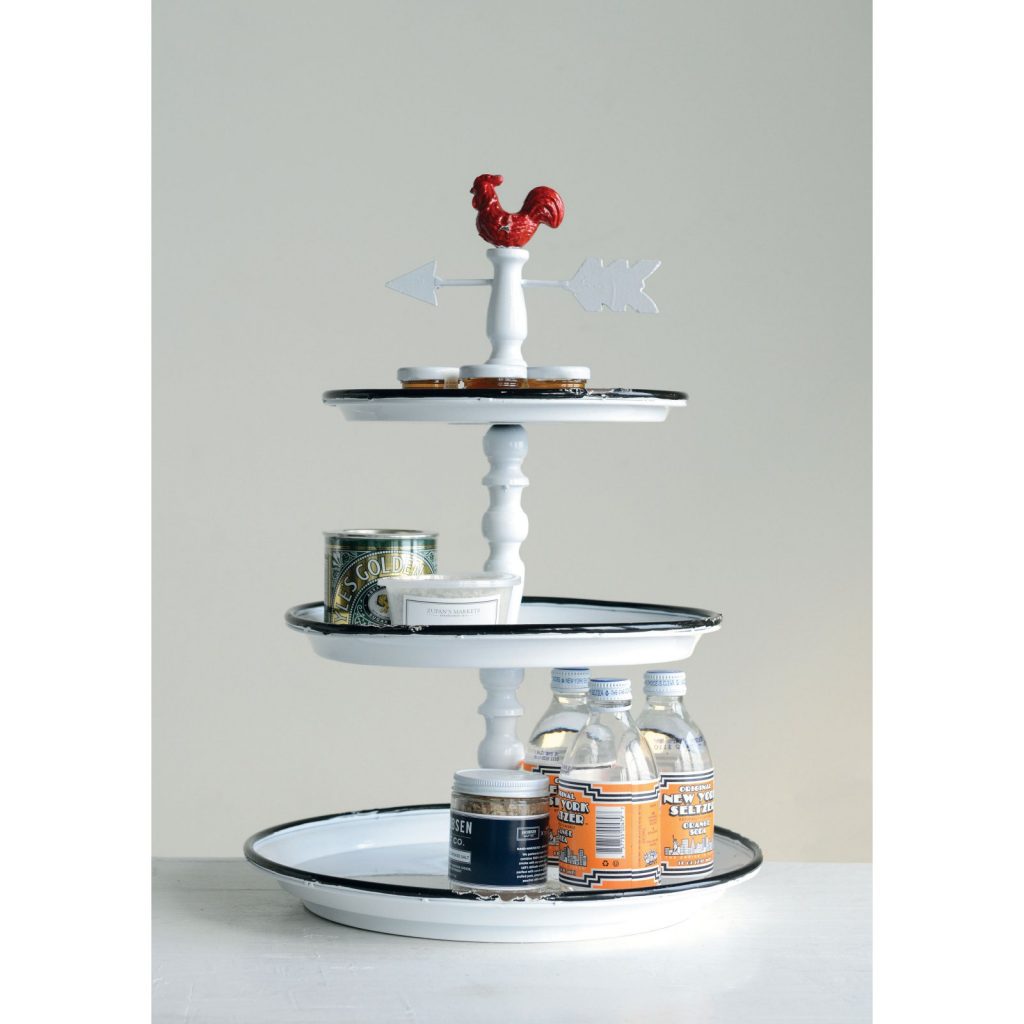 Decorative 3-Tier Metal Rooster Tray has a red rooster with white arrow finial. The red rooster reminds us of a weathervane on a cupola often seen in Bar Harbor. The contrast of white with black finish rimmed tiered tray is striking. At 19.5 inches tall, the metal rooster tray stand is a perfect addition to a country or Farmhouse kitchen. Great Farmhouse Decor! We especially love this one.   
You may also enjoy:
How to Style a Tiered Tray For Quick and Easy Decor    
10 Cool Dolphin Accessories for Your Coastal Home
4. 
Foreside Home & Garden Whale Tail Tiered Server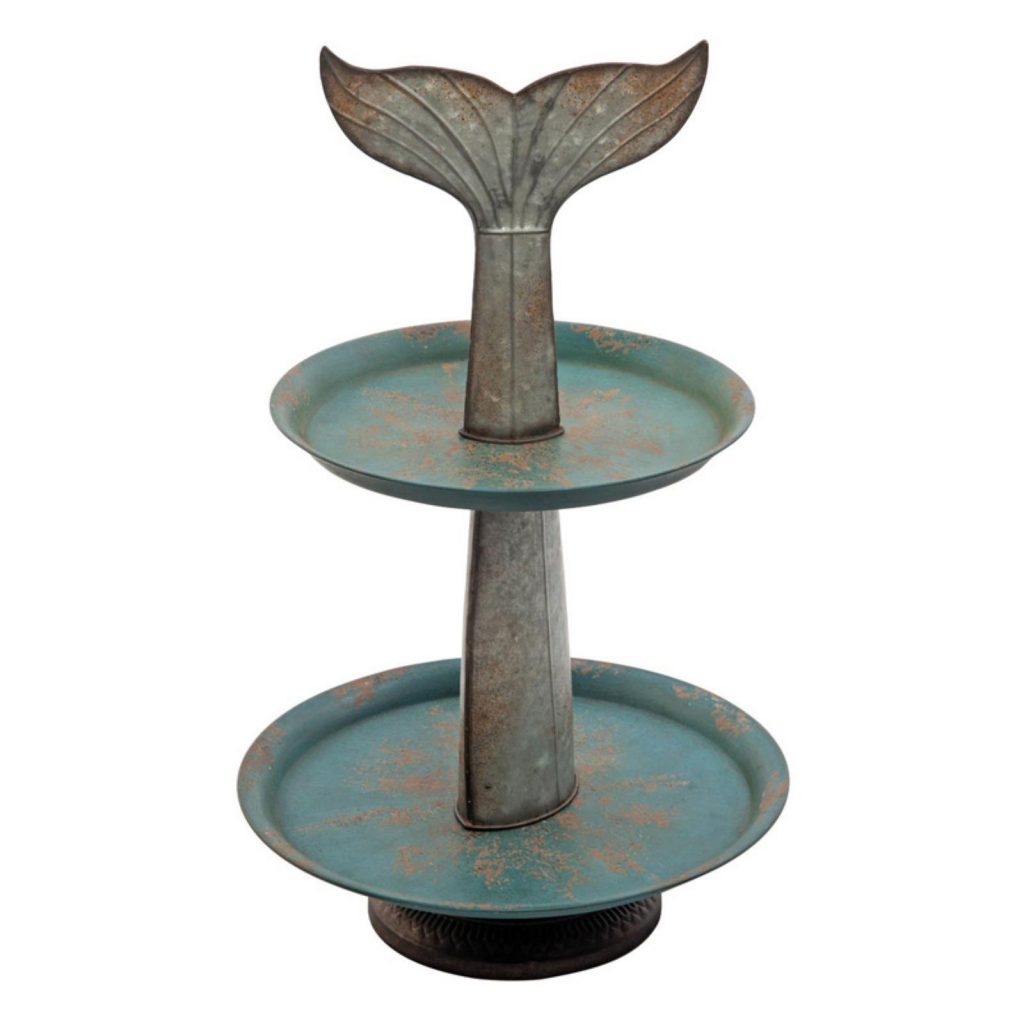 For a combined Farmhouse and nautical look, take a look at this tiered stand. The Foreside Home & Garden Whale Tail Tiered Server will make a welcomed splash to any home. The Whale Tail is a blue, gray, and rust metal finish color. A great look for Farmhouse nautical decor for all-season decorating. We love the combination colors of this stand. 
5. 
Studios Decorative Farmhouse Tiered Server
3R Studios Decorative 3 Tiered Server is made of metal and galvanized metal construction. The finial is an oval metal ring for ease when transporting the server. A gray finish with 3 circular tiers. Beaded rimmed edges on each metal tray adds a subtle finishing touch. Each tray has a generous rimmed edge that can contain items to avoid any spills. A classic find!
6. 
McClary Farmhouse Tiered Stand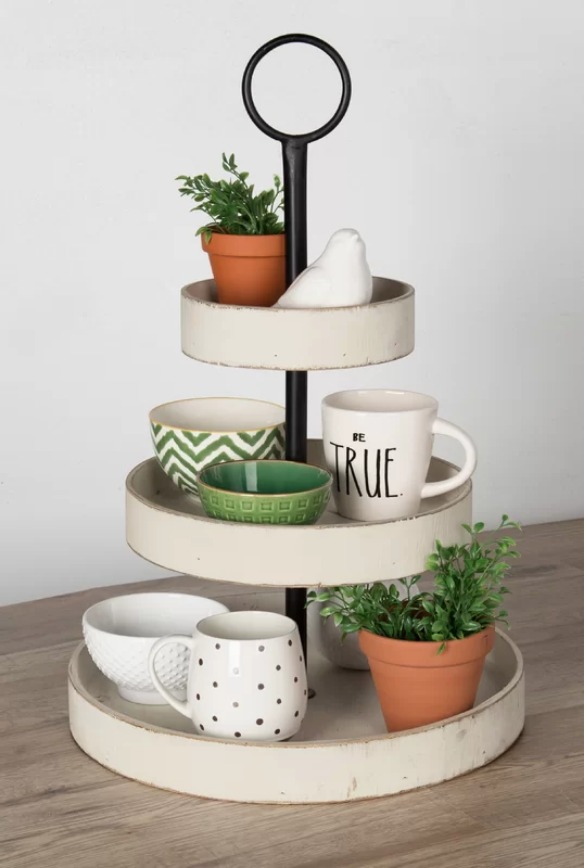 McClary Tiered Stand has white solid wood trays for displaying your treasures. Let your creative side run freely with this tiered stand. So versatile and functional with its round metal ring for transporting from one celebration to the next. A liberal sized 24 inch tall stand with distressed paint for true Farmhouse flair.
7. 
Two Tiered Corrugated Square Tray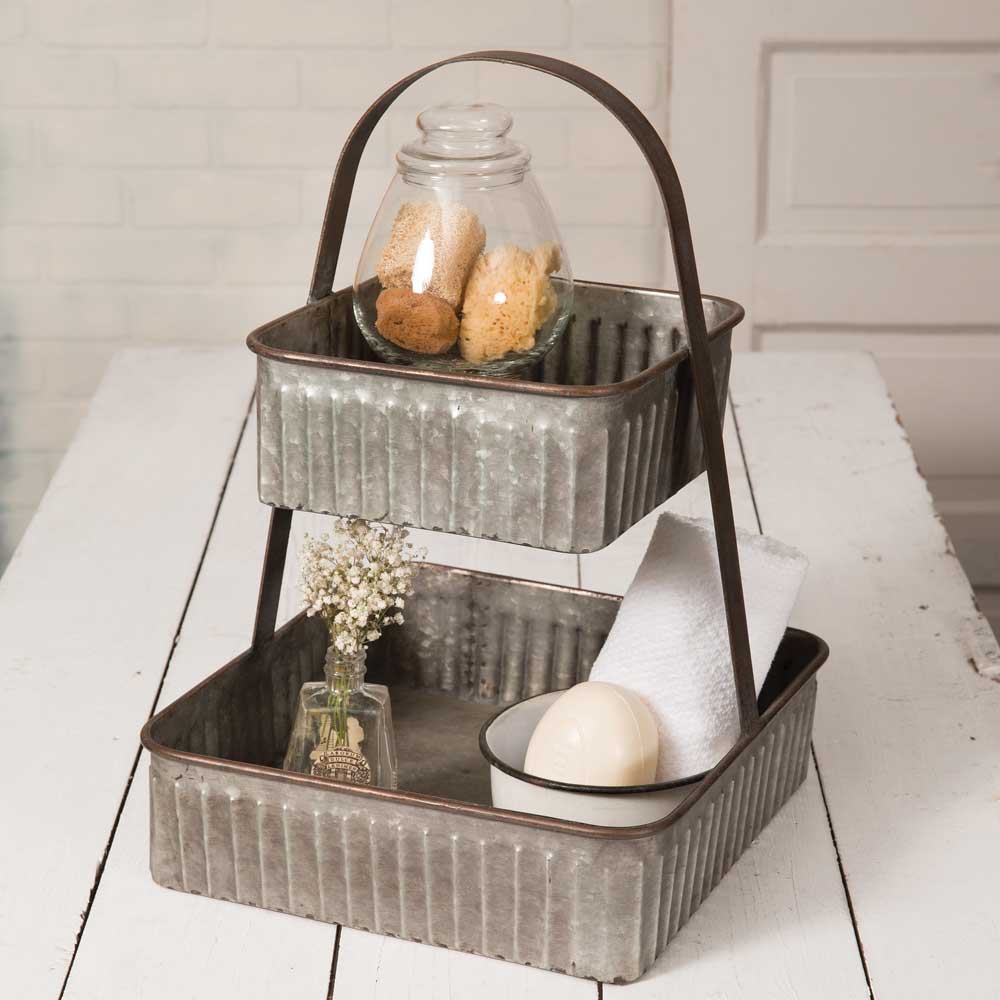 Two Tiered Corrugated Square Tray has beautiful Farmhouse style with its corrugated metal sides. A stylish storage and organizational option for kitchens, bathrooms, or the office. The square tray offers a more practical look. A fantastic find for an area with limited space or small space living. 
8. 
Payette 3-Tiered Stand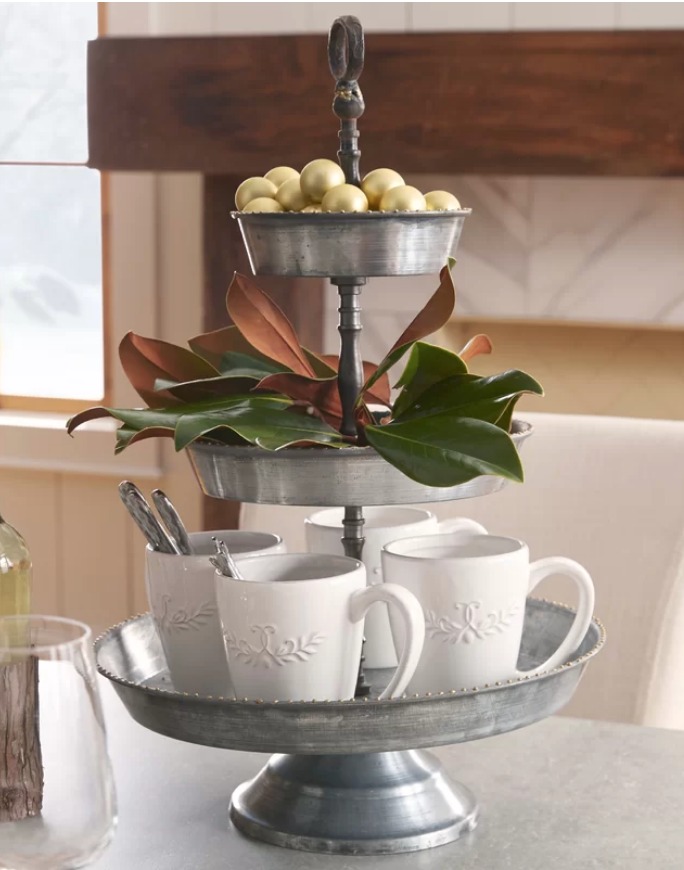 A lovely 3 tiered stand with solid grey finish and galvanized metal stand. Distressed in appearance with an open design. For use with burlap, made of pure iron with a metal holder on top. 22" high with 13" width and 13" diameter. The Payette Tiered Stand tray sizes are 6.5", 10", and 13" in diameter. The Payette tiered stand resembles pewter which is seen in many colonial American homes.  
9. 
White Steel Three-Tier Stand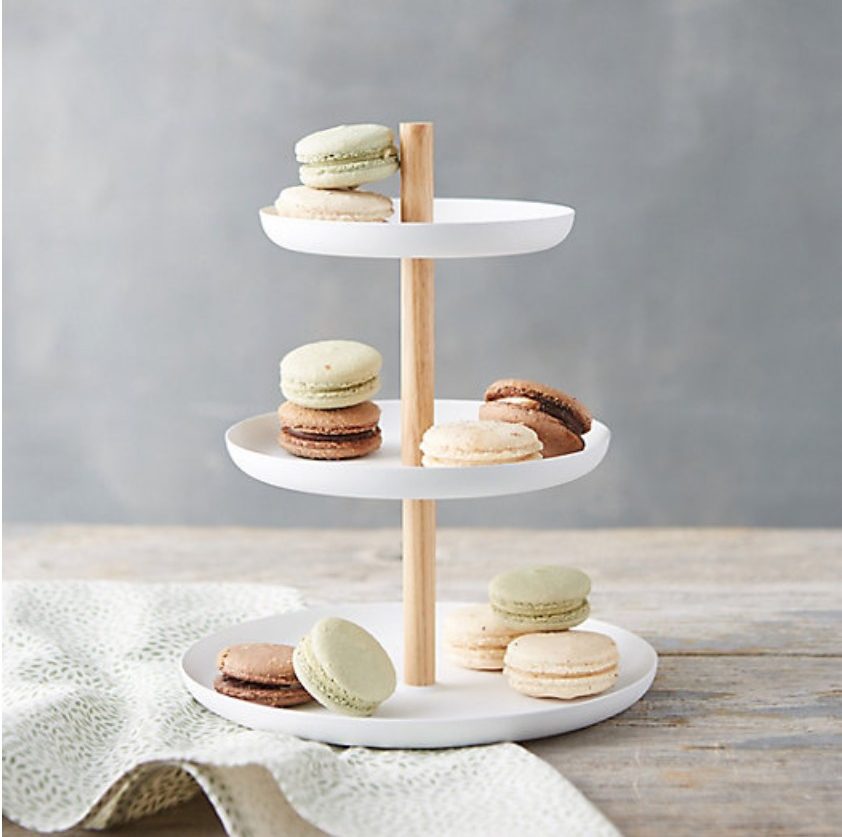 A sleek White Steel three tier stand with a Japanese minimalism look. Ideal for desserts or mini sweet treats to delight your guests. The center is made from steel with wood trays. The white steel stand is 9.4" tall and 7.9" width. The top tier is 5.1" in diameter. A middle center tier is 6.3" in diameter. The bottom tier diameter is 7.9". Great for a simple yet cozy stylish farm look.
Searching for Farmhouse tiered stands to add to your home? These are 9 amazing and affordable farmhouse tiered stands. A quick way to obtain that classic Farmhouse style that we all love.
If you try any of these farmhouse tiered stands, let us know how you make out. For more ideas on decor be sure to check out our other posts.