Rattan entryway table ideas that add a warm, inviting style to your front door entrance. Although rattan furniture has been a favorite of many over the years, we love rattan for its earthy, warm tones. And of course, rattan is sustainably sourced from tropical areas that have a faster-growing cycle than ordinary trees. Rattan just feels right for the home.
Make your houseguests feel welcome. The first place your houseguests see is the front door entrance. And you'll want this area to always look its best. Decorate the front entrance with accessories that blend family and personal style. As you enter a home the front room and entryway are also known as a foyer or vestibule. In this space, your family enters and exits the home. Make this area comfortable and functional.
Begin decorating your entrance with a console or entryway table. These tables are narrow and long and fit comfortably in a foyer, hall, or even behind a sofa. When the table is behind a sofa, it is sometimes called a sofa table. Another type of sofa is a rounded half-circle-shaped table. This table is called a half-moon table because the tabletop surface is similar to a half-circle shape. As an alternative to a table, you can also use a small cabinet for the entryway. As you'll see in the image below, a cabinet console table provides extra storage when you need it.
Use the Right Table – Rattan Entryway Table Ideas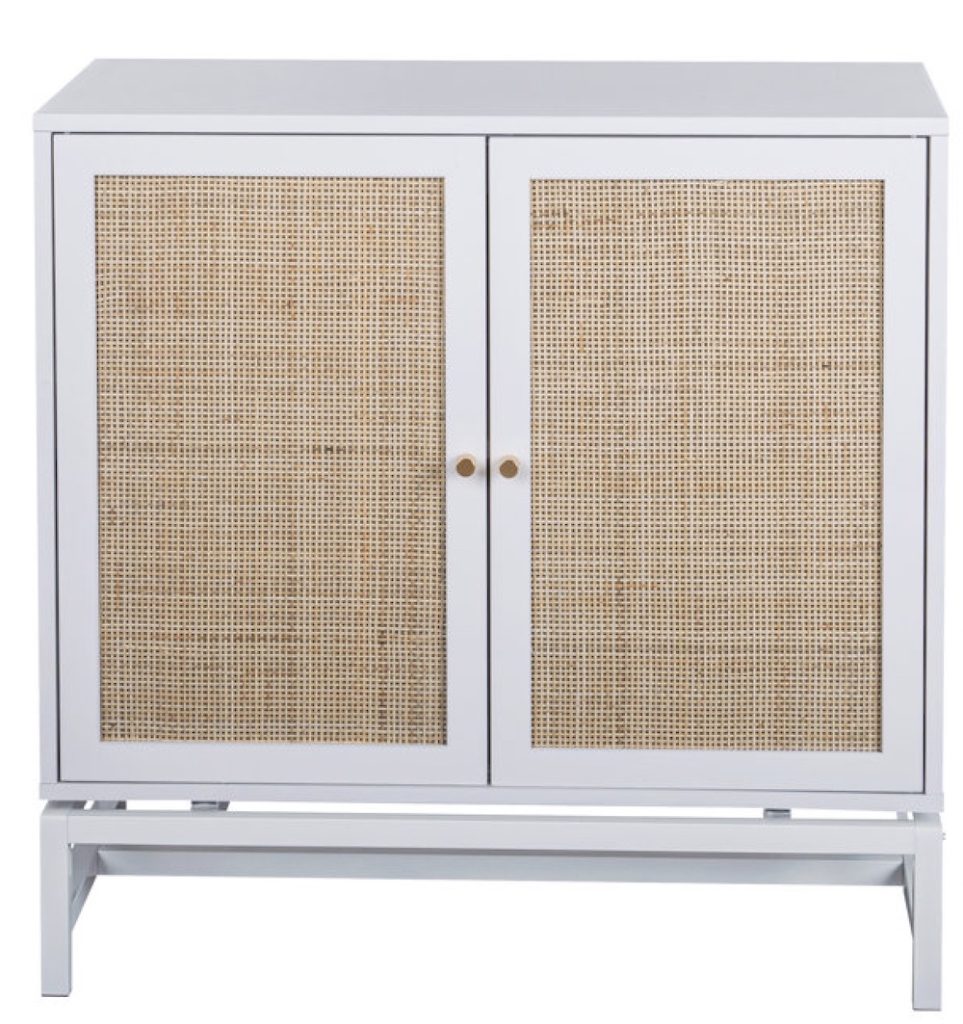 Wonder what an entryway table is? Well, it is a long, narrow, and tall table. Made for use while you are standing not for use by someone who is sitting. The main difference between an entryway table and a coffee or side table is how the table is used. Use a coffee, side, or end table while you are sitting down on a chair or sofa. An entryway table is used while standing or as you pass by the table. An entryway or console table is never placed next to a chair or sofa. Although, when the console table is behind a sofa it is used as a sofa table. The extra height of a console table fits nicely behind the sofa's backside which is higher than the sofa's front.
A sofa table typically has a set of table lamps and other items such as family photos. The primary purpose of a sofa table when used behind a sofa is to conceal the backside of the sofa. In addition to this, a sofa table provides the perfect opportunity to style a vignette or display decorative objects.
Beginnings of the Console Table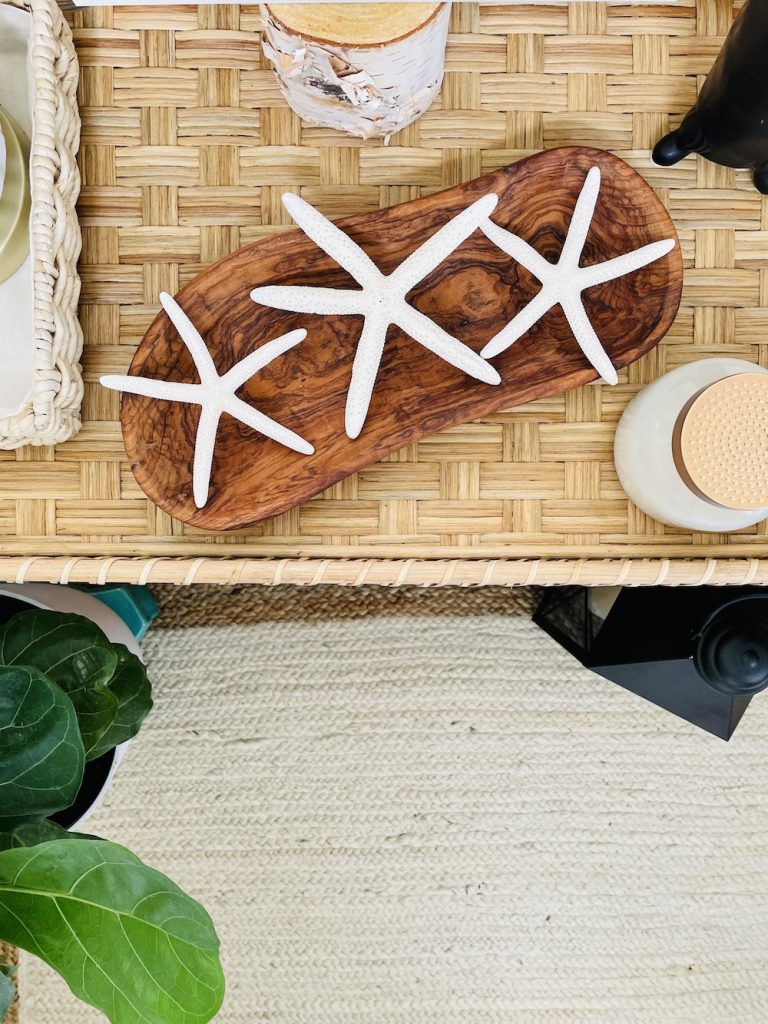 Years ago, a console table began as a simple shelf attached to a wall by brackets or corbels. There was no support from the table legs. Later the console table evolved into a shelf supported by two table legs in the front of the shelf. And remained attached to the wall behind it. Today, the console table is free-standing with four table legs and is not attached to any wall. Another noticeable difference is that the console tables may have additional shelving, drawers, or cabinet doors depending on the style. Today's console table can have more storage and be larger than the original console table.
Size it Right – Rattan Entryway Table Ideas
Add the right size of entryway table to a foyer based on the size of the foyer. The larger the space the longer the table you can use. Remember to allow adequate room for movement between the furniture. Keep a distance of 30 to 36 inches between the furniture. This allows plenty of room to move between and around the furniture without bumping into other furniture.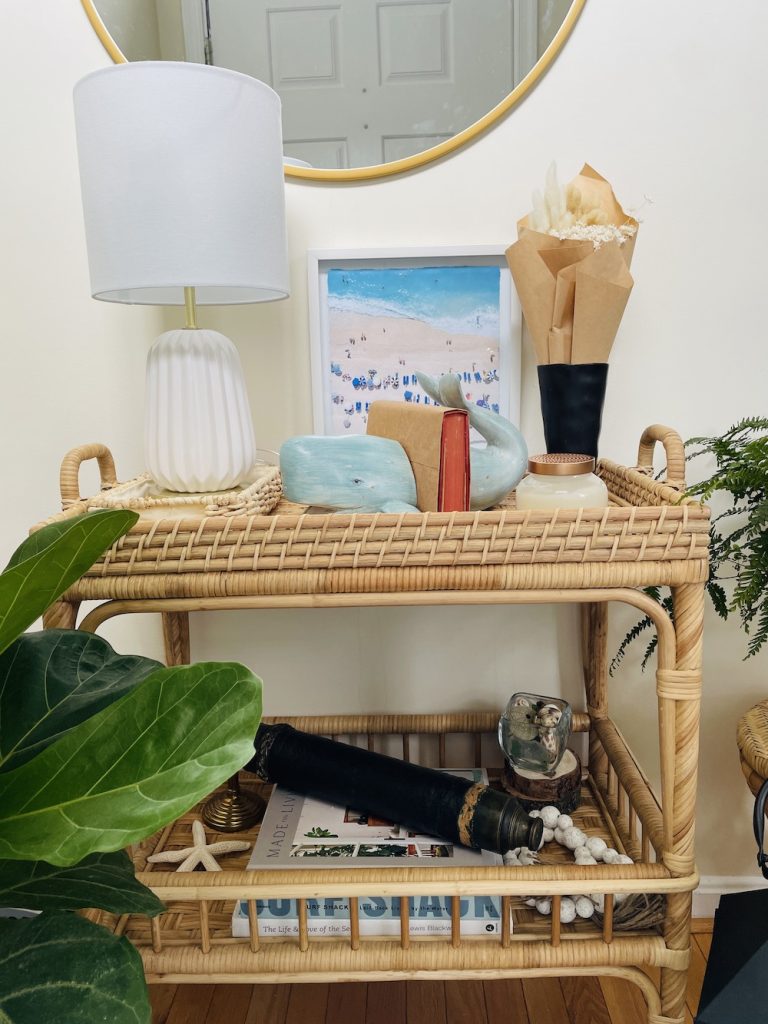 Console tables range from 24 to 84 inches wide or long. Allow enough room to comfortably fit guests in the entryway. Especially if you host large gatherings, you'll want to bring guests from the outside as quickly as possible. During poor weather conditions when outdoor temperatures soar into the 90s and beyond, provide immediate shelter as you usher your guests indoors.
Get Inspiration from these Rattan Entryway Table Ideas
And now we begin our list of styling ideas using a rattan entryway table in your home. Stay inspired with these tips we are sure you'll love. Take a look. Be sure to drop us a line below in the comment section. Let us know all about your favorite styling ideas.
Hang a Round Mirror
Display a round mirror over your rattan console table. Especially when it reflects a bold image of a blue frond!
Cover the Background Wall – Rattan Entryway Table Ideas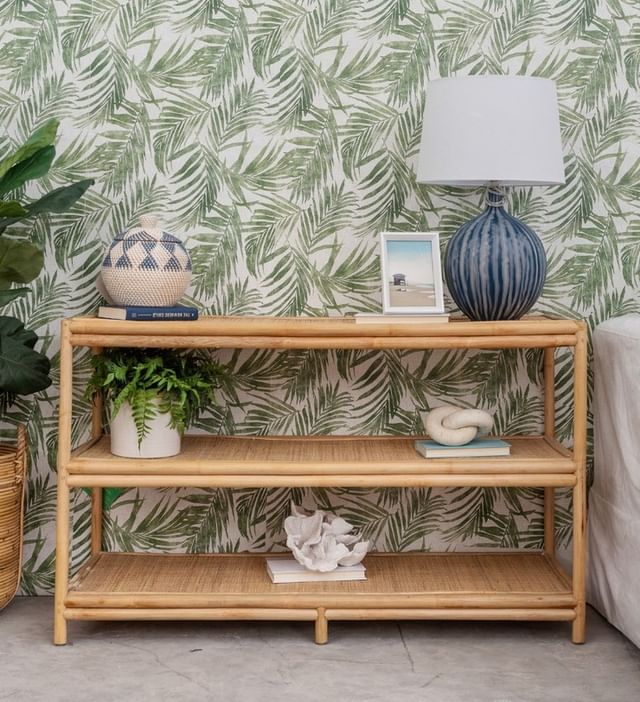 Give your background wall a tropical wallpaper covering. Love this palm frond wallpaper wall. This image above brings greenery and a tropical feel to the room.
Lean Artwork on Your Console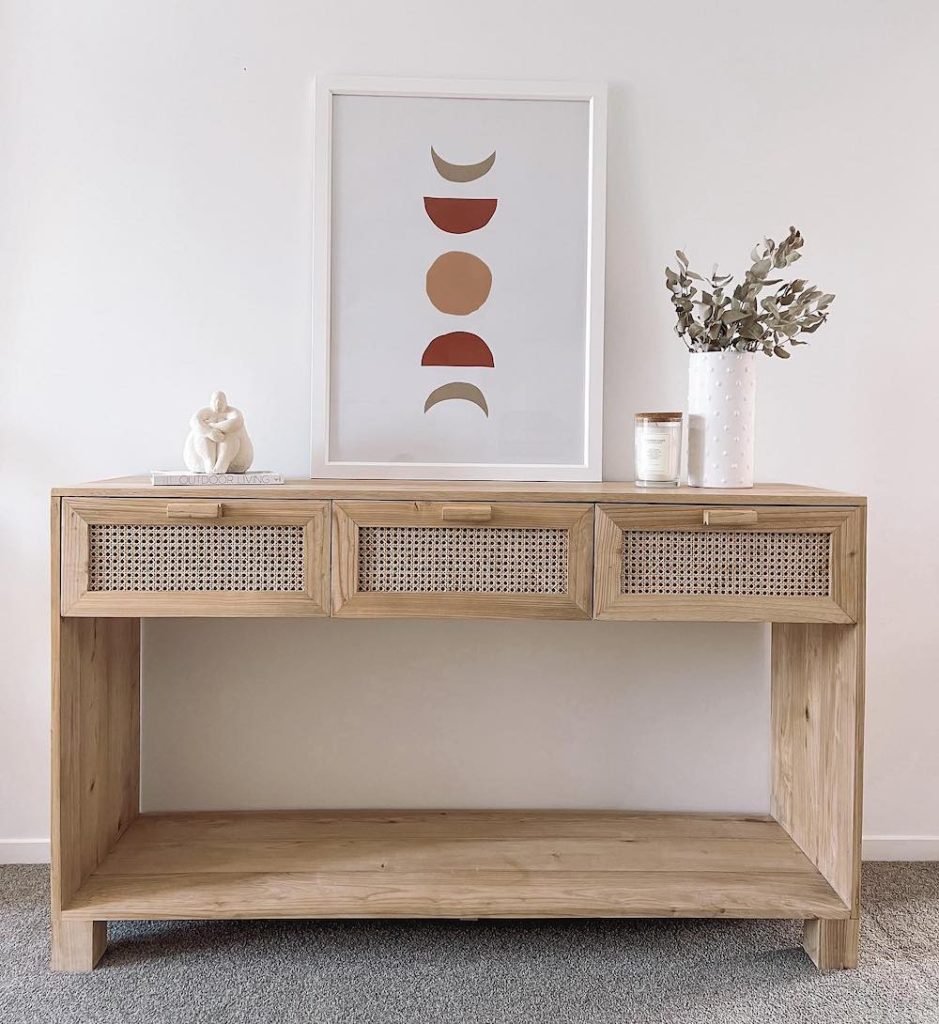 Rest a piece of fabulous wall art on your console table. A nice contrast against the Sungkai wood console.
Display a Gallery Wall Art Over the Table – Rattan Entryway Table Ideas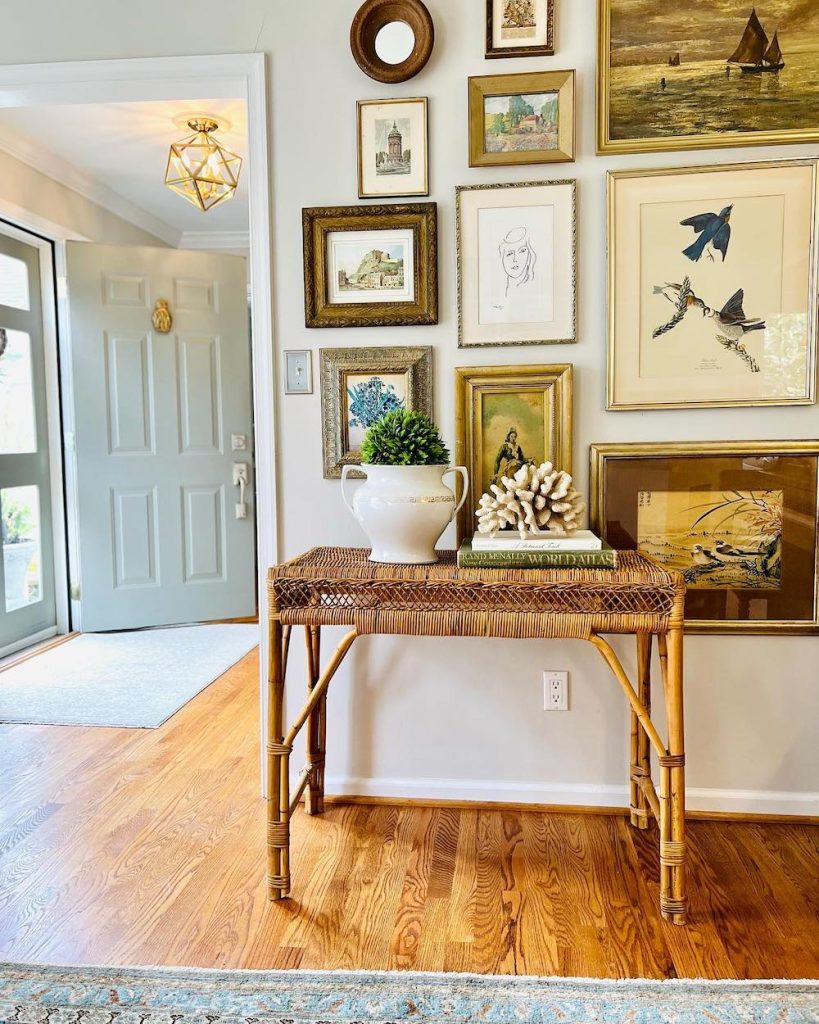 Tuck a console table underneath a gallery art wall. Love the warm earthy colors in the image above.
Blend Gray with Beige and Cream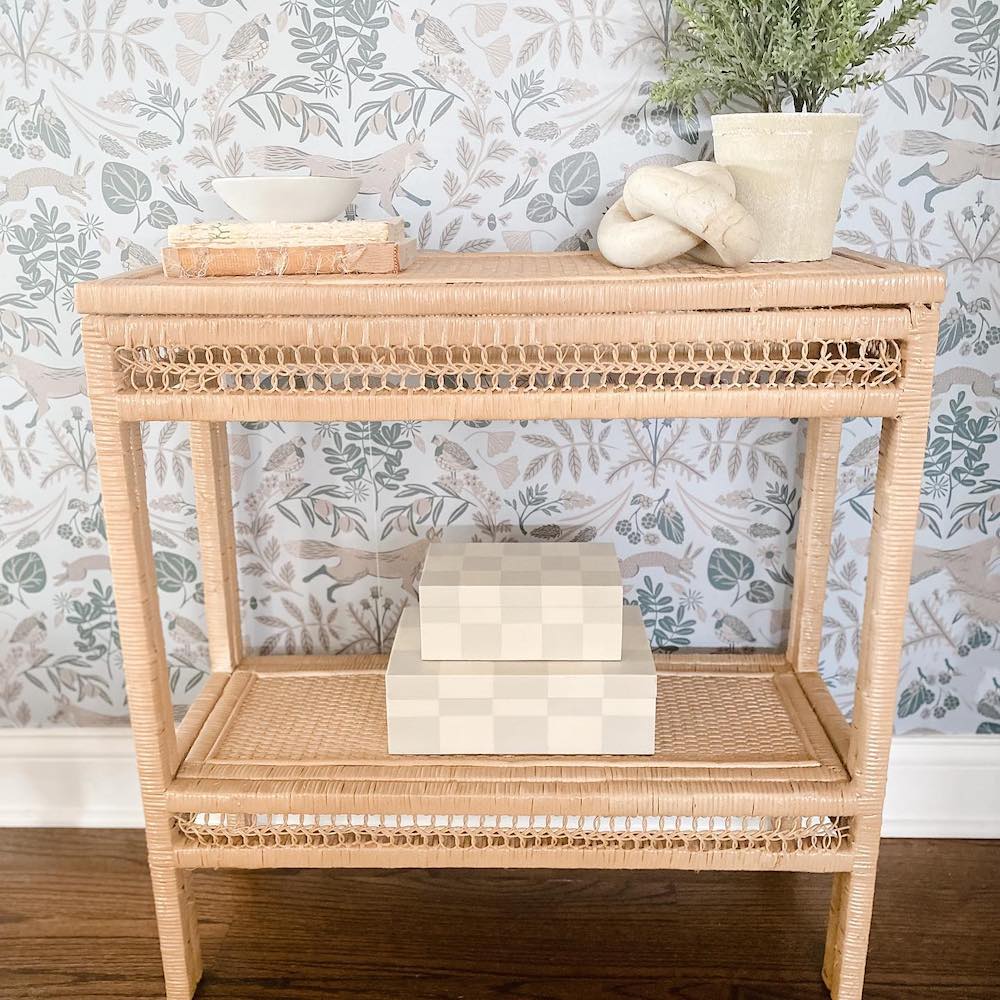 Mix it up! Blend gray, beige, and cream colors together – they won't disappoint.
Bring to the Nursery – Rattan Entryway Table Ideas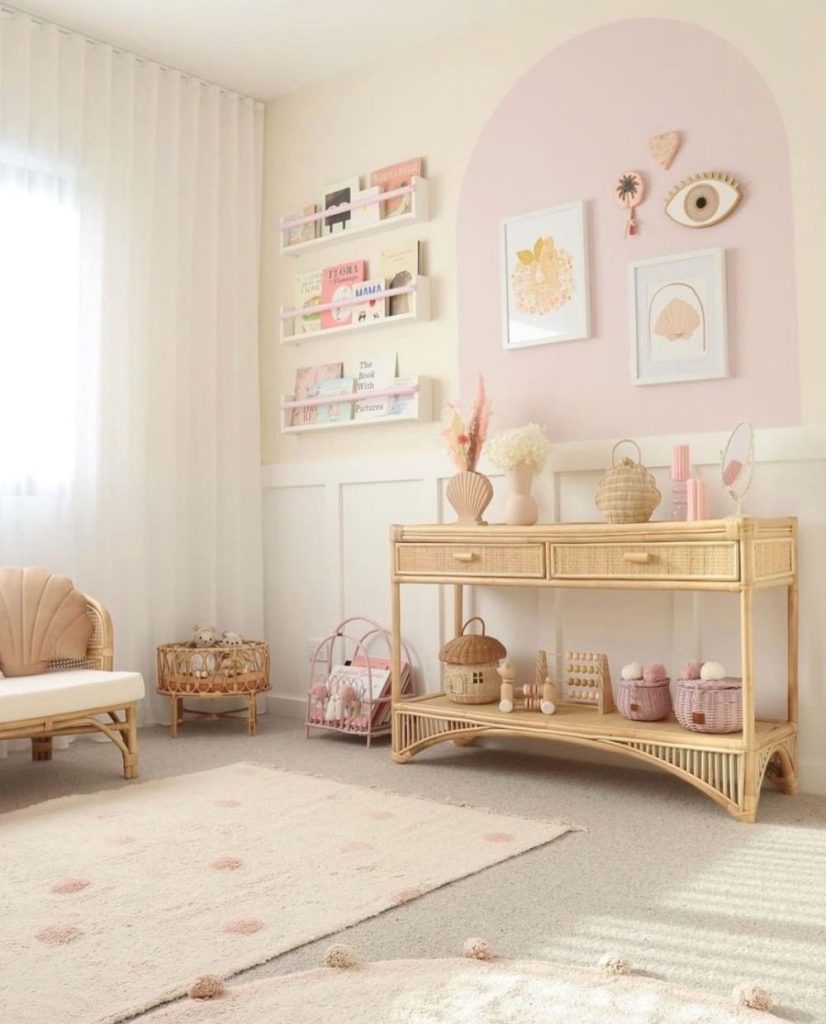 Set up a console table in the nursery room. Perfect for storing toys, books, and other accessories.
Top it Off with a Mirror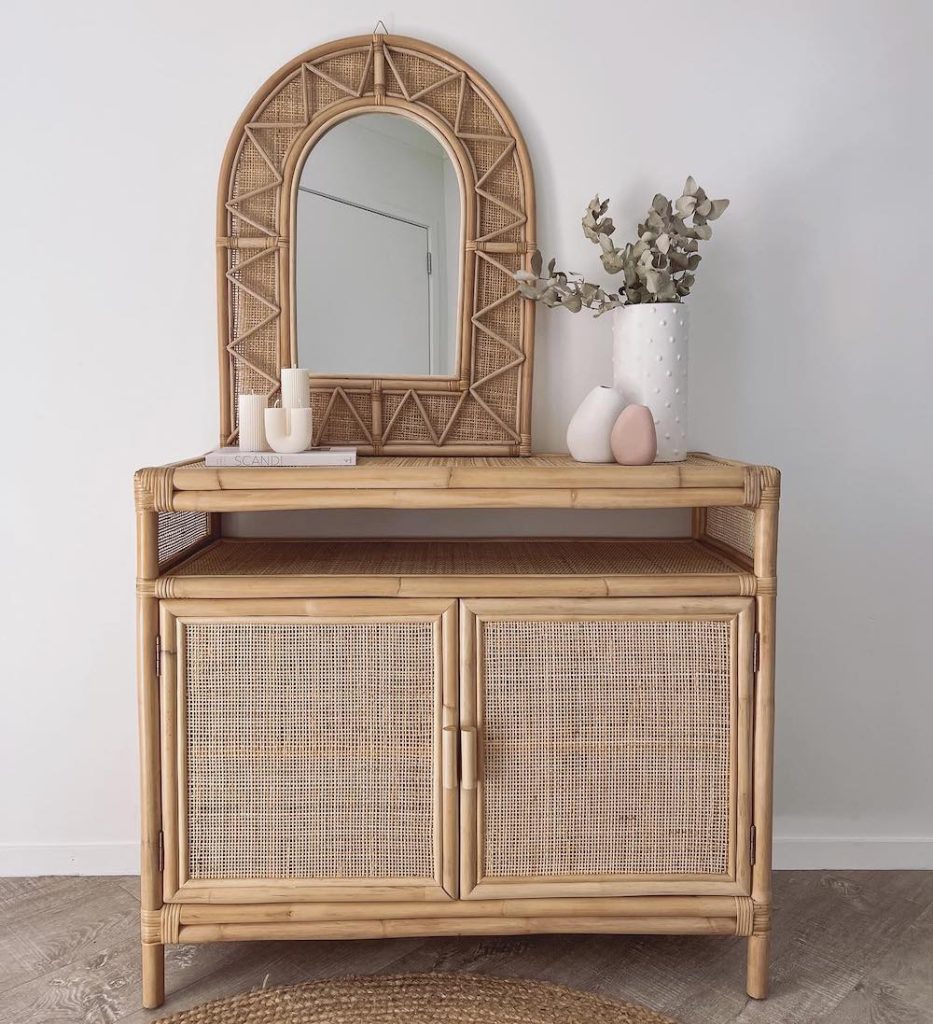 Make it stand out with a mirror on the console. Mirrors have a way of making rooms look brighter and larger. So perfect for a quick do-over when leaving and entering your home.
Make Waves – Rattan Entryway Table Ideas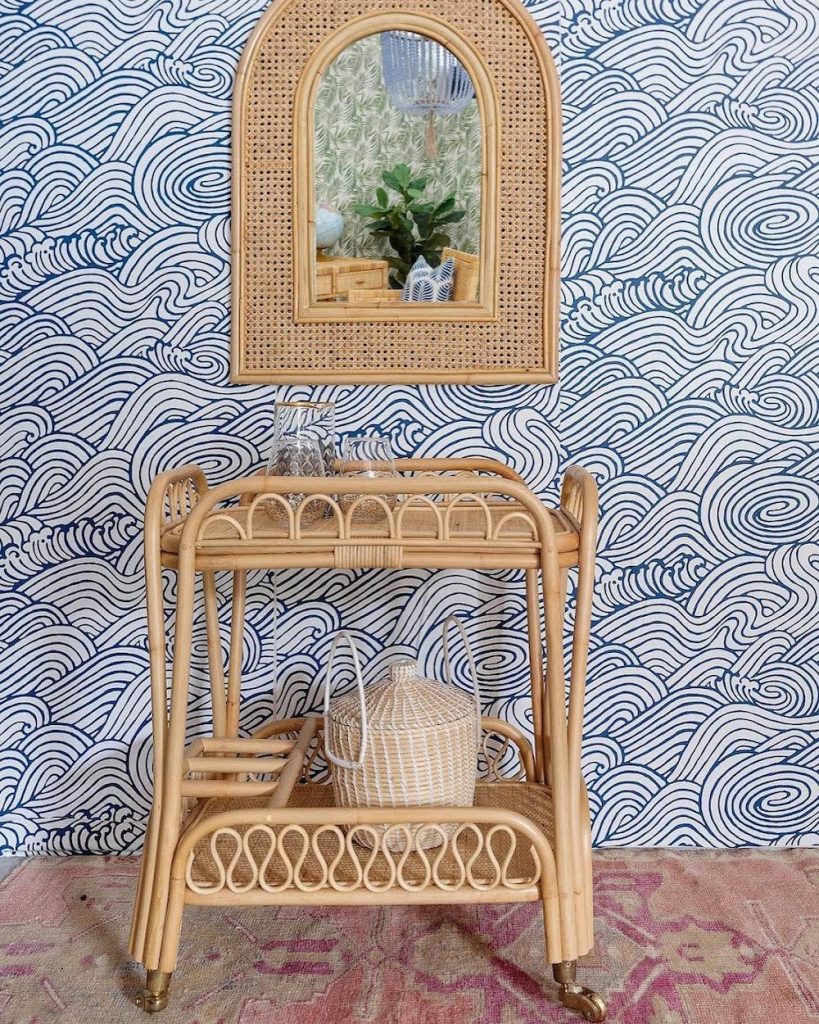 For a coastal-themed room, cover a wall with wallpaper of ocean waves.
Stack Your Favorite Books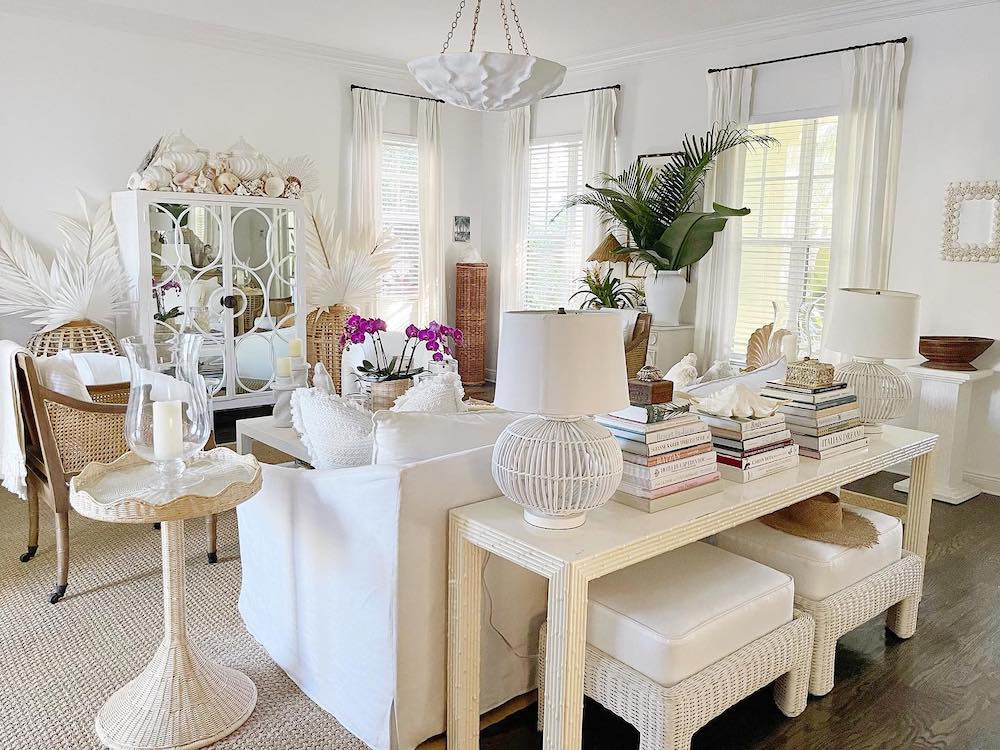 Organize your favorite coffee table books on your rattan entryway table. Except, in this case, it is a sofa table.
Pile High with Seashells – Rattan Entryway Table Ideas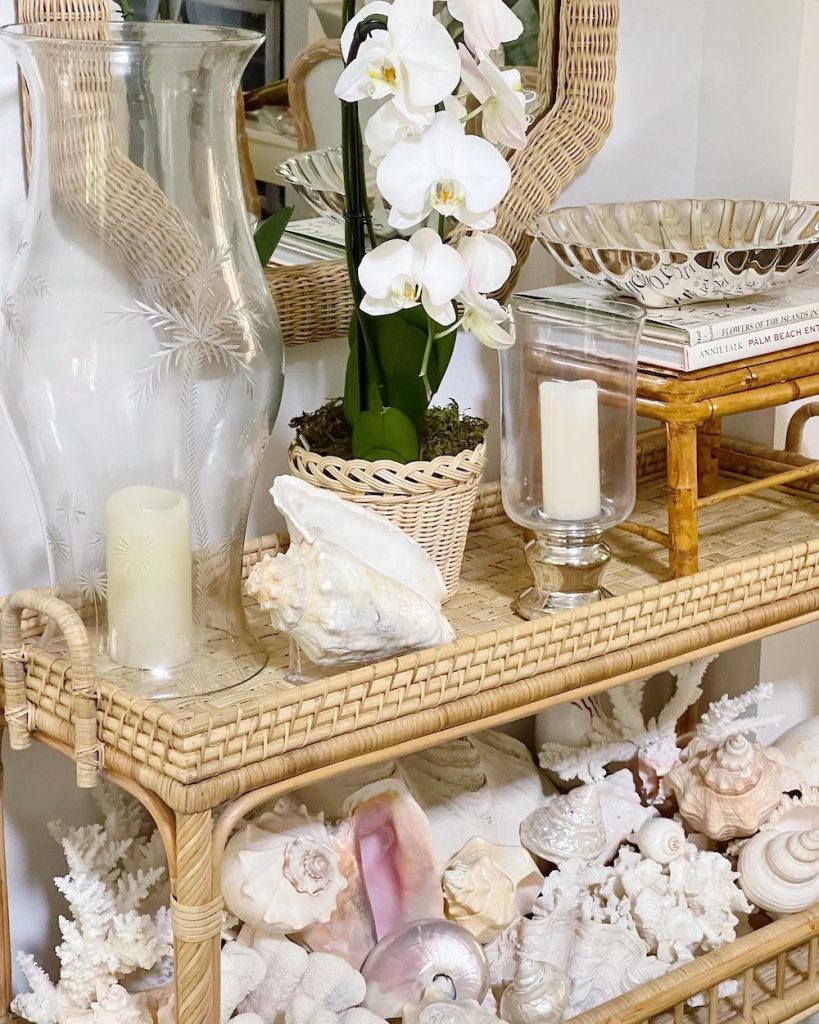 Fill your lower rattan console table with your favorite shell collection. Beautiful memories collecting those beauties.
Give it a Beach Theme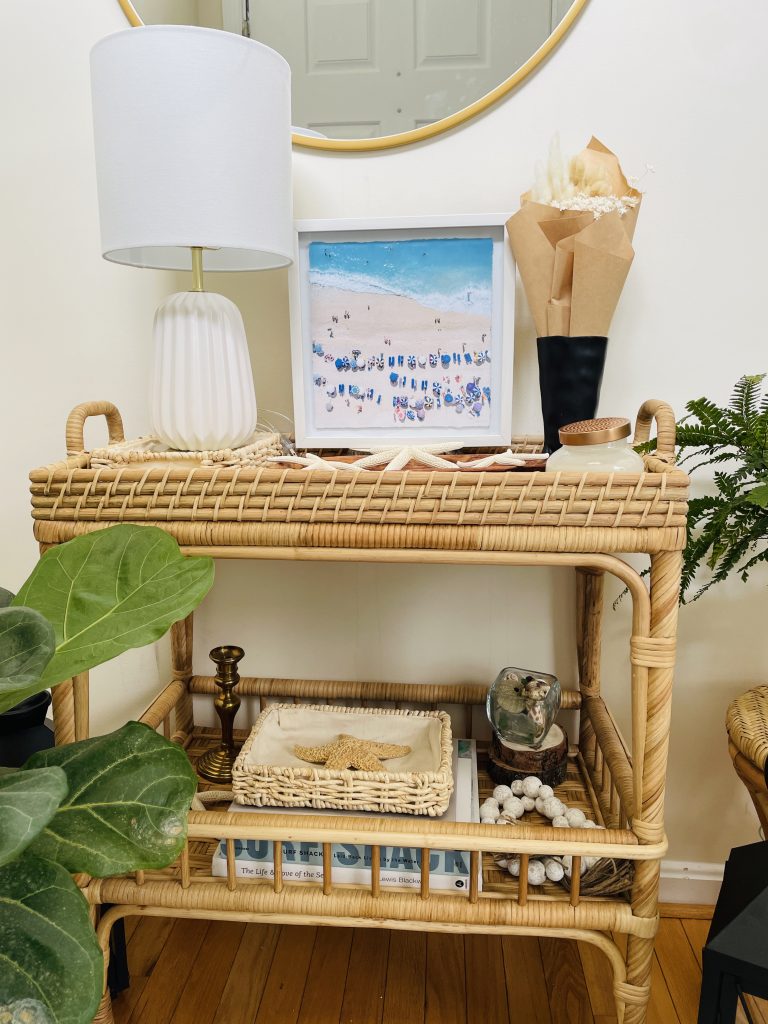 Go for a beach theme when styling your console table. In this image above, use starfish decor with other coastal accessories. Recreate those beach vacation memories on your console table.
Celebrate the Palm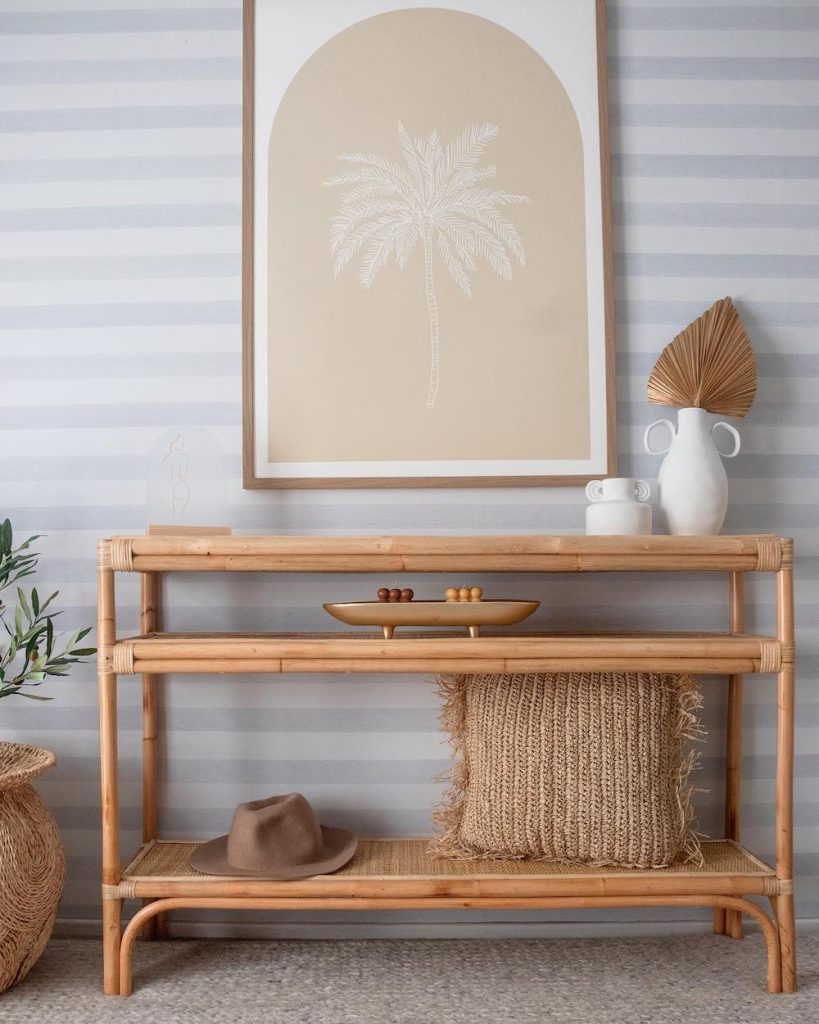 Display your favorite wall art of a palm tree. Follow up with a fresh or faux palm frond spear in a vase.
Go Fresh – Rattan Entryway Table Ideas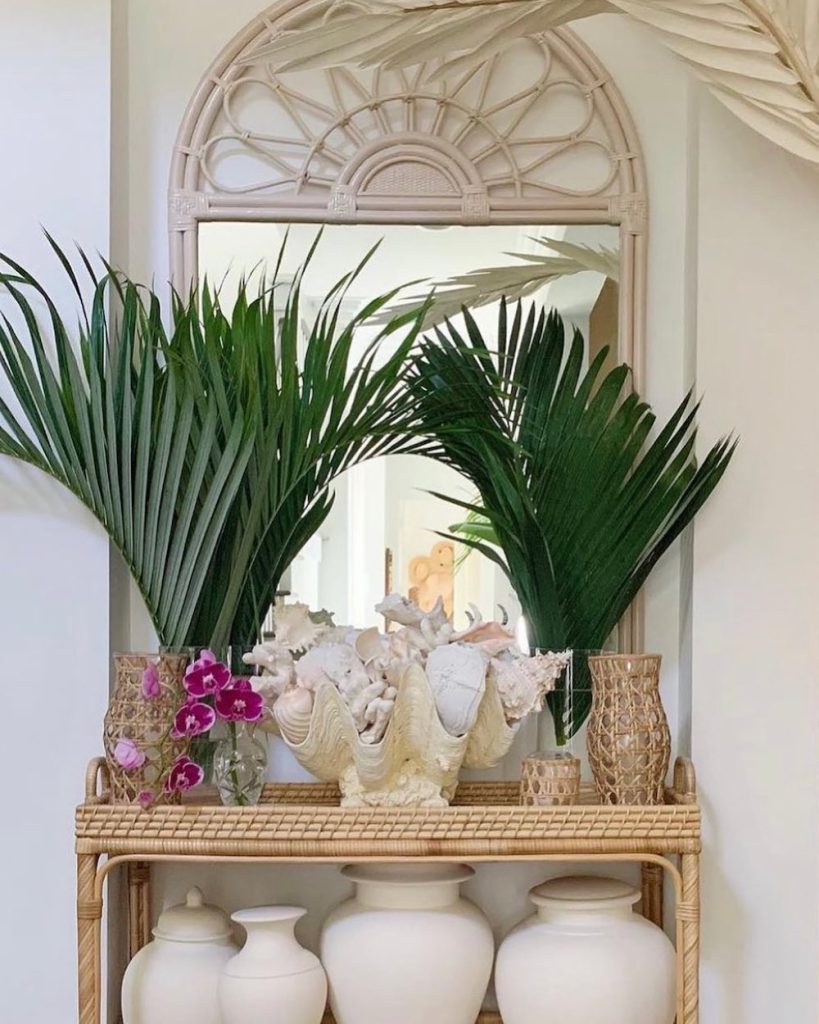 Keep a fresh orchid plant on your console. Add a set of fresh palm fronds for a pop of greenery. Green pops against the neutral cream and beige colors in this inspirational idea.
In our effort to select the best ever rattan entryway consoles from online sources, we searched numerous resources for the most stylish consoles. We found some incredible consoles made with rattan that we know you'll love. Below is our list of rattan consoles with neutral and earthy tones. Take a look. Drop us a comment below in the comment section. Let us know about your favorite front door entrance style.

This ends our list of rattan entryway table ideas for your home. Style your home with a console to create an inviting entryway. Take a look at our other posts for home decor inspiration. Be sure to tell us about your home decor projects in the comments below. We always love hearing from our readers.
Enjoy our other front door entrance home decor posts for additional ideas.
Are you interested in a different type of console table decor for your home? Try these posts for additional foyer decorating ideas.
Best Coastal Entryway Decor Ideas
Style a Console Table with these Designer's Tips
Coastal Console Tables
Rattan Entryway Tables
Table Lamps
Reach out to us with any questions. We are always ready to help you out. Thank you for dropping by and taking a look at our blog.
Mary
Pin this for Later: