With Summer almost here, you'll want to get your patio in shape with one of the many wicker patio sofas available online. Get ready for this Summer season with wicker patio sofas that are durable and stylish. There is no better time than now to take inventory of your outdoor patio furniture. If your patio furniture seems a bit weathered and lifeless, it is a good idea to refresh your patio furniture. With this in mind, we searched for outdoor wicker patio sofas that offer both style and durability. Sofas that can withstand the outdoor elements as well as any family missteps.
Pin this for later: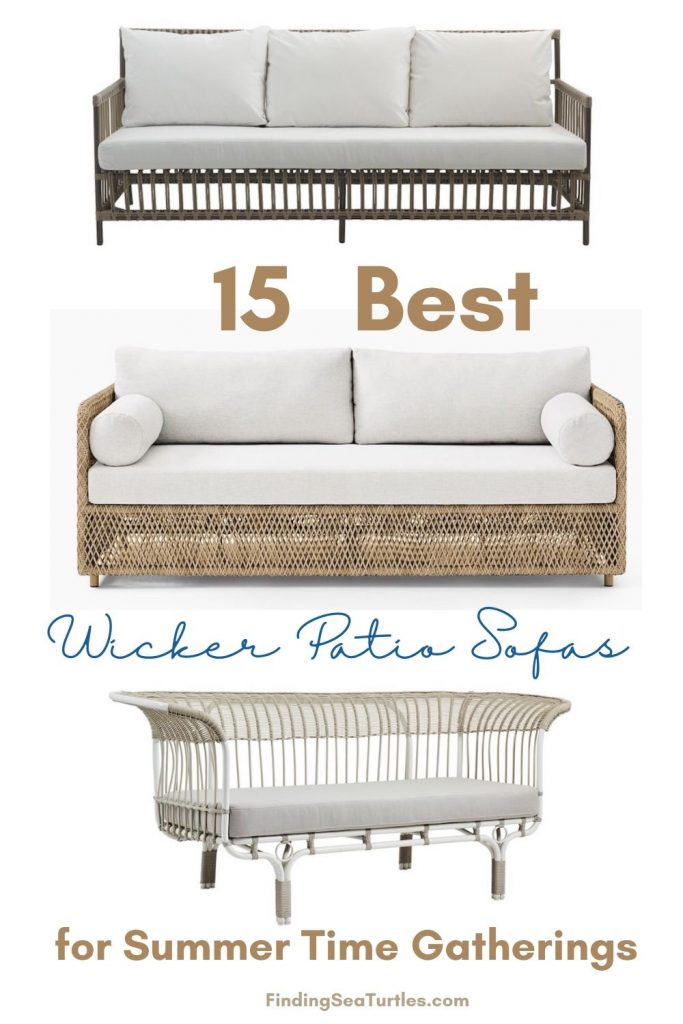 In today's post, we are sharing wicker patio sofas for outdoor spaces. Of course any of these sofas can also be set up indoors or under a protected outdoor space such as a covered porch. These sofas are full size wicker patio sofas that can accommodate at least three people comfortably. Many of these sofas are available in various performance fabrics that are easy to clean. And many are made from Fair Trade fabrics that are organic and sustainably sourced materials. Great materials for outdoor living spaces.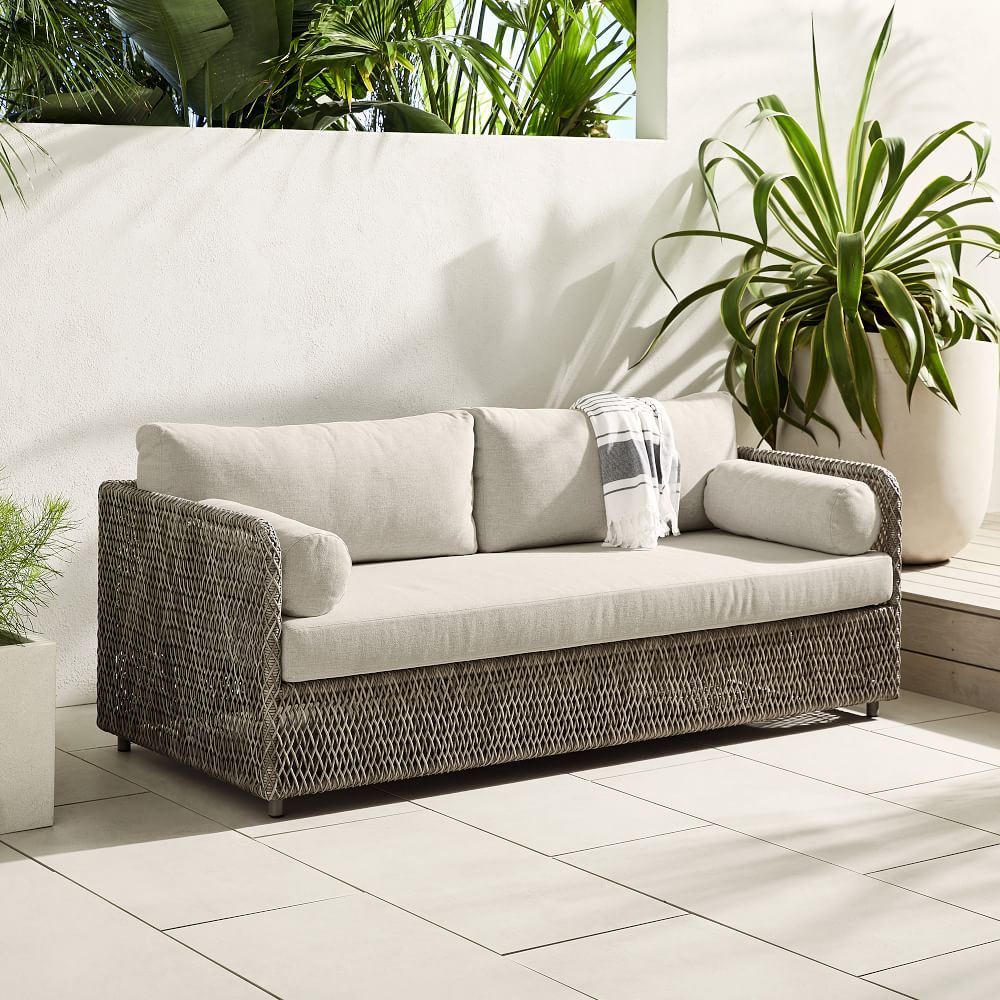 Elevate Your Comfort Level – Wicker Patio Sofas
Whether you are outfitting a porch, patio, veranda, terrace, or garden space, you'll want sofas with sink-in comfort that exude a coastal beach vibe. Enjoy your wicker patio sofas while encouraging relaxation with organic textures of woven wicker. Create an outdoor place for morning coffee and evening cocktails underneath the stars. View celebratory fireworks over the fourth of July week on an outdoor place. Elevate your patio comfort level with a wicker patio sofa that provides instant warmth to your outdoor space.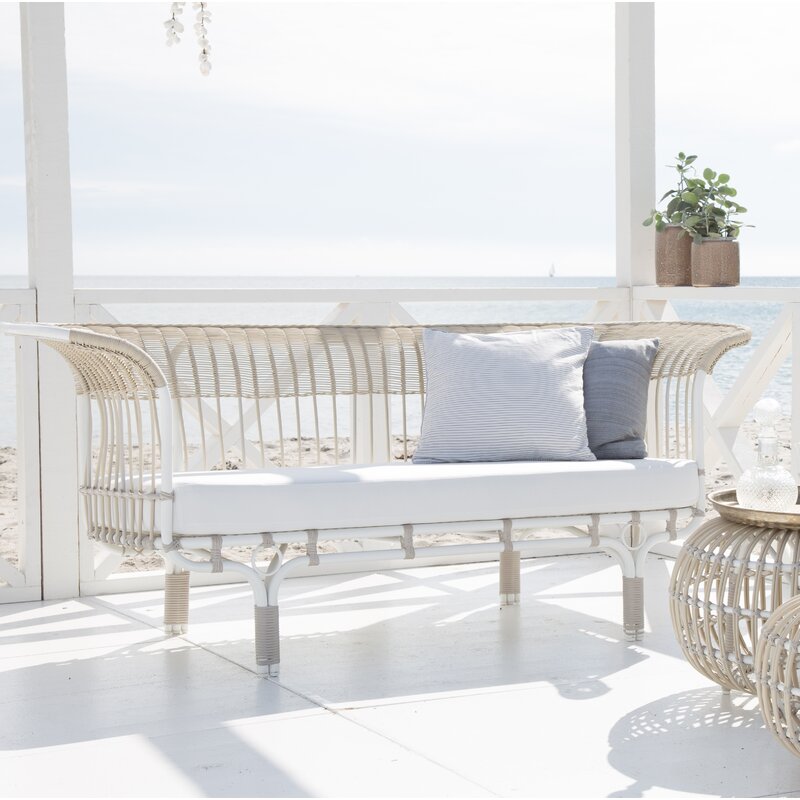 Best of all, wicker patio sofas can be ordered online through many furniture stores. As a convenience to you, online furniture stores ship right to your front door step. So there is no need to cart home heavy boxes or rent a van from the local home improvement store. Online furniture stores make it incredibly easy to furnish your home by shipping your order directly to your home.
Our Picks of the best Wicker Patio Sofas
Take a look at our favorite wicker patio sofas picks for homes along the coast or inland. We know whichever patio sofa you select will be the perfect addition to your porch, patio, or deck. On to our favorites!

Create a look that reflects you, your style, and taste with any of these wicker patio sofas. A patio setting that is not only durable but attractive in an outdoor space. Begin with a patio sofa then build from there to style your porch or patio. And don't forget to add live plants to your outdoor space. Not only for aesthetic reasons but because some plants repel bugs. Lemongrass and peppermint are just two plants that repel mosquitos and other flying insects. A simple, organic way to repel Summer flying bugs rather than using chemical sprays that cause more harm than good.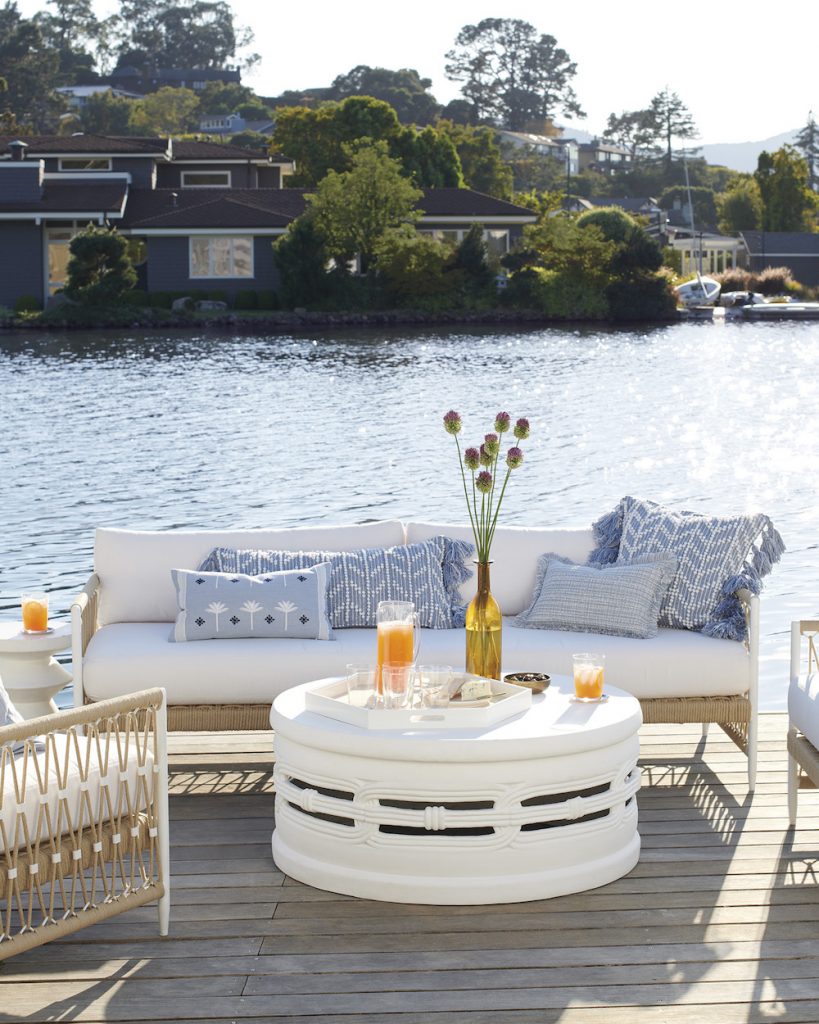 This ends our list of wicker patio sofas for your home. Do you have a special decor style or styling tip for outdoor spaces? If you do, we'd love to hear about it. We always love hearing from our readers. And it is our hope that this post helped you find the perfect wicker patio sofa for your home.
And for additional coastal decor resources, be sure to check out our coastal decor post for helpful tips. Take a look at our 12 Ways to Add Coastal Decor to your Home post.
Enjoy our other coastal home decor related posts for additional ideas.
If you try any of these sofas let us know how you make out. And if you have any questions, feel free to reach out to us. We are ready to help you out. Thank you for stopping by.
Mary
Pin this for later: