You sometimes need a break from your fast-paced lifestyle called work. Or maybe you've been through a stressful period in your life, and you badly need a break from all the demands that life brings your way. Whatever your reason for creating your private sun-splashed oasis away from all the craziness, the first item you'll need is a good, sturdy bench.
There are many seating options available for you to select from. Something to consider might be the placement of the bench and the size of the area where the bench will be located. We've picked 18 magnificent garden benches that you may want to consider for that private sun-splashed oasis for your much needed downtime. These glorious garden benches can turn your garden spot to a great escape or Gardenscape. Take a look and let us know what you think!
Teak Amalfi Bench
The Teak Amalfi Bench is a comfortably contoured seat with gracefully curved arms and scrolled details. A classic design that can be used just about anywhere. Maybe place the Amalfi bench under a shaded tree for a restful quiet spot to read or under a covered porch near the front door entryway, the possibilities are many.
Blankenship Steel Garden Bench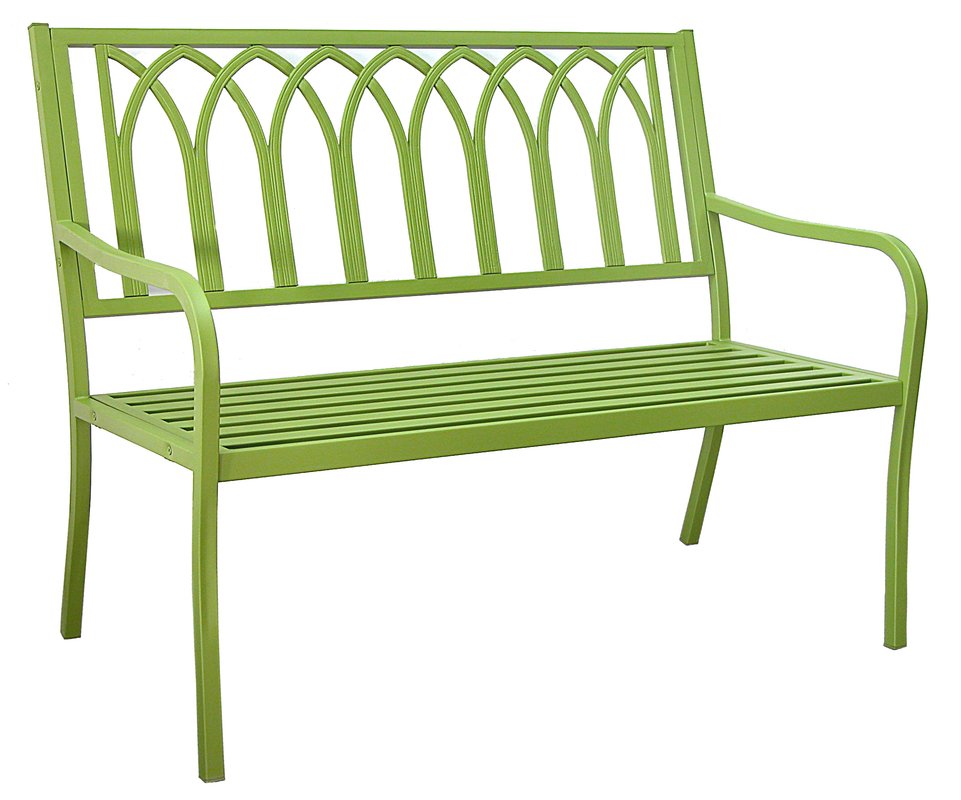 The Blankenship Steel Garden Bench with a trellis backrest design has a solid colored powder-coated finish in Urban Green. The Blankenship bench blends in with many Gardenscape settings. The Blankenship bench will be a welcome site for guests after a long trek down the beach.
Oxford Garden Essex Shorea Curved Bench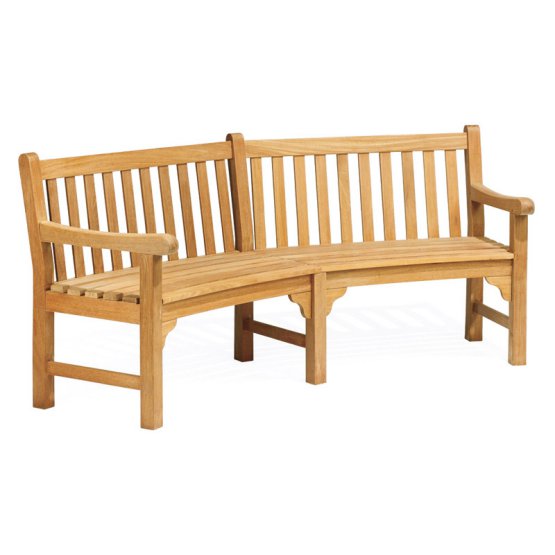 The Oxford Garden Essex Shorea Curved Bench is a traditional bench with classic style. The curved bench can be tucked into a corner of a garden or lawn – and soon will become a favorite destination to relax with a book in hand. Classic style at its best!
Gray All-Weather Wicker Andalusia Outdoor Bench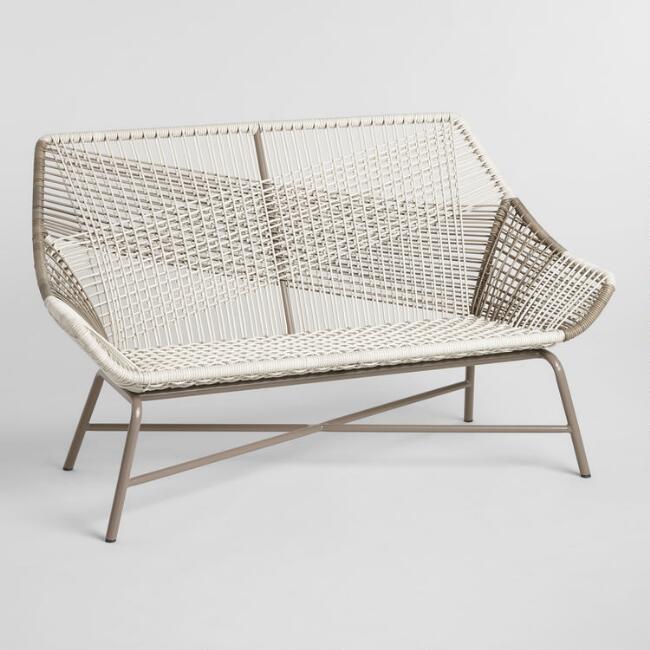 The Gray All-Weather Wicker Andalusia Outdoor Bench is reminiscent of the garden benches of Andalusia, Southern Spain. The Andalusia outdoor bench has a comfortable reclined seat with a neutral palette. The outdoor bench could be placed along a meandering garden path to offer your guests a quick break.
Ceylon Teak Garden Bench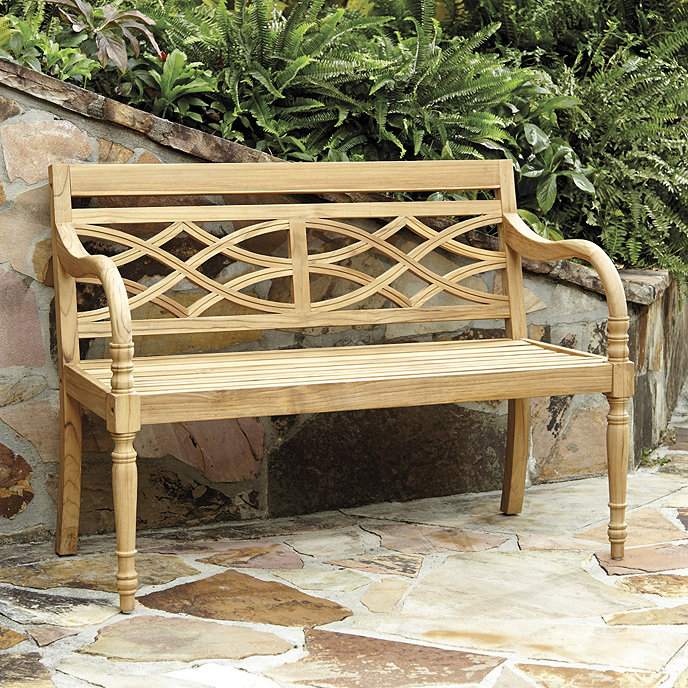 The Ceylon Teak Garden Bench is refined with hand-carved details that are classic British Colonial design. The Ceylon bench offers stylish, comfortable seating for you and your guests. Beautifully designed and a perfect place to sit back and relax sipping on a cocktail while watching the Fourth of July fireworks!
Nancy Entryway Wood Garden Bench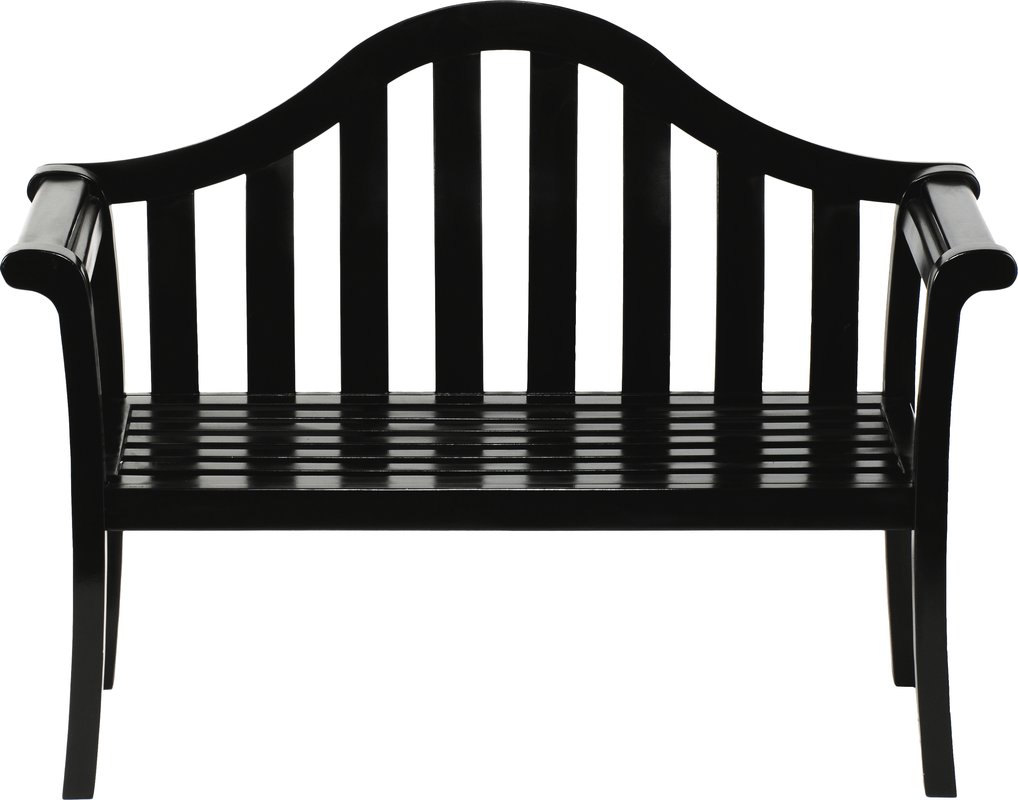 The Nancy Entryway Wood Garden Bench has a camel back style design. The Nancy bench would make a great addition to a porch or seating in a front entryway. Camel back design style is a classic look and works well in a contemporary setting as well.
Bamboo Bench with Cushion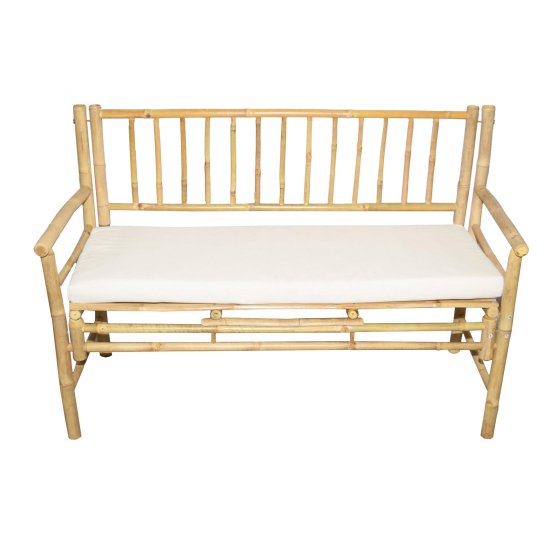 The Bamboo Bench with Cushion is made of bamboo and wood. The bamboo bench lends an Asian feel to your decor. The bench is perfect for lounging on while reading a book or reading your favorite blog.
Chatham Park Bench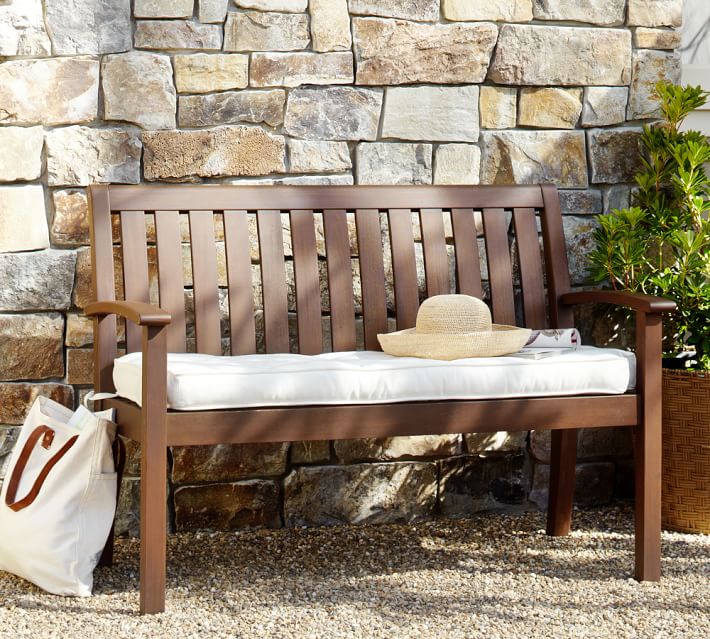 The Chatham Park Bench is an eye-catching park-style bench that could be placed under a covered porch or backyard patio. The park bench will make a nice addition to your Gardenscape away from the demands of your fast-paced work life.
Laura Garden Bench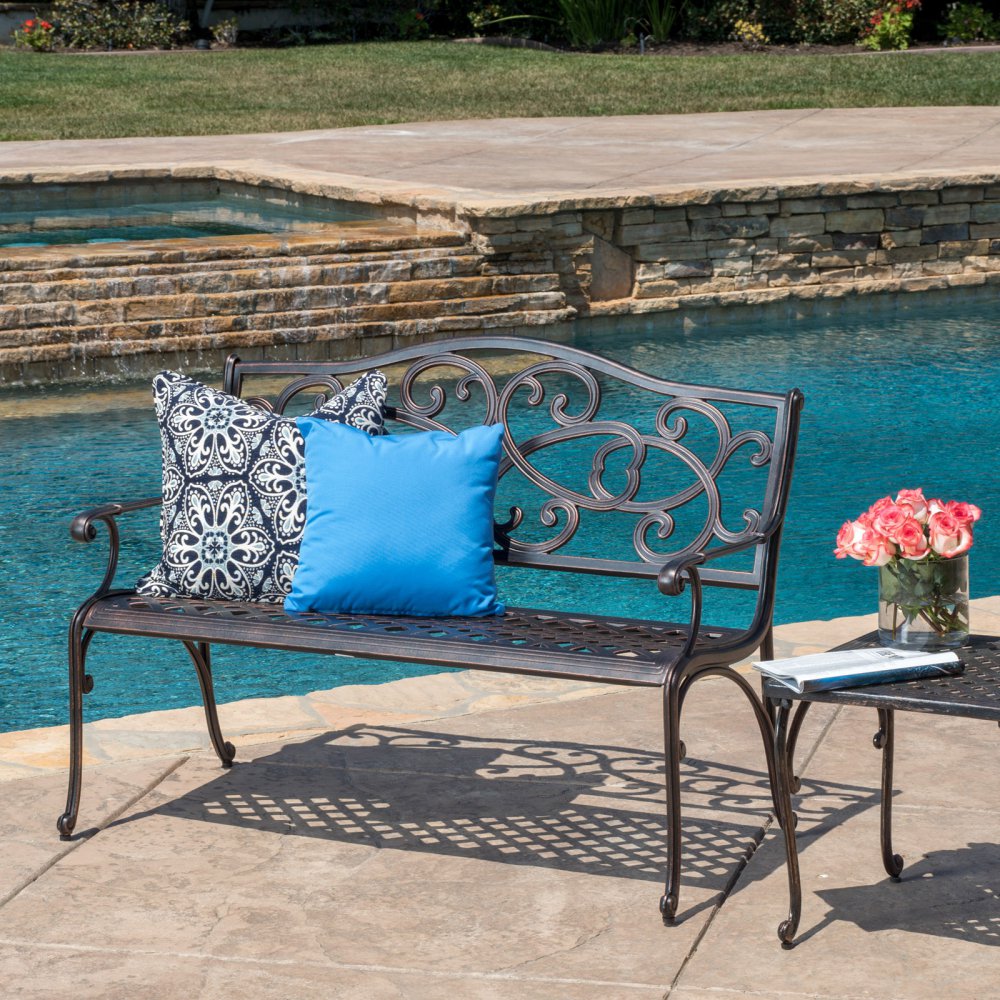 The Laura Garden Bench is old world elegance at its best. The dramatically arched back with the scroll design aids in that cool summer comfort we seek during the dog days of Summer. Pleasant seating for relaxing with a nice glass of mint ice tea!
Moorpark 2-seat Bench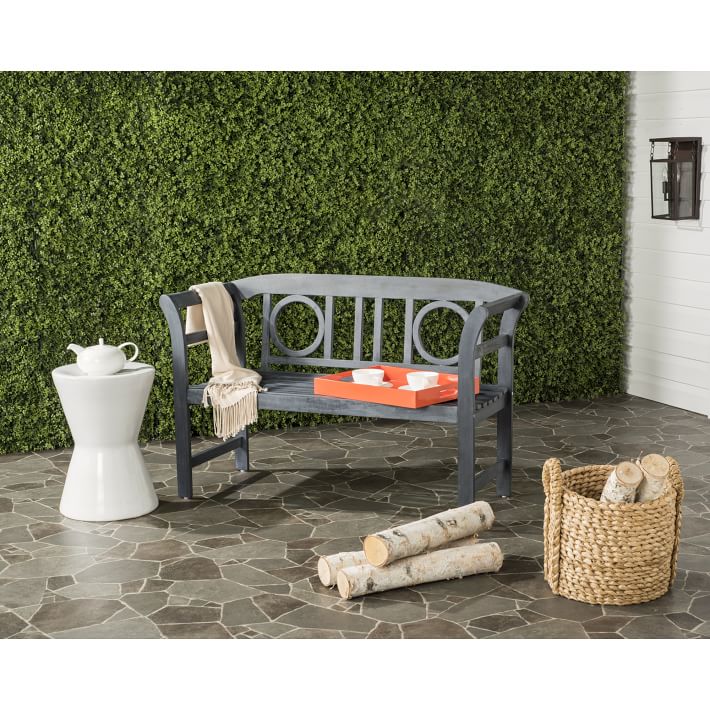 The Moorpark 2-seat Bench is crafted out of solid Acacia wood. The Moorpark bench has Circle insets by its slatted back, comfortable for you and a friend. Good place to sit, pause, and reflect on your thriving flower garden.
Stanwich 3-Seat Acacia Garden Bench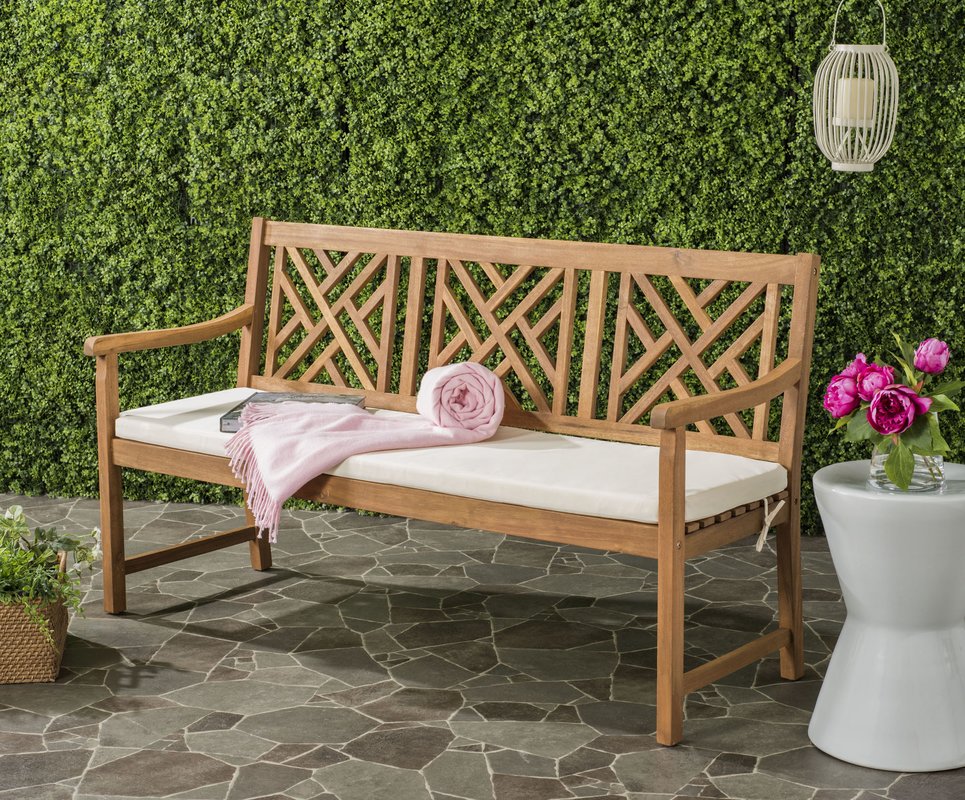 The Stanwich 3-Seat Acacia Garden Bench is casual elegance that can lend itself to any aesthetic, made from acacia wood. The acacia garden bench with traditional silhouette, openwork design, and neutral finish would be a standout on a front porch or backyard deck. The Stanwich bench can be used alone or for additional seating place a pair of Stanwich benches next to each other.
Blewitt Herringbone Rattan Garden Bench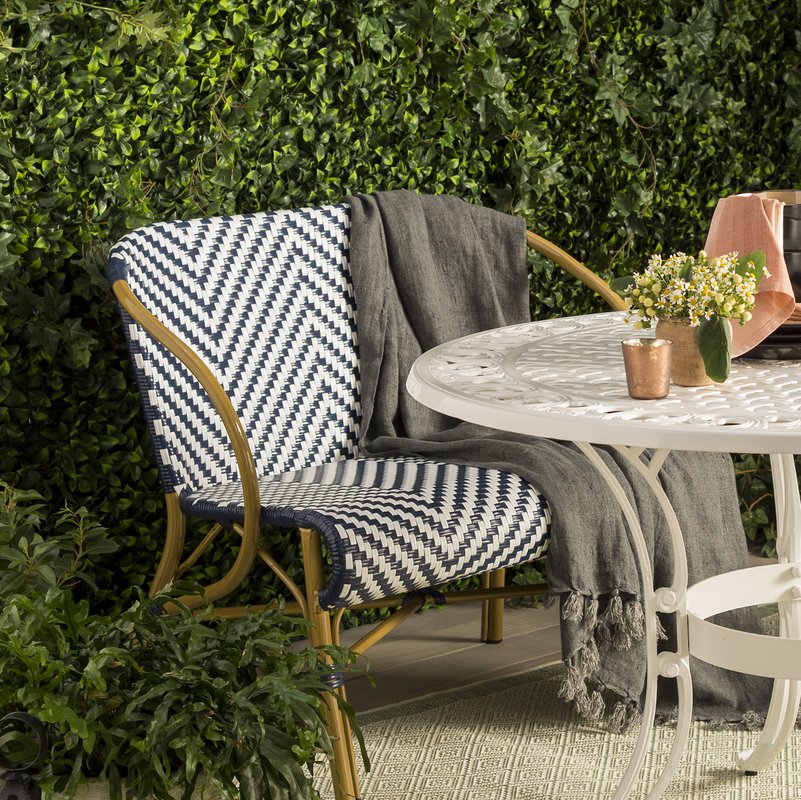 The Blewitt Herringbone Rattan Garden Bench is made from aluminum and wicker in navy and white. A perfect 2-seater that you'll come back to over and over again! The rattan garden seat is a perfect resting place to sit back and relax on warm sunny afternoon.
Blake Bench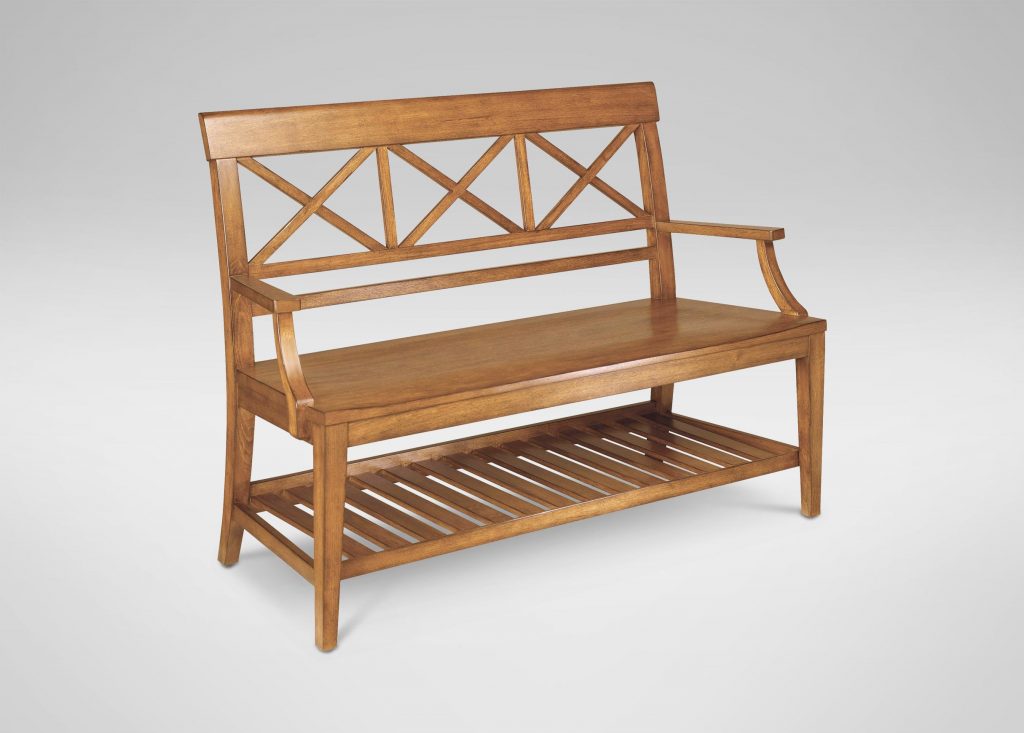 The Blake Bench has ample room to store baskets, books, or shoes on the shelf underneath the seating area. A great bench for your guests to rest after a brisk morning walk to the beach.
Provencal Bench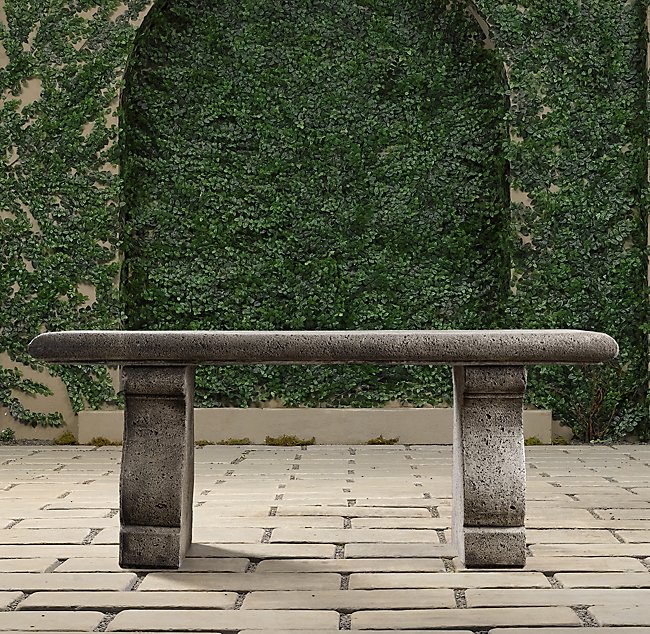 The Provencal Bench was inspired by the many classical benches in villages throughout Southern France. The bench is available in 6 finish options. Great to sit, relax, and watch the many sailboats pass by.
Angle Garden Bench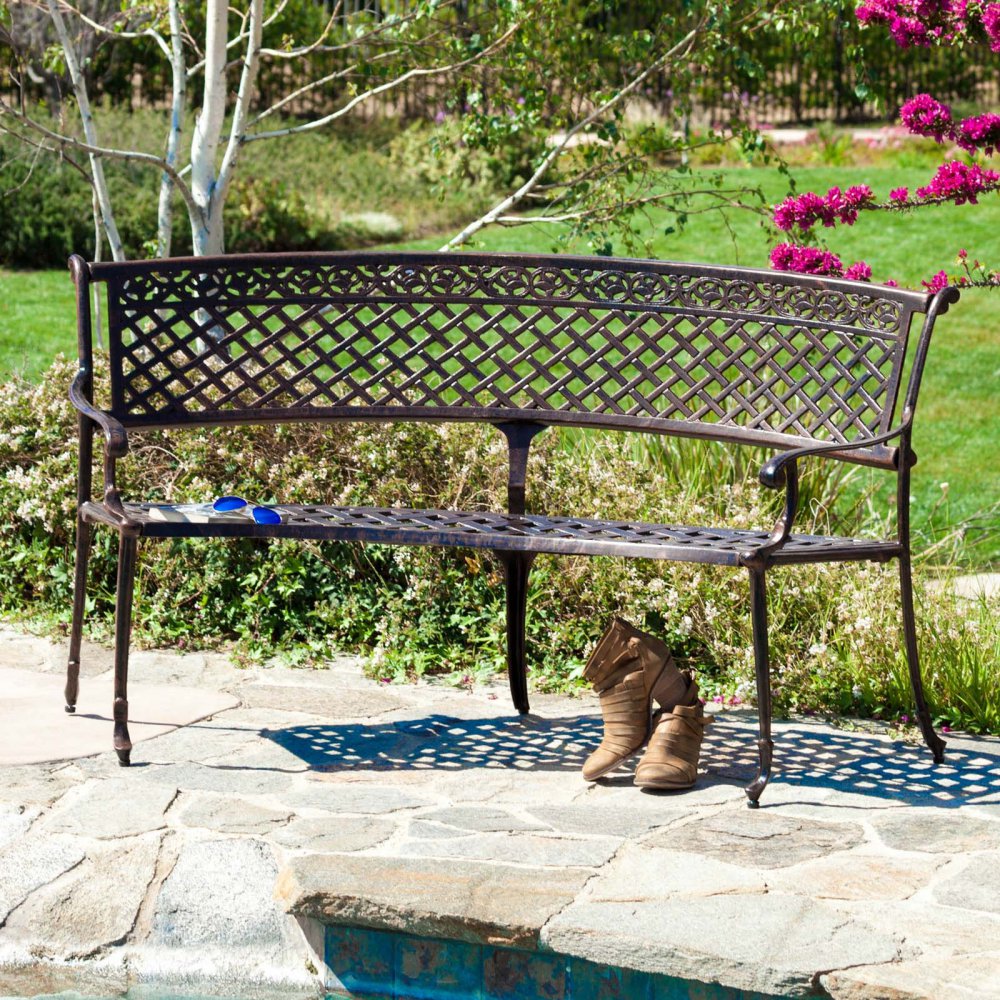 The Angle Garden Bench is a curvaceous bench with scrolled armrests and arch shaped. The garden bench has a gleaming copper finish with woven seat and back ideal for breezy comfort. Perfect to sit back with a cup of tea and finish your latest read. A lovely addition to your Gardenscape!
Metro Outdoor Bench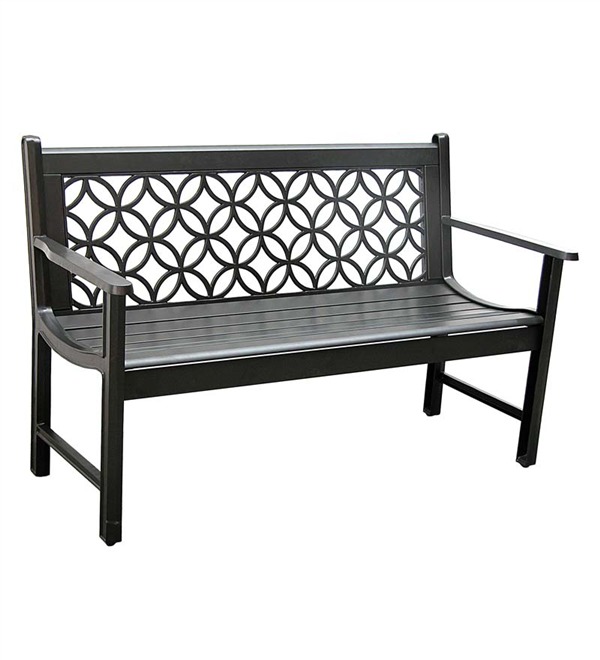 The Metro Outdoor Bench is a chic aluminum bench finished in antique black. The bench has a gorgeous back detail of interlocking circles, so classy! Great for a porch, patio, deck, garden path, or any garden spot you need seating.
Haste Garden Riviera Robinia Slat Wood Bench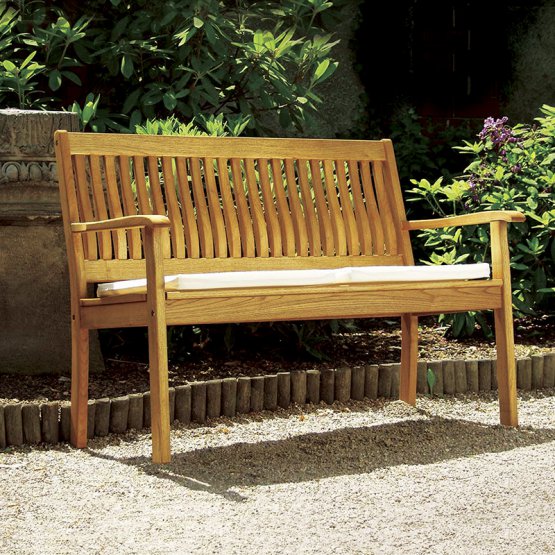 The Haste Garden Riviera Robinia Wood Bench is made from eco-friendly robinia wood. The wood bench uses traditional slat style wood for a traditional look and feel. So comfortable to just sit back, relax, and bird watch.
Elsmere Wood Garden Bench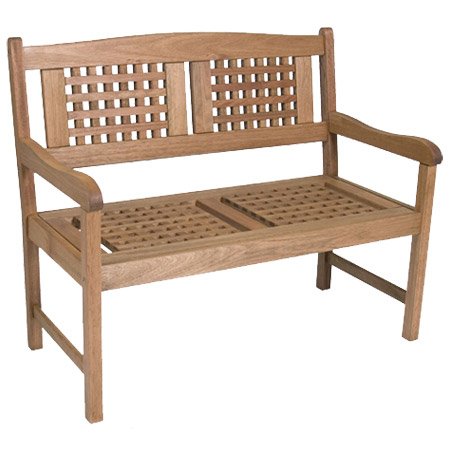 The Elsmere Wood Garden Bench is an elegantly designed garden bench made of 100% eucalyptus wood. The garden bench is a beautiful classic grid design with open accents. The Elsmere is ideal for that private sun-splashed oasis away from the noise. A glorious garden bench for that Gardenscape tucked away where all you hear are the seagulls above and the crashing ocean waves.
As you see there are many options when you are searching for that glorious garden bench. Whether you are replacing an existing garden bench or starting new to create your private garden space anyone of these benches can make your place that much more comfortable. Your garden bench where you can lounge, take a short nap or sip on that sweet sangria during those hot, humid dog days of summer. You'll soon be on your way to creating that perfect Gardenscape. Let us know what you think!
And if you have any questions, feel free to reach out to us in the comments below. We always are ready to help you out.
Save
Save
Save