Acrylic console tables elevate the feel of a modern-styled home. Other names for a console table include entryway, hallway, and sofa tables. Made from various materials such as wood, metal, plastic, or a combination. We are sharing console tables made from acrylic materials in today's post.
Know the Difference Between Acrylic and Lucite Materials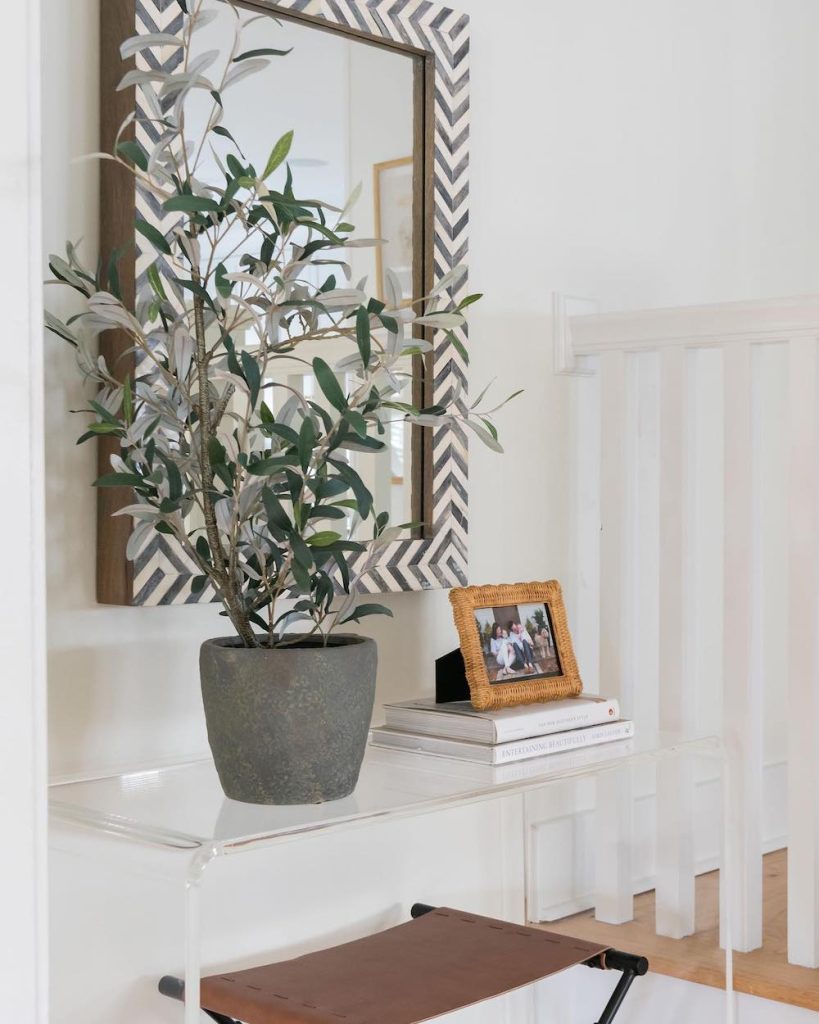 Know the difference. Acrylic is a generic word. Marketed under the name Plexiglass, acrylic refers to a range of thermoplastics. Developed by DuPont in the 1920s, Lucite is a brand of acrylic. Considered higher quality than other acrylics, Lucite is one of many acrylics. DuPont trademarked its acrylic products under the Lucite name.

Both acrylic and Lucite are transparent plastics developed as an alternative to glass and used in various applications. However, Lucite is known for being a better quality acrylic. Acrylic is available in different grades. Grades with improved outstanding clarity, scratch resistance, and strength characteristics. Lower-graded acrylics look good at first. However, they break down, fade, and appear yellowish over time.
Remember this: Lucite is always an acrylic. But not all acrylics are Lucite.
Compared to glass, acrylic has more benefits than glass. A thermoplastic that can be melted and molded into many shapes. The melting and molding process does not diminish its strength. Acrylic is an excellent alternative to glass. The benefits of acrylic are it is lighter than glass, scratch resistant, durable, and less susceptible to damage or breakage. It quickly bonds with adhesives and solvents. Resistant to water, remains clean, which is evident in appearance.
Lucite is a material known for its clarity and scratch-resistant quality. Buff out minor scratches easily on Lucite. A bit heavier than other acrylics yet lighter than glass. Mold Lucite easily into an assortment of shapes and styles. Carve into intricate shapes using Lucite. Suitable for etching designs. Dye into any color without damaging the Lucite material itself.
Uses for Acrylic – Acrylic Console Tables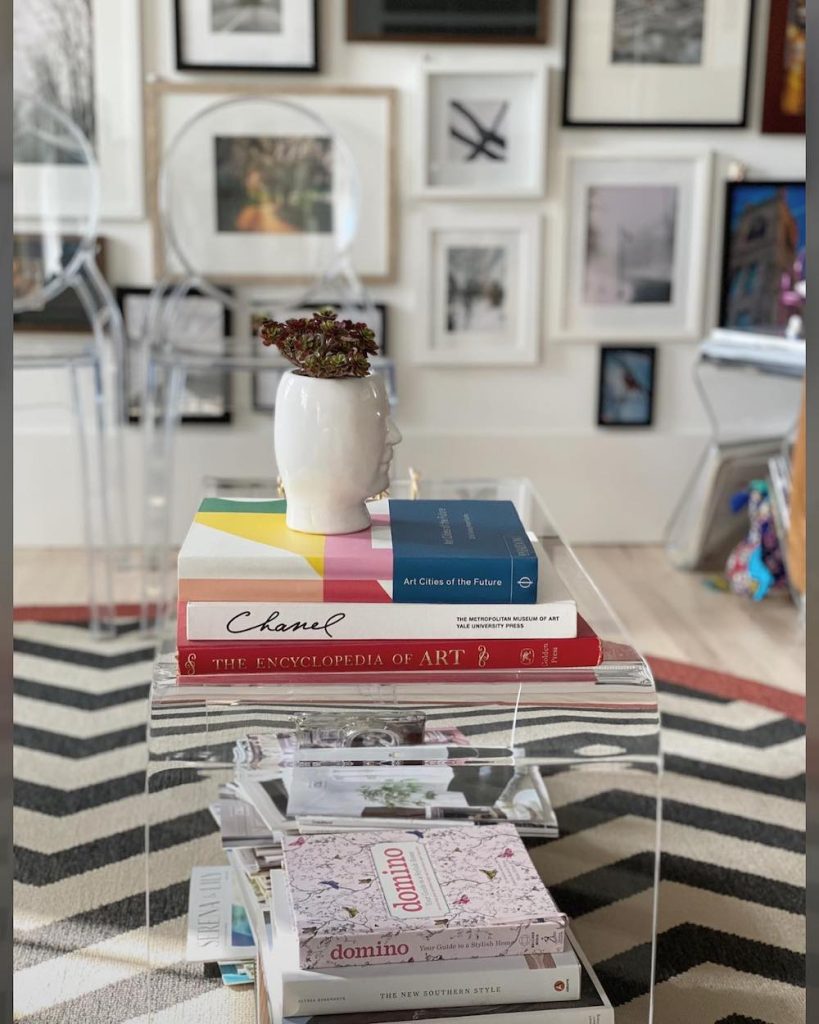 Among other uses, the aesthetic of acrylic furniture is much sought after—minimalists, in particular, like the transparentness of acrylic furniture. The openness of the airy feeling of acrylic furniture delivers a home setting. Acrylic-made furniture includes stools, chairs, tables, and shelves. Many furniture pieces are made from Lucite, a stronger, more durable acrylic.
Lucite is easy to clean. Resistant to UV light. And because of this, the acrylic material does not fade or yellow. Use Lucite furniture outdoors with its UV light resistance quality.
Originally acrylic was used for creating costume jewelry—a popular costume jewelry material for two reasons. First, acrylic material was valued because of its clarity. Second, acrylic dyes very easily. Lucite is easy to carve and polish. It is also desirable by artists for designing sculptures.
Purpose of a Console Table – Acrylic Console Tables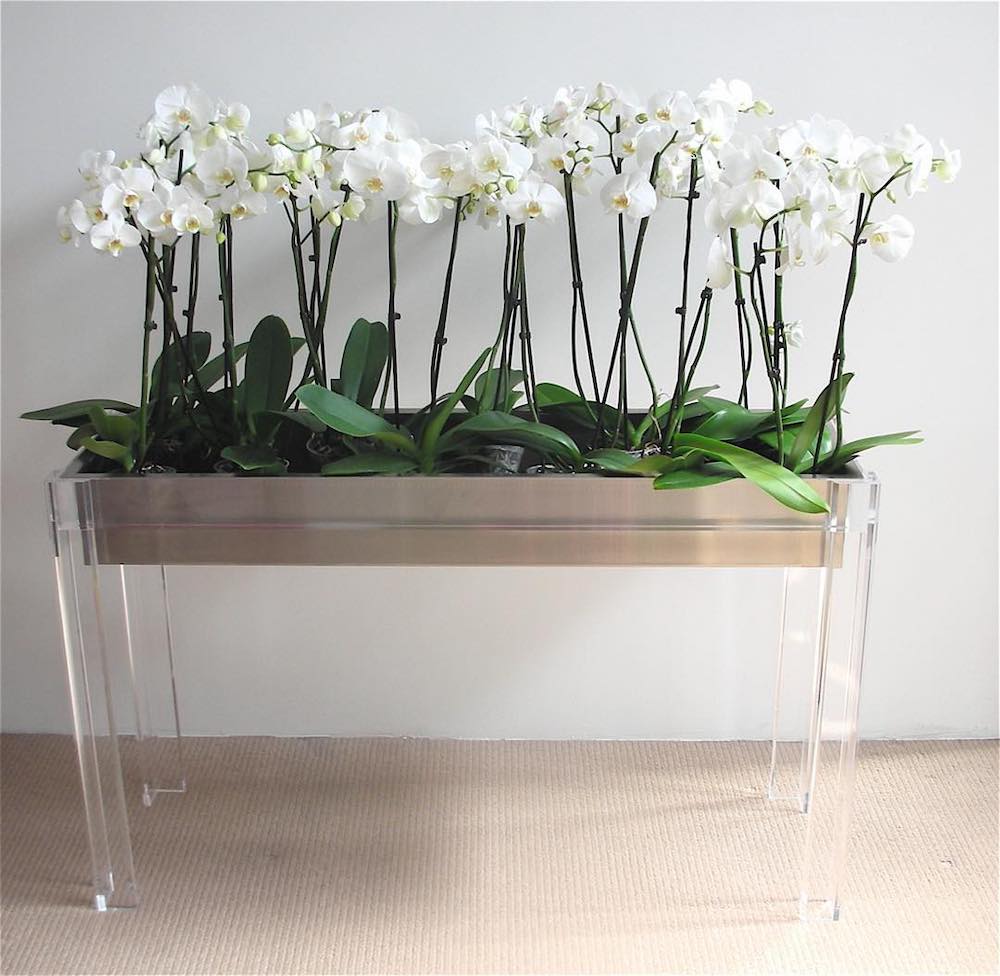 The console table is slender and can fit into narrower spaces than regular-sized tables. Taller than regular tables make it equally more accessible when sitting down or standing up. Due to the table size, it is useful directly behind a sofa or in a hallway. Console tables have enough tabletop surfaces for lamps, decorative objects, or personal items.
Place a console table behind a sofa so you can easily reach the table while sitting down. Set up a console table in an entryway or hallway. Use the table as a storage source or for essential items such as keys or wallets. It is an excellent addition to a small space area.
Known by Several Names
Referred to by several names. Considered for use in an entryway, hallway, or foyer area. The console table is the perfect furniture piece. Call the table an entryway or foyer table when placed in a foyer or entryway. Call it a hallway table or console when placed in a hallway. Narrow tables do not obstruct passageways.
In years past, the tabletop surface of a console table was attached directly to the wall. The meaning of a console table is a table fixed to a wall with the top supported by consoles or front legs.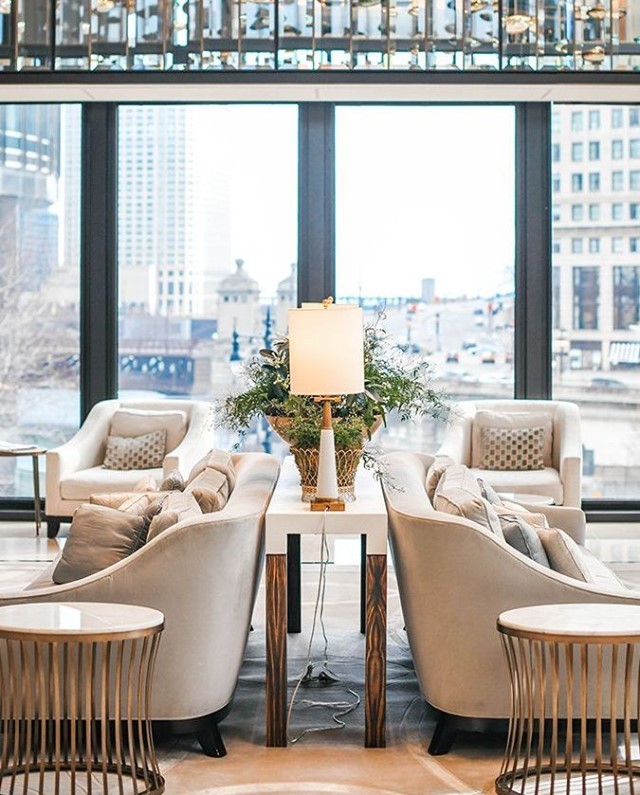 A table flush behind a sofa is called a sofa or console table. These tables provide tabletop areas for lamps, decorative objects, or personal items. A console table can divide the room into two separate sitting areas or spaces in a vast room. As the image above shows, the Langham Chicago lobby uses a console table as a divider between two places. Sometimes large floor-size plants are used as a divider between two areas. The hotel lobby was designed with an open-concept layout perfect for a console table as a divider.
What is the Difference Between an Entryway and Console Table?

There is no physical difference between an entryway table and a console table. Although, an entryway table is typically used in an entryway or foyer in the home's front room. Behind a sofa, you'll find a console table. These tables add sophistication and utility to their space.
Why Use a Console Table?
Keep a console table in a narrow space. Substitute a console table for a bar or vanity. Modify a console into an office desk. There are so many ways to integrate a console into your home. Display your decor style on a Console Table. Utilize as storage; this is the point of having a console table.
History of the Console Table – Acrylic Console Table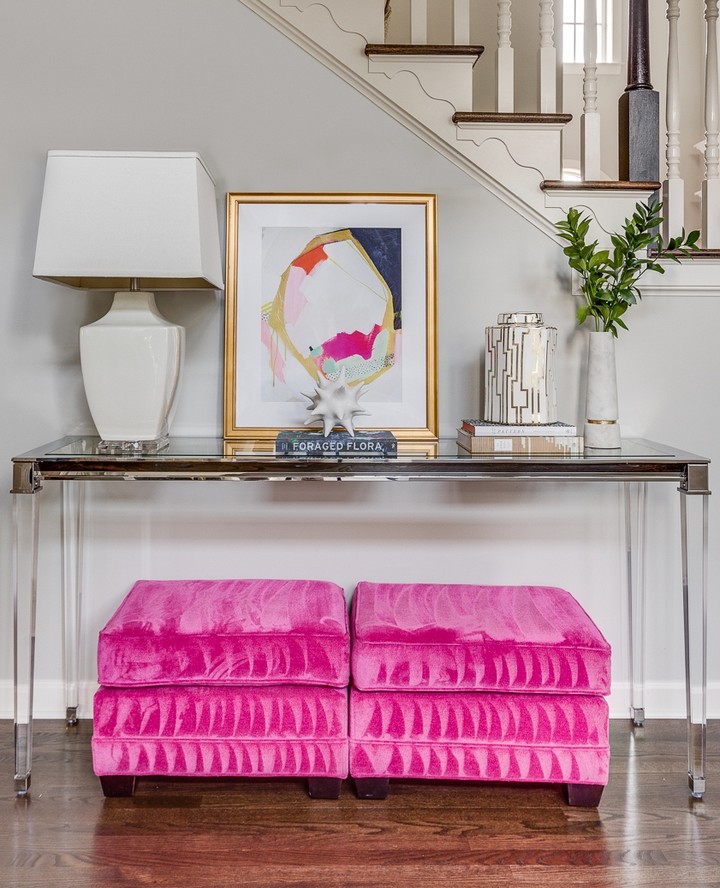 Created in France during the 17th century. Introduced as a small ornamental furniture piece, the console table was a small, ornamental piece of furniture. Furniture with theatrical designs and pure sophistication. The console table also has ties to Italian architecture and furniture design. Merely a decorative board attached to an interior wall, the console table had humble beginnings. As with most furniture pieces, the need for a larger size evolved. By expanding the decorative board size, the need for additional support was recognized. The expanded console table required two legs for table support.
Determine the Right Size of Table – Acrylic Console Tables
Select a console table that is shorter than a sofa height behind the sofa. A console table should never be taller than the height of the sofa's back side. The table length can be half of the sofa length. Or almost the size of the couch while allowing at least 6 inches from both ends. For example, a couch with a distance of 84 inches should have a sofa table or console table that is no more than 72 inches. That would leave 6 inches extra on the left and right of the sofa.
Used interchangeably with entryway and sofa tables, the console table is an excellent fit for areas with limited space. Ideal for restricted space areas where a long and narrow table can provide a tabletop surface. The console comes from the French word 'consolide'. The French term was derived from the Latin word 'consolidare'. This means 'to strengthen' for a more ordinary meaning.
Uses in Other Rooms
Can you utilize a Console Table in your bedroom? Yes, you can. Hang a mirror above the table. Tuck a chair or accent stool beneath the table. Plug a small lamp for lighting. Group a collection of your favorite perfume bottles or jewelry on the tabletop. This transforms a console table into a vanity table. A Dressing Table in the bedroom is a pretty clever idea.
Likewise, a flat-screen TV can be placed on a console table for viewing. Check the console table's instructions to ensure the console can support the TV's weight. Or, as an alternative, hang your flat-screen TV on the wall. Move a console table underneath the wall-hung TV. Use the console table to house DVDs, CDs, hand-held remote control devices, and other items.
Stock a tray of drinks, cocktail bar accessories, and specialty drinks for a home bar console. Hang a large mirror above the console table. Add some light for the evenings. Give the area a theme for the cocktail hour. Convert a Console Table into a home bar with these drink accessories.
Select Your Style – Acrylic Console Tables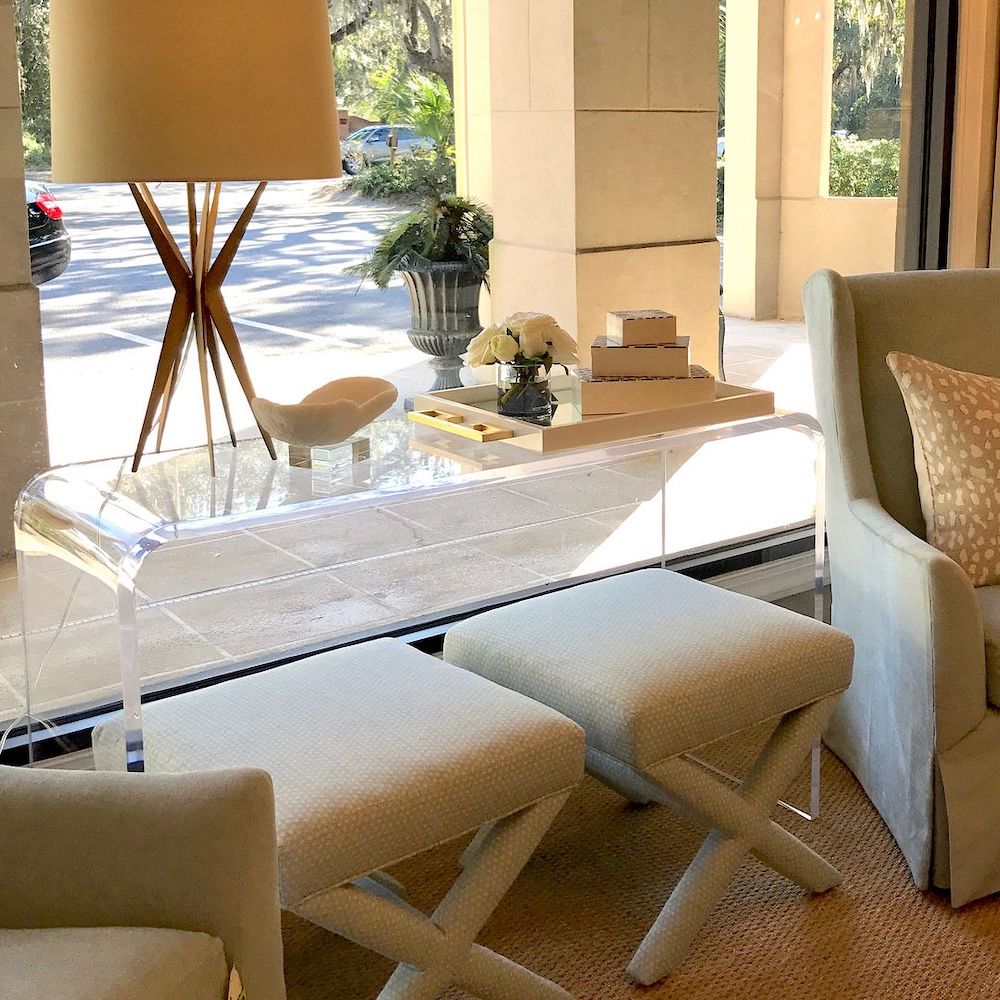 Create striking visual interest on your Console Table with the right accessories. Make it personal. Design a unique console table with your items, such as family photographs or mementos from family vacations.
Style a Console Table with these Tips:
Use Symmetry to give your space visual balance
Substitute a large wall art for a large mirror above the table
Hang a series of wall art to create a gallery wall
Stack a set of books for a layering effect
Display objects with varying heights – avoid displaying things that are identical in height
Give your area a light source, such as a lamp or lantern
Grow some greenery with a houseplant
Read our post How to Style a Console Table with these Tips for additional styling tips.
Styling a clear acrylic console table can be tricky. Consider a console table displayed against a white wall or a colorful wall. If your background wall is white, hang a decorative pattern or frame-colored mirror above the table. Use wallpaper-patterned walls behind the console so that it stands out.
Fill a vase full of fresh flowers for the console table. Keep houseplants on your table or around the table for an organic touch.
There are numerous ways to style an acrylic console table. Decide on a color scheme and decor style. Then search for the right combination of objects and accessories for your styling. Add accessories with loads of texture to an acrylic console. Find the right accessories for a balanced look to style your table. Use personal objects such as family photos and mementos to personalize your table.
Storage in a Console Table – Acrylic Console Tables
Some Console Tables have open shelves or drawers. Use these for storage or to corral items you need quick access to. Things such as keys, wallets, loose change, sunglasses, or cell phones are within easy reach.
Look at our selection of the best acrylic console tables for your home.
Be sure to share with us which console tables are your favorites. Let us know what you think.
Take a look at our other posts for home decor inspiration. Drop us a line below in the comment section. Let us know all about your home decor projects for your house.
Enjoy our other home decor-related posts for additional ideas.
Decorate your home with these great ideas. Check out our other posts for the interior and exterior of your home. Try these posts for additional decorating ideas this season.
Blue curved sofas
Stone End Tables
Natural Rattan Sofas
Wicker Patio Sofas
White Wicker Sofas
Tulip Tables
Reach out to us with any questions. We love hearing from our readers. Thank you for dropping by and taking a look at our blog.
Mary
Pin this for Later: