Modern stone end tables are as popular as ever. In today's post, we are sharing end tables made from beautiful organic stone. Stone tables are available in many sizes and shapes. These tables are trendy in geometric shapes. For the organic modern style, stone tables are a huge trend for home furniture. The blending of minimalist designs using natural materials in earthy shades such as stone is in demand. A blend that is ideal for organic modern style enthusiasts.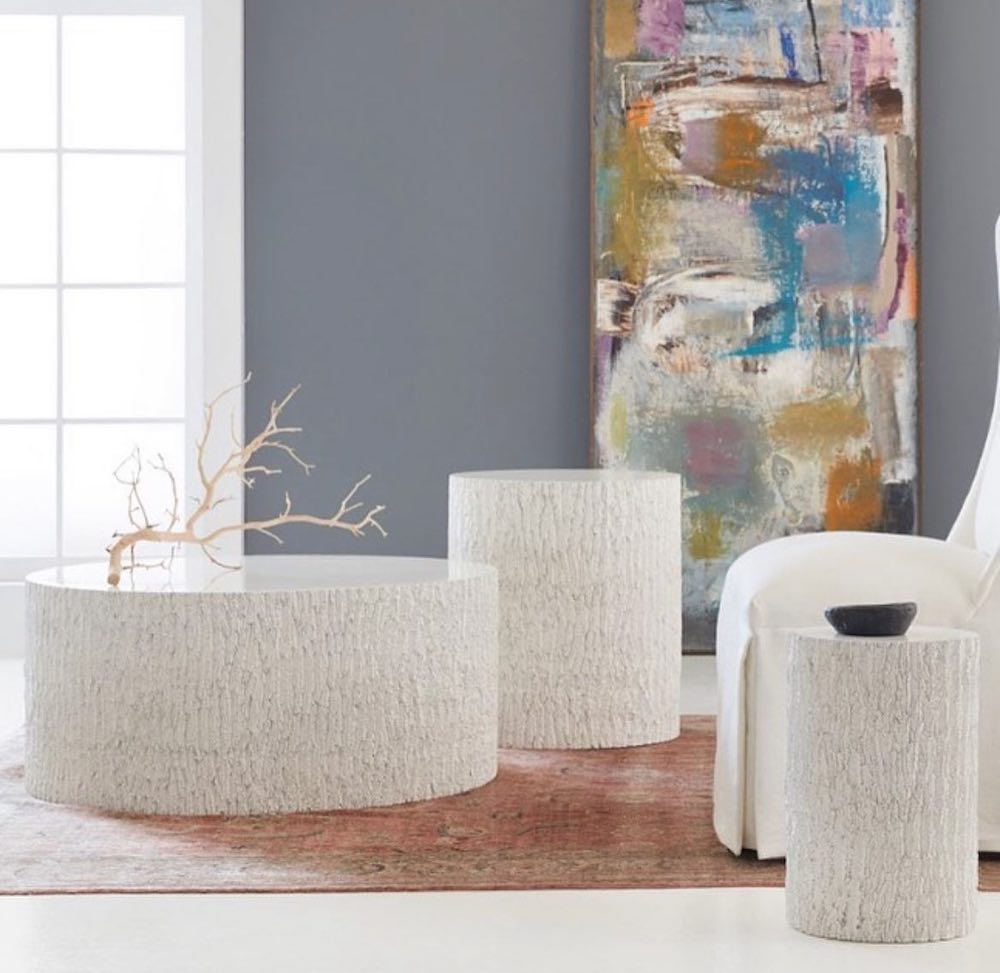 Stone tables are adaptable pieces of furniture. And many can be used indoors and outdoors. With their unique designs, they fall into the Organic Modern style. Organic Modern is an interior decorating style that combines three different decor styles. It combines Minimalist, Mid-Century Modern, and Bohemian (Boho) design styles. Tables made from stone have a clean look and minimalist style. It is about creating a space with subtle layers of organic elements, and forms, with simplistic hues.
Construction Materials Used in Stone Tables
If you are wondering what a stone table is made from, the answer is several materials. Some tables are made from marble, granite quartz, Terrazzo, or natural stone. For this post, we are focused on natural stone end tables in white or off-white finishes.
Stone is a natural material found all over the world. Stone tables vary in finishes, strength, availability, and cost. This is due to stone coming from a variety of sources. Every quarry has its own distinct local stone qualities. So a stone table from one source will probably look very different than one from a different quarry.
Table Weight – Modern Stone End Tables
If you are concerned about the weight of a stone table, well, they range in different weights. Larger tables weigh more than smaller ones. So, exactly how heavy are these stone end tables? The tables we are featuring mostly weigh less than 50 pounds. There is a handful that weighs closer to 100 pounds. For outdoor use, especially in a coastal environment, heavier weighing tables are best, as wind gusts can reach high levels during rain storms. So, if weight is a factor, then you should note the weight.
What is a Sofa End Table – Modern Stone End Tables
Find three types of tables surrounding the sofa. In front of the sofa, typically sits a coffee table. The coffee table is used to serve refreshments to house guests. Behind the sofa is a long, narrow table called a sofa table. This table behind the sofa is taller. It is an inch or two shorter than the sofa's backside. The third type of table is the end table. Set next to a sofa or chair armrest. End tables are shorter and considerably smaller. End tables are sometimes known as side tables.
Sofa Tables
Sofa tables are sometimes referred to as console tables. Placed against a wall, the table is a console table. When it is used behind a sofa, it is referred to as a sofa table. They can almost be the length of the sofa but considerably more narrow in width. The purpose of a sofa table is to support table lamps, and storage, or to create a decorative vignette. Personalize a sofa table with a display of a grouping of family photos or family vacation mementos.
Include a sofa table behind a sofa to give the area function and purpose. The space behind a sofa is thought of as dead space when it lacks a sofa table. Design a living space that is planned and intentional by bringing the room together with a sofa table. A sofa table brings cohesiveness and the appearance of a well-laid-out room design.
There are other uses in the home for a sofa table. A hallway table is in an entryway or hallway. The narrow table is called a credenza used in an office or workspace. Although in a workspace, the credenza might have cabinets or drawers for storage. It serves as a room divider when used in a huge room. The sofa table can create or separate two seating areas as a room divider. For example, you can have a group of sofas and chairs in one section of the room. Use the sofa table as a divider. Then set up a second grouping of chairs or sofas. Create two different groupings that have a sofa table to separate the areas.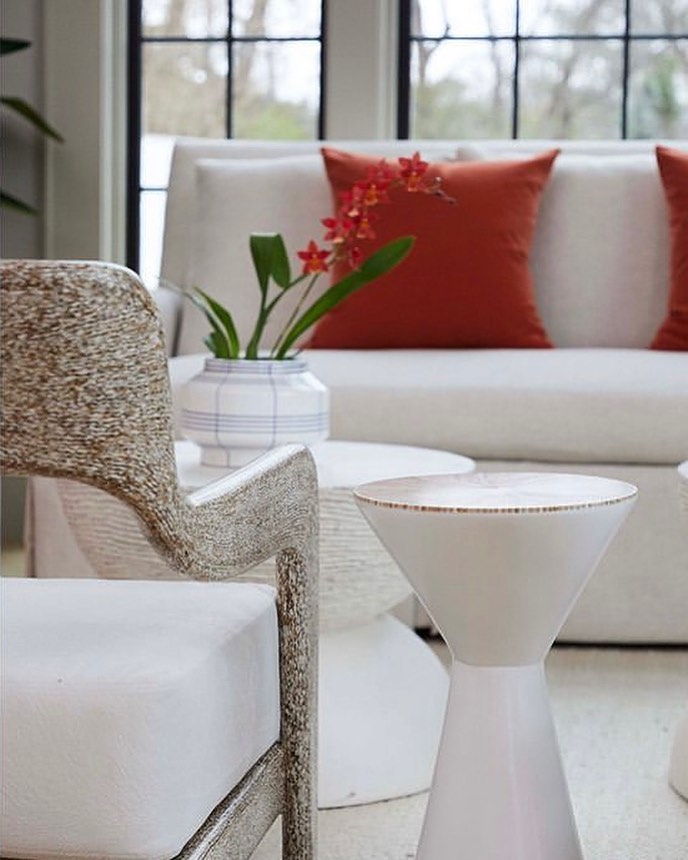 End Tables
Place end tables at either end of a sofa. Pair them next to sofas, loveseats, accent chairs, or by a chaise lounge. Give your house guests a place to rest their drinks by a couch with an end table. Note that an end table has a primary function. It is to provide a tabletop surface for refreshments or light snacks while sitting next to the table. It works as an extension of the sofa or chair. End tables fulfill a need, such as supporting table lamps or space for drinks. Accommodate the guest using the couch or chair. An accent table has a different purpose. Accent tables are decorative and not necessarily functional. An accent table can be more delicate.
Remember that the end table's height should be the same as the sofa or chair's arm. End tables are available in many sizes, shapes, materials, and styles. Know the size of your living space and furniture before deciding on a table for your sofa or accent chair.
Substitute an End Table for Bedside Table
If your living space needs storage, then consider using a bedside nightstand as an end table. Nightstands typically have drawers or shelves for storing essentials. Bedside tables or nightstands are similar in size to end tables, but they provide more storage.
A side table is a table used directly beside a sofa or chair. The purpose of a side table is to keep essentials nearby for use at a moment's notice. End tables are sometimes called side tables.
The difference between nightstands, end, and side tables is storage. Nightstands either have drawers or open shelves, or both. End and side tables typically have a tabletop surface.
Placement of Sofa and Tables – Modern Stone End Table
Leave a distance of about 16 inches between your sofa and the coffee table. The space allows room for guests to move freely between the couch and the coffee table. Select a coffee table within four inches of the sofa's height. End tables are best within two inches of the sofa's armrest. That is either two inches taller or shorter than the sofa's armrest. Place End tables within two inches away from the sofa. Allow 30 to 36 inches around the furniture pieces. This distance gives a feeling of room to maneuver through the room.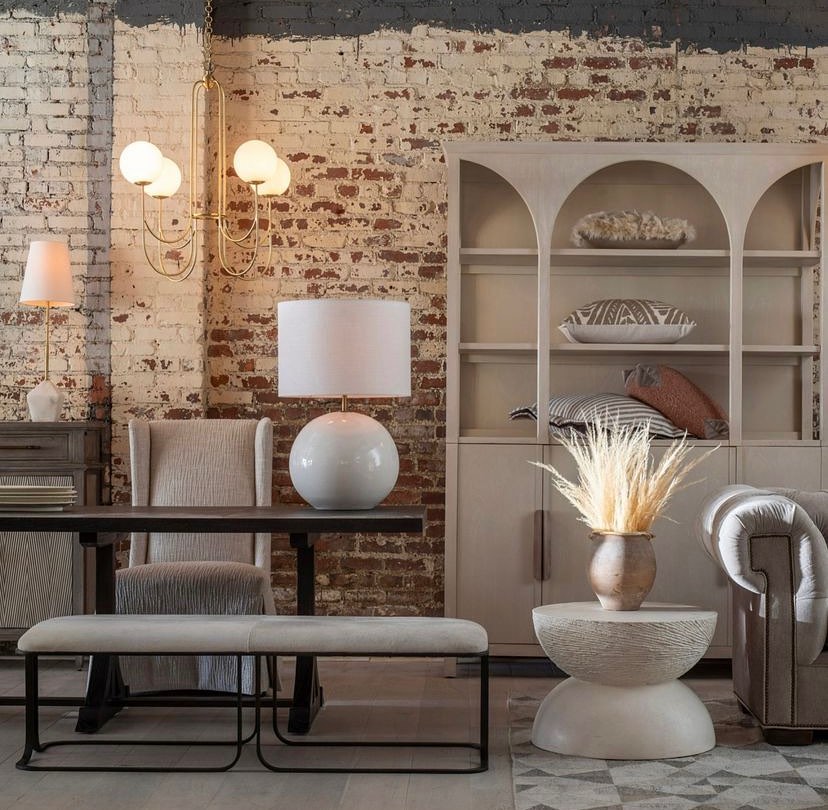 Keep the front legs of your sofa and end tables on an area rug. Front table legs are a good idea when your sofa is placed directly in front of a wall. And a good option for small-space living. When you thoughtfully place the furniture, you set the stage for a feeling of coziness rather than crampiness.
Cleaning Stone Tables – Modern Stone End Tables
Always clean your furnishings following the manufacturer's instructions. If instructions are not included with the table, then clean with the following tips.
Keep your stone end table clean with regular cleaning maintenance. To clean your table, first blot spills right away. Clean any excess food or liquid on the table with a damp soft cloth. Mix mild soap with warm water to clean your table. Rinse the table to ensure all soap residue has been removed from the table. Remove all excess soap to prevent it from staining the table.
Prevent water spots by drying the table thoroughly with a clean, soft cloth. Leaving cleaners or soap on the table could cause a film or streaks on the furniture. Avoid using any harsh or abrasive chemicals on the table. Never use a cleaner that contains bleach or acidic cleaning ingredients.
Protect Stone Tables from Stains
Natural stone is porous and can absorb liquids. Because of the stone's porous nature, the stone is stained by some fluids. Fluids such as coffee, lemon juice, or wine can penetrate stones and cause stains. Blot the table surface immediately with a soft cloth when this happens.
Check the manufacturer's instructions for the table. If they recommend using a sealer to protect the porous stone table, then proceed. Protect your stone with a sealer made specifically for stone furnishings. Treatment of your stone furnishings with a sealer repels liquids. There are several types of sealers available.
Avoid using vinegar on a stone when cleaning your house. A stone such as marble, travertine, granite, and limestone is highly porous. Acidic cleaners such as vinegar can cause serious damage to the stone. Vinegar can burn or etch markings onto stone surfaces. Stick to using cleaning products with a neutral pH level of 7.
This ends our modern stone end tables post for the home. Accent your living room with a modern end table to achieve an organic modern style home. Rest your table lamp on an End Table.
Decorate with a stone table. Take a look at these beautifully crafted stone tables.
Be sure to share with us which tables are your favorites. We love to know what you are thinking.
Take a look at our other posts for home decor inspiration. Drop us a line below in the comment section. Let us know all about your favorite home decor projects for your house.
Enjoy our other home decor-related posts for additional ideas.
Decorate your home with these great ideas. Check out our other posts for the interior and exterior of your home. Try these posts for additional decorating ideas this season.
Natural Rattan Sofas
Wicker Patio Sofas
White Wicker Sofas
Deck Boxes
Polywood Benches
Adirondack Chairs
Acapulco Chairs
Reach out to us with any questions. We love hearing from our readers. Thank you for dropping by and taking a look at our blog.
Mary
Pin this for Later: