Acrylic console styling ideas for your home or office. Developed in the 1930s, acrylic was a huge success. Initially, acrylic was used to create custom jewelry before making it to the furnishings industry. What is important to remember is that acrylic furniture doesn't compete with its surroundings. Instead, acrylic furniture makes a room feel more spacious. And acrylic furniture easily blends with many decor styles. They work well with contemporary, mid-century modern, and many others. Acrylic console tables make the ordinary appear extraordinary. We share today styling ideas for your acrylic console table.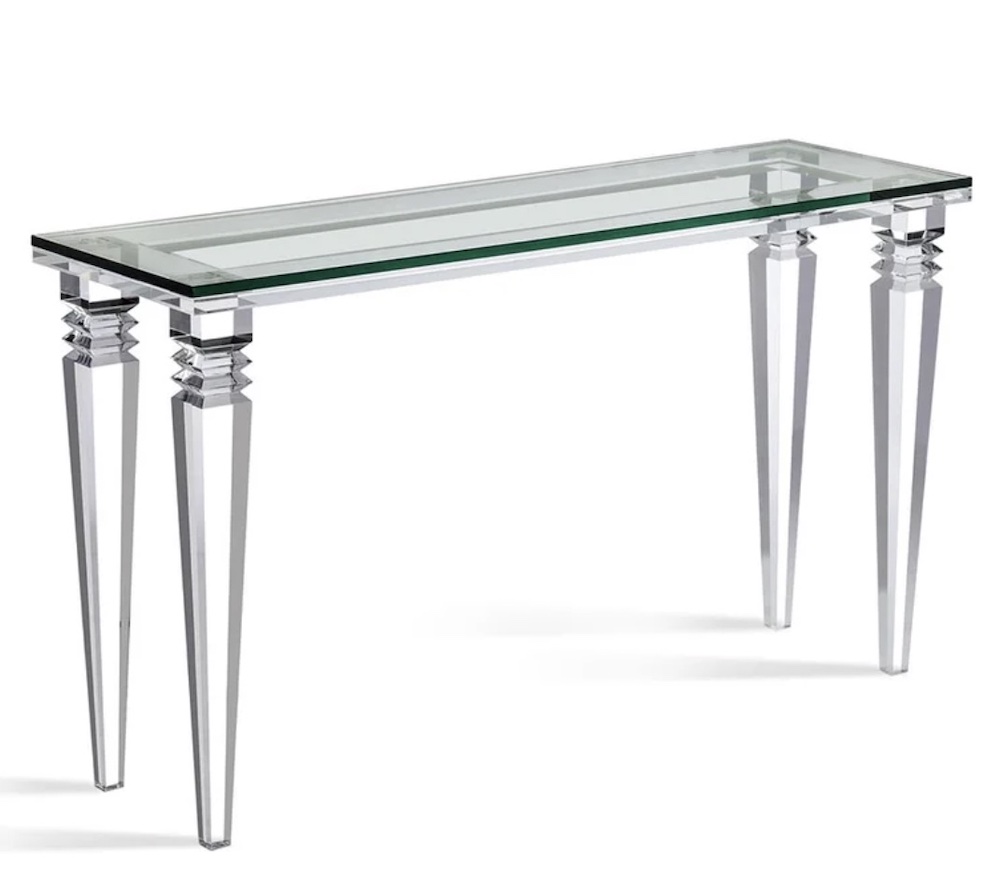 These edgy and modern tables border between being somewhat there and as a room's focal point. There are two basic types of acrylic. One type of acrylic is known as Plexiglass. Another type of acrylic is called Lucite. There are differences between these two acrylics.
Acrylic and Lucite Materials – Are They the Same?
When people talk of acrylic, they are speaking about the generic term. There are two types of acrylic used for making furniture. One is known as Plexiglass. Another thermoplastic kind of acrylic is called Lucite. DuPont developed Lucite in the 1920s. DuPont trademarked it as Lucite. Lucite is considered higher in quality than other acrylics such as Plexiglass. There are differences between Lucite and other acrylic products.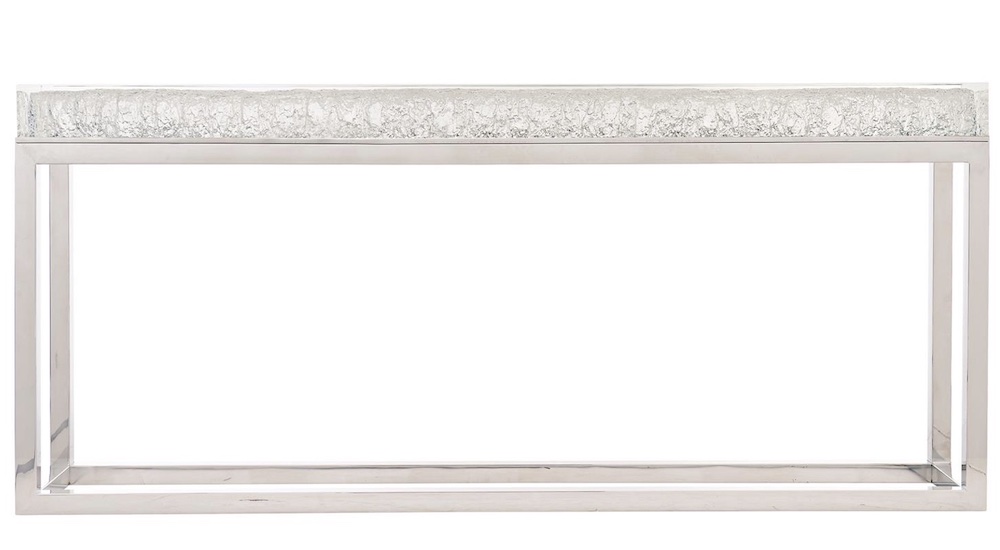 Initially, acrylic was developed as an alternative to heavy glass, which breaks easily. Acrylics, including Lucite, are transparent thermoplastics. Used in many applications, including furniture making. Acrylic material has improved clarity, scratch resistance, and superior strength. There is a distinct difference between acrylic and Lucite. Lower-quality acrylic will break down, fade, and turn yellow. Lucite-made furniture will not fade or turn yellow.
Thermoplastics can be melted and molded into many shapes. The process of melting and molding does not diminish acrylic's strength. Acrylics are lighter than glass, scratch resistant, durable, and less likely to break or damage. It bonds with adhesives and solvents exceptionally well. A water-resistant material that remains clear.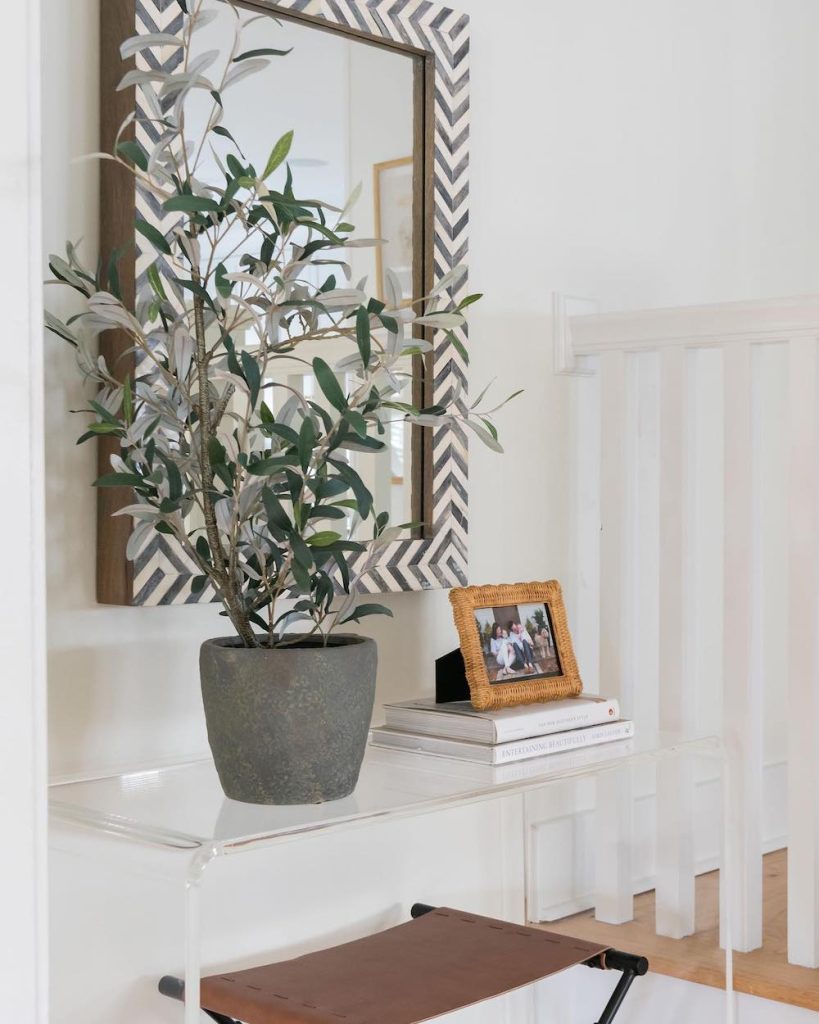 Any minor scratches can be buffed out on Lucite. Lucite is heavier than other acrylics but lighter than glass. Suitable for etching and Lucite can be color dyed without damaging the material.
Decorating Tips – Acrylic Console Styling Ideas
And now, we begin our list of acrylic console styling ideas with a console table. Take advantage of these pro tips for creating a well-styled table. Take a look.
Combine it for a Bronze Brown Hues – Acrylic Console Styling Ideas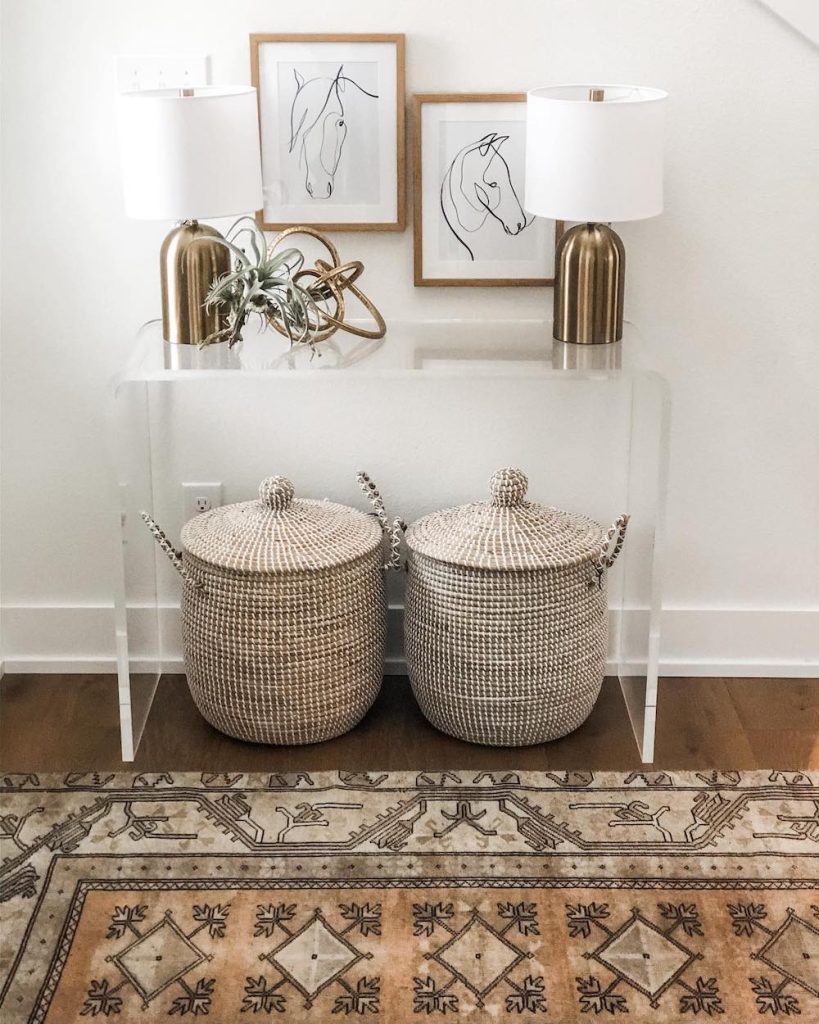 Decorate your console table with a bronze-brown accent. The framed horse prints, lamps, storage baskets, and floor rug tie this entryway together. Warm, inviting, and eye-pleasing accents for an incredible entrance.
Style it Black, Cream, and a bit of Beige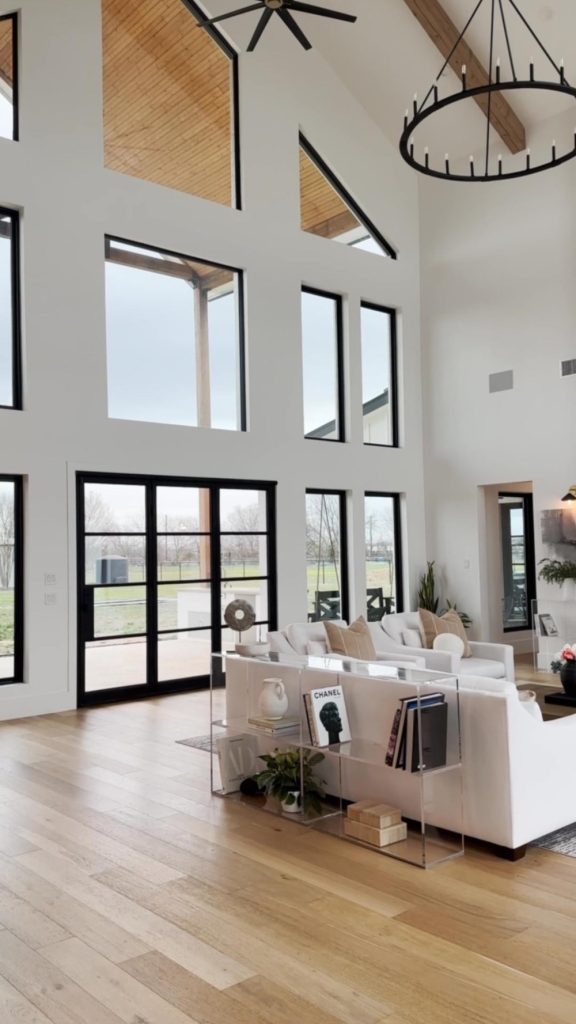 Keep their eyes roving throughout this living room—high ceilings, spacious room, and comfy sofa sitting area. Add black, cream, and beige accessories for an eye-catching console table.
Make it Ming – Acrylic Console Styling Ideas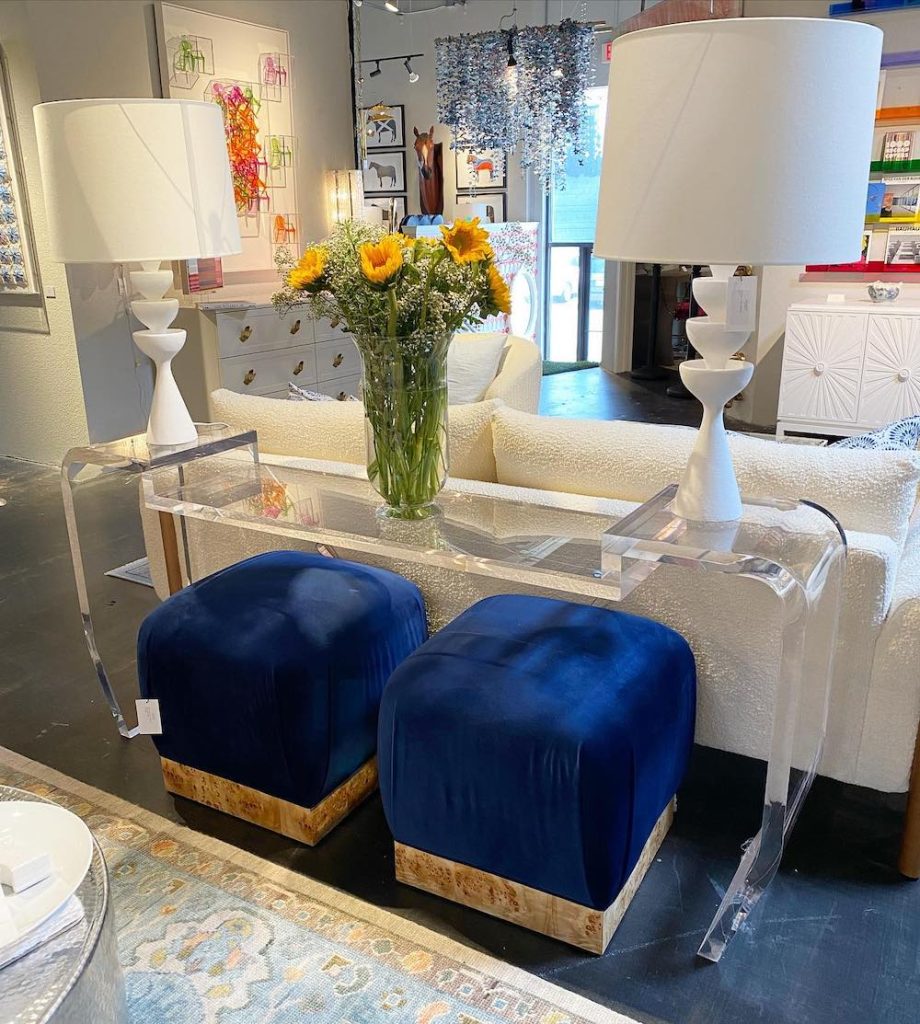 Pair the Ming console table with a pair of matching poufs. This see-through beauty has some incredible curves.
Tuck a Director's Stool Under the Console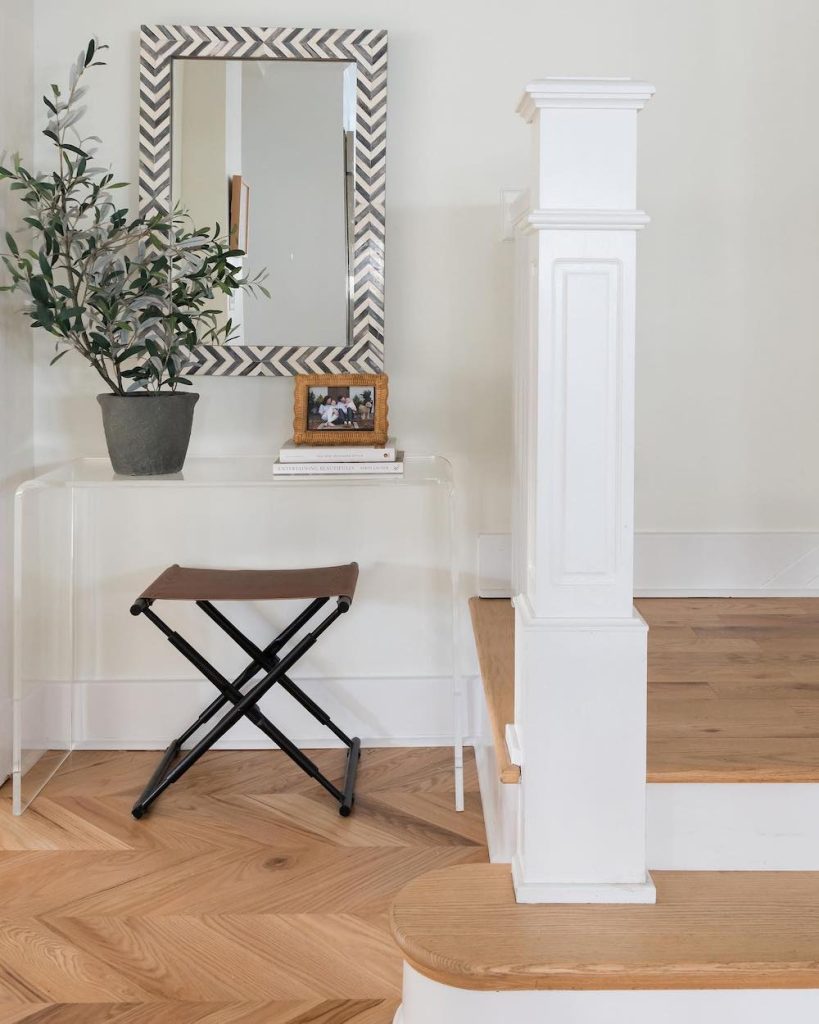 Hang a statement mirror over a sleek acrylic console table. Add some silvery green indoor plants for a first impression. First impressions matter!
Give it a Garden Appeal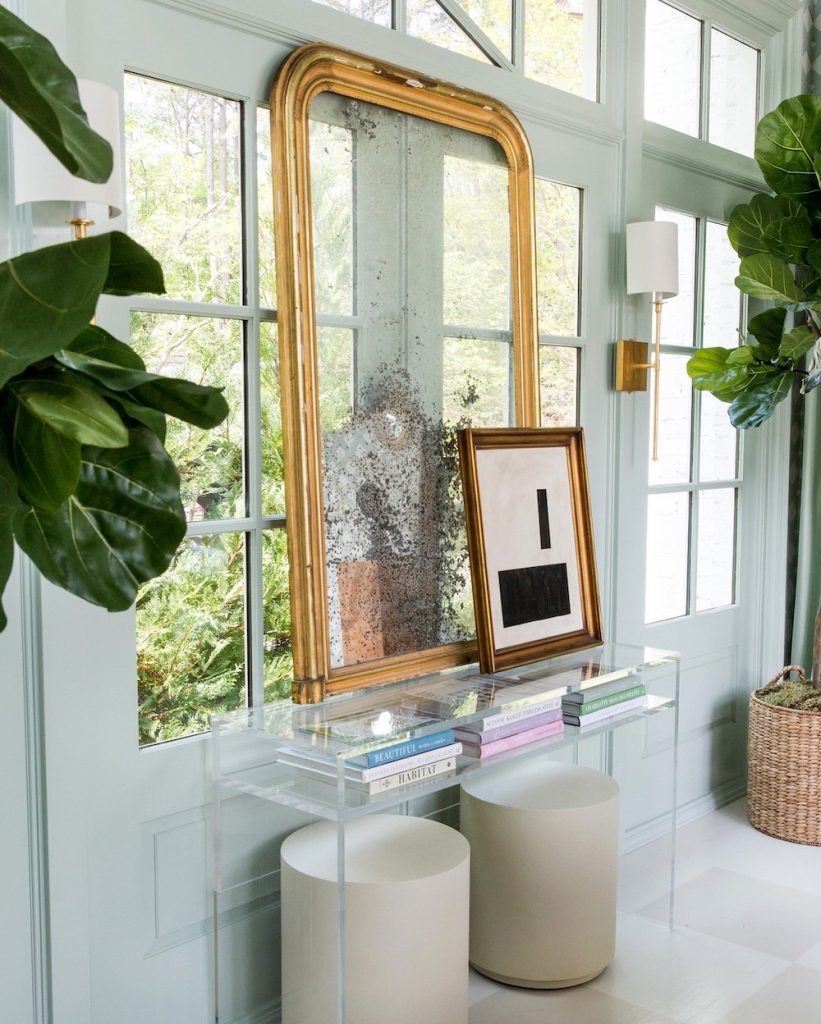 Style console table in a garden room. The console table has an additional shelf—a handy shelf space for storing garden books and other essentials.
Slide a Set of Garden Stools Underneath – Acrylic Console Styling Ideas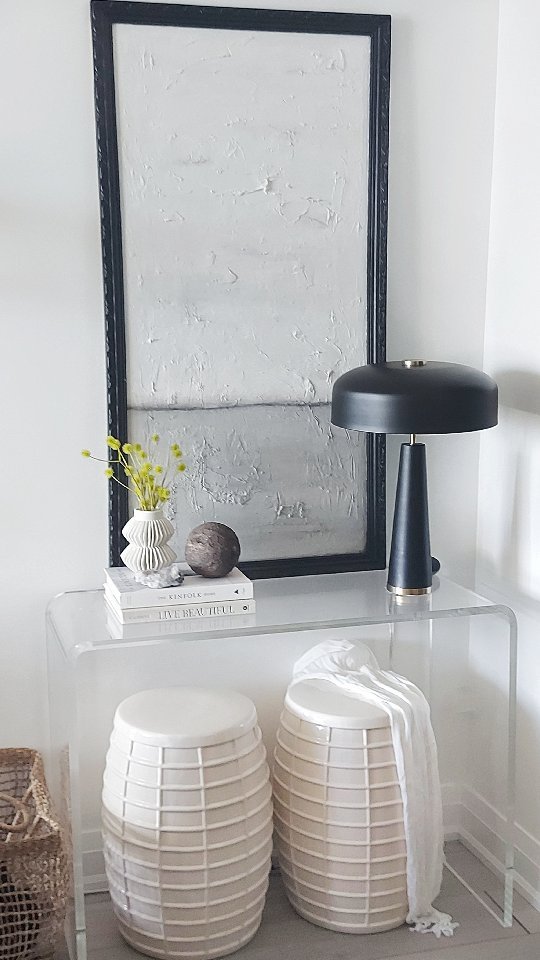 Create a contrast of black, white, and gray colors. Use wall art above the table. Or another option is to use a mirror. The vase, sphere, books, and two garden stools are in various shapes but similar colors. A stunning look! For tips on styling a console table, check out YosanhDesign's Instagram.
Hang a Series of Artwork Over the Console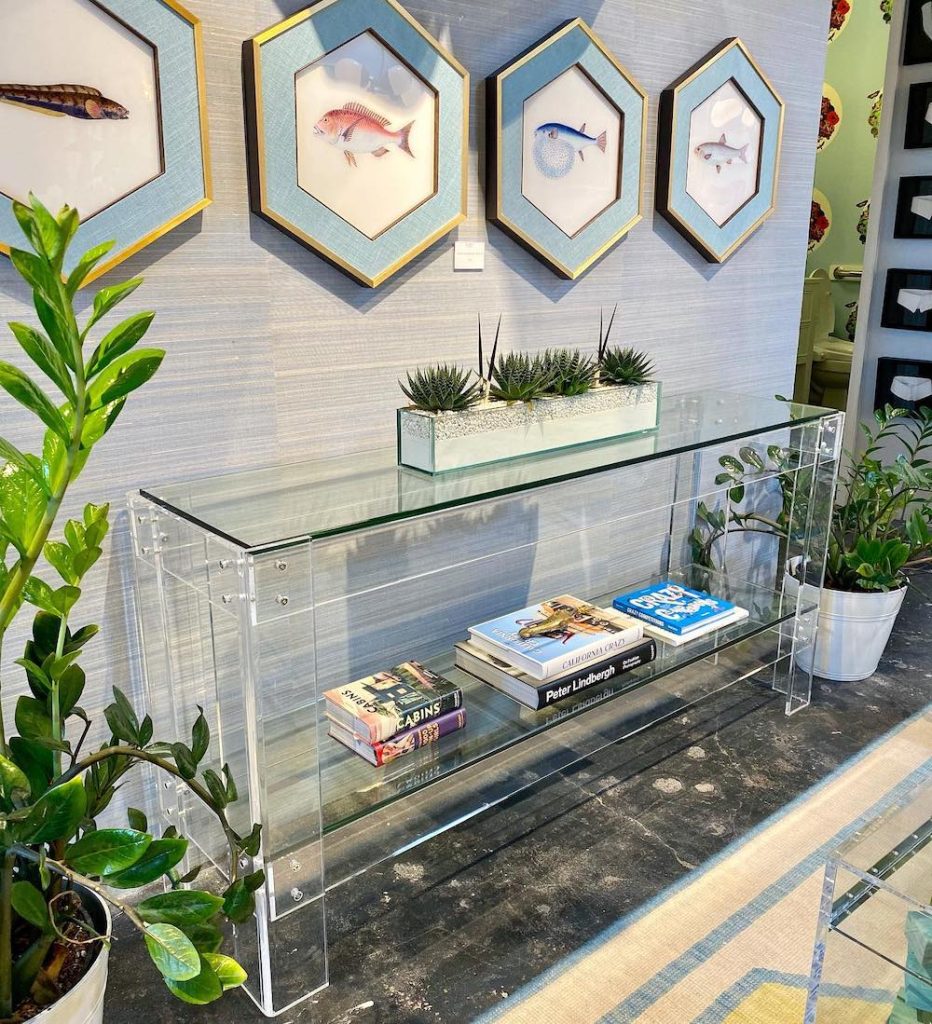 Store your favorite oceanography books on the lower shelf. Hang a set of hexagon-shaped artwork above the console table.
Greet Them with Fresh Flowers – Acrylic Console Styling Ideas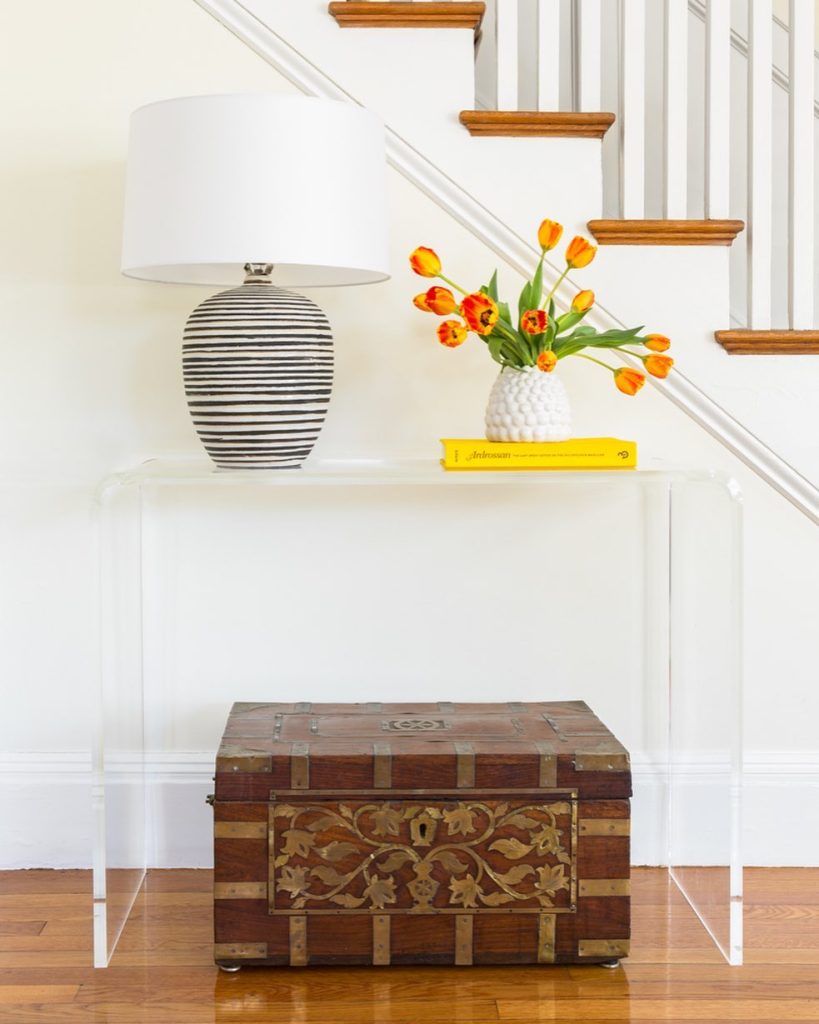 Mix darks with white backgrounds. Tuck a decorative storage chest below the console table. A secondary source of light is always a good thing in the foyer. Fill a vase with a fresh, beautiful mix of modern and vintage flowers.
Go for a Simple Entryway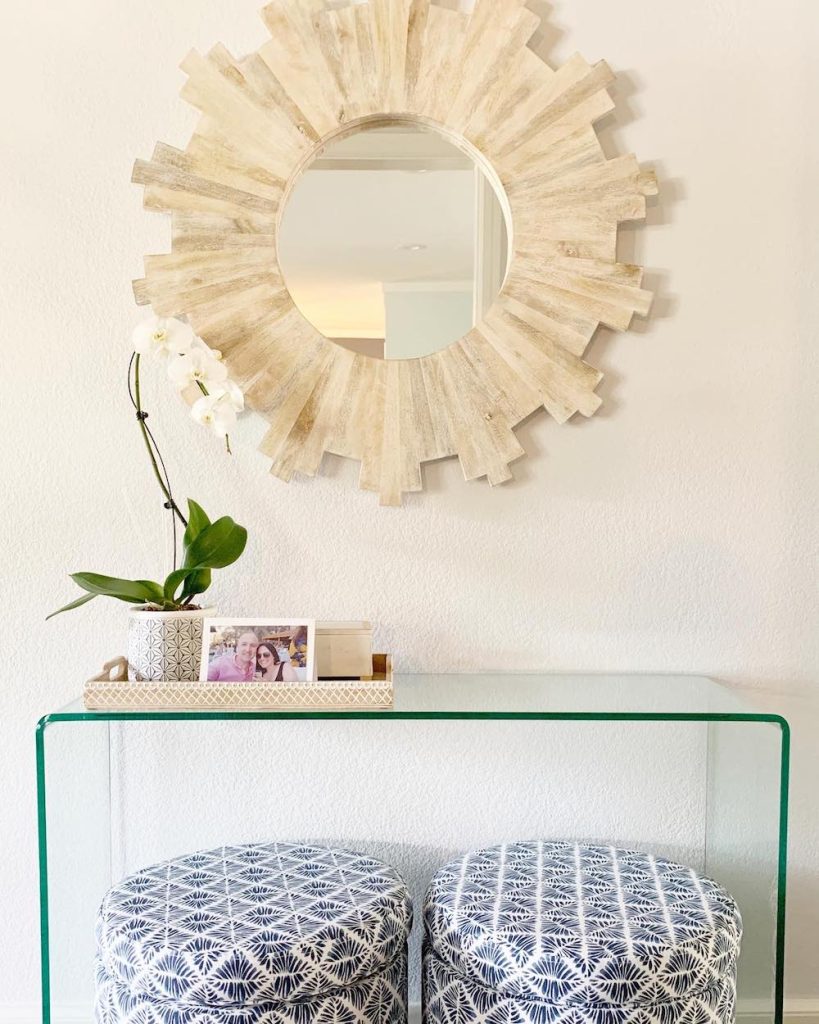 Keep it simple. Hang a sunburst mirror over the table. Use a rattan tray to corral a few accessories. Keep fresh with an orchid plant. Slide a set of ottomans beneath the table for extra seating.
Style it, Chinoiserie Chic,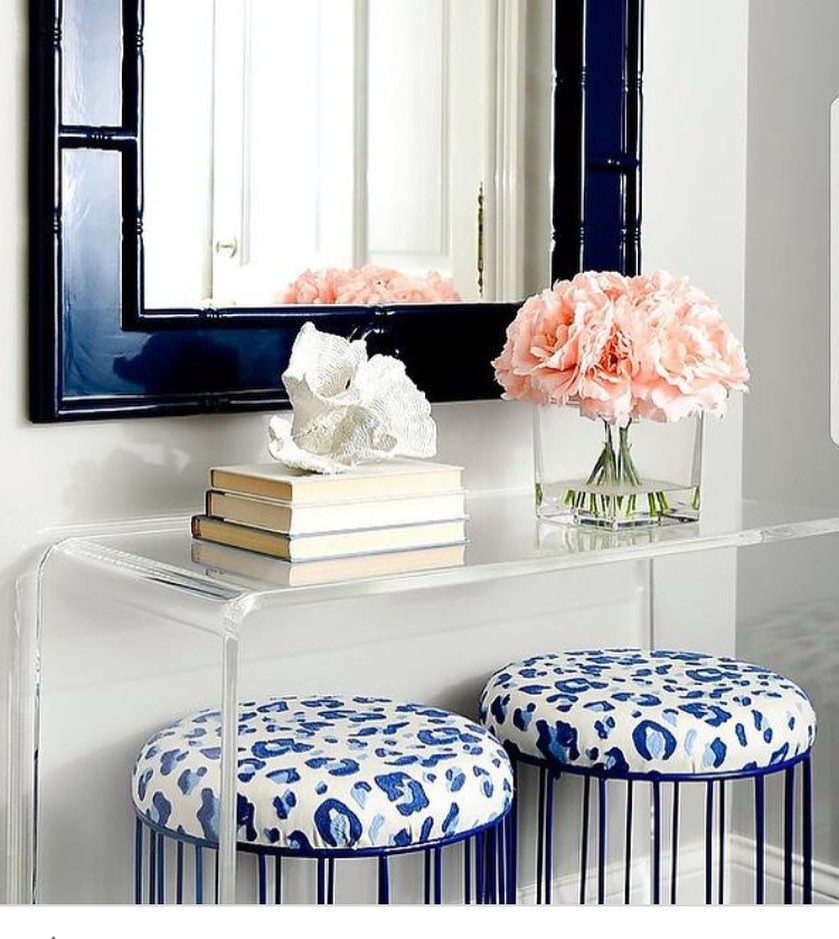 A blue and white entryway greets guests in this home. Styled in the Chinoiserie decor with a blue bamboo mirror over the console. A set of two round leopard print ottomans slide underneath the table.
Make for a Modern Farmhouse Decor – Acrylic Console Styling Ideas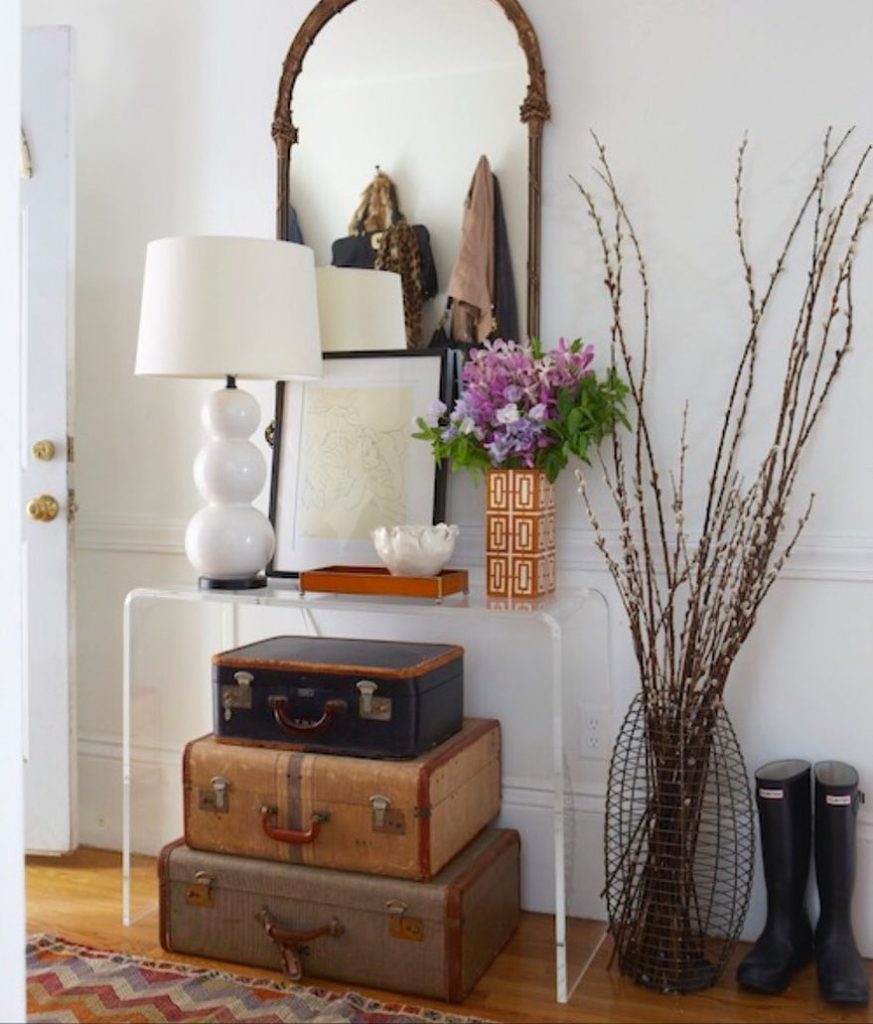 Pair the vintage with the modern, like in this image. Stack a set of vintage suitcases beneath the contemporary lucite console table for contrasting styles. Hang an arch mirror above the table. Plug a table lamp for added lighting in the foyer.
Create a Platform for a Group of Orchid Plants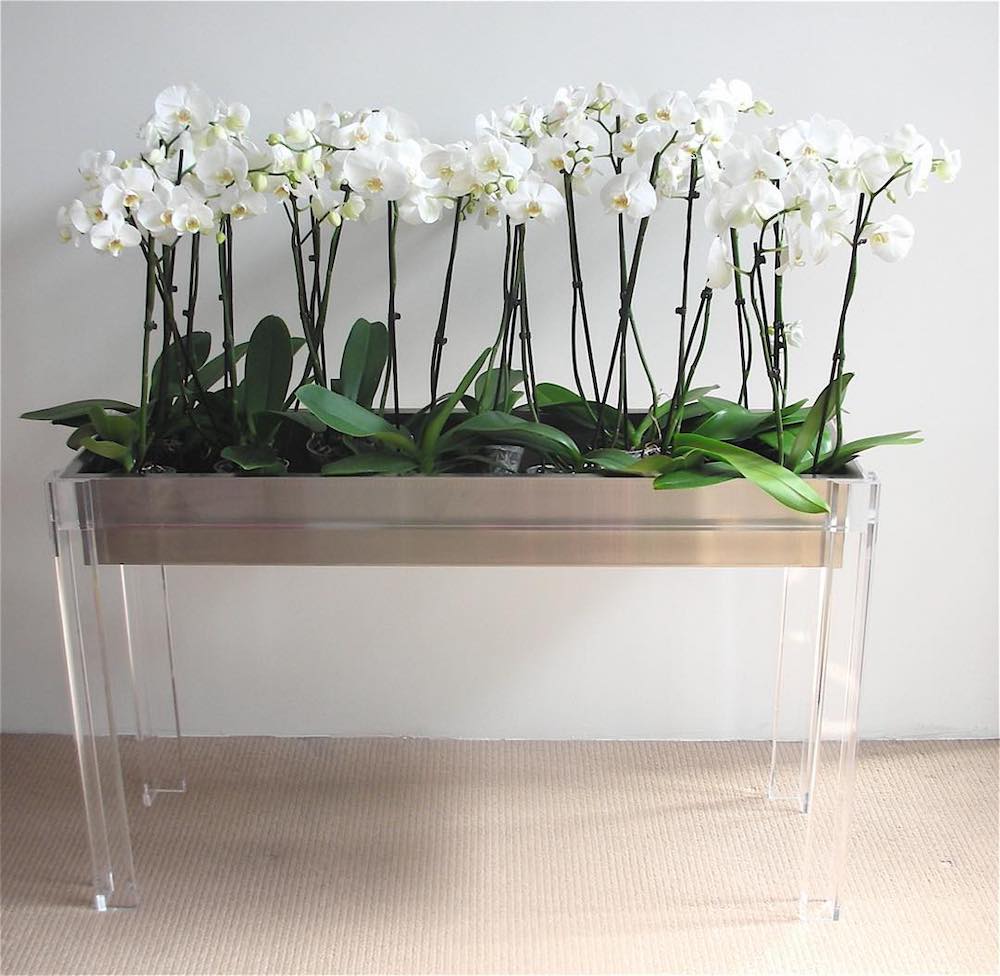 Display orchid plants on a console table, contrasting organic and plastic furnishings.
Pop it in Pink – Acrylic Console Styling Ideas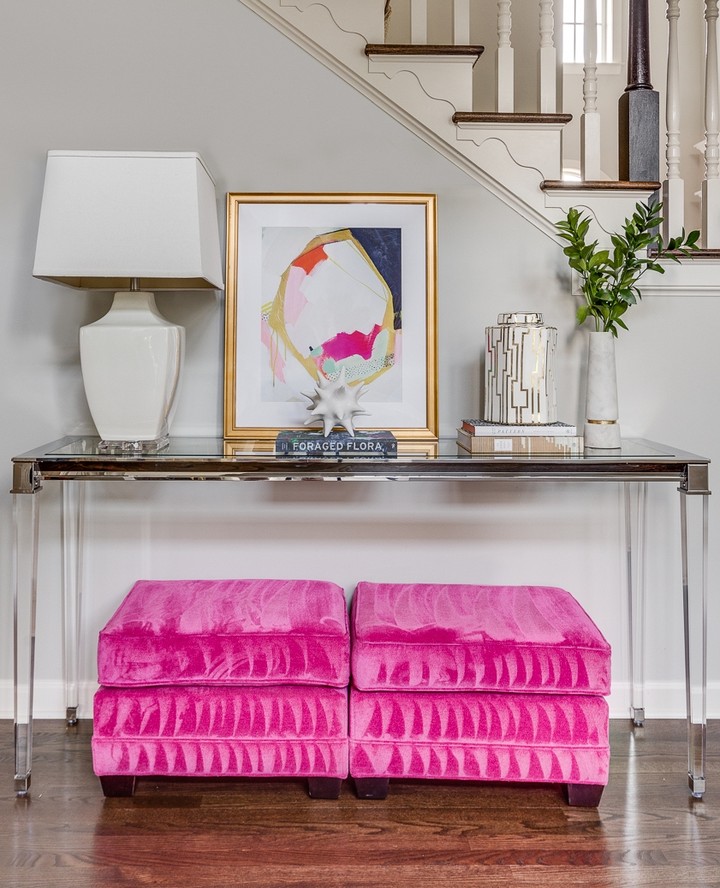 Bring life to an area such as this entryway with a pop of pink. Go with a bold color like these bright pink ottomans readily available. Use books to elevate favorite objects.
Design it with Neutrals in Mind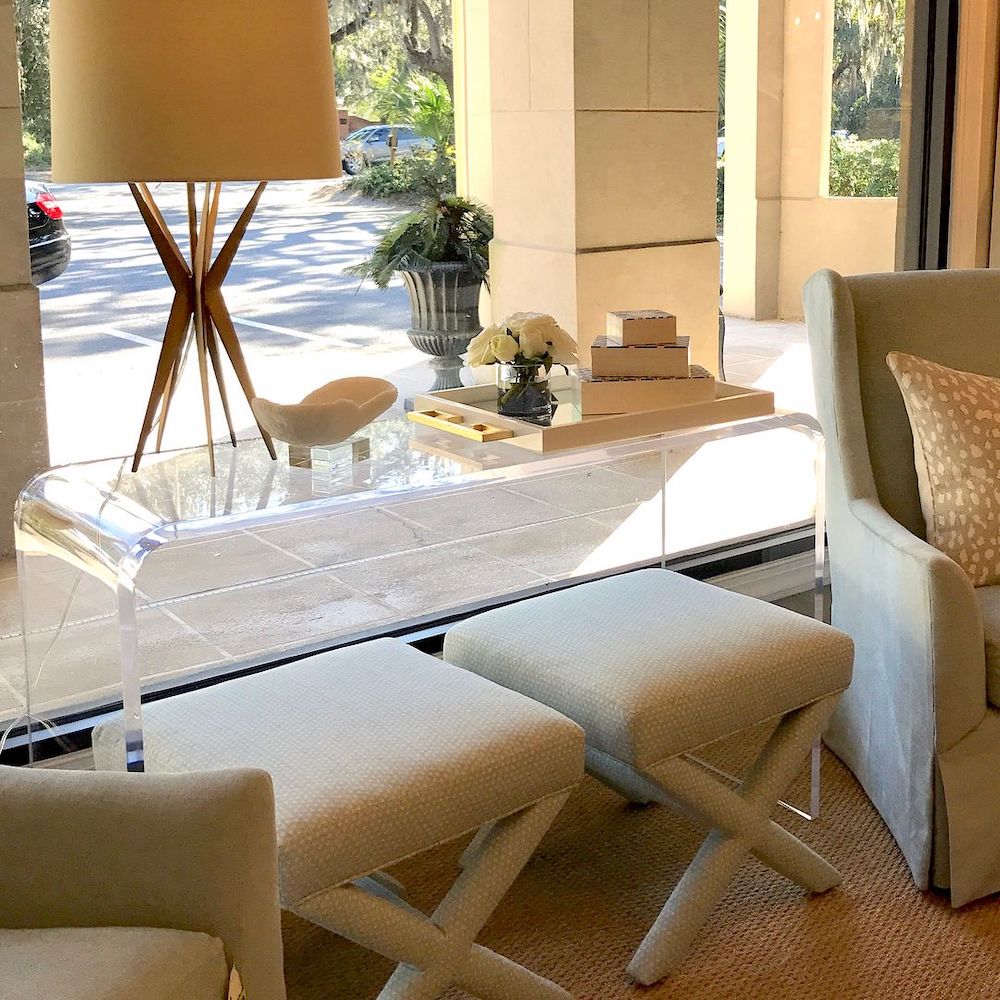 Style your table with neutral colors. Stack a set of neutral books in a neutral-colored tray. Stow a set of neutral fabric-covered X-base stools under the console table. Each object complements the other in this image—a relaxing and soothing decor style.
This is the end of our acrylic console table styling ideas. We hope you found a few styling ideas to help you with your home decor projects. Keep your home styled ideally year around.

Look at our selection of the best acrylic console tables for your home or office.
Be sure to share with us which console table styling ideas are your favorites. Let us know what you think. Take a peek at our other posts for home decor inspiration. Drop us a line below in the comment section. Let us know all about your favorite home decor projects for your house.
Enjoy our other home decor-related posts for additional ideas.
Decorate your home with these great ideas. Check out our other posts for the interior and exterior of your home. Try these posts for additional decorating ideas this season.
Blue curved sofas
Stone End Tables
Natural Rattan Sofas
Wicker Patio Sofas
White Wicker Sofas
Tulip Tables
Game Tables
Reach out to us with any questions. We love hearing from our readers. Thank you for dropping by and taking a look at our blog.
Mary
Pin this for Later: