Neutral curved sofa ideas that create an opulent look. Curved-back sofas are statement pieces. Bold and wildly popular, these sofas belong center stage for everyone to admire—a spot where the sofa's shapely curves can be appreciated. Curved sofas have a way of softening a room with its flowing design. The circular-shaped sofa has a back that curves back to front.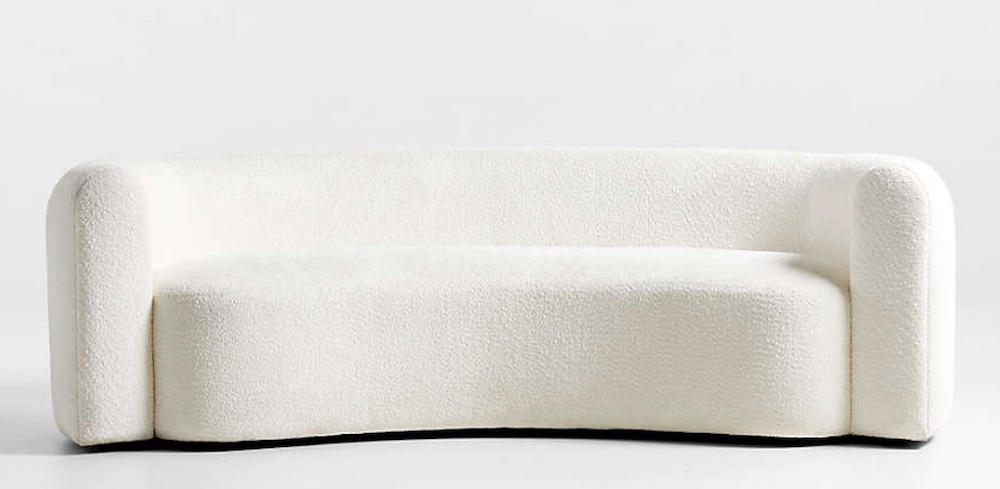 Popularized in the 1960s and 1970s, it followed the mid-century modern style. Curved furniture was a departure from Mid-century modern's simple, clean lines. The sleek lines with organic shapes of the Mid-century gave way to curved lines, romanticism, and soft interiors with curved furniture. Sometimes called rounded or circular sofas, the curved sofa has both a rounded back and seat cushion. These glamorous sofas look best with modern and contemporary decor styles. We share styling ideas for neutral curved sofas in today's post.
Decorating Tips – Neutral Curved Sofa Ideas
Arched and curved sofas are much in demand due to the calming and relaxed feeling they exude. Their organic appeal is evident. Lighter colored and textured fabric-covered sofas, such as white and cream colors with boucle in particular, are much sought after. Curved furniture invites conversation since guests are brought together within the curved sofa frame. Rather than guests sitting on a linear sofa, house guests sitting on curved furniture can freely mingle as guests are brought closer to one another.
The curved sofa is a statement furniture piece that adapts easily to many decor styles. Mix it with contemporary, mid-century, minimalist, or glam decor styles. Style a curved sofa away from the walls. Place it where the back curves are visible. Float the sofa in the center—supplement seating with equally glamorous accent chairs. Continue the circular theme by adding curved accent tables, such as the above-mentioned Meadow coffee table.
Not sure how to get started? Then, please take a look at our neutral curved sofa styling tips.
Styling Tips – Neutral Curved Sofa Ideas
We begin our list of curved sofa styling ideas with neutral-colored hues perfect for modern and contemporary homes. Remember our tips for styling a modern home decor look you'll love. Take a look.
Pair it with an Acrylic Coffee Table – Neutral Curved Sofa Ideas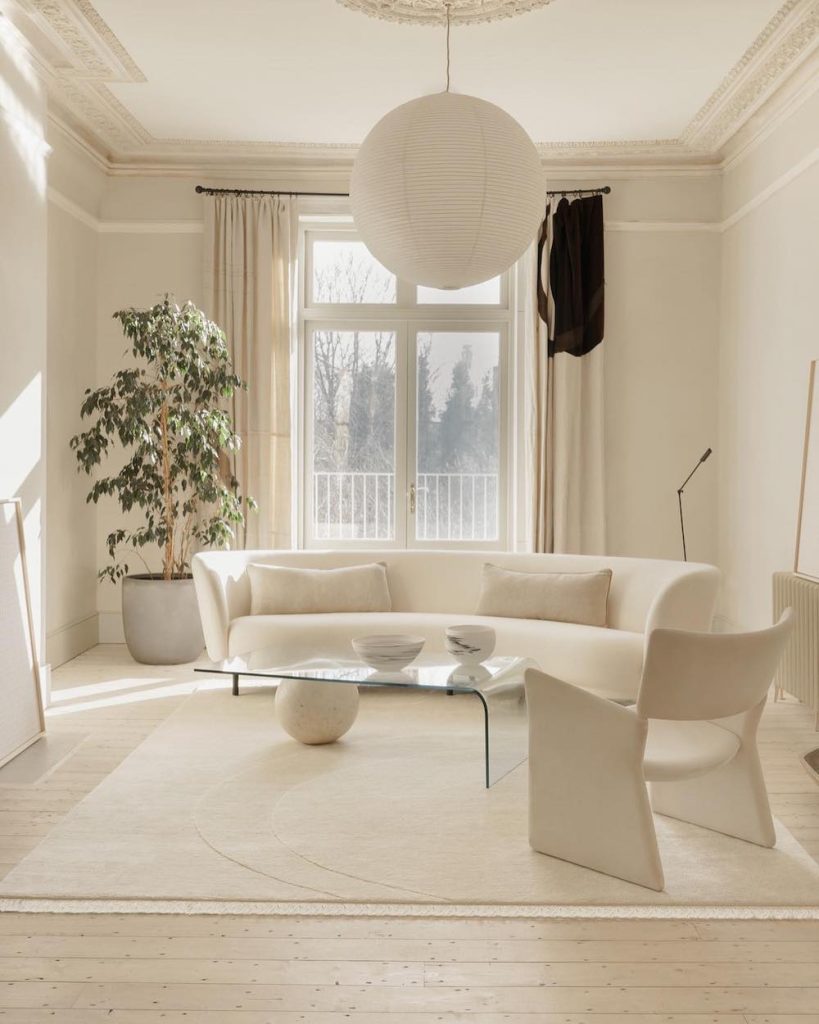 Style: A cream-colored sofa with an acrylic coffee table for a modern living room. Give the room a couple of black accents, such as the curtain rod and small reading lamp.
Combine Curves with Spheres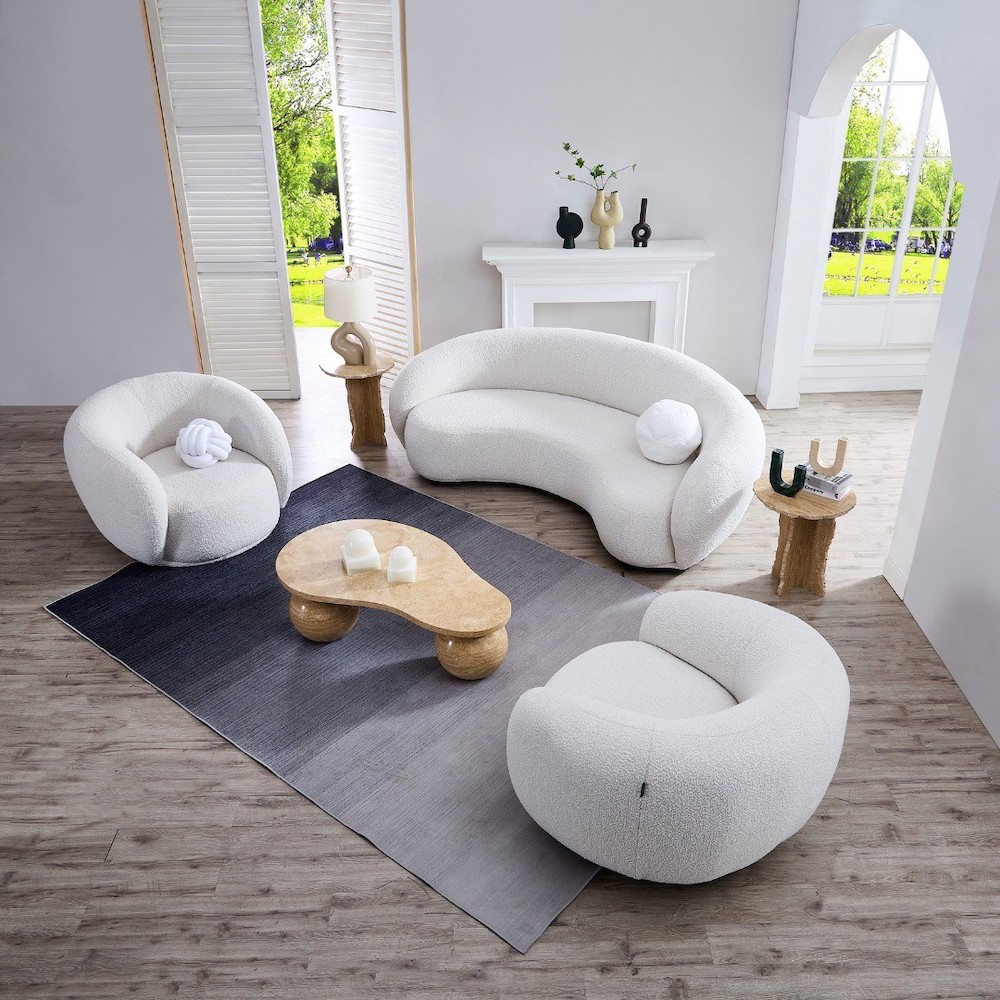 Match the beauty of curves with spheres to create an alluring living room focal point. Style a curved sofa with a sphere travertine coffee table, two Edge travertine tables, and a set of u-shaped travertine and marble candleholders. A timeless and elegant modern design that you'll enjoy for years to come.
Be Inspired by Parisian Style – Neutral Curved Sofa Ideas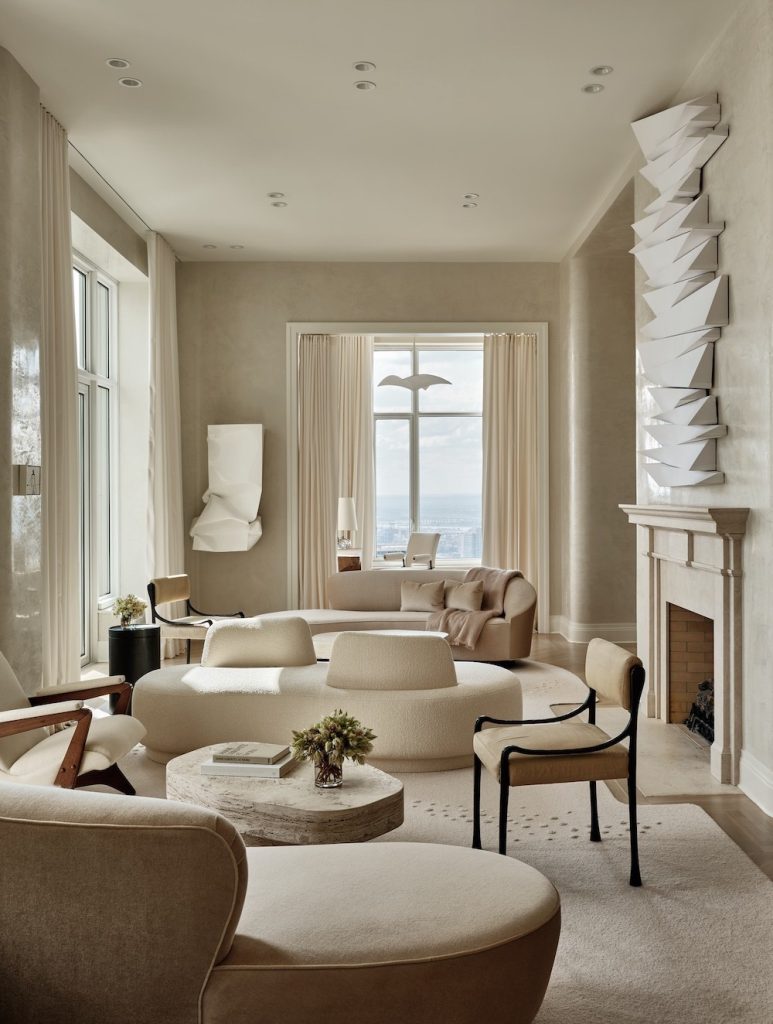 Make it a triple. Three sofas with incredible artwork and views keep your house guests in awe—plenty of seating space to accommodate many guests.
Style it in Shades of Gray, Beige, and White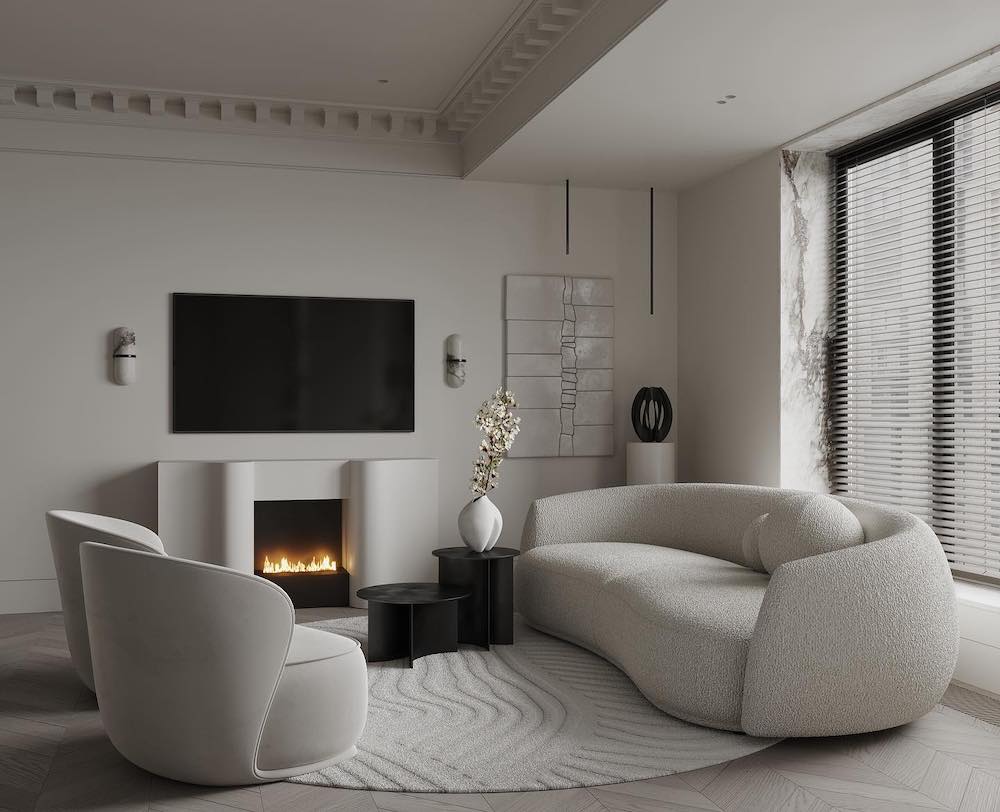 Create a cozy living space by the fireplace with gray, beige, and white decor.
Give the Room a Mirror Worthy of this Space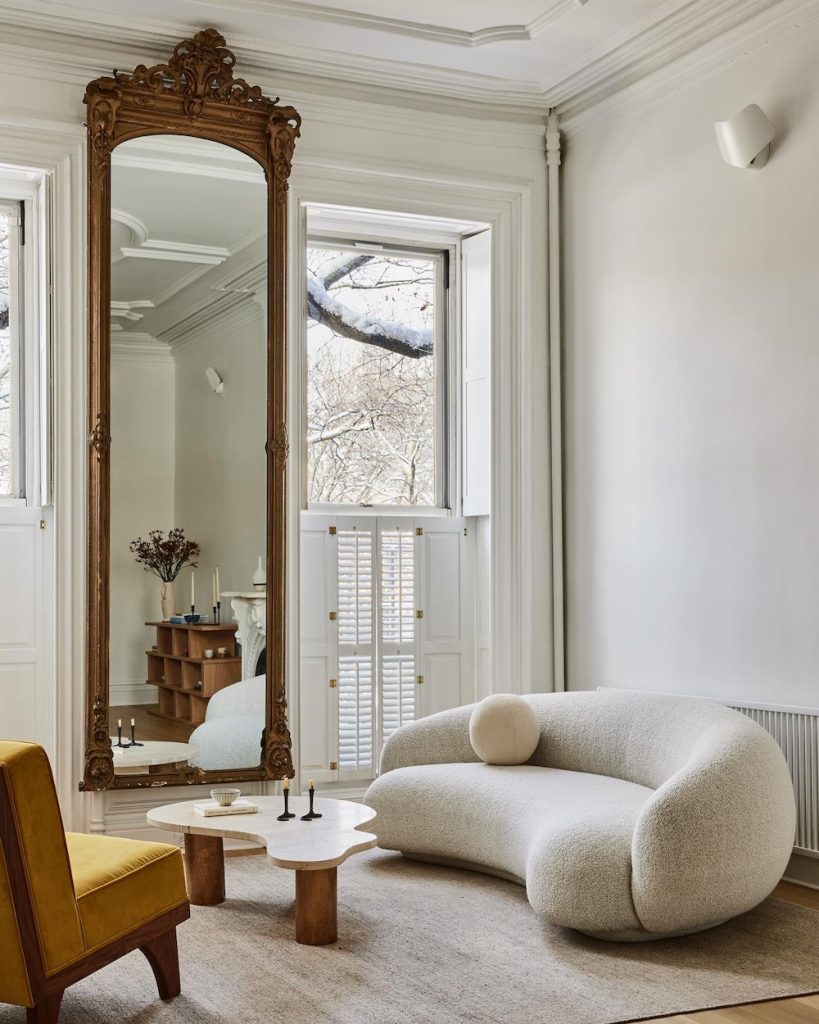 Steam in natural light reflected from a massive mirror. Keep your walls bare to not distract from the gorgeous focal point – the mirror.
Make it a Double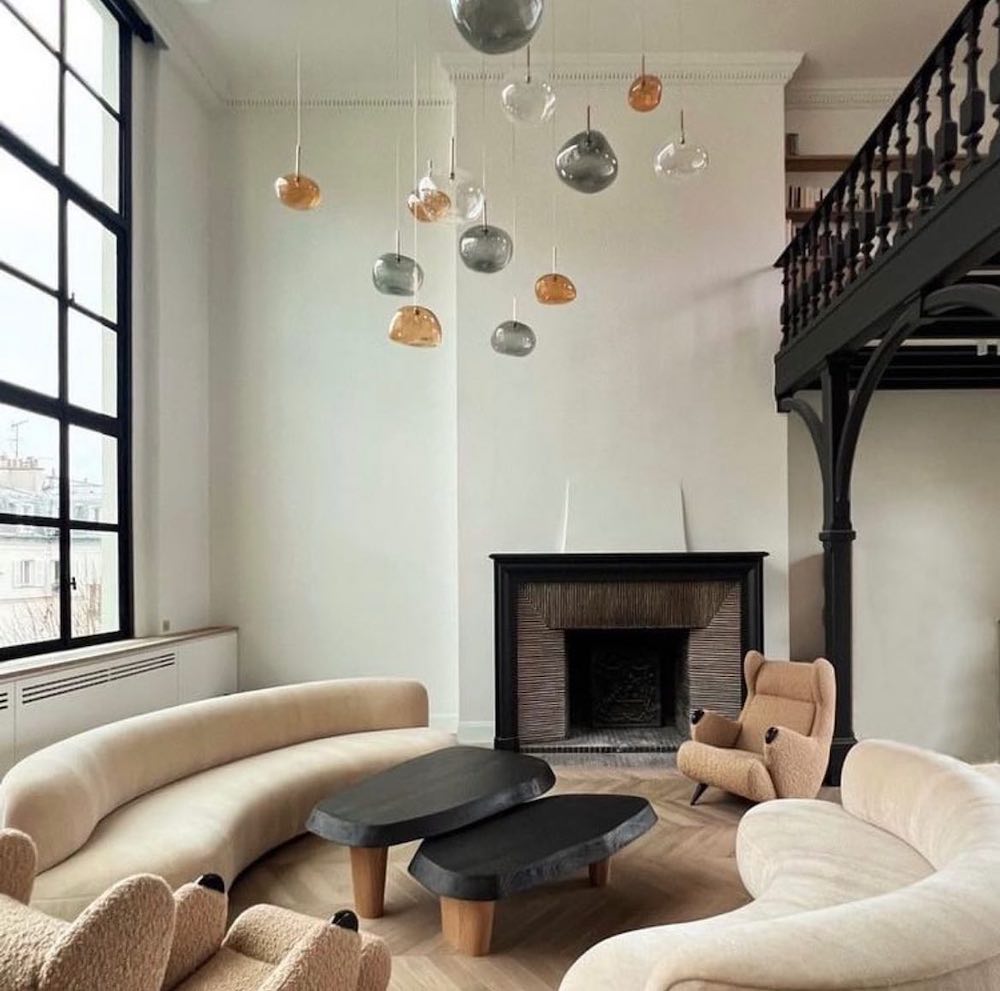 Use a set of curved sofas. Then, match it with a couple of boucle side chairs in a coordinating color. Add a light glass fixture with gray, tan, and transparent colors. We love the stunning black loft rails above.
Keep a Circular Layout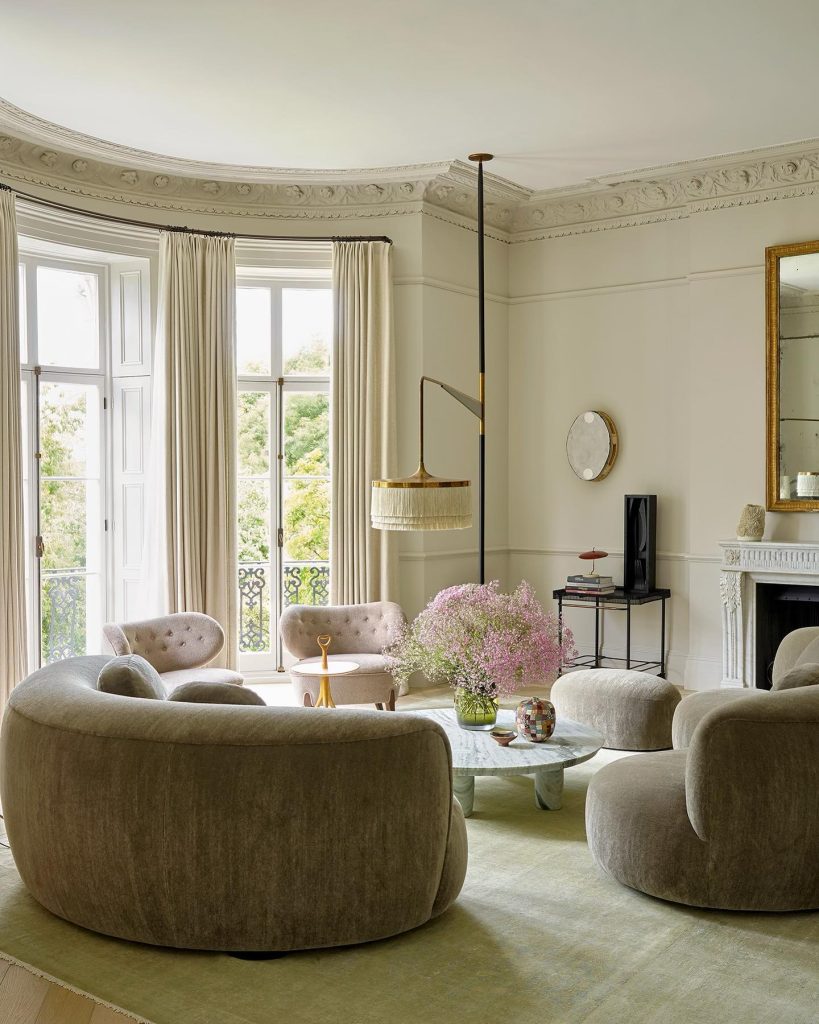 Position your furniture in a circular layout with this image styled by Olivia Williams Studio. We love the floor lamp, the accent chairs, and ottoman. Beautifully styled.
Go Modern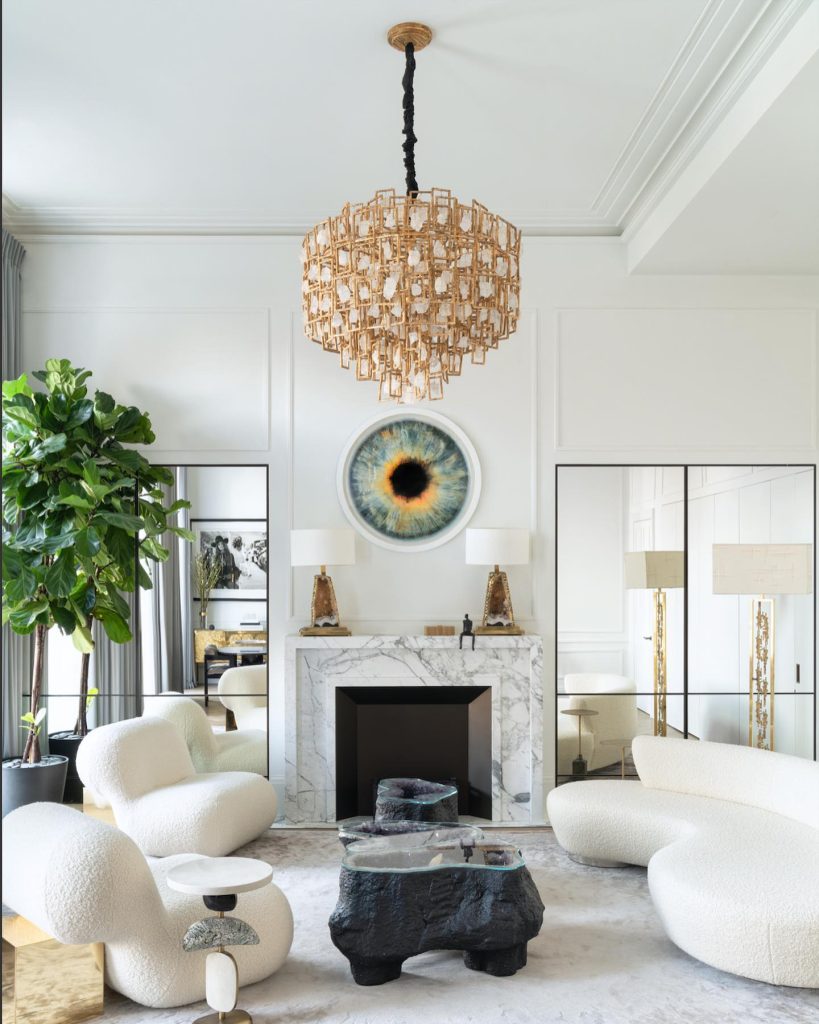 Dual mirrors with an all-modern decor style. Design your curved sofa with a dramatic black coffee table, accent chairs, and a modern side table. We love how the mirrors reflect the sofa's curves from front to back.
Pair Linen and Boucle – Neutral Curved Sofa Ideas
Add a couple of linen toss pillows on the boucle sofa. Warm wood tones of the linen, vase, and coffee table greatly contrast the sofa.
Install Marble Bookcases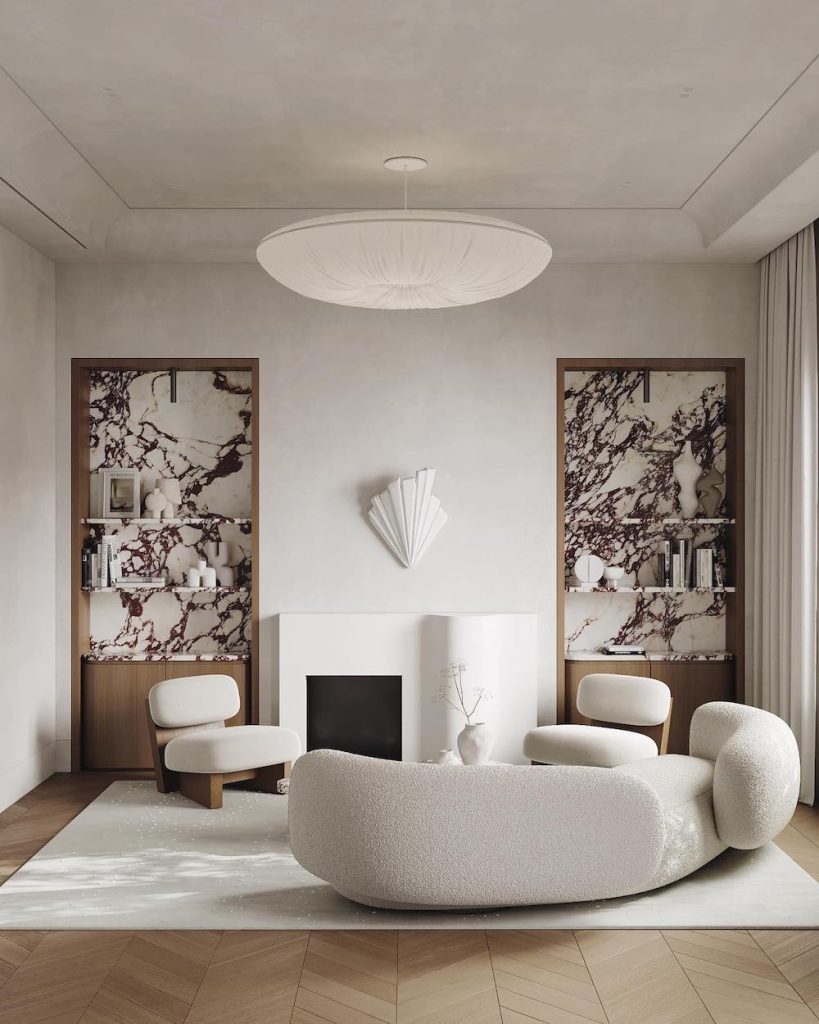 The marble bookcases are a great contrast to the soft, curvy sofa.
Sculptural Contours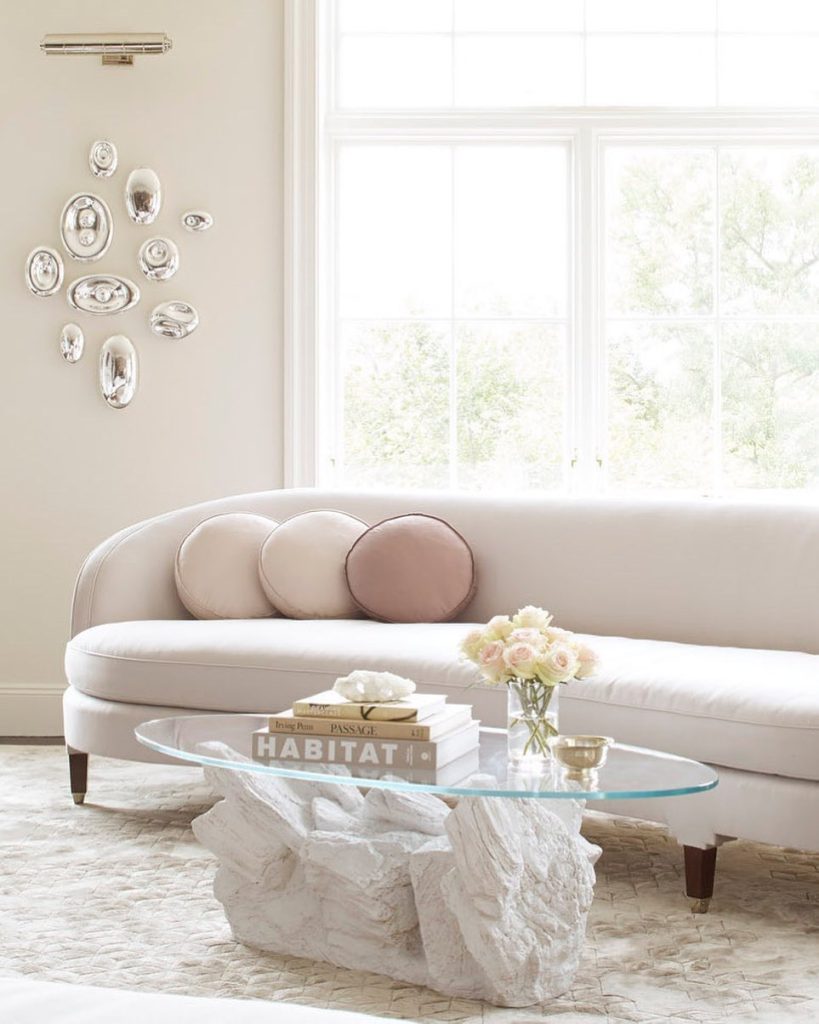 Match a smooth, curvy sofa with a Mid-Century plaster cocktail table.
Style it Dramatic – Neutral Curved Sofa Ideas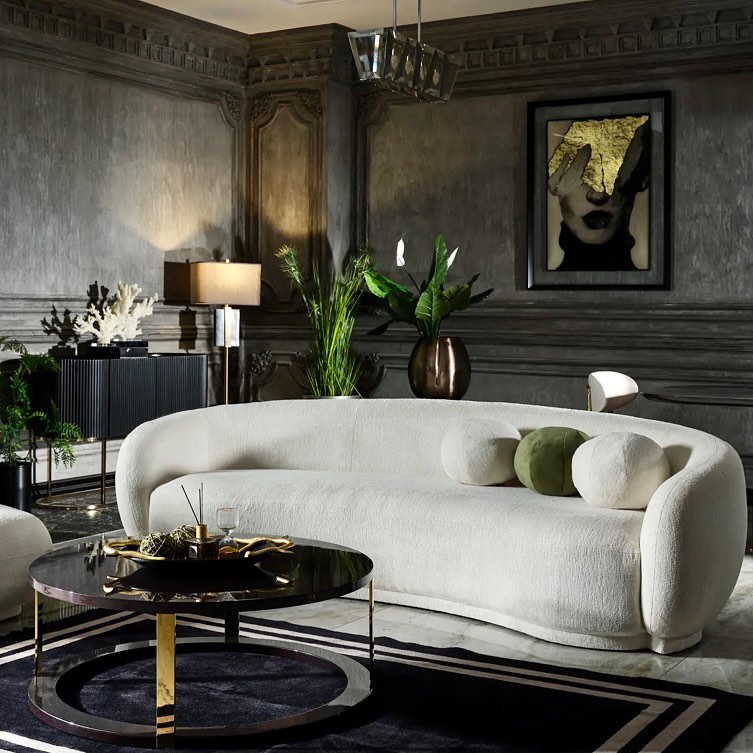 Go for the dramatic look with gray and dark colors. Add greenery for a stunningly beautiful decor.
Continue with the Curvaceous Lines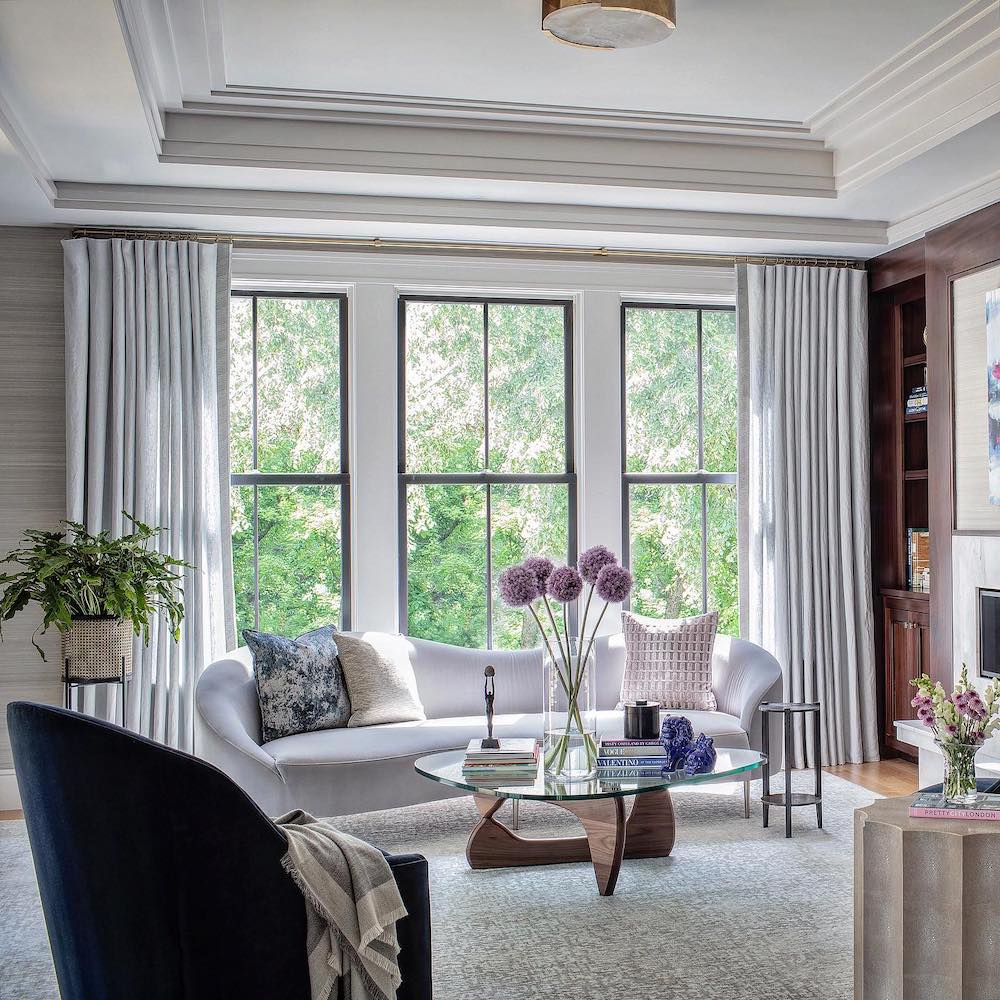 Partner your curved sofa with a curvaceous coffee table like the Noguchi. Top your coffee table off with a stack of books, fragrant candles, and fresh flowers or greenery.
Make it a Calming Ivory Color – Neutral Curved Sofa Ideas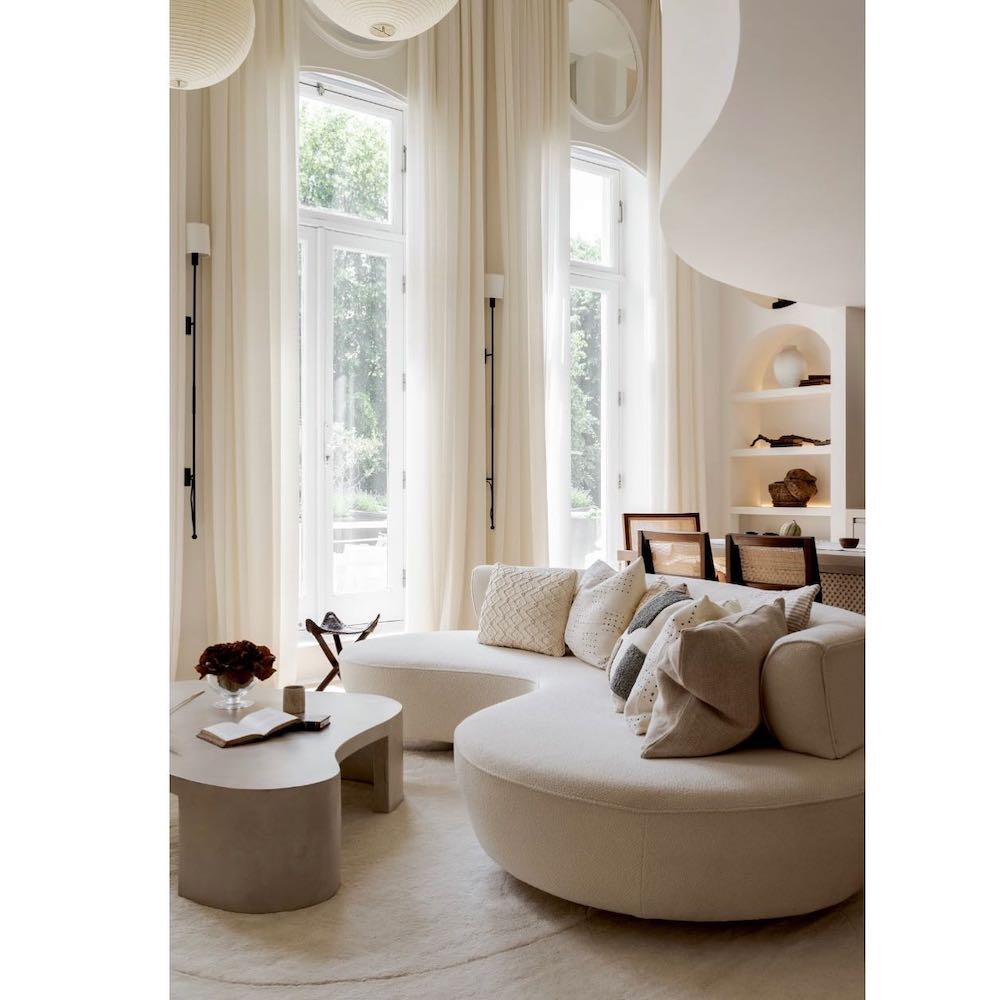 Stay with a calm ivory color that creates a relaxing sitting area. Keep your books nearby for a reading area.
Design it with the Second Empire Style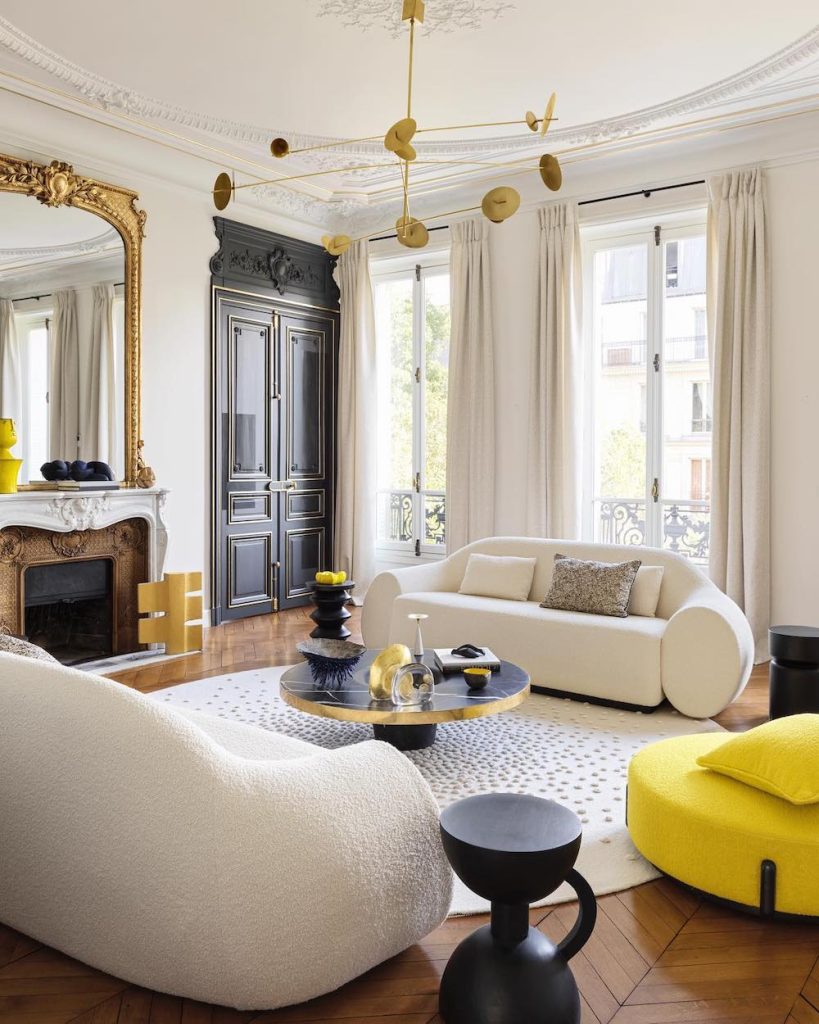 Inspired by the Napoleon III style, also known as the Second Empire style of the mid-1800s. Ornate black lacquer doors contrast with the gold and yellow accents. The drapes and sofas are a cream color that makes this a stunning design.
Go Organic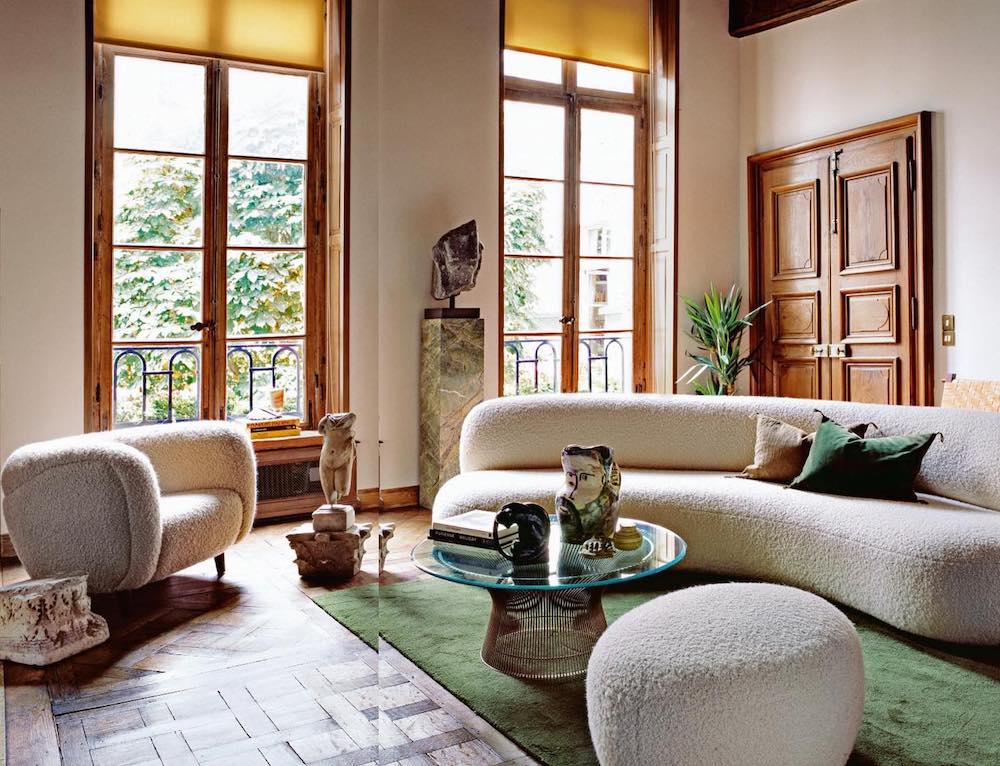 Mix cream-covered furnishings with the warm wood tones of the window moldings and door. Add accent color of organic greens with houseplants and green textures such as the rug and toss pillow.
Our Picks for Neutral Curved Sofas
On to our picks of neutral curved sofas for a lavish decor style. Look at our selection of the curved sofas for your living space. Perfect for decorating a living or sitting room.
Be sure to share with us which sofas are your favorites. Let us know what you think.
Please take a look at our other posts for home decor inspiration. Drop us a line below in the comment section. Let us know all about your favorite home decor projects for your house.
Enjoy our other home decor-related posts for additional ideas.
Decorate your home with these great ideas. Check out our other posts for the interior and exterior of your home. Try these posts for additional decorating ideas this season.

Blue Curved Sofas
White Ceramic Accent Stools
Chair and a Half Accent Chairs
Modern Martini Tables
Reach out to us with any questions. We love hearing from our readers. Thank you for dropping by and taking a look at our blog.
Mary
Pin this for Later: