Neutral curved sofas for decorating a lavish living room. Curved-back couches have backs that curve in a circular shape. Popular in the 1960s and 1970s, curved couches add a softness, romanticism to the room. These bold statement pieces look gorgeous in the center of the room. Showcase those curves and display the beautifully designed backside. Curved-back sofas are meant to be seen from every angle. In today's post, we share curved sofas in neutral colors for the modern home.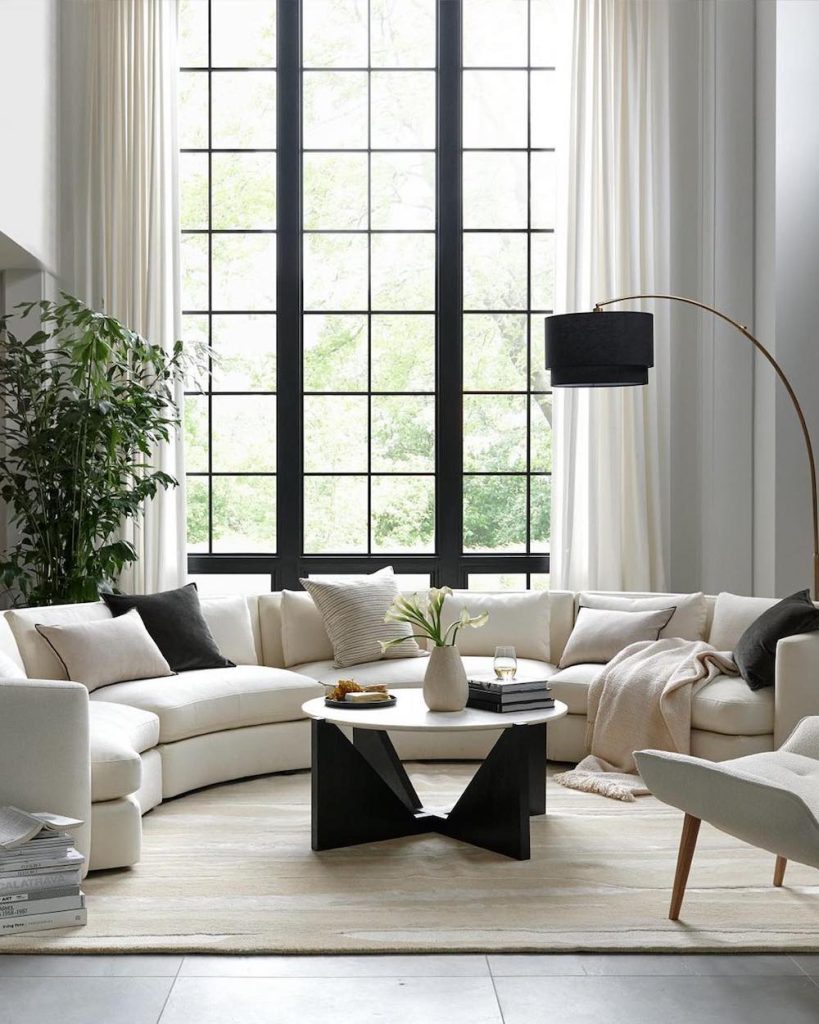 Curved sofas are known by other names as well. Those names include arc, arch, circular, crescent, conversation, and rounded sofa. These are sofas or couches with an arching sofa seat and backrest. It is a stark contrast to the sharp wall corners. The intent was to soften the room with its curvy design. Elegant and bold, these sofas have Art Deco vibes with a touch of Glam when covered in rich fabrics.
These glamorous sofas can elevate your design style. They are featured chiefly in several design styles with modern and contemporary designs. Place your sofa in the center of the room for all to admire its beautiful curved backside.     
Curved Sofa Beginnings – Neutral Curved Sofas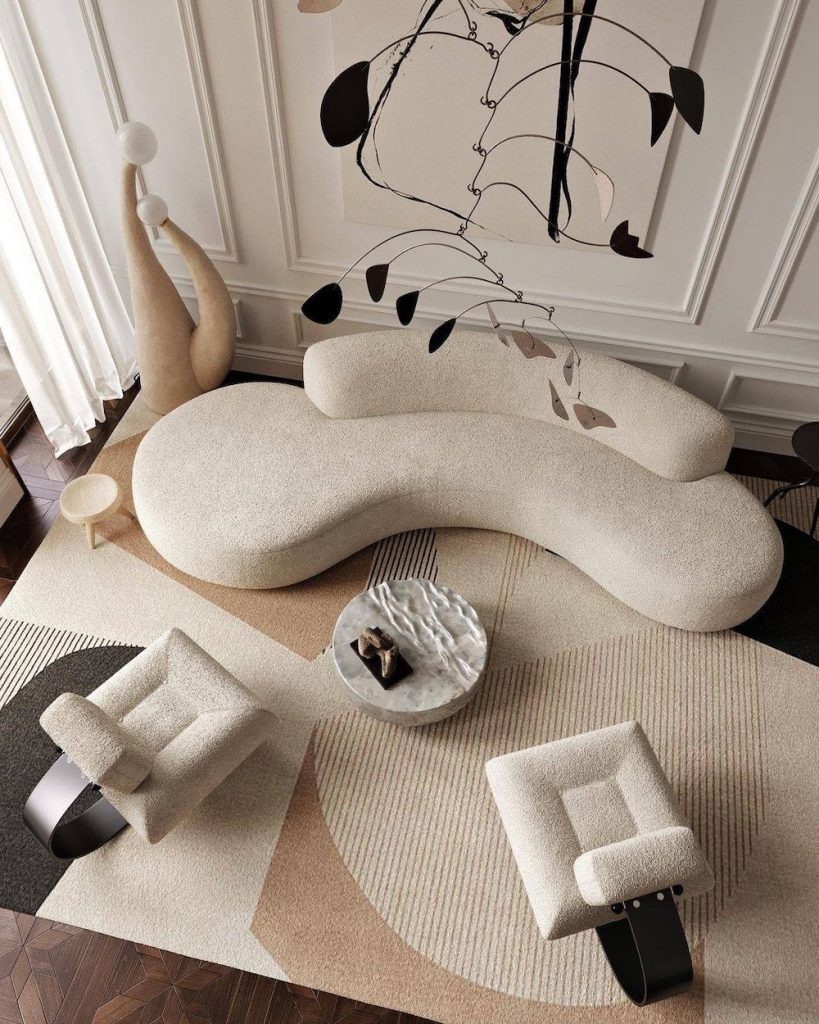 As with most styles, trends change from one direction to another. This was the case with the curved sofa. Before the rise of curved sofas, furniture trends and designs were modern, with straight, clean lines. Furniture like the tulip table, parson's tables, and similar furnishings featured no curves—just simple, straight, clean lines. Then a complete turnaround occurred. Introduced in the 1970s, curved furniture was popularized. Curved furnishings emerged and quickly became popular. Curved furniture's rounder, soft aesthetic took hold of designer's styles. Unlike the 50s and 60s modern designs, curved furnishings provided a different, softer, smoother aesthetic of contemporary furniture.
During the maximalist furniture period of the 1970s and 1980s, curved furniture first appeared in commercial interiors. Used initially in restaurants, bars, hotels, and other businesses. Later making its way into retail home decor stores.
Within the last few years, curved furniture has reemerged in today's home furnishings. Preferring curved and round lines, homeowners gravitate towards circular and rounded shapes. The popularity of curved furniture is due to its calming appearance. A softer, smoothing decor style is a welcome distraction in today's hectic times.
Styling Tips – Neutral Curved Sofas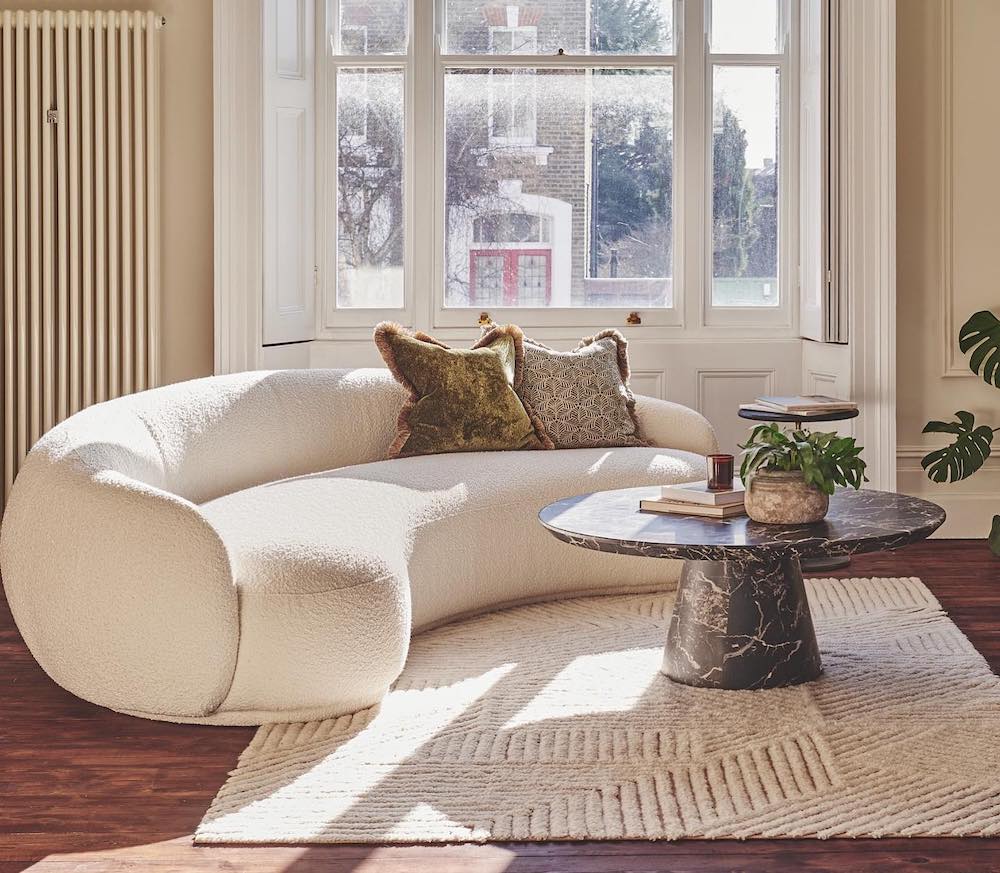 A perfect solution for small space living, curved sofas provide extra room around the couch. This is especially noticeable when the curved sofa is placed in the center of the room. Placing a curved sofa in the center of the room makes it more visible from all angles. Never place a curved sofa against a wall; enjoy the beauty of a curved sofa front and back by centering the couch.
Position a curved sofa or sectional in a corner. Fill the corner space with a floor lamp, large houseplant, or accent table with a sculpture or decorative object. Select curved rounded chairs and tables to create a continuous flow. Maximize the room space rather than cutting off the room.
Benefits of Curved Furniture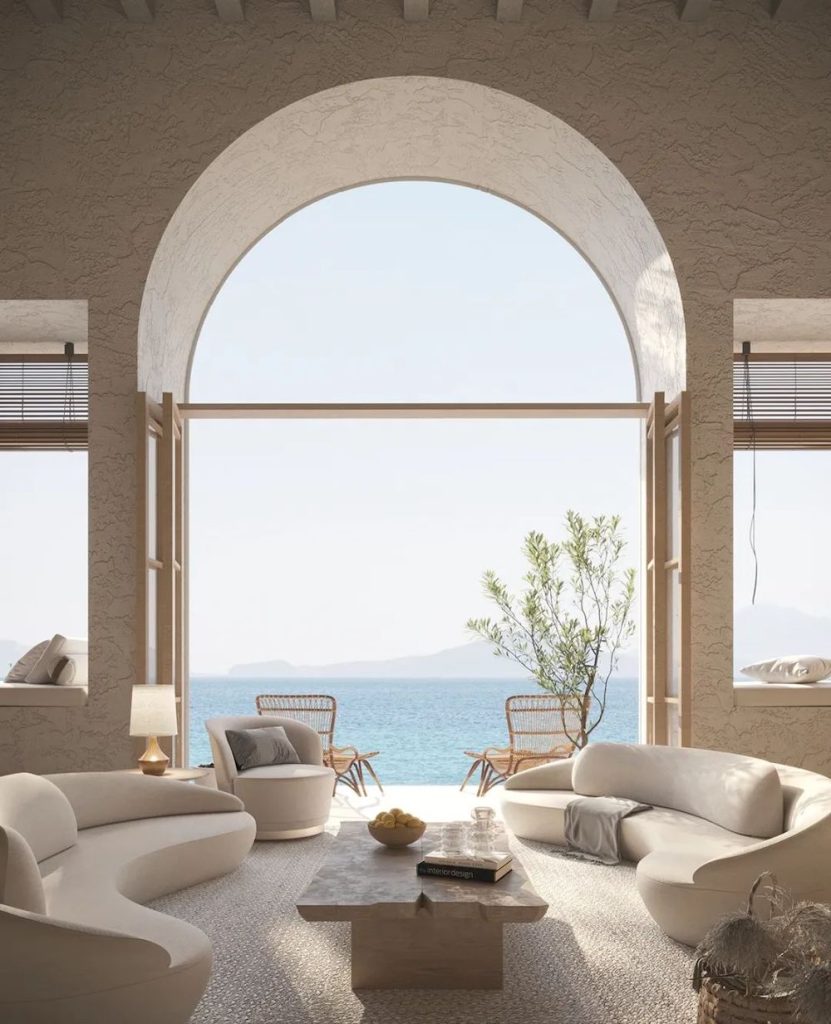 Ideal for smaller living rooms but equally at home in much larger rooms. Curved sofas allow for space in front and around the couch. This extra space adds to the circulating space within the room. Curved sofa creates a flow and natural transition between rooms.
Additionally, curved sofas have a cozy, comfy feel to them. A curl-up and restful feel that lends itself to a variety of decor styles.
Compliment your neutral-colored sofa with other neutral colors. Neutral colors include shades of black, white, gray, and beige. Add softer shades of pink or blue colors for a subtle contrast.
In Closing – Neutral Curved Sofas
This ends our list of neutral curved sofas. Style your limited-sized room with a curved sofa to maximize your living space. Neutral-colored furnishings blend well with other neutral colors. Neutral sofas work well with modern and contemporary-styled furnishings.
Look at our selection of the best neutral curved sofas for your home.
Take a look at our other posts for home decor inspiration. Drop us a line below in the comment section. Let us know all about your favorite home decor projects for your house.
Enjoy our other home decor-related posts for additional ideas.
Decorate your home with these great ideas. Check out our other posts for the interior of your home. Try these posts for additional decorating ideas this season.
Acrylic Console Tables
Modern Martini tables
X-base stools
Bamboo mirrors
Blue curved sofas
Stone End Tables
Tulip Tables
Parsons Tables
Reach out to us with any questions. We love hearing from our readers. Thank you for dropping by and taking a look at our blog.
Mary
Pin this for Later: