X-Base stools with wood frames for the home. Initially created and used by ancient Egyptians, the X-base stool still holds our interest in this ancient design. Popular among home interior designers and homeowners, the stool has evolved. The Egyptians used the stools as backless chairs that folded up and could be quickly moved to another location. The original X-base stools were portable backless chairs had leather seats with a metal frame.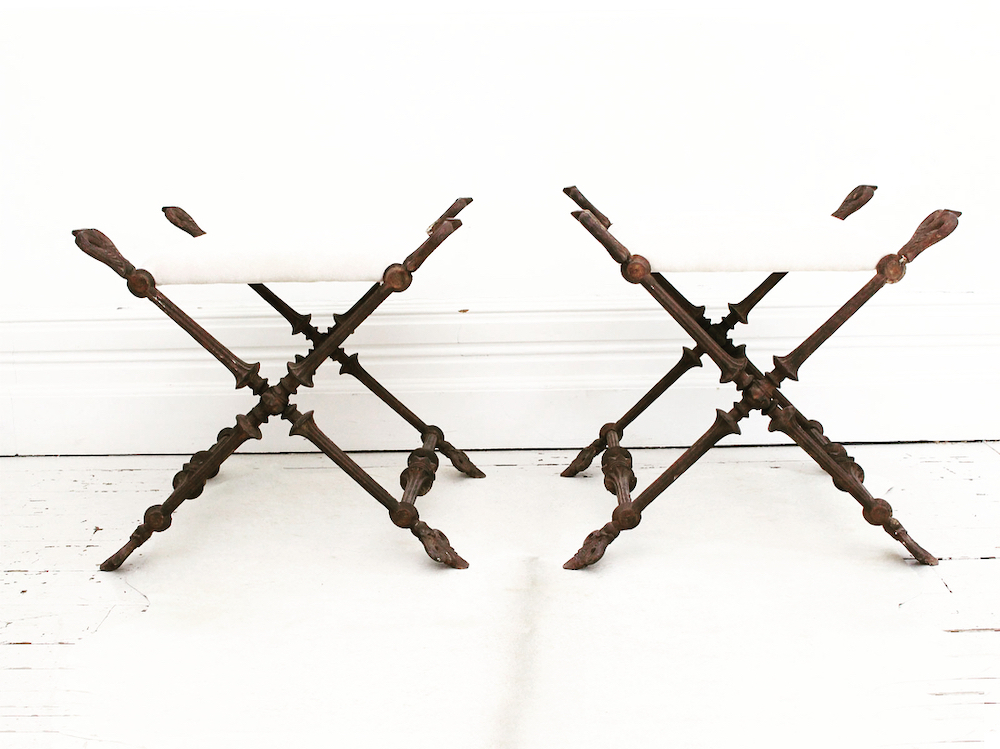 The image above shows a set of Napoleon III cast iron x-stools. The set reflects the types of metals used during that period. Then, during the Medieval Italian ages, the X-base stool grew in popularity again. This multi-functional stool returned to its original Egyptian roots of using a metal frame for the seat. Today, x-stools are constructed from metal or wood using modern metal finishes. 
The X-stool is favored by many home interior designers. Upholstered in fabric, including the X-stool legs, these look very stylish. Typically these fabric-covered stools use designer custom fabrics that coordinate with the entire room's decor style. This post shares an X-base stool with wood stool legs, a wood frame, and an upholstered seat. Check out our post titled – Metal X-Base Stools for the Home for Metal X-base stools.
Style Your Stool – X-Base Stools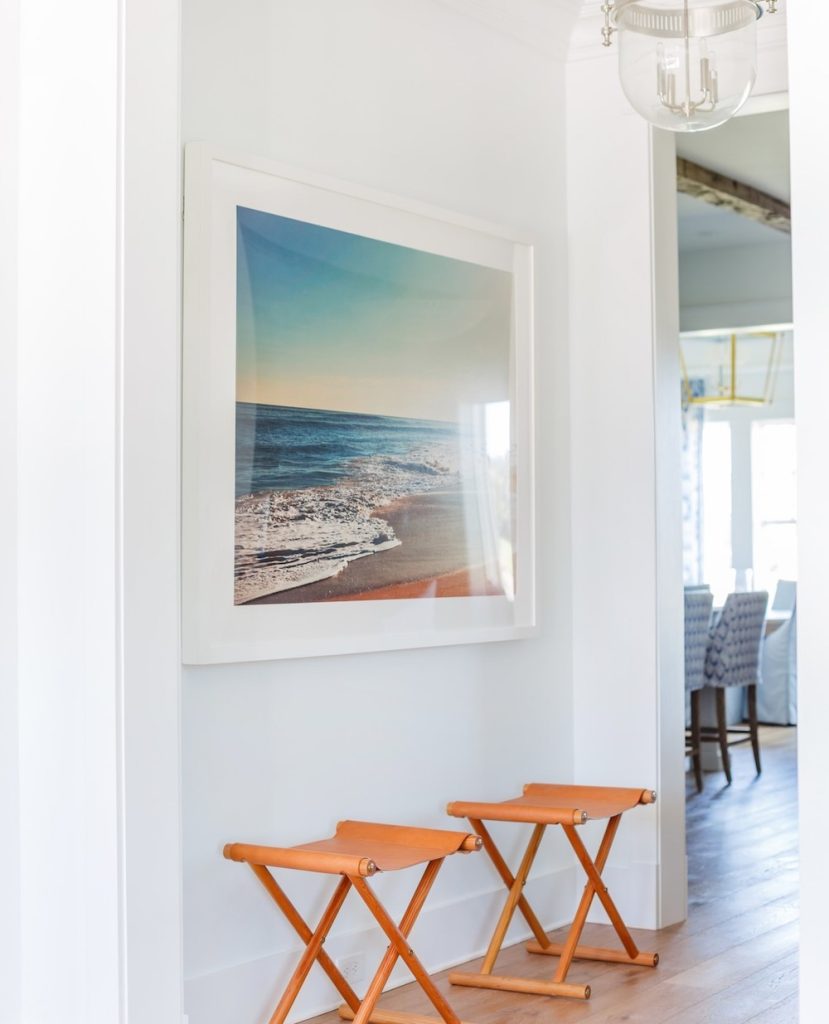 X-base stools, or any stool, work well in the home with various decor styles. A versatile piece of furniture that lends itself to many uses around the house. The portability of the stool is a critical factor in its popularity. These stools also tend to be lighter, so they can be put into service quickly as needed. 
We've listed a few ideas when integrating the X-base stool into your home. These are a few ideas for incorporating the stool in your home space. Take a look.  
Group a pair of stools in front of the sofa instead of a coffee table.
Keep a set of stools beneath a console table for extra seating.
Place stools on either side of a sofa or accent chair to replace a side table.
Slide a single stool underneath a bathroom vanity. Use as a dressing table.
Substitute two stools as nightstands beside a bed.
Replace an accent chair with a set of X-base stools.
Line up a pair of stools in front of the mantel or hallway to accommodate unexpected houseguests.
Use as a side table for hors d'oeuvres and snacks.
Consider these ideas when integrating your stools into your rooms. There are unlimited ways to utilize these very desirable furniture pieces. Tell us how you use your stools in your home. We always love hearing from our readers.
Our Picks of X-Base Stools – X-Base Stools
Now on to our picks for X-base stools in your home. Look at our selection of the best X-base stools with wood frames and legs. Perfect for your home or office.
Be sure to share with us which X-base stools are your favorites. Let us know what you think.
Take a look at our other posts for home decor inspiration. Drop us a line below in the comment section. Let us know all about your favorite home decor projects for your house.
Enjoy our other home decor-related posts for additional ideas.
Decorate your home with these great ideas. Check out our other posts for the interior of your home. Try these posts for additional decorating ideas this season.
Pedestal Martini Tables
Bamboo Mirrors
Acrylic Console Tables
Blue curved sofas
Stone End Tables
Tulip Tables
Reach out to us with any questions. We love hearing from our readers. Thank you for dropping by and taking a look at our blog.
Mary
Pin this for Later: