Neutral bathroom vanities with wood tones give your home a timeless look. For today's post, we are sharing 9 bathroom vanities with neutral color finishes. Whether you are doing an entire top to bottom renovation or simply swapping out a bathroom vanity, you'll love these vanities.
What is a Bathroom Vanity?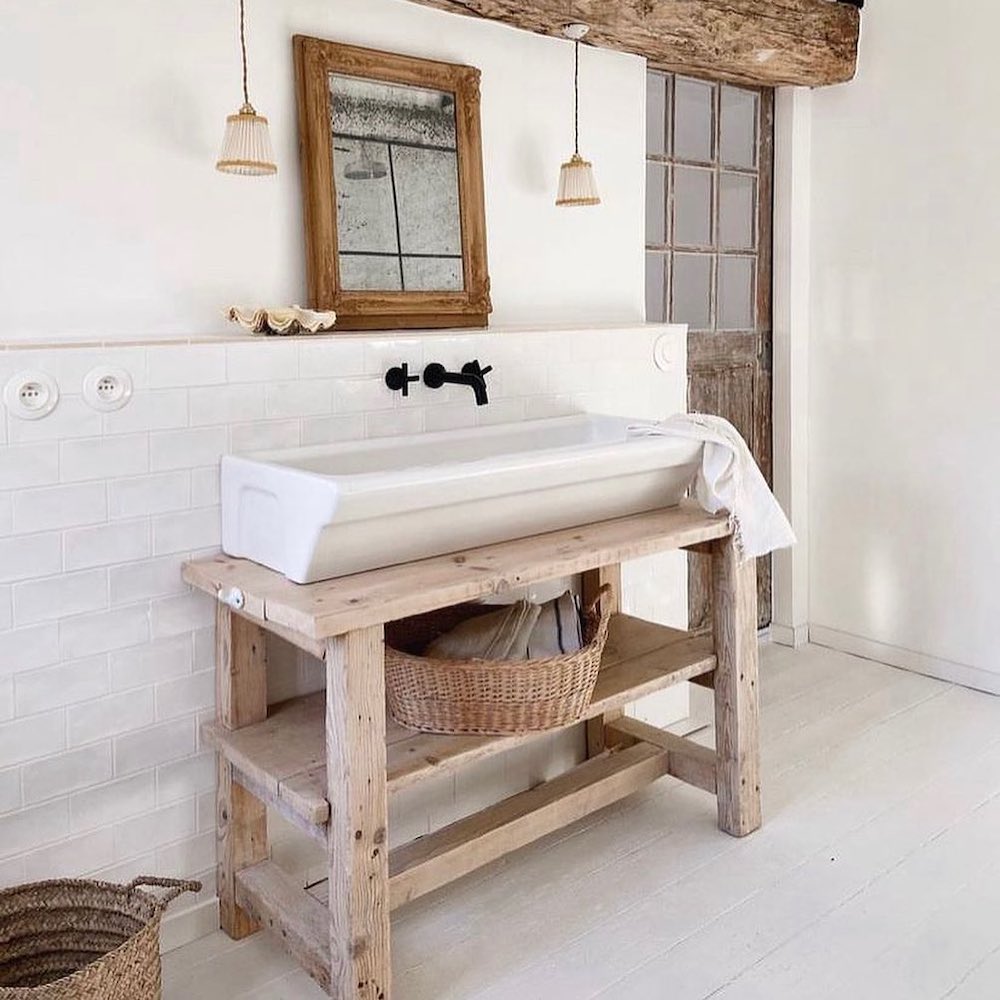 A vanity for a bathroom includes 4 parts. That consists of a countertop, sink, cabinet hardware, and cabinet. The purpose of the cabinet vanity is to conceal the plumbing such as the drain and water shut-offs. Although vanity is often purchased with all four parts, each piece can be purchased separately. The water source such as a faucet is usually bought separately.
Remember that there are two costs that you can expect to pay when replacing a vanity. First, the cost of the vanity itself. Second, the cost to install the vanity. Both the cost of the vanity and installation is determined by the size, material, and design of the vanity. Larger, more elaborate vanities require additional time to install and as a result, will cost extra.
Type of Vanities – Neutral Bathroom Vanities
There are several types of vanities. Here is a sample of the basic types of vanities available.
Make it a Single Sink – Neutral Bathroom Vanities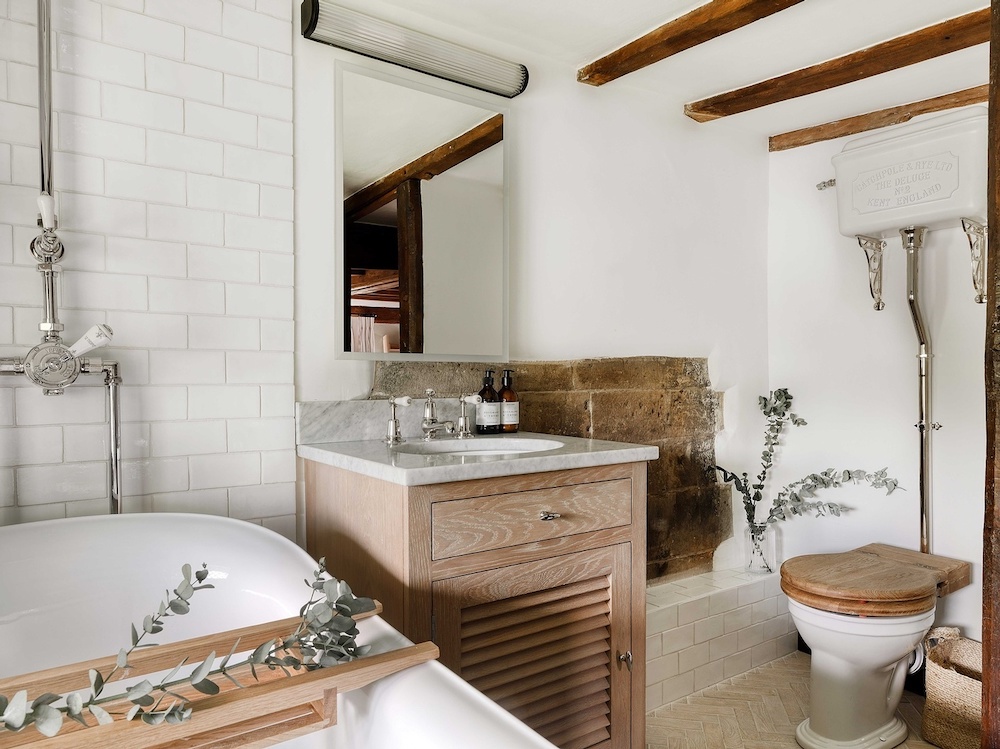 Make the most of small bathroom spaces. In this image, a single sink vanity is perfect for small bathrooms and half-baths. Many single sink vanities are about 36" wide in size. However, you can find vanities as small as 18" and 24" wide. These smaller sizes are great for older homes with limited space.
Go for a Double – Neutral Bathroom Vanities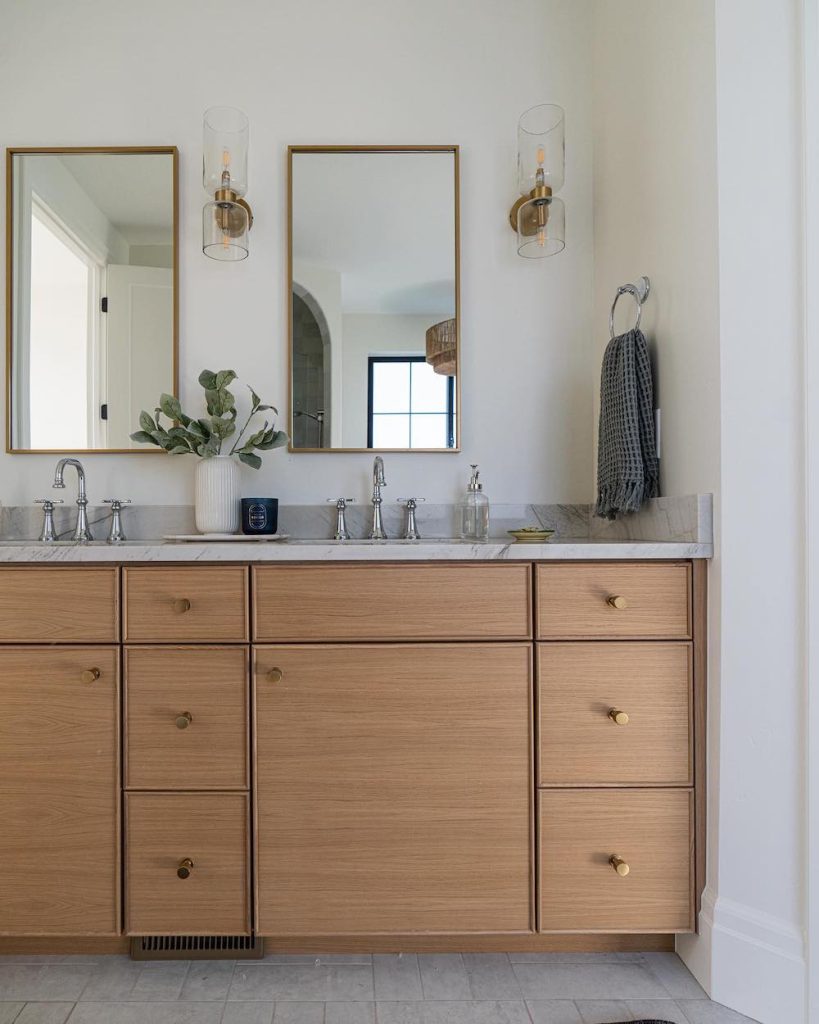 Go for a double sink vanity in a larger bathroom. A two-sink vanity or double-sink vanity is usually about 72" wide. Perfect for a couple or children who are sharing a bathroom.
Open it Up with a Floating Vanity – Neutral Bathroom Vanities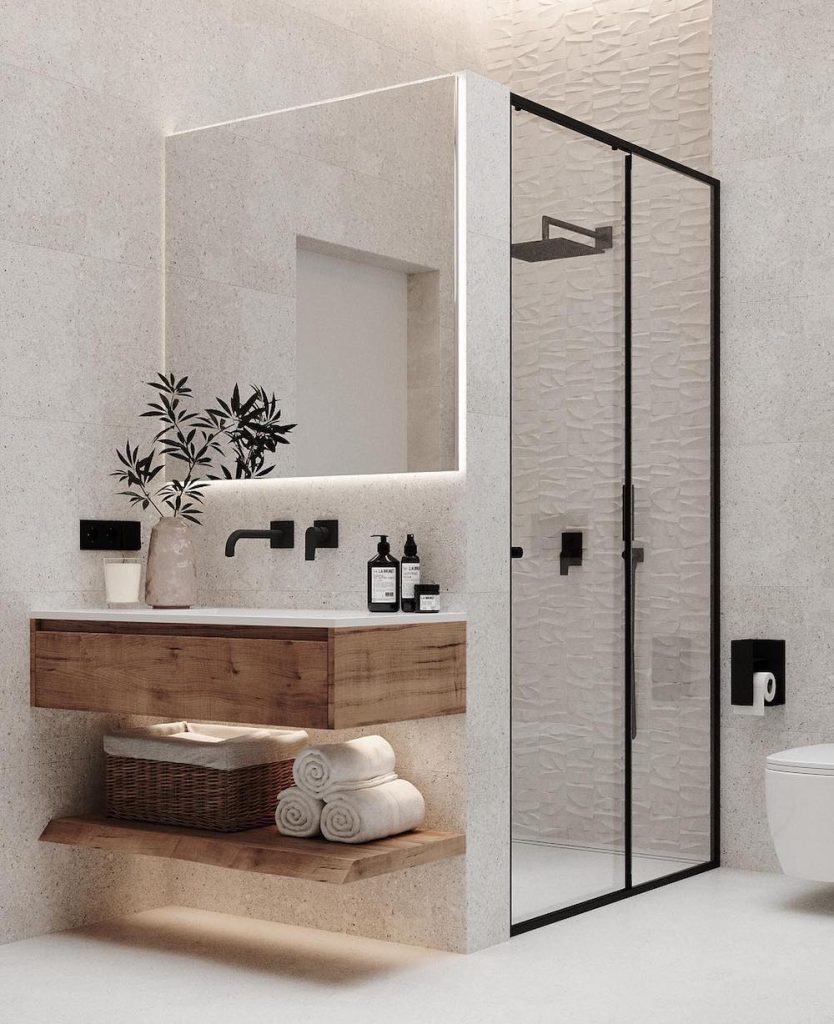 Select a floating vanity for smaller-sized bathrooms such as the one above. As the name implies, these vanities are legless and wall mounted. In the image above, the bathroom also has a floating open storage shelf below the sink vanity. Create an open-style design that gives the appearance of a roomy and spacious bathroom.
Remember that the standard depth of a bathroom vanity is 21". However, some vanities can be ordered with a depth of 18". Most vanities are 36" high but some are available with a lower height.
Vanity Costs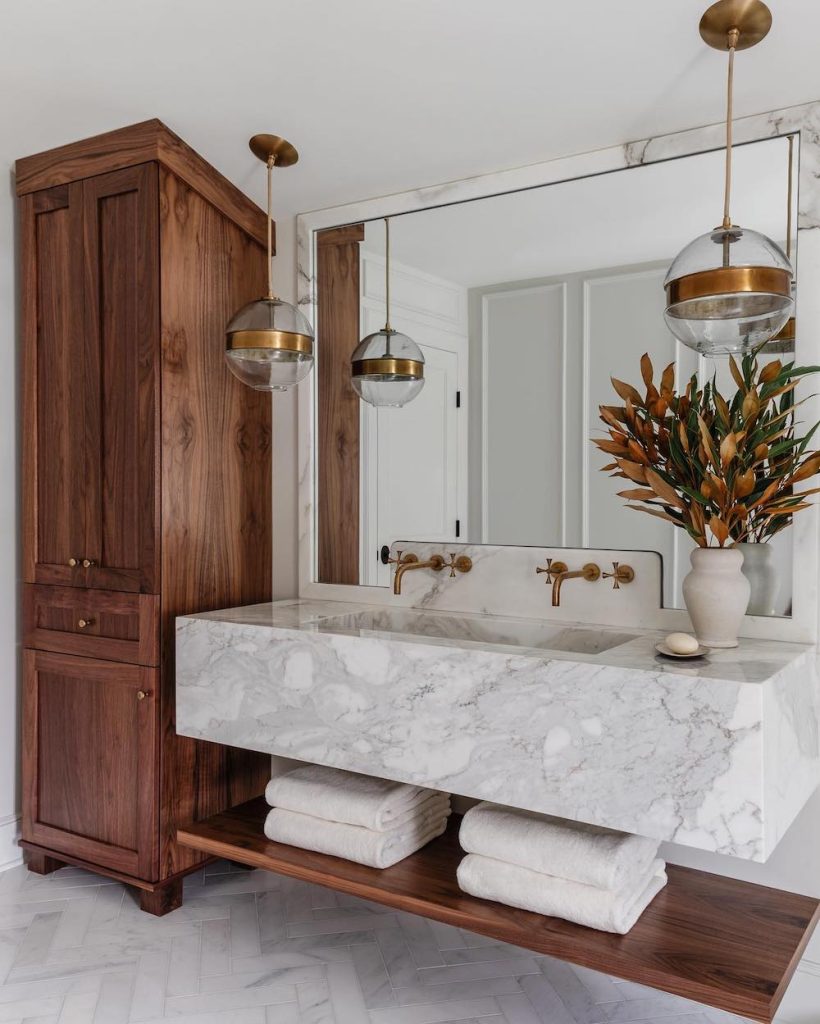 In this image, the bathroom features a floating sink with an open floating shelf underneath the sink. The mirror is framed in the same marble-like material as the sink. And more importantly, the backsplash over the sink is installed high enough to accommodate the set of wall-mounted faucets. A clever and well-designed renovation!
As we mentioned earlier in this post, there are two costs of replacing a bathroom vanity. That is the cost of the actual vanity (materials) and the installation cost. So, the first cost is the materials themselves. A vanity can be ordered with the countertop, backsplash, side splash, sink, cabinet, and cabinet hardware. In most cases, the faucet will need to be ordered separately. The second cost is the installation cost for the new countertop and vanity.
Premade vanities that are smaller in size begin at $200. These are single-sink vanities that are about 36" wide or smaller. Larger vanities with a double sink cost begin at $2,000 and even more. Some larger vanities can be ordered with added storage space, toiletry compartments, soft-close drawers, open shelves, and many more options.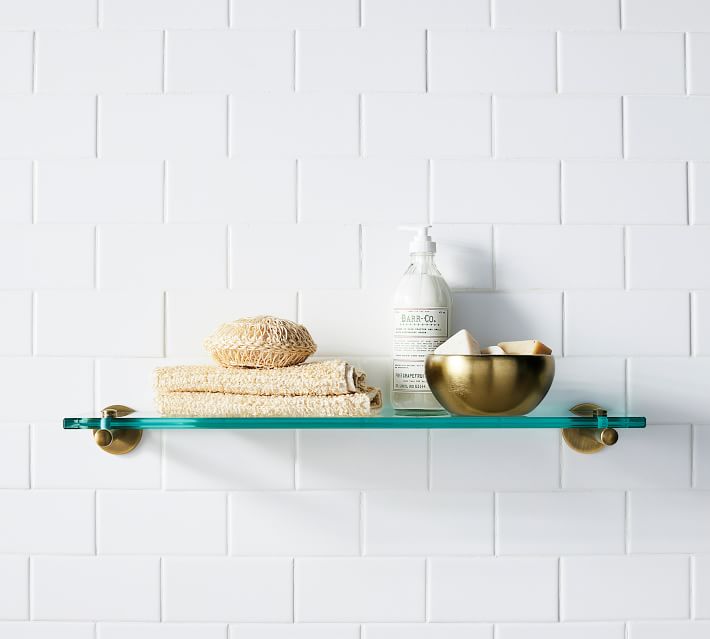 Semi-custom and custom vanities cost more since they offer more choices in options. Some vanity manufactures will even match the color of your bathroom walls to your new vanity finish. Expect to pay $500 or more for smaller vanities. Pay up to $4,000 and more for larger custom vanities. Durable woods such as oak are more expensive. Oakwood also has a distinct wood grain that some designers prefer. A hardwood with less noticeable wood grain like Birchwood is lighter colored wood. Birchwood is a very popular choice for bathroom vanities and is less expensive than Oakwood.
Vanity Installation Costs
Gather installation estimates while you are waiting for the bathroom vanity delivery. Let your installer know what you are replacing in your bathroom. Is it the vanity only or the vanity with a countertop and sink? Labor costs for a more petite vanity begin at about $200. Larger vanities can cost as much as $4,000. Costs are based on the vanity size, and other pieces being installed. Smaller bathrooms may need two side splashes and a backsplash as well.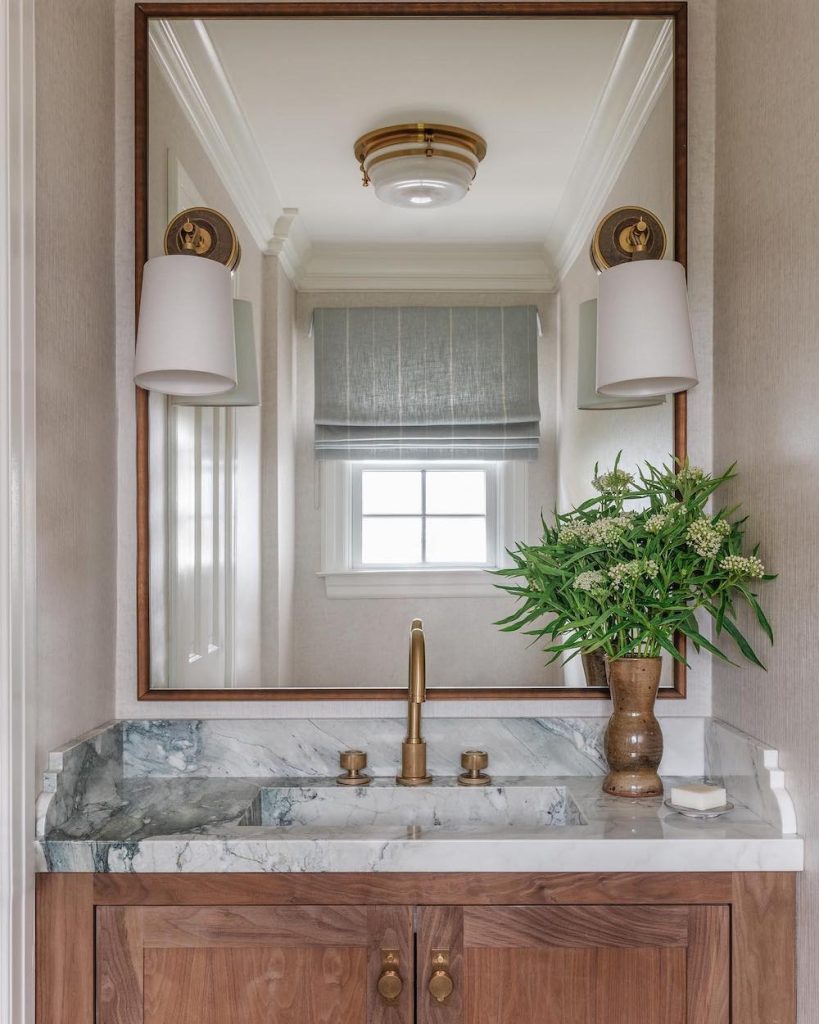 Protect the walls from water damage with a backsplash and two side splashes. In this inspirational image, the single sink vanity is perfect for smaller spaces. Notice that both light fixtures are mounted directly on the mirror rather that the two side walls. Provide plenty of light with a mirror and two light sources in this alcove.
Contact a licensed plumber if you are replacing the faucet. Hire a plumber when water faucets are being changed for new ones. Ask your contractor or installer ahead of time if they will dispose of the old vanity after they install the new vanity. If you are doing an entire bathroom renovation, the contractor will order a dumpster for debris removal. Of course with a simple vanity update, there will be less debris to remove.
Natural Styling with Neutral Bathroom Vanities
Create a beautiful neutral decor with one of these bathroom vanities. Take a look at these vanities with beautiful warm wood tones such as oak. Drop us a line below in the comment section. Let us know all about your best vanity styling ideas for your bathroom.
Celebration Vanity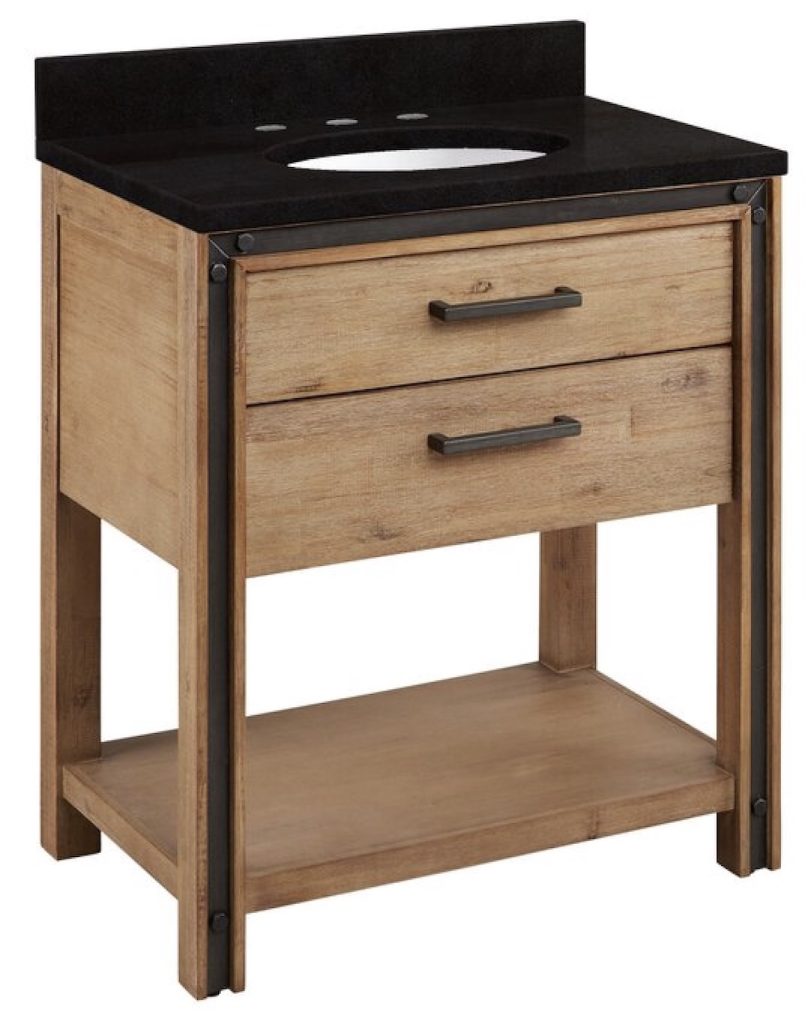 Go for a granite countertop and backsplash. Tuck your cosmetics inside the U-shaped drawer with metal hardware. Stow freshly washed bath linens on the open lower shelf for easy reach.
Cleone Vanity – Neutral Bathroom Vanities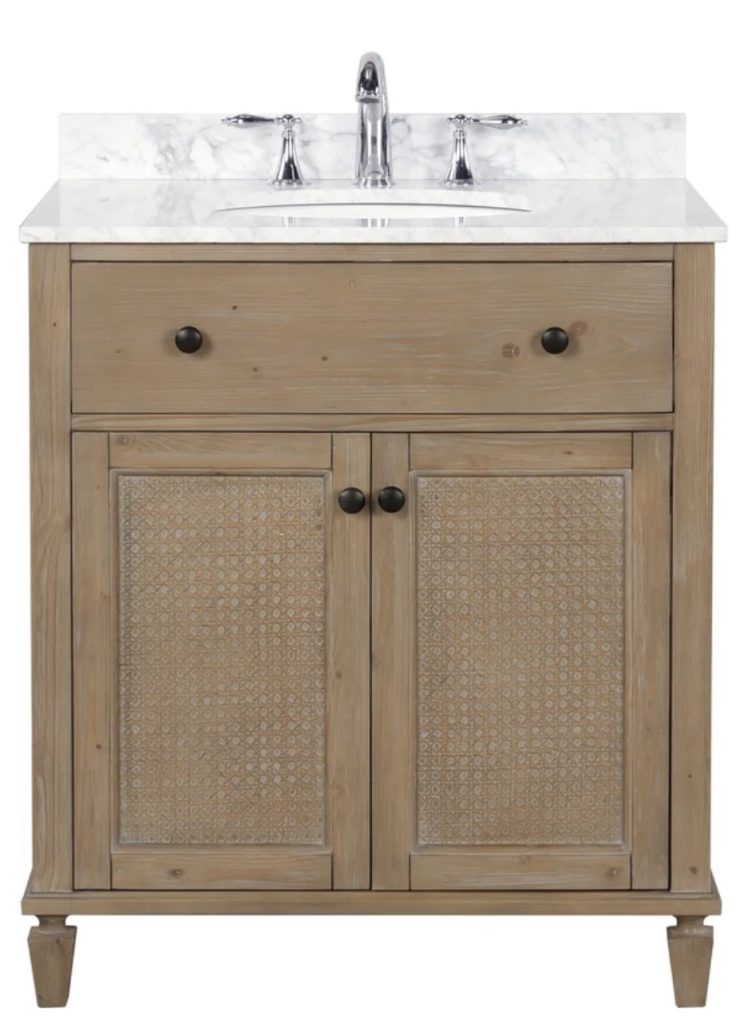 Keep it classy with a marble countertop. Style neutral with wicker front doors and turned vanity legs. Made from solid fir and ideal for coastal farmhouse decor.
Kansas Vanity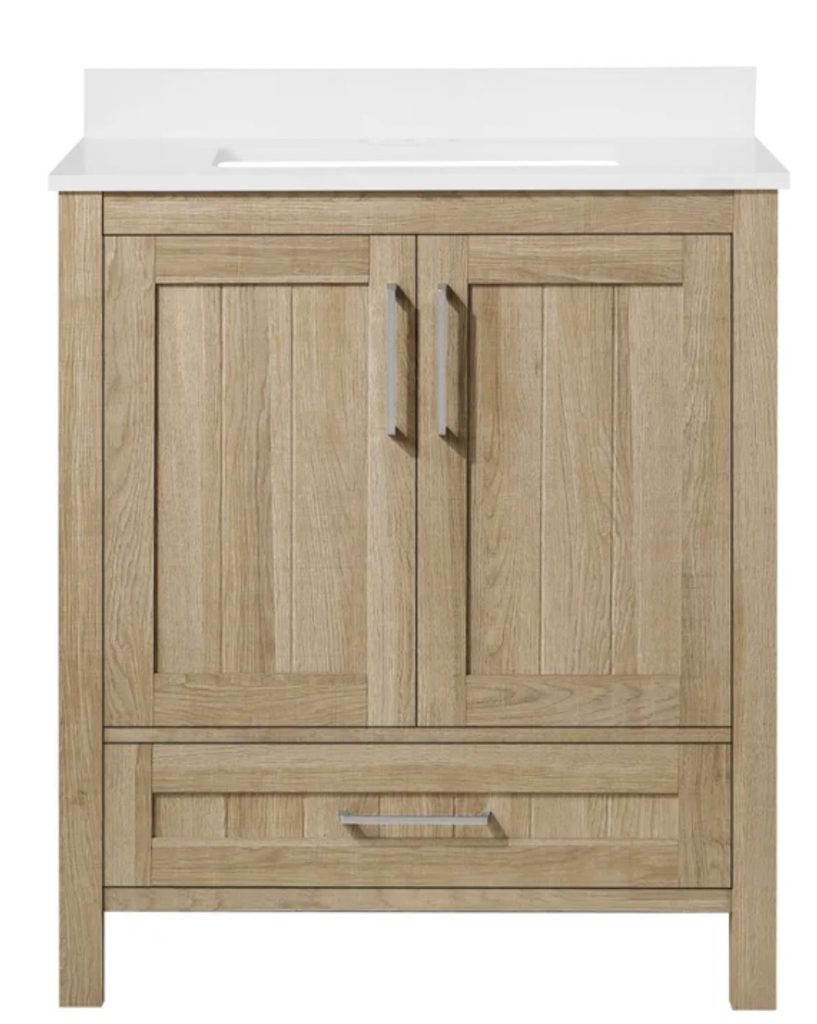 Style it with beadboard detailing for a cottage-inspired look. The two-door cabinet has an adjustable interior shelf for convenience. Features a self-closing mechanism and hardware in a brushed nickel finish.
Kordell Vanity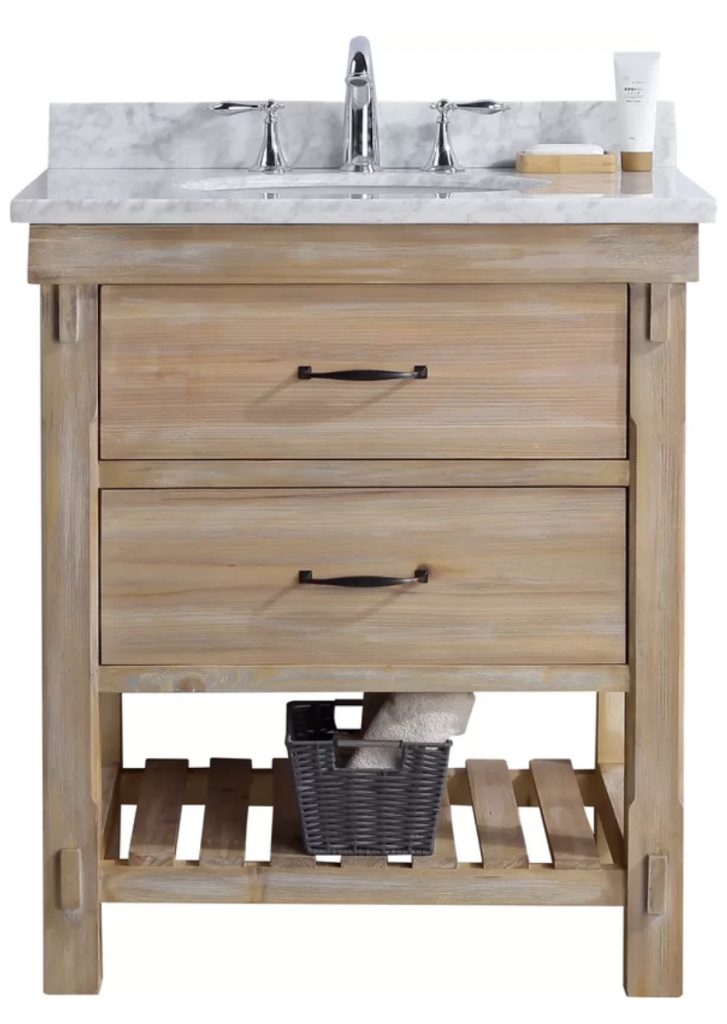 Stay organized with this delightful bathroom vanity. Store fresh bath linens on the handy lower open shelf. Keep your bathroom essentials neatly organized in the two drawers.
Lillian Vanity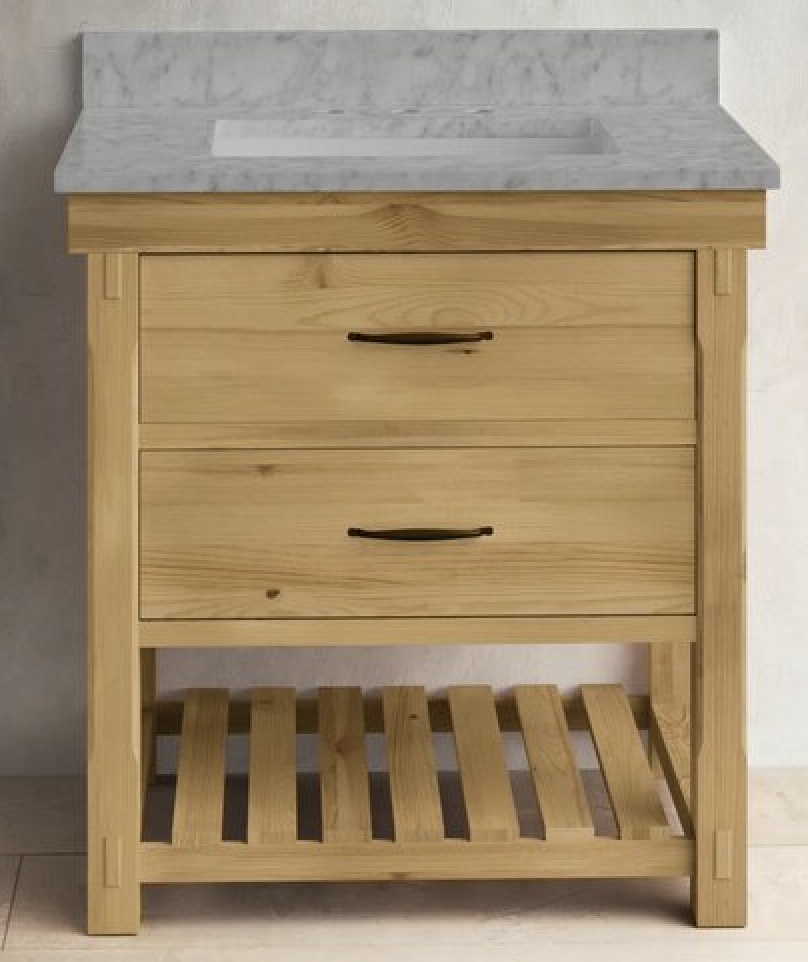 Select the Lillian vanity for a modern rustic style decor. Create a luxurious bathroom feel with a marble countertop and striking black drawer hardware.
Manzanita Vanity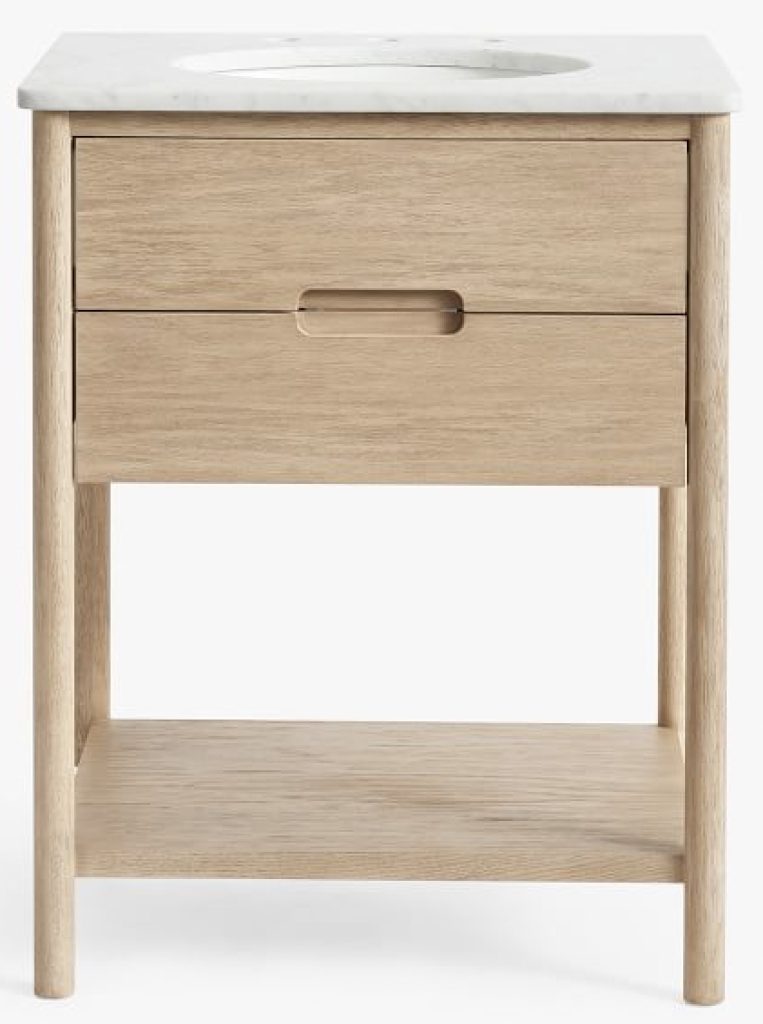 Choose a stylish mid-century modern style with the Manzanita vanity. Make it a bone-white finish vanity. Give it a luxe feel with a marble countertop.
Oakleigh Vanity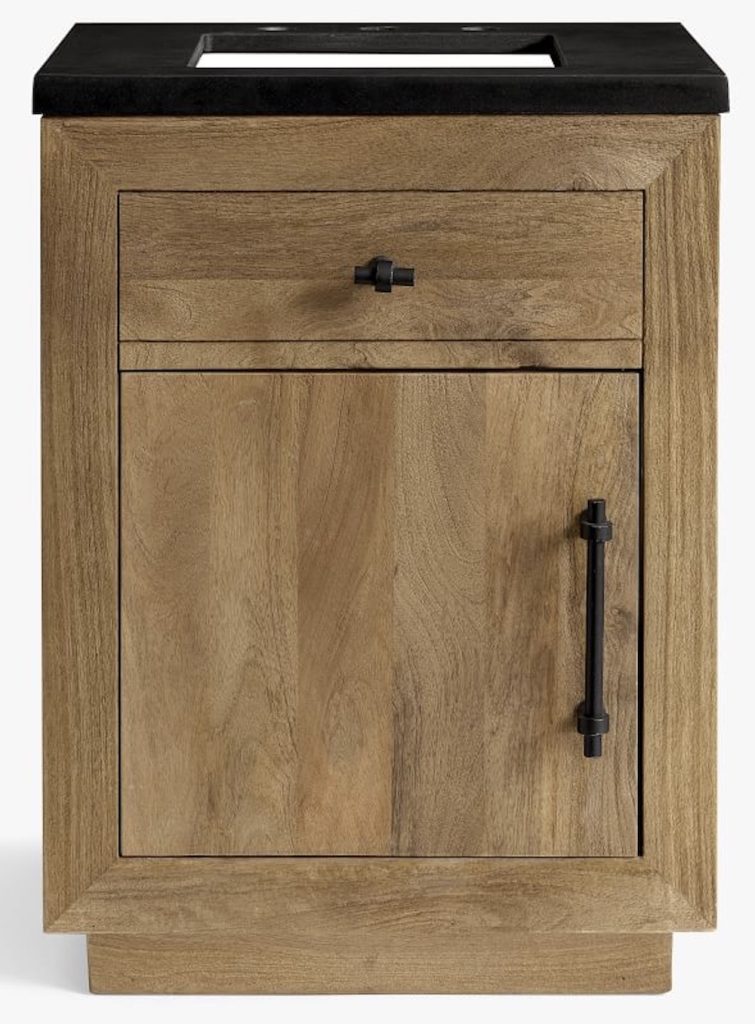 Blend the look of modern lines with a rustic charm style. The countertop is made from granite for a sleek look. The vanity has an Heirloom Wheat finish with a single door and interior adjustable shelf.
Reed Vanity – Neutral Bathroom Vanities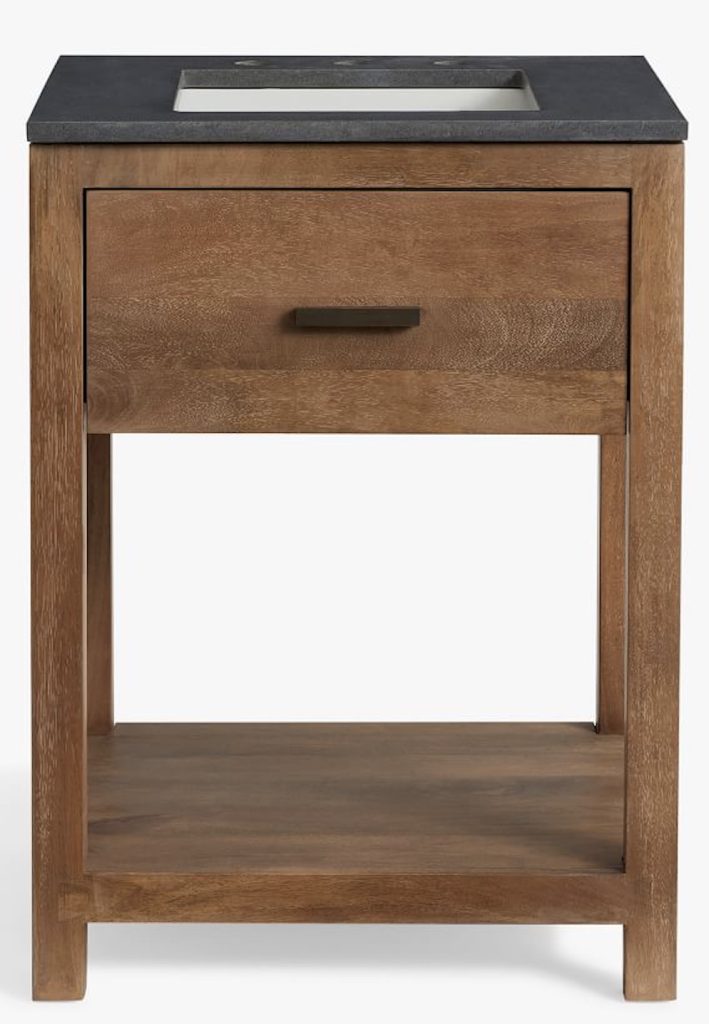 Go organic with a sustainably sourced mango wood vanity. A modern look with a rustic feel, this vanity features a black marble countertop. Keep it tidy and organized with a spacious open lower shelf in this Antique Umber finished vanity.
Sausalito Vanity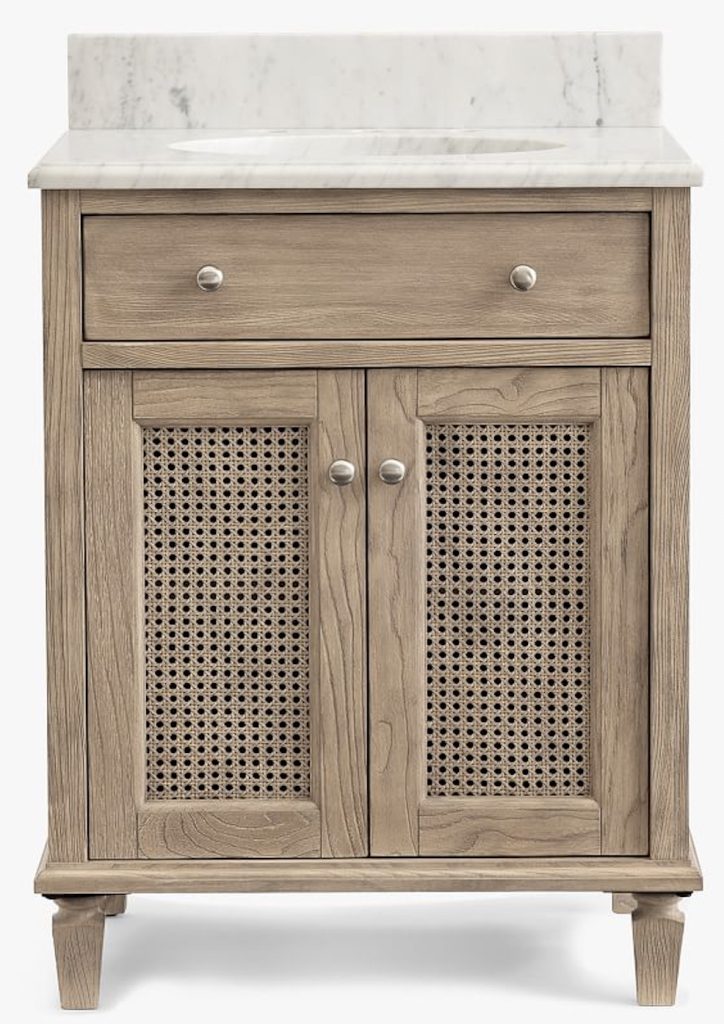 Live the coastal lifestyle with a coastal-inspired vanity. Crafted from wood and rattan for a textual caning style. The countertop is made from white marble with gray veining.
Getting Started with a New Vanity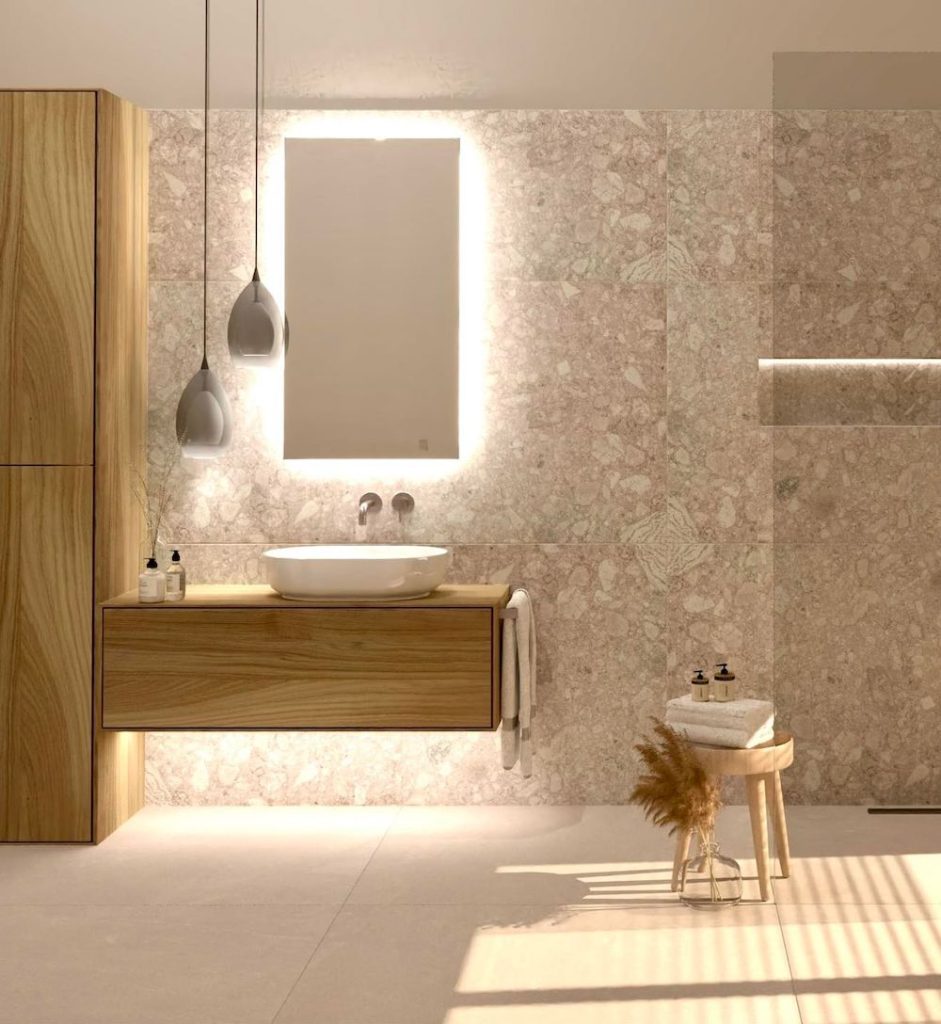 Measure your entire bathroom and vanity area before ordering a vanity,. Be sure to allow plenty of room for walking around the vanity. Avoid disrupting the traffic flow with the right-sized vanity. Test all interior door openings and shower door openings so that they open freely. Take note of the overall vanity size with the drawers and cabinet doors closed and completely open. Don't let the vanity overpower the bathroom or block vents, mirrors, electrical switches, and outlets.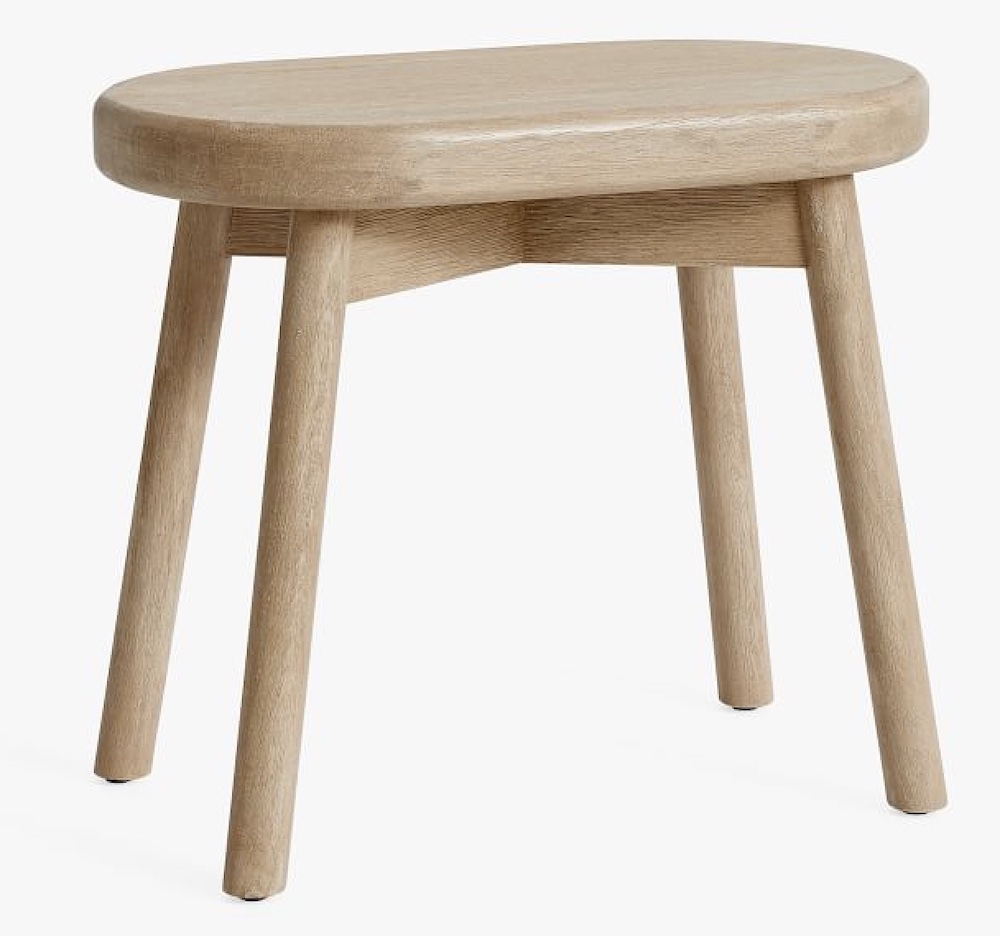 The water source and drainage for the bathroom vanity sink will dictate the location of the vanity. If necessary the plumbing can be moved but you will incur additional costs when moving the plumbing. Finally, check with your local town building inspector before you begin renovations. Every community has different building codes that need to be followed. For instance, allow a minimum of 21" between the vanity front and the wall. However, it is recommended that you leave a 30" space between the vanity front and the wall.
This ends our list of neutral bathroom vanities for your bathroom. Keep your bathroom areas always looking crisp and fresh with these styling ideas. Be sure to take a look at our other posts for bathroom inspiration. Tell us about your home decor projects in the comments below. We always love hearing from our readers.
Enjoy our other bathroom-related posts for additional ideas.
Are you interested in other bathroom decorating ideas for your home? Try these posts for additional decorating ideas to refresh your bathroom this season.
Spa Bathroom Ideas
Neutral Bathroom Vanity Ideas
Spa Bathroom Bench Ideas
Teak Shower Benches
Reach out to us with any questions. We are always ready to help you out. Thank you for dropping by and taking a look at our blog.
Mary
Pin this for Later: