Wingback accent chairs are also known as grandfather chairs or saddle cheek chairs. Originally from 1600s England, the wing chair was designed to keep its occupant warm. The taller back chair was designed with side wings on each side near the headrest. And has armrests for comfort while resting. Covered almost entirely with fabric, the chair with its side wings, are sometimes referred to as "lugs" designed to keep drafts away. Stay warm and cozy sitting in a wingback chair. Treat yourself to long-lasting comfort with this style of chair.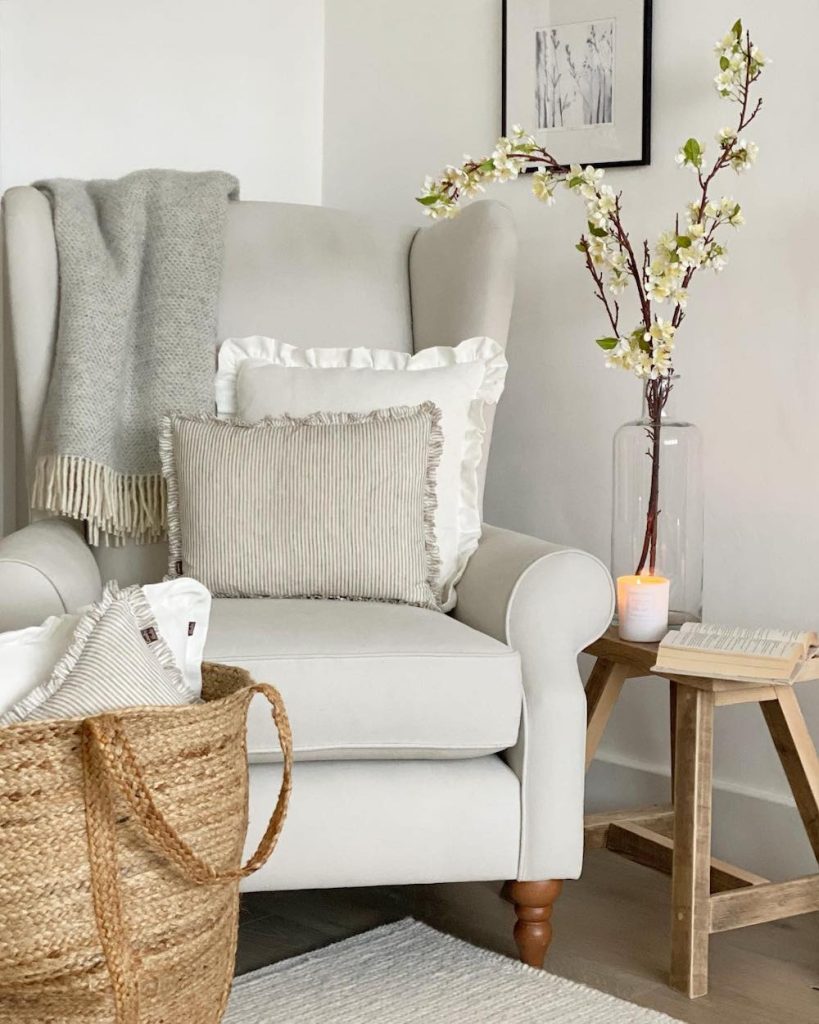 In today's post, we are sharing the best 15 Wingback accent chairs for a comfy neutral home. Popular over the years, the wingback chair is still in demand today as it was yesterday. Historically, the chair was meant for sitting near a warm fireplace where the side wings blocked drafts. The chair's occupant was nestled in the chair typically with a throw blanket for warmth.
Settle In Comfort – Wingback Accent Chairs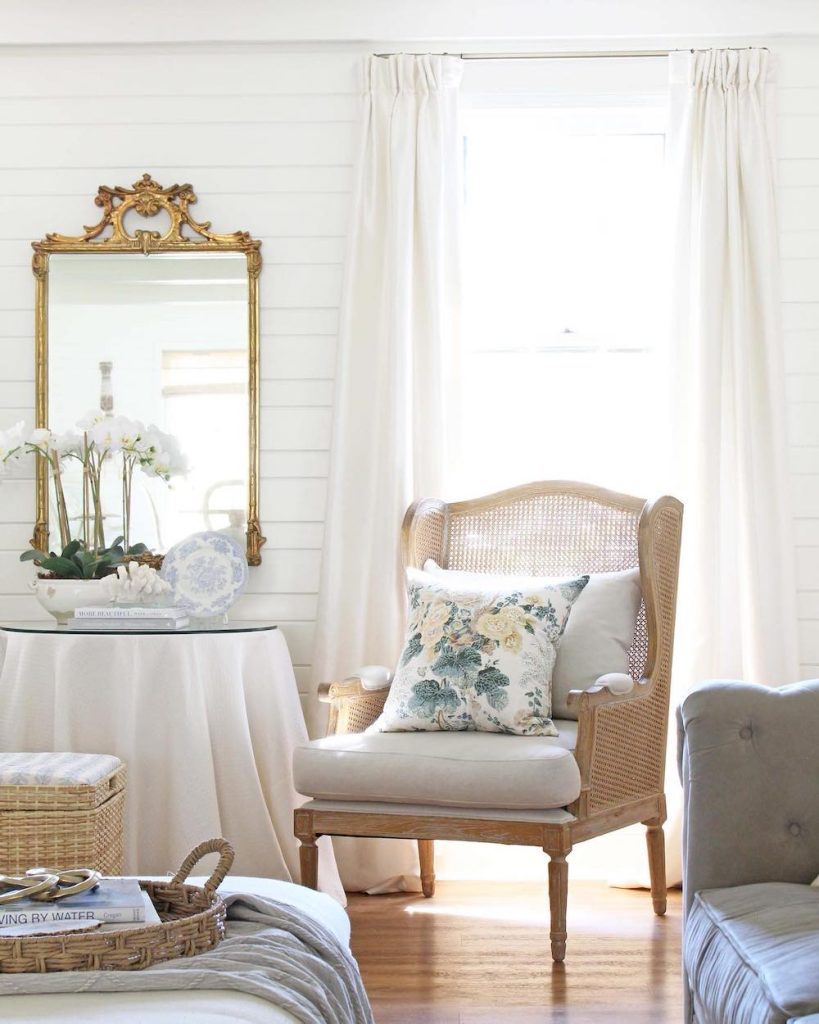 Today, you'll find many variations of wingback chairs. And of course in many different styles and made from different materials. In this inspirational image above, a beautiful wingback chair has tossed pillows with armrest pads. Designed in a wicker wingback style. Create the perfect neutral or coastal-style home decor with this piece. And in this particular style, the chair easily fits in a formal or informal setting.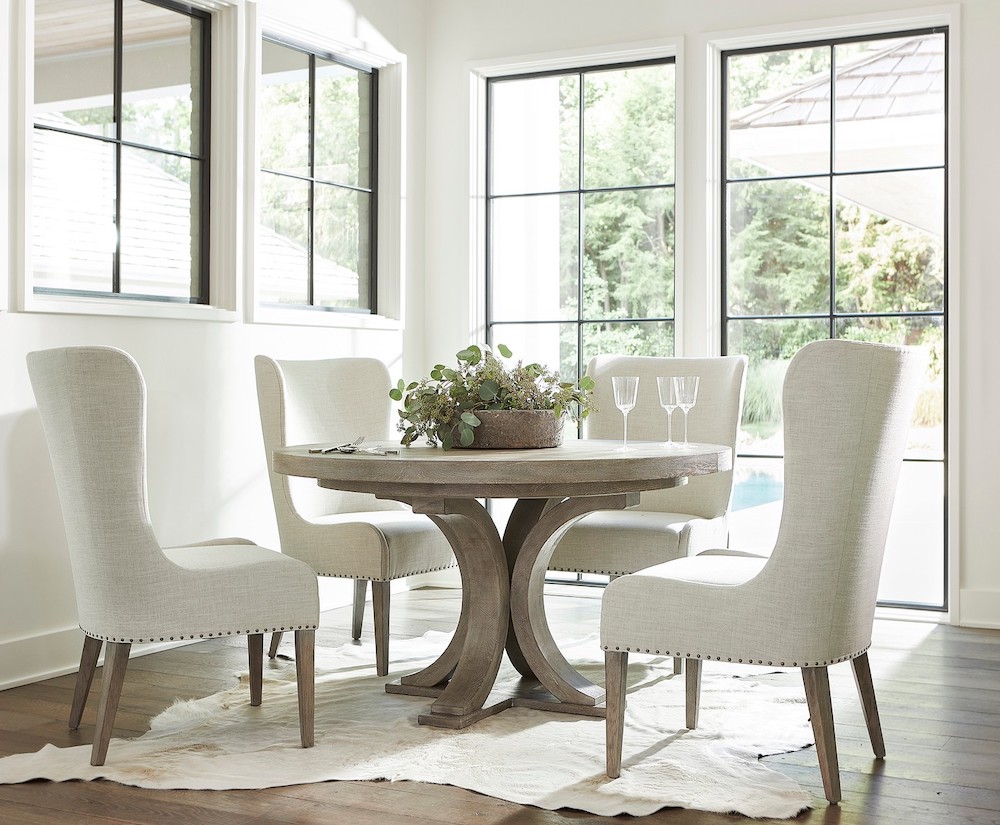 In this inspirational idea, a set of four dining chairs surround the dinner table. The chair leg finish is a neutral color. Keep a more formal and finished appearance by using chairs with decorative nail heads. Give your dining room a formal yet comfortable style with creamy whites and neutral finishes. Create the perfect dining experience with a fantastic view of the outdoors. Style it neutral using warm wood tones.
Use the Wingback Accent Chairs Throughout the Home
So, where exactly can you place these gorgeous accent chairs? In quite a few places. Use these chairs in the living or dining room. Keep one under a desk as a desk chair. Style one in a reading nook. Add one to the bedroom. Use them as a single accent piece. Group a pair of these to create a conversational space. Let these ideas inspire you to create the perfect neutral space.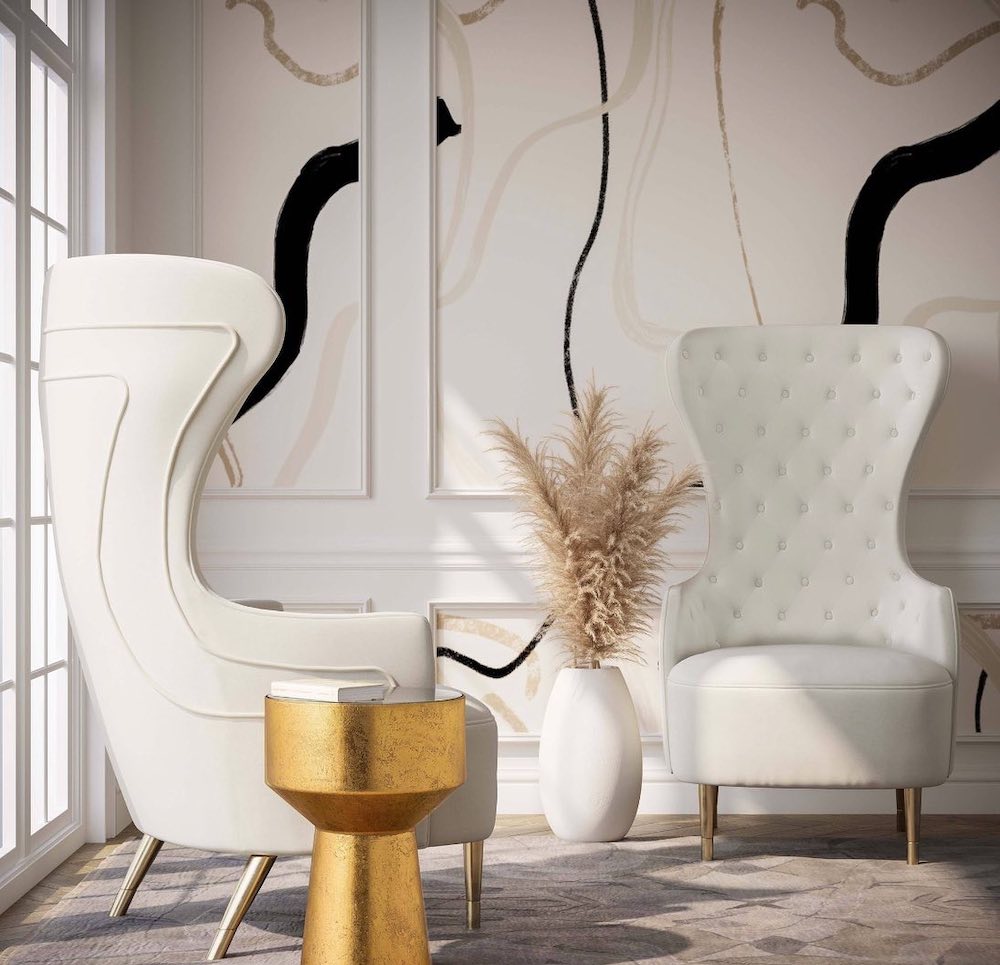 Style a bold sitting area with two wingback chairs and a metallic side table. In the image above, the designer created a modern but neutral look for this space. What a clever and unexpected look! As you can see, there are numerous ways to decorate your home using wingback chairs. And you'll find these beautiful chairs in many styles.
Now on to our list of favorite wingback chairs. Take a look. Be sure to drop us a comment below in the comment section. Let us know all about your decor style at home.

This ends our list of neutral wingback accent chairs for neutral interiors. Style your home with the perfect wingback chair. Be sure to take a look at our other posts for neutral home decor inspiration. Tell us about your home decor projects in the comments below. We always love hearing from our readers.
Enjoy our other neutral-related posts for additional ideas.
End tables
Boucle chairs
Accent mirrors
Accent chairs
Neutral table lamps
Neutral console tables
Coastal white sofas
Rattan coffee tables
Reach out to us with any questions. We are always ready to help you out. Thank you for dropping by and taking a look at our blog.
Mary
Pin this for Later: