Boucle chairs have the best sink-in comfort for accent chairs. This jewel of a chair initially became popular in the US during the 1940s. The goal was to create a chair with a deep curl-up feeling to it. And so the Boucle chair was created. For a fresh look to your space, add a boucle-covered armchair. For a soft, fluffy chair feel that brings cloud-like comfort to you as you lounge.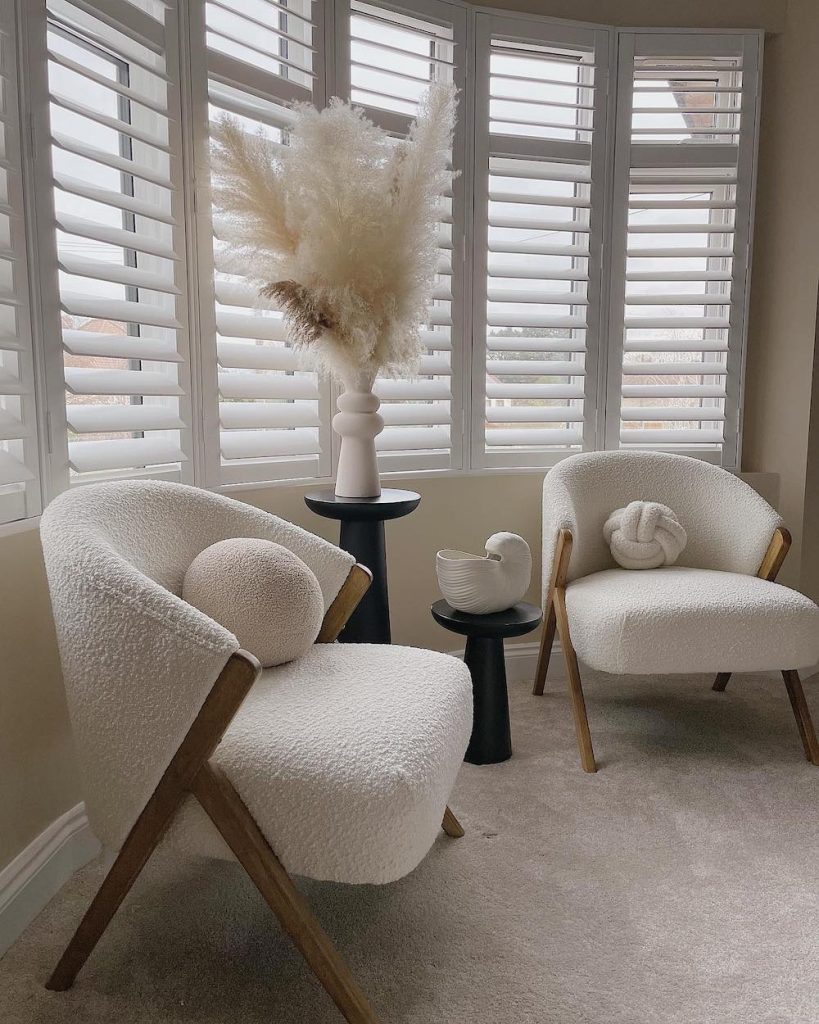 In today's post, we are sharing the best 10 Boucle Chairs. Chairs with curl-up textures for an extra cozy feel. Boucle is French meaning "curled" or "ringed" like the look of this fabric. Historically Boucle is made from wool but can be found made from polyester, linen, cotton, silk, as well as other materials.
Curl-Up Comfort – Boucle Chairs
These chairs with curl-up textures provide a comfy feel while you lounge. Bring softness to your furnishings when you use durable boucle fabrics. Usually designed in creamy whites and light neutrals that are perfect for a neutrally styled room decor. And not to mention, a great way to add a different texture to your interior with a neutral palette.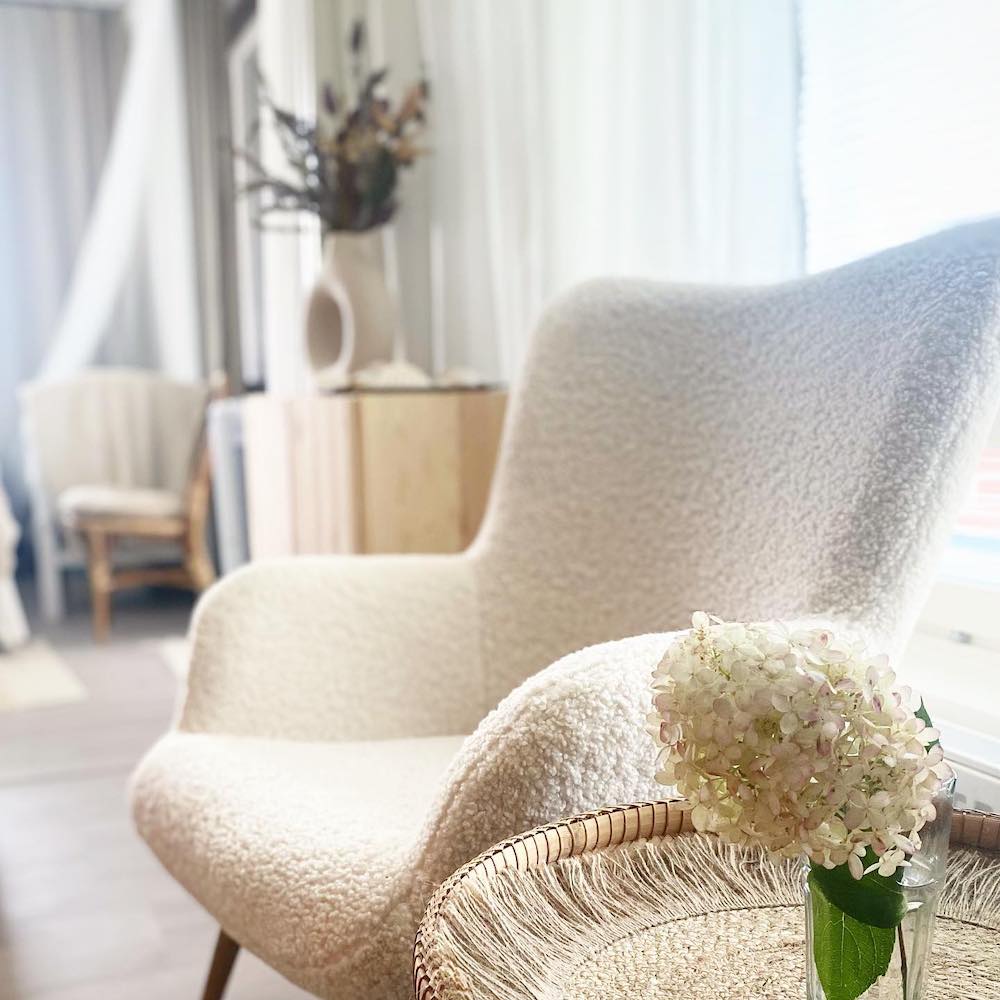 In this inspirational image above, a boucle side chair mixes well with the neutral surroundings and the warm, woven side table. A beautiful blend of textures and colors that include off-white and creams. And in the image below, a single chair offers an inviting space to sit and relax. A pretty woven basket stores a cozy throw for those chilly evenings.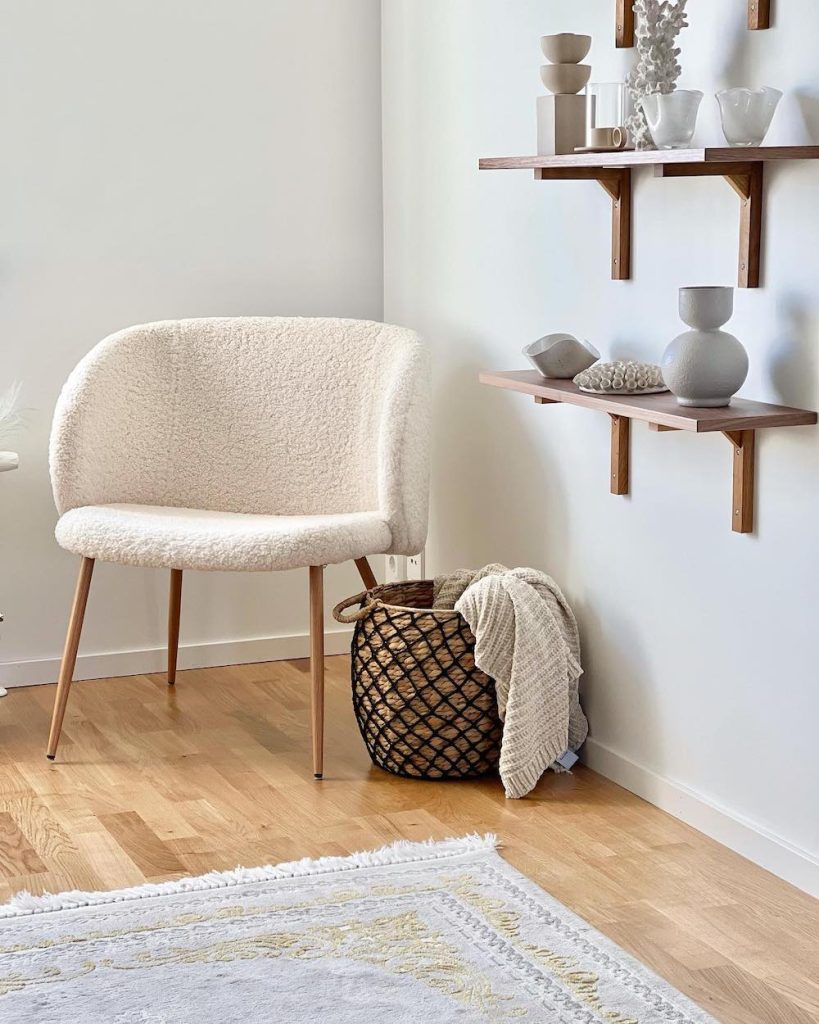 Where to Use the Boucle Chair?
So where can you use these gorgeous sink-into-me chairs? In many spaces. Place these chairs in a reading nook or near the hearth for a cozy experience. Use them as a single accent chair or double the fun with a pair. Your bedroom or dressing table are other places that this jewel of a chair can be used. For more inspirational ideas, take a look at our post – 12 boucle chair styling ideas for neutral home interiors. 
Now on to our list of favorite Boucle chairs with sink-in comfort. Take a look. Be sure to drop us a comment below in the comment section. Let us know all about your decor style at home.

This ends our list of boucle accent chairs for your home. We hope you found the perfect boucle chair for you and your home decor. Take a look at our other posts for neutral decor inspiration. Be sure to tell us about your home decor projects in the comments below. We always love hearing from our readers.
Enjoy our other neutral-related posts for additional ideas.
End tables
Accent mirrors
Accent chairs
Neutral table lamps
Neutral console tables
Coastal white sofas
Rattan coffee tables
Drum tables
Reach out to us with any questions. We are always ready to help you out. Thank you for dropping by and taking a look at our blog.
Mary
Pin this for Later: