Bamboo mirror styling ideas for the home or office. One of the fastest-growing plants, bamboo, makes it ideal for furniture and accessory making. Natural and self-sustaining bamboo is suitable for many types of furnishings. Learn more about mirrors and bamboo here.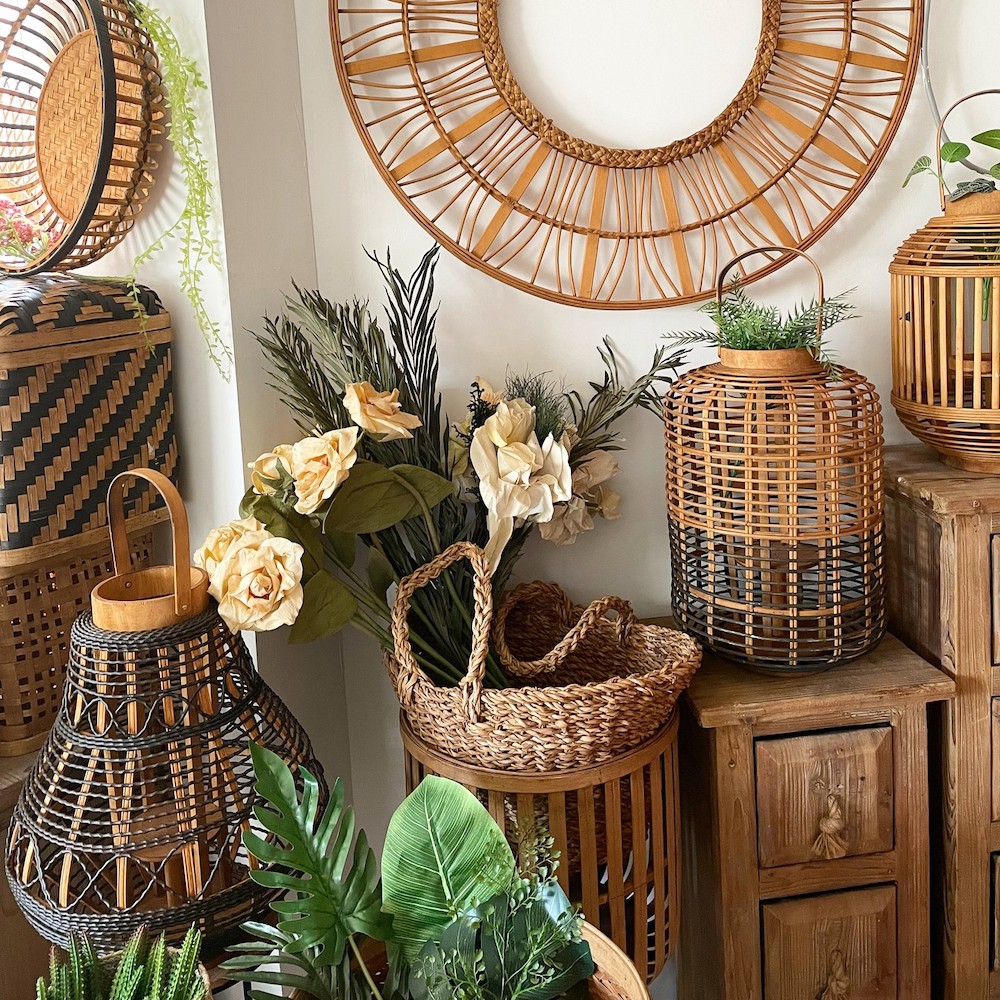 Initially, from the Chinoiserie French period, bamboo furnishings surged in popularity throughout Europe. This was the 17th and 18th centuries when Europeans understood the Far East Asian culture. They embraced Asian furnishings and decor. This Asian creative expansion throughout Europe was when faux bamboo mirrors were popular in Europe. From the Chinoiserie period until today, bamboo furnishings have been cherished by decorators and their customers for years. Today newer metal finishes are used on bamboo furnishings to give them a more modern look. Bamboo furnishings are similar to furnishings from the past but with modern finishes.  
Mirror Types – Bamboo Mirror Styling Ideas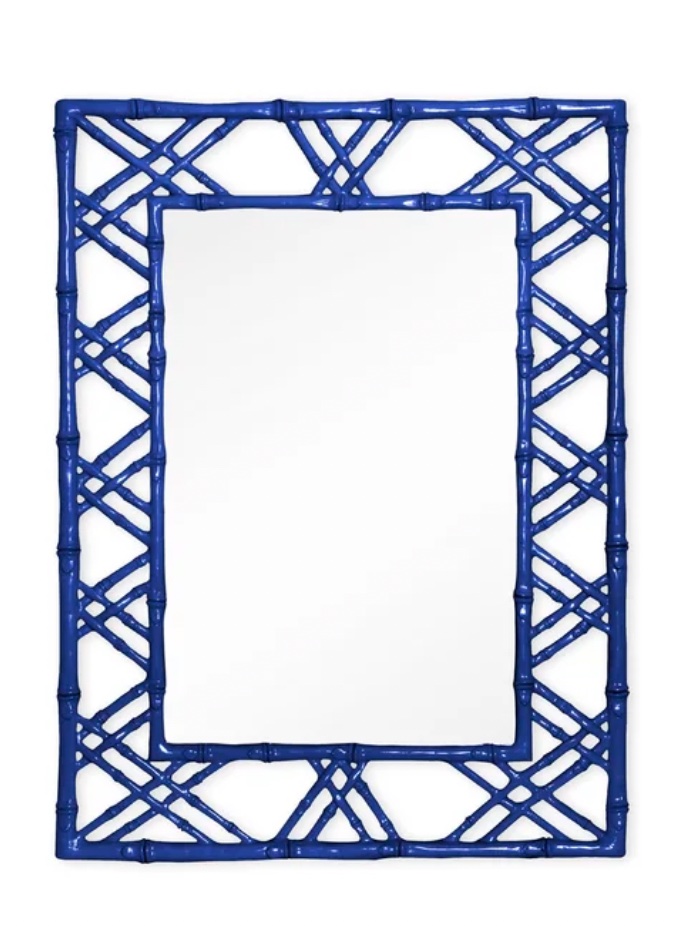 Mirrors have a reflective surface where light bounces off. This produces an image or virtual image. Objects in front of the mirror are reflected from the mirror. There are three types of mirrors. Those types are plane, convex, and concave mirrors.
Mirror Types include these:
Plane mirror – reflects the image in an average proportion but reversed from left to right.
Convex mirrors – are spherical mirrors curved like the exterior of a sphere. Sometimes they are called fish eyes, diverging mirrors, or dome mirrors. These mirrors are turned outward where the image is virtual, diminished, and erect for a real object.
Concave mirrors are spherical mirrors that curve inward; the image varies based on the object's placement. The rounded, hollow mirror is also called a converging mirror.
Mirrors hung on walls are still very much in style. They are timeless and an essential element for interior design. One mirror per room is plenty unless you curate a group of mirrors in some design. One mirror in each room is sufficient in a household.
Benefits of Using Mirrors – Bamboo Mirror Styling Ideas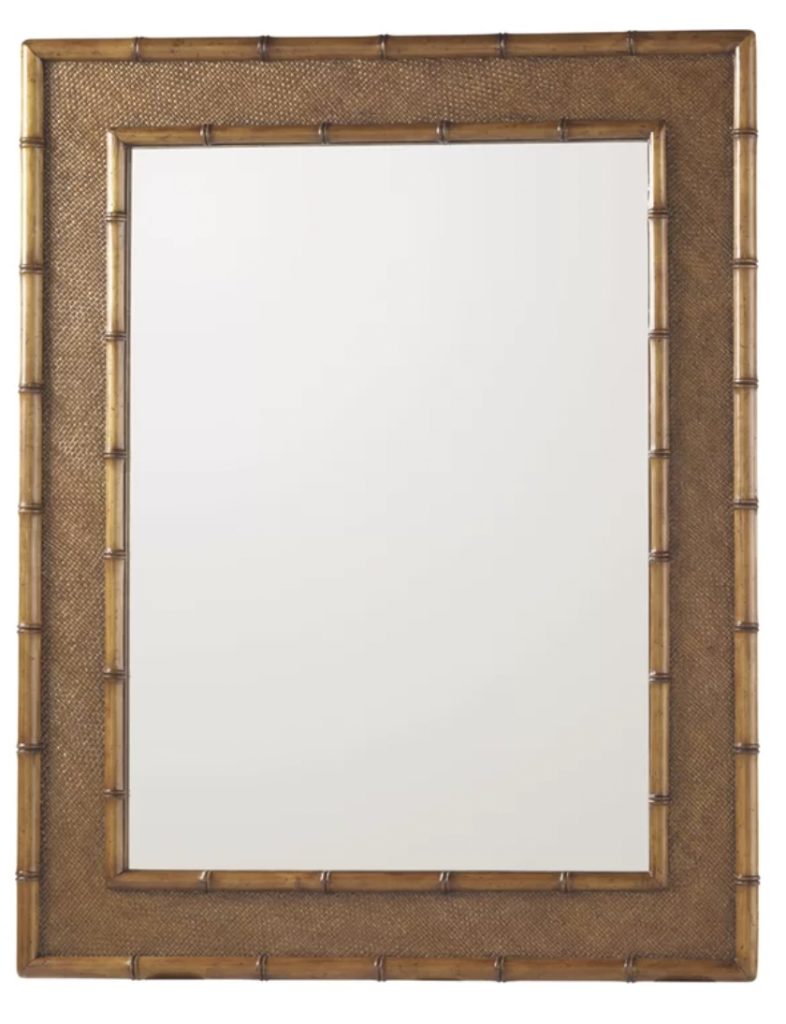 Use mirrors to amplify the light in your home. Mirrors reflect natural light making a room appear lighter and brighter. This, in turn, makes the room appear larger and more expansive. Rooms that are brighter and appear more prominent are more cheerful. This is especially important during winter when natural light is greatly diminished. If you place your home on the real estate market, you'll opt for mirrors in your home to create a brighter home.
When a mirror is placed in a foyer or entryway, the mirror gives houseguests a place to do a quick appearance check. Make sure your hair and makeup are in their place. This is another benefit of mirrors when placed in an entry.
Feng Shui and Mirrors – Bamboo Mirror Styling Ideas
Followers of Feng Shui will gravitate towards square or rectangular mirrors. Create a good flow of energy using square and rectangular mirrors. Avoid round or oval-shaped mirrors since they diminish Feng Shui or energy flow.
Never hang broken or cracked mirrors in your home. This is true for Feng Shui followers and others. Damaged mirrors pose a dangerous risk, so it is best not to use them. Per Feng Shui rules, never place a mirror directly across your bed. Never place a mirror above your headboard, either. It is believed that placing mirrors above your bed or sofa is disruptive. Calmness and peacefulness are interrupted by mirrors over the bed and sofa.
Circle Round Mirrors
The circle symbolizes wholeness, totality, eternity, timelessness, and cyclical movement. It has extensive meanings, such as security, perfection, and completeness. Round mirrors have a softness and appear feminine and romantic. They are perfect for an entryway or bathroom.
Select the Right Size Mirror
Choose a mirror that is about two-thirds of the console table size. Create a balanced look proportional to the console table's length. Generally, the mirror above a console table should be narrower than a console table. The mirror height should be in proportion to the console table. Rooms with high ceilings can accommodate more extended mirrors. And rooms with lower ceilings are limited to mirrors with shorter sizes.
Select a mirror two inches narrower than the vanity countertop for a vanity mirror. Bathrooms with a double vanity should consider the width of both mirrors before selecting vanity mirrors. Although, if you are using sconces or side lighting on both sides of the mirrors, consider those measurements as well.
Lighting fixtures above the mirrors will also dictate the length of the vanity mirrors. If you have a wall-mounted water faucet, this, too, needs to be factored in. Take into consideration the entirety of the fixtures. This includes the vanity, vanity top, wall-mounted faucet, side lighting, or top wall lighting.
Styling Tips – Bamboo Mirror Styling Ideas
And now, we begin our list of bamboo mirror styling ideas for the home. Take advantage of these pro tips for creating a decor look you love. Take a look.
Design it with Vintage in Mind – Bamboo Mirror Styling Ideas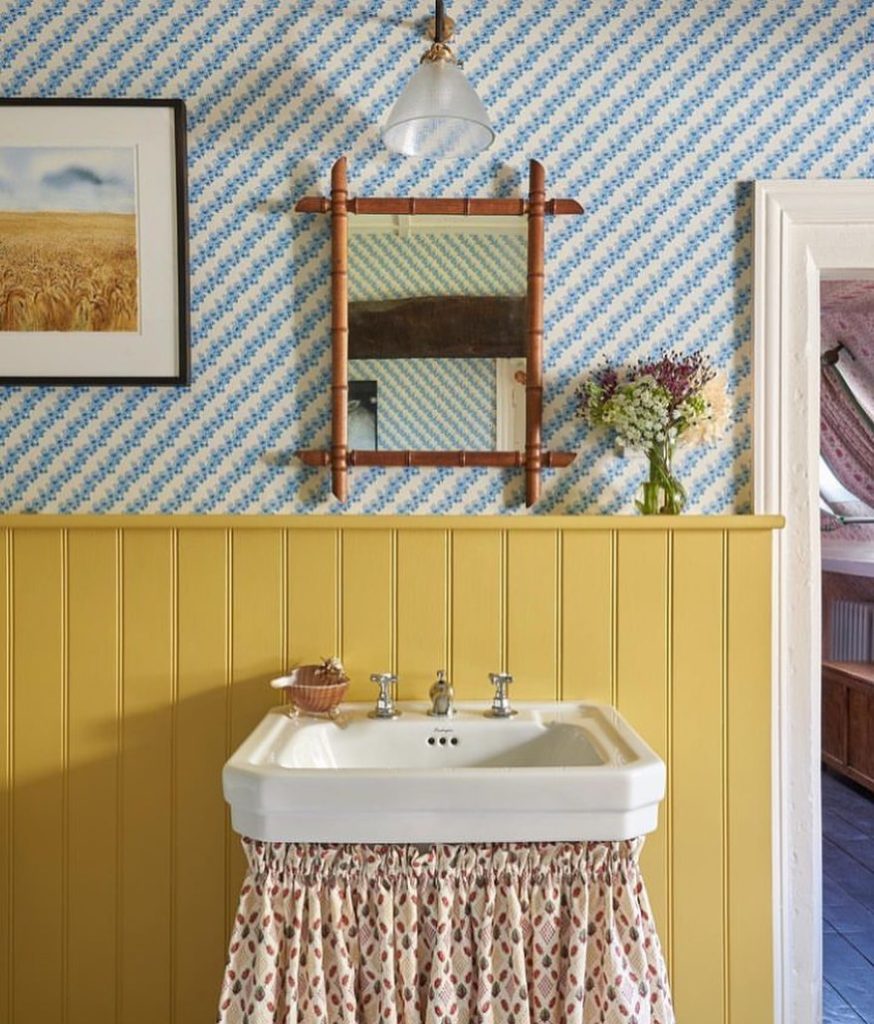 Hang it over a bathroom sink. Blue and white wallpaper with yellow wainscoting as a background for the sink.
Go for the Hollywood Regency Faux Bamboo Look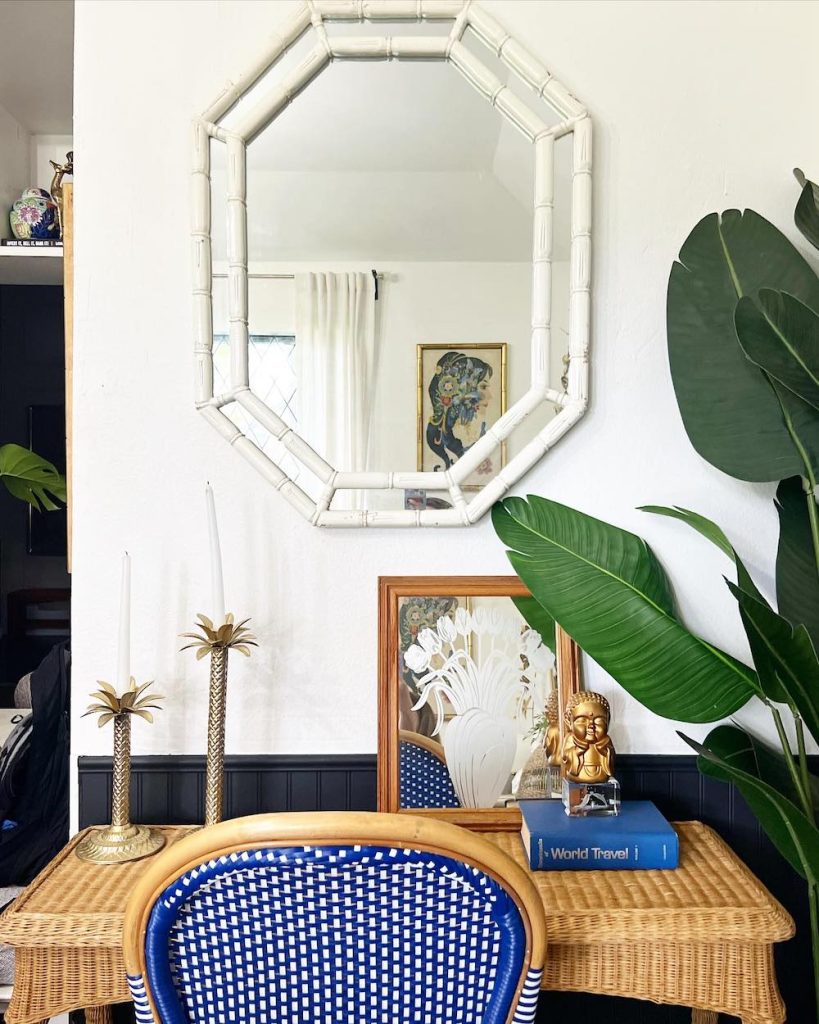 Style it with a vintage Hollywood off-white octagon mirror. Add a blue chair and book on the wicker desk. Now you are ready to meet the day's challenges.
Give it the Boho Vibes this Summer – Bamboo Mirror Styling Ideas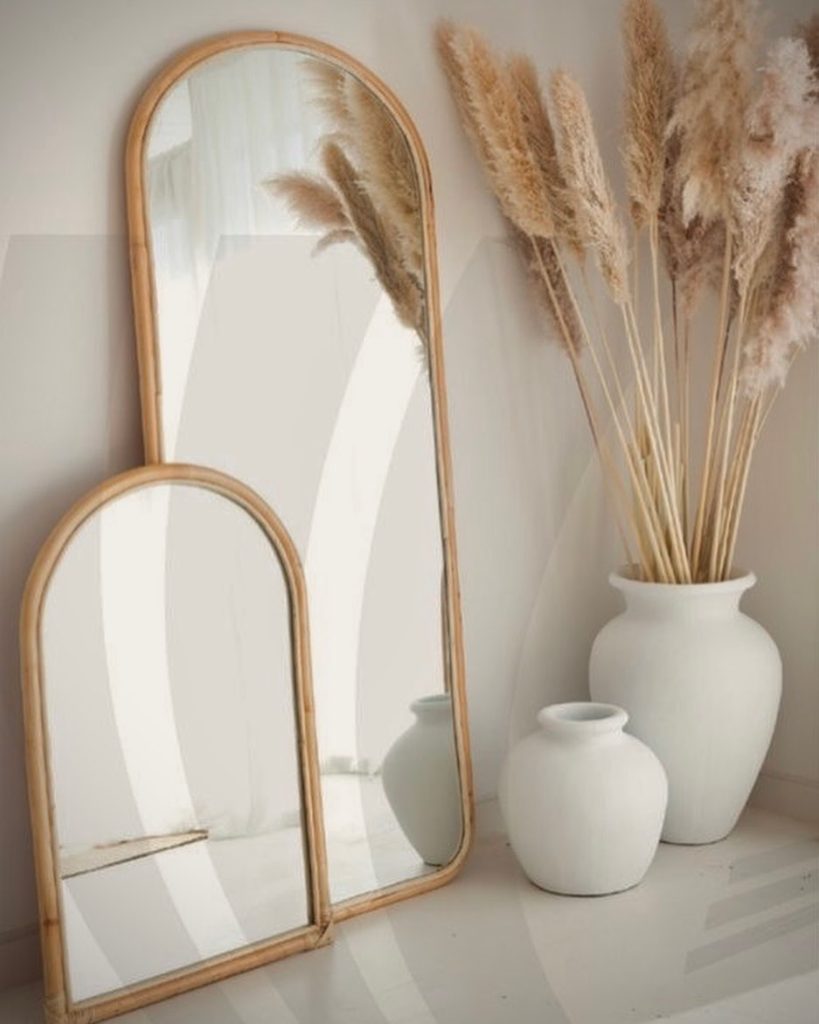 Keep it white, beige, and bamboo colors this Summer season. Create a calming and relaxing vibe with these neutral colors.
Style it Casual Coastal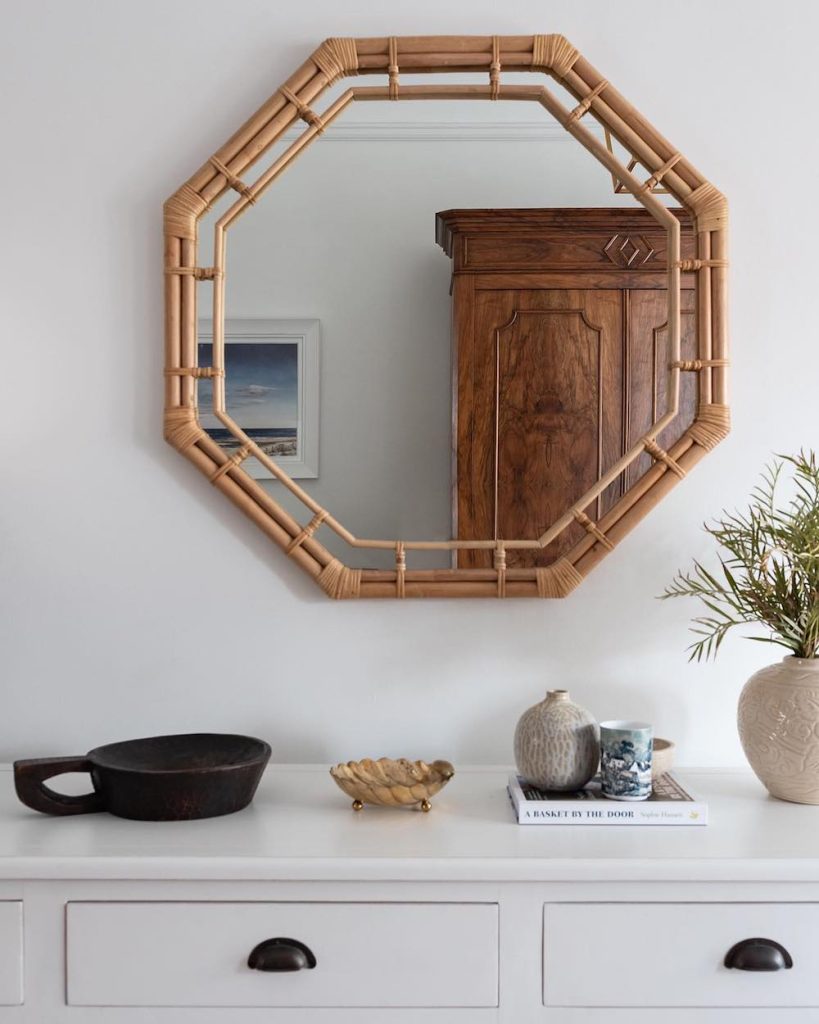 Create a casual, relaxed look for your entryway. Paint the walls white, then add warm wood-toned furnishings like a bamboo mirror—a perfect fit over the white finished console table. Add brass and black objects to the tabletop of the console for visual interest. It is done well!
Design it with Shimmer in Mind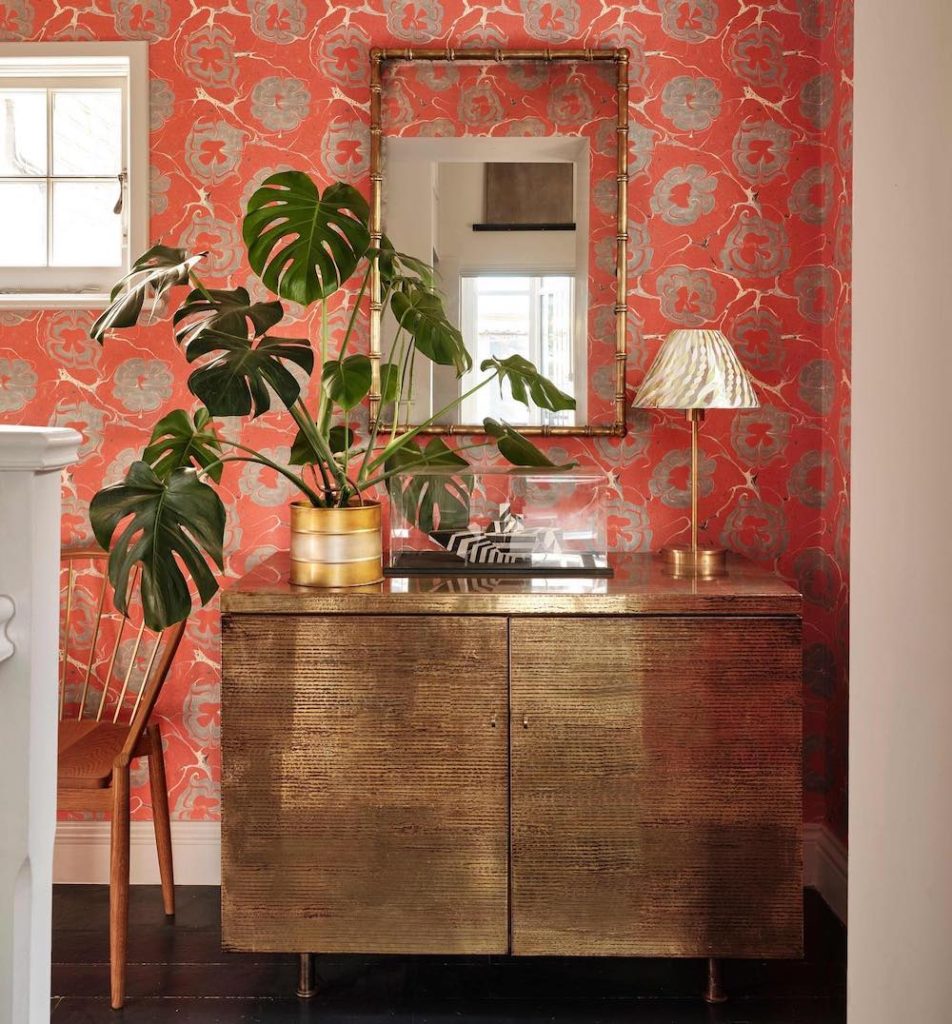 Display a gold-finished bamboo mirror on a dramatic wallpaper. Below the mirror sits a gold leaf-finished cabinet. Place a gold-finished table lamp on the cabinet—an impressive collection of gold-leafed furnishings that won't disappoint.
Make it Glisten – Bamboo Mirror Styling Ideas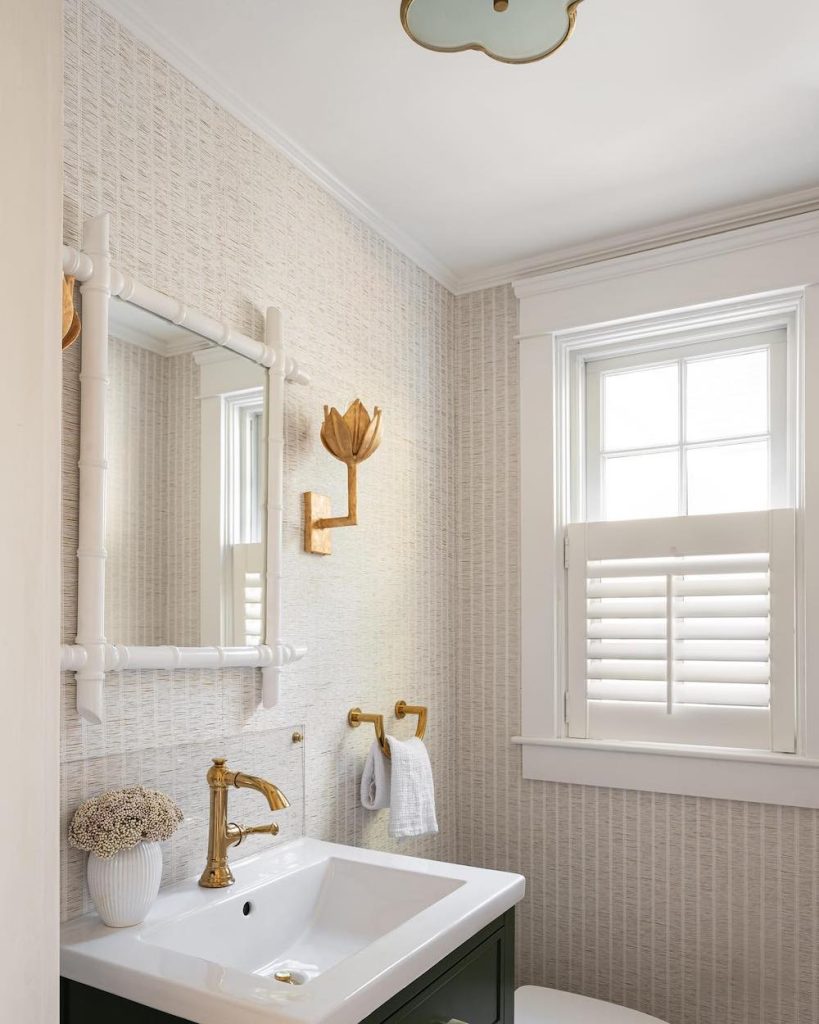 Give it a glistening of green, white, and gold colors. The white bamboo mirror is the perfect addition to the green vanity in this bathroom. The grasscloth-covered walls add the right amount of texture to the room.
Make it Appear More Spacious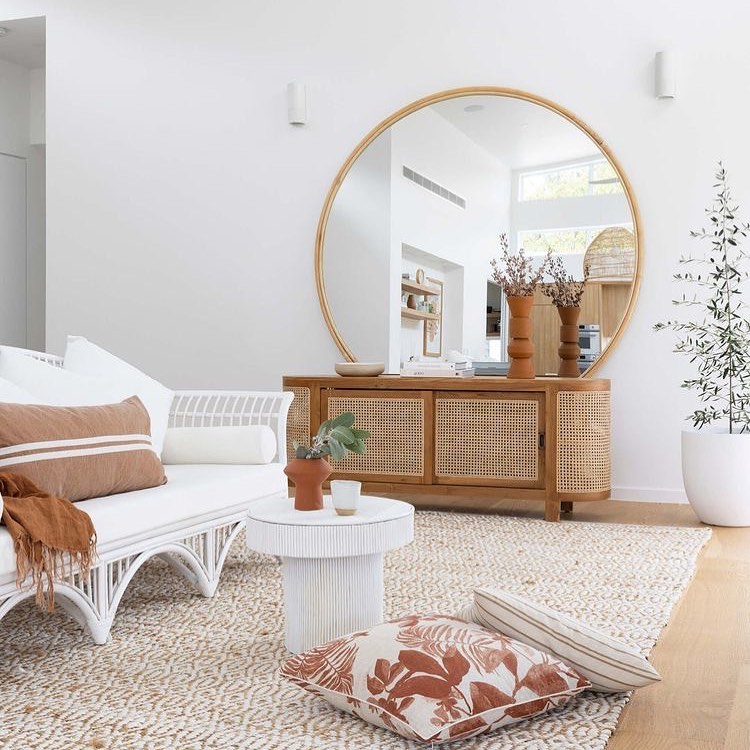 Give your living room a spacious look with an extra-large mirror. Mirrors reflect natural light into your home. This gives the room a brighter and more spacious appearance—a great way to give your home an expansive feeling.
Take the Traditional Approach – Bamboo Mirror Styling Ideas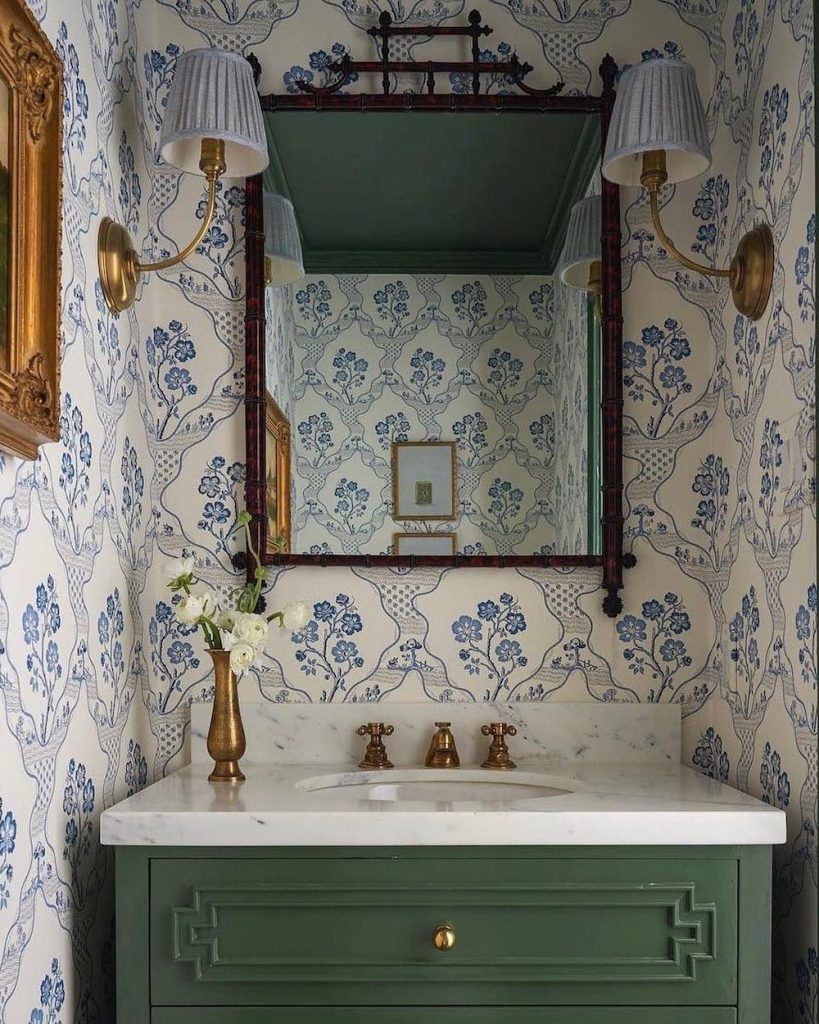 Use a traditional decor style for your powder room. Cover your walls with blue and white floral wallpaper. Add a few brass decorative pieces to the room. Use brass-finished accessories, including the vase, sconces, lavatory hardware, and framed wall art in the room. Select a green vanity for a blue and green decor style.
Style it with Dramatic Wallpaper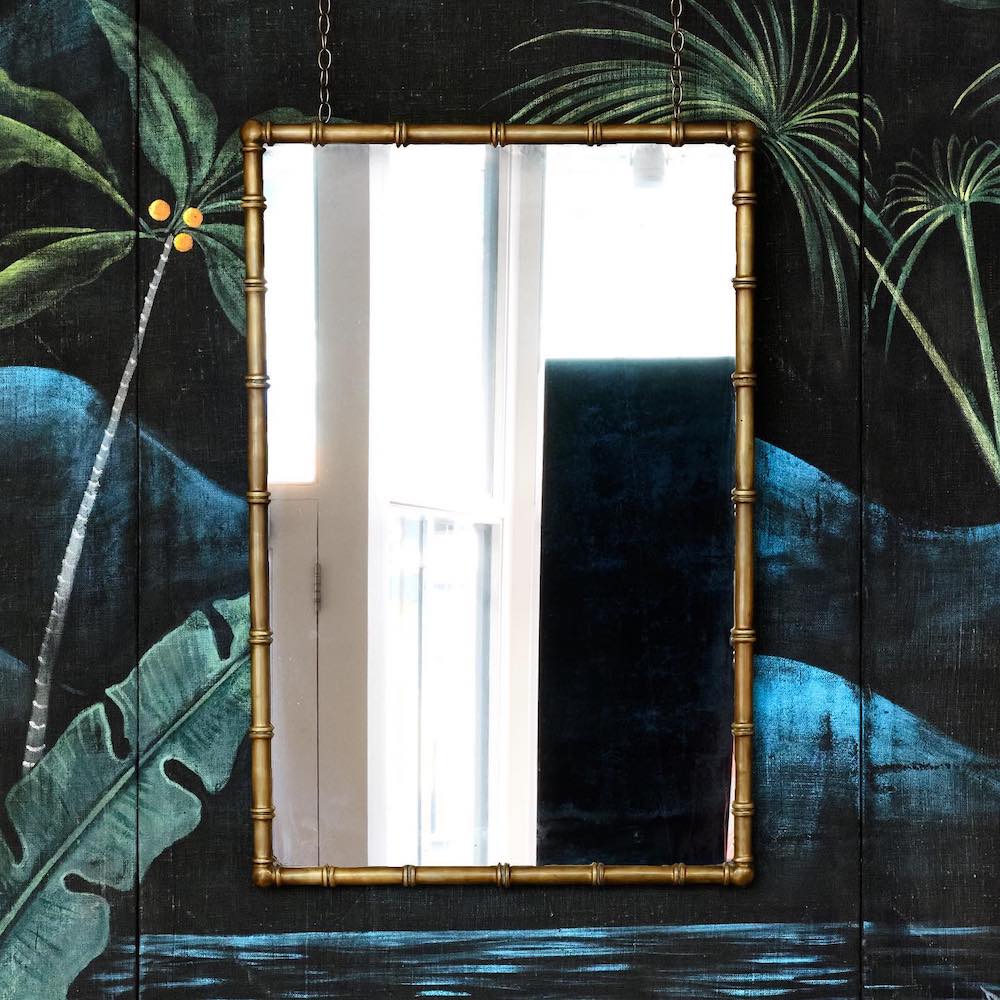 Hang an antique brass framed bamboo mirror over a dramatic wallpaper. Perfect for a foyer or hallway.
Hang it in a Girl's Bedroom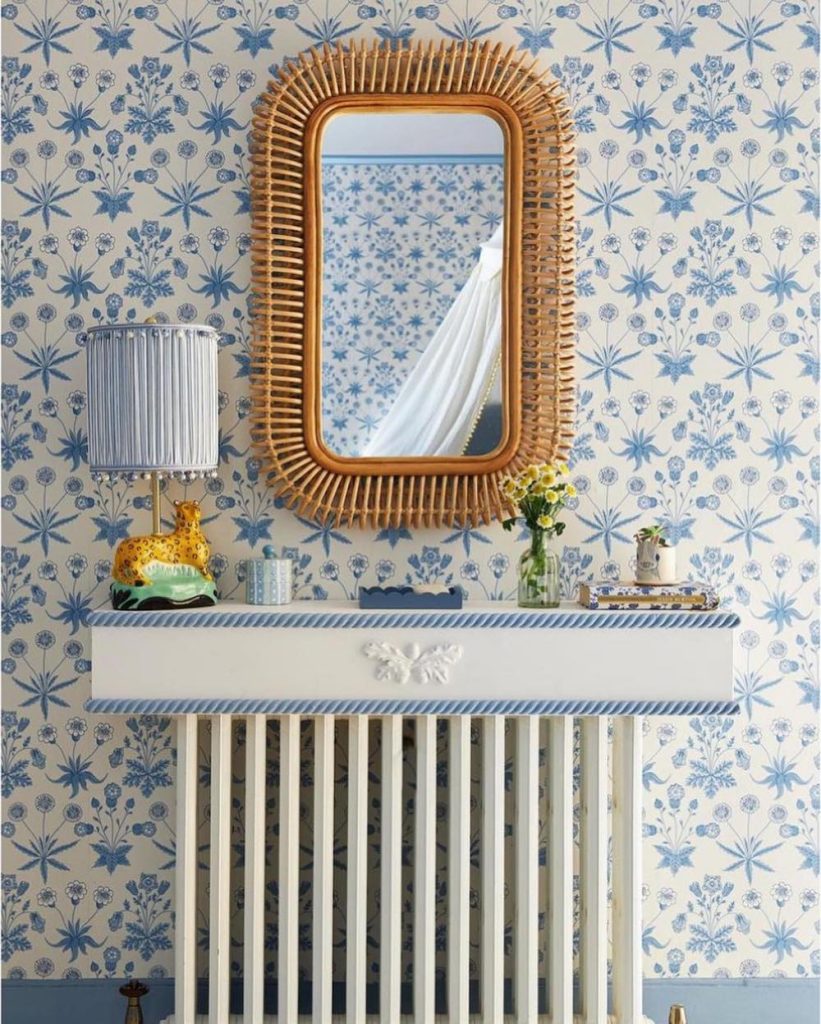 Keep it true blue for a young girl's Bedroom. Hang it over a covered radiator as if it was a console table. Add a small table lamp and a flower-filled vase under the bamboo mirror.
Make it a Double – Bamboo Mirror Styling Ideas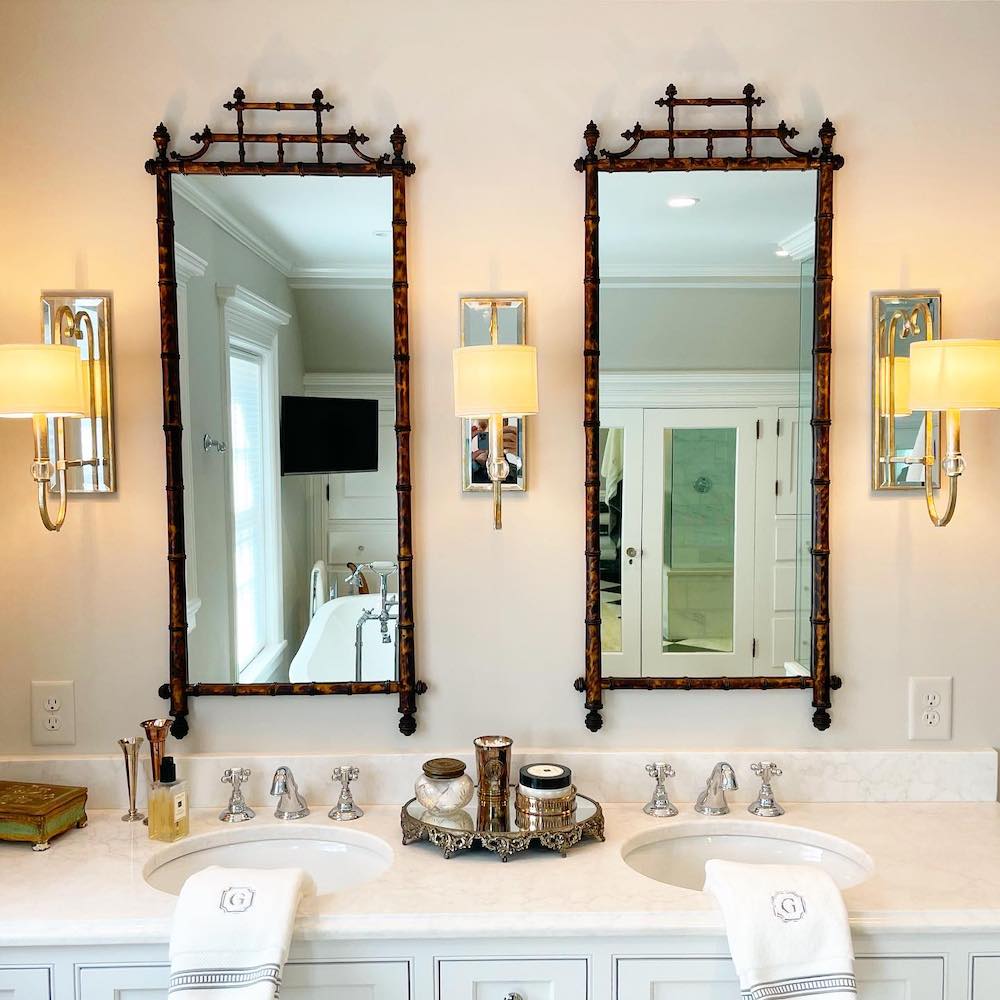 Add a tortoise bamboo framed mirror over a double-sink vanity. A master bath that we would all love to have.
Create an Inviting Entryway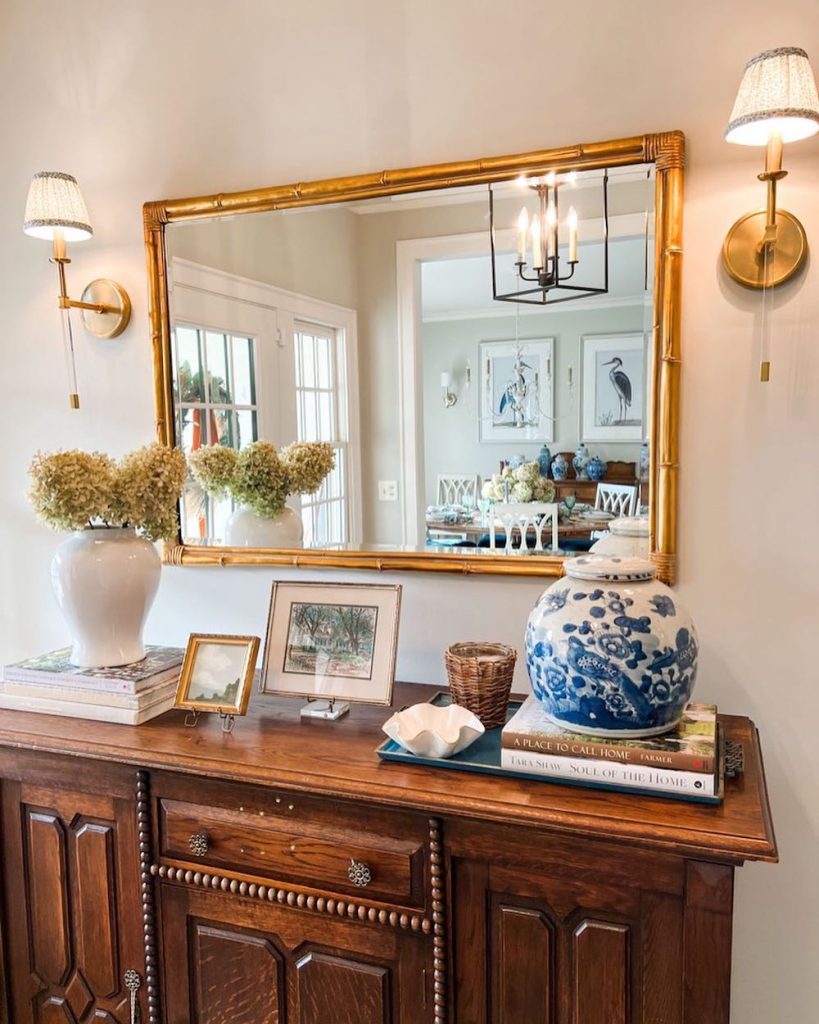 Hang a mirror over your entryway cabinet. Bamboo blends easily with a variety of furniture decors, including traditional furniture. An impressive display, don't you think?
Keep it a Cozy Summer Style – Bamboo Mirror Styling Ideas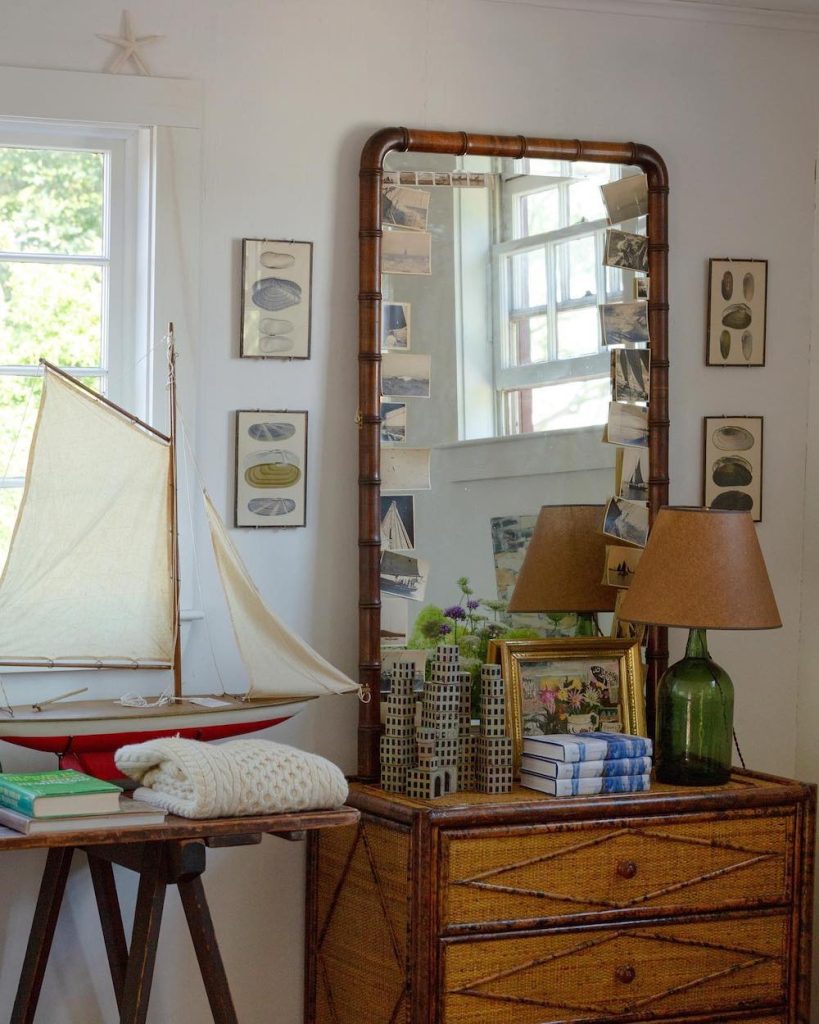 Style it cozy this summer season. Go for a coastal style with vintage shell prints, sailboat snapshots, a lovely bamboo mirror, and a dresser.
Style it in Pale Blues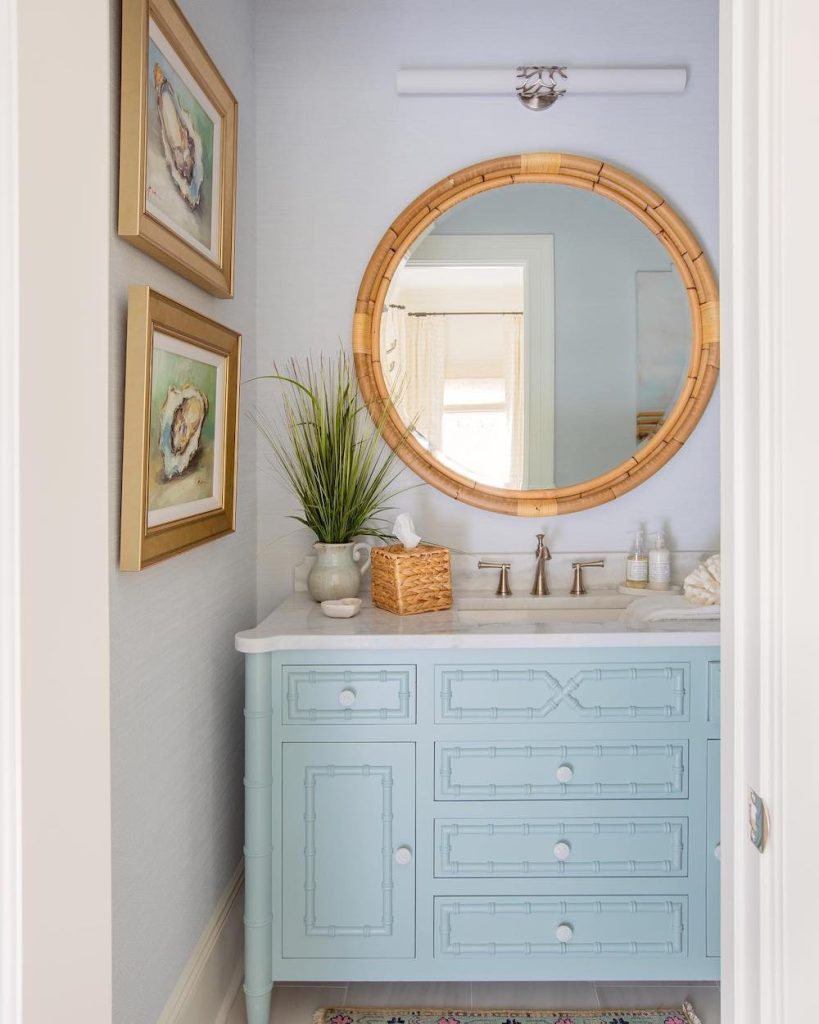 Create a coastal bathroom that is charming and functional. From the pale blue bamboo vanity to the natural round bamboo mirror, this bathroom exudes a soothing vintage style.
Hang your Mirror with Mid-Century Modern Style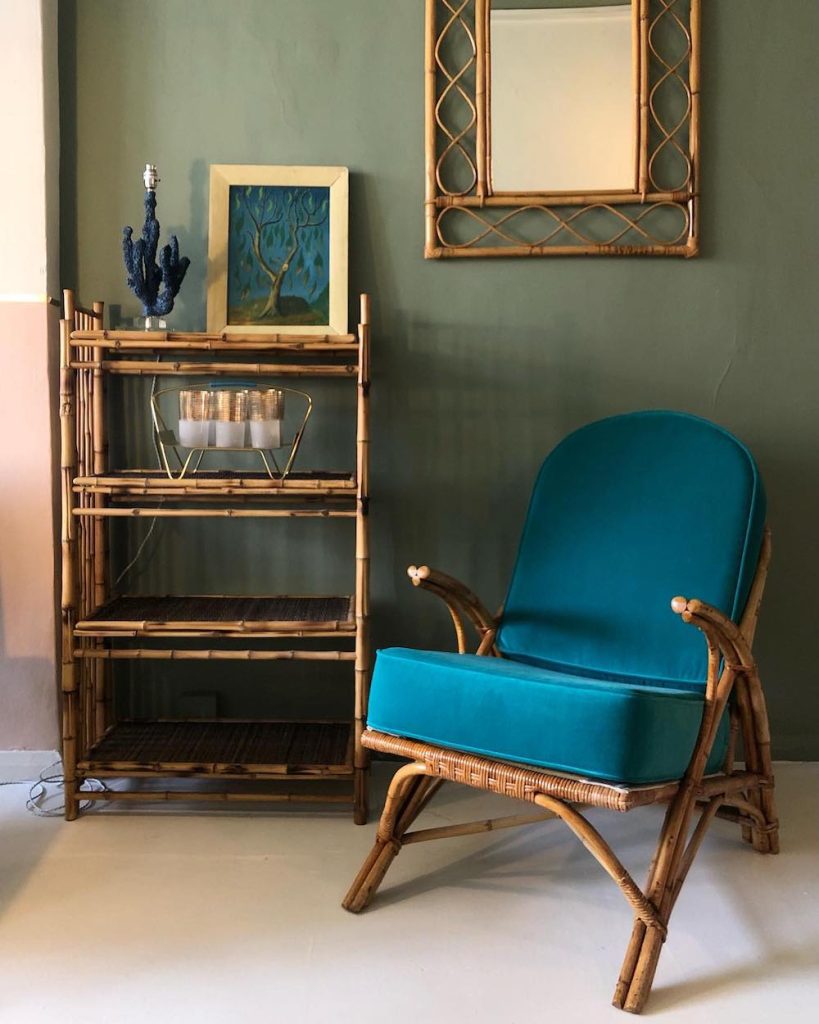 Love the Mid-Century Modern style? Then you'll love this sitting area design. Hang a bamboo mirror next to an Angraves armchair and bamboo shelf stand. Add some interesting Mid-Century objects that create visual interest.
Add Shimmer to Your Entryway
Start with a shimmering pewter dresser. Add a blue table lamp for additional lighting. Hang a blue colored bamboo mirror above the dresser. Fill a vase with seasonal faux foliage such as these fall-colored branches. Display a pair of pheasants on the dresser to celebrate the Fall season.
Make it Pretty in Pink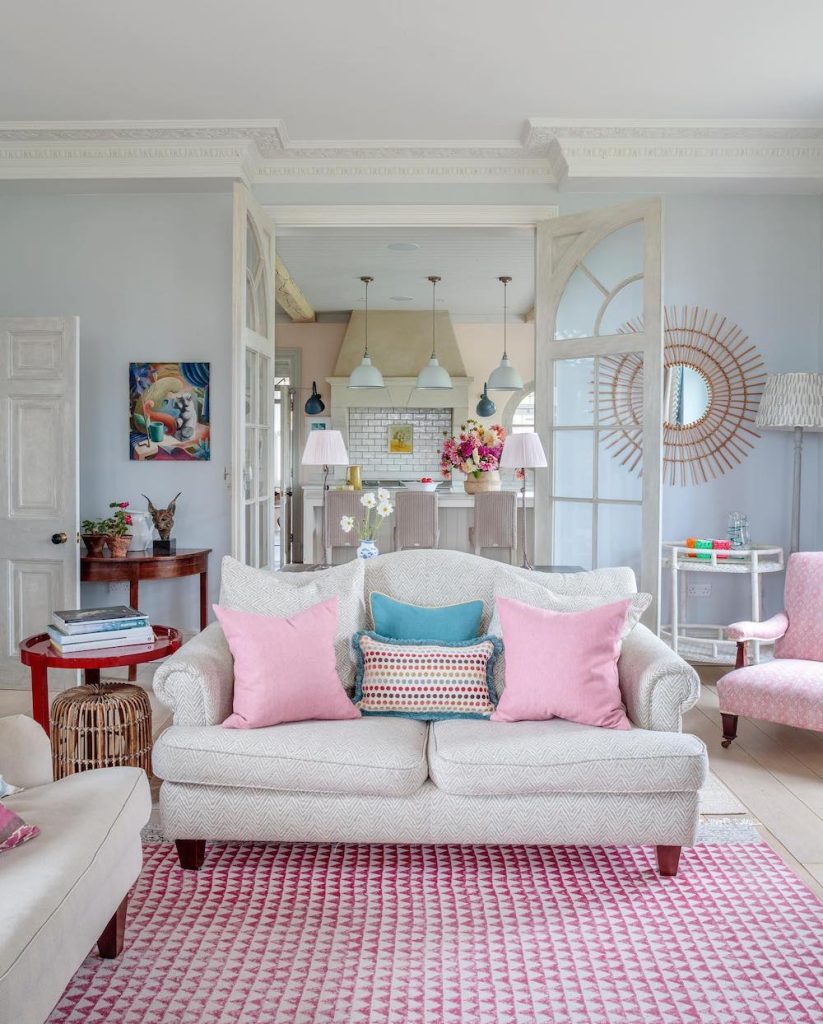 Add a decorative bamboo mirror to lighten the wall. Brighten the sofa with pink toss pillows. Keep a red lacquered side table by the couch to highlight the pink details. Place a pair of buffet lamps with lilac shades on the console table. Tuck a basket nearby to bring texture and add to the visual interest the room creates—a lovely pink-styled space with a bamboo mirror.
Give it an Eclectic and Earthy Feeling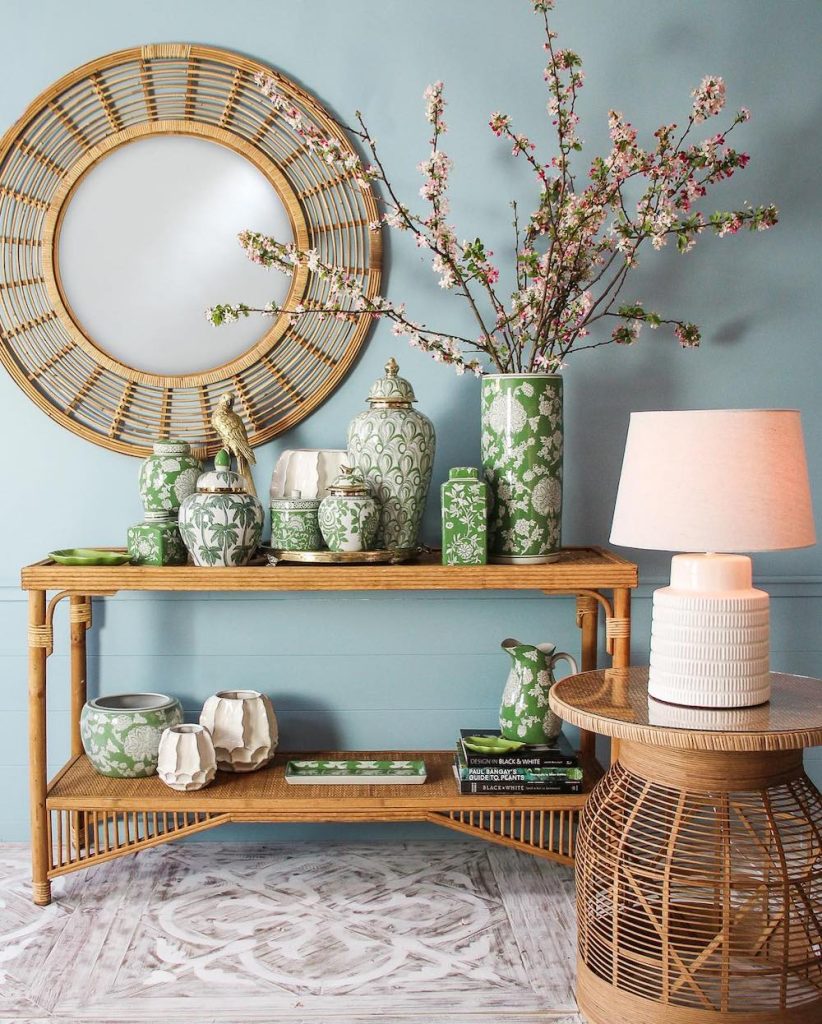 Display your collection of luxe fern green porcelain of vases, ginger jars, and trays on a console table. Above the table hang a beautiful round bamboo mirror for a brighter room. Create an earthy look with porcelain and bamboo pieces.
Go with Organic Green – Bamboo Mirror Styling Ideas
Design a green organic hallway by adding green paneling and fresh greenery. Bring a small console table and bamboo mirror to the hallway. Group two rattan lanterns on the floor next to the console table. Perfectly sized and curated for an organic hallway.
This is the end of our ideas for styling a bamboo mirror. We hope you found a few styling ideas to help with your home decor projects. Keep your home always looking its best year around.
Look at our selection of the best bamboo mirrors for your home or office.
Be sure to share with us which bamboo mirror styling ideas are your favorites. Let us know what you think. Take a look at our other posts for home decor inspiration. Drop us a line below in the comment section. Let us know all about your favorite home decor projects for your house.
Enjoy our other home decor-related posts for additional ideas.
Decorate your home with these great ideas. Check out our other posts for the interior and exterior of your home. Try these posts for additional decorating ideas this season.
Coastal Mirrors
Full Lenth Mirrors
Neutral Mirrors
Rattan Mirrors
Acrylic Console Tables
Blue curved sofas
Stone End Tables
Reach out to us with any questions. We love hearing from our readers. Thank you for dropping by and taking a look at our blog.
Mary
Pin this for Later: