Fall porch styling ideas are today's topic post. Follow along as we show you some great fall porch ideas from some of the best designers. Today, we are sharing our list of the best autumn-decorated porches to get inspired. Celebrate the autumn season this year on your porch.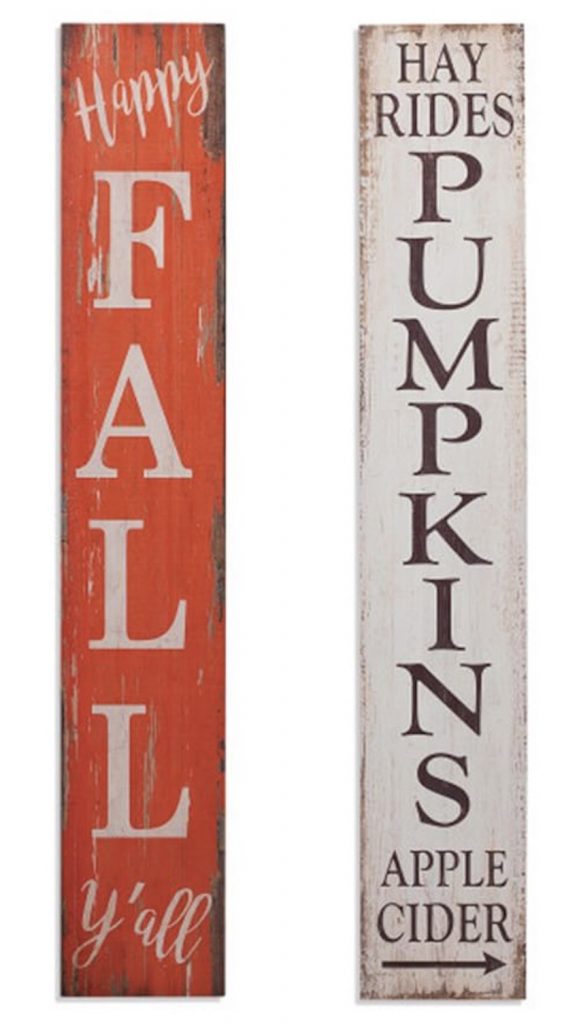 A great time to decorate your porch is now before the weather gets too cool. As a benefit to you, we are sharing over 30 fall porch decorations. Celebrate the fall season this year, with specially designed fall accessories.
Look to the Outdoors for Inspiration – Fall Porch Styling Ideas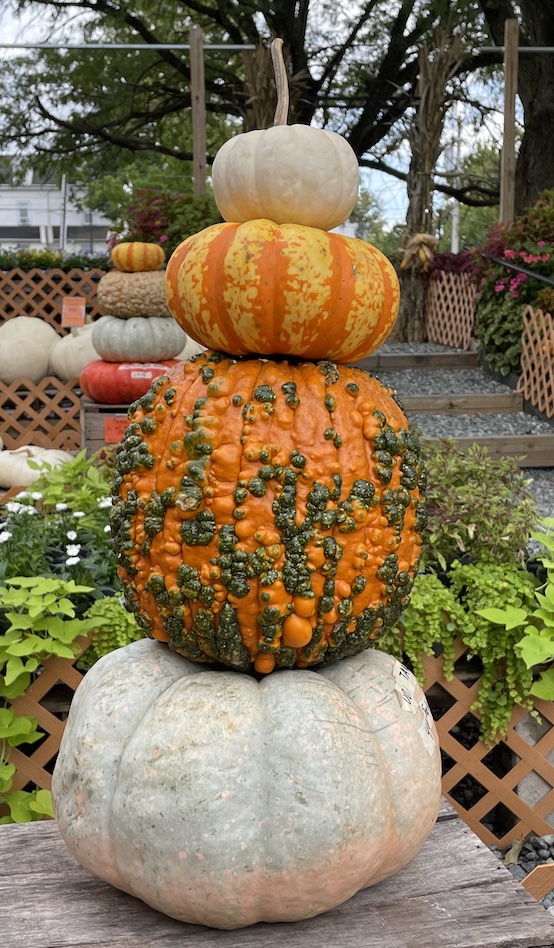 Luckily, there are many decorations to use on your porch this fall.
Pumpkins have always been the go-to decorations for the autumn season. Today there are so many varieties and colors of pumpkins perfect for decorating with.
Gourds and apples are available in many shapes, sizes, and colors. And they do best in cooler weather.
Seasonal fall wall art is a great addition to a porch or covered area. You'll find many sizes and styles of fall wall art to select from.
Bales of hay are always a popular porch accessory. Great to display chrysanthemums, pumpkins, gourds, bushels of apples, and more. Elevate those pumpkins and gourds for all to see.
Autumn flowers such as chrysanthemums and sunflowers either fresh or faux, look fantastic on a porch. Foliage stems such as maple leaves or corn stalks look fabulous displayed with other porch decorations. Another great accessory are acorns.
Scarecrows are always popular on porches. They make a whimsical decoration. Just as miniature squirrels, rabbits, and crows do.
Candle filled lanterns and strings of lights work well for porch lights.
Of course, there are many more accessories you may already have. These are just a few suggestions available to you. And you can always find an incredible number of items online to style your porch with.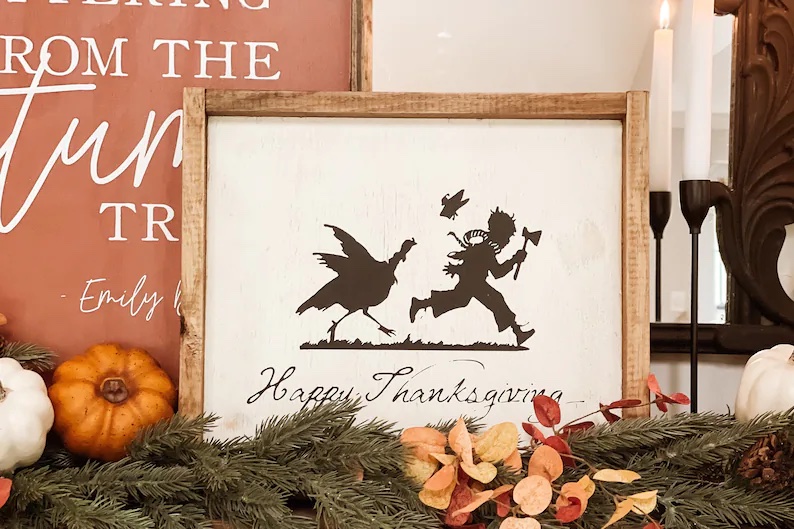 Create a fall-themed porch you'll love with inspiration from our list of favorite fall porch styling ideas. Take a look.
Add a Set of Planters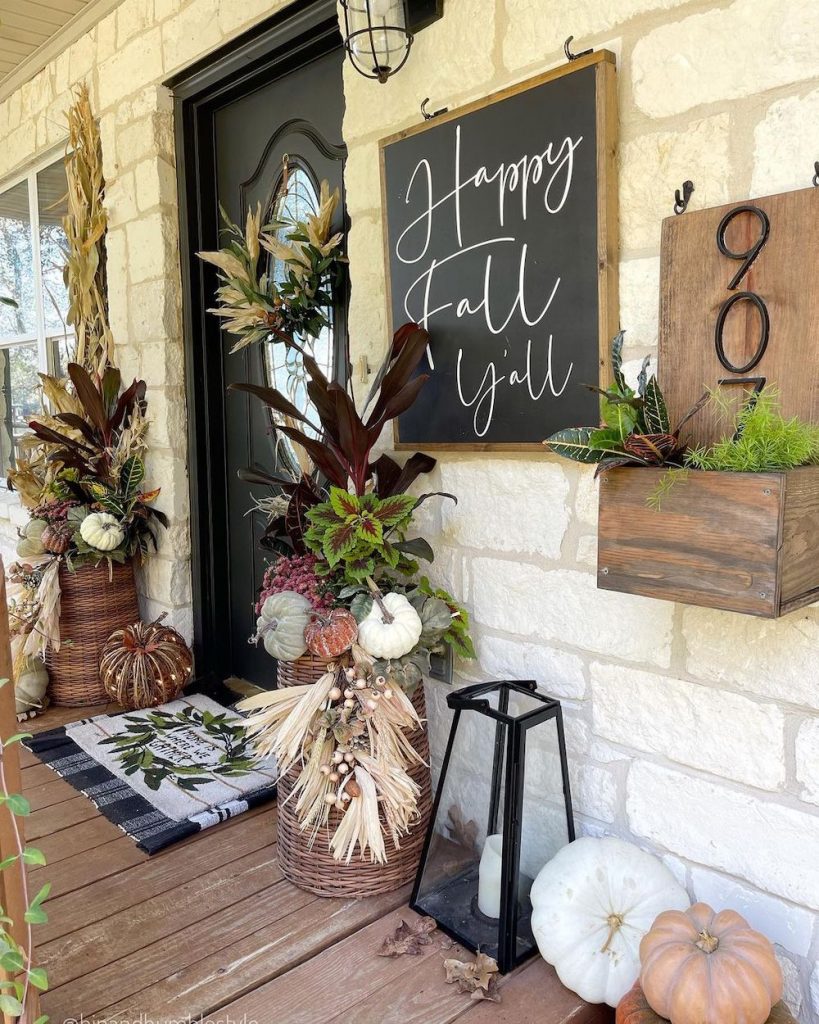 Fill a set of planters with chrysanthemums, coleus, and pumpkins.
Style Your Gated Fence – Fall Porch Styling Ideas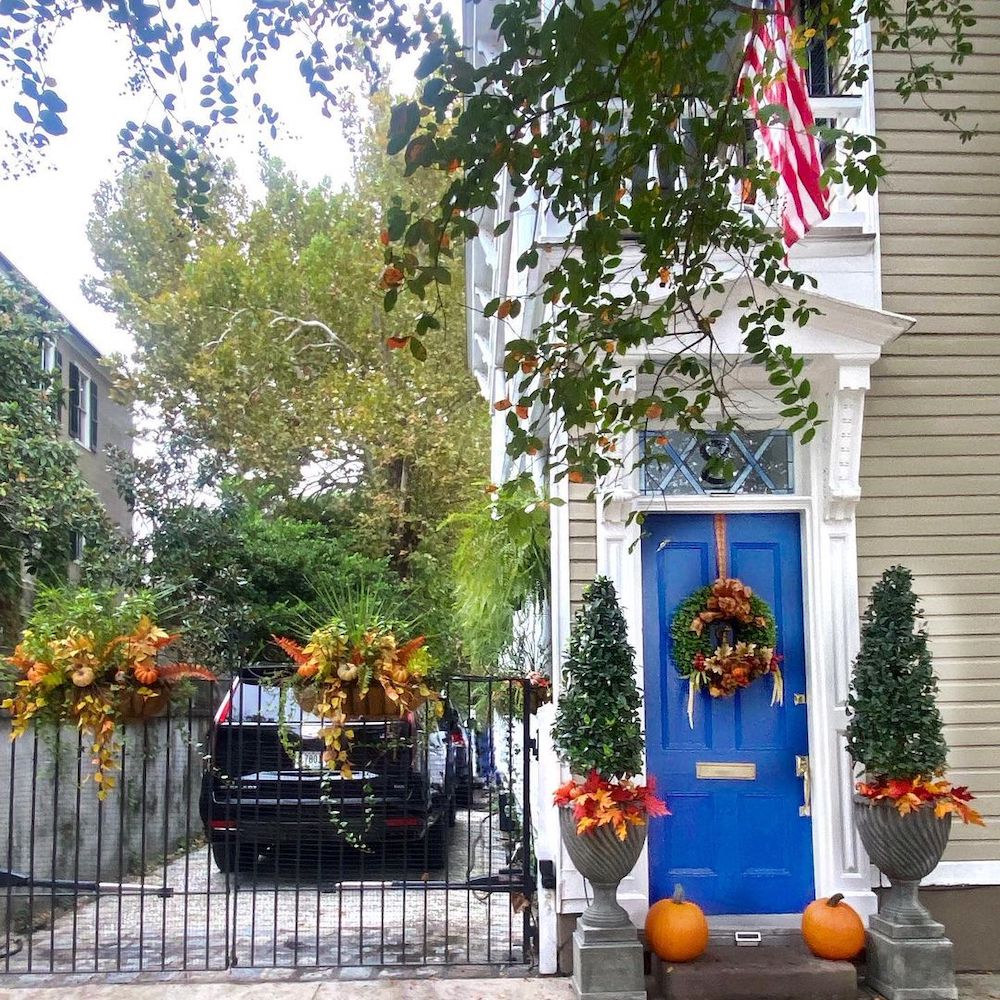 Hang a set of window box planters on a gated fence. Styled so pretty with cute little pumpkins.
Stay Cozy on a Porch Swing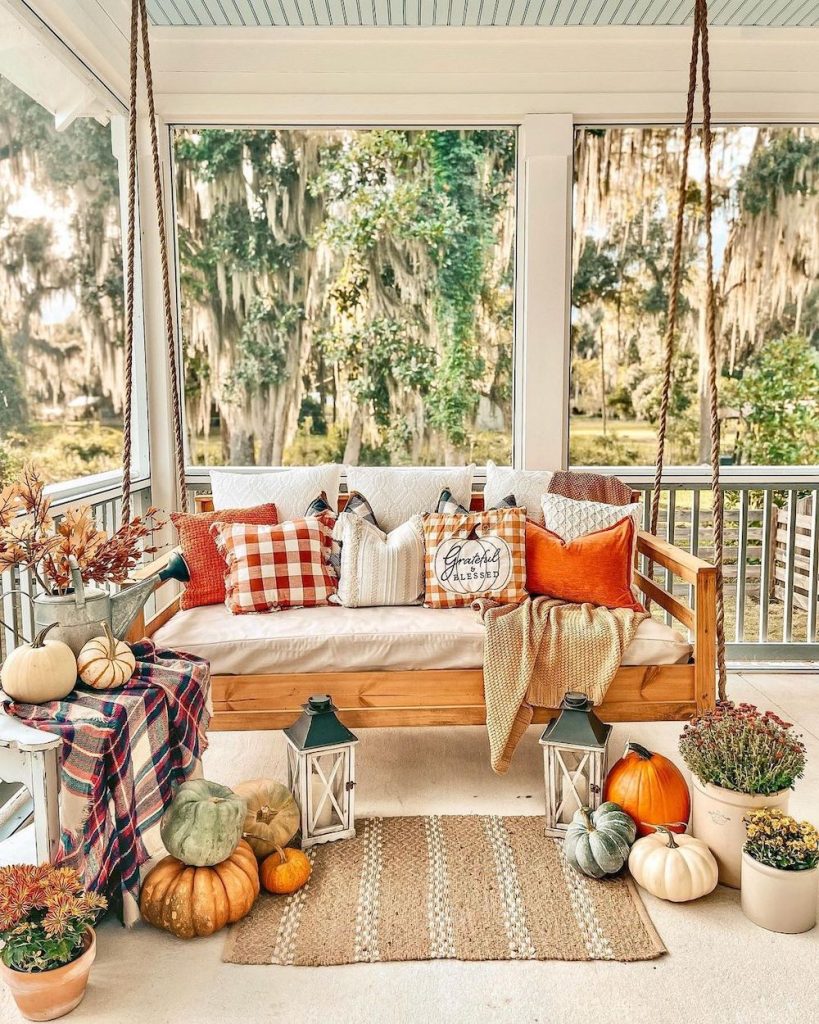 Keep the porch swing cozy with plaid pillows and throws.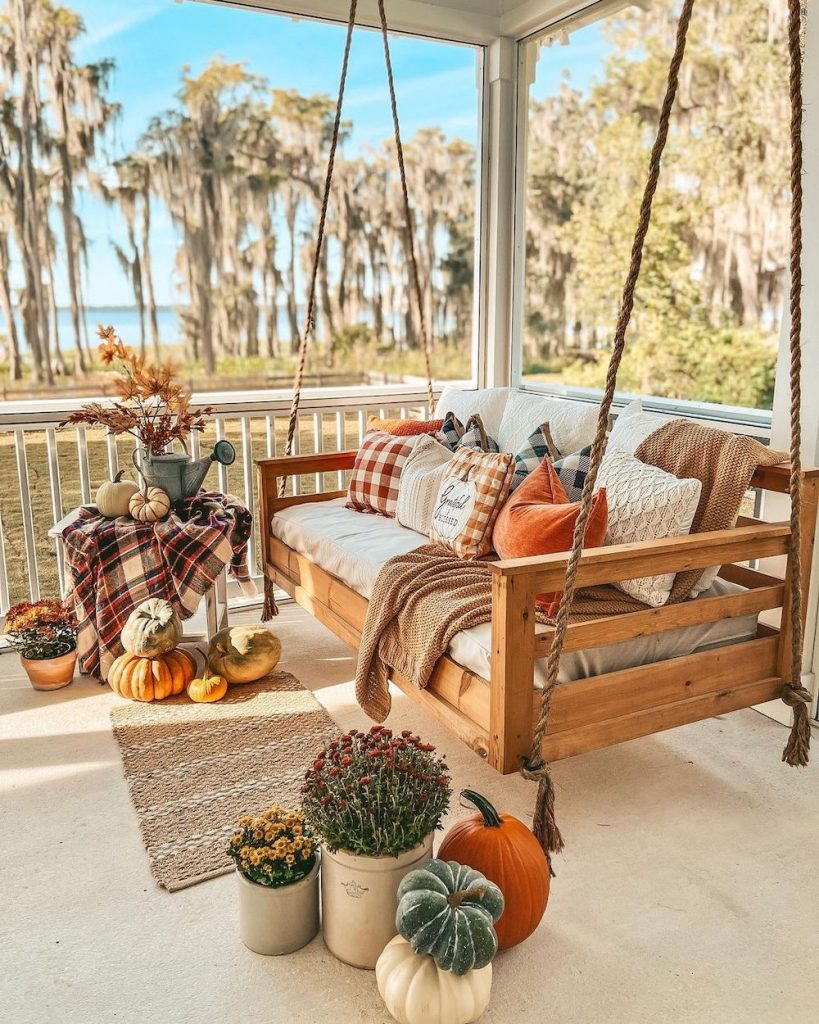 Decorate your Pickup by the Porch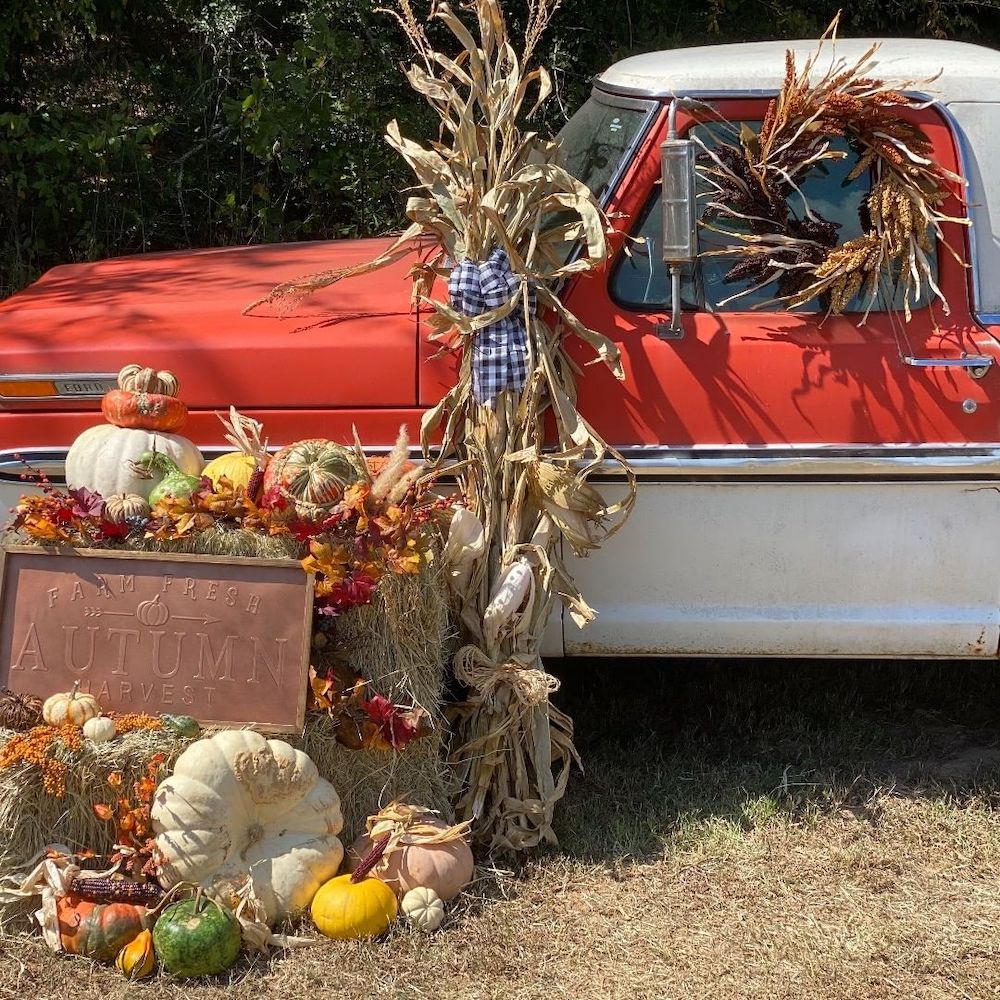 Add bales of hay, corn stalks, pumpkins, and a wreath.
Use Ornamental Cabbage and Kale – Fall Porch Styling Ideas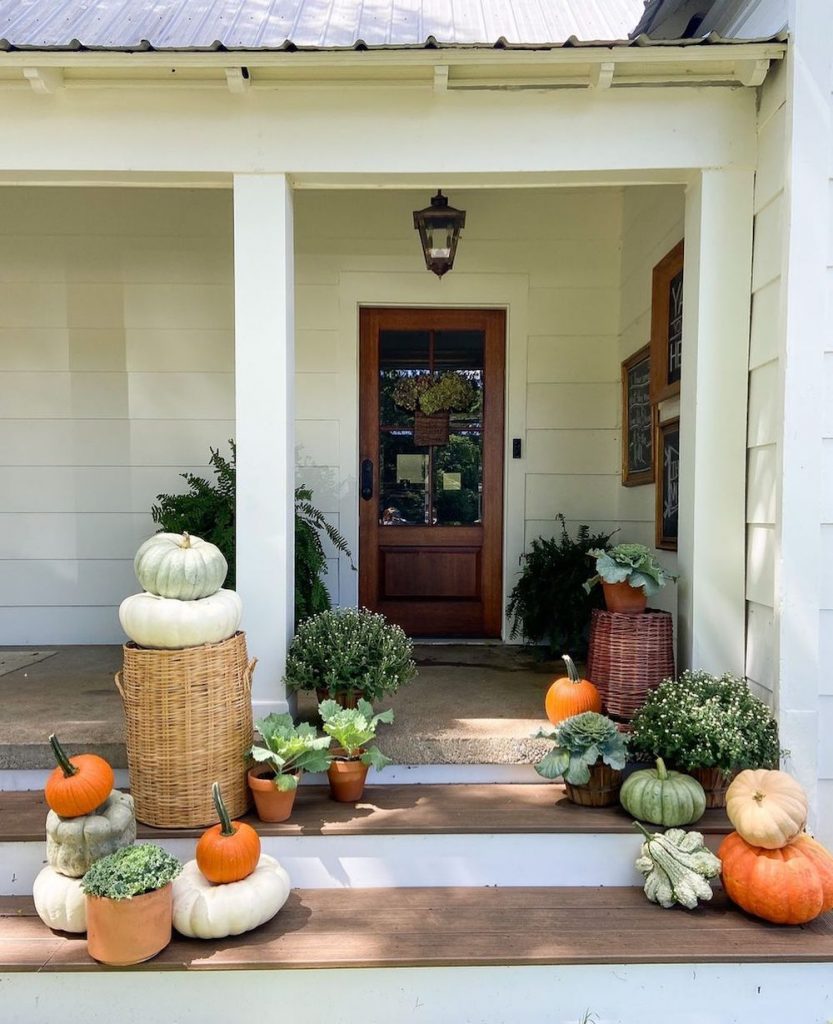 Mix it up with ornamental cabbage and kale. We love chrysanthemums but ornamental plants such as cabbage and kale give the porch instant visual interest.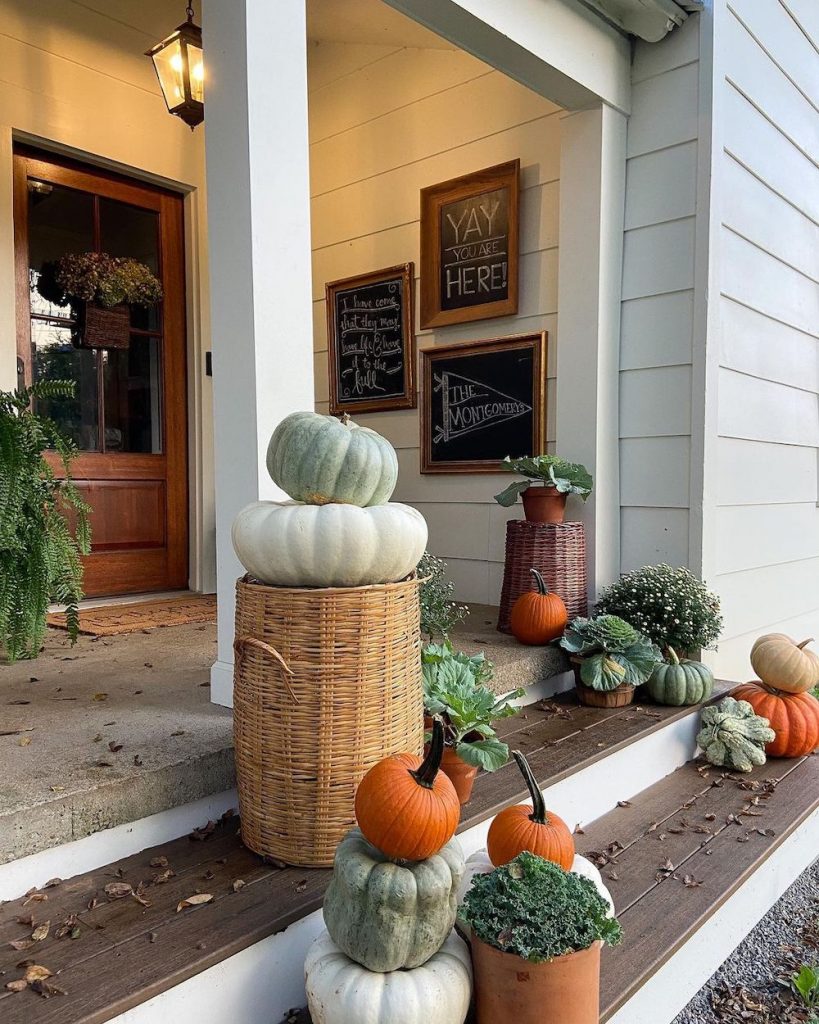 Keep it Blue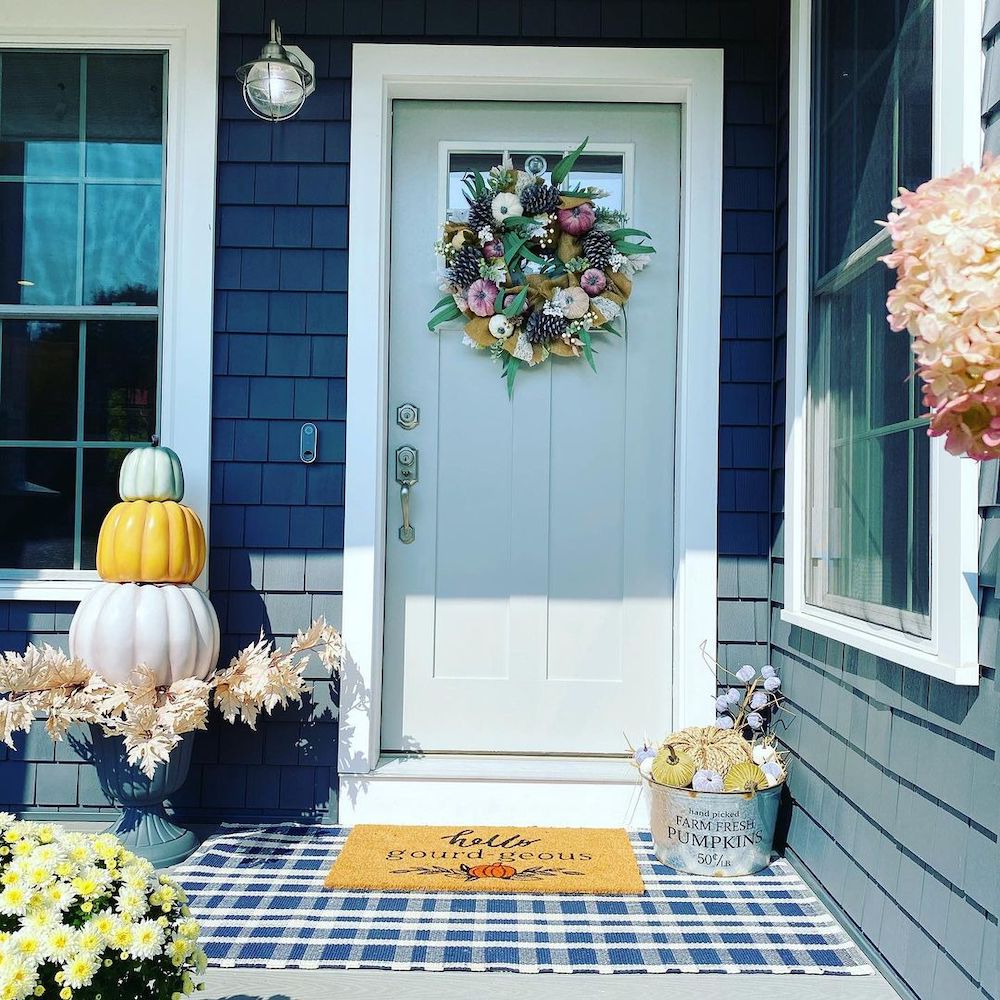 Add a plaid blue rug outside the front door.
It's a Basket Case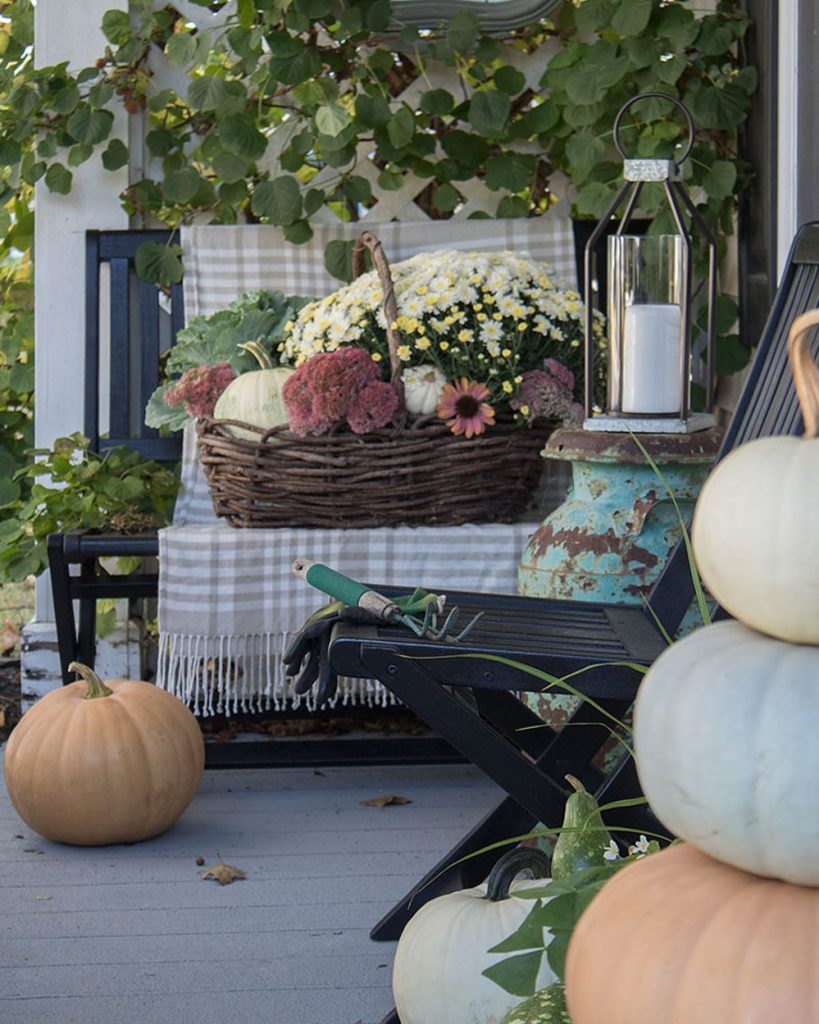 Take advantage of a wicker basket to style your chrysanthemums and pumpkins.
Keep it in the Trunk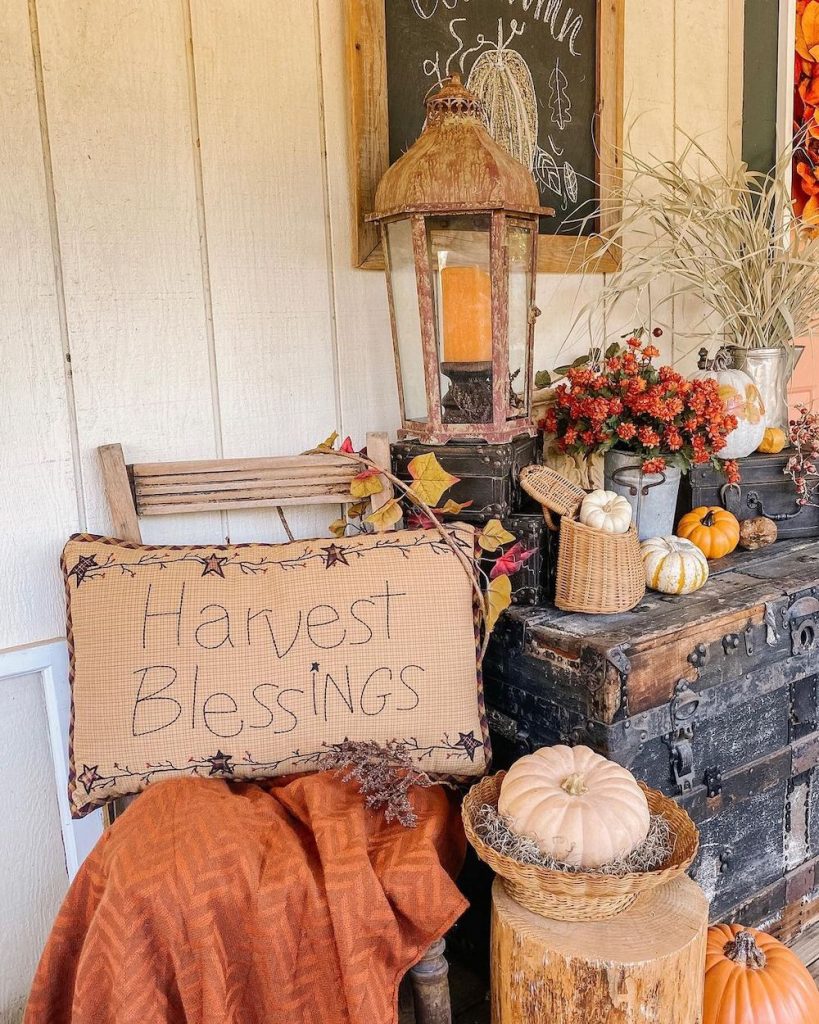 Use an old rustic trunk to style your porch decorations on.
Give it a Hoop Wreath – Fall Porch Styling Ideas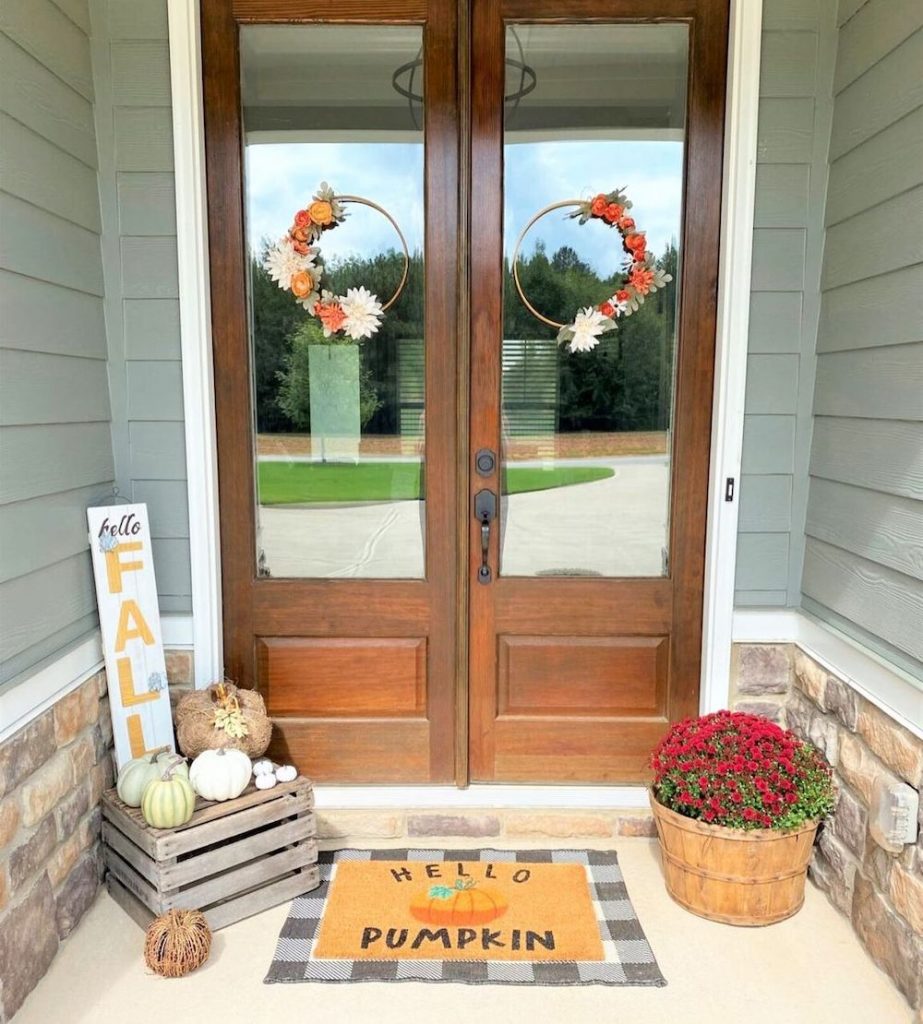 Put up a set of hoop wreaths with pretty fall decorations.
Repurpose Your Tree Stumps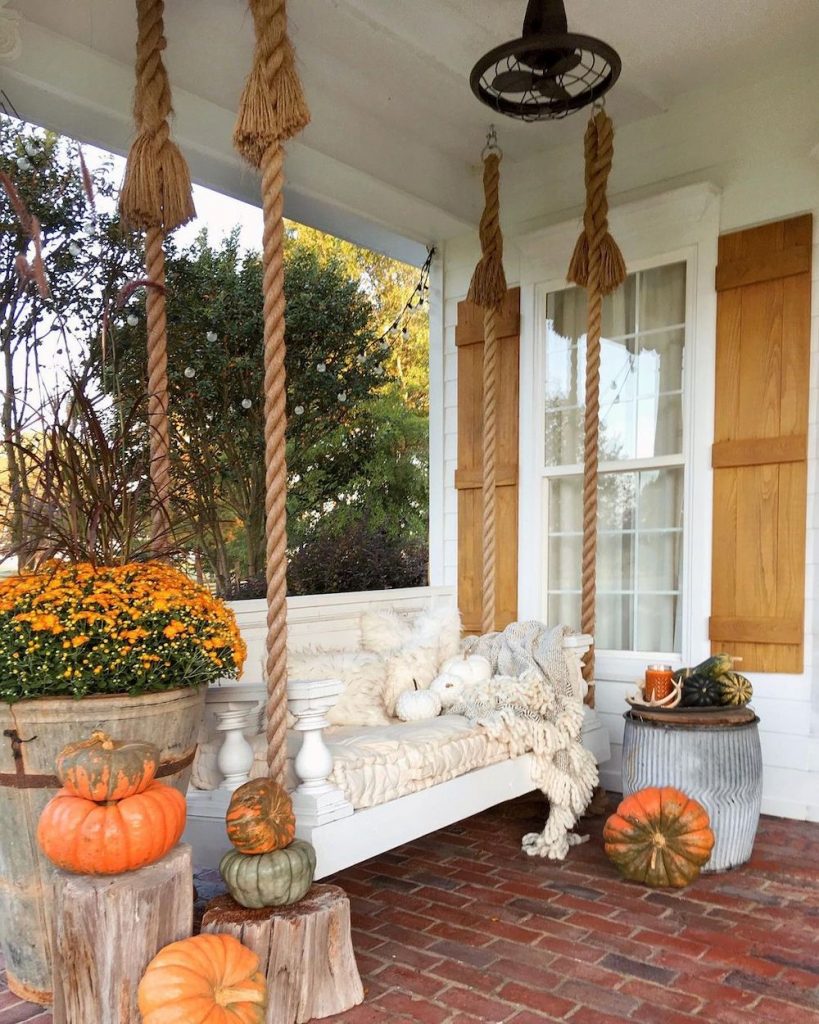 Give your tree stumps a new life. Enlist those tree stumps to work as a side table. Then plop your pumpkins on top.
Style it to Complement Your Front Door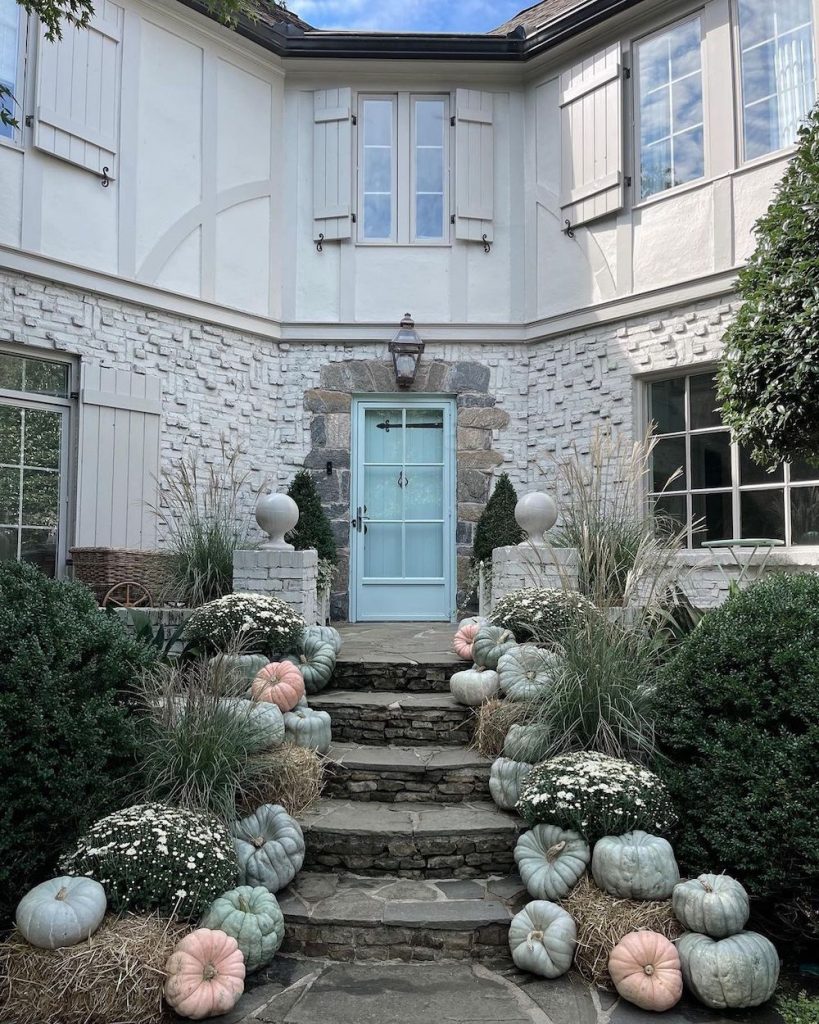 In this decorated porch and walkway, the subtle bluish-green pumpkins enhance the home's front door.
Let your Guests Know They are Welcomed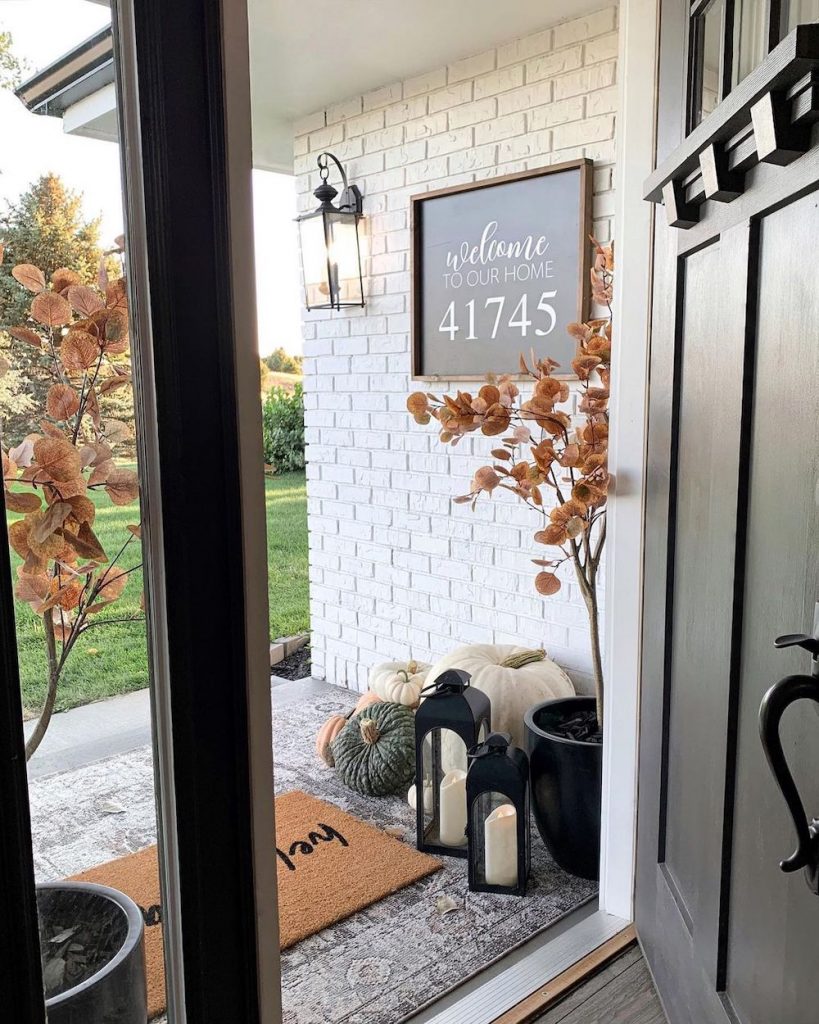 Display a welcome sign by the front door on the porch. A set of fall eucalyptus trees give the space a warm, inviting feeling.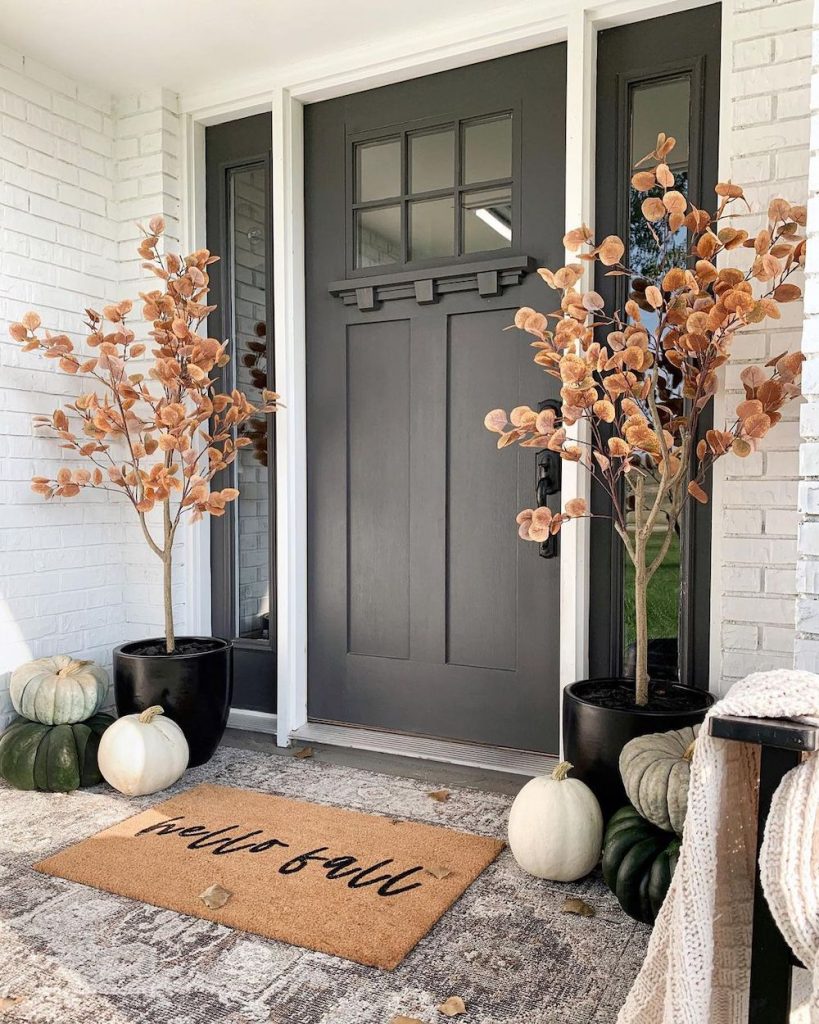 Go for a Little Tropics on the Porch – Fall Porch Styling Ideas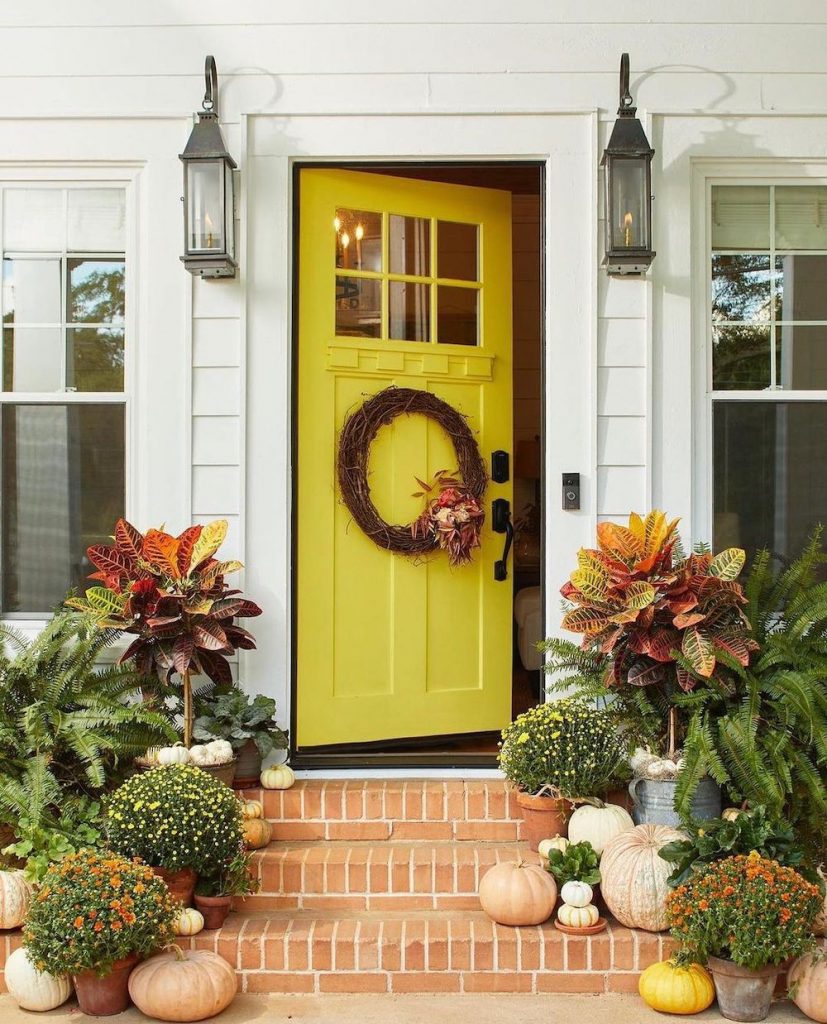 Bring your Crotons plants outdoors. The colors of the crotons are perfect for decorating during the fall season. Mix with pumpkins and gourds for beautiful fall colors.
Invite a Scarecrow to your Porch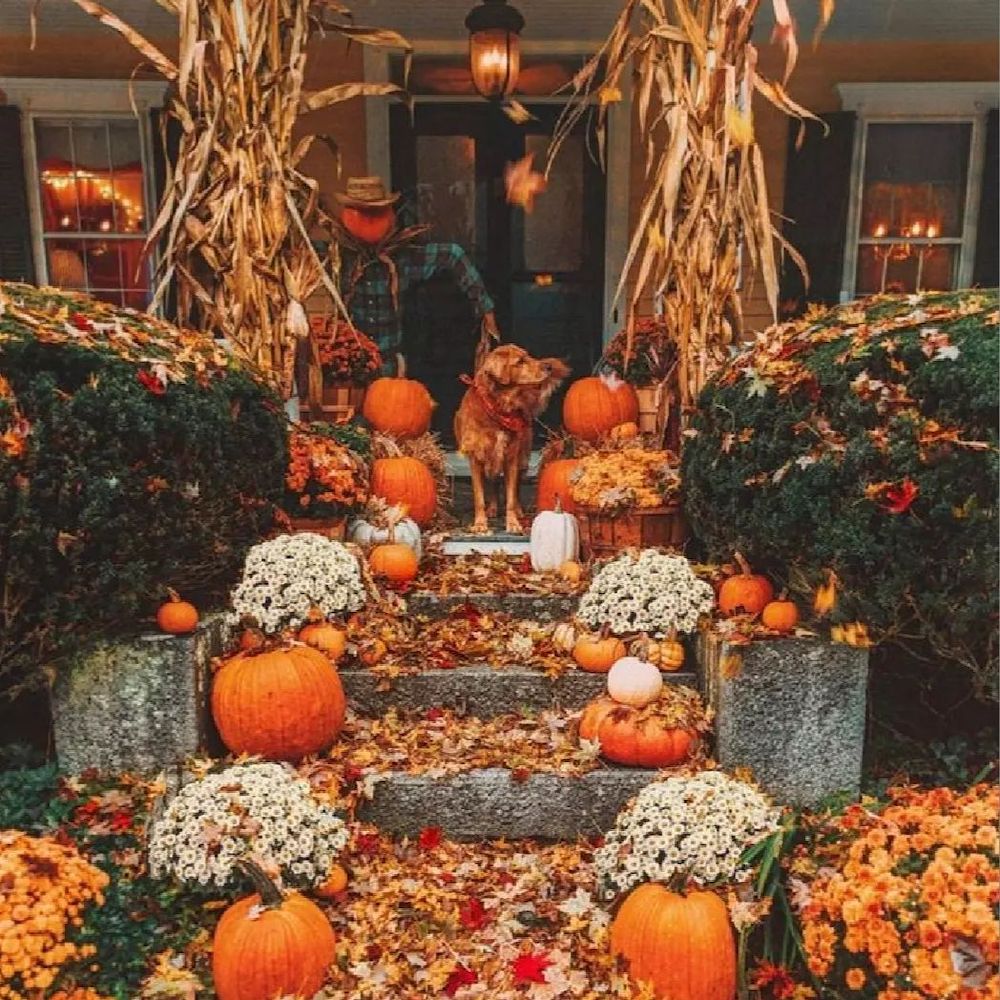 Set aside a place for your scarecrow right on the porch. Scarecrows, pumpkins, chrysanthemums, and bales of hay go together.
Make it Fragrant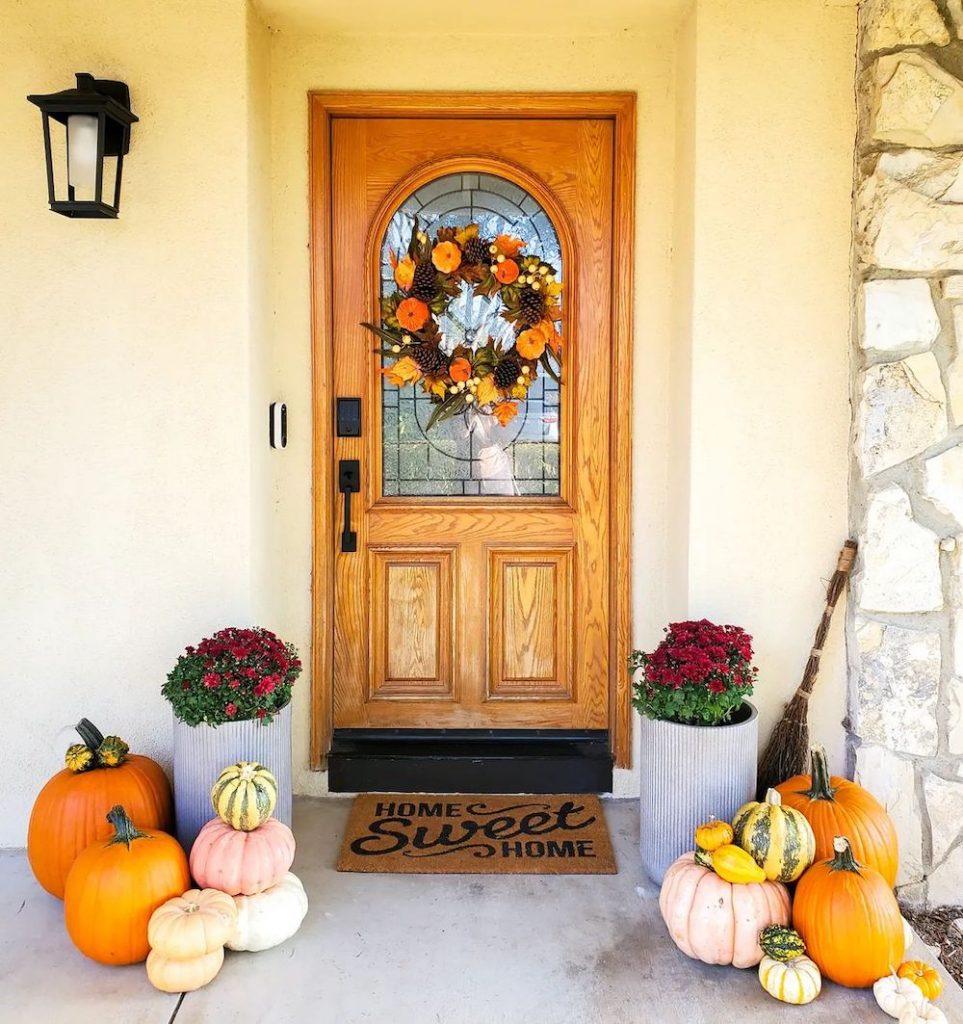 Keep a cinnamon broomstick on the porch to add fragrance.
Personalized your Pumpkins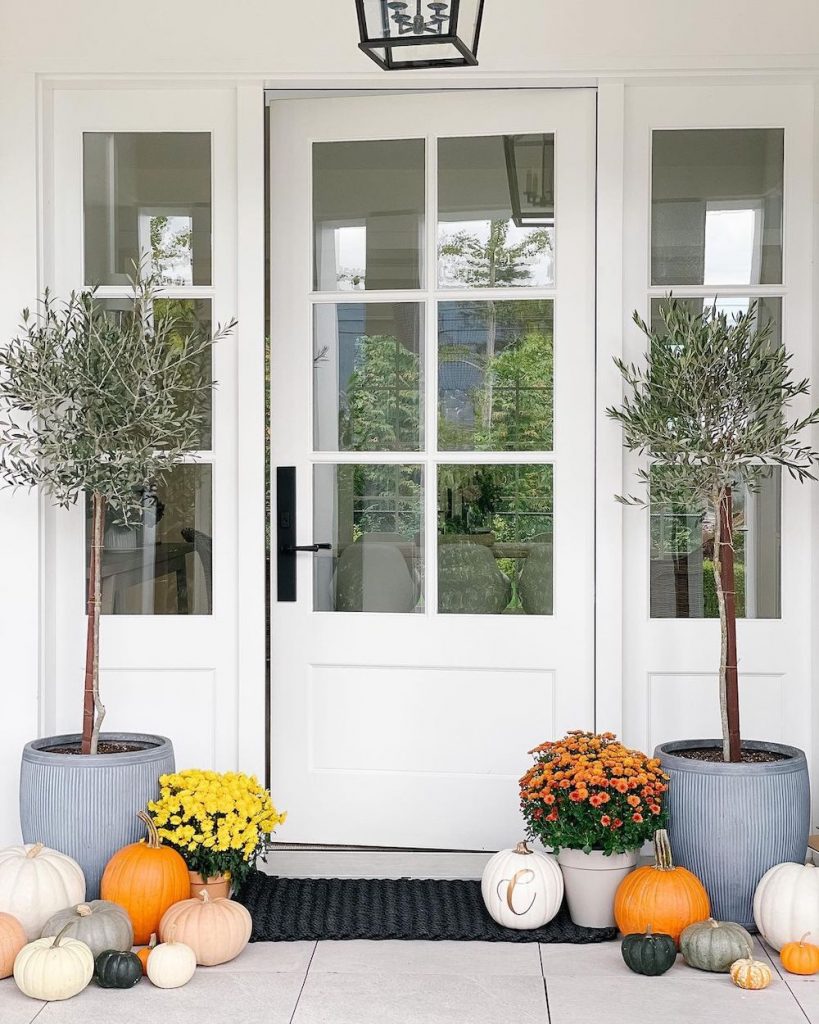 Scatter pumpkins around your planters.
Go Big! – Fall Porch Styling Ideas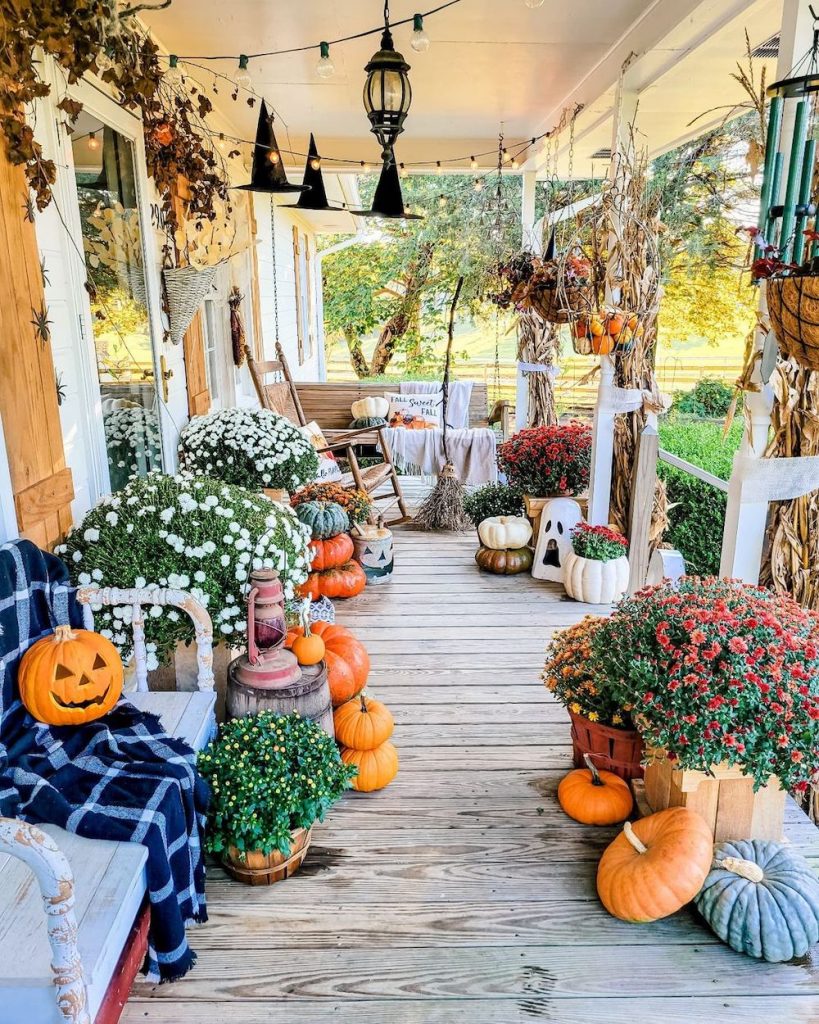 Cover every bit of your front porch with chrysanthemums, pumpkins, corn stalks, and a string of lights.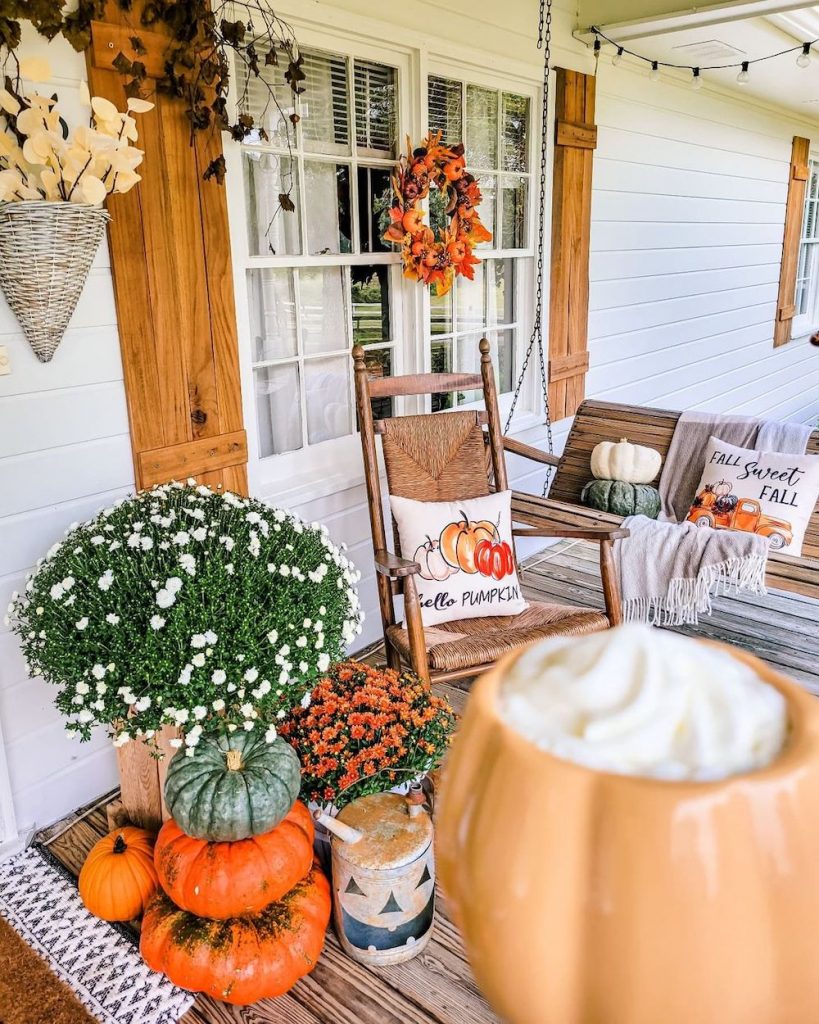 Style your Pumpkins with Coleus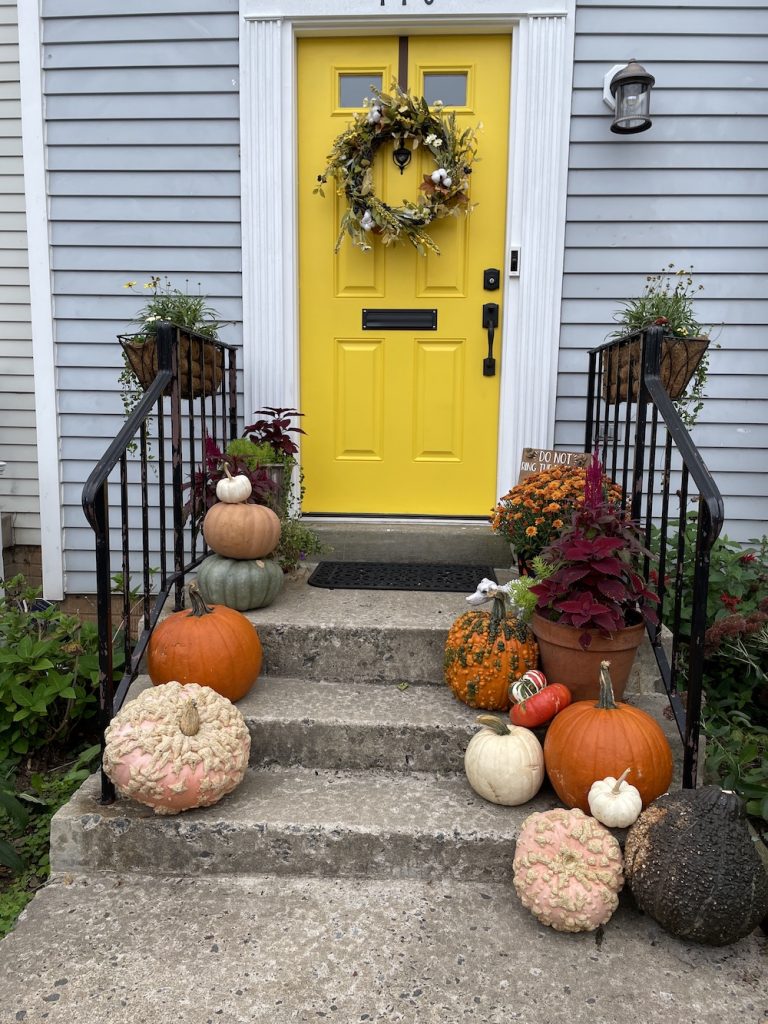 Coleus is a great annual for the front porch. And they look great when styled with pumpkins.
Use Planters and Water Fountains for your Pumpkins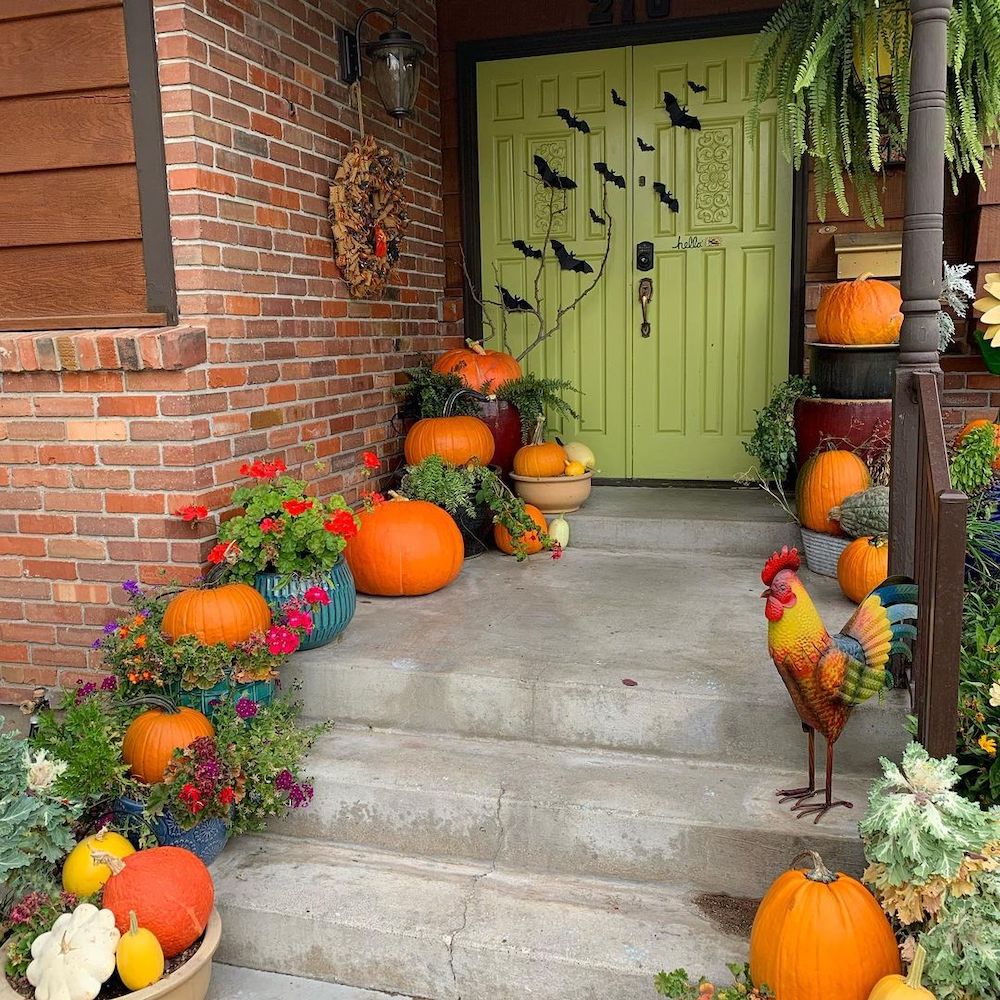 Elevate your pumpkins by using planters and water fountains.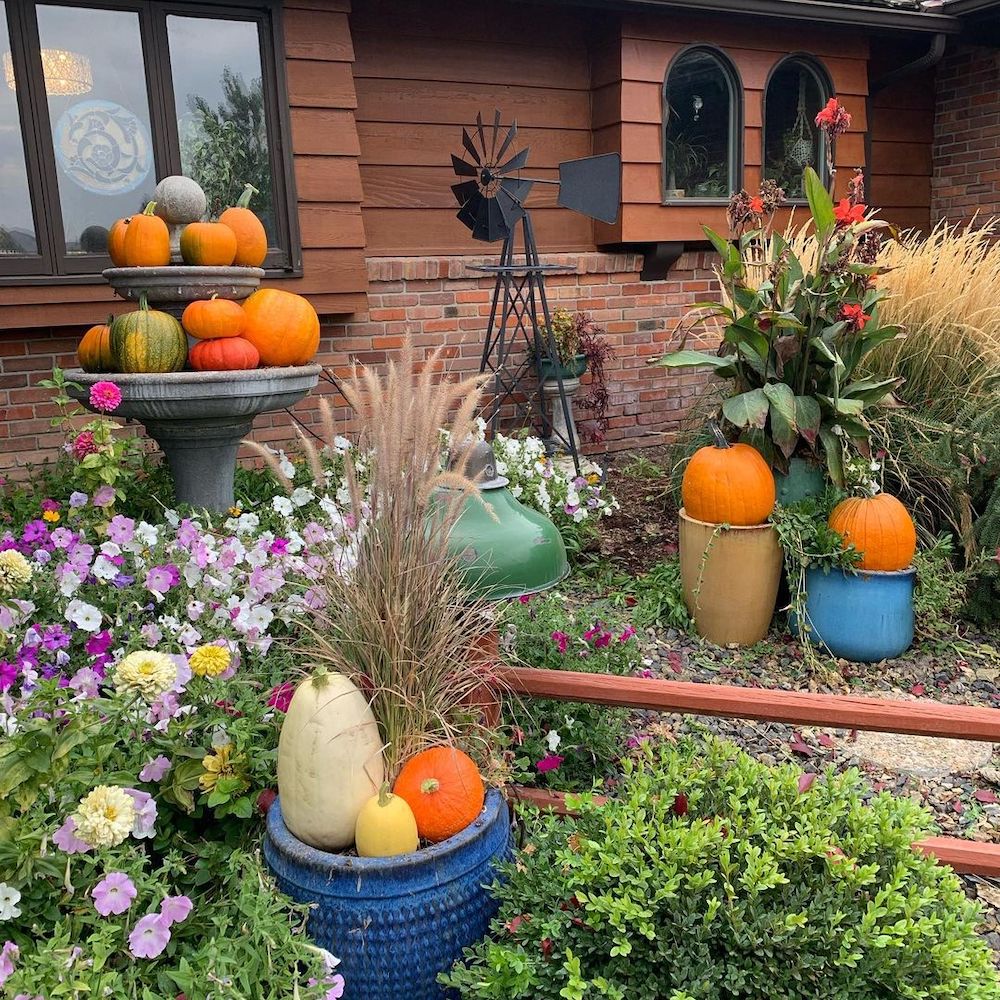 Stay Neutral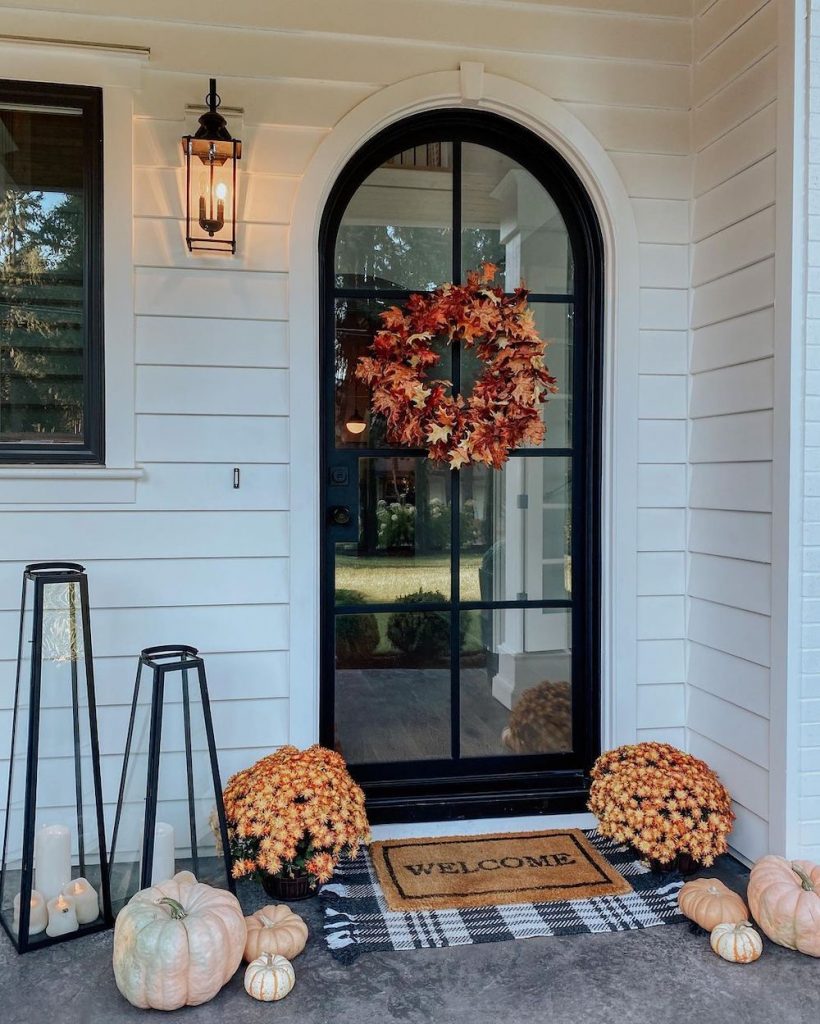 Use neutral-colored pumpkins, chrysanthemums, and wreaths with pretty fall colors.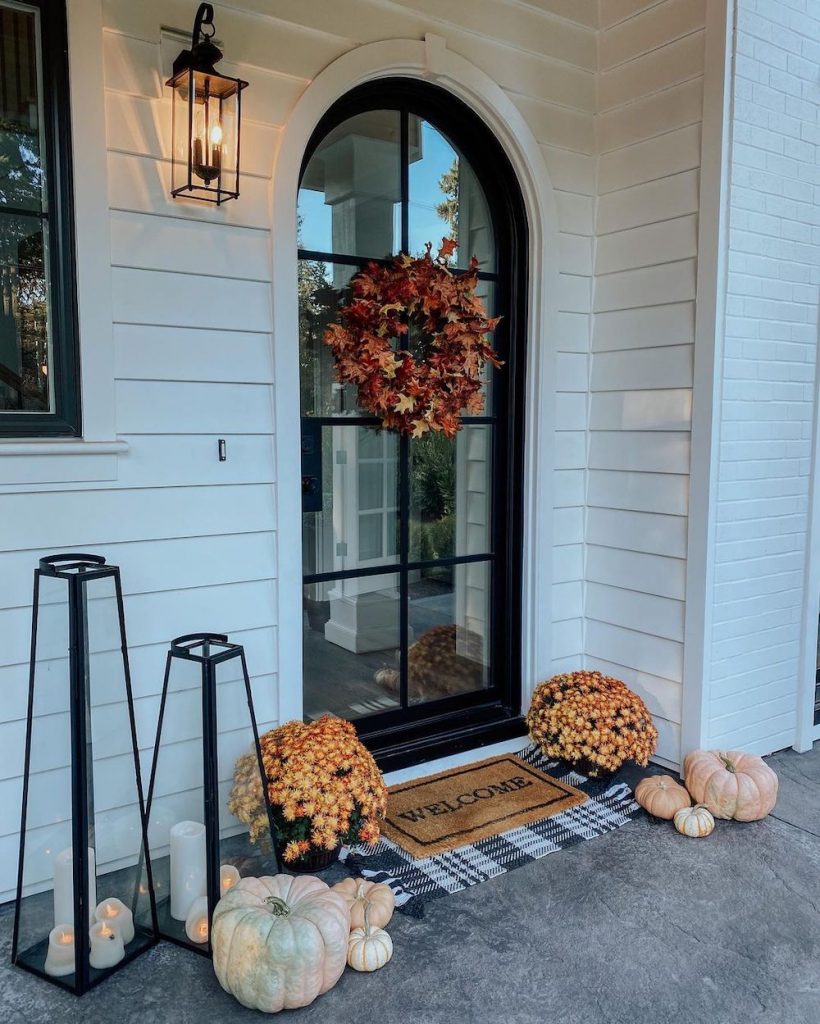 Keep it Symmetrical – Fall Porch Styling Ideas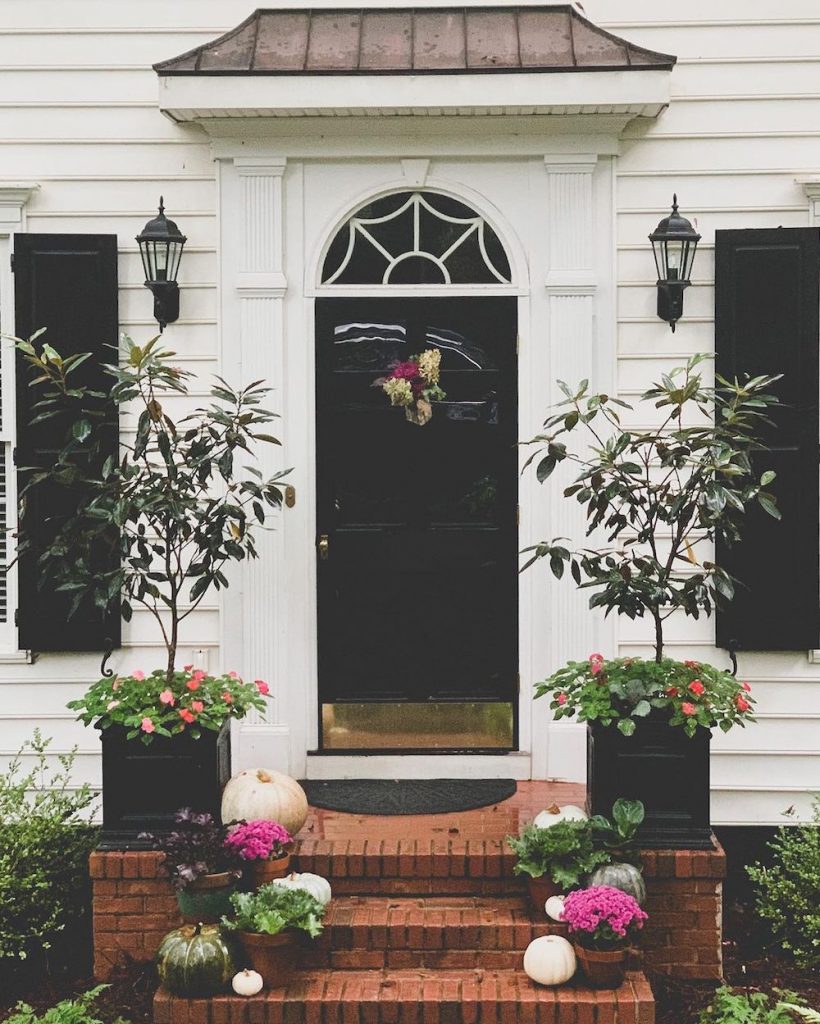 Give a balanced look.
Fall in Line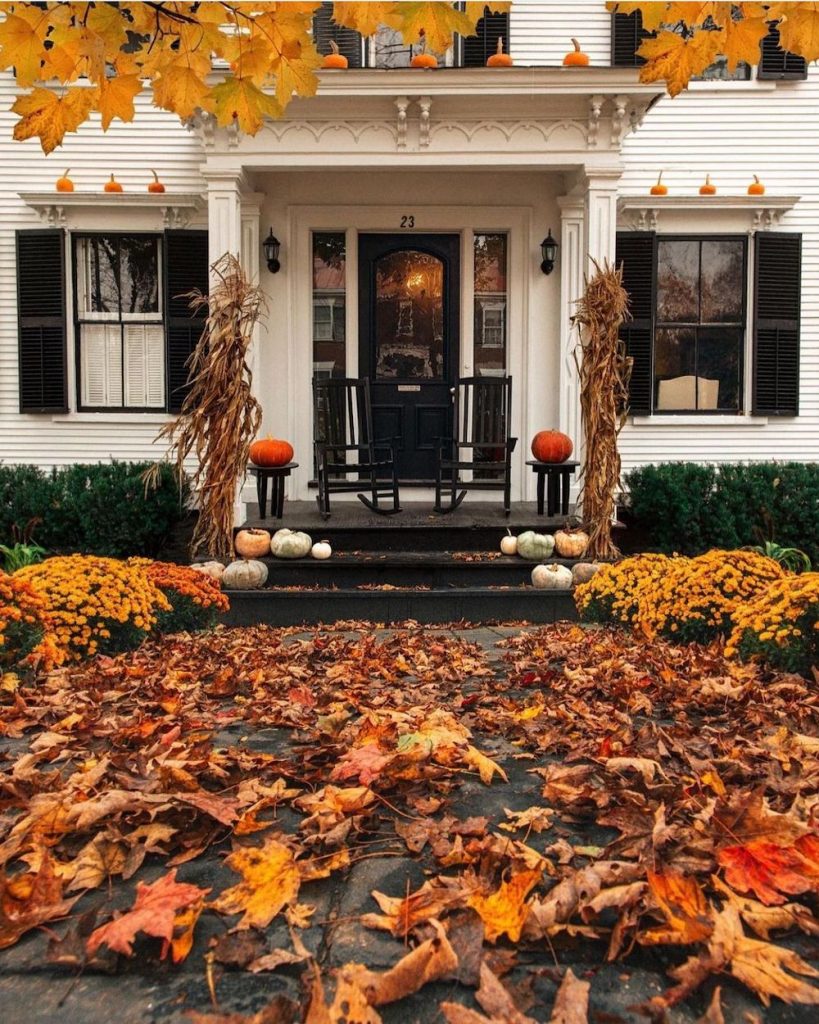 Keep those pumpkins in line. Right above the windows and porch roof.
Cover the Roofline – Fall Porch Styling Ideas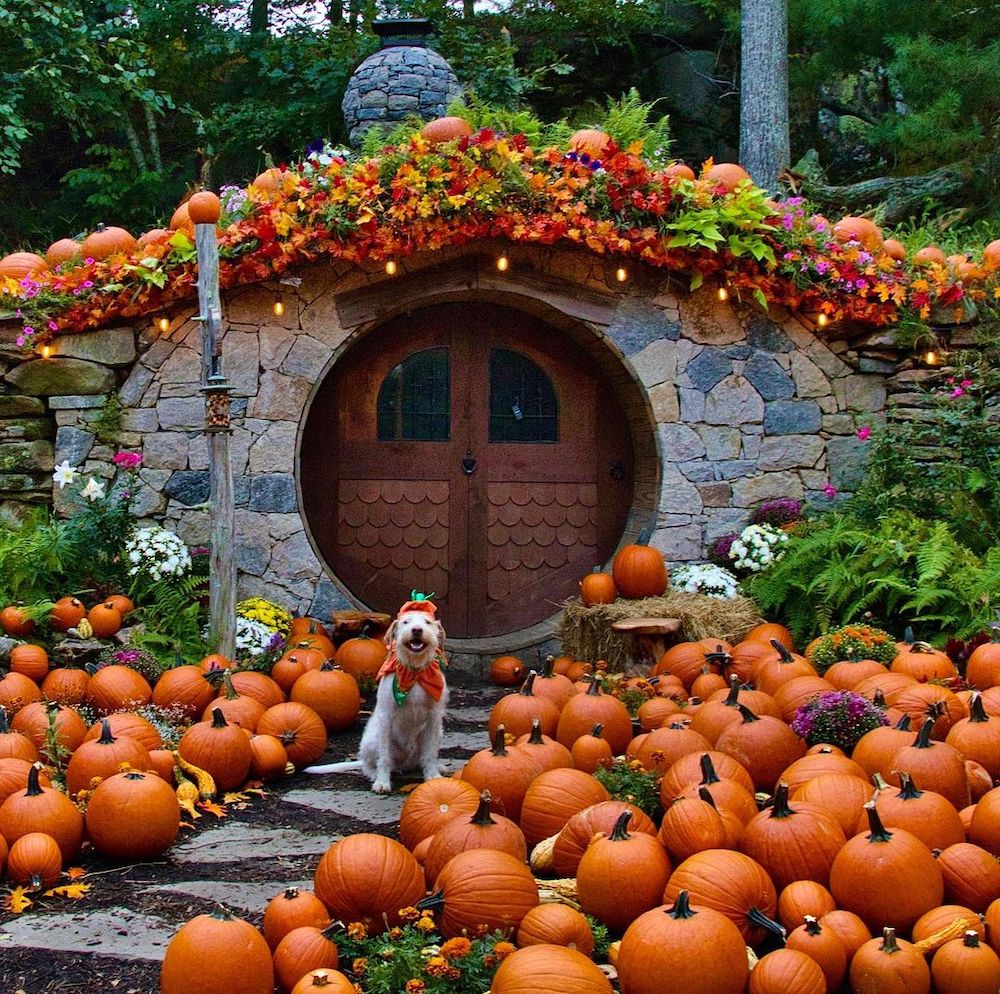 Don't forget about the roofline. Pumpkins and plants look great there too.
Style it in Gray and White
Give your porch a gray and white decor style.
Leave a Trail – Fall Porch Styling Ideas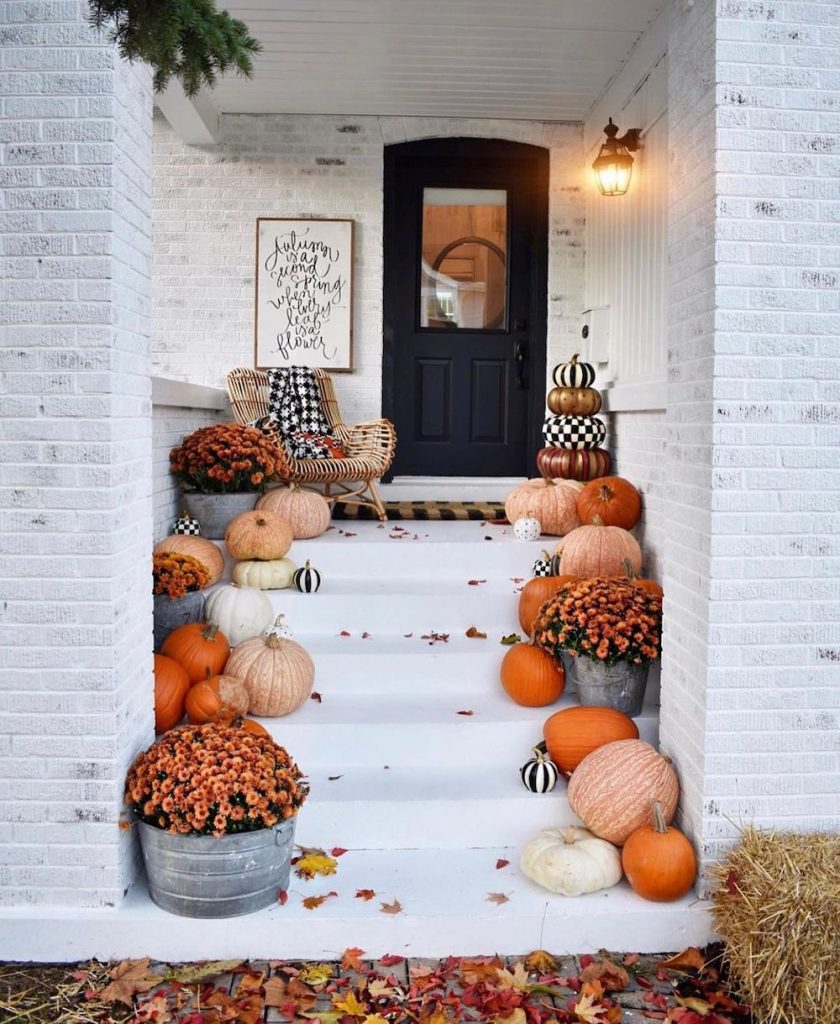 Be sure to leave a trail of pumpkins so your house guests can find their way to your front door.
Take a Page from the Birds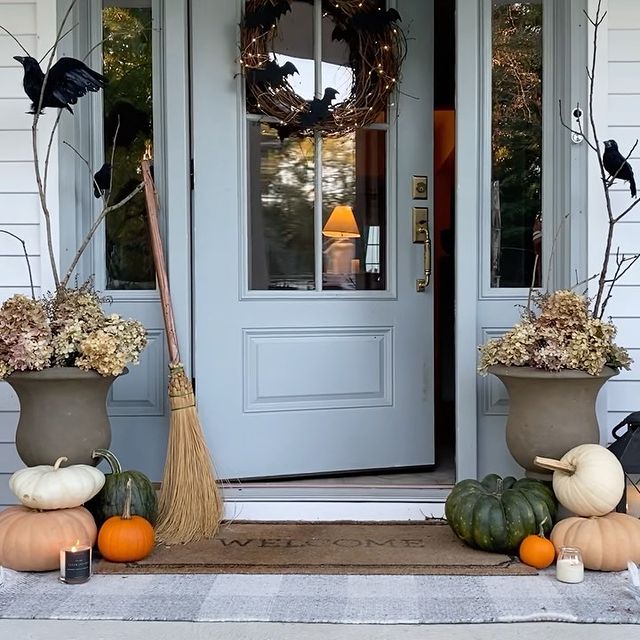 Strategically place your black crows on your porch. Nothing out of the ordinary there.
Give it an Eye or Two – Fall Porch Styling Ideas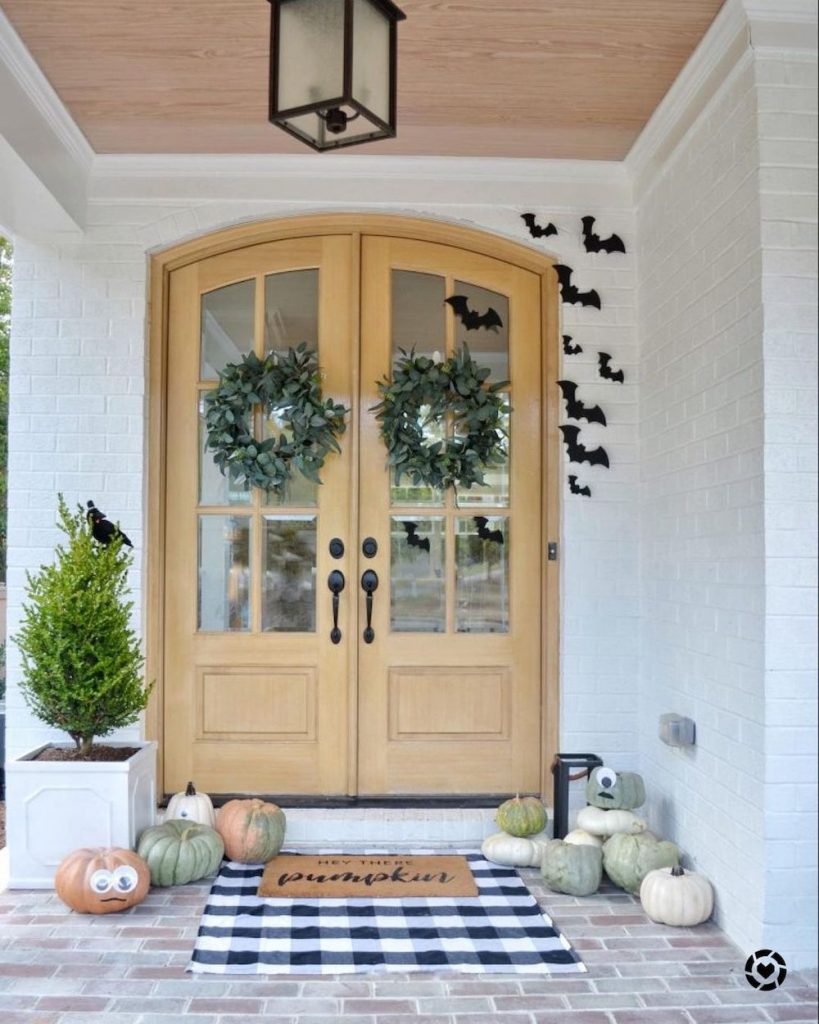 Add some eyes to those pumpkins.
Keep your Owl Nearby – Fall Porch Styling Ideas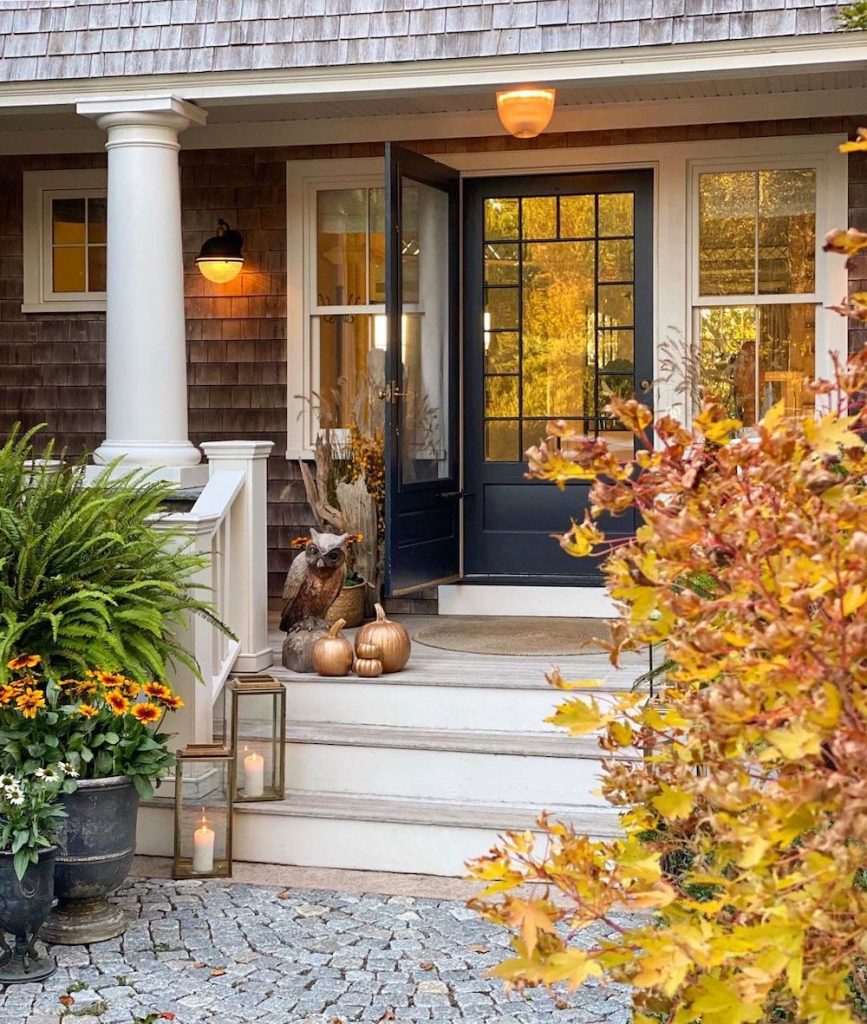 Style it with an owl and pumpkins for good luck.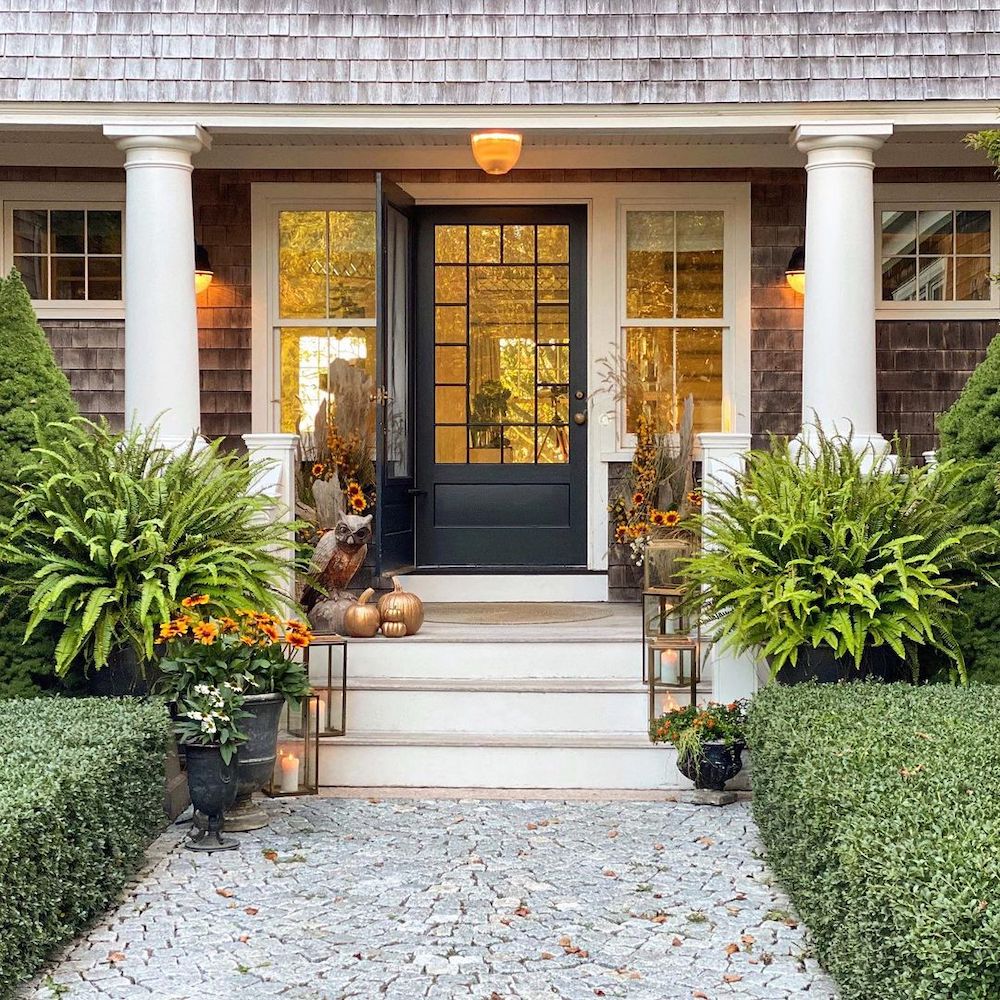 Mix it Up – Fall Porch Styling Ideas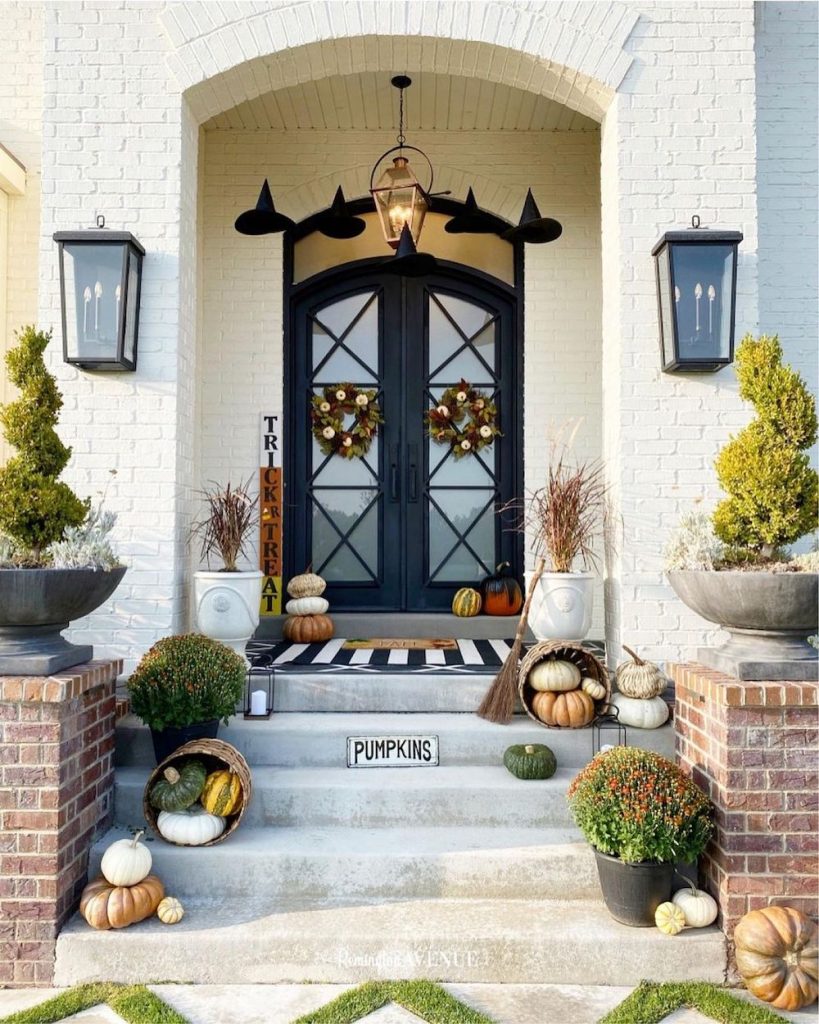 Turn your bushel basket on its side. Then stack those pumpkins inside.
Use a Milk Can as a Side Table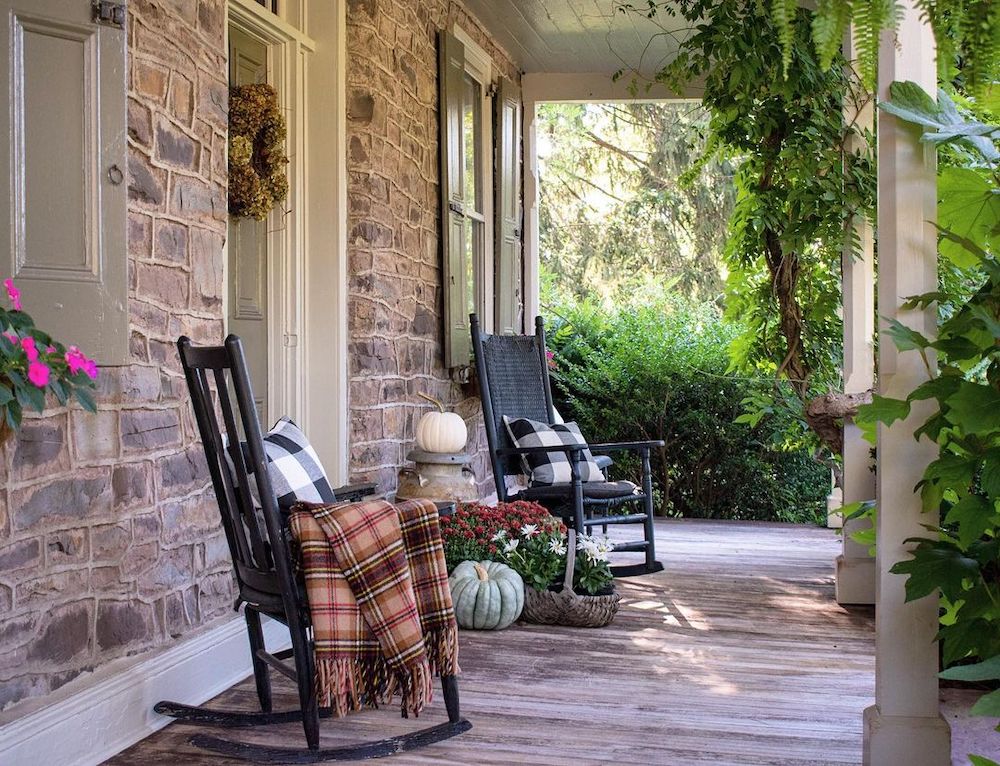 Use a milk can with a mushroom cover as a side table to support a pumpkin.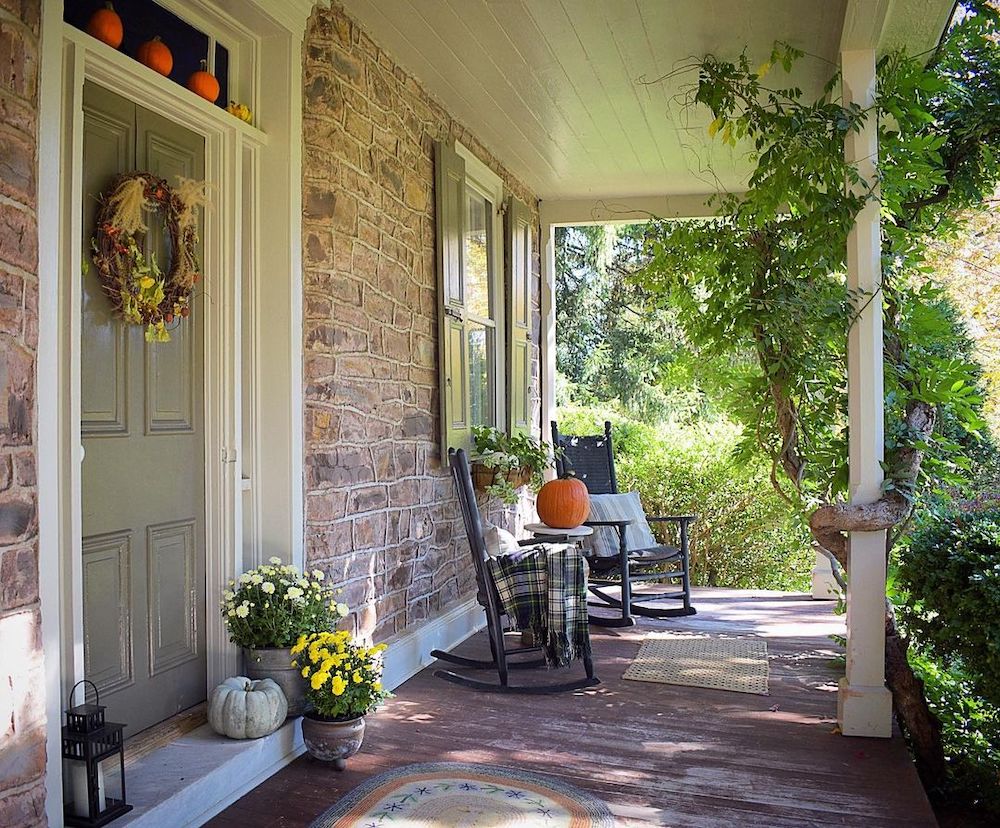 Stack Them – Fall Porch Styling Ideas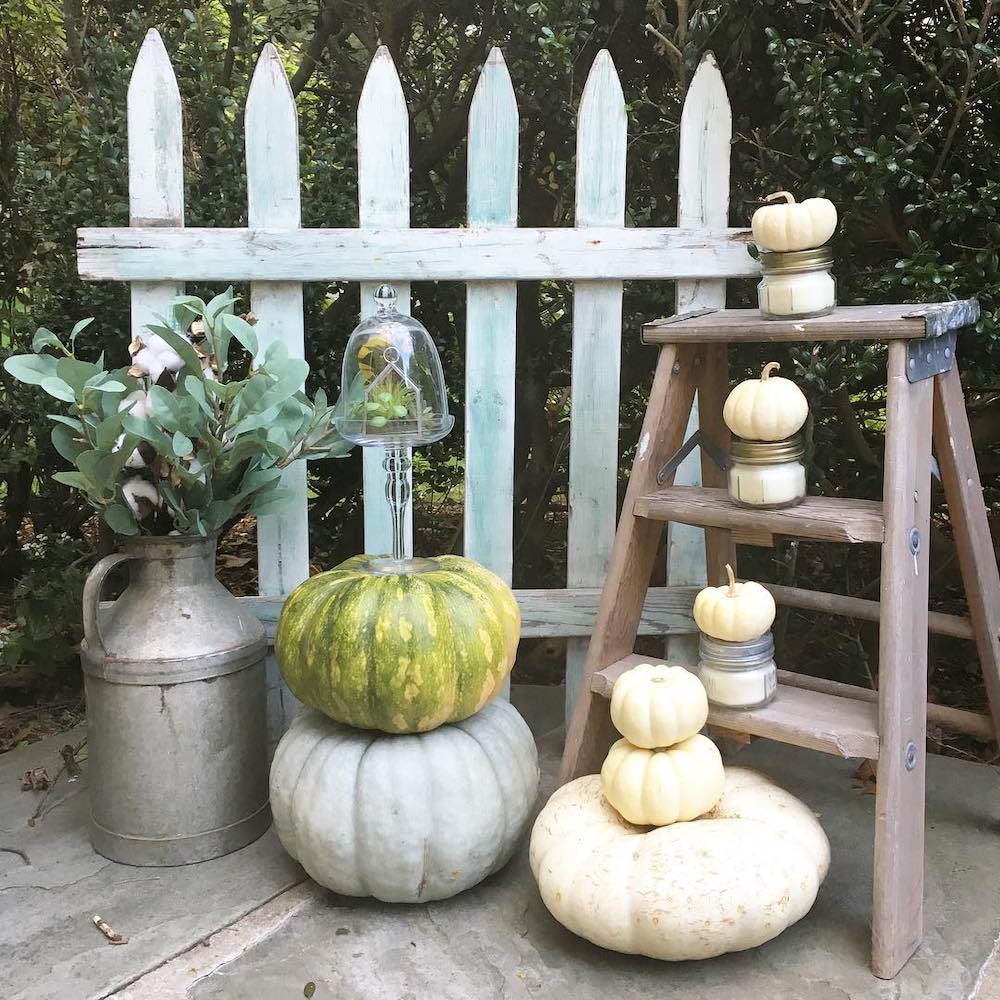 Display your pumpkins in stacks. And prop them on various objects.
Create a Vintage Fall Porch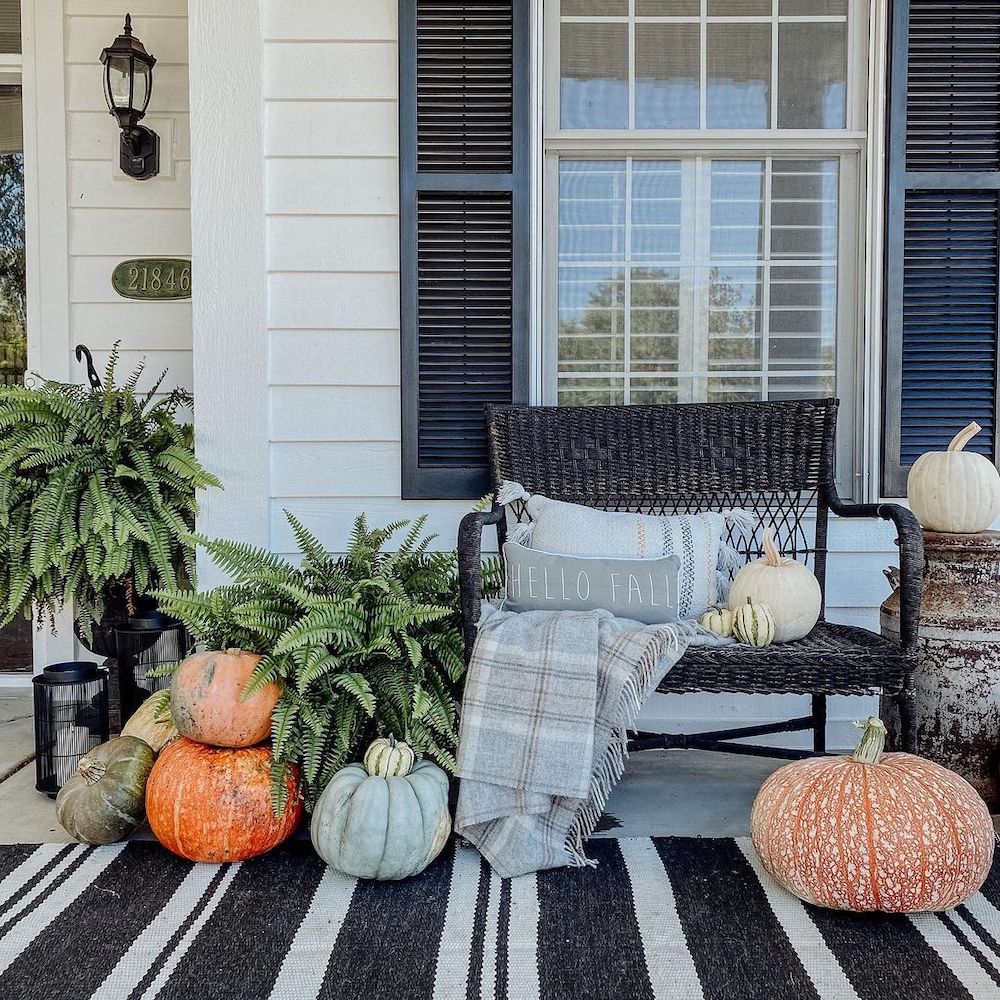 Use a favorite vintage chair to style a porch.
Pull Out Your Tool Box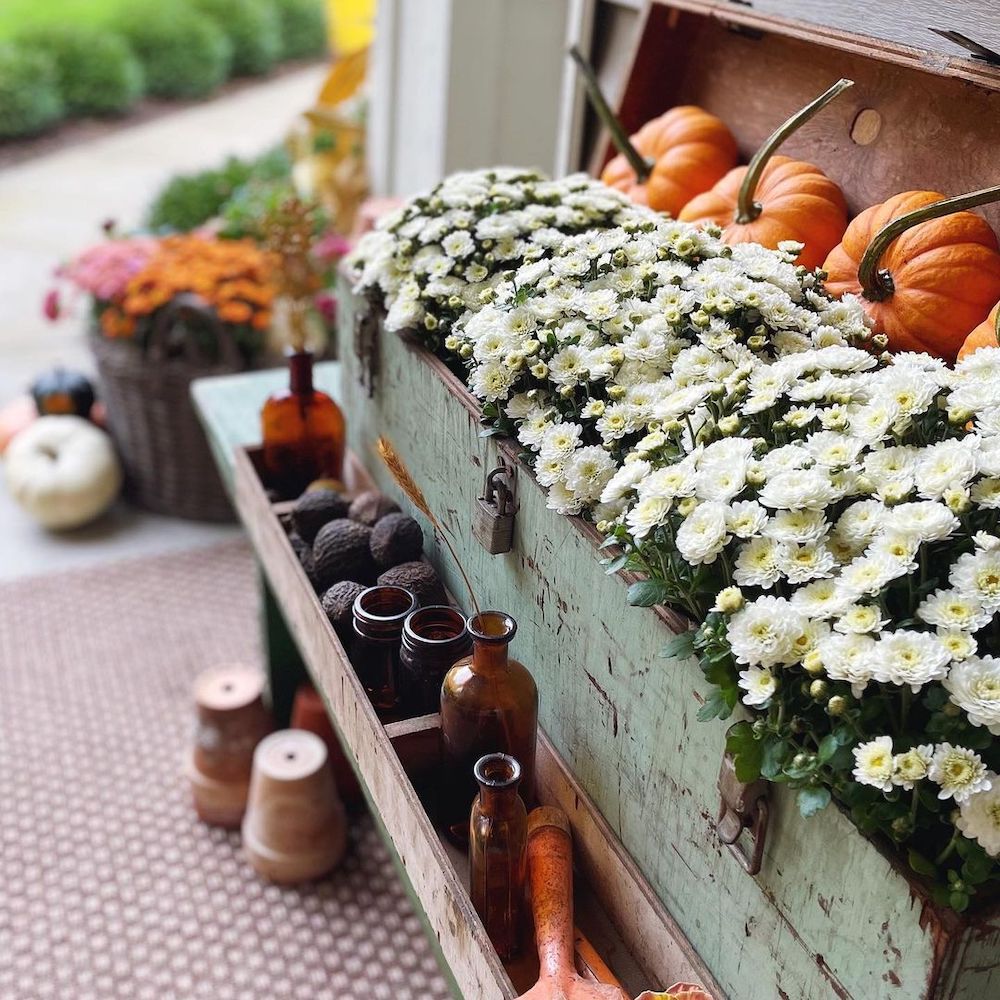 Line up your pumpkins and chrysanthemums in a toolbox.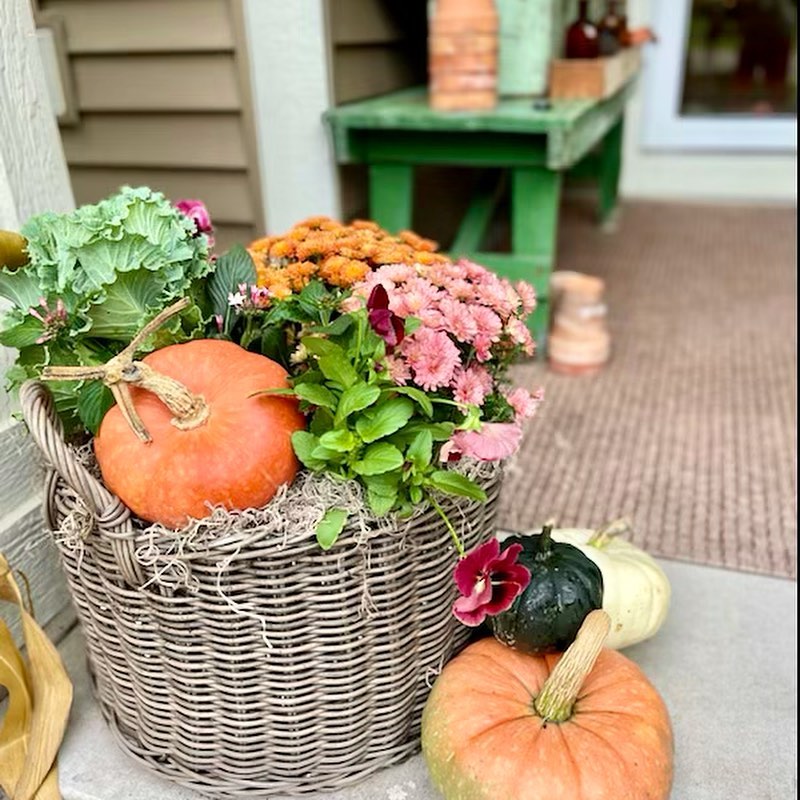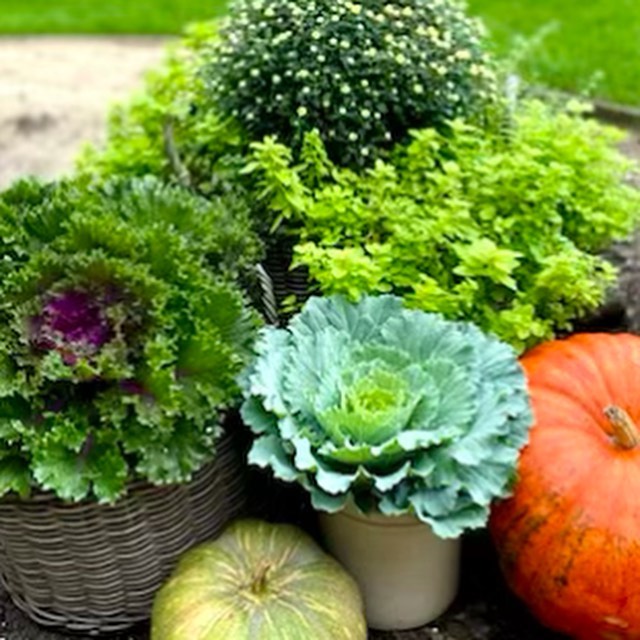 Style it in White, Black, and Blue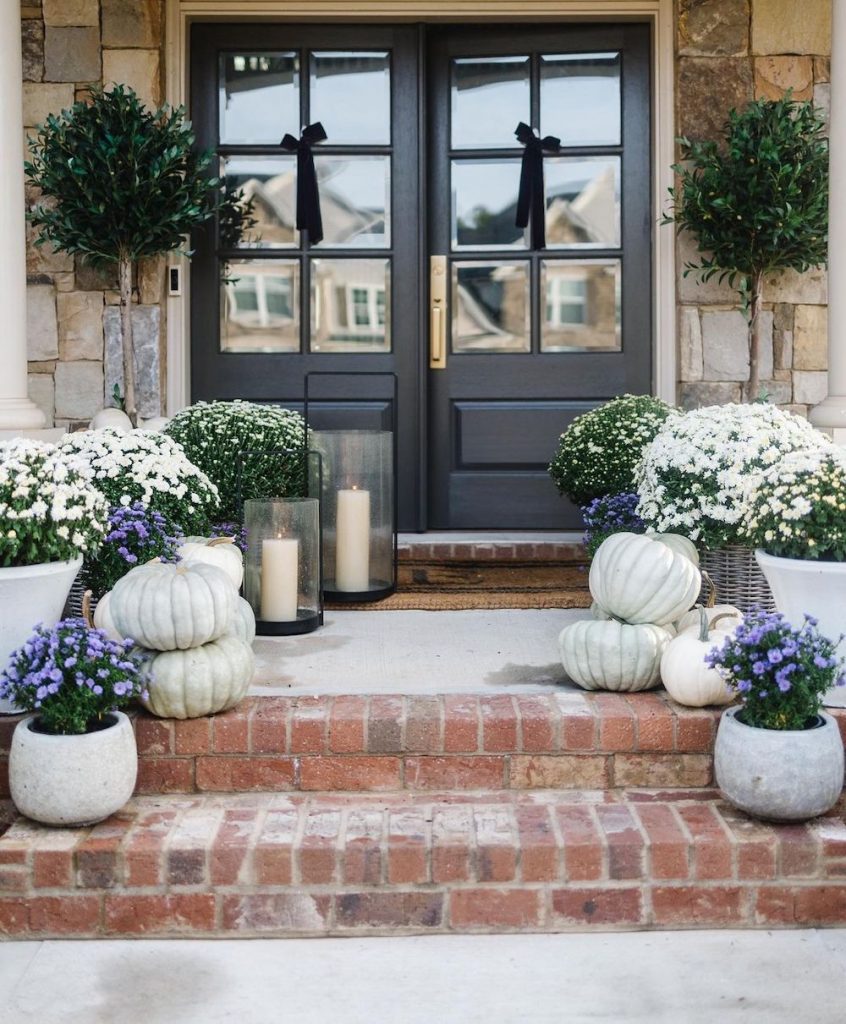 We love this look. Use fall-blooming blue asters for blue color on your porch.
Use Multi-colored Chrysanthemums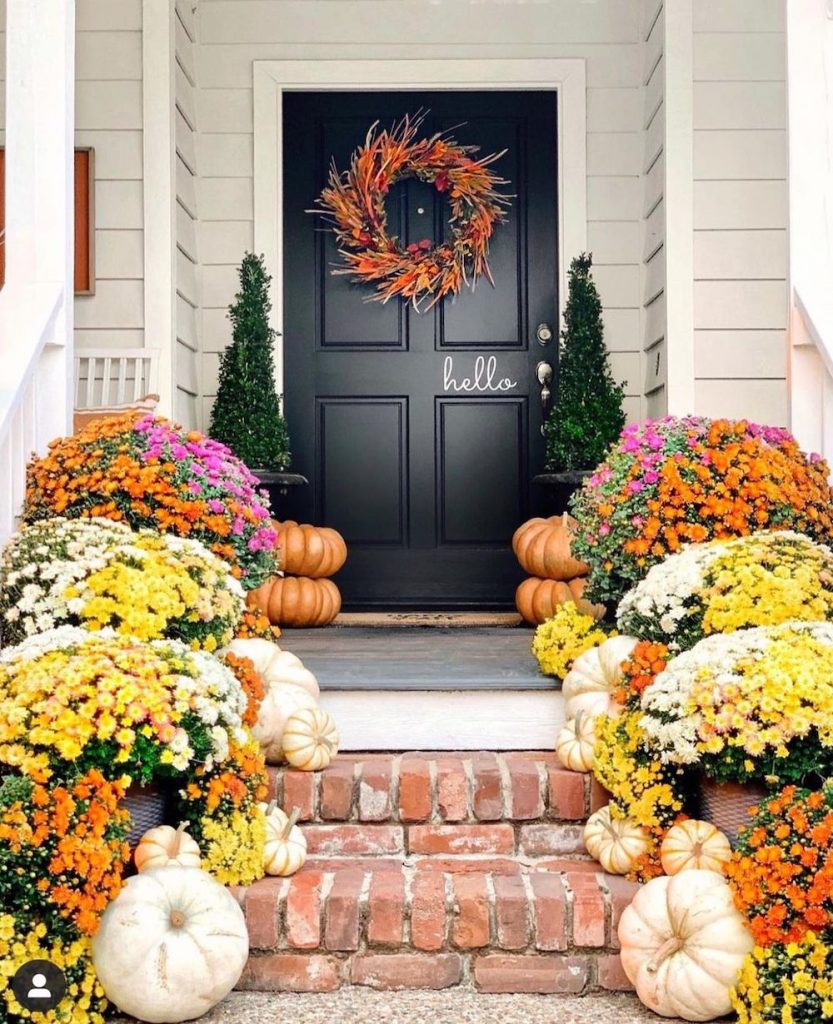 Blend in fall colors. Display chrysanthemums in multi-colors.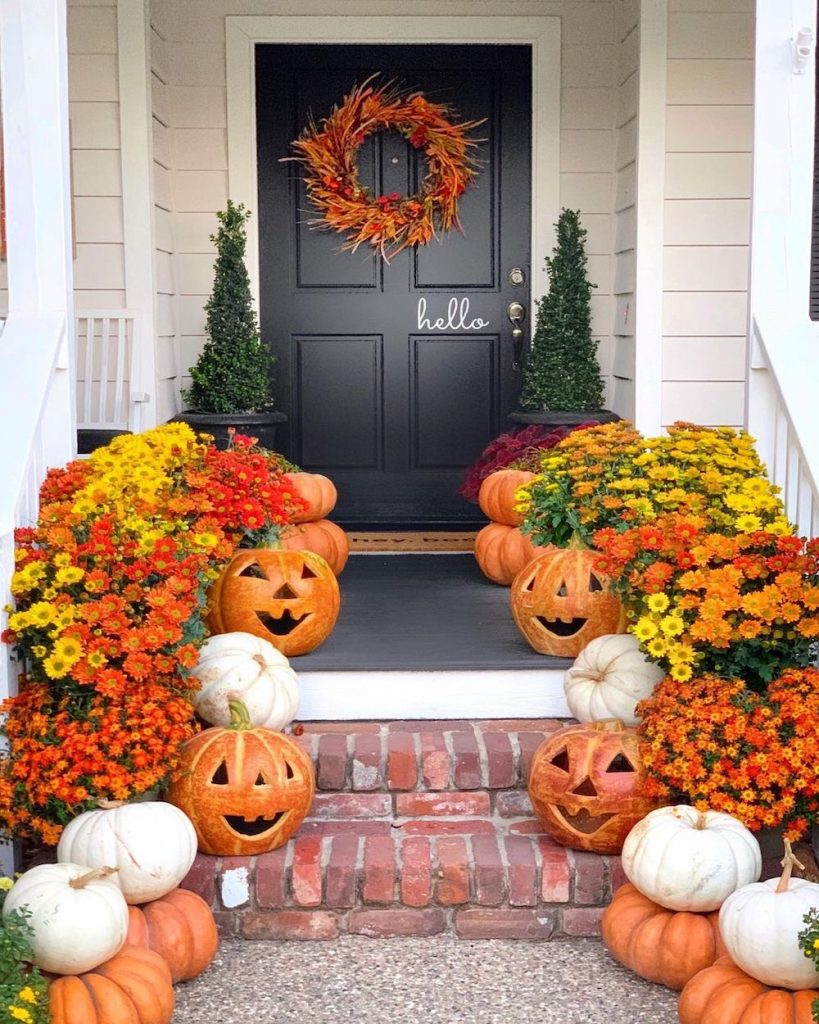 In Conclusion – Fall Porch Styling Ideas
Our list of inspiring fall porch styling ideas has ended. We hope you enjoyed our picks of fall styles for porches. But most of all, we hope that our post inspired you to style your porch this fall.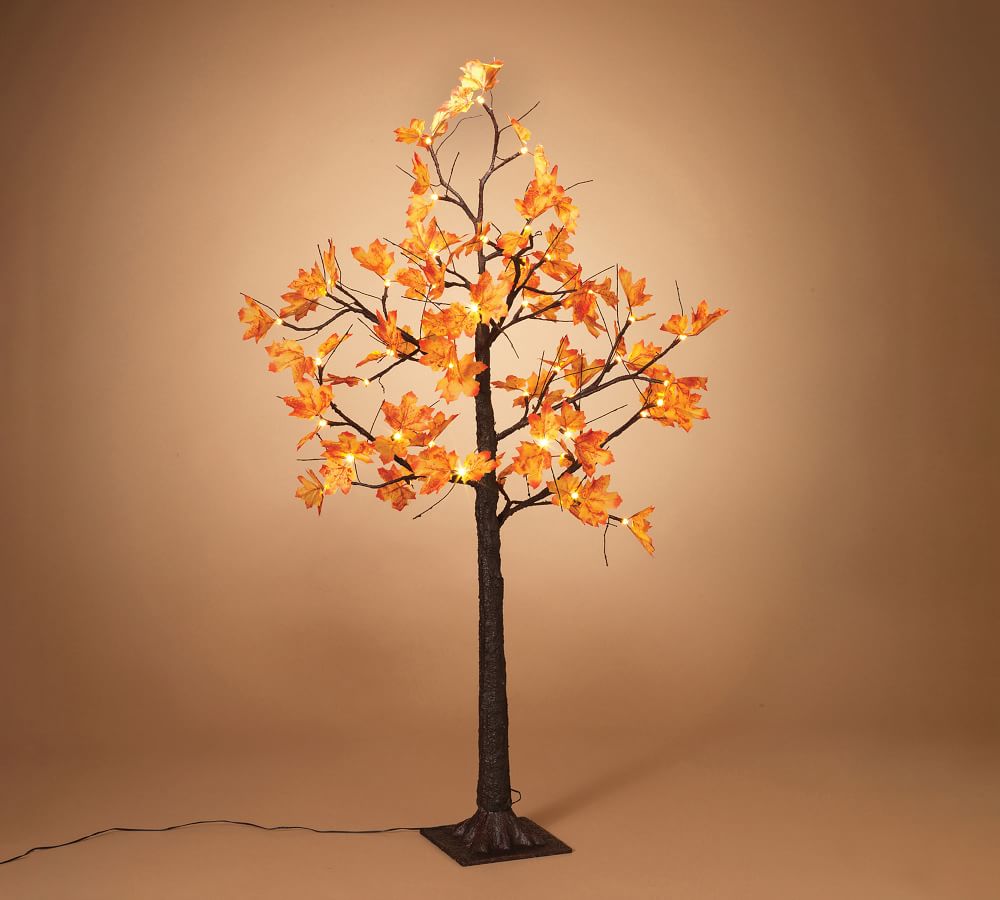 For styling a porch, use accessories such as pumpkins, gourds, and acorns to decorate. For greenery use, faux maple leaves, fresh chrysanthemums, and faux berries. Fall wall art or signs are always a good choice for the porch. And wall art doesn't have to be hung. Rest your wall art on an outdoor table or lean it against a wall.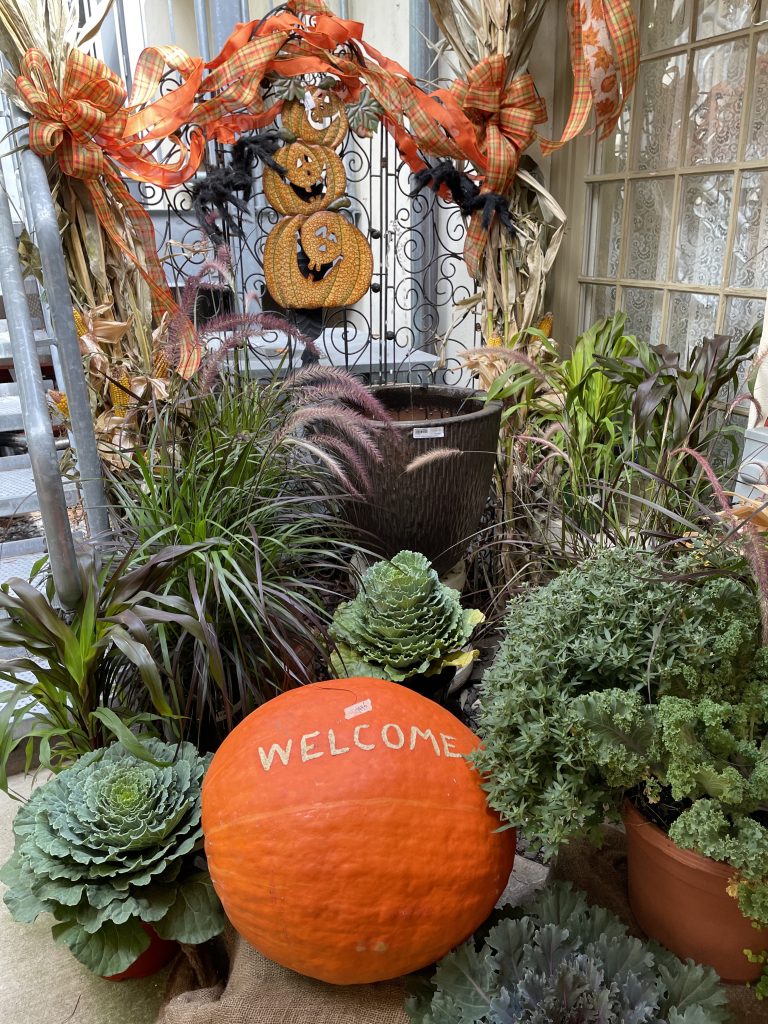 To add a little whimsy, use scarecrows or crows as decorations. As far as lighting goes, add votives, a small lantern, or votives to brighten the porch. Bring the beautiful autumn season to your porch.
For additional fall decor inspiration, be sure to check out our other posts.
Enjoy our other fall decor related posts for additional ideas.
Reach out to us with any questions. We are always ready to help you out. Thank you for stopping by our blog.
Mary
Pin this for Later: