Christmas entryway decor ideas to welcome your guests this holiday season. Before you begin unpacking last year's decorations for your entryway, consider these ideas. Give your space that warm welcome feeling this season. In today's post, we are sharing the most festive entryways for inspiration that you can easily use in your home. And best of all, we have no doubt that you'll love these ideas.
Welcome Your Guests in Style – Christmas Entryway Decor Ideas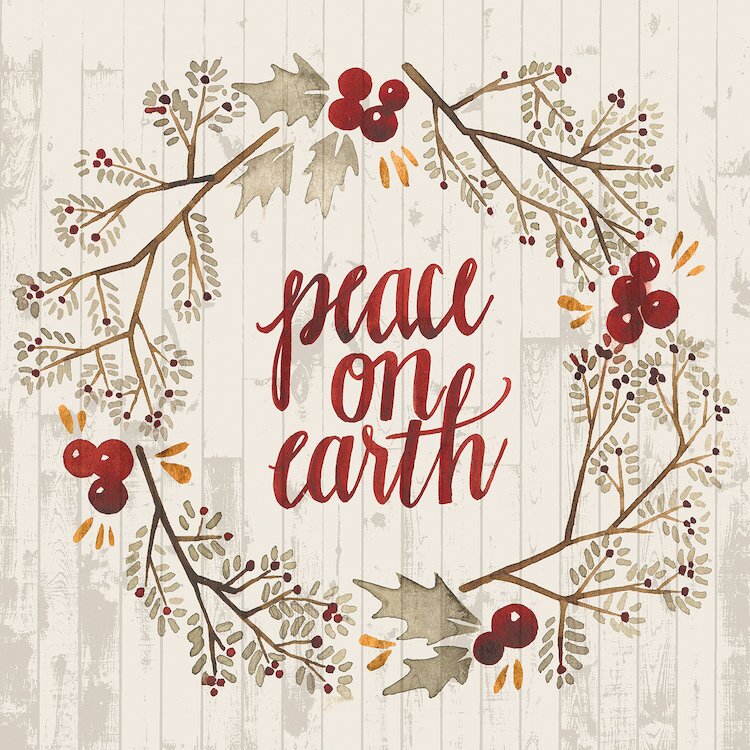 Create a warm, cozy entryway that will cheer your house guests as they enter your home. Use the right accessories for the celebrations ahead. Take a look at these beautiful entryway styling ideas for your home. These are our picks of the best entryways for an inviting space.
Display Reindeer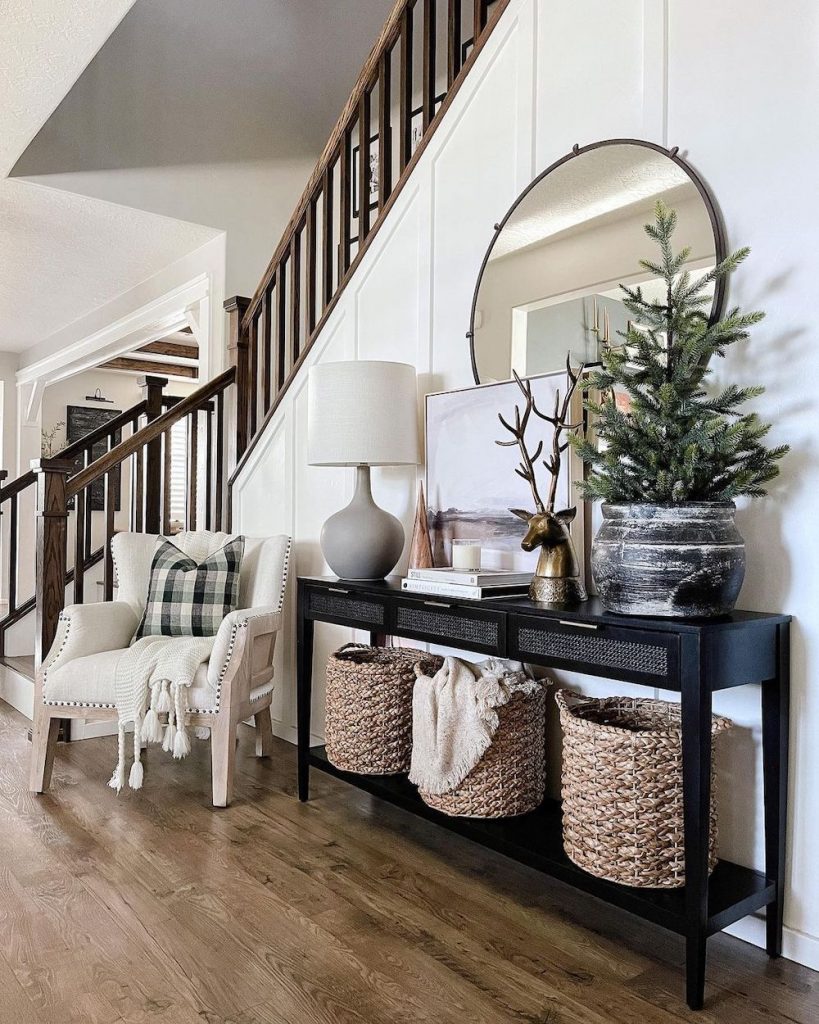 Bring out your reindeer accessories this season. Reindeer are so loved by those who celebrate the Christmas season.
Add Buffalo Plaid Accessories – Christmas Entryway Decor Ideas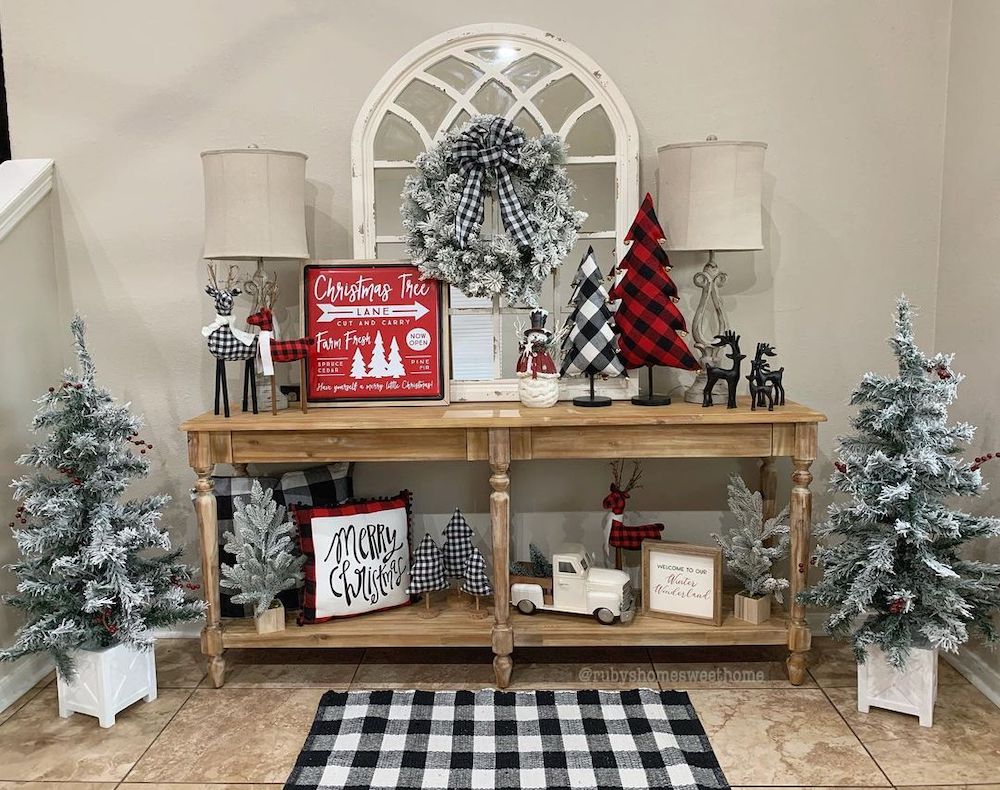 Use accessories covered in buffalo plaid fabric for a festive decor style.
Give it Pops of Red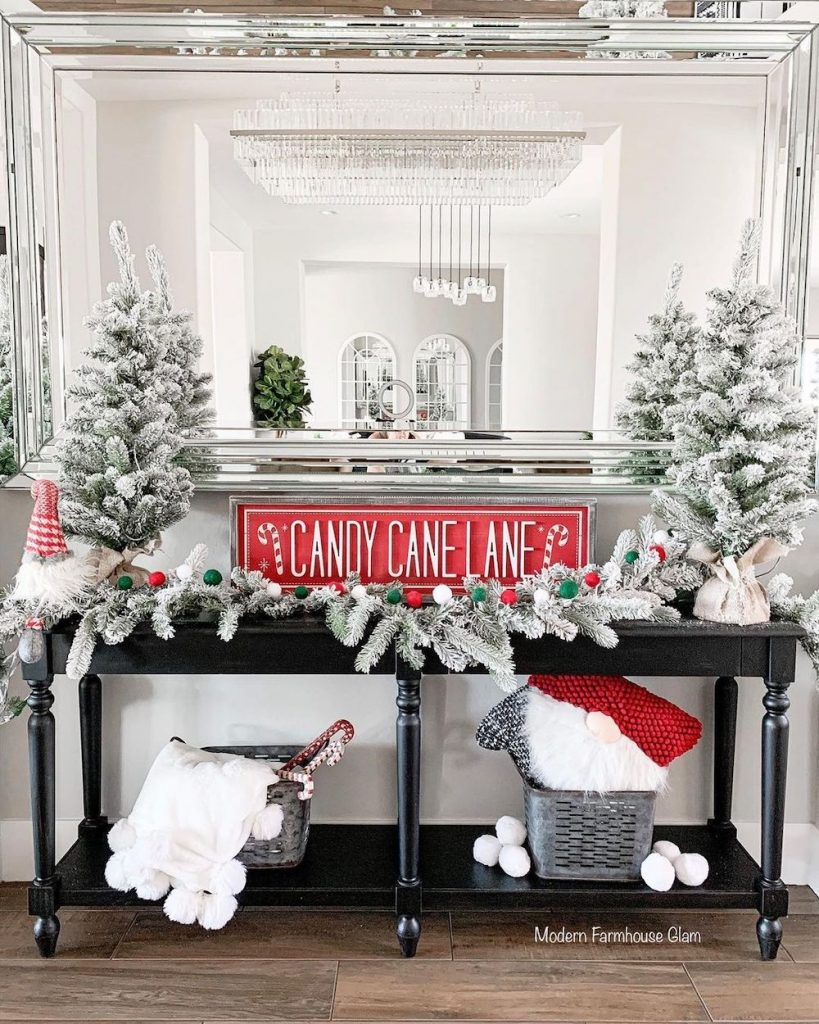 Against a silvery backdrop, add red accessories for a pop of color.
Pull Out the Flocked Trees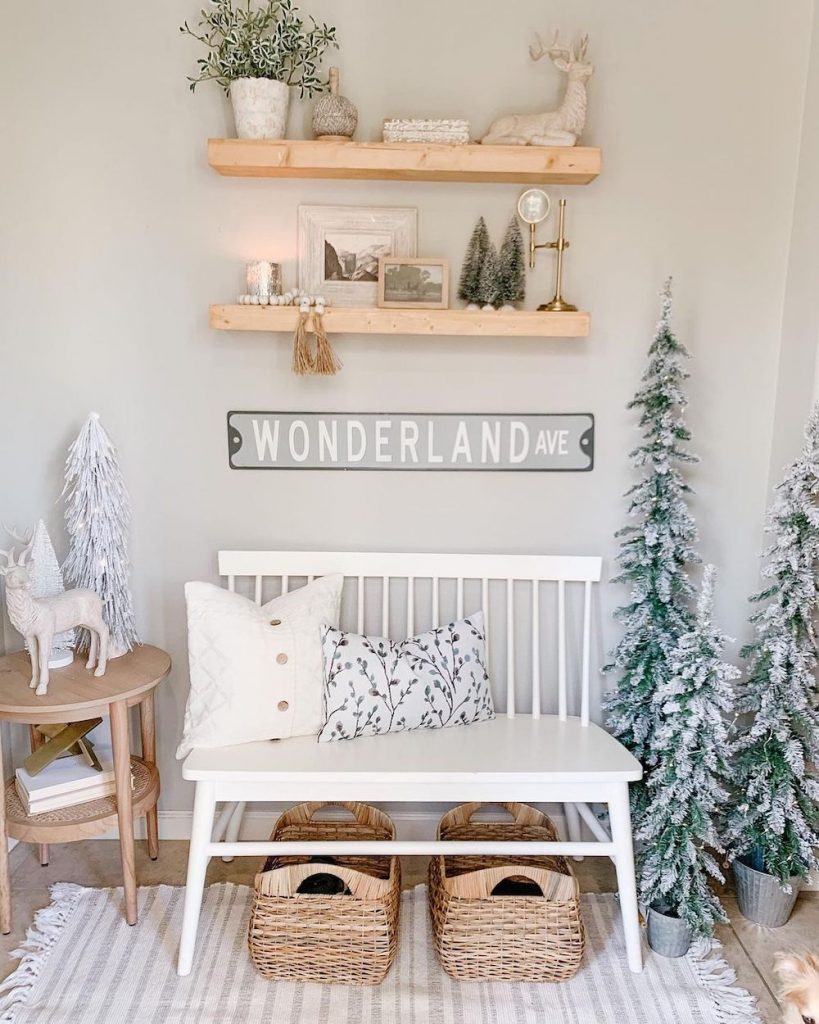 Create a winter wonderland entryway with flocked trees and other white furnishings.
Transform an Old Sled into Wall Art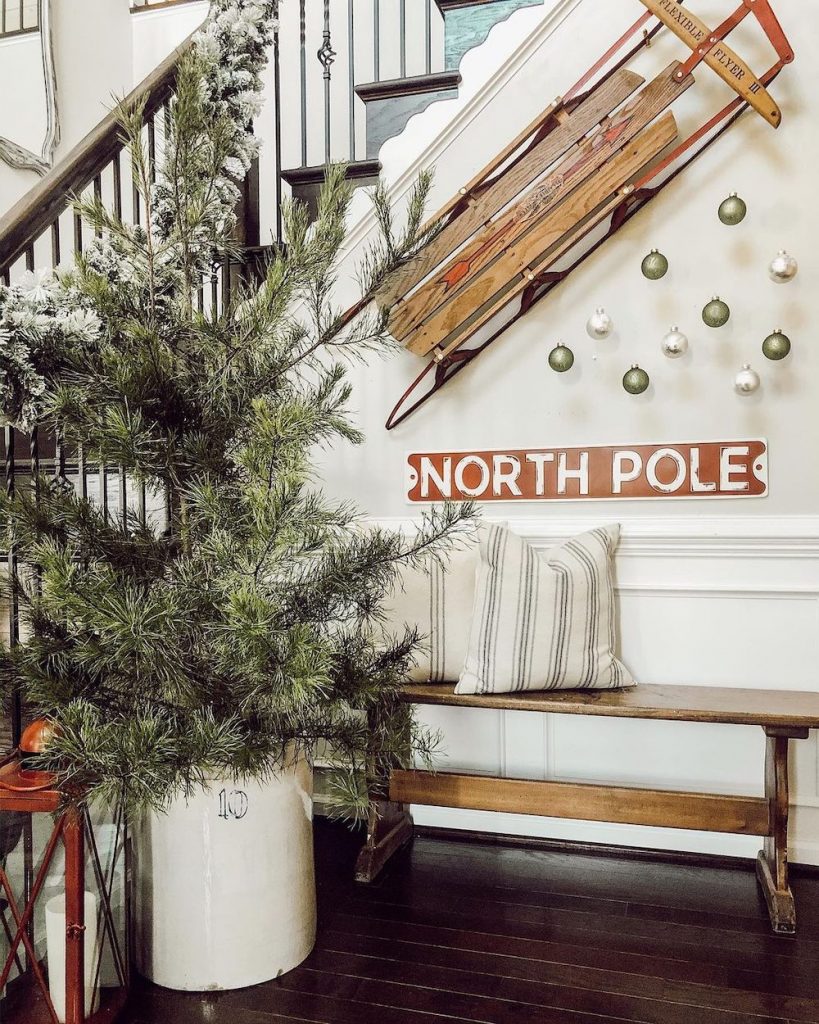 Give your sled a new purpose. Perfect for use as wall art.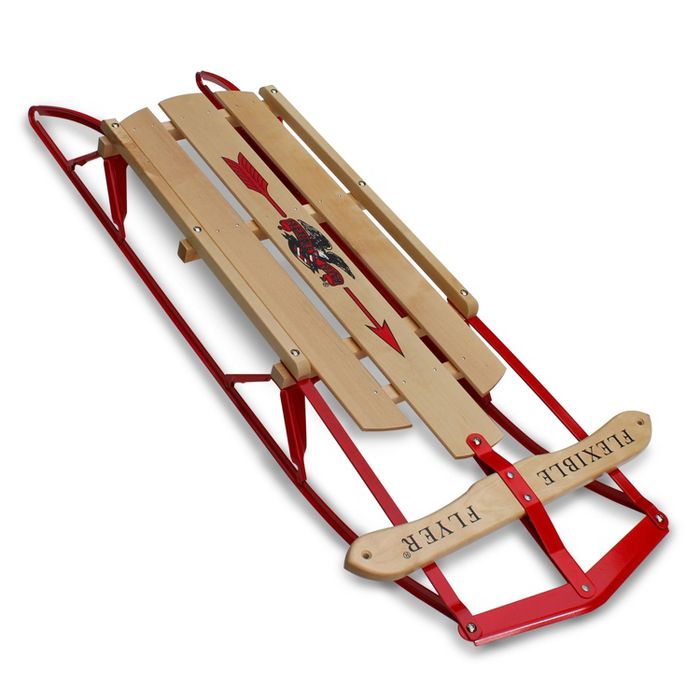 Use a Tree Lot Advertisement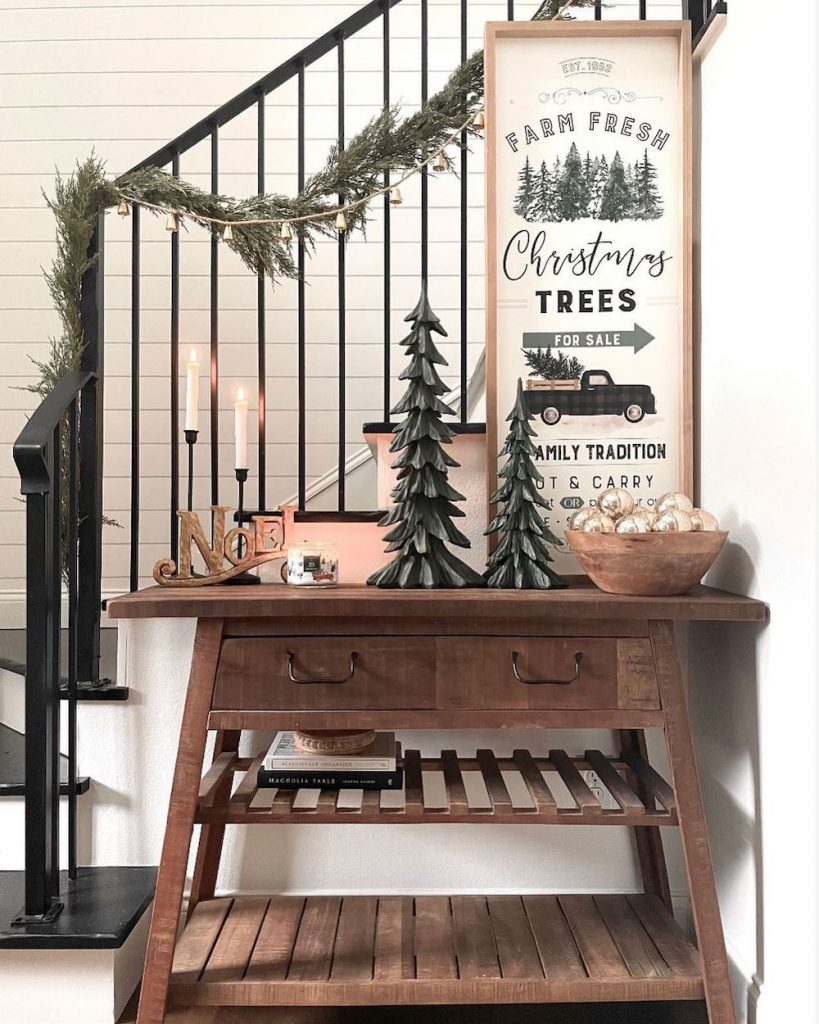 Set a tree lot advertisement wall art on your console table.
Use Black Signage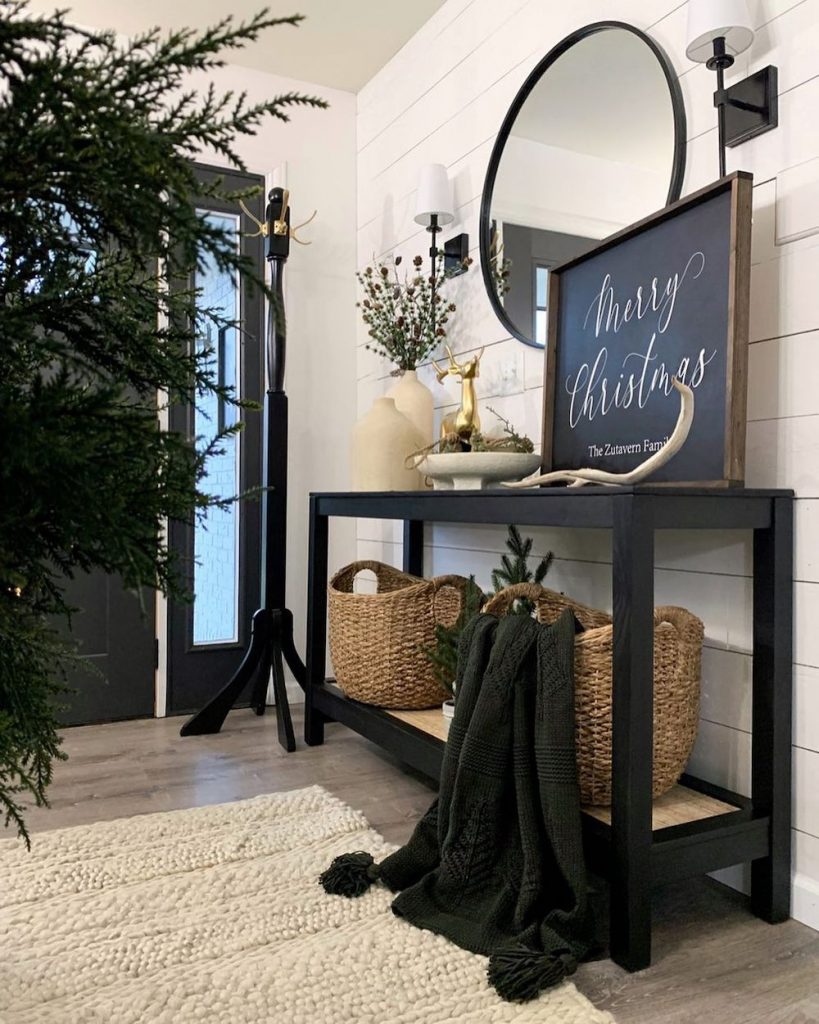 Add black for furnishings to make them stand out.
Add a Simple Wreath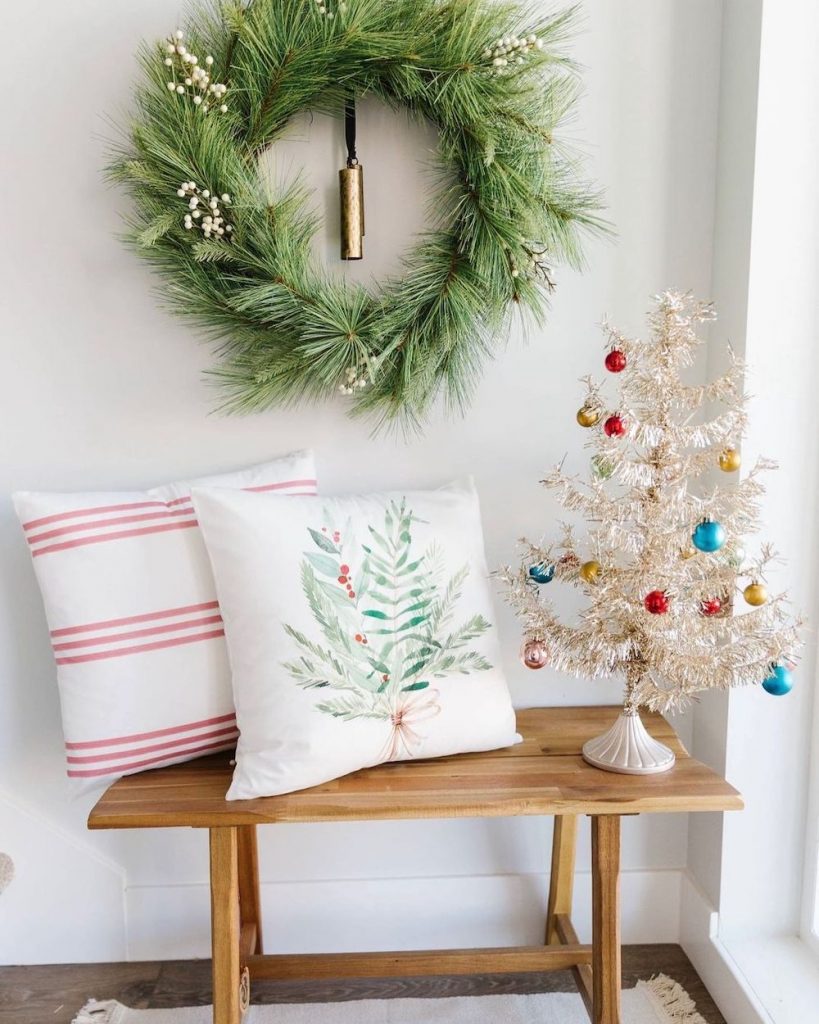 Get back to basics with this inspirational foyer. A simple wreath and decorated faux tree brighten up this space.
Create a Holiday Town Village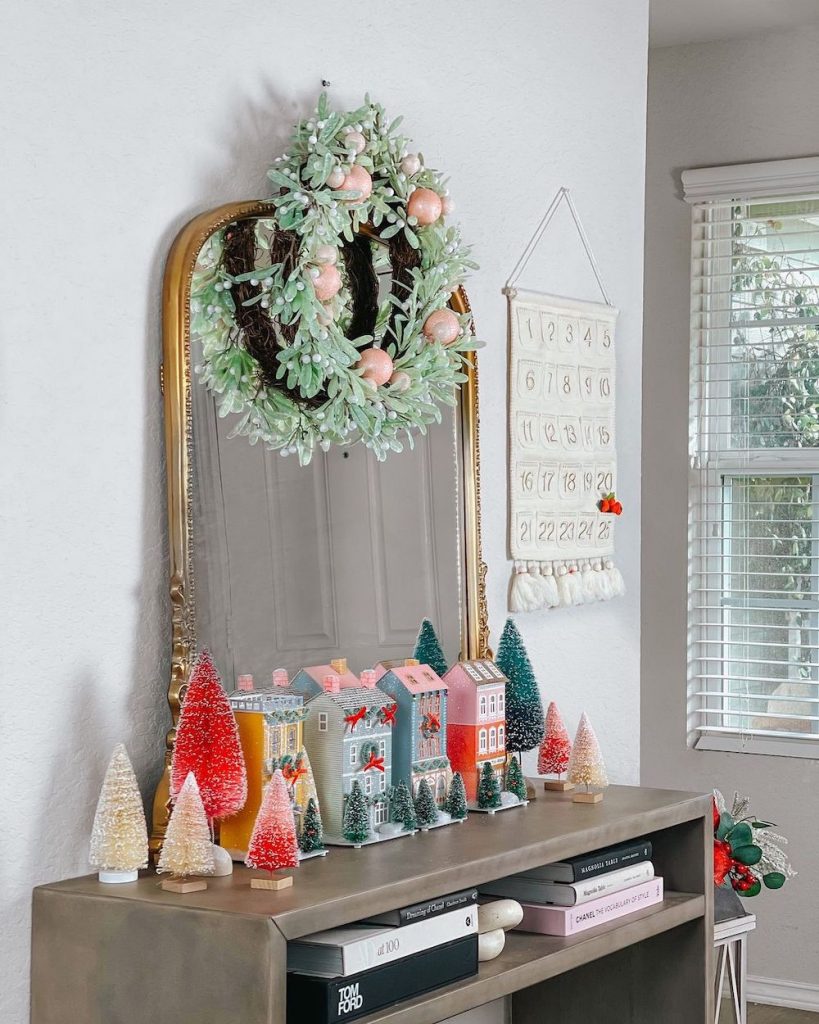 Set up a holiday town village complete with brightly colored bottlebrush trees.
Group Several Gold Candleholders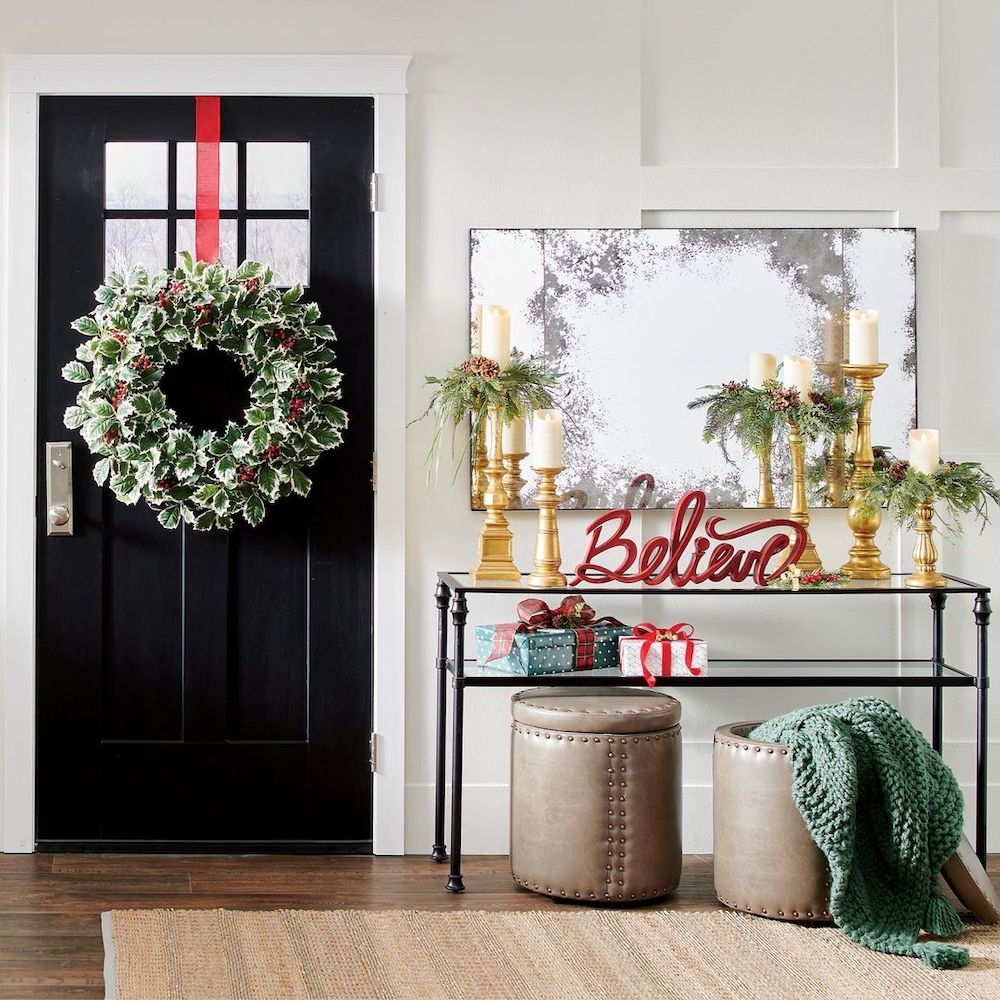 Gather a grouping of gold candleholders with white pillars. So festive and perfect for the Christmas season.
Greet Your Guests with a Holiday Song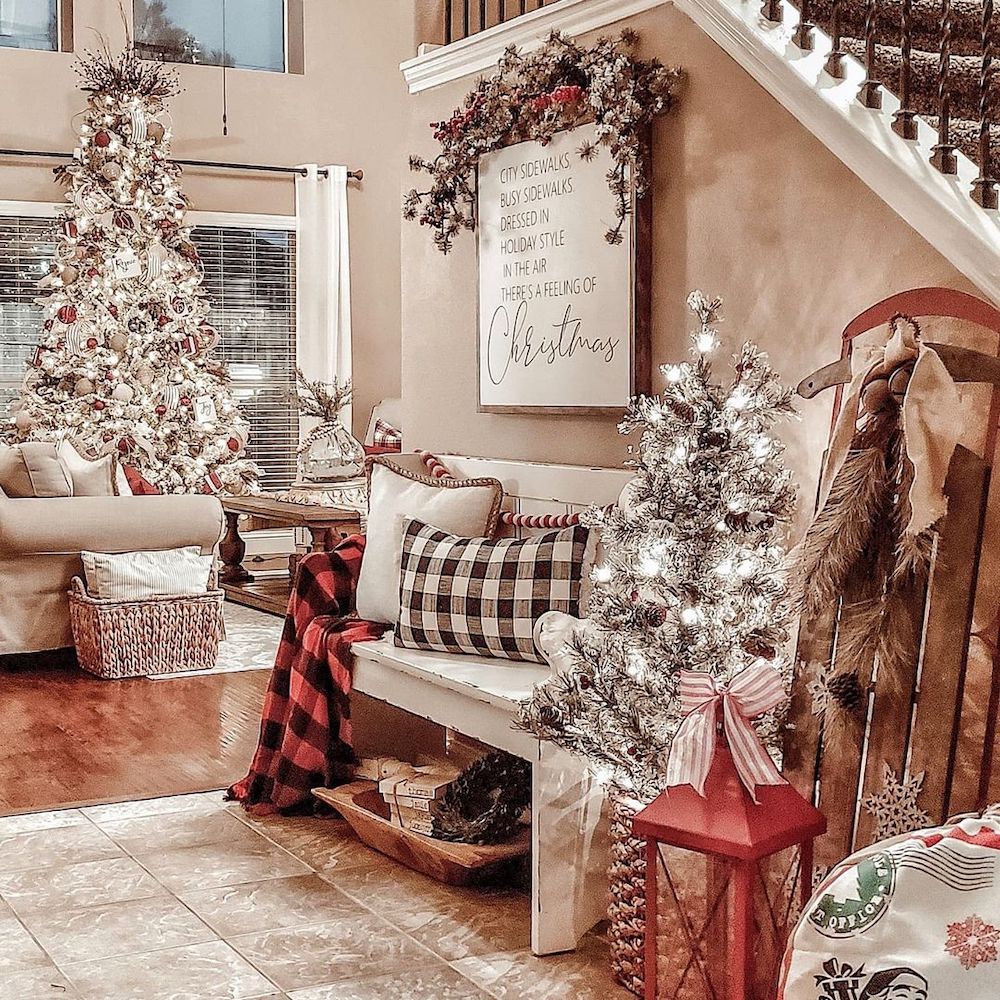 Hang a textual art wall with a familiar Christmas song such as Sliver Bells by Andy Williams.
Hang a Wreath Over a Mirror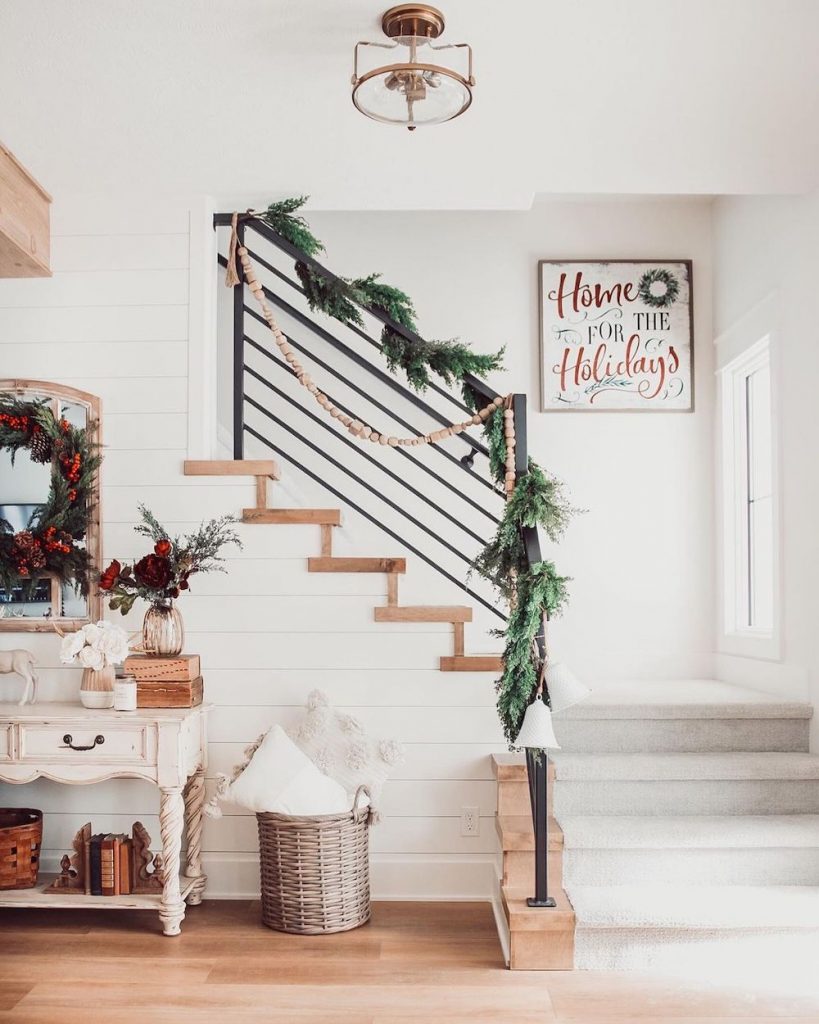 Hang a wreath over the console mirror for added festive colors.
Celebrate the Night When Christ was Born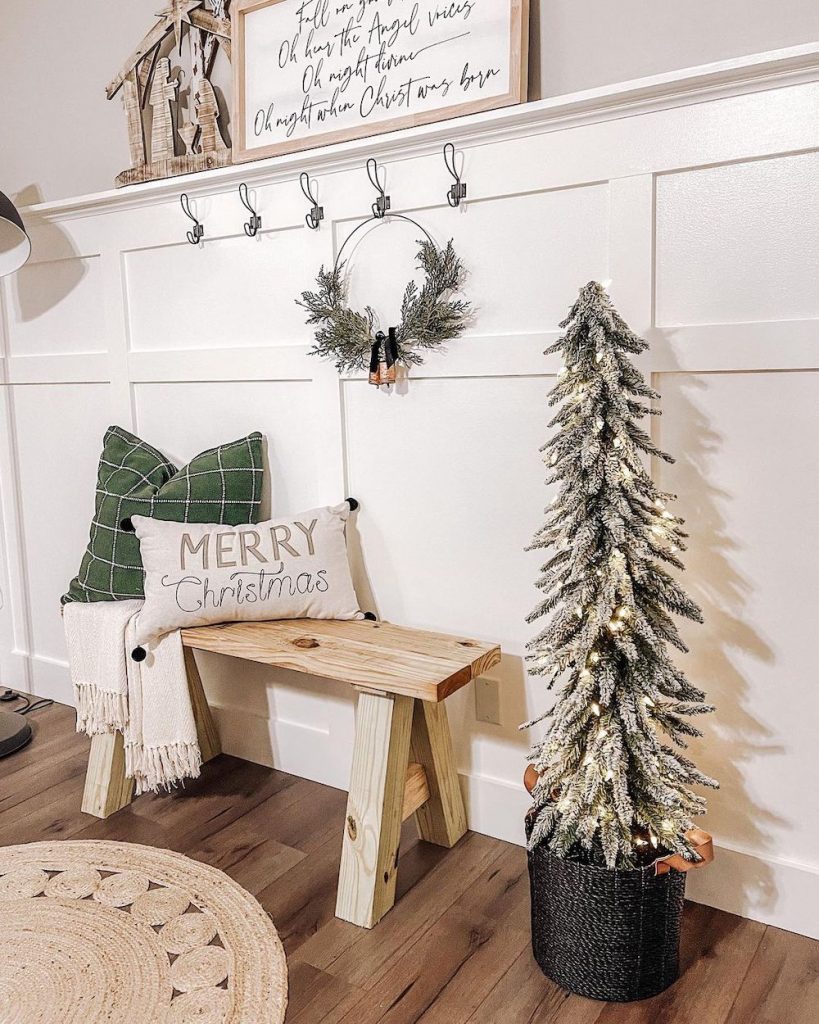 Display an image of the nativity and wall art celebrating that famous night. The night when Christ was born.
Mix Black with Gray and White – Christmas Entryway Decor Ideas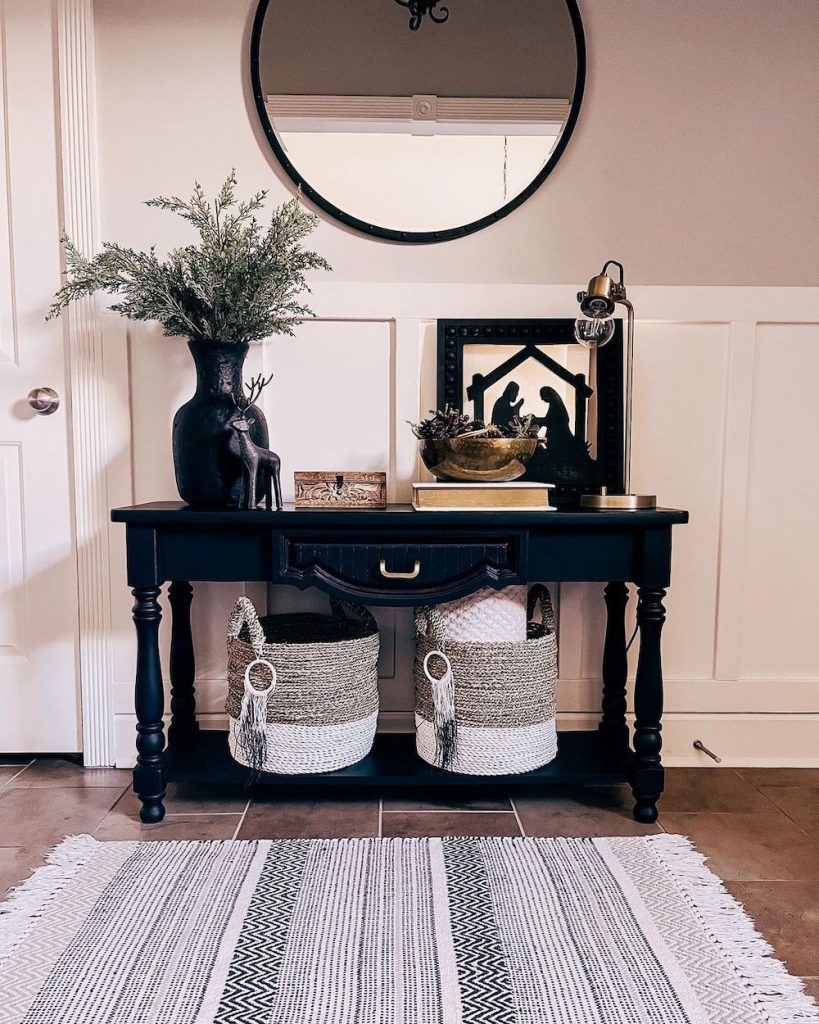 Blend black accessories and furnishings with cream and gray colors.
Design a Holiday Gallery Wall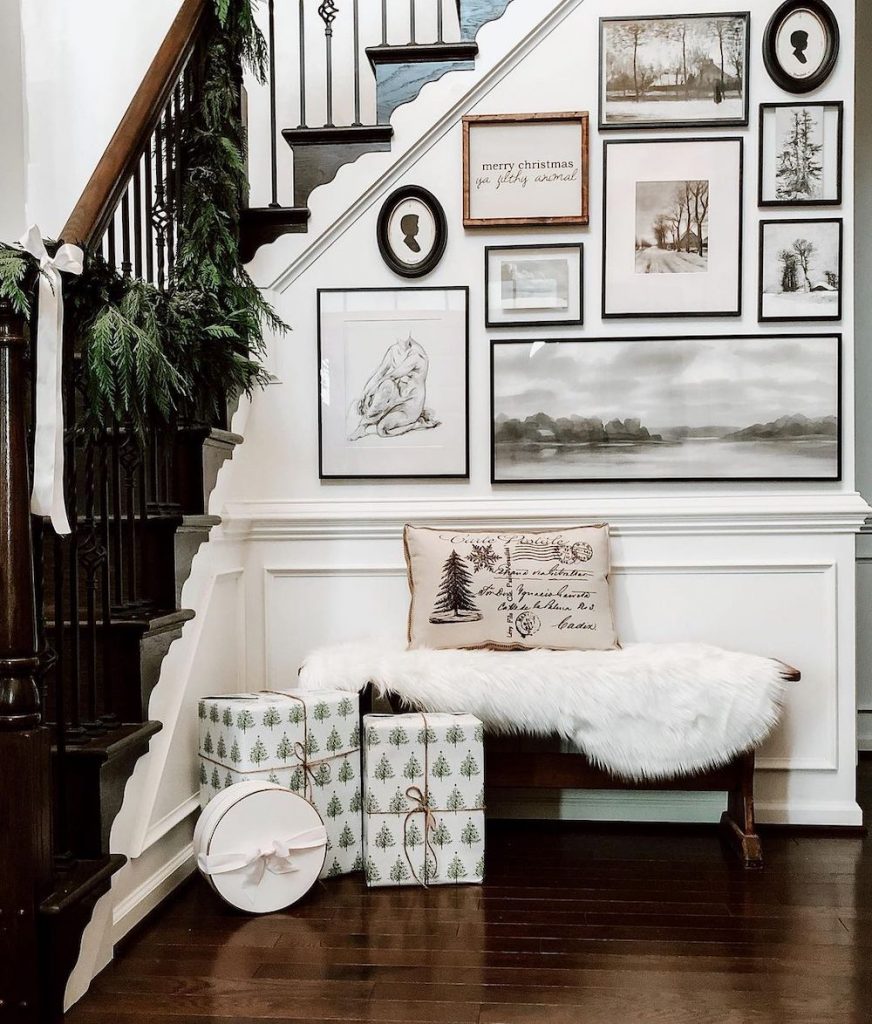 Style a holiday gallery wall in the foyer space.
Use Warm Colored Wood Accessories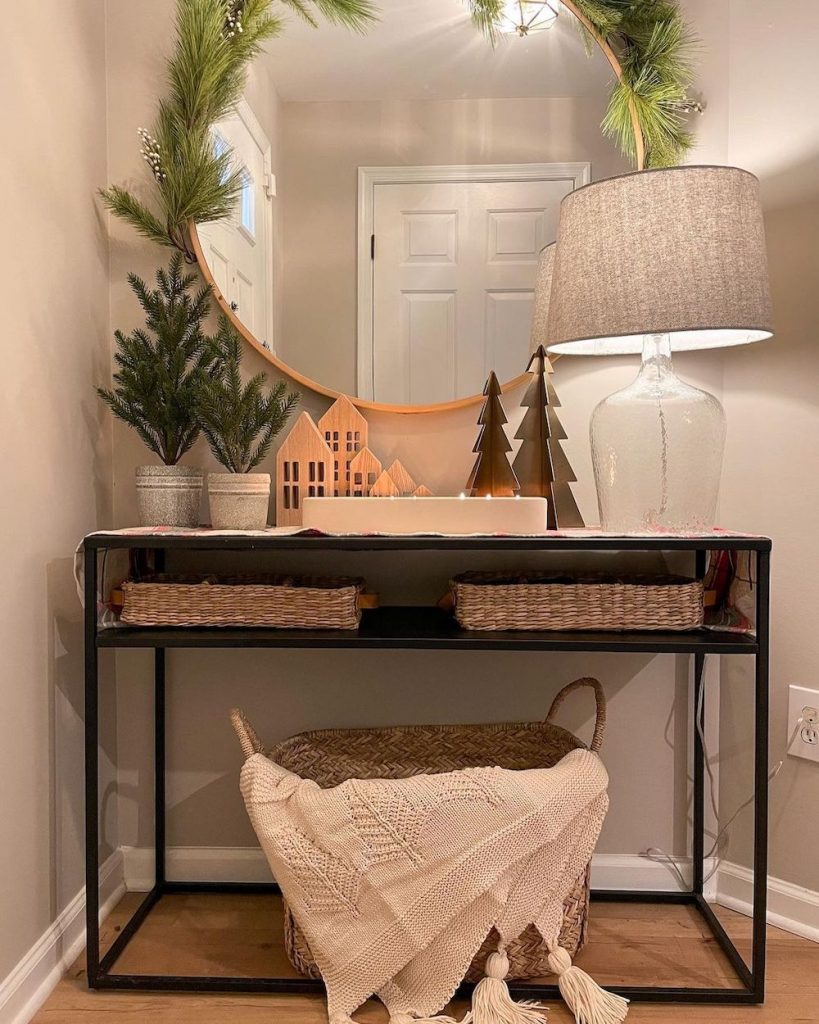 Add warmth to your space with wooden objects and wicker accessories.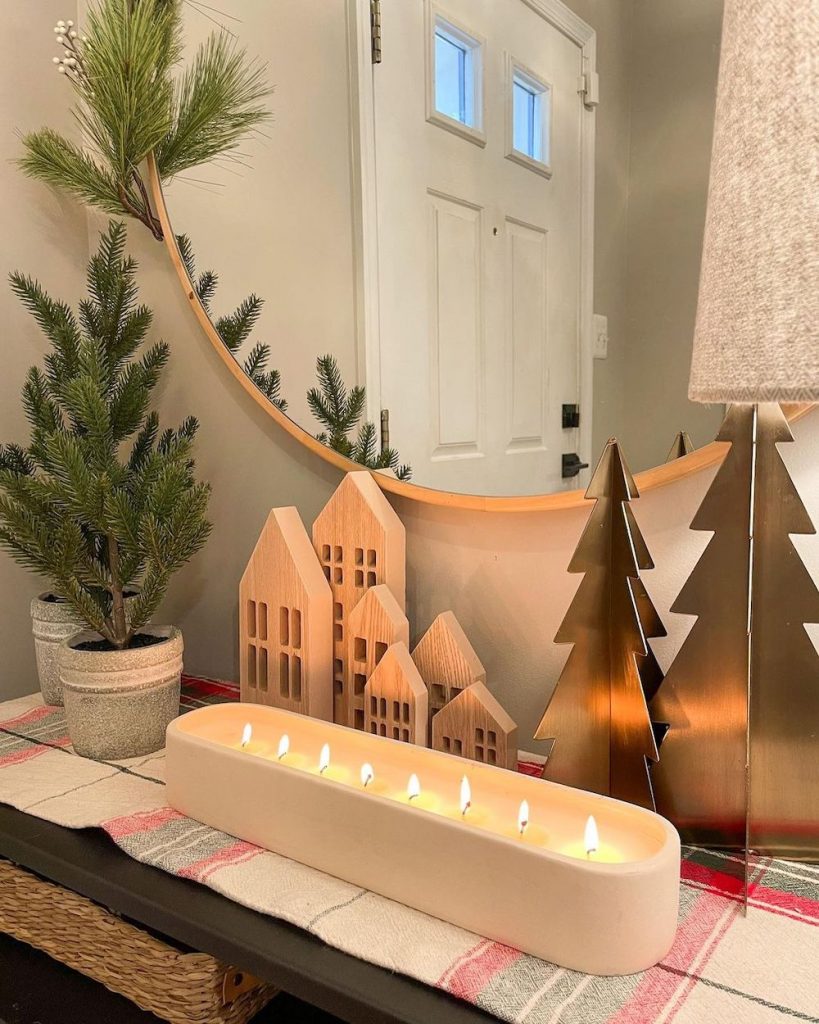 Style it Green – Christmas Entryway Decor Ideas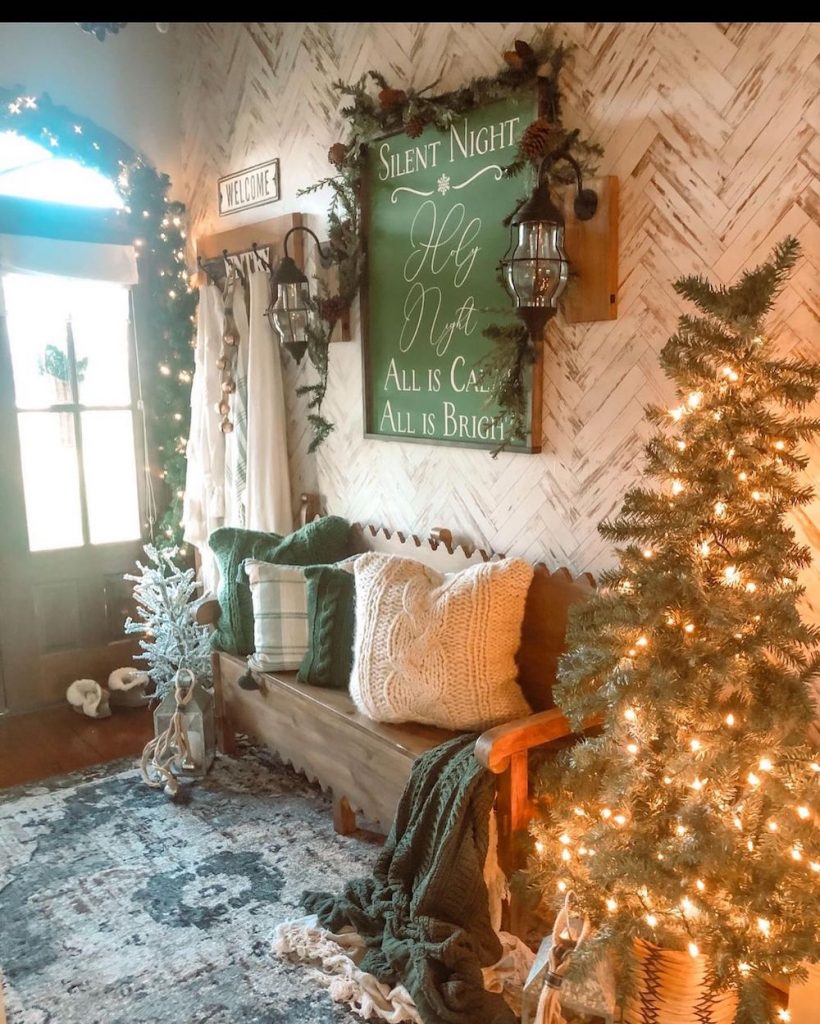 Use green accessories and furnishings. Doesn't this look cozy and comfortable?
Wrap Garland Around the Mirror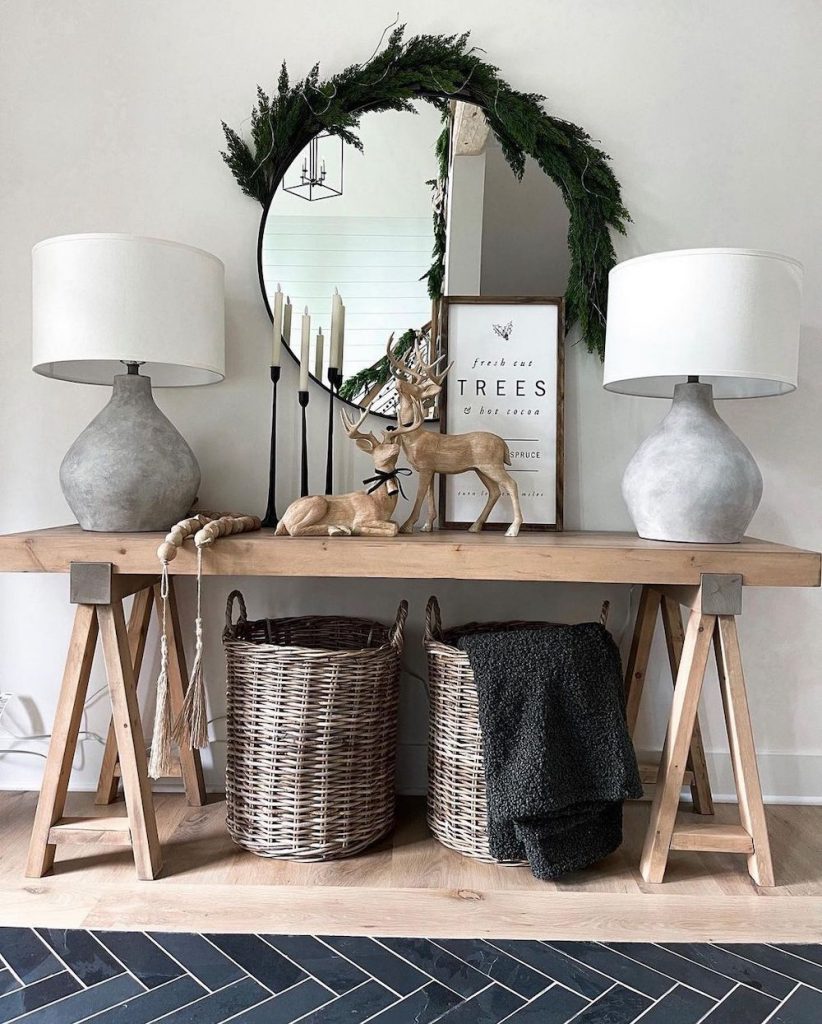 Cover the top of your mirror in evergreen garland.
Display the Countdown Until the Big Day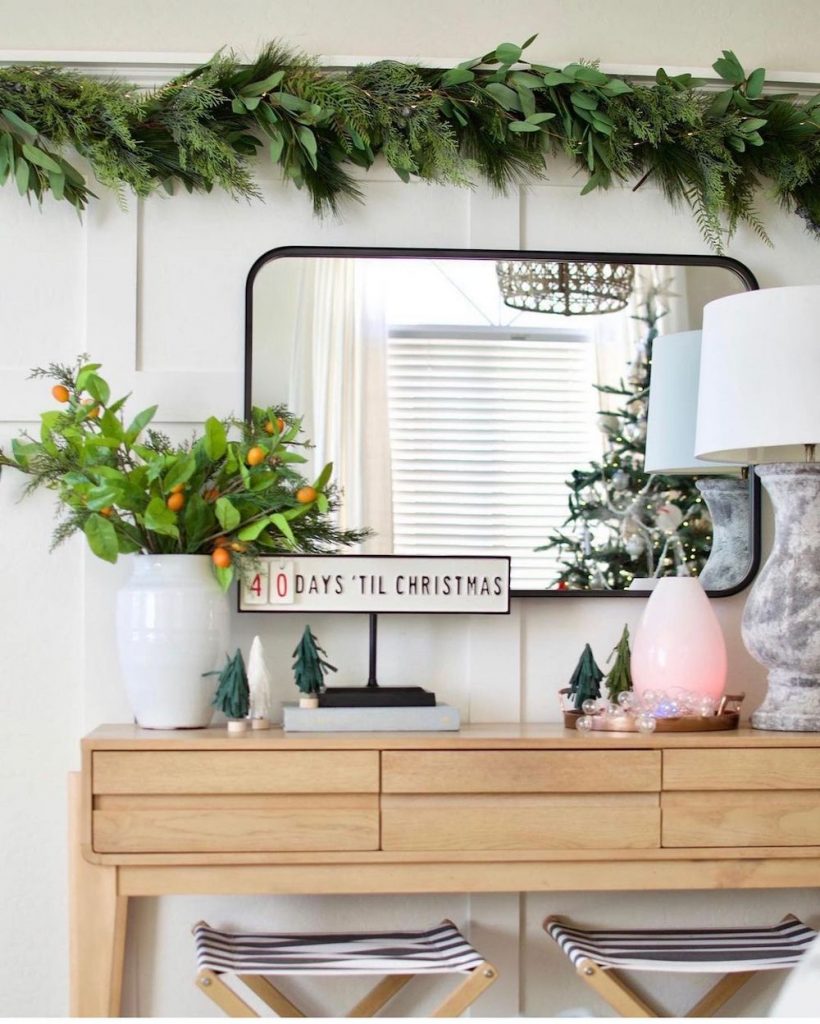 Include a countdown sign on your console table. For young and old, the sign reminds everyone of the upcoming holiday celebration.
Give it a Whimsical Look – Christmas Entryway Decor Ideas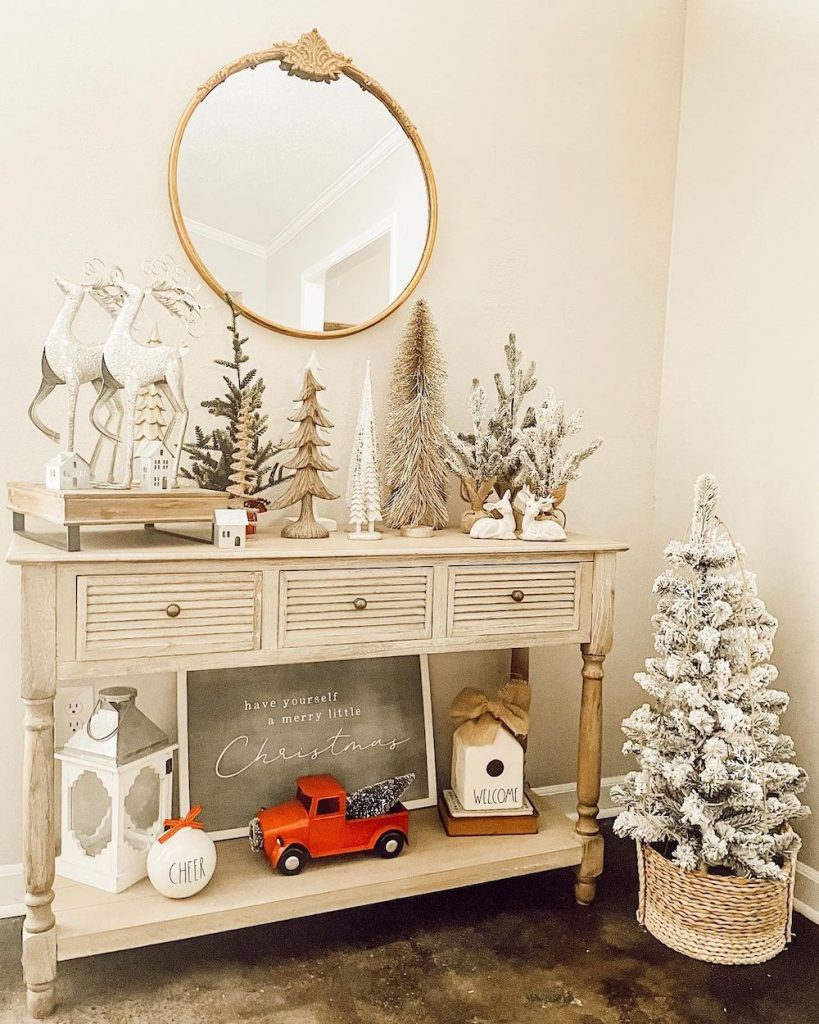 Style it with prancing deer and a red toy truck for a whimsical look.
Add a Cluster of Mirrors – Christmas Entryway Decor Ideas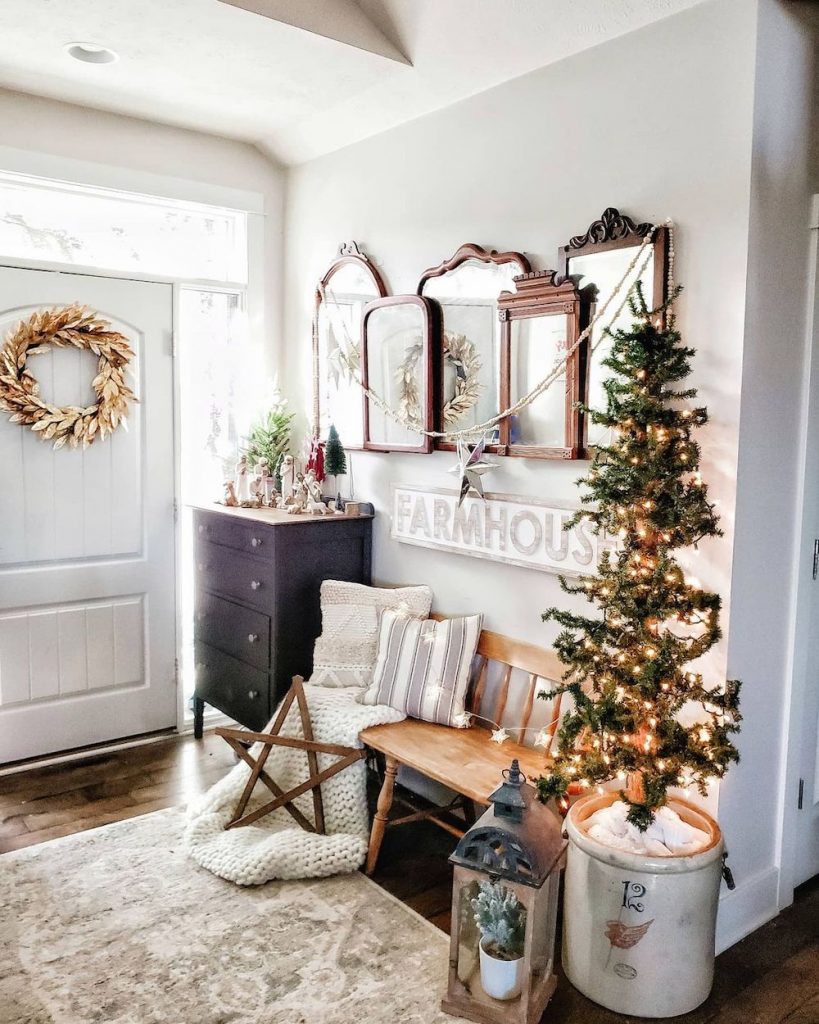 Hang a group of mirrors for extra light and brightness.
Give it a Woodland Decor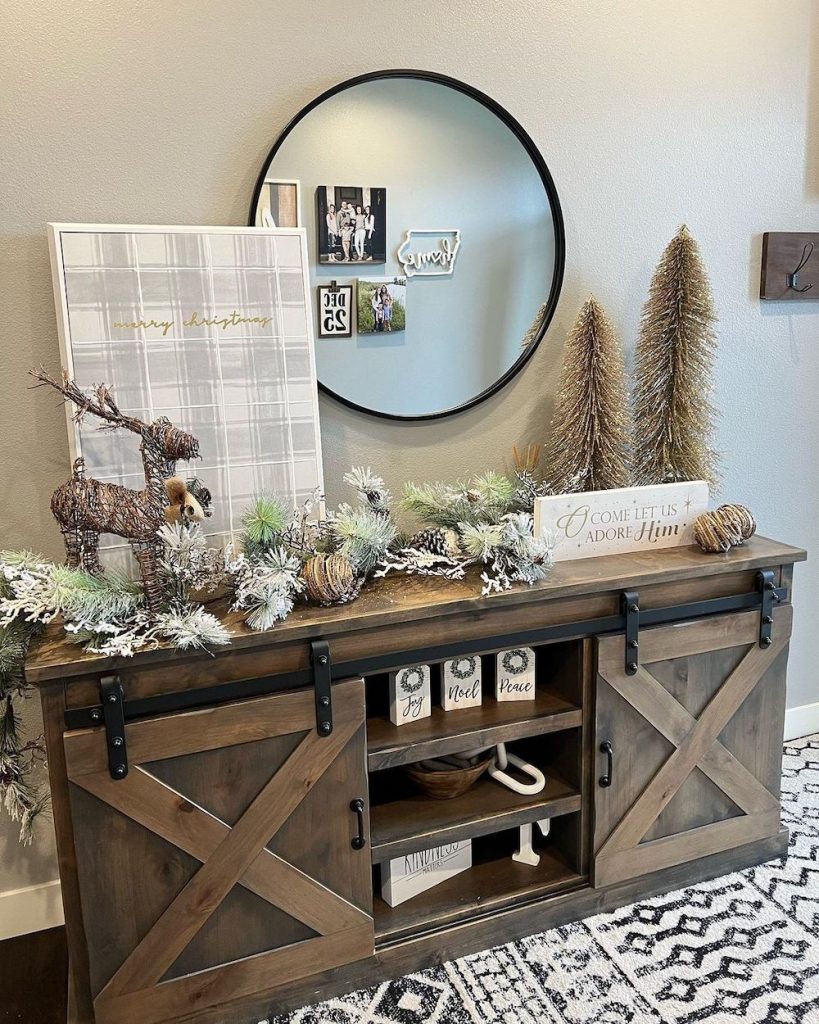 Style this barn door console with a woodland scene.
Make it Cherry Red – Christmas Entryway Decor Ideas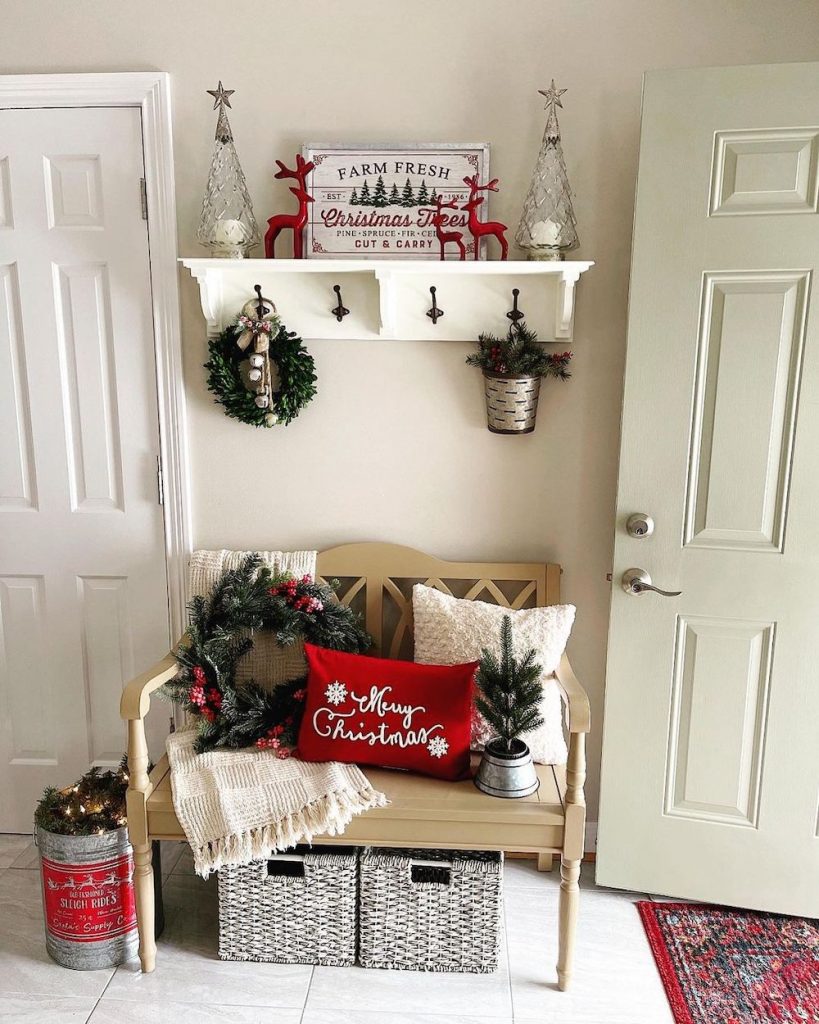 Go with traditional Christmas colors. Classic cherry red and green is always a hit.
Display Miniature Village Houses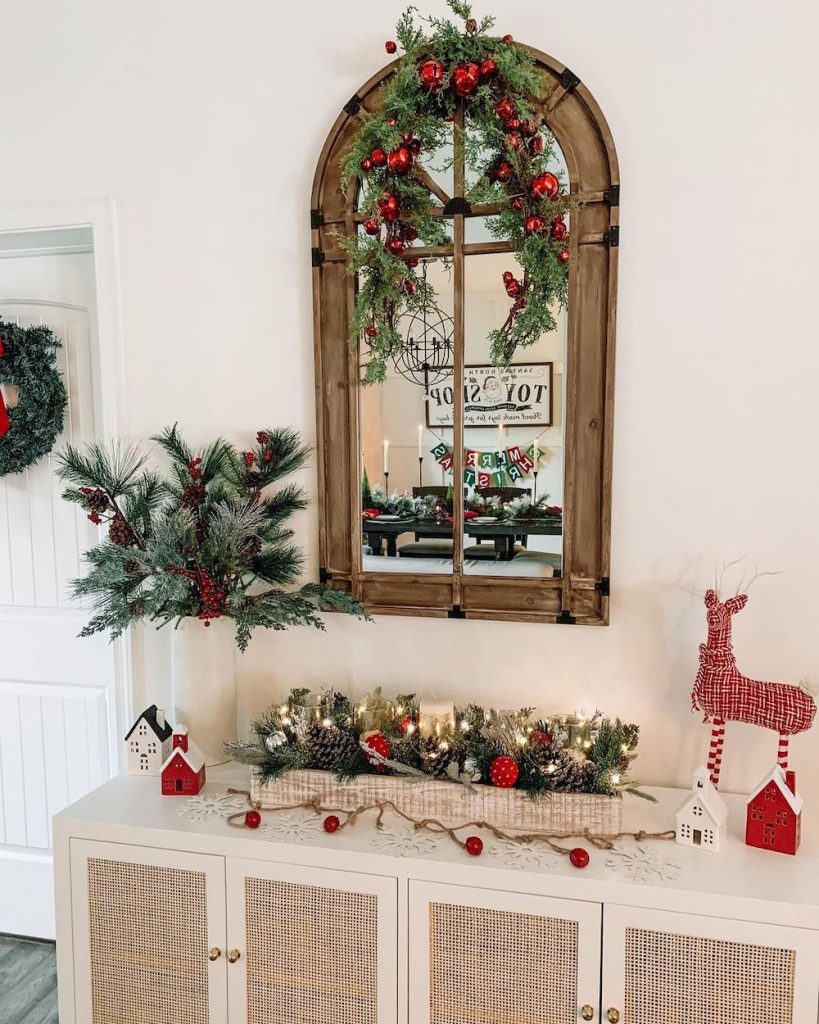 Use small holiday village houses in groups alongside a string of bright bells.
Mix it Up – Christmas Entryway Decor Ideas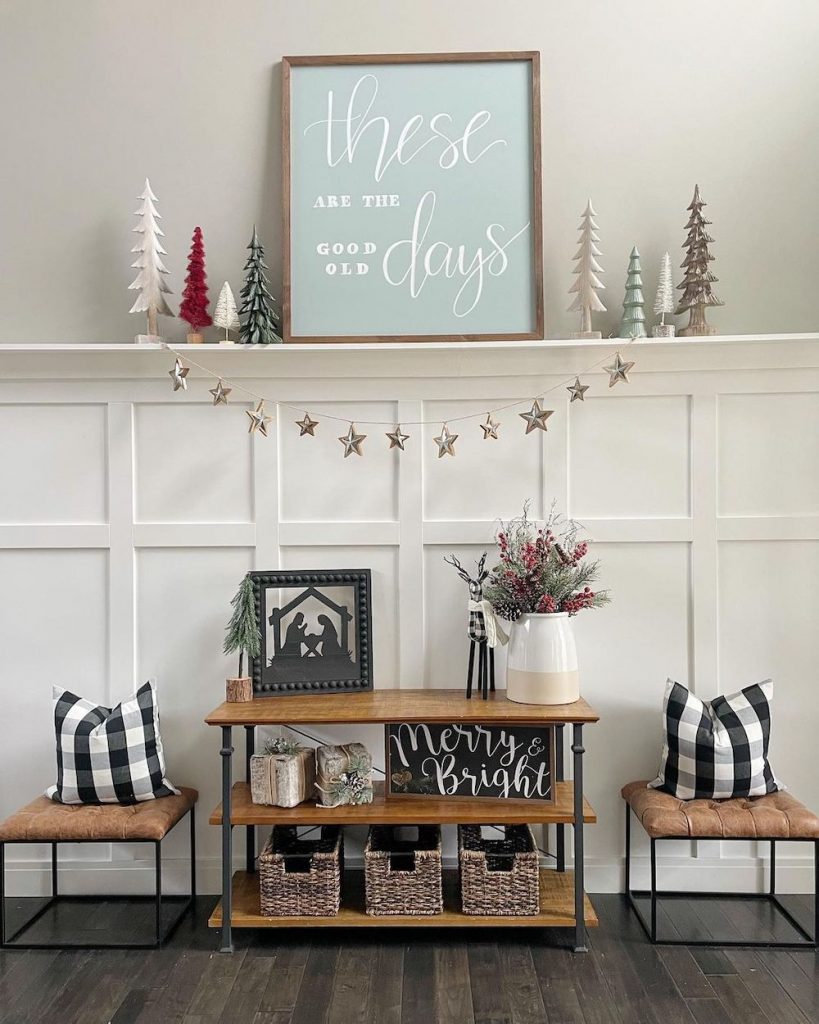 Create a grove of holiday trees in a variety of sizes and made from different materials. Then string a garland of silver stars underneath.
Pile on the Pillows for Deep Comfort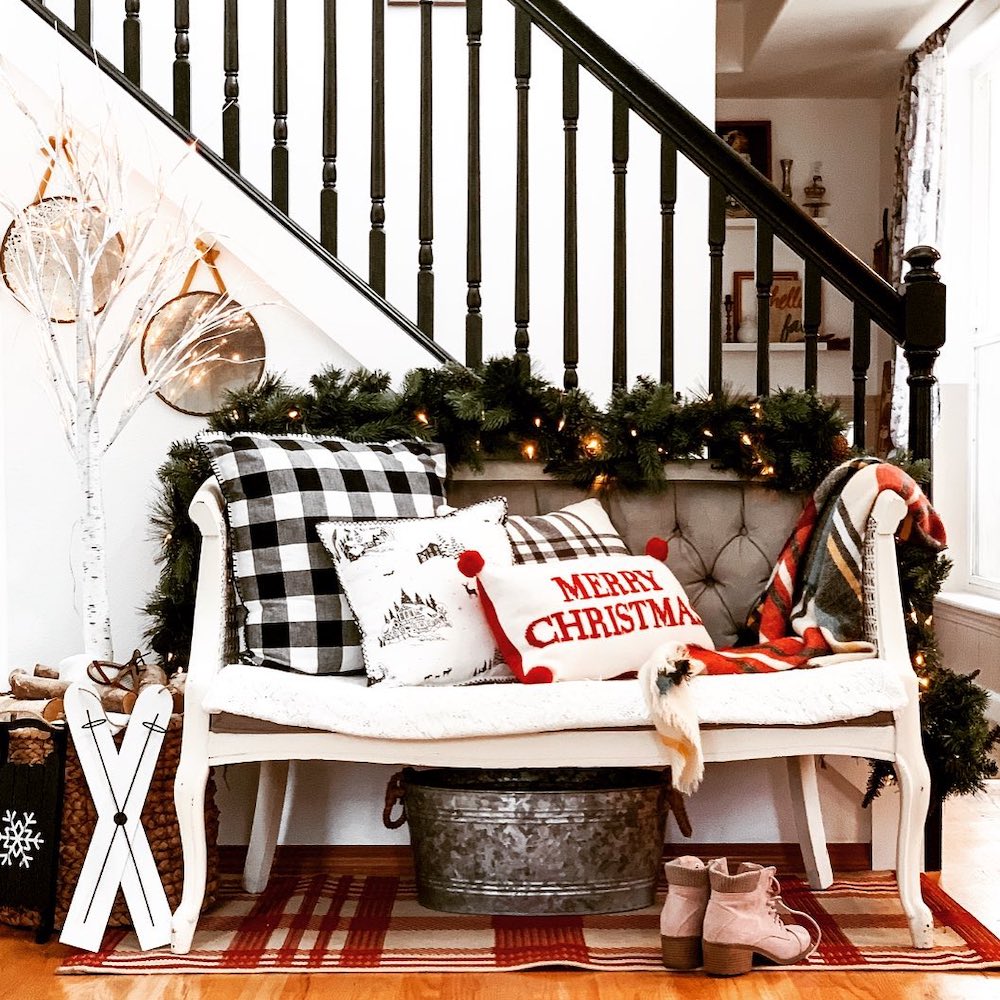 Keep a pile of pillows and a throw nearby for those chilly evenings when you need to cuddle and stay warm.
Style it Neutral with Cream Accessories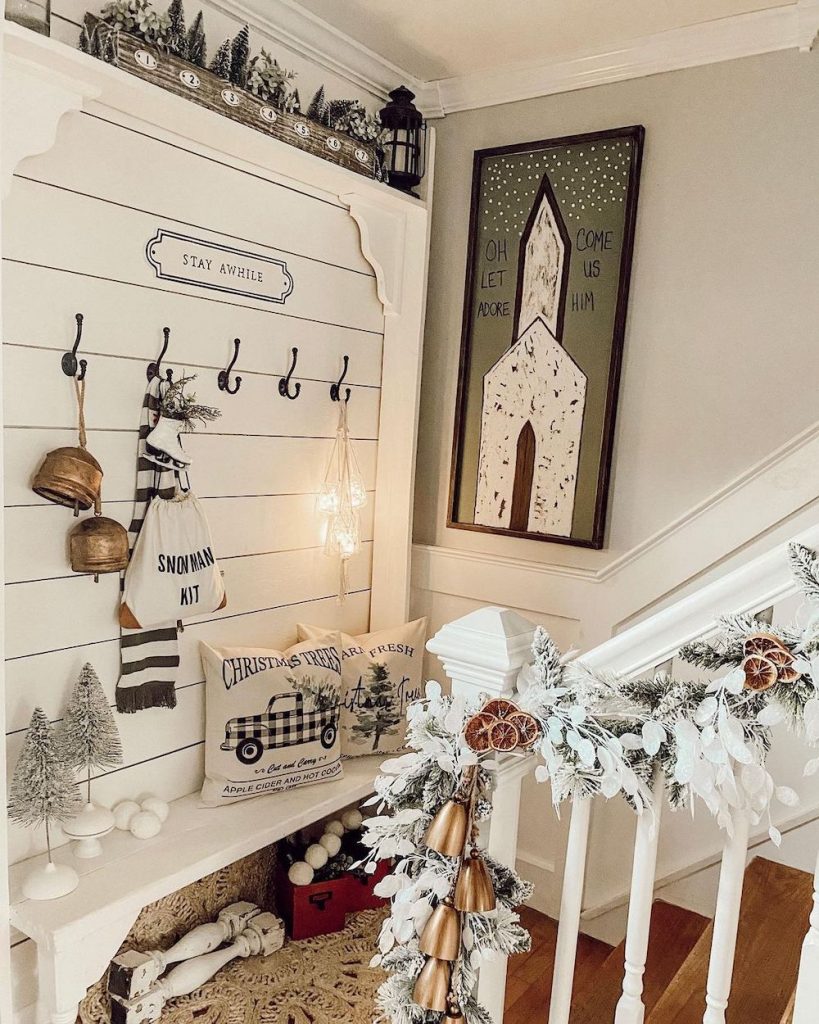 Style your bench and coat hooks with creamy white accessories.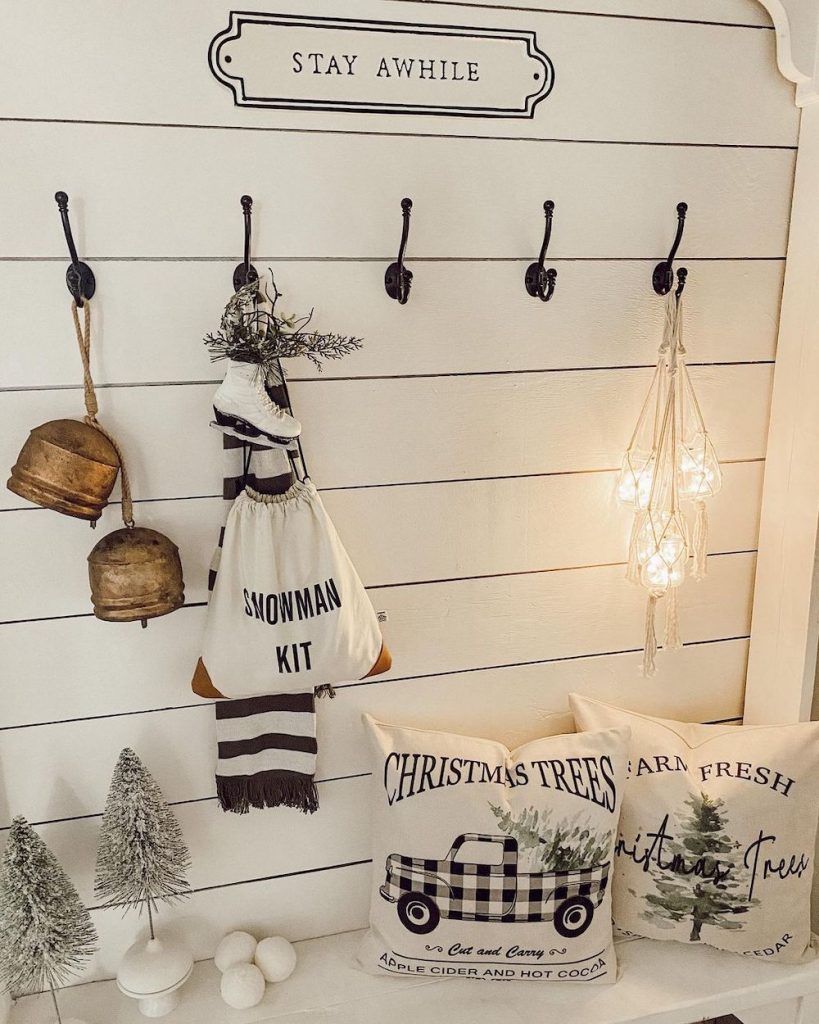 Use a String of Wooden Beads – Christmas Entryway Decor Ideas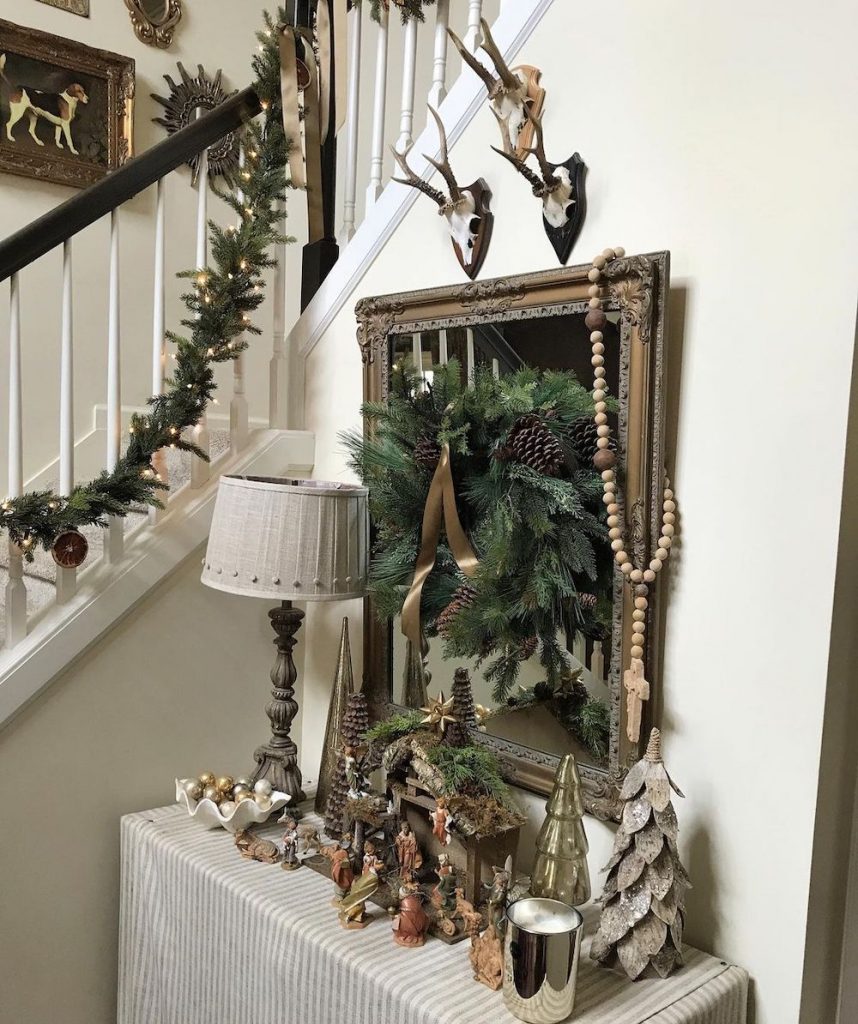 Drape a set of wooden beads across the console mirror.
Hang Textual Wall Art – Christmas Entryway Decor Ideas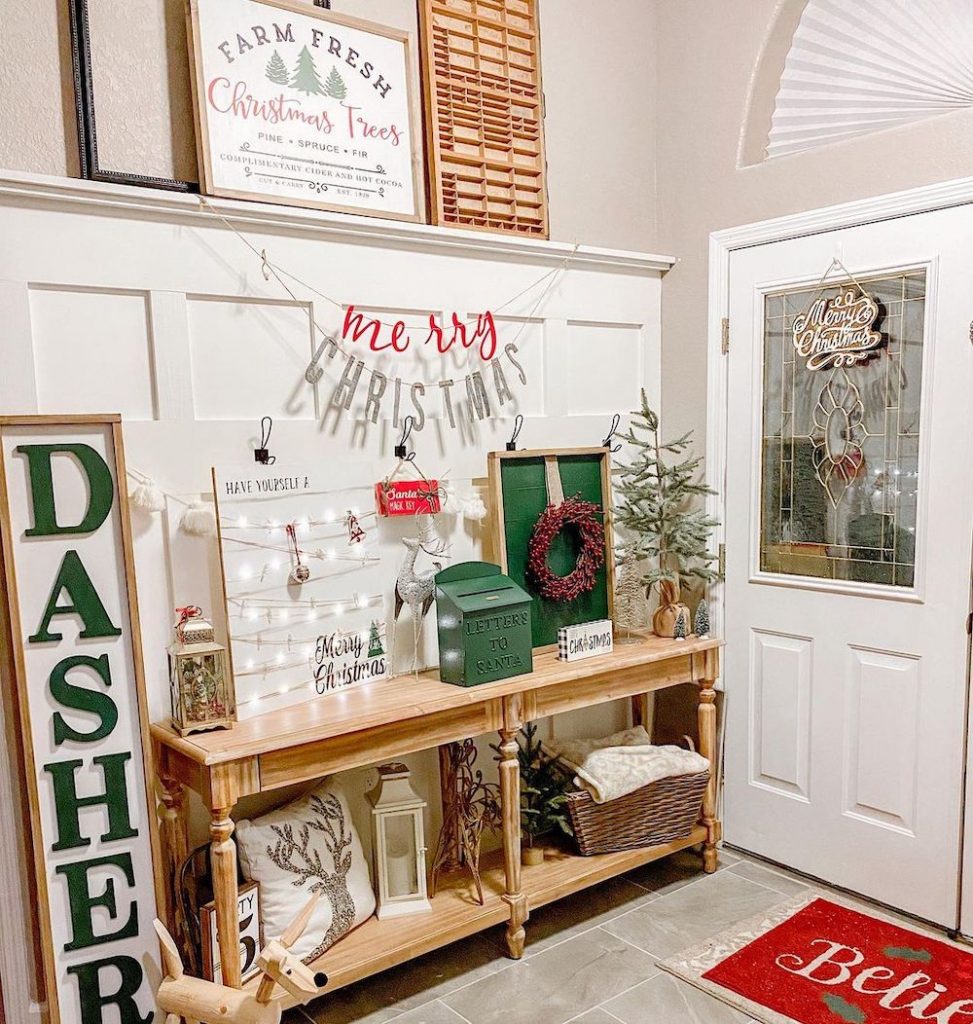 Give your entryway the textual wall art treatment. In this setting, there are several pieces of textual art that display holiday greetings and cheer.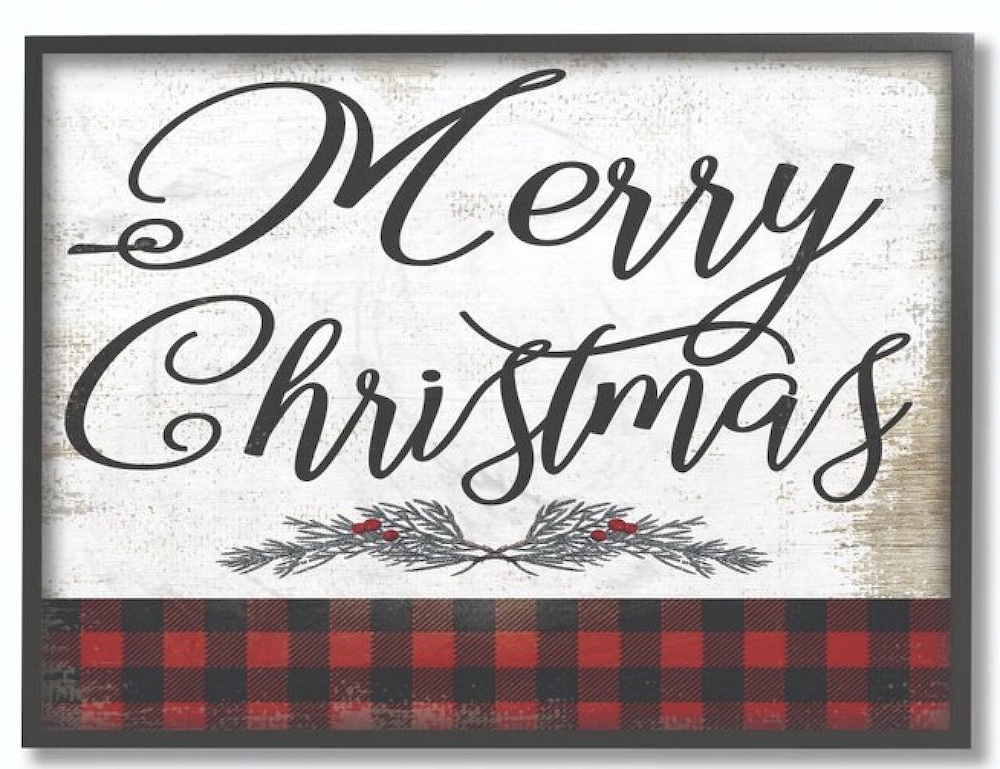 Keep Track of Time – Christmas Entryway Decor Ideas
Gather a collection of your favorite mantel clocks. In this stylish entryway, the designer creates a vintage-styled space.
Display Holiday Pillows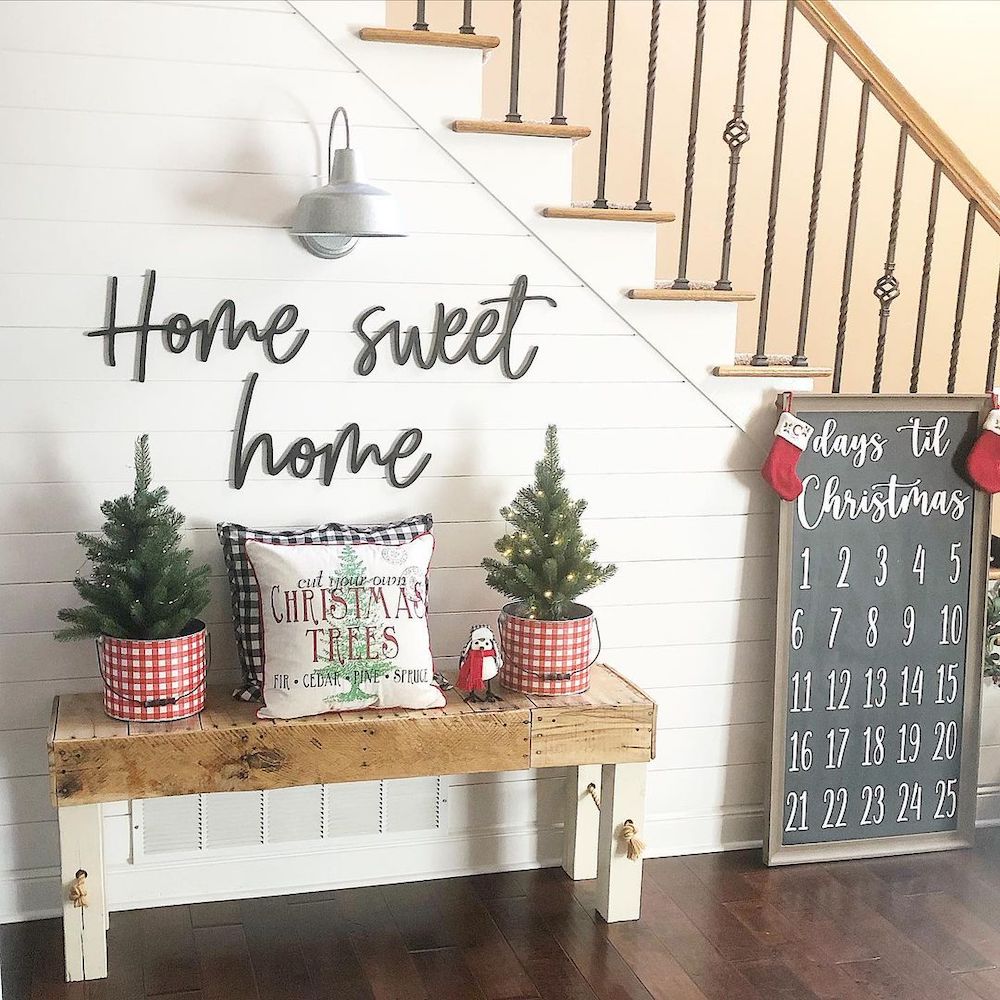 For a quick refresh, add some holiday pillows to the entryway. And display a board to note the number of days until Christmas day.
Keep it Western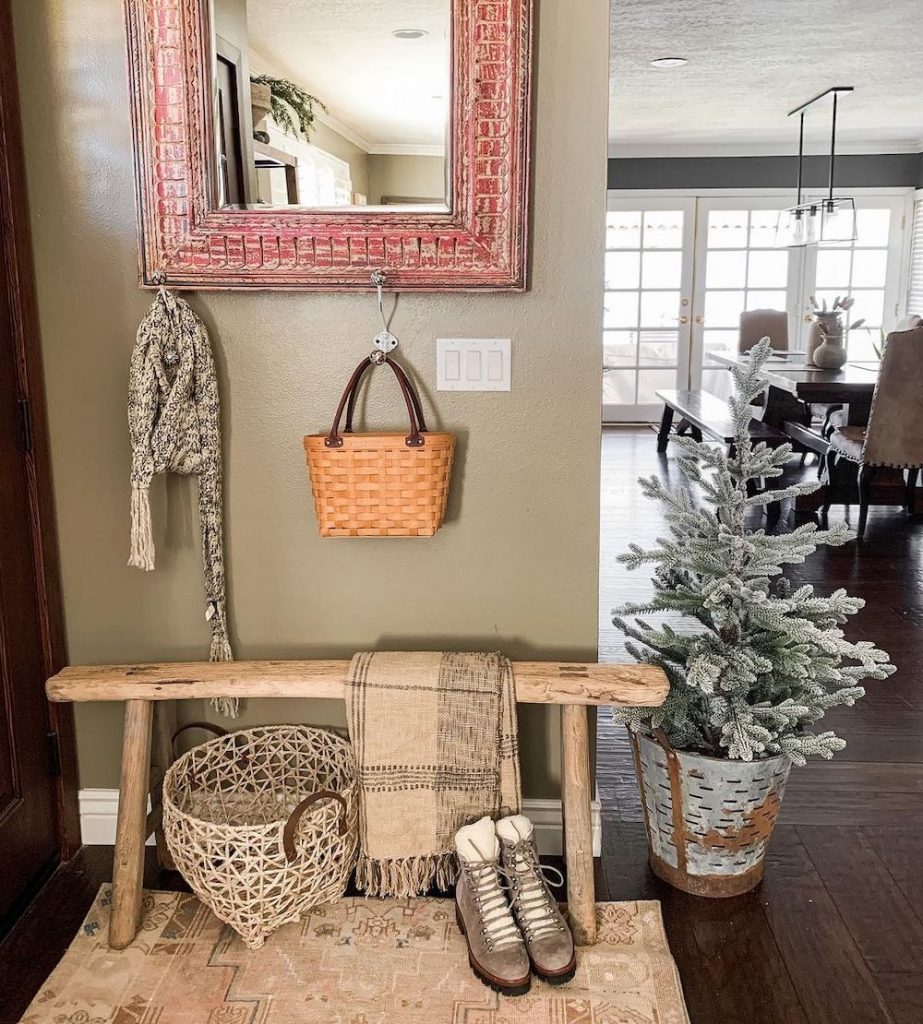 Style it in a western look with a rustic mirror, bench, and boots.
Make that List – Christmas Entryway Decor Ideas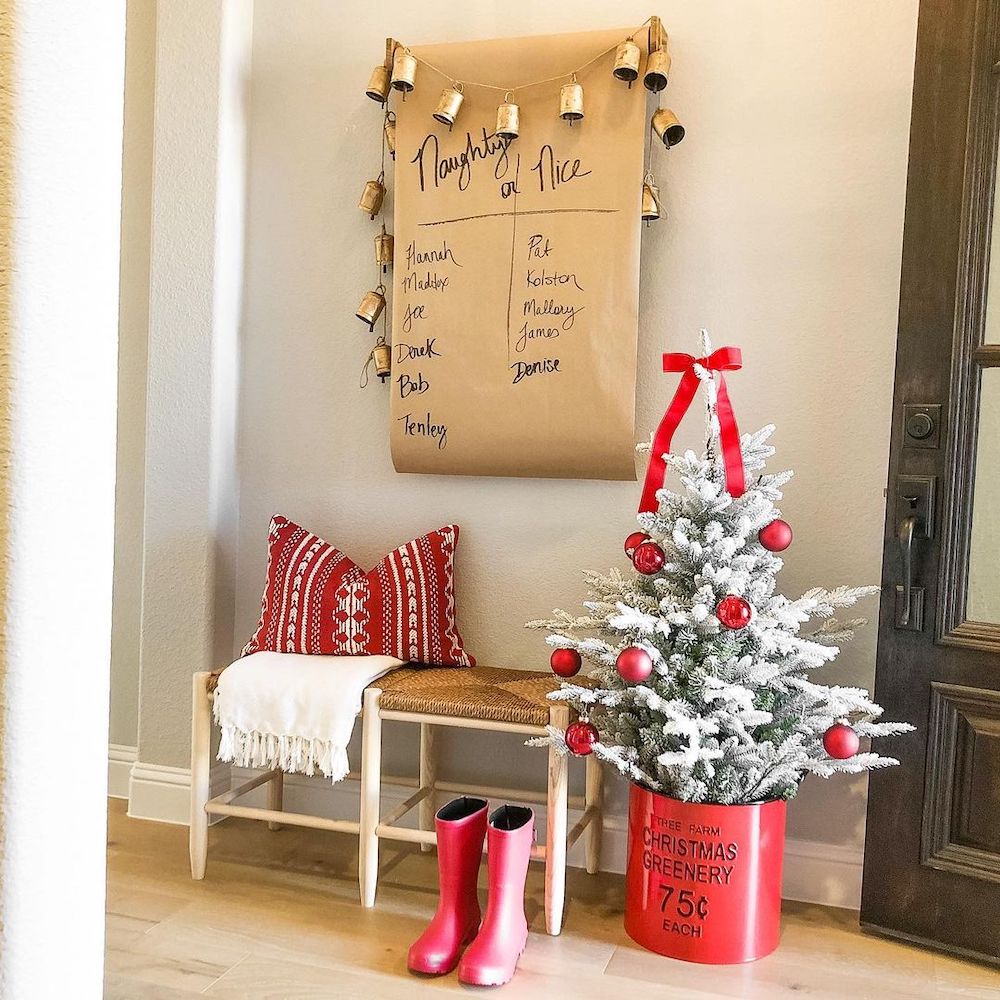 Display a list of all the good and not-so-good family and friends in the foyer.
Pack it Up with a Suitcase
Recreate a sledding trip to the country hills. In this foyer, the designer propped up a sled, suitcase, and a pair of skates for a winter holiday.
Dream of a White Christmas Foyer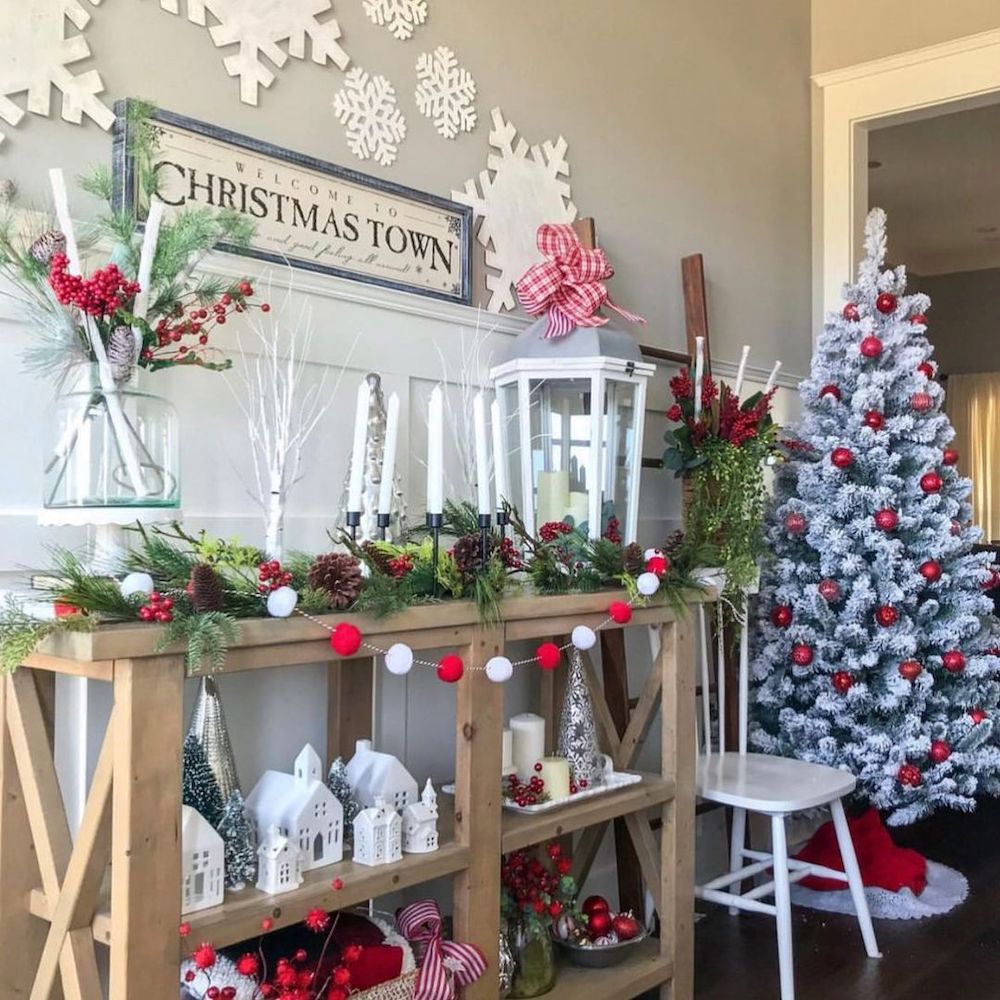 This year, make it a white Christmas with white accessories and decorations. And of course, a flocked tree!
Style Your Trees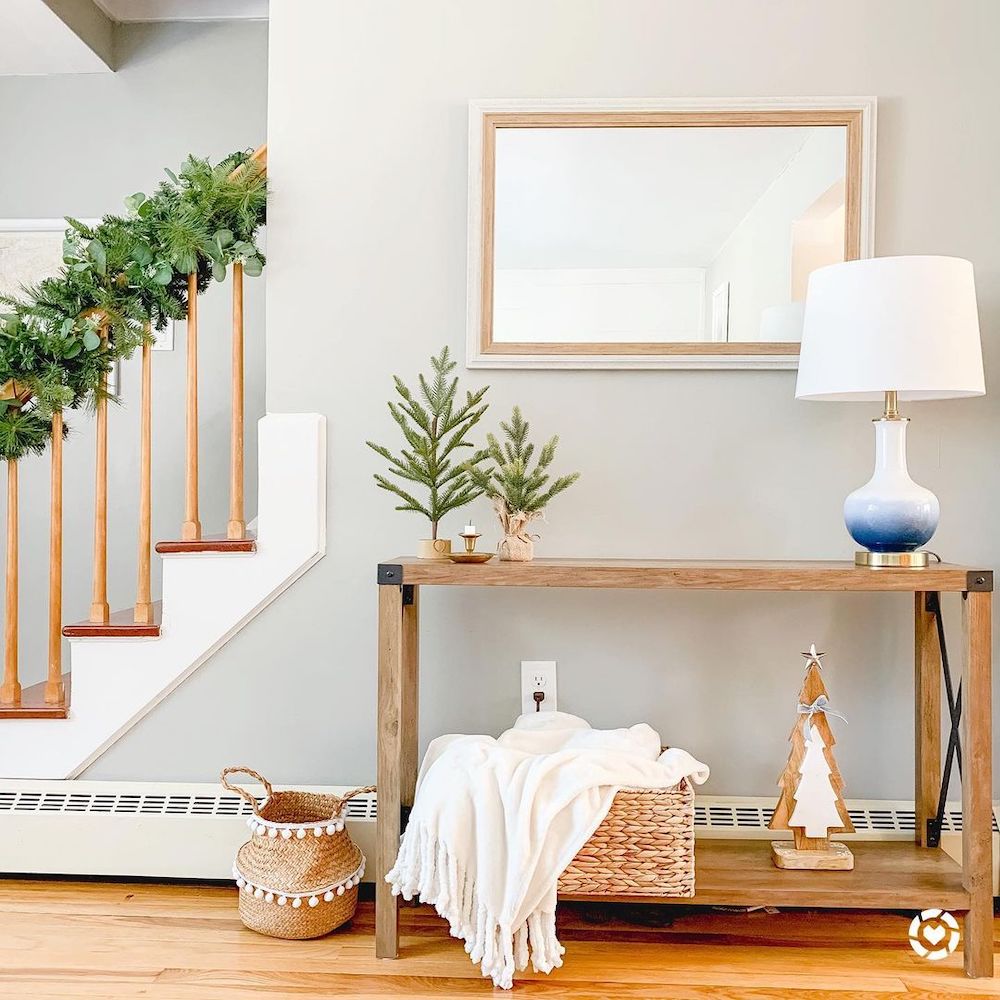 Holiday trees are always a good way to decorate your home.
Style it Easy – Christmas Entryway Decor Ideas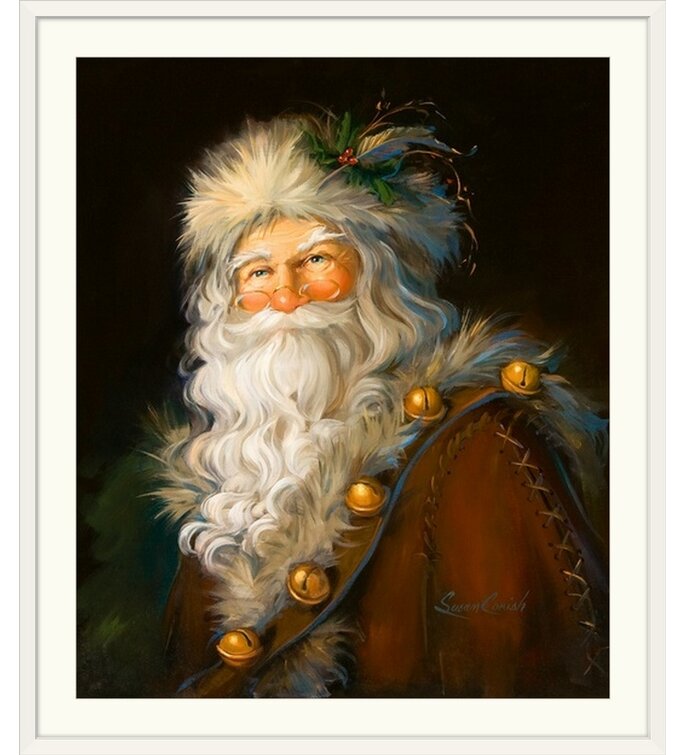 Our entryway decoration ideas list has ended. We hope our ideas inspire you to style your best ever bedroom this holiday season.
For additional Christmas decor inspiration, be sure to check out our other posts.
Reach out to us with any questions. We are always ready to help you out. Thank you for stopping by our blog.
Wishing you a blessed Christmas this year!
Mary
Pin this for Later: