Christmas mudroom decor ideas that will impress your house guests. While decorating your home for the holidays, don't overlook your mudroom. Adding a few simple decorations to a mudroom can make all the difference. Especially if the room is used by your house guests. Some festive accessories to consider for the mudroom are doormats, wreaths, or miniature holiday trees. In today's post, we are sharing ideas for decorating your mudroom for the Christmas season.
Here are a few holiday mudroom decorating accessories to consider when styling a mudroom:

Give your mudroom a little love this season with a few holiday accessories. Keep your holiday theme going from the living room to the mudroom. Style the mudroom with a few holiday accessories or go all out. Create an entire room loaded with holiday decor for a cheerful style. Sometimes, your house guests enter the home through the mudroom. So it only makes sense to add a few decorations to the entryway from the garage or side entryway.
Celebrate the Holidays – Christmas Mudroom Decor Ideas
Display your favorite holiday accessories in your mudroom. Style your mudroom in whimsical, festive, merry, or nature-inspired decor. As you'll soon see, there are so many ways to add amazing holiday decorations to the mudroom.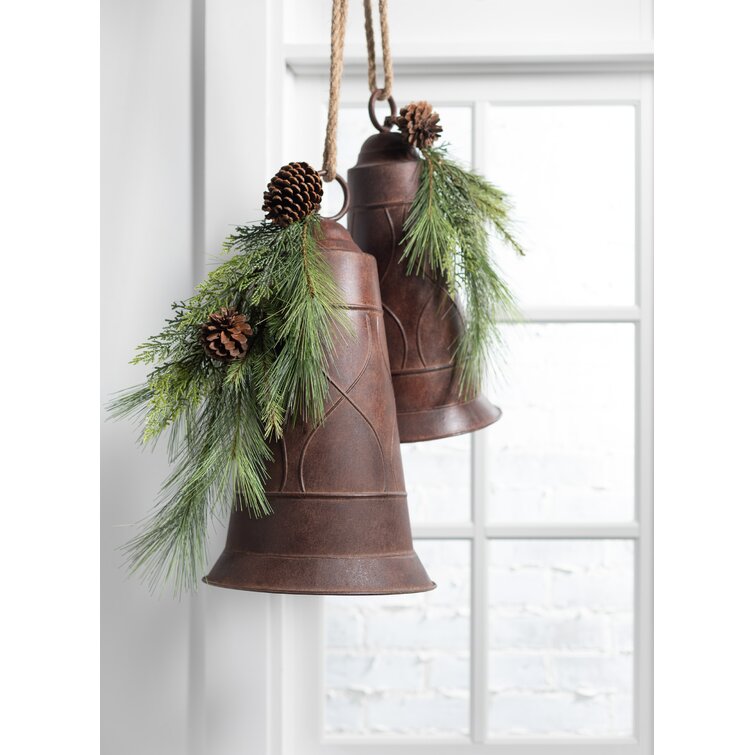 For inspirational ideas to decorate your mudroom, take a look at these wonderful holiday rooms. Ideas that exude warmth from your mudroom over the holiday season.
Decorate a Tree
If you have the space in your mudroom, add a lighted holiday tree. In this inspirational image, the tree is perfect for this mudroom space. Styled just right with lights and a few ornaments.
Bring those Winter Plaids Out – Christmas Mudroom Decor Ideas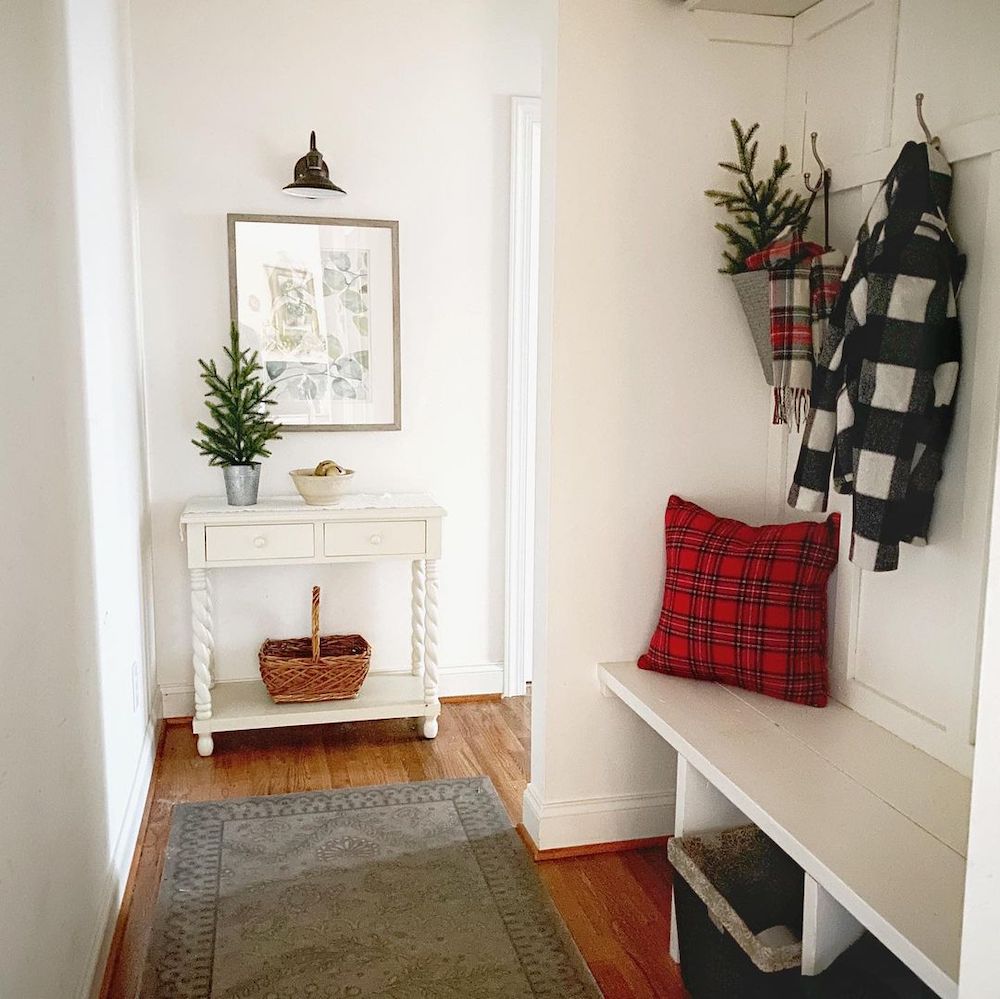 The winter season is the right time to display your plaids. Use your everyday jackets and accessories to do double duty in the mudroom. Plaid scarfs, throws, pillows all have a place in this mudroom.
Build a Holiday Village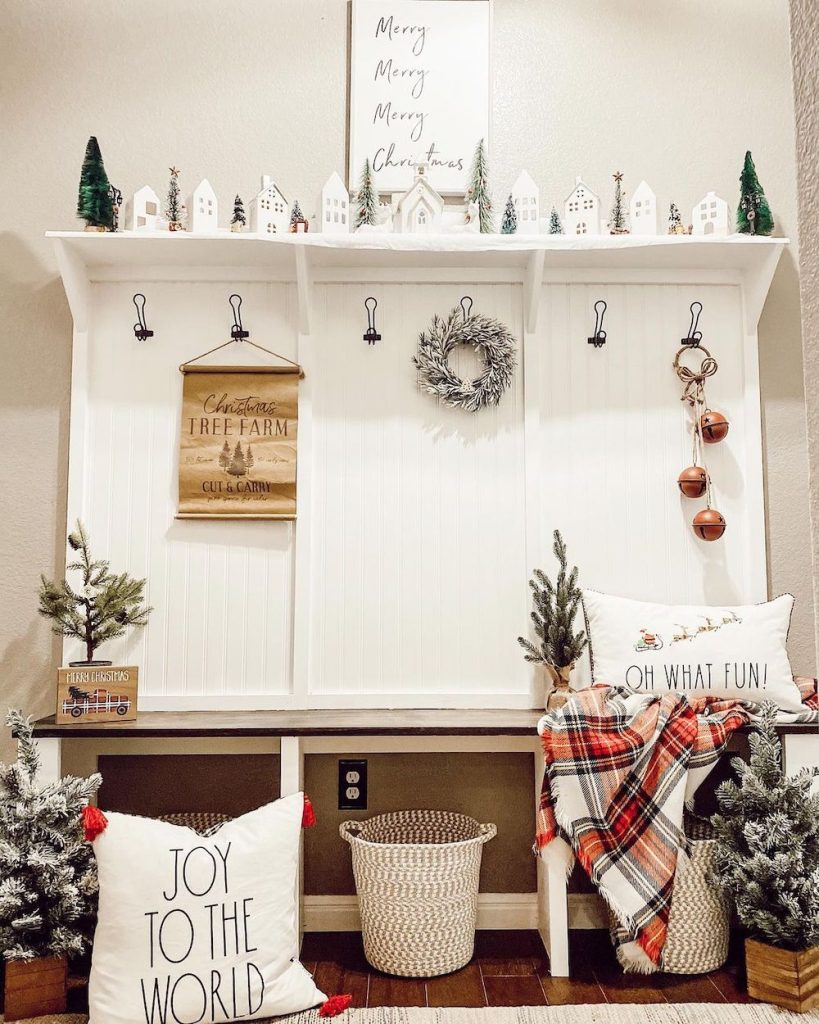 Create a holiday village in your mudroom. Add a few faux snow-covered trees, textual wall art, and sleigh bells for a whimsical touch to your holiday decor.
Bring Some Greenery Indoors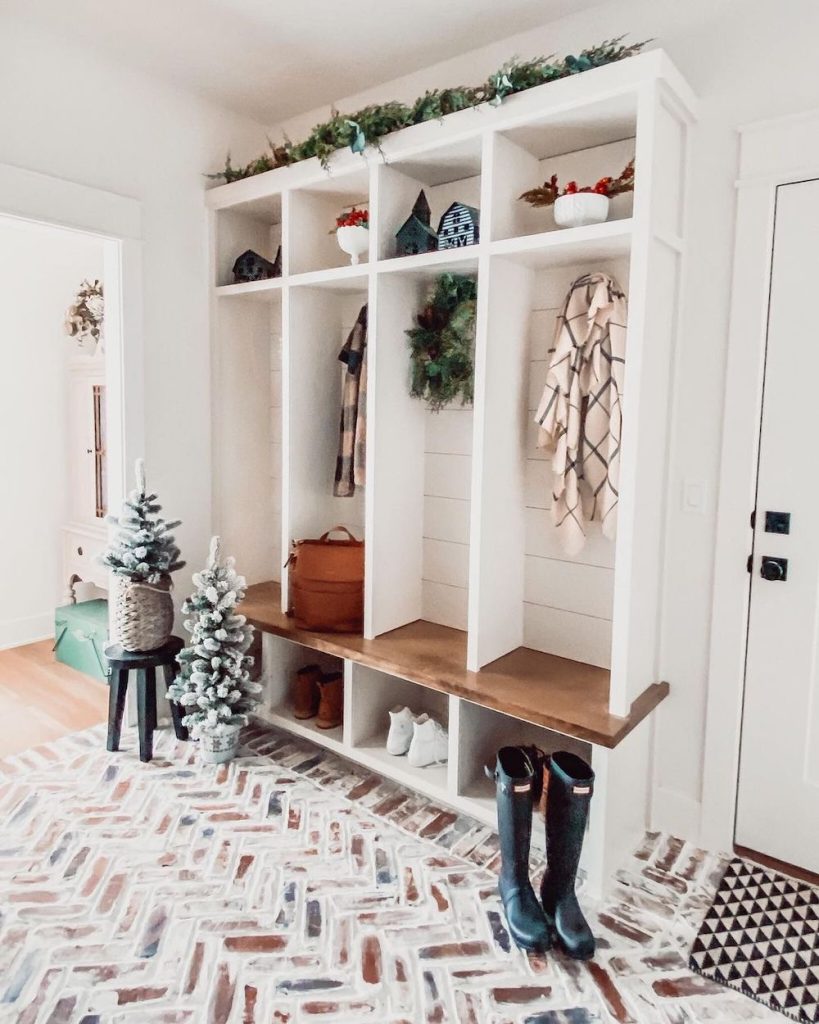 Deck your mudroom with boughs of holly this holiday season. And add a couple of faux miniature holiday trees for extra greenery.
Hang a Wreath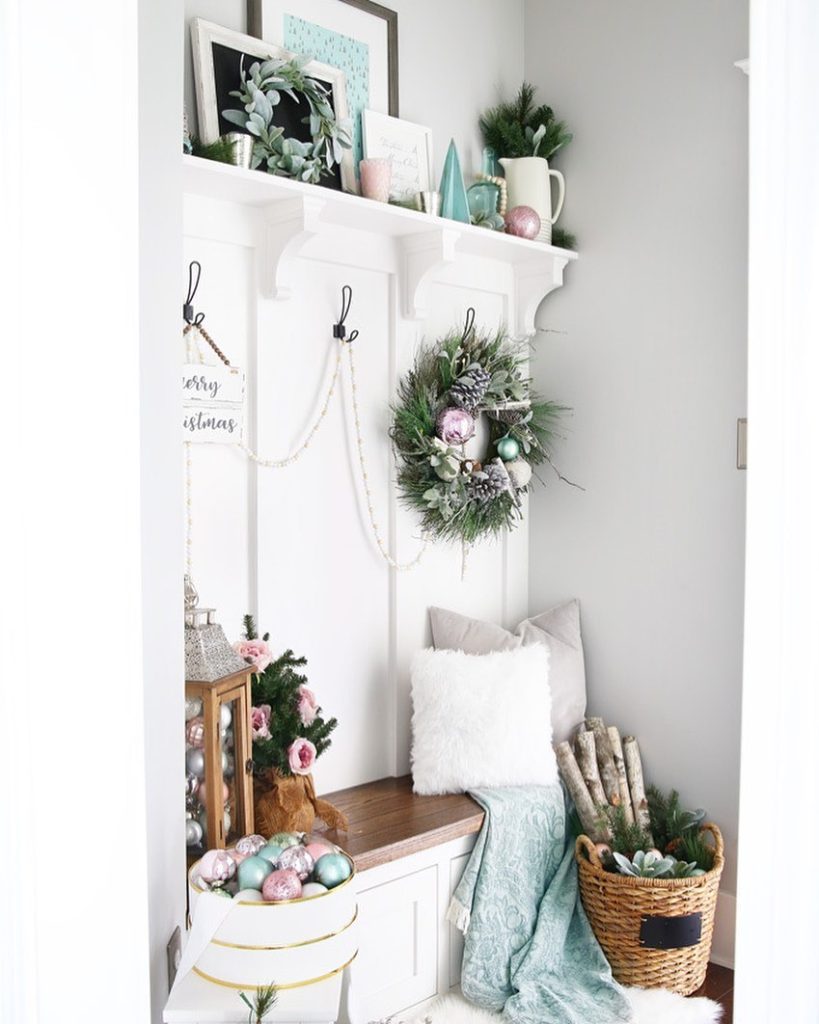 Display your best holiday wreath. Use pastel colors such as pinks, silvers, and aquas to decorate with.
Go with Buffalo Plaids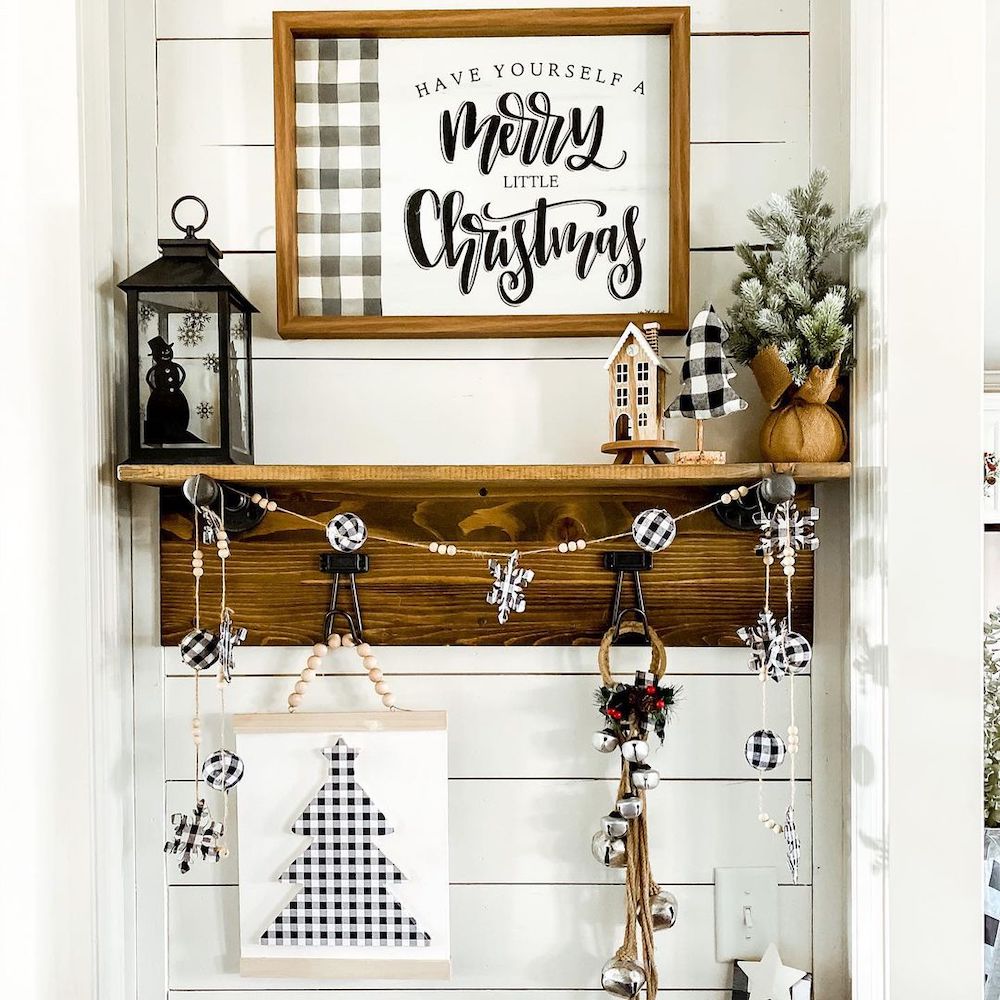 Use buffalo plaid accessories such as garland, holiday trees, and wall art.
String Some Garland – Christmas Mudroom Decor Ideas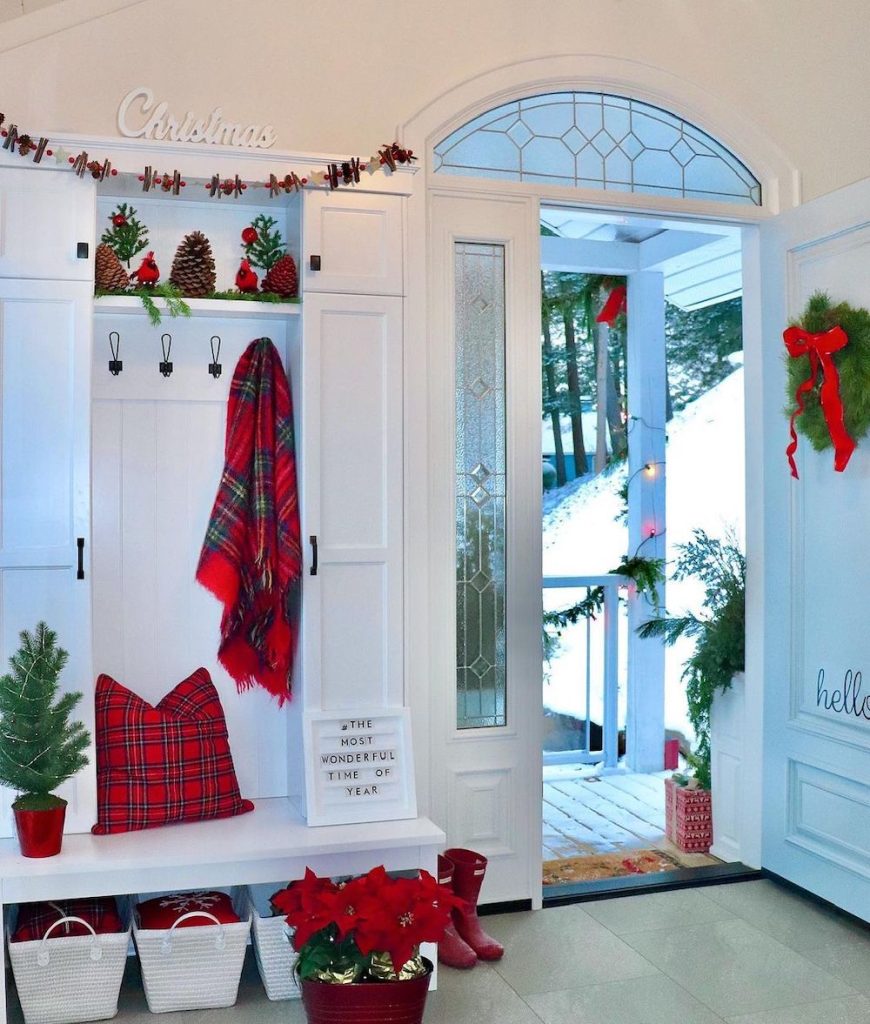 Make it bright with pops of red. Keep your red rain boots, pillows, throws, and other accessories to celebrate the most wonderful time of the year.
Fill Baskets with Greenery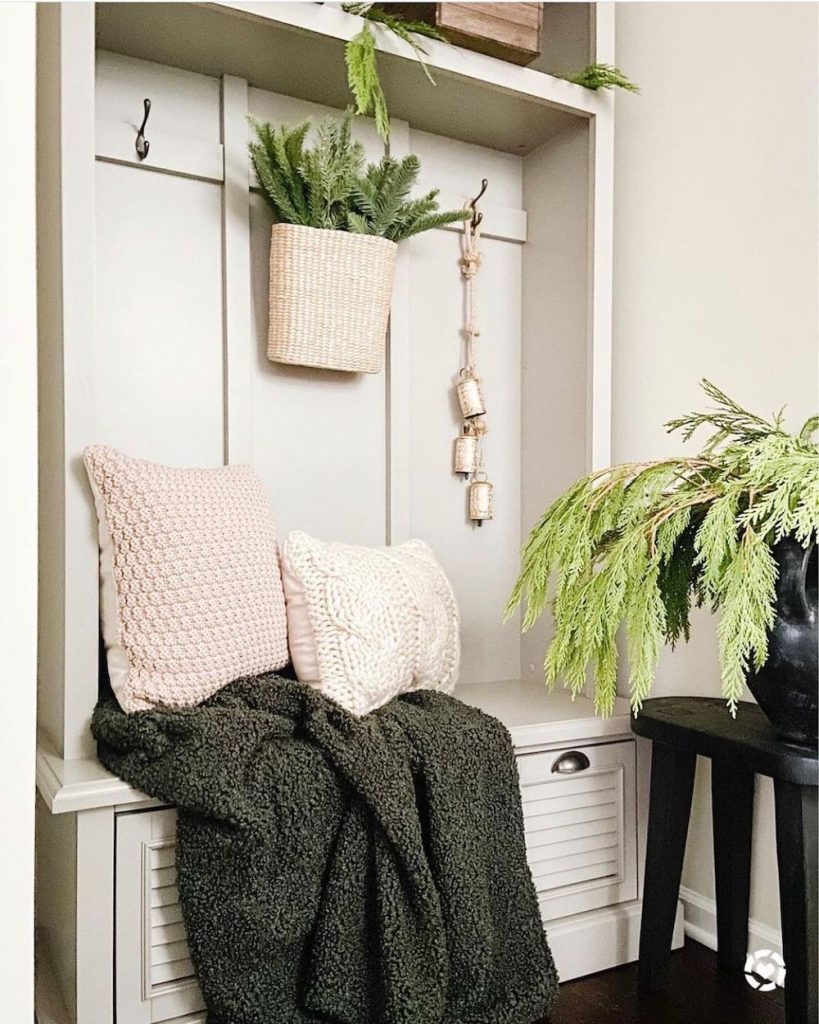 Add greenery and boughs of holly to containers for a festive holiday look.
Display a Wreath on the Back Door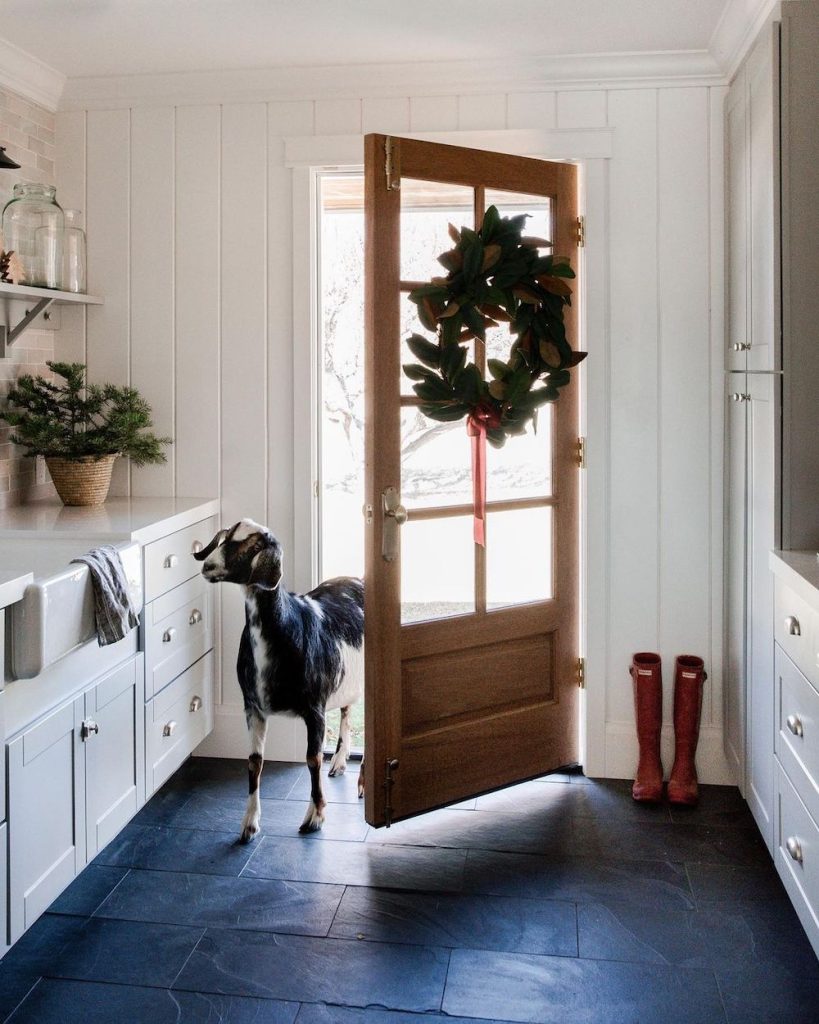 Hang a wreath on the back door to your mudroom.
Go with a Holiday Tree Theme – Christmas Mudroom Decor Ideas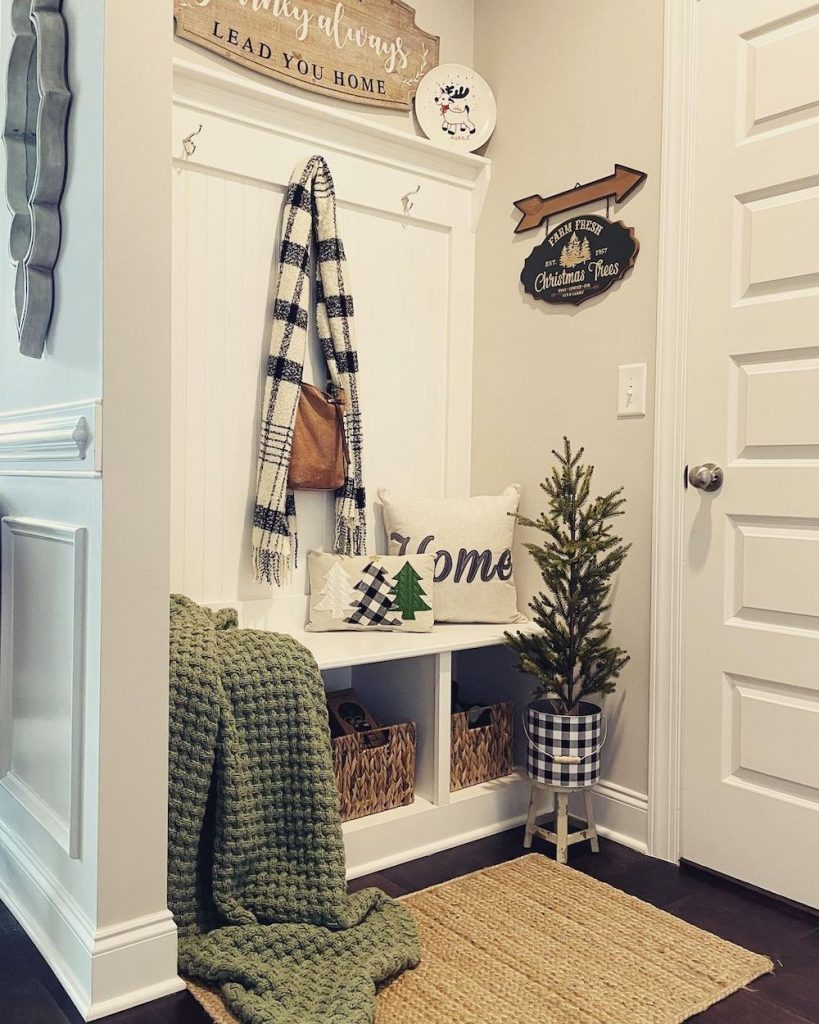 Create a tree farm-inspired mudroom. Set up a miniature tree with tree accessories.
Use Your Cold Weather Accessories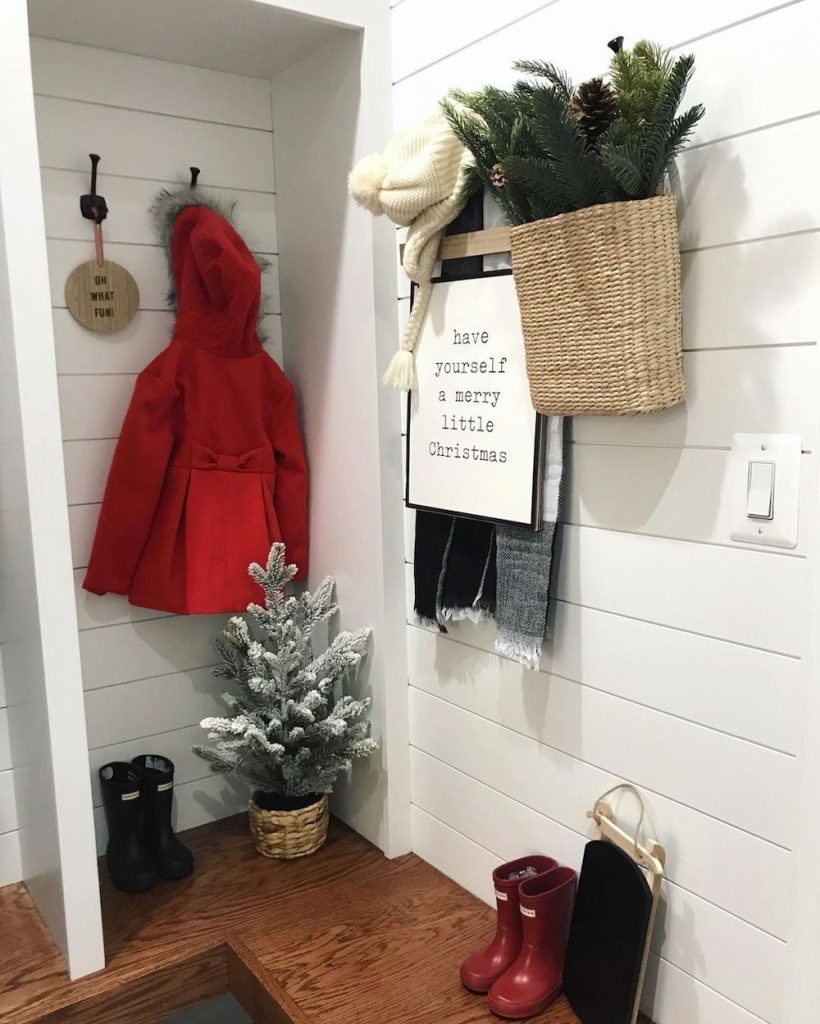 Keep your rain boots, scarfs, hats, and cold weather jackets handy. They double as mudroom accessories.
Use Burlap and Canvas Accessories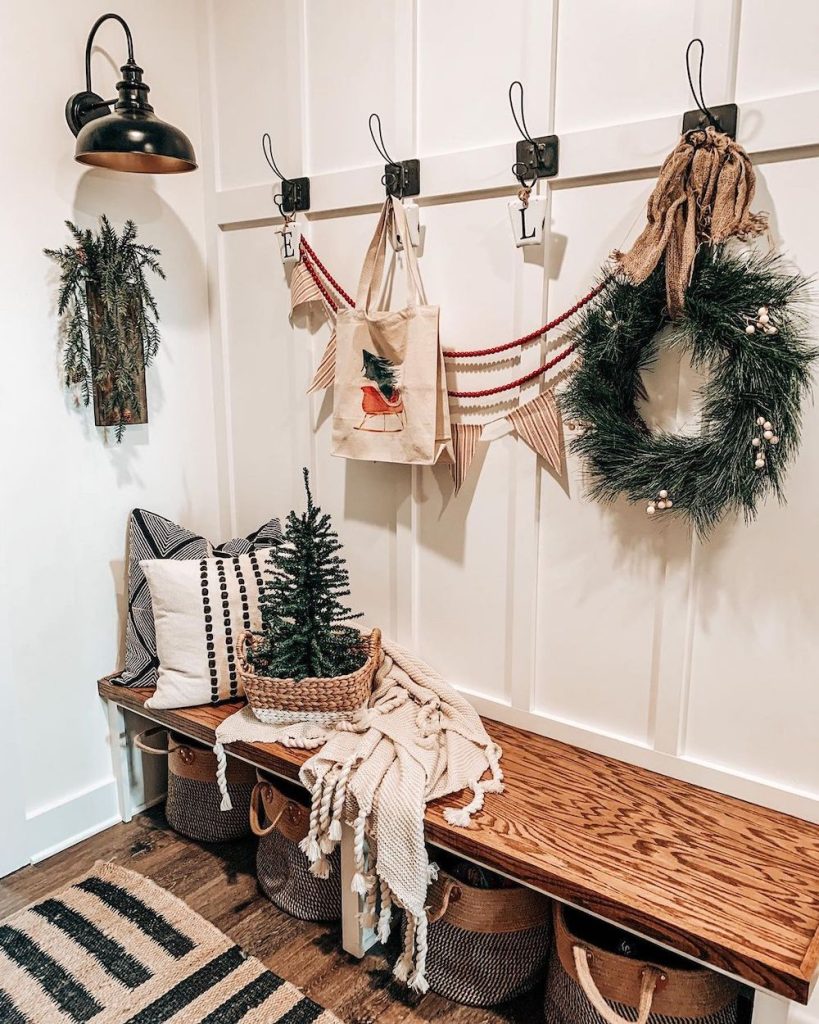 For that worn look, use burlap and canvas accents for your mudroom. In this inspirational idea, the designer uses a canvas tote, a cream-colored throw, and storage baskets beneath the seat.
Use Lanterns to Guide Them Home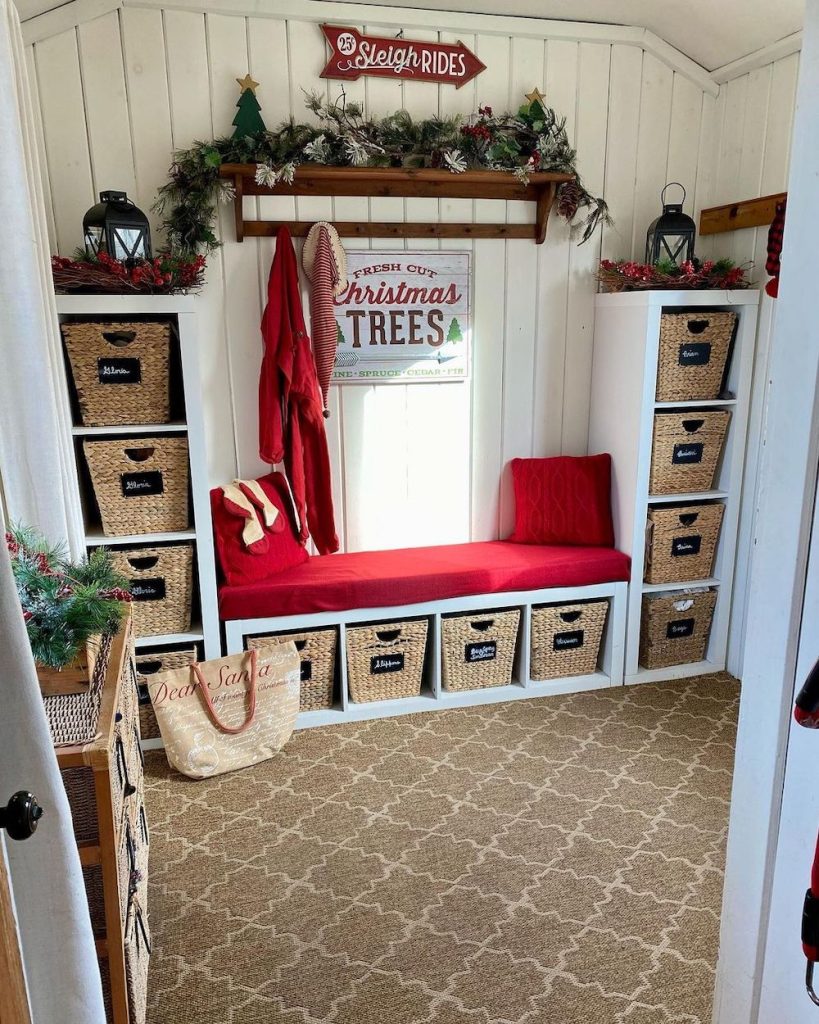 Light those lanterns to guide them indoors. Add a group of seagrass baskets for an orderly mudroom.
Proclaim the Glorious Message to All – Christmas Mudroom Decor Ideas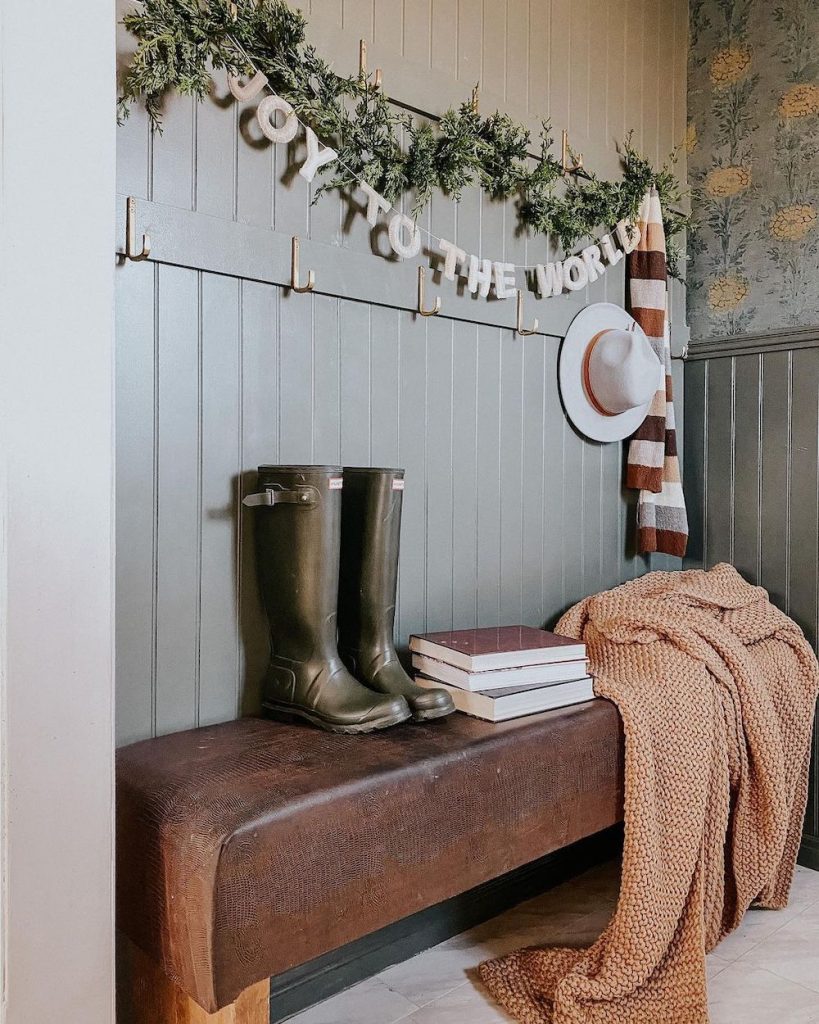 Hang a Joy to the World message across the mudroom wall.
Add Whimsy to the Decor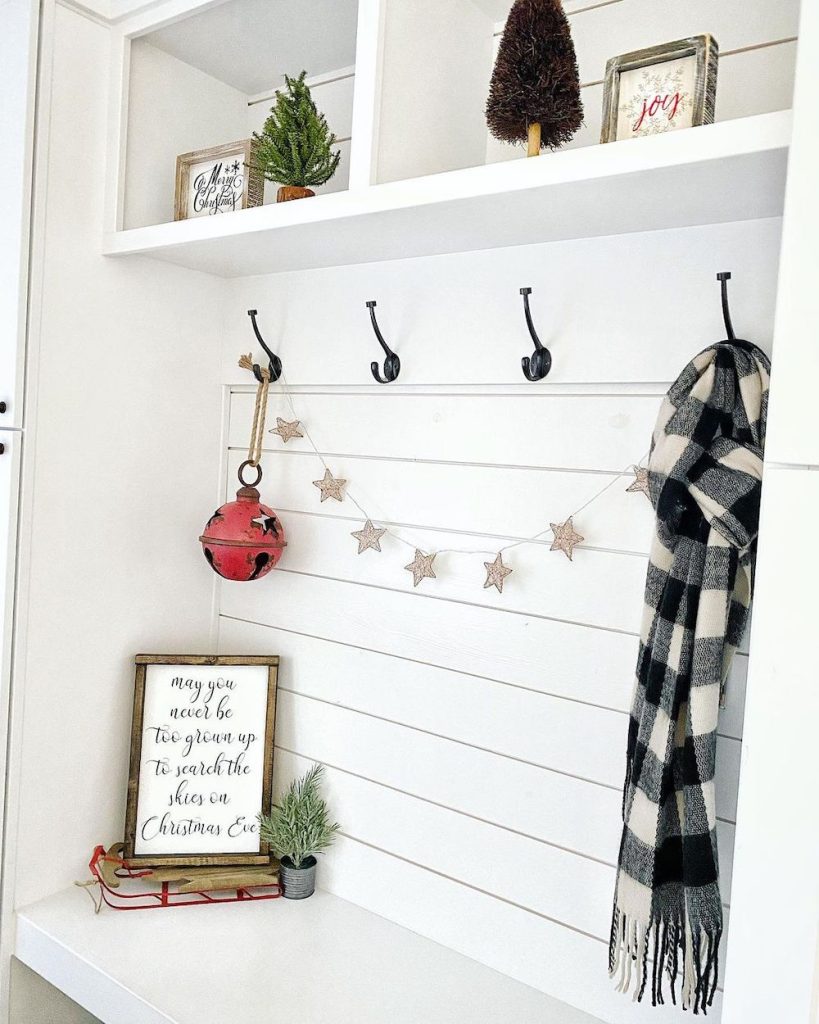 Display a whimsical message for all to see. Remember you can never be too old or too grown up to search the skies on Christmas Eve.
Adds Pops of Red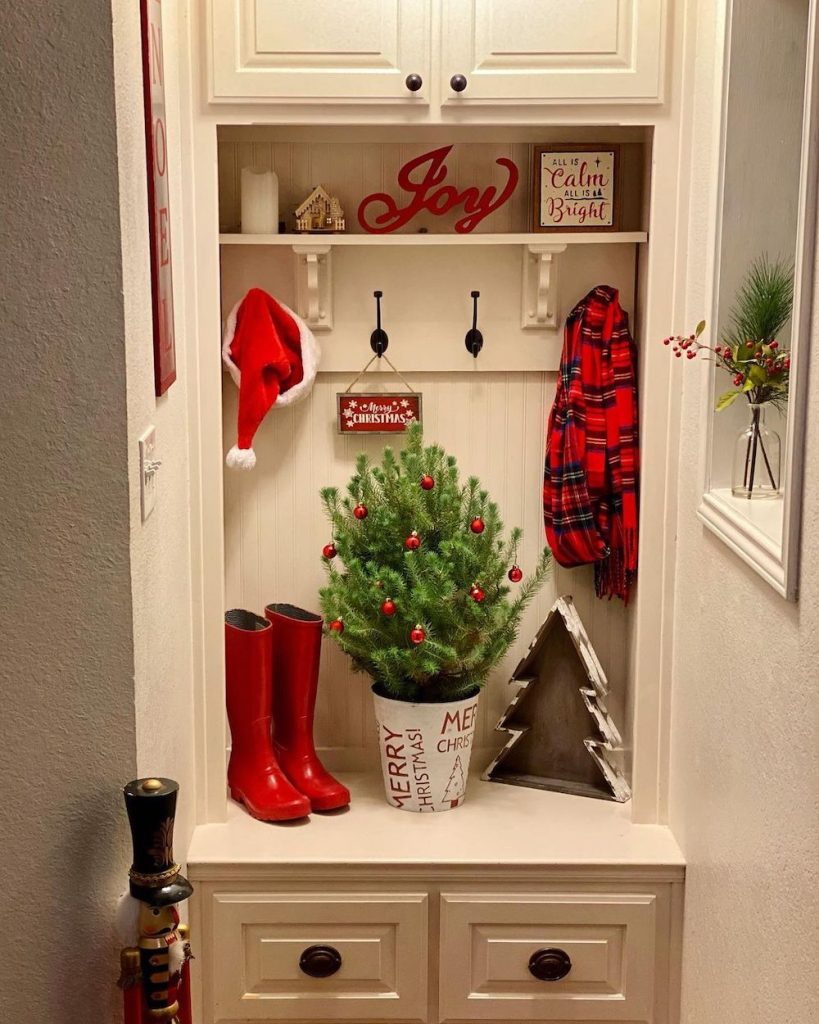 With a cream colored background, give your space pops of red color. From the bright red rain boots to the round tree ornaments, there are plenty of pops of festive red.
Make it Magical – Christmas Mudroom Decor Ideas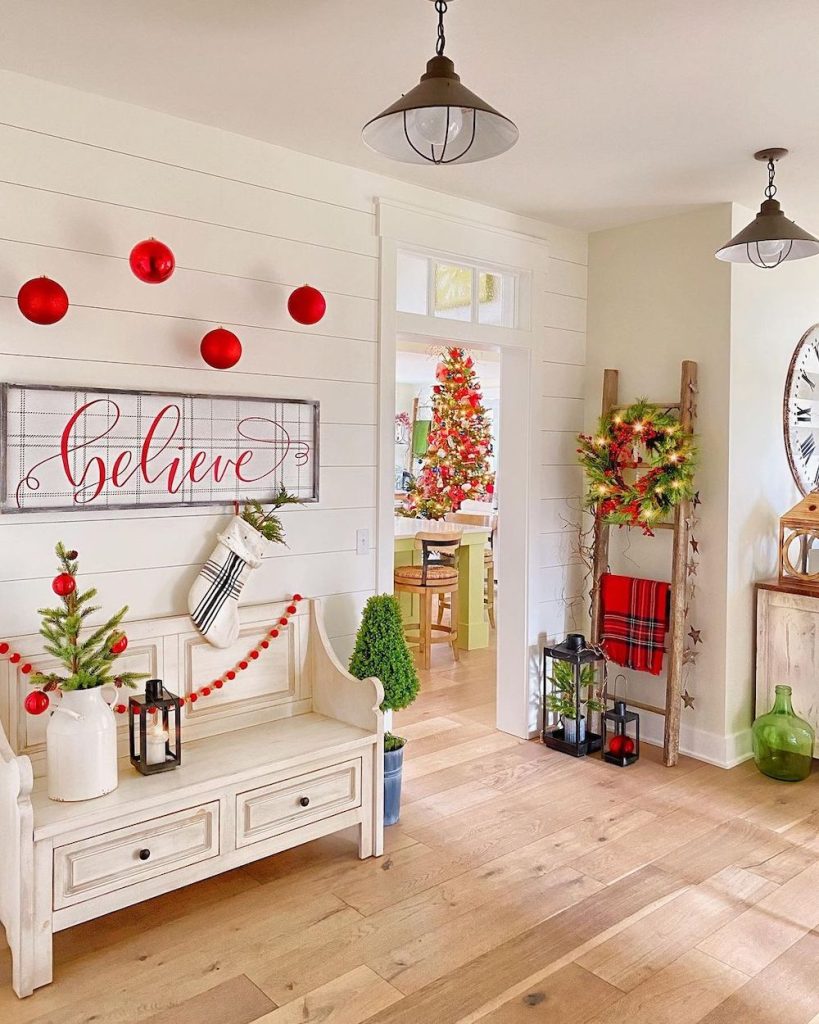 Create Christmas magic with green and red accessories. Against cream-colored accessories and natural flooring, the green and red decor stand out.
In Conclusion
This ends our list of Christmas mudroom decor ideas. Style a mudroom with any of these decorative ideas. Create a festive space that is typically known for handling dirt and grime. Make it an unexpected place where you'll find decorative accessories that celebrate the wonder of Christmas.
For additional Christmas decor inspiration, be sure to check out our other posts.
Reach out to us with any questions. We are always ready to help you out. Thank you for stopping by our blog.
Wishing you a blessed Christmas this year!
Mary
Pin this for Later: