Christmas Home decor looks for the Holidays that'll take you through Winter . . .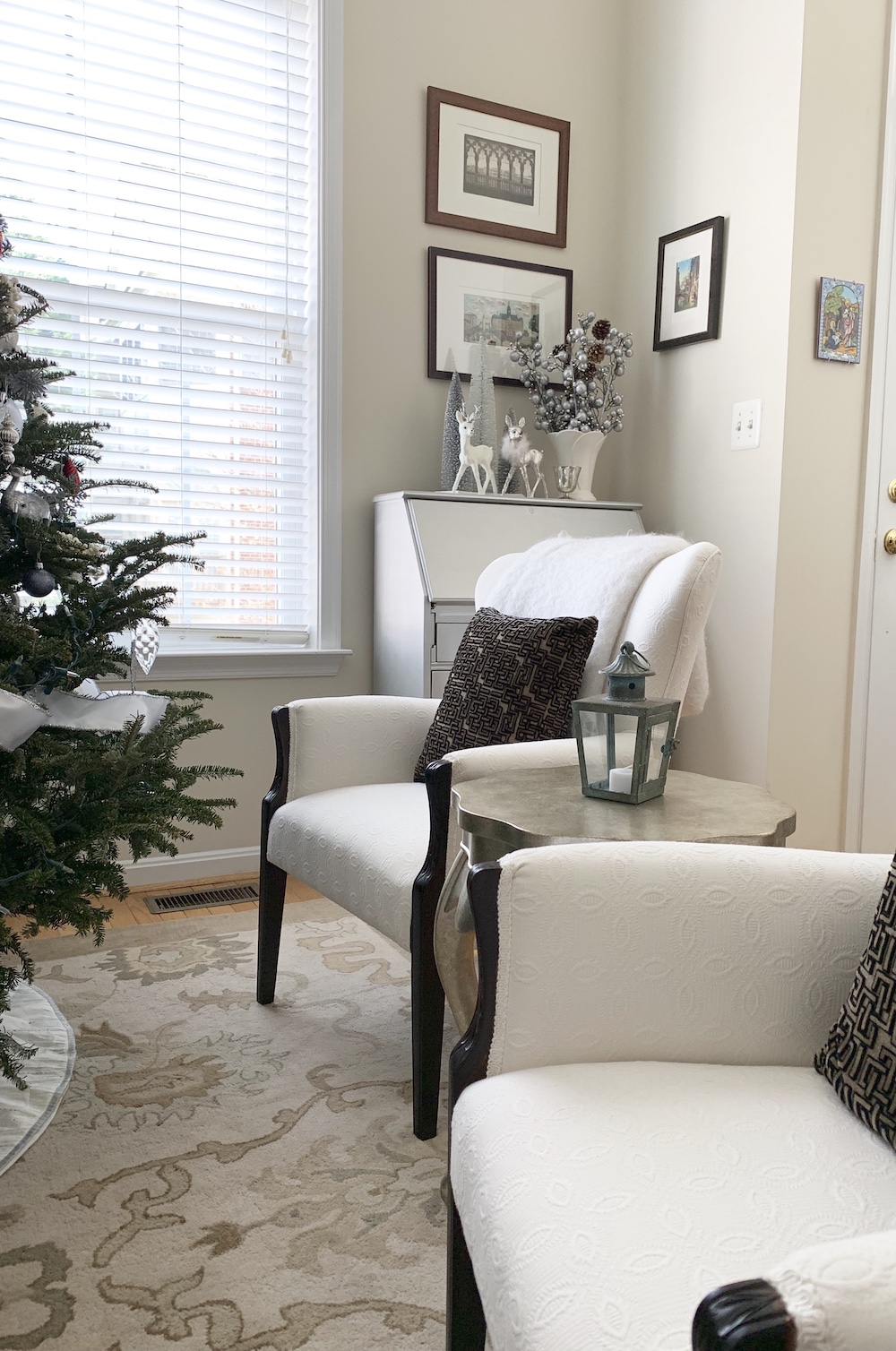 Interested in Christmas Home decor ideas that can stretch your holiday decor budget into Winter? Fabulous decorating ideas that you can hold on to for the Christmas season and Winter. One way that we save on Christmas decor is to use items that will last well after Christmas Day.
Christmas accessories with white, silver, and cream colors. These neutral colors create a warm and cozy Winter look to our home. For added warmth, we include warm browns along with the whites and silvers. This look works for our decor to create a comfortable, cozy Winter area to sip warm tea and relax. A great lounging area for some down time between work assignments.
We'll show you a few places where we work this look into our decor. It will carry us into February, just before Valentine's Day. Take a look and let us know what you think.
Christmas Home for the Holidays – Tomte At Night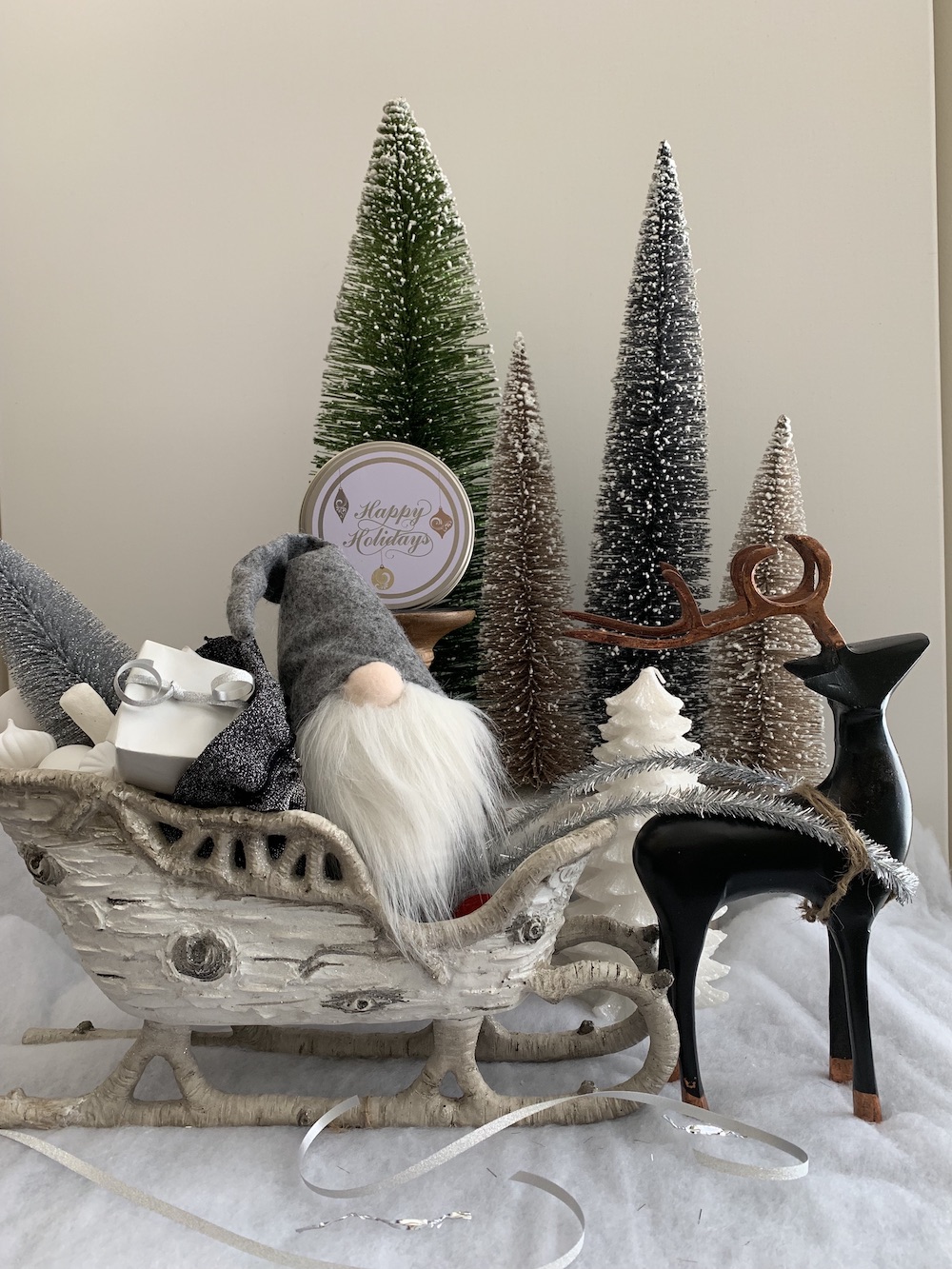 Tomte At Night is home decor look perfect for the Christmas home and the Winter time. Maybe exchange the Happy Holidays tin for one that reads Let it Snow? The white, grays, and silvers create a unique snapshot of the night ride before Christmas day. Or a sleigh ride on a Winter day.
The bearded, elderly Gnome or Tomte, protector of families is flight ready in the birch covered sled. Tomte in the sled pulled by a reindeer. In the back of the sled, a bag full of toys and Christmas tree awaits delivery to homes of good boys and girls. Bottle brush trees in the background with a Happy Holidays message on a gray tin.
Christmas Home for the Holidays – The Winter Calm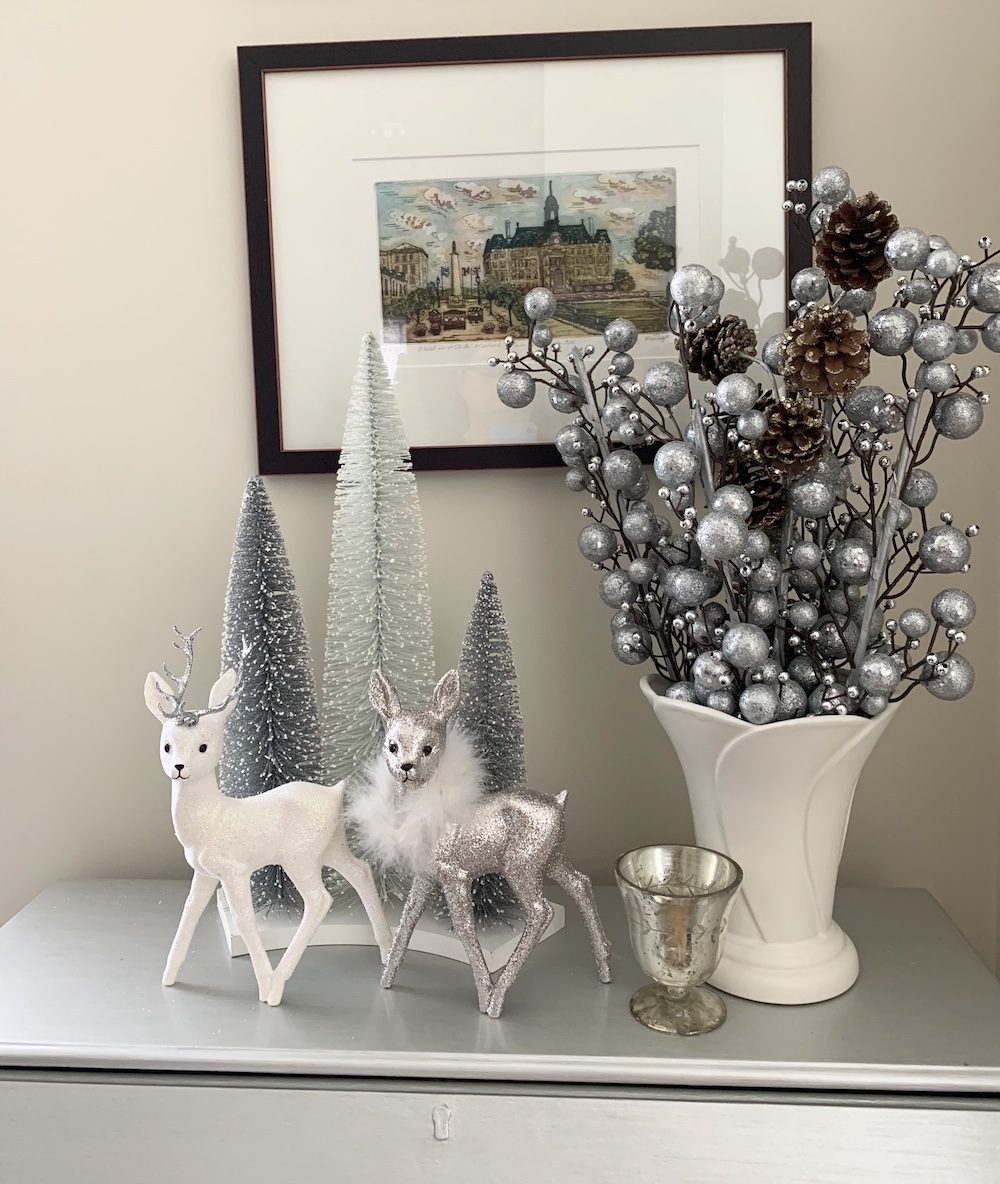 The Winter Calm depicts a scene with two deer that pause from their daily browsing on a Winter day. The scene reminiscent of the beauty of the Winter season. A vase of Christmas baubles and snow covered pine cones are displayed next to the deer scene.
Christmas Home for the Holidays – Gingerbread Man Love
The Gingerbread Man Love with Poinsettias is displayed on a two tiered farmhouse stand. A single Gingerbread Man leans against a woodland wreath. With aqua bottle brush trees in the background, a lantern and poinsettias brighten this farmhouse stand.
Christmas Home for the Holidays – Bayside Hamlet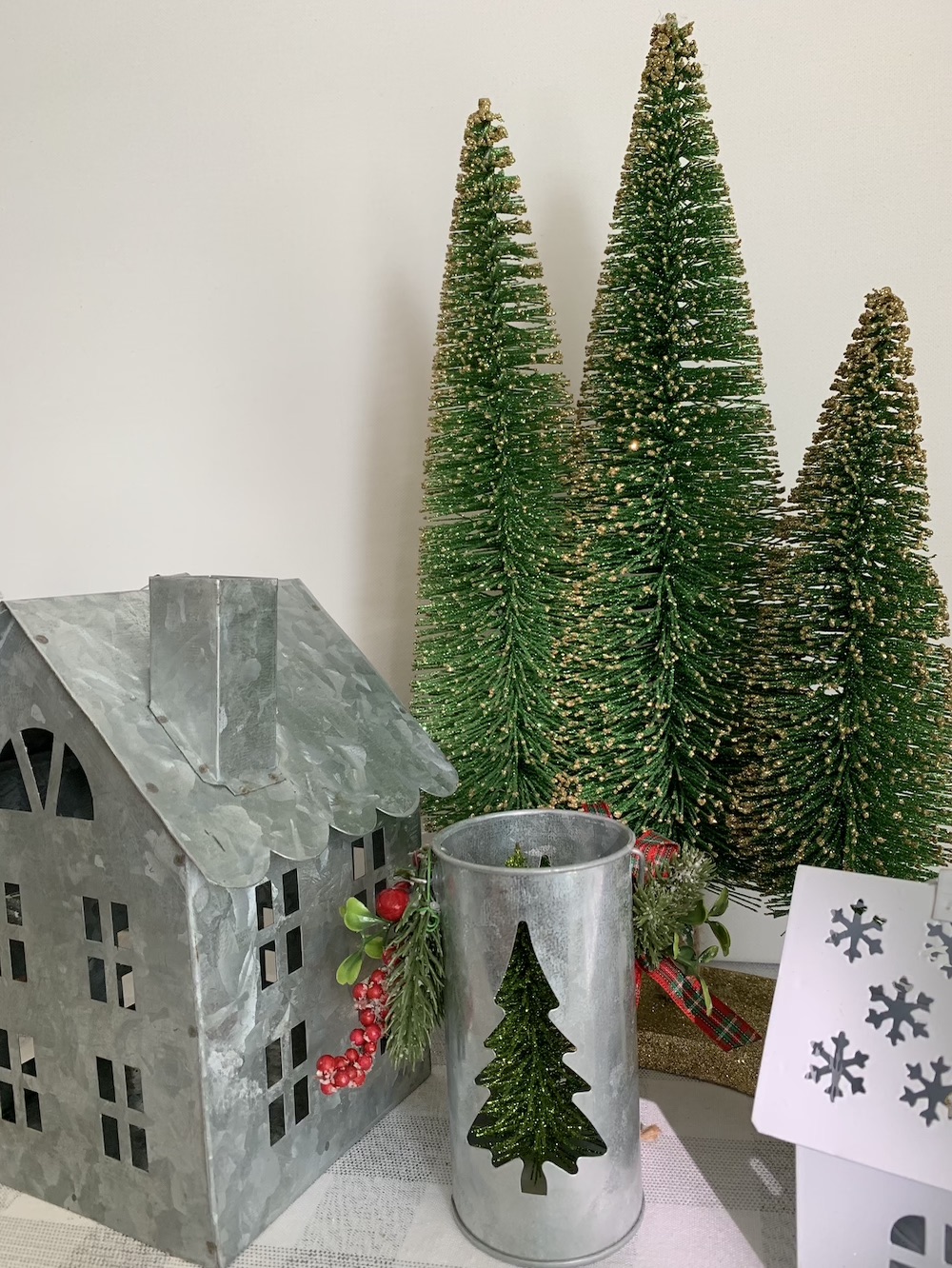 Bayside Hamlet is a charming community of galvanized houses along areas of festive trees. A classic farmland community that looks gorgeous during Christmas time. The classic, quaint community of Bayside provides a nice Wintry look. Create a warm and cozy Winter scene with these adorable galvanized houses.
You May Also Enjoy . . . .
Some of our other decor related posts.
Modern Farmhouse Style DIY Christmas Door Decorations
9 Christmas Front Door Decorations to Greet Your Holiday Guests
28 Christmas Centerpieces to Welcome House Guests
9 Affordable Farmhouse Tiered Stands
18 Amaryllis Christmas Gifts For Giving
Christmas Home for the Holidays – Guest Room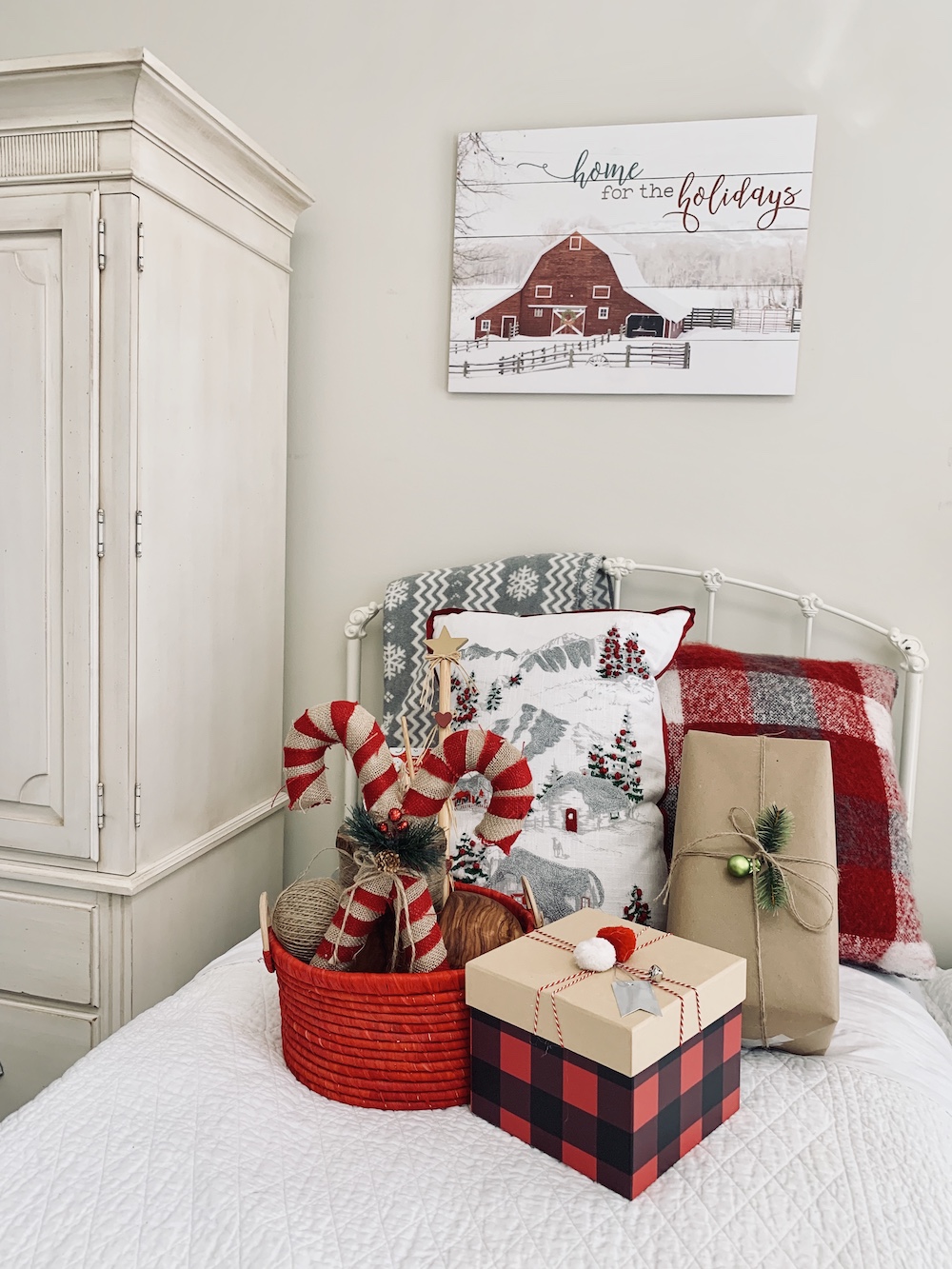 A guest room perfect for Christmas visiting family or friends. The guest room has white, silver, and red decor. The bed has accessories of extra pillows and blankets for a cozy warm visit. No need to worry about temperatures dipping to single numbers with this set up. Extra throws and blankets are within reach in a fully stock armoire.
Extra lighting for bedtime reading or relaxation. Cozy, comfortable, and stylish. Perfect for the Christmas holidays and Winter guests in January. Welcome guests with these guest approved amenities!
Christmas Home Decorations
These are some ways we use Christmas home decorations that are cozy and Winter season ready. A ready for Christmas home decor that works extra time into the Winter season. This is especially helpful when you have after Christmas projects and decor to store away. These Wintry scene decor allows you to leave some decor out through February. Rather than limiting your Christmas decor to the Christmas season, try to work it through the Winter season to save on your decor.
There are many after Christmas clean up activities that include disassembling, wrapping, and storing Christmas decorations. Think about using some during the Winter season. An easy alternative for retaining some festive decor that takes you from the Christmas season into the Winter. Stretch your budget and save time with money saving strategies for decorating during the Christmas holidays.
Are there some decorating strategies that you use to stretch your decor budget dollars during the Christmas season? How do you manage your Christmas home decorations storage after Christmas? Some people store all their Christmas decorations away right after Christmas. Others will gradually remove and store their decorations over a few weeks time. We like to enjoy a few of our decorations into the Winter.
We would love to know any tips that you are willing to share. And if you try any of these Christmas home decorations, let us know how you make out. And thanks for stopping by!
Mary