Create yummy homemade birdseed feeders to help feed your neighborhood garden birds during the Winter season. Towards the end of the cold Winter days, Fall plant food sources are scarce in some places. One way to help birds supplement their Winter diets is to offer bird food or feeders.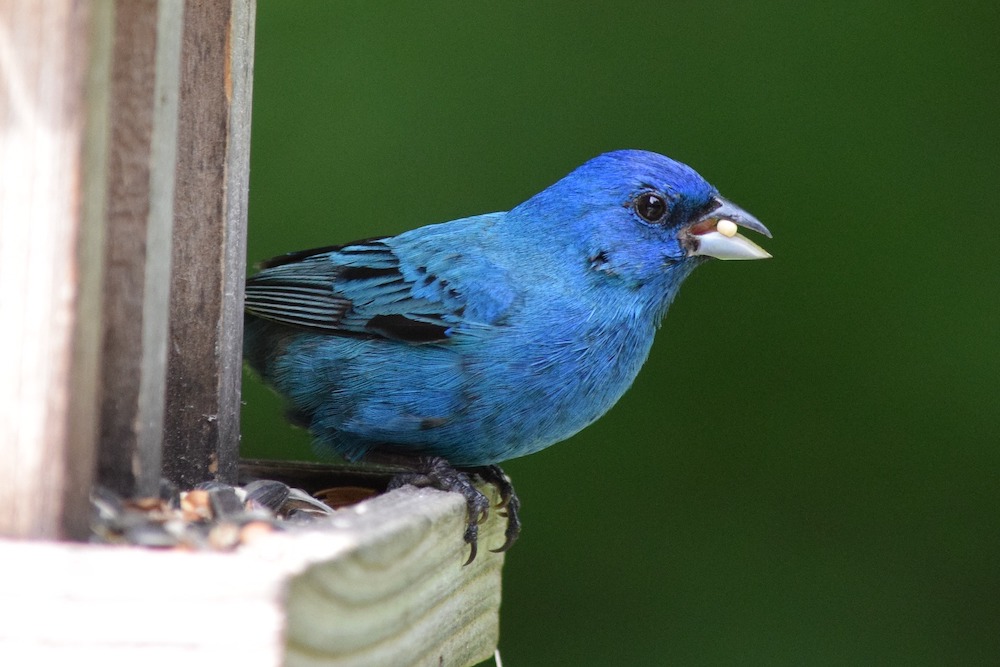 Homemade birdseed feeders are a great DIY project for the Winter months. A budget and family friendly way to teach kids about bird care and their importance. Help Mother Nature along by creating a few birdseed food cakes, balls, bells, or suet cubes for your neighborhood birds and wildlife.   
Connect kids with nature using one of these birdseed feeder activities on days when cabin fever is at an all time high. Or school snow days. And even over a school Winter break. We've listed several bird seed recipes that are easy to make with kids.  
MOST COMMONLY USED HOMEMADE BIRDSEED FEEDERS 
A little about bird seed first. The more varieties of bird food used the greater variety of birds the feed station will attract. The single seed that attracts most varieties of birds is the sunflower seed. Some of the more common seeds are sunflower, safflower, and nyjer seeds (thistle).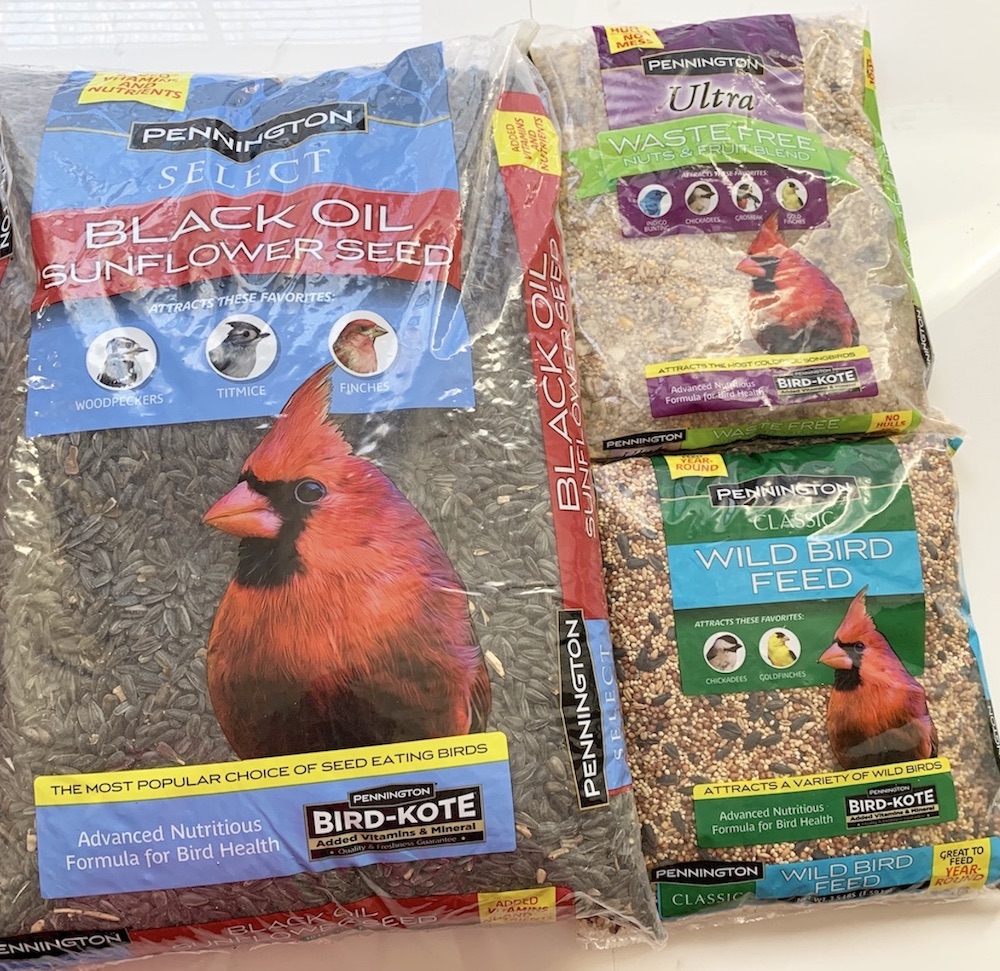 Sunflower seeds are striped or black oil. Striped sunflower seeds have a harder shell that is difficult to break by some birds. Black oil sunflower seeds have thin shells and crack open more easily. The kernels of black oil sunflower seeds have a high fat content that is valuable for Winter birds. More species can crack the thinner black oil shells than the striped shell sunflower seeds. The main ingredient of most backyard feeders is the sunflower seed. 
Safflower seeds attract Cardinals. And the eastern gray squirrel doesn't care for safflower seeds. However, mice are also attracted to the cream colored safflower seed. So, use safflower seeds in the right environment.       
Nyjer, niger, or thistle seeds are tiny, black oil-rich seeds. They attract all kinds of finches. Nyjer seeds attract finches such as American Goldfinches, Lesser Goldfinches, Indigo Buntings, Pine Siskins, and Common Redpolls.  
There are many wild bird blends on the market that include the seeds listed above. As a general guideline, if you are making your own suet cake or ball it is best to use one part fat to two parts dry ingredients. But as with all guidelines, the right consistency of mix to fat can be determined based on how well the dry ingredients such as seeds adhere together to form the bell, ball, or wreath. 
OTHER DRY INGREDIENTS TO HOMEMADE BIRDSEED FEEDERS
There are a variety of ingredients to use in homemade birdseed feeders. Some of those ingredients are suet, lard, peanut butter, nuts, and dried fruit such as cranberries, blueberries, and raisins.  
WATER SOURCE 
Another important essential of a feeding station is a permanent source of freshwater. Once temperatures have dipped below freezing, freshwater is difficult to find. One option is to use a heated bird bath. There are many heated bird baths available. The second option is to place fresh water out regularly. Replace the water as needed. Simply pour hot water if the water freezes over the Winter months. This will melt any ice in the birdbath. Having a continuous fresh water source will invite birds to visit your garden water station regularly.    
CREATIVE CRANBERRY BIRDSEED CAKE 
The first recipe is from Bev at Make Your Own Zone. It is called the Creative Cranberry Birdseed Cake.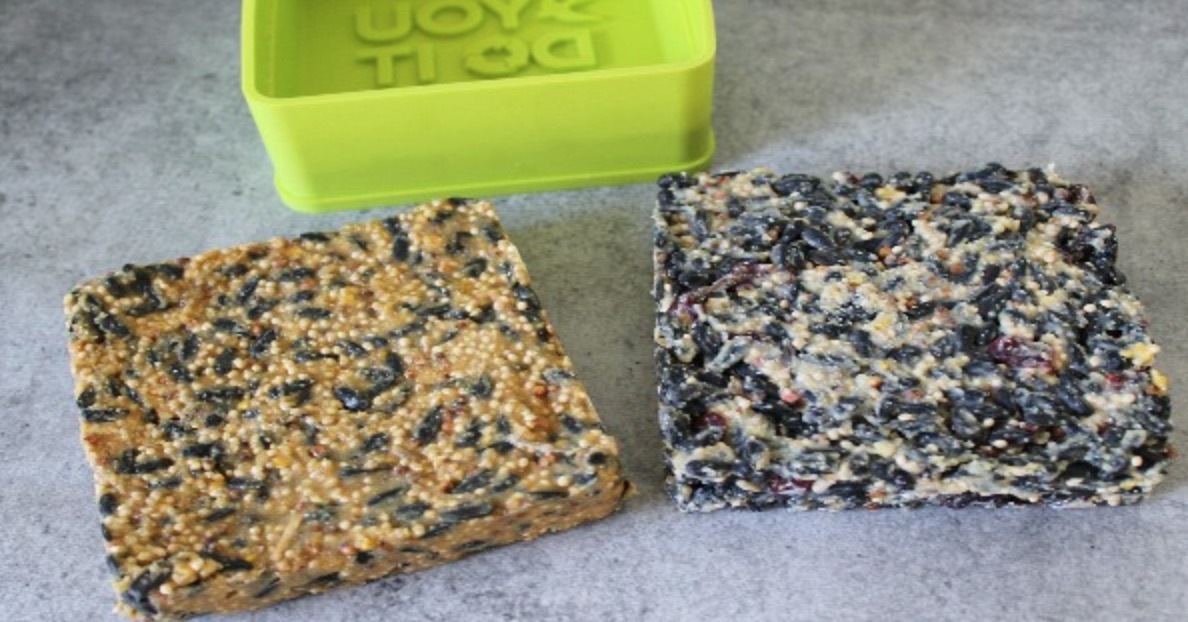 Bev combines black oil sunflower seeds, birdseed, dried cranberries, cornmeal with lard for this delicious treat. 
QUICK BIRD SEED CAKES
A second bird seed recipe is also from Bev at Make Your Own Zone. This appropriately called the Quick Bird Seed Cakes. Mix bird seed with melted lard to make this cake. 
CHEERIOS HOMEMADE BIRDSEED FEEDER
Recipe number 3 is from Betty Crocker. A simple recipe using a sugar ice cream cone. Spread some peanut butter, add a few cheerios or a lot of cheerios, and bird seed. Quick and easy.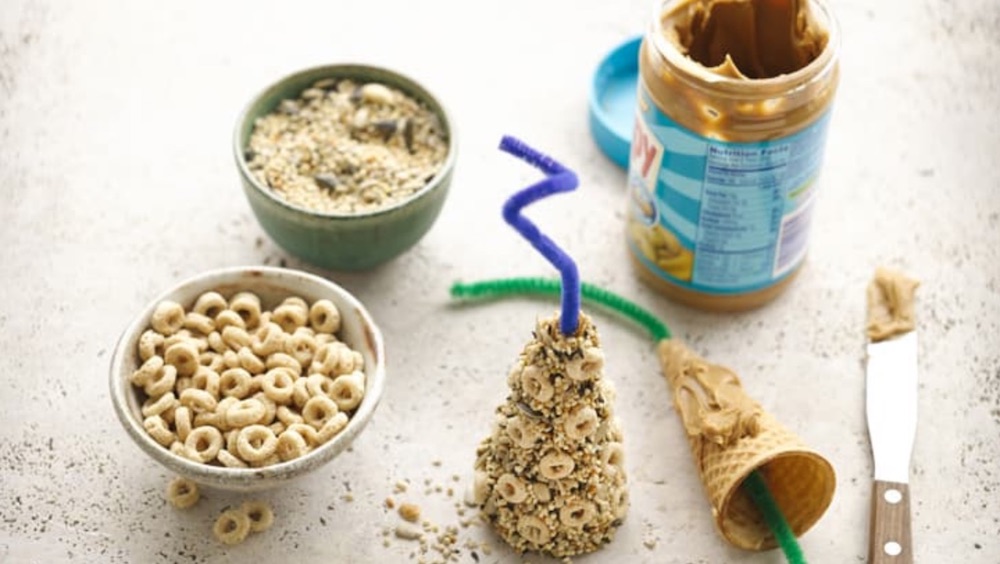 BIRD SEED WREATH DIY 
The fourth recipe is from Mary at Home is Where the Boat Is. Mary created a beautiful feeding station in her Winter garden. The garden bench back has Mary's bird seed wreath using a bundt pan. All decorated and displayed with a holiday them. A feast for the birds and inspiration for all bird lovers.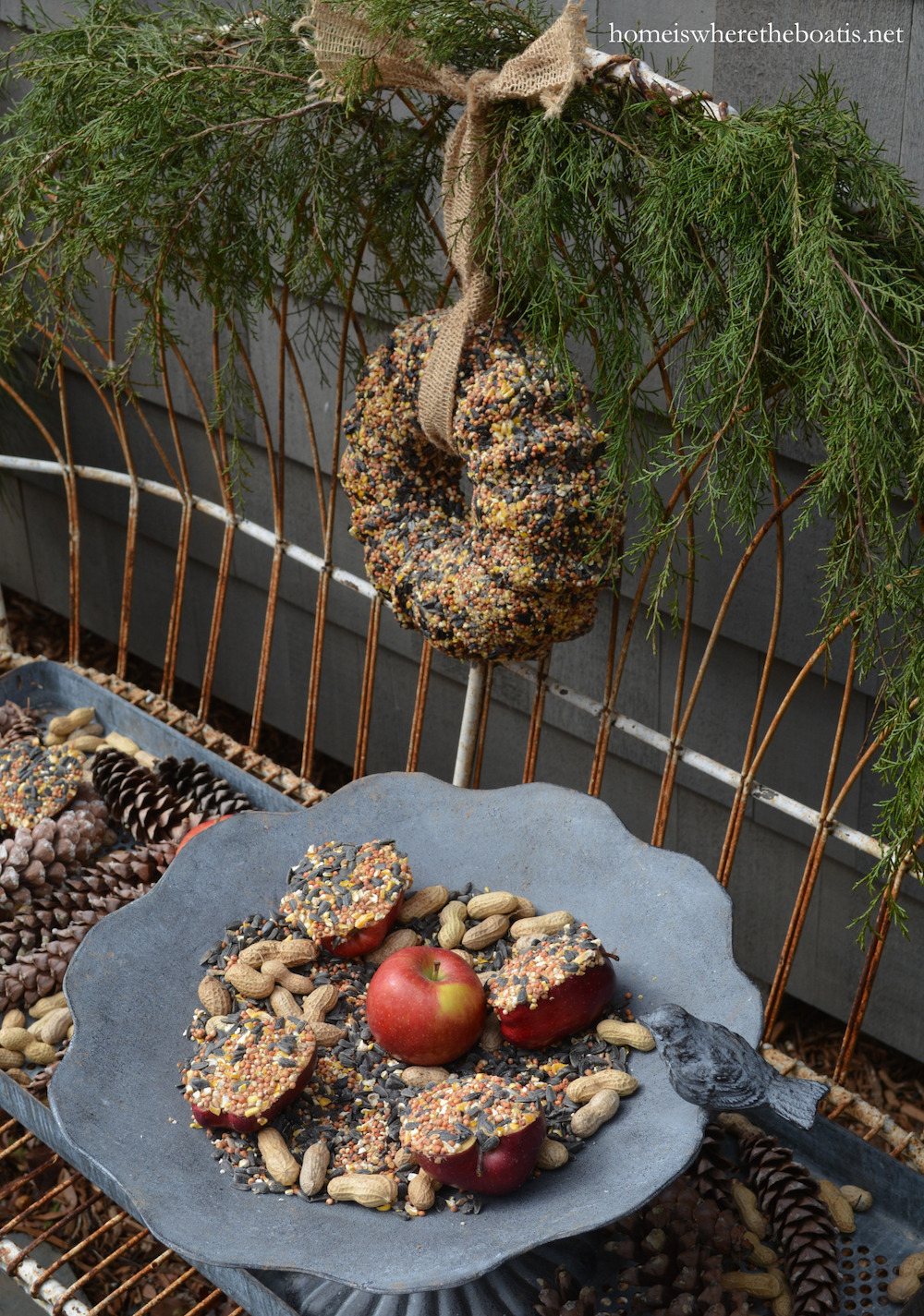 My wreath looks a little different than Mary's. Since I didn't have a bundt pan handy, I improvised and used a disposable food container. We lined the container with wax paper then inserted an empty miniature McCormick seasoning jar for the center ring. And of course we followed Mary's advice to insert a circle of wire to the ring for stability. This is our version of Mary's beautiful birdseed feeder wreath.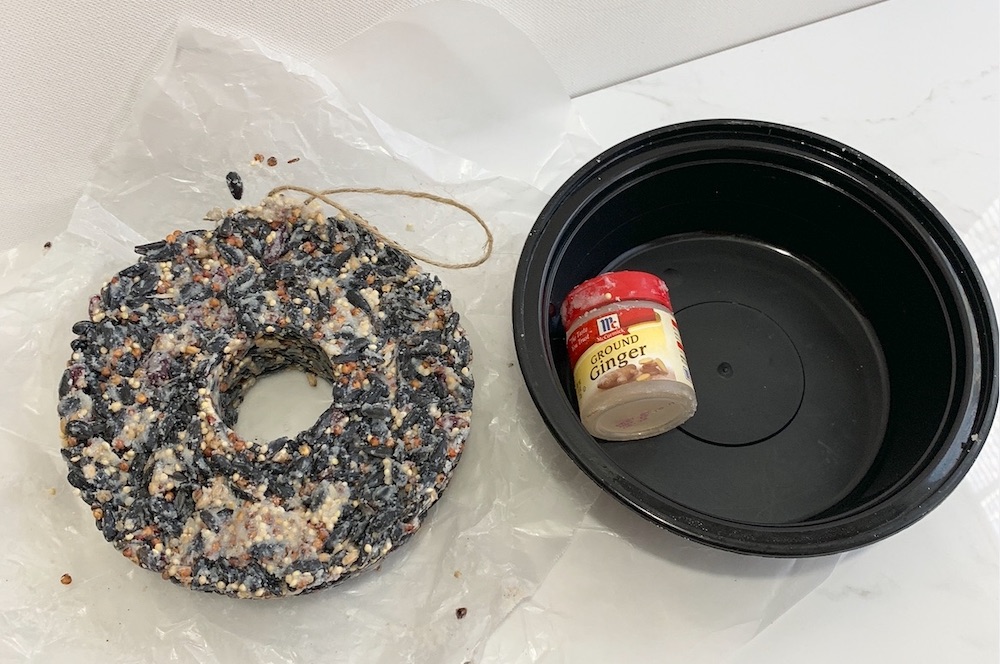 For a bell shaped feeder, we improvised by using a disposable styrofoam container. We punched a hole in the bottom of the container to allow a string to go through. And rather than using wax paper, we coated the container with an olive oil spray thoroughly.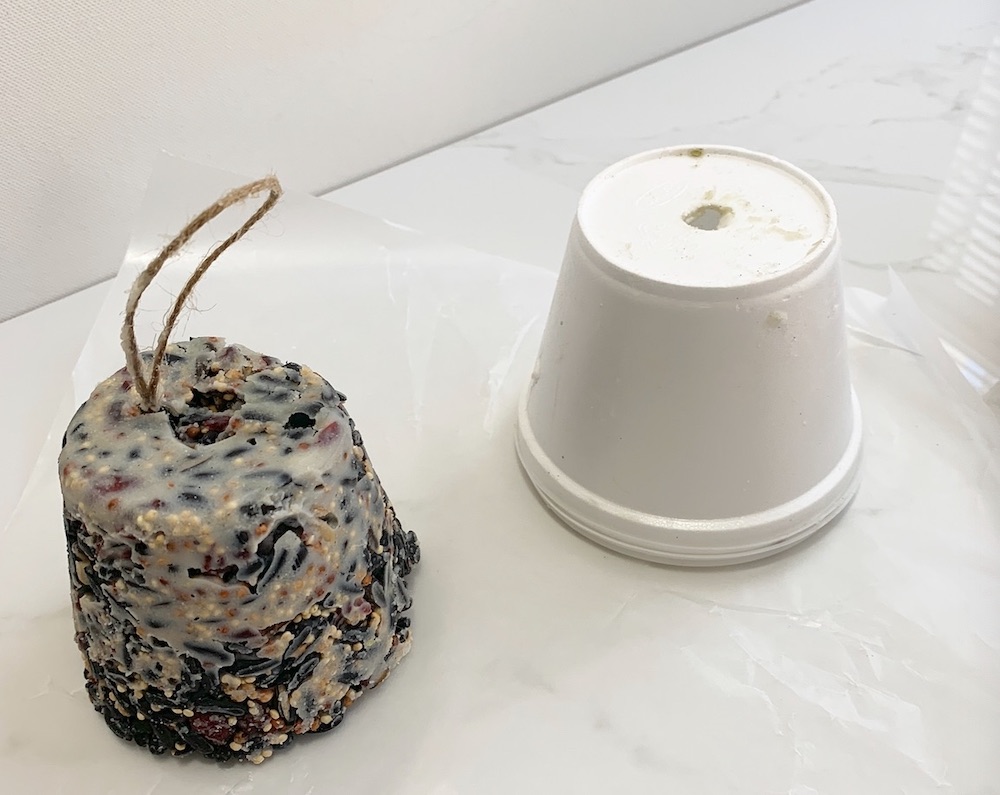 HOMEMADE BIRDSEED WREATH FEEDER
The fifth recipe is from Stephanie Lynn at Under the Table and Dreaming. Stephanie Lynn has a simple recipe for making wreaths too. Stephanie Lynn also makes heart shaped bird seed cakes for Valentine's Day. And for Easter, she makes beautiful egg shaped bird seed cakes with bright colored ribbon. These are hung outdoors over the Easter season. Holidays make a great time to not only celebrate the holiday but a reminder to feed the birds. Particularly important over the Winter and Spring seasons.  

Easter Eggs from Stephanie Lynn at Under the Table and Dreaming.   

HOMEMADE SUET CAKES BY JILLEE
Recipe number six is from One Good Thing by Jillee. Jillee has a homemade suet cake recipe that uses suet or lard with peanut butter. Plus a few other bird loving goodies.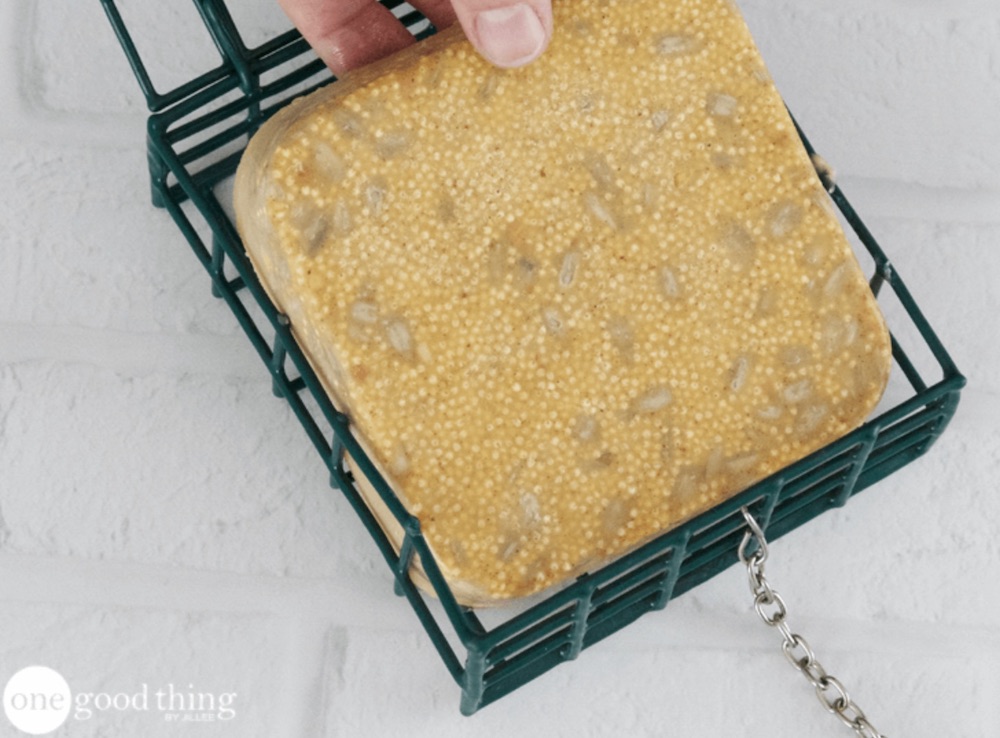 ALL SEASON SUET BY CRAFTY GARDENER
Recipe number 7 is from Crafty Gardener. The Crafty Gardener has an excellent recipe for an all season suet. Something that doesn't melt in the heat. The suet can be formed into balls then slipped into a mesh bag. This particular mesh bag came from a box of fresh clementines.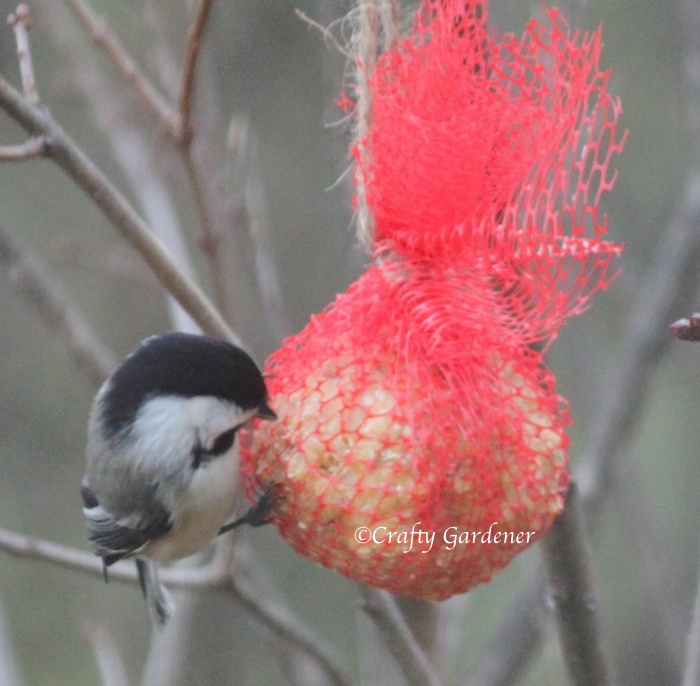 HOMEMADE FAT BALLS
The eighth recipe is from Kerry at Blissful Domestication. Kerry uses molds of empty yogurt plastic containers.  The yogurt container creates a bell shaped birdseed feeder. So cute and the perfect size for small hands.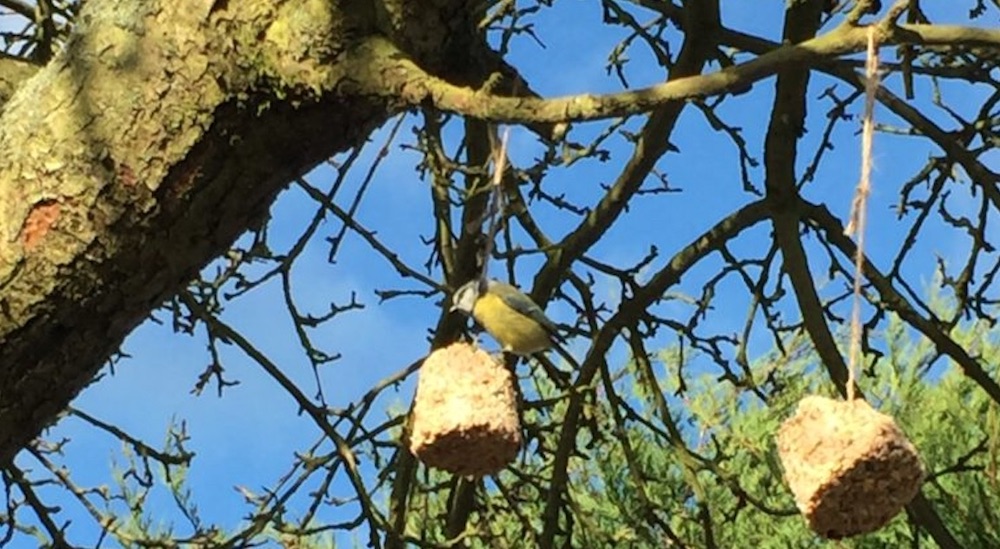 This concludes our list of yummy handmade birdseed feeders.
Bird feeding is enjoyed by so many groups of people and for a variety of reasons. Some folks find feeding birds relaxing. The peacefulness of watching birds in a natural setting is a stress releaser. Children who feed birds in their formative years develop a fondness and affection for birds and wildlife in general. This love of nature remains with children for a lifetime. An entertaining and educational adventure for kids from 1 to 93.
An affordable pastime. And by the way, February is National Bird Feeding Month in the US. So, whatever your reasons for wanting to feed the birds, we are sure you'll feel immense satisfaction as you observe birds returning to your feeding station throughout the seasons. There isn't a better time to welcome our feathered friends by creating and maintaining a buffet style feed station in your garden. 
Interested in birds in the garden? If you found this helpful . . .
You May Also Enjoy some of our other bird and gardening related posts.   
How to Build Habitats for Beneficial Wildlife
How to Create a Wildlife Sanctuary With Native Plants
16 Perennials that Attract Hummingbirds to Your Garden
12 Perennials That Butterflies Find Irresistible
And if you have any questions, feel free to reach out to us. We always are ready to help you out. Thank you for dropping by. 
Mary