Create a rustic Christmas centerpiece for the Dinner table. A rustic Christmas centerpiece in 5 simple steps. Easy decor and affordable.  Make this centerpiece with the entire family. A super cute holiday decor idea.
Create a rustic Christmas centerpiece for the home with step by step instructions. An affordable project everyone in the family can help. No need to spend a ton of money. And certainly no need to work long hours to finish this centerpiece. This project takes a mere 15 minutes to complete.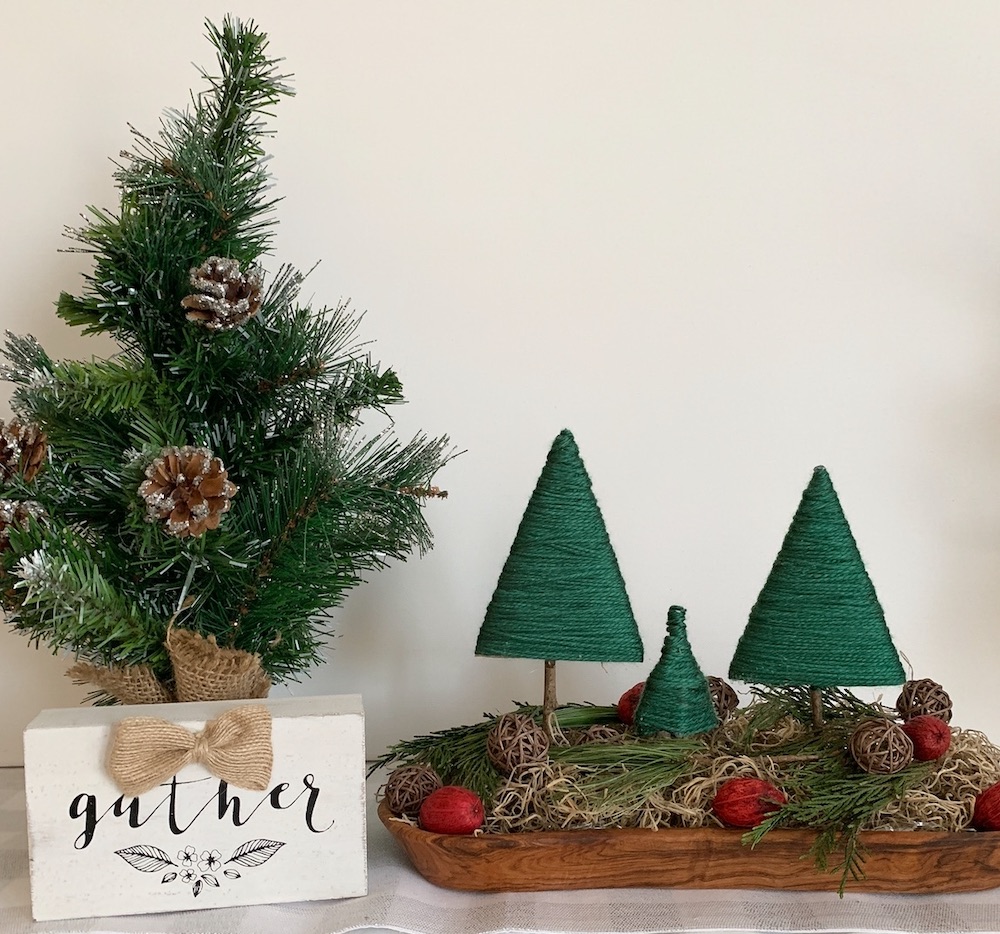 Take a look at our yarn wrapped Christmas trees nestled in a rustic Christmas centerpiece. We love the rustic, natural decor look. And fits right into our rustic Christmas decor.  
Our easy to follow steps are … 
Gather Supplies to Create a Rustic Christmas Centerpiece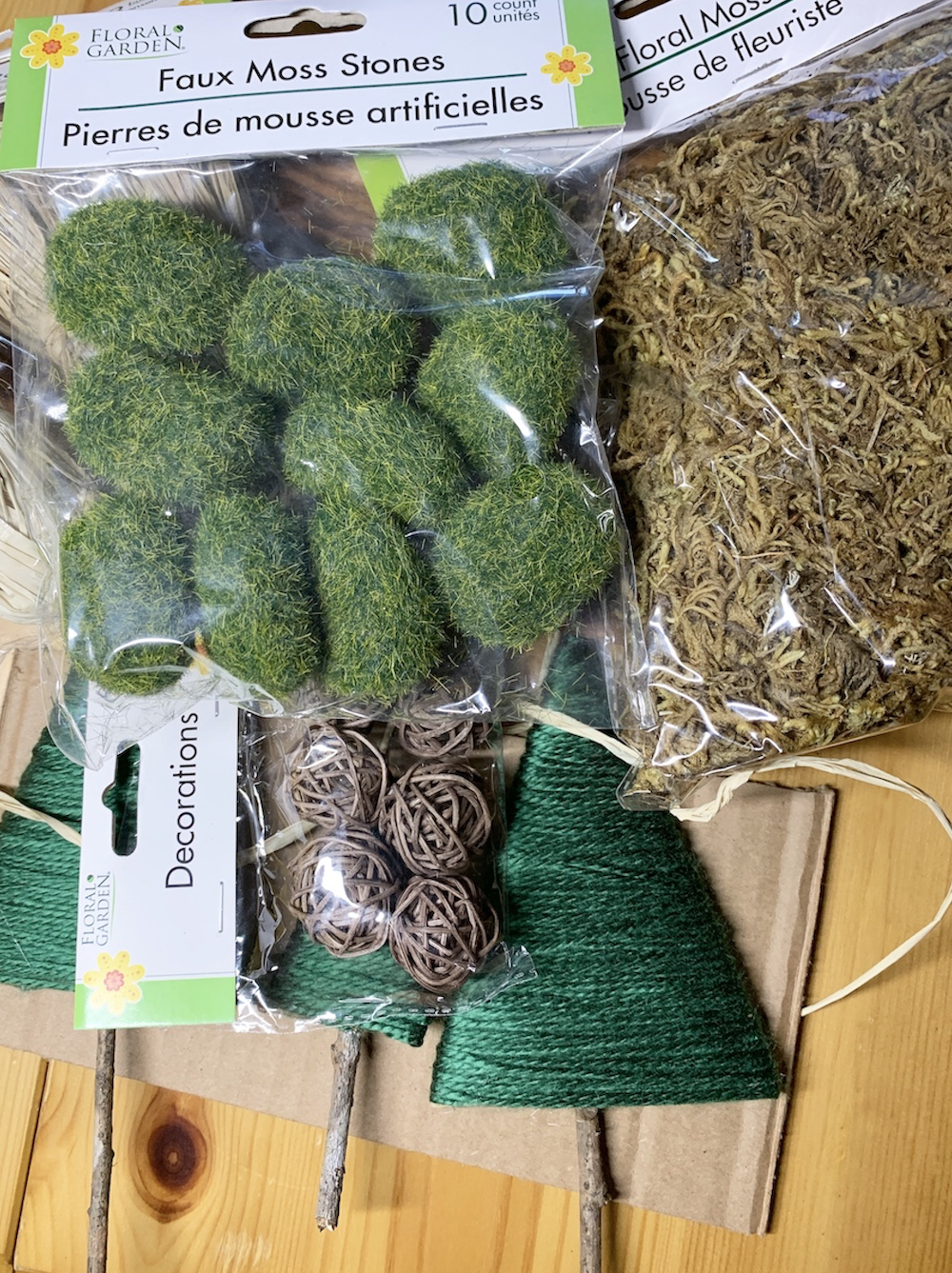 Supply List 
Wooden Bowl or Container 
Three Yarn Wrapped Trees 
Moss either Spanish or Green  
Greenery from Pine Trees or Arborvitae Evergreen Boughs 
Miniature Pine Cones 
Miniature Brown Twig Balls
Decorative Woody Filler items such as Seeds, Pods  
Small pieces Floral Dry Foam  
Supply Costs 
Yarn Wrapped Christmas Trees 
Centerpiece Base – a wooden rustic in appearance bowl  
Small Pieces of Floral Dry Foam (from a previous project)
Moss Spanish or Green (from a previous project)
Pine or Arborvitae Green Boughs (retrieved from the woods)
Miniature Pine Cones (local woods)
Miniature Twig Balls (last year's decor)
Decorative Woody Fillers (last year's decor – red nut shaped objects) Seeds, Pods in Festive Colors 
All supplies used we had on hand. The wooden bowl for the centerpiece was  swallow about 1 inch deep. Three yarn covered Christmas Trees (see our tutorial here) previously made. Small scrap pieces of floral dry foam for each tree to stand on. Reused moss. Miniature twig balls found at the Dollar Store. Reused dry seeds, pods, and nuts. And the pine, arborvitae greenery, and pine cones were found in the woods.    
Twig Balls can be made using vines from your garden. Virginia Creeper or Bittersweet Vine can be used to form wreaths, spheres, or cones. Remove vines and immediately wrap the vine into the form you need. Allow to dry for a couple of weeks. A great time to remove the vines is in the Springtime.  
Decorative balls can be made from twine as well. 
Total time to complete is 15 minutes.  
2. Insert Three Trees into Dry Foam Pieces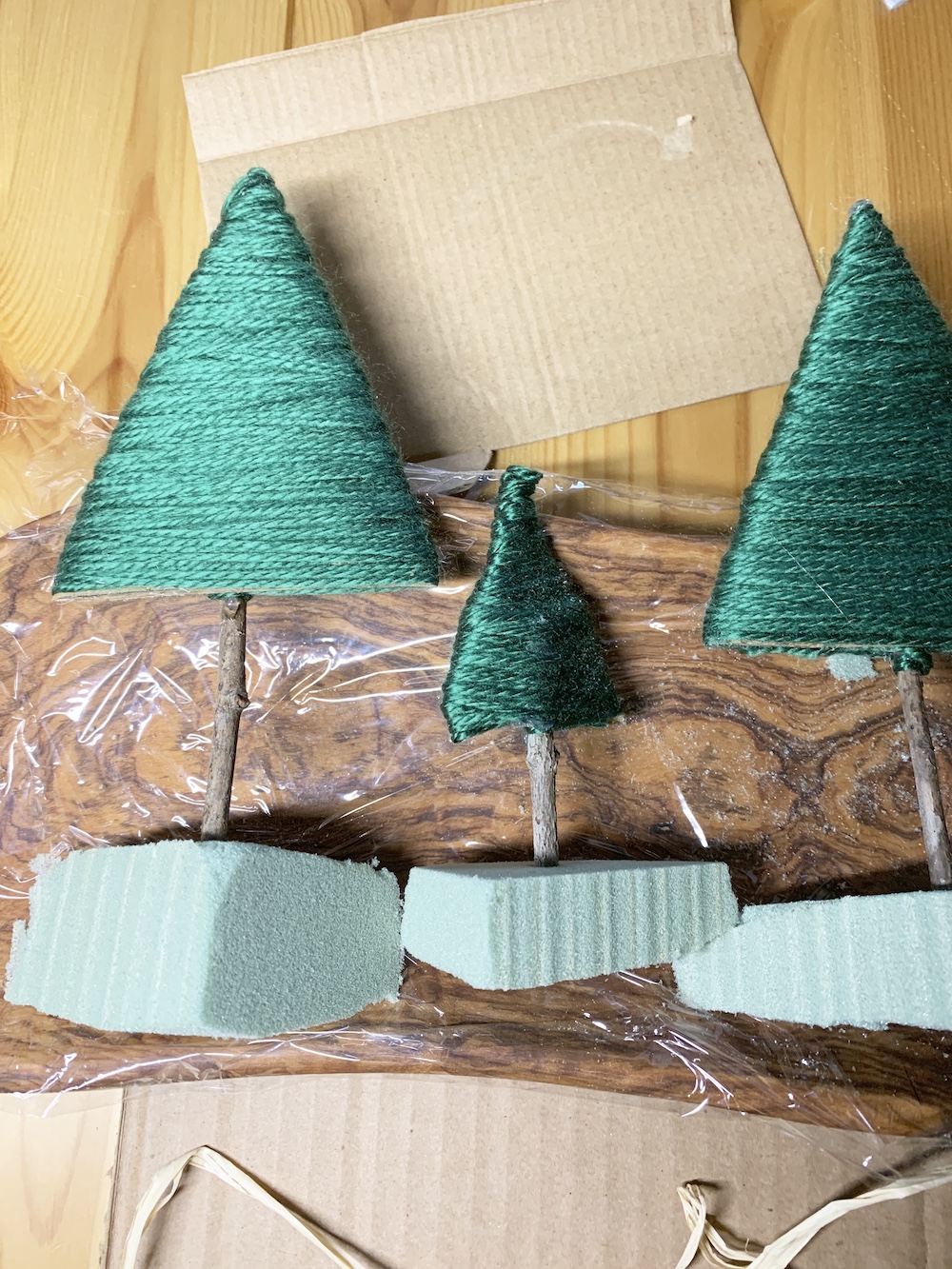 Insert each yarn wrapped tree into a scrap piece of dry foam. The Christmas trees will stand straight up. Place them in the center of the bowl or container. 
3. Spread Spanish Moss Around the Base of the Trees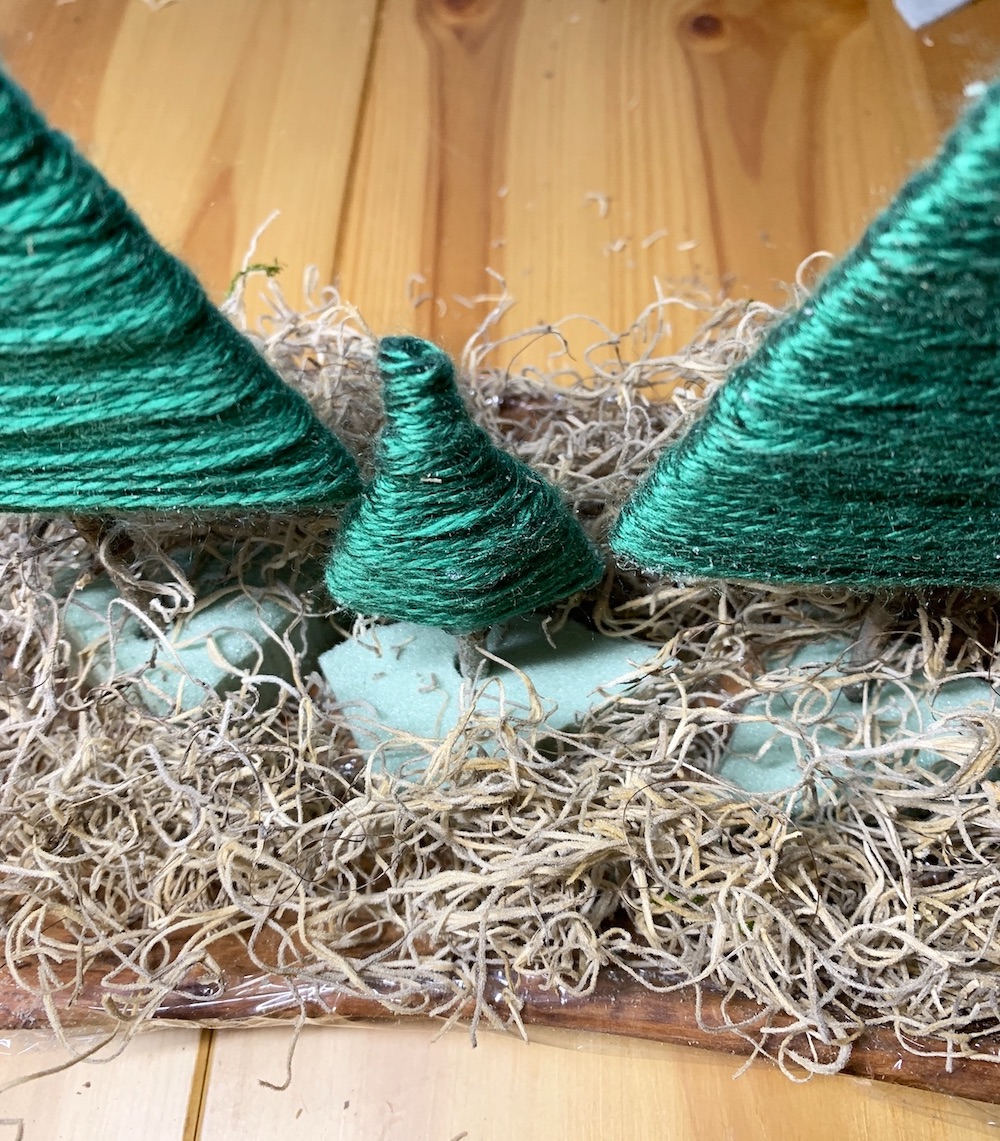 Lay the moss around the container. Cover the dry foam as much as possible. We used Spanish moss. Cover the entire bottom of the bowl with the moss.  
4. Add the Greenery Boughs Over the Moss  
Add the greenery boughs to cover some of the moss. 
5. Add Twig Balls, Seeds, and Pods Over the Moss and Greenery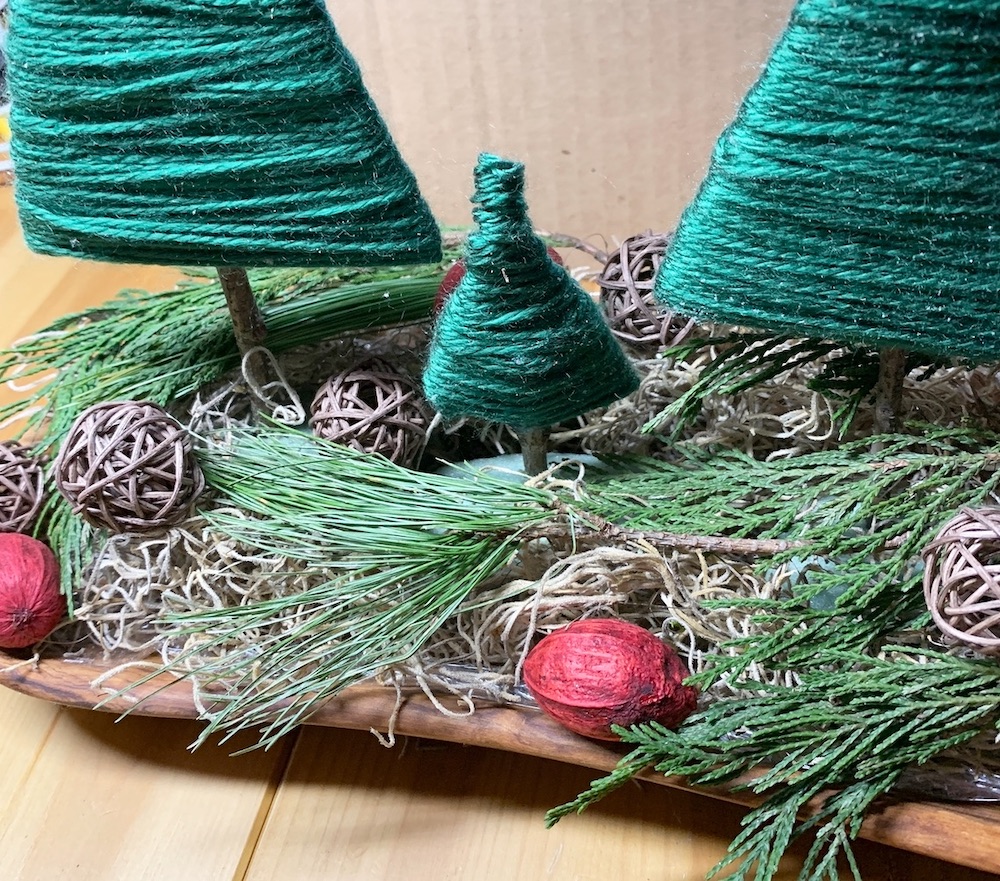 Carefully lay the twig balls, seeds, and pods randomly over the greenery. We usually add 5 or 7 items to the centerpiece. Adding 2 to 3 items would be too few. And adding 9 to 10 items would be too many. 5 to 7 items looks about right for this size of the bowl. A larger container would need 10 or even more items. 
And here is the finished Rustic Christmas Centerpiece.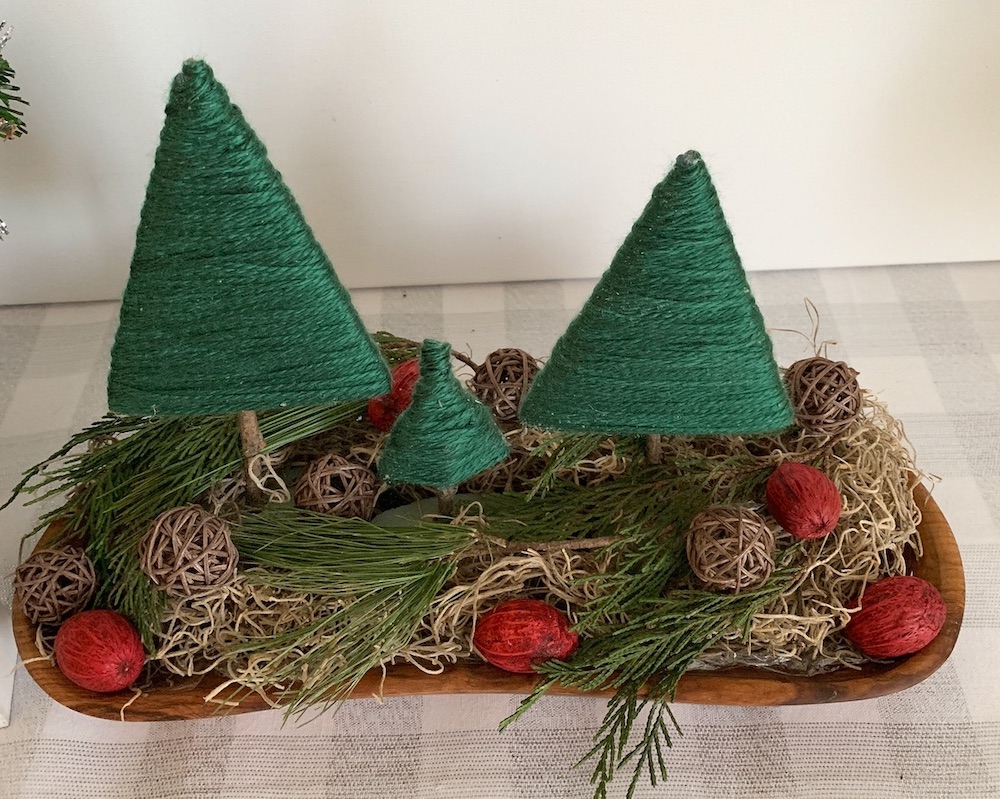 Thanks so much for joining us today. We hope you enjoyed this rustic Christmas centerpiece. Easy and quick to make in a short period of time. A centerpiece that'll add beauty to your home. For more inspiration, be sure to take a look at our other DIY home decor projects.  
How to Make Yarn Wrapped Christmas Trees
Rustic Christmas Lodge Accessories for the Home 
How to Decorate French Floral Buckets for Christmas
How to Make a Pointed Leaf Christmas Tree from Felt 
If you have any questions, feel free to reach out to us. We always are ready to help you out.   
Best wishes!   
Mary