Halloween decor ideas for a super spooky home. For the upcoming Halloween season, we are sharing some great Halloween decor ideas. If you love doing a little more this Halloween, consider some of these home decoration ideas. These ideas go beyond the traditional chrysanthemums, pumpkins, and bales of hay. So, if you'd like to boost your Halloween decor, we will show you some pretty spooky ideas for your home.
Sprinkle a Little Spookiness – Halloween Decor Ideas
The internet is filled with some great Halloween-styled ideas. In this post, we are sharing designs for the home that are mildly spooky. We are passing on those designs which are downright scary. Take a look at these designs and maybe you'll use one or two in your home.
Fill Your Cabinets with Pumpkins
Decorate your cabinets with these lovely plastic orange pumpkins. Mix up the sizes in pumpkins and styles for variety.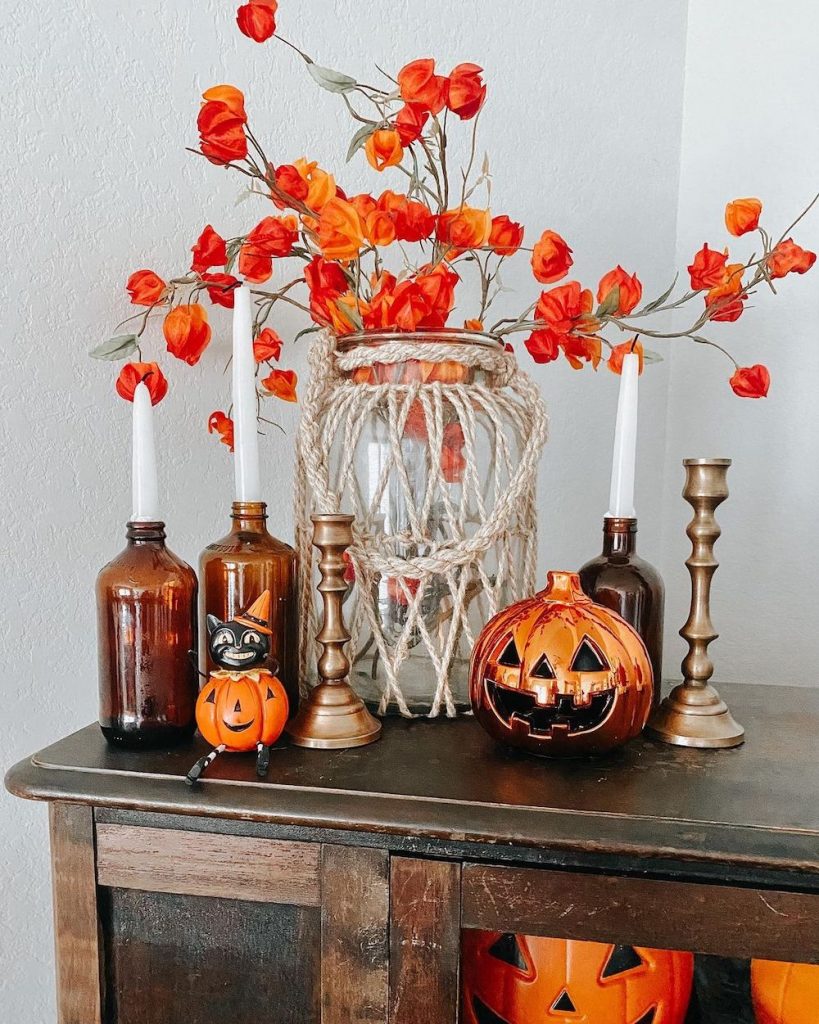 Layer the Vintage Pumpkins – Halloween Decor Ideas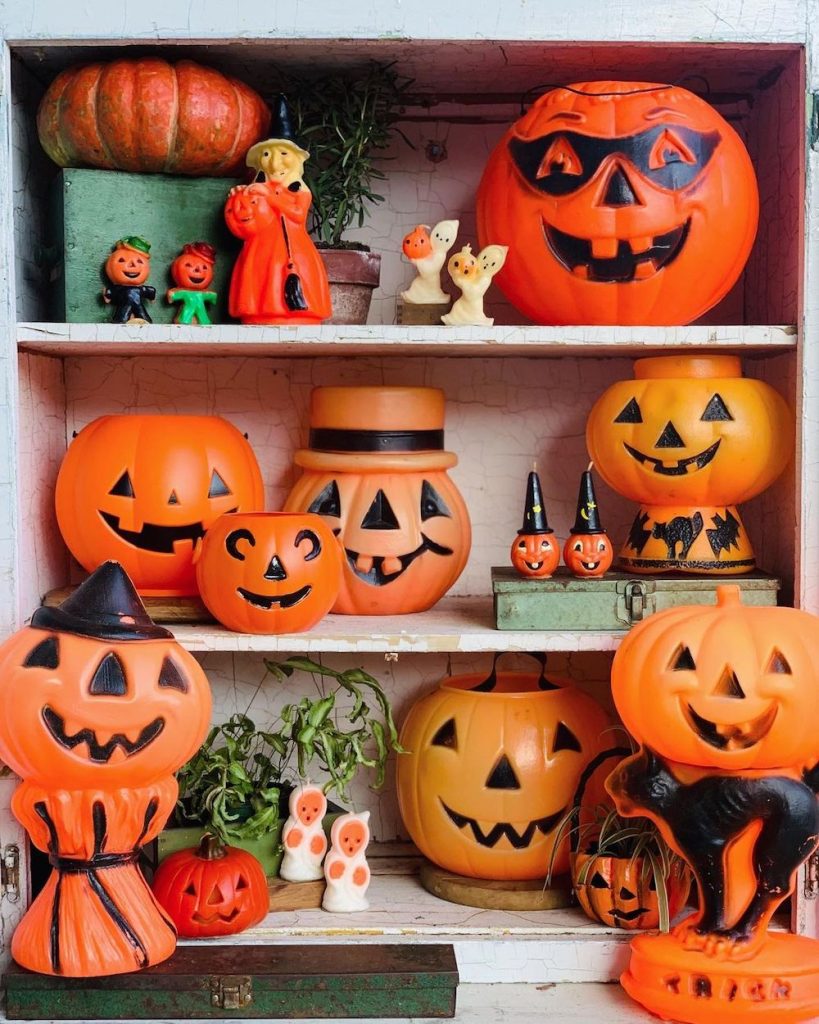 Mix it up. Use vintage and newer plastic pumpkins. In this Halloween display, the designer also gives this a whimsical vibe.
Style it Black, White, and Orange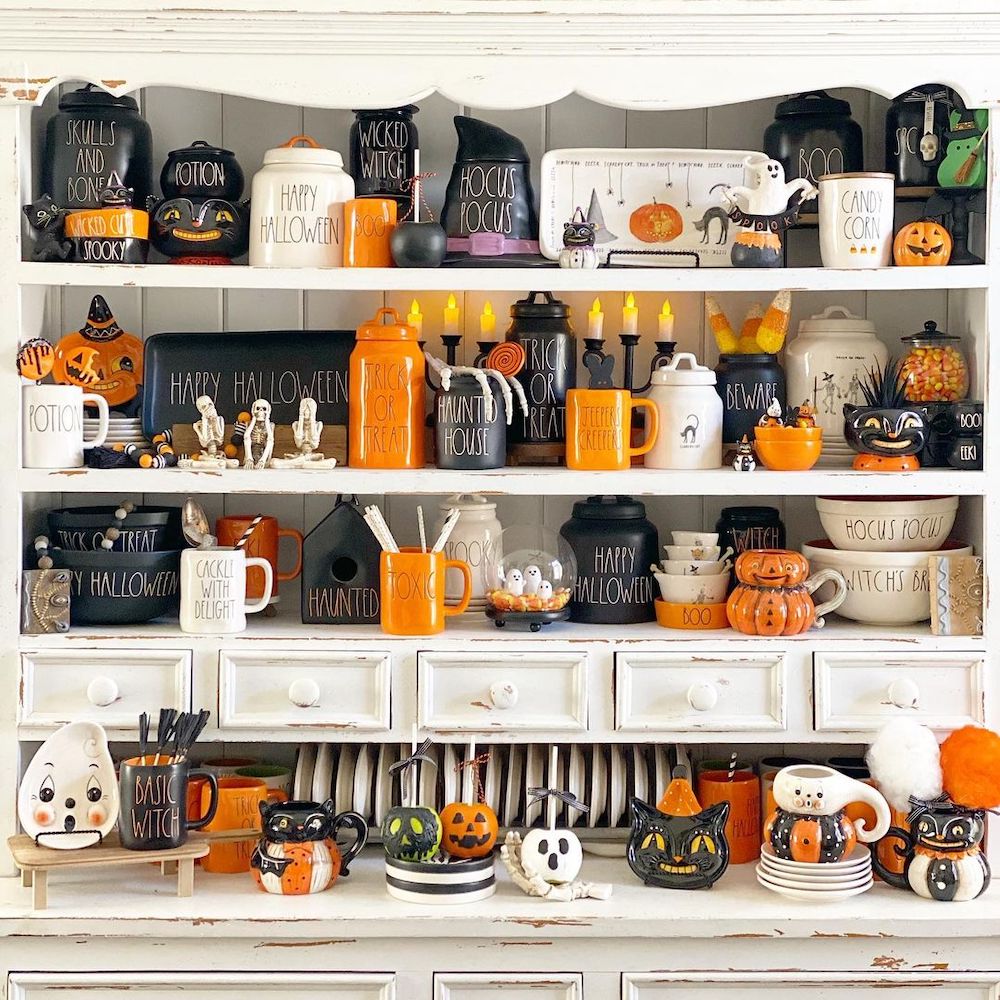 Give your cabinet the candy corn colors. So cute and a big hit with the kids.
Display Your Fall Picnic Style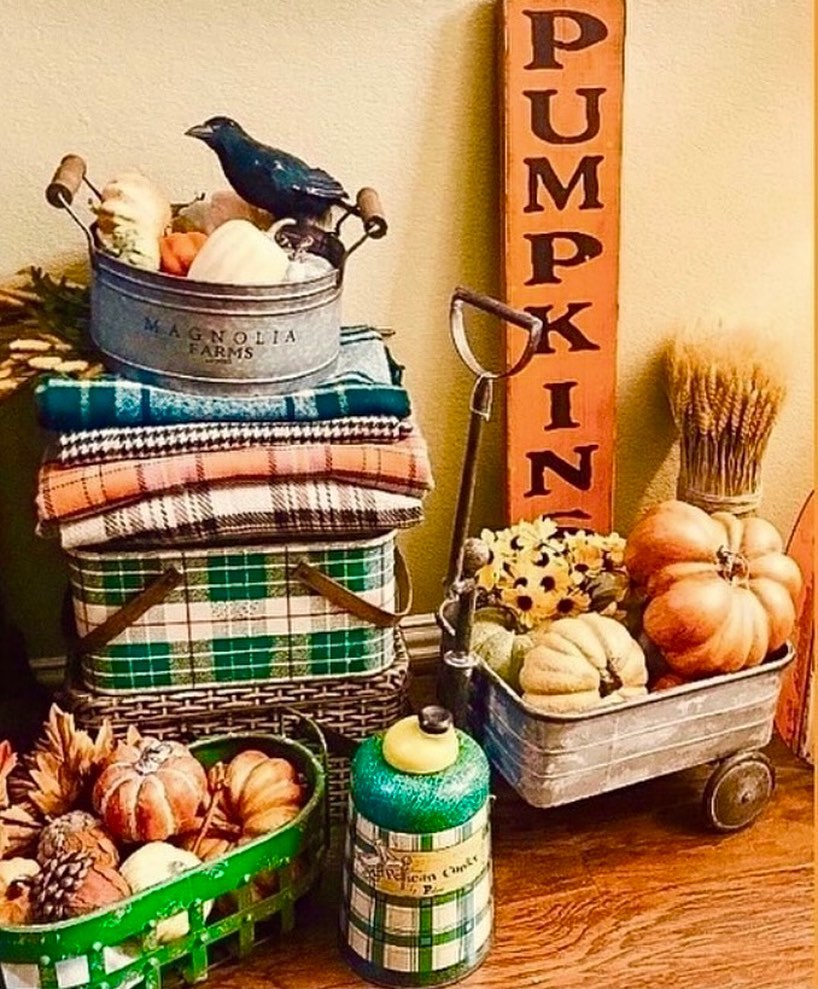 Your picnic accessories can do double duty. Put your cozy throws and blankets out. Along with retro picnic baskets, canisters, and other accessories use these items for decorative purposes as well.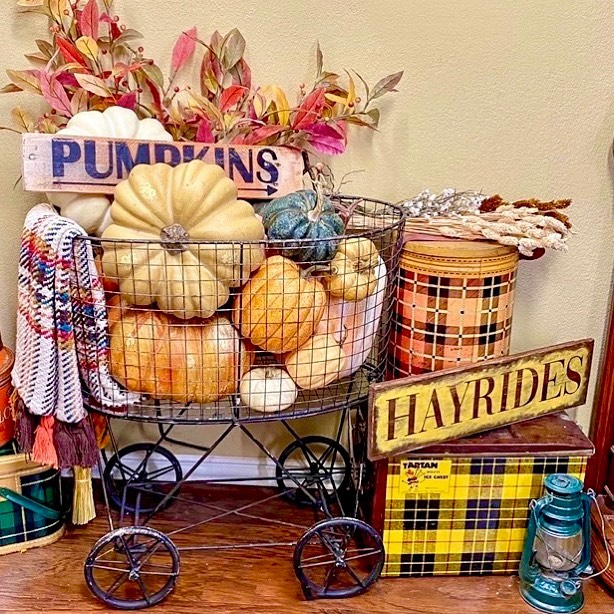 Have Your Skeleton Greet Guests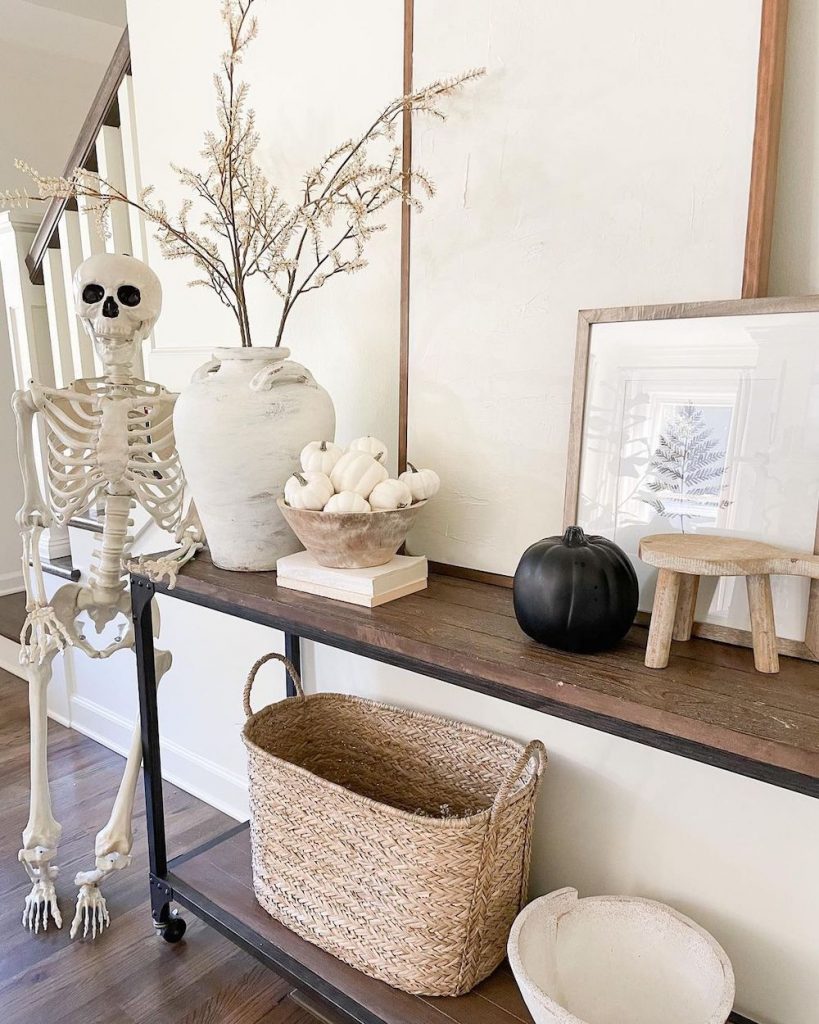 For creamy white decor, use a skeleton to greet your house guests. Perfectly blended decor with the use of white, beige, and black.
Use Ravens to Create an Eerie Vibe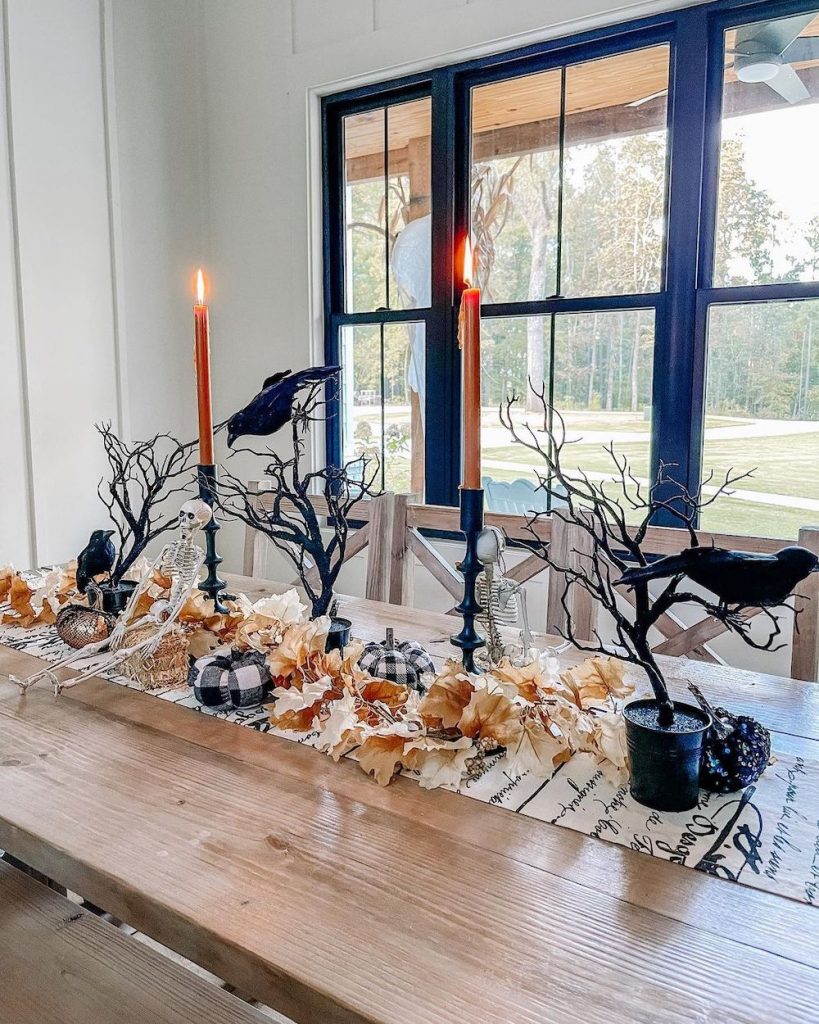 Decorate the dinner table with an eerie feel with a few black ravens. The symbol of death, depression, and eeriness.
Set the Table – Halloween Decor Ideas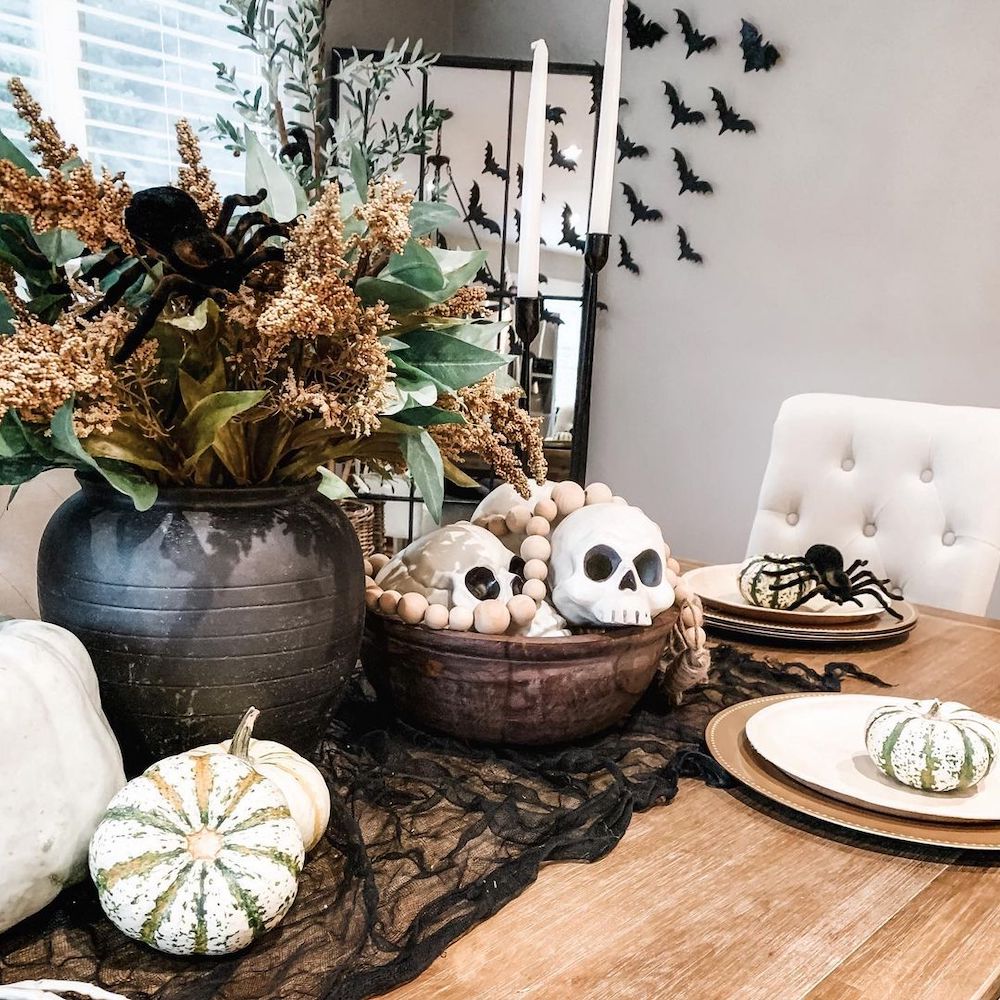 Serve a bowl of skeletal heads. Then toss a few spiders as an appetizer.
Style it Bad to the Bone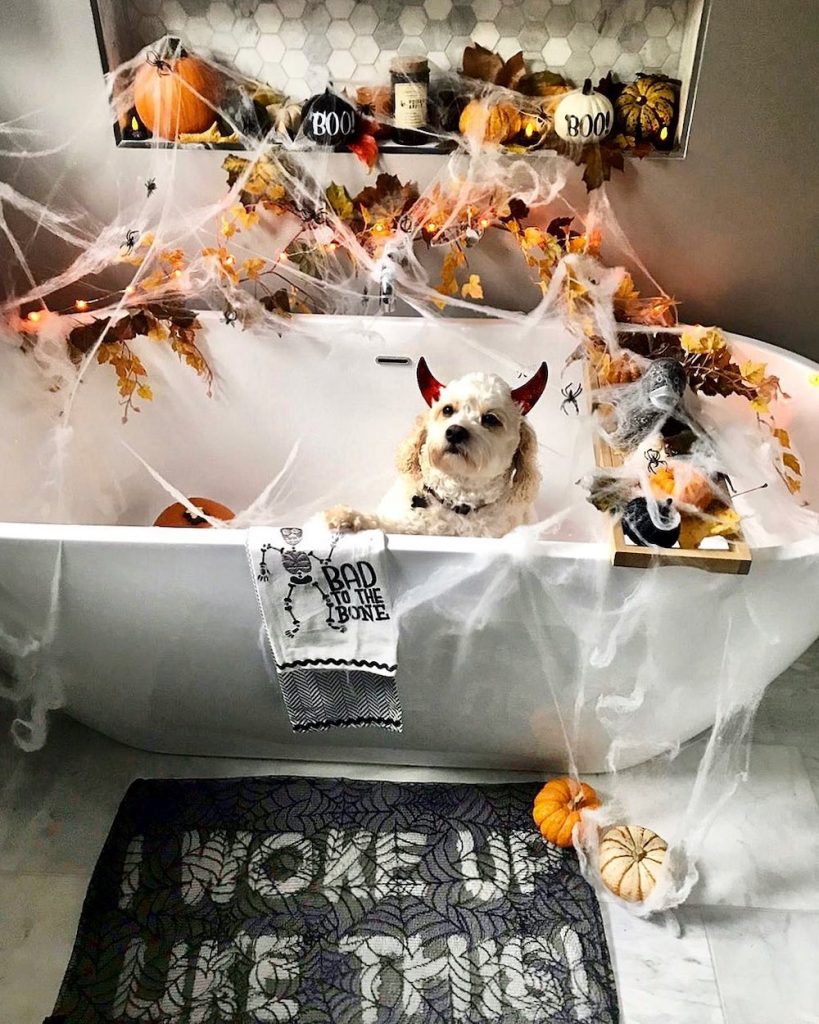 Soak in your tub surrounded by total spookiness decorations.
Save the Date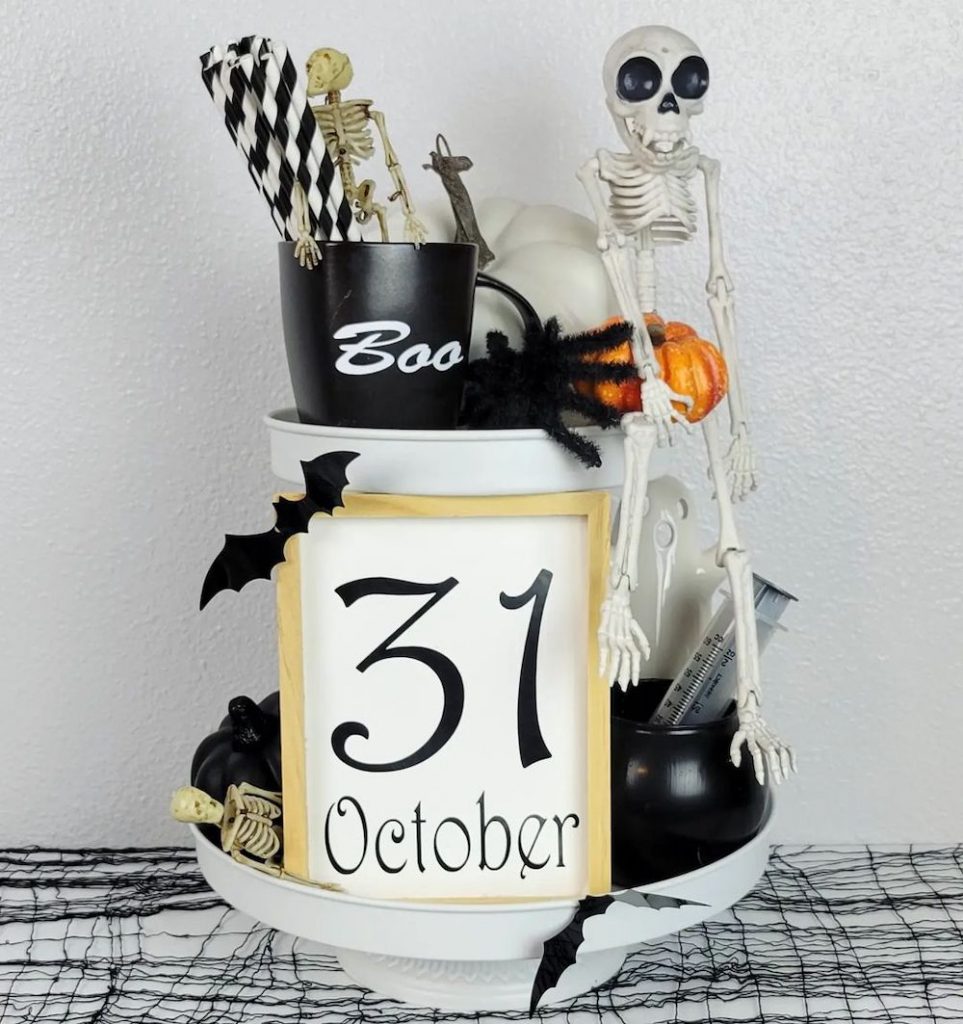 Layer a tiered tray full of the spookiest characters you can find.
Add a Cobweb or Two – Halloween Decor Ideas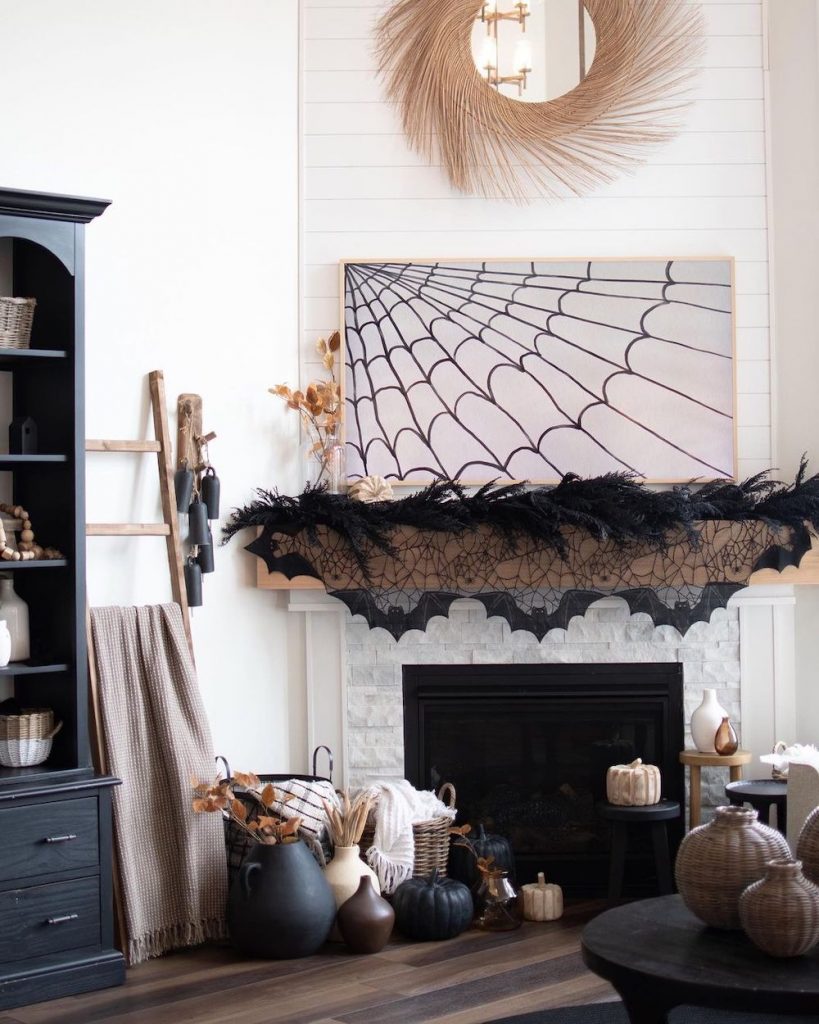 Display a framed image of cobwebs. Then decorate with creepy crawling and flying creatures.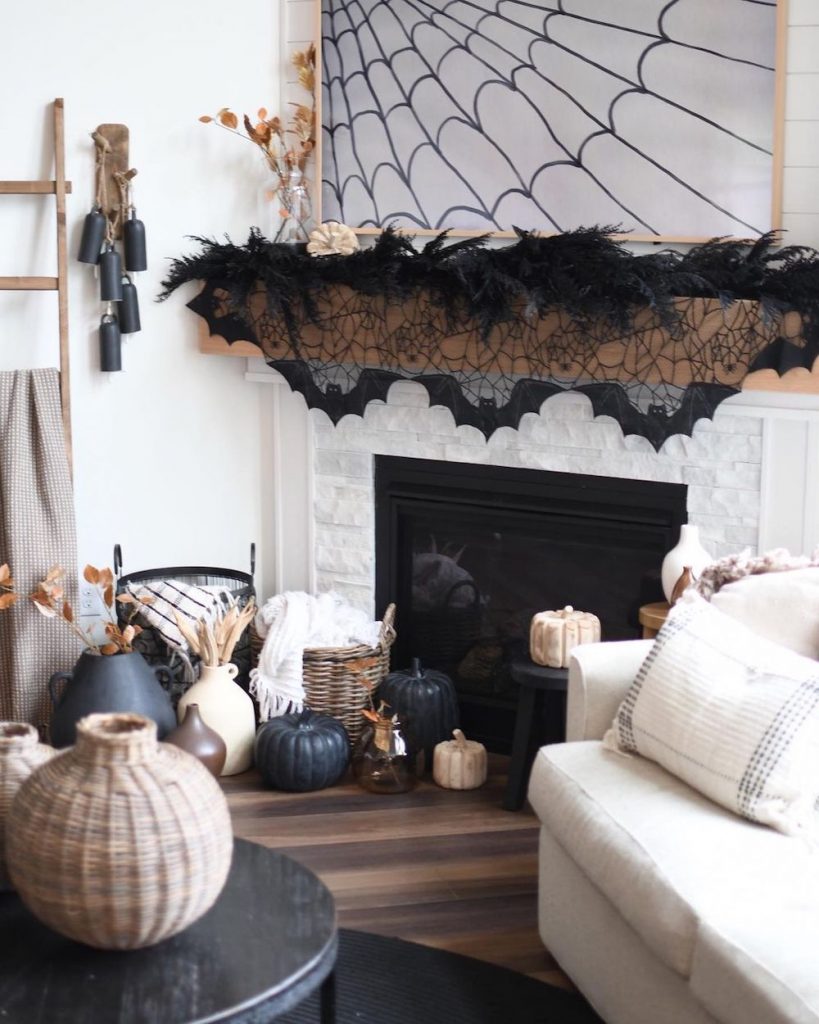 Sting a Set of Dancing Skeletons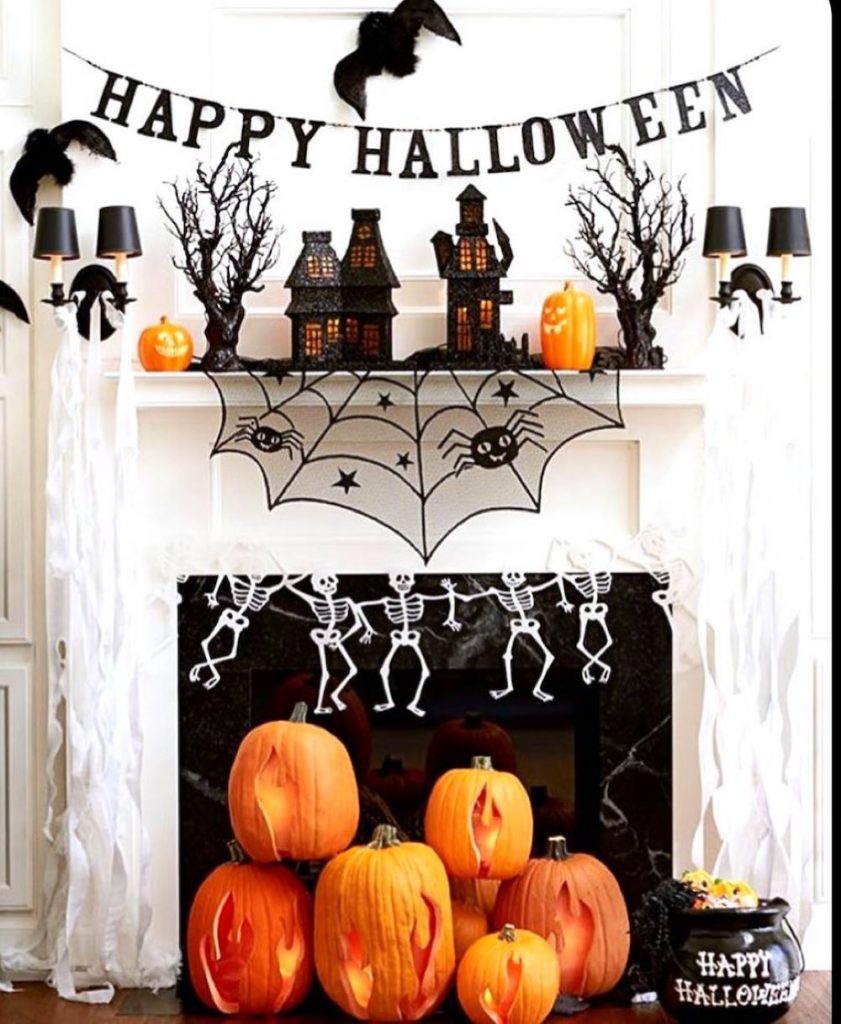 Celebrate the season with dancing skeletons. They are always in demand this time of year.
Use those Galvanized Pails – Halloween Decor Ideas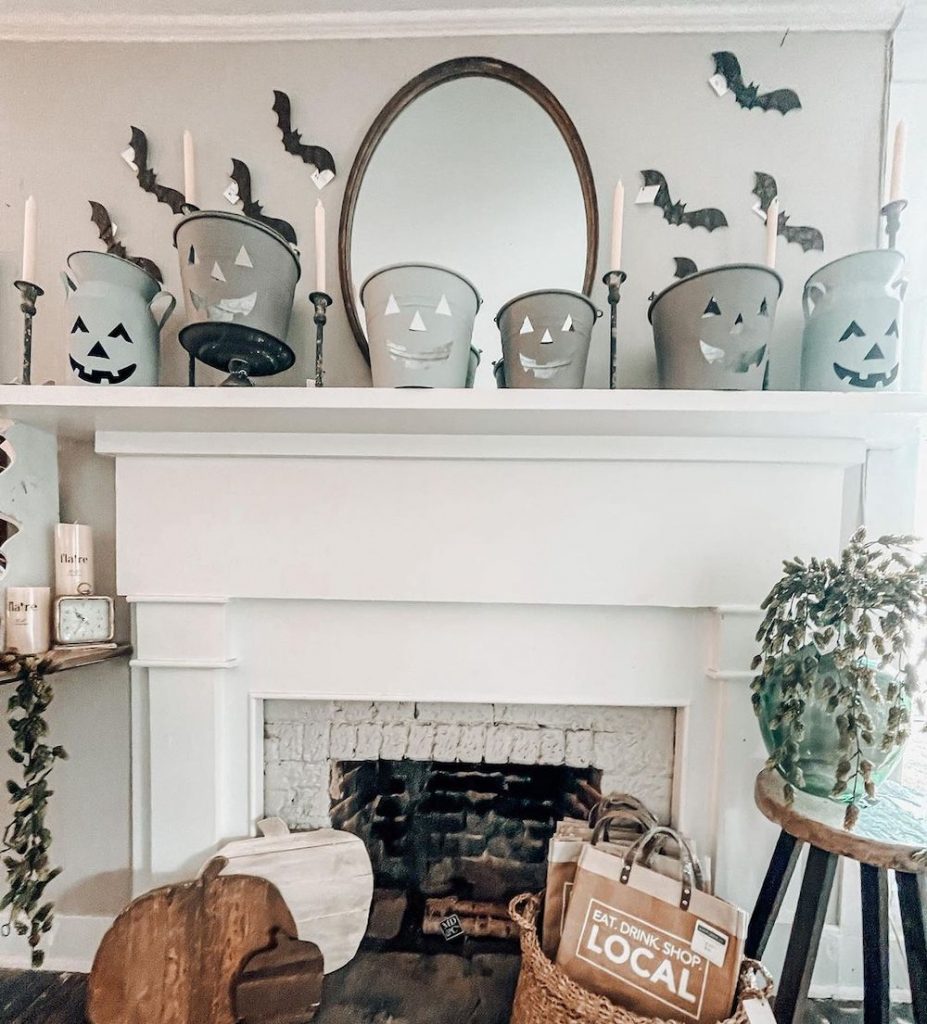 Utilize a group of galvanized pails. The soft gray colors blend in beautifully with the wall paint color.
Add a Dried Floral Bouquet
For a neutral color style, style a rattan tray. Use beige natural colors with a touch of black. Then add a vase of dried natural flowers.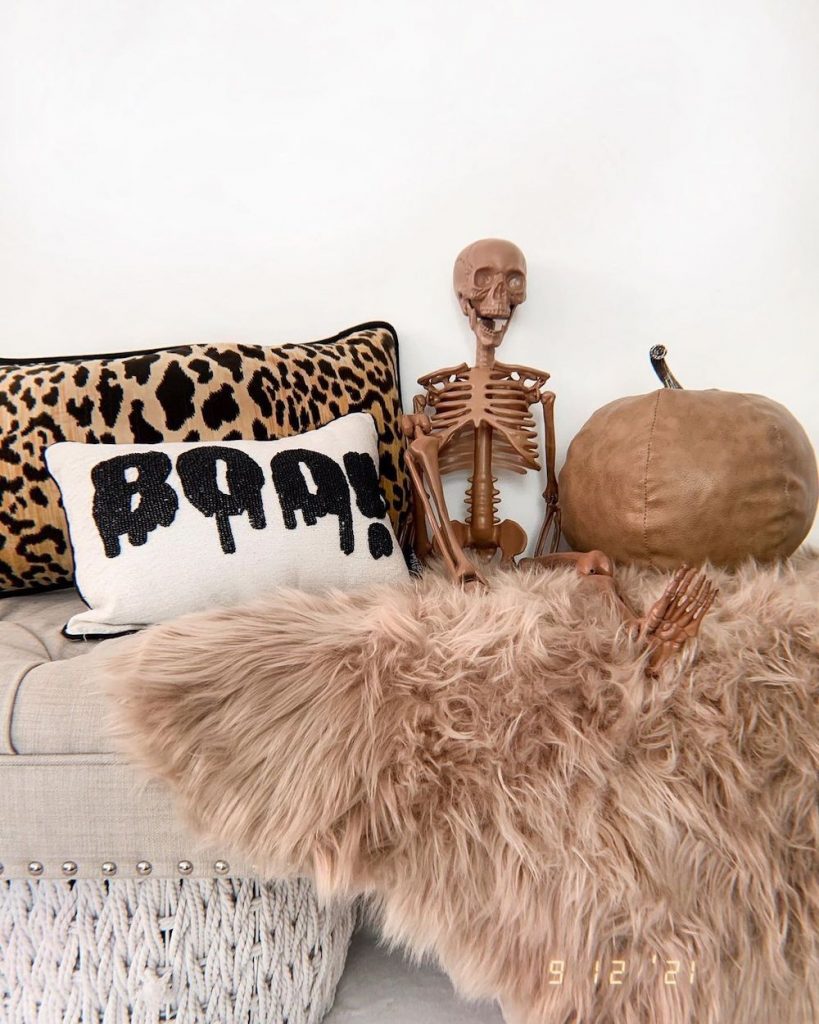 Recreate a Laboratory Office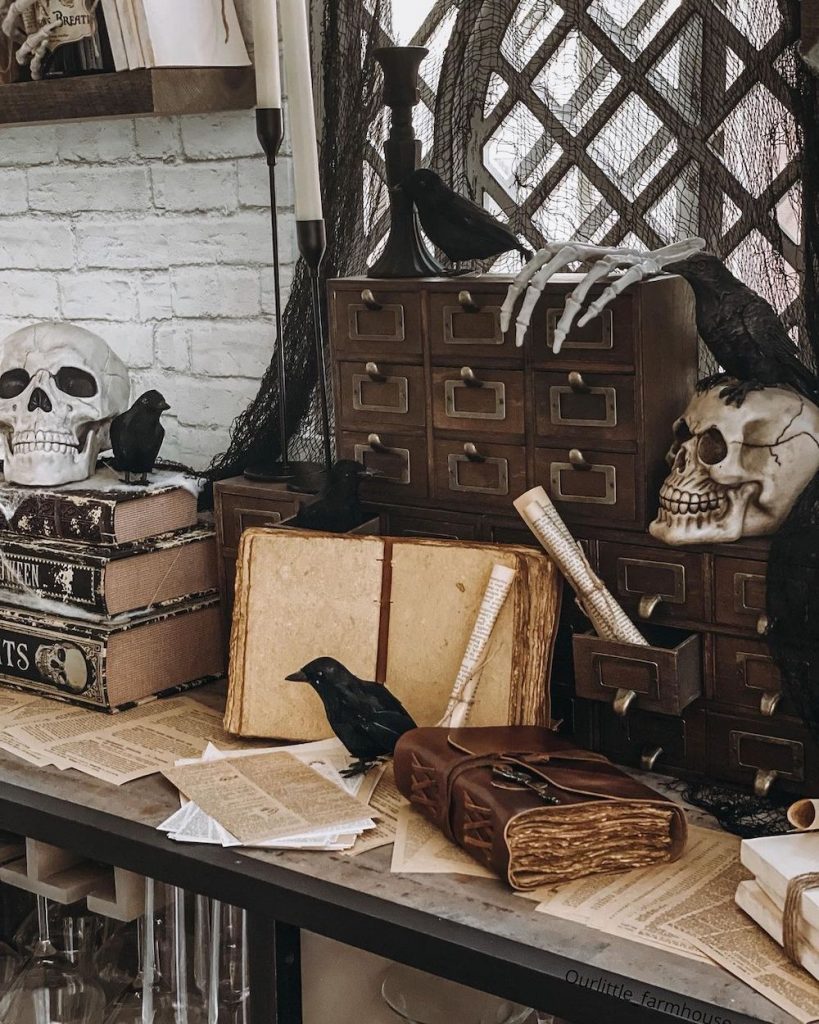 Make it look like a laboratory office. Stack a set of medical manuals and an index card file cabinet. Then finish off with a few specimens.
Use a Golden Colored Accessories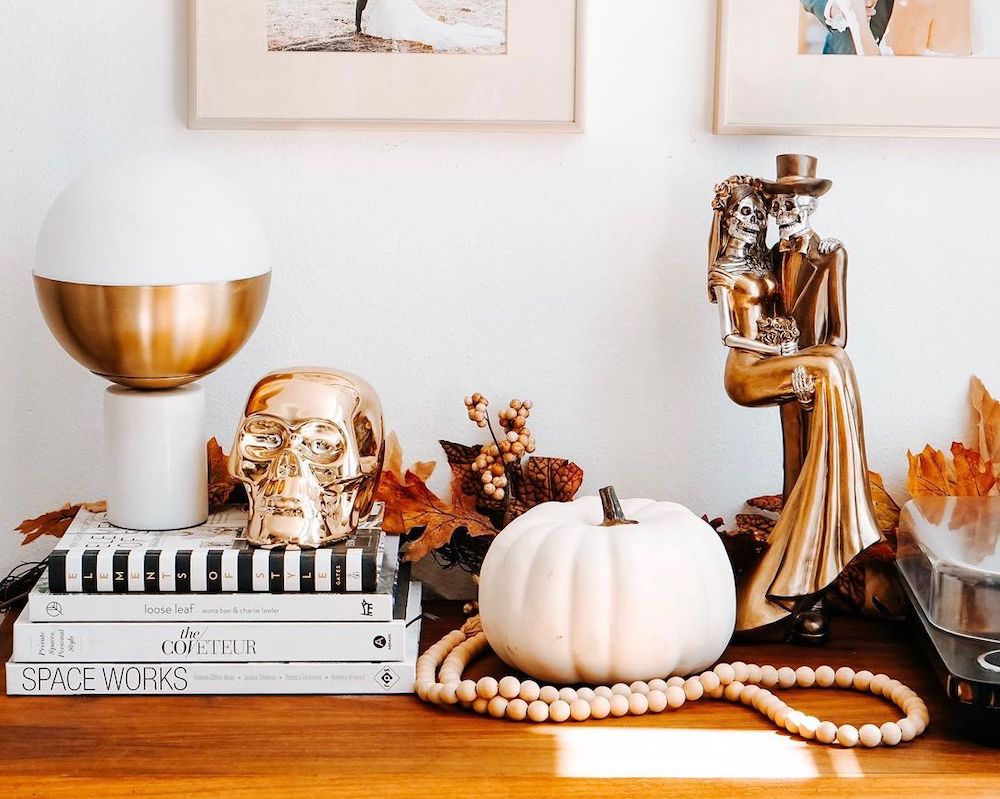 Use gold tones for a warm glowing style.
Design it with a Vintage Style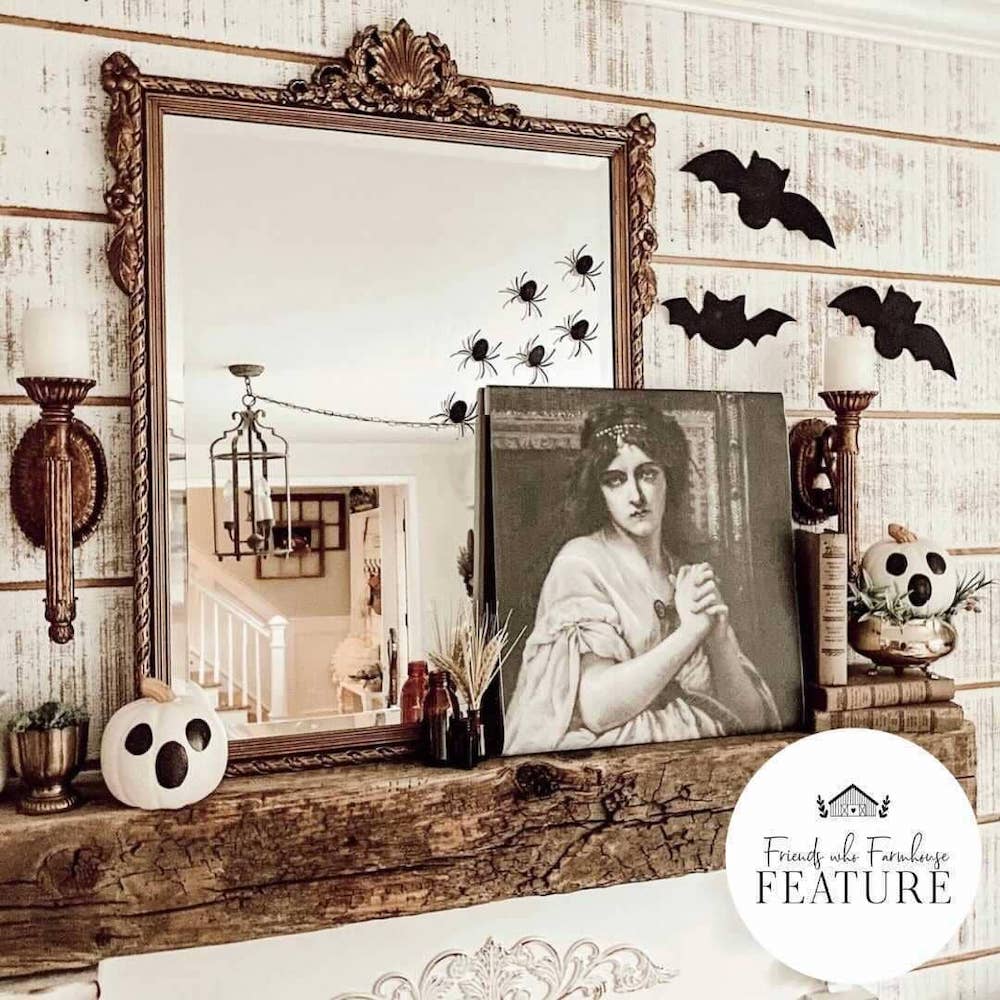 Go dramatic with vintage decorations. White pumpkins, bats, spiders, oh my! Beautifully done.
Frame it – Halloween Decor Ideas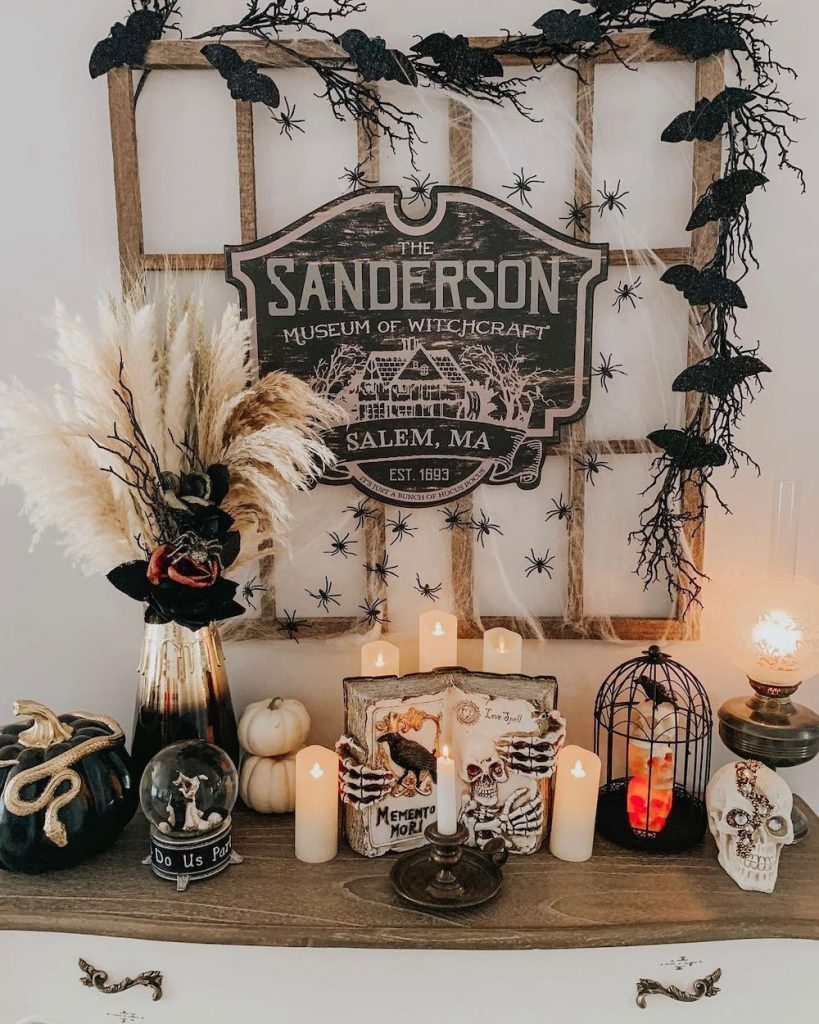 Hang two frames side by side then decorate the frames. Add a few branches, cobwebs with spiders, and a cool sign. And set up a lot of candles for a little bit of spookiness.
Cats are Always Welcomed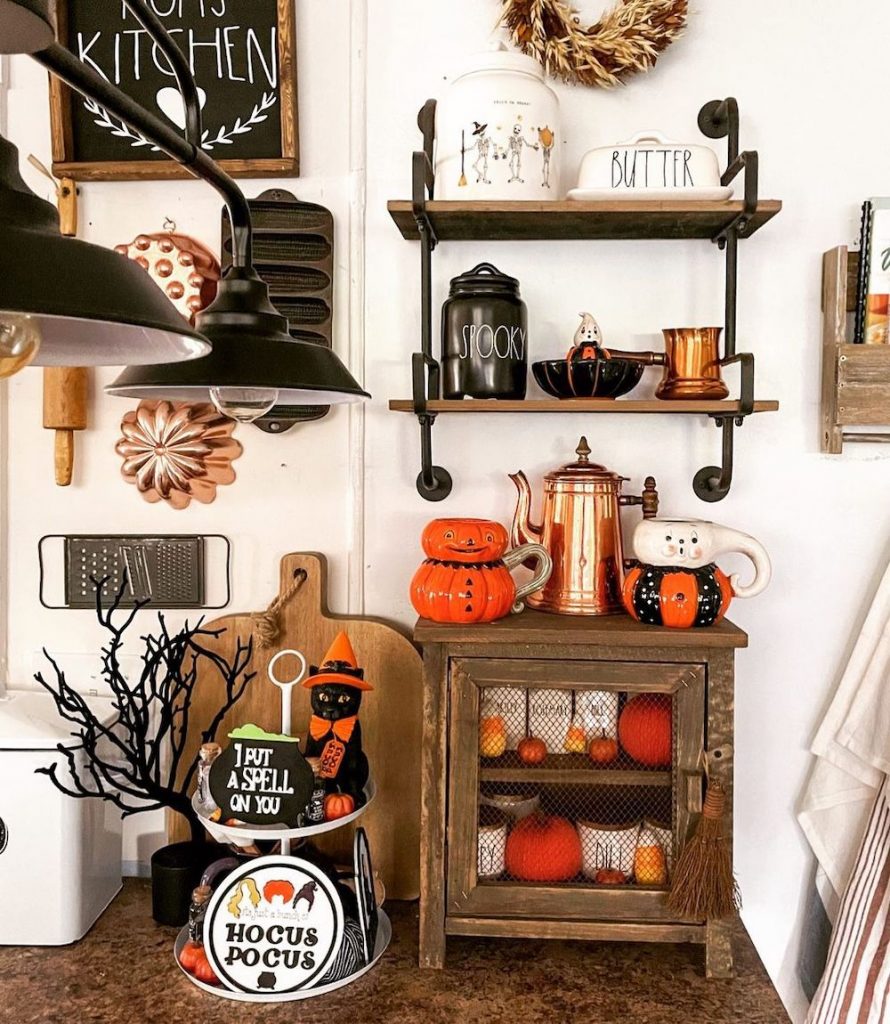 Put your cutest cats in Halloween attire. Your guests will love this.
Hang Your Favorite Vintage Pictures – Halloween Decor Ideas
Show off your best vintage Halloween pictures on your wall. In this collection, the designer introduces a little intrigue to the room.
Decorate with Paper Fans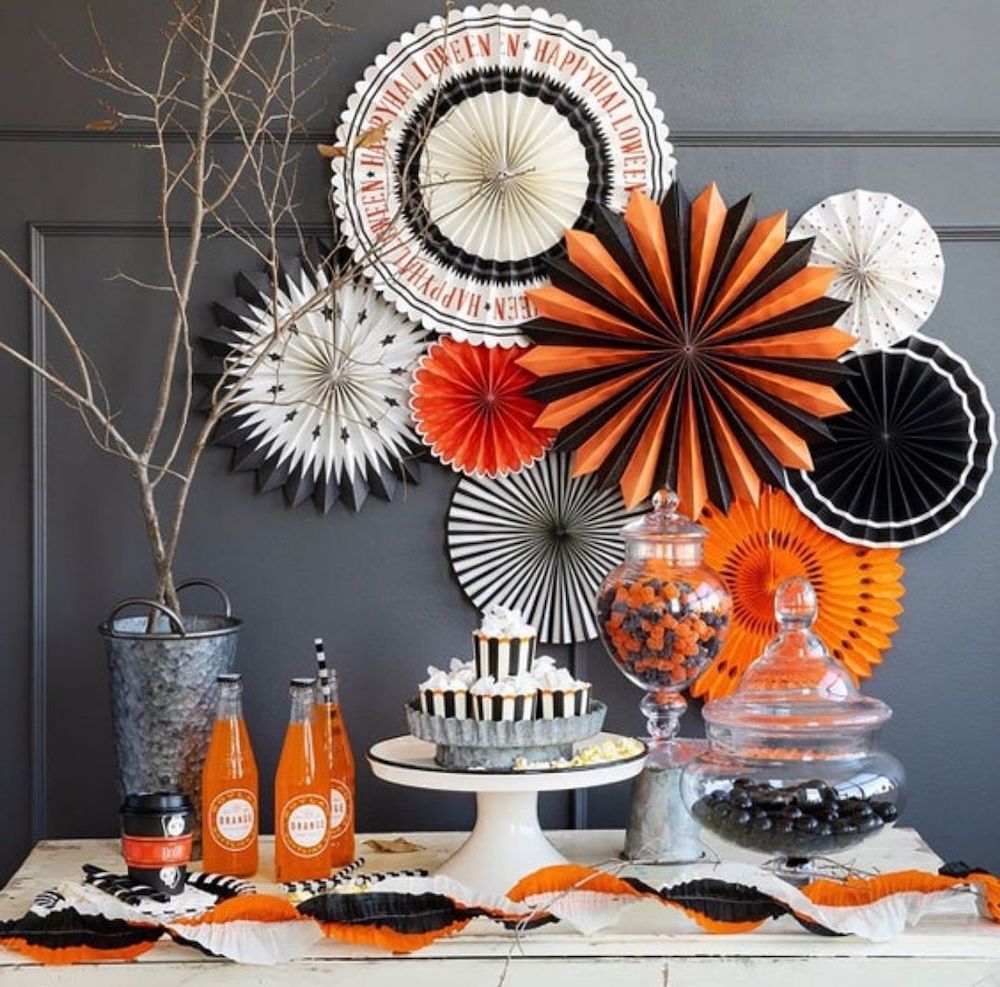 Create a paper fan collage on the wall. So festive and perfect for a Halloween party.
Give Visitors a Grave Warning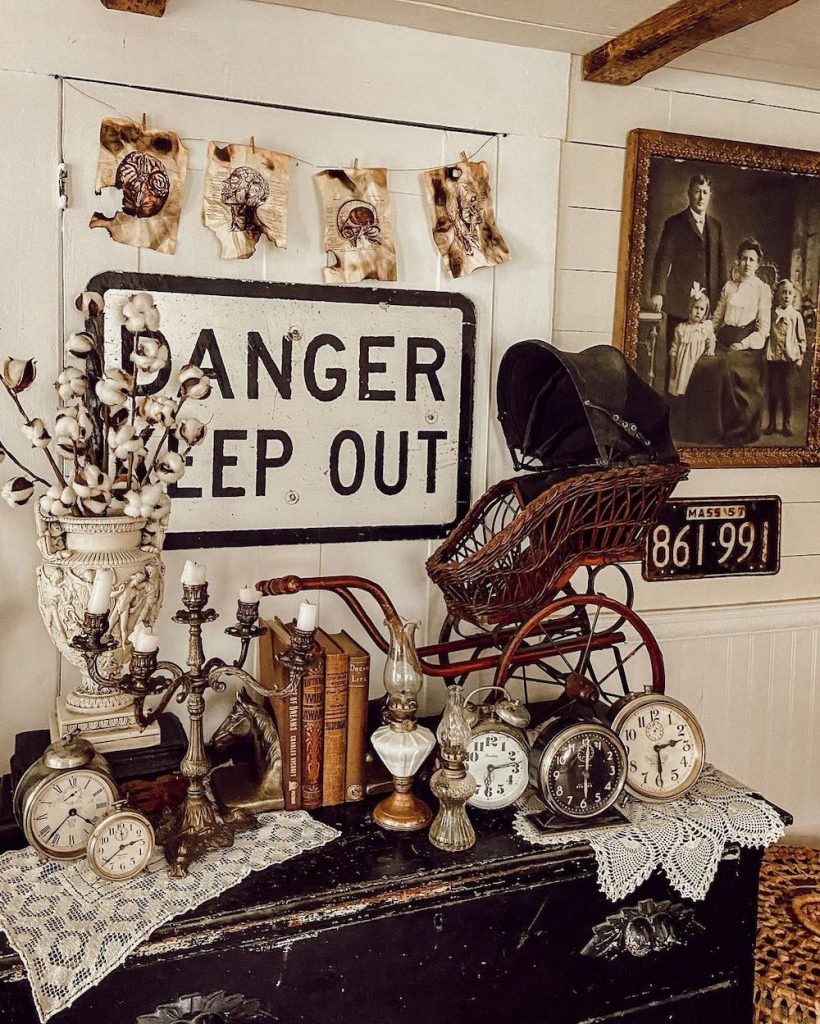 Issue a dire warning to all who enter with this wall art. For an even spookier look, string a group of images that have the human brain. Interesting.
Easy Styling – Halloween Porch Decor Ideas
Our list of Halloween decor ideas has ended. We hope our list inspires you to create a spooky home this Halloween season.
For fall decor inspiration, be sure to check out our other posts.
Reach out to us with any questions. We are always ready to help you out. Thank you for stopping by our blog.
Wishing you a spooky Halloween this year!
Mary
Pin this for Later: