Spooky DIY Halloween decor ideas you'll love and want in your home this Halloween season. Many of us have already begun thinking about the fall season. And naturally, our thoughts turn to preparations for the upcoming Halloween season. We know that many of our readers like to create their own holiday decorations for the season. So, we thought we would help you along with a few ideas that we've come across.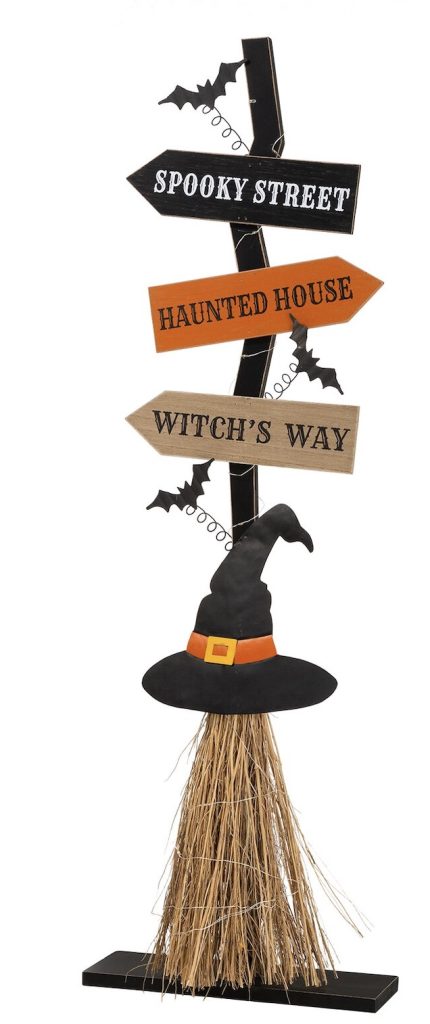 In today's post, we are sharing some fantastic decorating ideas that you can make at home. Create a spectacular and spook-filled home this holiday season for Halloween! Crank up the spookiness with decorations that you created with your family. These ideas are perfect for a mantel, front door space, living room, or family room. Use these ideas anywhere in the home or office.
Go Spectacular – DIY Halloween Decor Ideas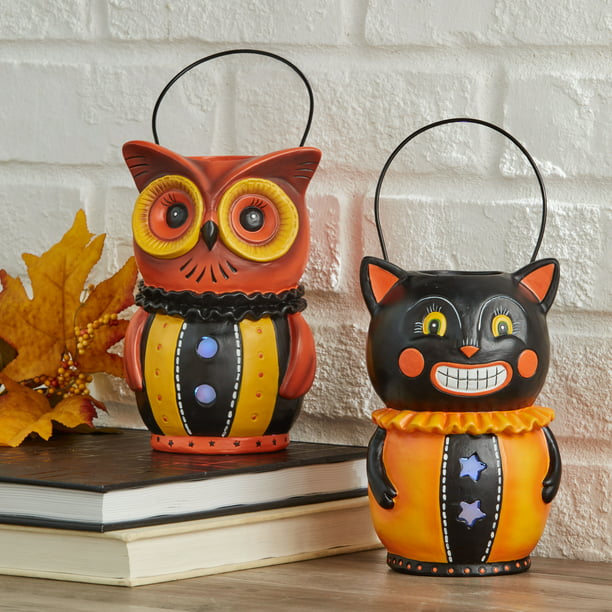 And now we begin our list of styling ideas for your home or office space. Use these pro tips to make this year your most memorable holiday year. Take a look. Be sure to drop us a line below in the comment section. Let us know all about your favorite frightful styling ideas for your home.
Hang a few Ghosts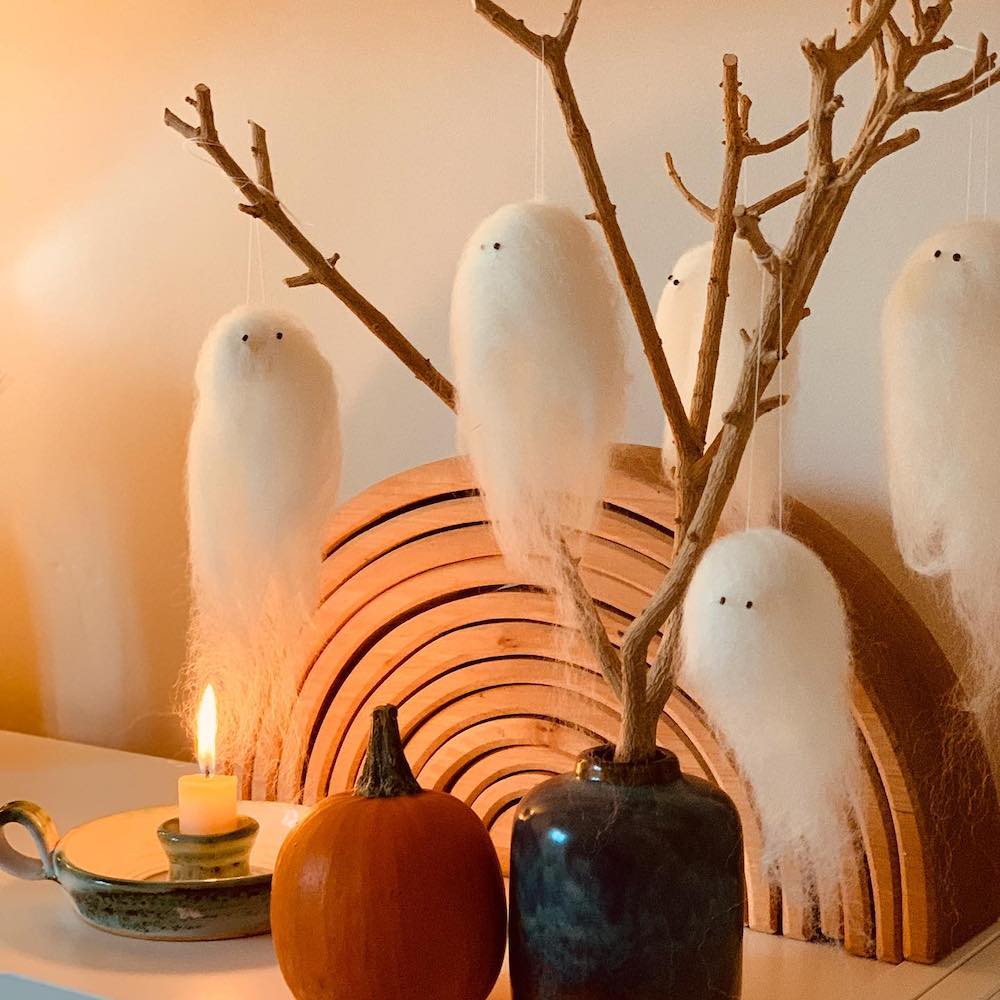 Create these cute ghosts to hang on a faux tree or on a hanging chandelier. Keep it spooky!
Make a Welcoming Wreath – DIY Halloween Decor Ideas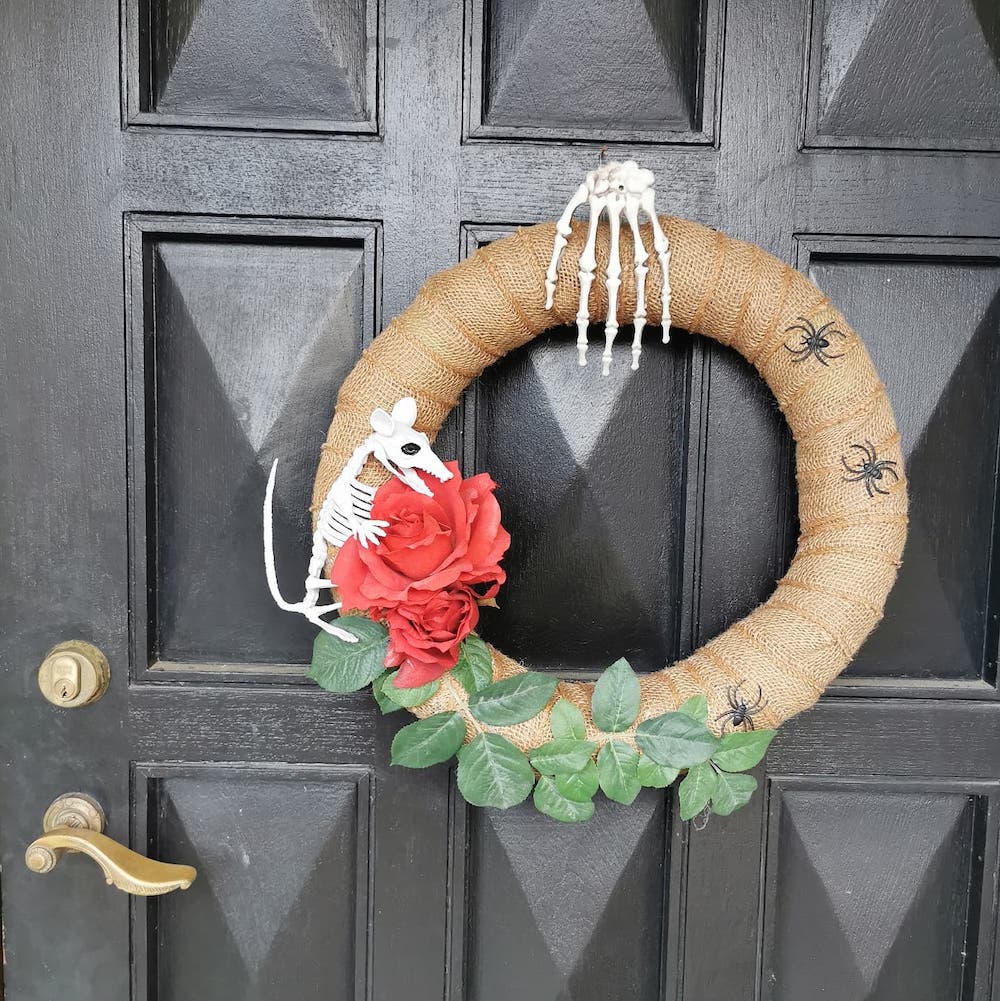 Wrap burlap around a wreath form. Add a skeleton mouse with spiders scattered around the wreath.
Drill a Few Holes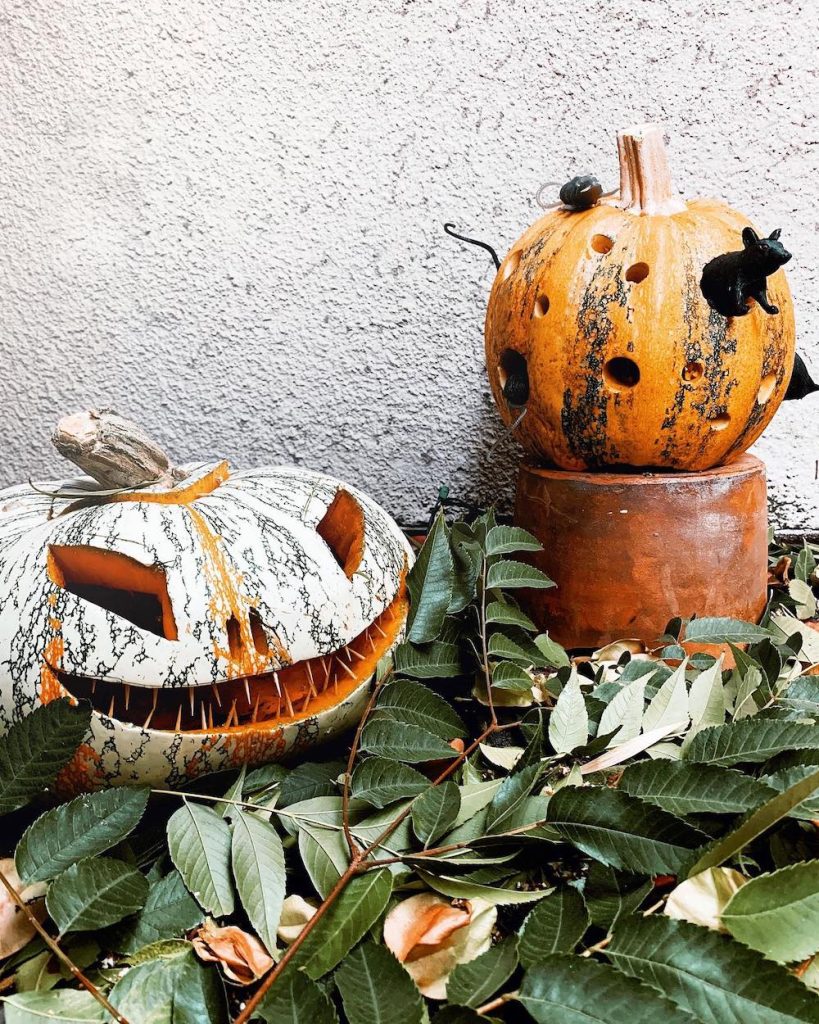 Cut up a fresh pumpkin or two. Drill holes in various sizes on one pumpkin then drop mice inside one of the holes and around the pumpkin. Take another pumpkin and cut out a long smile. Use toothpicks to resemble a shark's teeth. This is definitely on the creepy side.
Paint a Spooky Bat House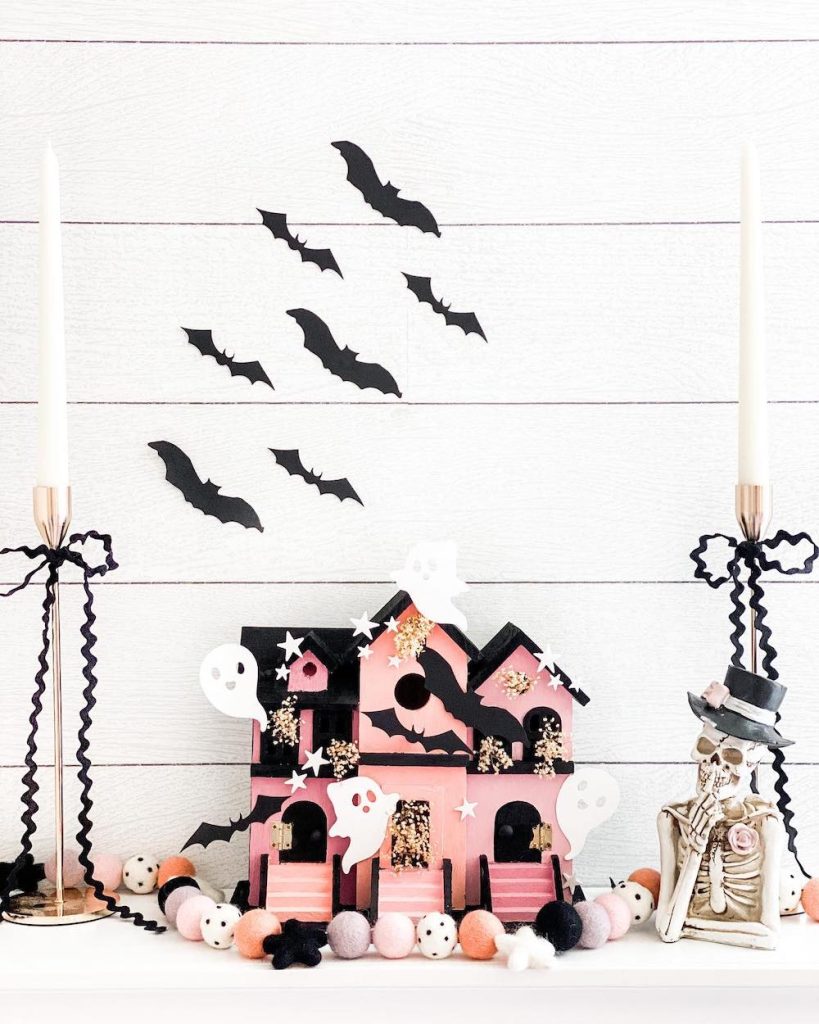 Create the perfect spooky bat house using a birdhouse. Perfect for a centerpiece or tabletop decoration.
Spray a Tree Branch Black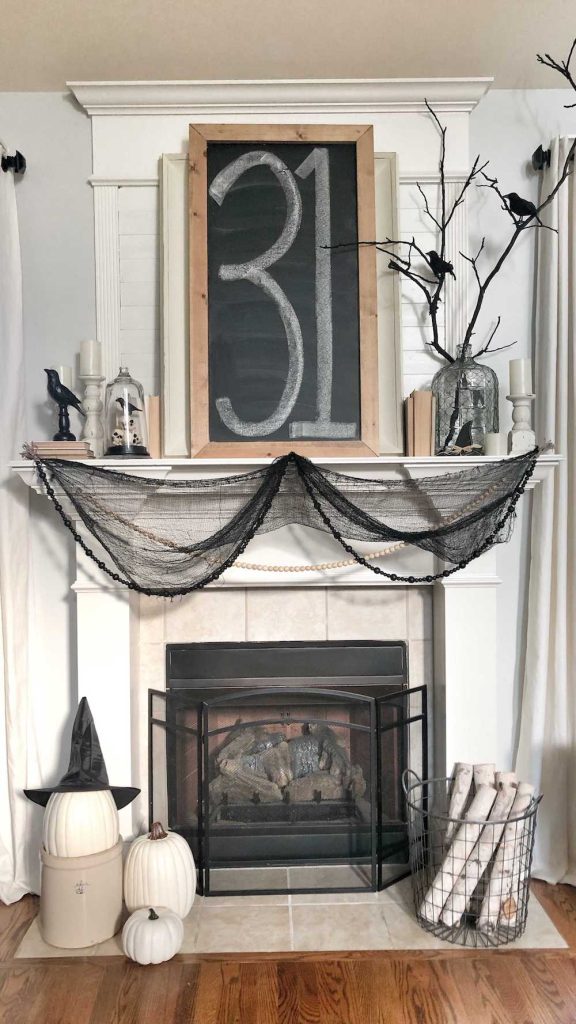 Upcycle a tree branch from your backyard to save money. Then spray paint it black. Add a few ravens or bats to spook it up a bit. Isn't this mantle beautifully decorated?
Go with a Wagon Wheel – DIY Halloween Decor Ideas
Start with a round wagon wreath. Then pile on the creepiness with Halloween accessories. Hang a few skeletons inside the spokes of the wheel or your favorite monsters.
Upcycle Old Dolls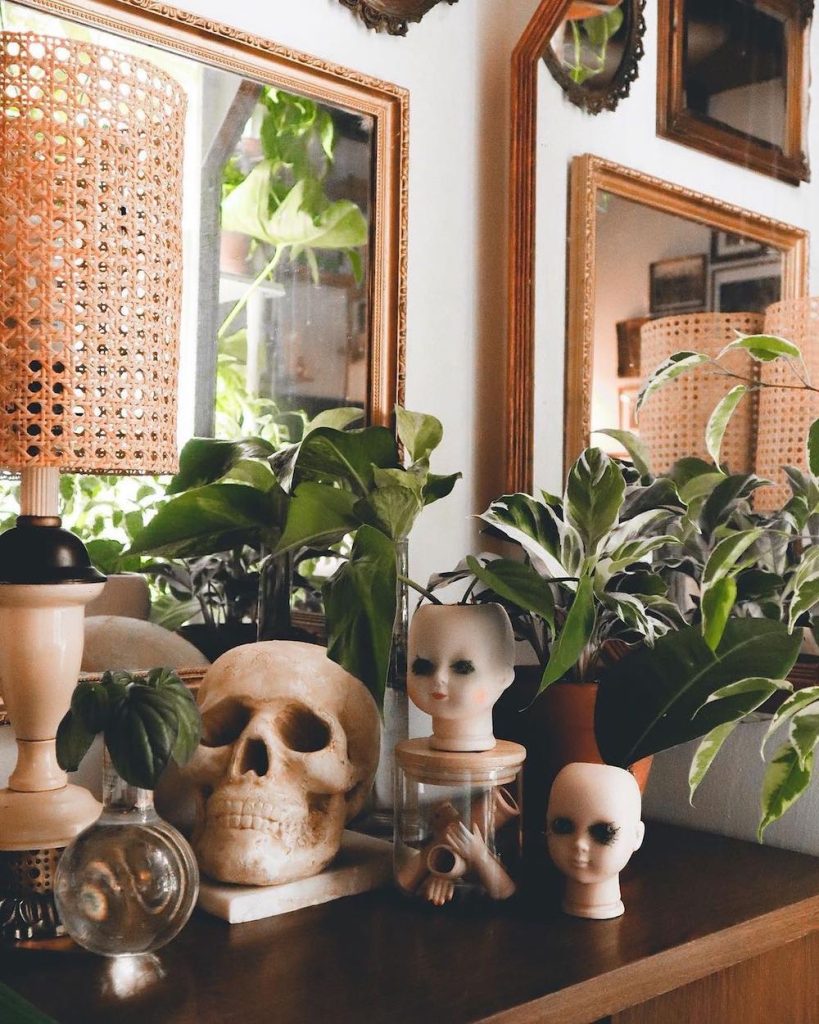 Use old doll heads for a decorative Halloween accessory. Fill a clear jar with doll limbs for an added creepy factor. Yikes!
Go for a Vintage Style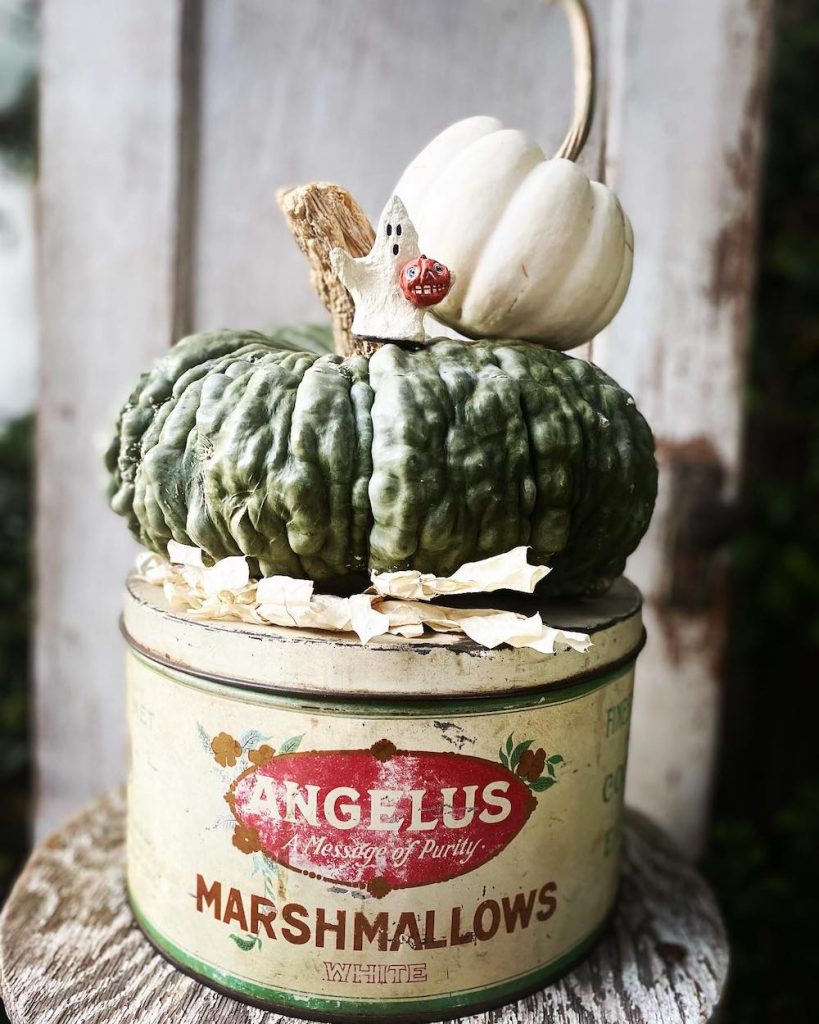 For starters grab an old vintage canister for the base of your centerpiece. Stack a pumpkin or two. Top off with a Halloween character such as a ghost. Then stand back and admire your creation. From the talented team at JustOurJunk.
Make it Magical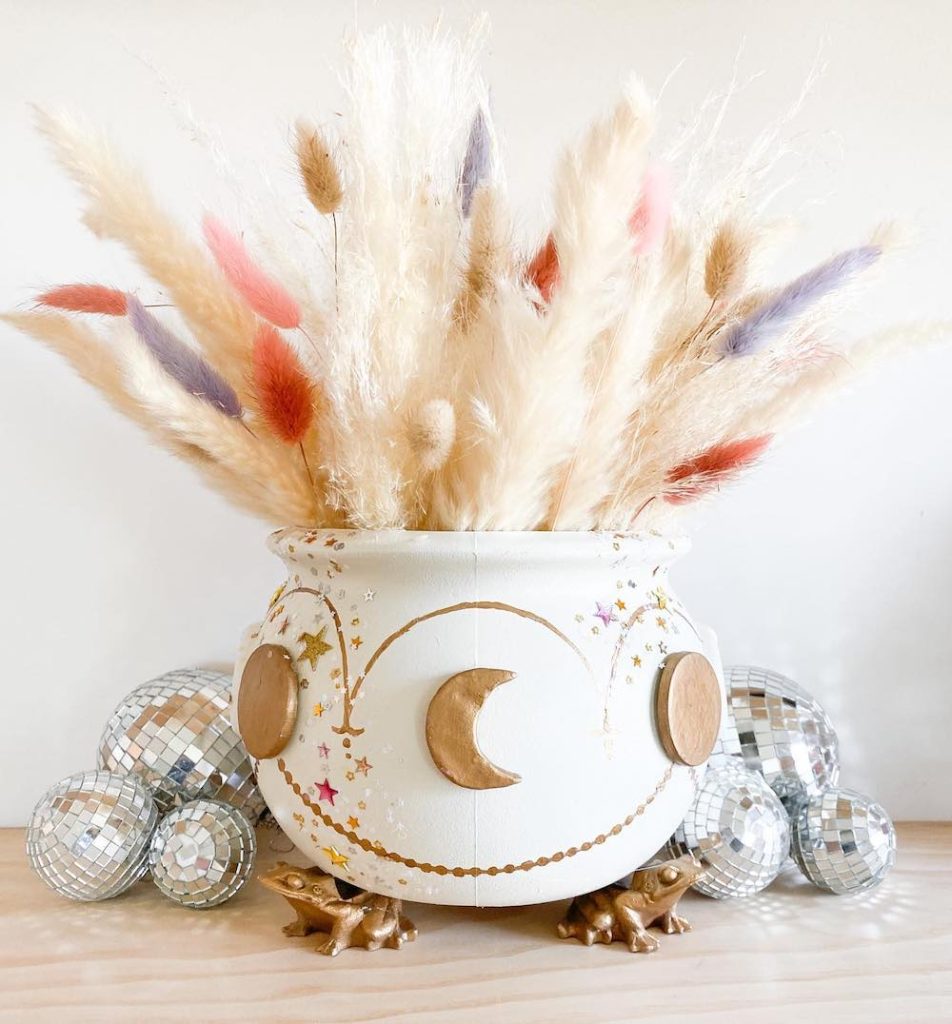 Begin with a cauldron painted in white with gold accents. Fill your cauldron with bunny tails and pampas grass stems. The miniature disco balls give an added magical touch to this display.
String a Garland of Pumpkins and Witch's Hats – DIY Halloween Decor Ideas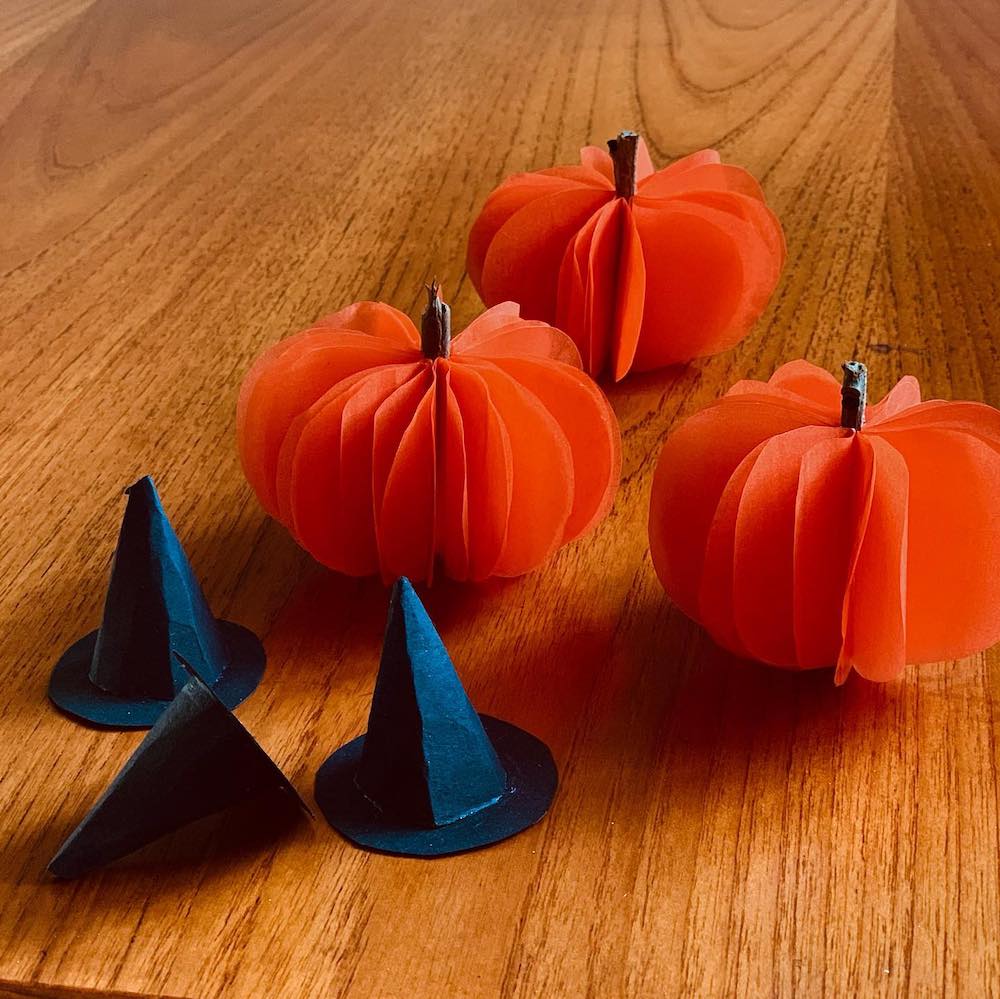 Create a garland of orange pumpkins or black witch's hats for your home. Perfect for Halloween parties and decorations.
Create Some Eerie Windows
Use black paper cutouts that can be attached to your windows. In this display, while the cats were out … the mice were playing. Picture mice playing throughout the house.
Display Wall Art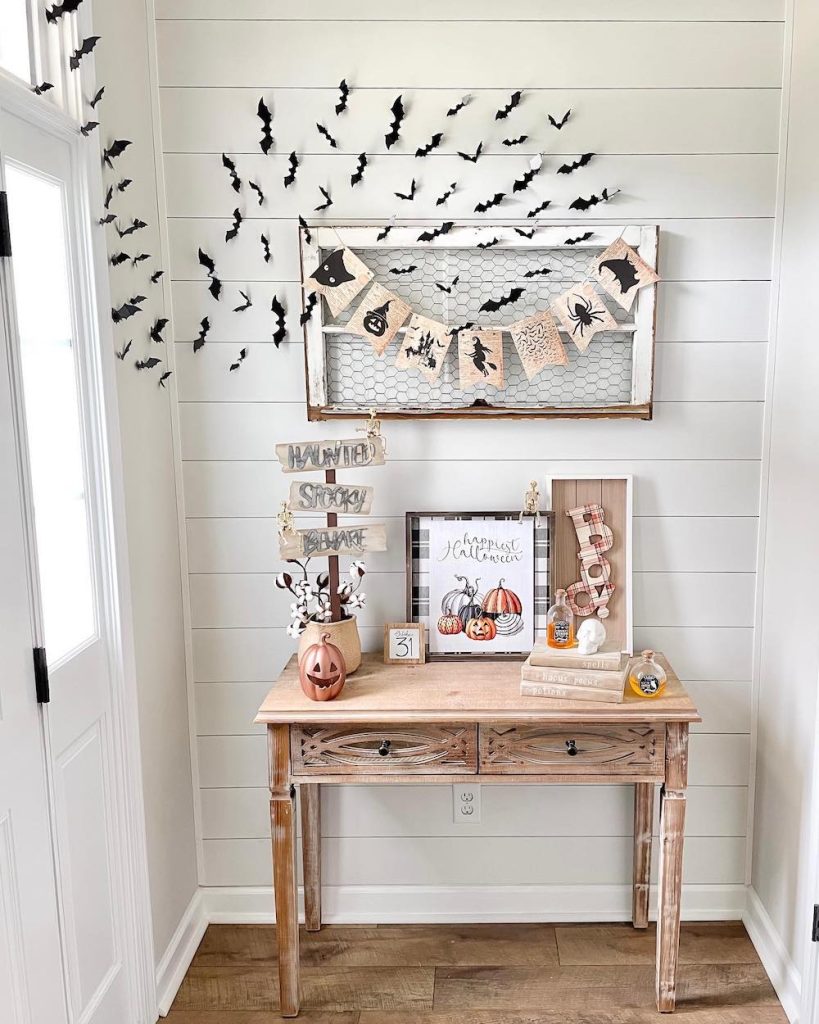 Make some wall art for the Halloween season such as the plaid framed Boo! sign.
Make a Trap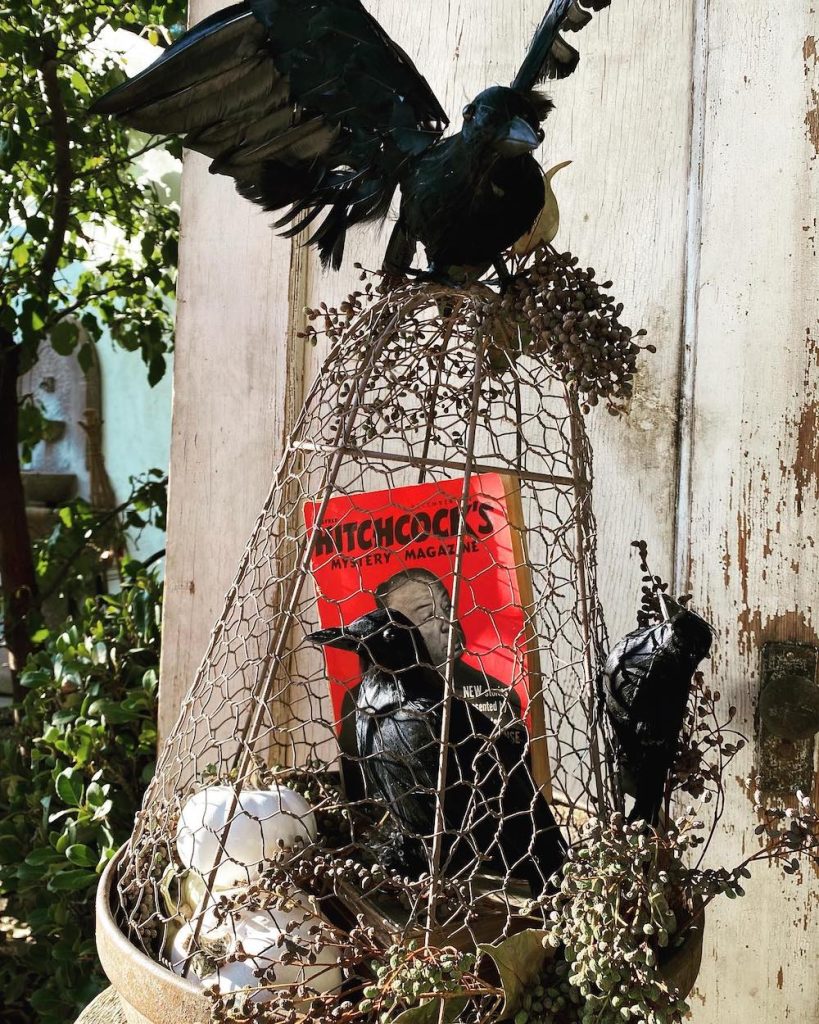 Use chicken wire to create a cloche or bell-shaped trap for some wicked ravens. Looks like a scene right out of the Alfred Hitchcock 1963 horror thriller movie "The Birds".
Keep Tools for a Quick Get-A-Way – DIY Halloween Decor Ideas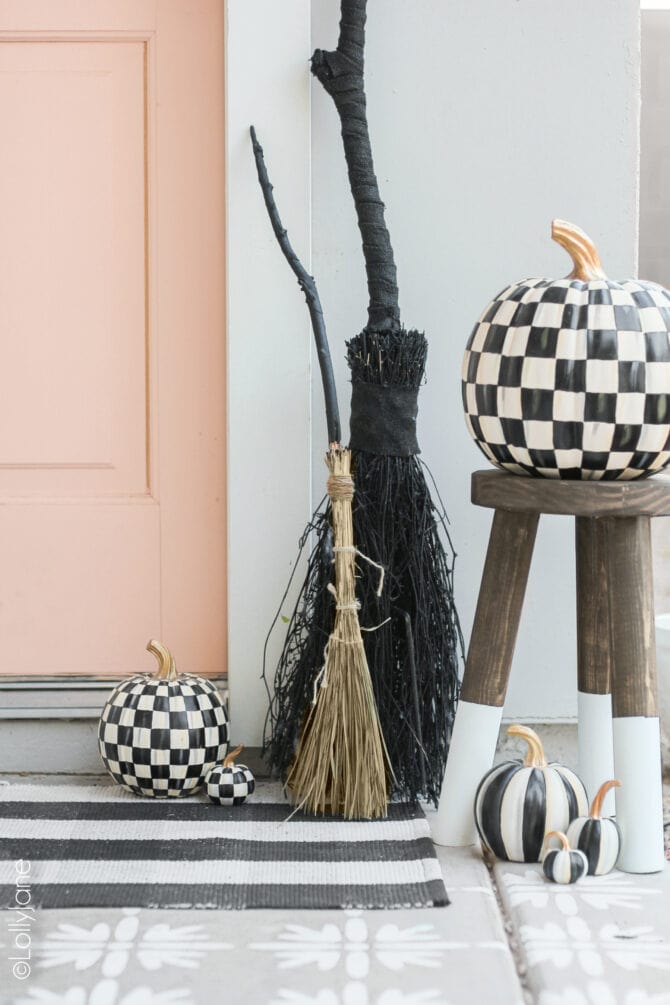 Make for a quick get-a-way with this handy DIY broom. Keep it close to the front door or in your entryway. After all, you never know when you need to leave at a moment's notice.
Fold a Crawly Paper Fan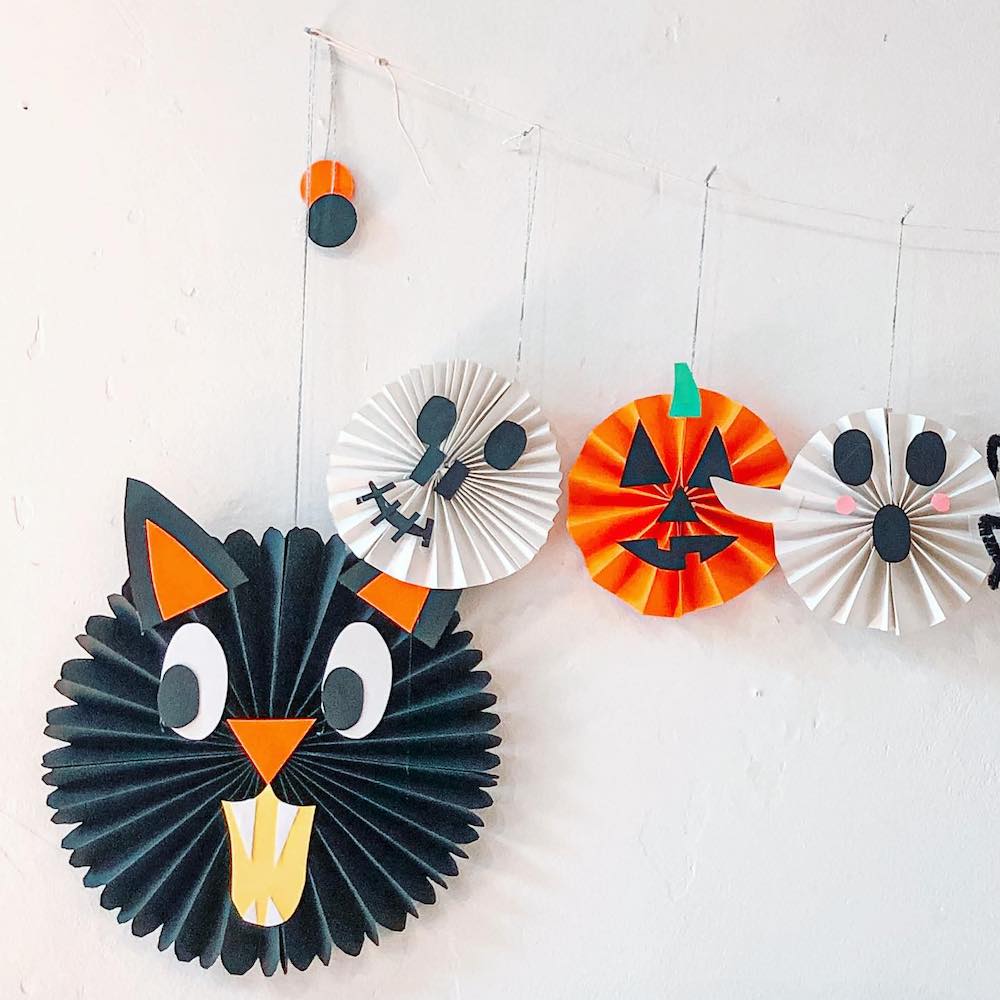 Use paper fans to delight or frighten your house guests. As you can see in these two images, there are many ways to use these quick and easy decorative fans throughout the house.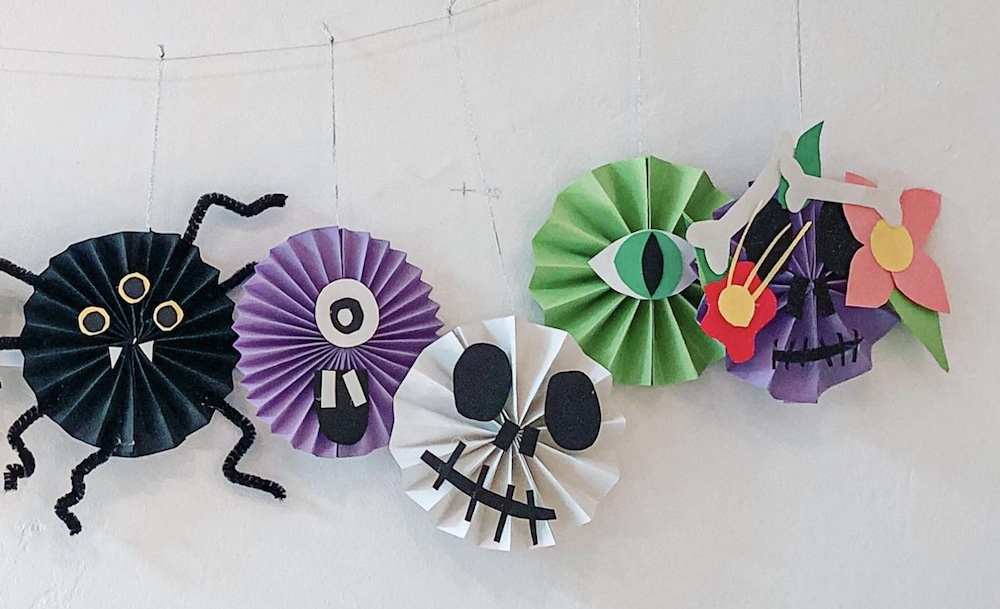 Stack Reference Books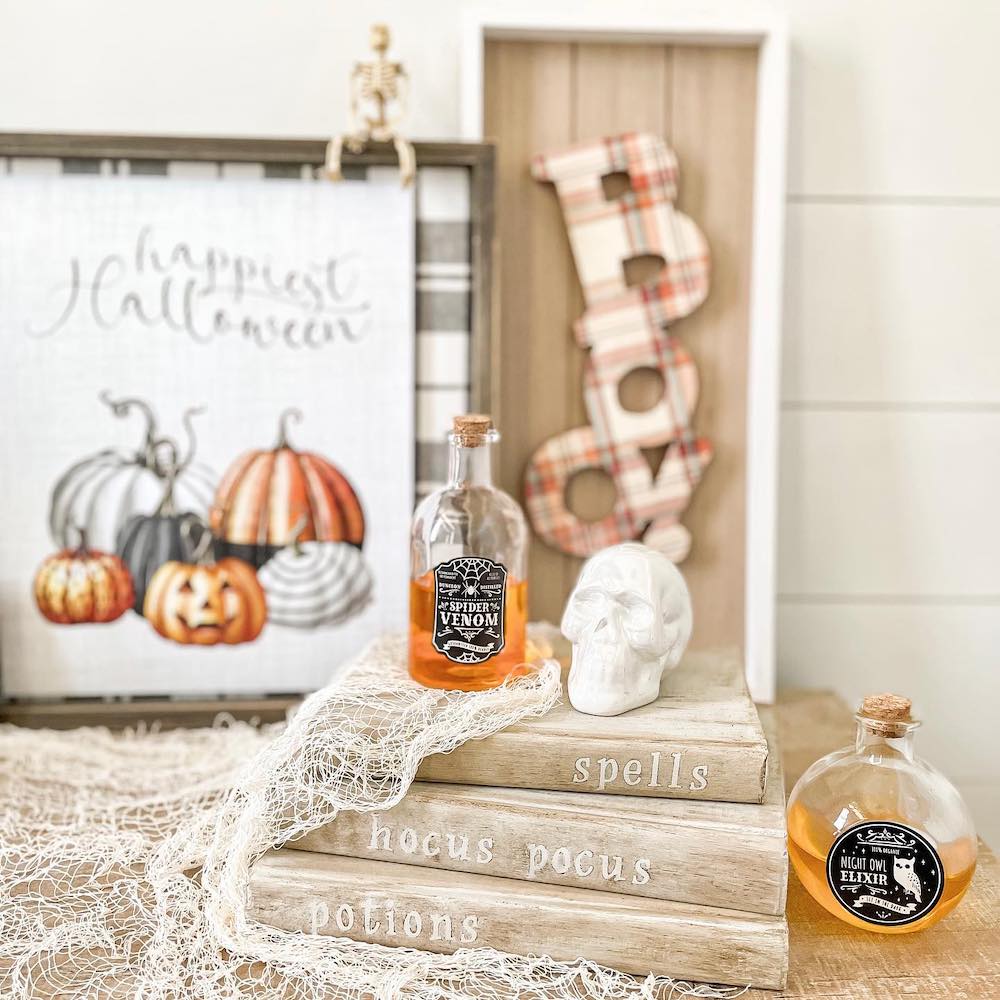 Keep a stack of reference books for potions and spells this Halloween season. Fill clear glass bottles with spider venom and special potions.
This ends our list of inspirational DIY ideas for your home or office space. Style your home spooky this year on Halloween with these spectacular ideas. Be sure to take a look at our other posts for home decor inspiration. Tell us about your home decor projects in the comments below. We always love hearing from our readers.
Enjoy our other Halloween posts for additional ideas.
Are you interested in other Halloween decorative ideas for your home? Try these posts for additional decorating ideas this Halloween season.
Halloween Home Decor Ideas
Porch Decor Ideas for Halloween
Halloween Entryway Ideas
Types of Pumpkins
Reach out to us with any questions. We are always ready to help you out. Thank you for dropping by and taking a look at our blog.
Mary
Pin this for Later: